Too many to list! If you haven't checked out the Links page it's time you did - it's scary long, but it's a fascinating browse.
---
Get your website listed in the LINKS Section
by listing Horizons Unlimited on YOUR web site, let me know you've done it by mailing me a link to the page, and you may get listed here in the next newsletter and on the Horizons Unlimited web site Links page. To make it easy for you, we even have our logo and link code here!
All sites will be considered for listing, but must be a MOTORCYCLE or TRAVEL site, useful or of interest in some way to travellers. We reserve the right to refuse to link back.


Motorcycle Express
MC Air Shipping, (uncrated) USA / Canada / Europe and other areas. Be sure to say "Horizons Unlimited" to get your $25 discount on Shipping!
Insurance - see: For foreigners traveling in US and Canada and for Americans and Canadians traveling in other countries, then mail it to MC Express and get your HU $15 discount!
There are many 'Helpful People' listed on the Links page, a huge thanks to all of them. How about you? Or you can join a Community, or start your own!
Do you know of a good shop 'on the road,'
...in other words, somewhere there isn't a large number of shops? (Also of course any shop that specializes in travellers equipment and repairs is of interest.) But we're particularly looking for those rare items, good repair shops in South America, Africa and Asia etc. Please post your info in the Repair shops around the world Forum on the HUBB.
There are now 100's of shops listed in out - of - the - way places, from Abidjan to Ghana to Peru! Be sure to check out the HUBB "Repair shops around the world" forum if you need work done!
When you meet people on the road, and they haven't heard of this e-zine or the website, we'd appreciate it (and hope they would too!) if you'd get their names and email addresses and send it in to me.
Thanks, Grant
Request for info
Wouldn't YOU like to know all about the border you're approaching - what it should cost, paperwork required, 'tips' needed, and who to talk to, etc.?
When you cross ANY border, take some notes, and pass them on to us. Thanks!
Shipping
The Shipping page on the site is HUGE! It can be reached directly or from the Shipping link on the Trip Planning page.
If you have any information to contribute, please go here, and register (or just login IF you have used this system before) and you can then submit your information. Thanks!
Travel Advisories:
The Foreign Office in London's Travel Advice Unit advises against travel to all sorts of places. Check out the listing before you start!
The US State Department regularly issues updated travel advisories, information and/or warnings.
Carol and Ken Duval, Australia, Life On A Bike - RTW 2, to South America,
"THE JOURNEY BEGINS - Lan Chile flight LA800 exited Australia with little effort. The past six weeks of our lives did not enjoy the same organization. For those who have done this type of adventure you know the excitement is sometimes dulled by the sheer volume of things to be done before departing.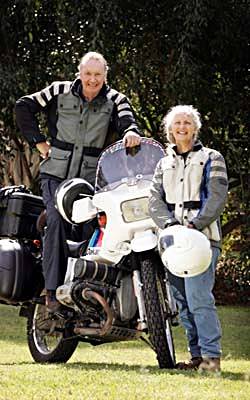 ...Carol 'retired' on the 24th August 2007 and I finished one week earlier. Our tasks to complete before 28th September (departure date) included selling the house, land, furniture and two motor vehicles. Packing and moving is not relished by either of us. The problem in sorting personal items is dividing the rubbish from quality memorabilia. We tend to relive the joys of getting these bits and pieces which causes a time management problem.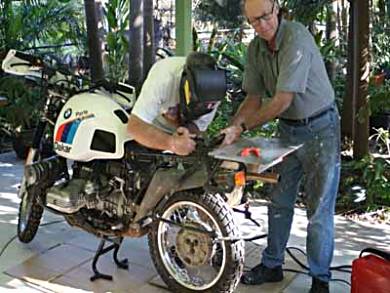 The house sale was completed on 31st August and we moved to our good friends Mike and Jane who fortunately live just around the corner. Within a few hours we had reduced their orderly house and lifestyle to utter chaos with the frantic sorting continuing and the assembly of the bike after a repaint and maintenance schedule. This continued until the day we left despite our long hours.
The bike was crated up on 20th August. We had a few problems with Dangerous Goods but it all came good after a few phone calls. The celebrity life took hold a few days before departure with two news papers doing articles plus a radio interview and a small exposure on television.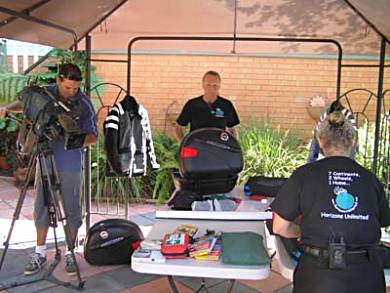 Now we are kicked back at a friendly hostel in Santiago waiting for the bike to arrive. It should be here actually, and just needs collecting. Monday is the day… Mario, from the HU community in Santiago has been instrumental in allowing a smooth transition to this continent on the other side of the world. Our Spanish is non existent but we will learn once we reach our base in San Rafael, Argentina. Meanwhile our Santiago social life continues as we enjoy the hospitality of the motorcycling community."
---

---
Richard Miller and Sascha Meyer, through Europe, the Middle East and Africa, in Swaziland, Malawi and Zimbabwe, 1955 Royal Enfield Bullet,
"...In our quick loop around we went through Swaziland and arrived at the same time as the annual reed dance when all young maidens of the country dance in front of the king after which he chooses a bride from amongst the loveliest. (Yes, he has a lot of wives!). Sasch was suspicious that our timing in Swaziland, arriving just when 15,000 semi-naked chicks parade around a field, was somehow planned. It was in fact complete fluke. Honest!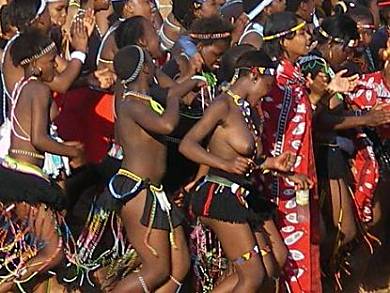 ...I've made the journey back up to Lilongwe in 7 days of riding with one day relaxing in the middle at Great Zimbabwe. As the Bullet is still running in I've been riding slow to bed it all down nicely. The road up to the Zimbabwe border is long at the best of times, at running in speeds it was veeeerrrrryyy long. Had a great overnight stop at Polokwane Municipal Game Reserve though. I had never known that such things existed and finding it was just by chance. What a great idea, a council run game park with free entry. I pitched the tent up the evening I arrived and then the next morning was free to enter. In both senses - it is free of charge and the only game park I have ever come across that just allows you to wander around at will. The warden had said there were White Rhinos in the park. I thought that they would be pretty elusive but as I got a kilometer or so into the park I started encountering giant mounds of rhino poo. Even encountering a kudu (like a big cow / deer cross for those at home!) standing in front of you whilst you are alone on foot is pretty exciting but a rhino is something else. Gets the heart racing a bit and the immediate reaction is to start looking for escape routes!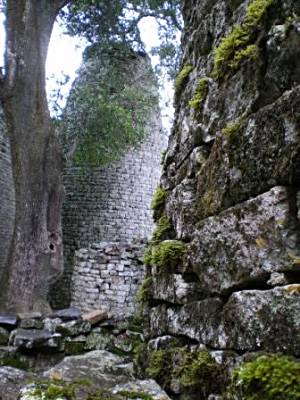 Despite dire warnings from some South Africans everyone I encountered in Zimbabwe was hugely friendly, from the folks roadside waving to the chief of security at Great Zimbabwe who insisted on giving me a free tour of the site when I said I didn't really have the cash to pay twenty dollars for a guide.
Getting to Great Zimbabwe I was the only visitor at this world heritage site. It is the largest pre-colonial structure in sub-saharan Africa. The site is massive and the most famous building is a huge circular compound nearly 200m in diameter with walls some 3m thick and 10m high.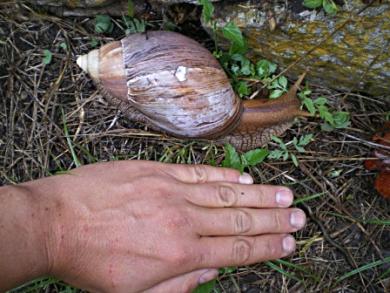 Great Zimbabwe was amazing though I'm ashamed to say that I was equally fascinated by this unbelievably huge snail. As big as my hand!
...Still in Zimbabwe, in the Bvunda region, I arrived at the end of the day only to find out that the cheap lodge I had in mind had just burnt down. So I was reduced to crawling through the fog in the dark looking for anywhere. I found a nice lodge. In fact as I walked in I was sure I didn't quite belong there. Five Star style service in a beautiful stone cottage guest house. The rate was about fifteen dollars a night with dinner and breakfast. Despite shortages I had a delicious olive and feta salad for starters that night with a t-bone steak for main and a decent fry-up in the morning. All the time I couldn't believe it was so cheap. In the end it wasn't. It turns out that if you tick the non-resident box on the arrival registration form then you are levied with a rate that bears no resemblance to the local one. All the same even at 65 dollars for full board it was still pretty good value. Here's a tip for anyone else planning to visit Zimbabwe - just tick the residents' box and bring along plenty of Zim Dollars. They never check!
It was only three days but who would have thought that Zimbabwe would provide one of the highlights of the trip so far. Amazing scenery, great roads, really friendly locals and seemingly the only foreign tourist there."
---

---
Paul and Zoe Jenkins, South Africa, in Botswana and Zambia, Honda XR250 Baja's,
"Botswana is all about the game parks and the animals (there were elephants hanging around immigration as we got our passports stamped!), but on a motorbike you are stuffed. The game parks in this part of the world have rules about letting idiots on bikes into their parks – it isn't good publicity if one of them gets munched... and no-one wants to be splashed across the Holme Valley Express as the one who got a puncture and couldn't find a tree to climb!
So, in Botswana we only had one thing we wanted to see, which is very bike friendly... the Salt Pans.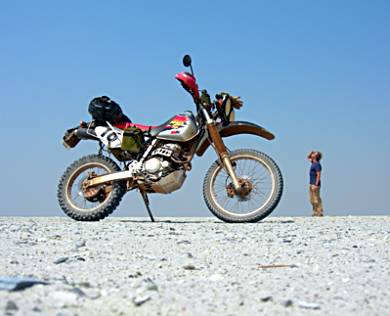 Salt Pans are one of those strange natural phenomena, which make everything lose perspective. When you are riding along, you have no points of reference and so you find yourself going ridiculously high speeds without realising (not when your speedo doesn't work though...then you just never know how fast you are going!), but most importantly you can take pictures like the ones below of giant toilet rolls and huge helmets!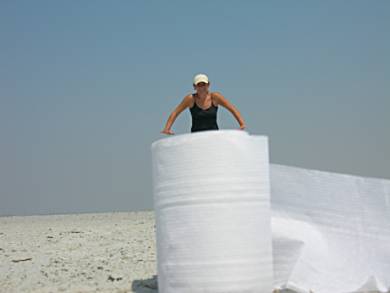 We had a ball taking all the pics, but what the pictures don't tell you (and actually neither does the name)…all that white stuff…its not salt…its bird poo. Thick, slimy, smelly bird poo left by the thousands of flamingos, which 'allegedly' live there! We were urged not to ride onto the 'Poo Pans' because we would disturb the birds and the pictures which go along with this message show thousands of pink flamingos….well, not one bird was there… not one…just poo and a Black-backed Jackal (which is pretty cool)!
During the day, it was quite windy and so the shrimp-poo stench was bearable. We spent hours messing about with the camera and planned to return for a sunset supper…big mistake. In the evening the wind had dropped and we were sitting in the midst of the poo eating our tea feeling really nauseous…not one of my best ideas!
On our last night (in Flat Dogs camp) we had no sleep thanks to the hippos munching grass around the tent and the elephants who had taken a shine to the seeds in the tree we had camped under! A resourceful matriarch was head butting the tree truck causing branches to come hurtling down onto the tent which the rest of the elephants grabbed to pick off the seeds. Paul's eyes were too wide to hide from anything and I was too scared to laugh and just held onto the door zip, planning my escape to a tree platform when a branch finally squashed the tent flat!
In fact, they were very considerate and the tree stayed standing, as did the tent, but the bikes weren't so lucky! The next morning the elephants were still around as we tried to pack up and leave – a huge female trapped me in the toilets and when I finally escaped I found Paul's bike knocked over and Paul hiding up a tree nearby! The elephants just couldn't get enough of the seeds in the tree over our tent and one of them had pushed past Paul's bike to get a better eating position and Paul had escaped up a tree! So much for an early start!"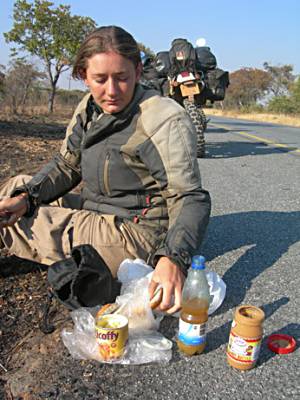 Paul and Zoe are now in South Africa and job hunting. Paul writes to the Capetown community:
"Hi, my wife and I have just finished our last trip and are back in SA to start a new life. Been out of the country for a long long time so don't know much about the place anymore. We will be in Cape Town next week - we have arranged a place to stay with some friends but I know that getting jobs in SA is a lot about who you know and we don't know anyone really.
Also will be looking for a place to rent. So if you think you might have some info on jobs/rentals and any other useful tips and tricks please let me know as I would be very grateful for local knowledge. I am in IT Sales and my wife is Product Management/Marketing. Cheers, Paul"
Simon Roberts, UK, The Road to Kathmandu - the comic strip!
"These early days were just that. Early days. The bike felt overloaded. The starter motor had already let me down and I was questioning my choice of bike. Choice? I'd had no choice! This was the bike I'd bought many years before for just this kind of trip. A 1989 BMW R100GS. Winner of Paris Dakar rallies. It was the right choice. A little long in the tooth but a machine that could be repaired by back street mechanics in Lahore, Pakistan... Little did I know.
But, despite these fears, I felt light. Free. It was all so simple compared with the previous six months of preparation... Equipment... Finances... Visas... Inoculations... All I needed to do was to get up, pack the bike, and ride off. Simple. It's a cliche, I know, but I just felt SO alive! The Road to Nirvana? Maybe.
'So, why Kathmandu, Si?'
OK. The Overland Route to India. The Hippie Trail. The Silk Road. Too many Capital Letters? Probably. As a boy, I'd always been fascinated by the illustrated travel journals. The mystical East. Moustachioed men clutching knives under their robes... Seductive women clutching men under theirs... Sun, Heat and Desert. Not much of any of these in Sutton Coldfield in the late 60s. OK. There was the Asian Grill restaurant. But even so. It was the desire to ride from my own front door to the vast spaces of Iran and Pakistan that called me... The Caspian Sea. The Persian Gulf. The Khyber Pass... 'Roberts! Are you daydreaming again? See me after the lesson.'
... Dull and overcast - as was I. I'd envisaged a picturesque hotel on the banks of the Rhine for my first overnight. Alas, as would so often be the case, this was not to be. 'Hotel? I thought he was roughing it?'. I know, I know, but I felt I needed to er, ease myself into life on the Dusty Highway. But, no riverside Biergarten for me. No flirtatious blonde serving wench. No jovial BMW v Triumph banter. Just a 'schnitzel und bier' in a dark and smoky bar.
Many hours of rain soaked Autobahn riding had me crossing into former East Germany later that afternoon. I'd expected a monotone landscape but found a surprisingly green and colourful scene. It wasn't long, however, before I had my first encounter with a Trabant...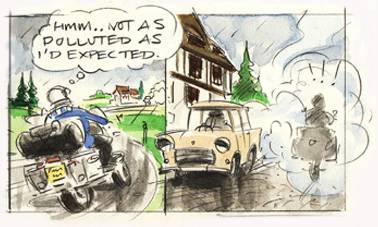 Colditz. 'Well-known in Britain for its 16th century castle where Allied prisoners were held during WWII and whose daring escapes later became the subject of a TV series' states the Lonely Planet (LP). The boy in me had to go. I'd lived in Germany for seven years and am somewhat embarrassed about the fact that I'd never been to East Germany. The time had come to put things right. And not before time - in the eyes of the 'Hotel zur Post' restaurateur.
But, rest assured dear Reader, I will not be illustrating every single day of this journey and promise to be in deepest Transylvania in the cold shadow of Dracula's Castle within two pages."
Ed. See Simon's 'Road to Kathmandu' comic strip on Horizons Unlimited.
---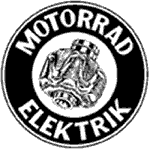 Motorrad Elektrik has been offering the best in electrical parts for classic and modern BMW's for over 11 years. From 12 volt conversion for /2 to better than stock replacement parts for your late model "R" or "K", we've got you covered. Specialty parts for 'hardening' the charging and ignition systems for world-travelling Airhead GS's. Riders like Bob Higdon, Dr. Gregory Frazier, Grant Johnson and hundreds of others depend on Motorrad Elektrik components as they wander the globe.
Our Omega system has solved the charging problems for 1970-95 Boxers with 400 Watts Output, and our

Nippon Denso starter is the perfect cure for Valeo syndrome.
---
Hamish Oag and Emma Myatt, UK, Asia, Australia and the Americas, in Brazil, BMW R1100 GS,
"Sao Francisco do Sul - That night we camped by the river amongst the toucans in the trees. When we woke, the Atlantic rainforest mist had descended right on us, so everything was wet. We packed it all up and headed South, where we had heard there was going to be a big bike meet in a town called Jaragua do Sul. After a quick stop in Joinville's tourist info - in a German house - we spotted a small beach town called Sao Francisco do Sol on the map. Making for that we noticed there was a huge amount of holiday type traffic on the road. No idea if there was a holiday or not we continued, hoping it wasn't too busy.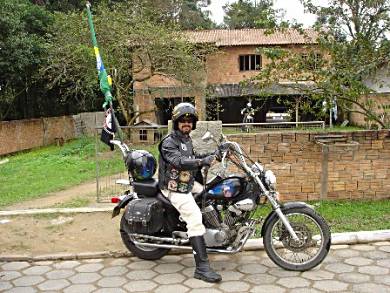 Sao Francisco do Sol was supposed to have campsites. Not wanting to pay Brazilian hotel prices again we rode around and around looking for some cheap accommodation - to no avail. Just as we were about to give up and go expensive, a guy in a black leather jacket on a tassle-bedecked Yamaha pulled up. We had a conversation in a language we've become used to speaking; Portanol - a sort of mix of bad Spanish, terrible Portuguese and much gesturing. The guy said there was no campsite but said, 'Come to my house!'
Using Travellers' Rule No 1: 'Say yes to everything', we followed the guy to his house. 'I'm Billy, this is my house, you can stay!' he said. Sweeter, more welcoming words were never spoken and we thanked him profusely. Billy was the perfect host. We could communicate pretty well considering the huge language gap and we managed to tell Billy we'd heard there was a bikers' meeting in Jaragua, and would he be going? Billy said he wouldn't because he was 'going for a little ride' with his friends in the morning. 'You are welcome to join us,' he said. Rule No 1 again, 'Yes, we'd love to.' we replied.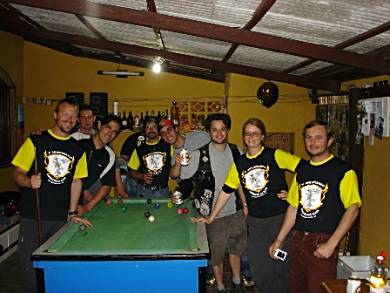 That evening Billy took us out to meet some of his friends. He was part of a Motoclub called The Sao Francisco do Sol Coyotes and every week they met at one of the member's houses to shoot pool, drink beer and chat. As soon as we arrived Billy presented us with two Coyotes t-shirts as gifts and introduced us to the club. They were all so friendly, we felt welcome and at home and had a great night with the guys.
The next morning we dutifully put on our Coyotes t-shirts and followed Billy to town. Parking with a few other bikes we waited and watched people going by in processions, schools, clubs, bands; all smartly dressed. Lots of other bikes turned up, people we'd met the previous evening and other bikes from other clubs. Soon there were about forty. Billy started to get everyone organised and directed us to the front, where we'd ride behind him. We still were not quite sure what to expect so when we rode in formation in front of hundreds of people it was quite a shock! I've never felt so famous.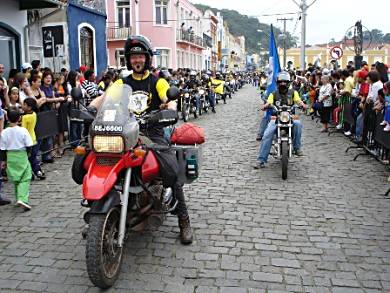 ... Jean had told us about an alternative ride South, via the Serra do Rio do Rastro. It sounded too good to miss, so we headed West, passing some interesting signs along the way...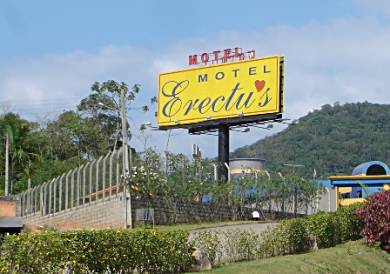 The countryside was interesting, farmland and small villages which looked European, small twisty roads and lots to look at. The big twisty road at Serro do Rio do Rastro was excellent!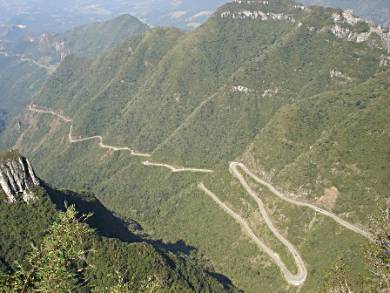 One moment we were fine and then we heard this terrible 'CLUNK CHRRRRRR'. Hamish stopped, feeling dread in the pit of his stomach. We took the bags off and after a few experiments Hame gave his diagnosis: "It's F*****".
Then it started to rain. We looked around. There was a barn with a car outside, and a farm building, and nothing else. We estimated we were 40km from Uruguay and the nearest town, Chuy. After waiting a while to see if a truck went by which we could flag down, I went to the barn for help. A helpful woman there who was busy loading a hose into a box said, 'Don't worry, I'll call my friend, Rudy. Wait half an hour, and he'll come and get you in a truck.' At least I think that's what she said, it was in Portuguese.
An hour came and went - no Rudy.
A guy drove past in a pick-up. Although Hame tried very hard to persuade him, the guy did not want to take our bike, but he said, 'I'll call my friend. He's got a lorry, in the next town. His name's Rudy.'
Another hour went by - no Rudy.
Some more men came past during the hour and asked what the problem was, so we explained we needed a truck. He said 'Don't worry, I'll help you. I know someone in town with a truck! His name's...'
'Rudy?' I offered.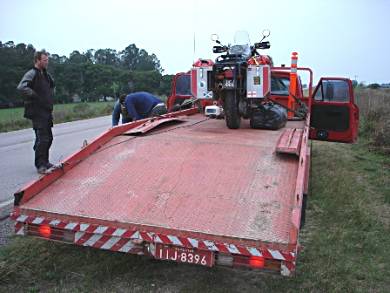 Rudy turned out to be a decent guy. Once in Chuy he helped us find a cheap hotel where we dumped Bertha in the car park and went out for dinner, both very fed up.
After a cleansing ale, we came up with a plan - to get the bike to Buenos Aires in Argentina, where Hame could sort everything out at the famous Dakar Motos. The reasons for this were many: we were headed there anyway, to fix whatever had gone crunch Hame needed to strip the bike down, we knew Dakar had workshop space and tools, and BA was a much easier place to get stuff to. Plus while waiting we could get other stuff done - we needed to get the frame welded once again amongst other things that I'll let Hame explain next blog. It sounds like we will be leaving BA with a new bike! We'd originally planned to visit Reto and Annabella (who we met in Cohaique, back in March) as they lived in Montevideo. We e-mailed and warned them we'd be arriving on truck, not bike.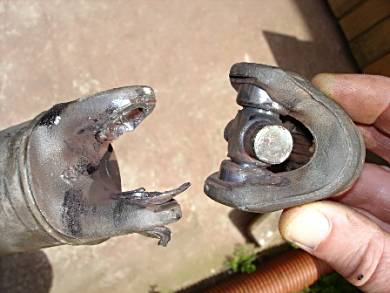 ... it wasn't the gearbox as suspected but the drive shaft which had completely snapped. We were shafted...
I hope that by the next time we write, Hame has got her good and bike-shaped again and we are once more off on our adventures..."
Ron Markiewicz, Australia, Africa and TransAm 07, in Central America,
"Well – some of it anyway. That's really Guatemala, Honduras, Nicaragua, Costa Rica and Panama for us. Seems like a lot to see in just over 3 weeks – but we have been moving slowly – short riding days – and lots of time to enjoy the beaches, mountains, lakes and volcanoes – and the great old towns as well. Towns like Copan Ruinas, Atitlàn, Chichicastenango, Granada, and of course Panama City. These countries are all pretty small and very diverse for such common histories.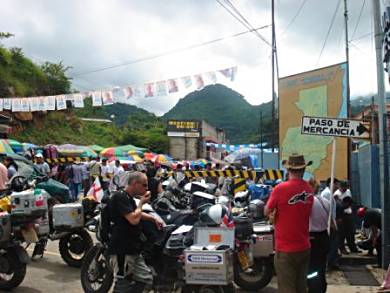 We started the process of several absolutely chaotic border crossings – with perhaps the most chaotic and quite bizarre one – from Mexico to Guatemala. For some reason, the main road through (which just happens to coincide with a large indigenous market) was closed – we were redirected down a dirt side track and through the walking tracks in the midst of the market and up a very steep and rough track – back to the border post - with churning people, carts, kids, dogs everywhere – what a buzz for our chaotic entry to Guatemala.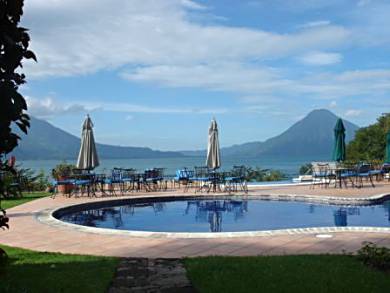 Once into Guatemala, twisty mountain roads, belching overloaded trucks (the one common denominator everywhere) - and our first very pleasant stop - Lake Atitlàn– staying at an old Coffee Plantation transformed into a magnificent hotel and Guatemala Independence Day.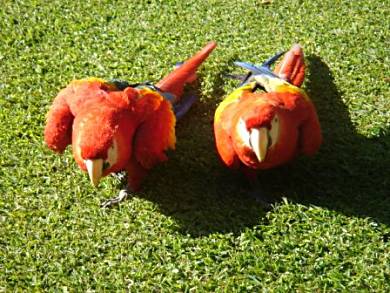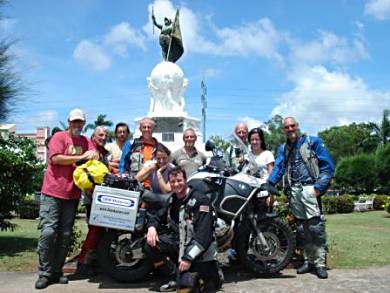 That's all for now - next entry will be Ecuador and Peru in a few weeks."
---
---
Andi Naumann, Germany to India, in China, now on a bicycle,
"But man, this IS a bloody different game! The km-clicks were sometimes so long apart, I thought I never arrive. No wonder, my bike, including front and back rack weighs 17kg. To that comes the weight of my kit, that's about 15kg. And then me: I was very surprised when weighing myself today. I now bring the scale to the highest personal record ever, 84kg! Usually I weigh about seven kilogram less, which at 1,92m makes me such a Spargel. So now I have the proof that traveling is good not only for my mind and soul but also the body.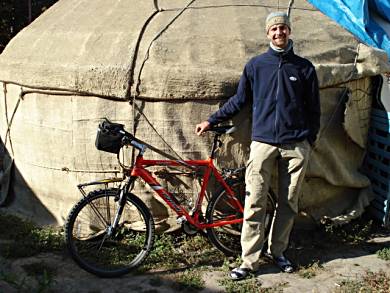 On the other hand, I doubt that Tibet is so good for the body because due to the high altitude (always above 4000m) and the physical exhaustion most people cycling there lose about 6-10kg during that period. That brings me back to 'normal' then. Which means I'll have to eat lots of food in India. Not so bad after all...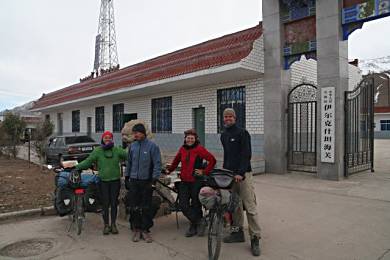 Welcome to China. I've left the Russian influenced zone of central Asia and am now finally in a complete new World: China!
This really is a whole new chapter in my travels, it feels so crazy to be here. Crossing the border was very exciting and we kept telling ourselves 'We're in China, we're in China!'. We, that was a French couple, Marie-Eve and Ludovic, and the Dutch girl Miriam, that cycled all the way from Europe. I met them on the border and kept riding with them all the way to Kashgar.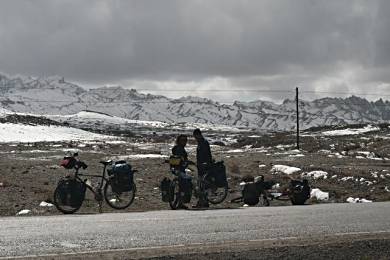 It turns out that Miriam also wants to do the Tibet run, so we've decided to try it together. Two in the tent might just give us the valuable extra degrees needed to live through the cold nights. Down to minus 25 said a well informed guide here in Kashgar..."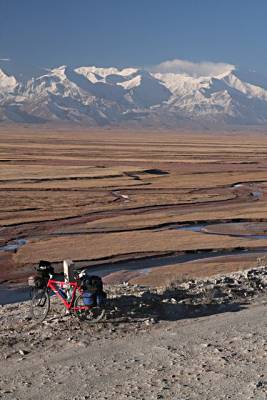 Maria Sanchez and Alistair, France and UK, to South America, in Uruguay and Brazil, F650GS and 1200GS,
"Unfortunately, when we woke up on Monday morning it was pouring with rain and we decided to delay to the next morning. The bikes were nicely parked deep inside the patio of the Pousada, in a covered area. No one could see them from the road. We didn't chain them, just put the steering locks on as it was such a safe peaceful little town (and completely deserted)!
The next day when we woke up my bike was gone! We were in shock! We asked the owner of the Pousada, who was speechless. He told us in 37 years of business he never had anything stolen from his property, not even a bicycle! Well there is always a first time, and it was with our bike! We just couldn't believe it! F650s are very rare here, maybe 100 or 200 in the entire country! Therefore too conspicuous for a thief to sell and no spare parts market. He wouldn't be able to ride it as the police control all roads! So what was the point of stealing it? The owner of the Pousada drove us to the police station to report the theft. Despite the language barrier we managed and the police were really good and friendly to us.
The other big problem was that in the top box of my bike were all the important documents for BOTH bikes, like the temporary import document issued by customs when the bikes enter the country and required to leave the country, my driving license, my international driving license (which is required for Argentina) etc. It was an absolute disaster! We would have difficulty leaving Brazil even on one bike without these documents. Also some of our camping gear was in a roll bag, secured to the bike with a Packsafe metal mesh.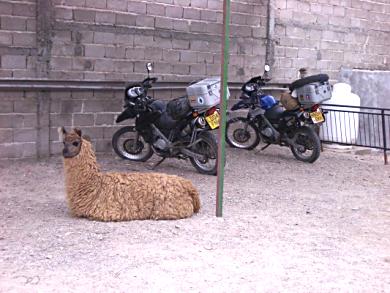 Leaving the police station, where the station commander was already out investigating the case in his car, we went for a coffee. There we decided on an action plan. We decided to phone some local papers to get some publicity that may help recover the bike. Phoning got us nowhere, no one spoke English or Spanish! We decided to email them. At the same time I put a post on Horizon Unlimited forums to ask for help to the local Brazilian community and sent emails to the 3 nearest motorcycle communities of Porto Alegre, Florianopolis and Sao Paulo, describing my bike and where it was stolen.
One local newspaper was interested in our story and I gave them a phone interview and sent them some photos. The next day our photo was on the front page of the paper, but most importantly, a picture of my bike was taking up half a page! Success!
The most impressive thing was the response of the motorcycles clubs in Brazil. Within hours my email had been circulated all around the country and as far as the border town of Ciudad del Este, in Paraguay, where the local club there was watching the border in case the thief tried to cross with it! I received many emails of support, offer of help etc... from many parts of Brazil. It was truly amazing how an entire biking community was suddenly in alert, on the look out for my bike!
...The following morning at 7:30am, the owner of the Pousada woke us up. The police were on the phone, they had found the bike. It was in Sombrio, 150km south of Imbituba! The police had arrested the thief, riding my bike at 7am! He was a well known delinquent in Sombrio. What we still don't understand is what that guy was doing in Imbituba on a Monday night, in pouring rain, sniffing around our Pousada? The police and many people had asked us if we had been followed coming from Florianopolis. We didn't notice anything but we think the theft must have been planned. We were very happy!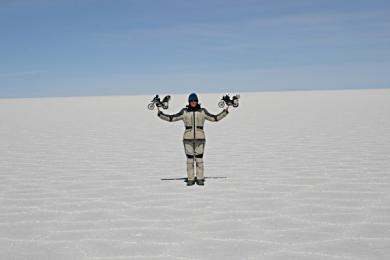 ...The police (in Sombrio) were also incredibly friendly and helpful and we both got a ride in a police car! We were finally able to check the bike. The damage was fairly minimal ...Miraculously, the top box was still there with ALL the documents inside. We just couldn't believe our luck. The camping gear was not recovered and the panniers rack was also gone but maybe it was time to get rid of my heavy aluminium panniers anyway as they were battered to hell, and buy some soft luggage instead.
...Various local papers ran a feature on the recovered bike and even published the photo of the thief. The police gave us a copy to keep so that we could see what he looked like. He was well known to the local police (and the local community we later found out) but had never been locked for his crimes so far as he was under-aged, but now he is over 18 and he is going to jail!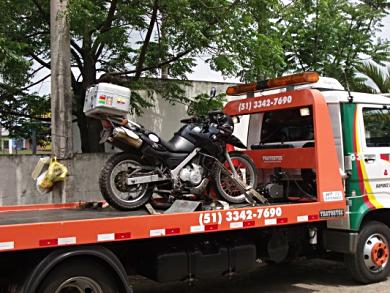 So all ended relatively well. It is still going to cost us lots of money but a lot less than if we had never found the bike. The response was amazing and it did cheer us up when we were feeling very depressed and losing hope of ever finding the bike. Big thanks to everyone who helped and got in touch, the HUBB communities were absolutely brilliant to spread the word and offer so much help! The system works really well."
---

---
Derek Fairless, ATW Adventure Travel, in New Mexico, BMW F650 Funduro,
"I'm in Roswell, New Mexico; don't ask me how I got here, I went to sleep in Helena, Montana, there were weird lights in the sky and –pow – here I am.
Last time I was able to communicate with some of you I had crashed in NS, others will have been told in small bites that I travelled across Canada and down into Montana, and that I hoped that I was going to have a meeting with Shaking Spear, the full blooded Assiniboine Medicine Man. I can't go into details here accept to say he has been set the task of finding the last stone for their nations new Medicine Wheel (a sacred circle of stones marking out the points of the compass and lines of spiritual force). Harry (his white name) has been having strange dreams for a Native American, dreaming of Medieval Europe. I don't think he was going to come over until he heard that I was carrying my Merlin Tarot deck, and then he got very interested. Suffice to say we had a most interesting talk together. I did a reading for him and was in turn blessed later in a ceremony using an eagle feather, sage and sweetgrass smoke. I was also given a gift of 'Spirit Tobacco' to sprinkle on the ground each day, the Native American Ancestors like tobacco as an offering.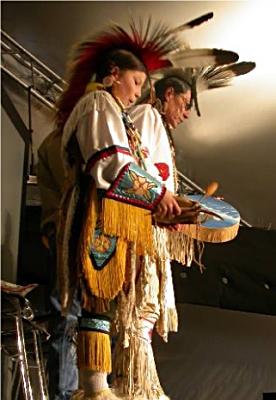 Harry 'Shaking Spear' and Harry Jr
I also learned a little about shape shifting and out of body travel from my hosts, a few days I will never forget.
From Helena I traveled east to The Little Big Horn Monument, then back west through Yellowstone. I visited another medicine wheel and said a prayer; only later realizing that it was September 21, the Equinox, some coincidence huh?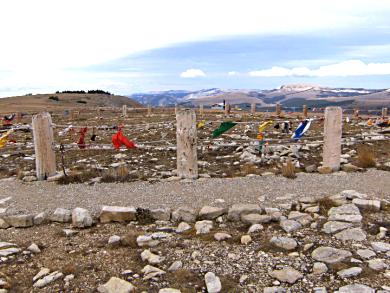 It snowed over the high passes and was very cold across the high prairie.
I camped in Canyonlands, the place where Butch Cassidy and The Sundance Kid had their hideout when part of The Hole in the Wall Gang, it was a stunning location.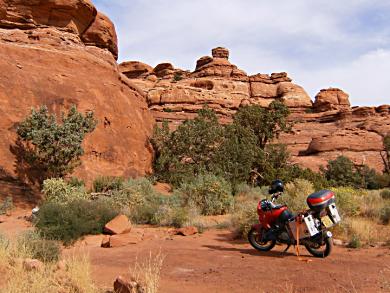 Next I traveled south through Wyoming and Arizona, across the New Mexico Desert and now am in 'Billy the Kid' country, Roswell, where I want to visit the UFO museum. Now it's hot and I am stripping out the linings of my motorcycle suit to keep cool. Here it is quite legal to ride around with no helmet, and I've seen many riders in just t-shirt and shorts, no way am I gonna risk that, I saw how deep the scratches were on my visor when I came off in NFLD, that could have been my face!
I expect to be in Dallas in a few days to meet up with my brother Norman. I haven't been able to keep up with the blog yet, but expect to update it in Dallas. Hope you are all well, and think of you all back in the UK – and other locations - often, you get lots of thinking time riding across flat prairie and desert lands! Notice my change in motto? Stagbeetle - It is not the Destination, nor the Journey, but The People you meet, that is the Prize"
"I arrived at the ferry port for Java at 8.30 with the sun just warming up. Along the way I had ridden alongside a friendly family. The dad seemed to be a careful sort who was taking no chances with his wife and family aboard. Still the riding was chaotic, but it made sense to me for us to make progress together smoothly through the traffic. Sometimes I was in front, sometimes him, with exchanges of smiles and thumbs up at traffic lights.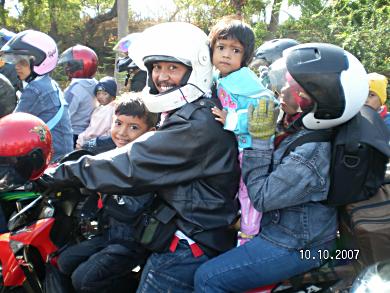 We made very little progress at the actual ferry port. There were three sweat-drenched hours in the ever-warming sun while we waited for each ferry to fill, go, return and let the next batch of motorcyclists on. Everyone was heading home for Idul Fitri. Spirits were quite high though, for a while. We were separated by a building from the air-conditioned cars and trucks but we could hear them tooting their horns in impatient frustration and grinned at one another as we listened. As the heat increased and there was no shade, some people who had fainted were passed overhead to waiting medics at the side who gave them water and sent them back into the overheated throng. Children were being sick and shade was constructed out of anything to protect them. The sun was directly overhead but we all kept our helmets on.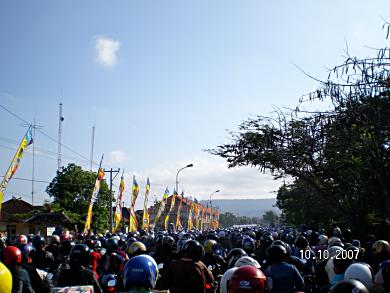 At last some at the back began to cheer then roar and rev their engines. Wee bikes like these only have wee batteries and they wouldn't take lengthy toots on horns, so this seemed the reasonable alternative. We surged forward a wee bit being pushed from behind but just ended up in more fumes, with more kids being sick and just a bit more squashed up."
---

Drop in on Alaska Leather on your Alaskan adventure for service, tires, accessories and a hot cup of fresh coffee!
---
Carla King - A Decade Later: Exploring China on a Chang Jiang Sidecar Bike,
"Coming to you from an outer Heibi province city just sprung from the seeds of Chinese capitalism, the Great Wall cringing in horror on the hill and the Mongolian ponies trying to outrun us, three honorable foreign ladies loud on Chang Jiangs and fat on plentiful autumn dishes.
Between bouts of necessary motorcycle maintenance I was urged by Diny to buy fur-lined motorcycle pant fronts -- gortex on the outside, fur on the inside, you just stick them on the front of your leg and velcro them on, and Voila! Also, like her, I bought fuzzy mitts for my handlebars with fleece inside and again, gortex (or similar) on the outside. You tie them on and slip your hands into them to work the brake and throttle. Total cost, 70 Yuan=$10. Okay...so the fur is fake. I thought I was being frivolous until about dusk when the temperature dropped maybe thirty degrees and we rolled into town and asked for the nicest hotel and sped there as fast as we could.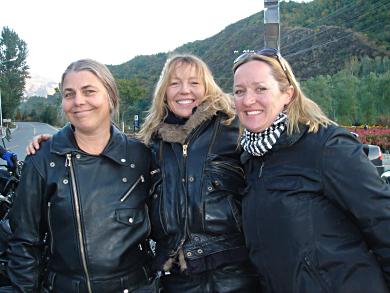 That's saying something when you're entering a place that looks like a combination of Reno and Burning Man. China's architects are into neon, and big time. Every new building whether it's a car dealership or a restaurant looks like a casino, and the roads are full of vehicles of all vintages making noises and erratic movements. And to top it off, every new building site is cleared of evil spirits by a big dose of fireworks, and that can happen when you're just happening to be riding by or at three in the morning. Work never stops here.
Somehow, the three of us are staying together. It's wonderful to ride with two such excellent women. We are each daring and cautious in compatible doses and travel together well in very tough conditions screaming and smiling and curious and horrified and impressed with each new moment."
Trui Hanoulle and Gaea Schoeters, Belgium, in Tadjikistan,
"The silence is total. Yesterday afternoon, yesterday evening, during the night, and again today. An unknown, almost deafening silence. One jeep rushes past and an old Russian motorbike coughs to life. Then total and even deeper silence again. Even life seems to stand still in this village, as if the 100-or-so houses are uninhabited.
Sparkling bright high-altitude sunshine, deep blue sky and equally deep blue lake, snowcapped mountains all around, the flat-roofed, white and blue self built houses, some huge rusty fuel tanks scattered around, and full of wooden electricity poles. This is Karakul in Tadjikistan, a meteor lake and a village.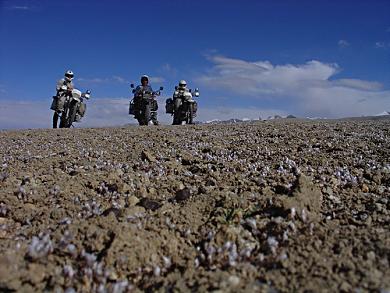 Life is incredibly harsh up here. At an altitude of almost 4,000 metres, summer last three months; the rest is coping with blizzards and frost. Minus 40 to 45 C is the average. Hardly any snow since it's high altitude desert.
Our Russian is not good enough to ask about details, so we keep wondering. Why do people live up here? What is their income? Their jobs? How do they kill time in winter, or even summer? Being a border town at 60 kms from Kirgistan and spitting distance from China, we presume at least some of the local economy runs on smuggling. Right on the Tadjik border, Gaea saw a flat brown substance of some 10 by 20 by 2 cms changing hands and sliding into the camouflage jacket of one of the soldiers. He smiled and blinked an eye.
Right now Gaea sleeps. In the last Kyrgiz cafe on the road, she ate the famous Silk Road dumpling type 'mantu', and it didn't go down well. 38-39 C and water from all orifices.
So we wait. For the road ahead is the notorious Pamir 'Highway', a stretch of some 1,500 km to the Uzbek border, a mixture of potholed asphalt, gravel, big loose stones, sand, mud, low river crossings, high passes above 4,000 metres, etc.
The day before yesterday we left Osh, our bikes not only loaded as usual, but as extras including food for a week and 40 litres of extra fuel. Top heavy they handled like shit but we slowly got used to it.
The few tourists we met in Osh all said the same: the road from Osh to the border and on to Karakul is horrible and takes two to three days. They came in jeeps and trucks, and again it proved to be different for bikes. We swirled around the potholes, managed to glide over the corrugated sections and went through the few harder stony parts without much trouble. We even kept wondering where the real trouble would begin and couldn't believe the long sections of good asphalt. It is not to last, we know very well, but so far this is much better then expected.
Second obstacle we feared was the Kyrgiz border. We already had had a bitter encounter with the visa officers and their allies in Osh, so we were very suspicious. Who said travelling is about de-stressing??
The reason for our nervousness was that the customs in Jalalabad coming into the country didn't want to make any kind of registration for the motorbikes. No Carnets, no 'declaratia' form, no licence numbers in the passports, nothing. Officially our bikes were not in Kirgistan. 'Ni nada, ni nada!' they said. (= it's not necessary) We kept insisting, they kept refusing. After giving up, we asked the few other own-vehicle tourists about this and they went through the same procedure. Slight relief. Until we met two Checks on motorbikes who did have a proper declaratia...
We happen to cross the Kyrgiz-Tadjik border simultaneously. After a very sleepless night. Missing or wrong papers in these countries was asking for either high bribes or equally high fines...
And... nothing! It was the friendliest and fastest border crossing of all. We were all entered in a couple of big books and that was it!"
---

---
Doug DeBen, USA, Seattle to Tierra del Fuego,
"Between the Tarawasi ruins and Abancay is some of the best highway and scenery around.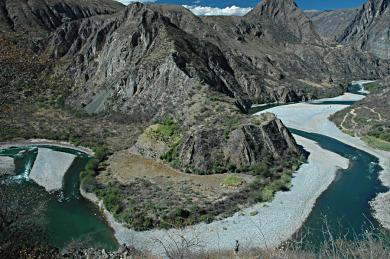 Really really cold again. I'm in Puquio, Peru at about 10,500 feet above sea level. After staying last night in Abancay, at 7,500 feet, I thought the road would get lower but I was wrong again on that one. The road initially went down to about 6,000 feet but then gradually climbed back up to about 14,500 feet and I spent most of my cold travel day on the highland plateau of the Andes with the llamas between 14k and 15k above sea level; not as cold as my BIG Andes day but close, especially since I hadn't exactly dressed for the occasion.
Yesterday's trip to Abancay and the first part of today's trip took me through some amazing canyons and river valleys, quite often with the snow capped peaks of the Andes showing above the mountains. I think I have the coldest room in this little hotel and I'm sleeping with much of my cold weather stuff on tonight.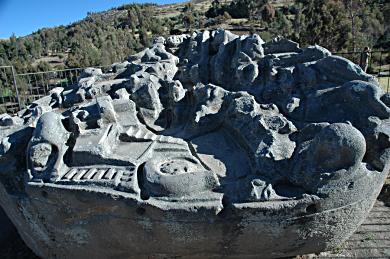 Saywite, Saihuite, whatever. The ruins are mostly basic, and they're about 20 miles east of Abancay.But there's this amazing rock that I referred to in the previous page of pictures, that looks like a miniature version of Q'enqo.
The caretaker guy explains how it's a planned community of the Inca world, including Cuzco, Machu Picchu, parts of the coast, and other regions.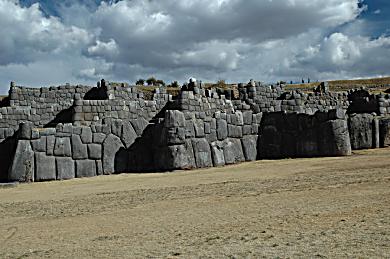 Saqsaywaman is just up the hill overlooking Cuzco. Its pronunciation is similar to saying 'sexy woman' so it's easy to remember. Just like the other Incan ruins, archaeologists still have no idea how the stones were carved, lifted and fit together."
Mike and Lotta Vaananen, Finland, Vietnam to Europe, in the Indian Golden Triangle,
"In Pushkar, an oasis lying on the edge of the desert is one of many holy towns of India, made famous by its numerous Hindu temples and Bathing Ghats built around the green lake in the centre of it, and its annual Camel Fair that is held every November.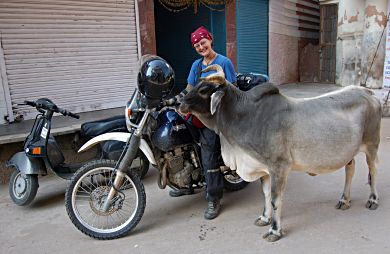 Whilst Mike was inside I stayed with the bikes, and chatted to a cow that happened to be strolling by. On hearing my voice it stopped next to me, and I scratched it behind its ear, which it rather liked and coming closer it pushed its head onto my lap almost tipping me, and the bike over in the process. Closing its eyes it was fully enjoying the attention, and every time I stopped it pushed its wet nose even closer, until Mike appeared, just in time to rescue me from the friendly cow!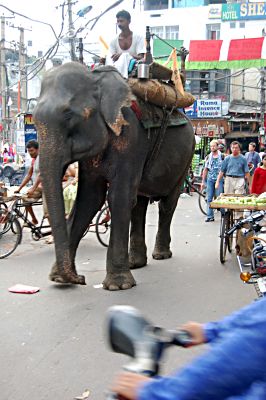 We made our way down the Main Bazaar and I lost count of how many auto and peddle rickshaws I scraped once we had reached the far end of the narrow road, my side rack was now coated in green paint. We also happened to come across a friendly elephant making his way down the street almost taking down the electrical wires and banners dangling over the street.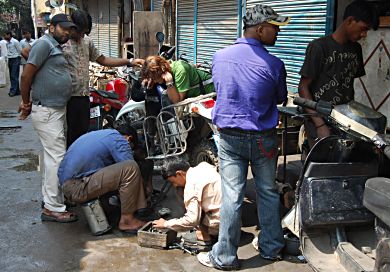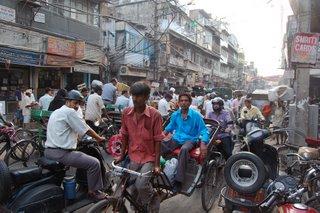 ...The following day I returned to Karol Bargh with Lotta and with the bikes. My illusion of finding the correct chain for Lotta at the supplier was shattered. It seemed they had every other bloody chain but the one we required to fit the Suzuki."
---
The place to go to get good brakes for that overloaded world touring bike.
---
Rob Reznik, UK to Cape Town, in Morocco and Spain, on a Bullet,
"It was a nice ride into Tangiers and I was just approaching a crossing on a main road when a car coming from a road to the left decided he had more right than me - I braked as hard as I could but I still hit him at speed and the impact sent both the bike and me along the road. When I stopped I tried to get up but my right side hurt - I crawled over to get my tank bag which had fallen off into the road. Within a minute there were hundreds of people. Another car driver, to my right when the accident had happened, was pulling the rogue out and shouting. I was OK but the bike was in a bad way - front forks badly bent, front and rear lights and clock broken and damage to the right hand side - it was impossible to steer so the bike was lifted out of the way - police and ambulance arrived and I was sped off - 3 hours later with no broken bones I was taken to the police station where the culprit was still being questioned - everyone said it wasn't my fault but when it came to insurance payout and sorting out the bike the policeman said it takes time and it would be better to sort out the problem myself and send the other party a bill...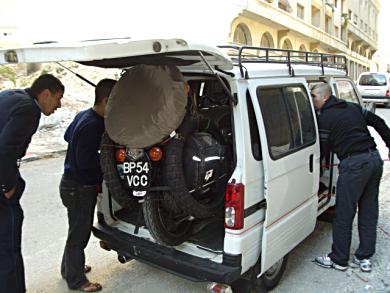 ... I returned to Spain last Monday after the Moroccans made the bike rideable. I spent Tuesday fixing the things the Moroccans had broken and 'tweaked' the front forks to make sure the bike was OK to ride the 130 km's north to the dealer in Sanlucar de Barrameda. Wednesday rode to dealer where we decided that new forks were needed along with head lamp and other cosmetics, ordered and told by the importer 1 or max 2 days for parts to arrive. Went back to Tarifa and returned to dealer Friday where I found the shop was closed all day! Spent night in hotel, left hotel this morning, stopped for a pee at a cafe Bar, returned after pee to find entire contents of both panniers had gone :-( - plenty of people (including elderly women) who were drinking outside but nobody saw or were interested! - Went to Dealer and waited until he opened (finally came at 11.30 am) - no parts and won't be here now -'come back on Monday or maybe Tuesday' - I locked bike up in a Garage which will not be open until Monday morning (so that I can't escape home). I'm just going to buy some more clothes - apart from the clothes other things that went were bike spares, food, medicines (will need to get some lariam) and a petrol cooker (I hope it blows up in their face :-) ) - then off to get pissed and hope to wake up thinking this is just a bad dream. If anyone has a phone number for the Samaritans can they please send it to me."
"The Romanian border was super easy (phew) and not even a glance at papers, so a nice change from Turkey. Eastern Romania is an odd place, strangely ritzy Black Sea holiday resorts, but then with very poor rural areas of looong streets lined with mud brick bungalows and mini marts. Our first brush with the local 'colour' was a guy who had obviously been on the breakfast beers, and some gentle harassment at the traffic lights, until wife/girlfriend/fellow drinker turned up, threw a glass of drink over him and chased him through 4 lanes of traffic, causing much chaos, then the lights turned green... vroooom.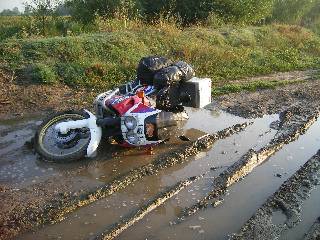 ... Ahhh, the delights of a villa in the Tuscan countryside, friends, food, wine, beer, a pool, a BBQ, and of course a wedding. A week was spent enjoying the high life and the wedding was beautiful in its simplicity and the 7 course meal that followed was out of this world, so congratulations to Ben and Jane!
We waved off our friends before the long race back to Blighty, trying to cover the distance in only a few days. Through Parma (very disappointingly no huge 'ham' cardboard cutout at the town - one for the council I think). Mistakenly rode through the centre of Milan and up what I can only assume is their equivalent of Oxford Street on a Saturday evening (arghhh) to Lake Maggiore, very beautiful and again, some of the best riding. We sat by the shores of the lake having a breakfast pastry whilst the ritzy locals looked upon our trangia brews and scruffy attire pityingly...
Took the fabulous Route 33 into Switzerland - blissful riding and in cold (yet oddly warm) sunshine. Rode for a while with an Italian on a BMW who showed us some tops routes, so we went up the Furka pass (2431m) to Interlaken and a swift view of the Eiger.
Through Belgium and a stop in Chimay for one of the best beers you will ever taste (Chimay reserve at 9%). IM found that a vole had started making a nest in her lid as we packed up our gear one very soggy morning, so cue much merriment from JB and pics of the wee fellow jumping in and out of our gear.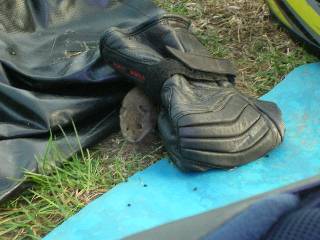 Our last night was spent near Calais and it was so cold and wet that the evening was spent sitting in the gents loo as it had walls and a roof and the thermarest's had worryingly developed a 'bulge' fault, so time to head home we felt... bye bye euroland, hello Blighty.
So this is it! Thank you for reading, we hope you enjoyed it... thanks to Ben C for the Pie-rats logo and to Steve (Anvil) Trout for the bike side stand mod. And if anyone needs an Arts Administrator/Office Manager, then Imogen is your girl, driving and aikido lessons from James... all donations happily received!"
---

Africa Bike Tours provides you with a selection of unique guided Namibian tours by experienced off road hosts.
Come to Namibia for real adventure, Grant and Susan's favourite African country!
---
Cathy and Glyn Riley, UK, Bristol to Cape Town, in Kenya, Sudan and Ethiopia, F650 Dakars,
"Suddenly we were in a land of greens, yellows and blues - not the orange and blue to which we'd become accustomed. And there were clouds! Little fluffy white ones, and stripey cirrus ones too! Amazing. The stark contrast was really tangible, and as we headed for the border, we couldn't have known just how striking it would continue to be the next day.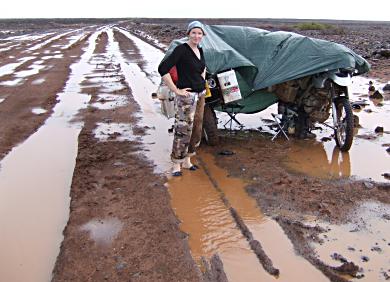 We hadn't planned to cross the border that evening, and indeed at one point we pulled over hoping to bush camp for the night, but as everywhere was either fields of crops or near to villages, we were a bit dubious. We were also craving another of our many, many pepsi stops! So we pressed on, assuming that we could find somewhere to sleep at the border town of Gallabat. No such luck. Not that it mattered! The border was still open, even at 5:30pm. So, with some help from a fixer whose assistance we didn't need or want, we got through the Sudanese customs, crossed a bridge (no barriers, sign posts or anything), and arrived in Ethiopia! It was the least difficult border crossing I've ever experienced. The customs official sat outside on his plastic chair, waved various papers about at his minions, who ran about sorting them out, while we drank cold pepsi and made small talk with him about our bikes. It couldn't have been further from our experiences elsewhere in Sudan, and set a nice tone for our departure.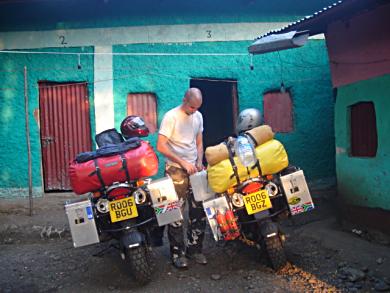 Luckily there was a hotel on this side of the border, as by now it was pitch black. Hotel, as always, is a generous description. But we were able to securely store the bikes in a courtyard around the back, just outside our room, which meant we slept better."
Jason Homewood, UK, Round the world, in Peru, KTM950,
"Bit of a weird first day on the road, heading inland to the hills for a look-see at colca canyon. Out of town there's oil all over the front tyre, which is a blown fork seal. Another job for later. Then winding down the canyon itself, minding my own business, and a couple of horses (who should be doing the same) get spooked and start running about. I hit one right in the backside and it shits all over the bike and me! Great. Apart from the poo, the impact has moved the gas tank back and also squashed the radiator and snapped off the cap and neck. I get so mad I chase the horse until it gets scared and it jumps 1500m down into the canyon... (I don't really. The horse was fine, honest). Limping into a village I effect a repair using the cork from a wine bottle (rubbish wine, by the way, but cheap) and cable ties...
A night in a small town on the coast and then it's back on it. The coast road was a real surprise, twisty, curvy, up and down and empty. It's all desert, but not as boring as I expected. You think your more or less at sea level then you come to these big valleys and the road dives down to the river, a small town and some green fields, and then back up the other side.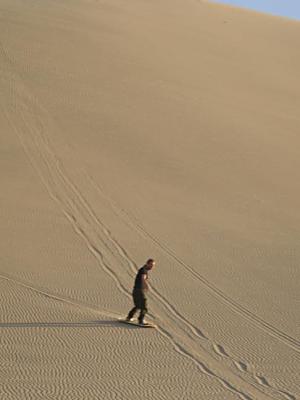 I stop a couple of nights in an Oasis, Huacachina, near Ica, that I visited last time I was out here. Had some fun with sand boarding, using Dune buggies to take the borders up to the next dune. Back on the bike early to get to Lima."
---


Heat-Troller
The authentic solid state DC power controller, designed and made in the US. Heated Liner Jackets and Gloves!
Keep yourself warm, save money and support HU at the same time!
Log in for a 20% discount on your electric vest / waistcoat (and Horizons Unlimited gets an affiliate fee).
---