Too many to list! If you haven't checked out the Links page it's time you did - it's scary long, but it's a fascinating browse.
---
Get your website listed in the LINKS Section
by listing Horizons Unlimited on YOUR web site, let me know you've done it by mailing me a link to the page, and you may get listed here in the next newsletter and on the Horizons Unlimited web site Links page. To make it easy for you, we even have our logo and link code here!
All sites will be considered for listing, but must be a MOTORCYCLE or TRAVEL site, useful or of interest in some way to travellers. We reserve the right to refuse to link back.


Motorcycle Express
MC Air Shipping, (uncrated) USA / Canada / Europe and other areas. Be sure to say "Horizons Unlimited" to get your $25 discount on Shipping!
Insurance - see: For foreigners traveling in US and Canada and for Americans and Canadians traveling in other countries, then mail it to MC Express and get your HU $15 discount!
There are many 'Helpful People' listed on the Links page, a huge thanks to all of them. How about you? Or you can join a Community, or start your own!
Do you know of a good shop 'on the road,'
...in other words, somewhere there isn't a large number of shops? (Also of course any shop that specializes in travellers equipment and repairs is of interest.) But we're particularly looking for those rare items, good repair shops in South America, Africa and Asia etc. Please post your info in the Repair shops around the world Forum on the HUBB.
There are now 100's of shops listed in out - of - the - way places, from Abidjan to Ghana to Peru! Be sure to check out the HUBB "Repair shops around the world" forum if you need work done!
When you meet people on the road, and they haven't heard of this e-zine or the website, we'd appreciate it (and hope they would too!) if you'd get their names and email addresses and send it in to me.
Thanks, Grant
Request for info
Wouldn't YOU like to know all about the border you're approaching - what it should cost, paperwork required, 'tips' needed, and who to talk to, etc.?
When you cross ANY border, take some notes, and pass them on to us. Thanks!
Shipping
The Shipping page on the site is HUGE! It can be reached directly or from the Shipping link on the Trip Planning page.
If you have any information to contribute, please go here, and register (or just login IF you have used this system before) and you can then submit your information. Thanks!
Travel Advisories:
The Foreign Office in London's Travel Advice Unit advises against travel to all sorts of places. Check out the listing before you start!
The US State Department regularly issues updated travel advisories, information and/or warnings.
Grant Guerin and Julie Rose, Australia, Trans America and Beyond, in Argentina, Ushuaia and Chile, Suzuki V-Strom,
"'There is some ice on the road, so be careful' the young and cocky Gendarme informed Grant at the Argentine/Chilean frontier, Paso de Jama. Concerned about the 180 odd kilometre ride ahead, Jules sought clarification.
'How much ice? A lot of snow? Does it cover the road or is it only in a few parts?' she questioned.
'Only in a few parts, just be careful.' he replied, nonchalant.
We discussed whether to go on or turn back and decided to go for it, confident that Hamish and Emma were not far behind us should there be any problems. Clear blue skies, icy cold head winds Piggy and her faithful mounts crossed into Chile. The road was good, dry and the scenery just as spectacular as it was in November last year.
'This is not too bad!' we thought continuing on till we hit a small patch of ice, slowly and carefully we crept over it with the back tyre slipping a little. 'Still not too bad, need to be careful.' we thought.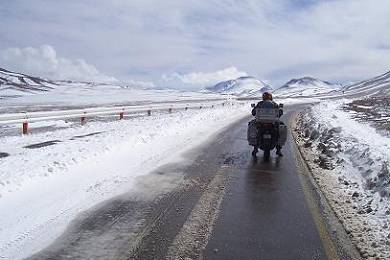 A little further up the snow was thicker along the sides of the road and a few trucks and cars had stopped. 'You will not get through, it's impossible!' yelled a truckie passing us by foot.
We dismounted to check it out. For 200 metres one lane of the road was blocked by thick ice, snow and a broken down truck. It did not look pretty but it was certainly possible. Grant gently maneuvered the bike down the road and Jules followed on foot. 'This is getting a bit more difficult,' we thought 'Hopefully that's the last of it.'
Last year the lakes were a spectrum of colours and filled with flamingos, now they were frozen over and deep blue. The rivers and streams were iced up, however, it was after all a clear bright day.
Our next ice traversing feat arrived. This time there was heavy snow all around and covered most of Ruta 25 with just a narrow thoroughfare down the middle that was thick with ice.
Jules jumped off to lighten the load for Grant. He slowly and surely navigated through a couple of hundred metres, stopping periodically for Jules to catch up. 'Things appear to be getting worse' we thought.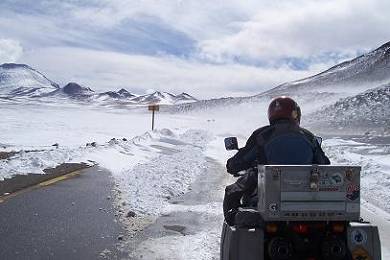 Suddenly we were being bombarded by white wind and our blue sky was disappearing fast as an evil looking storm was forming at the apex of the pass 4,500m above sea level... exactly where we were heading. We were 75 kilometres away from San Pedro de Atacama and a nice warm hotel.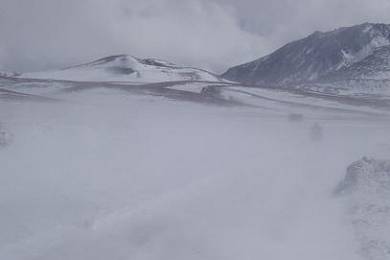 We pushed on for another kilometer into the ferocious wind, blinding snow and intensifying storm. The road had disappeared.... completely."
Ed. See Grant and Julie's blog here on Horizons Unlimited for more stories and lots of great photos!
Mike and Lotta Vaananen, Finland, Vietnam to Europe, in Cambodia and Laos,
"We roamed the ruins of Angkor for three days, up and down the sloped steps, on top of the mountains - at the end of it we were both limping - injury or not! On the second day we were a little wiser and took our own bikes down, which was great fun as the area is huge, it was great to be free to roam all over the place and stop to take photos when ever we wanted to! It had just rained and the jungle smelled green and fresh, and the temples were just breath-taking in the glint of the afternoon sun!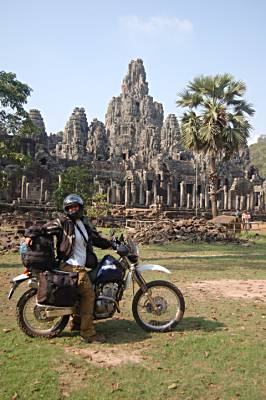 Thursday morning we finally packed our belongings, and started the day's journey by going through the Angkor area once more, to view some more remote ruins along the way.The day's leg was only about 140km and after what felt like forever over the bumps and through the dust in the merciless heat of the day we finally made it to the lost little town of Anlong Veng. We checked into an extremely basic guesthouse with a squat toilet that was recommended by the Lonely Planet, but they must have been there a LONG time ago... However, the owner was kind and proud enough of his little establishment, and keen to practice his English, we practically had to push him out of the room for the night! Our bikes, bags, and clothes were all covered in red dust, we didn't bother even to try and clean up but headed out for dinner to the only restaurant in town, and were charged an extortionate amount of money for a few beers, some rice and stir-fried vegetables! We could hardly wait for the dawn to break in order to be back on the road!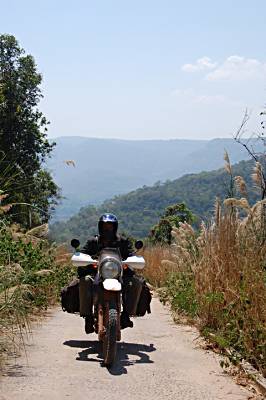 The following day we headed to Prasat Preah Vihear up in the Northern border, a 7th century monastery perched on the mountain top, with stunning views over the plateaus of Cambodia and Thailand. The ascent was pretty challenging, and once we made it to the summit we didn't want to face coming down in the dusk, and were allowed to sleep on the floor of a local police shack instead! We had a beautiful evening there on the top of the world, the temperature was cool and comfortable and it was all quiet as we were chatting with the locals in a little noodle stall, under the impossibly bright stars. The descent the following day was HAIR-RAISING though, my heart was pounding like hell, and honestly I can't remember when I've done something that scared me as much!! But it all went very well and the feeling of achievement afterwards was fantastic!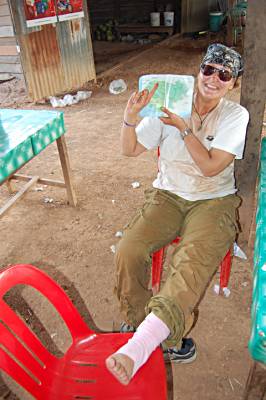 Our next stop was Tbeng Meanchey, where over a bowl of noodles we decided to catch up a little on our plan and avoid the 500km loop to the South by taking a direct route to Stung Treng on the border. This route was specifically NOT recommended by any of our guide books, and now we know why; it took us two days to cover 120k, we ended up sleeping with a local family in a little village in the middle of nowhere, the people in this poor country are some of the friendliest we've ever met! We rode through dry riverbeds, sandpits, mud, ditches - you name it - it was extremely tiring, but also fantastically fun!! Once we finally made it to Stung Treng we were able to relax a couple of days there, before crossing over the Mekong , and a smooth ride to the border for Laos.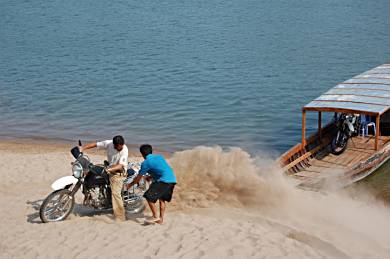 Across the border we spent a few days relaxing in '4000 Islands', on the utterly beautiful Island of Don Det. The bikes had to be lifted in to what practically looked like a canoe, and on the other side we had to ride them over a soft sandy beach. While on the island I also came down with mild food poisoning that in turn led into pretty serious case of dehydration - hallucinations and all - my second super-scary experience after Prasat Preah Vihear, within only a week!!! But we still managed to see the magnificent water falls and the rare freshwater dolphins that reside on the area.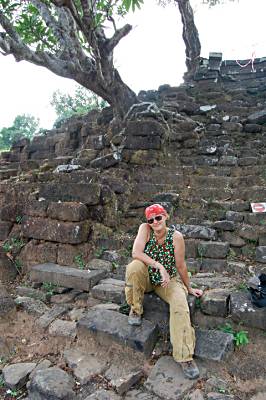 Since entering Laos the roads so far have all been covered and beautiful to travel on. We stopped for two nights in a small town of Champasak to see the impressive pre-Angkorian ruins of Wat Phu, and then continued to Savannakhet, where we were soaked with buckets of water - the local's fabulously entertaining idea of celebrating the Laos New Year - let's hope it's a happy one for us all!"
---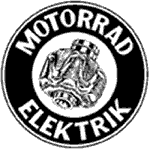 Motorrad Elektrik has been offering the best in electrical parts for classic and modern BMW's for over 11 years. From 12 volt conversion for /2 to better than stock replacement parts for your late model "R" or "K", we've got you covered. Specialty parts for 'hardening' the charging and ignition systems for world-travelling Airhead GS's. Riders like Bob Higdon, Dr. Gregory Frazier, Grant Johnson and hundreds of others depend on Motorrad Elektrik components as they wander the globe.
Our Omega system has solved the charging problems for 1970-95 Boxers with 400 Watts Output, and our

Nippon Denso starter is the perfect cure for Valeo syndrome.
---
Takayuki Nezasa, Japan, in Africa and Russia, on Suzuki Djebel 250 xc,
"Moscow is too hot! But Novosibirsk and so on are too cold! It's as if winter drive for motorcycle! I'm heading for Japan!
Some thoughts on Africa: from Kenya to Sudan - this is the difficult section in the east side of Africa (RSA - Egypt). If you can pass this section, everything is easy in the east side of Africa (western and central Africa area is more difficult. Please don't misunderstand. North of Kenya - Nairobi - Moyale section it's well known? As a bandits area. Via Marsabit is popular among the tourists, but it's also popular among the bandits. I took the route which is via Wajir. This is close to Somalia, so most tourists avoid this.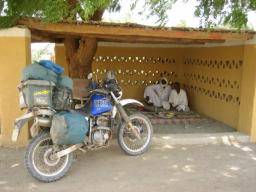 At Garissa, there is 'Mikono international,' they are one of NGO from Japan. Japanese web site, but in it they show their contact address. I wondered they must have the latest info in the east area. if the east area was dangerous, they must not be there. I visited them first. They said there had been nothing serious for those 10 years. They are very kind and you may stay there. Most of the staff are Japanese. I recommend you to visit them anyway.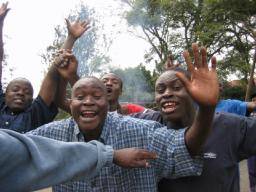 Then I took the route from Garissa via Wajir to Moyale. the road was sandy. The soft-sand sections would appear so often. I hadn't met serious atmosphere. I think it's safe today. Ii know a Japanese motorcyclist who passed the desert route in the east, almost same time. So it's possible and you can try! But for me, my motorcycle condition was not so good. i took the Nile-side route in the west. You need to cross the Nile somewhere. There's not a bridge but some ferries. The road was sandy, corrugation and so on. Sometimes the Nile flooded over the road. But don't worry about it. There is a detour every flood section.
When you go to Egypt, you have to get on a ferry at Wadi Haifa. I recommend you the first-class of the ferry. The second-class was very busy. A tourist with me had his camera stolen while he was sleeping. You could also sleep on the deck, but there was a strong wind. You need a blanket or sleeping bag. You have to load your motorcycle into the cabin (passageway). Everything is after all passengers. The passengers' entrance is not so wide. And there is a little step (10..15 cm?) at the entrance. I didn't check the width exactly, but DR250 with rear side-cases was possible to load. The parking space is just the passageway near the entrance. The width of the passageway is enough for two 250cc motorcycles parking in two rows there. You can arrange your motorcycles lengthwise, too. Don't forget to cover your motorcycle. I had the accessories of the motorcycle stolen."
---
---
Peter and Kay Forwood, Australia, around the world since 1996, in Maldives, Harley-Davidson,
"Our morning ride was accompanied by three police motorcycles plus one plain clothed police coordinator. It lasted just over 30 minutes, including a few stops for photographs and a loop of the island of Male was just 6 km's. Not our usual sort of riding but it was pleasant in early morning. We were welcomed on our return by the Deputy Director and the Assistant Director General of Transport for a few more photos.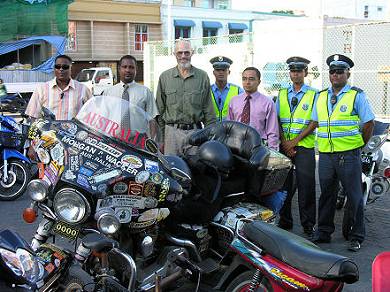 All too soon it was back to paperwork to export the motorcycle. An easier process involving the usual people, shipping company, customs, port authority, again exceptionally helpful and we had re-crated soon after lunch with it waiting for the next ship to Colombo, transship to Singapore and onto Fiji. Who knows when it will arrive, which is why we will be heading home to Australia to wait.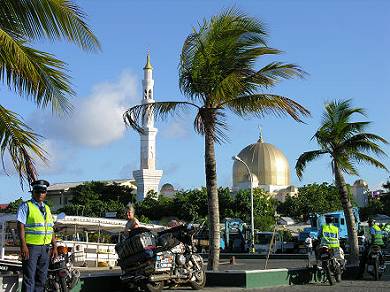 Mali is quiet for a capital city. There are no dogs barking, they are banned, we have not seen any cats or other animals other than a few lizards and fruit bats. Music does not come from cars or entertainment venues. Trucks are small and quiet, no buses and horns are rarely used. A pleasant change from India and Sri Lanka."
Richard Miller and Sascha Meyer, through Europe, the Middle East and Africa, in Kenya and Tanzania, 1955 Royal Enfield Bullet,
"Heading North out of Nairobi into the highlands towards Lake Naivasha we had any final illusions that Africa is a continent of sunshine completely beaten out of us by incessant drizzle, fog and general coldness. Our quick diversion North before heading South was mainly down to the possibility of seeing hippos by the Lake and to have a stroll around Hell's Gate National Park. The hippos didn't disappoint but the stars of the show were a rowdy bunch of Marabou Stork, clacking their beaks and revelling in their status as possibly the ugliest creatures in all creation.
Our plans to miss the rainy season were pretty much spot on for Tanzania but what no-one had told us is that the rainy season is followed by the windy season and we had four days of battling against morale sapping headwinds. Of course it wasn't all bad, the road took us through Mikumi National Park. It's the only National Park in East Africa that you can officially enter by motorcycle - having a major highway carve through it they can hardly stop you.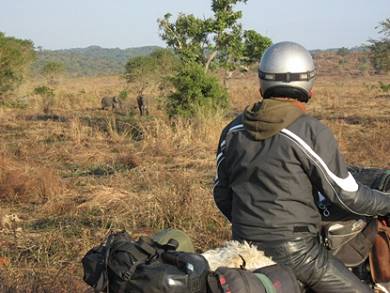 Our first sight of elephants had us hopping off the bike for photo opps. Then we were told off by a passing warden. On the face of it fair enough as you can't really have people wandering around when lions are on the loose, but were we mauled it could have provided some good 'stupid tourist' stories in papers local and worldwide."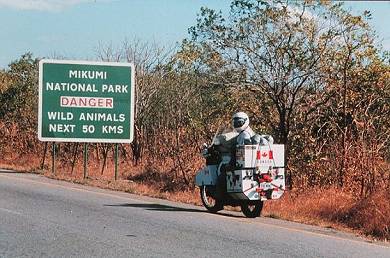 ---

---
Paul and Zoe Jenkins, South Africa, in Malawi, Honda XR250 Baja's,
"So, the last you heard, we were living and working in a dive lodge in Nacala, Northern Mozambique! Paul was training to be a Dive Master and I was managing the lodge. Luckily only a month into the job, we had to take a 10 day holiday to Malawi to re-new our bike import permits….. I mean it wasn't that we wanted a holiday so soon, it was just unavoidable!
This trip gave us the opportunity to explore inland Mozambique, as we were planning to take a dirt road directly west into Malawi, through a tiny border post that would conveniently take us straight into Liwonde National Park, supposedly Malawi's best game park. Although, the route was only 500kms, the road was pretty rough in parts, so it took us 3 days to get to the border – so we needed a few days in Malawi to recover before heading back to work…honest!
It was great to get off the tar (which we have been moaning about since we started the trip) and the bikes really came into their own on the dirt roads and we had great fun…one of us had a little bit too much fun, smashing his number plate and on the 2nd day, I came around a corner to find Paul looking dazed and his bike facing me on the wrong side of the road! My heart sank because I knew he had had a fall and then when I saw him limping towards his bike – I was working out how close we were to a hospital….it didn't bear thinking about! Luckily, it was just a badly grazed knee…nothing a bit of ibuprofen and antiseptic cream couldn't sort out, but after that I was the pace setter and we were traveling at a more sedate pace (which I try to persuade Paul allows us to look at the scenery more!).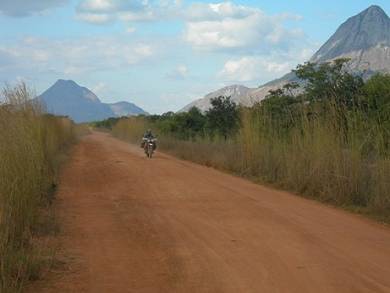 Of course we knew that Liwonde National park had cats and elephants, but we rode up the gate on our bikes and were promptly turned away…for our own safety! Luckily, there was another route into the park via boat, so we headed north towards Lake Malawi and the northern gate of the park. Here they let you ride the 1km through the park to the river, where a boat ferry's you to the lodge and campsite. The 1 km of park was enough, it was like entering Jurassic Park, with huge trees and thick bush and the promise of an elephant around every corner! Our 'elephant strategy' was to try not to meet on because I can't u-turn at the best of times and luckily it worked and we arrived at the boat unscathed!
Unfortunately we had to leave our bikes on the other side of the river, so we untied our dirty bags and muddled our way on the little boat. On the other side of the river, we were greeted with a glass of bucks fizz and it was immediately obvious this wasn't 'our' kind of place! The poor staff that helped us carry our bags probably had to throw away their nice clean uniforms afterwards and we sat dirtying the reception area, sipping the drinks surrounded by lots of clean Europeans staring at us and our big pile of dirty bags, helmets and jackets! Luckily, they had a campsite we set up camp, showered and suddenly blended in a bit more!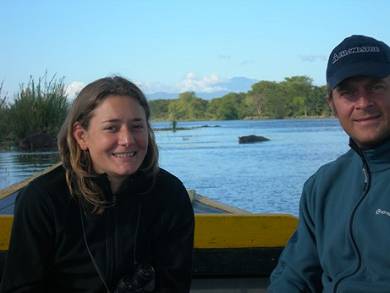 ...we headed out of Milange along Robert Mugabe highway (nice touch!) to Blantyre, the biggest city in Malawi. Just outside the city we were stopped at a Police road block. Nothing unusual here, it happens at least once a day, usually more, but at this one I managed to get myself arrested!
Completely innocently (that's what they all say!), we didn't have any 3rd party insurance because there was nowhere to buy it at the border and so after trying to fob off my expired English bike insurance the policeman told me 'You are under arrest'! I felt it was time to take off my helmet and launch a huge charm offensive to avoid going to prison…or worse…paying a fine! It worked and they were very reasonable allowing us to go, on the condition we would buy insurance in Blantyre! Sadly, that meant we had to hang around in the city for 2 days as it was Saturday and everywhere was closed, but we occupied ourselves by exploring the city and sampling the delights of every single ATM in the city in the hope of withdrawing cash!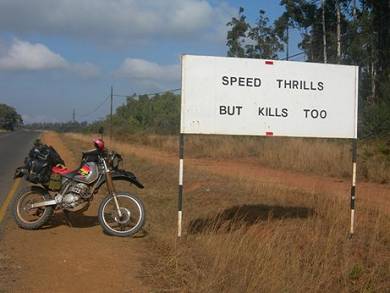 Blantyre is an industrial city, so not much to talk about and the back-packers we stayed in was adjacent to the bus station, so equally uninspiring! We had camped in an empty spot under a shady tree and by the first evening we realized why it was empty! Sitting outside cooking our dinner as the sun came down, the bats arrived to eat the berries in the tree above us. They swooped in, grabbed a berry and relieved themselves of the last one they'd eaten!! Consequently we were pooed on all evening – I say we, but it was just me! Paul is a bigger target than me, but not a drop touched him and I got my trousers, chair flip flops and hat covered in bat crap... not a good night and every morning we had to swill down the tent after the bats overnight feast!
...Vwaza has a big elephant population, but the rangers at the gate were happy for us to ride the 1km to the campsite, so because they were relaxed, so were we and we rode into the camp and chose our spot next to some bushes. Still sitting on the bikes, a little boy crept over to us and whispered 'be careful', then shot back to hide behind his Dad's 4x4. Following his wide eyed gaze we saw a herd of elephants munching on the bushes about 2 metres away from us! What a welcome!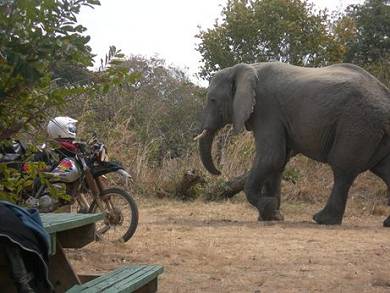 Paul got off his bike and backed away behind a tree, but I just sat there staring – it wasn't until he said in a low, stern voice 'Zoe, get off your bike you idiot', that I followed suit! When a bull came out of nowhere from behind us, I chose to sit on a picnic bench for protection, while Stanford, the campsite manager, crawled underneath trying to hide and this time Paul just hauled me out of the way! For the rest of the day we watched more than 50 elephants come through the camp site towards the Vwaza river for a drink with the hippos, before coming back later in the evening and disappearing into the bush. It was amazing and happened every day we were there."
---

Drop in on Alaska Leather on your Alaskan adventure for service, tires, accessories and a hot cup of fresh coffee!
---
"Finally, we got confirmation that the bikes had arrived in Christchurch. They were a week late and had cost us a lot more than expected thanks to them being taken off the ship in Auckland, not Christchurch. We'd been under the impression that the vessel would arrive in Auckland and unload relevant cargo before continuing to Christchurch where we'd receive our bikes, unpack and dispose of the crates before clearing customs; this was not the case.
It transpires that the initial MAF (Ministry of Agriculture and Fisheries) inspection takes place at the port of entry and any decision on fumigation is made there. With MAF deciding the bikes required fumigating before being forwarded to Christchurch, the shipping agent hired a trucking company to take them to the fumigators. Total bill NZ$715; plus port and handling fees of NZ$475 and a second MAF inspection in Christchurch of NZ$75. Add all that to the RM4800 we'd paid in Malaysia and it cost a total of GBP1200 to ship the two bikes.

Lesson learnt. ONLY ship to the 'Original Port of Entry'. Check this with the shipping agent and receive your bikes there. We'd have saved somewhere in the region of NZ$400 had we known.

...By 1130 we'd unpacked both bikes, made Danny's bike road ready, put mine and all the kit in the van and had breakfast at a nearby café. Next stop was the Brass Monkeys Motorcycle Rally 60km NE of Alexandra in Central Otago.
It's all in the name - Prepare for the cold and be colder was what we'd been told. As we approached the campsite so we saw fires ablaze across the hillside like medieval beacons; only these beacons were surrounded by bikers drinking piss. With its reputation for being cold, the organizers dump large piles of firewood around the campsite for campers to help themselves to and so fires littered the place.
Come Saturday morning the only thing more persistent than the rain was the constant stream of arrivals. What amazed us the most was the amount of riders arriving on dirt bikes having ridden hundreds of kilometers cross country to get there. Many of these were on motocross bikes and when we asked them about being 'road legal' they looked at us as though we had two heads.
That evening the mother of all bonfires was lit. 30m long and 5m high, the timber must have been marinated in petrol as burnt with an intensity neither of us had ever seen. The crowd, soaked from a days' rain, smoldered as they listened to the band and drank yet more beer.

Glenorchy - just around the corner from our NZ house
We won the prize for the furthest traveled but really the award should have gone to Yorkshireman Ian Coates. We met the 64 year old the following morning when he came to introduce himself. He left the UK almost eight years ago having told his wife he was going for a ride for two months! During that time he's ridden 190,000 km on his Africa Twin and his wife has visited him four times. He says they have a good marriage as they've only had four rows in eight years!"
Erik Saue, Norway, Around the World, in the USA,
"And just before the ocean view starts to become habitual the Highway 1 ends at the junction to 101 where you all of a sudden feel like an ant. It's the trees that do it. They are the biggest on the planet. A redwood tree adrift at sea could sink a supertanker. Or to put it more constructively; one redwood tree and your sauna will be hot as hell for the rest of your life. They are an awesome sight. Really, you'll have to be there to grasp their scale. So when I crossed the border to Oregon I did a right turn and – spellbound by the many grand vistas - headed inland to see if I could find some really rocky mountains too.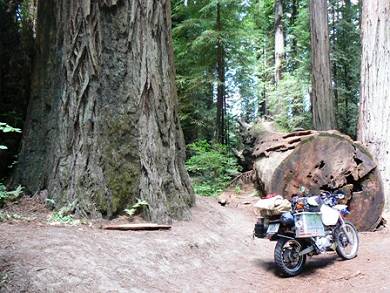 A few hours later; I was alone in my lane and came in a fine angle through a curve and jumped on the brakes. Straight ahead was something large, wooly and unhappy cornered by thick forest to the left, a canyon to the right, and a line of cars blocking the opposite direction. It was something I'd never seen before. I just knew it meant trouble. The animal had a massive forehead wide as the steering bar on my motorcycle. Even worse, it came straight at me.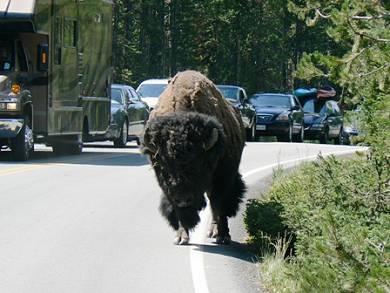 I have to add that somebody, earlier the same day, told me that every year a number of people are run down and killed by buffalos, thus adding some excitement to the moment. But just before it hammered into my headlight it tilted slightly to my left, and passed me so close that I could have touched it. Phew... One car driver leaned out her window and shouted: 'You lucky son of a bitch.'
...Being an Arctic citizen on a motorcycle in South Dakota has its disadvantages. Temperatures rose to a record high 107 Fahrenheit; or 42 Celsius if you like. I felt like a polar bear in a zoo in Cairo. In Rapid City I found relief in an aircon motel with a fellow biker from Canada, but eventually I had to move on. It was plain awful because the breeze when driving was warmer than me thus heating me up instead of cooling me down. And if that wasn't bad enough - Americans everywhere gave me a really warm welcome.
...I perspired my way into a nearby town (in South Dakota) to find a new refuge, but they were all occupied by fashion-conscious men with soft leather pants, stylish bandanas, and with colorful drawings on the back of their jackets. It seemed to be a group thing; matching tattoos and everything. Their motherly attachment was underlined by resting safe in the lap of the women sitting behind them. The name of the town was Sturgis which is famous for arranging the largest motorcycle rally in the world. One week a year approx. half a million Harleys roll into town. However, it might be the world's biggest rally, but not the best. The best rally in the world is Nord-Norge Treffet arranged by HMC. Everybody knows that. Maybe that is why the boys in Sturgis were seeking comfort in the bosoms of their loved ones – Nord-Norge it's just too far away.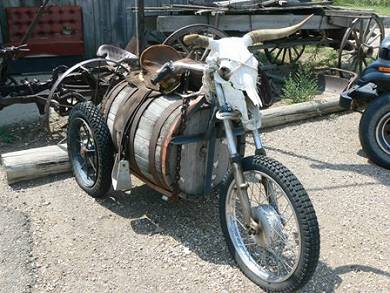 In Wisconsin I came across the Harley Davidson factory. I thought why not, knocked on the door, apologized for not driving a Harley, and wondered if I could have a look inside. Sure, no problem, and a member of staff gave me an hour tour through the factory halls. It was very interesting."
---

The book you've been waiting for - a great read!
---
Andrew Wells, UK, Chelmsford to Cape Town, near Victoria Falls,
"Encountered my first real breakdown with the bike during the transit of Tanzania from Kenya on the way to Malawi. This was the consequence of picking up a tank full of bad fuel and resulted in a truck ride back to the nearest town. I got to experience first hand why it is that these trucks are seen on their side in the ditch on the side of the road. It was a frightening ride at some speed for something weighing many tons and controlled by someone scarcely old enough to have a driving license.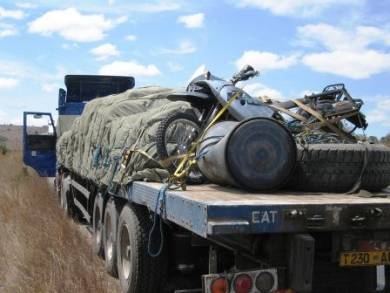 The decision was taken to spend a few nights at South Luangwa National Park, more off road riding. The campsites there are open for the wildlife to freely roam which is all well and good until being awoken early one morning to the sound of an Elephant eating the tree that my tent was camped under along with the bike. I don't remember getting much sleep for the remainder of the time there. Must have met the same animal again on leaving the park as it chased me down the track with ears flapping for some 30 meters. An exhilarating few seconds of riding, these things can run fast through the rough bush when they want to.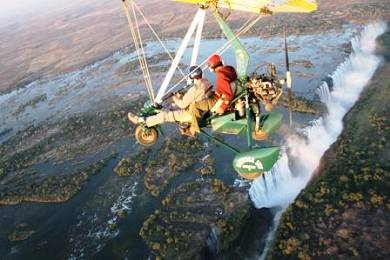 At Vic Falls took to the skies in another form of transport to see this great spectacle and later at night under a full moon to see the lunar rainbows."
Derek Fairless, ATW Adventure Travel, in Newfoundland, BMW F650 Funduro,
"'I put you in number 5 site, it's opposite the toilets and water tap, but there's only you up that side, so take your pick, whatever you fancy. Black fly are a bit of a nuisance at the moment though, hope you got some spray.'
'Yep.' I reply with the confidence of a chemical weapons expert.
I soon have the tent up and scavenge unused wood from the other fire places and in the best Boy Scout tradition the coffee is boiling and the sausage sandwiches imminent. The atmosphere is humid and dank, and I strip off my Motorcycling gear, don my high ankle shoes and outdoor lightweight trousers, spray my exposed parts with DEET and sit back to enjoy my meal that has finished cooking while I was thus engaged. Isn't modern lightweight fabric fantastic? It pulls the sweat away from the sweaty parts, keeps you cool, keeps you warm, washes easily and dries so quickly. Mosquitoes love it, they can pierce through its figure hugging layer with no trouble at all, I sat watching incredulously as one did it in front of me. A special feature of my expensive Knox wear, is the mesh that runs along the seams, to allow air to flow and keep you cool, the mosquitoes can't get through it, but they don't need to anyway, but the black fly can, and I have tracks up the inside of my arms that the most extreme junky would be proud of. If you are going into black fly country do not buy Knox underwear!!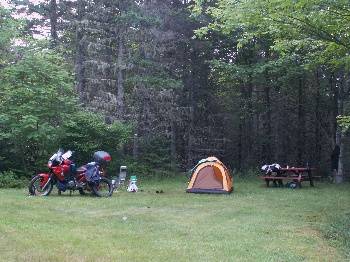 That evening while the black flies were feasting on me, the fireflies were taking flash photos for the Boyleston Insect Gazette. I have never seen more than one or two of these incredible insects before, and here in front of me were dozens, flashing away in the bushes all around me.
...Now a word of warning about the roads in Newfoundland. The main road goes up the WEST shore of Newfoundland, but it heads upwards in a north-easterly direction and ends up on the EAST coast, so following the signs for WEST, I end up in a cul-de-sac in the less spectacular part of town. After wandering back and forwards through suburbs of wooden houses and waste ground I find myself back at the docks and resolve to head in the opposite direction. Just out of town I come across the Visitors Centre, park and review my options. It is 11.45, foggy, cold and wet, I am tired and confused. Time for a cigar and a think. After the cigar and think I get out my emergency survival bag, and climb in it at the bottom of a shallow ditch, welcome to Newfoundland."
---

---
"The Turkish border is quite a thing... jaunty waves abounded from the armed 'kids' on the bridge but then we hit the big guns. Hut 1: Greek farewell dude and a photo of the bike number plate; Hut 2: Friendly Turk greeting; Hut 3: Main Turk a) passport check b) bike insurance (but a bargain at 8EUR); c) visa (not a bargain at 30EUR) d) vehicle stamp e) final stamp; Hut 4: customs and photo of bike; Hut 5: post-main-passport control, fierce, then super friendly and of course, another photo of the bike number plate and with more jaunty waves and, quite some time later, we were in Asia Minor, our 3rd continent.
... It's been a Roman ruins bonanza, with visits to Troy (no Brad Pitt, alas), Ephesus, Pergammon, Hierapolis and the famous travertine pools at Pamukkale. Also the amazing 'fairy chimneys' in Goreme (and the early morning wake up call of 20 balloons floating over the tent doing their 'sunrise over the valley' thang).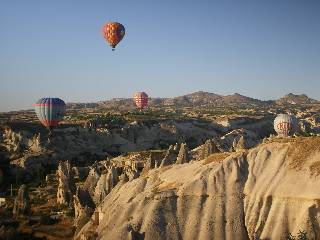 The Turkish people are unbelievably friendly and generous: one guy came out from his shop by a mosque in Sarkikargac and gave us a bundle of fruit, then brought out hot drinks and bottles of water! Then the amazing bonus night near Ankara where it was getting late, so we nipped into a likely looking spot just off the ring road. Alas, we were then waved over by 3 armed security guards, and with much use of the phrase book, it turns out we had entered the studio lot of TRT (Turkish TV), but over more cay, the guys said we could sleep in one of the spare snow ploughs, use their shower and asked us what time we wanted breakfast. Result! Then the international language of 'Pass the Pigs' game whiled the night away.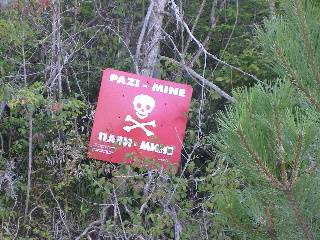 Other notable friendliness was at the Abant lake campsite, which in itself was negotiated with the (again, armed) ticket guard over much cay, where we were greeted by the other campers like lost family and given almost more food and cay than we could cope with... We were also given Turkish names: James (as he doesn't look English apparently!) is now known as Tolga (a name given by Zafer, a pide shop owner, and his eccentric American pal Delmar) and Imogen was given 'Dilara' as 'Imogen' was way too tricky.
... On a more personal note for those of a soppy persuasion, James and Imogen are now engaged, with rings being purchased in the Grand Bazaar in Istanbul and exchanged between the Aga Sofia and Blue Mosque... AHHHHHH..."
"... We climbed the highest pass yet, 11,000+ up into Silverton, Colorado for the Horizons Unlimited Motorcycle Travellers Meeting. It was cold and rainy when we arrived which sort of felt good - for a short while. Hanging out at 9,000 feet makes you a bit breathless even when doing some very basic things.
The travellers meeting was well organized and interesting. It was good to see Grant Johnson - the Horizons Unlimited guru - who we had first met several years ago when planning our last trip and also to meet a whole bunch of new folks all interested in motorcycle touring. Peter took the opportunity to replace the back tire which was slowly leaking in the cool mountain air from the repair in Kamloops on our first day of the trip. Cindy Poole from Texas shared her Yamaha 225 with Carol for the 'Basic off road riding' course put on by Chris Ratay and Simon Thomas and Rawhyde Adventure. Lots of good information from Dr. Arturo Macias, he's been riding the Copper Canyon area of Mexico for 30 years. We also met Chan Chandler, a retired doctor from South Carolina who supplied us with morning coffee and wide ranging conversations. We left the meeting with Eric Sargent - sometimes from Costa Rica, Jeremiah St. Ours, the traveller's meeting organizer just back from a South American journey, and Dan Wilson from Las Lunas New Mexico, who very kindly invited us back to his home for a couple of days while we reorganized stuff for crossing the border into Mexico - like mailing extra clothes home, etc.
...Drove to Ciudad Cuauhtemoc and had our passports stamped out of Mexico and Peter dealt with the bike documents and the temporary import/export permit and then 4 kms later in La Mesilla we did the documentation for Guatemala that includes 90 day visas for Guatemala, Honduras, El Salvador and Nicaragua - a very easy crossing with no problems and little expense. The bike had to be fumigated - it's their rules.
...Antigua is a very beautiful old city, cobbled streets, old churches, volcanoes in the distance. We needed funds and headed for a bank machine... we found a machine that didn't work the first time... and there was a guy there who seemed to be having trouble with his card... we looked for another machine, but they were in very crowded areas, so we went back to the first one...making a long story short, when we accessed the atm the second time, we asked for less money... hit the yes button for a receipt (we thought) and encouragement from the same guy who was there at the beginning. Peter started to get a bad feeling and was watching the guy, who had switched from the machine he had been using to the one I had just used. After a few minutes the guy left and headed to a 'Burger King' across the street and I told Peter that I could check my bank account online from an internet cafe that was just around the corner. I did that and saw that there had been 12 illegal withdrawals! Peter went running back to the Burger King and tried to grab the guy, the guy started to run and Peter was chasing him along the main streets of Antigua shouting 'ladron' which is the Spanish for 'thief' at the top of his lungs.
The tourist police caught the guy and then we were introduced to some pretty decent Central American policing. I didn't know what had happened out on the street until Peter came to get me with the 'civil policia' better known as the 'federales'. We went to do a report at a temporary mobile office set up where the thief was handcuffed to the stair railing outside! The federales showed us the money they took from him (it did not total the amount he had withdrawn and we suspect he handed some off to a partner). The police offered us his watch, ring, cell phones and most of the money - indicating that they needed to have some funds for evidence. We declined the stuff, but took the money which came to about half of what had been stolen. Then we spoke to a guy on a cell phone who spoke English and he indicated he would meet with us on Monday to do a more formal report. Suffice to say, it was a rather miserable evening."
Simon Roberts, UK, The Road to Kathmandu - the comic strip - coming soon to Horizons Unlimited!
In August 2005 Simon Roberts, a freelance Graphic artist, set off from Bristol,UK on his trusty BMW R100GS heading east to Kathmandu, Nepal. Having to push the bike off the ferry at Calais, France, due to starter motor failure, he knew the trip was going to be anything but uneventful....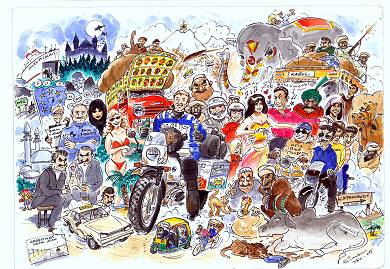 Over the next seven months he pushed East, through the motorcycle workshops of Europe, Turkey, Iran. Pakistan and India and finally into Nepal to be met by the Maoist uprising... He encountered wild dogs, wild men and wild women. From the desperation of a failed driveshaft in Baluchistan, close to the Afghan border to the joys of a Cappuccino in Delhi, euphoria, despair and maniacal rickshaw drivers were his daily companions...
"Throughout the 7 months, I drew cartoons feverishly , documenting the Highs – and Lows – of the trip and these hundreds of drawings are finally being collated into a unique 'Illustrated Motorcycle Diary travel journal comic strip'"
Ron Markiewicz, Australia, Africa and TransAm 07, in Alaska and Yukon Territory, Canada,
"As this is the salmon spawning time, we were lucky to see many bears fishing and gorging themselves: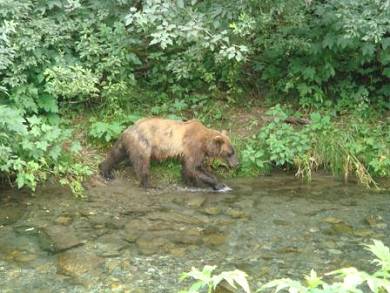 I did come across one on the road - my riding buddy said 'What a great photo Ron - just wait there while I get the camera'. Only problem was - the bear was now happily strolling towards me. The smile masks some serious arse pucker.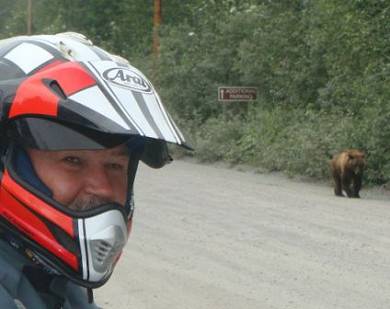 I was ready to hit the starter button and skedaddle - luckily he went into the bush just after this photo - as close an encounter as I ever want.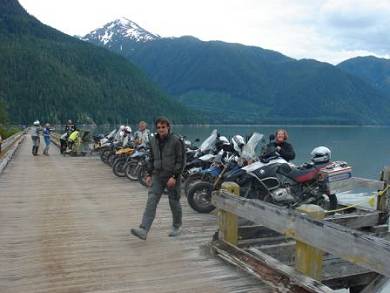 We stayed a couple of nights in a little old gold town called Stewart at the end of a fjord. The town is very quaint (1890's style), and our digs were brilliant - restored timber buildings - using recycled material and great local artifacts adorning the walls."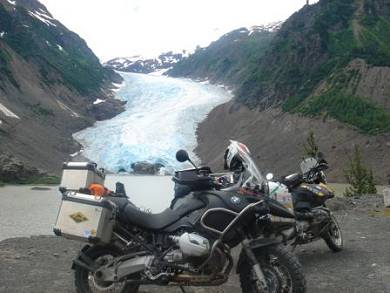 ---
The place to go to get good brakes for that overloaded world touring bike.
---
Andi Naumann, Germany to India, in Turkmenistan, MZ ETZ 251 Saxon Tour,
"...The rest of the day I spent riding down very bumpy roads, waving to the most motorcycle enthusiastic people I've seen so far. Almost all kids, boys and men thought I was a hilarious sight and smiled and laughed and waved at me. I stopped only two times, and thus managed to cover half the country until sunset. Once for eating a melon, with dozens of people surrounding me and the bike like in Syria, and the other time for talking to a cop and my way out of buying him vodka..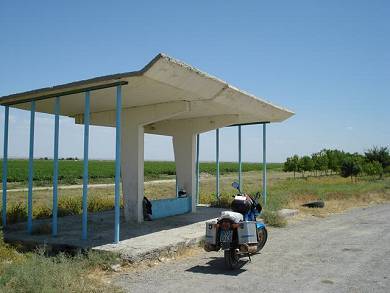 Somewhere after passing the Kura river I went sideways into the fields, put my tent up because of the mosquitoes, and fell asleep just in my undies, no blankets or nothin'. Only in the morning I woke up because it was a little cholodno, pulled the bike jacket over me and fine. Man, I'm such a tough bugger by now :-).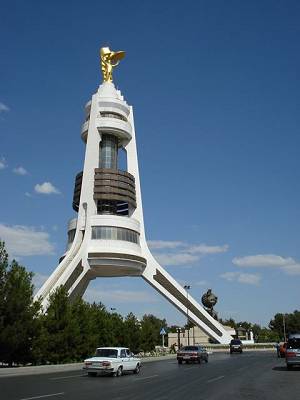 ...On the ship all the passengers underwent a health check (a quick look and some forms filled out by a 'doctor') and apparently I was in best condition. That changed in the next hours. First I thought it's just the missing breakfast and no water during the waiting for the border process, but when I was finished (120$ for now 3 days TM) and ready to leave Turkmenbashi around 1pm I couldn't because some fever was kicking in. God knows where this came from again, but I had to deal with it. For a while I was contemplating sleeping on the bench at the border, but no, that way I would never cross Turkmenistan. And the facts were that from the 5 day visa I had only two and a half left to cover some 1200km in the hottest of the Central Asian countries. So I tried and verified a new healing method for spontaneous, diarrhoea accompanied fevers. It's very easy, just follow these steps:
1. go to a Central Asian desert in the middle of the summer
2. drive your bike until you drop of exhaustion (hopefully in a shady spot)
3. drink water, take a shit, sleep 10 min and repeat 2.
Believe me, it works. In the beginning the intervals were at 50-75km. But by the middle of the next day they were ever increasing to 100, in the end 150 km. Getting up at the 3rd (and last) day in Turkmenistan I felt a little dizzy because of having eaten almost nothing for 2 days, but the fever was almost gone and the appetite slowly came back. This way I successfully managed to cover all the way to the border to Turkmenistan on the evening of the 7th of August, the exit date on my visa. Only to discover that the border was closed already. Turkmenistan is really not the place to bust your visa! As some of the Mongolia racers were told in very sincere words by the British Embassy: 'If you overstay your visa, your belongings are confiscated, you are put in jail and afterwards deported home!'"
---

Africa Bike Tours provides you with a selection of unique guided Namibian tours by experienced off road hosts.
Come to Namibia for real adventure, Grant and Susan's favourite African country!
---
Bharadwaj Dayala, India, RTW, Bungee jumping in New Zealand, on a Bajaj(?),
"The lady asked me to follow her to the jumping platform. The platform itself is specially built extending to 40 feet into the air from the vertical rock face. Another buddy reconfirmed my weight and started making arrangements. I was looking back and forth for a chance to run away but they closed the gate. I was not even wearing shoes. I was just wearing my shorts and sandals. What if the rope slips off my feet?
She was attaching the bungee chord to my legs and seeing I was too tensed, told me 'Don't be afraid. There is an easy way to jump. Instead of looking down and facing the depth, you just keep looking at my beautiful face and just fall back. You will be down in no time'.
I was fighting my own fear and trying to win over it and absent mindedly said 'I rather face my own fear and jump'. Bang! She left the ropes there and called 'John you look after this guy' and went away angrily. I told you she was beautiful but I was really trying to face my own fear and win it. But now I am more scared as she might have attached the rope to only one leg expecting to have great fun when I hang on one leg screaming.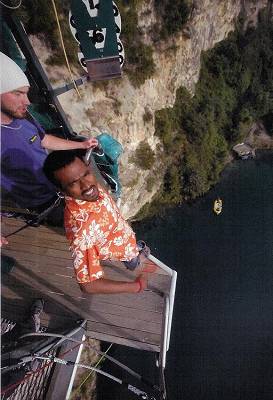 Then the guys came and checked everything and told me 'Ok now you walk to the edge, put your hands up and jump'. 'Oh that's all' with a Terminator face again. I took a deep breath as if that's my last and slowly walked to the edge. Unlike a school boy, I always had the chance to quit but then some part of me is saying that I should do it.
I waved at the camera and wanted to jump like Superman but jumped like Hanuman.Then the time stopped. I was descending only inch by inch in slow motion. It's a free fall. It's beyond ecstasy. I actually opted to touch the water but due to my feather light weight I could not reach water. The first time I came all the way down, I enjoyed it in silence. But the bungee pulls you up again a couple of times to almost half the height giving you the same feeling all the time. Then I started laughing like hell with fun. As soon as I was on ground, I was running to take another jump!
We should always have fear. We should respect fear. We should know our limits. And then try to win over it and go beyond the limits."
---

---
"After 697 days and 44249 km we are back in Hamburg from our travel on two motorbikes – Honda Transalp – to Australia. Being 'home' again, it feels like waking up and remembering a dream we had… it all seems unreal… but we have the pictures so we must have done this.
Before we set off in September 2005 we had planned to travel for one year, our destination was Southeast Asia. Soon we realized, that we move slower and spend less money as expected. And as we had no job or flat waiting for us in Germany and still loved travelling, we decided to extend for another year.
Riding through Turkey, Iran and Pakistan was a great adventure and experiencing the hospitality of the Muslim people is truly wonderful: We got invited for tea, dinner or to spend the night with local families.
The traffic in India follows its own rules, which usually means the bigger one has priority. This put us very far back in the list. But driving carefully and with full attention every moment we made it to Goa and back up to Nepal without harm worth mentioning.
Unfortunately it was not possible to continue overland to SEA ( China and Myanmar did not allow to import the motorbikes), so we crated the bikes in Kathmandu and shipped them to Bangkok.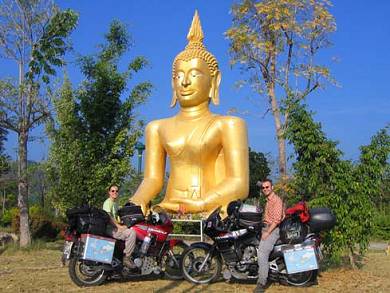 Thailand – Cambodia – Laos – Malaysia are beautiful and laid back countries, travelling is a treat. Crossing Indonesia during the rainy season was challenging again, but the enormously friendly people, animals and nature absolutely stunning. Spotting Orangutans, Komodo Dragons and Manta Rays, climbing still active volcanoes are unforgettable experiences.
Through the islands Sumatra – Bali – Lombok – Sumbawa – Flores and finally Timor, we go to truly remote areas and it is rather shocking to arrive in Australia after that. We cross the country from north to south and get a feeling what 'Outback' means. We finish our travel in Sydney, crate the bikes once more and our families are happy to meet us in person again, after 23 months.
This trip was our dream and we are happy we realized it. We found extraordinarily friendly people in all the countries we've been. Whenever a difficulty came up that we could not handle ourselves, there was always someone helping us.
Meeting other overlander travellers on the road and exchanging stories and experiences was always good fun. We are still in close contact with many of them.
Although we had only two years of experience riding motorbikes before we had started we managed hard weather and road conditions – we crossed deserts, drove on icy roads in the mountains of Pakistan, through flooded roads in Cambodia… but mostly we had a phantastic time! Always keep the mirrors up. Renata and Tobias"