Too many to list! If you haven't checked out the Links page it's time you did - it's scary long, but it's a fascinating browse.
---
Get your website listed in the LINKS Section
by listing Horizons Unlimited on YOUR web site, let me know you've done it by mailing me a link to the page, and you may get listed here in the next newsletter and on the Horizons Unlimited web site Links page. To make it easy for you, we even have our logo and link code here!
All sites will be considered for listing, but must be a MOTORCYCLE or TRAVEL site, useful or of interest in some way to travellers. We reserve the right to refuse to link back.


Motorcycle Express
MC Air Shipping, (uncrated) USA / Canada / Europe and other areas. Be sure to say "Horizons Unlimited" to get your $25 discount on Shipping!
Insurance - see: For foreigners traveling in US and Canada and for Americans and Canadians traveling in other countries, then mail it to MC Express and get your HU $15 discount!
There are many 'Helpful People' listed on the Links page, a huge thanks to all of them. How about you? Or you can join a Community, or start your own!
Do you know of a good shop 'on the road,'
...in other words, somewhere there isn't a large number of shops? (Also of course any shop that specializes in travellers equipment and repairs is of interest.) But we're particularly looking for those rare items, good repair shops in South America, Africa and Asia etc. Please post your info in the Repair shops around the world Forum on the HUBB.
There are now 100's shops listed in out - of - the - way places, from Abidjan to Ghana to Peru! Be sure to check out the HUBB "Repair shops around the world" forum if you need work done!
When you meet people on the road, and they haven't heard of this e-zine or the website, we'd appreciate it (and hope they would too!) if you'd get their names and email addresses and send it in to me.
Thanks, Grant
Request for info
Wouldn't YOU like to know all about the border you're approaching - what it should cost, paperwork required, 'tips' needed, and who to talk to, etc.?
When you cross ANY border, take some notes, and pass them on to us. Thanks!
Shipping
The Shipping page on the site is HUGE! It can be reached directly or from the Shipping link on the Trip Planning page.
If you have any information to contribute, please go here, and register (or just login IF you have used this system before) and you can then submit your information. Thanks!
Travel Advisories:
The Foreign Office in London's Travel Advice Unit advises against travel to all sorts of places. Check out the listing before you start!
The US State Department regularly issues updated travel advisories, information and/or warnings.
Peter and Kay Forwood, Australia, around the world since 1996, in Mali, Senegal and Cape Verde, Harley-Davidson,
"14/9/06 Collected our visas at 2pm and headed out towards Senegal. The road heads north and is asphalt to Didjeni. Other travellers coming from Mali previously advised us that the road was then dirt to Diema, but they didn't know the condition of the road from there to Kayes. Apparently from Kayes all the way to Dakar in Senegal it is mostly new asphalt. Truckies are always a good source of road information. Almost none, in this part of the world, have ever seen a map and not too many more can read but they know the towns and distances by memory and the surface condition from hard experience. We asked a couple on the road outside Bamako and were told that the road was now asphalt from Diema to Kayes leaving just the one section of dirt.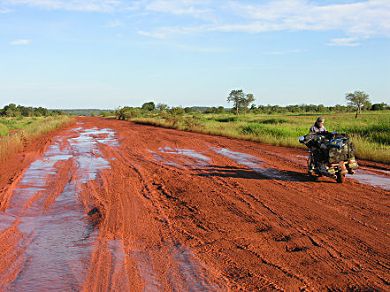 With clear skies and no rain since lunch time we arrived at the end of the asphalt in Didjeni late afternoon and decided to press onto the dirt till sunset and camp roadside. The wet season had destroyed most of the road. Trucks had been gouging bogs and creating ripple potholes. Luckily their tyres were also spreading the mud and a dryish track had been created in most areas. The wetter areas were a slurry but the clay content was low and we passed without sliding, travelling at about 35 km/hr.

Dakar, Senegal: The road improved this morning and had us in Dakar by lunch time. I didn't check the rooms of our chosen hotel too thoroughly before checking in but soon discovered we were in a full on brothel. Girls were sitting waiting in the courtyard or wandering through with their hourly partners. The basin in our room had a used condom in it with its package bearing an expiry date of March 03 in the bidet. There were no pillows on the bed and the single sheet we chose to cover with our own. It was interesting watching the clientele wander through in the evening...

Decision time postponed: ...With the luck of getting the motorcycle onto MV "Smaragd" to Cape Verde and the possibility of an easy route to Spain, a month earlier than what we recently expected, the option to try and ride to Bhutan is gaining popularity, the main deterrent has been the onset of winter across Turkey. A final decision will not likely be made till Tunisia, after our visit to Algeria. Felix, MV "Smaragd's captain, emailed his enthusiastic willingness to take the motorcycle to the Canary Islands, however he does not have the authority to approve passengers, that will be referred to the vessel's owners, insurance is often the sticking problem in these cases.

26/9/06 Late last night we checked our emails to learn that special approval had been given by Mr Matthias Dabelstein, the vessel's owner, to take Kay and I, with the motorcycle, as non paying passengers to Las Palmas in the Canary Islands. We were quite excited as we have not travelled before on a container vessel. The vessel was not in sight when we went to breakfast but it arrived soon after. We were not optimistic for success with the proposed day's schedule. The only two wharfs were already occupied and another vessel was waiting to dock. There was however possibility for room at the end of one wharf, not ideal as the ocean swell rounds the short breakwater and continually rolls in against the wharf. MV "Smaragd" tied up in this position and cleared port formalities by midday when the motorcycle was unloaded. The 100 metre vessel has it's own, two, forty ton cranes, to load or unload the over 400, six metre, containers it can carry, many contained inside the hold. At this "sloppy" berth containers could only be unloaded, not loaded, as the ship's movement prevented positioning them within the hold.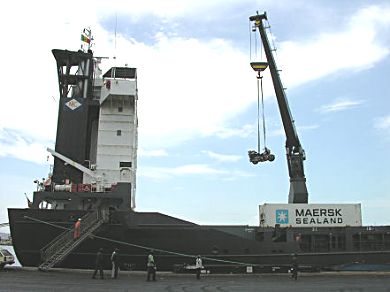 The aft 40 ton crane was used to unload the motorcycle, but with it's height accentuating the ship's movement, the crane hook was swinging quite violently. At a brief lull the motorcycle was rapidly lifted from it's position between two containers and in another lull positioned carefully on the wharf. It was quite a feat, reflecting the crews ability, to get the motorcycle both off and later in the day, back on the vessel, with no damage. With just five hours allowed between unloading and reloading the motorcycle Kay and I left the port for the interior of the island. Santiago only gets rain for two months of the year, if at all, and it had rained heavily recently making the mountain scenery quite beautiful and spectacular. Extensive programs to green the island have been undertaken with contouring of hillsides and tree planting. Crops also terraced the fertile volcanic slopes.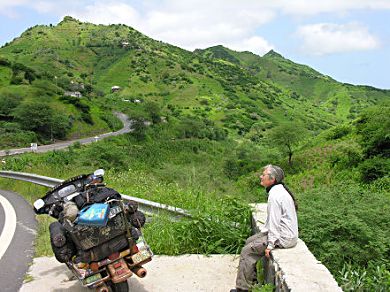 At 3pm it was a change of passenger and Captain Felix enjoyed the back seat for a return to the cool mountain scenery. By sunset we only waited for final vessel clearance and the pilot to allow departure and slept comfortably in the owner's cabin."
---
Help support the Horizons Unlimited E-zine - visit our sponsors!
Please be sure to tell them how you heard about Africa Bike Tours.

Africa Bike Tours provides you with a selection of unique guided Namibian tours by experienced off road hosts.
Come to Namibia for real adventure, our favourite African country!
Thanks!
---
Hamish Oag and Emma Myatt, UK, Asia, Australia and the Americas, in Australia, BMW R1100 GS,
"In the Pilbara - Doleena Gorge: In the morning Hamish's Scottishness came out - he wanted to climb the hills. I was content to lie around watching the wildlife all day but let him persuade me and I was very glad I did, despite the fact we set off in the heat of the day (only the poms are this silly) and struggled up through the spinifex. It sounds painful and it is; short and spiky grass which catches at your legs. The views were well worth it. On the way back to the camp we stopped at the water's edge to try and catch dinner as there seemed to be lots of fish. The pelicans and cormorants were ducking and diving and catching plenty, but we had no success at all - so we cheated and opened a tin of tuna instead.
As we watched the sun setting and the hills changing colour the pelicans fished, cockatoos flew overhead on their way to roost, birds of prey picked off any fish the cormorants missed and a rock wallaby came down for an evening drink. We slept out again and I woke in the middle of the night to see the white bark of the ghost gum trees shining in the light of the nearly full moon and a pelican gliding silently by on the water. I thought how I didn't want this trip to end...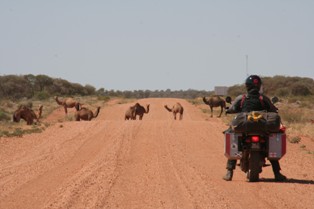 ... It wasn't too long before wild camels were spotted, the first of many we'd come across along the way. Camels must be one of the few success stories of all the introduced species to Australia. Originally brought over from what is now Pakistan in the 1800's to transport supplies and produce, they now live wild, the Australian conditions well suited to the camel. So well in fact, that Australia is now the only place in the world where camels are found wild, resulting in exports to the Middle East no less. Talk about sending coal to Newcastle!
... Hame had read about Karijini National Park so we headed there for a couple of days to explore more gorges. A nightmare of red dirt and corrugations - 46km of them - took us to Weano Gorge, a deep and narrow gorge carved from the tightly packed red rocks which erode in straight lines like brickwork. We climbed down into the gorge and walked along until it got narrower, and narrower.
Soon we had to wade through pools and along the creek bed until we came to a steep drop down to the Handrail Pool, we had to climb down using a rail and a rope.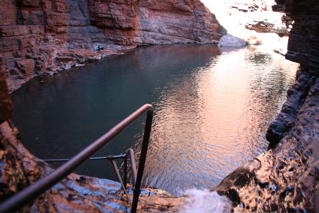 The water was Very Cold, and as we went further it got colder, and narrower, until we could touch both sides of the gorge at once. Eventually we got to a part with a sign which warned us not to go any further unless we could abseil, so we turned around there.
... We eventually set off for Hyden, location of Wave Rock. Yet another Australian geological phenomenon. Arriving just as the sun was going down, we had to wait until morning to check out the wave. Formed on the side of Hyden Rock as a result of water flow several millions of years ago, it was indeed an impressive sight begging for the imaginary surfing shot.
... The North South Highway was far quieter than we expected and we buzzed down it listening to music and pondering over the clash of cultures between indigenous people and western society. It's an incredibly complex situation but it's worth noting that the majority of people who'd told us horror stories about how we'd get robbed, murdered or begged from were those who'd never been to any of the communities or outback towns. All the positive viewpoints we'd heard were from those who'd been working in communities for years, or who were educated or well travelled. Or had half a brain. We personally had no hassle, no negative events, we just met PEOPLE. One World, One Race - The Human Race. It's really simple.
... Crocodile Harry is a Latvian who's lived here for years, many of them spent in a loin cloth chasing crocodiles and women. He lives in a 'dug out', the PC word for 'cave' in Coober Pedy and for years has opened his house as a living museum. He has a large collection of women's underwear stuck to the walls, I heard a rumour there are the signatures of 1000 virgins on his bedroom ceiling (of course I added mine) as well as t-shirts, thousands of signatures and bits of artwork done by visitors, and many of his own sculptures.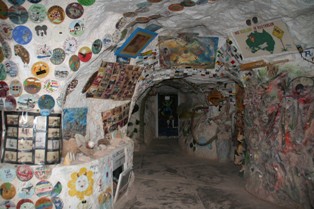 There isn't a bare bit of wall anywhere. Harry himself usually greets every visitor, but apparently he is quite ill and was in bed when we got there. I got a wave from the bed though but retreated fairly quickly before I was 'caught' - judging by the amount of underwear Harry still receives, even at 83 years of age he is still more than capable!
---
Help support the Horizons Unlimited E-zine - visit our sponsors!
Please be sure to tell them how you heard about Mondo Enduro!

Thanks!
---
"Ventouris Ferry Lines had a very professional brochure and it looked like they did have nice ferries but not the one we were on. Think Greek Rust Bucket. We loaded first, no instructions on where to park and no such thing as a tie downs for the bike. We improvised and used what we had to secure the bike and then lugged our two panniers up 4 flights of steps (me with my bunged up knee which is now better) and across the open deck past 4 smelly semi-trailers with pigs in them.
There were no signs anywhere and when we were crossing the deck I was thinking, OH GOD maybe they literally meant deck passengers, out here with the pigs! We kept walking and eventually found the lounge area and the little man showed us where we had to go. It was OK with lots of chairs but all with fixed armrests so sleeping on them was possible but not comfortable. We secured our position and changed out of our riding gear had a beer and settled in for a long night...
We were woken by the steward at 3.00am but didn't arrive at Igoumenitsa until 4.30am (5.30am Greek time), by the time we unloaded it was 6.00am and still very dark. Some days everything goes right and some days it doesn't. Fortunately after a night of very little sleep it was going to be the former. We rode off the ferry looking for border control, none obvious so we kept going. Right outside the ferry terminal was the road clearly signed to Parga, the town we wanted and then only 10 kms further on was a service station open for business at this early hour.
Refuelled we rode the half hour to Parga, a delightful coastal village just like the postcards.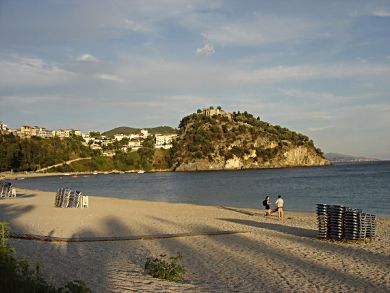 The camping area was open but it was still so early no one was around, so we put on our togs (Queenslander for bathers) and went for a swim in the most glorious crystal clear water. When we got back we found Mr Dimou who told us to find a camp place and come and see him later. By this time it is only 8.00am.
Unbelievably there is a huge storm brewing so we start to put up camp and the bikers who are leaving give us their ground sheet. (A God send, we wish we had had this from the beginning)
Camp up, beds out and sleep time. We sleep through the storm (lots of noise but no rain) and awake at midday where we go to the Camping Ground Restaurant for lunch. Wow, absolutely sumptuous food. Another swim and a lazy afternoon before watching the sunset over a glorious coastline. Some days are good, but this was a perfect day, I love Greece.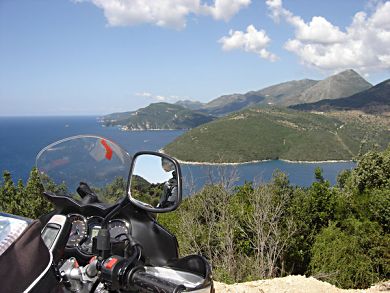 ...We had a short days ride to Lefkada island where we promptly took a wrong turn and rode on very rough and nearly non existent mountain road to Ag Nikitas. We camped for the night in an unusual campground that looked brand new but nothing was open. The beaches in this area were stunning and the water an unusual turquoise blue colour.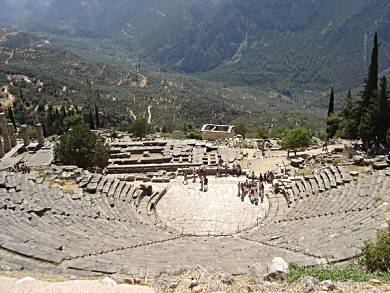 ...Refuelled with food we head towards our destination for the day, Delphi. Delphi is home of the Temple of Apollo, one of the most important oracles of antiquity. Delphi was also site of the Pythian games once held every four years in Apollo's honour. Athletes and poets would descend upon the city to compete for the victors laurel crown. Hmm I wonder if the poets competed against the athletes?"
Grant Guerin and Julie Rose, Australia, Trans America and Beyond, in Colombia, Suzuki V-Strom,
"¿Que tal Colombia? The second most frequently asked question by Colombians (after 'Where are you from?') is 'How do you find Colombia?'. Colombians are very proud of their country and conscious of the publicity foreigners receive about their home. '¡Aye, muy lindo!' (Very beautiful), we reply as they smile and chat amongst themselves.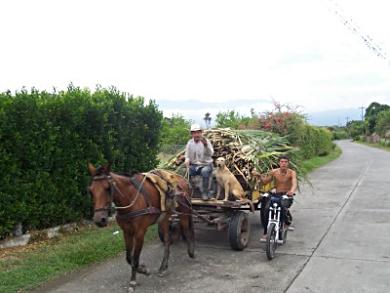 ... From Pasto the mountains become part of the Andes chain climbing higher in altitude as the road twists and turns on itself, snaking its way to Ipiales.
The change in scenery was spectacular and surprising from the green fields of sugar and coffee to the dry and dusty landscapes of the higher altitudes. The two bikes wound their way through mountain tunnels, alongside deep ravines and over many kilometres of rough road works. On several occasions we were signalled by road workers to continue through only to find half way along the narrow detour a truck bearing down upon us from the opposite direction. All in a days ride!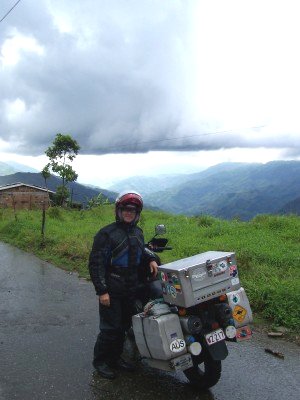 ... Some-how-or-other Grant was talked into taking all the little children (about 10 in total) for a joy ride around town on Piggy, the biggest moto they had ever seen. Squeals of delight and fright could be heard as Grant revved the engine and took off down the street to Parque Central.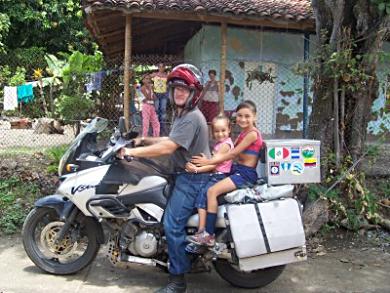 ... So, for five weeks and perhaps 4,000 kms we travelled in Colombia.
Is Colombia a safe country to travel? Well, we had no problems! Yet we know there is still a very real risk to the traveller, if not, why then are the main roads so extensively patrolled by the military?
The present Government has, and is continuing to make very real progress in securing many of the 'hot spots' of Colombia and this action is felt in the people, who after all, have the greatest to gain.
For the most part we only travelled the Pan-American and other main toll roads (free for motorcycles!). When we did wander, it was only after extensive discussion with military police and many of the locals. Often we were warned of a section of road where stopping was considered unwise or of a certain town that was known as a safe haven for many of the less desirable citizens of Colombia. In every case we heeded to these warnings.
In the end, the decision to travel in Colombia was, for us, entirely personal."
Ed. See Grant and Julie's blog here on Horizons Unlimited for more stories and lots of great photos!
---
Help support the Horizons Unlimited E-zine - visit our sponsors!
Please be sure to tell them how you heard about LDComfort! Thanks!

"More important than all the fancy jackets and pants put together..."
---
Craig Hutson, USA, RTW, in Sweden and Belgium, Harley-Davidson,
"July 19th, 2006 - I woke up to snow, it wasn't snowing hard but snowing, what you can expect being 300 miles north or the Arctic Circle. The temperature was around 30. The roads were clear so off I went. The snow turned into rain/sleet about 30 minutes down. One thing I did notice there were no other bikes on the road, after seeing so many I started to think who the fool was or what they knew that I didn't.
After a few hours I caught a brief glimpse of some other bikes ahead of me. It took 30 minutes or so for me to catch up as it turned out there three couples and solo rider, three bikes were Harleys and one Suzuki. My hats off to the solo rider, he was on a 1959 Pan Head with a rigid frame. I just fell in behind them and settled in; it was nice riding with someone for a change. When they stopped for gas I just followed them in. I walked up and introduced myself, after bullshitting for 30 minutes or so they asked me where I was going, I just shrugged my shoulders and said south. The told me they were headed to a HOC rally, the farthest northern rally in the world. I told them I had never heard of HOC, HOG yes but not HOC. They told me it stands for Harleys Owners Club. Hey riders are riders I don't care what they're called. I sort of invited myself, but they seemed happy to have me join. I didn't realize how ok it was until we stopped for the night. We stopped at a camp ground that had cabins; they asked would I be ok with them renting 2 cabins that had 6 people each. We would just put 4 people in each. I was fine with that. That night we started a fire in the fireplace and got to know each other. What a great bunch of people.
...Made it to the rally site, had a nice ride, the rain stopped, the temperature was in the low 50's you just had to deal with the wind. Every one set up their tents, started a huge bonfire and got to know each other better. One of the things they were telling me that made this rally so fun was there were only about 200 bikes and everyone go to know each other.
...The rally was great, it rained off and on the whole weekend but that didn't dampen anyone's spirits of fun. They were right - about 150 bikes showed up and I got to talk to everyone."
Ed. Craig was actually last seen at the HU Meeting in Belgium in September, where we got to meet him and swap stories. See Craig's blog here on Horizons Unlimited. Send him a note and tell him to get his blog up to date so we know where he is ;-)
"Colonia Tovar rose out of the high altitude mists that wafted across her streets and buildings, like ghosts dancing...now shrouded in a feathery white blanket and then magically reappearing as if a curtain had been withdrawn to reveal a stage. Founded in 1843 by German peasant settlers from the Black Forest, their arrival was in direct response to a Venezuelan appeal for European migrants to assist in colonizing the new country. After the first group arrived the edict was cancelled.
Led by Augustin Codazzi, an Italian cartographer who was fundamental in preparing the first detailed maps of the newly formed Republic of Venezuela (1830), they were brought to this Andean cordillera, to a site specifically chosen by him. With the cancellation of the edict, Codazzi withdrew from the colony and returned to his mapping efforts, leaving the 376 immigrants to fend for themselves.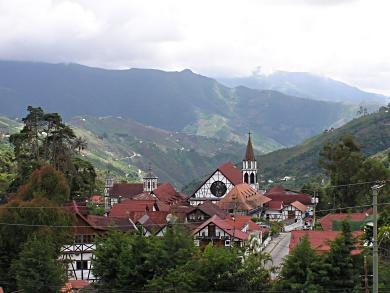 Left largely on their own in a new land, isolated from the outer world by a lack of roads they became self governing, following the mother culture, language and architecture for nearly a century. Effectively self contained, internal rules forbade marriage outside of the community. It was only in the 1940s that Spanish was introduced as the official language and the marriage ban lifted. Still isolated by a lack of roads the population was barely 1300 by the early 60s when a sealed road finally connected it with Caracas.
Today, it still retains its charm and culture as it endures the hordes of tourists that arrive on weekends, from Caracas, to taste and experience a little piece of Germany and purchase the strawberries, apples, peaches and blackberries that the temperate climate nourishes.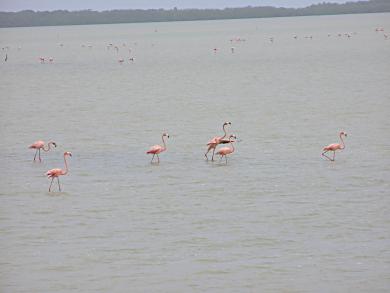 Peninsula Paraguana was once an island but persistent wind, waves and sand have built up a sandbar 30 km long, connecting it with the mainland. Inhabited for centuries by the Amuay, Guaranao and Caquetio Indians, all of the Arawak linguistic group, the Spanish made short work of them and their culture and soon drove them to extinction. Not a trace remains today, of them or their culture.
A few Spanish towns and villages continue to subsist today in this desolate and desiccated environment, revived in part by the current surge in tourism which further serves to strain the already overtaxed and fragile environment. Perhaps the one thing that has remained constant is the thousands of pink flamingos that migrate here to feed in the shallow, nutrient rich waters of the two lagoons on the eastern reaches of the peninsula."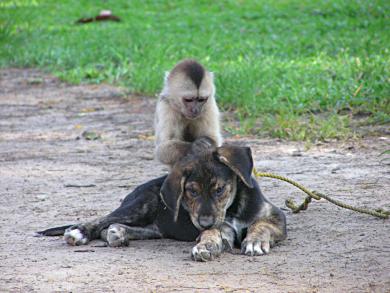 ---
Andy Tiegs, USA, to Central/South America, in Costa Rica,
"I had been in email contact with another Horizons Unlimited member, Lorraine Chittock, about possibly looking after her house and dogs, on the beach in Costa Rica, while she went to England for a couple of weeks. We firmed up our plans while I was here, and I decided to head form here to San Juan del Sur, near the Costa Rican border with Nicaragua, from here. I took the more direct, but unpaved route from Leon towards the Costa Rica border, bypassing Managua, which as usual, was a mixed blessing. Nicaragua has so much contrast in the way people live. On this route I saw several Ox drawn carts, with solid wood wheels, that looked like something I picture in medieval Europe or somewhere, and then when you hit the main highway, there will be a Texaco that looks like it was just dropped in from California, complete with American brands of junk food and an ATM machine.
Lorraine's directions to her place included phrases like 'badly potholed', 'worst road in Central AMerica', 'pray it doesn't rain', and 'you might have to wait for the tide to go out', all the kind of things that made it sound like my kind of place. I got there without much trouble at all, really, on Friday afternoon. Her flight was on Monday morning, so that gave me a couple days to bond with the dogs, and have Lorraine show me around the area. The area is really interesting, her house is in a little working fishing village of about a dozen houses, but a few (rough) miles away is a gringofied town, with restaurants, massage and yoga studios, and like any beach town, bars. The fisherman go out in the afternoon and set nets, then at dawn the next morning they go out to haul them in. One day they gave us a filet off a shark they caught, and another time we got to try some raw oyster, fresh out of the water. With my track record on seafood, I was a little worried about eating this stuff, but no ill effects so far. Fingers crossed.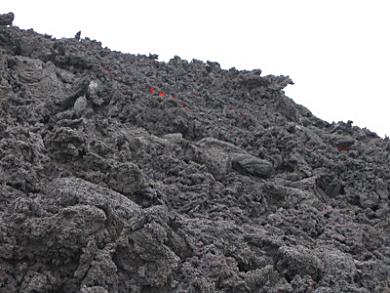 Lorraine turned out to be a really interesting person, which was no surprise after what she had told me about herself before I came down here. She was born in the USA, but her parents are English. As an adult, she lived in Cairo, Egypt as a
writer for a magazine for several years, and then near a game preserve in Kenya. When Ted Simon broke his leg in Kenya on his second round the world trip, he recovered while staying with Lorraine, so there is some moto content here too.
Bruiser and Dog, her two dogs, followed her back to the US from Kenya. Maybe with a little help from an airplane, but they are African dogs, and seem to have adapted just fine to chasing skunks and squirrels, rather than whatever they chased in Africa.
Shameless Promotion: Lorraine has two books out that I know of. One is called "Shadows in the Sand" and is about a camel drive that she and another white woman participated in, from Sudan to Egypt in 1995. This is not a warm fuzzy animal book, but a look at the realities of the camel trade in desert Africa, through western eyes. From a traveller's perspective, I thought this was a great look at life in the Africa desert, regardless if you give a flip about camels or not. The other one is called "Cats of Cairo" and you can guess what that one is about. This one is a warm fuzzy animal book, and of course, focuses on cat culture in Egypt, where they were revered in the times of the Pharaohs. Both books are high quality, coffee table type books, with many high quality glossy photos of their subjects, and would make great Christmas presents. Take a look at www.lorrainechittock.com, and she will be HAPPY to tell you how to get one or both for yourself. Dog and Bruiser will thank you for the extra dog biscuits Lorraine will be able to buy them. End of Shameless Plug.
After Lorraine got back from England, we took a ride on the motorcycle up the coast to check out a wildlife reserve up there and just see the area. Like idiots, neither one of us took a camera, so we missed probably the hairiest motorcycle pictures of the whole trip, I hope. The road crossed a river several times, and being the rainy season, some of the crossings were pretty deep. Since she had sandals on , and I had running shoes, I made her walk the crocodile infested river to see how deep it really was before crossing. Conveniently, the crossings that were scary deep, had suspension pedestrian bridges that were a little bouncy, but just wide enough for a motorcycle, so we put them to good use. Anyway this all would have made great pictures, but you'll just have to take my word for it now.
I am now in La Fortuna, Costa Rica, known for the Arenal volcano, which has been erupting more or less continuously since 1968. Unfortunately, it has been cloudy and rainy, so when I went and hike the trails this afternoon, I didn't see much. Whose idea was it to make this trip in the rainy season anyway? I am getting anxious to get over into South America and am resisting the urge to just blast down the PanAm to get to Panama City. I think I am going to go back over to the Caribbean coast again and down to Panama that way."
---
Help support the Horizons Unlimited E-zine - visit our sponsors!
Please be sure to tell them how you heard about Moto Discovery!

Thanks!
---
Linda Bootherstone-Bick, UK, Gibraltar to Australia, in Laos, Thailand and Malaysia, Suzuki DR650,
"Taman Negara is a large National Park in the central northern part of Malaysia. The most southern entry is closest to Kuala Lumpur and is the most visited and developed site. However, as it was school holidays I felt that it would be too crowded so went to the easterly one where I was the only tourist! At this point many groups leave to climb Gunung Tahan, the highest mountain in peninsular Malaysia at 2187m. It only takes 4 days to do the ascent and descent from here as opposed to at least 7 from the other points.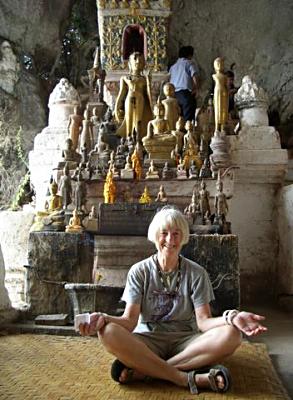 A guide is compulsory and, as I couldn't afford it on my own, I asked if other groups were coming that I could join. I had to wait for two days and in the interim practised the lowland jungle walks finding that the leeches had all sorts of ways of getting into your shoes and the first day I spent trying to stop my feet bleeding as their anticoagulants increase the flow if you pull the wretched things off before they have finished! They really are ferocious and I was very careful piddling in the jungle!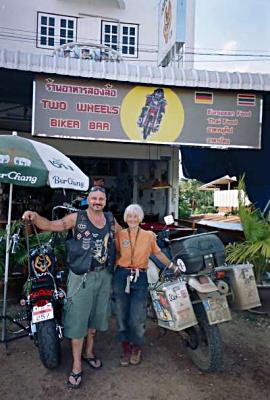 When the group of 9 Chinese from KL arrived they very graciously said I could join them. My main problem was that my small pack is not made for carrying a tent and the tent, at 3 kgs, is not made for backpacking by one person. I also had to carry food for 4 days. The solution was that one of the park people lent me a bigger pack, but when I put it on with all my gear I needed someone to place it on my back as it was sooooo heavy.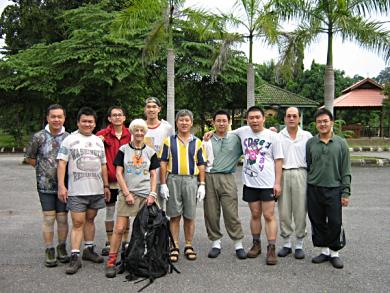 The first day we walked for 5 hours. I had borrowed some rubber jungle shoes from a park woman who said she had used them on her mountain trek and, sure enough several other people used this type. Having sprayed my shoes and socks with Baygon I was more confident about the leeches but was really struggling with the weight and wondering what to do. That night I asked the young, strong guide to carry my tent (for a fee, of course) and the next day fairly skipped up the mountain. It is very steep and very boggy, nothing like any other terrain I have encountered. You have to pull yourself up using the roots and branches of the jungle trees and there are ropes in some places to use for help on the way up but more for abseiling down. We camped 1 hour short of the summit which was conquered in the drizzle at sunrise the next morning.
I tried taking the tent, minus the poles, down by myself the next day but the descent was worse and my feet began to suffer from the rubber shoes which had softened the skin and made blisters. All day you walk with wet feet because of the bogs, so plasters fall off. I was trailing badly getting into base camp. I had to pay the guide to take my tent again the final day and walk in my sandals. However, it was a great experience and the Chinese men were wonderful, feeding me and making sure I was ok. It was great of them to take along an unknown quantity like me and I shall be forever grateful. I tried to make myself useful by playing the whistle and telling the story of Stanton Drew around the camp fire.
... Am at present taking a well earned rest in a very laid back town called Kota Bharu in the north east of Malaysia by the South China sea. It is in the province of Kalantan which is the most Islamic province in Malaysia so the call of the mosque is ever present and the women all wear head scarves.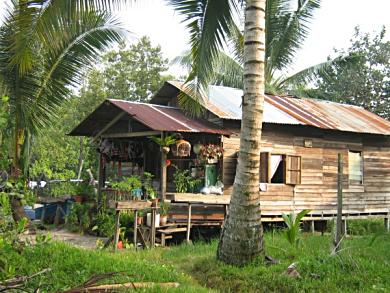 ... Update as of 1 Oct/06 - I am now in Indonesia but the police have impounded my bike as they say foreign bikes are not allowed to ride here. I asked about this at the Embassy in KL before I came and they said no problem. Tomorrow I go back to the police station and see if I can persuade them otherwise I have to go back to Malaysia. Other people have had probs here but some not. I hope that it will be ok if I go to Medan from Penang as others have done that. It is becoming very pensive though. Will keep you informed. Love Linda"
---
Help support the Horizons Unlimited E-zine - visit our sponsors!
Please be sure to tell them how you heard about Harrison Billet
Thanks!
---
Patrick and Belinda Peck, Australia, around the world, again, partying around Romania and Turkey, Yamaha Super Ténéré XTZ 750,
"We are now in Turkey, near Marmarus and our Turkey number is no longer working. The Government have bought in a new law that all mobile phones have to be registered in Turkey and to do that you have to have the receipt of purchase, which of course, we haven't kept in our back pocket for the last 4 years since we bought the phone! So you need to send sms only to our Aussie number +61 419 309 309 till we get to Greece in October 2006 and will get a number there and will let you know in this space.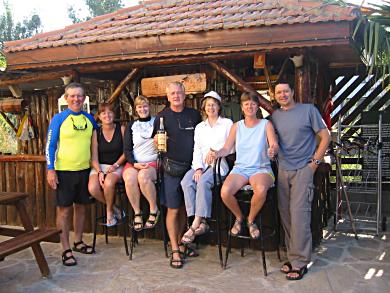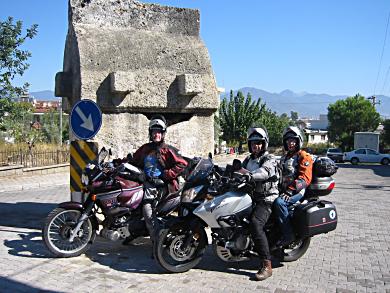 We will follow the West coast of Turkey down towards Rhodes Island, Greece and then over to Athens to find a place to store the bike for 16 months.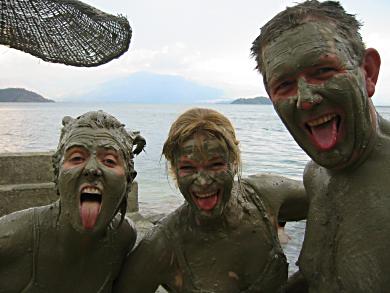 Also, for other bikers travelling in Turkey the speed limit for all motorbikes is 70km/hour. Today we got clocked by radar doing 92km/hour on a major highway and got a 206 Turkish Lira Fine (A$200). Cars are OK at 100km/hour, so its dangerous for us to go this ridiculous speed, but they have radars and you cant argue with the law, don't worry we tried for 2 hours!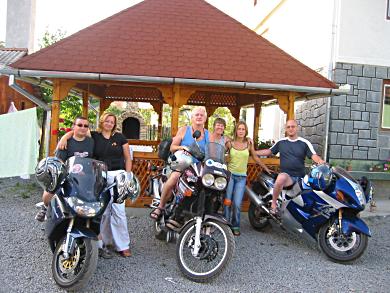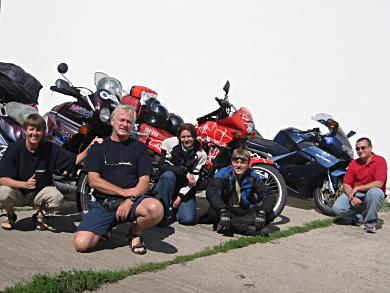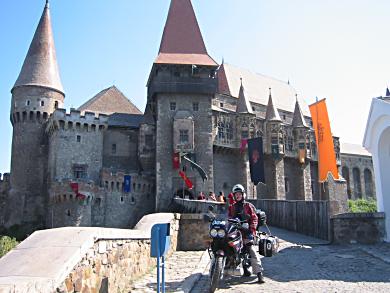 Other than that life is great cruising the West coast of Turkey, staying in small beach side villages and travelling about 60km/day. The food is great, accommodation is great and cheap, bike parking is readily available and the water is warm for swimming. The average daily temperature is 32 deg C and the roads are in really good condition."
Ed. Glad to see you're meeting lots of friends via the HU Communities. Check out Pat and Belinda's for stories and great pics!
---
Help support the Horizons Unlimited E-zine - visit our sponsors! Please be sure you tell them how you heard about Morton's BMW!

Thanks!
---
Ken and Toni Butler, Australia, UK to Russia and Japan, BMW R80 and R100 GS, in Vladivostok and Tokyo,
"Our escape from Russia was a toss-up between paying US$5,000 to airfreight the bikes from Vladivostok to Hong Kong, or ferry to Japan and sea freight the bikes. We chose the latter. Buying the ferry tickets was easy. Trying to find out how to get the bikes processed through customs was not! Previous bike travellers have received support from the ferry ticket sales agent. We think they've cottoned on that there is more money to be extracted from us bike travellers and we were directed to a customs agent. We handed over a few documents (all copies in the first instance) and waited. And waited. For 3 days, we waited.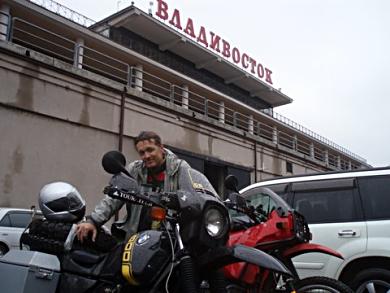 Then, on Monday morning we received a call to deliver the original import forms. More waiting. Bought the ferry tickets and met the customs agent at the entrance to the ferry. A few words to various officials and he wandered off for a bit, to return to say that all was well and we could load the bikes. Then they tried to hit us for a fee of US$200 per bike. We held our ground, reminding them we had been quoted US$200 for both bikes and they gracefully accepted the fact and our money. We were ready to sail.
The "Rus" crosses the Sea of Japan each week, leaving Vladivostok on Monday and returning on Sunday. It's main purpose is to carry buyers to Japan where they stock up on second-hand cars as well as a few scooters and motorbikes. We saw the Rus dock in Vladivostok and in addition to the 2 car decks in the bowels of the ferry, there were vehicles all over the top deck and even in the little swimming pool, we were told. So, it goes to Japan empty, but returns fully laden - our bikes had a very comfortable journey in the cavernous bottom car deck.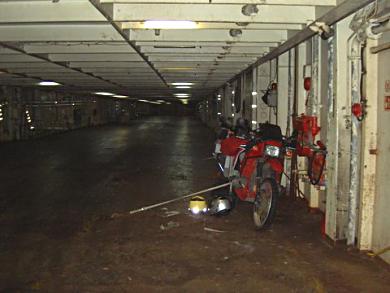 Japan isn't lacking in its own bureaucracy, but at least they give you instructions prior to arrival and plenty of directions upon arrival. The customs agent assisted us to find our way to the JAF (Japan Auto Federation) office in Toyama, some 30 kms from the port. He then lead us to the customs office and finally ensured that we were able to collect the bikes and be on our way. First impressions - had to remember to ride on the left side of the road (Toni realised that she's probably ridden on the right side of the road more than she has ever done on the left, in the 12 months she's had her licence); and no need to be watchful for potholes or open manholes. The roads were smooth and well sign-posted and we were soon on the highway to Tokyo.We stopped at a clean and efficient roadside fuel/rest area for a feed of rice, udon and miso. Yuummm! Driving up the west coast from Toyama to Nagaoka took us through a series of tunnels where the mountains drop down to the coast and are divided by sheer, narrow valleys. We overnight in a small town near Nagaoka and get off to an early start for our last 250kms to Tokyo.
But then...guess what! About 30kms on, Toni's bike starts to vibrate. We pull over and we suspect a drive shaft or rear bearing problem. The old R80 just doesn't want to finish the trip. Our good fortune continues as we are only 100 metres from an emergency phone and right by an exit that is also a roadside maintenance base. The roadside support send out an English speaking engineer (his usual job is to schedule and manage highway maintenance). He helps push the bike to the maintenance base where we sit in air-conditioned comfort while he spends the next 6 hours on the phone trying to locate a truck to take us and the bikes to Tokyo. We decide to hit Tokyo the next day, giving us time to organise our arrival with the shipping agents.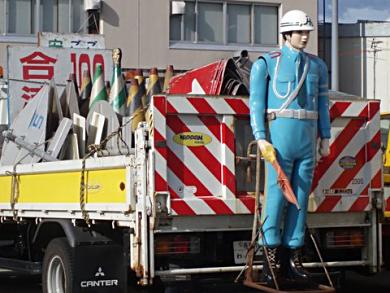 Thought you'd be interested to see this character. He's a robot that waves a big flag to warn traffic of road works ahead. Often times, they also have a real man holding another flag doing the same thing. Can never be too sure those drivers have seen you."
---
Help support the Horizons Unlimited E-zine - visit our sponsors!
Please be sure you tell them how you heard about Motorrad Elektrik! Thanks!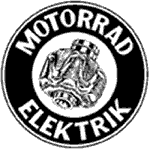 Motorrad Elektrik has been offering the best in electrical parts for classic and modern BMW's for over 11 years. From 12 volt conversion for /2 to better than stock replacement parts for your late model "R" or "K", we've got you covered. Specialty parts for 'hardening' the charging and ignition systems for world-travelling Airhead GS's. Riders like Bob Higdon, Dr. Gregory Frazier, Grant Johnson and hundreds of others depend on Motorrad Elektrik components as they wander the globe.
Our Omega system has solved the charging problems for 1970-95 Boxers with 400 Watts Output, and our

Nippon Denso starter is the perfect cure for Valeo syndrome.
---
"Well almost, it certainly felt like we were on the roof of the world as we stood in the freezing high altitude Himalayan dessert winds at 17582 feet yesterday.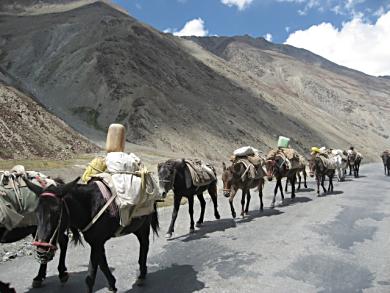 The road from to Leh from Manali is only open 4 months in the year, the rest of the time it's under snow. We are riding around just before the roads are being closed, so we have very clear vision, but its also a bit nippy...
Leh to Manali is 500km, it took us 3 days to do this - the road is THAT bad, the bike battled everything from flash flooded rivers to desert roads to very hairy and narrow mountain roads with not much room to move when passing suicide mission trucks and coaches. Its a long way down with no barriers to protect you. They call it a road, but its really just big rocks and stones punctuated with the occasional bit of tarmac. The road is being repaired constantly by an army of very poor, dirty and underfed looking road workers. They are known as the border road workers.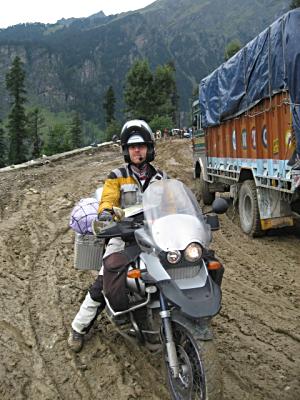 We are 3 weeks into India and have covered a fair bit of ground, but there its a very very big country and you cannot do more than 250km in one day due to the driving conditions. All I'm going to say about the Indian driver is that I am glad I fitted the 140db air horn to the bike (which sounds pretty squeaky at 5000+ metres, but very loud at sea level)."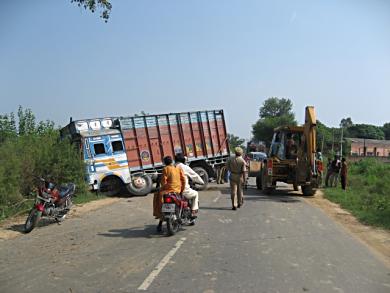 "So...here's the plan, get on two almost identical BMW motorcycles, leave Tacoma, Washington for Mexico and in to Central America. We ship the bikes from Panama City to Quito, Ecuador. Down to Ushuaia at the tip of South America and up to Buenos Aires. Ship again to Cape Town, South Africa. From there things are, well, less figured out. It's up Africa to Ireland, then down and across Europe into India and then another shipment to Australia. And then finally home. Six continents, who knows how many countries and two years.
Mexico
...today's ride was supposed to be one of the best through mexico...we were going to be up in the mountains, go down through what looks to be a rainforest (sure felt like one) then down to Mazatlan... It all started off good, but I was having a few sharp stomach pains...didn't think much of it at first, I would just notice it and it would go away...by the time we got to lunch it was getting much worse...to the point I was tearing up waiting for lunch...it was weird though, I didn't feel sick, just had the pain...so off we went...now with my heated vest on because it was so cold up in the mountains... We drove and drove, through some of the windiest roads I have ever been on on a bike...this time though I wasn't going 15 through the turns, I was going 30 through tight turns and watching for potholes at the same time...about a half hour down the road after lunch the stomach pains came back...this time I couldn't just try and ignore them...it would start, get a little better, then come back so strong I had tears streaming down my face while trying to pay attention to the 2 lane road with no shoulder and semi's coming around tight corners half in their lane, half in ours...finally we pulled over and took a break...it started to get better so we got back on the road trying to make it to Mazatlan and a hotel where I could curl up and die!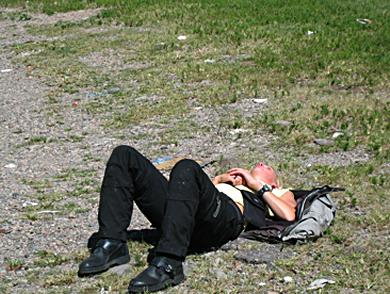 The roads went on and on, turn after turn...small town after small town, none of which I could picture myself curled up around a toilet...if they even had one...on we go till the pain is so bad, the tears so thick and now I don't know if I ate something bad, but I feel like I have to puke! There's no place to pull over and all I can picture is me not being able to get my helmet off in time when we can...its hot, its humid and that would be horrible! Finally we pull over...I take my stuff off and collapse... Mark lays out his jacket for me and I just close my eyes, waiting for the pain to go away...it does and we start talking...what do we do, go on, or go back to a small town a ways back and get a room? I push to go on, Mark is wanting to go back...he feels I need to be paying more attention to the road and the pain is a HUGE distraction..."
Later Mark reports "... The hotel room is huge, we have an almost private pool or the beach, whichever we want. The room price dropped from 950 pesos to 600 ($54) just by asking what the price was. the day would have easily fit into our budget if we hadn't spent $20 on the toll road. Erin made a great point today, we need to allow ourselves some learning room in the budget - we are still just figuring this out. With fluent spanish and taking the 'libre' (free) roads, we could have saved another $40 on the day.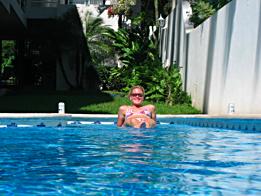 So my woman is happy, which makes me happy and we are way more comfortable today than we were yesterday. We will continue south tomorrow, our goal being to get to Ixtapa that day after. There we'll take a one day break - let our bodies heal about, give the bike their weekly preventive maintenance check and do some laundry.
---
Help support the Horizons Unlimited E-zine - visit our sponsors!
Please be sure to tell them how you heard about Knopf Tours. Thanks!
---
Joseph M Devine, UK, Touring the America's 2006 Alaska to Patagonia, in Colombia and Ecuador,
"... Colombia - I head out through Bogota the scenery is great, the city is on top of the mountains and soon I was going up and down valleys that have to be seen to be believed. The country is superb, as are the roads if only there were not as many trucks. Another good thing is that bikes here do not pay toll on the roads however riders do have to wear reflective jackets with there number plate ID on, so I got stopped 4 times, no problem just a good laugh and nice people as soon as they realised that I was a tourist and not some local breaking the rules.
In one area of very heavy traffic going through mountain passes a lad on a Suzuki 100 was playing catch up we had a bit of a laugh and ended up pulling over for a drink to cool down. He (Miguel Antony) was going home for the weekend to his family he worked in Bogota, in internet translation but went home at weekends to Ibague. I ended up having lunch with his family they were a lovely bunch and his sister a great cook. (See the pictures his niece is sitting on the bike).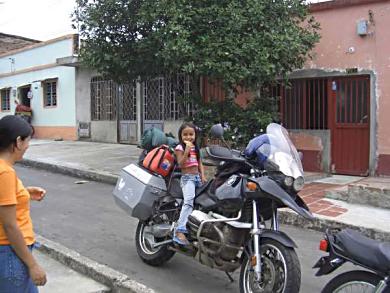 ... If you are touring Colombia, the road from Bogota to Ibague has great camp sites and resorts. It's where the Colombians go for their holidays if not the coast. The sites are very safe and there are dozens of them all along the main road. Additional safety is ensured by the proximity of the Air force and Army base only a few km up the road. I was hearing an odd noise coming from the back of my bike until I realised it was an Helicopter in near silent mode just above and behind the bike it was a beating type noise. It hovered for a few minutes and then sped off.
... Entering Ecuador was simple. Very professional customs and police on both the Colombian and Ecuadorian side, the whole process took less than an hour and cost 50 cents for photocopies. Quito is at 2800m altitude so today I was climbing. I was going from hot dry valley bottoms to cool high land pastures the change in the people is startling. The women in Colombia are as tall as the men if not more so and very shapely. In the Ecuadorian highlands they are very short and wear a form of national dress long skirt, fluffy blouse with a big woollen throw wrapped around their shoulders and a bowler hat. The wind also blows very strong and it can be very cold, so the throw is often wrapped over their heads and worn as a cape. They are also very pale. In the valleys the climate is tropical, sugar cane, bananas etc all grow, and they are taller, very dark colouring and dress in normal modern styles.
... there are a lot of Australians and English here, studying or on extended working holidays. So I am going to look into spending some time learning Spanish as one to one lessons are $6 an hour. If so I will have to find some cheaper accommodation."