Too many to list! If you haven't checked out the Links page it's time you did - it's scary long, but it's a fascinating browse.
---
Get your website listed in the LINKS Section
by listing Horizons Unlimited on YOUR web site, let me know you've done it by mailing me a link to the page, and you may get listed here in the next newsletter and on the Horizons Unlimited web site Links page. To make it easy for you, we even have our logo and link code here!
All sites will be considered for listing, but must be a MOTORCYCLE or TRAVEL site, useful or of interest in some way to travellers. We reserve the right to refuse to link back.


Motorcycle Express
MC Air Shipping, (uncrated) USA / Canada / Europe and other areas. Be sure to say "Horizons Unlimited" to get your $25 discount on Shipping!
Insurance - see: For foreigners traveling in US and Canada and for Americans and Canadians traveling in other countries, then mail it to MC Express and get your HU $15 discount!
There are many 'Helpful People' listed on the Links page, a huge thanks to all of them. How about you? Or you can join a Community, or start your own!
Do you know of a good shop 'on the road,'
...in other words, somewhere there isn't a large number of shops? (Also of course any shop that specializes in travellers equipment and repairs is of interest.) But we're particularly looking for those rare items, good repair shops in South America, Africa and Asia etc. Please post your info in the Repair shops around the world Forum on the HUBB.
There are now 100's shops listed in out - of - the - way places, from Abidjan to Ghana to Peru! Be sure to check out the HUBB "Repair shops around the world" forum if you need work done!
When you meet people on the road, and they haven't heard of this e-zine or the website, we'd appreciate it (and hope they would too!) if you'd get their names and email addresses and send it in to me.
Thanks, Grant
Request for info
Wouldn't YOU like to know all about the border you're approaching - what it should cost, paperwork required, 'tips' needed, and who to talk to, etc.?
When you cross ANY border, take some notes, and pass them on to us. Thanks!
Shipping
The Shipping page on the site is HUGE! It can be reached directly or from the Shipping link on the Trip Planning page.
If you have any information to contribute, please go here, and register (or just login IF you have used this system before) and you can then submit your information. Thanks!
Travel Advisories:
The Foreign Office in London's Travel Advice Unit advises against travel to all sorts of places. Check out the listing before you start!
The US State Department regularly issues updated travel advisories, information and/or warnings.
Peter and Kay Forwood, Australia, around the world since 1996, in Zambia, Namibia and Angola, Harley-Davidson,
"Zambia - 7/7/06 The springs hadn't changed. In a natural surrounding the large shallow pool was inviting after the ride yesterday. The accident in Afghanistan, when a car hit the left rear of the motorcycle seems to have done more damage than I realised. I noticed the rear end of the bike is a little twisted and the rear guard is pressing close to the wheel. The back rack has a crack that will need welding. A little bit of maintenance, an invitation to join a South African couple for lunch, just starting their retirement trip and another dip in the hot springs pretty much filled the rest of the day.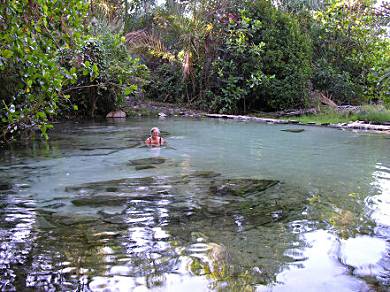 Namibia - 18/7/06 We discovered that our stash of US emergency money had become wet, most likely in the Comoros, and had stuck together and grown mould. Luckily the notes were still separable and although we tried washing them gently most mould remained as black spots. A couple are likely to be unusable, some will be difficult to exchange in US dollar fussy Africa where only pristine notes are usually accepted. This could leave us a bit short of hard currency...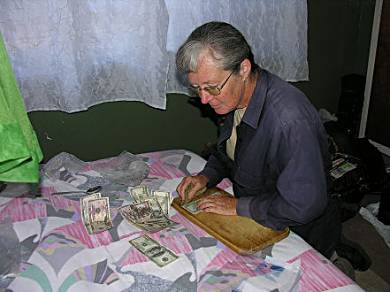 Angola - 21/7/06 The forty years of war that Angola underwent only finished just over four years ago and the country's infrastructure is still reeling from that devastation. Land mines are a problem to development and agriculture, and we are warned not to wander off the road, even to go to the toilet. Today's 300 km to Lubango was a variety of slow, 20-30 km/hr bouncy dirt, some badly deteriorated asphalt to a reasonable road the last few km's into town. We rode carefully and it took eight hours of travelling time to cover the distance. Along the way we met two 4x4's with western travellers, having welding done to their vehicles, having come all the way from England. We exchanged valuable border and road condition information before proceeding to be stopped shortly afterwards by a Namibian man working in the area who offered us more information and a drink.
The route from East to West Africa or vice versa has been difficult for the last decade or so with conflicts in the Democratic Republic of Congo, Sudan and Angola blocking most opportunities. Now Angola is the easiest crossing, by coming south, and there are many travellers. We had earlier passed four well equipped 4x4's on a tour heading south, videotaping as we passed and with a military escort they were travelling in comfort and taking no chances. We had been told of eight motorcyclists on another organized tour coming through the country. These specialised tours are becoming more popular, particularly to remote or perceived more dangerous regions. As we entered Lubango, buying petrol, a local man simply offered to pay, he spoke almost no English and we had only exchanged a few words before the offer. Later when the planned campsite was not available we stopped at a large farm and asked if we could use a piece of ground for the night for our tent and were offered a bed and hot shower at the farmhouse. An offer too good to refuse, it turns out the owner had a brother in Australia.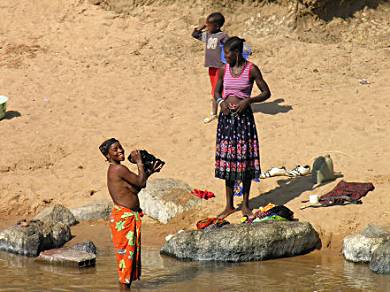 22/7/06 Angola seems to be just getting started. Like many countries coming out of a long war there are the rich and the poor with almost no middle classes. The rich have new 4x4's, nice houses and relax in expensive hotels. The poor have nothing, living from what they can grow. The problem is we fit in between, where there are now few hotels or facilities or middle class restaurants. We headed off the escarpment towards Namibe, the region's port town and beach destination. The magnificent views from the winding road back down to sea level stunning in early morning with fog lying in the valley. The countryside soon turned to desert with an oasis along the river growing vegetables. Namibe is a quiet town at the moment, it is winter, and the campground right on the ocean we had to ourselves, at least after the wedding reception ended in early evening. The bright sunshine we have been experiencing lately gone with the sea fog and cool wind that blows off the Atlantic and we are across Africa again.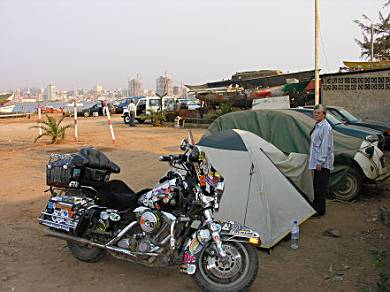 30/7/06 Doing things for yourself in many cultures is seen as a sign of having no money. If you had money you would get someone else to do the job. We washed our clothes in a bucket this morning and in the afternoon I gave myself a haircut with the battery operated trimming clippers we carry and then had a beard trip, in front of the motorcycle mirrors as the bathrooms here don't have any. The local workers at the club, guards, cleaners and caretakers would not do their own washing, that is work for women, and the office workers would have staff at home to do those chores. They would also get someone else to cut their hair. But as I set up the computer and started touch typing the diary, worked on this seemingly expensive motorcycle, you could feel their questioning of another culture where one person has the knowledge and ability to achieve many things. This ability has been given to westerners by the high cost of labour and the broad education they receive. It has also been taken away from people living in cheap labour countries where there is always someone to do any menial or semi skilled task for little money. To have money yet sleep in a tent, doing your own washing, all seems incongruous to the rich or poor in these countries."
Jack and Janet Murray, PR of China, China to Europe and North America, BMW engined Chiang Jiang,
"It was late in the day but all of us wanted to be out of China, more I think as a symbol that the real adventure was about to start. We were all aware that Tamara was facing a deadline to be in Istanbul to secure the teaching position that she had accepted. We were also facing a deadline for our Russian visas and an appointment in Moscow with the BMW dealer there. We set off for the border; bikes running smoothly, brilliant sun, beautifully warm; we were finally on our way.
The Chinese Border Guard approached as we slowed documents at the ready, no cars ahead, this looked promising. In that universal sign language that all seem to understand he told Janet that she must stop filming and then seemed to say that we couldn't proceed. "No, no, no!" and then in rapid fire Chinese said something that was so far beyond my comprehension that I didn't have a clue.
It was time for Dave to come to the rescue. He asked what was the problem but could only come up with something about we cannot cross the border. It seems that the Chinese in Inner Mongolia speak a heavily accented Mandarin spiced with both Mongolian and Russian.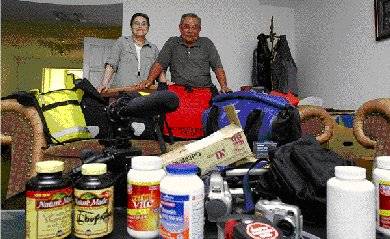 I protested, Dave protested, Tamara and Janet protested while the Chinese onlookers laughed and ogled the bikes and our equipment. Abruptly, he turned and walked back to the guard house. As we waited Dave talked to another guard who was now standing duty. He said the problem was that we didn't seem to have the paper we needed to take a Chinese bike out of China. "What paper", I asked. It seems we were missing some form that was required. This could be a real problem. Time to call Guo Yun Hai again. It was now after 5:00 pm and I hated to bother him but I had no choice. "I will be right there."
Within minutes, a small van pulled up and five people poured out. There was Guo, Candy, and three others who came to help. They confirmed it. We needed a customs form to drive the bike out of China. But I countered, "I have known several people who have ridden from Beijing to Ulaan Baator and they didn't need a form." It seems that this is a new regulation and there is nothing to do but try to get the form. Guo and party said they would work on it in the morning.
I knew we were in for at least one, maybe many more, days of wait until we learned about the customs form. Fortunately, Guo's business is in import and export so the company should know who to go to for an answer and perhaps the form. The bike failed to start the next morning; this was another serious problem. The four of us got together to discuss our options. Finally it was decided to truck the bike back to Beijing, solve this incredibly frustrating problem while Tamara, Dave and Janet waited for word on the customs form. While in Beijing I planned to visit the main China Customs office there if there was no resolution in Erenhot. Once again I called Guo, "Can you arrange for a truck?"
---
Help support the Horizons Unlimited E-zine - visit our sponsors!
Please be sure to tell them how you heard about Mondo Enduro!

Thanks!
---
Hamish Oag and Emma Myatt, UK, Asia, Australia and the Americas, in Australia, BMW R1100 GS,
"We'd been put in touch with Neville by Ken and Carol in Brisbane and were looking forward to meet the Daintree crocodile spotter and to visit his rainforest abode. We were not to be disappointed, Neville welcomed us with open arms, giving up his bed and even emptying the compost toilet to accommodate us!
As Neville worked as a nature tour guide on the Daintree river, we joined him the following morning for an educational trip on the boat, spotting a number of saltwater crocs, as well as variety of snakes, birds and plant life. It certainly was an interesting trip and as about as close as we'd like to get to the infamous 'salties'!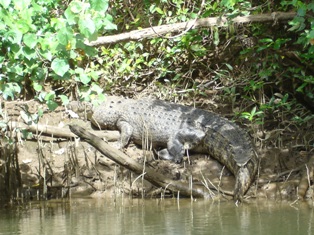 Nothing but Dirt! For some reason we miscalculated (read didn't calculate) the distance we had to travel and so we arrived at the fuel stop holding our breath - but it was useful to discover Bertha could do 521km on a tank and still have a couple of litres sloshing about somewhere! From Lawn Hill the dirt roads were full of corrugations. For those of you who've not had the pleasure see the picture below: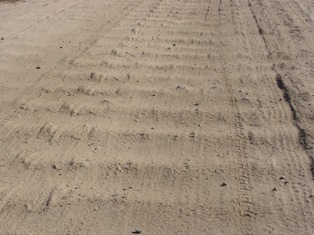 ... On the way to our campsite for the night Hame decided to take Bertha for a little swim. Some famous last words were uttered "Shall I get off and walk through?" shortly before Hame decided we'd had enough creek practice and could get through anything two-up, shortly before we hit a rock and slid sideways into the water! Fortunately nothing was hurt except his pride and the food which got a bit wet.
From now on we'll go back to the old method of me getting off to walk through and check it (the old pillion croc bait trick) with Hame following soon after."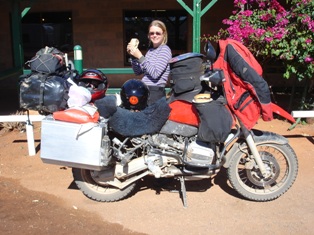 We finally caught up with Uli and Klaus, a German couple on an Africa Twin who'd met Ken and Carol and stayed with Neville in Daintree just before us. We'd e mailed them a few times and been chasing them across the country - it was good to catch up and compare notes. They are heading to Asia so we gave them lots of tips about off the beaten track destinations in Malaysia.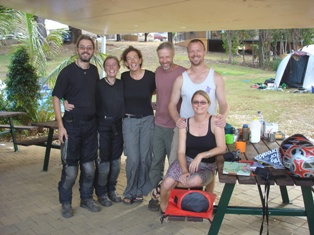 At the same campsite were a Swiss couple on a R100GS who'd ridden from Europe and in the next campsite along were Americans David and Erika on a Transalp, we'd corresponded with them when they were also hanging out for a ferry back in Penang. They'd had a carnet however and had caught a different boat and ridden through Indonesia, it was good to hear about their adventures.
Our next major town will be Broome, a place I've wanted to visit for years. On the way there we will go through the Kimberley which Hamish is especially looking forward to, after celebrating my 21st birthday along the way.
(Oh OK, I mean 34th...)
(Emma)
Colin and Dee Masters,
Wrinklies Wround the World 2006-2007

, in Australia, BMW 1150GS,

"Colin has completed the service on the bike which was a major one. Gaskets, plugs , oil change, brackets and brake pads. The parts cost 151 GBP. Then we took the bike to the BMW dealer for the day and they replaced the oil seal on the Drive shaft & needle roller bearings on the drive pinion. This cost 145GBP. They let us have a brand new ST 1200 for the day- and that proved to be very fast- could loose your licence very easily, if you weren't careful! It also made you realise how comfortable the GS is- we are spoilt with our air cushions!

In between this we have been out and about- here, there and everywhere- Australia zoo (where we saw wombats and these are as cute as the koalas. The only thing we have not seen is platypus), a Ginger farm (around here is a good area for the growth of ginger and it's amazing what you can add it to for flavouring), an Opal farm (I did refrain from buying here!) Apparently opals are only found in Oz and Mexico.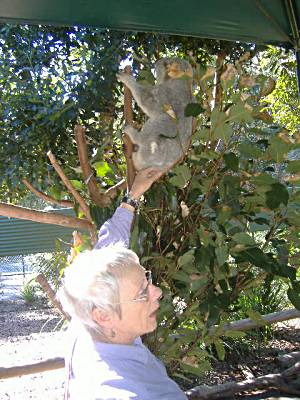 Seen the Glass mountains and the hinterland around this area is so lush with green fields- very reminiscent of UK and totally different from the coastal areas and up North. Captain Cook named these when he saw them , as they reminded him of the pottery kilns in Lancashire. When you were on top of the plain you could see for miles around with clear blue sky that seemed to go on for ever and was totally surrounding you- quite spectacular.
In the valley here was a large lake with the steepest hill going down that i have ever seen. You swung around the corner and there was this amazing view. Colin said 'take a picture'. Wheels of the bike pointing downwards at an alarming angle, me perched on the back, holding on tightly (for a change)- 'no way am I getting the camera out of my pocket at this angle' came the reply. So we went down to the bottom, turned around and Colin took it from the top. 'How are you going to turn around now' I asked-- and made him go down to the bottom and do a return trip! I am beginning to know what angles are safe or not---- been there done that- and fallen off! (in the past)."
---
Help support the Horizons Unlimited E-zine - visit our sponsors!
Please be sure to tell them how you heard about LDComfort! Thanks!

"More important than all the fancy jackets and pants put together..."
---
"Well we have adjusted to French life very well, even the bike has taken on a decidedly French flavour and quite likes being ridden on the right hand side of the road.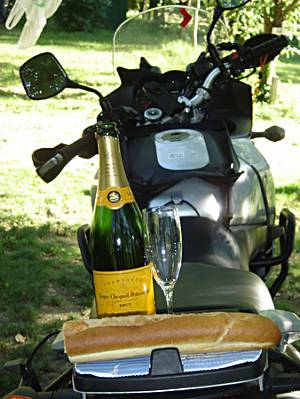 ... We finally call it a night in little town called Hesdin, after following the signs to the camping area and ending up in a crematorium, but we eventually find a tiny caravan park, it's residents have never seen the likes of us. We are a bit of a novelty as they ALL seem to casually walk past and say a cheery Bon Soir. For us, it was washing, tea and bed.
We do finally make it out to Mont St Michel. You cannot help but be excited to be in this wonderful place, that we have seen in pictures, postcards and movies for most of our lives. We have all afternoon here before heading back to the campground.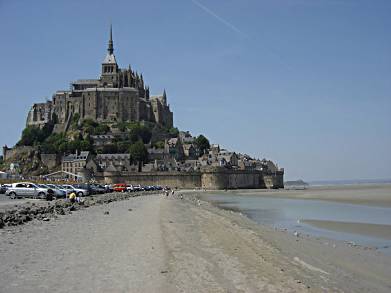 ... We have a fairly long day riding four passes. From Jausiers over the Col de Vars, Col d'Lzoard, Col du Lautaret and Col de Galibier. We rode past glaciers and snow covered mountains. There were quite a few tunnels and snow/avalanche protection tunnels on this section of road.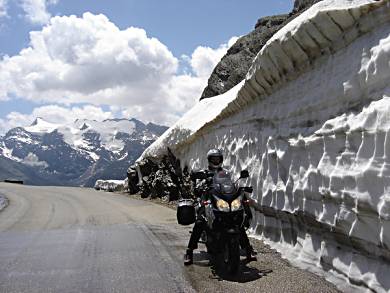 The ride and scenery were awesome but the French drivers left a lot to be desired. We came quite close to death as a Mercedes went to pull out on us from a side road as we came round a sweeping bend. Skill did so well to brake and keep the bike upright. The Mercedes driver did stop but not before he was half way out on to the road. Skill had to stop and take a break 5 minutes later as his legs had completely turned to jelly.
Then after lunch we were going up over a pass when a truck came boring down on us from the other direction, there was simply not room for two vehicles between the concrete barrier and the side of the mountain. But this did not deter him. We were stopped and had the bike leaned over so the right hand pannier was touching the barrier. The truck managed to get past with 2 inches between it and the left hand pannier (and my leg).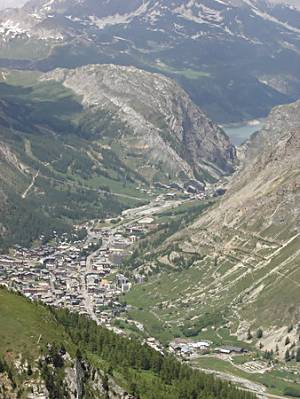 The camping has been great, the camp grounds are clean, well resourced and cheap. You order your baguettes and croissants from the reception the night before and collect them in the morning at most places.
The toilet paper saga continues, no consistency, some places have toilet paper, some don't and it doesn't seem to matter if it's a cheap or more expensive campground, you just never know. We now carry our spare rolls shoved down the tubes of the bike.
Because we have been camping in Caravan Parks so much and have been rolling with the older set (like the Grey Nomads at home) I have made some camping observations.
Observation one.
Only men do the washing up in the Camp Kitchens. And it is obligatory to carry your washing up, to and from the kitchen, in a crate or preferably a red basket. I have completely upset the natural order of things by 1. Being a woman in the camp kitchen & 2. Carrying my washing up in my dodgy stainless steel cooking pot
Observation two. There can be no Dutch people left in the Netherlands as they are all in the their vans and campers in France.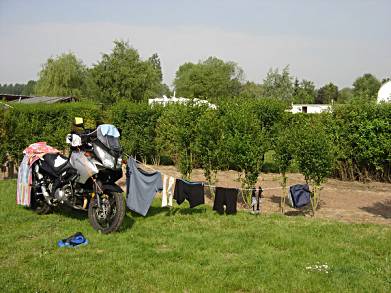 We have loved France and everything that I thought would be stereotypes are in fact truths about this beautiful country. There are little old ladies in pinafore aprons sitting outside their houses or tending their small geranium gardens. There are men wearing funny little caps. The boules games, the abundance of bread, the croissants and pastries, the long lunches, and their pure love of food. And while a frustration for visitors their strong stance on leisure time and the sacred lunch hours is in my opinion to be admired although there was many a time I cursed it.
We are now in Weyer, Germany (near Frankfurt), staying with the newly married Kai and Ulrich who travelled the world on their motorcycles for two years. Soon we fly back to Ireland and then Scotland for our friends Donald and Lou's wedding, if we can figure out how to get to the airport by public transport as we are leaving the bike at Kai & Ricky's. Another adventure I am sure. Cheers & Beers, Lan & Skill"
Murray Castle, Canada, in Guatemala, KTM 950,
"The next river crossing is even more unique. A barge docks in the most casual way on my shore. Trucks drive onboard with random carelessness. Katie and I jump the line and board just before the ramp is lifted. We squeeze into a neglected corner.
I am fascinated to watch the ferry's power source: two 75 HP outboards bolted to half barrel-on-a-swivel creations. This is all that gets the barge across the river in this current? Yet Captain Cook does it with an ease that amazes. I give him the thumbs up when we arrive on the other side. He grins.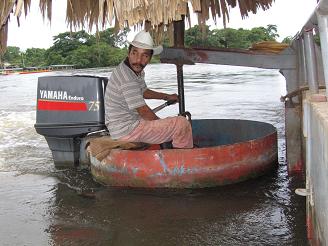 At the most excellent Hotel D' Atuña I meet fellow adventure traveller Louis Elias. Louis started his RTW (or Round The World, to the uninitiated) trip from his Ontario home. Riding a BMW Dakar with more accessories than the Space Ship Columbia, Louis is off on a two year life-changing experience. We celebrate our happy meeting by swapping maps and guide books, then share stories, three bottles of wine and a couple of cigars.
Although I am heading north, he south, we decide to ride to Lake Atitlàn together and spend a couple of days exploring, as Aldous Huxley called it, 'the most beautiful lake in the world'."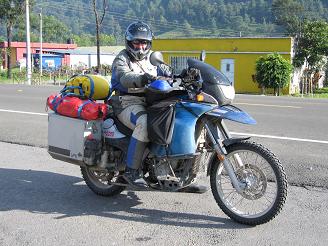 See Murray's blog here on Horizons Unlimited for more stories and great pics!
---
Grant Guerin and Julie Rose, Australia, Trans America and Beyond, in Costa Rica and Honduras, Suzuki V-Strom,
"Slowly edging closer to South America we entered Costa Rica. The border crossing was reasonably easy though somewhat confusing and time consuming taking approximately 2 hours to complete. We arrived in Peñas Blancas at what appeared to be a large bus terminal.
Exit Nicaragua -
* Pay $US1.00 to enter the Customs/Immigration area.
* Proceeded towards the Immigration building where you pay approximately $US2.00 to exit Nicaragua.
* Clear the bike. Find the Customs Officer (brown uniform) standing outside "somewhere". He will check your papers and the bike (if he has the inclination) and give you a tiny insignificant form to hand to the Police Officer.
* The Police Officer, generally sits on a table on the other side of the bus terminal will check the papers and the bike, craning his neck around and almost falling off his perch. (Yes there is a bike there)
* Return to the main building to have the bike cleared from your passport.
Enter Costa Rica -
* Clear quarantine. Costs US$3.00 for a man to spray the bike liberally with what appears to be some slime whilst he eats his lunch.
* Ponder the composition of the slime while bike dries.
* Ride for a kilometer down a lovely country lane to a building that has a large Aduana sign painted on the side. This is NOT the building!
* Go a further 50 meters or so to the correct area.
* Enter Immigration and get passports stamped.
* Go to Aduana and get paperwork for bike and fill in.
* Pay $US12.00 for insurance.
* Have bike checked by Customs.
* Drive 200m (the longest 200m you will ever see) to an obscure office on the right hand side and set back from the road.
* Go to office marked Vehicles This is NOT the right office. (What were we thinking??)
* Go to UNMARKED office and wait for turn while the office staff watch the football.
* Hand over all papers regarding the bike and receive official papers in return
* Drive to final check point where the security officer checks all documents and consoles you on Australia's loss in the World Cup.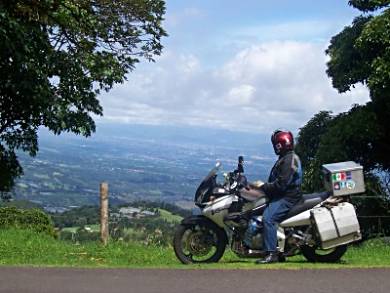 With the intense heat and humidity of the coast slowly wearing us down we plotted a course into the cool fresh mountains towards the capital of San Jose, staying off the main highway we headed towards Vulcán Arenal skirting the man made lake Lago Arenal. This lake supplies the water to power the hydro-electric system of Costa Rica.
Grant was awoken at 2 am by a loud thunderous explosion. From our window, the crater lip glowed brilliant orange and crimson with a fiery ball of molten rock being expelled from the crater. As this lava collapsed on the steep flanks it would shatter into hundreds, perhaps thousands, of sparks that splayed out over a large area falling and bouncing on their speedy decent.
We both sat, transfixed, for several hours watching, from our comfortable cabin, this remarkable and spectacular natural event.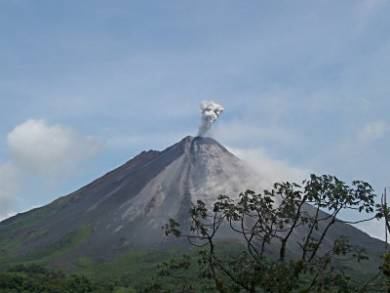 Continuing on to the Meseta Central region we stopped at Florencia for a picnic on the side of the road and noted the heavy dark clouds around the mountains... where we were heading. Some how this did not register to us as ominous, we did not even put on our wet weather gear as we began our ascent. Within 15 minutes on the winding road the heavens opened up and it was not long until we found shelter in a small humpy that doubled as a comedor. The rain bucketed down while we sat sipping hot tea and dodging the frequent drips from the leaky roof.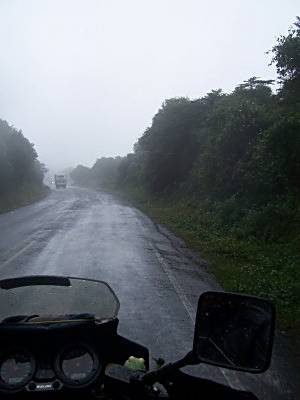 Over the next hour our little haven filled with other drivers finding refuge from the ever increasing rain and poor visibility. What seemed a reprieve in the heavy weather allowed us to don our rain gear and continue only to find, a short distance down the road, the storm intensifying with even more fury.
Slowly we progressed through the steep winding mountains through lightning and cracking thunder, muddy water raced across the road and small landslides stopped small cars, however we continued on and as several hours passed it became a desperate effort to find accommodation as hotels were conspicuous by their absence.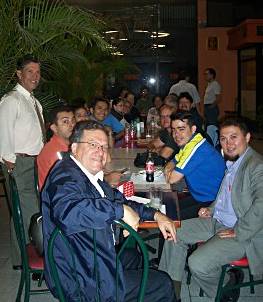 While we were in Honduras we had briefly met Alejandra and Vekoh on their BMW 650 GS's from Costa Rica and were keen to catch up with them. They invited us to the local Motorcycle Club meeting (ACCAMORE) which was more like a friendly get together, very informal and enjoyable. After the meeting we took a late dinner and a very late evening with Ale and Vekoh drinking wine, talking motorcycles and travel.
The following weekend we were joined by Ale, Vekoh, German (BMW 1100GS) and his daughter MariPaz (600 Katana) for a ride to Volcán Irazú. Ale lead the group expertly up the 3432 metre volcano. Climbing higher we passed through the cloud band, from time to time glimpsing the view of the fertile valley below, still higher we rode until we reached the crater lagoon and park."
Ed. See Grant and Julie's blog here on Horizons Unlimited for more stories and lots of great photos!
Craig Hutson, USA, RTW, in Harley-Davidson,
"Russia - I got to the border at 4 am. There was a truck line 3 miles long and about 20 cars ahead of me. The border didn't even open until 6. The one and only good thing that happened at the border was they waved me to the head of the line. They opened the border 15 minutes late, no biggie, the first check point two people come out and ask for your passport, they hand you a small piece of paper that I found out later you have to turn in at the last checkpoint. This piece of paper had the number of people in a vehicle. Then the fun begins; now mind you I only have 3 people in front of me 25 minutes later, they hand me two forms (in Russian) to fill out, I looked around but couldn't find any examples in English of what they were asking, about 10 minutes went by when this guy from England also trying to get into Russia hands me two forms in English, where he got them I have no clue but I was off and running.
Once that was done I got sent to an office to pay a new road tax or something, it wasn't bad under 5 bucks, back in line only to find out I needed a copy of the receipt for the road tax, I couldn't understand why, they gave me two copies already just best keep your mouth shut and do what they ask, back to the lady that I paid the tax to, showed her the receipt, she knew what I needed made a copy (of course there was small charge for the copy), back in line. Why she just didn't make the copy at the time I paid no one knows, that's just not the way they do it, if you don't ask or better yet if you don't know about it shame on you, back in line. For those keeping tab, two hours have gone by. This was not just with me everyone was going jumping in and out of the same hoops.
---
Help support the Horizons Unlimited E-zine - visit our sponsors!
Please be sure to tell them how you heard about Moto Discovery!

Thanks!
---
Next they didn't like the insurance I had, of course I asked about it at the Embassy and was told it was fine but you guessed it, back to the SAME lady, paid about $65 for their insurance, back in line, 3 hours have gone by. It's finally my turn, I didn't say a word I just handed her my 2 original receipts and my one copy of the tax, my two forms I first had to fill out, my new Russian insurance paper, my passport and registration for the bike. She looks at it and gives me just the dirtiest look and yells at me, the guy behind me laughs and said she's yelling at you because everything is in English and how is she suppose to read it. She did the same thing to the person in front of me so I just kept my mouth shut, smiled and stood there. She filled out her paperwork, went checked out the bike, even looked at the VIN, Started hitting the paper work with stamps, I knew this was a good sign, then threw the paper work at me. I saw that she did this to the last person, his stuff ended on the ground, I was ready I blocked it with my body gathered it all in, smiled and said Thank You for your trouble, and walked away with a big smile on my face.
I was told that the truckers wait in line 3-4 days to cross into Russia. I thought 6 hours was bad enough. On to the last check point where I had to give them that piece of paper letting them know when I started there was only one person with the bike. She got out and looked on the other side to make sure I didn't have someone hidden somewhere. She gave me the nod and I was gone..."
"I purposely planned my entry to Rio de Janeiro for Sunday. I assumed there would be less traffic than on a normal day. I was not totally prepared for what I experienced. I entered from the coastal south. The two lane coastal highway fanned into an eight lane divided carriageway. It was simply deserted. There could not have been more than a dozen vehicles occupying the space in both directions. It was like a scene from Mad Max or War of the Worlds. There was little evidence of life.
Occasionally a vehicle blurred by me at twice the normal speed. Other than that I enjoyed the weird sensation of travelling alone in a megatropolis. I moved into the city centre. Still no life, except for a few street peddlers. The city had an untidy look; an unkempt feel. I moved on with trepidation. How could a place this large be empty?
I longed for the small towns I had spent the last week with. I longed for the beaches and the green of the countryside. I longed for some sign of life...
The hotel was a delight. My spirits picked up immediately. The room was wonderful. The staff helpful, resourceful and reassuring. I hit the street. I did a two block loop. Incredible!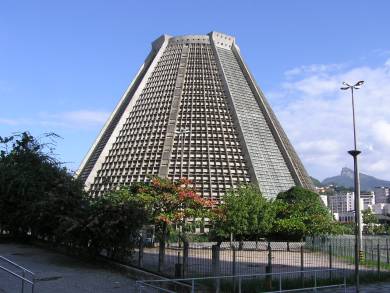 I saw more remarkable architecture in that small space than I had seen in the past month. Sights abounded ...parks, buildings, restaurants and people...yes, there were people here too. Wonderful. My spirits climbed exponentially. This was the right spot. I was staying..."
Mark and Paul Dolby, UK to Mongolia, Slovakia and Ukraine, in Russia and the Netherlands, 2 x BMW GS,
"Moscow - Andrey arrives at 8:20pm and immediately apologises. We're just glad he turns up. He takes us to an Irish pub - that's right - an Irish pub and we meet 2 more outlaws (little vitalie and big vitalie). Big vitalie was a helicopter pilot in the Russian army 10 years ago but spoke better English than Andrey. Little vitalie spoke very good English because his father worked for the UN as a specialist on diesel engines so has travelled the world with his parents. We leave the Irish pub and go on a quick drive to another bar. On the way, Andrey is stopped by the Police for speeding. To our amazement he pulls out his wallet, shows the Police something and they wave him on? We find out that Andrey is anti - terrorist Police, to our amazement.
We end up in a bar called "Che Guevare" - a fantastic little place. Andrey orders a jug of ice, a jug of coke, a plate of limes (quartered), a plate of mint and a bottle of 7 year old rum!, and proceeds to make a rum and coke for us all. The drink is flowing and we really are enjoying the company of our Russian friends. After a couple more bottles of rum and more ice have been ordered and consumed, big vitalie say's goodbye and wishes us well. Andrey then takes us to another club where he tells us that many western Europeans tend to meet. He also tells us that you can have any women in there,and of course - they're all inclusive as well. We decline again and Andrey takes us back to our hotel. We can't thank the big man enough and are sorry to see him go. Russia - The people are fantastic and so friendly. We leave the next morning with heavy hearts. Russia has been a fantastic experience, the people, the culture, the hospitality, has been mind-blowing. We will both miss these most generous and friendly people.
Netherlands - Once back at the hotel the receptionist mentions to us about Osterbeek - the famous hotel where the Parachute regiment had there HQ during the war and as featured in the film - A Bridge Too Far. We couldn't miss that and it would tie in nicely with Red Square and Auschwitz, so we get booted and spurred (motorcycle gear on) and set off to find Osterbeek. Its well signposted and took us only 30mins to get there. From the outside the hotel (which is a museum now) is immaculate. There's an American tank and artillery gun outside the entrance. Once inside, and the building is full of photos, medals, uniforms and memorabilia from people who actually fought the battle. The place is really interesting and worth seeing if you ever get the chance. We spent nearly 2 hours in the museum, but we would because of our military backgrounds. Tomorrow its on the ferry and home, and the end of a trip which has been amazing."
---
Help support the Horizons Unlimited E-zine - visit our sponsors! Please be sure you tell them how you heard about Morton's BMW!

Thanks!
---
Tommy and Rosa, Germany, RTW, in Canada and Alaska, BMW F650GS's,
"We meet Alex and Carsten, it's great to see them again. We drink a lot of beer this night and it's late as we come home. We want to travel some days together, as soon as they get their motorbikes from the boat.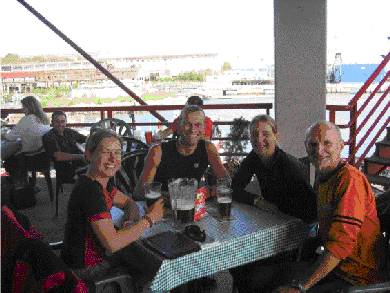 ...We leave Vancouver together. The weather couldn't be better, we enjoy the winding road to Whistler, the beautiful countryside - mountains, lakes and rivers. We stop, because there's a black bear, feeding only some meters away from the road.
...We ride the beautiful Highway No. 26 to Quesnel, then the Highway 97 to Prince George – nice, but a boring. Suddenly an animal jumps onto the road and back into the woods again– a young grizzly, the first we see!
At Bear Lake we camp at a Provincial Campground. We go early to bed, because of the mosquitoes and because it´s not allowed having a campfire – there's a fire ban at the moment.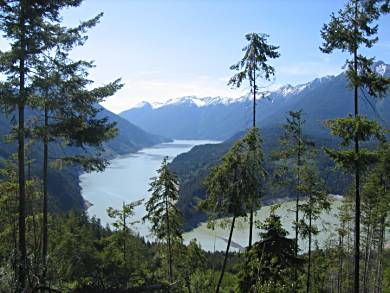 ...We take the 97 to Chetwynd, turn onto the nice 29 to Fort St. John and ride from there again the 97 – called Alaska Highway! On Alaska Highway we think we´re in Siberia – long straight roads, forest everywhere... In Pink Mountain we stay overnight and we enjoy the next days ride on Alaska Highway very much. The road is winding at Summit Lake Pass, the view great at Muncho Lake, we watch a lot of wildlife like moose, caribou, stone mountain sheep, buffalo and even a young black bear. The night we spend at Liard Hot Springs, nice natural pools.
...In Watson Lake we stop to take a picture of the more then 53.000 signs from all over the world. We check our emails and there is a message from Alex and Carsten, our German friends. They are in Dease Lake with a broken engine. Now to Whitehorse, the next Yamaha dealer. We decide to go the 600kms with Carsten to Whitehorse the next day.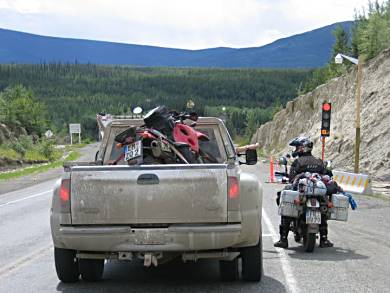 ...Before we do the Dempster Highway, the 730 km long gravel road to Inuvik in Northwest Territories, we go to Dawson City for food and information... We stay overnight in Dawson and leave the next morning... The road is in very good condition, it's like an Autobahn, you can ride very fast, if you want. On some sections we have to be careful – it´s muddy and slippery... The next day we reach the Arctic Circle... There are two ferries to cross the rivers Peel and Mckenzie before we reach Inuvik... The way back on Dempster Highway we do in only one day... The Dempster Highway will be in our memories as one of the highlights of our travels in North America.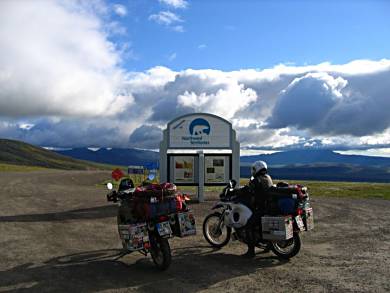 ...The road is nice as we reach the Denali National Park, but unfortunately the weather isn't the best and we don't see the highest peak of North America - Mount McKinley. Barb owns a motorcycle accessory shop, where you also can buy self-made motorcycle wear and sheep skins for seats. She tells us that the Harley Shop has a free campground for motorcyclists and as she gives us the directions, Tom, a customer says, he brings us to the Harley shop. It starts to rain and as we reach the Harley shop, Tom invites us to stay in his camper.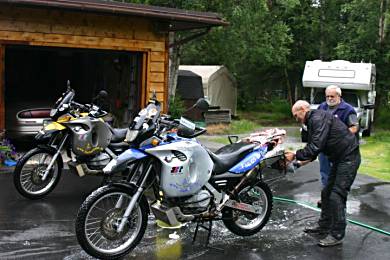 We are very happy, also because he allowed us to use his garage for changing our tires, even he helps us to change them! His wife Sharon invites us to join them for dinner and their son brings delicious beer. They allowed us to stay some days, so we are able to update our website. Great!"
Tom and Lynne Gefre, USA, North, Central and South America, in Peru, F650GS's,
"You encounter the Nasca Lines - huge hieroglyphs drawn on the desert floor - directly along the PanAm. As with Machu Picchu, not much is known about the Nasca Lines, although most researchers agree they were created by three groups of peoples who inhabited the desert valley from 600 B.C. to 320 A.D. - and not by space aliens. How and why spiders and birds the size of three football fields could be drawn on the ground and only appreciated from 1,000 feet in the air is quite the question. The lines have been naturally preserved due to the heavy mineral content of the soil and the almost total lack of rainfall. We didn't feel like spending a day and $200 to fly over them in a plane but we did pay 30 cents each to climb a 50 foot tower to see "The Hands" (one hand only has four fingers) and a bird drawing.
While stopped at the tower we met three riders from Montevideo, Uruguay heading north on two 125cc scooters loaded down with everything from surfboards to sunscreen. They made the whales look downright Streamlined in comparison! Hats off to them.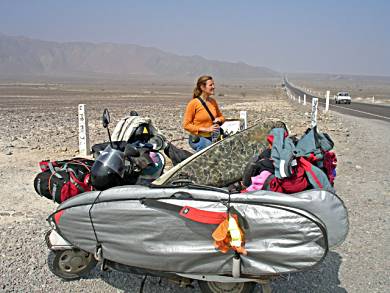 Three days and 620 miles of riding from Lima brought us to Arequipa, a million-plus town located at 7,400 feet at the foot of two large mountain peaks, Chachani (19,000') and Pichu-Pichu (18,000'). It was here that we experienced our second earthquake in as many weeks. Is this some sort of sign? Arequipa was an OK place but it turned out we spent a lot of time at our hotel, El Balcon, because Lynne was bitten by a 24-hour bug that took a few days to recover from. The folks there were great and cooked up some chicken soup for her and let me wash the bikes in their driveway. The hotel was in an old colonial home that reminded us a lot of our home in Denver. We weren't getting a lot of sleep here, though. One night alone, we were awakened by noisy tourists, barking dogs, guards (stationed on the corner outside our room) whistling signals to each other, a 5:30am earthquake and early-morning construction traffic. The bags under our eyes are now 3-dimensional. Time to move on."
---
Help support the Horizons Unlimited E-zine - visit our sponsors!
Please be sure you tell them how you heard about Motorrad Elektrik! Thanks!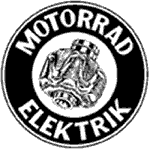 Motorrad Elektrik has been offering the best in electrical parts for classic and modern BMW's for over 11 years. From 12 volt conversion for /2 to better than stock replacement parts for your late model "R" or "K", we've got you covered. Specialty parts for 'hardening' the charging and ignition systems for world-travelling Airhead GS's. Riders like Bob Higdon, Dr. Gregory Frazier, Grant Johnson and hundreds of others depend on Motorrad Elektrik components as they wander the globe.
Our Omega system has solved the charging problems for 1970-95 Boxers with 400 Watts Output, and our

Nippon Denso starter is the perfect cure for Valeo syndrome.
---
Marc and Bev Davies - South America and Beyond, in Argentina, BMW R100 GS
"Having spent many a day at Dakar Moto HQ, thought it might be time for a quick update. As you'll remember from way back when, last year in fact... though only 5 months ago really, Sandra & Javier run a motorcycle repair shop with facilities for traveling bikers to stay.
Though it's out in the suburbs there is an excellent train station nearby and a return ticket costs less than 25p p/p. There is an underground network and it costs little too.
So it's a great place to be based. The accommodation is adjacent to the workshop, bunk beds, a toilet & shower, and kitchen. There's a garden outside (or camping area!) and so long as there is space and time, you have an opportunity to work on your bike, or better still, let Javier do it for you for very reasonable costs.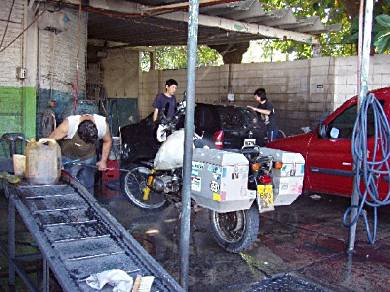 He's worked wonders on a few of our fellow travelers bikes and there are some excellent services available for repairs. Non re-buildable shock trashed? Well that can be taken apart refurbished and reassembled as good as new. Smash a screen, a new one can be made to match. If there's a problem, there's someone who can resolve it. Excellent facility. Fortunately for us we are simply staying here!
...We had to carry out certain formalities, petrol has to be drained - they get bored, not necessary to empty, if say near empty, they will accept that, battery has to be disconnected, and tyre pressures reduced, again not sure you need to do tyres, but we did on this occasion. The customs formalities have to be done, one guy, he was friendly, he took our temporary import document. He checks number plate, chassis, motor, cursory check luggage.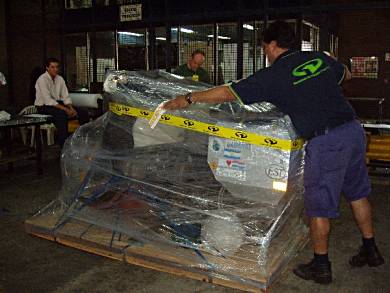 The bike was strapped with nylon tapes to the wooden pallet and eventually wrapped in cling film, we locked lids to bike, and strapped a large stuff bag with sleeping bags etc on and our jackets were shrink wrapped and strapped to bike under screen on seat. Once completed the wrapper asked for I think 120 pesos (£24) with a receipt, or (definite price) 60 pesos (£12) no receipt, obvious choice as we can't reclaim. Once finished the bike weighed in at 330kgs (including pallet).
We went around corner to Lufthansa office with customs documents and receipt document from wrapping warehouse. They produce a form with details of bike flight etc, the Airway Bill. You complete a vehicle check sheet – what's on bike, and pallet, and condition of vehicle, signed declaration at end. A Dangerous Goods Certificate is done and signed. Now we had to pay! You can only pay cash, either in US Dollars, or local pesos, or combination of two.
After all paperwork was completed we were given a sticker to apply to bike - we had to do it to ensure it was the right bike. After that we had completed everything. We left and handed in our pass. We kept the petrol removed from bike in a can and took it away with us for Sandra and Javier. No one queried us walking around the cargo area with the petrol, even through the checks, or when we walked to the entrance of airport terminal. :-0 .....really.
We walked away and hoped our pride and joy arrives in UK OK !"
---
Help support the Horizons Unlimited E-zine - visit our sponsors!
Please be sure to tell them how you heard about Knopf Tours. Thanks!
---
Kevin Maher, Ireland, in Mongolia and Russia, BMW R1150 GS,
"The sand is tough, tough, tough when you and your machine weigh over 400kg... did I mention that? Most of the drops are harmless and don't hurt - I don't think we got the bikes over 45km/h today - 3rd gear? maybe once or twice. Off course just when I do get a flat run, the ground leaves me - literally a cleft about 50cm across and the same down, concentration lapse and I hit it - hard. I'm thrown over and clear, but I land on my fist against my chest and I know I've hurt myself (a few days later in Novosibirsk I have it x-rayed - fractured ribs). I'm sore but more concerned about the bike... Literally not a mark, I was worried about damaging the forks, but she's fine. This machine is phenomenal.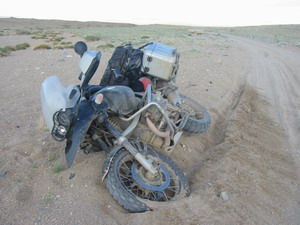 Also my boots have saved my legs twice today as they got caught under the panniers when I fall, panniers are suffering, bit lopsided but replaceable - legs aren't!
... I'm flying these roads until I hit heavy rain just as I enter Novosibirsk. I hide under a bridge and am quickly joined by Sergei and his new (2 hours ago) girlfriend on a scooter. "Hotel Sibir - sure follow !" He sets off in the lashing rain and I follow. In we go and it's beer and champagne and a Horizons T-Shirt as a thank-you ! We swap numbers and Sergei tells me to call if I need anything. he's a mechanic and used to work for yamaha, before setting up his own tuning shop.
I decide to stay a second night, the town is big and there's a BMW dealership and I figure I'll swap out the knobblies which are shot with just over 8000km on them after Siberia and Mongolia and give the bike a service. (and maybe get some Laundry done too!)
First I head to the hotel doctor who refers me to a clinic where I get examined and x-rayed - no surprises - 2 fractured ribs. He straps and advises me to rest for 2 weeks - no problem I'm sitting down all day anyway. I alter the strapping for the bike - this has been my morning duck-tape ritual.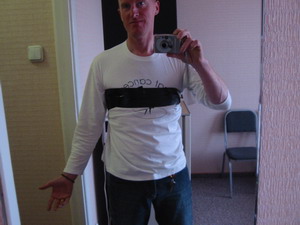 I head for BMW. Oil change - no. No bikes, no service for bikes, no oil, no tyre change and no desire to help in any way. Screw them. I've spotted a Yamaha dealership on the way. I head there. Tyre change is a problem - don't have the kit, but I do get Synthetic oil!
Then I remember Sergei - I mention his name, someone calls him, he arrives with a colleague in tow and we're like old buddies - things happen quickly!
I'm off with Pawel to get the tyres done around the corner."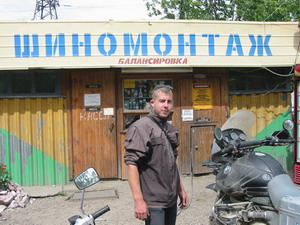 "
Andy Tiegs, USA, to Central/South America, in Mexico,
"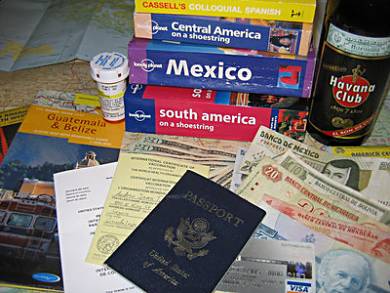 "I'm reading a book called 'Behind the Mexican Mountains' I bought for 4 bucks at Half Price Books. I only started, but if you are planning to visit Copper Canyon in your future, as any good Horizonista should be, check it out. Written back in the 1930's by a guy from U of Chicago, it's an anthropological study of the Tarahumara (Indian tribe) from the Canyon region, but gives you a good feel for what it was like back then, as well as description of the landscape.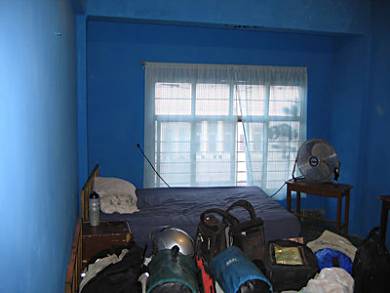 If I can, I like to get a hotel in the middle of town, so I can walk around for dinner and a beer or whatever without hassling with the bike. No parking? No problem, that's what lobbies are for. This is where a relatively small bike is really handy. I think the Concours would handle most of the roads I'll see this trip, but I would have smashed the exhaust if I would have tried to get it up the steps into here.
To get to Real, you have to go about 20 miles on a cobblestone road, where the cobbles have been polished smooth by traffic for who knows how long. We are not talking about formed bricks here either, these are just rounded river rocks set in the round. Kind of what I picture the Appian Way, from ancient Rome looking like. Not fun in the rain on a motorcycle. You climb most of that time, and I haven't seen a sign, but I bet Real is at 8-10,000 feet.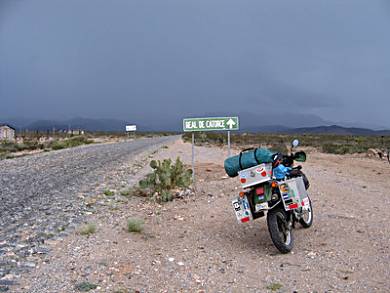 You then have to go through a 2.3 km (~1.5 mile) tunnel to finally get to the town itself. Once I popped out of the tunnel, I was immediately accosted by 3 kids who wanted to be my agent in finding a hotel room. I let them lead me around town, first to a place that was out of my budget, then to another place where i got a fine room for $18. I gave the kids 15 pesos to split between them, but not before I taught them how to say "do you need a hotel?" in English. A bargain, as I would never have found this place on my own. Once again, i parked my bike in the lobby, but I wouldn't be afraid to leave it on the street in this town, as long as it was locked up."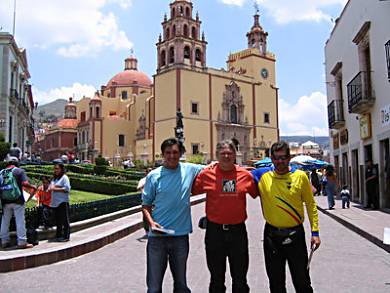 Ken and Toni Butler, Australia, UK to Russia and Japan, BMW R80 and R100 GS, in Russia and Mongolia,
"The trans-siberian highway is definitely busy, and the traffic doesn't stop for bikes stuck in the mud! Toni got close to the mud a few times on this section.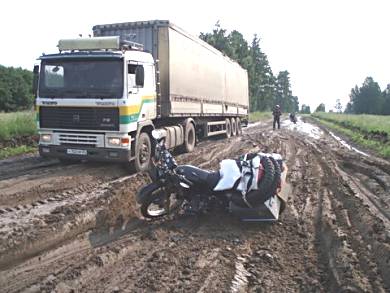 ...The 300+km journey from the border to Ulaan Baatar was good road. There was a sudden drop in traffic volume, but the Mongolians are just as new to driving as the Russians, so they're also a bit reckless, although we thought they were generally a bit slower (at least on this stretch). The traffic in UB seems to be almost as manic as in Russian cities. We passed a runner carrying a torch which has apparently travelled though Russia and will cross Mongolia and China - world harmony games?? or something. At first we thought he was out in this remote stretch on his own, but a couple of kilometres further on we passed the support vehicle. We have missed the annual Nadaam festival, so these young boys must be practising for next year's event.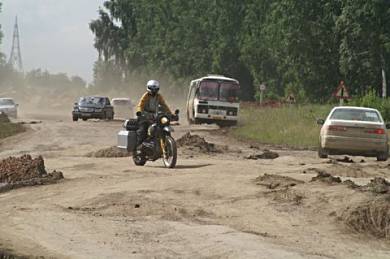 ...After our last night in Mongolia, celebrating with Miss Mongolia and the locals, we woke to the sound of horses hooves. A border guard came by to check up on us. We were, after all, camped just a few metres from the Russia/Mongolia border. A half hour or so later, another guard came by - this one with a gun slung over his shoulder. We told him we were crossing in to Russia. He took off and returned a few minutes later to advise that the border opened at 9am. We think that was our hint to get a move on. While we packed, the family came to bid farewell. The eldest son is intensely curious and tries on helmets, gloves, sits in the tent and helps Ken pack. All is done with great care and respect.
Leaving Mongolia took about 10 minutes. We were given customs declaration forms to complete, but nobody collected them from us. The lone guard in the office was woken from a vodka-induced slumber (we suspect from the smell and his rather deliberate actions to complete the log and stamp our passports). As usual, the Russian immigration and customs process took a little longer, although this time less than 2 hours. They inspected our pannier and bag contents far more thoroughly than any previous group, but spent more time looking through our little photo album, especially curious about Toni's Chinese family.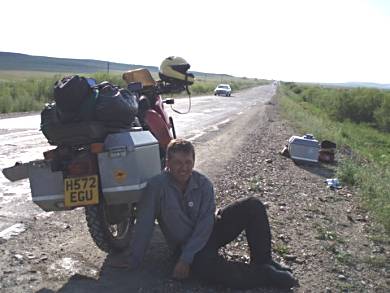 The first section of road from the border to Borza is deep sand and slippery gravel Then a few more potholes and patched tar to shake you up a bit more. About 150km south of Chita, Toni's bike frame breaks again in the same place. We hailed down a small truck and the driver says he'll take the bike and Toni to Chita for 1,000 rubles. Fortunately, the truck has a rear elevating platform and we have the bike in the back in no time, thanks to some skilful maneuvering by Ken. While we are tying the bike down, he is on the phone and says that he has to return to the town - we are just on the outskirts - to check all is ok with his boss. He drives off, leaving us by the roadside wondering if he'll actually return."