Plan where to be when!
If you know of any events of interest to travellers, send me a note.
OMM Mad Run, January 1, Turkey...
is on the seventh year and is becoming a traditional way to celebrate the opening of a new period of fun and joy. An ancient legend tells that what you do on the first day of the year, you'll do it all year around. And if you want to ride, ride One More Mile, in 2005 you should join us...
Horizons Unlimited Travellers' Meetings:
Lots of HU Travellers Meetings planned for 2005 - check them out to see if there's one near you - and if there isn't... well, you're a traveller, right?
Elefant Treffen 2005
Apparently there are two... here's one, and more info on both on the HUBB.
Susan has created
an excellent Information Security and Privacy for Beginners presentation that everyone that uses a computer should read and pay attention to - especially if you're using internet cafes.
Tips on Air Shipping from Douglas and Stephanie Hackney.
BMW South Africa's website has a good story by Frances Taberer of a 2 month trip through "Botswana, Zambia, Malawi, Tanzania and Mozambique."
Somebody (sorry, lost who!) sent in: "Megarider Organisation in New Zealand claiming 'Saving motorcyclists' lives since 1971' The place is full of intelligent articles and useful tips."
"If you want to set up language school ahead of time, or just want to see some of the choices available, have a look at www.amerispan.com. They seem to act as a clearinghouse for language schools. (For Latin America) I haven't booked anything through them, but I have been considering immersion language school and they seem a great source of info. -Laura Seaver" More on the HUBB.

Get your website listed in the LINKS Section
by listing Horizons Unlimited on YOUR web site, let me know you've done it by mailing me a link to the page, and you may get listed here in the next newsletter and on the Horizons Unlimited web site Links page. To make it easy for you, we even have our logo and link code here!
All sites will be considered for listing, but must be a MOTORCYCLE or TRAVEL site, useful or of interest in some way to travellers. We reserve the right to refuse to link back.


Motorcycle Express
MC Air Shipping, (uncrated) USA / Canada / Europe and other areas. Be sure to say "Horizons Unlimited" to get your $25 discount on Shipping!
Insurance - see: For foreigners traveling in US and Canada and for Americans and Canadians traveling in other countries, then mail it to MC Express and get your HU $15 discount!
There are many 'Helpful People' listed on the Links page, a huge thanks to all of them. How about you? Or you can join a Community, or start your own!
Do you know of a good shop 'on the road,'
...in other words, somewhere there isn't a large number of shops? (Also of course any shop that specializes in travellers equipment and repairs is of interest.) But we're particularly looking for those rare items, good repair shops in South America, Africa and Asia etc. Please post your info in the Repair shops around the world Forum on the HUBB.
"Welcome to Panama. MPH Motopartes y Accessorios. I am Martin Fernandez. We have a repair and maintenance shop for travellers. My telephone, office is 507- 264-2901/264-9163. My cellular is 507- 661-4041. The factory is located in the intersection of Via Brazil and Street 50, building Boas, number 2, diagonal to Global Licorera. I carry Pirelli tires."
There are now 80 + shops listed in out - of - the - way places, from Abidjan to Ghana to Peru! Be sure to check out the HUBB "Repair shops around the world" forum if you need work done!
What's your most/least useful piece of kit?
Some great comments on the HUBB - add yours!
When you meet people on the road, and they haven't heard of this e-zine or the website, we'd appreciate it (and hope they would too!) if you'd get their names and email addresses and send it in to me.
Thanks, Grant
Geoff Thomas, around the world, in Peru, Honda NX 650 Dominators,
"I am currently in northern Peru as part of an around the world trip. Our trip is called 'Lost On Earth' and myself and a mate are both riding 99 Honda NX 650 Dominators. So far we have spent the last eight months covering Chile, Argentina, Brasil, Bolivia and Peru. We still have a long way to go as we are riding back to Australia over the next 3 years or so!
I have a bit of a question regarding shipping my bike around the Darien Gap. I read two reviews on your site by people who used sailing yachts from Cartagena, Columbia to take their bikes to Colon, Panama. I understand that this is technically illegal, but I am interested in possibly doing it. The reports seem to present the option as cheap, fairly easy to arrange and with minimum bureaucracy and time wasting.
I was wondering if you have any advice on this matter or if you can point me in the right direction with someone who has successfully done this. Ideally, I would like to email somebody who has done it to get as much first-hand knowledge as I can.
One last thing, in regards to going through customs in Panama upon arrival. Obviously, I may not have exit stamps from Columbia, would this pose a problem for Panama customs officials or do they tend to turn a blind eye to this sort of thing?
Thanks in advance for your help in this matter and looking forward to hearing from you soon."
Katy Galbraith writes to the Mumbai HU Community:
"I am arriving in Mumbai in two weeks time with husband and two children. Our original plan was to buy 2 bikes in Goa and then travel around southern India... however, we have heard that in Goa, legislation has changed and we would not be able to legally own bikes there. We have also been in touch with Rahim Premjis (www.premjis.com) located in Mumbai who have been very helpful via email, and assure us that they can sell us new Enfields with all the relevant paperwork.
Our big fear is that we end up with bikes that cause us big problems and do not allow us to cross state borders or resell at the end. Any advice on this - or the bike shop would be most appreciated. In addition, the last time we in India, we travelled with Blazing Trails Tours in goa, and only needed a UK driving licence. Is this adequate for India or is it compulsory to have an international driving licence? Any other paperwork that we should have with us? I hope that this is not too much to ask of you. Normally, I would not be so phased by it all, but this is my first time with serious travelling with our children, and do not want to scare them off the experience! Many thanks. Katy"
Here's an interesting thread on the South and Central America Forum
Realistic costs in Mexico & Central America?
How much do you think it costs?
Alaska to Russia
A VERY common question - surprisingly - is how to get from Anchorage to Magadan. There's a whole long thread on it, plus more - do a search on Magadan and Anchorage and you'll get 25 hits. The answeris simple - and unfortunate - you can't do it directly. No flights (that will take bikes) and no boats. The only answer so far is to go to Japan, and from there take the ferry to Vladivostok. Straightforward and relatively inexpensive.
How does one afford this lifestyle?
What do you think? How did you do it? Want to know how? VERY interestingthread on the HUBB!
---
Plenty more questions and answers on the HU Bulletin Board! We've over 4,100 registered users on the Board, which I think is pretty amazing, and gives a huge resource of knowledge and experience to help you with anything you might need to know.
From Zephyr L'Green in Australia, - Skype and VoIP - new communications methods
...extend Internet access to cordless phones. Article here and here and one on VoIP. Discuss it on the HUBB
Also from Zephyr, "it is a shame so many riders just ship in and out of Dili to Darwin and don't spend some more time in East Timor, there is some great riding to be enjoyed and even some reasonable tarmac in parts. I'll submit a story when I get some time."
From Chris Stone, UK, 19 September 2004,
"We are back in Tehran... we did not get our Pakistan visa's in london but [thought we] would get them in Tehran or on the border. The Pakistan consulate will not longer issue visa's in Tehran for UK passport holders. They also refused a guy last week, and he flew to India.
...Today - in fact 4 hours ago we where able to sit down with the very nice Consul to the Pakistan Embassy in Tehran - He explained that there has been a change in the rules and he cannot allow any visa to be issued to any other passport other than Iranian - Everyone must apply from their home country only, unless there is an emergency and can prove the emergency!
He also made us aware of a Japanese couple who have their bikes stuck in Zehadan near the border who have waited 20 days for Authority from Islamabad for an emergency approval for a visa to be issued in Tehran.
I also cannot access the HUBB - the powers that be block it here."
From Glen Heggstad, USA, 18 October 2004
You may have already heard this but the Iranian government has announced that they will now issue visas at the airport in Tehran and maybe overland entry points. I have not been able to confirm this except through UPI but this is great news for American bikers.
I applied ten days ago here in Budapest for a tourist visa and was told no problem, just come back in two weeks. I have my doubts but I'm here and will call them back tomorrow. Also was told at this embassy that Pakistan no longer will issue visas outside of home countries."
Following on from last issues post about Carnet requirements in Ecuador,
...where we asked you to sign a petition - well it looks like it did some good! All the petitions, along with an enormous amount of work by Ricardo Rocco and others, got the carnet requirementremoved! Yes, we won! More details. NO carnet required anywhere in the Americas! There are still some hassles, but Rocco is working on solving them.
"Police Troubles in Argentina" is a thread worth checking out if you're heading that way.
GPS and Cell phones in Russia -know the rules to avoid 20 years in jail...
Russia has some very specific and strict rules on the use and importation of these, so read up on it before you go - there's a thread on the HUBB here, and a US State Department advisory. DO note the date on the Advisory. Things change, but as of last word this was still the rule...
Bill Hamilton, Canada
"Just an update on my bike import exploits. If you recall, I purchased an Africa Twin in the winter and once it had arrived from England (Canada) Customs *** said send it back. Well I have now got the bike stored in bond for the next 2 years till it becomes a vintage (For motorcycles, vintage in Canada is anything over 15 yrs, cars are 30 yrs) and is able to be imported (at that time). All is well. It cost me a little more than I expected and could have easily purchased a number of other bikes but this will be ready the day I retire and I can ride all over North America on it to get the experience to drive to more exciting locals. Best regards. Bill"
Many countries are VERY difficult to import motorcycles into on your own, especially Canada, USA and Australia. Check ALL the import regulations before you decide to import a bike model or year that was never officially imported into the country.
The Zilov Gap, from Alec Simpson on the HUBB
"Three friends riding KLR 650's recently rode this road. They met a couple of blokes who had done it on Honda Gold Wings coming the other way...yep the large tourers with electric reverse! It took the KLR riders one week to do the gap."
From Kevin and Julia Sanders, Globebusters,
"I would recommend anyone crossing into Honduras from Guatemala to go via the Copan Ruinas crossing.We have done Agua Calientes twice before and have always been stung. Copan Ruinas is a much quieter, friendlier crossing, with less commercial traffic and the route is much nicer to ride. We crossed into Honduras at Copan Ruinas about two weeks ago and it cost us US$35 for everything to do with the bike permit. Were surprised to find that this road through is now allpaved - even the latest guide books stated it was dirt. We stayed at La Casa de Cafe in Copan Ruinas, owned by an America who said the road was paved about a year ago. Interestingly he also stated that the week previously, all the border officials had been sacked and replaced due to corruption."
Charlie, otherwise known as "braindead" on the HUBB, (so not sure how to take his advice :) in response to the question: How far ahead do you plan?
"I would say never put off till tomorrow something that you can do today. This is especially true of travelling. If you are serious about travelling by bike then get a bike that only needs basic 3rd party insurance, don't wait until you can afford to travel.
Traveling with little money teaches you to economise and brings you closer to the people you meet and you get a better experience. You would be surprise how far you can get on $1000US in Africa or the Asia.
Travel while you are young and strong, it makes the hardships easier and the bones heal quicker. Don't wait until you are tied down with work, debt, partners or kids, get out there and do it. I did and have never looked back. Charlie"
Patagonia - start in Santiago or BA? From "squidbrain" (do I detect a trend here ;) on the HUBB
"IMHO it would be better to go down the east side on Argentine Ruta 3, that way you'll get to Ushuaia before all the other moto travellers have left after the Xmas/New Year celebrations. Make sure that you contact the communities on the way; Javier and Sandra in Bs As, Jorge in Azul, Oscar in Viedma and the couple in Puerto San Julien; you won't meet nicer people anywhere. On the way back up do Ruta 40 until you get to Chile Chico, then choose between more of the same or the stunningly beautiful Carretera Austral in Chile. Enjoy! Regards, Mick"
"There is a car carrying ferry that runs from Costa Rica (Pacific Coast) to Esmereldas, Ecuador. Met Austrian 4-wheeler in Bolivia that had used it, reckoned $400. But I have no useful contact details. Check with San Jose based shipping agencies, I guess. Cheers, suerte, Dan Walsh."
Riding and travelling in Korea,
Seems it's possible... see this post - read on a bit, it starts out on Russia but then goes to Korea...
Request for info
Wouldn't YOU like to know all about the border you're approaching - what it should cost, paperwork required, 'tips' needed, and who to talk to, etc.?
When you cross ANY border, take some notes, and pass them on to us. Thanks!
Shipping
The Shipping page on the site is HUGE! It can be reached directly or from the Shipping link on the Trip Planning page.
If you have any information to contribute, please go here, and register (or just login IF you have used this system before) and you can then submit your information. Thanks!
Travel Advisories:
The Foreign Office in London's Travel Advice Unit advises against travel to all sorts of places. Check out the listing before you start!
The US State Department regularly issues updated travel advisories, information and/or warnings.
Gregory Frazier , USA, KLR650, starting his fifth RTW ride in Alaska,
"A woman propositioned me with a wild offer that piqued my interest in making a fifth ride around the globe.I retired from my 'round the world riding foolishness after completing a fourth global ride in 2002 on a KLR 650. The bike was relegated to a museum place/piece, where it was "resting." I had been offered a nice job opportunity in sales, with a chance to make some big dollars to fill my personal bucket. Instead, I succumbed to a challenge to make a fifth ride around the world. I said, "Sorry Boss, the wind and a woman with a wild fantasy calls. I'll take a job when I get old."
I rolled the KLR out of its languishing retirement, made some changes to it, and headed for as far north as I could ride, Deadhorse, Alaska. From there I turned around and am headed as far south as I can get, Ushuaia, Argentina, then plan to touch Cape Agulhas, South Africa, before tagging the North Cape and finally cross Asia. Somewhere along the route I hope to take a photograph of the Pyramids, Great Wall, Taj Mahal, Ankor Wat, Lenin's Tomb and possibly some junks in Shanghai.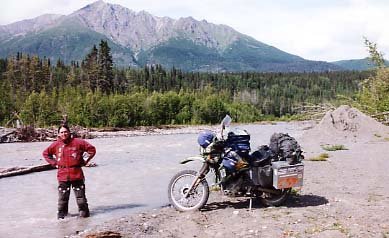 My fifth global ride is vastly different the the previous four. This time I am taking a pillion. She is a 61 year-old grandmother who has advancing Parkinson's disease. Before I met her she had never been on a motorcycle. Her dream is to see the world from a motorcycle and wants to do it before her physical disability forces her not to be able to live her journey. She does not want to let her Parkinson's slow her down. She has no interest in driving a motorcycle and asked me to be her pilot. I have agreed, with some conditions or "ifs." Like "if she can physically make it," "if we can afford the cost," "if we have enough time," and "if I can manage a motorcycle and two people instead of my usual Lone Wolf one." A first "if" was if she could hang on to the back of my motorcycle for a hard and fast ride up to Prudhoe Bay (Deadhorse), Alaska.
She has her own website at www.ultimategloberide.com where you can see what she thinks and feels of our journey. If you want to see how I managed two-up on a bike designed for one (like beating a dead horse some might say after the little Kawasaki had already made one rather arduous ride around the world), look to August, 2004 under "What's New" at www.horizonsunlimited.com/gregfrazier. I am still not sure why I did the last four rides around the world, andthrived on them, or why I am doing one again. I do know I hope the lady who propositioned me can ultimately enjoy her dream, her ride around the world. From where she is starting it really is an ultimate globe ride."
Jun Ishibashi (Bashishi on HUBB), Japan, around the world, in China, Kyrgyzstan and Uzbekistan, Suzuki Djebel200,
"Hotan is famous for 'Hotan stone'. This stone was exported to Xian (China), Anyou (The capital city in Yin dynasty China) 4,000 years ago. This is older than Silk Road. Another specialty is Hotan carpet. These two items were exported to Rome through Carvour (Afghanistan), Esfahan (Iran), Baghdad (Iraq).
Hotan is oasis city, many items and foods (meets, vegetables, etc), so market was full of bounce and very interesting.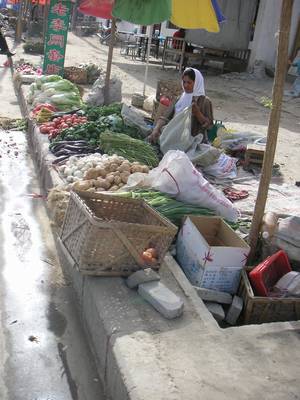 I returned to Yarkand, went to North Taklamakan desert area. I camped this desert and watched stars and moon. But my camping place was near road, many trucks came and went, I heard truck's driving sound till all hours of the night. I understood Chinese economic development is truth.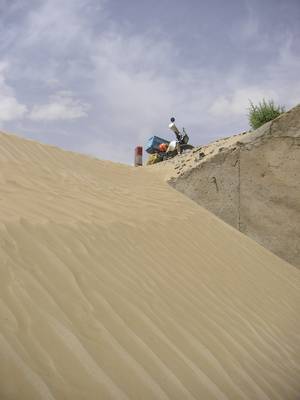 ... I could return to Kyrgyzstan without problem. Chinese border staff was friendly. I did not take Chinese import paper but staff lady made and gave me.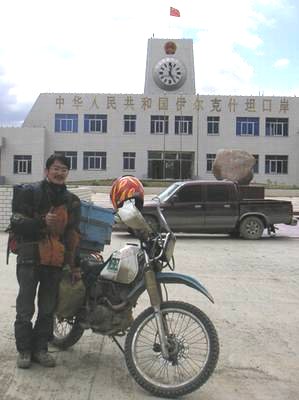 In Tashkent, I stayed in Japanese rider's apartment about 10 days. I checked and maintained my motorcycle. I met nice Tashkent people on the first day. They washed my motorcycle and repaired my rear carrier and gave me lunch for no money! This kindness was first time for me. Nice guys in Tashkent.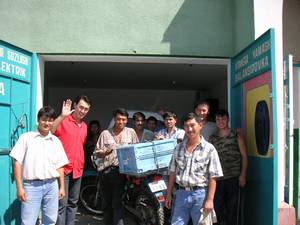 I left Tashkent and tried to enter Afghanistan, but the border near Termiz could not enter me. I had visa but I need permission, because only NGO or government staff can enter Afghanistan from Uzbekistan border. I heard there are no bandit and mine from Termiz to Mazari-sharif. I wanted to go only Mazari-sharif, I regret.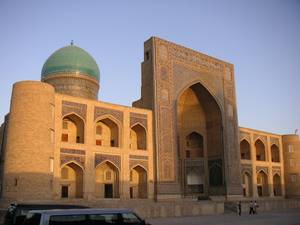 Samarkand and Bukhara are very famous cities as mosques and historical town. I think I can send you next mail from Iran."
Motoqueros -
Mit dem Motorrad durch Lateinamerika

by Arno Backes, in German only, €14.95 plus shipping and packing

"Motoqueros - Mit dem Motorrad durch Lateinamerika

"Written by Arno, with contributions from Sian and others, this book is in German, and follows our 18 month trip of 55,000kms, from the beaches of California to the most southerly city in the world. As we ride down Central America, past Mayan ruins and steaming volcanoes, read how we then cross into South America, battle through the endless Pampa in Patagonia, along the Altiplano to the heart of the Inca kingdom, ending after 18 months in the city of tango.

At almost 340 pages and with over 150 photos, both colour and black and white, the book really gives you a feeling of participating with this journey, even if you can't read German! Some photos have been used previously in Sian's blogs, but most are brand new."

Order details.
Tony Kalm, USA, Rome to Russia Around the Black Sea, in Turkey,
"... I was on the road early, and made the Turkish border by 11am. Compared to the experiences to follow, I'd give the Turkish border police top marks for friendliness and efficiency. I didn't feel that way at the time. In all, more than 3 hours passed, and I counted 8 different steps I and the bike needed to take, each requiring a bigger smile, a small fee, and a special stamp. While the visa cost a mere $20, all in all I forked over $60 in order to 'expedite' my crossing.
When I emerged from the border in mid-afternoon, I was eager to twist the throttle and make up some time. Just as I was passing a truck as I came over the crest of a mountain, I was flagged down by the police for crossing a solid line. He was extremely polite and good-natured, and while he spoke no language I understood, he did turn his pad over and write '83,000,000' on the back – about $50. I smiled from ear to ear, began to gesticulate wildly, and spoke a little gibberish. He kept pointing to his pad, I kept flailing my arms, and he finally relented and waved me back on the road.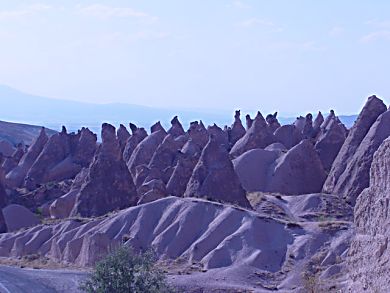 ... Istanbul has it all – great mix of cultures and people, rich history, exotic bazaars, museums, and hamams (Turkish baths). I enjoyed my hamam experience very much. Cavernous and with a large marble slab on which to lay, hamams were an essential part of life when most homes lacked running water. While some hamams now cater especially to tourists, the one I chose did not. It was the real deal.
After changing into a sarong in a small wooden change room, I was escorted into the main marble room. Finding the light bulb in the sauna expired, the two men running the place proceeded to try every other discarded light bulb in the same socket, all the while letting their cigarette smoke fill the room and letting the heat escape. After sometime, I pleaded for use of their flashlight. I kept wondering whether they were lifting my goods while I sat on the giant marble slab in the tattered sarong.
Finally, they found a bulb that worked. After sitting and mildly perspiring for several minutes, and fighting off the one fellow who would enter and attempt to raise the price, I was escorted back to the slab and instructed to lie face up. The man then proceeded to dump buckets of hot water on me, lather me like mad, massage me, crack all my joints and spine, pull everything squish everything, then he soaped more, pulled more cracked more, and then, after another dozen buckets of water, he led me to the faucet, did my hair and face, more buckets, and then sent me to the shower, padded me down to dry me, and put me back in the little change room to catch my breath."
"The 4 pm crossing for Flores left at 7 pm as overloaded trucks attempted to roll on to the ferry, found they were too high and had to be unloaded. By then the boat was filling up with chickens, goats, sacks of vegetables and human livestock. By the time we left I was ready to be there, having sat in an open sided but hot floating metal container with no breeze for 3 hours. By 10ish most people had stopped smoking and the TV was turned down, so we each stretched out along a set of 5 moulded and very hard fiberglass seats to try to sleep. I've seen so many people sleeping on these before that I thought they couldn't be that bad, but they are and by the time the boat arrived at 3am we were bruised, sore, sleepy and a little grumpy. We woke 2 guesthouse owners to hear they were full for the night then rode up to find a room at a lovely guesthouse on the hill with incredible views overlooking Labuanbajo's quiet bay.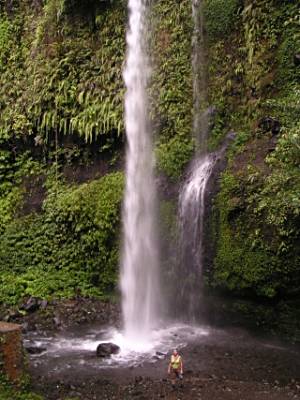 From Labuanbajo we hired a little boat to take us out to stay overnight on the island of Rinca which, like its neighbour Komodo, is the home of dragons. Our captain was a real old salt who knew the swirling seas of Komodo National Park well and Rich and I were thrilled to be on the still water. We watched dolphins jumping as we sipped weak tea and took photos of each other and all the little picture postcard islands we passed.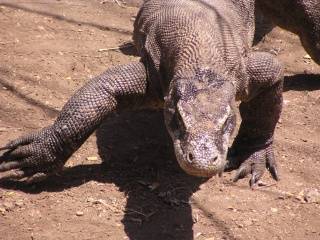 Pulling into a little bay we could see huge and magnificent mangroves and little monkeys playing on the muddy shore and looking down in the clear water we saw tiny coloured fish playing with the anchor moorings and jetty pilings. My peace was disturbed when someone announced there was a dragon at the end of the jetty which we virtually had to walk over to get to the park camp. Fortunately it appeared to be sleeping but I was pretty nervous on the five minute walk with our captain across the dry salty land.
Dragons surrounded the camp, sleeping under buildings and trees. Rangers find them in the kitchen, toilet and offices if doors are left open. We paid our Park entry fees then were shown our room, led by a ranger carrying a long stick, forked at one end, which you are supposed to use to pin over the neck of any attacking dragon. They are so fast and so strong I doubted my ability to be able to defend myself but soon adopted the stick carrying approach for my own peace of mind.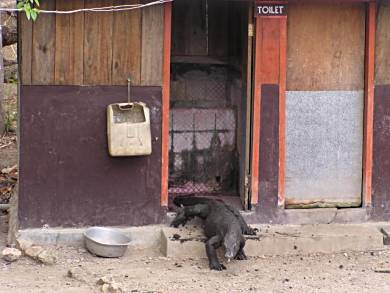 We made sure we drank less than usual in the afternoon so we didn't have to get up in the night, and kept our room door closed, as they can climb stairs."

Help support the Horizons Unlimited E-zine - visit our sponsors! Please be sure you tell them how you heard about Morton's BMW!

Thanks!

Richard Stone and Chris Stone, UK, London to Kathmandu in 3 months, in Iran, R100 RT and R100 GS PD,
"Esfahan - Without doubt our favourite city of the whole trip - it's such a chilled laid back place. We stay in the Ghetto, the backpackers ghetto, aka Amirkabir Hotel - which is just fine with us. After this long on the road together we have totally run out of conversation - remember we are men, we get a lot smaller ration of words to use every day than women anyway. Personally I find that it takes me at least an hour after we have stopped to remember to talk, and to be able to recall all that we have seen that day. When you are on a bike you can't talk to each other! We have a few interesting hand signals for the essentials, i.e. PPT stops (Petrols, P and Tea)
We rename this place the No Visa Hotel. One night seated around the tables in the courtyard were no fewer than 12 persons (of all nationalities) in the same boat as us. No visa for Pakistan, and no obvious way to get one... if you go back to Ankara to get one (if your own embassy will give you a letter of introduction that is) you can't get another Iran visa to come back and cross the border. This was the only time when we envied Back Packers. Well not the 12-hour bus journeys and the early starts, but the ability to get on a plane and fly over the problem. Me, I have 300 kgs of hand baggage if I want to try this!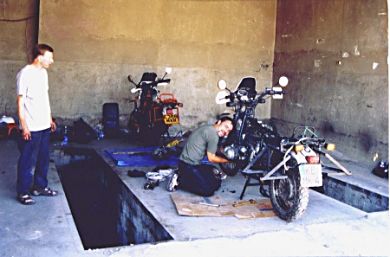 Esfahan is all about bridges and mosques, beautifully laid out squares and gardens - it is justifiably the centre of the Iranian Tourist industry - we end up staying 8 days here in all. It's where we met Kierstin and Michael, two good Bavarian persons, each travelling with their own BMW - sensible peeps.
When you travel on a bike it is not just the interaction with people, nor the sights that you see that count. It is the getting there. This road was magnificent, 2 hours of tight switchbacks and turns, up, down and occasionally sideways if you did not miss the gravel bars across the road from the water wash.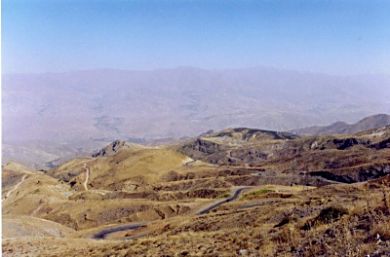 ... And then it happened, the unthinkable, the unbelievable, on the way to the Turkish border we met another Brit on a bike - Mr. Richard Tyner was the man, doing what we set out to do, go to India, but yes he did have his Pakistan visa already. We have a good long chat, it's so good to have the same cultural points of reference and to instinctively know what slang words you can use, no longer did we need to talk with our hands!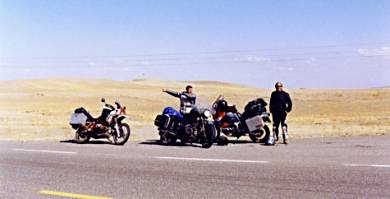 We exchanged a fist full of Turkish Lira for a hand full of Iranian Rials, and here I must sincerely apologise to you Richard, at that moment I genuinely believed it was 14,000,000 Lira to the Dollar when in fact it is 1,400,000. If you are at the next HU meeting I will repay the difference, your 6 Dollars was in fact worth 60 Dollars... Sorry"
Dody Crewe and Phil Austin, Australia, London to India, in Italy and Greece, XTZ660,
"After 18 months of scrimping and saving, and countless number of excuses to friends why we couldn't come out for drinks at the pub, we finally had our bike packed in a crate and bound to England from Sydney. To kick the trip off, two weeks was had sipping cocktails at sunset in Thailand. The perfect way to absolve ourselves from our penny pinching ways... finally all that saving was about to pay off.
It had taken me about 18 months to turn a very worn out and neglected xtz660 95 model that I had purchased for $1400 Aussie dollars into a competent over land vehicle. It certainly isn't the ideal bike for a trip like this but I wasn't about to outlay thousands more for a bigger bike. In the end I had to make do with what I had.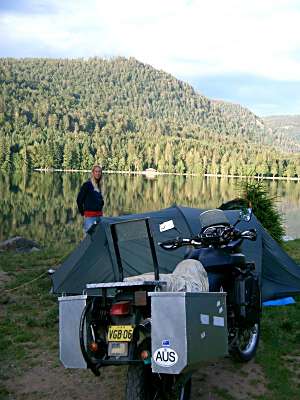 ... Our aim was to ride the west coast of Italy. Our budget had been taking a right old hammering, I figured that we could survive easily on three hundred euros a week, which proved almost impossible. As a result we took to camping in fields or national parks to try and save ourselves a few bucks here and there, much to my delight and much to the horror of my girlfriend, who has an inherent needfor a hot shower. This trick was paying dividends, and we managed to get in 7 days of free camping.
This was almost our undoing on one occasion. We would leave our tent set up during the day and stash all our belongings in the woods before hitting the beach. This day was in the high 30s and stinking hot. After lunch I noticed a good deal of smoke coming from the area we had our camp set up. I assumed it was some kind of burn off but to our horror we discovered that it was a bush fire raging out of control. I was in a state of panic and rode the wheels off my bike to the first roadblock where we babbled at the dumbstruck police officer until he let us pass. We rode straight through the next roadblock and headlong into an inferno. The flames were leaping across the road and making a rapid path for our tent and everything we possessed. We scrambled up the path to our cliff side campsite, stuffed everything into the tent and ran for our lives. We could hear the fire crackling its way up the mountain heading rapidly our way. By the time we had made it back to the bike the whole mountain was on fire behind us. Needless to say it was a few days before my girlfriend wanted to stay out in the woods again.
...We took the ferry across from Brindisi in the south of Italy to Patra in Greece. We had now done close to 5000 kms and I had used almost 5 litres of oil... cause for concern. Luckily for us we have good friends in Athens and the sight of thousands of xt600s cruising the streets made me feel good about taking the bike in to have the motor stripped and my oil problem addressed.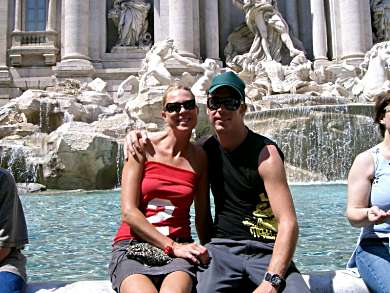 The end result was an engine rebuild, comprising a new piston, cylinder, rings, seals, cam chain and all the bits that hold all that together. Total cost was 680 euros, which I figure was a bargain for the work done."

Help support the Horizons Unlimited E-zine - visit our sponsors!
Please be sure you tell them how you heard about Motorrad Elektrik!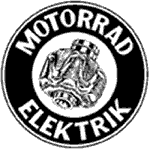 Motorrad Elektrik has been offering the best in electrical parts for classic and modern BMW's for over 11 years. From 12 volt conversion for /2 to better than stock replacement parts for your late model "R" or "K", we've got you covered. Specialty parts for 'hardening' the charging and ignition systems for world-travelling Airhead GS's. Riders like Bob Higdon, Dr. Gregory Frazier, Grant Johnson and hundreds of others depend on Motorrad Elektrik components as they wander the globe.
Our Omega system has solved the charging problems for 1970-95 Boxers with 400 Watts Output, and our

Nippon Denso starter is the perfect cure for Valeo syndrome.
Thanks!

Mauro Iacona, in Sudan, Egypt and Turkey,
"Dear Friends, it has been 100 days since I left my house and headed north towards Bahr Dar. It was the first step of a journey that today counts 100 days, 7 countries and over 14,500km on the clock. Once I left the Ethiopian border town of Metema I felt I left home, left my family, and friends and I was alone determined to discover the world or better just a small part of it in this unusual way. With my motorbike and a backpack.
From that day I have been learning every day something new and meeting people of any kind. Like Steven the Swiss on the BMW who was traveling around Africa since 3 years and we spend some 2 months traveling together and now I miss so much. Mithad the Sudanese guy that took care of me, a complete stranger to him, when I was sick in Khartoum, taking me to the hospital, and making sure I would be fit to face the Nubian Desert in northern Sudan.
Ismael, the Sudanese ex. doctor, now a farmer in Wawa in northern Sudan, that as he saw us reaching his village completely covered by dust and exhausted from the 7 hours of drive in the desert he invited us to his beautiful house and introduced us to his family and gave us food and shelter for the night, treating us as very special guests. Masa the Japanese guy traveling around the world with his motorbike a 50 cc, who when asked, 'why you chose such a small bike' his answer was 'because I thought it was a nice joke.'
Ibrahim the Bedouin in the Sinai on the shore of the Red Sea with his very composed manners and very proud behaviour has been a good friend whom made our stay in the Sinai one of the most relaxing stop and of course Osnat that took me around Israel showing me Jerusalem, Tel Aviv. Zihron, Haifa and some nice beaches on the Mediterranean Sea.
In this past 100 days I have seen places of natural beauty, like the Nubian desert; the Nile that crosses the desert and gives life to this region; the Sinai with the red sea and the Gebel Musa (Mt. Sinai); Lake Nasser the world's largest artificial lake in southern Egypt; the Great Temple of Abu Simbel dedicated to the gods Ra- Harakhty, Amun Ptah and Ramses himself.
I passed thru Luxor where I visited the Valley of the Kings, Temple of Hatshepsut, Karnak and many other ruins. From there escorted again, but this time not by my friends but by the Egyptian Army, I headed to the Red Sea village of Hurgada, where my bike was seized by the Red Sea police for 3 days and I became friends with all the officers of the town, drinking tea and chatting about everything till eventually the bike was released. I visited Petra in Jordan, and Hama in Syria.
In Turkey I have been riding the bike in Cappadocia in Central Anatolia, a surreal place with its fantastic natural rock formations of soft volcanic stones, where over the centuries people have curved houses, churches and even complete underground cities.
I have been falling from the bike, fixing the bike, I have been sick, I have been injured, I have been sad, happy, lonely, so many strong emotions that make this journey a life-time experience. And I am looking forward for the next... Mauro now in Iran."
Simon Fitzpatrick, UK, London to Cape Town, Honda Dominator,
"Gibraltar. It's only a rock we rule, but I like it. Like it. Yes I do! Gibraltar is so wrong it must be right. British bobbies on the beat; but we're driving on the wrong side of the road. Proper traffic lights with a commanding presence in the thoroughfare; yet it's 82f in mid-October. Grimaces all round when I try to pay for my chorizo sandwich with Euros. It's like a not-quite-right British theme park in California. Or one of those novels where someone else won WW2 and Gib's all that's left.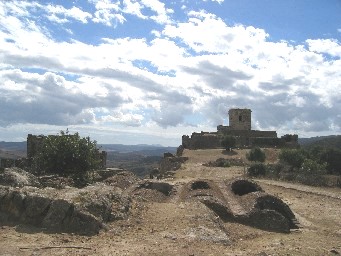 Jimena de la Frontera, Spain - Sunday morning. Outside the front door, double-size ants are manhandling chunks of vegetation up the path. Inside the front door, a large but not yet double-size man is eating anchovy pate sandwiches for breakfast. Augustus Pablo bumps away in the background thanks to the miracle of the iTrip, which turns the iPod into a miniature radio station. This is my last week in Europe. The flat I've rented for a week - for a bargain rate - is the most chilled out place I've stayed in so far. Last night I watched 'Brief Encounter' with a cat and some cheap wine. As always, belly-laugh followed belly-laugh until we were both exhausted and the cat, still hiccupping with mirth, begged me to order it a taxi.
At last I've got a front door with a hatch in the top half. This means I can lean out and shout 'Hola', and, later in the day, drunken threats to passers-by, but -crucially- it means I can do it with no trousers on. It's the rural equivalent of being a newsreader.
The high point of today is knee-bucklingly good tapas at a bar down the hill, washed down with freezing cold San Miguel. At first I sit outside and realise I'm sitting next to a table of UK expats. For a few minutes I think it'd be nice to have a chat, and then I hear one of them use taxi-driver code for 'I am a complete tosser - stay away', i.e. 'I'm not being racist, but...' 45 minutes of sour, bigoted, Daily Mail-reading crap on the subject of immigrants follows. They're talking about UK immigrants of course. Not people who move to Spain. That's entirely different. If you took the trouble to read the Mail a bit more often you'd know that.
... It is the hour of the warm glow, my friend. I've just met some lovely, nice, unbigoted, happy English people from the Midlands. They, like me, were a touch the worse for wear re drinks, but their enthusiasm for Spain shone through the booze mist like, er, a fog-light or something."

Help support the Horizons Unlimited E-zine - visit our sponsors!
Please be sure to tell them how you heard about Knopf Tours.

Thanks!
Johan and Charmaine Claasens, South Africa, Cape Town to London, in Tanzania and Kenya, 1150GS,
"The road to Arusha has many different contrasts – thick bushy areas where you almost expect Tarzan to come swinging out of the trees – to dry open areas like the Karoo. It was a lovely drive. The campsite was not very desirable as there was no proper fencing, so a lack of security and terrible ablutions. We decided to go look at the Meserani Snake Park campsite suggested to us by Elsa and Christo, it is 30km out of town towards Serengeti. It is a lovely farm environment campsite used mostly by overlanders. All you have to pay is the entrance to the snake park and you can camp for free!
We all went on a camel ride (my first) to a Masai village, arranged from the snake park. The village didn't look very Masai as there is a lot of modern influence in the way the people dress now days. Some of the houses are also more modern with glass windows and 'sink dak' roof. I found out that the walls are plastered with a mixture of ash and cow dung. The houses are quite big inside and are divided into sections with internal walls. A wall divides the kitchen from the guest resting area. There is a huge bed for the wife and children and another bed for the husband. There is also a section 'fenced off' for the... goats. Yip, they are kept inside at night for security against theft and wild animals. They are very sturdy houses with a well-designed roof. Oh, all the houses are built by the women! The Masai women also make beautiful cloth decorated with colourful glass beads, leather and shiny discs; this cloth is worn as a wrap around and looks very stylish when worn correctly. The original Masai cloth was red but now with the modern woven fabrics they are red with blue and purple, very beautiful.
...The closer we got to Nairobi the greener the scenery. There are lots of masai herdsmen/boys along the road with their goats and cattle. We also saw some giraffe and camels and quite a lot of donkeys. We stopped in a quiet area to have a snack break – a lettuce, banana and dried guava sandwich – when the Lord sent us a pizza deliveryman! No jokes! I hadn't even finished making our samies when this guy stopped with his 4 boys, to chat about the GS. His name is Said and he was on his way to watch some rally drivers but is a biker and has a Africa-Twin and just had to stop to chat to us. AND he had a spare pizza in his car! They bought pizza for lunch and got given a ham and pineapple pizza by mistake – being Muslim they couldn't eat the ham! So he gave it to us. A really nice guy.
Nairobi is a lovely city, beautiful old buildings and also some very nice style modern buildings. The streets are lined with huge trees and under most are local businesses – being nurseries, all sorts of plants, shrubs and seedlings, really healthy looking plants. It makes the sidewalks look quite attractive with rows and squares of different colours. The traffic on the roads flows quite nicely and only slows down near the traffic circles, which form a major part of the road system here. There are lots of taxis, buses and trucks but the worst about the vehicles is that there are a lot of very bad 'puffers'! There was quite a few times that I felt that I couldn't breath because of the fumes – urgh! You should have seen my face when we got back to the campsite – I looked like snoopy – my face was black except where my glasses had been! Really dirty."
Daniel Todd, USA/Puerto Rico, second around the world tour, still in Brazil, KLR650,
"My Bike is now decorated with stickers from over 20 bike clubs from Brazil and I'm sporting their T-shirts as well. It all started with a lead from Eric Haws when he gave me a contact in the Harley's Dogs, a biker club in Rio de Janeiro. Guilherme sent me on a riding sabbatical to meet many of the motorcycle clubs on my journey across Brazil. And most of these folk gave me a list many other contacts to meet in the Brazilian Motorcycle World. Brazilian hospitality just overwhelms you: Need a bed? Ah, Sim, Obrigado! You hungry? Muito Bem! Beer cold enough? Otimo! Can you use our mechanic? AH, Bom demais! How about a T-shirt? Wow, Maravilha Legal! And can we put our sticker on your bike? Belleza! Show de Bola!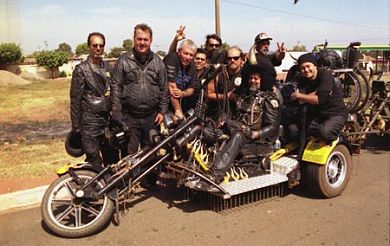 It is hard to think of a place where visitors, both local and foreigner, are better received. And after my fourth crossing of this beautiful country on motorbike, I was more hooked than ever. I took my time preparing for the journey: I immersed myself with the local Cariocas in Rio de Janeiro and studied Portuguese for two months; I made several short journeys to the surrounding States of Minas Gerais and spent many weekends riding out to different beach towns to participate in the biker festivals that lasted several days with infinite supplies of great food and live music. With a greater understanding of the people and language, I was ready to ride across Brazil again.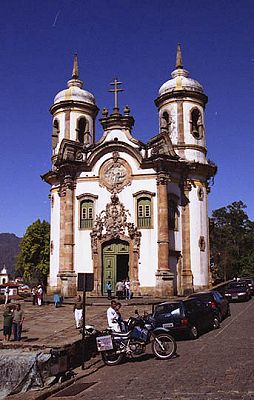 Since it was the middle of winter in South America, I decided to try something different: I shied away from the lower latitudes and stayed on warmer belt near the tropic of Capricorn, riding due West all the way to the Pantanal and the Andes.
Highlights of this journey across Lower Central Brazil: The Colonial towns of Ouro Preto and Tiadentes filled with architectural gems. Working with Aldo Tizzani the crew at Brazil's largest Bike magazine 'Moto Adventure'. Arriving in Campo Grande just in time for a 5 day biker bash with riders from all over Brazil. (Is this too good to be true or what?)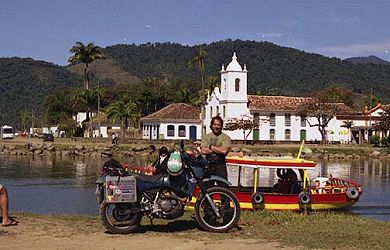 And riding the largest wetlands in South America, The Pantanal, which is considered the best place on this Continent to view wildlife. The Estrada Parque in the Pantanal was the only real off-road challenge with deep sand, mud and lots of wooden bridges that weave through the estuaries supporting this unique ecosystem. I observed giant river otters, crocodiles, howler monkeys, anteaters, and lots of bird species. But the most interesting was the capybaras, a huge rodent weighing up to 600 pounds that travels in large groups, usually clustered on the side of the road until getting scared and fleeing, omitting a large grunting sound!"

Help support the Horizons Unlimited E-zine - visit our sponsors!
Please be sure to tell them how you heard about Motocare.

Motocare Motorcycle Rental, hiring Honda's Transalp for touring Argentina and Chile.

Ride across the Andes, from the Atlantic Ocean to the Pacific, lakes, deserts, salt pans, waterfalls, beaches, rain forests, glaciers...

Thanks!
Rupert Wilson-Young, UK, Alaska to Tierra del Fuego, in Chile, Yamaha Vino 49cc,
"Grant, I'm in Ushuaia! Whooopeeeee. However, I most definitely won't be able to make it to Viedma. With all the recent engine problems really changed my schedule... I also just want to thank you so much for all your advice and support recently. It's been really appreciated. I met Jeremy Bullard twice on the road recently. Once at the ferry at the Magellan straight crossing and on the road north of there on Ruta 3. Nice guy. He's part of the Horizon's Community and it's special to meet other Horizons traveller's. None possible without you. Tremendous site you guy's have. Well thought out and easy to get around. Big help to me.
...I have never felt such a sense of relieved happiness in my life. It is December 1, it was 5 p.m. and it has nearly been fifteen incredible months on the road on a tour of fifteen fantastic countries and over 20,600 miles. It is now over. I have had such an incredible experience, meeting such an amazing group of people, that whoever it is, that will tell me to stop travelling and get a solid job, can go and chase that dog that bit me in Peru. I mean it. I feel great. Unbelievable.
...I apologise for being pessimistic recently about my chances of getting here but it was truly not unfounded. The last two months have been a constant series of engine changes. It is not the fault of Britannia. She has been the best that I could expect from a 50cc scooter. It was the mechanics. I have just been unlucky. Even certified Yamaha dealerships have been an issue. Today was the end of two weeks of worry for the rider and today was in no way without it's problems. The engine cut-out countless times right till the end and I don't believe there is much time left for the current engine.
I was bin-bag boy too, because the rain and wind decided to hit me hard around 60 km from this interesting town of Ushuaia. I managed to survive this harsh and cold place in my flip-flops and bin-bag's. I think though, I have been quite lucky with the weather. This is the closest town to Antarctica and very close to Cape Horn where many yachts-people get killed, so I really think things could have been worse. Many times the wind has been behind me and that is one of the biggest blessings I could have asked for. It was strong and in front at one memorable time this last week, and the combined weight of Britannia and I, at around 170 kilo's, was lifted clean off the front wheel...
Many regards and thanks again. Rupert."
"Bryce Canyon is more of an eroded mountain escarpment than a real canyon in many ways. As such we stayed at the top of the canyon (as does everybody). At 11 degrees C it was a little nippy to say the least but the weather was fine for once and the cold only meant that the snow didn't melt, ensuring that the whole area had a mystical and even more beautiful appearance to it.
We had only heard good things about Bryce Canyon and now we can see why. The hoodoos, orange slot canyons, cap stone pinnacles and outcrops are out of this world. All topped by iridescent blue snow and bluer skies no description would do it justice. The canyon's namesake, Ebenezer Bryce once described the area as 'A hell of a place to lose a cow'. We could see what he meant! We studied the park map and set off early on our first full day there to walk one of the trails.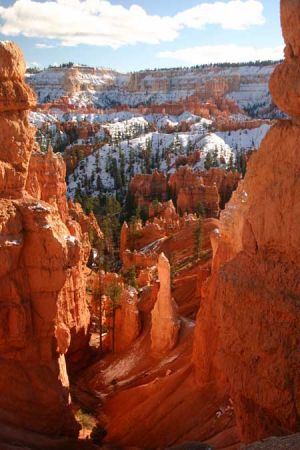 As we pulled into a viewpoint we met Robert and Claudia, a German biker couple we'd previously met in Oregon a few months ago. After chatting for a while we all decided it was far too cold to chat any more and went our separate ways upon which we realised we were in the wrong place anyway and needed to ride 5 miles back up the road to the start of the Navajo Trail that we intended to do. We locked the bike up and got our stuff together for the walk, setting off for the trail head excited at the prospect of getting down into the slot canyons and hoodoos.
We were greeted by a big sign and a chain across the path proclaiming it to be closed. We had a quick discussion and decided that we hadn't come half way round the world to be stopped by a sign. The sign said the path was closed on safety grounds due to the snow and ice. We've come to discover that National Park signs don't really mean what they say. For instance 'extreme' means your granny could do it, 'flash floods' means it hasn't rained in years and 'hazardous' means you could break a nail. In fact what all signs really mean is 'Don't sue us!' Being English we don't sue anyone for anything so we decided to go ahead and we climbed over. Within minutes we had the place to ourselves. Wonderful. Walking amongst the hoodoos and slot canyons was a wondrous experience and beyond our expectations. I hope our photos do the place some justice but the only way to really know what it's like is to go there yourself. Do it!"

Help support the Horizons Unlimited E-zine - visit our sponsors!
Please be sure to tell them how you heard about TinyStocks!

TinyStocks presents Highway Manager: the most complete and flexible gas mileage application for the Palm OS® platform, written by a biker for bikers. Keep track of your gas mileage, insurance payments, garage bills, hotels, highway tolls and whatever is necessary. Statistics, charting function, multi-currency, and more... So, got a Palm OS device? Why not take it on the road?
Thanks!

Maarten Munnik, Netherlands, around the world, in Ecuador and Colombia, Honda Africa Twin,
"The mud is deep. Not ankle-deep but knee-deep. When you put your foot down in the wrong place it just disappears with a sucking sound. Getting it out again costs precious energy ...energy needed to walk up the steep muddy trail.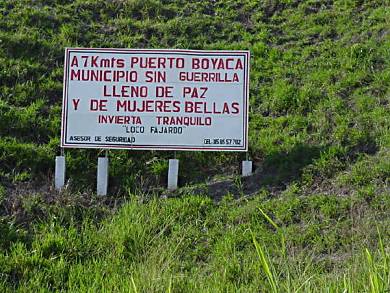 We set out with 10 people and 3 guides, but I don't know where they are. I have not seen anybody for the past half-hour, nor do I care. I am too busy breathing and trying to make it up there. Up where? How much more? I don't know, I don't care and again my foot sinks in deep sucking mud.
After crossing a dark river in the last light, I reached the camp. I was not the first, nor the last, but I am sure I was the most tired. I never was so happy to see my hammock even though the tiny midges entered the net and tried to eat my face.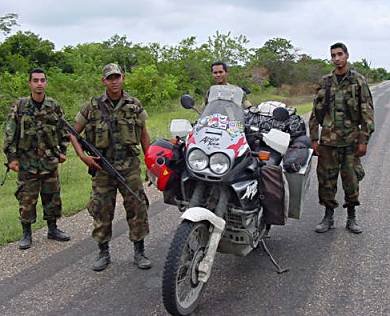 The next morning the dark river seemed friendlier. It seemed so peaceful until I put on my still wet and muddy clothes. The misery returned at once. At least it was dry and sunny. How I came to regret these thoughts after an initial half-hour walking in the cover of the jungle. Someone had cut all the trees to grow some kind of yellow-leafed crop called coca. Maybe this was even harder than the muddy climb of yesterday, heat exhaustion and the steep slope I was on. Almost there, one hour more, the hardest hour, the most dangerous one.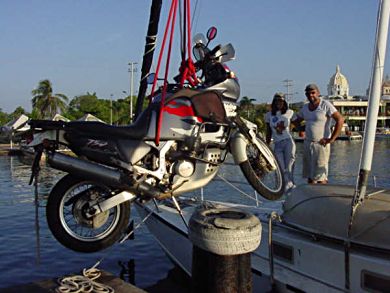 The city's first impression is so spectacular, most of it is lost from sight since the jungle has overgrown it, but what you see is amazing and if you know how much more there is, you are dazzled. 162 round stone platforms, on which the houses were built, the crops were grown and lives were lived. Every platform was connected to many other platforms by stone stairs and paths, and in this way covering the entire mountain slope. A span of more than two km and this was a culture living 1300 years ago...The Tyrona.
The last part. "I still cannot believe I walked up this slope," I thought while I was going down. Six days of green hell and I had not only survived it, I had actually enjoyed it, well, part of it anyway. The agency tells you it's the best trek in South America. I don't know about that, but I am sure it's the hardest one."
Paul and Zoe Jenkins, UK to South Africa and back again, in Ghana, Honda Transalp's,
"As we crossed over into Ghana, we were faced with a huge sign ...'Welcome to Ghana'. How fantastic! It was then that we realized how wonderful it was to be in an English speaking country again! The difference when you cross the border into Ghana is striking. Suddenly everything is newer and cleaner. It is immediately obvious there is more money here. That is not surprising because we had come from Mali, one of the poorest countries in the world, I think it ranks 3rd at the moment and Burkina Faso isn't far behind.
Ghana also has a quite well developed tourist industry and most of the attractions are 'eco-tourism projects'. This means you have to pay to visit certain places e.g. waterfalls, villages, but the money goes into protecting the area and supporting the local people. This is fine in theory, but in reality it means whenever you go somewhere you have to be accompanied by a local guide. We like to wander around on our own, and so constantly having to have a 'guide' gets really annoying.
We spent our first night in Ghana in Bolgatanga and it was immediately obvious that there are even more people in Ghana than in Burkina and it was virtually impossible to find somewhere to camp without attracting an army of starers, so we relented and found a hotel!
This part of Ghana has had some problems with Chieftains fighting and so there is a huge (but friendly) police presence. What this means to us is a police roadblock every 5 minutes. They see us coming and can't wait to stop us to find out where we are from, how many cc the bikes are, how much we will sell them for etc. There is always a big shock when I take off my helmet..."Oh my god it's a lady! How can a lady ride a bike like this?" This is fine for the first couple of times, but after 10 or so it gets tiring because we make such slow progress!
Mole was a magical place to spend Paul's birthday where we met Sam and Lauren from Canada and France on a holiday from their jobs in Benin on a 125cc motorbike.
Now we are heading along the coast of Ghana for some more beach therapy, so the next instalment should be more of the same: beaches, palm trees and sunbathing!"

Help support the Horizons Unlimited E-zine - visit our sponsors!
Please be sure to tell them how you heard about Touratech!

Thanks!

Peter and Kay Forwood, Australia, around the world since 1996, leaving again after a 9 month break in Australia, in the Philippines, Harley-Davidson,
"12/11/04 - There is a high military/police/official presence. Police road blocks every few km's, mostly unmanned or our weaving the chicane of road block signs watched but not halted. All businesses of any size, hotels, banks and shopping malls have armed security guards, often with metal detectors, and some malls have two lines, one for men the other women where you are frisked prior to entry. Police with rifles wander the streets. Whether we feel calmer with their presence or more nervous depends on our thinking at the time. The fact that they are there should make the place safer but the fact that they need to be there makes us nervous.
18/11/04 - We had learnt last night that our intended passage to the island of Bohol was not likely to be easy. There was no vehicle ferry operating from the south of the island of Leyte, the only one 3 hours to the north going to Cebu, then another one to Bohol, taking two days. The only chance, a bangas (large canoe with two outriggers) leaving from Bato, 90 minutes north at 9.30. We left our accommodation at 6 am and on arrival were assured that the motorcycle could be loaded. It was pushed down the gangplank, five porters assisting and finally tied to the front deck. The double decker cabin was already half full with passengers and their considerable luggage. By 8 o'clock it was overfull and sitting low in the water. It was now one of those boats you would have second thoughts sailing on this loaded, we now had no choice the bike was aboard.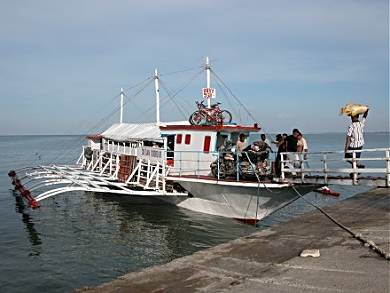 At 8-15 they stopped selling tickets, almost unheard of, boats here are never full, however people kept leaping aboard till our departure at 8-30, grossly overloaded. Three men in rotation manned the hand pump the entire two and a half hour journey. Crammed into the two cabins people were seasick with the engine heat and fumes and rough seas. We had chosen to remain outside, fresh air and a safety precaution. We arrived safely, the passengers unloaded, the bike also, the reverse of loading, again many helpers and we rode from Ubay to Tagbilaran and onto Panglao Island, seaside, a well earned rest after 12 hours of travel.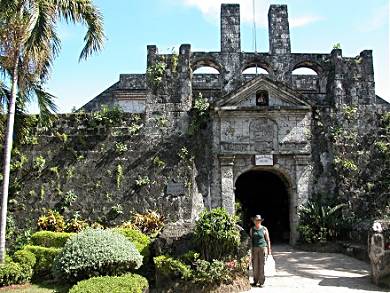 2/12/04 - For the last couple of years Kay has not been getting the same enjoyment out of travelling as she used to nor as much as I continue to get. There have been many discussions on the subject, at times quite in depth. At my age of 51 and with a further possible life expectancy of another twenty five years, and most probably not needing to work again if careful with savings, and with no great ambitions, must do's, or challenges at the back of my mind, it is difficult to see an alternative to travel other than sitting on the porch whittling, or growing vegetables.
Kay on the other hand is not enjoying travelling any more and has a need to put down roots. A house, family and friends. Unfortunately after over thirty years of marriage we have come to an impasse, our first. It has been a long time discussed as mentioned above but we must unfortunately go in separate directions from here. Neither sees the possibility of adopting the other's lifestyle or a compromise lifestyle in the foreseeable future so it must be considered a permanent arrangement. The ending of one book with a quiet time for reflection before the commencement of the next. Kay booked her flight out of Manila for Australia, leaving on the 19th December and I booked my flight to Bangkok leaving on the 18th December. We plan to have our last two weeks together travelling in the Northern Luzon region."