Plan where to be when!
If you know of any events of interest to travellers, send me a note.
Travellers: BMWGS Club UK wants to show YOUR story at the BMF Meeting!
"Calling all BMW GS Travellers! Have you gone somewhere on your GS? Have an interesting story, pictures, whatever?
The GS Club UK, a purely loose group of GS riders of all models, colours, shapes, etc. with a membership of more than 600 members in the British Isles, the colonies and territories, is participating in the BMF Rally, arguably the biggest bikers Rally in Europe, in Peterborough, near Cambridge in the UK on May 18-19. Check our web site for details.
On the stand, we would like to have your pictures, text, memento's, or anything you can contribute to the event. Please contact me, Yosi.
C'mon adventurers, dig out those items you have and help us to spread the fame of the mighty BMW GS!"
Horizons Unlimited Motorcycle Travellers Meeting, B.C., Canada, May 25-26 2002,
at Nairn Falls National Park, 3 km south of Permberton, and 20 km north of Whistler, BC, Canada. For lots of information and registration details click here. Check out the thread on the HUBB if you wish to contribute to the discussions or attend.
Canyonlands Motor Classic - Street legal motorcycle rally in Moab, Utah, May 30 -June 2, 2002
"We are now officially an Adventure Touring/Sport Touring rally. This year looks promising with lots of interest already thanks to a write up by Dr. Greg Frazier in Rider Magazine. We fully anticipate 150 riders this year. There will be just as much to do for an ST1100 rider as there would be for a KTM rider. Gino"
More info, including places to stay and maps. Note: it's 95% dual sport bikes here despite the sign.
Third China (Yinchuan) International Motorcycle Tourist Festival June 12 - June 15, 2002,
Interested? Info is sketchy at best, but here is what we have so far - if you learn any more please pass it on.
Enduraid 2002 - Third Annual Upper Midwest Dual Purpose Motorcycle Rally, Wisconsin USA, June 21-23, 2002,
Dual Sport Ride, afternoon slow trials, Knobby Ridge Trail Ride, cookout etc. Info.
International BMW Motorrad Biker Meeting, in south Bavarian Garmisch - Partenkirchen, July 5-7, 2002,
This will be the BMW event of the year, with 10,000 visitors expected. More info.
O'Keefe Ranch Rally, Vernon, BC, Canada, July 6-7 2002,
This year featuring a show and shine, flat track racing and a longer scenic road rally. Jim Green 1-250-542-9191
BMWMOA International Rally, Trenton, Ontario Canada, July 11-14 2002,
AND Horizons Unlimited Motorcycle Travellers Meeting Canada/USA East
Biggest BMW Club Rally on the planet. And we'll be there to do a couple of slide shows! See ya there!
The Second annual Horizons Unlimited UK Travellers Meeting is set for July 12-14, at The Black Horse Inn, 358 Nottingham Rd, Somercotes, Alfreton, Derbyshire, DE55 4LP. Tel: 01773 602575. Note the change in date and venue! Slide shows by Chris Scott, (Adventure Motorcycling Handbook), Chris Bright, London To Cape Town, and more, on Saturday night. Full details and registration here.
Black Dog AMA/Suzuki National Dualsport Ride, USA, July 13-14 2002,
If you're seriously into dual sporting... info
Stella Alpina, near Bardonecchia, Northern Italy, 10-19 July,
"a large trail bike Rally with several thousand bikes turning up over the weekend to ride up the mountain road on Sunday morning. It is not a competitive event but more a large gathering of like minded people." More info. Street bikes go up too!
30th Anniversary Top O' the Rockies Rally, Colorado, USA, July 18-21, 2002,
"In honor of the 30th anniversary, Special door prize drawing BMW F650GS Dakar.
70 miles SW of Glenwood Springs Colorado. Door prizes, and loads of vendors, BMW Denver onsite, free camping in the shady city park, hot showers, food vendors, music, Saturday evening dinner, field events, and great roads to ride in beautiful Colorado. Check out website for info and a preregistration form."
XI JÕGEVATREFF, Kuremaa, Estonia, (165 kilometres from Tallinn), August 1-4, 2002
Price of ~25 EUR includes admission to the Motor-Summer Festival in Põltsamaa, breakfast in Sunday morning, camping place, sauna, music groups in three evenings, competitions for prizes and other events within the Programme. Services: beach, saunas, bars, points of sale, beer and food tents, etc. Note: Striptease starting at 12.00 PM.
Sounds like a party! For further details, check out their website in many languages (click on the UK flag for English, then on Events Calendar 2002).
Allroad Tour, Finnish Lapland, 3-10 August 2002,
Allroad Tour is a special route ride ridden in Finnish Lapland. It is focused on heavy touring enduros. More info.
Sturgis Motorcycle Rally, Sturgis South Dakota, USA, August 5-11, 2002,
The biggest rally there is, primarily Harleys and cruisers, but interesting.
2002 Alcan 5000 Rally, August 14 - 22, 2002, Washington State USA to Alaska, YT and to Jasper
"For those people who cannot RTW but want a fun rally to participate in for two weeks." This is the first year for Motorcycles!
Big Dog Ride 2002, Colorado, USA, August 14-15,
"Not for the poseur or beginner, this event is known as 'the world's highest, toughest BMW motorcycle ride,' and is limited to BMW GS models (including F650, HPN and prototypes). Entrants for 2002 include ISDT qualifiers, veteran BIG DOG riders and Paris-Dakar BMW factory rider Jimmy Lewis. Participation is limited, with veteran BIG DOGS getting priority for entry. Information here, Woof, Woof."
The Buckride Rally, Offroad Touring Club, Norway, 15-18 August 2002,
"...In the heart of Jotunheimen in the central part of southern Norway. Jotunheimen is among the most beautiful parts in our country and consists of Norway's highest mountains, national parks, forests, wild rivers and great motorcycle roads."
"6TH EAR" (European Airhead-riders Rendezvous) Sept. 2nd to 6th,
Likely in the south of France. Details.
Motorrad Reise Treffen Gieboldehausen in Gieboldehausen, southeast of Hanover, Germany, 6 - 8 September 2002
A great travellers meeting, well worth attending. Book early, attendance is limited. Details in English and German
Beaverton Honda-Yamaha/Rat Dog Dualsport Ride, Oregon USA, Saturday, September 21 2002 ,
Held in my favourite off-road area, Trask Mountain. info
SA Ranges Rally, Australia, 26/27th of October,
at a new site, at the Farina campground, 80 kms south of Maree.
GET YOUR WEB SITE LISTED in the LINKS section by listing Horizons Unlimited on YOUR web site, let me know you've done it by mailing me a link to the page, and you may get listed here in the next newsletter and on the Horizons Unlimited web site Links page. To make it easy for you, we even have our logo and link code here!
All sites will be considered for listing, but must be a MOTORCYCLE or TRAVEL site, useful or of interest in some way to travellers.
Links will be rotated regularly as needed.
From Spud, UK, on the HUBB
For those going to Nepal: This link from the UK's BBC website maybe of interest...
From Jeroen Krijnders, "Here are some sites of organisations that do offroad tours in Europe (mostly Eastern)
Endurofunten
(I hope you speak German)
Enduromania
In Romania
Schalber Events
the Transdanubiaride (Germany to Romania) is in August."
There are many 'Helpful People' listed on the Links page, a huge thanks to all of them. How about you? Or you can join a Community, or start your own!
Do you know of a good shop 'on the road,'
in other words somewhere there isn't a large number of shops? (Also of course any shop that specialises in travellers equipment and repairs is of interest.) But we're particularly looking for those rare items, good repair shops in South America, Africa and Asia etc. Please post your info in the Repair shops around the world Forum on the HUBB.
Getting some interesting listings here - Casablanca, Cairo, Chiang Mai - and that's just the C's! Then there's a major list of KTM shops from the boys on the KTM forum. Post your favourite"on the road" shop here!
Submit your tips and questions here, anything goes! Got a great idea for travellers, found a new solution to a problem? Send it in! If you're having a problem, just ask, there's a lot of people with a ton of experience out there to help.
From Chris and Erin Ratay, USA, in South America, on 2 F650's with Ohlins BM423 shock
"We've been travelling in South America for less than 6 months, and in a one-week time span, both (Ohlins) shocks failed in exactly the same manner. The aluminum bracket at the bottom of the shock first curved, than snapped, making the bikes unrideable and each time left us stranded in the middle of nowhere. It appears there is a defect in this specific part for the F650."
In reply, Ohlins has suggested that the bearing on the shock end needs to be cleaned and greased as often as every second day in rough conditions. Seems a little excessive... We'll wait and see what happens next, and how the new part holds up. In the meantime, check that bearing! Grant.
When you meet people on the road, and they haven't heard of this ezine or the website, we'd appreciate it - and hope they would too! - if you get their names and email addresses and send it in to me, or better use the recommend form available on most all pages of the website.
Thanks, Grant
"At the moment I am in Vietnam on my way through Cambodia into Thailand. I plan to ship my motorcycle from Thailand/ Bangkok to Nepal/ Kathmandu sometimes mid May. Is anybody heading same direction and like to share? Jurgen Homann"
From a HUBB post - Syria and Lebanon June 2002:
"Hi, I am looking for companions for this travel, the route should be Italy-Greece-Turkey via ferry following the coast till the Syrian border(about 1.200 Km). I have a Morini 350 CC off road bicilinder not fast but reliable(last experience Turkey Cappadocia).
I speak English, French, Italian and Spanish as it is very close to Italian. Bye , Coguaro"
"Hi there, Planning to travel to Ghana and there take the ferry to Cape Town South Africa. Any one got any info on companies, prices, etc.? Thanks, Corne"
Ed. I had never heard of a ferry to Cape Town from Ghana. Anyone?
---
Plenty more questions and answers on the HU Bulletin Board! We've over 1200 registered users on the Board, which I think is pretty amazing, and gives a huge resource of knowledge and experience to help you with anything you might need to know.
From Chris Walstow, Canada, on Thailand
This was in an article on a Brit girl who died of a drug overdose in Bangkok - 8 days into a world trip --what a waste!
"Some 600,000 British tourists visited Thailand last year, the largest group of European visitors, and around 80 Britons die in the country a year, mostly of natural causes or motorcycle accidents, according to the British embassy."
So drive carefully in Thailand, and WEAR A HELMET!
From Martin Rooiman, in Bangkok:
"We heard that the Vietnamese now are refusing motorbikes at Cau Treo as well. This was the only (known) possible crossing to get into Vietnam. Now some Germans tried to cross there and they had to leave the bike behind at the border and travelled backpacking to Hanoi. There they asked around why they got refused and the reply was that no motorbike had ever been able to enter Vietnam. Apart from them an other German couple got refused at Cau Treo as well and they were driving a 4WD.
I don't know what the problem is at the border and if they changed their policy or so, maybe a transfer of officials. But it's weird to know that we were one of the lasts to enter Vietnam by bike. Did we do something wrong?
I think it's important now to know that it might be impossible to enter Vietnam so people should consider this before spending a fortune for a useless visa.
Hope this will only be temporary and change soon."
On SE Asia Border Crossings, from David Unkovich's website
"All border crossings must be at a legal international crossing where you can get a passport stamped / visa validated and motorcycle temporarily imported. Legal international border crossings should not be confused with local border trading places, where local residents cross the border on either their ID cards or local day passes. At local border trading passes, it is sometimes possible for foreigners to cross, but you should remember that you are not legally in the country and free to continue.
Should you foolishly believe that you are, then for sure, somewhere along the way you will be stopped and asked to produce either your passport and visa, or your vehicle import papers. (This will at least happen when you try to exit the country). Illegally in the country then, you're 'in it', and have a sticky problem to sort out. This can be a difficult time, especially if it is a local official up-country, who can demand whatever he wants or lock you up as he pleases. Who is going to know or help? This is especially relevant to bikers, who run the danger of having their machine confiscated for illegal importation. So make sure all your border crossings are made at legal international border checkpoints, where your passport is stamped and you get valid temporary import papers for your bike."
From Glynn Roberts, UK,
Just in case you get lost, or "I don't need no steenking GPS"
Learn2 Improvise a Compass (Day and Night)
Posted by Mike from Spain on the HUBB 10 April 2002
"First rule of being mugged is that there are always more of them than there are of you.
Second rule, if they have a gun they're probably the police and it's a machine gun. You can't win here.
Third rule, if you pull out a knife or gun, it's no good unless you're actually prepared to use it. If you have to use it, you're in a lot more trouble than just being mugged. The rules aren't that different in Africa to "civilised" countries, despite appearances, and you can't run around shooting people and expect to get away with it.
Fourth rule, if you do carry some sort of self defence, you'll need it only when you've left it in the car. Consequently you have to take it everywhere. Think about it - having your wallet lifted in a crowded market is one thing, but imagine having a gun pickpocketed!
Fifth rule, being armed just makes you more paranoid. Machetes are good because they're useful for other things (still the best cabbage-cutting knife I've ever had), and pepper spray is a good bet because it's non-lethal and appears so innocuous.
Remember, all you want to do if you're in trouble is stall them long enough to get away."
Andy Miller, in NZ,
"The bike I have sent via air freight with Qantas there is very little difference in cost compared to going by sea. The cost is as follows.
Cost per kg = Aus$2.90. Weight of bike 253kg =Aus$733.70. Other charges incl dangerous goods form (this I filled out no need for an agent), this would cost 130 dollars extra. = Aus$119.89 total= Aus$ 853.59. In pounds this is approx. 305 my ticket was Aus$ 394= 150 pounds So not bad.
Once I got to the Qantas cargo terminal all I had to do was disconnect the battery and tape the terms leaving in all the oil and quarter of a tank of fuel, the bike goes on a pallet uncrated hence the price goes on weight not volume. The cargo ship I was due to go on would have cost me incl. bike 560US, the extra 150 pounds was worth it, as I said I am no sailor."
---
Request for info
Wouldn't YOU like to know all about the border you're approaching - what it should cost, paperwork required, 'tips' needed, and who to talk to, etc.?
When you cross ANY border, take some notes, and pass them on to us. Thanks!
Shipping
There is now a Shipping page on the site. It can be reached directly or from the Shipping link on the Trip Planning page.
If you have any information to contribute, there is a form at the bottom of the page which you can submit and we will put it on the page. Thanks!
Travel Advisories:
The Foreign Office in London's Travel Advice Unit advises against all travel to all sorts of places. Check out the listing before you start!
The US State Department has issued travel advisories, information and/or warnings.
Goneriden: Jamie Clarke, Martin Jensz, and Boxy Herrmann, Australia, Los Angeles to South America, in Peru and Bolivia, on KTM LC4 640s and an XR650,
"Our trip started back in November when Martin and myself picked up our KTM LC4 640's from the shipping company in San Francisco. We then rode to LA and met our 3rd friend, Boxy (he bought an XR650 in LA) to form the Goneriden crew (we are all Australian).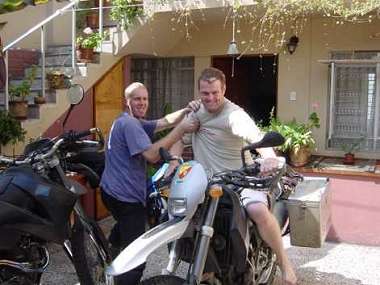 After travelling through Mexico I had to leave for home due to my sister being diagnosed with leukaemia. After the situation became more stable I returned to Lima 2 weeks ago where I met the guys. In between they managed to sell the XR in Mexico, travel through Belize, Guatemala, Honduras, Nicaragua, Costa Rica and Panama. From Panama they flew the bikes to Ecuador where they received a lot of help from Riccardo Rocco in clearing customs.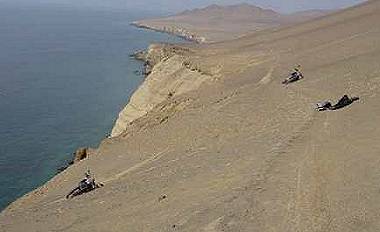 After riding the KTM's to Lima I have taken my bike back from Boxy whose funding had run short and he has returned to London. Being back on the trip is obviously great for me but Martin and Boxy have also said that what we have seen and where we have ridden so far in South America is the best of our trip yet. From winding dirt mountain tracks, to smooth curving paved roads, to coastal dunes we are riding on the most varied terrain imaginable, and all within hours of each other. We are riding up and down from the coast just to enjoy the roads, rather than continue along a more direct route. Lets hope that as we move south we find more of the same.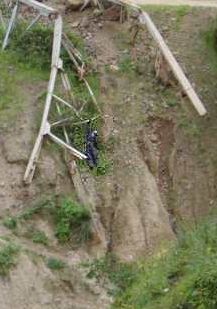 At this stage we plan on riding for another couple months through Bolivia and probably just the north of Chile and Argentina."
Ed. Look closely at the middle of that picture. These guys are lunatics!
Falk Thümer and Reina Kasperowski, Germany, around the world, in the USA, R100GSPD and Suzuki XF 650 Freewind,
"... There are two news we want to tell you. The first one is a good one. Our homepage is finally in English. We asked the owner since January. We would never do this again, not owning our own homepage. But you always get wiser after making mistakes! The second news is not that good. We are going straight to Mexico this week. That means we won't get to knew you and your wife at the Traveller Meeting in Vancouver. We are sorry about that. But we are now since nearly a half a year in the US and we want to get to know another culture.
We canceled the registration in Germany, somebody did it there for us and we are now travelling without a Carnet de Passage. So the next news will be from Mexico. So long..."

Help support the Horizons Unlimited E-zine - visit our sponsors! Please be sure you tell them how you heard about Morton's BMW!

Thanks!

Andreas Naumann, Germany, around Australia, DR650,
"Coming back from the unbelievable TasRally I got off the ferry in Melbourne and my tyre went flat right in Elizabeth Street. And managed to get to the Suzuki Dealer where I ordered a new tyre but they wanted 35$ for fitting it. I thought that's ridiculous and because I've got actually enough experience in changing tyre's I did the job myself.
Happy to have saved 35 bucks I went into the shop to buy some more stuff, came back and what? Tyre flat again. Had no more energy to do the job again so I paid the money. You don't want to hear what I thought in that moment, you couldn't understand it anyway cause it was all German swearing. But after that everything went very well, I went off along the Great Ocean Road, camped at a beautiful spot in the Lower Glenelg NP and made stop in Adelaide for a few days.
...Heading north to the Flinders Ranges, Wilpena Pound, and after good rough roads through some gorges to Arcaroola where I did the Ridgetop Tour. Thanks Greg for telling me about it, it was absolutely breathtaking. Then along the Oodnadatta track to Coober Pedy. Camped in Williams Creek a night, where they even have a public phone and I called some friends in Germany from there. Unreal! Then the long Nullarbor was to cross and to get to Cedune I went down the Alice Spring Hwy to Glendambo and took the shortcut over Kingoonya to Wirrulla. Beautiful, quite well maintained road. It just started raining when I camped right in the middle of that road, but it was not much and no problem for riding. Took the Nullarbor in two steps, one day 600km, the next day 750 to Kalgoorlie. The road from Coolgardie to Hyden (Wave Rock) was a little bit rougher but very enjoyable too. Met nobody on that road, so it was at least a good feeling that I told the guys in the tourist office in Coolgardie about my trip. In Hyden I saw a poster for the 'Dog and a Ute' festival where they tried to break the Record of the Victorians for having the longest line of Utes (pickup trucks-Ed.) with Dogs. That was just 100km away in Corrigin so I went there and it was a good, good party.
... along the coast to Perth, where I slept one night on top of the Bicentennial Tree, a 75m high tree that is climbable with a small platform on top of it. Good Sunrise! Now in Perth ...
Want to cross the Kimberleys on the Gibb River Road. I also met another German bike rider on a DR650 and he's got the same plans so we might do this trip together. After that, if the bike is still running I try if it brings me all the way to Alice over the Tanami Track. By that time it will be pretty close to July and I'll have to rush back to Sydney to sell the bike and catch my plane back to a 'normal' life at home. I want to thank all the people who helped me, especially the hints for places to go and how to do it. I did a lot of that stuff, even went to that German baker in Nuriootpa (thanks Sally). So if somebody is coming to Munich one day, drop me a line, I might be able to help you too. I can't serve with a house but at least I can tell you on which side of the road to drive. :-) cu, happy Andi"
Glen Heggstad, USA, the Striking Viking, coming home from South America, in Honduras and El Salvador, Kawasaki KLR650
"Sunday April 28, 2002 Border crossings in Central America are seldom pleasant experiences and can eat up most of a day between the formalities of exiting one country and entering another. Brad is a Canadian citizen riding a bike registered in California. I have a US passport issued in Bogota, Colombia and am riding a motorcycle registered in Panama with a fake international drivers license.
Immigration and customs officials are confused enough with regular vehicles passing though from Central America let alone from the US. Often they don't know what to do with us because they have never seen motorcyclist ride through or if they have it was a while ago. Each border crossing is different requiring hours of filling out documents and waiting in long lines for those sacred stamps that must also be signed at another window.
The man controlling the gate arm on the bridge between Nicaragua and Honduras slammed it down seconds before I was able to cross telling me it was now his lunch time and would be back in an hour. It was four more miserable hours of waiting in long lines in the hot sun getting lied to and cashiers writing phony receipts before we were road racing our way across the parched countryside into an even lengthier process entering El Salvador.
It grew dark as we went through a more complicated process there. It's only been a few years since the civil war ended here and there are still plenty of guns in the wrong hands. The night time belongs to armed bandits and rogue soldiers. We are an hour away from the nearest hotel in San Miguel and an Uzi toting policeman warns me to find shelter quickly.
We bury ourselves in a convoy of semi-trucks speeding recklessly toward the safety of a city that by now is locked down behind metal barricades anyway. They too fear the night as hijackings occur at a frequency considered epidemic. We don't know if the armed military men waving us over with machine guns are legitimate or not, there is not much difference here."
Jurgen Homann, Germany, RTW as Official Ambassador for The Global Polio Awareness Campaign 2001+, UNICEF NZ (www.2-mad.com), in Laos and Vietnam, on R80GS,
"I arrived at the border around 14:00 and it only took 1h for all the paperwork including insurance on the Laos' side. I had my Visa for Laos already. No problems to use the carnet de passage to enter Laos. I was even allowed to drive over the Friendship Bridge.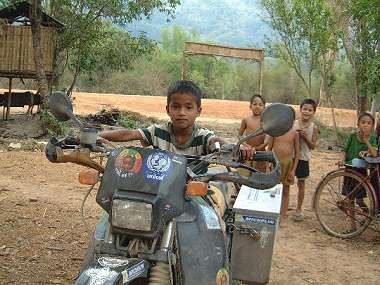 ... After lunch we went to the temple of the village (which was another hut separated by a little fence) and there was the special vaccination transport box waiting for us. I was the person in charge of the polio vaccinations - yippee! Finally I got hands on - doing vaccinations in the back country: Johny, May, Phaymany and Bouasy got the polio vaccination here in Khamhai from me today ...I was waiting for this moment somehow since the very beginning, when we first thought about it back in 2000 and now - wow - I did it!!! ... ... One sad thing I learned today as well. The vaccinations today only happened because of me. There is no money for transportation left anymore. This means other villages which require the vaccinations as bad as the one we have been to today will not be able to receive them - no budget. The future might even look worse.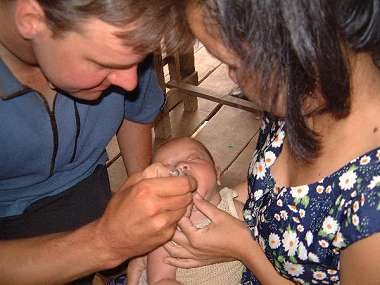 ... I meet a guy on a bike now - he confirms that I am on the right way and makes a sign with three fingers - does that mean 3km, 3h, 3 rivers, do not know - will see ... It is 5:00pm and I still do not really know where I am. It is kind of getting worrying. I have 1h more light and do not know if the petrol will last, so, I have to go forward. There is another motor vehicle on the track; it cannot be too far anymore. This guy is carrying four big bags of rice on his bike. I will make my way through as well.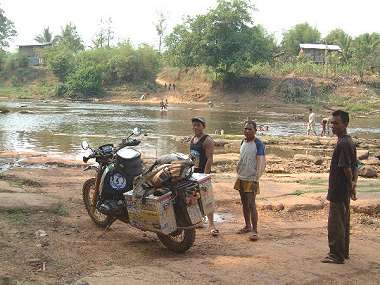 ... I survived another river, first time today I had to lay the bike - a classic. I tried to stabilize the bike to the right and my foot was just going deeper and deeper into the water. There was simply no ground. I could not balance the bike anymore. I got the bike upright in no time, but had to turn it on the spot of about 90 degree. A woman who was crossing the river helped me. A guy on the other side of the river at least spoke some English and told me that it is only another 22km to go.
... Now I understand what it means to be cut off during the rainy season. It was the first and the last big river and the crossing will make it impossible to cross the river during rainy season. I understand why delivering vaccine into these areas during wet season is impossible. I have been in the water almost up to my groin. That is quite deep and it is only dry season.
... The border crossing itself was no problem at all again. I made myself some problems cause I thought to be cautious and left my passport at the Laos border in order to check out if I can get into Vietnam with my bike. They did not want to do any of the paperwork without my passport. So after I confirmed that it is possible to get my bike through the border I went back and picked up the passport and said goodbye to Laos. It was a very smooth crossing 10 minutes on the Laos side."
Ed. Jurgen crossed into Vietnam on April 11. Very recent information (April 27) indicates this crossing may have tightened up on the Vietnam side as well. See Travellers Tips for info by other travellers, and some good general info on border crossings in this area.
Martin Rooiman and Jeannette Boom, Netherlands, around the world, in Bangkok, BMW R1100GS, and F650,
"We finished our loop through Indochina and returned back to Bangkok. We liked Laos, Cambodia and the north of Thailand, but Vietnam was a completely different story (more info in the next travel report). The new sent rear wheel bearing was working perfectly to bring us to Bangkok and hopefully far beyond.
In Bangkok we got Jeannette's bike out of the Customs arms but we weren't able to drive the bike as the battery had gone flat and needed to be recharged. I discovered exactly the same problem as Chris & Erin faced regarding oil in the airbox. The local BMW-dealer told us that it was because they (the Dutch BMW-dealer!) overfilled the oil tank. I have drained the oil from the airbox only but we haven't driven the bike since so we don't know if this is the solution but we keep an eye on it. What did Chris & Erin finally do to solve this problem? (click here) With Erik's bike we had exactly the same problem but we discovered this only after his accident and blamed the accident for it. But looking back we found some oil on the frame when we received the bike from the airport but blamed the shipping for this. After the accident we also cleaned the oil from his airbox and hadn't any problems with it since.
When I drove Jeannette's bike to the local BMW-dealer a local bike hit it while I was waiting for a traffic light. Everything was OK except for that the left box is damaged already before she has driven a single meter on her bike! I know: the first scratch is the hardest one, but it's even harder when someone else is driving your bike when it happens!
Two days after having collected Jeannette's bike her daughter Marie Louise arrived as well and it was an emotional moment, as daughter and mother hadn't seen each other for 8 months. We decided to take a real break and fly to the Philippines leaving the bikes in Bangkok. So we sat on the beach relaxing and occasionally surfing when the waves are OK. And we all three enjoyed it very much.
Erik left us in Hanoi and raced ahead to KL, via Saigon, Phnom Penh, Bangkok and Phuket. In KL he arranged the shipping of his bike back home and he flew back as well and is back in the Netherlands now after a 4 months trip.
We're back in Bangkok and preparing the bikes for the next stage. The Philippines were nice although the waves were nothing special so we could surf just a couple of days. But we had a great relaxing time there."
More stories from Martin's travels in the Horizons Unlimited Travellers' Stories pages.
Harald and Udo Lamers, the Bike Brothers, Netherlands, in Australia, on Suzuki DR 600s,
"Australia is divided into six states and two territories. They have their own traffic rules and laws. And some parts of the states are fruit fly free zones. To protect the fruit farms it is not allowed to bring fruit or vegetables into the zones. You have to dump your fruit at the zone entrance. Sometimes there are checkpoints and violating the law results in heavy fines. We just bought a kilo of bananas. So we eat bananas till we get yellow...
A thorny devil, a kind of lizard, is sitting on the road and we help the little creature to cross it before it is run over.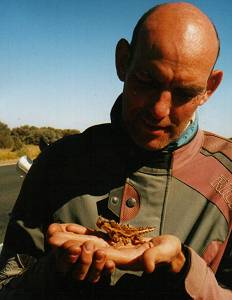 We pass a grid in the road and see a sign to Holowilena Homestead 80 kilometres. A homestead is a farm on a huge piece of land: from a few thousand square kilometres till a size as big as Holland. The families who live here get their supplies by truck every fortnight and the kids follow the school by radio. In the Snowy Mountains it is great riding on a motorbike. We pass some ski areas but there are no tourists. Then suddenly we see a lost skier. A kangaroo!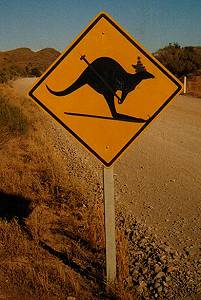 West from Melbourne lies the Great Ocean Road. For many motorbikers it is the most beautiful coastal road. But just coming from New Zealand with al the curvy roads we are a bit disappointed. Along the Great Ocean Road are the Twelve Apostles. Beautiful rock formations rising from the blue sea.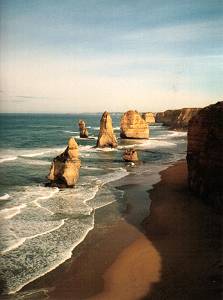 In Mildura it is time to change our first rear tyre on this trip. We replace the Continental TKC 70 that last for more then 33.000 kilometres. Thank you mister Conti.
During the replacing of the tyres we notice that the suspension lever of Udo's bike is worn out. Too many vibrations on corrugated roads. It takes us a day to fix the problem.
The mining town Coober Pedy is famous for its opal. Just before we enter the city the flat landscape change into a moon landscape full of craters and cone shaped hills. Forty different nationalities are living here to find their fortune. A lot of pickups have winches and a sign 'explosives'. In some of the pickups we see a box of dynamite. Just lying in the sun to warm up...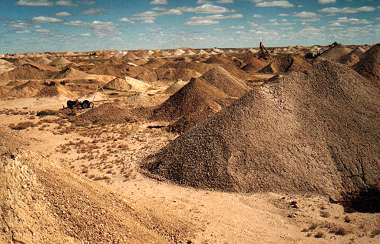 Coober Pedy opal mine tailings
In one of the underground opal shops they explain us about the different kinds of opal. With this knowledge we dig ourselves a few hours and find a fortune to buy one-liter petrol. We stop at a roadhouse to refill and have a drink.
When we want to ride on Harald notice that his bike has a flat rear tyre. When we try to fix it we see that the rim is cracked over a distance of 25 centimeters. The spokes are pushed through the rim and perforated the tube. Now we have a problem. The first city is Alice Springs, 400 kilometres away. No worries, first we pitch our tent and make a cup of tea. When the night comes and the stars are bright Harald plays on his harmonica the song 'Roadhouse Blues'."

Help support the Horizons Unlimited E-zine - visit our sponsors! Please be sure you tell them how you heard about Casamia!

Canadian Wilderness Tours on an ATV (Quad Bike)
The Roughest, Toughest and Dirtiest Tour you will ever have! (No wimps or wooses please!)
Discounts for Group bookings.
Check out our website: www.ChaletCasamia.com or
Tel: (1) 705 729 5202.
Thanks!

Peter and Kay Forwood, Australia, around the world since 1996, in Suriname, French Guiana and Brazil, on a Harley Davidson,
"21/4/02 This area of the world has to be the wettest, steamiest and most humid we have visited. If it's not raining, the sun is cooking hot and everything steaming building up more moisture to rain an hour or two later. Many enormous rivers flow north to the Atlantic out of the Guyana region. Suriname has one at each border and has only recently bridged the other two within its territory. Here in Paramaribo the population is a real ethnic mix of Dutch European, African American, Javanese and Asian Indians. The architecture is Dutch with magnificent three storied wooden houses lining the river front in town. Some have not been maintained and are rotting away but we stayed in a restored one with its rustic timber appeal.
22/4/02 The tourist office has afternoon tours of the Camp de la Transportation. This is where Dreyfus and Papillon came to serve time. The guides are quick to point out that Papillon's book was fiction as he never escaped but will happily show you his small single cell with his name carved in the floor. In the evening we rode to the native Indian village of Awala where there is a turtle nesting reserve. This is the highest concentration of leather back turtles nesting in the world. They start leaving the water about 1 hour 30 minutes before the high tide, tonight 11 pm, and we watched three enormous leatherbacks deposit their eggs in the sand, skilfully cover them and disguise the actual nest area before returning to the ocean. This got us to bed at 2 am after a long day.
We managed to talk our way into a fully booked free 3 hour tour of the Centre Spatial Guyanais in the afternoon. It is here that the European Space Agency, French Space Agency and the Ariane rocket operate from. The Ariane rocket has launched about half of the world's satellites. The tour took us to launch control, the rocket assembly and fuelling stations and made our recent trip to Cape Canaveral look like a trip to Disneyland in comparison to this informative tour, even in French.
25/4/02 slightly more organized here as cross river traffic has been occurring for a long time. The two border towns are 20 minutes apart by river pirogues. Again $25.00 to load, unload, and carry us and the bike. The bike more unstable in this boat and the river fast flowing particularly rounding a couple of bends made the journey in a tropical downpour a bit tense. We arrived at a sandy beach drenched to unload and get the motorcycle up the bank onto the road. No paperwork for the motorcycle and the Federal Police stamped our passports."
Ed. Peter and Kay have travelled to over 100 countries in Africa, Asia, the Middle East and Europe. Horizons Unlimited is proud to host all their stories on our site. Fantastic adventures and great pictures!
Gregory Frazier, USA, around the world for the fourth time, in Cuba, KLR650,
"Cuba by motorcycle was different from anywhere I have traveled on my three previous rides around the world. Motorcycles were everywhere, but most were pre-1989 models from the Soviet Union (Urals and Jupiters), with a sprinkling of newer, and smaller, models from Japan. The motorcycle was used as the family car or workhorse, seldom as a hobby rider by the weekender or a traveler making a tour.
The exception was members of the Latin American Motorcycle Association. The Havana LAMA Chapter adopted me and shared their motorcycles, insights, stories, homes and love for two wheels.

Bicycles are found in Cuba, some from China or Russia and others made in Cuba. An ingenious mechanic modified the one below with a small motor and belt drive. Not an ideal choice for a RTW ride, but a potential Guinness record for someone who wants to be the first to make a global ride on a 'motorized bicycle.'
Like in many other places on the globe, the Harley-Davidson was the dream of boys and men. The Harleys in Cuba were pre-1960 models, but have been lovingly kept on the road by determined aficionados. With an average monthly wage of less than $20.00 USD, the Cuban Harley owner learns how to repair, rather than replace, any worn or broken part.
Cuba is an island with 1,000's of kilometers of coastline. Away from the big cities and tourist centers (like Varadero), it is not hard to find a deserted beach. This one was along a stretch of 200 kilometers of coastline with no gas stations, no restaurants, no stores, no traffic and no speed traps.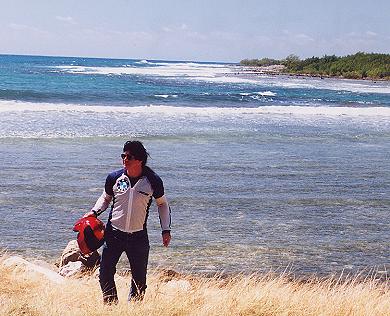 My adventure in Cuba was filled with laughter, motorcycles and warm weather. The people were friendly, major roads paved, and water safe. Of major note was the absence of roadside advertising signs. Instead were signs proclaiming the success of socialism, others against war and terrorism, and 'Viva the Revolution.'
Gasoline was not cheap, but plentiful. Rooms ranged from $15.00 USD to $250.00 USD, and mattresses free of bedbugs, but not always absent 'love ditches' in the middle. Some campgrounds were found, but nothing along the lines of KOAs or European campgrounds. Food was available, although expensive in tourist restaurants. A good bottle of beer in the market was .85 USD. A telephone call from Cuba to the USA was $2.00 per minute, using a phone card, and time at one of the few Internet cafes $3.00 per hour plus .05 USD per minute for telephone line connect (Havana Press Center).
US dollars were used everywhere. ATMs were rare, and sometimes did not work. The Euro is being accepted by merchants in Varadero, mostly hotels. Maybe in time it will be more widely accepted, but for the time being US dollars are the king.
If you decide to make the Cuba adventure on two wheels, say 'Hola' to Fidel from this Crow American Indian and tell him you learned about getting there on the Horizons Unlimited website. He has my business card, so knows about us. He has been known to ride on a motorcycle, and travels quite a bit around the world. Possibly we could make him a Horizons Unlimited Ambassador." Ed. Sure Greg, what did you say you smoked down there?
Check out Greg's website on Horizons Unlimited for numerous photographs and more about Cuba.


Help support the Horizons Unlimited E-zine - visit our sponsors! Please be sure to tell them how you heard about TinyStocks!

TinyStocks presents Highway Manager: the most complete and flexible gas mileage application for the Palm OS® platform, written by a biker for bikers. Keep track of your gas mileage, insurance payments, garage bills, hotels, highway tolls and whatever is necessary. Statistics, charting function, multi-currency, and more... So, got a Palm OS device? Why not take it on the road?
Thanks!

"Çanakkale, North Western Turkish coast. The very first kilometer I ride in Turkey happens at 130 km/h. From the very last checkpoint in 10 seconds flat. My pillion is a custom officer holding tight to my shoulders and trying to get a view in an icy wind, his legs wobbling around my luggage roll and pannier. I was ready to ride away after the final stamp, as a German car, oblivious of all whistling and shouting drove by. The next moment the officer jumped on the back and shouted 'Go get that German car!' As he got off after we managed to stop the car, I get a tap on the shoulder and a 'Thank you very much'. (The pleasure was entirely mine!)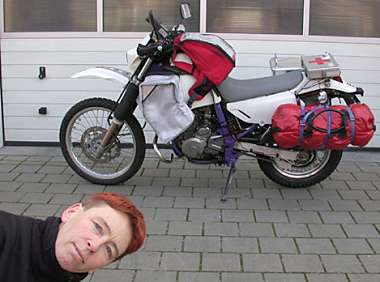 In Greece we also don't manage to enter the country unnoticed. We leave the boat behind a row of trucks, heading for 200 kms of mountain road. Who feels like breathing diesel fumes for such a distance! So at the first opportunity, alas WITH double line and small crossroad, I open up the throttle and 'ffwwiiiiiiiiiiiiiiiiiitt'. Ed. I think that's the sound of a police whistle!
Fishing for our papers, Iris gives me a good reading and I can only look sorry. The police officer (with Ray Ban) asks me 'Why?' Our charms (?!) get us through with a 'Be careful'. Pffww... We ride 100% correct from now on - Greece proves to be full of these police checkpoints. The Greeks, on the contrary, ride thoughtless, dangerously and waaaaaay too fast.
Luc and Catherine, our friends riding to Vladivostok on two BMW R80G/S'es, are happy to see us and their passports with Russian visas. Splendid ride along the Meteora rocktop cloisters. Alas the weather is gray, chilly and foggy. We say goodbye but bump into them again right at the Greek-Turkish border.
Today is Saturday, the Turkish way: hanging around together with heaps of handsome young Turks (no scarves, lots of cigarettes, the odd piercing), drinking tea followed by an Efes pils, Internetting with too loud Turkish music at 0.67 euro/h and next to a trendy girl talking into her mobile more than producing something on her keyboard. Are we really on holiday now? Iris and Trui"
Mariola Cichon, USA, aiming to be the first American woman to ride around the world solo, in Brazil, KLR650,
"It happened on Route 262 in the state of Mato Grosso do Sul. After spending 4 wonderful days in the wetlands of Pantanal I was ready to go. On Sunday morning I checked Roma's oil level, chain tension, and air pressure. Shortly after sunrise off we went, into the unknown again. In a few days I was going to see the mighty Amazon! I could not wait.
About an hour later it was so hot I took off my riding jacket and protective pants. For the first time I was going to take a chance and ride without protection. I felt a bit uneasy about it but it was simply too hot to bear the heavy black clothes. Dressed in khaki pants and a long sleeve cotton shirt I was happily riding while admiring the wildlife swarming on both sides of the road.
Suddenly, I felt a slight change in Roma's heartbeat. The engine stalled for a moment, then pick up the speed again. I blamed it on the hot air hitting the fuel line. Such a behavior was not new. Unfortunately, few minutes later the engine died completely. As I shifted down a horrible rattling noise came from the transmission. I got off the bike and my knees went soft. Black gore was splashed all over the bottom part of the engine. Not very much made to the ground, perhaps a liter. Most of her precious oil must have already been gone by the time Roma died.
My worst nightmare was becoming a reality. I was on a country road at least 80 km away from the nearest settlement. It was hot like hell, there was no shade to be seen anywhere. Dry, dense bush, swarming with mean insects, prevented access to delicious looking trees not too far away. I sat down in the shade of Roma's body and tried to gather my thoughts. I have never had to face a disaster like this yet. I guess I was lucky all this time. Nearly 40,000 miles without any major problems. This was a first one. I was afraid it was also the last one for Roma. Deep in my heart I knew she would not recover from it, not unless she gets a heart transplant, a new engine. Where and how would it be done? Would it be worth the effort? I was about to finish my South America part of the around the world journey. All of this was to be dealt with later. First thing at that moment was to get both of us out of there..."
Jeremy Andrews, NZ, Pan-American Highway, in Chile, F650GS,
Riding through three days of SOLID rain I slipped into the Chile's capital , Santiago. The mode change in driving was severe , definitely every man for himself, with any displays of courtesy or caution greeted with blasting horns and screeching tires...
Mendoza was a refreshing change to 'backwater' Chile, and a great highlight to top off the 9 Peso all-you-can-eat restaurant was Parapenting with Tato, a former Chilean Hang Gliding champ. When he put that chute into a series of spins the g-force was just incredible...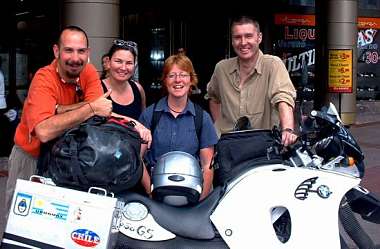 There was of course an even bigger highlight – I had the honour to meet Chris and Erin Ratay, a fun loving whacky couple 2 years into a RTW trip on a pair of BMW F650's. We swapped tricks and tales over lunch with another F650 rider, Annet from Germany. Having been through New Zealand, Chris gave me a Kiwi Motorcycle rider sticker which now rightly rests in the middle of my windscreen.
Check out Jeremy's new blog on Horizons Unlimited!
Doris Maron, Canada, RTW, in New Zealand, on 750cc Honda Magna
"Tasmania is a wonderful island to tour on a motorcycle. It is Australia's only island state and most of its wilderness area remains virtually unspoiled. The national parks contain some of the best tramping tracks in the world and the scenery throughout the entire island is beautiful. The roads are good with very little traffic, and for all you motorcycling enthusiasts there is no end to curves and hills.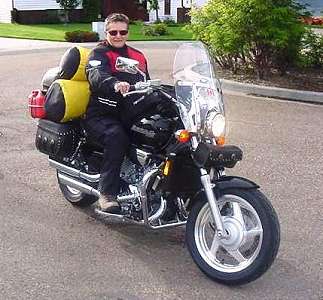 I had the good fortune of meeting Eric, Jason and Nene in Melbourne a week before, and they invited me to join them and their friends on their trip to Tasmania. All three of them ride Honda Magnas. The group started out with nine bikes – Eric, Jason, Nene, Ian and I on Magnas, Aaron & Rich on sport bikes, Mick & Colleen on a 750 Virago, Rob & Karyn on a Valkyre and Lise in a car. Three days into the trip two more riders joined us – Matt on a sport bike and Maria on Virago."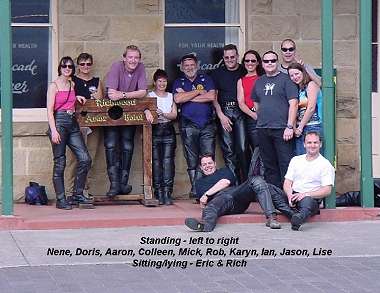 Ed. Read more about Doris, who is a grandmother of five (!), and a gutsy lady! Having already travelled to 40 US states and all 10 Canadian provinces, she left Canada in August 2001, and is now travelling RTW solo. Good on ya, Doris!
Peter Colwell, in Ayers Rock and Central Australia
"I've just returned from a tour through the Centre, with eight others on five bikes. Ayers Rock was busy, this time we did the walk around the Rock (9.4Kms) and found that more interesting than the climb. A desert thunderstorm at dusk was especially spectacular. Fuel at the Resort was $A1.14¢/l, at Curtin Springs on the way in it was $1.20. The most expensive fuel on the trip was at Wauchope on the Stuart Highway where it was $1.25.
Quite a few bushfires still burning have blackened a lot of the bush. Although the NT has no speed limit, the Ayers Rock - Erldunda road is now limited and actively policed to 110Kmh. Three of our five bikes were booked in the Outback, one in far western Queensland, - 150kms west of Longreach, at 132kmh, one in SA at 127Kmh, and one in NSW near Cobar at 118Kmh. Animals are the biggest hazard, especially emus which can appear from anywhere and will run right in to you. At the tiny desert village of Yunta in SA a large police contingent completely blocked the road and were doing vehicle and licence checks on every vehicle passing through. It reminded me of Mexico. They had been there for several days.
It's an excellent trip, and easy on modern bikes, but there are dangers not obvious to the inexperienced, and help can be a loooong way away. Witness the road section officially widened and designated as a Flying Doctor airstrip in outback SA. Cheers Peter"
Dorothea and Rene Landsee, Germany, round the world, in Australia, on two BMW R80 G/S's,
"G'day! After completing our beautiful slope through the green southwest we went to the northwest cape to see some bush, desert and remote beaches. The bush was full of flies, the desert roads full of dead or alive kangaroos, and the beaches full of sharks and the rest very hot with temperatures around 40 Celsius.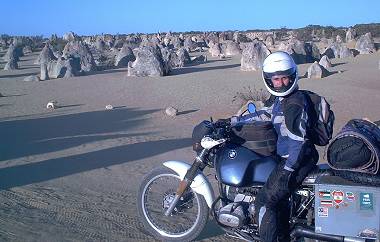 Nevertheless it is an interesting experience and you can find very stunning places and the coral reefs up here are unique!!! One recommendation: if you travel on a bike watch out for the kangs and the emus! Safe riding, Dorothea and Rene"