Want to know what people thought of last year's HU Ireland Meeting? Is it worth coming to the Meeting?
"Fantastic weekend. Everything about it was first class. Thoroughly enjoyed it. Thanks also to the presenters for sharing their great experiences. I hope it's the first of many." See the HUBB for more comments.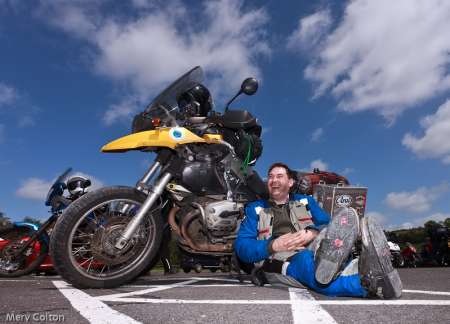 The Plan
The plan is simple. Show up on Friday afternoon, meet people and setup. Travel Presentations and Tech seminars are planned throughout the meeting, starting Friday afternoon.
2012 Speakers and Tech Seminars will be posted as we get them. Below are confirmed:
Get inspired:
How bikes can lead to political insurrection

Paddy Tyson
Regardless of the bike you choose, keep the planning loose for maximum entertainment. Tales from various incidents when a crap bike was the catalyst - Philippines, Australia, the Americas etc.

Adventures in Yellow

Norman Magowan
Chile to Alaska - 35,500 miles of Mud, Sweat & Tears - the story behind the books!

"The lure of the open road is embedded deep within our modern psyche; many dream of setting off with the sun on their back to chase the distant horizon, few dare to venture.

Norman & Maggie Magowan, stunted from birth by a meagre diet of Guinness and stew, dared to chase that horizon when they strapped on a pair of unfeasibly large BMW motorcycles and set off to ride from Chile to Alaska. Their story is a cracker!"

Back home to Belarus!

Declan McEvoy
2 Pillions, 5 Weeks, 18 Countries, 10,000k
Declan and his adopted son Vadim ride to Belarus in an attempt to unravel Vadim's past. As usual with Declan he becomes engrossed with the possibility of other destinations that lie only inches away, well… inches away on a map!



What should have been a transit through five countries becomes a transit through eighteen! It's an exciting whistle-stop tour through Eastern Europe…1 breakdown...2 pillions...5 weeks...18 countries...10,000K!



The Wrong Amazon

Steve Baker
From why you should avoid apricot yoghurt, via a convoluted tale of tea cups, evil lairs, prison, betrayal, hookers and cardboard boxes, to today.



One day you have to live your dream...

How to prepare your bike and yourself for that trip of a lifetime. And what can happen during a 4-month journey through South America when you are solo, female and riding a little DRZ.

Manuela at Iguazu Falls, Argentina

Manuela in Torres del Paine NP, Chile.

Since she was a teenager, Manuela wanted to visit Chile. But the years went by and like most people she kept only dreaming: One day, oh yes, one day... It needed some kicks in the backside like meeting an irresistible Englishman in the middle of nowhere in the Spanish Pyrenees, moving from Germany to the UK and the threat of redundancy until Manuela finally embarked on an epic 15,000-mile journey which took her not only to Chile but also through Argentina, Uruguay, a tiny bit of Brazil, Paraguay, Bolivia and Peru.
Abandoned in Africa (Bikeless in Bamako )

Gerry Christie
A bike trip with no bike! "I am a motorcyclist & an adventurer but they have to date been separate activities..."



Alaska to Argentina

Frank Mcnelis
A way to ride the Americas with limited time and money

Learn:
Q&A on Motorcycle Shipping

Roddy Warriner, James Cargo
Ask questions on do's and don'ts regarding airfreight and shipping and what to expect when you arrive in various countries.

Emergency First Aid

Brian Byrne
Practical session with audience participation!



But I only have two weeks!

Stephen Clark
Getting the most out of two weeks without it turning into an 'Iron Butt ride'.



Morocco on 2 wheels!

Hana Ptackova (HUBB: hana motoadventours)
Travel in Morocco, the tips and tricks

"Hana is the owner of Moto Adven Tours, one of the very few worldwide motorcycle companies owned by a woman and run by women. They offer exclusive, all included luxury road tours for both male and female riders together or exclusively for ladies...

Hana managed the Spanish and Moroccan Department for DiscoveryMotoTours for many years, and is a passionate biker and BMW GS lover! Multilingual, she speaks fluent English, German, Spanish and Czech, as well as some French, Italian and Russian. After many years of touring through Morocco and north Africa, she is the person to discover Morocco with."

Fix that flat! How to change a tyre anytime, anywhere

Workshop - How to prevent flats in the first place, and fix them when you get one. The best tools and how to use them for tube and tubeless tyres. Bring your changing / patching kit with you! Hand's on practical, try it yourself. (we hope!) Plus Tyre changing competition with prizes!
Panel - volunteers please!

How to get someone of the opposite sex to go travelling with you - panel and discussion. Why is it so hard? What are you doing wrong - or right? All viewpoints please!
Women only

a very popular session - I'm told it's a must for the ladies, so be sure to plan on being there! Don't miss a chance to talk to experienced travelling women without the men around.
Experienced Travellers Panel - ask the experts anything you want!

This is always a great session, with lots of discussion - and often disagreement - between the exprienced traveller panelists!

and more to come as we get closer to the date.


How about you? We're all here to learn, and there's LOTS to learn! We want to do more presentations and seminars - but we need volunteers to give them! Any topic you can contribute having to do with motorcycle travel, maintenance, planning etc, lasting 20 minutes or more, would be great. Please contact me here to volunteer.
To give you an idea of what we plan to have for you, here's the seminars from the 2011 Meeting:
The Challenges, Logistics and Enjoyment of Riding in Every Country of the World
Four great bike journeys

Geoff Hill
Delhi to Belfast, Route 66, Chile to Alaska and around Oz

Irishman that doesn't drink

Liam McCabe
Round the world, make it up as you go along!

"The Installment Plan"

Stephen Potts
I didn't have time for the Moroccan trip I wanted to do so I did it in installments, flying back to the bike for each leg of the trip. As a result I rode 30 days over the winter, with my bike in Northern Ireland I would usually ride under 30 hours in a winter!

Belfast to Kathmandu on a Diesel Bike

Neil Laughlin (crazymanneil)
What possesses someone to build a diesel bike and ride it half way round the world? Come along and find out!

Anything I Can Do You Can Do Better

Peter Cullen
Experiences of an Innocent Abroad

No licence? Ah well, it'll be grand, just do it!

Ruth Houston
The un-planned, inexperienced, un-insured adventures south from Hanoi!

Belfast to Cavanacarragh (slowly)

Drew Millar
a first attempt at cycle travel

Not dead yet!
The Pillion Perspective
Norway, Lofoten Islands, Svalbard & Murmansk

Declan McEvoy
An Arctic Adventure!

The Gambia on a Gapper!

Marc O'loideoin
The ultimate charity motorcycle adventure

Carl Stearns Clancy Anniversary Run

Joe Walsh, "The Celt"
Meself and Feargal aka Glenboy will be doing a wee talk on the Carl Stearns Clancy 100 year Anniversary Run 2012.

Away from here: the return leg

Simon Johnston
Ireland to Mongolia and Siberia 2010.
This is a sequel, so if you missed the first round, ask someone who didn't!

Vietnam & Japan

Dave Flooks
A review of some of the good bits from my trips to Vietnam and Japan

From sea to shining sea. Coast to coast across the US.

Aidan McParland
A group ride across the US in summer 2010

Even Italian bikes provide laughs

Paddy Tyson
Travelling the Americas with a standing joke

Women only

a very popular session - I'm told it's a must for the ladies, so be sure to plan on being there! Don't miss a chance to talk to experienced travelling women without the men around.

Fix that flat! How to change a tire anytime, anywhere

Grant Johnson, Canada


Workshop

'Basic Guide to changing and maintaining tyres.' How to prevent flats in the first place, and fix them when you get one. Grant's changed thousands, and will show you all the secrets to make it easy. The best tools and how to use them for tube and tubeless tires. Bring your changing / patching kit with you! Hand's on practical, try it yourself. (we hope!)


Changing a Tyre, tech sesssion UK 2009

Photo Composition for Travellers

Grant Johnson, Canada
The one everyone SHOULD take, but no one does... We all want to take great photos of our trip - so why don't we? This easy clinic will transform your motorcycle travel photos from boring to fabulous! BRING your photos on a CD or Flash Drive, max 10, and we'll critique and discuss YOUR photos - what's good, and what's not - and how they could be improved.

Ergonomics - making your bike work for you.

Grant Johnson, Canada
Your bike was put together by a pimply faced yoof who probably can't even ride... So how's he going to make sure it fits YOU?

Experienced Travellers Panel - ask the experts anything you want!
Schedule will be posted here when it's ready...
...so check back and plan what you want to see. The schedule is subject to change, so don't hold our feet to the fire - stuff happens! But we will try very hard to ensure that it goes off as planned. Check the latest schedule to be posted at the meeting on the day.
There will be slide shows and talks Friday mid-afternoon on, so come early and make it a great weekend! We recommend planning on riding Friday morning and Sunday, and leaving time for Seminars all day Saturday.
Charity
The 2011 HU Ireland meeting raised £506! for Motorcycle Outreach, through the sale of raffle tickets and the generous donation of prizes, an outstanding show of generosity, and we and Motorcycle Outreach are very grateful - see note below. Many thanks to everyone, let's hope we can raise even more in 2012. And if you'd like to donate a prize, please contact Grant.
"Dear Susan
I write to say that I have now counted up the donations from the Travellers Meeting at Lumb Farm and they total £877.12. Together with the £506 from the Enniskillen rally, that makes a grand total of £1,383.12.
On behalf of the Trustees and Directors of Motorcycle Outreach, I'd like to pass on my thanks to all those at both meetings who bought raffle tickets and stickers and helped us raise that impressive amount. We are very grateful for every donation that we receive; because we work directly with local health services, even a little goes a very long way with us, quite literally! £10 will cover the cost of ten visits to remote villages on the island of Flores in Indonesia, and in each village up to 1,000 people will thus have access to healthcare, medical advice and health education which they would otherwise be denied.
Anyone wanting to see where the money is spent need only click on http://www.motorcycleoutreach.org/Testimonials.html where there are several stories dictated directly by grateful people who have been helped by Health for All, the project that we support on Flores. Health for All ensure that a small fleet of motorcycles are maintained and made available for use by local doctors, nurses, midwives and other healthcare workers to enable them to get to outlying villages beyond the reach of other means of transport.
And really it is on behalf of those people, in Flores, that I write to thank Horizons Unlimited for your continuing support of Motorcycle Outreach, and to thank each and every one of those HU travellers who came to the Meetings and made a donation.
Our best regards
Barbara Alam & Craig Carey-Clinch"
Free stuff - A 'Scratch Patch'
We all know how expensive these overland travel dreams can be, but also how you often manage to accumulate travel equipment and bits and pieces that just end up gathering dust. That thingiemabob that you have been meaning to give away for ages could be exactly what some broke newbie is in need of before a first trip.
The 'Scratch Patch' is a place where people can put those extra inner tubes for the bike that they already sold but forgot to give to the new owner (clearly labelled as to size of course ); that jerry can that you bought that doesn't fit your mountings; that Lonely Planet for Mongolia - anything that might be a big help to someone else.
(of course, anything that does not find a home by the end of the weekend will need to be reclaimed)"
Bring your left-over/unwanted junk - oops, I mean, Good Stuff! :)
Camping
Camping is included in your entry fee. NO 4 wheeled vehicles in the main camping fields, there will be an area specifically for you.
Dogs - Noisy dogs will be ejected.
Food
Available ala carte on the day. (NOT lunches)
Travel Equipment Vendors
We're looking for Travel Equipment vendors to come and display your products, and sell as well. Please contact Grant.

Books and videos - get your signed copy direct from the Author!
HU's Achievable Dream will be available!
Leaving on a big trip in 2012?
Plan on leaving from the Meeting! We'll make it a great send-off! Or coming home around the time of the Meeting? What a great place to arrive at!
Schedule
All times - and everything - approximate!
An up-to-date schedule will be posted at the Meeting.
Friday
CHECK-IN and sign up! You MUST be registered to go on a ride or for entry to any events, seminars etc.
Friday afternoon
Speakers presentations after lunch, exact time to be determined
Friday night
18:00 Dinner (no pre-order, first in best dressed)
19:00 Speakers presentations start sharp at 19:00, so be sure you've eaten early!
Saturday morning
8:00 - Breakfast
8:30 - 9:00 Late Check-in.
7:45 Ride briefing. Be fueled up and ready to ride if you're going. And please BE QUIET!
Saturday Lunch
Local restaurants, ask on the day
Saturday afternoon,
Rideouts - details here if you're riding on your own.
Be fueled up and ready to ride if you're going.
On road runs - we'll post a sheet of paper up for you to add your name to a destination, volunteers to lead appreciated!
Tech Seminars in the afternoon. If you want to volunteer to lead a seminar or breakout session, on any appropriate topic, please contact us. We have had lots of interest in seminars, ranging from 30 minutes to several hours, on subjects from GPS to packing lists to tire changing.
Saturday dinner
18:00 Barbeque! Sausage, burger, chicken with pasta/salad and chips and coffee/tea and biscuits. Not pre-ordered, first in best dressed!
19:00 sharp:
Speakers presentations
21:00 (not sharp) - Raffle prizes - you have to be there to win!
Sunday
Breakfast served from 8:00, £5
Miscellaneous notes:
Organizers will be there most of Friday so turn up any time that day. Extra hands to help set up will be most welcome!
Pre-Register and save £10!
Register and PAY before March 1, 2012, admission is only £35
March 2, admission is £45.
Includes admission to all slide shows, Tech Clinics, Rideouts, and all other HU events. NOTE: Accommodation and meals are NOT included in the registration price, but dinners may be purchased below.
At the door, admission for the weekend is £+5
Friday ONLY £20 at the door.
Saturday ONLY £30 at the door.
Please PRE-BOOK by filling in the form below and click the "Count me in" button below it. NOTE: PLEASE Use one form per person! EVERYONE registers - yes that means you and your wife - (she really doesn't like "the wife" - she much prefers her name on the name tag! :)
Meals are NOT included, camping IS included in your registration fee.
How to Pay
Please PRE-BOOK by filling in the form below and click the "Count me in" button below it. NOTE: Use one form per person!
Option 1. Pay by PayPal

a. You will shortly receive an e-mail confirmation. Check to ensure the details are correct. If you don't receive an e-mail confirmation within a few minutes, it means your e-mail address wasn't correct, (or the Internet has eaten your e-mail). Try again. A human being will actually get a copy of the e-mail, and we promise we won't sign you up multiple times. ;-)

b. After you have filled in the form and submitted it, you will have an opportunity to pay by . Please be careful calculating the amount, the form isn't that smart yet!

OR:

Option 2. Pay by cheque

a. You will shortly receive an e-mail confirmation. Check to ensure the details are correct. If you don't receive an e-mail confirmation within a few minutes, it means your e-mail address wasn't correct, (or the Internet has eaten your e-mail). Try again. A human being will actually get a copy of the e-mail, and we promise we won't sign you up multiple times. ;-)

b. PRINT THAT EMAIL (or write out the important bits by hand if you don't have a printer) and MAIL it with a cheque in GBP OR equivalent in Euros, made payable to Horizons Unlimited,
and mail to:

Grant Johnson
Suite 621
24 St. Leonards Road
Windsor, Berkshire SL4 3BB
UK
IF you have ALREADY registered for THIS event and just want to pay, go here!
Sorry, registration is now CLOSED. There is still room left, so come to the Meeting and sign up on the day!
Membership - Show you're proud to be a Horizons Unlimited Traveller!
Just to clarify the membership situation: Currently there is no requirement to be a member to access the website, the HUBB or to receive the monthly e-zine. For now, what you get for your membership contribution is our sincere gratitude, good karma and knowing that you're helping to keep the motorcycle travel dream alive.
We will also upgrade your status in the HUBB to Contributing or Gold Member. In addition to recognising your contribution through your status, this will allow you to upload a custom profile picture and custom avatar, store more private messages, upload more pictures, add events to the calendar and create polls.
If you wish to buy a t-shirt, mug, fleece jacket or other Horizons logo product from the Souk, you can purchase Member or Gold Member logo products at the basic price. Just let us know and we can arrange access to the Members Private Store.
Note that new Memberships with your Meeting Registration are applied as of the Meeting date or as soon as possible thereafter, not earlier, unless you make a special request in the Comments box when you register.
T-Shirt Deal
Cotton: Top quality heavy cotton t-shirts in black or grey.
Synthetic: (Dri-Fit) t-shirts are in a beautifully made wicking material, and make great travel / riding t-shirts as well as all-round wear t-shirts. Available in a variety of colours at most meetings, and always black or grey. The order section will list the colours available.
Note that we will have a very few t-shirts extra at each meeting, but very limited - we can't carry many! So please pre-order and pay in advance so you can be sure of getting what you want.
2012 Tshirt slogan "The open road is calling, and I have a world to ride!"
Back:
(large, full back)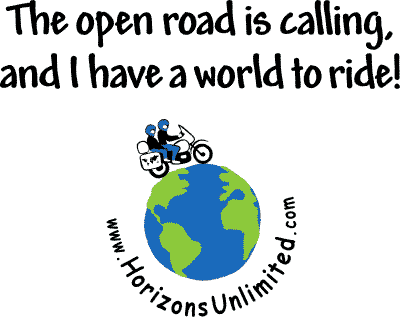 Front: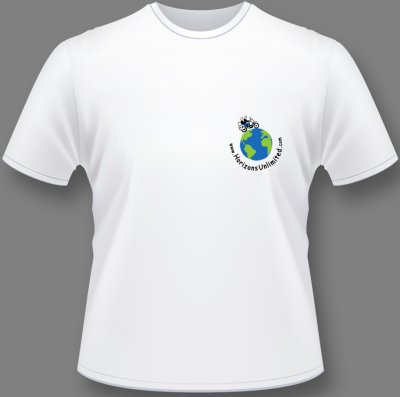 You can help!
If you have a few minutes, please download the poster (Adobe pdf format) and print off a few and hand them round your club or your local bike shop or anywhere seems like a good place.
(You may need to right click and choose "save target as...")
Poster in pdf format (450kb) full colour Event poster.
Thanks for the help!
The Meeting Location
Getting There - GPS, Maps
Enniskillen, Northern Ireland
Google Map to the Meeting.
Note: You're looking for "Cavancarragh" or "Cavanacarragh" which is in the extreme top left corner - Google maps don't always align correctly. :( The larger version is better. View Larger Map
Postcode: BT94 3GL
Irish National Grid : IH 29420 44376
British National Grid : NV 39615 08832
Lat / Lon hddd.ddddd : N54.34723 W7.54839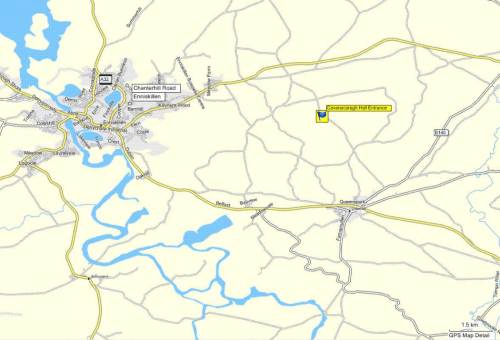 Mapsource Map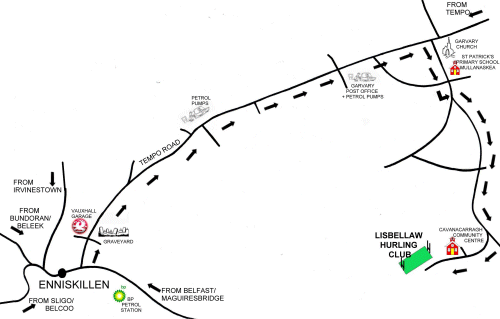 Click the map above for a larger version.
Distances from:
Belfast approx. 80 miles on the motorway, or 95 miles on more interesting roads.
Dublin approx. 105 miles
Larne (Ferry) approx 100 miles
Getting there over the water:
"We suggest contacting Rita Ganghi of Nutt Travel at: +44-(0)2870-351199 or mobile: +44 (0)7545 745791. Ask for Rita and be sure to mention "Horizons Unlimited" to get a special deal just for us. They invariably have cheaper ferry deals than even the ferry companies themselves."
Nutt Travel has also very generously donated a great prize for the Charity Raffle, so be sure to contact them!
If you have any links or details for the area please let us know.
Other Accommodation Possibilities
If you have any further information for the area please let us know.
Information about the area
Local Hosts
Thanks go to Drew, Jochen and Liam and all their helpers for volunteering to bring Horizons Unlimited Travellers Meetings to Ireland!
If you have any questions, contact with vendor, venue and speakers questions.
See you at a meeting this year!
Grant and Susan