How you can help - put up a few posters!

Event poster available! Please post it everywhere!
Want to know what people thought of other HU Meetings? Is it worth coming to the Meeting?
"I'm so looking forward to another UK meet. My only problem is that I simply can't get to every talk I want, such is the amount of terrific presentations on offer. Each year I've been astonished at how articulate, intelligent, informative and entertaining the speakers are. I'm willing to help with anything that doesn't keep me from a talk - and my timetable will be full to bursting!"
The Plan
The plan is simple. Show up on Friday morning or afternoon, meet people and setup. Travel Presentations and Tech clinics are planned throughout the meeting, starting Friday night. More Detailed Schedule here.
We can always use some help! If you want to assist, please sign up to volunteer to assist on the day or here for advance work or to ask questions. Thanks!
2011 Speakers and Tech Clinics (so far, more to come):
UK to Nepal

Mark Hosking
Two-up on a Vstrom, 38,000kms, 22 countries!

London to Capetown 2009

Luke Steele, XTLuke
Three Kiwis down the West Coast of Africa on XTZ/R.

What is Wheel2Wheel?

Morgan Parker, Wheel2Wheel
Learn about Morgan's transcontinental solo motorbike expedition in support of 10 charitable organisations throughout 10 countries.

Two old blokes across Russia - Half the World in One Summer

Ian Gregory and Mike Jones
Anyone can do it - story about two 60+ guys riding unsupported thru Korea, Siberia, Mongolia and finishing in Finland. Very much a story about the people we met!

Motomonkey Adventures Australia to Africa

Danielle Murdoch
A Q&A from Danielle who is currently on the road - if we can make the connection!

Brisbane to Amsterdam - at least, most of it!

Michel Verheem
My 1999 trip of 13 months in 45 minutes. Or, how you can do this without any technical knowledge!

Motorbike Medical

Dr. Peter Nelson
What to pack in your first aid kit, and basic first aid whilst on the road.

Six weeks in the USA

Dorothy Henderson
For those on a time budget!

GPS - what's it good for?

Andrew Roberts
Instructional session and discussion

Packing Discussion
Stove Cook-off

Everyone bring your stove and lets see what works - and what doesn't!
The Pros and Cons of stoves, fuels and pots, recipes, pans etc

Bedding Discussion

Discussion in the camping area
What works, cheap vs dear and which ones keep you warm and comfy!

Tent Discussion

Discussion in the camping area
What works, cheap vs dear and which ones keep you dry and comfy!

Breakdown Diagnostics

The bikes stopped at the side of the road. :(
Now what?

For Women Only
Tire Changing!
And more how-to's of course!
Experienced Travellers Panel - ask the experts anything you want!
and more to come! How about you? We're all here to learn, and there's LOTS to learn! We want to do more presentations and clinics - but we need volunteers to give them! Any topic you can contribute having to do with motorcycle travel, maintenance, planning etc, lasting 20 minutes or more, would be great. Please contact me here to volunteer.

How to pack all that crap in, pic of previous seminar by Carol and Ken Duval 2008
Previous (2010) Presentations and Tech Clinics were:
GPS - what's it good for?

Andrew Roberts
Instructional session and discussion

Russia!
RTW once is not enough

David and Cheryl Laing
Introduction, top 10 hints, then a Q and A session

RTW by Vstrom

Richard Winter
The Americas, from Prudhoe Bay to Ushuaia

4 years on the Road
Maleny to Mullingar

Ken Taylor
Australia to Ireland on a $500 Honda Transalp

Canada-USA-Mexico

Errol Goodenough
Tim Hortens-Maccas-Tacos & other atrocities

Intro to GPS navigation

Andrew Roberts
Basics of GPS navigation

Packing Demo

Glen Cochrane and Leeanne Holden
Squeezing it all in

Sumatra Touring

Marcus Phillips
Cruising the high road, Indonesia

Asia/Middle East

Haydn and Diane Durnell
Nepal to Jordan 2010, Off the beaten track

Eurasia 09 - Turning Dollars into Dust!

Dennis Barber
Solo journey in 5 months through 23 countries on an 18 year old Boxer

Stove Cook-off

Everyone bring your stove and lets see what works - and what doesn't!
The Pros and Cons of stoves, fuels and pots, recipes, pans etc

Bedding Discussion

Discussion in the camping area
What works, cheap vs dear and which ones keep you warm and comfy!

Tent Discussion

Discussion in the camping area
What works, cheap vs dear and which ones keep you dry and comfy!

Breakdown Diagnostics

The bikes stopped at the side of the road. :(
Now what?

For Women Only
Tire Changing!
And more how-to's of course!
Experienced Travellers Panel - ask the experts anything you want!
There will be slide shows and tech clinics on Friday and Saturday evenings, and all day Saturday. Come early and make it a great weekend! We recommend riding on Friday and Sunday, and participating in the clinics evenings and Saturday.
Rideouts
Rideouts - will be limited to 10 people per ride per group.
Guy Basile knows all the tiny paths back to front, and will be organizing mud maps with points of interest and food and petrol stops. Sign up to ride on the day.
A dual sport ride through Mount Mee State Forest is planned. More details to follow.
We are looking for volunteers to take a road ride over Mount Mee, Mount Glorious, Brisbane Valley etc.
Ride leaders and sweep riders wanted!
Do-it-yourself Ride information and pass information.
More ride info to come. Send in any you have!
Vendors
The following companies will be on site with products and have generously donated raffle prizes. Vendors can register here, or if you have any questions, please contact me for details.
Confirmed:
Not yet confirmed, but were there last year so we expect them again!
Contributors
The organisers also wish to express our thanks to the following companies, who have generously donated raffle prizes or products/services to help make this event happen!
Not confirmed yet
Touratech Australia - World's leading accessory manufacturer for the touring, rally and adventure motorcycle market.
ARB 4x4 accessories - Built for the harsh conditions of the Australian Outback, ARB's 4x4 accessories are designed tough to withstand the extremes faced by enthusiasts the world over.
Andy Strapz - Straps, panniers, bags, clothing, bike covers, secure luggage, travel accessories, gloves

Schedule
The schedule is subject to change, so don't hold our feet to the fire - stuff happens! But we will try very hard to ensure that it goes off as planned. Check the latest schedule to be posted at the meeting on the day.
Meeting place for all events at the grounds.
All times - and everything - approximate!
An up-to-date schedule will be posted at the Meeting.
Friday
A great time to arrive and get the best spot, check out the area, and get a little riding in. There will be lots of people arriving early. There will be presentations Friday night!
Saturday morning
Feed yourself!
9:00 Ride briefing. Be gassed up and ready to ride if you're going.
Rideouts - off-road runs details here if you're riding on your own.
Saturday Lunch
Feed yourself!
Saturday afternoon,
Rideouts - details here if you're riding on your own.
On road runs - we'll post a sheet of paper up for you to add your name to a destination, volunteers to lead appreciated!
Tech Clinics. We have a number of informative and exciting tech clinics planned, so check the schedule Friday on-site for latest details.
Saturday evening,
6:00 Dinner on site
7:00 pm sharp:
Speakers presentations
Sunday
Breakfast
No presentations scheduled, but great day for a rideout or head home!
Miscellaneous notes:
Organizers will be there all Friday, if anyone wishes to arrive early and just hang out or go for a ride in the area.
Pre-Register and save $10!
Register and PAY before June 1, admission is $35. Includes admission to all slide shows Friday and Saturday, Tech Clinics, Rideouts, and all other HU events. NOTE: Accommodation and meals are NOT included in the registration price, but dinners may be purchased below.
At the door, admission is $45.
Too late to Pre-Book!
Too late to register online, sorry! There is room onsite, so just show up and register when you get there!
Too late to order T-shirts - there will be a VERY few extras at the meeting, so get in and get yours as soon as you can!
Too late to order Food, sorry - the cooks are making a best guess at how much will be needed, and there will be plenty for those who pre-registered and ordered, but past that, no guarantees!
Membership - Show you're proud to be a Horizons Unlimited Traveller!
Just to clarify the membership situation: Currently there is no requirement to be a member to access the website, the HUBB or to receive the monthly e-zine. For now, what you get for your membership contribution is our sincere gratitude, good karma and knowing that you're helping to keep the motorcycle travel dream alive.
We will also upgrade your status in the HUBB to Contributing or Gold Member. In addition to recognising your contribution through your status, this will allow you to upload a custom profile picture and custom avatar, store more private messages, upload more pictures, add events to the calendar and create polls.
If you wish to buy a t-shirt, mug, fleece jacket or other Horizons logo product from the Souk, you can purchase Member or Gold Member logo products at the basic price. Just let us know and we can arrange access to the Members Private Store.
Note that new Memberships with your Meeting Registration are applied as of the Meeting date or as soon as possible thereafter, not earlier, unless you make a special request in the Comments box when you register.
T-Shirt Deal
Cotton: Top quality heavy cotton t-shirts in black or grey.
Synthetic: (Dri-Fit) t-shirts are in a beautifully made wicking material, and make great travel / riding t-shirts as well as all-round wear t-shirts. Available in a variety of colours at most meetings, and always black or grey. The order section will list the colours available.
Note that we will have a very few t-shirts extra at each meeting, but very limited - we can't carry many! So please pre-order and pay in advance so you can be sure of getting what you want.
2012 Tshirt slogan "The open road is calling, and I have a world to ride!"
Back:
(large, full back)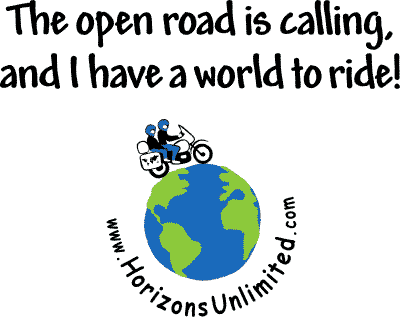 Front: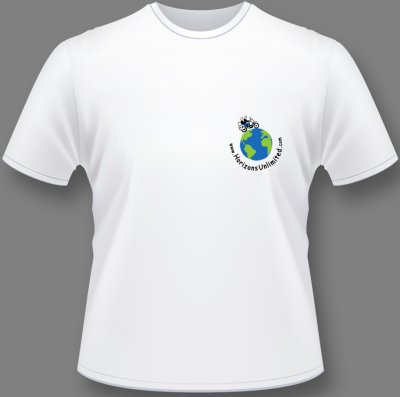 You can help!
If you have a few minutes, please download the poster ( Adobe pdf format) and print off a few and hand them round your club or your local bike shop or anywhere seems like a good place.
Poster in pdf format (500kb approx) full colour HU Australia Travellers Meeting poster. (You may need to right click and choose "save target as...")
Thanks for the help!
The Meeting Location for 2011
Dayboro showgrounds
Memorial Showgrounds
Corner of Don Kerr Memorial Drive and Mount Mee Road,
Dayboro
There will be signs along the road as you approach the area to get to the exact spot. Watch for the HU logo!
Maps
Distances:
Brisbane - 46 km
Sydney - 983 km, 12.5 hours
Melbourne - 1750km, 21.5 hours
GPS Coordinates of Site: -27.189,152.8229 according to google!
Note: The green arrow is us!
Layout of venue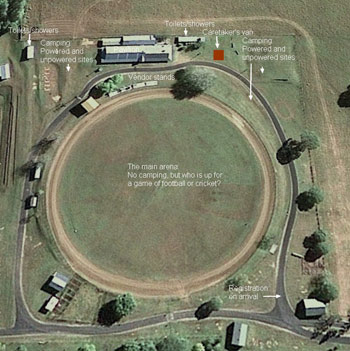 Camping
$10 Powered Site (2 adults) There are many powered sites available in a number of places throughout the grounds. Those wishing to use powered sites need to make sure they have appropriate length power leads. The powered sites between the pavilion and the arena will be put aside for vendors.
$7 Non-Powered Site (2 adults)
$3 each for additional campers per night
Pay John the caretaker direct, we don't handle the camping fees at all. The caretaker's van is parked near the pavilion. Payment is strictly cash and correct money would be appreciated. There is no camping in the area.
No rooms or cabins available onsite
Accommodation is available:
Each of these venues offer different styles; some cater for couples, some for families and some for groups. Dayboro is not a large town. If the address is in Dayboro, it should be within walking distance. Check when booking. If the address is Mount Mee Road, chances are it is a short but very pleasant drive/ride. I've never stayed in any or these, so can not make any recommendations. (Shane)
Blue Ridge Lavender Farm & Retreat
Dayboro Sherree Matthews 3336 Mt Mee Road, Dayboro QLD From $175 Double Room/Night Credit Cards Accepted: Visa Mastercard Eftpos 1 cottage Telephone: 07 3425 1936 Mobile: 0413 458 788
Brockhurst Cabins Farmstay and Retreat
Murray and Debbie Baker 2250 Mt Mee Road, Ocean View, Queensland, Australia Phone: (07) 3425 3314 International: +61 7 3425 3314
Dayboro Cottages Dayboro Cottages & Llama Walks
3229 Mt Mee Rd Dayboro QLD 4521 Telephone: 07 3425 2774 Fax: 07 3425 2714 Email: dayborocottages@bigpond.com
Glengariff Estate
3234 Mt Mee Rd Dayboro Valley Qld 4521 Phone:07 3425 1299 Fax: 07 3425 2255
Kirnicama Bed and Breakfast
106 Woodward Road, Armstrong Creek, via Dayboro, only 5 minutes from the township. Telephone: 07 3425 2526 Mobile: 0407 704 060 Fax: 07 3425 2527
Oceanview Estate Winery
Dayboro Address: 2557 Mt. Mee Road,, Dayboro QLD Credit Cards Accepted Visa Mastercard Eftpos Opening Hours: Thursday-Saturday from 10am; Sunday from 8.30am Wineries Phone: (07) 3425 3900 Fax: (07) 3425 3800
Hill House Bed & Breakfast
14 Roderick Street Dayboro QLD 4521 Phone: 07 3425 2446 Web:
Dayboro Crown Hotel
McKenzie St, Dayboro, QLD, 4521 Phone number: (07) 34251101 Accommodation unknown
Alternative Accommodation in and around Petrie
To get to Dayboro from Brisbane you travel through either Petrie or Samford. Petrie has several hotels and the ride from Petrie to Dayboro takes about 20 minutes on sealed roads. The Sunday Markets at the Pioneer Village are great fun and there is accommodation and a museum on-site as well.
Alternative Accommodation in and around Samford
Samford is about 20 minutes on good sealed roads from Dayboro. Samford is at the base of Mount Glorious, a famous ( or should that be infamous? ) motorcycle road.
Other Alternative Accommodation
The next towns and cities such as Kallangur, Lawnton, Strathpine, Caboolture, Woodford and Redcliffe all offer the full range of accommodation. If I was after a good ride each morning and and evening there and back, I would be looking for either Woodford and Caboolture and going over the top of Mount Mee each time.
Information about the area
Closest Bottleshops
Alcohol.
No licence for this event and strictly BYO. Crown Hotel is in walking distance
There is a drinks fridge and bar there in the pavilion and you can leave your stuff there, but it will be on a non-policed honesty-scheme basis.
We should have bottled water and soft drink to sell, any profits going to the charity, Angelflight.
Closest Restaurants/Eateries
Dayboro is within walking distance and lots of options!
Pitstop Cafe is a motorcycle cafe on the tourist route of Mt Mee Rd. and has great views, coffee and other refreshments as well of lots of motorcycling memorobilia and bikes on display. it is situated at 2070 Mt Mee Rd, Dayboro. Facebook. Tell John we sent you!

Other Useful Information
Local Shops and Fuel.
IGA is open seven days, time to be confirmed. Otherwise there are full amenities in either Caboolture, Kallangur or Petrie.
ATM
There is an ATM at the IGA and one at the Crown Hotel. Otherwise there are full amenities in Caboolture, Kallangur or Petrie.
Within 30 minutes ride/drive Petrie, Kallangur, Lawnton and Strathpine shopping areas D'Aguliar Pub and General Store across the top of Mount Mee, but I'm not sure if this is an easy 30 minutes, never timed it before.
Petrie markets in Pioneer Village are on Sunday morning and should be interesting to some.
Pioneer Village Country Music Club quite often have some good acts.

Any info you have on the area, rides etc, please let me know.
Security
There is a caretaker onsite. The local police are close nearby and will probably come through a few times.
---
Local Motorcycle Clubs and Dealers
The Wild Geese Motorcycle Club: "...a multi-national, multi-skilled, multi-lingual, multi-talented, non-political, non-sectarian bunch of bike-loving bikers"
Ulysses Club Queensland Branches
---
Local Hosts
Shane Kuhl, (plus a lot of others, especially John Skillington, who has volunteered to act as presenter liaison, and Dorothy Henderson has volunteered to be the Volunteer coordinator) are the local hosts for this event - we're VERY grateful to them for stepping up and really making it happen with a lot of legwork and effort.
If you have any questions, contact with rideout registration, vendor, venue and speakers questions.
We can use help on the day too in order to make it all work smoothly and keep the costs down! If you want to join in the fun, please sign up to volunteer to assist on the day.