Too many to list! If you haven't checked out the Links page it's time you did - it's huge, and a fascinating browse.
---
Get your website listed in the LINKS Section
by listing Horizons Unlimited on YOUR web site, let me know you've done it by mailing me a link to the page, and you may get listed here in the next newsletter and on the Horizons Unlimited web site Links page. To make it easy for you, we even have our logo and link code here! From there you can request your link.
All sites will be considered for listing, but must be a MOTORCYCLE or TRAVEL site, useful or of interest in some way to travellers. We reserve the right to refuse to link back.


Motorcycle Express
MC Air Shipping, (uncrated) USA / Canada / Europe and other areas. Be sure to say "Horizons Unlimited" to get your $25 discount on Shipping!
Insurance - see: For foreigners traveling in US and Canada and for Americans and Canadians traveling in other countries, then mail it to MC Express and get your HU $15 discount!
When you meet people on the road, and they haven't heard of this e-zine or the website, we'd appreciate it (and hope they would too!) if you'd get their names and e-mail addresses and send it in to me.
Thanks, Grant
Request for info
Wouldn't YOU like to know all about the border you're approaching - what it should cost, paperwork required, 'tips' needed, and who to talk to, etc.?
When you cross ANY border, take some notes, and pass them on to us. Thanks!
Shipping
The Shipping page on the site is HUGE! It can be reached directly or from the Shipping link on the Trip Planning page.
Travel Advisories
The Foreign Office in London's Travel Advice Unit advises against travel to all sorts of places. Check out the listing before you start!
The US State Department regularly issues updated travel advisories, information and/or warnings.
---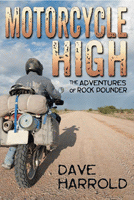 Motorcycles,
Women, and Danger...
RTW with Rock Pounder!
Available NOW from Amazon:
---
American Borders
A comedy of breakdowns...
by Carla King

Available from:
---
Channel Islands to Cape Town by Motorcycle...
by Sam Manicom

Available from:
---
Distant Suns, by Sam Manicom

'Sam Manicom's dynamic third book transports you to Southern Africa, South and Central America in an action-packed three year voyage of discovery. a thought-provoking mix of scrapes and encounters with people which illuminate some moments of true darkness. acute observations on everything from human behaviour, to remote and stunning locations. Distant Suns grabs you, enthrals you and spits you out as a convert to the dream of overlanding these amazing continents.' Buy direct from Sam here!
---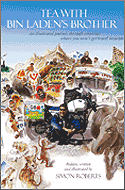 Tea with Bin Laden's Brother,
by Simon Roberts
An Adventure motorbiking graphic novel telling the gripping story of a solo ride through Iran, Pakistan and India to Nepal. Take a look inside...
---
Motorcycling Through Castro's Cuba...
by Chris Baker

Available from:
---
"The longest, most difficult, and most perilous motorcycle journey ever attempted" - in 1912
by Greg Frazier

Available from:
---
Motorcycling the Pan American Highway's Jungle Gap...
by Ed Culberson

Available from:
---
RTW in 1932!
by Robert Fulton Jr.

Available from:
---
A Septuagenarian Odyssey
by Simon Gandolfi

Available from:
---
There are many 'Helpful People' listed on the Links page, a huge thanks to all of them. How about you? Or you can join a Community, or start your own!
Do you know of a good shop 'on the road,'
. in other words, somewhere there isn't a large number of shops? (Also of course any shop that specializes in travellers equipment and repairs is of interest.) But we're particularly looking for those rare items, good repair shops in South America, Africa and Asia etc. Please post your info in the Repair shops around the world Forum on the HUBB.
There are now 100's of shops listed in out - of - the - way places, from Abidjan to Ghana to Peru! Be sure to check out the HUBB 'Repair shops around the world' forum if you need work done!
Inspiration and information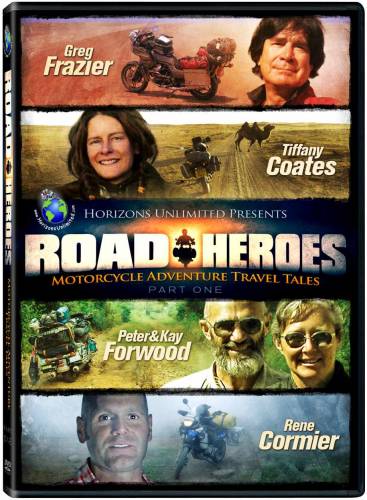 Road Heroes Part 1!
Get your Road Heroes DVD now for inspirational and funny tales from the road!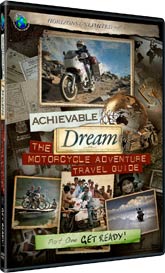 Part 1 - Get Ready!
Get the Achievable Dream DVD's NOW and learn how YOU can get on the road!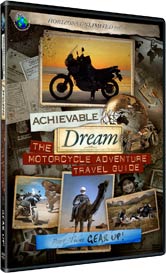 Part 2 - Gear Up!
Get the Achievable Dream DVD's NOW and learn how YOU can get on the road!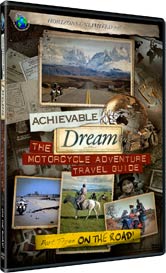 Part 3 - On the Road!
Get the Achievable Dream DVD's NOW and learn how YOU can get on the road!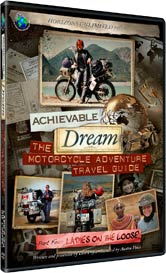 Part 4 - Ladies on the Loose !
Get the Achievable Dream DVD's NOW and learn how YOU can get on the road!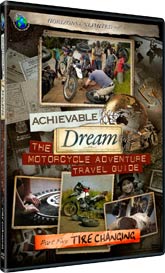 Part 5 - Tire Changing!
Get the Achievable Dream DVD's NOW and learn how YOU can get on the road!
"Checked out of the hotel, in which we had had to stay after not being able to get our Chinese visas until later than expected on Wednesday. That meant that our plans to visit Khustain National Park were also scuppered because there was no time. So we dumped the bags at the ger before going to the Oasis to borrow some tools to dismantle the scoots.
Unfortunately, I dumped myself too, on a steep gravelly hill. The roads are so rough that you have to really rev it to get up slopes but it makes the bike bounce almost uncontrollably - and passing bitey dogs know this. Plus I had the bags on the back, so the front end was light. Consequently, one charged, I revved, almost made it but then hit a big bump and was catapulted off. Had a softer landing than expected though - right onto the partial carcass of a dead animal - possibly a goat or another biker who'd not got as far as me - which was lovely and smelt great. Not. By the time Nads appeared, I was just picking the last of the matted decaying flesh off my arm and shoulder. Nasty.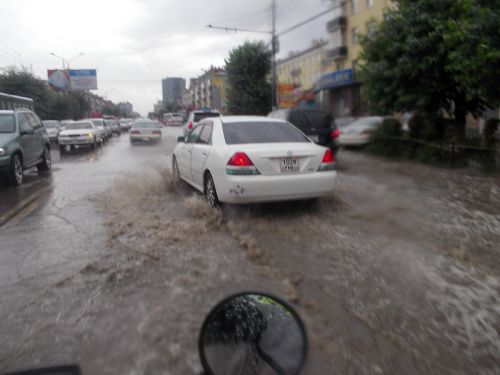 By the time we left the Oasis, the sky was green and the heavens were about to dump on us. Could we make it back before it hit? Nope, not a bit of it. The road was 10cms deep in water in no time - mud, dust and debris flowing out of nearby streets and ditches and into the road. Not that it stopped UB's drivers though; they sped past as they always do, drenching us further. The only consolation was that the water was warm, if filthy.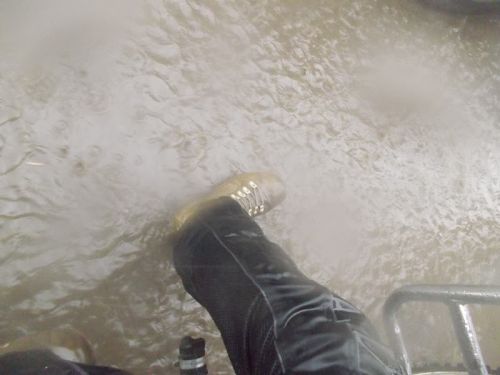 We almost made it back to the ger, but then 100m short we both came off, and this time, it hurt as there was no soft landing. Again it was on a steep gravelly hill, but this time, no dog was involved. The torrential rain had soaked the track so much that it became unstable and the surface started to slip down the hill. We were lucky though and were both flung off as we slipped with it. The bike stopped quite quickly but we didn't, somersaulting backwards back down the hill until getting hooked on some rocks. It must have looked funny though - two whities, soaked through, covered in mud and now lying in a mud river. The bike was hard to pick up because it had landed with its wheels higher than the engine, but after several goes, we managed it ok."
Next Tour Dates: April 24 - May 04, 2013 | May 6 - 16, 2013

This one-way Edelweiss motorcycle trip commences in Italy's impressive capital of Rome, an exciting city. Making our way through the breath-taking beauty of Italy's southern regions, we have time to stop and admire such famous landmarks as Mount Vesuvius, the world-famous Costa Amalfitana and the buried city of Pompeii outside Naples. Riding through unpopulated, hilly roads, we bisect this country from north to south or the other way round depending on which date you choose. After seemingly endless curves with the distant view of Mount Etna always in sight, we reach our final destination, Catania, just in time for a last cappuccino in the Old City before our Southern Italian dream comes to an end.
Sherri Jo Wilkins, Australia/USA, RTW, in Colombia, KTM 690 Enduro,

"I have to admit, first day on my own in a long time was filled with the feeling of freedom and rock and roll! I rode fast to the music and stopped whenever I wanted to stop. There are pluses and minuses to riding on your own, and today is a plus day!
Intrigued by these water houses... from what I can tell, they are set up for fish farming.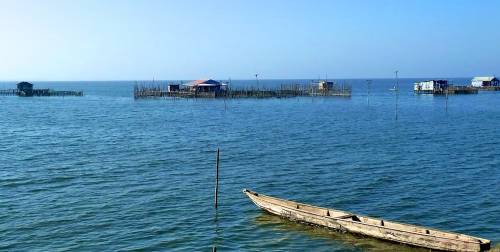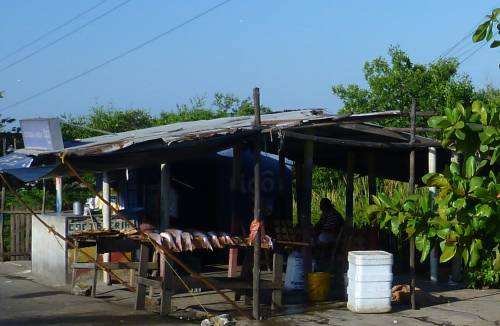 I traveled along the water until I needed to turn inland a bit.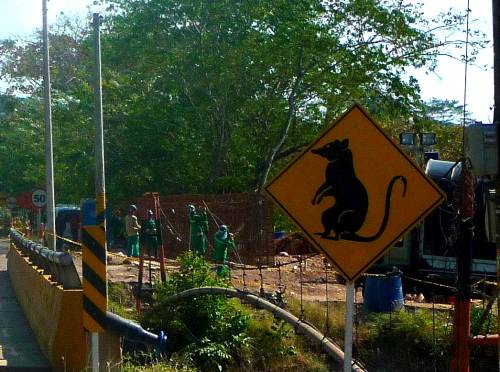 Things got a little rougher here and I had an unusual experience. I came up to a couple cars that were stopped in the road and several people around them in the opposite direction. As I got closer, I noticed the brown rope, so I slowed down and stopped.
The people here were men, but they were dressed like women, very dirty in a rough dread-locky sort of Mad-Max way. I was warned about these rope people. Highway robbery! This is my first and only time it ever happened, so by the time I worked it out, they had surrounded my bike. Only some of them. The others were still working on the little red car on the other side of the road.
They were speaking to me in Spanish and I just pretended I didn't understand, I spoke to them in English. During my nervous conversation with them and pretending to be totally confused about what they were asking for, they let their guard down and were holding the rope only half as high as before. If they were smart, they would have stood in front of my bike, but I quite honestly think they were on drugs anyway. I'm also thinking they were not so forceful with me because I was a woman and alone. I don't know that for sure, but maybe.
With lady-men on each side of my bike, I knew if I rode through the rope, my tire would be enough to push it down and I gunned it!
I was shaking most the rest of the day. That was really scary. No way was I going to take photos, and let them see my camera, but they were quite a sight. I remember the long black dread locks, dresses and skirts, earrings and lipstick, mustaches and very hairy legs. Very surreal, it would have been worthy of a movie scene!
I've been told that sometimes they pull the rope up just as you're passing so you fall off the bike and they rob you then. Since it never happened before, my guard was down. Now I'll keep an eye out for them."
Sean Patrick Dillon, Ireland, Alaska to Argentina, in Guatemala, Honda Cub,

"A Visit to the Cult of Maximon, San Andres Iztapa ...We walked into the church yard and saw the previous fires were dying down and the poor chicken was now being dismantled. A large portion of the concrete yard was scorched black and black smoke hung in the air. We headed into the shrine. There were several tables with candles burning on them and people making their offerings to San Simon. At the back up on steps was the man himself the roque San Simon, people were in line waiting to go up to San Simon and make their requests.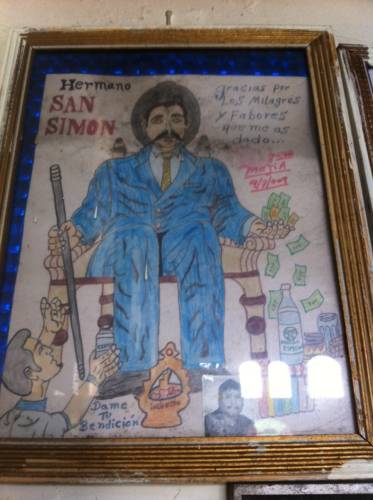 We watched as two men went up. They were well dressed and not like most of the other regular looking Guatemalans about. They looked like the were no strangers to seeing Maximon and perhaps had called on his services before. I imagined them to be gangsters. They pulled out their liquor and dosed the flowers in it and cleansed themselves thoroughly, whipping their entire body, then they drank some liquor and splashed it on the altar, after which they walked backwards from the shrine and stood by a table, lit some candles and drank some more booze.
The walls were covered with thank you notes and plaques to Hermano San Simon. Or brother San Simon in English. And sometimes more affectionately as Hermanito San Simon - Little Brother San Simon. Some said 'Thank you Brother San Simon for my car'. Others said 'Thanks you San Simon for my 3 cars'. And one said 'Thank you San Simon for our new fridge', and showed a picture of it full of beers. I guess San Simon would have been very proud of that.
We went outside to buy some alcohol to give to Brother Maximon. We were very confused what to do and we got chatting the a few kids outside who told us what they thought we should do.
Armed with little more knowledge Doris and I went back to brother San Simon. We cracked open the alcohol and asked that he keep us safe on our travels. I took a generous swig of the booze and splashed some on Maximon and gave him a few bob. Doris repeated the gesture and then picked up some saggy flowers and started to beat me with them, I think maybe a bit of revenge was on her mind from the soaking she had got. After we made our request and offering we left walking backwards..."
Chad and Kyla, NZ, 2-up on a Chinese 250 in South America, in Brasil,
"We had filled up with petrol and were ready for 500km of jungle. Or so we thought. After 100km and a couple of these ferries, we passed an army base, the last of civilization for awhile. No private contractors were willing to rebuild the BR 319, so the army was sent in to do it. The road was originally built to maintain the communication towers every 50 or so km that connect Manaus to the rest of the country. It had not been maintained since the 80's. At the time the 10-15km after the army base was the worst part of the road. We had to repeatedly unload as we sunk stuck into mud up to the bottom of the bags, push the bike through and reload. After valiantly battling through 8km of mud in 2+ hours, the bike decided to completely consume her clutch.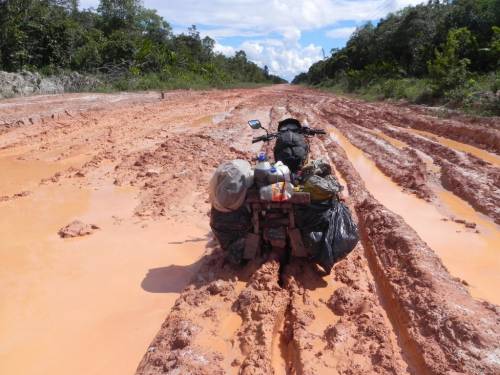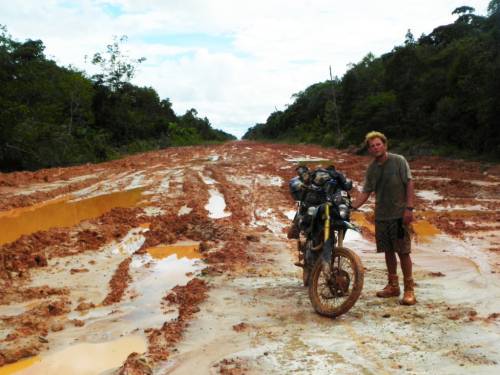 Crap. It's getting on to mid afternoon. No people. No traffic. Decisions.
The bike is given a sad farewell and pushed into the bushes for a night alone. We start the walk back to the army base. Arriving just after dark the army boys are shocked to see two random gringos walking in. Although we can't talk because of our limited Portuguese we end up with an empty dorm room/container to ourselves and leftovers from the mess. I never figured I'd join the Brazilian army for a week but they were great.
After a few hand signals and trying to communicate in broken Spanish, I realised they would love to pick the bike up but they don't have enough diesel which is why they aren't working and why the generator only runs an hour or two a day. So off we trot back up the track with no bags this time and spend the entire day pushing the bike back through 8km of crappy mud with no functioning engine to help.
Getting in on dark we enjoy another meal of salty meat rations and retire to our quarters. The next day one of the army mechanics wants to take a look and it is confirmed. No clutch and the nearest possibility of a replacement is the small town about 100km and two ferry crossings away. The army can't give us a ride because they have no diesel. Joining the army seems the only option. Kyla told the guys somehow it was my birthday and they make pizza for dinner. A unique enough place for a 22nd birthday I guess.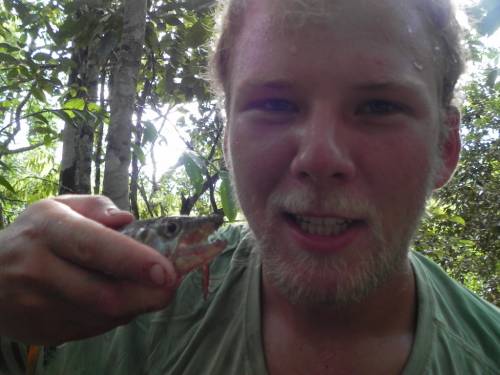 The next day, Renan, the commander returns to camp. He speaks English which is fortunate for us. So the story is they have been waiting longer than they usually wait for fuel because the ferry is broken. In a few days they will drive in a truck our side of the crossing 30km away where a small boat can ferry drums across (and us!)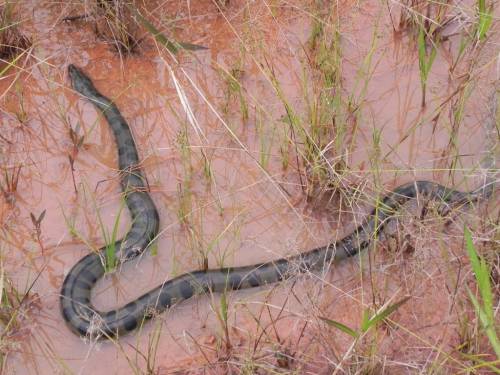 During the next few days we encounter an anaconda cruising through camp, I catch a small fish with big teeth and eat it, we read a lot and live on army rations. Life's not bad when you have a dry place to sleep and food in your stomach."
Andi & Ellen Delis, New Zealand, Alaska to Ushuaia, USA
"On arriving at the park we purchased a National Park Pass as we will be in and out of the parks throughout our US part of the trip, next thing was to find lodgings for the night so we went to the information centre, the place was packed with people pouring in and out like bees from a beehive, the only campground showing up as available being 40 miles away at Lake Bowman so off we went to get there before it filled up.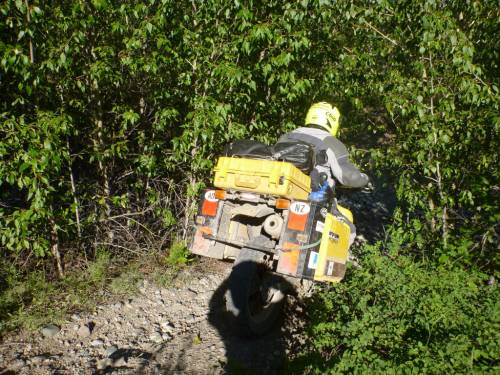 Now... we have two directions, Mrs. Garmins and the Park map... who to believe as they both showed different stuff. Sensibility won over on this occasion and we used the Park map, this turned out to be an adventure in the making as some roads had been blocked by slips so it was combo to get to camp, Mrs. Garmin then sent us down a goat track in which a local agreed we should go that way... I don't think he liked us. From shingle road to dirt track to gravel lump to quad track we came upon a dry creek, the only way through was down across and back up, I knew Ellen did not have the skills so I did the riding part, only another 50 meters and we were back on relatively normalish shingle roads, this then took us into Bowman Lake a neat ride in itself and good practice for Ellen standing on the pegs on loose gravel, powder, rocks twisting and turning up and down.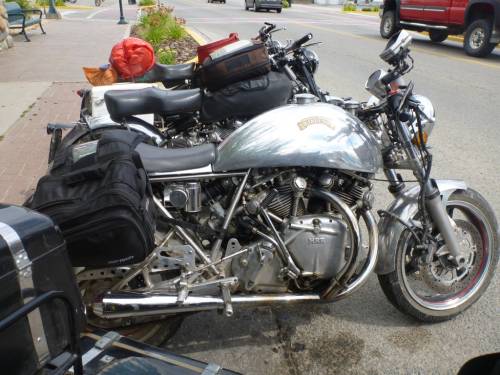 ...On the way we were treated to four Vincents parked on the side of the road ... one of which was a hybrid of some descripts, still camera worthy tho."

Heike Fania, Switzerland and Filippo Fania, Germany, Europe to Australia and beyond, in Pakistan, BMW F650GS and BMW R1150GS,
"The train journey from Quetta to Lahore goes over a distance of approximately 1300 km - right across Pakistan. It took us 36 hours - 36 hours, which were quite an adventure, but, to be honest, which we don't really want to repeat - especially not with the heat during this time of the year. And we even were lucky, because we heard that the journey sometimes can take up to 50 hours...
Originally we wanted to travel this part also by motorcycle. But since we couldn't get the NOC, which is basically the permission to continue travelling from Quetta, due to security issues, we had to load the motorcycles on the train and continue to Lahore this way.
However, this had also some positive side effects for us: on the one hand there was of course a special experience and a new adventure waiting for us by travelling on the train; on the other hand we could also repair Heike's damaged rear tire. And we had decided to spend a little bit more to get tickets for the better air-conditioned class in order to escape the heat because the route goes through the apparently hottest area in Asia. Well, at least we thought we could escape the heat this way.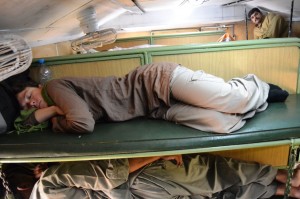 ...We have been travelling through the Karakorum mountain range in the north of Pakistan, between Hindukush and Himalaya now for about 1 week. The landscape here is absolutely stunning and beautiful, and we are experiencing a completely different side of Pakistan than in the plains further in the south, where it is only hot and always dusty.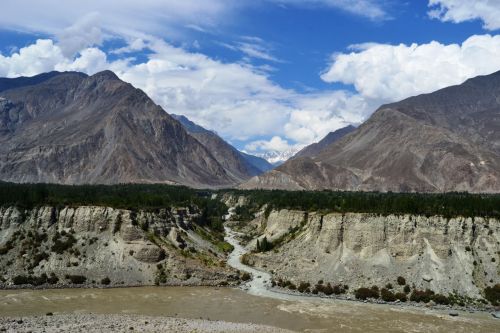 Some of the highest mountains in the world are located in this area, such as the Naga Parbat or the K2. These mighty and ice-covered peaks loom impressively over the barren and steep mountains that are mostly without any vegetation. At the bottom of the valleys big rivers have cut deep into the glacier deposits. In some areas of the mountains there are big trees and dense forests covering the mountains, e.g. around Murree, in other areas vegetation exists only along the river banks, and in the beautiful Hunza Valley in the north, the valley is full of orchards and heavily laden apricot trees.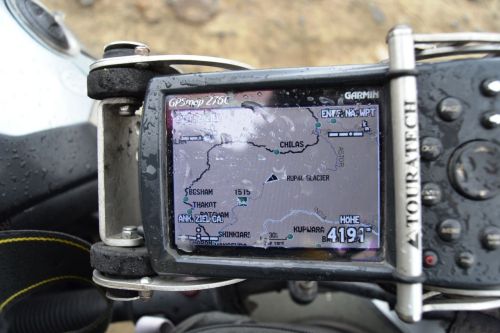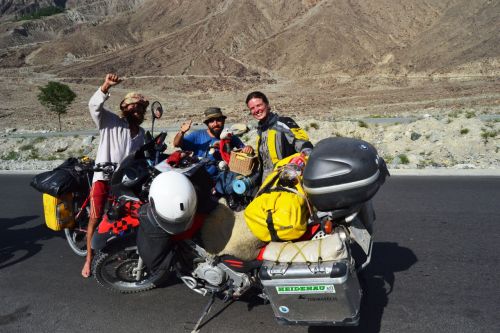 In only one week we already crossed the almost 4200 meters high Bausar pass, we have covered many kilometers of the famous KKH - the Karakorum Highway, which actually has nothing in common with a highway - we have ridden through cold rain, and over hot and dusty roads, we have enjoyed the stunning panorama in Karimabad in the Hunza Valley, and we have visited the lake further in the north, which exists only because a massive landslide has blocked the valley and the river, and thereby cut off the road into China.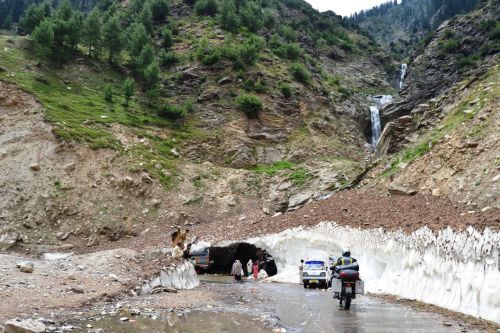 Now we are staying in Gilgit for a few days, and we already have problems sorting the pictures and choosing some for the website. So, it is about time to publish some of them before we get completely lost."
Sara and Dan Pedersen, Canada, the Americas, in USA and Canada, BMW F650GS,

"Daniel did a major bike cleaning and maintenance and changed the oil. We were then ready to head south from Whitehorse. We stopped at Watson Lake for the obligatory photo at the sign Forest.
Liard Hot spring was nice, but the mozzies were voracious. Thanks Barbara for the bug jacket.
Muncho Lake Provincial Park is teeming with wildlife. We saw moose and lots of Bison. There will be no photos from the day we rode to Jasper since it poured for 7 hours. Luckily it cleared up that evening and we had some nice views of the mountains. The Elk here just walk thru town. We toured the sights at Maligne Canyon, Athabaska Falls, and the Columbia Ice fields. We hiked up onto the glacier and had lunch. Camped by the Bow River we were lulled to sleep by the rushing water. The route south thru Kananaskis and Peter Lougheed Provincial Park is incredible. Here we saw Rocky Mountain Big Horn Sheep and mountain goats. Our first UNESCO world heritage site was Head-Smashed-In Buffalo Jump.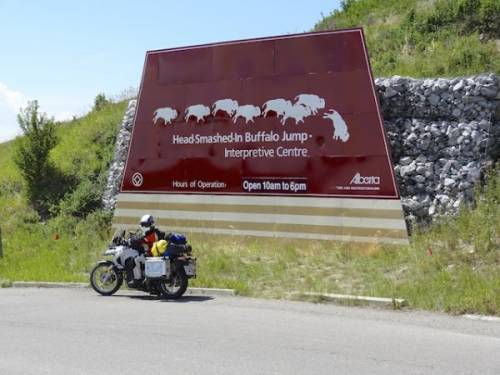 Thanks so much to Stan and Shelley Davey for the 5 star hospitality at the Broken Rail Ranch! We headed for Montana at Chief Mountain. We were sitting in the sun at our campsite when ash began raining down on us. There was a huge brush fire near by requiring a visit from the St Mary volunteer fire department.
The next day we were lucky to have sunshine and a totally unimpeded ride on the Road To The Sun. We were disappointed to learn that bikers are not welcome at the National Bison Range. They told us bikes are not allowed because they have unpaved roads-do they know about the Dempster?"
Brian Foster, Australia, RTW, in Tajikistan and Kyrgyzstan,

"I woke early to pack the bike and witnessed the centuries-old daily ritual of collecting water from the local well using a donkey. Most of the people in this part of the Pamirs are ethnically Kyrgyz not Tajik and their simple lifestyle doesn't appear to have changed for centuries. How they survive under such harsh conditions is truly amazing.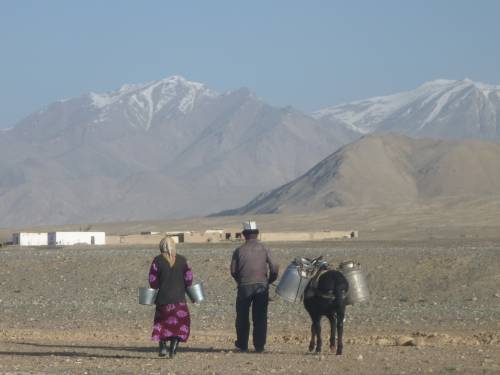 The start to the day was cool but with crystal clear blue skies - a vast improvement over yesterday's Arctic winds. I wasn't the slightest bit hungry but I knew I should eat something, anything, to combat the effects of the gruel from last night. To my horror, the leftovers from the previous night were served up again for breakfast. The goat's milk had been left on the stove overnight and globules of fat and oil were floating on the top. I drank as much of it as I could stomach before excusing myself from the table. I felt sure I would pay for my good manners later in the day.
After breakfast, I finished packing the bike under the silent gaze of the homestay's owner. He seemed intrigued by my now-well practiced routine. The owner spoke no English and despite my many attempts I could never get my tongue around his name.
By 8 am I was on the move again. The 20km to the turn-off to the Wakhan Valley was reasonable bitumen if you call 1970's Palmerston Highway bitumen 'reasonable'. Harry and Linda had warned me that the road deteriorated badly after the turn-off and they weren't exaggerating.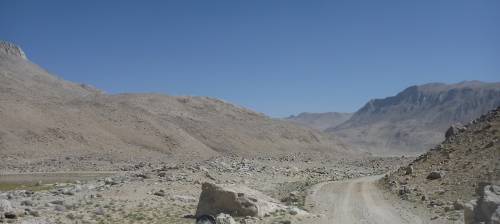 Within 5 km the road turned into rubble and sand. And I still had 100km to go. It was back to a 1st gear crawl for most of it. Sometimes I even managed to get into 2nd gear. About 15-20km after the turn-off the rancid goat's milk had its inevitable after-effect. I brought the bike to a sudden stop and, in the absence of anything resembling a tree, searched for a likely looking rock a discreet distance off the road."

Ferris Wheels Motorcycle Safaris are one of the pioneers of the motorcycle tour industry. We have been taking clients professionally to the highest road in the world several times a year since 1994; over 50 times now! Other exotic destinations include Morocco, Turkey, Bhutan, South America, and the Dalmatian Coastline.

All fully-detailed itineraries can be found at www.ferriswheels.com.au where you may also find countless client accolades and many press articles endorsing our tours over the past 15 years or so, and request our free DVD!
Chris and Chloe Granger, UK, Buenos Aires to Vancouver, in Peru, F650GS DAKAR and F650GS,
"Next stop, Pisaq. Dropping down into the valley to the north of Cusco, we enter the Sacred Valley of the Incas. Along this valley are dozens of ruins, mostly temple complexes, but also some substantial 'cities' such as Pisaq, perched above the valley, on a hilltop, surrounded by steep and precarious looking terracing. Medieval castle perched on a cliff springs to mind when looking at the grey stone walls and look-out posts scanning the valley below...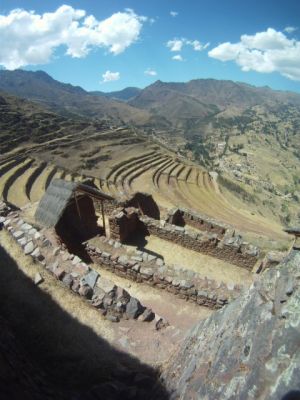 ...We arrived in Ollantaytambo, yet another sacred Inca city, by late afternoon, ready for a beer and some gentle wandering about. Ollantaytambo is one of the prettiest and quaintest little towns we've seen yet. Huge, thick Incan walls rise out of the ground to support little roofs and make way for tiny narrow cobbled streets.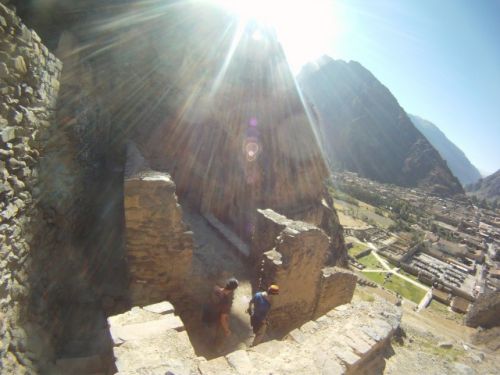 The original water system now restored, brings freshwater from the mountains, running down the streets, pooling in mini reservoirs, and rushing through open channels. The ruins of the temple complex tower over the town as the terracing marches up the hill, atop sitting the Temples and associated accommodation for the priests, priestesses and High Incans."
Patrick McCarthy, Pat around the Americas, in Texas,

"The arrival of some pretty hot weather saw us up and out well before dawn, as we calmly made our way up the 83 and onto the 90 west at Uvalde. The roads were predictably good, but the landscape unremarkable and generally flat. We didn't spot Southfork (the Dallas series has recently been regenerated in the USA - yep JR and Bobby are back - and are getting good reviews) but we did pass numerous ranch gates, some of which were quite artistic. We also passed some curious road signs, such as 'Hitchhikers may be escaped convicts'.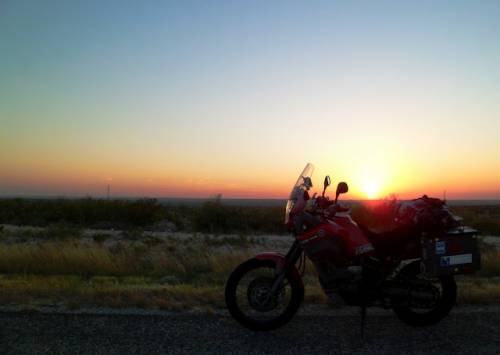 When the temperature got back into the 40s we, again, pulled in for the day - this time in Del Rio at a Motel 6 (a network of cheap motels which we were to use regularly throughout the lower 48). These places were also a great opportunity to meet up with fellow motorcycle travellers, and this was no exception. Mike Marrion (Harley Ultra), the impressively bearded former marine and police officer and I passed an enjoyable few hours talking about our respective travels. Cool guy who, now well in to retirement, was on his last distance bike trip revisiting the various states on a coast to coast run. The next day was another attempt to beat the sun as we trundled west (90) through Bantry and stopping in Sanderson for a refuel and some of the best coffee of the trip so far (at the small town petrol station, and made fresh by the owner).
Chatting to the locals at the fuel stop, saw us then continuing along the 90 through Alpine, a more scenic route, rather than heading up to the Interstate. I didn't enjoy riding the Interstates, which are faster and generally more exposed (they seem to all be built up from ground level) to the high winds currently battering the western half of the USA.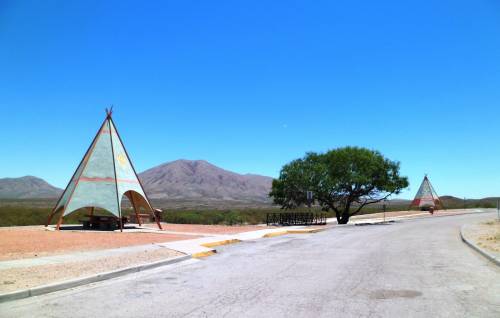 It was a pleasant ride, though I noted in my day log that it getting hot by 10 o'clock each day was a bit odd, and having to stop by 2 was surprising. But I was not going to ride without my armoured gear - and my armoured gear was not going to let me ride such high temperatures in comfort, despite being vented etc. I also concluded that if I was going to ride in such a climate again, I would not choose to use a black crash helmet - which only seemed to magnify the searing heat. So we stopped for the day in El Paso, right on the New Mexico border, which sounded just like another western movie - but didn't look it - it being a modern and bustling border city. A chance to catch up on some writing and do a bit of basic maintenance on Idris (as soon as that sun passed overhead and put the car park in shadow that is)."
Ekke and Audrey Kok, Canada, Circumnavigation of Asia, in Russia, R1200GS, F650GS,
"In St. Petersburg - after a quick breakfast we decided to do a walking tour laid out in Lonely Planet. We had lost an hour crossing the border to Russia, so it was difficult getting up early. It was very pleasant walking up Nevsky Prospekt and it was just unbelievable how many really outstanding buildings we saw. At one time, everyone wanted to live on lively Nevsky, and a lot of nobles built huge mansions with courtyards there, all highly decorated with classical statues or columns.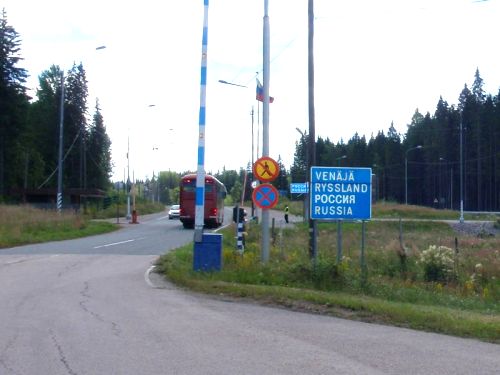 Our walking tour went out the window when we looked down one street. At the end of the canal was the most beautiful sight. Golden domes sparkling in the sunshine, more domes a riot of colours, greens and blues and yellows, looking like giant soft ice-cream cones. We had to go check it out. The structure was the Church of Spilled Blood and was built on the spot where Tsar Alexander II was assassinated while riding in his carriage. What a great monument to him. After paying a small fee we were able to go inside. Every centimetre was covered in a beautiful mural depicting biblical scenes, gold and marble everywhere. We were awestruck.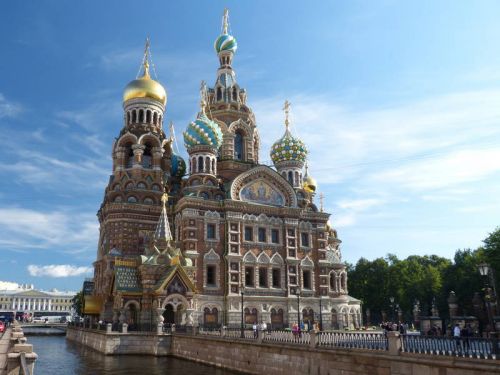 In Moscow - on our day off we thought that we could beat the crowds and go down to Red Square with the motorcycles for a photo opportunity.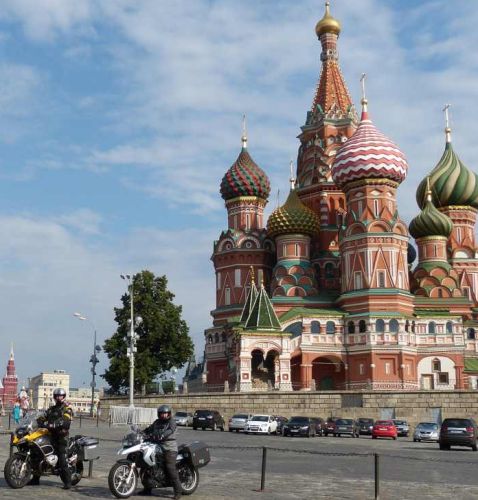 Sure enough we found a spot in front of (or more accurately behind) St. Basil's Cathedral and snapped a few shots before various tour groups came through. Every one of them wanted to take pictures of us. And pictures of themselves with us. I think there were at least four separate tour groups (Chinese, Japanese, Korean and German) that came through. A Russian guy even wanted his picture taken with himself sitting on my bike. It was rather fun being a celebrity but we were soaked in sweat from standing around in the heat in our full motorcycle gear."
"Mongolia provided an intense 7 day off-road experience which pushed us and the bikes to the extreme. A number of visa problems when leaving Russia cost us an additional day at Tsagaannuur, a dusty border town with little more on offer than the home brew available from what they call a supermarket. 'Tinned Fish Store' seemed a more appropriate name. Apparently we didn't fill out the correct visa registration form upon arrival at the first hotel in Russia over a month ago so the officials had us over a barrel. After plucking the final price from the air, once they were satisfied they had treated themselves to the remainder of our Russian Rubles, we successfully crossed the border into Mongolia. At this stage we were still on the Bridgestone road tyres which had made it all the way from the UK. The plan was to stick with the original tyres for as long as possible to ensure that the dirt tyres we had strapped to the back of the bikes made it back up to Russia and be in relatively good shape for the BAM road.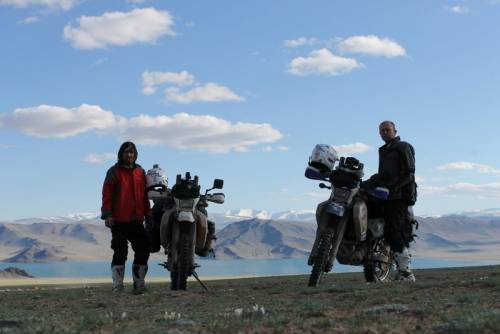 Well... that plan quickly turned to shit. As did the road. The tarmac turns in to a dusty trail immediately after crossing the border which then continues to climb to an altitude of around 2500 meters. The landscape was immediately different to the Altai mountain range we had just left in Russia and completely different to anything I'd ever seen before. It felt like we had just been dropped on the moon. It was late afternoon by the time we had covered the first 30 or so Mongolian miles after the border issues and some seriously heavy black clouds opened up above us. The road turned to a massive mud bath and we were stuck on the top of a mountain pass with no shelter from the elements and absolutely no grip from the tyres. It was our first real 'We're really in trouble here' moment and we'd been in Mongolia for less than an hour.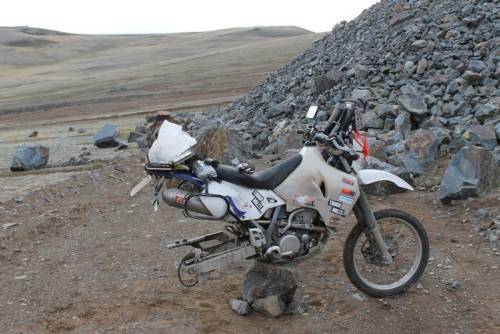 We struggled as far down the pass as we could to a group of rocks which not only offered some shelter from the wind but later, once the storm had passed, acted as the perfect bike stand to change the tyres. The following day the bikes were re-born and ready for whatever off-road action Mongolia had in store for them.
On the advice of two Russian bikers we met coming in the opposite direction at the border, we opted for what turned out to be a desert route through the southern region of Mongolia. Our lack of exposure to riding in sand meant we had a lot to learn in a very short space of time. Short of a few low-speed crashes and some clumsy drops, we made it through the entire Mongolia experience with little more than a few bruises and a couple of scratches on the bikes.
All land in Mongolia is public land which means that we could camp wherever we saw fit. There are very few roads on in the Western side and it's nothing more than dirt trails connecting very small villages. Riding through it you encounter all sorts of surfaces and terrains. It's an off-road enthusiasts dream and would make the perfect setting for the Dakar race. There are simply no road rules. Of a morning we'd set the GPS compass to the direction of Ulaanbaatar, start riding and just see what river crossings and other obstacles are thrown up at you. If there is no trail then you have to make your own. It wasn't uncommon for us not to encounter any other vehicles for an entire day unless we ventured towards one of the villages in search of supplies.
Every night in Mongolia was spent camping quite literally in the middle of nowhere. The night prior to reaching Ulaanbaatar, we were both sat in the entrances to each of our tents facing each other, cooking up the daily default dish of noodles. Seen as we had made it that far we decided to really push the boat out and opted for the chicken flavour. I saw Jon looking behind me when he announced that there is a cowboy next to my tent. It was following the exact script of the Long Way Round. An absolutely text-book Mongolia experience.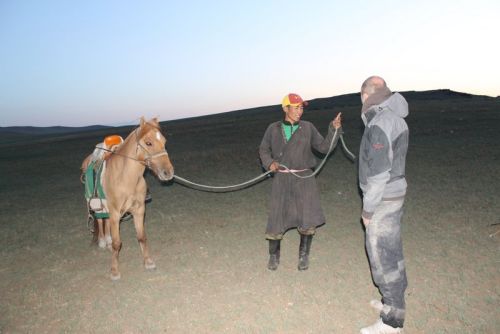 I jumped up to greet him and noticed he was dressed in full Mongolian attire and stepped down from his well-groomed horse. We shook hands. I looked at him, he looked at me. I don't know who was more surprised and fascinated but either way we just continued to stare at each other. We both made an effort to communicate but it seemed it was only a funny sheep noise he would respond to. We think we established that his herd of sheep was just over the next valley."
Ionut and Ana, Romania, Trans-Africa, in Egypt?, Yamaha Tenere,
"We need to admit this upfront: It's been a fast one. It's been hard to wrap our heads around it, with countries changing sometimes on a weekly basis. The East route is arguably considered The Easy One. Partly because you can basically drive a fully automatic city car all the way. It's tarred, except for the Moyale-Marsabit stretch, hailed as the suspension-killer of Africa. Frankly, the dreaded stretch was a bore. The Turkana route sounds far more adventurous and rewarding. We eluded the asphalt curse a few times, to pamper our Yamaha in some dirt and our souls in open horizons.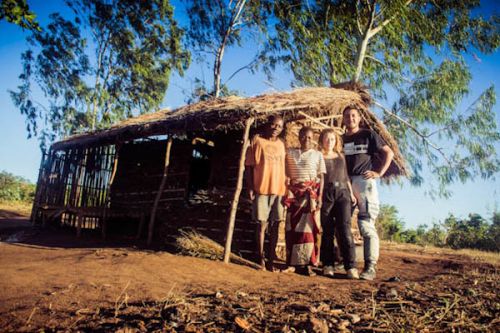 The East Route is also The Expensive Route. No more pricey visas, but less rice'n beans mamas, more 'budget' campsites, more temptations (safaris etc). Few of us out here manage to do the road and trek $500/hour gorillas while at it. Sometimes it's like spying from the street through the windows of a posh mansion where $25 per bottle bergamot-scented sea salt is a staple. A bit frustrating. Until you meet the people. East Africans are more mellow. Smiles flow, bush camping is a treat and hospitality paramount. Besides a sense of accomplishment, we note our only regret that we didn't linger.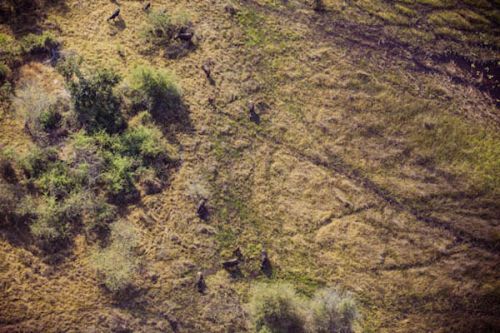 The highlights of this segment of ITW have been: The uber hospitable motorcycling community of South Africa & the Jones family from the vibrant Johannesburg. Destination we'd most like to return to: Mozambique. The friendliest people, a chilled afro-latino vibe and lots of wilderness to get lost into across the little visited northern provinces."

Ian Moor, UK, Wrong Way Round The World, in Bolivia, BMW F650GS,
"The following day saw us setting off after breakfast in the cold early morning and after an hour or so we were turning off the Pan Americana onto Highway Six, the direct road to Sucre. At a small mining town we stuck to what appeared to be the main road but ended up at a barrier at the entrance to the mine. Our road was on the other side of the river but after a chat with the mine security guards they allowed us to ride onto the mine property and cross the river on a rickety railway bridge. One of the steel plates bent alarmingly as the others rode over it but if it carried their weight I wasn't unduly worried, I was more concerned with getting a very wide bike over a very narrow footpath at the side of the railway track.
After the excitement of crossing the railway bridge and getting back onto Highway Six it changed to a dirt road although the surface was ok most of the time our speed dropped, particularly mine. The real problems started when we arrived at another road barrier. The road was closed until 6pm for roadworks. We could wait over four hours by which time it would be getting dark or take the detour. As it turned out it would have been quicker and easier to camp at the barrier and continue on Highway Six the following morning but at the time there wasn't any discussion we headed off onto the detour without knowing how long it was or what the road was like. It turned out to be a rough, narrow track which I found particularly tiring. We pulled into a village around 5pm which judging by the crowd that quickly assembled wasn't used to strange visitors on large motorcycles. Nick and Fletch went off to look for supplies and to see if there was any accommodation available while I kept an eye on the bikes. There was no possibility of getting to Sucre that day. The village didn't have anywhere for us to stay so we headed back onto the Alto Plano to find a campsite.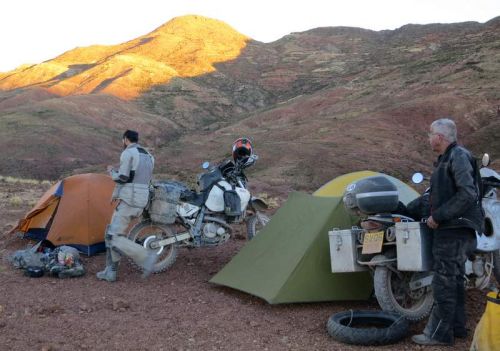 We found a scenic spot off the road and out of the worst of the wind, quickly got the tents up and rustled up some food with the scant supplies we had between us then climbed into our tents before it got too cold. Being slower than Nick and Fletch I set off first the following morning confident that it wouldn't take long for them to catch up. There was a rough, fairly deep river crossing that I got through but had to put a foot down; getting a boot full of icy water in the process. Knowing the others wouldn't be far behind I waited to get photos of them at the river crossing, the first of several we had to tackle that day.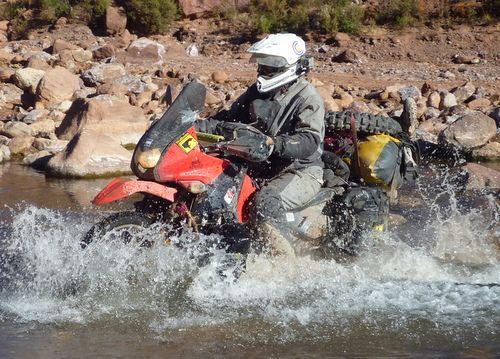 ...On the Pan Americana Highway between Potosi and Oruro I came across my first and only Bolivian road blocked by demonstrators. A line of parked vehicles was the first indication; then the deserted road ahead was strewn with truck loads of rocks. I pulled up at the front of the queue where someone told me the next six kilometres of road were blocked. There was no sign of any demonstrators and I decided to walk further ahead to see what was going on. Over the brow of a hill I saw a group of fifty to sixty people with some flags planted in the middle of the road. I asked one man if I would be allowed to pass on a motorcycle and was redirected to the group leader who after asking a few questions agreed to let me ride through.
When I returned to the demonstrators on the bike half an hour later a lady in a bowler had deliberately walked in front of me to place a stick on the road between two rocks to block the gap I was riding towards. It was easy enough to find another gap but I made a point of waving and shouting my thanks to the guy who had given me permission to cross to let the other demonstrators know I was allowed to cross. There were several other groups of demonstrators scattered along several kilometres of road and I had to repeat my plea to be allowed to continue. I was worried that one group might refuse and I would end up stuck in the middle which nearly happened to me in similar circumstances in Guatemala. Whilst I was slowly weaving through all the stones hundreds of bus passengers were carrying their luggage across the area sealed off by the demonstration. The bus companies had buses at either end but passengers had to disembark and carry their bags to the buses waiting on the opposite side of the protesters.
In the end I didn't have problems getting fuel in Bolivia although I did fill up more frequently just in case. The forms at the filling stations were rarely completed, On one occasion the attendant forgot to charge the foreigner surcharge on fuel and I forgot to remind him. The country seems to be tackling the poor roads with more newly paved sections being completed all the time although in the short term this does create more delays and diversions because of the work being carried out."

"The wind-swept, desolate archipelago that hosts the mythical town of Ushuaia, the end of the road for many a weary travellers' long journeys through the American continent. Land of the Fire - divided from mainland South America by the Strait of Magellan, it is the last piece of fragmented land before Antarctica.
So we're in Punta Arenas, right? We're there, we've seen the city, we have a plane ticket for a flight back to Santiago (capital of Chile, 2200km to the north) and four days to spare. We're a mere 1,400km off the coast of Antarctica and wondering how to best spend our last moments of a great journey.
The answer jumps right out at us, as these things usually do. Four cyclists on Long Haul Truckers (same model as our bikes) turn up at the Hostal Independencia where we're staying. 'The Ozzie Girls' (Megs & Jules) and Chris & Jako, all of who we had met before, some on the Carretera Austral, some as far back as the extreme Lagoon Route that connects San Pedro de Atacama to the Salar de Uyuni in Bolivia. They're heading South, to Ushuaia and tell us about a King Penguin colony that, remarkably, has established itself on the Isla Grande de Tierra del Fuego. i.e. a mere 100km or so ride from Punta Arenas. Totally within our reach.
We don't need any convincing - we'll make the best out of these last days! We decide to follow them South till the penguin colony, and then hurry back to Punta Arenas to catch our plane.
Thus Team Surly is assembled (we all ride Surly bicycles, so thought it would be an appropriate name), and we all trot off to the port to catch the ferry that will take us across the Strait of Magellan onto Porvenir, the largest (only?) town in the Chilean half of Tierra del Fuego.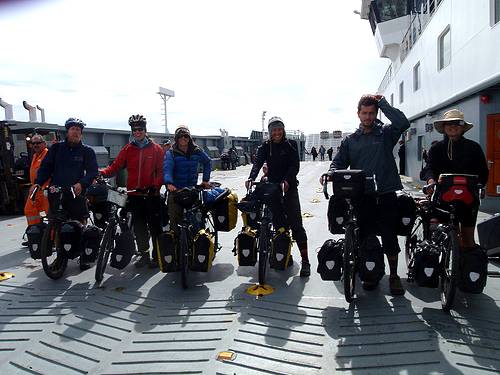 We push on for most of the day, until we come to something that looks like a camping opportunity that must not be overlooked. We're been riding through barren lands today - no trees or dramatic cliffs of any kind to protect us from the wind. When you're on the bike and going in the right direction that's fine, but when you want to relax and cook, the wind can be a major hassle. Not to mention that winds in this region can tear your tent to shreds if you don't protect it adequately.
But here are a couple of trees that will provide some sort of protection and the opportunity is too good to be missed. So we camp.
Now, there's a small problem. We're running low on water. For some reason I thought that Tierra del Fuego would be this lush land full of rivers, but all streams we've seen are dry - probably because of the season. We have enough water to drink, but not enough to cook with. Chris and Jako are in a similar state.
So Chris and I puff up our chests, round up our largest water bags (a good 10Lt each) and announce to 'the women' that 'the men' will go out in search of water.
What a noble thing to do, right? (it also conveniently means we're off setting-up-camp duty)
So off we ride, Chris and I, on our bikes, heading further East, thinking that surely we should find water any minute now, with the sun already lowering towards the West, our legs already tired from a day's riding, our bellies empty and the knowledge that every pedal stroke we take, puts another one between us and the Team Surly camp.
I'm the first one to cry 'water! water!' when I spot something shining in the distance, a good 100m to the right of the road. I park my bike, take my water bag and start jumping over fences to reach what appears to be a natural puddle.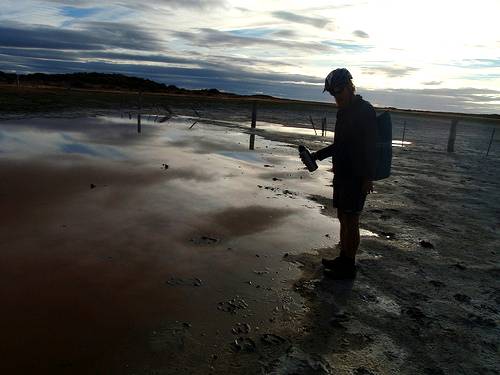 Chris joins me a few seconds later, takes one look at the puddle and says 'This is a pool of guanaco pee'.
I'm slightly hurt by his harsh assessment of the water source I identified, but, unwavering, go on to try to convince him that our magical LifeSaver bottle (our water filter/purifier) can convert even Guanaco Pee to Evian.
For some reason Chris is unconvinced, so we turn back, jump on the bikes, and ride on.
A few miles down the road we find a much better source of water:
Now, I know what you're thinking, but this drainage thing is completely kosher - it's not, I repeat *NOT* a sewage drain. Just a hole under the road to help the water streaming down the other end of the road make it across without sweeping the road over. You just can't tell from the photo.
So the stream is also dry, but luckily a small pool of water remains. We collect a good 20 litres of it and, our bikes heavy with water, take the road back to Camp Surly.
Back at the camp we enter victorious, follow Jules' advice to quickly hide the dodgy-looking water bags and immediately start filtering the stuff with our LifeSaver bottle, which, bless it, is starting to act up and is extremely difficult to pump. This is probably an indication of the filter having clogged and not doing its work, but I decide to keep that little detail to myself.
After filtering all water (which takes bloody ages with the LifeSaver bottle anyway, let alone with a malfunctioning one!) and putting it into 'clean' containers, we also boil our cooking water, and have a lovely dinner."
Jet Jackson, Australia, Europe and the Americas, in France and Spain, F650GS Twin,
At least 2 years, 4 continents, 1 bike, and a few broken hearts... So far I have held out through a typhoon in the Philippines, trained in Martial Arts in China and taken the Trans Mongolian railroad across Russia. Now I am in London where I have bought an F650GS Twin to ride Europe. Since I am on 2 wheels now it is time to start a ride report...
...It's the homeward stretch to Avignon now, about 250k's of twisties and country roads. It's about 4 in the afternoon and I have been on the road for 8 hour with little more than a couple of 5 minute breaks.
When we came through this area weeks before everything was covered in snow. Now it has melted and the landscape is entirely unrecognisable to me. I hate to say, without the snow, it has lost a bit of the magic. I focus on pushing into the turns. Without Nicole on the bike I can really carve my way through the mountains. Pushing the bike, twisting the throttle, punching the brakes. Of course I am not the only thing on the road and often get stuck behind cars, slowing me down. I have a resolve to reach a destination and an adrenalin gland that might as well be hard wired to the throttle.
We slow into a town, 50kph and I see my opportunity to overtake. Dialling up a good 80k's I cross double lines to overtake the car. In only 3 weeks I have already started to ignore the rules, as the saying goes 'When in Rome...' but I wasn't in Rome anymore and the Gendarmerie are standing at the end of the road. They motion to me to pull over.
Shit. The adrenalin injectors in my stomach fire and my heart rate kicks into a higher gear. This is the first time that I have been pulled over by an official on my entire trip. I have only heard bad things about the 'Gendarmerie'. My insurance paperwork, my license - everything is going to be put to the test. The French cop asks for my papers. I get them out. He looks them over. Looks over at me and smiles.
'Slow down on the turns.'
Hands me back my paperwork.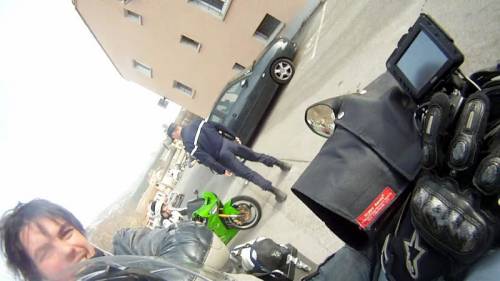 Poker face. You can't look happy in this situation. I pack the bike up while he pulls over the Kawasaki I passed minutes earlier.
...Back home in my office cubicle I had one particular fantasy. I am in the desert, alone, somewhere in the US, Arizona maybe, on a deserted highway, on a bike, the type of which is unimportant. The sun is shining through my visor. It's not too hot, just warm like a friendly hug. I feel excited and I feel free. I have the means to go wherever I want but I am in that one place, not because I have to be, but because I choose to be. I don't know where I am going in the fantasy but I am in transit. Between destinations. The important part in the fantasy is not where I am going but that I am going.
It is a rare and fleeting state, but in that ride to Can Jou in the North of Spain, with the sun shining on me I feel like I am living the fantasy. My transit takes me through the rustic parts of France to the border with Spain. Two years of Spanish classes under my belt and I am keen to put it to use. That being said I have made the decision to volunteer in Catalunya so I can be closer to Nicole and well, I like the idea of riding and working with horses in the mountains.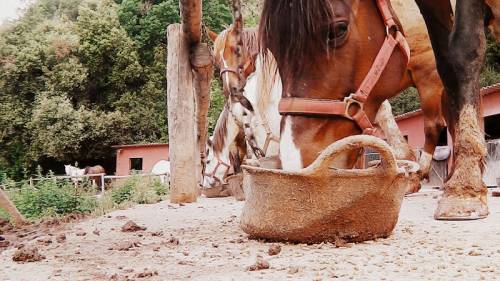 A typical day at Can Jou starts at 8am. Wake up and head down to the stables. Feed the horses, work them in the arena, send them out and then start work on any other tasks that might need doing. Greasing saddles and bridles, mending fences, trimming lawns and just general tasks around the farm. Horse blankets would also need washing, everyone's least favourite job as the smell was less than favourable..."
Tiffany Coates, UK, RTW traveller, picking up points in Arkansas, R80 GS,
"We'd arrived in Arkansas, and these little creatures were everywhere:
I finally reached the Ozarks, and what pretty hills they are, I needed to gain points for the GS Giant Adventure Summit and so took a forest route, my first serious off-roading for a while. I didn't have a very good map, but the nice man at the welcome centre (they're an American version of Tourist Information Centres) had made a few suggestions and pointed me in the direction of some horse trails that were suitable for motorised vehicles. What a mistake that was, in England we have bridleways for people on horses and they tend to be leisurely tracks across fields. They are sometimes shared with other track users as well, after I entered the forest, I realised this was a very different situation.
I checked the signs as I headed along this trail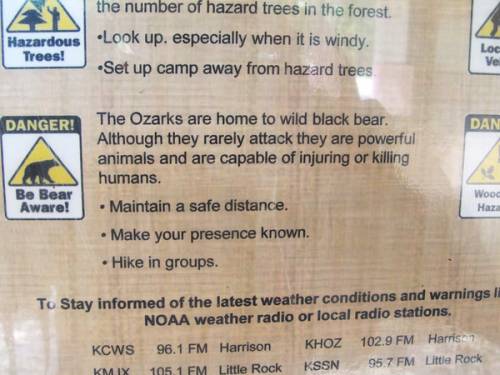 Great, just to add to my problems I am now facing bears as well, I had no idea that there were bears this far south. I decided to keep moving.
The route ahead had some steps in it with a drop off at the bottom, I needed to try and haul rocks to make the drop off easier to negotiate. But Thelma was on a slope and I couldn't put the side stand down, hence I had to do this.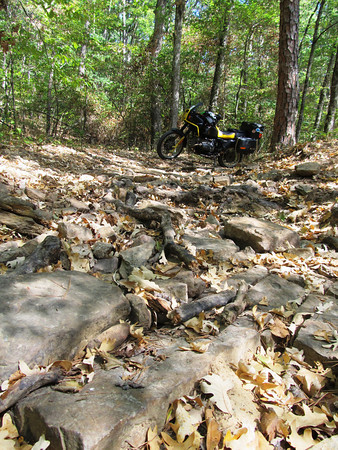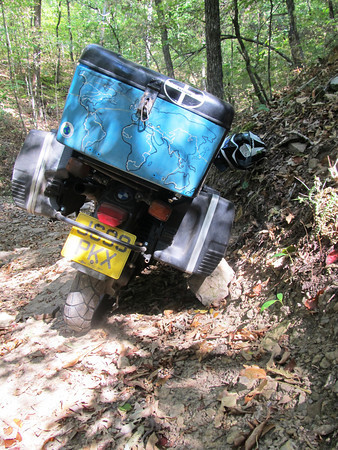 I got through that bit, and the the upward slope on the other side was worse..."
More stories below...

We got hundreds of great pics, it was very hard, but the results are in! Congratulations to the 2012 Photo Contest winners: Martin Hurley, Austin Shelton, Angela Perry, Poya Pourghaderi, Amit Mukherjee, Marcos Da Fieno, Alberto Lara, Maximilian Volders, Hubert Kriegel, Werner Steffens and Claudia Sabel, Igor Djokovic, Naomi Tweddle and Gregor Zajac.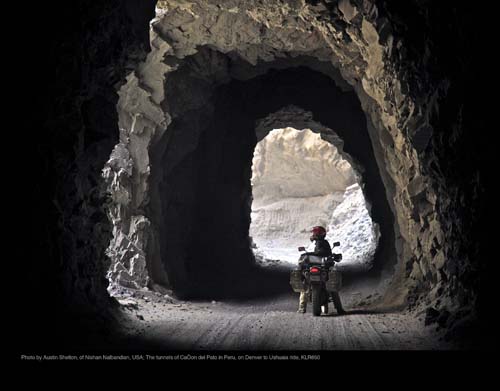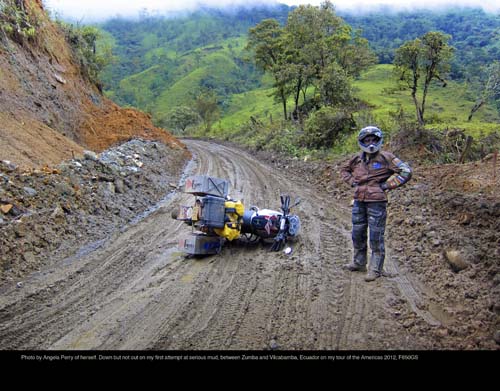 Other Winners (all winners share in the 2012 calendar profits)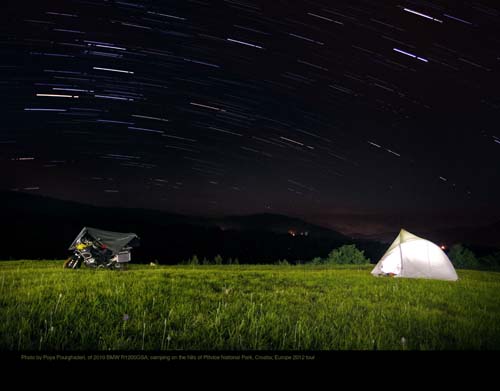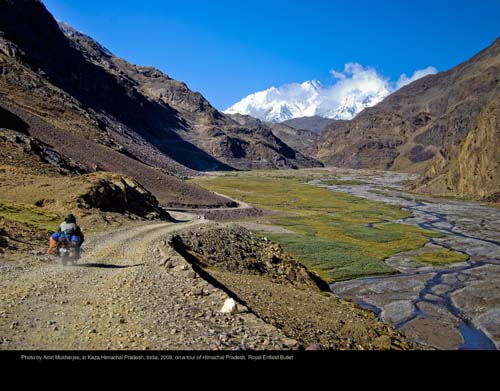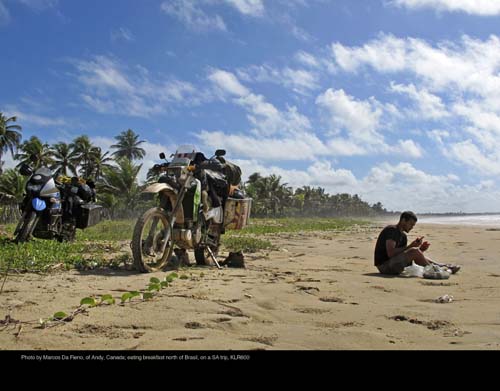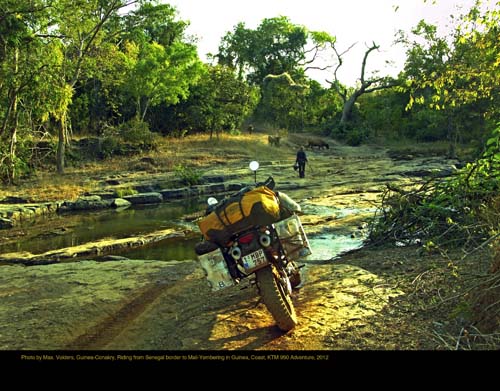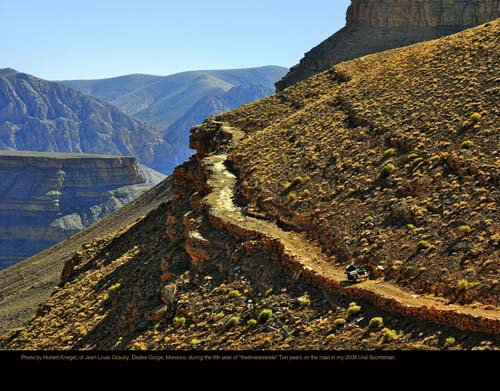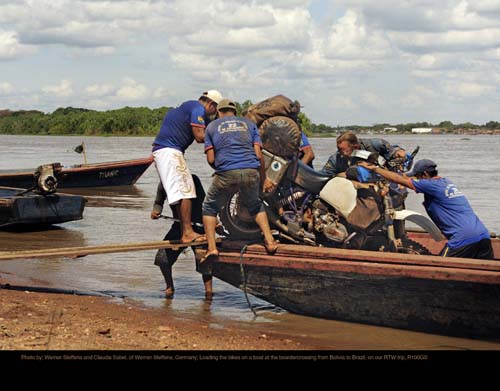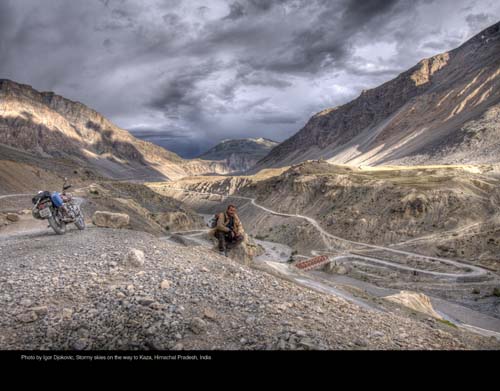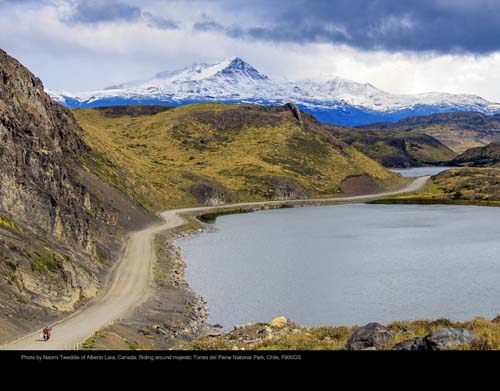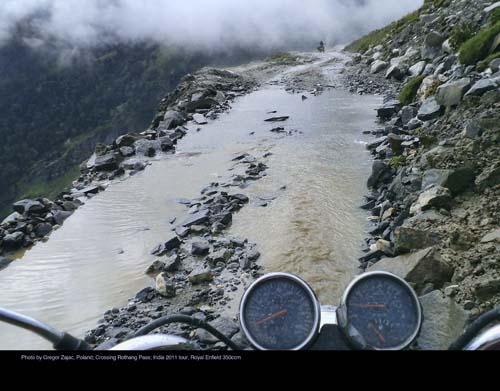 The contest is now an annual event, where you can showcase your best photos, and they can help inspire others to get on the road too.
Grand Prize is a South America Tour with Compass Expeditions!

Dec 2013 to Jan 2014 - This wonderful 9 day tour by Compass Expeditions explores the scenic wonderland of the famous Chilean Lakes District, the frontier lands of Chiloe Island and the epic riding experienced as you cross the Andes and ride into Argentina. As with all Compass Expeditions rides the lucky winner will be aboard a BMW F650GS Twin. Approximate Value at time of writing: $3990. You are responsible for your transport to the start point of the Tour. Airfares and transport are NOT included.
First Prize is a Progressive Suspension Makeover, approx value US$650. (This prize is ONLY for winners in the USA and Canada.)
(The shock is available for popular models only, not all. Winner is responsible for any customs and duties payable. Progressive Suspension is awarded rights to use the Photo in promotion and advertising).

ALSO: The best 13 photos will be used in the calendar, and those photographers will share equally in half the proceeds. All Winners will also get a free 2013 calendar, and 1 year Gold Member status on the HUBB! Your photos could also be in an HU DVD!
To enter the 2013 contest, start here! Ends August 1 2013!