Too many to list! If you haven't checked out the Links page it's time you did - it's huge, and a fascinating browse.
---
Get your website listed in the LINKS Section
by listing Horizons Unlimited on YOUR web site, let me know you've done it by mailing me a link to the page, and you may get listed here in the next newsletter and on the Horizons Unlimited web site Links page. To make it easy for you, we even have our logo and link code here! From there you can request your link.
All sites will be considered for listing, but must be a MOTORCYCLE or TRAVEL site, useful or of interest in some way to travellers. We reserve the right to refuse to link back.


Motorcycle Express
MC Air Shipping, (uncrated) USA / Canada / Europe and other areas. Be sure to say "Horizons Unlimited" to get your $25 discount on Shipping!
Insurance - see: For foreigners traveling in US and Canada and for Americans and Canadians traveling in other countries, then mail it to MC Express and get your HU $15 discount!
There are many 'Helpful People' listed on the Links page, a huge thanks to all of them. How about you? Or you can join a Community, or start your own!
Do you know of a good shop 'on the road,'
. in other words, somewhere there isn't a large number of shops? (Also of course any shop that specializes in travellers equipment and repairs is of interest.) But we're particularly looking for those rare items, good repair shops in South America, Africa and Asia etc. Please post your info in the Repair shops around the world Forum on the HUBB.
There are now 100's of shops listed in out - of - the - way places, from Abidjan to Ghana to Peru! Be sure to check out the HUBB 'Repair shops around the world' forum if you need work done!
When you meet people on the road, and they haven't heard of this e-zine or the website, we'd appreciate it (and hope they would too!) if you'd get their names and email addresses and send it in to me.
Thanks, Grant
Request for info
Wouldn't YOU like to know all about the border you're approaching - what it should cost, paperwork required, 'tips' needed, and who to talk to, etc.?
When you cross ANY border, take some notes, and pass them on to us. Thanks!
Shipping
The Shipping page on the site is HUGE! It can be reached directly or from the Shipping link on the Trip Planning page.
Travel Advisories:
The Foreign Office in London's Travel Advice Unit advises against travel to all sorts of places. Check out the listing before you start!
The US State Department regularly issues updated travel advisories, information and/or warnings.
Motocare
Motorcycle Rental, hiring Honda's Transalp for touring Argentina and Chile. Ride across the Andes, from the Atlantic Ocean to the Pacific, lakes, deserts, salt pans, waterfalls, beaches, rain forests, glaciers.
Motocare Argentina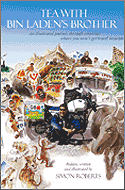 Tea with Bin Laden's Brother, by Simon Roberts
An Adventure motorbiking graphic novel telling the gripping story of a solo ride through Iran, Pakistan and India to Nepal. Take a look inside...
---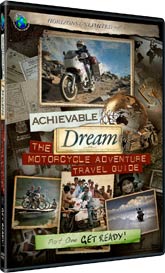 Part 1 - Get Ready!
Get the Achievable Dream DVD's NOW and learn how YOU can get on the road!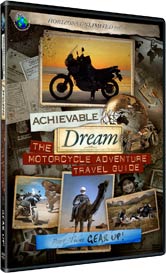 Part 2 - Gear Up!
Get the Achievable Dream DVD's NOW and learn how YOU can get on the road!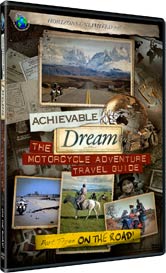 Part 3 - On the Road!
Get the Achievable Dream DVD's NOW and learn how YOU can get on the road!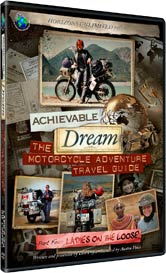 Part 4 - Ladies on the Loose !
Get the Achievable Dream DVD's NOW and learn how YOU can get on the road!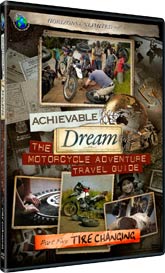 Part 5 - Tire Changing!
Get the Achievable Dream DVD's NOW and learn how YOU can get on the road!
Ian Moor, UK, Wrong Way Round The World, in Mexico, BMW F650GS,
"My first day in Mexico turned out to be a comedy of errors. In all the best western films the Mexican bandits get drunk on tequila in the cantina, sleep late, drink some more tequila and it's close to lunchtime before they are ready for any serious banditry. Therefore my cunning plan was to cross the border early and be well away from the troubled border area before any self respecting bandido was awake.
The first thing to go wrong was when I removed the USA / Canada memory card from the GPS and installed the Mexican one. There was no map displaying and the initial reaction is to panic. How can I possibly navigate without a GPS? It's amazing how reliant you become on having a machine to tell you which way to go. Fortunately I was going to be following one road, Hwy 16 for a couple of hundred miles so the navigation shouldn't be too difficult.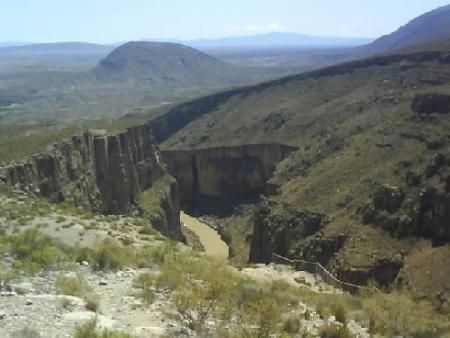 I camped six miles from the border in Presidio, Texas and was up early enough to feed the mosquitoes. By 8am I was handing my B2 USA visa into The Department of Homeland Security at the border. Crossing the Rio Grande to the Mexican side I rode slowly past some officials trying to get their attention but they looked straight through me. I realised that they were customs and expected to reach immigration next but no, there I was in Mexico and more specifically Ojinaga High Street without my feet touching the ground. I remembered Grant's advice on the HU website about getting insurance at the border and sure enough there were a couple of offices just beyond the border selling insurance. Picking one at random I got sixty days of cover for $70.
Feeling that something was wrong, I should have got an immigration stamp in my passport and possibly completed some paperwork to take the bike into Mexico but also feeling relieved that I was in Mexico and through the bureaucracy so quickly I headed towards Chihuahua remembering that there was another check point 20 miles or so from the border. I was soon beyond Ojinaga as Hwy 16 climbed into the mountains almost completely free of traffic and totally free of bandidos, killers and kidnappers, my early start had obviously caught them all napping.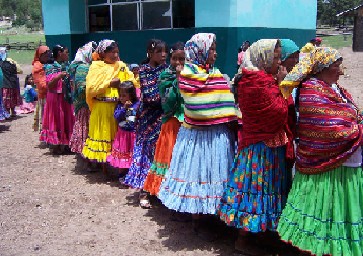 Tarahumara Women From The Chihuahua Region

After 25 miles I was beginning to think that there wasn't going to be a second check point but a mile or two later there it was. A friendly guy came over who could thankfully speak English and wanted to see some sort of vehicle permit. Obviously this was something I should have got at the border but I thought and hoped I could get it at this second checkpoint but alas, no I would have to return to the border at Ojinaga.
After trying to get away from the border area as quickly as possible I was now riding the first 27 miles three times! Once back in Ojinaga I got some Pesos from a cash point machine (ATM) and realised I hadn't a clue what a Peso was worth. I got the temporary vehicle import paperwork and an immigration stamp in my passport at the border. The system seems to be that you are supposed to know that you have to park and chase after the stamps and paperwork on your own volition. If you don't you will find out 27 miles later!"
Dom Giles, UK, Alaska to Panama and then some, in Nevada and Utah, BMW 1200GS,
"How the hell did this happen? How did I get myself into this situation? Alone, scared and afraid for my life. I wasn't being held up by bandits, in fact there wasn't another human being for miles. I wasn't stuck in appalling traffic, in fact there weren't any other vehicles on the road. I was on America's loneliest road (route 50) heading across the Nevada desert in the middle of a thunder storm.
The day had started so well. I'd left northern California and was making my way across Nevada on the aforementioned loneliest road. Lonely because there is absolutely nothing else out there. 40 miles out of Fallon the skies turned black and it started raining. It was clear that the rain was travelling against me and I was going to head right into it. 10 miles later and I heard a crack of thunder. Now under normal circumstances I would probably be a little worried but carry on. However, a few years ago I was stuck by lightning and ever since I've been absolutely terrified whenever I hear thunder. So when I realised I was riding right into a storm, well, let's just say, I panicked.
I didn't know what to do. There was very little other traffic around, and as I was on the loneliest road I was by far the tallest (and only metallic) object in the desert. A sitting target for a bolt of lightning. And then it happened, a huge crack of thunder and then I saw a streak of lightning off to my right. It's hard to describe what was going through my mind. I was stone cold petrified. There was nowhere for me to pull over, nothing to hide behind and no one to seek help from. I was, quite literally, totally on my own.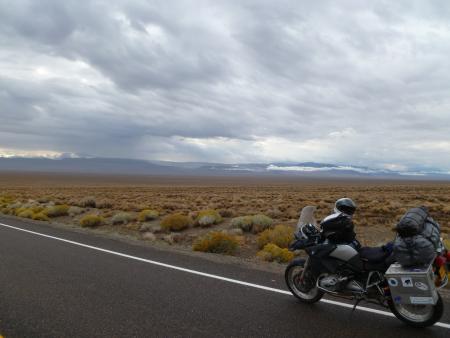 My only options were to either turn around and head the 50 miles back to Fallon, but that would be going into the storm I had just passed through. Or carry on an estimated 60 miles to the next settlement. However, I had no idea what lay ahead. Had the worst of the storm passed me by or would I be heading into more trouble?
I'm not sure why but I decided to carry on, I gripped the throttle a little tighter and prayed that I wouldn't get hit. A few cars and RV's passed me going the other way but that didn't make me feel any better. Just as I was beginning to think that I might have made it through I heard another roll of thunder. A few seconds later two bolts of lightning. One some way off to my left and the second much closer. It cracked right across the sky ahead of me and right across the road from my right to left. I actually ducked down on the bike (as if that was going to make any difference). Should I speed up? Slow down? Get off the bike and lie down in the middle of the desert?
I guess that unless you've been struck by lightning you're reading this and thinking it's funny and I'm making a mountain out of a mole hill. All I can say is that for about 30 minutes I feared for my life and it's the most scared I've been in my whole life. I remember thinking, what a stupid way to die.
Obviously I made it through but I look back at that and just wonder how I got myself into such a stupid situation. Totally exposed, unprepared and exposed to the whim of the elements.
On the bright side, when I did finally make it through I ended up at West Wendover, Nevada. Famous as the base for the aircrew who flew the Enola Gay in 1945 which dropped the first atomic bomb. But I was there to head onto the salt flats and watch the Bonneville Speed week.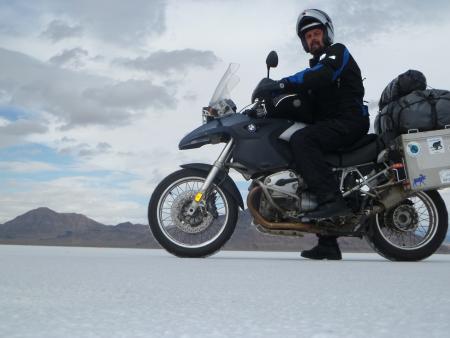 Riding out onto the salt was a weird feeling. I can't say I broke any land speed records, but I enjoyed riding out to the pits, having a look at some really cool machines, chatting to a few people and taking in the whole event. That's life on the road for an adventure traveller. No two days are the same. One day I'm in the middle of a thunderstorm afraid for my life and the next I'm riding across the salt to see some of the fastest machines on the planet. Sometimes it's just too much to take it all in.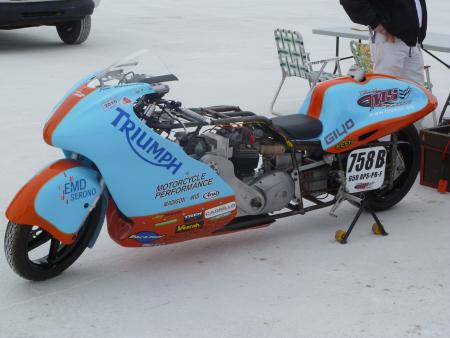 From Bonneville I headed into Utah and the National Parks area of the US. I was going to see Zion, Bryce, Arches, Canyonlands, Mesa Verde, and the Grand Canyon. October was going to be a great month. That's if I don't get struck by lightning!"

Tiffany Coates, UK, RTW, in Labrador and Maryland, BMW R80 GS,
"I'd always thought North America would be the safest continent, somewhere to relax and not to worry too much about dangers that may lurk when travelling, the past couple of months have shown how naive that was.
After the wolf chasing incident in Labrador (they were chasing me not the other way around), I had headed south for warmer weather, camping wild along the way as I went. One night a big storm hit just after I'd climbed into my tent, it was a classic one with dazzling bolts of lightning which lit up the sky followed by incredibly loud thunder claps and massive gusts of wind. There was a loud crash and I peeked out from my tent to find a tree had toppled over right next to me, terrified I grabbed my jacket, boots and helmet and dashed out into the rain, whispering a little sorry to Thelma for abandoning her. I ran out to the middle of the field where I found a small shed to huddle next to as the storm worsened and the rain became a deluge.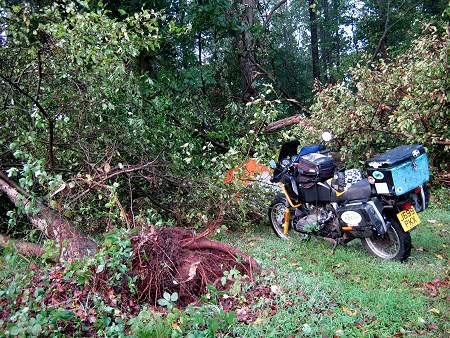 An hour later and it had all cleared, I walked back to find that several more trees had fallen, I realised I couldn't see Thelma or my tent just branches, foliage and tree trunks, fearing the worst I walked around it and discovered my tent crushed but Thelma didn't have a scratch on her, the trees had all amazingly fallen around her. I dragged my tent out and somehow put it back into shape and set it up in the middle of the field not wanting to trust those trees that were still standing.
I was thinking things couldn't get any worse when I felt a piercing pain shoot through my foot, in the dark I couldn't see what had caused it, on closer inspection back with a torch in the wet, bedraggled tent I could see a puncture mark, something had bitten me, I was concerned it may have been a snake bite but there was nothing I could do out here when I couldn't even approach Thelma to go and look for help, I went to sleep comforting myself that even if it had been a snake, I don't think I've heard of anyone dying after being bitten on their bunion. Over the subsequent days the foot swelled up and developed a purple rash, I decided if the rash reached my knee I would go to a doctor, luckily it didn't, some research showed that I must have been the victim of a Black Widow Spider.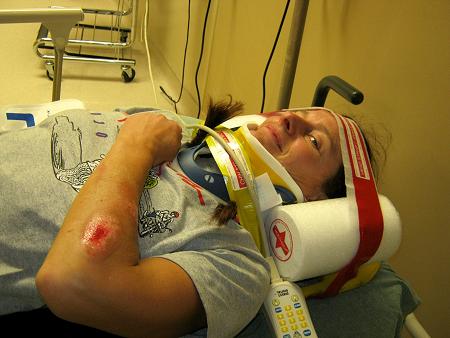 What is it they say about things happening in threes? A week later I had that most scary of experiences, a high speed tyre blow-out on a busy highway and yep, it was the front tyre and I had a pillion rider! Terrifying and then over so quickly as we skidded down the tarmac on our sides with the cars desperately trying to avoid us. The Highway patrol, ambulance, fire brigade (?) and the good old sheriff were all rapidly and efficiently on the scene, as we were carted off to hospital strapped to back boards. X-rays and examinations showed we were OK and they let us go again. Retrieving Thelma was another story altogether.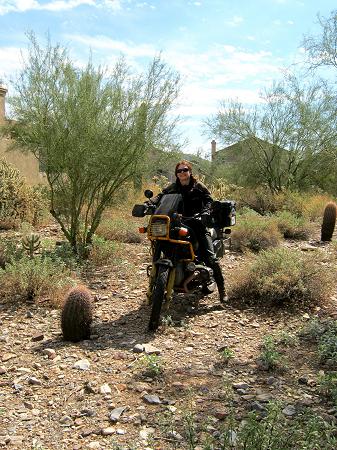 I'm heading off to Mexico now to dodge the banditos and the federales - it can only be safer than here."
"...You are never alone in South Korea – the Koreans have to be one of the friendliest, most hospitable people on earth. Not many travellers spend time in this truncated half of a country with its lunatic nuclear-armed brother to the north. Most motorcyclists use Korea as a mere jumping off point for Russia, and in so doing miss out on a perfectly delightful small country, with its seemingly impenetrable language and unique hangul, which has been described as the best phonetic script ever invented.
...Our lovely Korean rice farmer in Japan, Paco, posted news of our imminent arrival onto his 2500 member internet bike club website in Korea. Next thing we know is we've been invited to their club meeting on a campsite half way up the country. Moreover, we are to be met on arrival in Busan...The group was incredibly tolerant and refused to leave us, despite our entreaties, the first instance of the strong Korean community spirit we were to come across. They didn't even seem irritated, which amazed us. We were very late arriving into Seoul that night, where we found ourselves billeted on Ki-sook Lee and his wife Sunsook on the 18th floor of a massive apartment block with amazing views.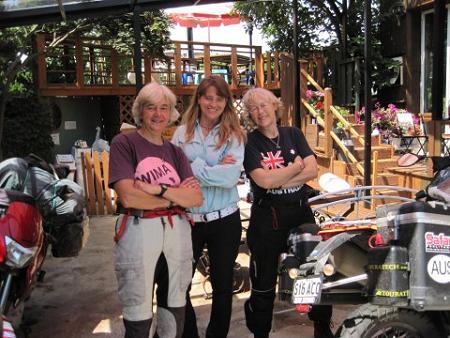 Our hosts spoke barely more English than we did Korean, so we had a hilarious time trying to communicate using Yahoo's Babelfish translator – which I can confidently declare is ok on odd words and utterly unintelligible for whole sentences like 'what would you like to do tomorrow?' So they internet phoned their daughters in Australia to interpret for us.
We thus had no idea what was going on when Lee's 'sworn brother' turned up the next morning to deal with Pat's bike. He whipped the offending lever off, took mine off as a model, disappeared for several hours, and returned with a brand new bit with the right number of splines welded onto Pat's old lever. Perfect job. We were so grateful, then embarrassed as he refused to take any payment at all.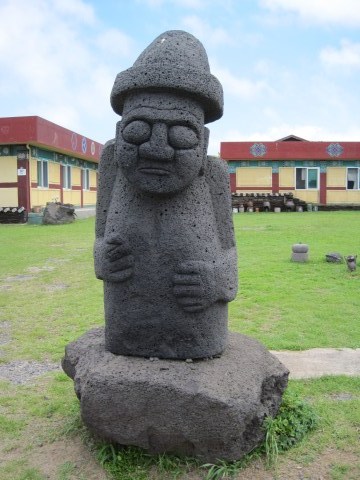 ...Jeju is a very popular holiday destination, especially for honeymooners and is particularly renowned for its seafood. Delicacies include very fresh abalone, and a fresh one wriggled on my plate. Despite being told this was only a reflex, I couldn't bear to eat it. I did cautiously eat another one that Pat had pre-checked for activity – it has a strange crunchy texture – but left it at that."
"As soon as we entered the limits of the city, we spotted some dudes on the roadside waving keys at us. We had heard about them being the best providers of flats for rent which was exactly what we were after. I stopped the bike next to one guy and, sure enough, he suggested to show us some places.
We told him what we were roughly looking for and he took us to a couple of furnished apartments before taking us to a place, slightly off city limits, where we discovered a cute bungalow sort of place in the middle of a garden, far from any mosque and with a spot to park our dear grand-mothership.
The flat's got a bathroom, a kitchen with gas and fridge, a bedroom, a living-room with satellite TV, what else could we ask for? Ah yes, the price... not cheap, however far cheaper than a month rent in Hong Kong. We'll take it then, for one month. We wanna visit the region for awhile, take some rides in the wild a bit, get off-road, try the Moroccan 'pistes' we heard so much about, see how good the Transalp can handle it.
It's nice to settle in one's own place for a change. We totally unpack the bike, decorate our place a little with the sarongs we took along with us, making it feel home a bit.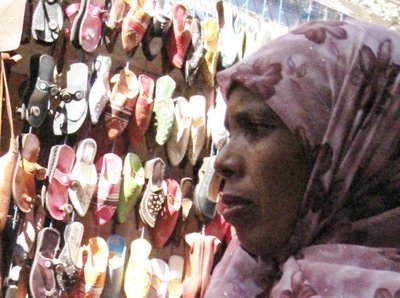 The beach is five minutes away from our place. It's a huge one, it's got camels, horses and quads racing on it. The sea sees kite-surfers racing, above it mostly. It's a perfect place for this sort of sport because of the wind that blows almost non-stop from the ocean.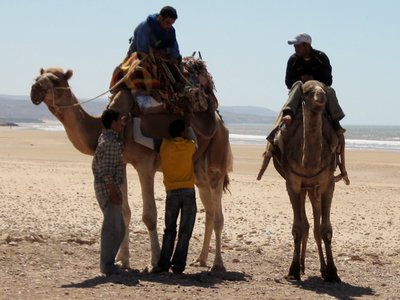 It's not that we're freezing really but it isn't very hot frankly. We easily could do with a few additional degrees. There's tons of seagulls everywhere, the sound they make reminds me of Brittany... the temperature as well actually. There's a dove in our garden that could be singing from any French garden. If I smell pancakes I'm straight out of here to Mauritania!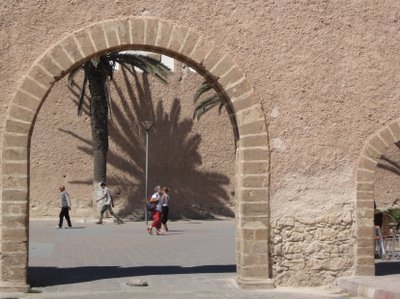 Abby and I are watching the seagulls on the beach for a long time with the watch towers of the medina in our back. We walk around in the little streets, surrounded by, once again, the same display of Arabic touristic gear then go shopping at a nearby supermarket to fill up our empty fridge.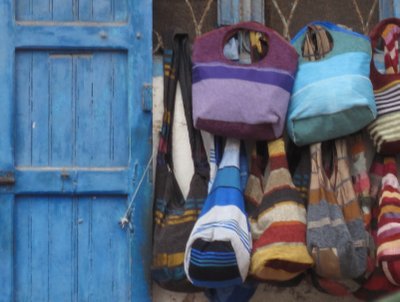 A quick look at the internet gives us an idea of what sort of pistes we can find in the region. But no map to check them with. We decide to ride South, towards Agadir. The wind is quite frightening, I have to slow down several times and hold the bike tight. After a dozen kilometres, we spot a road on our right that seem to head back to the coastline. Soon the tarmac disappears. The path is covered with rocks, pebbles and sand. After a few kilometres a crossroad gives a purpose in life to a road sign that points to a certain Zifouane beach on my right. Let's try that. The path gets worse. There's now holes among the rocks. In some parts the sand seem to have piled up to form quite a good layer. The Transalp couldn't care less. I try the third gear and give some gas, it doesn't care either. Good bike ! The landscape around us is amazing, we're surrounded by mounts and we can spot the sea shining in the sun in the background. We cross the path of a few camels, a few kids mounting donkeys and a flock of goats and sheep that seem on their own.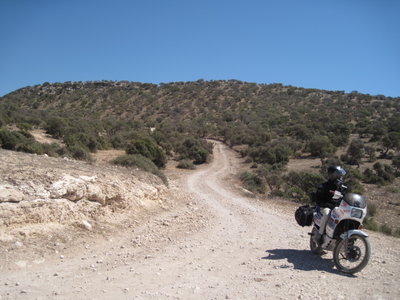 The road takes a nice long curve around a valley. Abby gets off and decides to film me riding it. While I'm gone, three vagabonding camels arrived by the road and seemed unhappy to see her standing there, They stared at her and yelled loud. Abby was glad to see me back, I think.
Soon the path took a distinct downward attitude and as we rode and slid the slope down, I spotted a little river at the bottom. Ah ! There we are, I thought, finally, time to get wet!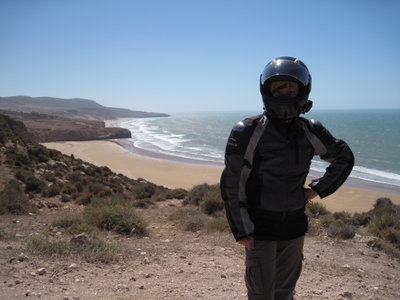 The way forward must have been in use at some time but it had become obviously too deep now and another path to the left, and then back around, seemed to be the new favorite in town. I try. The stream of water looked much more shallow and sure enough, the Transalp went through happily. Then it was all downwards. The ocean got closer and closer until we reached a deserted but huge beach laid at our feet, down the cliff. The immensity of the sand, plain and untouched since the last tide, seemed to be moving in the sun light as if sucked into the flood. A small boat coming from behind a cape touched ground and disembarked piles of cases of freshly assassinated fishes that were loaded on a donkey's back and carried up towards us. The dead silver bodies passed in front of us, aligned in their plastic coffins while we watched silently, holding our helmets in our hands.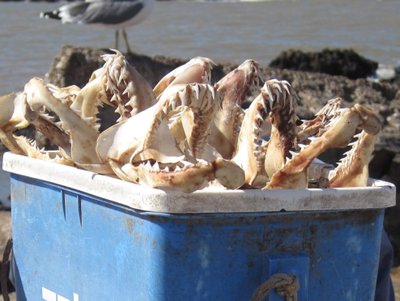 On the way back, the Transalp showed signs of thrill, as we crossed the little 'oued' again, by splashing Abby and me from head to toes. Or maybe I was speeding, I dunno but I ended up with my feet swimming in my shoes for the rest of the day. Next time I'll wear my boots.
Abby has now learned the skills of spaghetti cooking so our nutritional future is ensured. The wind still blows hard, it would be a signal 3 if we were in Hong Kong. I've got to find a garage and change the oil of the Transalp, last time was in Carcassonne. Apart from this terribly worrying task, well, we also plan to have siestas, naps, relaxation periods, slow cruising rides and as much of a good time as we can get. Life's hard."
Mark and Bronwyn Hosking, Australia, Europe to India, in Pakistan and India,
"We stayed at Faisalbad for 2 nights and had a lovely rest. Well earned I think. We went into town had a look, not too impressed with the town so just relaxed. The police turned up to find out what time we would be leaving the next day and Bron flew at them. (I actually felt sorry for the police at this point). After Bron had finished I had a gentle discussion with the police and told him our issues. We felt that the police time was being wasted escorting us. He told me that unfortunately the politicians had told the police that all foreigners must be escorted throughout the country due to the bad publicity whenever one gets kidnapped or killed.
I started to understand from that point that the police and Pakistan were damned if they did and damned if they didn't. It's a tough position to be in for them and for Pakistan. The media get into a frenzy whenever a foreigner gets hurt in Pakistan but there are numerous Pakistanis hurt or killed every week. I found all this tough because they were making my life worth more than a local's but due to the media attention to the Pakistani government my life is worth more. Horrible. If only all the resource hours that are put into escorting tourists everywhere could be put into chasing terrorists and or creating a better Pakistan.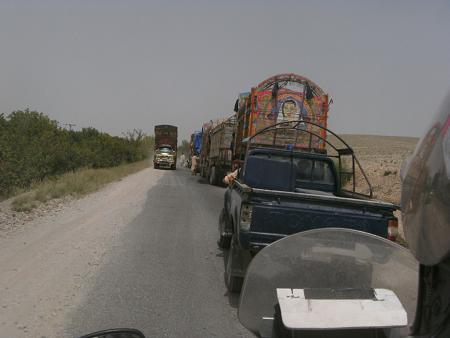 ...We went straight to New Delhi because the Commonwealth games start there in a few weeks time and we want to be well clear of the city by then. The Hotel we stayed in was ok but new and pretty poor standards of service and setup. The bike was locked away for a few days and all transport was by the old 3 wheeled buggy.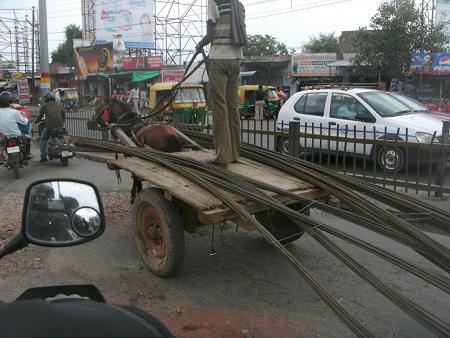 The traffic mayhem was everywhere and after rubbing up against a few cars who just moved into me I decided that I couldn't allow the risk of being pushed into another car any longer. So some Indian drivers now have some dented doors courtesy of my wonderful steel cap boots. Also I showed some drivers where their side mirrors were with a whack (that is if they did have side mirrors). Gee it makes a difference, they really back off, and give you some room and respect.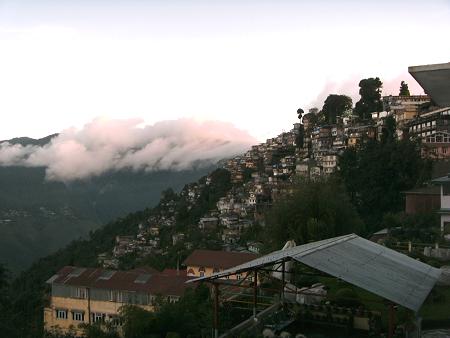 ...From Bagdogra we rode towards Siliguru but the road was so poor that we chose to head straight to Darjeeling. The road was fantastic (for most of the way) and there was some really lovely scenery and some tea plantations on the way.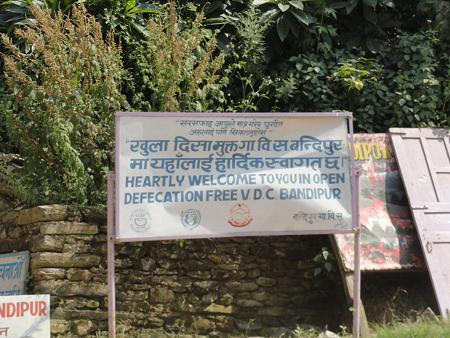 Three quarters of the way to Darjeeling we were stopped as there has recently been a landslide here which took out the road and the rail track. We initially thought we may have to go all the way back down to the bottom to come up another way but the locals steered us in the right direction over a road made for 4WDs with low ratio. We eventually made it to Darjeeling and the hotel that we thought would be good was out of our price range so we looked around at the seemingly hundreds of hotels here and found one that met most of our needs."
Ed. See Mark and Bronwyn's blog here on Horizons Unlimited for more great stories and pics!
"This morning we head for the caves, the signs are elusive but the road is great no traffic and really twisty. Arriving close to where I think we should be we spy some people in a car park so I go to ask. Hope answers me in perfect English you are here she says, it turns out she and her brother Nathan are spreading the Bible round Japan. Their mother is Japanese but their father is American so they both have American accents but speak perfect Japanese. They have an 'army' of helpers on mopeds delivering leaflets and they use loud hailer's on their vehicles which is fairly common in Japan. They give us a spare detailed map with a camping spot and some apples and pears, we wish each other luck and head for the cave entrance. We have to admire their dedication they cover every road in an area before moving onto the next and are away for weeks at a time.
The cave appears shut but a sign says open at nine it's five past. We watch an elderly lady cycle up the hill park her bike on the side of the road and kick about in the undergrowth, looking for mushrooms or chestnuts we surmise, she knows we are watching her but seems unbothered, she gradually saunters up to the cave and starts to unlock everything, the garage area reveals the gift shop some food and a postcard or two. Now ready we have to don plastic hard hats and she seems pleased we have head torches we part with our cash and enter.
It is in terms of beauty a very disappointing cave - very dull colours and few stalactites/mites but is a great adventure cave especially as we are the only people in it and left to our own devices, there are few steps and lots of crouching and clambering a low budget cave with only a few strip lamps. It reminded me of Swildons a cave at home in Somerset but with lighting. It is the largest cave in Japan we only did 700m the rest needs equipment.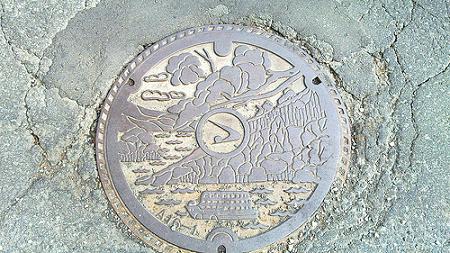 Heading now for Miyako we detour off on a peninsular to view the craggy rock coastline but resume to Miyako. We find wi fi and lose a couple of hours catching up on things. I search again for rider houses in the area but these are mainly in the north. As seems to becoming normal for us we find ourselves in a town when we're just losing the light only this time we're not too worried as we have the campsite to head for. As we sit in a traffic queue a Honda C90 pulls alongside 'do you have time for a chat' the rider asks? We stop round the corner at the 7/11 Mr Yoshima backpacked round the world 30 years ago including England and would like to help us, 'where are you staying?' We reply probably camping he disappears off to make a phone call, he has secured the floor of a 'pub'. We follow to Torito Moto a biker friendly restaurant/bar. We are expected to spend about £20 in the restaurant (not difficult in Japan) in order to stay the night, after a quick discussion we say thank you but we are on a tight budget we will camp.
There seems to be a bit of confusion and Mr Yoshima comes back saying would you like to meet the owners. We relent knowing it's going to rain tonight and not wishing to be rude. After being shown an upstairs store to put our stuff in we are expected to bathe before eating the public baths are just round the corner. I'm really not keen and drag my heels grumbling and muttering under my breath. We share a bathroom roll so only have one of everything shampoo etc. I can't see how it will work when we will be separate. We duly arrive and have to pay £4 each for the privilege. Kev takes the shampoo bottle I'm left with two little free sachets from our last hotel. As usual it is shoes off almost as soon as in the door our boots are so large they don't fit in the small cubbyholes so go on top. Now in a largish room with lockers a couple of chairs and a mirror on on wall I am given a basket for my clothes. Next is the bathing room dominating the room are two large deep hot water filled baths all around the edge are taps and shower fittings at regular intervals. Two ladies are on opposite sides at the taps. I go nearish one to copy the procedure. Collecting a bowl I kneel at the tap and proceed to wash myself after washing my hair twice I now have no more shampoo I'm now at a loss the lady next to me is intent on washing herself about twenty five times. I decide right or wrong to jump into the bath bit it's lovely really hot and soothing I try the next one even hotter and deeper, after what seemed like 15mins I get out and rinse off the lady is still washing. I give up and leave I can't get any cleaner.
Kev soon joins me at the restaurant and we go to eat. The owner is madly into bikes he and his wife have done some travelling in the past, he brings us a bewildering but delicious array of food including mussels which we have never tried before and are surprisingly tasty. It gets to a point we have to say no more as we are full. Mr Yoshima has surprised us with his generosity by arranging to pay the bill in advance with the owner.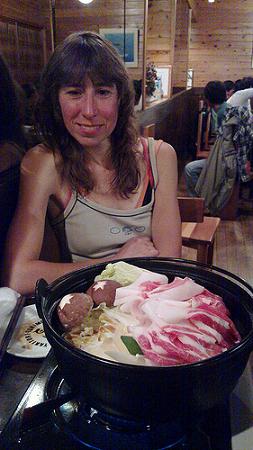 It turns out when the restaurant owner produces a visitors book for us to sign that this is one of the elusive rider houses we were looking for. They clear up then leave us alone in the restaurant showing us where the loos are and light switches. We are offered the floor of the restaurant area, no shoes ever touch this floor but as we have everything we need in the store room we stay there. It rains absolute cats and dogs in the night are we are thankful to be in the dry. We leave some money for Mr Yoshima towards the bill and write our thank you's it has been an amazing experience only possible from the outstanding generosity of these people. To trust strangers alone in your restaurant with nothing locked away could only happen in Japan thank you. The streets are still flooded from last nights rain so donning our waterproof trousers we head for Tono."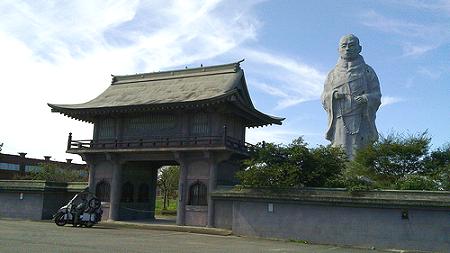 "In Kathryn Gorge, in the Nitmiluk National Park too, swimming is still not allowed. The survey for the big saltwater crocodiles is going on for additionally 4 weeks. The rental of canoes is not possible either so we stay just one night. In that short time, we see many animals.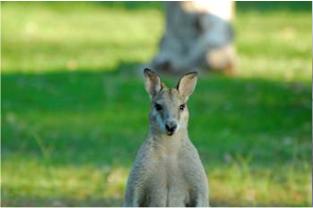 Wallabies and Kookaburras are meeting at campground and used to humans. But this is not always nice. Those bastards are always searching for more delicious food than the grass and leaves. And, of course, we are getting robbed. A Wallaby rips off the side tank bag on Alexandra's bike to get the apples, oranges and bananas while we are at the pool or at the BBQ. And it looks like poor, harmless fellow when we chased it away.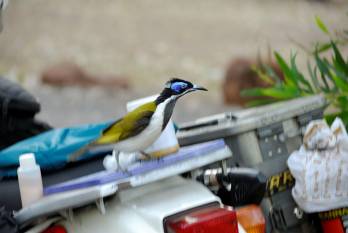 Bird bike robber

And what the Wallabies left over at night gets stolen by the birds in the morning. There is no time when your food is safe.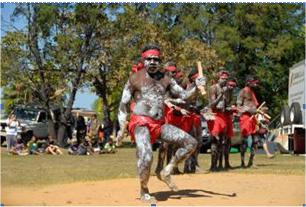 Next stop is Barunga. A little village at the edge of Arnhem Land. Arnhem Land is a big territory that has been given back to the Aborigines and where you need a permit to drive through. There is every year in the beginning of June a big Aboriginal Sports and Culture Festival."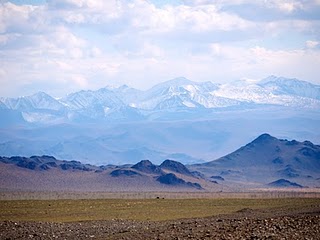 "...The paved road lasted about 30 km. And then I spotted the thriving city of Olgiy.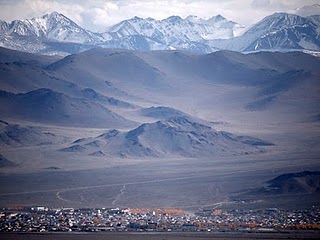 Knowing I was going to be facing 220 km of even less used dirt tracks tomorrow, I plan on staying the night here.
Just on the edge of town and little car with a man and woman are flagging me down. I refuse to stop. I don't want to be forced off the road for them to sell me something. Then he gets in front of me putting on his brakes to make me stop. I just go around him. I ride through town slowly having a look at what Mongolian culture is like and trying not to notice these crazy people in the car. I must stop to get some money changed and something to drink at the shop.
They followed me all the way, jumping out of the car when I stopped and by now I'm a bit ticked off. He finds that I speak English, so he gets his notebook out and flips to the "English" page where somebody has hand written his name and a total sales pitch to come and stay at his guesthouse, meal etc etc. I tell him no. I had the hotels on my GPS from Walter's waypoints, and I wanted to check them out instead.
Long story short, I gave in to his plea for me to at least have a look. But not until I had sussed out the hotels. They looked really scary, right in the town and nowhere safe to park the bike. When I followed the man home, I got a complete little guesthouse to myself, with my bike parked right outside the door. I didn't like the pressure from the man, but it did seem the better choice.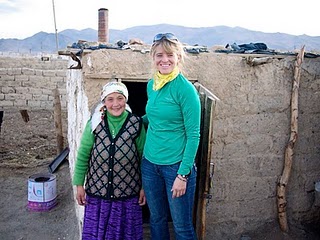 His mom and Auntie got to work straight away in the kitchen to make my dinner."
"...The Hill Country was good, but this is better, the bends are more sweeping and faster, which is better for the Pegaso, also each bend opens up onto a new view. Yes, a desert with mountains. We both like it.
We are heading to Big Bend National Park tomorrow, and then on to Presidio to cross into Mexico. We're not sure when we will next have Internet access, mobile phones have been useless for a week, so I may be quiet for a while.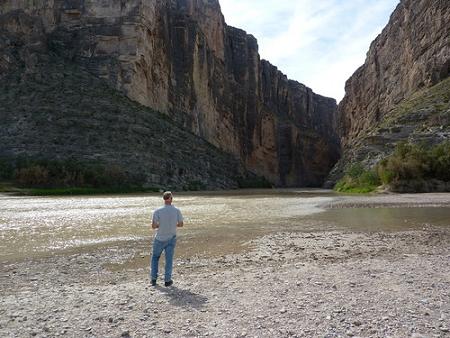 ...The park is as low as 2000 feet, and raises to 7000 feet in the middle, temperatures can be in the 35-40 range on the camp site at the bottom, to a cool 24 at the top.
The ride is from desert to lush green trees and pines. We went for a hike into the Chiso Mountains, we reversed what we do in Wales, we walked down to the view, a waterfall drop off... when there is water, and then back up to the top.
It is a vast, open, wide space, with big rocks and big sky.
The camp store owner commented to me 'It look like it will be a fine day today', I said 'Isn't it always?'. He paused, thought for a moment and replied with a smile 'Well, it does get a bit warmer in the summer, and a little windy in the winter, but we like it.'
A warm up for what lies ahead, I hope.
It also has bears, mountain lions, tarantulas and rattle snakes.
We missed seeing a bear by 10 mins, a rattle snake by 5 mins and a tarantula by the width of my bike tyre. Coyotes would howl at night, and wander through the camp site in the morning.
The whole place felt like we were in a movie set for the weekend.
...So
Texas
It's big
It's beautiful
It has many faces
They all wear stetsons, and all have guns (in their cars)
The USA
It's big :-)
It's beautiful :-)
Not met an unfriendly person.
We have left a trail of jealousy, 'Boy, I've always dreamed of doing that' was a common statement
The east and south can be as good as the West."
Ed. See more great stories and pics in Bruce and Jean's blog on Horizons Unlimited!
Zoran & Tamara Gricar , Slovenia, in Turkey, Yamaha 750 XTZ Super Tenere,
"...We continue towards Derinkuyu, another old small village built in beautiful rocky area with thousands of caves all around, and then to Soganli, where we find a nice restaurant with the beautiful garden full of apple trees. The owner is very nice and allows us to camp for free if we eat dinner there; and beside we have free entrance to Cappadocia (Soganli Kapadokya Restaurant, Nuri in Yilmaz Ablak).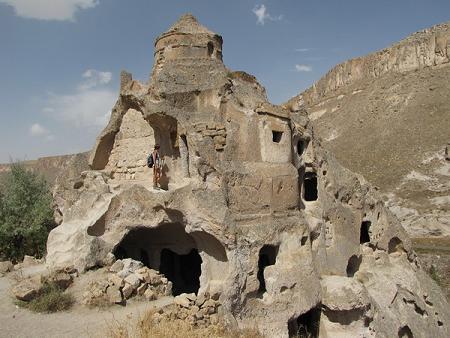 We enjoy Cappadocia very much, it's like a dwarf town, with many well preserved churches and millions of pinnacles and caves. Once again we discover oil on first wheel – this time the left fork is leaking. Once again Zoran puts it apart and fix it. We don't know where exactly a problem is; there is no visible mistake, just leaking?!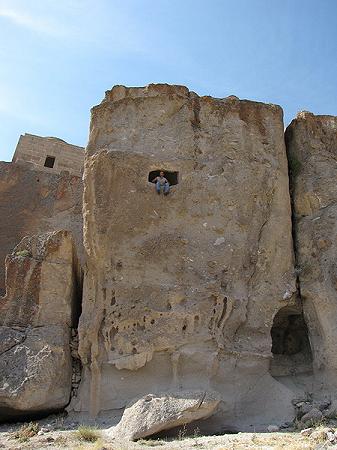 In Kas we stayed one night at Olympos camp (12 euro for a tent and 2 persons). At first we planned to stay longer but after we meet David from HUBB community (which we contacted in Pamukkale about our problems with forks), who generously invites us to stay with him and his wife Juliet for few days, we pack and follow him to Kasaba, where they have a beautiful home (hosting also 7 dogs and 6 cats) in the middle of nature. We had a really nice and warm stay with great company of David and Juliet and all the animals, which you simply have to love.
The next day we empty the bike and David takes us to a nice ride across Akdaglar mountains. It was really a marvellous trip crossing so many beautiful valleys and hills in the quiet and peaceful landscape. David knows this area very good and he takes us to the most beautiful places. We really have a good time and it's so nice to be on a ride without all the heavy luggage."

More stories below...