Too many to list! If you haven't checked out the Links page it's time you did - it's huge, and a fascinating browse.
---
Get your website listed in the LINKS Section
by listing Horizons Unlimited on YOUR web site, let me know you've done it by mailing me a link to the page, and you may get listed here in the next newsletter and on the Horizons Unlimited web site Links page. To make it easy for you, we even have our logo and link code here! From there you can request your link.
All sites will be considered for listing, but must be a MOTORCYCLE or TRAVEL site, useful or of interest in some way to travellers. We reserve the right to refuse to link back.


Motorcycle Express
MC Air Shipping, (uncrated) USA / Canada / Europe and other areas. Be sure to say "Horizons Unlimited" to get your $25 discount on Shipping!
Insurance - see: For foreigners traveling in US and Canada and for Americans and Canadians traveling in other countries, then mail it to MC Express and get your HU $15 discount!
There are many 'Helpful People' listed on the Links page, a huge thanks to all of them. How about you? Or you can join a Community, or start your own!
Do you know of a good shop 'on the road,'
. in other words, somewhere there isn't a large number of shops? (Also of course any shop that specializes in travellers equipment and repairs is of interest.) But we're particularly looking for those rare items, good repair shops in South America, Africa and Asia etc. Please post your info in the Repair shops around the world Forum on the HUBB.
There are now 100's of shops listed in out - of - the - way places, from Abidjan to Ghana to Peru! Be sure to check out the HUBB 'Repair shops around the world' forum if you need work done!
When you meet people on the road, and they haven't heard of this e-zine or the website, we'd appreciate it (and hope they would too!) if you'd get their names and email addresses and send it in to me.
Thanks, Grant
Request for info
Wouldn't YOU like to know all about the border you're approaching - what it should cost, paperwork required, 'tips' needed, and who to talk to, etc.?
When you cross ANY border, take some notes, and pass them on to us. Thanks!
Shipping
The Shipping page on the site is HUGE! It can be reached directly or from the Shipping link on the Trip Planning page.
Travel Advisories:
The Foreign Office in London's Travel Advice Unit advises against travel to all sorts of places. Check out the listing before you start!
The US State Department regularly issues updated travel advisories, information and/or warnings.
Motocare
Motorcycle Rental, hiring Honda's Transalp for touring Argentina and Chile. Ride across the Andes, from the Atlantic Ocean to the Pacific, lakes, deserts, salt pans, waterfalls, beaches, rain forests, glaciers.
Motocare Argentina
Motorcycle Therapy, by Jeremy Kroeker
From the Canadian Rockies to the Panamanian Jungle, Motorcycle Therapy rumbles with comic adventure as two men, fleeing failed relationships, test the limits of their motorcycles and their friendship. Get it here!
---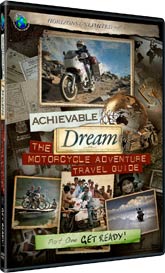 Part 1 - Get Ready!
Get the Achievable Dream DVD's NOW and learn how YOU can get on the road!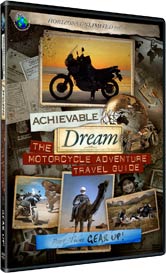 Part 2 - Gear Up!
Get the Achievable Dream DVD's NOW and learn how YOU can get on the road!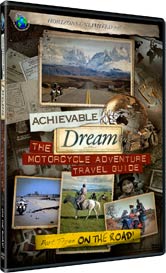 Part 3 - On the Road!
Get the Achievable Dream DVD's NOW and learn how YOU can get on the road!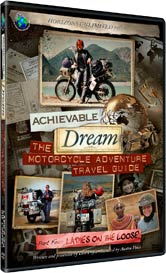 Part 4 - Ladies on the Loose !
Sheonagh Ravensdale & Pat Thomson, 'Dusty Old Bags', Central America & beyond 2010, Mexico and Japan, Honda Falcon NX400s,
"We're off to see the Mariposas – the Monarch butterflies, one of nature's most amazing phenomena. Millions of butterflies make the hazardous 4000km journey from the Great Lakes region of the US and Canada to winter in the warm forests of Michoacan state – it takes five generations of butterflies to complete the journey. Sod the elusive resplendent Guatemalan quetzals – for once we're in the right place at the right time! However the rain that imprisoned us in Taxco wrought havoc in central Mexico. Severe floods had wrecked roads and bridges and the nearest village to the butterflies suffered a landslide; thirty people died and the sanctuary was closed.
We cautiously rode along an officially closed road (large chunk missing), nervously skirted some very sinister-looking masked police, all in black and armed to the teeth, outside the local tourist office in a nearby town. With a wide detour, we got to the unpronounceable but lovely little town of Tlalpujahua, spitting distance from another butterfly reserve. We got to see the butterflies after riding up a slippery dirt track and then hiking through the forest with our compulsory guide, who was grumpy because we insisted on walking rather than hiring horses (unpredictable brakes) with other tourists. In a sunny clearing, suddenly the path was blocked with a living carpet of brown and golden Monarchs. The trees, green everywhere else, were brown and gold. The air was full of them. They landed on our hats, on our clothes, on our hands. We were spellbound.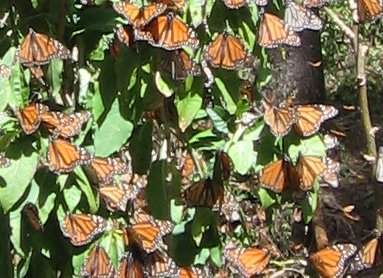 Butterflies everywhere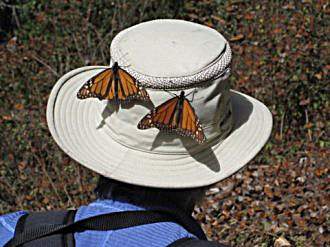 Japan... Our first challenge however was the loo.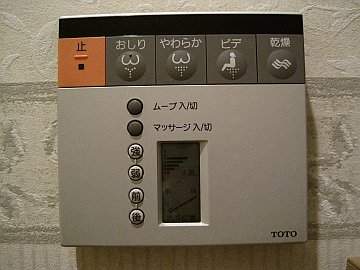 And of course there is the slipper routine. Take your shoes/boots off at the entrance of every house and most restaurants. Put slippers on (provided) or make sure your socks don't have holes in them. Pad around till you get to the bathroom. Take slippers off, put on 'toilet slippers' and when finished grappling with the technology above, reverse the procedure. Do not forget to take off toilet slippers as they are generally plastic and sometimes have 'toilet' stamped on them, so everybody knows you've made a mistake... There is no excuse for being dirty in Japan, even if you wild camp. There are public loos everywhere, mainly the squat type, but they all have loo paper, and most are extremely clean, and they are all free. Such a delight after Central America as riding with crossed legs is quite difficult. There are also very cheap public baths in case you don't have one at home or are just passing through.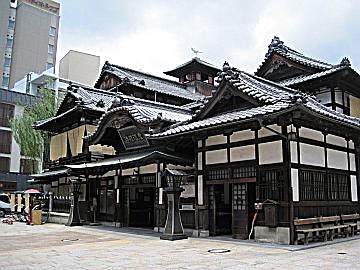 However best of all, because Japan is such a volcanic country, there are hundreds of 'onsen' or hot springs. The hot water varies from simple spring water to mineral rich or sulfurous – one amazing onsen in the Japanese Alps turned our white gold rings yellow for a time.
The onsen are mostly segregated – women one side and men the other – memo: learn the kanji for men and women so you go in the right door.... Having taken your shoes off at the entrance and bought your ticket from a machine (helped by the staff as you have no idea which button to press), you hand your ticket to the same staff who give you a locker key. Once safely inside the women's section, you strip off and take a seated shower (body wash, shampoo, conditioner all provided) in a row with all the other women. Alarmingly there is a full length mirror in front of you as you shower. Once squeaky clean, you hop naked into the first hot pool. Bliss - unless it's too hot and you have to jump out and find a cooler one."
Björn Holland, Germany, RTW, in Bolivia, BMW F650 Dakar,
"...I've recently had my '2 Years On The Road' jubilee, so went through images from the past 2 years. A lot of things have changed since 2008, and travelling for such a long time certainly moved energies and the general 'travel-mood'. I often think back to friends & family I left behind. And in recent months, whenever I went to see a so-called 'tourist highlight', I sometimes felt a bit 'over-saturated' and was missing the 'Wow!' experience. So it was good therapy for myself to look at some of my old images, which brought back some memories of people, places, food and other things.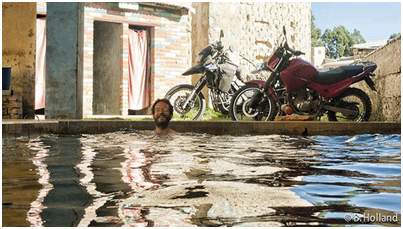 On the way from Sucre to Uyuni, we spent the night just 20km outside Potosi to visit the Hot Springs there. Nothing better than a warm bath to start the day!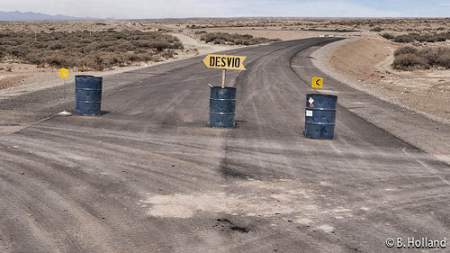 This is a common scene throughout Bolivia: all fresh tarmac, but you're not allowed to go on it. (I did in one instance, and the result was that my bike was covered in tar). I really like going off-road, but the constant change between tarmac and gravel every few kilometers (about 50 times a day) was soon going on my nerves - mainly because of the abundance of trucks that were either coming my way or needed overtaking.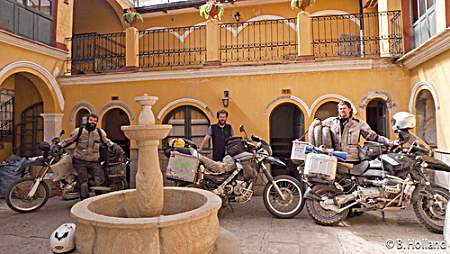 After two nights in Potosi it was time to move on again. Ben and Mark went to Sucre, and I made my way back to Argentina and then San Pedro de Atacama.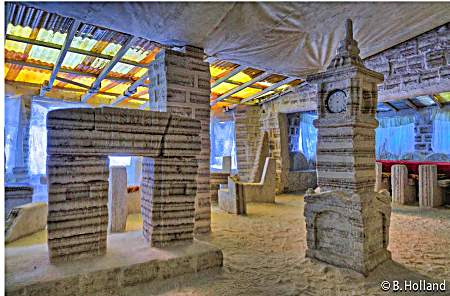 Salar de Uyuni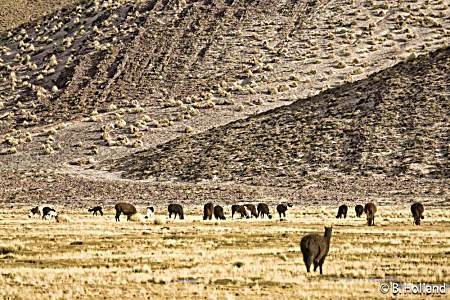 I had heard various reports about temperatures on the salar, ranging from '-5' to '-20' degrees at night. So I bought some extra blankets for a few bucks down the local market."
"Unfortunately we were unaware that to get from Romania to Bulgaria we had to go through Ruse. We though we would meander down the road that looked like it continued across the Danube. But when we got there and asked where and how to get to the other side we were told we had to go through Ruse. This meant another 2-300kms of rough road. It was interesting riding along the road next to the border. It was Friday afternoon and all of the local villages were full of people out on the streets talking with the children playing on the road. The occasional horse and cart about to add some visual impact to what we were seeing. It was a lovely scene, such simple lifestyles, no supermarkets, nothing other than corner stores (milk bars) such a simple life these people have yet some of them probably yearn for 'a better life'. I wonder.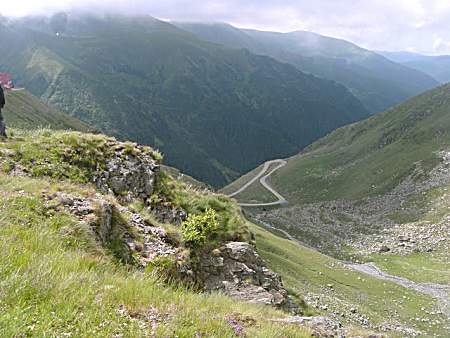 We got to Georgiana on the Romanian side of Ruse and there were no signs to say how to get to Ruse, amazing. After asking a multitude of people and riding around in circles a couple of times we managed to find our way across and into the border guards' clutches for half an hour or so then onto Ruse for a hotel room for the night.
Our first posh hotel. ($40 Aus with breakfast) was nice but Ruse was a bit run down to say the least. A hot night, hot and muggy. Got up late and had our breakfast, (average for a posh hotel) then off down the road towards Idilevo. The amount of police on the roads was unbelievable. Seemed like they were everywhere, if only they could reallocate them jobs fixing roads, and putting direction signs life would be heaps better. We had another tough morning navigating, we got into the town where we had to turn right and the roadwork people had blocked the main road through the city as they were working on the roundabout in the middle of town. But no-one had thought to tell you how to get around the roadwork and back onto the main road. We did about 10kms trying to get back to that damn road and ended up in woop woop on a road that felt like more of a 4wd track. (lovely scenery though). Finished up getting back on the main road then there were no signs telling us where we had to go. It seemed like we rode around and through that town for hours. After 2-3 hours we completed the 120kms and got to the 'Motocamp Bulgaria' in Idilevo. It felt like a haven from all of the ills of everything that had gone on for the past couple of days. We were fortunate to meet Doug and Poly (who run Motocamp Bulgaria) and also Grant and Susan.
It was a fantastic meeting, we got there a bit late and missed some of the talks but the talks we heard were great (tyre changing, ergonomics, Doug's trip through Russia, Turkey trips, Women only) The Horizons' videos were going as well and it was fantastic to watch them again as I took so much more in as the information feels more experiential for us now. It was fantastic to meet some local Bulgarians, such a wonderful lot of people. There were other travellers there, some from the UK (Anita (Brons lost twin) and partner Mathew) a couple from Iceland (on Vstrom 1000, and 650) a couple from Switzerland on BMW R1200GS's
We had a fantastic time there and I am sure we will meet some of the people that were there again. The camp was a real haven in a foreign land. I suppose it is because there are people there that you can speak freely with in english so it makes it all so much easier."
Walter: "Now that I had found my bike, I set about finding Sherri, my co-rider. As recently as 6 weeks ago I had 5 people coming along on the trip - 4 guys and 1 girl. Slowly but surely, all the guys pulled out citing a variety of reasons, leaving me with a single female co-rider. Tiffany Coates had suggested to me last year I should lead an all girl ride on the Road of Bones and that guys couldn't be relied upon! As it turns out, that's what I have now. I found Sherri at the hotel / hostel place near Sokcho port where we had agreed to meet. She is on a kitted out KTM 690R.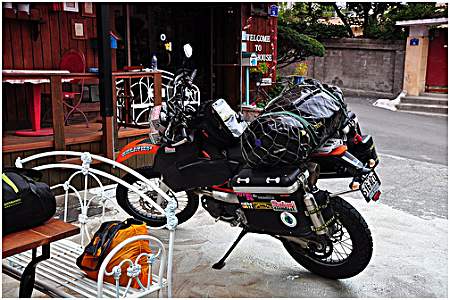 Sherri has recently departed from Australia to ride solo around the world. Leading up to this point, she has crossed Australia, then Japan and now Korea. So it's still early days for her. She was bold enough to want to take on the Road of Bones, so I am happy to help her get a grip with how things are done in Russia."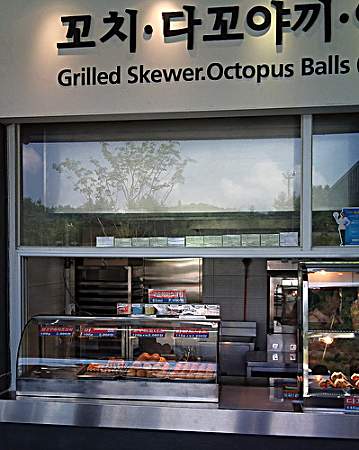 Sherri Jo: "Leaving Magadan, my first day on the dirt roads, incredible people living a really rough life who housed us for the night... of coarse the Gulag visit which I have posted on facebook.. that was a really big deal... many more photos of the big track to get there... biggest challenge for me ever! (I hope there are no English teachers critiquing my sentence structure!)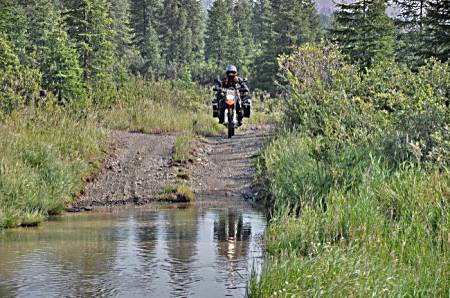 We rode last night until Midnight... really pushing my limits.. Exhausted both mentally and physically from the rough roads, but we got there.. I get slower as I get more tired.. and poor Walter is very very patient with me.. he will deserve a medal if I can make it to Irkutsk ;-) He is a really good teacher, and I have learned so much riding in the last 2 days."
"On 9 June 2010, I reached Cairo, just a few hours before sunset. My quest had lasted 14 weeks and taken me through 10 countries and kingdoms: South Africa, Swaziland, Mozambique, Malawi, Tanzania, Kenya, Uganda, Ethiopia, Sudan, and Egypt. By my daily GPS record, I have traveled over 14,000 kilometers. I fought through rain, hail, thunderstorms, sandstorms, extreme heat and fatigue to be able to finally say that I have conquered this continent. The last few days of the trip were emblematic of the entire expedition, with highs and lows, solitude and joy, and encounters with both the natural wonders and teeming societies of the ancient and modern day African life.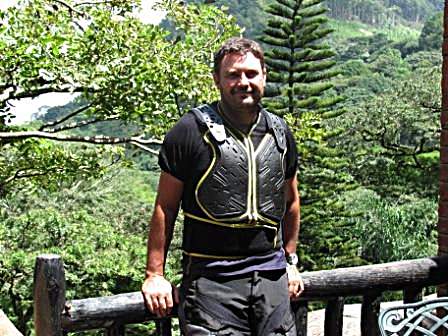 The lands I have visited mixed natural beauty with the harshest living conditions that Africans, through the centuries, have managed to endure. If they can endure this, they can endure anything. I have experienced the beauty of the Mozambican coastline, the mouth-dropping setting of Lake Malawi, the open plains of the Serengeti, the majestic Kilimanjaro, the abundant Kenyan wildlife, the thunderous source of the Nile, the solitude of the 'Road to Hell', the dramatic Ethiopian highlands, the unrelenting heat of the Sahara, the life-giving Nile Valley and the overwhelming chaos of Cairo.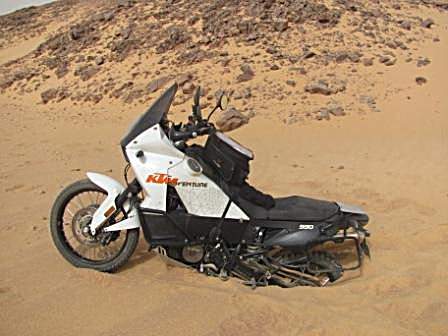 Every location along the way provided its own challenges and held a unique reward that is embedded forever in my heart. This has not only been a journey through Africa but it has also been a journey deep into my soul. I left expecting to only discover Africa, but have returned having also discovered myself. I have become my own best friend.
More than ever, I am committed to the African land and its people that I have come to know and love. The international community, ever embarrassed about Africa, has turned its eye away from this wonderful continent. Hopefully my story will help in some small way to prove that Africa and its people will succeed. We don't need help, we just need time ... "
Daniel Shell, UK, in Brazil, Harley-Davidson,
"We left for the falls bright and early, and arrived at the park just after the gates opened. As we had been directed by previous visitors to the falls, we took the train out to the first walkway that led directly over the main waterfalls, named the 'Devil's Throat', the largest of the 270 odd falls in the series. I had been slightly jaded by our travels, and it was becoming increasingly difficult to be blown away, or even surprised by many of the sights we visited, but Iguazu did not disappoint.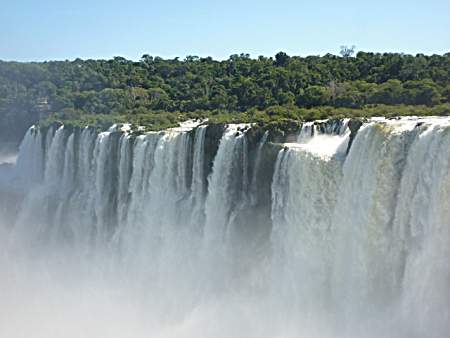 The view was breathtaking, and the roar of the water rushing over the edge of the falls and into the deep canyon below was awesome. We stopped to take it all in, then we took the obligatory photos, and then we looked again. It was too much to comprehend. The power and force of nature, once again reducing us as nothing more than fragile human beings, temporarily residing on Mother Earth.
We spent the rest of the day walking around in the searing heat, occasionally getting a good soaking from the falls, spotting Toucans in the trees, and exploring the falls.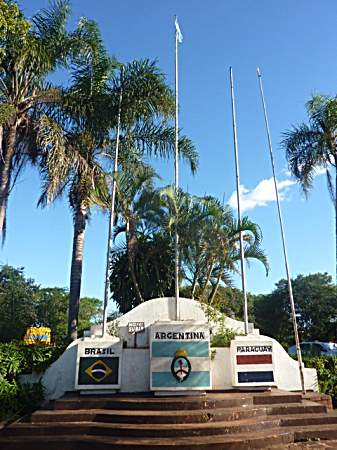 The following day, we took the bus from Puerto Iguazu to Cuidad del Este, a tax free zone on the triple border between Argentina, Paraguay and Brazil.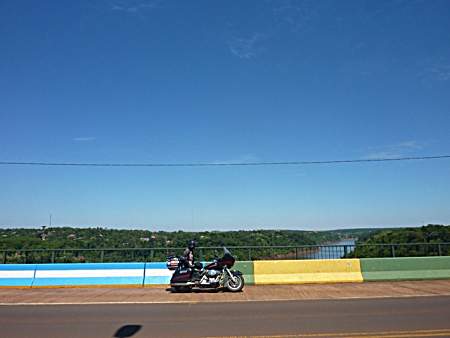 We booked ourselves on a trip to see the largest favella in Rio, Rocinha. We wouldn't usually for the organised group tour, but an unguided stroll through a Favella of some 250,000 inhabitants, policed and run by machine gun toting drug lords and narcos didn't hold much appeal either.
We were picked up by a mini bus, and joined a group totally 14 or 15 other gringo tourists, eager to catch a glimpse of life on the hillside residences that peered down onto the white sandy beaches and high rise condos of the more fortunate Cariocans.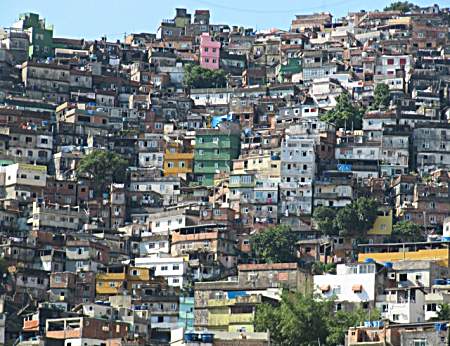 Over time, the wooden shacks were replaced with concrete and brick, with homes being built literally one on top of the other, sometimes up to nine stories high. The land being built upon was, and still is owned by the government and is part of Rio's national parks network. Most of the residences, and in turn their inhabitants live there illegally, under the radar. The water company runs water through the favella for half an hour in the morning, and half an hour in the afternoon, and the residents who are not plumbed in directly to any source of water go out to the street and collect water from the pipes.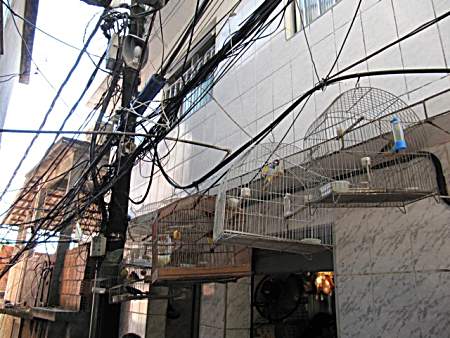 A few of the residents have addresses and are registered, giving them the opportunity to vote, but the vast majority simply don't exist."
Mike and Ruby, Canada, in Uzbekistan and Siberia,
"We have updated the website with the Uzbekistan photos and journal. The country overwhelmed us with all the beautiful, unique and well preserved historical structures. We saw the ship wreaks at the Aral Sea in the most western part of the country, then passed through the ancient silk route settlements of Khiva, Bukhara and Samarkand and ended up at Margilon in the Ferghana Valley the most eastern part. The highlights beside the incredible historical structures were the homemade food, friendly and helpful Uzbek people and the Silk Production Factory in Margilon. The low light was the consistent shortage of Benzin (fuel).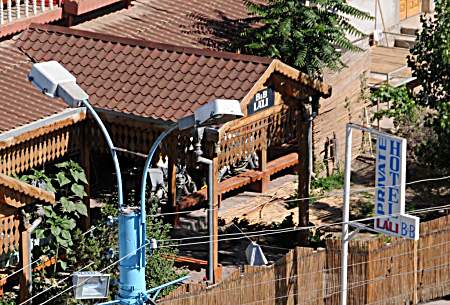 After 25,000km from Germany through the Caucasus countries, Central Asia, Mongolia and Eastern Siberia we have arrived in Vladivostok. The last 3500km we have been trying to nurse a failing rear drive, the front shock on Mike's motorcycles is gone, as is the rear shock on Ruby's motorcycles. To add to it all we believe that the frame on Mike's motorcycle has cracked. To make a long story short, we have come up with an alternative plan, which is something we had planned for the future anyway.
Both motorcycles were dropped off with the shipping company and will be making their journey across Russia from Vladivostok to Moscow on a three (3) week train trip. We will be boarding the Trans-Siberian Railway tonight and travelling the 10,000 famous route via train from Vladivostok, stopping at Lake Baikal, continuing to Moscow for some sightseeing and ending up in St. Petersburg.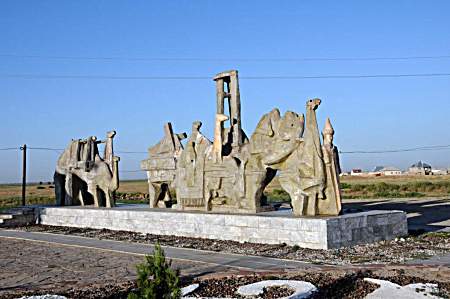 We will pick up the motorcycles in Moscow and attempt the last few thousand kilometers back to Germany. In addition we have updated the website with the Kyrgyzstan and Kazakhstan pictures and journal. This is it for all the 'stan' countries.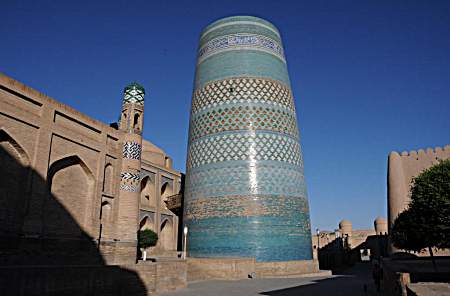 The highlight of the trip, Mongolia, is still a ways away..."
Peter and Kay Forwood, Australia, RTW (193 countries), in Poland, Lithuania, Latvia, Estonia, Finland and Norway, on Harley-Davidson,
"Europe has expanded compared to our previous visit eleven years ago. The large structures, once designed to isolate a country, checking goods for customs and people for visas still remain at each border, but the are now empty shells, empty of officials, just the money changers remain, and they will slowly disappear as the Euro spreads.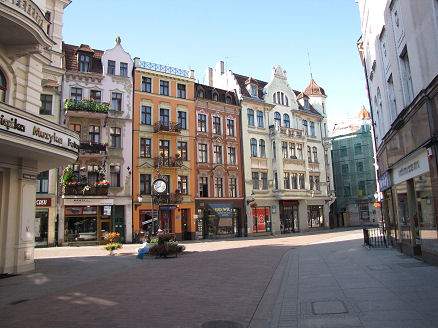 Torun is a lovely city of enormous red brick buildings. Its old city centre, like many in today's Europe, has been pedestrianised, giving that quiet old worldly appeal of life before the motorcar, and yet just a few hundred metres away there is the bustle of modernity. There are the church squares, now sprouting summer outdoor restaurants and bars, the buskers providing ambiance, and children playing in the streets. Of course there are the few street dwellers, disheveled and drunk, like in most cities, but Torun, even though it attracts some tourists, is not on the major hit list, and keeps a lovely appeal.
...From Latvia, an early start to avoid the expected over 30 degrees. Daylight is at 4.30am, so it was easy. In fact it seems that the longer the daylight the less sleep we need in these regions. The locals sleep longer in winter, shorter in summer, almost a sort of mini hibernation. Nearing the border our road turned to dirt, a small border crossing with little indication that it was indeed a border, just one signpost.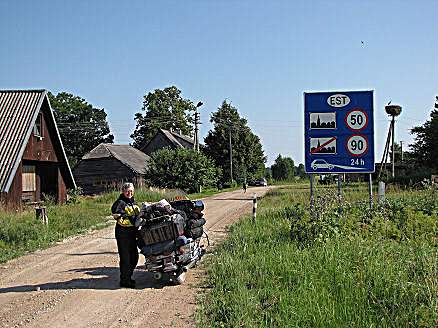 ... Sometimes the motorcycle's problems get to us. It is old, has had a hard life, owes us nothing, but still when we get a series of rapid problems, one after the other, we wonder is it really worth continuing with the same vehicle. There are thousands of components to the motorcycle and each one has a limited life. Some, like oils, it is 4000 km's, tyres perhaps 20,000 km's, a belt for us averages 55,000 km's, an engine rebuild 220,000 km's, the clutch 280,000 km's, but eventually everything wears out, so while we are still maintaining and replacing the more regular maintenance or shorter lived components, new ones, ones that have never broken before, are still wearing out. Recently it has been the stator, then the oil seal problem, the rotor, and yesterday when we arrived in Kaunas we noticed the slightly leaking rear shock had completely given way and had dumped most of its oil, some onto the rear brake disk, the rest sprayed up over the back of the motorcycle. When is it time to retire the motorcycle?
...Nordkapp is on an island and since our last visit, where we had to take a ferry, they have now built a tunnel, almost 7 km's long, under the ocean. Still charging what seems to be ferry prices they charge for the vehicle and each passenger, almost 15 Euro for us.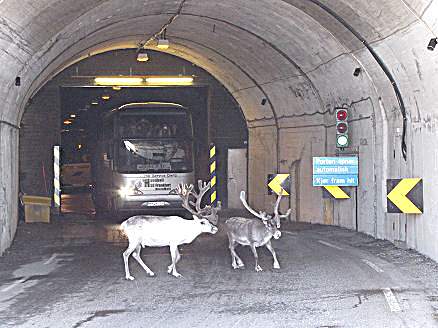 The price to enter the ever increasingly commercial Nordkapp enclave has risen to almost 30 Euro each person but it hasn't deterred most travellers, busloads of whom were parked up there along with motor homes and cars. We again chose not to enter, having better things to do with 60 Euros, and watched the midnight sun hover over the water from the roadside just short of the top.
Nordkapp is busier than on our last visit, much busier. Last night, just after midnight, it was bumper to bumper traffic leaving the Nordkapp expensively commercial site. More vehicles, more buses, and many many more motorcycles than on our last visit. It has almost become a pilgrimage. In contrast to Finland most of the vehicles here are out of country registered, so despite the cost, Norway, its scenery and nature, are still drawing tourists. We are at a comfortable campground in Skarsvag, less than 20 km's from Nordkapp, over 400 km's above the Arctic Circle, further north than Prudhoe Bay in Alaska, but the weather is forecast for heavy rain tomorrow so we decided to hold up here where there is internet and a comfortable camp kitchen to use it in.
A sea fog rolled in across the hills around lunch time, clouding the coast and cooling the already cold air. At first we attempted to ride to the top of nearby hills for sunshine but gave up late afternoon and settled into the camp kitchen, taking an evening walk, still in fog, just for a bit of warming up exercise before dinner."
Ed. Horizons Unlimited is proud to host Peter and Kay's complete RTW story and pictures here! Check out their packing tips in the new 'Gear Up!' DVD, shipping now!
Jay Kannaiyan, USA, Latin America and Africa, in Bolivia, DR650,
"This is it. The big one for me. I left the US in early March on a 2+ year journey through Latin America and Africa. It's one way and don't know when I'll be coming back to the US. I've sold everything off and my only possessions will be my DR650 and what I can carry with me.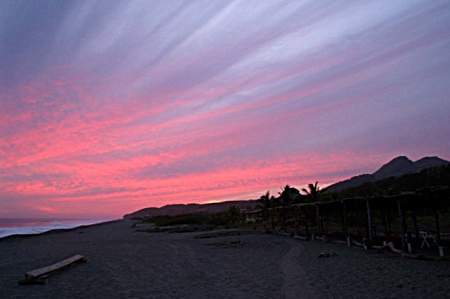 Thanks to everyone on HU who's helped with trip planning questions over the years, and to everyone who has gone before me and provided inspiration and information through your ride reports. I'm about four months into my trip and currently in La Paz, Bolivia.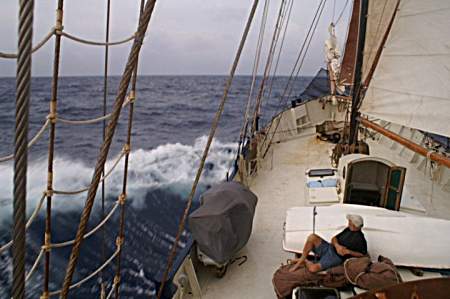 We had wave swells of 3-4 meter (10-13 ft) and the ship was pitching quite aggressively; more fun than any roller coaster ride I've been on.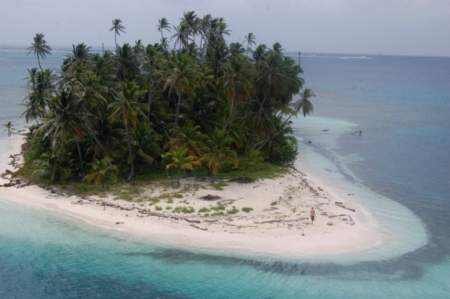 View of our island for the day at Cocobandero in the San Blas Archipelago on the way from Panama to Colombia."
Ken Thomas, UK to Cape Town, in Tanzania, Yamaha TTR,
"The next morning, departing Kibondo, I knew immediately why I nearly abandoned my visit to Kigoma last week. The nice dirt road of the previous day had changed into a mass of loose stone chippings and thick soft dust taking the form of deep holes, corrugations, transverse ditches, ruts and every other possibility you can imagine.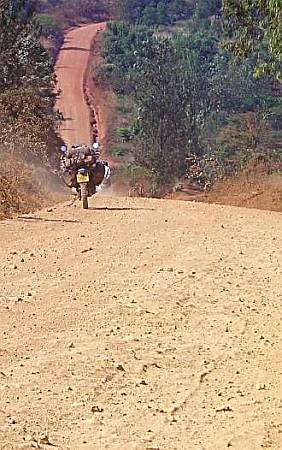 I was careful this time to look out for those deep channels right across the road, cut by the rains and filled with stones and thick dust. But distracted by the concentration needed, I found myself a couple of times in a concealed rut which I could see became deeper and deeper ahead, and it was too late to steer out. And braking wasn't really an option either. These ruts are the width of a double truck tyre, filled with loose stones in the bottom with a layer of soft dust, maybe three inches deep, on top. The nearest you can get, I think, to the ubiquitous 'riding on marbles'. So I quickly made sure to identify those in good time.
I found this pretty tiring on top of yesterday's relatively easy (but 140 miles) dirt ride. So I was persuaded to stop a couple of times for photos, when I could find a spot to park the bike without too much paddling about in deep powder on the edge of the road.
...This central part of Tanzania was alive with volcanoes millions of years ago, which showered the land with rocks and boulders as well as lava. Consequently massive, strangely shaped boulders dot the landscape, some on their own, many in huge piles and clusters. Somehow or other, most of the largest boulders ended up balanced on their ends on top of piles of stones, or on one single even larger boulder. A strange landscape.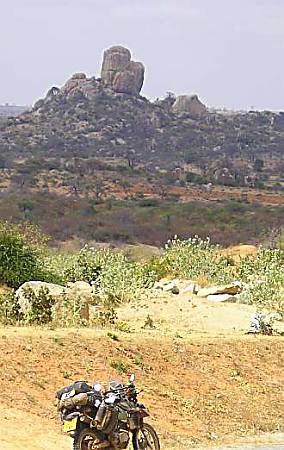 The top of a ridge at Chigongwe a little way before Dodoma gave something of a panorama.
At the top of the ridge towards Dodoma the road skirts round two volcanic rock sentinels. An enormous bolder perches on top of a cone of boulders on the left.
There were four or five separate systems of alternate one-way working around the mountainsides, each about two miles long, controlled not by traffic lights but by enormous gates across the road and a system of walkie-talkies. There were many long queues of resting truck drivers and impatient bus drivers, but I was waved through every time, sometimes having the whole gravel road, or whole new tarmac road, to myself.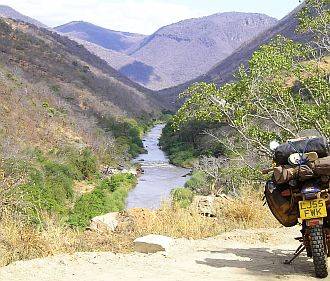 The big gate was closed behind me as there was no traffic following, but a long line of traffic ahead of me. I stayed there a while before realising the heavy lorries that were in front had disappeared into the distance. And the road here was just one bus-width wide. If the last lorry ahead got through the distant gate without me in sight, the gate man there would unleash a roaring hoard of angry buses right into my path. Oh dear, I had better get a move on, and hope nothing came round the tight turns hugging the mountainside. Well, luckily this section was quite a few miles long, so I caught up the freight ahead OK, followed it all through the exit gate and the short way up to the next gate, where I was waved past it all to the front. So that was alright then.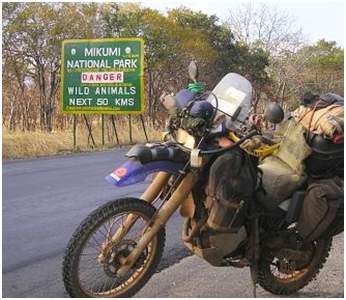 It looked as though I would reach Mikumi town in good time, so I stayed on the road as it went straight through the middle of Mikumi National Park on the way. First on the bill were baboons wandering all over the road, they certainly like the tarmac. Followed by antelope with long horns, don't know the name. I had to snap them as soon as I stopped. If I get off the bike they scamper away."
Dom Giles, UK, Alaska to Panama and then some..., in Alaska, BMW 1200GS,
"Dalton Highway - Failure is the new success. Two days after flying in to Anchorage I was on the road on my 1200GS and heading for Fairbanks. It had been incredibly easy to buy the bike in Alaska. I had the bike registered and insured in one afternoon and I was on the road the next day. As Anchorage had been wet and Fairbanks promised sun my six month trip down North America to Panama was going to start with a 350 mile trip north.
Fairbanks was nicer than I expected and full of motorbikes. The Dalton highway (to Prudhoe Bay) clearly beckoned bikers from all over, and every time I stopped there were BMWs, KTMs and Harleys all over the place. I hadn't given much thought to heading up to Prudhoe myself, and had heard that the road was notoriously tricky, but the longer I was in Fairbanks the more it appealed. Discretion being the better part of valour, however, I decided that with two days of riding experience on this bike it would be somewhat foolish to head 400 miles up this cul-de-sac.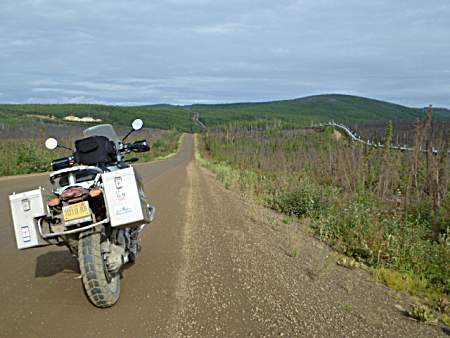 I did however decide to go part of the way, up to the Arctic circle. The road this far was supposed to be in good order and one sunny morning, I pointed the bike north and headed for the Circle. The road is paved for the first 80 miles out of Fairbanks, the rough stuff only started at the very 'stickered', official Dalton Highway sign (now adorned with a Horizons Unlimited sticker alongside the dozens of others). The next 55 miles, to the mighty Yukon river and bridge was easy going packed mud and gravel and I was cruising along at 50 miles an hour. All the stories of huge trucks overtaking me and pushing me into the mounds of gravel on the sides of the road were just, well, stories.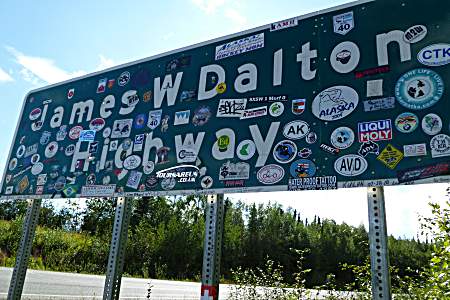 Crossing the Yukon the road got a little rougher in places, but never really bad and there were even stretches of tarmac. 60 miles on and I reached the Arctic Circle. In fact, to be honest, I missed it. I was having such a good time, the bike was purring, the scenery amazing and the road actually quite good, that I missed the rather large sign announcing my arrival at the Arctic Circle. I knew the Circle was at mile 115 and when I passed mile 122 I realised that I'd gone too far and I pulled off to the side of the road. Dismounting, I felt a little silly that I'd gone too far. I stopped for a few minutes to soak in the enormous scenery and silence. Contemplating the fact that I was about to turn the bike around and head south, all the way to Panama, I may have inadvertently shouted something silly in my helmet ('Panama here I come' - you know the kind of thing) and headed south for the Arctic Circle ( not many people can say that!)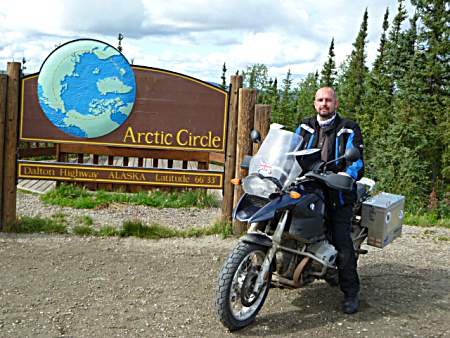 Do I regret not carrying on to Prudhoe Bay? Well, yes and no. It was never my intention to get there and as I was just starting my trip I didn't feel the need to. Having only ridden this bike for two days I thought it a little risky to head up there and I certainly didn't want my round the world trip to end in the first week with a broken ankle on the Dalton. Could I have made it? Probably. By all accounts the road up to Coldfoot (60 miles north of the Circle) was absolutely fine. But then it was another 240 miles to Prudhoe Bay and some of that road was certainly tricky. 'It's like riding on snot and marbles' I was told. I met many people who had made it. Mainly on BMWs but one on a Kawasaki 1400 road bike, and even a Ducati. But, of course, you don't meet the ones who didn't make it as they are in hospital!
Later that week as my confidence grew, I crossed the 135 miles gravel and dirt Denali Highway, and went 60 miles down a really bumpy dirt track to McCarthy, so I suppose, yes I could have made it to Prudhoe Bay. Certainly, after 10 days and 2500 miles riding in Alaska by the time I left and entered Canada I certainly felt confident enough to have tackled the Dalton. Alaska has taught me that I need to be a little more adventurous and confident that I can do more than I might at first think I can. And if life and travelling are all about learning new things then the whole experience has been a huge success. (That's what I'm telling myself anyway)."
Bob and Sheila Oldfield, UK, ATW 2010-2011, in Mongolia, Cambodia and Thailand,
"The shipping company are messing about. They don't seem to have any idea of how to ship the bikes, and have just printed off the Internet a 'how to prepare a bike for air-freight' document. It's all so frustrating.
...Although we both had serious reservations about leaving the bikes without knowing they were on their way to Thailand, we knew we had to let the shipping company deal with it all. So we're off to the airport for a flight to Beijing, China, while the bikes are expected to leave on 7th...
...The shipping company operative has now decided that the fuel tanks should have been emptied, and that it's too difficult for him to empty them, and would we like to post the keys, or return to Ulan Bator to do it ourselves! What an idiot this guy is -we sent him a youtube video of how to siphon fluids. Decided to go to Cambodia for a couple of days, since the bikes seem to be going nowhere still.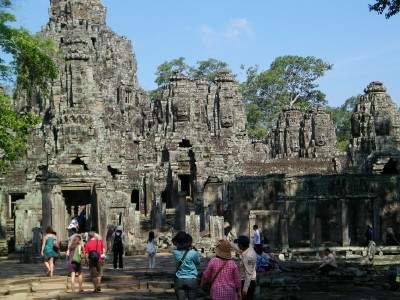 Another absolutely incredible sight - it covers such a wide area, and is just amazingly beautiful. Apparently some of 'Tomb Raider' was filmed here, but it's a very peaceful place, and the guide is very enthusiastic and knowledgeable.
... Another interesting journey, back to Thailand. First a minibus into Siem Reap, then a coach to the border. There was supposed to be someone to meet us to help us through the border procedure, but no-one appeared. Just as well I had the presence of mind to pick up one of their brochures while we were sat waiting to be told what to do 2 days ago. We called the lady, and she said she'd be there in a minute. An hour later she turned up, and then palmed us off onto another cramped minibus which happened to be going somewhere in Bangkok. There may have been room for 2 people, but not room for 2 people with 2 rucksacks! But if you can't argue in their language, they don't want to know, and play dumb. So eventually we got dropped near Bangkok main train station, and told to get a taxi back to the hotel. We were just so relieved to get back to Bangkok, that at the time we didn't notice that our 30-day visa for Thailand has been converted to a 15-day visa now.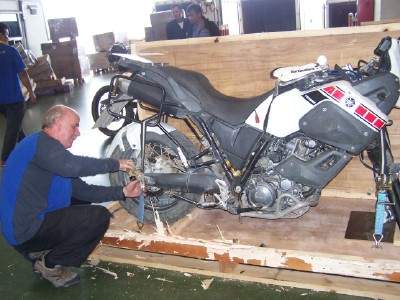 Got a taxi out to Bangkok Airport early, expecting to spend all day doing paperwork, or sitting around doing nothing waiting for other people to pull their fingers out. In the end, we did 10 minutes of paperwork, and then had to wait for Customs to have lunch. But then they released the crates at around 14:30. We hadn't expected we would have to put them back together again, and drive them back to Bangkok today - we're in a hostel right in the middle of the busy market/gay area, with nowhere to park them, no maps of how to get back to the right area, and no real idea of how to get the 30km back to Bangkok without using the Expressway (which motorbikes are not allowed on!)"
Hubert Kriegel, France, Sidecar-ing the world, in Mongolia,
"When I was in Switzerland last week, I went to see a dentist to modify a denture because so it goes in life! The dentist told me that he would not touch my denture and that in Switzerland they do only the 'Rolex of the teeth'. I told him that I did not need the denture to eat caviar but to eat boiled sheep in Mongolian ger!
This afternoon I was able to see my Gana the Mongol dentist who helped me a couple of times this winter. She is making me a new denture, we did the first print on the spot, tomorrow morning is the first try with a 'Bite print' and Thursday it will be done. The price is $25, I cannot lose!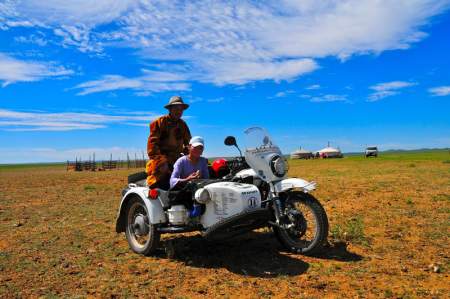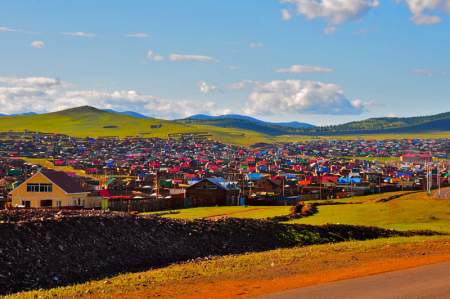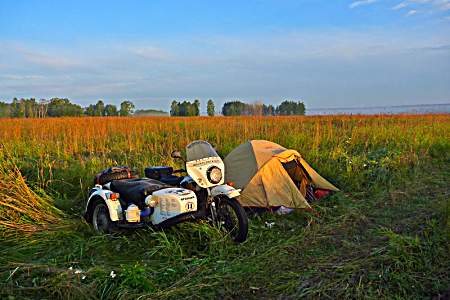 Brendan Seaton, Canada, Wiped out on the Dempster, DL650,
"I can't say I wasn't warned. Its well known that the gravel on the Dempster Highway from Dawson to Inuvik is a killer... as I learned 70 kilometers south of Inuvik. You would think that after having driven almost 700 kilometers in the stuff I would be used to it. But no... every patch of loose gravel on the Dempster is different. I was riding my fully farkled DL650 with TKC80 tires.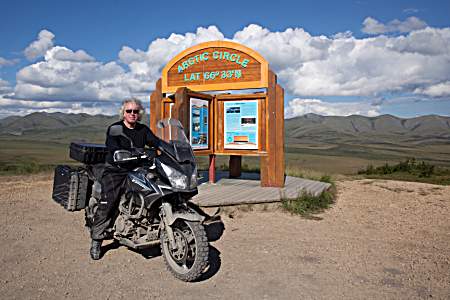 It wasn't speed... I was only doing 60 or 70 kms/hour when I hit the gravel patch. It wasn't weather... it was a beautiful day... about 24 degrees Celsius - 75 degrees Fahrenheit.
The back end started to fishtail, the bike went into an uncontrollable wobble and went down low side. In the process my foot went down and I could feel the bones in my ankle snapping. Then it stopped. The engine cut out and there was silence. Total silence. I was in the middle of the road. I knew my leg was broken, but everything else was OK. ATGATT. Never compromise. I was under the bike but not pinned. My Caribou cases kept the bike up off the injured leg.
Fortunately I had decided to bring a satellite phone with me and got the number of the RCMP communications centre in the Yukon before I left. It worked perfectly... Though I was now in the Northwest Territories. It took a few seconds to transfer the call to the RCMP detachment in Inuvik. From my GPS I was able to tell them how far down the road from Inuvik I was, and was able to give them the precise GPS coordinates. While on the phone a camper van from Washington State driven by a really nice chap named Ralph pulled up. Though you're riding alone on the Dempster, at this time of year you can count on another vehicle coming by every 10 or 15 minutes. The RCMP asked to speak to Ralph just in case I passed out. He agreed to stay with me until help arrived.
It took the RCMP about 45 minutes to get to me. 50 minutes for the ambulance. In the meantime, a couple from Inuvik on the way home stopped and helped get me to the side of the road and get the bike off the road. Several other vehicles, including one biker, stopped to offer assistance.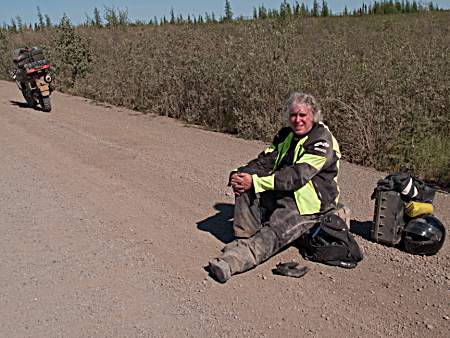 Inuvik has a little hospital with very kind and competent medical and nursing staff. They X-rayed my leg and sent the X-rays electronically to an orthopaedic surgeon in Yellowknife. It was decided to Medevac me to Yellowknife on a fixed wing air ambulance.... Oh... Insurance.... Don't leave home without that either. The Medevac bill was $15K.
And the best motel I 'never' stayed at? I was heading for the Arctic Chalet in Inuvik. When the proprietor learned that I had been in an accident, she came to the hospital to see me, but I had already been airlifted to Yellowknife. She tracked down my wife in Toronto and offered to help in any way. She and her husband are now making all the arrangements to get my bike, gear and luggage shipped home. If their accommodations are half as good as their kindness..... its unquestionably 5 star.
And a plug for Caribou cases... the laptop this is being typed on was in the case that hit the ground the hardest. The mountings on the left side are bent up, but the cases themselves are still intact and will be on the bike for the next trip.
I was told by the RCMP that the bike is in pretty good shape. Only real damage is bent handlebars, and a broken side mirror. Crash bars and barkbusters helped there.
Yeah... I crashed my bike.... I broke my ankle.... But I made it to the Arctic Circle and had my faith in humanity restored. Check out the video..."
"I had to start a new post for Tanzania as I learned that it is not a good idea to use MS Word for writing and then pasting inside one's blog, for it becomes corrupt and confused from the rich text.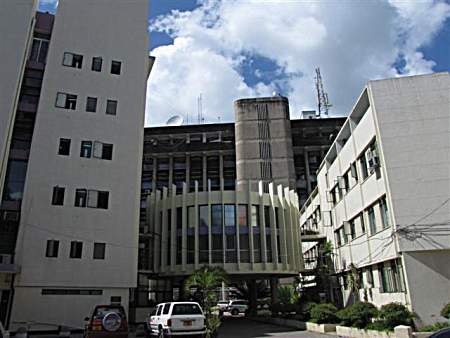 This is the church / hostel / conference centre / restaurant / parking place in Dar Es Salaam, five minutes from the ferry to Zanzibar if anyone should need this place to stay, and store your bike securely ($20US/night, $8 for security tip).
... Paused in Arusha to figure out the best and most economical way to get into Ngorongoro National Park and crater since it is not permitted to ride into the park. In the end I asked a couple of Tour operators if I could ride somewhere close and go in with a truck and driver. Yes, ride to Karatu and hire a truck there. So I decided to stay another night in Arusha, just to watch the football matches on Friday and Saturday, before heading out on Sunday. The Swahili time is no joke, for they believe the day starts when the sun rises, and is finished when it sets.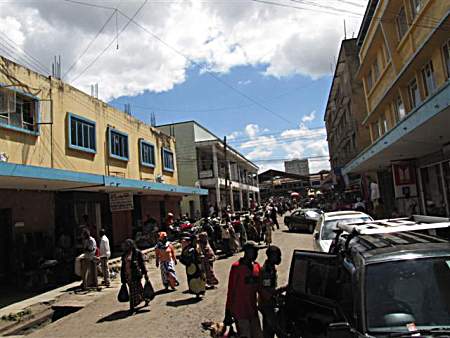 ... After arriving in Karatu, I found out after riding to all the resorts and lodges in the village that there were no trips planned for the crater on Monday so I found myself with the idea of paying huge prices for a room, from US120-75, just to stay for a night and see if some other people showed up. Through this process I realized that the tour companies have this locked down, and it's unusual for a single person to show up for a safari ride into the crater in Karatu, for it costs in US dollars, 50 to enter the park, 180 for the vehicle and driver, and 200 per vehicle to descend into the crater, all on me.
So with no other persons to hook up with, who have previously booked all their accommodations, safaris etc. with a tour company, all inclusive for who knows how much money, I was at a loss. I tried one last place and it was the poshest resort I had seen or been to. Danny the reception guy approached me..."
Tiffany Coates, UK, RTW, in North America, BMW R80 GS,
"Heading Home From Mongolia - At the tail end of last year, having ridden across Central Asia, Mongolia and Siberia I found myself in Japan with the winter rapidly closing in. Unable to return home through Siberia due to the snow, I found a freight ship to send my bike eastward which is how she ended up in Los Angeles. I spent the earlier part of this year at home, whilst the weather was cold and saving up money to continue and now I'm back in the States.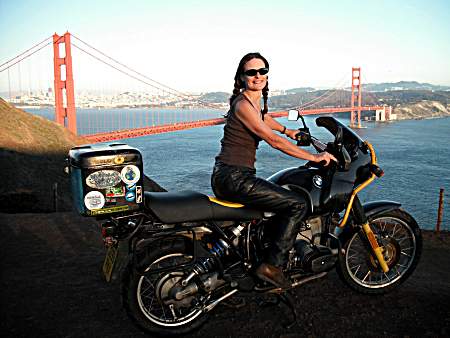 As my flight passed over North America on my way back to LA, I looked out of the window and saw some fantastic scenery- thousands of lakes, lots of trees, no people and just a thin yellow line snaking across this empty landscape, I could see that this yellow line must be a dirt track of some sort, the plane seemed to follow this twisting trail for a long time - I looked at the video screen map to discover that this intriguing place is Labrador. Which is why, when I stepped off the plane in LA, I announced to my friends 'yes, I'm riding from LA to Louisiana (to see friends there) but I'm going via Labrador'.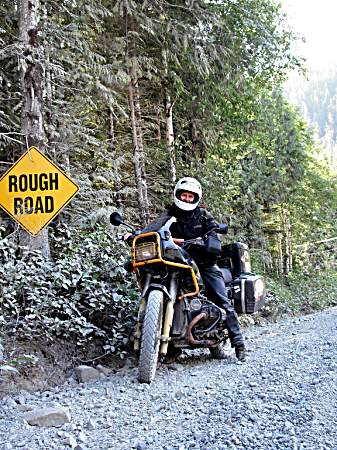 It's going to be a long haul from the south west corner of the States up to the north east corner of Canada, and actually I reckon if there was a ferry available, Greenland would be my ultimate destination. Thelma (my R80GS), now has over 167,000 miles on her, which is a bit of a conservative guesstimate as I seem to make a habit of breaking speedo clocks in remote places (I'm on my third).
... Thelma and I are almost ready for the big push up to Labrador, we're in Seattle getting her prepped, and had a practice run out to Vancouver Island for the weekend where I had great fun camping and riding all the gravelled logging trails through the backwoods there."
More stories below...