Too many to list! If you haven't checked out the Links page it's time you did - it's scary long, but it's a fascinating browse.
Michael Murray of Motorrad Media (producer of the HU Colorado Travellers Meeting Video) writes:
"The Trans-America Trail dual-sport adventure of riding across America all on dirt roads now has a completely redesigned website, including a short video of Sam Correro, creator of the trans-America Trail."

---
Get your website listed in the LINKS Section
by listing Horizons Unlimited on YOUR web site, let me know you've done it by mailing me a link to the page, and you may get listed here in the next newsletter and on the Horizons Unlimited web site Links page. To make it easy for you, we even have our logo and link code here!
All sites will be considered for listing, but must be a MOTORCYCLE or TRAVEL site, useful or of interest in some way to travellers. We reserve the right to refuse to link back.


Motorcycle Express
MC Air Shipping, (uncrated) USA / Canada / Europe and other areas. Be sure to say "Horizons Unlimited" to get your $25 discount on Shipping!
Insurance - see: For foreigners traveling in US and Canada and for Americans and Canadians traveling in other countries, then mail it to MC Express and get your HU $15 discount!
There are many 'Helpful People' listed on the Links page, a huge thanks to all of them. How about you? Or you can join a Community, or start your own!
Do you know of a good shop 'on the road,'
...in other words, somewhere there isn't a large number of shops? (Also of course any shop that specializes in travellers equipment and repairs is of interest.) But we're particularly looking for those rare items, good repair shops in South America, Africa and Asia etc. Please post your info in the Repair shops around the world Forum on the HUBB.
There are now 100's shops listed in out - of - the - way places, from Abidjan to Ghana to Peru! Be sure to check out the HUBB "Repair shops around the world" forum if you need work done!
A cautionary tale from Edde Mendes (Motoedde) in Mauritania and Senegal:
"I left early enough(7am) to arrive at the border by noon. I completed the paperwork and handed it to a local police officer to process around 12:30-but guess what-their office closes between 12:30-3 for lunch-so I parked my bike right next to the ferry dock in conspicuous view with everything tied down tight. I walked away with my helmet and jacket to a local restaurant. One of the guides followed me and continued to offer his services including having his friend watch my bike while I walked away for lunch. I took his friend up on the offer as it costs basically 10 cents. While at the restaurant, I decided to take a pic and stick my camera back in my jacket pocket.
Anyway, it's now about 3pm so I walk back to my bike and the guide continues to follow me. When I get to the bike, the police officer arrives promptly with my processed paperwork, and now asks for a payment of about $25-and I remind him I refuse to pay anything above the $8 standard fees-we argue for about 10 minutes at which point I'm frustrated and request that we talk to the police chief. I accidentally leave my jacket and helmet on the bike and go off to sort this out. When we get to his office, the local police officer talks to the chief in Arabic instead of French so that way I can't understand their dealings-so when I talk to the chief, I talk in Wolof (local Senegalese language) which means the local police officer can't understand as he's from the North-turnabout is fair play!
After arguing in different languages I hand over the local equivalent of $8, thank the police officers for their time in helping 'educate' me about the process, and leave. I run back to my bike, put on my jacket and helmet, and get on the ferry. A couple lorries/tractor trailers fully loaded roll within 4 inches of me-they pack the ferry tight! I figure I'd ask one of the locals to take a picture of this tightness but when I reach for the camera-gone!
As I arrive on the Senegal side of the river, I explain to the Senegalese officials my predicament and tell them I believe someone took my camera. They are sympathetic and tell me to leave my bike next to their office and take the ferry back to Mauritania- It's now 4pm and I head back to Mauritania on the ferry to talk to the police chief again. I explain to him that because of the stressful situation created by one of his officers in trying to extract a bribe, I accidentally left my jacket unattended as I went searching for the police chief. I told him that I called the US embassy in Mauritania when I was on the Senegal side and they advised me to try to work it out with the local police, and to call them back with the results of my efforts.
Once I mentioned the embassy, we walked into a back room where there were 4 other officers all sitting around high end laptops surveying the dock areas with WiFi webcams-holy shit-these guys are seriously high tech! I had no idea-I ask for the footage around my bike during a 30 minute sequence and we watch it over a laptop-we're even able to zoom in-and watch the 'guide' who had been following me around, fumble with my jacket when I went to talk to the police chief-we later see the same guide get onto the ferry and go over to Senegal.
The Mauritanian police explain to me now that they can't do anything as the thief has now entered Senegal and neither can the Senegalese police as the alleged crime occurred in Mauritania-so if I could somehow convince the 'guide' to come back to the Mauritanian side of the river, they could apprehend him. The police explain to me the guides travel back and forth on the ferry into the no-mans land all the time-so it shouldn't be a problem.
Its now 6pm-fine-I get back on the ferry and head to Senegal. As the ferry arrives on the Senegal side of the river-I walk around the market area in no-mans land and spot the 'guide'! He approaches me and asks me why I still haven't left. I lie to him. I explain to him that the Mauritanian police didn't complete all the paperwork so the Senegalese are sending me back to Mauritania to finish it off. I told him I'd take him up on his offer to help process this last part as I'm frustrated. And he idiotically agrees.
So we both get on the ferry-and when we arrive on the Mauritanian side the police promptly apprehend him. We all take a ride to the local prison. As the police begin to interrogate him, he keeps denying he had anything to do with the stolen camera and his friend who was guarding the bike probably stole it. The police within 30 minutes apprehend his friend and continue to beat both he and his friend. While this interrogation is going on, I'm placed in a holding cell with other prisoners as accusing someone of theft in Mauritania is a serious accusation, and if wrongfully accused, the accuser faces serious consequences. They now tell me this! Oh shit! And then their parole evidence rule may disallow his potential confession because of my apprehension of the guide on foreign soil and my lodging a complaint against him (simultaneously being the same person).
What a moron - my motorcycle and all my shit is over on the Senegalese side of the river and I'm sitting in a Mauritanian prison on the other side of the river deciphering their legal procedure to get my ass out of prison because somebody stole my camera! I should have just let this one go and bought another camera when I arrive in Dakar ( Senegal) - moron.
Now, the police come back and tell me that his friend has no idea about the camera and I agree with the police that his friend who guarded my bike probably didn't do it and has no idea. But the 'guide' is hiding something-so the police go back and interrogate the guy more and strip search him - at which point they find the camera! Whew! It's now 8pm, and they call the local judge and district attorney of sorts, and an impromptu trial is held around 9:30 in the prison. The guide is going to jail for 2 years!
Anyway, it's now about 11:30pm and since the ferry doesn't operate at night, I'm placed in a canoe and paddled back to the Senegalese side of the river. I arrive after midnight and my bike is still there! Good sign! The Senegalese police, excited to see me process my paperwork in less than 10 minutes! So I'm off towards St. Louis - about 150km of pothole filled road ahead-but 3 hours later, I pull off the side of the road before St. Louis, take off my helmet and just fall asleep on the ground..."
Andy Tiegs, USA, to Central/South America, in Peru, Bolivia and Argentina, KLR, tells us what it has cost him for his trip so far:
"150 Days on the Road - If anybody is wondering what it really costs to do a trip like this, here are my expenses for the trip so far. Since I took today off in Punta Arenas to enjoy being dry and warm for the first day in about the last 12 (it has rained at some point every day but one since I entered Chile the first time near Puerto Montt), I thought I would take a stab at seeing what this trip really cost me. I have not been doing any accounting as I go, but thanks to internet banking, and free wi-fi at the hostel I am at, I looked up my checking account activity. These are expenses since I crossed from the USA into Mexico back in July.
Total withdrawn from checking accounts or paid on my credit cards: $7400
Still have $400 cash on hand, leaves $7000 expended for 150 days. Big ticket items:
shipping bike, Panama to Bogota: $501
shipping me, Panama to Bogota: $260
Pair of motorcycling pants: $180
3 tires: $280
Fuel: $900
Spanish lessons: $180
Machu Picchu trip $130
Camera/storage card/reader to $280
replace the original that died
Total: $2711
That leaves $4569/150, or $28.59/day, that went into daily expenses, like lodging, food, beer, internet access, border crossings, oil and chain lube, mountain bike rental, laundry, whatever. I don't think there is too much fat in that $29/day figure, although I'm sure people have done similar trips on much less. Most days I had a private room, although there were probably 15 nights that I spent in shared room hostels, and probably another 25 where I had no cost, either camping out or staying at someone's home. I ate pretty good most of the time, usually 2 restaurant meals per day, and didn't skimp on the beer, which is surprisingly expensive in a lot of places. I can't think of anything I bought for the bike, other than oil and tires, so I was lucky in that respect. Without going to a lot of effort to pin it down exactly, I would guess I spent $20/day in Guatemala, Honduras, Nicaragua, Peru and Bolivia, and maybe $30 in Colombia and Ecuador, and $40 in Mexico, Argentina and Chile. Panama, I only spent a couple days in, and most of my time in Costa Rica I had a free place to stay, so it's harder to estimate for them.
Of course, I still have 2 or 3 weeks to go, and have to get home, which will be by far the most expensive part of the trip. I think I will get myself and the bike back home with a total trip cost of about $10k. I originally thought this would take $10-12k, so I was right on the money there. If I have any decent weather tomorrow, I should get to Ushuaia on the 22nd. Merry Christmas to all."
David Adolph warns about money changers at border crossings:
"Just returned from a trip to South America Thought I would warn everyone of the latest scam leaving Ecuador into Peru money changer gave me some counterfeit money. fresh from the copy machine. Best bet when changing money on the street don't take any new looking money. Dave"

When you meet people on the road, and they haven't heard of this e-zine or the website, we'd appreciate it (and hope they would too!) if you'd get their names and email addresses and send it in to me.
Thanks, Grant
Request for info
Wouldn't YOU like to know all about the border you're approaching - what it should cost, paperwork required, 'tips' needed, and who to talk to, etc.?
When you cross ANY border, take some notes, and pass them on to us. Thanks!
Shipping
The Shipping page on the site is HUGE! It can be reached directly or from the Shipping link on the Trip Planning page.
If you have any information to contribute, please go here, and register (or just login IF you have used this system before) and you can then submit your information. Thanks!
Travel Advisories:
The Foreign Office in London's Travel Advice Unit advises against travel to all sorts of places. Check out the listing before you start!
The US State Department regularly issues updated travel advisories, information and/or warnings.
Jeremiah St. Ours, USA, to South America, in Bolivia, BMW F650GS,
"In the last 3 months I've endured a few travails. I resuscitated my tired but loyal companion, El Viento. I ran the Brazilian border and forged my way into Argentina only to be strip-searched. I fell ill, was struck by a truck, and broke down in the middle of nowhere. Then I got lost, was ripped off, and watched a riding partner crash--twice. No matter. Nothing was going to prevent me from reaching my pan-American odyssey's penultimate goal: exploring Bolivia's incomparable Salar de Uyuni.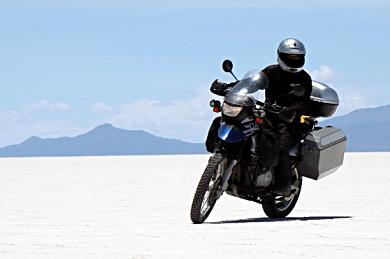 In my entire route from Alaska to Argentina, the Salar stood out as the singular most important stop. A quick spin of the globe reveals why. On Bolivia's high Altiplano there's a permanent white spot. A 4,085 square mile white spot, to be exact, which differs from the Polar Regions in that it lies near the equator. That's because the Salar de Uyuni isn't frozen. It isn't even water. It's salt. 10 billion tons of it.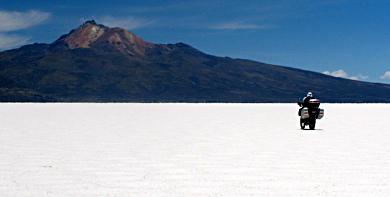 So committed was I to riding across this unique landform, I rerouted my entire trip to do it. For those who've been following my trek, you'll remember I first entered Bolivia in January 2006 on my way south from Peru. Then, torrential rains turned the unpaved route into a mudfest. My riding partner broke his leg and was medivac'ed to the U.S. I was pinned down for days. The mythical salt flats were under water. Unable to advance I was forced to escape through Chile's dry Atacama Desert. Bolivia's rainy season would eventually end, but not before I would have to continue south to avoid the Patagonian winter. Waterlogged and demoralized, I vowed to return.
In September, I did. I flew back to Rio de Janeiro and traversed the South American continent once again. When I arrived in Uyuni, the tiny Bolivian outpost perched on the edge of the ancient lake, my quixotic trek had finally reached the fabled salt flat. The locals were unequivocal: 'Don't go out there alone. There's no water, the sun is brutal, you can't hide from the ferocious winds, and there are no landmarks in the white expanse to help you find your way back.' They continued with dismay, 'Every year someone gets lost out there and dies. Every year some fool doesn't listen.'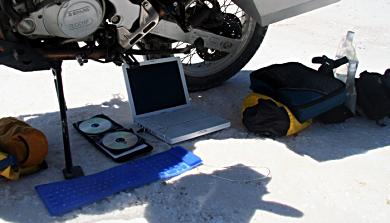 Fortunately I ran into Ming Ang, a fellow motorcycle traveler of Indonesian descent who faced the same predicament. Together we prepared our machines and plied the local market for provisions. Then, for 6 days we ventured out into a strange new world. Of scenes more spectacular than any photo could impart.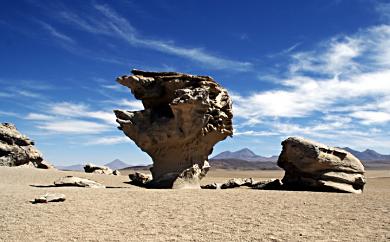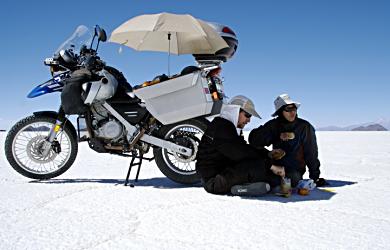 Of ancient mummies, live volcanoes, disorienting horizons, boulder-strewn 'islands,' furry cacti, star-filled galaxies, kangaroo-like viscachas, roofless stone houses, and campsites the likes of which I've never experienced in my hundreds of nights spent outdoors.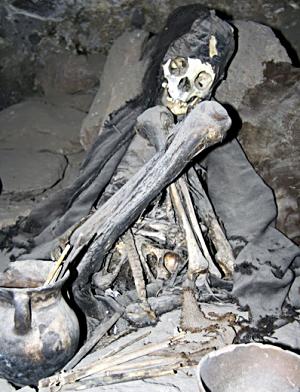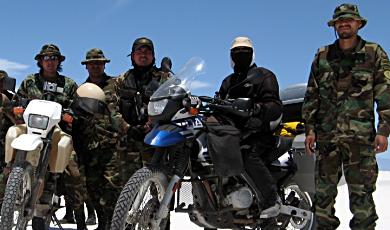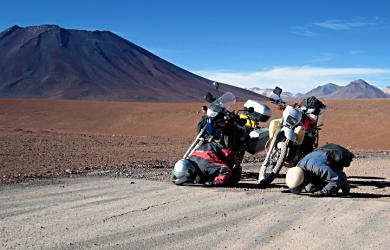 It's impossible to describe this place; all superlatives are woefully inapt. Picture rolling across a giant frozen lake covered with an icing of thin, slushy snow. For miles and miles and miles--at speed. It's crunchy, vast, blinding, cold, dry, bleak, windy, hostile, desolate, fragile and lonely. In short: it's the closest place on earth to actually being on another planet."
Peter and Kay Forwood, Australia, around the world since 1996, in Iran, Pakistan and India - and a quick trip home to Australia for Christmas, Harley-Davidson,
"Rayen, Iran, a little off the main road, has a 1000 year old citadel, a mud walled city. Not inhabited for the last 150 years it is now being restored. The newer Rayen city, in the older parts has little difference in building construction techniques and materials to the citadel. Mud and sun dried bricks, domed roofs, still the preferred method. Restoration of the citadel is partially completed and shows a good mix of the decay and how the city would have looked with its massive exterior walls, opulent governor's quarters and basic common people's houses.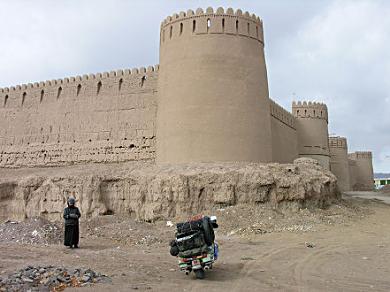 ...We also visited the Zoroastrian Fire Temple where the sacred flame, that has burnt for over 1500 years, is now housed. Zoroastrianism first started in Persia more than 500 years before Christ and was the dominant religion before Islam. Until recently their dead were left for the vultures to pick the bones clean at the Towers of Silence on the outskirts of Yazd, which we visited today.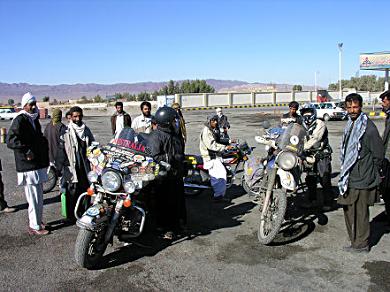 ...Miki (Minori), a Japanese woman, was planning a motorcycle ride with her friend to the USA when the friend died in an accident. They had not decided where they would visit in America, so to honour the remembrance of her friend, Miki rode solo to all 50 states. She has since ridden across Russia to Europe and is now finishing her third solo trip, this time from South Africa to Nepal through some challenging countries for a woman on her own. We first met her in Esfahan, decided to ride together from Bam to Quetta in Pakistan and this morning left Bam early for the border. Miki is riding a 250 cc dirt bike and travels at 80 to 90 km/hr and hasn't been stopping except to refuel. Often refused entry to restaurants here as a lone woman and receiving more attention from men than she likes she has been moving from hotel to hotel with few stops.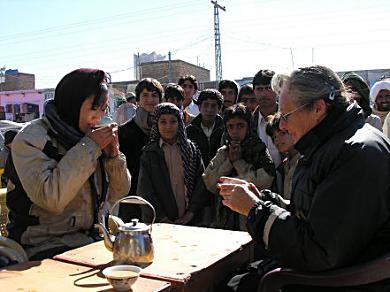 Pakistan
It surprises people when we say that Pakistan is one of the most conservative countries we have visited. Often Iran, Saudi Arabia or Afghanistan come to mind first. Our assessment is based primarily on the role of women in the society. Few at all are seen in the streets of regions like Quetta. Even in Afghanistan many women can be seen, or not seen as they are covered in a burka robe, moving about the streets, individually or accompanied by family. Saudi Arabia has shopping malls where women, with only eyes visible, congregate to shop, but in Pakistan's more remote areas there is virtually no contact between women and anyone else outside the family. Western women are however well received, included in conversations, can shop alone, and are treated well if they are not demanding.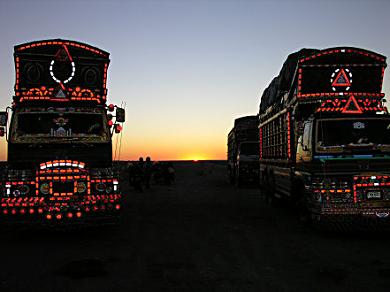 ...The prize for the most unusual border crossing must surely go the one between Pakistan and India. There is only one border crossing open between the two countries and it closes regularly when tensions rise. Even when open there is little trade between the two giants as all goods have to be hand carried for 300 or more metres passing the hessian wrapped bundles from an Indian porter to a Pakistani one or vice versa to then be reloaded onto the other country's trucks. Today more than 50 trucks were lined up waiting to offload their cargo from the Indian side. Tomatoes and onions were ripening and rotting whilst they waited to be hand carried, over a week in many cases. We were at the border by noon and had no problem passing out of Pakistan and were allowed to take photos of the goods transfer.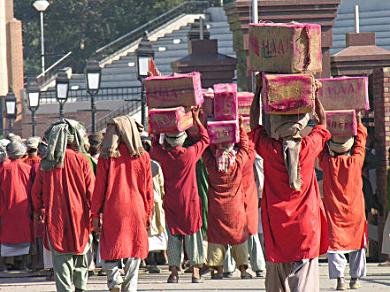 Entering India
We had the same slow cold welcoming on our arrival at the border as we had at the Indian embassy in Ankara. The immigration officer was quite put out by our arrival disturbing him from his lethargy it took 30 minutes to process our stamps despite being the only ones at the border. Customs were equally inefficient as the only officer to be able to check the motorcycle's engine number was at lunch despite the border not closing for lunch and it took one and a half hours to finish the border despite only seeing one other person crossing. We rode to Amritsar for the night.
… India must still be one of the most economical places in the world. The welding was just $US 2.00. Our hotel room with a hot water en suite, satellite TV with movie channels and comfortable clean room is $US 8.50. We are getting room service for most of our meals and with taxes and tips they are less than $ US 2.00 each. It is a great place to wind down after 12 months of travelling."
---

Drop in on Alaska Leather on your Alaskan adventure for service, tires, accessories and a hot cup of fresh coffee!
---
Hamish Oag and Emma Myatt, UK, Asia, Australia and the Americas, in Argentina, BMW R1100 GS,
"From the Horizons Travellers' Meeting in Viedma - Oscar had organised a ride into town to join up with a group of local bikers for a barbeque which was good fun. The following day we rode out to a cliff top from where we could view a huge colony of sea lions. Oscar then took us on a '20km or so' ride on gravel roads across farmland, after almost 50km we arrived at our destination, a sheep farm belonging to his friend...
...It was good to meet other people who are mad enough to ride around this huge continent, share stories and compare notes about places to go, plus of course sample lots of local beer.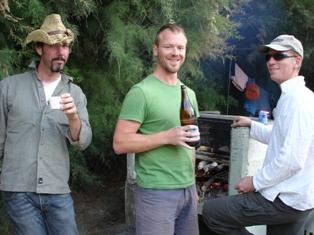 On the way to Ushuaia we stayed in small 'cabañas' - self catering accommodation, or cheap hostels or hotels. As we were on the move every day we didn't want to be packing up the tent every morning. Accommodation is generally quite cheap, we've been paying about $10 US a night (about five pounds), usually with breakfast, but our preference is still for camping.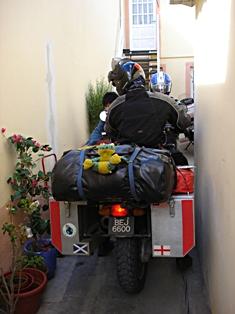 And on to Peninsula Valdez - The next morning the wind was more manageable so we hopped on the bikes and headed to Punta Tombo, site of the World's largest colony of Magellanic Penguins. 175,000 breeding pairs come here every year for the summer months, and they were everywhere!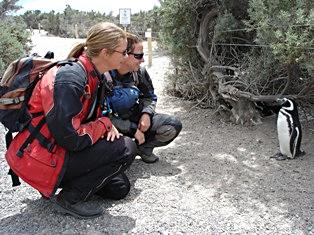 We wandered around roped-off paths between burrows, sat and watched them launch themselves into the sea and watched as they waddled across in front of us. The penguins were utterly charming and not at all bothered by our presence. They even came to check out our bike!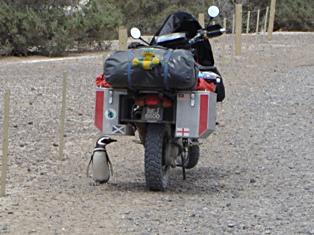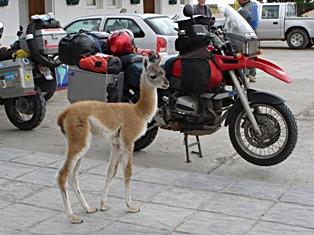 Guanacos are related to camels; they are very common in this part of Argentina and we passed several groups (anyone know the collective term?) of them grazing near the roadside."
---

Africa Bike Tours provides you with a selection of unique guided Namibian tours by experienced off road hosts.
Come to Namibia for real adventure, Grant and Susan's favourite African country!
---
John and Alanna Skillington, UK, Europe to Australia, in Pakistan, Suzuki V-Strom,
"After doing all the paperwork and taking two hours to leave Iran, we ride out of Iran into Pakistan following a dusty trail only to realise we have missed the immigration point, which I actually mistook for a chook shed. (Chicken Coop) We turn around and join the 100 locals who are queuing, the money changers are trying to boss us around and tell us we must join the line outside and stay there, obviously so they have more time to badger you to change money. Tired, hot and slightly annoyed Skill goes into the main office where we are processed in 10 minutes, then it is off to the the next shed across the rubbish strewn dust bowl called Taftan.
The carnet details are entered into a huge old ledger that measured well over a metre long. Finally we are off, to get our black market fuel and make the break to Dalbandin across the incredibly harsh dessert landscape. We were informed that we would have a police escort to Dalbandin so we were pleased when none eventuated.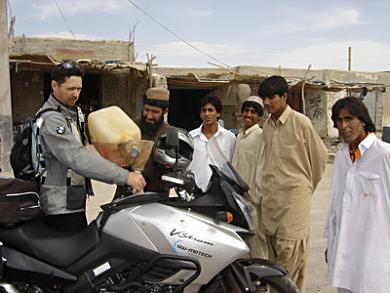 About thirty kms from Taftan we are stopped by a piece of rope stretched across the road. Out of a tent appears a red bearded (hanna) guy wearing grey flannel like pajamas carrying a huge gun. OK what now!
We are to learn that these are checkpoints manned by the Baluchistan Levi where we have to record our passport number, apparently so the authorities can track us if we go missing. In truth this probably would not happen as they are often loose dirty scrappy bits of paper jammed into an exercise book.
...At one point we go to overtake two trucks and get pushed off the road into the soft sand, the bike is out of control (tank slapping), all I can think is 'this is going to hurt'. Skill powers on and somehow we remain upright. His remarkably cool comment is, 'I don't think I'll do that again'. There was only one section near Nushki where we thought things were a bit dodgy with the kids throwing rocks and a couple of cars swerving towards us to frighten us, and people screaming at us. We also passed a motorcycle, where the pillion was carrying a shotgun. Around the next corner we come across three army trucks and about 100 soldiers who seemed to be scouring the area, guns at the ready. It was at this point I was really looking forward to getting to Quetta. We have since learned that most other travellers had an armed escort through this area.
...The road to Dalbandin is good, fast and straight. Occasionally to break the monotony of the vast dessert landscape there are a few camels, both dead and alive. The only other traffic on the road are the black market fuel guys in the blue utes and the occasional Pakistani trucks which are truly beautiful.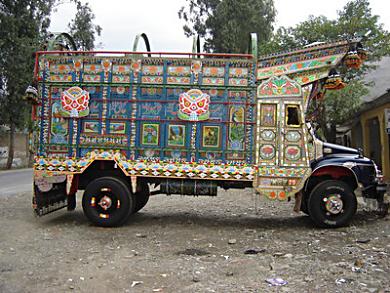 ...The police inform us at one point that we will need an escort for all our travel through the whole of Pakistan. We are shocked. It is incredibly irritating to do 50-80km/h on the highway, stopping continuously to change escort cars, with a long chat between police at every change. They also chase away any local people that come near us, we feel quarantined from experiencing and seeing Pakistan, the reason we are travelling here. In the end we just ignore them, honestly no less than 20 cars and 60 personnel were involved in these escorts. Talk about a waste of resources.
We argued, complained and threatened them, as no other travellers we have met have had this harassment. At one point in sheer frustration I ask them do they think we are bad people. They are genuinely mortified 'No, no, no it is our duty and honour to provide an escort.'
Several times we just speed away from the clapped out old diesel Hilux's ignoring police directions to stop (a little disconcerting when they are holding machine guns), but they would just radio ahead and the next armed escort would be waiting for us. Ahhhh...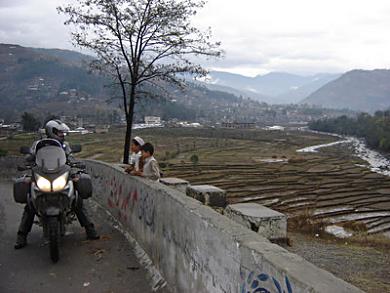 ...Next day onward and upward to Besham, a nice 4 hour ride (120km) through some great scenery and winding roads. We loved the terraced rice fields.
...When we finally arrive at the village we meet our shotgun toting guides and then start our 2 and a half hour trek UP the mountain to the camp. If someone had told me that I would be trekking in the Western Himalayas during twilight into the pitch black evening I would have told them not to be crazy. As we walk along we can hear avalanches on the mountain We are like the seven dwarfs all with our headlights, it is hard work but at the same time exhilarating. Up and up we go reaching the snow line which we trek through for half an hour. We arrive at about 7pm, tired but excited, light a fire to warm the very basic cabin and our guides prepare our dinner. We are all pretty weary so bunk down as soon as dinner is finished. In the morning this is what we can see from our bed. Dawn over the eighth highest peak in the world. Not something we will ever forget.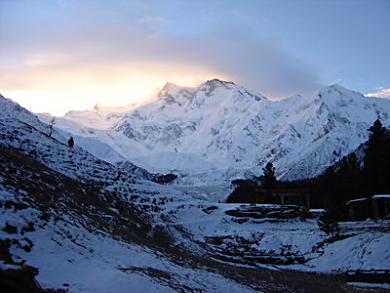 Skill and I both have trouble with our boots and are sliding forward in them, at one point I do the old stumble trip thing and really hurt my big toe. (I later learn it is broken). And Skill has shin splints, and there is still only 10 kilometres to go! By the time we reach the bottom we have walked more than 20 strenuous kilometres and over 2000m vertical. We are absolutely wrecked, keeping in mind we have done little exercise for eight months. In the morning I can barely move and have a great deal of trouble getting on the bike. I say to Skill 'Next time I decide to walk 20 kms down a mountain remind me I am over 40, not a bloody 20 year old!'
We ride back to Besham often stopping to admire one of the many suspension bridges and the Indus. Later in the day we are stopped twice by landslides, the KKH workers are quickly on the job clearing a path through the rocks and dirt.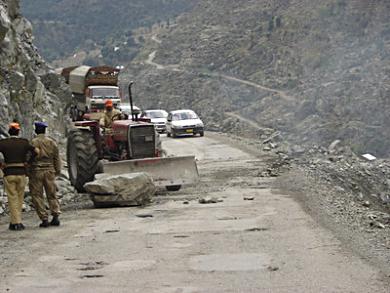 I also get out the camera to take photos (sorry they are blurred) of the overloaded vehicles, which are an essential part of KKH. No truck, car, van, bus or auto rickshaw is ever too full. There is always room for more cargo or passengers.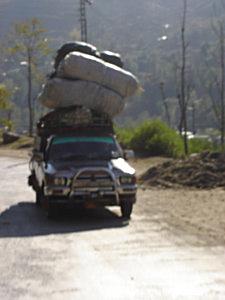 ...I would be lying if I said Pakistan is an easy country to travel in. It is not. Every day is a challenge, the traffic mayhem, the rubbish, the dirty hotels, the lack of facilities and the sometimes non existent infrastructure. The way women are not seen in public and are completely dominated by a male run society. But in my opinion it is a SAFE country to travel in and truly worth the effort. Our KKH experience will be a highlight of our entire journey.
Pakistan is in a troubled part of the world, and is bordered by some of the most dangerous and turbulent regions in the world, Kashmir and Afghanistan. Life for Pakistan's citizens is difficult.
It is a poor country and most people do not have a lot, but what they do have, they will happily and willingly share with you. They are very honest, kind, gentle and giving people. We NEVER felt unsafe or threatened, quite the opposite, and the authorities were beyond reproach. The vast majority of these people want, what we in the West want, a peaceful existence, prosperity and a better way of life for their children. Lets hope they can achieve it. Cheers and Chai"
---

The book you've been waiting for - a great read!
---
Grant Guerin and Julie Rose, Australia, Trans America and Beyond, in Peru, Bolivia, Argentina and Chile, Suzuki V-Strom,
"In the charming city of Arequipa tourists from all over the world converge to visit the colonial and religious heart, wandering the narrow streets and alleyways, enjoying the picturesque views of Volcán Misti, Mountains Chachani and Picchu Picchu towering above.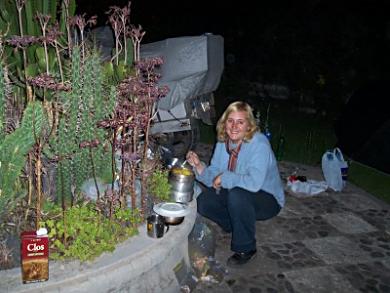 After camping for one night in the grounds of a hotel (Soles 28.00) we found a little Hostal for Soles 20.00. (Address: Hostal Lider Inn - Consuelo 429, Arequipa) It had fantastic parking for Piggy, they allowed us to use the laundry and kick back for a few days.
It was clean, had solar hot water and cable TV, no towels or loo paper were included in the price, the furniture outdated and decoration was minimal, but who can complain for $US6.00 and only five minutes walk from Centro!
The high Alto Plano left us gasping, we knew we were at high altitude when we became short of breath cleaning our teeth. Further north and even higher over the La Raya Pass (4,321 meters above sea level) and with snow falling in the higher mountains we descended into the famous Sacred Valley and on to Cusco.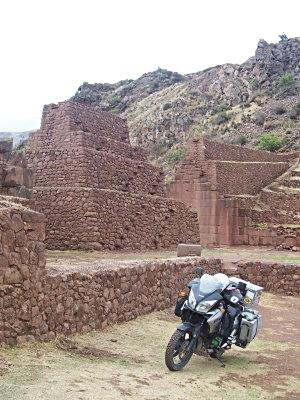 Our journey to Potosi was a long and hard days ride. The high Alto Plano from La Paz to Orouro was uninteresting, straight and very cold. The odd shower did not help our mood...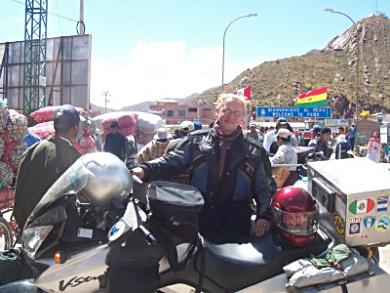 ...Concerned about travelling on Bolivia's 60% unpaved roads (with the term 'road' being often an exaggerated description of what is on offer) we asked the locals about the condition of the carreterra. 'Todos pista' 'All paved' they said, our map said different, not convinced we headed off….
The fully paved road wound its way gently through some of the prettiest country. 'Canyons in the making', Jules described one scene. Stopping often to admire the view we eventually arrived in Potosi at 7:00pm.
Potosi is famous for being the highest city of its size in the world at almost 4,200 meters. It was also the largest city in the Americas for many years due to the enormous deposits of silver that were prominent in the area. The term ' Potosi' has been used for many years in Spain to describe anything of great wealth!
A side visit to the strange salt covered landscape of Valle de Luna ( Moon Valley), early on a Sunday morning was engaging, quiet, mysterious and very eerie. (No tourists are in the park during the morning and most organised tours are for sunset.)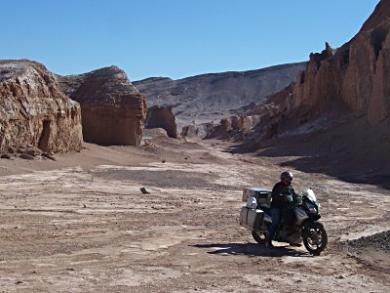 A day trip to the beautiful relaxed city of Salta and the Automovil Club Argentina for a new updated map clearly showing 'Ruta 52'. Again people informed us of the 'Best road in the Country', we decided to see what all the fuss was about."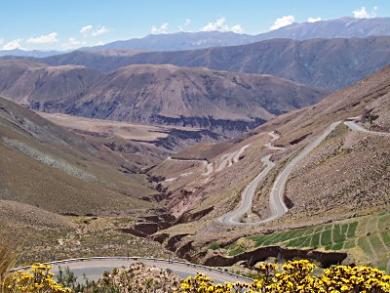 Ed. See Grant and Julie's blog here on Horizons Unlimited for more stories and lots of great photos!
---

---
"We made it to New Zealand, arriving on Nov. 30. We left Chile with our motorcycles sitting in the warehouse and assurances that there was a 99% chance they would be on the next flight. Our motorcycles arrived the day after we did much to our relief. First impressions of New Zealand - the air is sooo fresh and everything is so clean. The temperature is warm when the sun is out and cool when its cloudy, much like being at a high altitude. The sun is very intense, we've heard it's because of the hole in the ozone layer above. We met a couple, Richard and Lisa, via the Horizons Unlimited motorcycle community. They rode their motorcycle from England to New Zealand (including a couple of flights of course). They live in Auckland and invited us to camp in their backyard so we did and enjoyed swapping stories about our trips.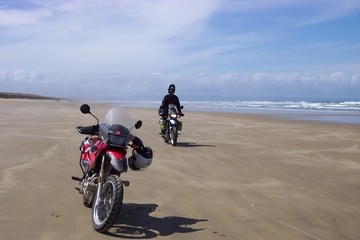 ...The hospitality of Kiwi's is outstanding. An example, one morning Dave's kickstand broke and needed to be welded. We stopped in the next town and asked a motorcyclist if he knew of a welding shop in the area. He said if we could wait until the next day, he could take care of it for us at his shop. He then invited us to ride with him and the Ulysses Motorcycle club that day. We did and they took us on a stunning ride along the coast. Another member of the club offered to let us camp in his backyard which we did.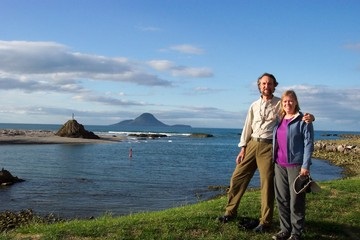 On Christmas Day, we were riding through the town of Whakatane and noticed that a church service was about to begin so we pulled in. We met a couple, Alan and Adeline, who invited to spend Christmas with them. We went to dinner at their friends house and had a tour of the city and watched the sun set from a hill overlooking the city and the Pacific Ocean. It turned out to be a very nice Christmas. We are currently making our way south to Wellington to catch the ferry over to the South Island. The weather has been unseasonably cold, but everyone keeps promising us that it will get warmer soon."
---
The place to go to get good brakes for that overloaded world touring bike.
---
Peter Baird and Jason Homewood, las Américas, in Argentina, KTM 950s,
"We were lucky enough while at Dakar Motos to meet another Gustavo, this guy built the Norton's for 'The Motorcycle Diaries' and had been allowed to keep the one in the pic below by the films' production company. It seems like everyone in Argentina has seen this film (though not everyone agrees with Ché's politics) and it was great to see the bike and meet the man that built it.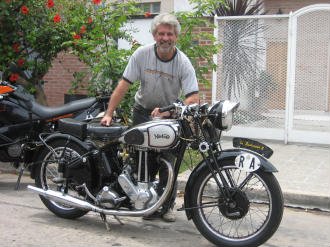 In Azul we stayed with Jorge at La Posta, once again met up with Luna and her Enfield, and enjoyed some great hospitality and yet another Asado (seriously I've never eaten so much meat in my life).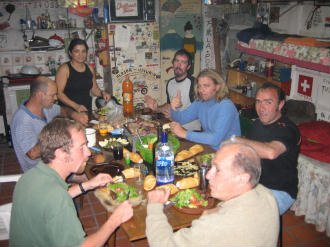 ...We had some bloody strange weather too, stinking hot in the day with thunder, lightening and hale stones in the evening. The lack of women to chat up was driving Jason spare though so we set off to Viedma for the HU meet.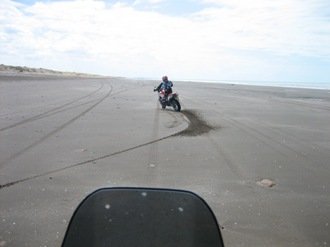 As usual with bikers everyone was really friendly but we crossed to the dark side and camped up next to The Beast (www.beastlyadventure.com), a 1976 former UN ambulance converted for overlanding and driven from the UK to Australia then shipped to Buenos Aires by Alexis and Greg. They had everything in the back of The Beast along some great stories and pics of their time in Russia and China so we did well to hang out next to them.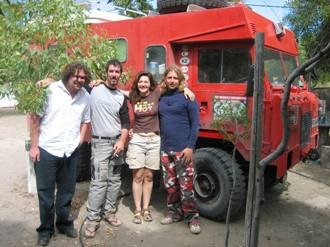 The five nights we spent there passed in a blur of cheap red wine, entertainment a la Greg, a visit to a seal colony, and some great riding on dirt roads. Big thanks to Oscar, Floppy and Nancy for organising it all, great job guys ;-)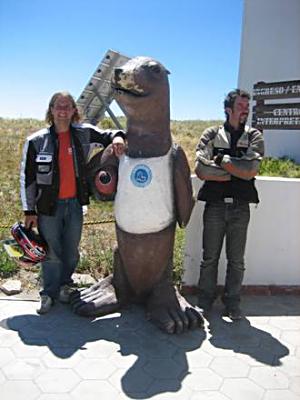 I had a bloody puncture as well which wasn't much fun but there were loads of people to help out and many thanks to Tom who loaned a spare tube I could borrow as, of course, all of my stuff was back at the camp site. I had been meaning to change my front tube to a heavy duty one that I brought from the UK but had been too lazy to do it, wish now that I had. I also wish I had checked the 6 identical pairs of brake pads I bought with me (the shop said they'd do front and rear) as I discovered that they are, in fact, only for the rear!!! I've had to glue part of one of the front pads onto its backing... Apparently there are a few KTM places in Chile so I'll be light on the front brake till then - only 5000k's or so!)
It's not a problem, I'll just nick Jason's ones while he's not looking, or if worst comes to worst it won't be too difficult to convert it to single disc.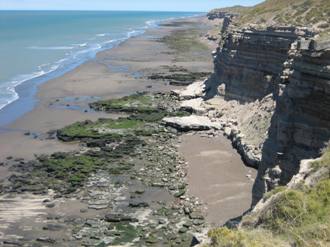 ...It's been 6 weeks since we've left and I must admit it's been quite strange adapting to life on the road. There were a couple of days where I was wondering what the hell I was up to, 'come on Pete, get back to real life, get a haircut and real job and stop messing around...' It was great chatting to Lew at the HU meet, he'd had similar trepidations when he first started off but over 2 years later he's loving every minute. Just talking to him made me feel a load better, cheers mate."
From Jason Homewood, in Ushuaia, R1150GS,
"Hi all, Happy Xmas! We are in a national park in Tierra del Fuego about as far south as you can get without a boat. All is good, nice people, nice weather (but cold!), beautiful place, cheap wine, etc. Hope all is good with you, have a good holiday, Love, J"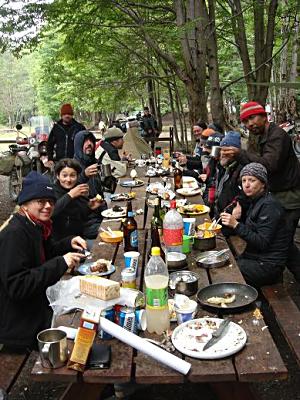 ---

---
Richard Lindley, RTW 2006 -7, in Russia, Triumph Tiger,
"The weather was closing in. My visa problems at the hotel in Krasnoyarsk, made me concerned about my date with the russian border guards. After 400 miles of freezing rain and terrifyingly slick roads, I reached Kemerov. With my steering compromised by a nasty pothole, my fingers numb with cold and my extended visa due to expire (again), I thought I'd catch the train through the Russian Steppes. Not so easy. With Nikolai translating on my cell phone, it was established that I needed a train that carried cargo AND passengers leaving from a town called Taiga - 120 clicks north. The very nice station master (strong babushka type) gave me a beautiful old map of the area and directions to Taiga. The train was leaving the next morning at 10.15.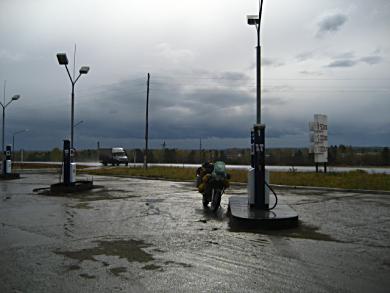 I had the choice of staying in Kemerov for the night or risk the 120 km journey to Taiga. Chose the latter and paid a taxi driver to show me the route out of town. It was beginning to get dark, still raining and I had 120 kms to ride with suspect steering and poor lights. I stopped for gas, but when I tried to restart...the battery was too weak. I started pushing my bike down a side road behind the gas station but the further I went, the grimmer it became...then a flash of genius...my spare Russian battery connected to the main weak battery by jumper cables gave me just enough juice to start up. By now it was dark and still raining. I started back to Kemerov to find a hotel, but instead opted to set up camp just off the main road behind this (I hoped) abandoned building.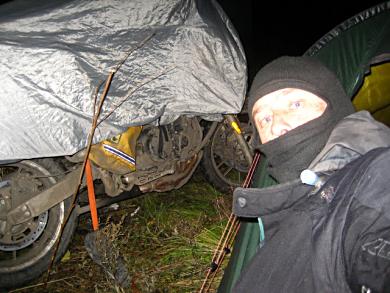 In the morning, still raining and I had to reach Taiga for the 10.15 to Moscow. The bike wouldn't start again but I used the old spare battery trick to get her fired up.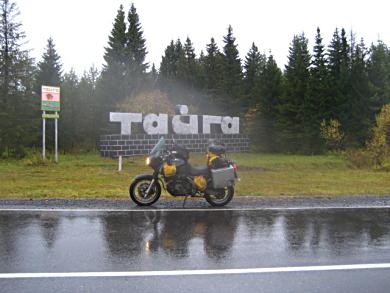 I wasn't home yet. I still needed to find the train station. Seconds after I took this shot, the rain turned to heavy snow. I flagged down some cops and they led me to the train station.
With only seconds left on my simcard, I had to get my bike and myself on the train.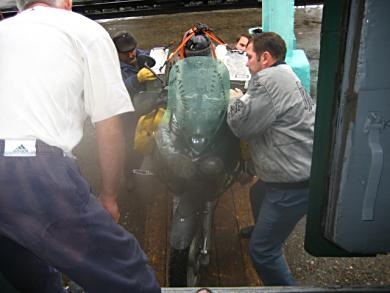 Four burly Russian train men muscled her up the final push onto the train, and lightened my wallet by another 500 rubles for 'uncrated cargo' fees. All aboard for Moscow!"
---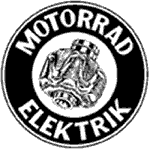 Motorrad Elektrik has been offering the best in electrical parts for classic and modern BMW's for over 11 years. From 12 volt conversion for /2 to better than stock replacement parts for your late model "R" or "K", we've got you covered. Specialty parts for 'hardening' the charging and ignition systems for world-travelling Airhead GS's. Riders like Bob Higdon, Dr. Gregory Frazier, Grant Johnson and hundreds of others depend on Motorrad Elektrik components as they wander the globe.
Our Omega system has solved the charging problems for 1970-95 Boxers with 400 Watts Output, and our

Nippon Denso starter is the perfect cure for Valeo syndrome.
---
Salvador Carlucci, Italy, A Journey For Healthcare Access: Latin America, in Argentina,
"...We left Ushuaia on the 25th after having a big dinner the night before with 10 other riders. When we reached San Sebastian we ran out of gas and the gas station was closed. So we had to spend the night there. My sister almost had a hard attack when she found out the town was composed of a gas station, a couple of houses and the hotel! Nothing to do and the television at the hotel had only one channel! The next day we rode to Rio Gallegos which included two border crossings and a ferry ride.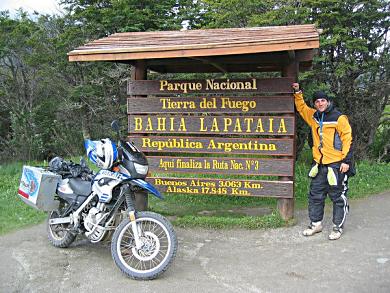 In Rio Gallegos my sister started showing the first signs of motorcycle tiredness. The heavy wind while riding and the cold weather were taking a toll on her. So we analyzed the map and route to Buenos Aires. When she saw the map she couldn't believe how far Buenos Aires was and Rick freaked her out saying it would be impossible for her to handle such long days riding. Since she has to fly back to China and start working the following day the trip was to be re-analyzed.
Patagonia has some beautiful places but for the most part it is very boring - all brown, long straight roads and flat. So we decided to spend the next few days and New Years in El Calafate which is a gorgeous little town with tons of things to see and do.
Meeting strangers with my sister has been fun. They can't believe that we are half Italians and half for Nicaragua, that I live in California and been traveling for 5 months on a motorcycle, that she lives in China and we are both traveling in Argentina! I think we both are a product of globalization - country borders and cultural differences are part of our lives."
Jeffrey Polnaja (Kang JJ), in Afghanistan, R1150GS,
"Nobody encouraged me when I decided to enter Afghanistan, the region where the conflict is still going on. Everybody tried to change my mind. However, as my adventurous spirit whipped up and with the enthusiasm and strong will, Ride For Peace had to visit Afghanistan.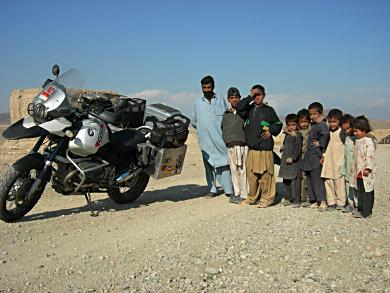 The Afghan visa application process in Afghanistan's mission in New Delhi was not as complicated as I thought before. It only took 2 days to get the visa. Starting from New Delhi, I passed through Wagha Border to cities in Pakistan: Lahore and Islamabad. After several days relaxing in Islamabad, the journey continued to Peshawar, last town in Pakistan before reaching Khyber Pass, the way to Pakistan-Afghanistan border in Torkham. This legendary and famous pass has been used in centuries. According to the story, this pass was used by Alexander the Great to enter southern Asia from central Asia and Europe.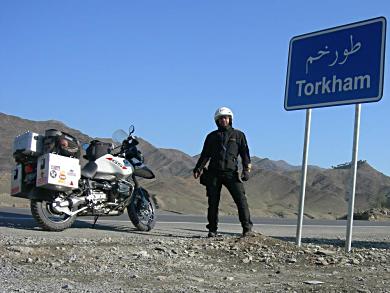 Khyber Pass is known as an unsafe area for foreigners. The area is controlled by Warlords who have their own troops and rules. To pass through this area, one should be careful since the condition of nature with bare hills and the sinuous and very quiet road. Nobody can guarantee your safety in this area. As a foreigner, I need to apply for the permit to enter the area in Home Secretary of NWFP (North West Frontier Province) Office. The officers were very helpful, however they could not hide their surprise at my intention to pass the area on motorcycle. Then, with the permit I had to pass the process in National Security of Khyber Rifles. Finally, escorted by a Khyber Rifle troop, I rode passing through Khyber Pass heading to the border of Pakistan-Afghan in Torkham.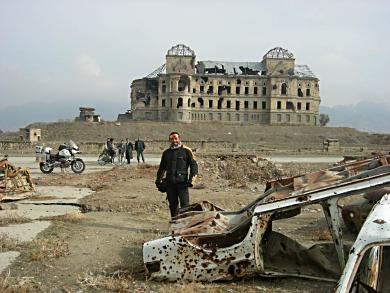 I arrived safely in Torkham in the afternoon. The border troops were amazed with my motorcycle and made them more surprised when they knew my intention to go to Jalalabad and Kabul in Afghanistan. As from the beginning, they suggested me to be better not to enter Afghanistan. Knowing my strong intention to go to Afghanistan, they promised to have a celebration party when I could return safely in Torkham. They proved their promise when I came back 1 week later in Torkham. They applauded me and welcomed me back to Pakistan with 'chai' (tea) and 'chapatti' (bread). Later on I knew that they made my journey as a bet since they had experiences that many people who crossed the border, didn't return back safely.
Experiencing once is much better than hearing hundred times. The heat of the dessert, the freeze of snowy mountains become good friends and give big spirit to explore this planet more and more…. Happy adventure & have a good trail..."
---
---
Robbo and Amy,
Africa 2006-2007

, to Africa, in Sierra Leone, Guinea and Mali,

"The borders were no problems, the usual paperwork and running around trying to find the right man for the job. Its a real treat that people speak English. We sit around laughing and joking with the police in a round straw hut with a SLR rifle dangling from the roof. They insist we try Poyo, the local palm wine even when we inform them we are riding... so drink and then drive in Africa.
The road to Freetown
As we ride into Freetown, 2 policemen on a moped spot us and direct us to follow then. I'm not sure what or where we are going but they proceed to escort us through town and through the thick city traffic! We ride around the Peninsula to white sandy beaches and smooth tarmac road but this doesn't last long and we soon hit rusty coloured dirt roads with many little river crossings.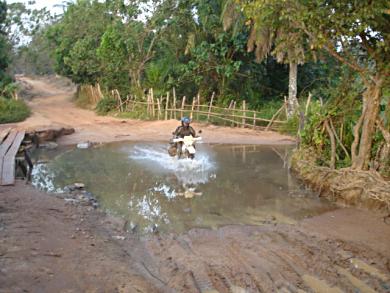 ...We flew through Guinea to head into Mali, refreshed by a new country and the fact that we will be heading in the south direction! We rest in Bamako, where it turns out to be a haven for other motorcyclists and hence we now have doubled our convoy. Leopoldo, a Spaniard on R100 BMW and Derreck, an Englishman on KTM640. Whilst in Bamako, the boys decide to buy new dirt tyres and Rob and I manage to both get punctures, so it's out with the tyre levers for a tyre changing day (I think it was a total of about 15 to 20 with pinched tyres and patches lifted). After some sweat and frustration, Rob realises that one of his prized tyre levers is missing! He is utterly disappointed and it's nowhere to be found, we fear that someone stole it."
---


Heat-Troller
The authentic solid state DC power controller, designed & made in the US. Heated Liner Jackets and Gloves!
Keep yourself warm, save money and support HU at the same time!
Log in for a 20% discount on your electric vest / waistcoat (and Horizons Unlimited gets an affiliate fee).
---