Long Way Round: Chasing Shadows Across the World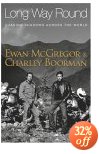 La Vuelta al Mundo por la Paz - Un Sueno que se hace Realidad,

by Ricardo Rocco Paz,

Ricardo's adventures in South America, in Spanish. There's two tapes and a book, contact him for details.

One Year on the Road, Cinq Continents en Moto, by Manou Emringer and Ellen Spencer, in English and French.

"This travelogue, illustrated with over 400 photos, follows their journey through North and South America, West Africa, Europe and Asia."
Available through Manou and Ellen directly, 38 Euros plus shipping. Don't forget to tell them where you heard about it. It's a very nice book, well done - I have one! Grant
---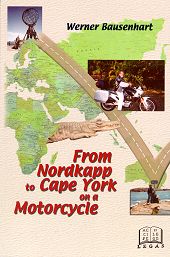 From Nordkapp to Cape York on a Motorcycle, by Werner Bausenhart. Werner, 66, was born in Germany and worked in Canada until his retirement. He has authored a number of books since getting bit by the motorcycle travel bug, including
-8 Around the Americas by Motorcycle,
-Into the Den of the Bear and the Lair of the Dragon on a Motorcycle, and
-Africa Against the Clock on a Motorcycle.
Werner's latest book describes his travels from Nordkapp to Australia overland, and back to Canada to complete the RTW trip. Should be an inspiration to any of you who have been thinking you're too old to go around the world on a motorcycle!
All his books are available directly from Werner. Tell him we sent you and get US$5.00 off the regular US$20 price!
For details on his books see here. Contact Werner via this link to get the deal.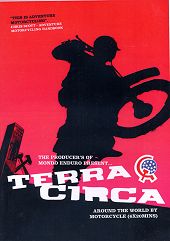 The Producers of Mondo Enduro present Terra Circa, Around the World by Motorcycle (6 x 20 minute episodes).
Regular readers of this newsletter will remember Terra Circa's adventures around the world, and especially the Zilov Gap. Now's your chance to see it in video. Austin Vince is a very funny guy and the video is hilarious, as he leads his intrepid crew through misadventure after misadventure.
"This is adventure motorcycling" says Chris Scott, who wrote the book, so he ought to know!
Contact Terra Circa video distributors for the PAL video or all format DVD. Don't forget to tell them you heard about it on HU, we'll make a bit, and it won't cost you any more.

Looking for a travel book for someone special?
Go to our Books pages, where we have listed some of the best motorcycle travel books, as well as a number of BMW books, general motorcycle books, and travel guides.
There's links to Amazon USA, Amazon UK, Amazon Canada, and Amazon Deutschland, so no matter where you are - you can order books at great prices, and we'll make a dollar or a pound or a Euro, which goes a very little way to supporting this e-zine.
There's also links to search Amazon sites for all their products, books, CDs etc., and yes, we get a tiny piece of that too. We really appreciate it when you start your book search from our website! Thanks for the support!
NOTE: If you buy a book starting with one of our links below, we get a little bit to help support the website!
If you have a book or want a book that you think other travellers would be interested in please let me know and I'll put it on the site. Thanks, Grant
---
Help support your favourite website! Here's how!
Please be assured that we will NOT under any circumstances, rent, lease, sell, or give out our mailing list, and/or your name and e-mail address, to anyone for whatever purpose. Your privacy is assured, and personally guaranteed.
See our complete Privacy Policy here.
Grant Johnson, Editor
Please note that you are receiving this newsletter only because you requested it! We are 100% opt - in only.
To subscribe or UNsubscribe to this newsletter.
All comments and suggestions are carefully read, and where possible will be acted on. Your help will make this a useful service for all travellers.
Please use the Bulletin Board for questions and suggestions.
If you would like to advertise your product or service in this newsletter or on the website, please contact me. Ad rates are very reasonable. Details at this link.
---
ISSN 1703-1397 Horizons Unlimited Motorcycle Travellers' E-zine - Copyright 1999-2006, Horizons Unlimited and Grant and Susan Johnson. All rights reserved.
Redistribution - sending it on to friends is allowed, indeed encouraged, but other than the following requirements, only with permission. You may forward copies of the Horizons Unlimited Motorcycle Travellers' e-zine by forwarding it yourself by hand. You must forward the issue in its entirety, no fee may be involved. Please suggest they Subscribe!
Legal gibberish: (particularly for those in countries that have more lawyers in one town, just for instance, New York, not to name any names, than some whole countries, as another example, Japan. Again, not naming anybody specifically you understand) Recommendations are based on positive or negative experiences of somebody, somewhere. Your mileage (kilometrage if you insist) may vary. We are not responsible in any way for any product or service mentioned, and do not warrant any such mentioned product or service, and are not responsible for any bad things that may befall you. You are responsible for yourself! Act accordingly. We check all links and information given as close as possible to publication, and all info is correct as best we can determine at that time.
Patrick and Belinda Peck, Australia, around the world, again, Yamaha Super Tenere XTZ 750, in Bosnia and Croatia,
"We followed the coast north to Montenegro which was absolutely stunning and highly recommended. We also took a side trip up to Bosnia and saw the old Mostar Bridge and went to the capital Sarajevo and saw many buildings totally damaged by machine gun fire. A highlight was the tunnel museum that was built from under one house, under the runway and joined up inside another house the other side of the runway. This secret tunnel kept the people alive during the recent war and was amazing to see.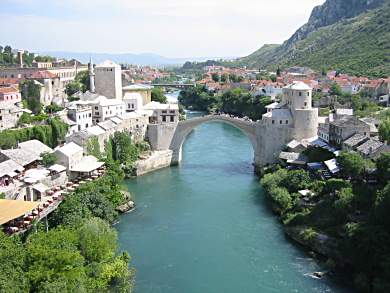 Croatia was next on our list and we had very high expectations of the city Dubrovnik and it was better than we thought. You must see Dubrovnik- in a stunning setting this ancient walled city shows real spirit of character- say no more, go and see it for yourself! We cruised along the coast and went into all the little fishing villages and visited many of the islands. Korcula and Hvar and Brac were stunning islands and we drove from one end of each island to the other, checking out each beach of course!
We then met up with Pam and Andrew Rorke and Brian and Sandra Smith in Split. We had a gorgeous little apartment in the centre of Split for a week and Pat did some maintenance on the bike, while Belinda washed everything!! It was great to stay in one place for a week and behave like normal people, cooking etc!! John left us in Split and drove straight up to England and got there a few days later!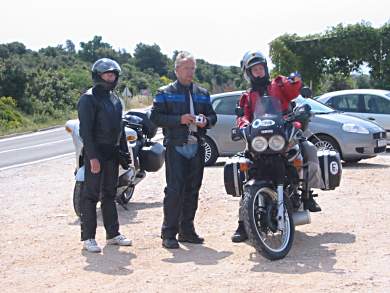 We then continued up the coast of Croatia checking out the islands of Dugi, Pag, Rab and Krk. We fell in love with Croatia and will return again we are sure. The seafood is fantastic and the people are lovely and the beaches come close to as good as Australia, so we were in heaven for the month we spent there."
Ed. Check out their for stories and great pics!
Russ Darr, USA, in Mexico, BMW R1200GS,
The aftermath of an accident - "...I was really concerned about the bike and all of my possessions. This is Mexico and thievery is common. So I get a hotel room downtown. After a painful night, I catch a bus to La Junta, where the bike is supposed to be. I walk to the police station fearing the worst. The officer, who was at the accident site, is on duty and not half as scary as he seemed at the scene of the accident. In fact, he spends the next three hours taking me around town. I am able to see my stuff, see the bike and get my passport and two credit cards hidden on the bike. We stopped by an auto repair shop near the wrecking yard where the bike was. After hearing my story, the proprietor said I was welcome to stay with them and asked if I needed money. My money and stuff are still in the city lockup and could not be released until Monday - this is Saturday. This policeman is a remarkable man. He went way out of his way to help me."
Mike and Ruby, Canada and Germany, in Yemen,
"Yemen has exceeded our expectations in a very positive way. Most people coming to Yemen are on organized tours, sheltered in pre-booked high end hotels, transported in convoy of 4WD's and escorted by police. We truly feel we have experienced Yemen. The motorcycle has given us the opportunity to be approachable anywhere we stopped. Yemeni people will go out of their way to help you. They are very proud of their country. Even though it is a poor country, the people are happy. We can't count all the smiling faces and laughing eyes we have seen…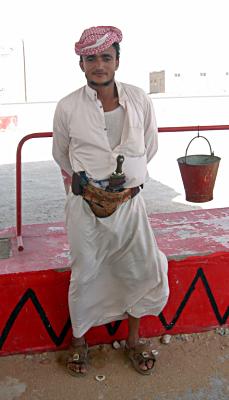 When I think of Yemen I get emotional, because it has given us so much, a true taste of Arabic people and culture and new found respect for the Muslim religion. People here are much more affectionate toward each other, something that our western society has lost a long time ago. As we travelled through this country we asked ourselves numerous times, who has a better life, and there is no answer. Most Yemeni people have a hard life and barely make ends meet, but they are still happy."
Mike Jacobs, USA, to Tierra del Fuego, in Argentina, KLR 650
"... The KLR cylinder was sent off to a machinist today to have it rebored to 0.5 mm oversize. I have relinquished control of that operation.
The rest of the day was spent doing maintenance.
Replaced front fork oil
Replaced front sprocket at about 7,000 miles from last time.
New Oil Filter
Repaired rear tire plastic shield
Retaped right mirror.
Cleaned Head
Danger Note: Found front brake line was rubbing on front tire and the steel braid was worn through and the next layer would be the tubing. Someone else spotted it for me when he was looking at my front disk from Super Brace. If he hadn't spotted it I may not have and the next post would be. BRAKE Failure.
<<Next Day>> The rebored cylinder came to me about 11:00am. The rings had to be filed down slightly. I had the KLR running by 4:00pm. Javier made me a new front brake line. The old one could not be spliced with the parts he had. I decided the press on to Brazil tomorrow."
"...This voyage is a dream coming true. Around the world on a motorcycle. A dream that seems impossible at first, since we do not have sponsors giving us money regularly, nor savings accounts, nor big machines, but two very small motorcycles (125cc) carrying us along. But travelling has taught us one thing: There is always a way, you always make it some way or other. 27 months have passed on the road already, fighting against all odds...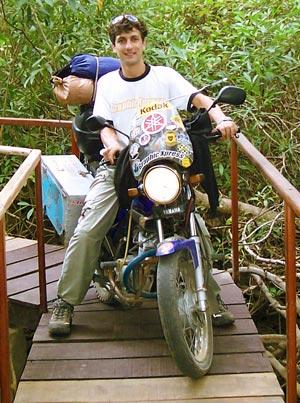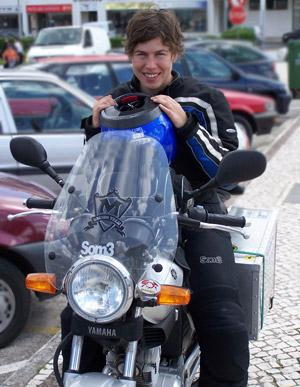 ... Oops! At the border with Belize I realised that Argentineans need a visa to enter, and I hadn't budgeted for the money to buy it, but after insisting a bit and explaining my voyage they let me enter the country, but only for a day.

In the middle of a storm I arrived at a small village on a heavenly beach – super super tranquil. Here I am looking out of the window at the beach while I am writing. Tomorrow at noon I already have to be in Mexico.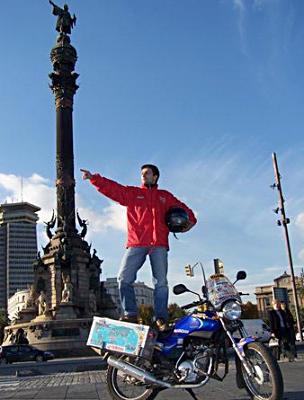 Bob Morley, Brazil/Argentina, BMW F650GS,
"Two days before my visa and the temporary import for the bike ran out I was back on the road, or maybe I should say WE were back on the road as Angie is travelling with me again. We're heading to Buenos Aires for a friends wedding which is only on the other side of the continent and somewhere I've already been several times, a nice short 5000km ride.
You wouldn't believe how much stuff a girl needs on a biking/camping trip. She did do better than last time but the luggage was still bulging at the seams. I was convinced it'd unpack automatically when a catch was released as her knicker and shoe collection exploded under the pressure.
It was a full days ride to the border at Arica where we met up with a Canadian couple (Caleb & Liz) who'd biked there from Ottawa, hung out for a couple of days then continued south through the Atacama towards San Pedro.
Liz's 250cc Kawasaki (called a Kawito in Argentina) didn't have the range to make it between the fuel stations through the desert so my bike became a two-wheeled gas can. They'd made it all the way from Canada without running out of gas once, so it was lucky we met.
San Pedro was more expensive than before and the higher prices seemed to have driven the hippies out, replacing them with rich old people who wanted to see the world before they croaked. Wasn't half as much fun as before. From San Pedro we crossed into Argentina on Paso De Jama, basically because I'm a wimp and its the only paso that is paved on both sides of the border. My shoulder was giving me some grief after four days riding, but the exercise was working wonders. It got cold up at 4500 metres, rained a bit, and as a tribute to the Canadians it tried snowing for a while just to make them homesick. We spent the night in Susques, a horseless 'one horse town' in the middle of nowhere then continued south. Sweeping mountain curves coming down the pass into Pumamarca, narrow twisty roads north of Salta, biking heaven."
---
Help support the Horizons Unlimited E-zine - visit our sponsors!
Please be sure you tell them how you heard about Heat-Troller! Thanks!


Heat-Troller
The authentic solid state DC power controller, designed & made in the US. Heated Liner Jackets and Gloves!
Keep yourself warm, save money and support HU at the same time!
Log in for a 20% discount on your electric vest / waistcoat and Horizons Unlimited gets an affiliate fee.
---
Craig Hutson, USA, RTW, in Indonesia, Harley-Davidson,
"Both I and the bike made it to Indonesia in one piece. I met some guys on the plane who come to Bali all the time; they hooked me up with a hotel close to the airport. You pay $25 US for a 30 day visa right at the airport. I got to customs first thing in the morning. They sent me over to a company called KLM kargo, no one spoke English there but I got across to them I needed to pick up my bike. I could tell right away to no one moved very fast. The man got out a work sheet and started writing down all these numbers 900,000 "warehouse fees", 700,000 "documentation fees", 600,000 "unloading fee" 800,000 "other", all in total there was about 3,000,000 in "fees"( this comes out to just over $300 US). When I questioned the "other fee" by pointing at them and shrugging my shoulders in better English then it should have been for not able to speak it he said "documentation fee", I shook my head no and pointed to the "documentation fee" already listed. He then said (in good English) "warehouse fees", again I pointed out the "warehouse fees" on the paper. Once he said "unloading fees", I took the form he was filling out and the bill he was filling out and walked out the door with out saying a word. He tried to call me back but I just kept walking. I studied the form and it was pretty much like any standard Special Import form, fill in the blanks.
I walked back over to customs and asked where the person in charge was. They pointed me over to a building about ½ block away, when I got there I asked to see the supervisor in charge, as it turns out it was the Region Captain or General or what ever title he holds. He spoke very good English and I explained to him I didn't mind playing fees that were due and fair however I would like know what I'm paying for. He told he I could fill out the form myself, he even helped me telling me what went where. He also told me the warehouse fee should be around 600,000 and the documentation fee around 300,000 (both being just under $100). I walked back to the customs office with my paperwork all filled out, I was asked to sit that it would take a little while, I knew what game they were going to play, so I smiled, took my shoes off, got out my book, put my feet up and started to relax.
Every now and then someone would walk by and give me the sign like "just a little while longer" I would just smile say "no problem" (every one knows what that means) and just kept reading. The guy from KLM walked in a few time, sure wish I knew what they were saying about me. I think what broke them is when I smiled at them and reached in a got out one of those just add water meals. All of a sudden they walked up and said "finished", I put my meal away, paid my 900,000 what ever and pulled out of there with a huge smile on my face. I almost expected them to tear the bike apart inspecting it, but they didn't even look at it. The funny thing is if they wouldn't have gotten greedy with the "other fee" I would have paid the rest of them. Pretty much wasted the day so I spent the time riding around the town taking in the sights and sounds."
Mark and Paul Dolby, UK to Mongolia, Slovakia and Ukraine, 2 x BMW GS,
" Well we are living a dream and it hasn't disappointed yet !! The weather has been fantastic and the roads are brilliant, soooo smooth with flowing series of left and right bends one after another which we were taking at 60 - 70. Unfortunately we managed to get 2 speeding tickets - one in Slovakia and one in the Ukraine. Total cost of the fines was $70. Police have the new and improved radar gun that goes round corners to catch you !!! We managed to get to Prague on the first day but managed to miss getting to Uzhorod which put us behind, so the next day the ride to Kiev took 20 hours with only a few short stops. It doesn't help when you have to mess around filling paperwork in at the borders - fortunately ours was up to scratch and we weren't detained for too long. From the border we travelled up to Kiev via L'viv,the roads started OK to L'viv then they deteriorated and only got better 60 miles from Kiev when they turn into a dual carriageway. The driving needs to be seen to be believed! They will over-take, under-take or simply budge you out of the way at any time they feel, which is usually as soon as possible."
---
Support the Horizons Unlimited E-zine - check out the HU Souk for jumpers / pullovers, t-shirts, hats and other products with the new logo and a variety of slogans!
Thanks! Grant and Susan
---
Yoshiki Kamegawa, Japan, in Mongolia, Suzuki 100cc,
"... I am riding my motor bike in Silk Road now. I bought a second hand bike at 2000 Chinese yen in Inner Mongolia, China. When I bought it, I asked Chinese police officer 'No problem?', showing my international driving license. They answered me 'Yes, No problem.'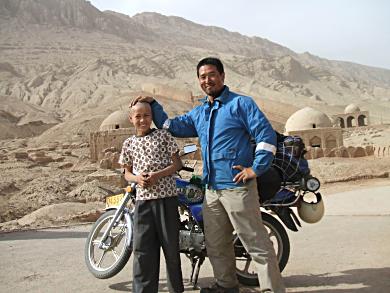 I am Asian, and I have the same face as Chinese, black hair and eyes, I believe it helps a lot. In China, in every town, especially at morning and evening, at every crossroad, there stands policemen and watch every vehicle. For a Western person, it might be a little bit of a problem.
I have met hundreds of policemen, but they did not give me any attention, because I look like Chinese. But if they see Western person whose face is quite different from Chinese, ride motor bike, I believe, they stop him, and ask him 'show me your license.'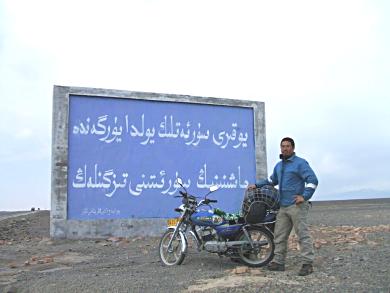 I was asked to show my license twice thus far, I showed my international driving license, and they said to me 'OK, have a good and safe drive.' Maybe I was just lucky."
"We leave Longreach early and travel on some pretty suspect stuff called a paved road to Windurah, a lot of this road is paved but its only 2 tire tracks wide, and some 30k or so is dirt. We got to Windurah, the last bastion of civilisation for some 350 odd k and took on extra petrol, food for us and Peter went and check with the police regarding the state of the road and whether it was passable. There had been some showers in the area, and the sky was pretty overcast. The policeman told Peter all was a go, have fun and be safe. Off we went, and it was exciting as literally there is nothing but wide open spaces, flies and the occasional cow. Sometimes there will be as little as 1 car on this road all day.
About 203k from our destination of Birdsville, Larry (the cyclone) caught up to us and the dirt road that we were having fun on turned into a major mud hole. I could hear the dirt spraying up into my front fender, and the back felt a little slippy but the next thing I knew Peter was slipping sliding and spinning down the track on his Givi luggage, quite a sight really. Peter never drops his bike so this was quite the thing. As I'm slowing down to stop and help, down I go. Add water to Birdsville dirt, or for that matter most of Australia's dirt roads and they become impassable to all but 4-wheel drive vehicles. the sticky clay dirt was coating our tires and filling our front fender thus disallowing any forward movement of the front wheel."
Ed. See Karin and Peter's blog here on Horizons Unlimited for more stories!
---
Book special just for Horizons Unlimited Readers!
"Into the den of the Bear and the Lair of the Dragon on a Motorcycle"
"8 Around the Americas on a Motorcycle"
"Africa Against the Clock on a Motorcycle"
"From Nordkapp to Cape York on a Motorcycle"
Werner Bausenhart has written several books on his travels around the world, and has offered them to HU readers at a great price. Tell him we sent you and get US$5.00 off the regular US$20 price!
For details on his books see here. Contact Werner now via this link to get the deal.
---
Caleb Dyjkstra and Liz Wilkinson, Canada, Toronto to Ushuaia, packing up in Argentina, Kawasaki KLR 650 and Super Sherpa 250,
"What more can you ask for it was the time of our lives and we would turn around and do it again in a second if we had the time and the money. We left with 1000km of experience and return home veterans, after conquering mud roads, lakes, rivers, dirt highways, mountain passes, boat rides and so on. We connected with people, inspired others, and learned and experienced more then we could have ever imagined. Argentina is a great country, and Latin America has given me a new found hope for humanity.
... this bike has been my transportation, and my home for the last six and a half months. It was new when I left and now its covered in scratches, dents, oil, and dirt it finally looks like it should...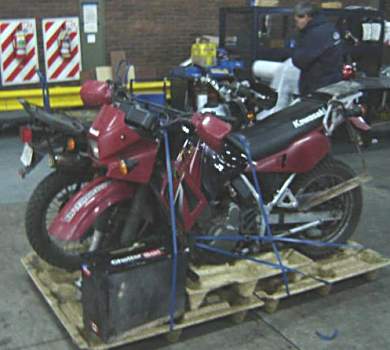 But it is all winding down from here. We are to board a plane tomorrow for a 14-hour flight to New York City and one last ride home. This wonderful feeling came over me when I realized that all our belongings fit into a crate 3X6 feet. I used to be proud that all my things fit into Volkswagen Golf but this is so much better. We spent a day in the air cargo warehouse packing up our bikes. Talking and joking with the warehouse guys, which we can finally do in Spanish (Liz more then I). We had to take the front tires, mirrors, windshields, fenders, boxes etc. to make everything fit snugly. The smaller the size the cheaper the flight. The cargo company said they were going to give us a plastic crate because they often have problems with wooden crates arriving in the US. So we packed up our bikes on a skid and waited for the plastic crate to arrive so we could slide the crate in. But it wasn't as we expected, they just saran wrapped the bikes and slapped some dangerous good stickers on it and they were good to go. It took the entire day to take care of all the paper work and disassemble the bikes but it was done."
Motoqueros -
Mit dem Motorrad durch Lateinamerika

by Arno Backes, in German only, €14.95 plus shipping and packing

"Motoqueros - Mit dem Motorrad durch Lateinamerika

"Written by Arno, with contributions from Sian and others, this book is in German, and follows our 18 month trip of 55,000kms, from the beaches of California to the most southerly city in the world. As we ride down Central America, past Mayan ruins and steaming volcanoes, read how we then cross into South America, battle through the endless Pampa in Patagonia, along the Altiplano to the heart of the Inca kingdom, ending after 18 months in the city of tango.

At almost 340 pages and with over 150 photos, both colour and black and white, the book really gives you a feeling of participating with this journey, even if you can't read German! Some photos have been used previously in Sian's blogs, but most are brand new."
Tommy and Rosa, Germany, RTW, in USA, BMW F650GS's,
"Although we didn't ride all the loops and didn't see everything, we leave Yellowstone National Park and go to Livingston. There we know a quiet private campground (http://www.osensrvpark.com) with Wireless Internet and nice bathrooms, which offers special rates for motorcyclists! John and Kathy, the owners, are also BMW riders and like to accommodate motorcyclists on their campground. John offers us to use his garage and tools. That's great, because we need to do oil change. But first we'll go back to Yellowstone National Park to ride the loops, we missed, and then we return to this really nice campground!"
"Well once again we find ourselves diverting from our own personal travels to work for a while. Although this time it does involve motorbikes. We are well into our first tour as guides for Globebusters and already lots of adventures and new friends."
Tom and Lynne Gefre, USA, North, Central and South America, in Peru, F650GS's,
"Entered Peru on the 6th of May. The border crossing was very low key but for some reason, persons holding foreign passports were delayed for several hours, which was not a good thing as we didn't show up at the border until 1pm. Lynne passed the time by helping one of the border officials with his crossword puzzle and I spent the time working on our intercom system, which turned out to have water in one of the helmet connectors.
We had great luck with the roads from the border all the way to Piura and we needed it. Lynne was in the lead as usual when we encountered our first herd of goats with 150 miles and three hours to ride before night fall. The first 50 mile stretch was a total goat crossing with a few surprise bulls thrown in for variety. But the roads were straight and we were able to do the 60mph (100 kph) posted limit most of the way.
The new twist on the roads were the trikes, which are 100 or 125cc motorcycles with the rear tire replaced by an axle with two wheels and a covered bench. They can carry three passengers, or five propane tanks and one chicken coop, or any combination thereof. They ride halfway on the shoulder when on the highway, are restricted from city centers and drive any damn place they want to in the suburban and rural areas."
---
Help support the Horizons Unlimited E-zine - visit our sponsors!
Please be sure you tell Bernd how you heard about his boxes! Thanks!
---
Doug Wothke, USA, RTW, 1948 Indian, writes to the Odessa HU Community,
"Hello, I will be arriving in Odessa in a couple of weeks. I will take a ferry from Varna. I'm interested in meeting people along the way. Also interested in seeing the local sights, and going to any bike rallies I can find. I'm riding around the world on a 1948 Indian motorcycle. Thanks in advance, Doug"
Angela Brandl, Germany, Honda Dominator, writes to the Tbilisi HU Community,
"Hi, this is angela. I am in kutaisi, going to tiblis tomorrow or the next days, it would be great to meet up with you bikers, and maybe have a chat. I would be very happy to hear from you. greetings angela"
Dominik Thys, Belgium, Belgium to Vladivostok, 2005 Ural Ranger, writes to the Moscow HU Community,
"Hello Moscow bikers, I'm travelling from Belgium to Vladivostok and back. Start 16th of June and hope to be back by end of November. Vehicle: 2005 Ural Ranger (aka Gear-Up). I am hoping to spend a couple of days in Moscow begin July. Questions: Do you know of any cheap accommodation with a secure area to park my motorcycle? Is Moscow traffic really that crazy? Thank you for your time and effort. Best regards, Dominik"
Dieter Zerndt, Switzerland, in USA and Canada,
"Dear friends, we passed the states of BC and Yukon. Our first stopover for one day is in Dawson City. We need this day of rest, since during the last 7 days we made good about 3.200 kms. The wide countryside of BC and Yukon seems to be endless. Till now, there are no problems on the roads or with our bikes, except the low temperatures. Well it will get colder every day, 1.600 km left to Prudhoe Bay. Thanks to all of you I met on the road (especially to Ross), contributing to the progress of this fascinating journey. I'll send more details after our return from the arctic sea. Regards, Dieter"
Michael Murray, USA, the Trans-America Trail,
"I have been working in collaboration with another production company to produce the documentary film 'Road Less Traveled'. The documentary will follow two brothers as they ride their motorcycles across the 5,000 mile 'Trans-American Trail' —an off-road motorcycle adventure traversing the United States on a series of 4x4 trails, fire-roads and single-track trails. Their journey begins at the Appalachian Mountains of Tennessee, riding through ten states and countless towns, before finishing at the Pacific Coast of Oregon.
I will also be the primary rider/cameraman for the project. My BMW GS bike is now fitted with two "bike-cams" and a "helmet-cam" and I'll be carrying with me a HI-DEF hand-held camera to capture the adventure. We will have a support crew consisting of the producer and second camera operator who will follow us in the chase-vehicle (when the trail allows) with most of our film equipment, extra bike equipment and camping equipment.

You can follow along with us while we're on the trail with our daily travelogues and web-video diaries. And thank you to all who contributed financially, technically and otherwise – your support and encouragement is appreciated beyond words. Ciao, Michael"
Trans-Americas Guinness World Record

"The first people to ever hold Double Guinness World Records™ of 'Around the World by Motorcycle' and the 'Trans-Americas by Motorcycle'.

On 22 September 2003, a rugged, mud caked BMW R1150GS Adventure armed with battered metal panniers and a buckled back wheel, crawled into the town of Ushuaia, the most southern city in the world that can be reached by road. An exhausted couple, having just slid their way treacherously through a snowy Paso de Garibaldi, finally reached the very end of the road, beyond which lay Antarctica. The bike was ridden by Kevin Sanders, with his wife Julia on the back, and the husband and wife team had just completed what had never been done before. Starting from Deadhorse, Alaska, they had ridden the length of the Americas Continent, some 27,200 kms, in less than 35 days and in doing so, rode into the Guinness World Record™ Book for a second time. Unaided, they smashed the existing record by over 12 days.

Filmed by Kevin & Julia as the record unfolded, this is an inspired account of the challenges they faced, braving the remote wilderness of the Arctic tundra, riding over 1,000 miles day in the USA, facing border bureaucracy through Central America, kidnap risks in Colombia, Ecuadorian civil unrest, and the icy wastelands of Patagonia, but ultimately winning through to claim their second Guinness World Record."

Special for Horizons Unlimited - 15% discount - Just use the Promotion code "Horizons" when ordering. DVD, Video, and a book coming. Order details on their site.
Richard Fawcett, USA, NC to Alaska, Suzuki V-Strom 1000,
"Headed off to Alaska on motorcycle at 8am this morning. I'll try to send occasional emails about trip. Cheers! Dick"
Jack and Janet Murray, PR of China, China to Europe and North America, BMW engined Chiang Jiang,
"We have made the decision to alter our proposed itinerary. Instead of riding across China and then traveling through the 'stans, we will ride northwest from Beijing to Ulaan Baator, Mongolia and then head south into the Gobi desert for the second time and then head west and north and ride the length of Mongolia. This will be a particularly difficult ride because of the terrain (there are very few paved roads in Mongolia) and the fact that the Changs will be heavy - two-up and crammed with gear and not much ground clearance. But we all agreed that because Mongolia may be one of the last pristine areas left in the northern hemisphere, we have to try. Our goal in Mongolia is 100 km/day. If we can do better than that, OK; if not, still OK!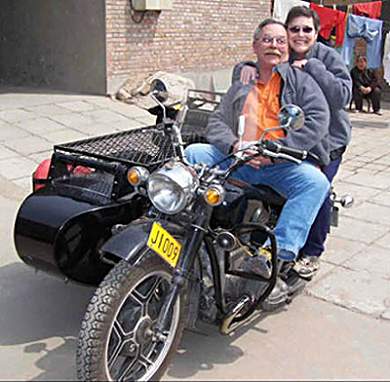 We are just about finished our buying, except for a few items that are easily obtainable here plus a few items from the states. We have decided to get a comm system so that Janet and I can easily talk as we ride (BTW, we will be married 42 years on June 6th), a couple of power outlets so we can power the GPS and charge batteries and a GPS program for the phone as a backup to the Garmin we already have. Now all we have to do is test the equipment, get familiar with the bikes 'under load' and we can hit the road."
"My girlfriend (met her on my Americas 03-04 trip) and I are off on the bike to Thailand tomorrow, riding east. Nice to do a big trip the second time round... kind of easier on the nerves. Best regards, Brian Coles"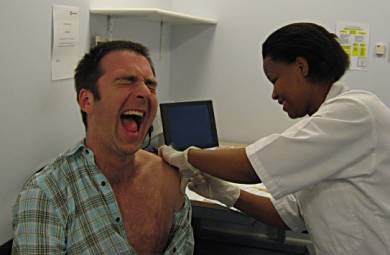 Brian getting his jabs for the trip
Ken and Toni Butler, Australia, UK to Russia and Japan, BMW R80 and R100 GS,
"My wife and I are also going from London to Vladivostok and then down Japan. We leave London on the morning of the 1st June and plan to get to Vladivostok at or near 30 August.

We shall be on 2 old BMW, an R80 and R100 GS. Hopefully we may bump into you at some point during the trip. If you see us feel free to wave us down."

Winfried 'Winne' Lichtblau, South America and Mexico, BMW F650GS, back in Germany,
"Even 6 months can be over so quickly - coming Monday I'll be back to work...
You won't be surprised to read that I thoroughly enjoyed every single minute of this extensive motorcycle tour. During these 6 months I covered some 35000 km (on my '99 BMW F650), of which some 27000 in South America. I crossed Argentina (almost entirely), Bolivia, Brasil, Chile (entirely), Mexico, Paraguay, Peru, Uruguay.
I have been extremely lucky: Not only because I had the opportunity to do this trip but because I had no problems whatsoever during the entire tour, i.e. no technical problems or breakdowns with the motorcycle, no significant accidents or crashes, only one flat tyre (which somebody else repaired for me immediately), no illnesses or injuries (not even a cold), no assaults, thefts or significant corruption and no real border hassles. I almost exclusively met friendly and helpful people and was always helped when I asked for it.
Many people ask me which of the countries I visited I like most - and I cannot answer this question. Every country has its beauties - only Paraguay is just boring ;-). Argentina has Patagonia, the Puna, the Iguazu falls, the glaciers and the women of Buenos Aires. Bolivia has the bizarre Altiplano landscapes and the green valleys of the south. Brasil (I have only seen such a small part of it) has the Iguazu Falls and the beaches of Santa Catarina. Chile has the vast Atacama desert, rain forests and glaciers. Mexico has an innumerable variety of beautiful beaches and colonial architecture. Peru has the Titicaca lake, Machu Picchu and the marvellous landscape in between (Still a lot to be visited...). Uruguay reminds me of a nice big golf course on the beach with a friendly and lively capital.
However, if you asked me in which of the world's metropolis I'd like to live, I'd probably say Berlin. That's one of the lessons I learned on this trip: To appreciate the standard of living we have in Europe. But of course this is not the only impact this trip had on my views of life and people."
Ed. See Winne's blog here on Horizons Unlimited!
Into Africa

by Sam Manicom

"This is a story of amazing Africa, it's people and some very good reasons why not to fall off a motorcycle.

Riding across fourteen countries from the island of Jersey to Cape Town, this eye opening tale catapults you into Africa.

Sam's plans frequently don't work out as they should, and every twist in the road leads him to new challenges and surprises. The journey throws disaster in his way, seeing him jailed in Tanzania and hit by a serious wipeout in Namibia. He lives in a remote village, canoes a dug out in Malawi, escapes a bush fire, climbs a mountain and much more.

He says, 'Traveling on two wheels is the perfect way to explore a continent like this; it's all about freedom and the ability to take advantage of opportunity.'

A special shine is given to this adventure by the warmth and welcoming nature of Africa's people; Sam's love of Africa glows from this book."

Available from www.sam-manicom.com

Price: £13.95 plus p&p - please quote Horizons Unlimited when ordering.

Review by Glynn Roberts, UK;

"Excellent self published book. Gives a very honest account of life on the road, fear, boredom, terror, pain, love and humour, good and bad days of riding, it's all there. Particularly liked the mention of other travellers on the road so often not mentioned in many books. They may only be in your life for a short time but nearly always leave a lasting impression. Good reading for anyone."
Jeremiah St. Ours, USA, Alaska to Ushuaia, BMW F650GS (El Viento), back in the USA temporarily,
"I flew back to Colorado today, but will continue to post a number of updates and commentaries over the coming weeks and months prior to my return to Rio in August and resume my trek north to the Amazon. Stay tuned."
"I want to thank all the friends and people who wrote to us, throughout the 9 months of our expedition. Although I have not replied many of the comments, we read it ALL, every single one of them. They gave us the energy and motivation to write the blog, even when many times we were very tired and sleepy.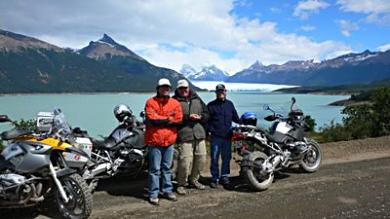 This trip changed us forever and made us wanting for more. We are planning to make other trips like that and will probably publish a book with more pictures and more information about each city we visited. Thank you for having done it with us. Homero, Gildo and Manolo"

New Communities:
We've now reached an amazing 424 communities in 84 Countries as of June 26 2006!
A big thanks to all those who took the first step and established the Community in their area. New Communities are too many to list - it has been a while!
If you are on the road, do check out the Communities - don't feel like you're imposing on people! They signed up for a Community because they want to meet travellers - that's you! You'll have a great time, so go to the Communities page and let them know you're coming. Please remember that they are volunteers and offering to help because they're great people - common courtesy helps! When you write, tell them who you are, that you're passing through, and would like to meet them. Let them know if you need anything, and I'm sure they'll help as best they can.
Mark Robinson, UK, found out how good the Communities are when he wrote to the Vancouver Community:

"Myself and two friends are riding the Pan-Am starting in Vancouver arriving on the 1st of August, 2006. This is our first BIG trip. I'm being really cheeky - can someone in the Vancouver area give us floor space for a day or so when we arrive or suggest a VERY cheap hotel. This will hopefully give us the time to collect the bikes from the airport and set them up for the trip."

He wrote me: Received two messages back already including one that said we can stay at their house just 10 mins from Vancouver airport. I don't know whether it's HUBB motorcyclists that are so kind to let strangers stay in their home or Canadians. In either case I'm very grateful and will hopefully see you again at the next England HU meet (or possibly Canada or Mexico since they happen to be on as we pass!) Thanks again, Mark."
For details on how you can join a Community in your area, or use the Communities to get information and help, or just meet people on the road or at home, go to the Community page. Send me some photos - with captions please - and a little text and you can have a web page about your Community! A few links to web pages about your area would be useful too.

Just a reminder to all, when you Join a Community in your area, send a note to the Community introducing yourself and suggesting a meeting, or go for a ride or something. It's a good way of meeting like-minded individuals in your own town.
---
More ways to support your favourite website!
How to Link to Horizons Unlimited
Contributions
To help with the cost of creating and distributing the newsletter and running a huge website, we gratefully accept contributions via PayPal, credit car, Amazon, and Letter Mail. For more information on donations:
Support this Newsletter by Donating Today, by PayPal, credit card, Amazon, or cheque.
If you want a t-shirt or other logoed merchandise, go to the Store. Also, you can just click on any Amazon link on the site and we'll get a small commission on your purchase of any Amazon merchandise - and it won't cost you any more!
All contributions will be acknowledged and gratefully accepted. If you later decide you do want an item from the store, let us know and we will arrange it.
Thanks, Grant and Susan