Plan where to be when!
If you know of any events of interest to travellers, send me a note.
Horizons Unlimited Travellers' Meetings:
Lots of HU Travellers Meetings planned for 2005 - check them out to see if there's one near you - and if there isn't... well, you're a traveller, right?
South Africa, First Annual Meeting, April 14-17, 2005 - mark your calendar, details coming soon!
Eastern USA / Canada, Second Annual Meeting, North Carolina, June 17-19, 2005
UK 2005, Fifth Annual Meeting, June 24-26, 2005
Western USA, First Annual Meeting, Colorado, July 7-10, 2005
Western Canada, Fourth Annual Meeting, September 9-11 2005 - mark your calendar, details coming soon!
Portugal, Third Annual Meeting, September 22-25, 2005.
Copper Canyon, Creel, Mexico, MID-week - Oct 11 - 14, 2005
Viedma, Argentina, Third Annual Meeting, December ?, 2005

Tynda's annual rally for Foreign Travellers will be 6-8th of May. Oregon (USA)
Free camping at the end of the famous motorcycle road in Oregon, the Aufderheide Forest road. Speakers will be Maarten Munnik from Holland (travelling around the world), Tom Hunter (just back from South America), and Lew Waterman (returning from Central America with Punky). Free. All members of BMWMOA and BMWRA are invited.
Horizons Unlimited New Links...
Susan has created
an excellent Information Security and Privacy for Beginners presentation that everyone that uses a computer should read and pay attention to - especially if you're using internet cafes.

Get your website listed in the LINKS Section
by listing Horizons Unlimited on YOUR web site, let me know you've done it by mailing me a link to the page, and you may get listed here in the next newsletter and on the Horizons Unlimited web site Links page. To make it easy for you, we even have our logo and link code here!
All sites will be considered for listing, but must be a MOTORCYCLE or TRAVEL site, useful or of interest in some way to travellers. We reserve the right to refuse to link back.


Motorcycle Express
MC Air Shipping, (uncrated) USA / Canada / Europe and other areas. Be sure to say "Horizons Unlimited" to get your $25 discount on Shipping!
Insurance - see: For foreigners traveling in US and Canada and for Americans and Canadians traveling in other countries, then mail it to MC Express and get your HU $15 discount!
There are many 'Helpful People' listed on the Links page, a huge thanks to all of them. How about you? Or you can join a Community, or start your own!
Do you know of a good shop 'on the road,'
...in other words, somewhere there isn't a large number of shops? (Also of course any shop that specializes in travellers equipment and repairs is of interest.) But we're particularly looking for those rare items, good repair shops in South America, Africa and Asia etc. Please post your info in the Repair shops around the world Forum on the HUBB.
There are now 100 + shops listed in out - of - the - way places, from Abidjan to Ghana to Peru! Be sure to check out the HUBB "Repair shops around the world" forum if you need work done!
Stainless Steel Fasteners 101
Interesting and very informative thread on things you should know about stainless steel fasteners on the HUBB.
Rupert Wilson-Young, on credit cards, while travelling,
"I spoke to the most uncompromising a*s from MasterCard. The thoughtless moneymakers have blocked my card because I haven't been making my payments and there is nothing I can do. No amount of pleading would help. Not only that but I had to pay a fortune holding the line to find out I had no money. Where is the justice in that heh? I don't know about anyone else but the only reason I use a credit card is because I have no money in the first place. Otherwise I stay well away from it's crazy interest and late payment charging structure. It's nuts."
Miles Murray (Road from Djibouti to Eritrea)
"I rode from Ethiopia to Djibouti (via Dire Dawa) and on to Eritrea (Assab and Massawa then up to Asmara). I know that you can get a ferry from Djibouti to Italy and it may be possible to get from Eritrea to Sudan but I'm not sure.
The road from Addis to Harar and Dire Dawa is new tarmac and in good condition apart from a few washouts but there was work being done—the road itself is a stunning alpine ride and Harar is an amazing city. The road from Dire Dawa to the border is a good graded gravel road and once you are on it you won't have any problems finding your way (I wasn't using a GPS at this point).
Once you cross over into Djibouti you are on good tarmac and can be in Djibouti town itself within a couple of hours (although there are back roads if you want to take your time). Djibouti is quite a busy town but it is quite expensive. I ended up hanging out with some Australian and Dutch bikers who work at the port—very friendly (you can get in touch with the Aussie through Horizons—under the Travellers Looking for Travellers section).
It can get very hot in Djibouti so it would be worth trying to plan it so you are there in the cooler season (it was just starting to cool down a bit at the beginning of October when I was there and I think the cool weather lasts at least until Christmas but its worth checking for yourself). You can get motorcycles tyres in Djibouti if you need a new set. There is a ferry from Djibouti to Italy, which could make a nice option.
From Djibouti I rode to Tadjoura—via a detour to see the forest by day and on up to Randa because the rains had cut the direct road to Tadjoura. The road to Obok is sandwiched between the mountains and the red sea and was a great ride. It seems as if there are 4x4s that go from Obok to the border most days—but Sunday and Wednesday would be your best bet as the ferry from Djibouti arrives then—but they seem to leave in the afternoon (although this might just have been the day I was there). The route from Obok to the border is across sandy plains that have lots of tracks—all heading off in different directions—I took a guide with me on the back of the bike since I was riding alone and didn't want to wait until the afternoon and follow one of the 4x4s. The sand is quite deep/thick in places and it had just rained so there were some muddy patches that were super-slippery. It took about 3 hours of riding to reach the Djibouti border.
The border crossing wasn't a problem—but they couldn't stamp my carnet. There was a border post at Rahata (the Eritrea border) where I got my passport stamped (unlike what the guidebooks tell you. I had bought my Eritrea visa in Djibouti at the cost of $40 and it took just one day—although I think it only opens on Wednesday. From the border to Assab is mostly good gravel although the first 20 - 30 km is small tracks (once again the GPS coordinates from horizons worked well). There were a couple of checkpoints between the border and Assab and the soldiers didn't speak any English but I managed to get through without too much hassle (although it helps to be patient).
Assab: I stayed at the Assab hotel, which was cheap and good, and the owner was very helpful. I would recommend it. When I was there, there was a petrol shortage in Assab and I had to spend a bit of time trying to find some on the black market but managed to get it eventually. Go speak to the Afar in the Muslim end of town.
Assab to Massawa: 550-600km but the road is very good almost all of the way, except at the end it got a bit rough but they were working on it. If you start early you could do it in one day but it would be a long one. The road follows the coast and once again can be very hot if you are there at the wrong time of year. Very harsh and empty area, it reminded me of North West Namibia. More check points so make sure you get that travel permit but even then be prepared to wait every now and again.
Massawa: No problems getting petrol here
Massawa to Asmara: 115km of good tarmac. About 60km of it is strait up the escarpment, 60km of hairpin bends, just great fun but would be even more fun if the trucks kept to their side of the road—keep your eyes open!
Security: the border demarcation between Ethiopia and Eritrea after their recent war is still ongoing so its worth keeping an eye on the situation."
OZ on Ruta 40, Argentina
"We have just ridden north on the El Chaiten to Perito Moreno (the town) section of Ruta 40. The road is generally in good condition. Gas can be bought at Bayo Carocoles and Tres Largos. This section of Ruta 40 is 340 kilometres long. This is the longest stretch between gas stations. There are sections of ruts with gravel piled in between the ruts, but they are not hard to ride. The only thing that makes it difficult on this section of road is the wind. If you get a really windy day staying in the gravel ruts is hard. I had a few dodgy moments when I was blown out of one rut and had to cross to the next. However, none of us crashed as we chose a low wind day. In high winds, it may be a different story. So pick the day carefully.
The road is not just flat and featureless pampa, there are hills and a few lakes on the way to keep you interested. We also continued up the carretera austral. In good weather, this is a stunning road. The section from Pt. Tranquillo to Chile Chico is amazing. Although the road has its fair share of washboard and potholes but is well worth riding. Wind and gas availability is not a problem. We hear that both roads will be paved in the next 4 years so it is your last chance to ride them as they are."
Ralph Green – Ecuador border crossing
"Officially Ecuador was the only country in the Americas (Alaska to Tierra del Fuego) that required a carnet de passage – an automobile association document that gives a bank guarantee that if you bring a vehicle into the country and leave without it, customs can call on the nominated bank to pay the value of the vehicle to customs.
Our good friend Ricardo here in the capital with the support of thousands of international motorcyclists, local and international clubs, (ed. including a Protest form filled out by many here on HU) managed to lobby sufficiently to get the law changed. Now you don't officially need a carnet, the vehicle itself is a guarantee. If you leave without it you forfeit it to customs. A special letter of dispensation to enter the country with a vehicle without a carnet should no longer be necessary. Thus I fully expected that, as for other countries in the region, I would fill out a form for the bike, which would be endorsed with the requisite stamps and signatures.
So over six hours later I find myself still waiting, drifting into that void close to, but too wretchedly tormented to grasp, sleep. Customs and possibly other government departments here have a massive problem with delegation – there is none. The 'comandante' of southern regional customs was the only one authorized to sign the letter (no form available) and was yet to return from a meeting in Loja three hours north.
I produced a copy of the presidential decree to change the law including the phrase about a 'formulario' (form). This was contested by the customs lawyer with a barrage of law so dense and spoken so fast in Spanish that I was completely disarmed of any comeback. I persisted as to whether there was not some local guardian angel (justice of the peace type) that I could swear to donate the swinehunt to customs on breaking the regulations. After some furrowing of brows, consultations and shuffling through paperwork the acknowledgment came that yes, I could visit a 'notario' in the town, have them type up a letter, witness my signature and this should be sufficient. When I was skeptical about the notario's ability to get the wording exactly right, they banged out a sample of the correct wording on the computer and sent me off with rough instructions on how to find one. The address turned out to be wrong but in a small town nothing is too difficult to track down if you ask enough questions.
So an hour and $US10 later I had two copies of the document in my pocket and was riding back towards customs when I was intercepted by the customs lawyer and driver and escorted back to the office. She (lawyer) had changed her mind about the legality of the sworn before a notario statement. She had doubts that I might still get into problems with the Ecuadorian police with the notarised statement. I was just about to retort that I had always found the Ecuadorian Police charming to deal with and I would take my chances with the notario letter when she tore up both copies in front of me! At least she was good enough to refund my $10 from her own purse, which I accepted - putting on a pained face.
By 6pm we were back at the border delivering the officials their copy of the letter signed by the comandante."
... in a post on the HUBB about "Where to leave a bike in South America" - a common question!
I entered Paraguay via Brazil, and Paraguayan officials gave me no stamps or paperwork at all - they were not interested. So you might try that one out."
When you meet people on the road, and they haven't heard of this e-zine or the website, we'd appreciate it (and hope they would too!) if you'd get their names and email addresses and send it in to me.
Thanks, Grant
Request for info
Wouldn't YOU like to know all about the border you're approaching - what it should cost, paperwork required, 'tips' needed, and who to talk to, etc.?
When you cross ANY border, take some notes, and pass them on to us. Thanks!
Shipping
The Shipping page on the site is HUGE! It can be reached directly or from the Shipping link on the Trip Planning page.
If you have any information to contribute, please go here, and register (or just login IF you have used this system before) and you can then submit your information. Thanks!
Travel Advisories:
The Foreign Office in London's Travel Advice Unit advises against travel to all sorts of places. Check out the listing before you start!
The US State Department regularly issues updated travel advisories, information and/or warnings.
"Having come into Belize on the 3rd January we were looking forward to nothing more than seeing Camille and Alex (our friends from England) and seeing a little of the country before riding onto Guatemala in a little over a week. The four of us went to a manatee rehabilitation centre in the north of the country at Sartenaja that takes in injured or abandoned manatees and nurses them back to health before releasing them into the wild again. This is just one aspect of the work that the conservation organisation does. It's a small organisation in relation to others around the world but they're one of the most prominent and active in the whole of Belize.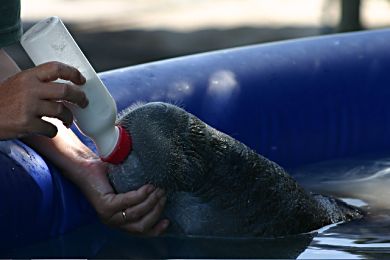 We got talking to Zoe and Paul who run the organisation with help of a number of volunteers and explained that we'd looked into doing some kind of work in Central America but hadn't come up with anything other than the usual volunteer holidays that charge thousands of dollars for the privilege of spending two weeks hacking back jungle during the day and peeling potatoes at night to feed 40 other volunteers. We didn't chat too much about it, just passing comment really and left the centre having seen the beautiful manatees and enjoying the day.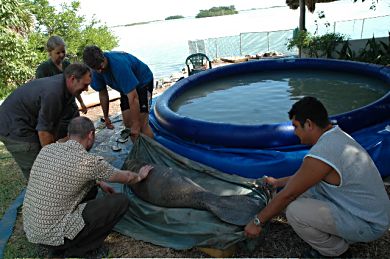 The following day Zoe came looking for us and invited us back for a chat about volunteer opportunities in Central America. We were a bit blown away when they offered us both a job putting together a funding bid for a new marine and jungle nature reserve and habitat corridor in the north of Belize.
In the morning we waved Camille and Alex off as they rode out to sea in a small boat on their way to the Mexican border before flying back to the UK and we both felt so far from home all of a sudden. By the afternoon we found we had a new home and a new job. Incredible. We'll be spending our days working in the jungle conducting photographic habitat surveys for jaguars, tapirs, peccaries and host of other wildlife, taking part in turtle, manatee and bird surveys and putting together a bid for funding of the proposed 11,000 acres of jungle nature reserve and the marine reserve.
Stunned is the word that best describes how we feel right now. One minute we're traveling round the world on a motorbike having the time of our lives and the next we're working in Belize on something of monumental importance to both the people and wildlife of the country.
On top of that we'll be working with the local communities to improve the opportunities for them as fishing declines and tourism grows. Conservation is something that protects the wildlife from exploitation by the local people but its also something that takes away their livelihoods unless something is developed to give them a new livelihood so we'll be working hard to make sure that happens for them.
For us it's a dream come true and if we can make a difference for Belize it'll be something incredible for us. Wish us luck! We'll keep the updates coming but they may be a little different for the next few months. This little adventure may last a couple of months or as much as six months or more, who knows. All we know is we're very lucky."
Daniel Todd, USA/Puerto Rico, second around the world tour, in Bolivia and Peru, KLR650,
"Another day, another adventure. It all started when a German overlander (Matitz) pulled up to my hotel as I was packing to leave. We explored the outskirts of Tupiza, the last frontier of Bolivia and Butch Cassidy and the Sundance Kid's last hangout, doing photo shoots of all the strange rock formations in brilliant red...
I decided to take a back road that was supposed to be a shortcut, across the mountains and connect with the main route into Argentina. I bid Matitz farewell and had this road to myself for the next 100 KMS. This shortcut from Tupiza to El Puente was the greatest masterpiece of off-road adventure that I've seen in a coon's age! I wound once again up to 14,000 feet and could see the line that I had followed all the way across the horizon. Bliss, Rapture, a real (I think maybe he was having a little too much fun, censoring needed here!) run!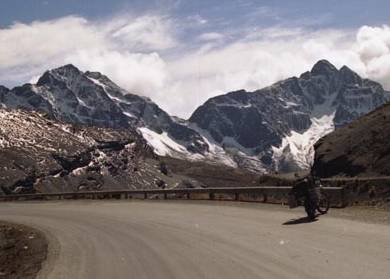 I had only rejoined the main road for 30 minutes when I found all the traffic stopped; a very large avalanche took 3 hours to clear off the road and the next hairpin down below where much of the debris had stopped. I took out my MP3 and rocked out to MANA, imagining that it was really me hitting those drumheads.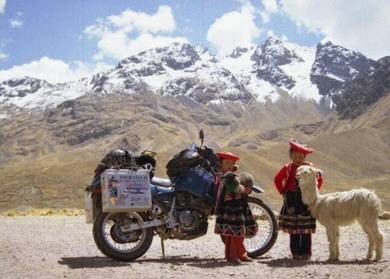 I spent the rest of the afternoon crossing another pass at 14,000 feet and was well above the cloud line most of the time, in fact visibility was quite limited and I couldn't see the buses coming at me until less that 15 meters. The phosphorescent green canyons below were outstanding and I tried to not let them distract me, pulling over instead to admire god's creation.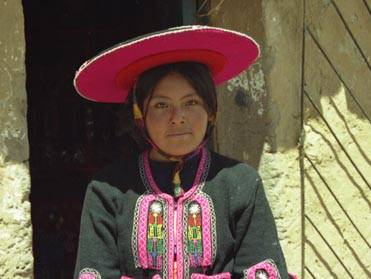 For the first time in over two months I'm at a reasonable altitude of 6,000 feet and you know what? When I take a deep breath, I can actually feel my lungs filling up with a nice healthy dose of oxygen! At all the police and military roadblocks, I continue to get waved through; it's amazing how a little diplomacy and Español will work for you."

Help support the Horizons Unlimited E-zine - visit our sponsors!
Please be sure to tell them how you heard about Moto Discovery!

Thanks!

Maarten Munnik, Netherlands, around the world, in Ecuador and Colombia, Honda Africa Twin,
"Almost time to leave South America, I went Volcano-dipping. Near Santa Marta there is a so-called 'mud-volcano'. This is actually not a real volcano but a pit (or canal) that is more than 2 km deep. It is filled with rotting vegetation that creates gas and mud. The amazing thing is that the upward force of the mud is strong enough to keep you from sinking, not even if you try (I did).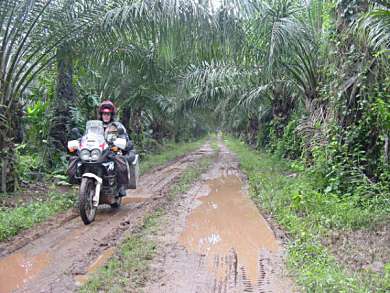 There is an amazing amount of wildlife to be observed in Cartagena. Ever seen a tortoise without its shell, climbing trees and rotating its head more then 180 degrees? If you did, you saw a sloth.
Only hours after we left the harbour of Cartagena, we were riding 8-meter waves. I actually felt fine until I was steering the boat. About 5 seconds later the fish were enjoying the pancakes that I had enjoyed this morning. Strangely they did not taste as good as when I first had eaten them. One thing that kept me awake that night was the need to go to the toilet. With the rough sea I could not. Since the boat was moving violently underneath me, my body had to adjust to the movement constantly, making it impossible to relax enough to 'let go'. Not a nice situation.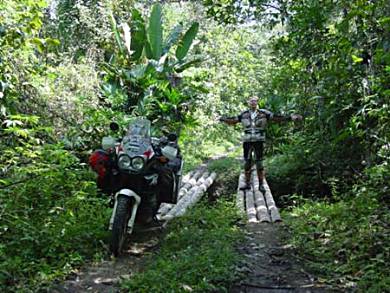 Honduras is a nice enough country. Customs? Yes, it's infamous for its terrible, complicated, corrupt, non-functioning system when you enter the country with a vehicle. The entry is expensive. To enter with a bike cost 28 USD but these costs are very clear and written on a 4 by 8 meter sign outside in English and Spanish. What more can you wish for?"
"Having been sedentary for so long it was with great delight that we set off for a day's walking in the high country and a hike up Mt Kosciuszko, Australia's highest peak. There are several different approaches to this hillock, from a chairlift ride and short stroll to the 20km route we chose. This took us through some lovely alpine terrain and along the spine of the Great Dividing Range with some beautiful views west over ridge upon ridge of blue hills.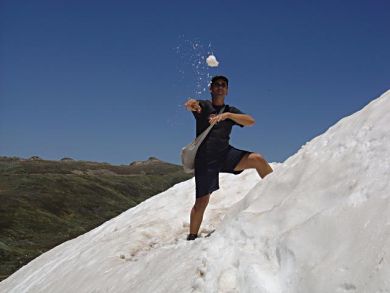 The flies here were horrendous. Never before have I been harassed by swarms of flies whilst walking across snow. We met one hiker who regularly walked in the park – he had a fly net covering his face and didn't have any exposed skin – both to keep the intense sun off and to keep the biting Mayflies at bay.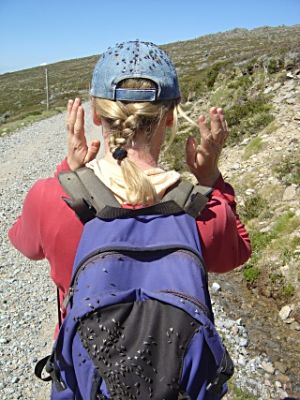 I knew Melbourne was a big city but was still amazed when the motorway finished and we found ourselves in suburban traffic snarl-ups with signs still saying Melbourne 22km. We also managed to get a tad lost around the inner-city so arrived late and found the friends that had invited us to stay had gone out for the evening.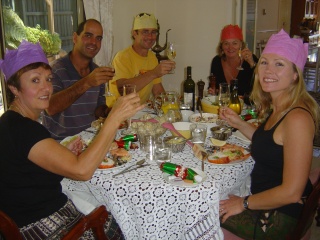 The next few days were spent catching up with our host Alec, who we had met and travelled with in Iran, his wife Vicki, also with Brian and Shirley who we had met in Pakistan. Alec had shipped his bike from Aus to Europe then ridden across Russia to Siberia returning via Central Asia, Iran, Turkey and southern Europe. See their story. Brian and Shirley had shipped their bike from Aus to Europe then ridden back overland following pretty much the same route as us, so it was great to share some tales and ales with all of them. We also had to arrange the shipping of our bike from Melbourne to Auckland in the new year.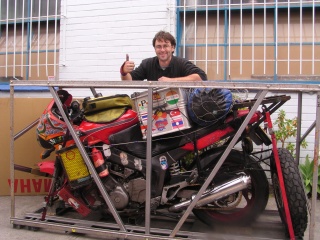 ... We spent our last night on the road free camping in a reserve between highway and railway then rolled into Melbourne the following afternoon. No time to rest though, I had booked a Customs officer to meet us at the shipping agent the following morning so we were in a rush to wash the bike and all our gear – New Zealand requires everything well cleaned to try and keep nasty flora and fauna out."

Help support the Horizons Unlimited E-zine - visit our sponsors! Please be sure you tell them how you heard about Morton's BMW!

Thanks!

Simon Milward, UK, around the world, in Uganda, Sudan and the Central Africa Republic, home built ROTAX,
"Uganda is a crossroads. I face the choice of motorcycling north through Uganda's own civil war and into southwest Sudan, or west into the Democratic Republic of Congo (DRC - formerly Zaire). I shall probably opt for the Sudan route and my plan is being sent to Khartoum for approval before they issue a visa. As I wait for bureaucratic wheels to turn and the dry season to settle in, I went rafting on the White Nile, the source of the Nile, flowing from the northern tip of Lake Victoria. Grade five rapids are the biggest and worst that any sane rafter attempts and you get plenty here. The raft is tossed into the air. It flips. We fly. We sink. We float. We laugh. 25-100 metres downstream we haul ourselves back on board while paddles and helmets are retrieved by the local expert kayakers always on hand. The entertainment draws a crowd of local villagers.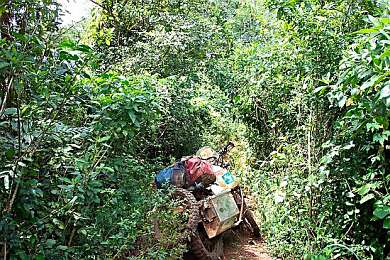 The road to Sudan leads into thick bush! The track often disappears so I continue straight and it reappears. Many bridges are made of simply a steel girder. I get paralysed with fear at one, before a local walks through the river showing it is only thigh deep. I could kiss him, but give him a squashed banana instead.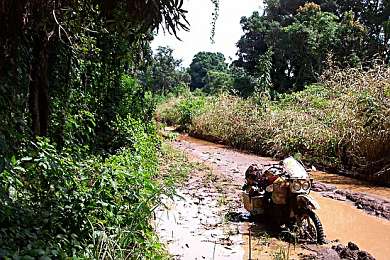 Confusion greets my arrival at Bazi in South Sudan, the last tourists to come through being a Swedish couple on a motorbike in 2001. I spend two nights in Yei and took one or two photos. Someone tells the army which nearly panics. The Maridi Public Security officials searches my bike and read my diary, suspicious of the Arab named captain of the ship Aziza in Tanzania. One puts my Argentina patch in his pocket and I swear at him. The boss accuses me of disrespect for which the penalty is flogging and hanging. I apologise for the misunderstanding, blue, white and yellow patch safely back in my custody, although I am in theirs. Every official and army personnel demand money, I pay nothing and let them steal not a stitch. The war has turned everyone hostile and aggressive, including me.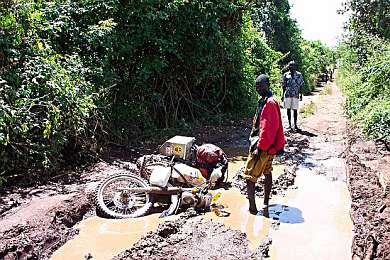 Bangui, Central African Republic (CAR) - Everything turns the colour of mud. Both shock absorbers break. One pannier box smacks a hidden tree stump catapulting me face first into a mud pool. 10 minutes later I find it to be infested with giant biting brown ants. A camera goes swimming. My boots disintegrate. Snakes uncoil to attention then dart into the undergrowth. Multi-coloured lizards scurry after them.
I pull up at the Royal Palace in the town of Bali. I am greeted by seven Royal advisors in the outer court and warned not to cross my legs as I sit. His Majesty Dr Ganyonga III, Paramount Fon of Bali, received me at his throne on a large terrace overlooking a green inner court. Wooden carved elephants and lions sit at each side, a huge leopard was pictured behind the throne and cushions and skins of leopard abound. His majesty is well in touch with the needs of his 40,000 subjects and we discussed motorcycle maintenance in health work."
Paul and Zoe Jenkins, UK to South Africa and back again, in Cameroon and Congo, Honda Transalps,
"We had been warned the road was bad and I know that I have gone on about bad roads in previous updates, but this one really takes the biscuit. It is the major road connecting Nigeria and the Cameroon, but it was just mud, really, really slippery deep, red mud. We had 60 kms to cover to get to the first major town, Mamfe and it took the whole day. It is hard to describe the mud carnage, which was this road, but imagine a giant Digger had gone mad, carving huge craters and ridges, randomly into the mud and you won't be far wrong. We have often read about 'holes as big as a lorry', but never really understood - now we do! At some of the worst spots, local villagers had carved neat little diversions through the thick rainforest, which they were more than happy for us to use for a small fee. I am pleased to say that I only fell off the bike once the whole way and that was because Paul pushed me into a ditch - accidentally of course! Luckily an old guy built like the incredible hulk was around to help extract me and the bike out of the hole!
| | |
| --- | --- |
| | |
| | |
Our original plan was to head into the north of Cameroon where the roads are notoriously bad, but after the last couple of days we decided to give it a miss and head straight for the coast. I am sure we have missed out on some wonderful parts of the country, but when the roads are bad it is impossible to enjoy the scenery, so we chose the easy life and headed to Limbe, a coastal town at the foot of Mount Cameroon. We were feeling a bit jaded after the last few days so we decided to treat ourselves and checked into a lovely seafront hotel, with swimming pool no less, where we had our own little bungalow - luxury! It certainly did the trick because after a day of lounging around the pool, we were both feeling much better!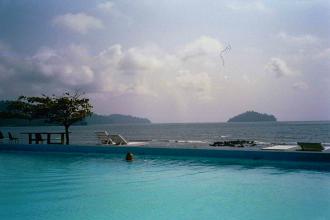 Unfortunately it didn't last...that evening Paul developed a really high fever and became very sick, very quickly. He started a Malaria treatment straight away, but I couldn't get the fever under control, so we decided to head to the hospital - and it was all we could have hoped for with the wards full of goats and chickens! We paid our money and had the malaria test, which came out very positive, so the next stage was for Paul to be hooked up to a quinine drip for 5 hours in a mosquito infested room! I was running around annoying everyone making sure everything was sterile and even forced the nurses to use a needle we were carrying which resembled a large, fat javelin! After 3 goes, Paul's arm was swelling up and the nurses were still digging hopelessly into him, so before Paul fainted I allowed them to use their tiny, easy-use needles. I am so helpful! When the drip was finished, I continued to help out by bringing Paul some oranges to eat (well, I thought fruit is what people bring to hospital patients), anyway, they proceeded to make him very sick, so I think it was fate that I didn't study medicine!
... After a few days recovering in the luxury beach side bungalow (with TV!) Paul was well enough to hit the road again and we headed south to the popular beach resort of Kribi. It was a lovely place and we found a cheap campsite right on the beach. Paul still wasn't 100%, but he managed a week of sun, sea, sand and sunbathing!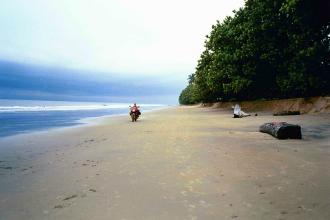 ... After further tests it turned out that he had had a virus, followed by a secondary bacterial infection! Paul would probably have recovered very quickly had a Cameroonian lab technician not counted imaginary parasites in his blood sample, if 2 Cameroonian doctors hadn't reviewed the results and recommended malaria drugs and if I hadn't kept giving him more when they didn't work!
... the Gabon/Congo border saga continues for about 100kms with customs, police gendarmerie and immigration all getting in on the act at various little shacks along the road. We arrived at the first border post and although the guards were friendly enough they made us take everything off the bikes and empty the contents of our bags out onto the floor, which we did with a big smile! I am not sure what they were looking for because they found a huge throwing knife in Paul's bag and all agreed it was a good idea to carry something like that for personal security! They also wrote down all the details from our passports into a big book of details and then let us on our way. This was to become a recurring theme. At the next post about 5kms down they didn't empty out our bags, but 3 people in the same office wrote down all our details (slowly) into their books, one after the other.
... Luckily, there hadn't been much rain and so the dirt roads were passable....they were just dotted with huge puddles. Paul got stuck in the middle of the first one and after a wet and muddy 10 mins getting him to the other side, we decide they were deep and muddy enough to warrant a 'scout'. This usually involved me wading up to my knees in muddy water scoping the best route through....nice !
The coastal route through Congo involves crossing into Cabinda an Angolan enclave. We had heard from a couple of other bikers ahead of us that you could get a ferry from Cabinda to Luanda, the Angolan capital...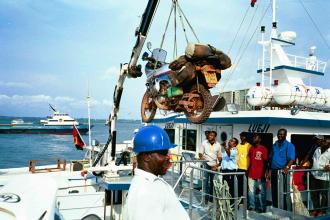 As the boat pulled away from the dock Paul went for a shower. As he was leaving I suddenly realised what a ridiculously stupid idea this had been. The boat was tiny and was leering on the choppy sea. I could see 14hrs of nausea hell stretching out before me. I lay down and tried deep breathing which kept the contents of my stomach where they belonged, but that's all and we were about 8 mins into the journey! Paul returned from the shower looking 'ashen'! Standing in a windowless cubicle hadn't done him any favours either and so we spent the next 14hrs horizontal, breathing deeply! What on earth were we thinking? Well, after 14 hrs of hell we finally arrived on dry land in Angola, Southern Africa!"

Help support the Horizons Unlimited E-zine - visit our sponsors!
Please be sure you tell them how you heard about Motorrad Elektrik!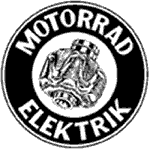 Motorrad Elektrik has been offering the best in electrical parts for classic and modern BMW's for over 11 years. From 12 volt conversion for /2 to better than stock replacement parts for your late model "R" or "K", we've got you covered. Specialty parts for 'hardening' the charging and ignition systems for world-travelling Airhead GS's. Riders like Bob Higdon, Dr. Gregory Frazier, Grant Johnson and hundreds of others depend on Motorrad Elektrik components as they wander the globe.
Our Omega system has solved the charging problems for 1970-95 Boxers with 400 Watts Output, and our

Nippon Denso starter is the perfect cure for Valeo syndrome.
Thanks!

"Arequipa has an impressive Spanish colonial heart, all narrow cobbled one-way streets, white stone masonry and heavy high metal braced wooden doors in the medieval style. At 2,300m it has an ideal if rather dry climate. We were parked in the local plaza where the 'hunt' as impotent and arthritic as it is, managed to attract the attention of the local police. Parking it in the central plaza on a yellow kerb might have been a clue to the offence but rather than put a ticket on it, they decided to wait to ambush the offending gringos. No doubt wanting to exchange the threatened ticket for a bribe. However from the balcony restaurant above we had the surveillance advantage, calling for another cold cerveza until inevitably they were called to do some honest policing, or perhaps a more attractive bribe opportunity?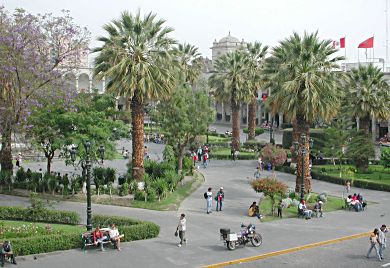 Though this was our third time for the trip from Arequipa to the south coast the scenery never fails to amaze. A rough fusion of lunar and Sahara with far more formidable mountains than either probably comes closest. Throw in wretched campesinos living in houses not much larger than a 'home theatre' cardboard box, constructed out of floor matting. Note, grey silver crescent shaped sand dunes migrating incrementally with the convex toward the leeward. Harsh contrasts of lush green valleys where irrigation water flows down from the Andes against the arching rock and sand strewn slopes, completely bald of vegetation. Several sections of 'great ocean road' like cliff hanging roads with glimpses of the rich bird and marine animal life of the eastern Pacific.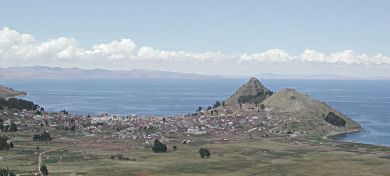 Getting out of Peru is usually a quick formality. So it was with migration, stamp and go. Previously at this border handing over the bike document, the 'transito' has been similarly painless. This time some bureaucratic customs official complained to me that the customs officer where we entered the country in southern Peru had put one of his stamps in the wrong position, in fact in his stamp's position. Well I was just about to fall onto my knees, flagellate, apologise profusely, turn the bike around and ride back the 2,617 km to have the form done again. Just then the official sitting next to him, with at least one foot on the rational side of the bureaucratic/reality divide, threw an arm into the air and in a Latin gesture, grunted 'no importa' and pointed out to his colleague that if he put his stamp sideways it would still fit on the form. In the time it takes for an agnostic to offer thanks to the gods we were off.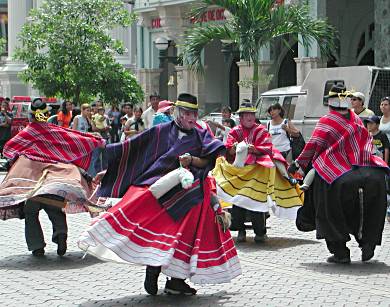 At the Ecuadorian boarder, we ran into some Colombian bikers wanting to cross into Peru. Two were on Aprilia 1000 road/trail twins and the other on a KTM single.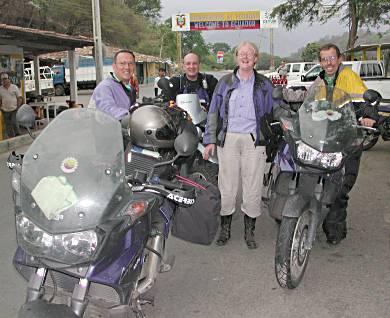 It was very pleasing to catch up with Mr. Motorcycling Ecuador, Ricardo Rocco in Quito again. A giant of a man amongst the locals at 2 meters, his heart is even bigger, going out to all international bikers with whatever assistance he can provide. On the second night he came to pick us up in his king cab for dinner but first a diversion to another hostal to pick up Torria (USA), Gerard (Germany) and Maria (Colombia, riding pillion with Torria), bikers riding through South America and currently in Quito. We went to a Swiss restaurant where we were joined by an Austrian, his Ecuadorian wife, and Ricardo's Colombian girlfriend. A truly international evening as the conversation switched from Spanish to German to English and back again."
Andrew Owens and Wendy Gill, Australia,
Australia to UK,

in Malaysia, BMW F650 GS and BMW F650 Dakar,

"Discovering the types of food you could get in Malaysia was an adventure we both enjoyed! Food seems to be available anytime... anywhere! Stalls just spring up, especially at night, selling all sorts of tummy tucker: Nasi Lemak, Roti Cnai, Roti Bakar, Nyonya, Popiah, Nyonya Laksa, just to name a few that we had tried. Many Malaysians eat with only their right hand and it is amazing to sit in a KFC outlet and watch each dainty right hand delicately separating the chicken from the bone.

Once the locals, particularly the taxi drivers, find out you are from Australia they are more than willing to offer you all they know about your fair country! Arriving in a hotel in Taiping we were a little alarmed... 'The Crocodile Hunter is dead' the owners said once they found out we were from Australia. They continued to elaborate with details of how he met his gruesome end in the clutches of a crocodile. We thought the worst had happened and that we had just been out of touch with news headlines back home. Months ago this horrible event had happened, they informed us. It was then that Andrew realized that it couldn't be true and he reassured them that when we left Australia, Steve was fine! Relief all round!

Impossible to generalize in such a multicultural population, but we did meet some interesting characters and some special people who gave us a glimpse into the Malaysian way of life. We were lucky to be staying at the Kancil Guest House owned by Daud and Fatimah. If only Andrew had taken Daud's advice earlier. 'Po Chai' he assured Andrew was the answer to his tummy turmoil. Still unsure of what these little black pearly beads do, we have packed a supply in our medical kit for the next time the grumbly guts grips! Once well, we set off for Shah Alam, not really on the tourist track, but the site of BMW motorcycle repairs... a leaking fork seal. But meeting Garry, the BMW motorbike mechanic was certainly one of the highlights of the trip. Great mechanic, but also a terrific and generous guy. And he also knows where to find some amazing garlic prawns and curry crab in KL!"

Ed. For more stories, see Andrew and Wendy's blog, here on Horizons Unlimited!

Help support the Horizons Unlimited E-zine - visit our sponsors!
Please be sure to tell them how you heard about Knopf Tours.

Thanks!
Simon Fitzpatrick, UK, London to Cape Town, in Morocco and Mauritania, Honda Dominator,
"...Nouakchott, Mauritania - This week I became, at 49 days, the longest-serving resident of Auberge Sahara. The previous title holder, at a meagre 48 days, was a whisky-for-breakfast French alcoholic who left here for Bamako, where the hospital promptly gave him a complete blood change.
I had an accident, d'you see. I hit a lump of sand in the desert - the things people leave lying around - and broke my collarbone, and, depending on which doctor you believe, several, a couple, or none of my ribs. I lean towards two ribs myself.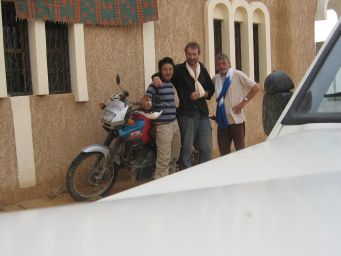 The point is, you can't expect to try and ride a motorbike across Africa and not fall off at some point and break something. (Well done if you have actually managed it). It's all part of the adventure. Owchhh.
The day before the accident, I met Nadia, Arno and David - mad Frenchies in a battered Merc - at the Maroc/Mauri border. We got lost together and hired a guide, then camped in the desert. The evening's entertainment was provided by tea made accidentally with gin instead of water, and later, Francois' bottle of Calvados.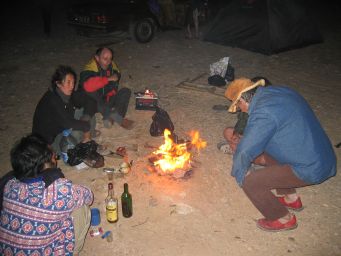 Things you can't get in Nouakchott:
a/ A game of darts.
b/ A pork pie.
Things you can:
a/ Dust.
b/ A ride in the worst taxi in the world. All the taxis in NKT are the worst taxi in the world.
c/ Excellent fish.
d/ Diarrhoea.
e/ Interestingly, constipation.
... Pre-accident, I rode through the locust swarm in the southern tip of Morocco. I knew it was coming, but when the first one hit my visor like a rubber bullet I yelped like a kicked puppy. After 10 miles of hitting - say - 1 locust a second, they began to thin out. After 15 miles they were gone, but an insistent voice in my head began to tell me, as I plucked their broken bodies from my lap, that that may have been only the advance party.
30 swarmless miles passed. Then *Thwack* - I hit one. Then a few more. Within 2 miles the road changed from tar grey to locust red. That would have been OK if the bastards had stayed put on the road, but the noise of the bike made them jump to head height just in front of me. Consequently the next 40 miles were 5-locust-a-second territory, riding with face screwed up against the horror. And oh jeez the stink..."
Tom Hunter, USA, Alaska to Tierra del Fuego, in Argentina and Chile, BMW R1150GS,
" ... The beauty of Iguacu Falls can hardly be exaggerated. In Argentina I've heard it said that the North American visiting Iguaçu will shake their head and say 'poor Niagara.' Probably only Victoria Falls in Africa is in the same league.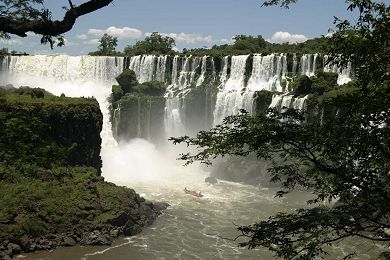 ... Two riders referred me to Sandra and Javier, the owners of Dakar Motos, located in the Buenos Aires suburb of Vincente Lopez. Eric and Gail Haws were the first. Later, in an e-mail, my old buddy, Ricardo Rocco, also suggested his friends Sandra and Javier. As an aside, they are both fluent in English.
As it turns out, when I first visit their shop there are at least three or four other bikes left there by visiting travelers representing Canada, the United States and Western Europe. Around forty, I'd guess, and with two children, Javier and Sandra are avid riders, with a dream of some day riding to the far corners of the earth. I also believe that they just love fellow motorcycle travelers.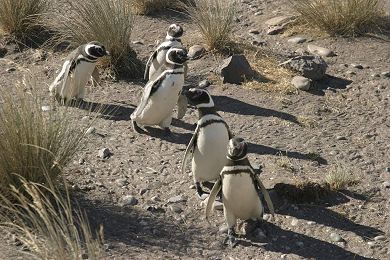 ... As I head south to Puerto San Julian, the wind reaches gale force. I have no way of measuring it, but my best guess is a sustained velocity of 50 mph or higher, with frequent gusts. The bike is constantly heeled over at 20 degrees or more, and at times I'm looking over the left-hand corner of the windscreen. Gusts blow me from the right to the left track of the right lane, as I fight to get back over. Often a decrease in velocity, alone, is enough to move the bike back there. The wind tears at my helmet and riding jacket. It is literally trying to pull the helmet off my head, up and to the left. Only the chinstrap negates its efforts. The engine noise from the motorcycle, quiet to begin with, is simply lost in the howl, which is deafening. When gusts hit, the howl temporarily becomes a high-pitched whine. The noise is overwhelming. The wind never abates for the four hours from Jaramillo to Puerto San Julian, where I get a motel by the highway around 10am in failing light. Simply exhausted from the riding I crash into bed and don't wake until after noon on Thursday.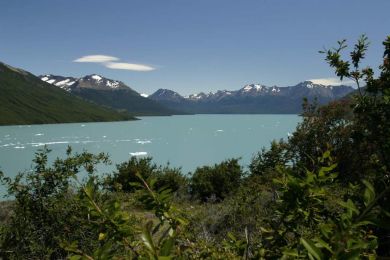 ... I'm in Santiago, Chile, safe and sound. The bike is scheduled to ship out on Wednesday and I leave Thursday morning, if the bike goes as scheduled. So this is the end of the line. Roughly 22,000 miles (just under 40,000km) and five years ago in July I started this journey. There were 31 international border crossings. It took five trip segments and four different bikes for me to complete the trip. The record for a motorcycle going from Prudhoe Bay to Ushuaia, established very recently, is about 45 days. To say the least, I didn't set any speed records.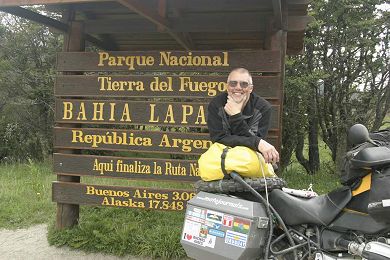 It's trite to say that it was the experience of a lifetime. Among the 11 Latin American countries that I visited, I met nicer people than I knew existed, and saw scenery on a scale that exceeded my expectations. But all things come to an end, and if they didn't, how would there be time for the next adventure?"

Help support the Horizons Unlimited E-zine - visit our sponsors!
Please be sure to tell them how you heard about Motocare.

Motocare Motorcycle Rental, hiring Honda's Transalp for touring Argentina and Chile.

Ride across the Andes, from the Atlantic Ocean to the Pacific, lakes, deserts, salt pans, waterfalls, beaches, rain forests, glaciers...

Thanks!
"Roy (a friend of mine whom is traveling on a motorbike in India and Nepal) and I left Katmandu to go to the Royal Chitwan National Park, where we were planning to spend some days before heading back to India. We left Katmandu at about 10 o'clock and drove towards Hetauda (a village on the way to the park), the drive was beautiful as from here we could see the Himalayan Range from distance. At about 4 o'clock I have a flat tyre, so we lost 1 hour in repairing it and so on, so we were obliged to sleep in a small house just in the middle of nowhere.
The morning after at about 9 we started driving again, just 7 km away from were we slept the Maoists (the rebel group fighting the monarchy) had put mines on the street so we were obliged to stop and try to understand what to do. Suddenly 2 Maoists came out from the jungle, and in Nepali made us understand that the road was blocked (we didn't need much explanation for that) and then they told us to go back. We said ok we sat on the bikes and suddenly they took out 2 grenades (bombs) from a bag they were carrying and told us to get down from the bikes. We were confused and got down from the bikes, then they told us to walk back to Katmandu (100km) and wanted us to give them 1 liter of petrol. We were more confused. We hesitated since we did not understand why they wanted the fuel and of course we did not even think of leaving the bikes and walking, but just then we realized that they were trying to put the bikes on fire! So we started arguing and telling them what are you doing?
Suddenly they started threatening us with the grenades, but we still resisted from letting our bikes put on fire.... Then they told us to move away and together with them we walked some 10 mt. from the bikes. At this stage one of the guys opened one of the grenades and threw it at the bikes. The grenade landed about 4 mt. from the bikes and exploded. We were unhurt but the bikes suffered some damage ... We were now in complete shock and started begging them not to do it so lots of begging and they were shouting and so on. Then the other guy opened and threw the second grenade which landed just few centimeters from the bikes! We were speechless, with our eyes full of tears from the anger and waiting to see our bikes completely destroyed... but the grenade did not explode, and this point they were shocked and I don't know why but they just left, maybe to go and fetch more grenades or fuel, but as they disappeared in the jungle we ran to our bikes, started them and drove for 5 hours non-stop to Katmandu.
Anyway we are now stuck in Katmandu as the rebels blocked all the major roads, destroyed the main bridge that takes you to Pokara which takes you also to India. In Katmandu there is not much fuel (you see km long lines), people don't know when this strike will end so I don't know when I can go back to India. It is a pity because Nepali are really nice people and Nepal is a wonderful country but the situation now is no good, no good at all. Other tourists are flying out somehow, but we (Roy, and Neil, another guy with a motorbike) and I are stuck here."
Ed. Mauro - So sorry to hear your news and thankful that you and your friend were not injured. Unfortunately, the situation in Nepal has deteriorated to such an extent that we recommend travellers avoid the country if at all possible, and otherwise exercise extreme caution.
Peter Forwood, Australia, around the world since 1996, in Cambodia, Harley-Davidson,
"I thought a motorcycle carrying four people was a lot, or pulling a Tuk Tuk with eight, but on the outskirts of town where the big factories draw thousands of workers from the surrounding area they have 125 cc motorcycles drawing trailers with up to 40 people, the cheapest way to get workers to low paid jobs.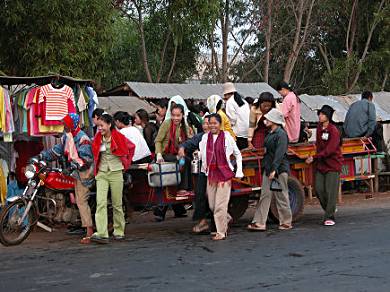 Also roadside are duck farms, hundreds of ducks raised in ponds, moved to the fields to graze, transported by dozens dangling from motorcycles on their way to markets in nearby cities.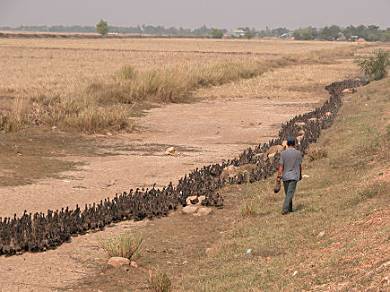 ...Tourists driving themselves around Angkor Wat is technically illegal, too many accidents on rented motorcycles. The Grand Loop follows a 20 km road between many of the 'lesser' temples. Ta Prohm is pretty much as it was discovered 100 yrs ago with large kapok trees, their roots embedded through the stone structures. It was here that the films Tomb Raiders and Two Brothers were shot.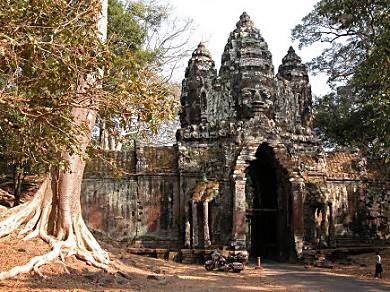 The scale of the entire complex is amazing. The number of tour busses and tourists also amazing, however they follow a set path and schedule that can be avoided."

Help support the Horizons Unlimited E-zine - visit our sponsors!
Please be sure to tell them how you heard about TinyStocks!

TinyStocks presents Highway Manager: the most complete and flexible gas mileage application for the Palm OS® platform, written by a biker for bikers. Keep track of your gas mileage, insurance payments, garage bills, hotels, highway tolls and whatever is necessary. Statistics, charting function, multi-currency, and more... So, got a Palm OS device? Why not take it on the road?
Thanks!

Gregory Frazier , USA, RTW, in Colombia, Ecuador and Chile, KLR650,
"Ricardo Rocco Paz gave us an education in Ecuadorian bureaucracy when we found that it took seven signatures on one piece of paper to get our motorcycle cleared through Customs in Quito. A minor bureaucrat balked when a form was filled out wrong (after the seven had already signed off on it) and the process had to be started over again, requiring another seven signatures and another day.
The ever diplomatic Rocco tried to point out to a mid level Customs official in charge the stupidity of having to go through the entire process again. Instead of seeing the bureaucracy was a hindrance to encouraging tourism to Ecuador, the official had Rocco removed by security from the building. That really got Rocco roaring.
Ricardo so impressed illustrator and author Donna-Rae that she named her new book character, a shy lion, Rocco the Lion.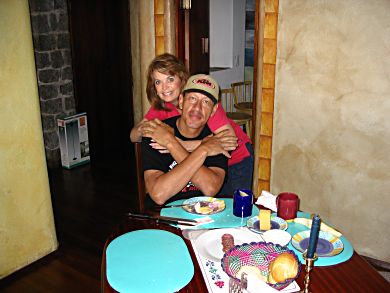 Instead of heading south like most do from Quito, we decided to get the hard stuff out of the way first and take on Colombia. Christmas found us in Cali. I had been warned by our government not to go there, and most Americans turn into bunnies if they are told they might even have to land there to change planes. Sadly, all I can report is we could not find a single guerrilla wanting to take us hostage or shoot us. Instead we found warm and friendly Colombians welcoming us into their homes to share a Christmas meal and lend us a free apartment. Of course that does not mean all of Colombia is safe, but then neither is New York, Los Angeles or Washington, DC, nor do I naively go looking for trouble in any of those places. This was my second pass through Cali and both times have been memorably warm and motorcycling friendly.
We managed to test our overloaded 1983 Honda Silverwing GL650 with some off-road riding. It is too overloaded to clear anything much higher than an ant, so now we cautiously approach any speed bump or gravel.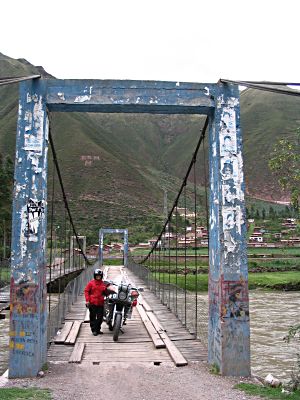 Seems HorizonsUnlimited travelers are riding all over South America. In 1997 when I made this trip I would go weeks without seeing another traveler. Now they are everywhere, and from all over the earth. At a toll booth in Chile I was told a funny story by a HorizonsUnlimited traveler about how he pinned himself underneath his BMW F650 in Argentina. Help came in a 4-wheel drive truck and hauled his bike and he to a police post where the policemen offered to ride the bike out to the next town. The cop crashed the Brit's bike and both cop and owner ended up in beds next to each other in the hospital. Maybe the Internet has made the world too small when stories like this get around?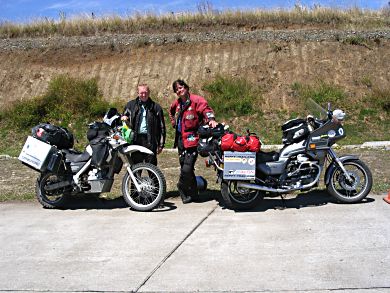 This is my first ride around the world with a pillion. Her Parkinson's Disease frustrates both of us. She has had to learn about space and weight (I rant a lot), third world toilets and packing and I have learned why I have been so comfortable being a lone wolf traveler on my previous four rides around the world.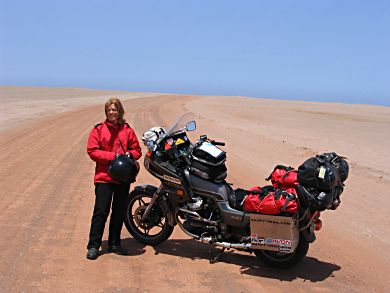 After a month we are still talking but I sometimes hear her muttering behind her face shield what I am sure are obscenities aimed at me. She has her view of our ride on her website. My view is at Horizons Unlimited under "What's New" for February 2005. We are still both having some laughs, like when I drool and spit when screaming or when she tries to eat food on the back of the motorcycle at speed. I often laugh into my gloved hand after seeing her come out of some of the more colorful and odoriferous toilets too. Ushuaia next, then up to Buenos Aires and across to Africa, if we are still talking."
Glen Heggstad, USA, around the world, in India, F650GS Dakar,
"The hardest thing about crossing the border was getting there. From Lahore, it was a thirty kilometer, two hour weave between donkey carts, camel caravans and bullying bus drivers.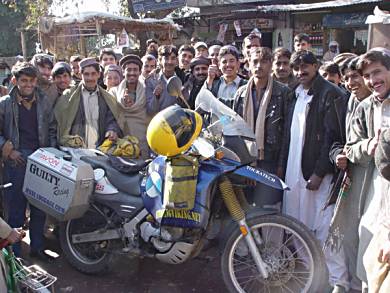 After three weeks in Pakistan, the vibrancy of India blossoms into vivid colors of pinks and blues. More welcome than that is the appearance of females. Tucked away in Islamic culture, there were few glimpses of women let alone their heads. Here, nose-ringed Indian girls in dazzling saris buzz about on purring motor-scooters while bearded men in bright orange turbans tend roadside food-stalls.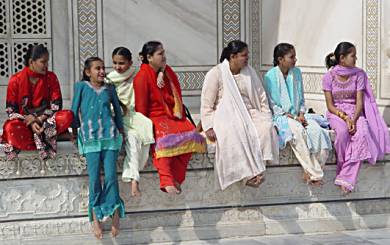 The roads are as terrifying as promised but not as death defying as the ride from Karachi. Each new country consumes weeks discovering rhythms to the chaos. In the meantime, we cringe and dodge with sighs of relief thanking Allah, Jesus and Shiva. To extend a long and happy life, I hope to spend more time in less places. Riding is too hard on the nerves.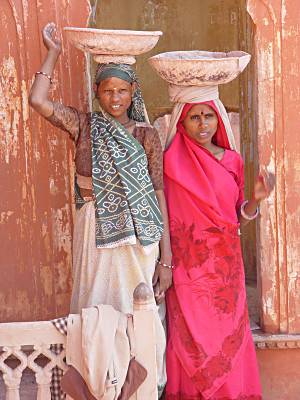 Indians are the most curious people yet encountered. Within moments of stopping, mobs of inquisitive black haired natives accumulate for interrogation. 'From which country are you?' Followed by, 'What is your good name sir?' Scooter riders flatter; '"Your motorbike is looking very graceful today." While testing the throttle and brakes, all the switches must be flipped as dozens try on my helmet. The rest is standard dialogue regarding cost, speed, mileage, number of gears and how long on the road.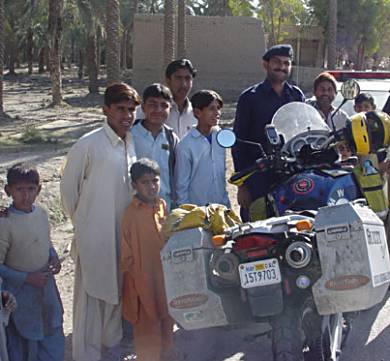 Traveling the countryside, I love to spread my disease. While surrounded outside marketplaces, I select the shyest child, beckoning him near. Coaxing him closer to press his index finger on the starter button ignites his spirit as quickly as the Blue Beast fires alive. A few blips of the throttle and he is infected—a thrilled, little brown face with wide eyes ablaze now burns with motorcycle fever."

Help support the Horizons Unlimited E-zine - visit our sponsors!
Please be sure to tell them how you heard about Touratech!

Thanks!