Plan where to be when!
If you know of any events of interest to travellers, send me a note.
Third China (Yinchuan) International Motorcycle Tourist Festival June 12 - June 15, 2002,
Interested? Info is sketchy at best, but here is what we have so far - if you learn any more please pass it on.
Enduraid 2002 - Third Annual Upper Midwest Dual Purpose Motorcycle Rally, Wisconsin USA, June 21-23, 2002,
Dual Sport Ride, afternoon slow trials, Knobby Ridge Trail Ride, cookout etc. Info.
International BMW Motorrad Biker Meeting, in south Bavarian Garmisch - Partenkirchen, July 5-7, 2002,
This will be the BMW event of the year, with 10,000 visitors expected. More info.
O'Keefe Ranch Rally, Vernon, BC, Canada, July 6-7 2002,
This year featuring a show and shine, flat track racing and a longer scenic road rally. Jim Green 1-250-542-9191
BMWMOA International Rally, Trenton, Ontario Canada, July 11-14 2002,
AND Horizons Unlimited Motorcycle Travellers Meeting Canada/USA East
Biggest BMW Club Rally on the planet. And we'll be there to do a couple of slide shows! See ya there!
The Second annual Horizons Unlimited UK Travellers Meeting is set for July 12-14, at The Black Horse Inn, 358 Nottingham Rd, Somercotes, Alfreton, Derbyshire, DE55 4LP. Tel: 01773 602575. Slide shows by Chris Scott, (Adventure Motorcycling Handbook), Chris Bright, London To Cape Town, Steven Raucher, Karim and more, on Friday AND Saturday night. Full details and registration here.
Black Dog AMA/Suzuki National Dualsport Ride, USA, July 13-14 2002,
If you're seriously into dual sporting... info
Stella Alpina, near Bardonecchia, Northern Italy, 10-19 July,
"a large trail bike Rally with several thousand bikes turning up over the weekend to ride up the mountain road on Sunday morning. It is not a competitive event but more a large gathering of like minded people." More info. Street bikes go up too!
30th Anniversary Top O' the Rockies Rally, Colorado, USA, July 18-21, 2002,
"In honor of the 30th anniversary, Special door prize drawing BMW F650GS Dakar.
70 miles SW of Glenwood Springs Colorado. Door prizes, and loads of vendors, BMW Denver onsite, free camping in the shady city park, hot showers, food vendors, music, Saturday evening dinner, field events, and great roads to ride in beautiful Colorado. Check out website for info and a preregistration form."
XI JÕGEVATREFF, Kuremaa, Estonia, (165 kilometres from Tallinn), August 1-4, 2002
Price of ~25 EUR includes admission to the Motor-Summer Festival in Põltsamaa, breakfast in Sunday morning, camping place, sauna, music groups in three evenings, competitions for prizes and other events within the Programme. Services: beach, saunas, bars, points of sale, beer and food tents, etc. Note: Striptease starting at 12.00 PM.
Sounds like a party! For further details, check out their website in many languages (click on the UK flag for English, then on Events Calendar 2002).
Allroad Tour, Finnish Lapland, 3-10 August 2002,
Allroad Tour is a special route ride ridden in Finnish Lapland. It is focused on heavy touring enduros. More info.
Sturgis Motorcycle Rally, Sturgis South Dakota, USA, August 5-11, 2002,
The biggest rally there is, primarily Harleys and cruisers, but interesting.
2002 Alcan 5000 Rally, August 14 - 22, 2002, Washington State USA to Alaska, YT and to Jasper
"For those people who cannot RTW but want a fun rally to participate in for two weeks." This is the first year for Motorcycles!
Big Dog Ride 2002, Colorado, USA, August 14-15,
"Not for the poseur or beginner, this event is known as 'the world's highest, toughest BMW motorcycle ride,' and is limited to BMW GS models (including F650, HPN and prototypes). Entrants for 2002 include ISDT qualifiers, veteran BIG DOG riders and Paris-Dakar BMW factory rider Jimmy Lewis. Participation is limited, with veteran BIG DOGS getting priority for entry. Information here, Woof, Woof."
The Buckride Rally, Offroad Touring Club, Norway, 15-18 August 2002,
"...In the heart of Jotunheimen in the central part of southern Norway. Jotunheimen is among the most beautiful parts in our country and consists of Norway's highest mountains, national parks, forests, wild rivers and great motorcycle roads."
"6TH EAR" (European Airhead-riders Rendezvous) Sept. 2nd to 6th,
Likely in the south of France. Details.
Motorrad Reise Treffen Gieboldehausen in Gieboldehausen, southeast of Hanover, Germany, 6 - 8 September 2002
A great travellers meeting, well worth attending. Book early, attendance is limited. Details in English and German
Beaverton Honda-Yamaha/Rat Dog Dualsport Ride, Oregon USA, Saturday, September 21 2002 ,
Held in my favourite offroad area, Trask Mountain. info
SA Ranges Rally, Australia, 26/27th of October,
at a new site, at the Farina campground, 80 kms south of Maree.
GET YOUR WEB SITE LISTED in the LINKS section by listing Horizons Unlimited on YOUR web site, let me know you've done it by mailing me a link to the page, and you may get listed here in the next newsletter and on the Horizons Unlimited web site Links page. To make it easy for you, we even have our logo and link code here!
All sites will be considered for listing, but must be a MOTORCYCLE or TRAVEL site, useful or of interest in some way to travellers.
Links will be rotated regularly as needed.
Washington state dualsport group.
From Grant March, Ireland,
Would like to recommend a Kawasaki/Suzuki/KTM dealer (but will service all bikes) in Nelson. They have dealt with many long distance travellers and have the photos up to prove it. Very friendly. Got a new front tyre (the stock had done 9000 miles) and they even let me install it in their workshop!
Ian Corner
Kootenay Sleds and Wheels
R.R. #1 S-28, C-25 (708 Hwy 3A)
Nelson BC V1L5PA
(Nelson code?) 354-4141 Fax 3541137
That address looks terrible but what it means is that they are on 3A heading east out of Nelson just after the big orange bridge on the right hand side.
There are many 'Helpful People' listed on the Links page, a huge thanks to all of them. How about you? Or you can join a Community, or start your own!
Do you know of a good shop 'on the road,'
in other words somewhere there isn't a large number of shops? (Also of course any shop that specialises in travellers equipment and repairs is of interest.) But we're particularly looking for those rare items, good repair shops in South America, Africa and Asia etc. Please post your info in the Repair shops around the world Forum on the HUBB.
Getting some interesting listings here - Casablanca, Cairo, Chiang Mai - and that's just the C's! Then there's a major list of KTM shops from the boys on the KTM forum. Post your favourite"on the road" shop here!
Submit your tips and questions here, anything goes! Got a great idea for travellers, found a new solution to a problem? Send it in! If you're having a problem, just ask, there's a lot of people with a ton of experience out there to help.
When you meet people on the road, and they haven't heard of this ezine or the website, we'd appreciate it - and hope they would too! - if you get their names and email addresses and send it in to me, or better use the recommend form available on most all pages of the website.
Thanks, Grant
From Stefan Thiel, broken down in Turkey with an Indian Enfield:
"I made it to Turkey. A few km before Mersin/Adana a spoke of the rear wheel ripped out and took apart the rear wheel hub which houses the rear brake.
I found a good workshop that tried to weld it but it ripped out again when they tried to attach it back. I have to go back to Germany overland so I think the only way is to change the whole house where the inner end of the rearspokes are connected to. (Ed. rear hub)
Can you give me an address in Turkey where I can get Enfield spare parts? I can have the workshop here in Adana call so they can fix it out in Turkish.
Thanks again for your time! Stefan"
Anyone who can help Stefan, please e-mail him directly.
Quiz - from Iris and Trui
"In which country...
- do people knock on the door to slip in a lemonade or a bar of soap?
- men and women stop, smile and say "welcome to our country" at least 5 times a day?
- a rich looking man insist on paying for our fuel (14 liters for 1 euro but still)?
- can you ask directions of a police man and promptly be summoned to show your passports?
- can you order "pipi" and be served a coke?
- can you sit down on a bench and receive a rose each?
- does Iris receive 2 casual marriage proposals in the 6 days that we're here?"
To find the answer, go to their website!
---
Plenty more questions and answers on the HU Bulletin Board! We've over 1600 registered users on the Board, which I think is pretty amazing, and gives a huge resource of knowledge and experience to help you with anything you might need to know.
New contact and new procedures for ADAC 'Green Card' insurance (third party liability):
Mr Jens Messerschmidt
His direct tel no is (Germany) +49 89 7676 2266, or e-mail.
Note that ADAC will no longer issue green card insurance by post.
Mark Vandermeer inquired and got this info: "A foreign registered bike e.g. UK, can get ADAC greencard insurance if/when.. the bike is in Germany physically, the Reg papers for the bike and the id card or passport of the Reg holder is brought 'by someone personally' to the ADAC office. Someone other than the Reg holder can bring in this paper work, but it has to be the originals."
A company called Knopftours will organize it for you. Please be sure to tell them where you heard about them.
From Stefan Thiel, on riding an Enfield out of India...
"Just want to tell you that I made it over the border to Pak with Carnet from the ADAC... it seems like I will be the last that will make this trip at least with a Carnet for an Indian registered Enfield. But as soon as I have enough time on my hand I will write in my blog about that...
Thanks for your help!
Stefan Thiel"
There are new regulations re Carnets, and Indian Enfield's. Riding one home is no longer an option.
From Spiritual Rider, on safety on the Karakoram:
"Even with a knackered shock absorber it was still spectacular, although I did come across a little tension.
If anyone else is thinking of going, I would advise sticking to the main KKH and do not stop in Chilas. That place is definitely not westerner-friendly. Other than that I experienced only the usual Pak hospitality.
The police said that Chilas is known for it and that Hunza, further up the KKH was fine, but unfortunately I missed it, having to limp back to Lahore to pick up my new shock.
I did manage to cut across to the Swat valley on the way back down, via the Shangla pass from Besham. The police advised against travelling further up the Swat valley but the pass was fine and there is a friendly police post at the top. Mingoara was also friendly. Graham."
See link for more.
From Ed Messenger, on the HUBB, re Medical Evacuation Insurance:
"Luckily I never had to use it but I got Medjet Assistance last year. Your first year is $175, they have their own hospital planes or will book you on a commercial flight if your mobile. They fly you home- not just to the hospital closest to your location. They'll even work with you inside the US if you have an accident 500 miles from home, or need to be flown to Mayo clinic for special treatments.
Their rules are easier to meet than most other companies in terms of getting qualified for evacuation. In a nutshell if you are admitted to any bush hospital and can get a local official to say you need prolonged care, or advanced treatment they'll come get you.
I found them through a friend who was very concerned about the best policy and did lots of research before getting it himself. Ed"
Michael Paull adds his endorsement of MedJet (and he DID use their services):
"... After an additional three days in Beijing, I was deemed stable enough for air evacuation back to the University of Washington Medical Center in Seattle, WA, in the company of my wife Aillene (who had flown in from Japan), and a air transport trauma nurse provided by the company that I had procured medical evacuation insurance from, MEDJET Assistance - without doubt, the best insurance coverage I have ever purchased in my life.
A small plug here - these people were remarkable, and I hope to provide some further information about them in a future update. If there was ever a better case for '...don't leave home without it.', MEDJET Assistance is at the top of my checklist, no matter where I travel (and I hope to do a LOT more)."
From Michael Rauck, in response to an inquiry to the Horizons Community in Japan:
"Buying a bike in Japan is easy, but it might take one or a few days, because the bike must be registered and possibly passing the shaken (inspection) before you can take it out from the shop. (You can also do the registration procedure yourself, I have rarely asked a shop to do it for me.)
Registration of a bike requires foreigner's registration before, and this used to be possible with a valid passport, stamped by the immigration officer (means that you are a tourist). Not sure if this is the same as in 1985, when I did it.
Leaving a bike on a Japanese number required switching to an international registration number plate. i.e. there is a domestic number plate not good for leaving, and an international number plate not good for use in Japan. Not sure if they give you an international number plate if you are not a resident for Japan. Do not underestimate the hassles when leaving Japan on a bike, probably more difficult than buying and registering and using it in Japan. Never have had the experience on leaving on a bike.)
From Japan, you might take a ferry to Sakhalin or to Vladivostok (there are freighters, too, but I am not familiar with.) The Wakkanai Korsakov Ferry info is here. You find a good explanation about checking out a bike from Wakkanai to Korsakow, but it's in Japanese.
Good luck, Michael"

From Possum, on the HUBB:
Labrador information
"We are heading up to Nova Scotia, Newfoundland and Labrador in June of this year and will be on a HD Softail pulling a B&H pop-up-camper. As far as I can tell the roads are OK, even the cross Labrador HWY. of gravel/sand/mud. Check out the links for first hand info. Good Luck"
And from "free" (also known as Frank,)
"If you decide to visit Newfoundland (highly recommended) a GREAT place to stay near the ferry terminal in northern NS is the SEAL ISLAND MOTEL.(902-674-2418) The owner, Frank Skinner, goes out of his way to cater to 2-wheeled travelers and is an all around great person as is his whole crew. (tell him that Frank from Calif. says hello!) This motel is also only 10 minutes from the Cabot Trail so it is a good staging point to visit various places on Cape Breton Island.
If you visit Newfoundland you can enter at Port-aux-basques on the western side, ride across to St. Johns and catch a return ferry from Argentia. Be prepared for some extraordinary hospitality by the people of NF!"
From Werner Zwick, motorcycle friendly accommodation in Luxembourg, on the HUBB:
"Seylerhof, a former farm that has been turned into a motorcycle only pension/hostel/ campground. Rustic atmosphere. Fireplace, the former chapel serves as dining room, friendly and helpful owners, good cakes, often full.
Location:
20km north of Luxembourg city, 1km north of Schrondweiler on the road to Ettelbruck. Signposted. There are great curvy roads and many castles in the area."
An interesting topic on the HUBB:
What's your most/least useful piece of kit?
From Iris and Trui, on interpreting flashing lights in Turkey:
Flashing lights From more or less the middle of Turkey on it starts : vehicles coming from the opposite direction flash their headlights at us.
In Iran its meaning is straightforward: "Your headlights are on !!!" (as if we wouldn't know)
In Turkey it can mean anything:
- "Don't you dare overtake while I'm considering it" OR
- "Helllooooooooooooo foreigners !" OR
- "One of you has a yellow and the other a white bulb" OR
- "Just testing if my lights still work" OR
- "Ups, my finger slipped" OR
- (indeed) "It's a bright and sunny day. Why are you wasting bulb and battery life?!" (or something along these lines)
From Simon and Georgie,
"here is the contact info for the bike club and bike shop in Trabzon, where overlanders can get help and tyres:
Dursun Ahiskalioglu
Sanayi Sitesi
B-Blok 7
61100 - Trabzon
Turkey
Tel 0462 325 3823
Fax 0462 325 3677
The shop is on the coast road at the east end of town - before the airport - at the traffic lights for the road that takes you to Sumela Monastery.
One of the members is on the net and his mail address is: Trabzon Bike Riders Club"
From Roland Herrington, UK
Bad news on Thailand to Bangkok shipping:
The regulations for exporting Motorcycles have changed since last year, and we are finding it too difficult to send this out as aircargo. So we have stopped offering this service. I don't know of anyone who is doing this now.
Sorry, Barry Crawford EWAS-BKK
Then Roland received this a couple of weeks later:
" Roland, I have just sent another bike in and out of Thailand with no problems, so it looks like the situation is getting back to normal. If you still are in need, please advise.
Regards, Barry Crawford EWAS-BKK"
Ed. NOTE well that the situation could easily change again, so be prepared for delays and problems.
From Andy Gray, Holland, on the HUBB
Hi, On a recent trip to India I came across a bike shop in Delhi that offered to part sponsor me to ride around India on their new pride and joy. A Bajaj Pulsar 180. The dealer was offering to pay for the petrol if I paid for the bike, about 1200 USD, but promised to make me famous with the publicity. Not really my cup of tea, and I already have a bike. However, If there is somebody interested then get in touch to get the dealers email address. You can check the bike out here, Andy
From caravancafe, kashgar, on the HUBB:

"A note on entering China, motoring in China and exiting China: It appears that a new rule change has just gone into effect this month (May 2002)."
For China watchers, there's more in this thread, check it out!
---
Request for info
Wouldn't YOU like to know all about the border you're approaching - what it should cost, paperwork required, 'tips' needed, and who to talk to, etc.?
When you cross ANY border, take some notes, and pass them on to us. Thanks!
Shipping
The Shipping page on the site is HUGE! It can be reached directly or from the Shipping link on the Trip Planning page.
If you have any information to contribute, there is a form at the bottom of the page which you can submit and we will put it on the page. Thanks!
Travel Advisories:
The Foreign Office in London's Travel Advice Unit advises against all travel to all sorts of places. Check out the listing before you start!
The US State Department has issued travel advisories, information and/or warnings.
Jeremy Andrews, NZ, Pan-American Highway, in Bolivia, F650GS,
"... The road via Ravelo, Ocuri and northwards was at the outset like outback Australia, blistering heat and dusty gravel roads, lined with Eucalyptus trees. (No Koala's though). All I had to contend with was 'people trucks' playing chicken with me from the opposing direction, and choking on dust clouds trying to pass them.
The warmth somehow turned into rain and snow as I climbed, and the river crossings got more and more adventurous as they swelled with the downpour. I pressed onwards, spying a bright patch ahead (biker's optimism). In fact I kept pressing on, breaking the rules as it got darker, although realizing I wouldn't make it to Oruro that day.
Pitch black, desolate and muddy I crawled through a place near Cala Cala distracted by what appeared to be a small fire on the hillside. You can imagine my slightly increased heart rate when I realized the letters spelt E.T.A. - and there I was on my own late at night... silly me. I thought ETA was only active in Spain, although my hotel guys in La Paz informed me there are sympathizers all over.
Weary from the symptoms of the chicken I rolled into La Paz, and was greeted by a hailstorm that stung even through my leather pants. I stopped at the first Hotel that could park the bike, and fell into bed frozen and exhausted. I learned that my travel mates had Salmonella the day afterward, and I spent three days recovering while taking antibiotics.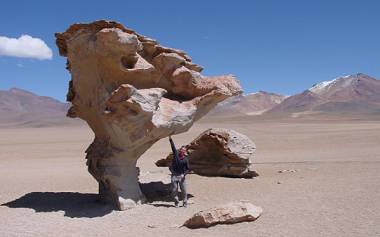 ... I picked my way carefully through the glass-strewn intersections, actually getting ahead of the mob. I asked a bunch of Police officers if I could make it to Cusco - and they just laughed at me... I had no idea why. Just before Julliaca I got my answer. There was a bus and a couple of trucks up a side road, and some guy waving at me to stop. This goatee bearded individual turned out to be another biker, Johannes Marbet from Switzerland on his Africa Twin.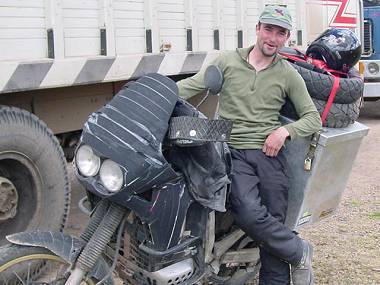 Although I was happy to see another rider, he and the bus of British tourists had been waiting there for 4 hours as the bridge was blockaded with rocks, glass and protesters. It turned out that this particular day was a protest about the government's privatisation process.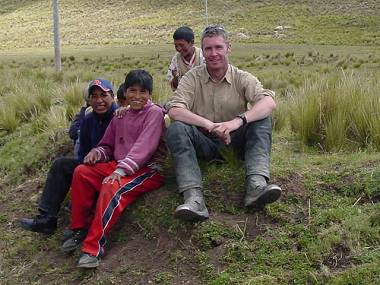 One of the kids assured Johannes and I could get through the barricade as his mates, so we followed him, or rather him hanging onto the back of my bike as we headed straight to the bridge. There were actually hundreds of people occupying the bridge, and the closer we got we realised there was no way we were going to break through. Surveying the scene, we though about skirting the bridge by riding through the river itself, as it didn't seem to be too deep. Down we went, and Johannes led the way past the bridge, through yet more people sitting on either side. Suddenly Johannes accelerated away, and I realised why as the majority of people sitting beside the bridge were mobilising to throw rocks and sticks at us... I followed suit and blasted in pursuit. We were greeted by cheers and whistles from the traffic waiting to cross from the other side, although Johannes and I just kept going, hearts still pounding."
Check out Jeremy's new blog on Horizons Unlimited!
Connor Carson, UK, in Australia, Yamaha Tenere
"I had escaped from the Antarctic chill of Melbourne, where I had earned money by working as a vet at the local animal hospital. After a couple of months of wiping up vomit and being intimately concerned with dogs' bottoms, enough was enough, and I felt sufficiently financial to contemplate heading up the Great Ocean Road to Adelaide, then across the Nullarbor plain to Perth. There I would meet up with Mark and Clare, XT600 riders whom I had encountered initially in Asia, and again in Brisbane, at the Duval home for bewildered overlanders. They were planning on travelling some of the great Australian dirt highways, and I hoped to tag along.
... You can look at the maps and crunch the numbers and think that you understand the scale of the place - but until you actually ride across the damn thing, you don't really appreciate the sheer vastness of this continent.
... Wedge tailed eagles are a common sight along this highway to Calgoorlie, attracted by the large amounts of roadkill scattered along the verges. They see it as a kind of an outback version of meals on wheels. These beautiful, powerful birds are reluctant to take flight as you approach, since flying after dinner makes them feel a bit sick. For this reason, they represent a major traffic hazard - lumbering slowly into the air at the very last second, and crossing your path at head-height like feathered heinkel bombers with serious indigestion. Hitting one of these things would not be pleasant, as they are about the size of your average Golden Retriever, and equipped with nasty hooky beak and claws. Nature really kicks ass in the Outback.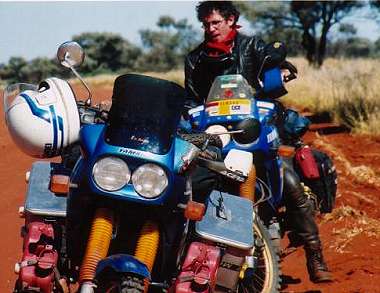 ... As I came over the crest of the hill, a mist of fine red dust was settling slowly in the baking outback sun. Bits of shattered plastic fairing and the eviscerated contents of Mark's panniers made a chaotic trail through the sand, at the end of which a motorcycle lay on its side at a crazy angle, front end mangled, leaking fuel into the dust. The man himself was flat out at the roadside, a discarded pair of sunglasses and helmet lying nearby. He waved painfully, and I thought: Oh buggerrrrrrrrrr...
We needed an ambulance. What we got was almost as good - a German named Ronnie in a camper van, flagged down on the asphalt road, gamely drove the short distance on dirt to pick Mark up and take him to the medical post at the Ayers rock resort, 60 km distant. Ross, the doctor at the Ayers Rock clinic, realized that something more serious than a bit of bruising was going on, and had Mark flown to Alice Springs hospital. Thanks to the good and worthy Flying Doctor Service, who performed this transfer quickly and efficiently. Thanks to the staff at the Ayers Rock Campground, who couldn't do enough to help Clare and I with the salvage of Mark's bike and subsequent transport to Alice Springs after the man himself had been flown out. Thanks also to the doctors and nurses at Alice hospital for their excellent care.
After a few days in hospital in Alice, Mark was enduring the various necessary poking and prodding and assorted tubes with more equanimity than I think I would be able to muster. Finally, the decision was made to fly him to a specialist Urology department at the hospital in Adelaide, where doctors whose whole lives revolve around urine would sort the problem out. I'll report on how things turn out, (that is providing Mark doesn't mind me handing out bulletins on the functioning of his waterworks). Ed. Bad luck, Mark, get well soon!
Meanwhile I am Northward bound in the direction of Cairns, where I will have to put on a thin veneer of respectability for a few months veterinary work. Yes, it's the 'W' word again. Cheers for now - Connor."
Ed. Check out Connor's stories from the UK through Asia to Australia here on Horizons Unlimited.
"Once settled into our 12th Century Damascus hostel we headed out to the Old City. Ringed by a fortress-style wall and entered through huge stone gateways, the first thing that strikes you is how little things have changed here over the centuries. We meandered along Souq al-Hamidhha, a covered avenue of shops - selling all manner of clobber from intricately veneered dining tables to ladies undies - and into the heart of the Old City and the Umayyed Mosque.
With Lucy attired in the supplied 'coveralls' and with footwear in hand, we entered the mosque's courtyard. Marble floored and about the size of a football pitch, this courtyard is more than a place of worship, it also serves as a meeting point for friends and family. Men and women will spend hours chatting before and after prayer, whilst the children, happily oblivious to their surroundings, play beside their parents or 'sock-surf' the smooth-surfaced floors.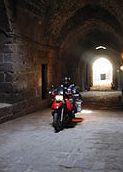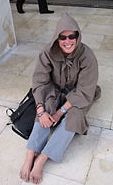 Their tolerance of non-Muslim tourists was a pleasant surprise. Sitting down to watch the prayer inside the main building, I absent-mindedly placed my footwear sole-down on the carpet. My mistake was swiftly pointed out by a man who bestowed me a smile that said 'It's okay, we understand that you don't understand'.
... Our next port of call was described by T.E. Lawrence quite simply as 'the finest castle in the world'. Krak de Chavaliers (Castle of the Knights) is just that. Wandering around its vaulted corridors, towers and parapets romantic images of Crusaders clanking swords with Berbers and Saracens rush through your mind. The original castle was built by the Kurds in 1031 but was captured, and massively extended and fortified by the Crusaders in the early part of the 12th Century. It was large enough to support a garrison of 2000 men for a period up to 5 years, without lowering the drawbridge.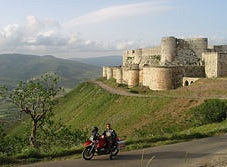 Incredibly, safety at tourist attractions such as this has yet to be established in much of Syria, which means holes, crawls, drops, walls, tunnels and towers that would normally be out of bounds are freely accessible. Not so good if you have small children, but utterly scintillating if you have a torch.
With the exception of a fairly serious litter problem, which in fairness, many of our previous destinations have suffered from too, it would be most difficult to fault Syria. The people are uncommonly polite and helpful - their strong feelings about America and Palestine didn't seem to extend to the British - kebabs are always good, and there's enough history to keep the most ardent buff engrossed for a lifetime.
A simple walk though the souqs takes you into sensory overload - the sellers rattling brass saucers, the smell of coffee, spices and leather and the bright colours of cloths and wrapped sweets - add to this the donkeys, traders, minivans and a crowd of busy shoppers and you are engrossed in the everyday life of Syria. Then you look up and see the 12th Century domed ceiling, or peer through an archway into a quiet courtyard and you are back in another time.
The most amazing thing about Syria, however, is that it is not yet crawling with tourists."
Iris Heiremans and Trui Hanoulle, Belgium, 2nd overland to India, in Turkey, Iran and Pakistan, on DR650SE's
"Nemrut Dagi, the mountain top temple site from the 2nd and 1st century BC, (Commagene Dynasty for the historians amongst you), is spectacular in many ways. First there is the solid ride from the nearby village Karadut to the top: from 1,000 to 2,000 meters in 9 kms on a large, sharply edged cobbled road in a very bad state. The road leading to Karadut already shows some of Turkey's incredible mountain scenery, but higher up it's plainly breathtaking. At this time of the year the sides of the road are still covered in snow, as is the historic site itself.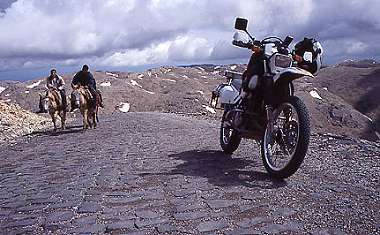 The Iranian (and Turkish) traffic is indeed horrendous. The cities don't scare us too much since the pace is low, but an average 2-way, rather mountainous road, with average truck and car traffic means highest alert. Moving from cluster to cluster, the Iranians (car or truck no difference) overtake each other in the most breathtaking experiment - and occasionally squeeze us to the side in the process.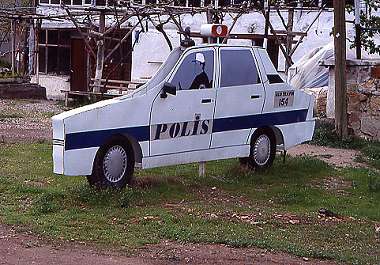 Iran, 3 years later, much shorter manteaus: just below the knee seems to be good enough now. Feeling old-fashioned, we hastily buy something new. Now we own a motorbike and a city outfit. Showing at least the first half of your hair is the fashion, as is make-up and light stockings. Couples are holding hands (shyly). Men wear T-shirts. The beards have gone. Music tapes are for sale bearing 'I love you' titles. Generally speaking the Iranians look happier.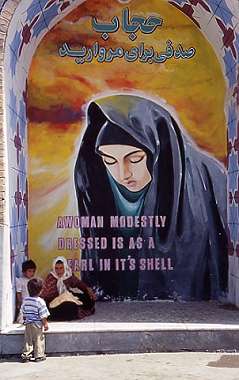 ... Now I AM used that some elderly people in Belgium address me as a boy or a man, but travelling further afield, where people are not at all used to seeing short hair on women (and no make-up), I have to cope with a real male-to-male attitude. This includes being offered the bills, salesmen who pat me on the shoulder, or even grab my entire arm. Only people who have had lots of contacts with foreigners or who lived abroad, immediately know I'm a woman. Iris is usually identified as a woman immediately, because she wears T-shirts and has more of a female shape then I have. But it's the first time in my life someone curiously asks why I don't grow a moustache.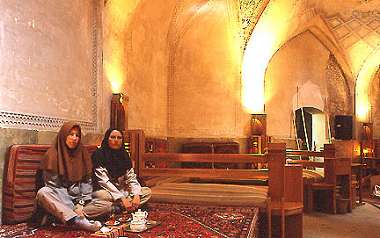 ... After Bam, we reluctantly said goodbye to an Iran we had enjoyed very much. Iris adjusted quickly; I didn't feel comfortable for a while. However the Pakistanis did everything to make us feel very welcome. At the border we received food and drinks for free, and on our stopover for the night in Nok Kundi (tiny village), we were fed and taken care off, and a gunman was assigned to sleep next to our tent. Further north, towards Islamabad, there was an entire day we didn't pay for a single coke. People come to us to talk, in a friendly and polite way.
But Pakistan's tough reality is never far away : towns are filthy, sewage and electricity systems work badly, traffic is literally of the 'close contact' variety. We overtake WFO-trucks on their way to Afghanistan --we travel at 9 kms from the border at one point-- and ride along masses of Afghan refugee tents. Water and food are unreliable everywhere. Pakistan is no easy country to travel in.
The stretches Bam to Quetta (2 days / 1,100 kms) and Quetta to Islamabad (3 days / 1,200 kms) were to be the toughest of our journey so far: extremely hot (40-50 degrees), unpredictable roads and traffic, long rides. We organised them well, split them in chewable parts with reliable stopovers, and made it safely without being totally knackered. We're proud - we were up to the challenges. In Islamabad we treat ourselves to a luxurious hotel (with airco obviously), instead of the camping where all overlanders meet. Sleeping in a tent at 45 degrees is not our idea of fun.
We drink a cup of real coffee at the Belgian Embassy (heaven!), look around in big bookstores, do necessary chores on the bikes, and have a highly enjoyable meal with Dr. Aly Khokhar and his family, the surgeon treating me here in '99. Once north from Islamabad, all is new, but at least the temperatures will drop... or so we hope! Iris and Trui "

Help support the Horizons Unlimited E-zine - visit our sponsors! Please be sure you tell them how you heard about Morton's BMW!

Thanks!

Peter and Kay Forwood, Australia, around the world since 1996, in Brazil, two-up on a Harley-Davidson,
"On our arrival in Macapa a group of locals had approached us, a couple from the local newspaper and their friends, led us to some accommodation and showed us around town, a great welcoming. Today we washed the mud off ourselves, clothes and the motorcycle plus an oil change before being taken to lunch. It seemed everyone was out with family this Sunday. Brazil with a young population very vibrant. People swimming and boating on the Amazon, lunching and drinking on the waterfront and playing football (soccer) at the Equator stadium. This field straddles the equator with one team's side in the Northern Hemisphere and the other's in the Southern. We popped over to the Southern hemisphere for lunch as well as to arrange a boat across the mouth of the Amazon to Belem.
... All the boats here are wooden, mostly two stories, with a cargo hold and engine room below deck. We rode the motorcycle onto the bow at high tide and settled in on our mattresses on the deck. About a dozen other passengers slung hammocks and our small group departed at 6 pm to watch a magnificent sunset and tropical lightning storms into the evening. It turned out that our boat was the all stops to Belem, a passenger cargo boat. We stopped a couple of times during the night to disembark passengers and awoke to find ourselves in narrow waterways with rain forest on either side, small wooden huts dotted the banks and we spotted a manatee and two dolphins during the day. Children swam and climbed on the boat to dive into the water, their only playground. These low lying islands regularly flood at high tide and during heavy rains. Our boat provided basic meals and we settled into another night on the deck.
We awoke to being the only passengers left on board and thought how lucky we had been taking the slow boat rather than the express with a 100 or more passengers. Our 400 km journey winding across the 200 km wide island strewn tidal delta of the Amazon mouth was a magnificent experience. The boat had moved into increasingly larger waterways with larger shipping and barges before reaching the almost incongruous high rise city of Belem standing above the surrounding flatness. This city of over 1 million is our largest since leaving Venezuela. We had to wait three hours for the tide to rise enough to unload the motorcycle, then rode the motorcycle off the bow of the boat and to our hotel, surprisingly tired after two days of doing nothing on the boat.
... Soon after we left this morning it started raining again and was raining steadily as we were about to cross the Sao Fransisco River at Propria. A train track merged with our lane and despite slowing and crossing the first rail the second one took the front wheel and we went down hitting the asphalt at about 40 km/hr. Kay received cuts to the back of her hand and a grazed elbow and we both had sore hips. But the impact had also pushed the corner of Kay's glasses frame into her eyebrow giving a nasty Y shaped cut requiring stitching. The crash bars on the motorcycle collapsed wrapping them onto the footboard and preventing rear wheel breaking. A couple of cars stopped and after recovering and straightening the bars a bit we rode to the hospital in Propria where Kay received 4 stitches. Straight to a hotel for a rest for Kay and a welding shop for me to straighten the crash bars and weld a couple of strengthening pieces. It annoyed me having crossed so many wet slippery railway tracks before to be caught by this one."
Ed. Peter and Kay have travelled to over 100 countries in Africa, Asia, the Middle East and Europe. Horizons Unlimited is proud to host all their stories on our site. Fantastic adventures and great pictures!
Goneriden: Jamie Clarke, Martin Jensz, and Boxy Herrmann, Australia, Los Angeles to South America, in Bolivia, on KTM LC4 640s and an XR650,
"From the snow peaked mountains of Coroico to the Amazonian jungle of Rurrenabaque, a 15 hour bus ride(at least), 10.5 hour 4WD ride or 6 hours on a Goneriden bike. Another day of radically different roads and landscapes. Mountain hugging tracks, freshly graded roads scattered with marble like river bed rocks, slippery muddy tracks and more.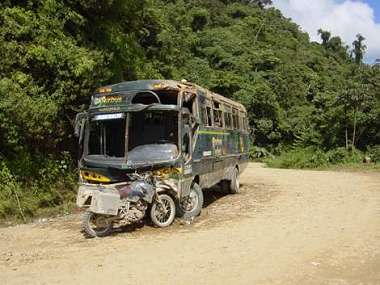 But the real adventure for the day, avoiding animals. After several close shaves and only 30km short of Rurrenabaque there appeared to be a group of middle aged pigs playing games on the road. After seeing them all clear to the side, speed was increased and... darting out of the grass on the verge of the road came a suicidal pig. Any last minute avoidance measures were to no avail. As the pig squealed, Jamie and his bike came crashing to ground and slid along the potholed road. The local people who had been standing by the road disappeared quickly into the jungle, this wasn't the normal Bolivian friendliness. Initial assessment of damage showed only one crushed pannier and no other major injuries, apart from the pig.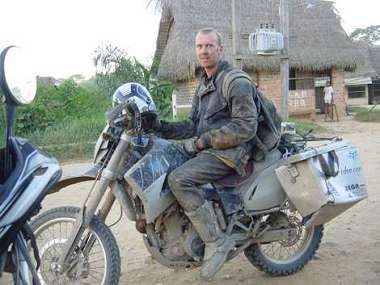 By this time there were a number of Porky's concerned friends and family gathered around trying to nudge him off the road and calling for the stretcher. If it was normal here to pay for any animals you hit then the opportune time for the farmer to approach would have been while both bike and Jamie were laying on the road, there would be no chasing into the jungle to pay for a weeks worth of pork for the Goneriden crew. Lets hope the pig had a good doctor. Bacon anyone? Regards Jamie Clarke Goneriden"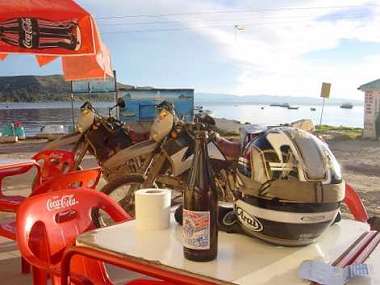 Pieter Maes, (a.k.a. Fireboomer), Belgium, in Morocco, on Honda Transalp
"... I decided to stay in hotel Taroudant since we (Graham, Julie and I) were going to have dinner in the garden there. When I rode my bike past the reception (!!!) into to the garden I noticed a black Yam Diversion that I had seen before. Turned out that Wim, the Belgian guy we had met up with between Alnif and Zagora, was staying here too. To my surprise they had beer and wine in the hotel. This evening was exactly halfway into my trip and it couldn't be better. Wim, Graham, Julie and I, some beers and a bottle of wine with a great tanjine...
... In Marrakech I knew exactly where I wanted to stay. Hotel Essouarie right in the Medina, next to the Djemaa El Fna Place. And the owner promised me last time (when I was here with my backpack) that we could place our bikes in the hotel. It took some squeezing and a bit of sweat but you can get two big bikes inside. If you are a traveller and want to meet other similar minded folks this is THE place to stay in Marrakech.
On the way to the Ouzoud waterfalls the temperature rose again, wind picked up strongly and sand was choosing to go airborne... Luckily the waterfalls are a nice cool place to relax from the ride down there. I could rinse all the sand off me and enjoy the tourists not being there. They still have to discover this place so don't tell anyone! ;-)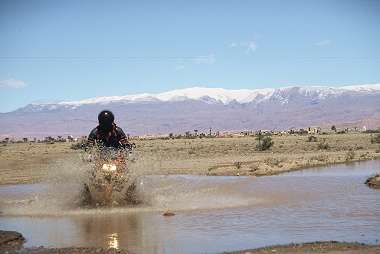 ... Coming over a little hill, mild turn to the left... one crashed car, another one, oh an exploded army jeep, and there a burned out army truck, hmmm are those the remains of a lorry spread around in a big circle.... and what look at that, a black torched armored tank...!! For a second I thought I was riding through the remains of an ambush.
I was just getting my camera out when there was someone started to shout at me: ' ey ey... (something in Arabic) qu'est que to faites la? Why you stand still?' From the corner of my eye I see the shouter coming up to me, baseball cap, sunglasses and lots of papers in his hands that he was waving up and down.
Quite a few people showed up. They all came out of vans, caravans, which I didn't notice earlier. When I noticed the camera mounted on rails I started to see what was going on. The road was actually closed because of a film they were shooting. The area around Aourzazate is known for it. But they forgot about the piste. When the guy with the papers noticed the convoy of jeeps full of tourists ready with all kind of cameras he really lost it...
... I'll be short on Ouarzazate. I did enjoy it, but why did they have to steal my camera here? I do apologize to the people staying in the hotel. I probably woke them up with my tirade against the hotel manager when he refused to call the police. I couldn't believe my ears when he also refused to let the police (after I went to get them) search the hotel. The camera was stolen out of my locked room while I was taking a shower. To take a shower you have to ask a key at the reception... get the picture...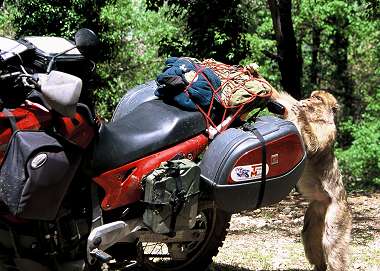 ... I could see the dust devils. Sort of little tornados with lots of sand and dust. I knew the little ones don't do any harm besides dusting you up a bit. But these guys were A LOT bigger. I nicely stopped if one was crossing the road in front of me. I got into one once and it felt as if someone was rubbing my face with sandpaper. Lips stiff on each other, eyes as small as possible and keeping the speed up because I really didn't like it... once out I was happy to have some fresh air in my lungs and tried to get rid of the dust in my nose and ears (couldn't keep those closed while riding through it).
I have a great feeling by now, an amazing trip behind me. I am happy to be heading back north. Safe travels to everyone out there or those getting ready to go!"

Help support the Horizons Unlimited E-zine - visit our sponsors! Please be sure you tell them how you heard about Casamia!

Canadian Wilderness Tours on an ATV (Quad Bike)
The Roughest, Toughest and Dirtiest Tour you will ever have! (No wimps or wooses please!)
Discounts for Group bookings.
Check out our website: www.ChaletCasamia.com or
Tel: (1) 705 729 5202.
Thanks!

Harald and Udo Lamers, the Bike Brothers, Netherlands, in Australia, on Suzuki DR 600s,
"With a new second hand rim for Harald's DR we set off to Ayers Rock. Or Uluru as the Aborigines call this huge monolith. Eight years ago we were here also with the same bikes and the rock looks still impressive.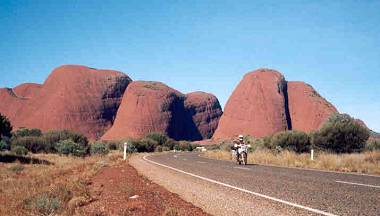 About 40 kilometres away from Ayers Rock are the Olgas. These are huge red boulders and a very long time ago it was one big rock, like Uluru. But due to erosion it broke down. We take a walk through the 'valley of the winds'. The big boulders change color in the sun and we sit down and enjoy the peace. We feel a warm wind blowing in our face and take our thoughts with it. We can feel the spiritual meanings from the Aborigines that make these places sacred to them.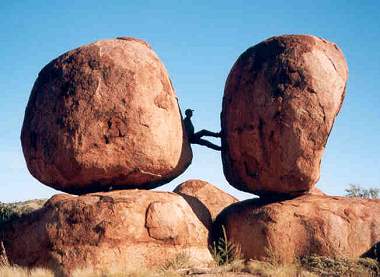 Aborigines in the village tell in an enthusiastic way about their life. More about their dreams, the Dreamtime. This is the time when everything was created. Before this time there was nothing, no life, no trees, no mountains. At the Dreamtime, the creation time, there were spiritual beings. Dreamtime means in the aborigine perception 'live and travel', and not dreaming or day dreaming like we know. These spiritual beings lived and travelled and left their energy behind as trees, hills and caves. Many of them are now sacred places. Aborigines have no written history (only rock paintings) and tell their stories in a 'Corroboree'. These are dances, where they paint their body and sing songs about the Dreamtime.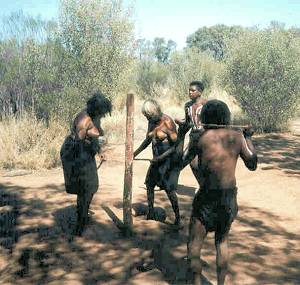 After the dance it is lunch time. We have 'damper' (bushbread), bush fruits, grubs and kangaroo tail. We start our bikes and continue our dream, living and travelling. We travel over endless plains in the outback and enjoy beautiful sunsets.
In the Blue Mountains we met an Aborigine that plays a didgeridoo. This is a hollow branch from an eucalyptus tree. The heavy trembling sound from the didgeridoo fills the air and makes us dream."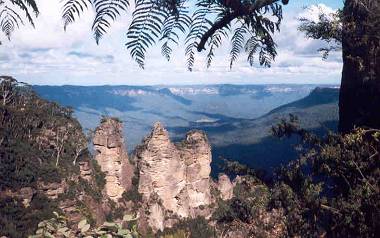 Harvey Gordon-Sawyers & Lisa Roberts, UK, Round the World, in Laos and Thailand, Harvey on a BMW R100GS and Lisa on a BMW R80ST,
"We were riding from Luang Prabang to Luang Nam Tha (henceforth known as LNT) in Northern Laos, with a Belgian couple, Jurgen and Greet, when Lisa lost control of her bike while riding at slow speed through thick mud. The bike was almost at a stand still when it started to overbalance, so she put her foot down to slow its fall, but her foot slipped in the mud and got caught under the foot peg. I heard her shout in the radio and when Jurgen and I got back to her she was on the floor trapped under the bike with the foot peg on her left leg. When we lifted the bike up she was still in considerable pain, so I examined her leg and confirmed that it was broken.
We thought we were about 50km (30 miles) from LNT and our guide book map showed a hospital there, so Jurgen set off on his bike to find a doctor or some transport to move Lisa. We splinted the leg as best we could with some bamboo and tape and waited for help. It was two hours before a Landcruiser appeared with an empty back seat. I persuaded the guy to take Lisa and Greet to LNT leaving me with our bikes to await Jurgen's return.
Lisa then endured three hours of bumping around in the back of the Landcruiser over the crappy Laos roads. When they eventually reached LNT in the dark they discovered that the 'hospital' was actually a block of rooms with no mains electricity and only a skeleton 'medical' staff. Using a candle and torch, the staff injected Lisa with pain killer and cut off her boot with a pair of blunt nail scissors. Then, magically, an X-ray machine appeared (they had a generator, but couldn't afford to run it all the time) and they confirmed that both bones were badly fractured just above the ankle. They splinted Lisa's leg, gave her some pain killers and advised her to get to a proper hospital asap. With no accommodation at the 'hospital', Greet and Lisa found a guest house and put Lisa to bed.
... After a sleepless night, I got up early and phoned the Australian Embassy (they look after Brits in Laos) in Vientiane, the capital of Laos, and spoke to their doctor. He advised me to avoid all hospitals in Laos and get Lisa to Thailand ASAP He said that if I could get her to Vientiane, he would arrange onward travel to Thailand.
The next flight out of LNT was the next day, so I booked tickets and spent the rest of the day organising storage for the bikes and repacking our kit. Jurgen and Greet were lovely and couldn't have done more for us. They looked after Lisa whilst I was organising things, helped me move the bikes and made sure that I got something to eat during the day. We owe them a million thanks.
The embassy doctor met us at Vientiane airport, had a quick look at the X-rays, confirmed that it was a 'nasty fracture' and whisked us on to the connecting flight for Bangkok which he had organised. He told us that he had spoken with an orthopaedic consultant who was a personal friend and highly regarded within Thailand who would treat Lisa. He had also arranged for the hospital to meet us at the airport and admit her straight away.
In Bangkok we were met at the aircraft by attendants with a wheelchair, whipped straight through immigration and out to a waiting ambulance crew. The good thing about Thai hospitals is that they encourage friends & family to be around. They've given me a bed to sleep on so that I can keep Lisa company and look after her. We have a bathroom, fridge, kettle, cable TV and the hospital's four restaurants (including McDonald's) will deliver to our room - what more could one want?
Lisa spent over three hours in surgery as they rebuilt her leg. She now has enough metal plates and screws in her leg to open a small hardware store - the X-ray is pretty impressive. She's feeling much better now and has just returned from her first session of physiotherapy learning how to walk on crutches.
"29 May, 2002 - I'm afraid our insurers have decided that they want to repatriate us to save on medical bills so we don't have much choice other than to go home. If we continue the insurers will not cover Lisa for any further treatment on her leg and it's just too risky. Added to that she's likely to be on crutches for two to six months apparently, so won't be riding for a long time. Anyway, that's life. We've had a good eight months, seen a lot, learnt a lot and loved most of it."
Ed. Really rotten luck, Lisa. Crutches are no fun, as I well know!
Chris and Erin Ratay, USA, around the world, in Bolivia, two BMW F650s,
"Well, it's hard to imagine we finally arrived in Uyuni, Bolivia (only 2 months late). We met up with Annet in Salta while waiting for Erin's shock to be repaired a second time, then had some great rides further north towards the border. In La Quiaca, the northernmost town in Argentina, we hooked up with Liam on Friday and the 4 of us planned to ride north to Uyuni together.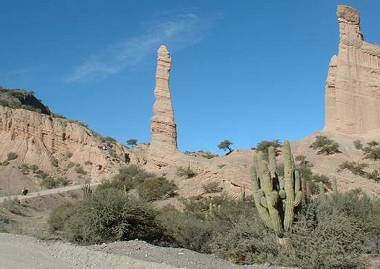 Throughout the day the inhabitants in the small villages stared at us in awe as we rode through, which leads us to believe not many bikers take this route. It is incredible that people actually live in this area, as the nights are cold, the houses simple clay bricks, and there are no trees to burn for fires - how do they do it?
... We asked for directions out of town, and were told to follow the river. They didn't mean to follow a road that parallels the river, they meant we had to ride in the riverbed. We had less than 4 hours of daylight to make the following 98kms, and we were having trouble riding faster than second gear with all the sand, blinding sandstorms, mud, and deep water. I had to stop several times to clean the water off my sunglasses, as it had cascaded over my windscreen when crossing deep water. Nervous that we would not make Uyuni, with the knowledge it would be quite cold at 4,000 meters with winter one month away, we forced ourselves to plod through and increase speed.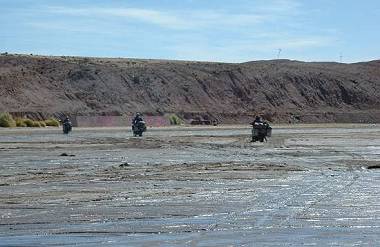 Eventually, we rose out of the river and just had to contend with sand dunes and other obstacles in the middle of the route, every few kilometers. Several bikes stopped to rest (I was lucky) at various points in the deeper sand. The ride, as you may imagine, was quite challenging, yet the scenery was splendid - this was Adventure Motorbiking at it's finest!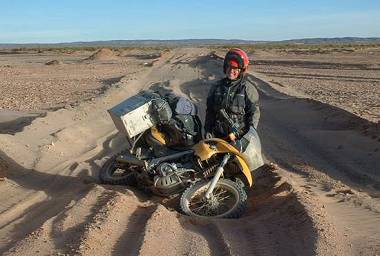 We passed the 3-year mark last week, and Liam hit day 1,000 on the ride to Uyuni.
It has been a goal (for lack of a better word) for us to reach Uyuni for several months -- now that we are here, not sure where/which way we will go. Beat and Marcel, not sure how you stayed in this place for 2 weeks! Uyuni is a place to organize your 4-day tour of the Salar (Salt Lake) and move on.
The people here in Bolivia seem quite amicable, as we have found most people in South America. They seem to be a bit more gentle, and the colors that the woman wear are quite stunning. The towns we've seen so far are very basic, but rooms seem to be clean and tidy. It's kind of like being in India, without the crowds -- make that more like Nepal.
Annet went off today with a German tour group and Liam is heading into the Salar for a few hours then further north. We will see him again in Potosi, as we learned you can buy dynamite there and Liam is very anxious to blow some things up!
Hope you all are well -- drop us a line and let us know how things are going. Ride safe, ride far, ride often, Erin & Chris Ratay "

Help support the Horizons Unlimited E-zine - visit our sponsors! Please be sure to tell them how you heard about TinyStocks!

TinyStocks presents Highway Manager: the most complete and flexible gas mileage application for the Palm OS® platform, written by a biker for bikers. Keep track of your gas mileage, insurance payments, garage bills, hotels, highway tolls and whatever is necessary. Statistics, charting function, multi-currency, and more... So, got a Palm OS device? Why not take it on the road?
Thanks!

"Left touristy Byron Bay vowing not to bother with any more tourist towns, and here I am in Cairns! I need some stuff for the bike, and it's been chucking it down, and at least in a town there's things you can spend money on while hoping it will stop (like beer). Excuses aside I did pretty well on the way up, only kissing the coast in a few 'select' places.
Did a few days walking and camping on Frazier island nearly killing myself by taking way to much stuff, tent etc, cooking gear (like I really needed 4 pans!), loads of food. Wine is definitely preferable to beer if you're going to carry it. A cask in one hand and a few litres of water in the other balances out nicely. Just remember which one to drop when you stumble over. Forgot to take plasters, though, and my feet were a mess by the time I got a lift back to Harvey bay.
Lift was interesting - Charles Manson lookalike who was going on about how he's been abducted by aliens several times and they've performed operations on him (including a 3rd eye). Still, they're going to rescue him when we decide to blow up the world so that's nice.
Few day's later, Vladimir, a Romany gypsy comes over to me and starts freaking out on me. Apparently I have the soul of a crow(?!) and my ancestors discovered Australia, and I've lost my respect for women (maybe a guess as I was on my own at the time) and I must remember not to use my brakes (I will know when the time comes.... probably just after the time 'comes') etc etc. Anyway....
Have managed to stay out of trouble with the cops for a few weeks, which is just as well as I opted to keep the speeding ticket as a souvenir. Spent a bit of time fussing over the bike (ignoring my usual maintenance program of 'if it ain't broke don't fix it'), adjusting the valves etc and wondering whether that back wheelbearing wobble was there before, and where has all the tread gone on my tyres since I got to Australia. I notice in the handbook that Horse is due for a new poly-V belt. I have no idea what that is! Will pop into the dealers after the weekend to humiliate myself."
Jurgen Homann, Germany, RTW as Official Ambassador for The Global Polio Awareness Campaign 2001+, UNICEF NZ (www.2-mad.com), in Cambodia and Thailand, on R80GS,
"I had the pleasure of doing the Polio vaccination of Roun Rum and Heng Ren. Otherwise I was very busy with playing with the kids, they were all over me and we had lots of fun with each other. Kids always know something to keep you busy even if you do not understand the language at all.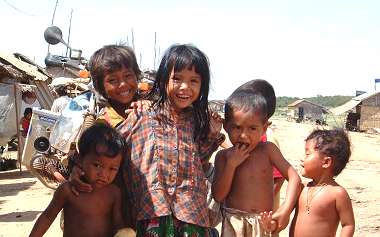 The villages are temporary villages built close to the end of the road for business purpose. These villages will be gone during rainy season. The people either leave towards higher areas - direction Siem Riep or move onto their floating house.
... Then we looked around in the floating village - everything is on the water here - the pub, the school, the everything. The mode of transport is the boat, what else and it is amazing to believe that x thousands of people are living in such cities. It makes the life for health observations very difficult because the people move with their houses according to season and business. The villages need to be spotted first (they are often somewhere on the lake or in side rivers) - often by plane and then health workers need to go there by boat to do the vaccinations. Quite an effort to do this.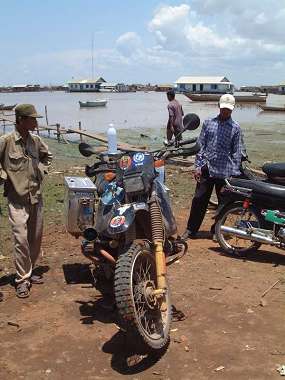 After the border (Cambodia to Thailand) I first organised some money and then proceeded driving until I run out of petrol - yes, with my 45l tank I run out of petrol because I thought I should still have enough petrol for at least another 20km. Anyway the next city was 8km away when I run out of petrol - I laid the bike onto the side and got all petrol out of the right side this way. This was good enough to reach the entry of the town. Then I pushed a few meters and tried the laying again. This was then just enough to get me the 500m to the petrol station. Quite a funny side-story isn't it?"
Gregory Frazier, USA, around the world for the fourth time, in Europe, KLR650,
"'Letting the good times roll,' I have hit the continent of Europe with the KLR 650 and pointed it south to Morocco. Not quite the 'dirtbag' of old, I have started off with new (Aerostich Darien two piece, Combat Touring Boots, gloves from Lee Parks Design and Adventure Motorcycle Gear). Inside I am still the same budget traveler try to stretch my dollars, but on the outside I have a new look. Here I was standing in a river, breaking in my new gear, checking for leaks and softening-up my new boots.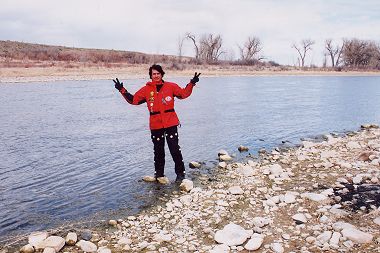 Europe is probably the most 'motorcycle friendly' continent on which to ride. The roads are maintained better than in most other countries and the drivers are more cognizant of motorcycles around them. I have ridden over 150,000 miles in Europe and still find the life of the traveler on the road easier than most other places on the earth. What is not so easy is the price of gas, food and sleeping, as compared to other continents. However, for a first time traveler, Central Europe is a good place to start. There are plenty of other travelers on motorcycles to offer tips and since Europe was the birthplace for the motorcycle (Sorry Harley friends, the Davidsons did not invent the motorcycle), the Europeans had a head start on the religion of motorcycle travel.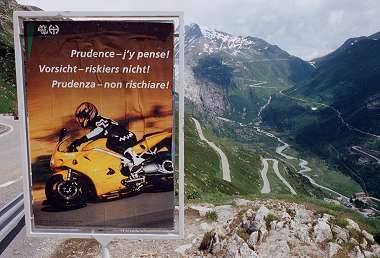 (The Alps, whether French, Swiss, Austrian or Italian, offers the best 'twisty' riding in the world. It is hard not to want to start flipping a motorcycle into the curves if you have any 'racing elements' in your blood. Here I found a sign recommending 'caution,' which was good advice. I saw two small crashes on these roads, both on a weekend when the locals seem to get infected with a Grand Prix racing bug, not all, but enough to remind you that just when you think you are pretty good in the curves, there are 100 better, because they are not carrying the weight and they usually know the road.)
... Headed to Africa in some days. Laying around waiting for Haws to show up, but will blow out tomorrow. Plan to hook up with Kickbush (KLR) in Spain, then into Africa for me. Back to Germany next month, then the march across Russia."
Check out Greg's website on Horizons Unlimited for great pics and stories.

Support the Horizons Unlimited E-zine - check out the HU Souk for t-shirts, hats and other products with the new logo and a variety of slogans!
Thanks! Grant and Susan