We finally made it to Copacabana, Bolivia, a scruffy, fowl smelling town on a beautiful lakeside setting. We had a beer. Than another. Then quite a few more and pretended we were on the French Riviera. Far from it, but its probably as close to the Riviera as we ever are going to get.
A day later we left for the tip of the peninsula and instead camped for a couple of days. We climbed the nearby hills for some majestic views of Titicaca with the snow covered peaks of the Cordillera Real in the background. And that's where we went next: to Sorata, at the foot of Mt. Illampu in the Cordillera Real.
Sorata boasts an excellent setting. Nestled on green hills at the foot of Bolivia's highest peaks. Let's go for a climb! We where still with the VW support team so we bought packs of coca leaves, stuffed them in our cheeks and followed our trusty Aymara guide Francisco into the hills. Holy shit! We spent the next three days going uphill. We climbed from 2700 meters up to 5300 above sea level and a few of us thought we would surely vomit our palpitating hearts. But it was worth the effort. The views would make your mind gallop wild and we could even see as far as our French Riviera, sorry, I mean, Copacabana about 100 km away.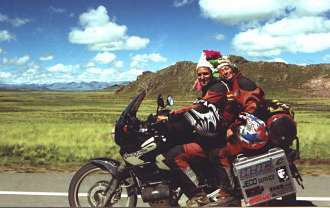 We arrived two days ago at that great cauldron known as La Paz. We immediately headed to our favourite 5 star lodging appropriately known as "El Carretero". It was even more in shambles than the last time we where here. But what the hell, the owners are some of the nicest people we've met, we feel like almost part of the family and we firmly believe it's the most character filled place in La Paz.
As regards La Paz, some things never change. When we arrived in the city exactly a year ago the country was in a state of siege. Popular uprisings had forced the unpopular government to cancel some civil liberties, fill the city with riot police and the streets with tear gas.
Today, after a week long march, a caravan of farmers and opposition leaders arrived in La Paz. Once again, the popular uprising was met by an unpopular government, riot police and... tear gas.
That's La Paz. And we love it in all its chaos and scruffy charm.
Hope everybody is well.
Gonzalo and Nina, La Paz, Bolivia, 23 April, 2001.