Too many to list! If you haven't checked out the Links page it's time you did - it's huge, and a fascinating browse.
---
Get your website listed in the LINKS Section
by listing Horizons Unlimited on YOUR web site, let me know you've done it by mailing me a link to the page, and you may get listed here in the next newsletter and on the Horizons Unlimited web site Links page. To make it easy for you, we even have our logo and link code here! From there you can request your link.
All sites will be considered for listing, but must be a MOTORCYCLE or TRAVEL site, useful or of interest in some way to travellers. We reserve the right to refuse to link back.


Motorcycle Express
MC Air Shipping, (uncrated) USA / Canada / Europe and other areas. Be sure to say "Horizons Unlimited" to get your $25 discount on Shipping!
Insurance - see: For foreigners traveling in US and Canada and for Americans and Canadians traveling in other countries, then mail it to MC Express and get your HU $15 discount!
There are many 'Helpful People' listed on the Links page, a huge thanks to all of them. How about you? Or you can join a Community, or start your own!
Do you know of a good shop 'on the road,'
. in other words, somewhere there isn't a large number of shops? (Also of course any shop that specializes in travellers equipment and repairs is of interest.) But we're particularly looking for those rare items, good repair shops in South America, Africa and Asia etc. Please post your info in the Repair shops around the world Forum on the HUBB.
There are now 100's of shops listed in out - of - the - way places, from Abidjan to Ghana to Peru! Be sure to check out the HUBB 'Repair shops around the world' forum if you need work done!
When you meet people on the road, and they haven't heard of this e-zine or the website, we'd appreciate it (and hope they would too!) if you'd get their names and e-mail addresses and send it in to me.
Thanks, Grant
Request for info
Wouldn't YOU like to know all about the border you're approaching - what it should cost, paperwork required, 'tips' needed, and who to talk to, etc.?
When you cross ANY border, take some notes, and pass them on to us. Thanks!
Shipping
The Shipping page on the site is HUGE! It can be reached directly or from the Shipping link on the Trip Planning page.
Travel Advisories:
The Foreign Office in London's Travel Advice Unit advises against travel to all sorts of places. Check out the listing before you start!
The US State Department regularly issues updated travel advisories, information and/or warnings.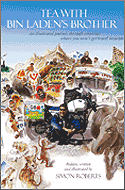 Tea with Bin Laden's Brother, by Simon Roberts
An Adventure motorbiking graphic novel telling the gripping story of a solo ride through Iran, Pakistan and India to Nepal. Take a look inside...
---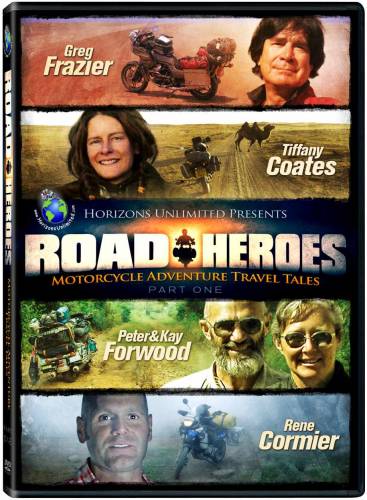 Road Heroes Part 1!
Get your Road Heroes DVD now for inspirational and funny tales from the road!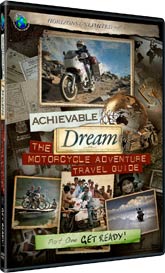 Part 1 - Get Ready!
Get the Achievable Dream DVD's NOW and learn how YOU can get on the road!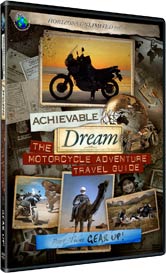 Part 2 - Gear Up!
Get the Achievable Dream DVD's NOW and learn how YOU can get on the road!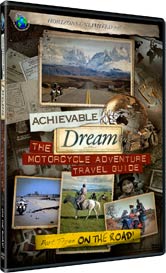 Part 3 - On the Road!
Get the Achievable Dream DVD's NOW and learn how YOU can get on the road!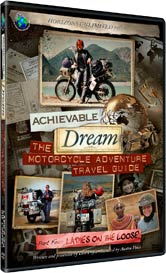 Part 4 - Ladies on the Loose !
Get the Achievable Dream DVD's NOW and learn how YOU can get on the road!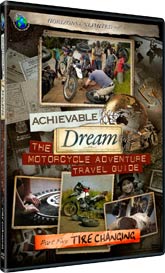 Part 5 - Tire Changing!
Get the Achievable Dream DVD's NOW and learn how YOU can get on the road!
"4x4 and 1x2(x2), a great combination!
Bolivia, not the easiest country to travel; especially in the rainy season! The Salar de Uyuni is under water, and so are the roads down south. We decided to travel together for a few days with friends in a big 4x4... turned out to be a smart move!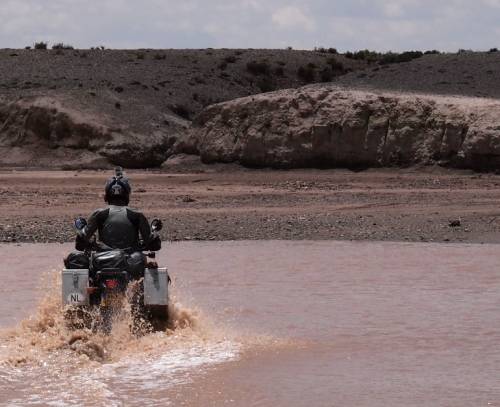 Mud, the version which sticks to your tyres, chains, suspension, fenders, etc. and which does not fall off by itself. Combine this with lack of power above 4500 meters altitude and one bike with dirt in the carbs and you'll understand how we felt at the end of each day.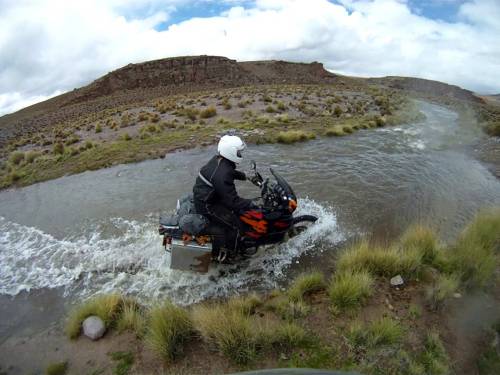 I have to admit, it is a strange feeling to skid through some car tracks to find out your front wheel isn't rolling at all! We took the fenders off which made a difference, but still it was a huge struggle and the help of our 4x4 friends was nice, lots of pushing!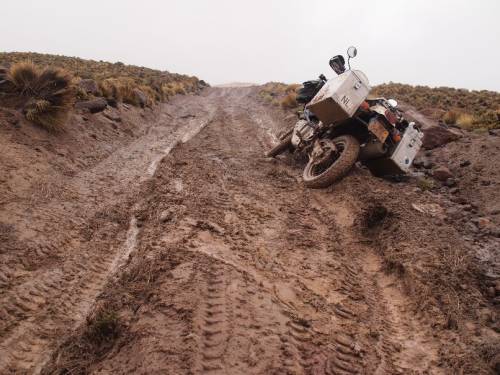 Along the way we felt guilty for slowing them down (with our lowest progress of 23 km's in one day!) but they made a mistake and slid off the road. Nobody anywhere near, so we got on with it and after 3.5 hours of digging, pulling and collecting rocks we got the car out; how nice to work as a team!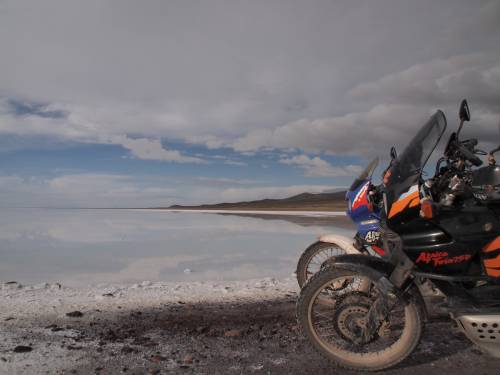 Bolivia is for sure nice and rewarding, it is very hard on the machine and ourselves; first time ever I cried like a baby while driving offroad!"
Marco Hoffmann (BikingMarco), Australia/Germany, Sydney to Germany - the African way, in Egypt, Suzuki DR650,
"If anyone ever complains about Egyptian people again, I will start a fight. Egyptian people are awesome. This time I really needed them. And they were there. Finally, after all those months I had my first motorcycle accident. But let's start the story at the beginning.
Currently I am in Egypt staking out options of how to get to Europe by bike from here. Mainly concerning the Libyan diplomatic missions or boats from Alexandria. While Martin is on his way to explore the situation at the Syrian border. The plan was that, if nothing works from Egypt I would spend some time with our Bedouin friends and then follow Martin to cross into Syria together. Living with Bedouin people sounded extremely attractive.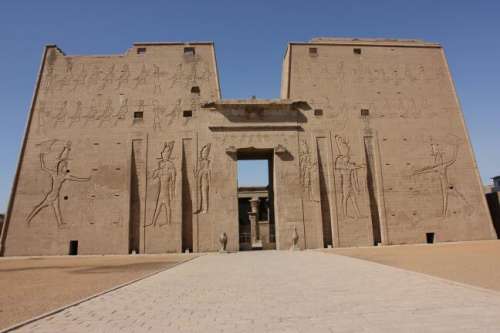 So I went and spent a couple of days in Alexandria. To my surprise it doesn't seem that hard to find a ship from there. There are ships to Turkey, to Greece and to Italy. No regular services though but they would still take motorbikes and passengers with them. I could have booked one leaving for Turkey on the day of my arrival in Alexandria. But that was too early for me, I wanted to stay in Egypt a bit longer and visit my Bedouin friends on Sinai. They kept inviting me daily on the phone.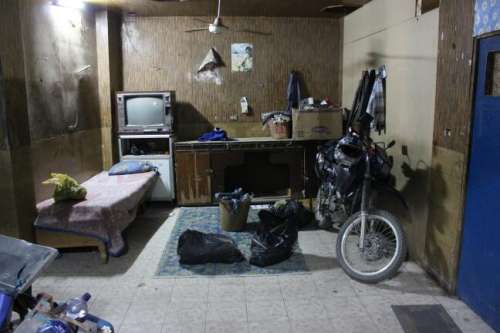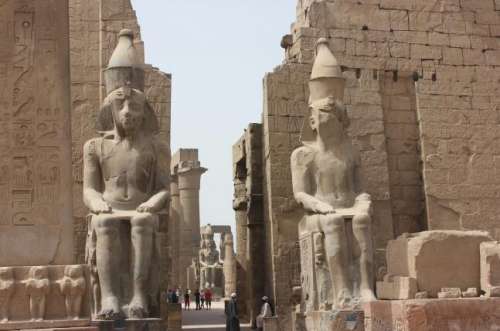 So off I went on my little Suzuki from Alexandria to Ismailia. The road leads nicely through the Nile delta area, it is very densely populated and there is a lot of traffic on pretty bad quality roads. Just after the small town of MitGhamr, I was travelling next to a truck on a multilane road, all of a sudden this green car appeared in front of me. Inching across the road in front of the truck and into my lane. By then it was too late for me to do anything but hit the brake. I perfectly T-boned the green car into its driver door at around 40km/h.
Things I remember from the immediate moments afterwards were the loud bang, the world spinning around me while sliding along the asphalt and the grinding noise of my bike sliding along following me closely. Unfortunately back in Gondar, Ethiopia, my protective motorbike pants were stolen from my tent. So all my sliding now happened in my thin polyester tracking pants. No good.
Coming to a stop after what seemed like an eternity I was still aware enough to get myself off the road. Sitting there on the kerb, watching my poor little bike on the asphalt, fuel spilling out of the damaged tank. Stuff from my panniers littering the road. I was immediately surrounded by a group of shocked people. I remember seeing a lot of blood around my left knee.
As they carried me across the road to their house some others collected my stuff and pushed my bike across as well, fuel still spilling out. At their house I remember how I grabbed my first aid pack out of my panniers and found myself lying flat on a sofa soon. The first aid pack full of sterile bandages and plasters was probably the best medical help I would find for a while...
I could see a big flap of ripped off skin hanging from my left knee, muscles and tendons clearly visible. How could we fix this here, somewhere in small town Egypt? I found a big cut too on my back. And a lot of scratches on my left ellbow. But there was no pain. Just shock. I was surprisingly aware of what was going on around me. The family who took me to their house bandaged the worst wounds up nicely for me. I felt bad for staining their sofa with blood. They seemed to be just as shocked as myself but really made an effort to care for me. They brought me fresh apples cut in pieces. And water with a lot of sugar dissolved in it. I still remember the sweet taste.
They spoke no English. But somehow communicated the word 'doctor' to me again and again. Does it mean I need one? Or they will take me to one? Or one would come here? And indeed 15 minutes later an ambulance arrived..."
Ed. note: See the rest of Marco's story in the HUBB Ride Tales Forum about how some wonderful folks stepped in and helped!

"The ride from Ushuaia through Terra Del Fuego towards Buenos Aires was a mix of emotions for me. I was glad to be heading north towards sunshine once again but sad that this was going to be the last part of this ride. I just want to keep riding, I don't care where, I could ride all the way back to Alaska no worries, then just keep circling the earth for ever until I have ridden every road in each direction.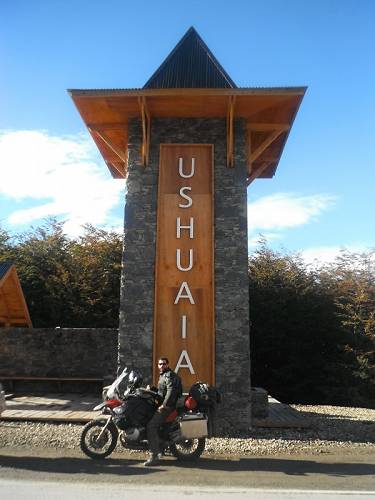 It was only a short 3040km from Ushuaia to Buenos Aires. We rode the 500km to Rio Gallegos in one day, most of it on dirt and gravel roads which were great fun to ride on through the howling winds of Patagonia. The wind has been kind to me all along, just the odd gust here and there but now they were making up for it by blowing me all over the roads. It reminded me of riding through the deserts of Iran but in Iran the roads are good. Here it's downright dangerous especially when you try to overtake trucks and almost get blown underneath the wheels. Exciting all the same.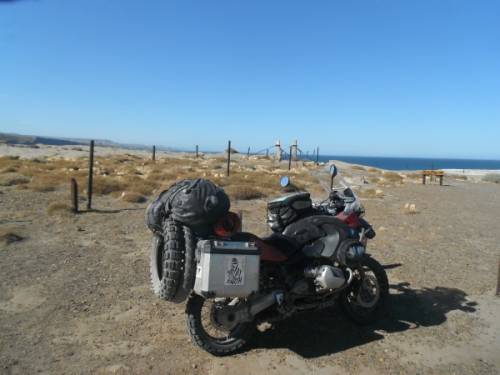 From Rio Gallegos the road was all paved, mostly flat and really boring. We averaged 500km a day sleeping most of the way to Buenos Aires and camped most nights. Thankfully the winds died down as the km fell. On route we diverted to see penguins and Orca whales in the national park on peninsula Valdes. These whales snatch meals in the form of seal pups from the beach. Sadly though, we were a week or so early to see the Orcas in action. There were plenty of pups playing in the surf but the whales hadn't shown up yet. Nat Geo made a great documentary at this beach which is well worth a look.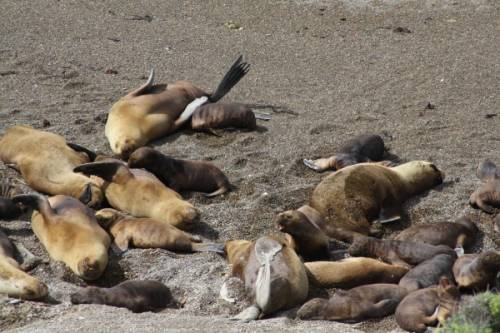 The ride to the peninsula was interesting given all the rain in the area before we arrived. Parts of the dirt road to the coast had turned to mud so it was nice and slippery and great fun to ride on. My back wheel decided to pass my front out again in a particular bad section. Luckily for me I managed to stay on my feet as my bike took a mud bath. After this spill unbeknown to me my spare tires began to rub on my rear tire which resulted in me ripping some knobs off the rear tire and burning a hole right through my spare front tire. It was lucky I didn't go too far before noticing. I was given full run of a tire repair place to change out my now destroyed rear, the shop was closed but the guy didn't mind as long as I did all the work. From here we rode to a place called Azul and spent the night with a fellow biker named Jorge who left us camp in his garden, cooked up a massive BBQ and stuffed us all with meat. Thanks Jorge.
I'm now sitting in a hotel in Buenos Aires in the nice 30 degree heat. I'm going to be here for a while so I can arrange shipping for my bike and get to know the city and its people. So far it's been fantastic and I'm actually learning to sit still again. Waking up in the same bed four mornings in a row is somehow strange to me. Every morning I feel the urge to ride, the urge to explore, the urge to get lost, to go some place new. On the other hand it's been nice to have somewhere to lay my hat, maybe I'll be able to assimilate after all.
Given all that's happened in the last seven months I've decided to return to Australia for a while before tackling the African part of this trip. It will be good to spend some time with my family and friends and to have some time with my girlfriend Trish who has been very supportive of my trip. I know she's only ready and willing to help me plan the logistics for the next leg of this journey. Your ground support has been great baby, thanks for everything.
This ride has been a wonderful experience for me, a wonderful experience in simple, natural living. What I'm going to miss most is the freedom, the freedom to get up each morning, jump on my bike and ride off in any direction. The freedom to ride all day set up camp and sleep under the stars. The freedom to go wherever, whenever I chose. The freedom from unnecessary possessions and unnecessary burdens. The freedom to get lost and the freedom not to care. You quickly realize what the essentials of life are when you're on the road, such as warmth when you are cold, shelter on a rainy day, food when you are hungry and beer when you are thirsty. You soon put material things in their proper place, realizing that they are there for use, but relinquishing them when they have served their purpose. You soon experience and learn to appreciate the great freedom of simplicity. Over all I'll miss the adventures and the adventurers I have met along the way.
A big thank you to everyone for your support and encouragement along the way. There were two times that without it I might have thrown in the towel. Thanks to all the riders I've met and ridden with along the way, you know who you are. Hopefully it won't be too long before I ride again. I'm looking forward to sharing the journey already."

"...After driving for exactly four months, our big day was finally here. We were now just a few hours drive to the border, a few hours from the goal that we'd been aiming for. It was strange packing the bikes for the last time, knowing that this was our last day of riding. After this, there was still some more admin to do, a ride down to the docks, no doubt, but as far as our journey was concerned, we would be done by the end of the day.
We have travelled 22,200 km, across 17 countries and three continents in these past 123 days. We have slept in beds in 64 different towns, once on the side of a Pakistani highway, the floor of an Ethiopian bar another, on the deck of a ship, inside a Turkish bus while the snow and icy air brought the surrounding temperatures to minus twelve degrees, in the back of a truck wedged beneath four motorcycles, on an airport floor, on a unbearably long train ride in 45 degree temperatures, and three times in tents when alternative lodging could not be found. We have had days of no food and days of plentiful generosity. We have experienced over 17 flat tyres, eight broken shock absorbers, snapped clutch and choke cables, re-welded a shock attachment and clutch pedal, jump-, push- and tow-started bikes on countless occasions when the batteries have failed, replaced an entire battery, replenished the acid when it's run dry on us, tinkered with engines and carburetors... and in fact, just so much more! What a phenomenal privilege.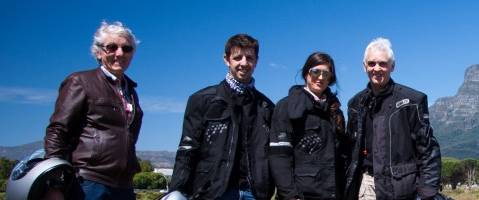 ...That was when the problems started. Upon presenting the customs official with the documents, he gave us a dubious look, and asked us for our third party insurance. Now this is pretty standard in many countries, and there is always a place to get it at the border. But not in Singapore, baby. It seems that one has to either take a bus through into the city (which we were not allowed to do, as we had to stay with our bikes), or one had to find a broker in Malaysia somewhere to organize it.
On top of that, there was another document required, called an International Circulation Permit (ICP). True to form, this could also not be obtained at the border, but should have been obtained before arrival. Before we had left South Africa, we had spoken to the AA to make sure that we had all our documents for each country in order. They assured us that only the carnet was required (and a subsequent e-mail apologizing profusely for this oversight was about as helpful as a PowerPoint presentation at a conference for the blind).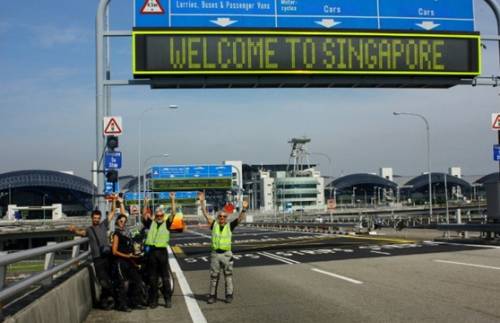 And Singapore being Singapore, there was nothing we could do. At any other border post we would have been able to make a plan, but here, inflexible bureaucracy is the name of the game. We pleaded, we begged, John and Dad even screamed (but seriously, they actually screamed – personal mental highlight for me) but nothing. And so with that, we had no choice but to turn around and make our way back to Malaysia."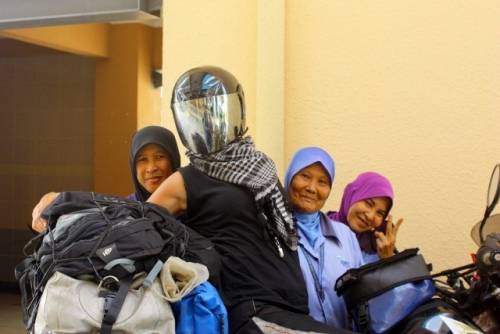 Chris and Chloe Granger, UK, Buenos Aires to Vancouver, in Argentina, F650GS DAKAR and F650GS,
"Getting into pickles does seem to be Chloe's forte, so the morning would not be complete without getting into a scrape. The wide ford that we had to cross would be her undoing. We stopped at the river to assess – all looked smooth and simple. The flow was perhaps a little quick, and the stones perhaps a little large and rounded, but the water was shallow and besides, we'd been through several rivers that morning albeit they were much smaller. Confidence high, Chloe opted to go first.
A mere five seconds later she was in the middle, caught by a sudden increase in depth and flow, and was down. Bike on side, Chloe mostly submerged, camera around her neck briefly submerged. Between Chloe fighting to get herself up from the water, trying to save the camera and trying to turn off the bike, plus Chris bellowing from the side lines 'turn off the bike!', the bike promptly cut itself off and died. Uh-oh.
A displeased Chris comes wading into the water to lift up said bike from its watery grave. After wheeling it out and establishing that the engine won't start, Chris set about dismantling the bike to try and rescue the situation. Feeling guilty and like a spare part, Chloe mills hopelessly about, offering up screw drivers and getting tangled in toilet roll while drying parts of the bike that had been dismantled.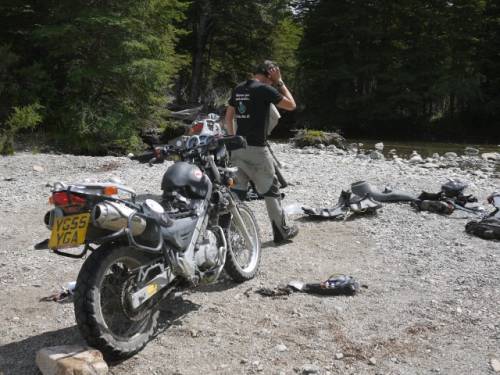 Somehow(?!), water was everywhere and in everything… after removing and emptying water from the air-intake box, the air filter, the air box, throttle body, the manifold, we were not surprised to see that the cylinder was also full to the brim. Easy solution – we just had to turn the bike upside down. Not a problem for a couple of guys! Thankfully there were grassy banks a plenty so by utilizing a bank, we could tip the bike over and let the water run out. Lastly, the spark plugs also had to come out to let water out of their sockets. Back upright, everything was dried off and slowly put back together. We were both secretly crossing all fingers and toes, not willing to voice the potential for hydrostatic lock, which in simple terms means an irreparable, internally broken engine. After a dozen tries of starting the engine, and much water being spurted out of the exhaust pipe, the bike finally spluttered to life – Chris's former research into 'what to do when you drop a bike in the water' had paid off! The only problem now was the oil, which had turned into a creamy milky substance and needed changing imminently before it did more damage to the engine. That would have to wait till we got back into town.
After the trauma of the morning and an hour and a half of torment with a half broken bike, we finally agreed we needed some therapy and so should continue to the thermal springs. Only 200 yards away from the river crossing was the end of the road – that we could have left the bikes on the other side of the river, out of harm's way, and walked by foot did not escape our notice!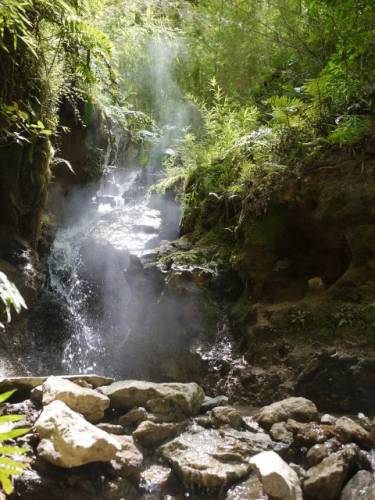 We still had a one hour trek through the forest in front of us – Chris arrived fully unscathed while Chloe managed to twist an ankle and then cut her knee on a particularly vicious tree branch. The omens had not been good, but definitely worth it!"
Ionut and Ana, Romania, Trans-Africa, in Lesotho, Yamaha Tenere,
"Landlocked Lesotho (which translates roughly into the land of the people who speak Sesotho) is the only independent state in the world that lies entirely above the altitude of 1,000 metres (3,281 ft). Its lowest point of 1,400 metres (4,593 ft) is the world's highest. The kingdom's geological exuberance is possible thanks to massive tectonic events, that left the land disfigured by a jumbled mass of mineral scar tissue, peaking over 3000 meters. The most popular entrance to the kingdom is via an off-road legend, Sani Pass. This was to be our second attempt to tackle it, after having to forfeit with a faulty tyre. This time would be different: fully loaded bike & gear and on a road oriented back tyre, but what the hell!
Tipped by John @ Gear Up Umhlanga, we took a different, more scenic route, via Hella Hella Pass. The brisk morning and the empty bends cheered us up.

The Sani Pass is as beautiful as they say it is, it's not the hype, it's an addiction. Many succumb to it. As it was the 27th of April, so public holiday in SA, celebrating the first multiracial democratic elections, the place was swarming with four-wheelers and bikes. Many 1200 GS and enduros, some of the guys visibly enjoying the ride more than me, on light set ups and full taps all the way!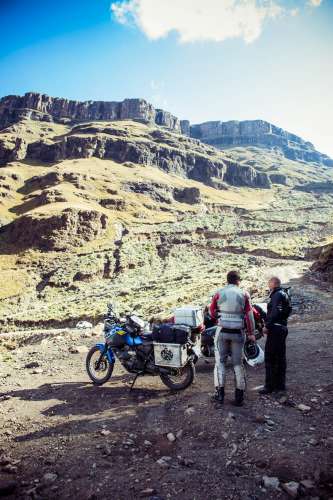 Our beef was with the wind: blowing so hard that several times I was about to drop down on the loose rocks. It was a bit unnerving having the tour operators' 4x4s rumble and come past the bikers (and us) on the steep bends, clearly less affected by the strong winds. About 2 km before Sani we met a biker who was catching up his breath after the descent and kept worrying about his mates who had already taken a couple of tumbles and were lagging somewhere behind."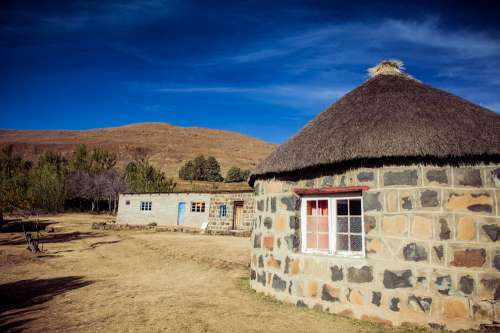 Alex Papadopoulos & Ping-Yi, Bicycling Chile 2011-2012, Crossing to Argentina, the Stylish Way,
"So here we are, in Villa O'Higgins, the end of the Carretera Austral. All this vibration has made a number of screws from our panniers and racks to loosen up. Some of them we don't notice in time and therefore lose. The end result is that we have depleted our stock of spare screws and are asking around Villa O'Higgins for anywhere we might be able to buy some. The answer is a resounding 'no', but, as it happens in this part of the world, a rather touching (if not very effective) 'solution' appears out of thin air: One of the customers of the shop where we had asked for screws overhears us, and later in the afternoon turn up at our campsite and gives us some screws from old bikes he had! Doesn't fit our bikes, full of rust, odd sizes - but still a touching gesture. People really go out of their way to help us here - warms up one's heart.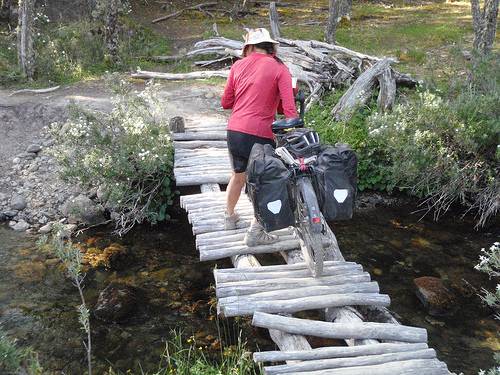 We do some research as to how to proceed from here and confirm that there is a boat across the lake (Lago O'Higgins), which takes one to a path, which should be rideable, which takes one to the border, after which you're in Argentina and then you get another boat, cross another lake (Lago Del Desierto) and then you're on regular roads again and can ride on.
We ride the last 8km from Villa O'Higgins to the lake at some ungodly hour (the boat leaves at 8am) and board the vessel.
There we meet Micha and Sarah, the German couple we had met almost 1,000km back north, and Bernard, a Swiss gentleman who is touring Patagonia solo for 3 months. We make a nice neat pile of our luggage on board... which is then unfortunately scurried away in the hold. So naturally I become increasingly grumpy - I don't like it when people deprive me of my breakfast!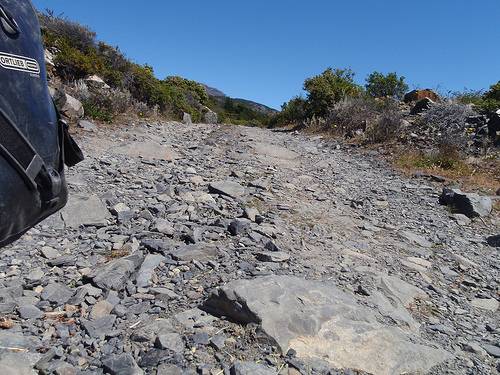 Ping is feeling a bit stressed about cycling with the others. We had heard this was a demanding stretch, and we had never travelled with these people. What if they are too fast? What if they are too slow? What if their feet smell?
The boat drops us off on the other end of the lake and we start the struggle uphill. It's quite gravelly/rocky and, save for Micha who seems to really know what he's doing on a bike, the rest of us push a good chunk of the way."
Ronnie Borrageiro, South Africa, RTW, in South America, BMW 1200 GSA,
"My ride on the fifth continent of the Gypsy Biker World Tour has been completed! I have received messages telling me that I am now on the home stretch... Well, it has to be the longest 'home stretch' in history! My ride on the 6th and last continent of my journey, will encompass Central and North America, and cover about 30 000 km by GiGi's reckoning!
South America has been all of the ride people said it would be, and more! I could have spent a year there and still not seen and did all there was to do!
I spent exactly 100 days on the continent, visited 9 countries and rode over 22 000 km on my trusty companion, the ever willing Big Fella...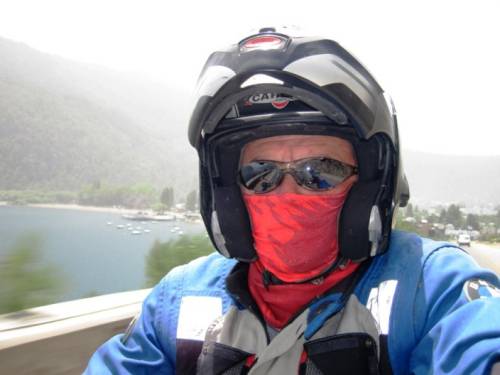 Together we experienced clouds of volcanic ash in Chile and Argentina; the bleak and beautiful scenery in Patagonia, to go with the tough dirt conditions of Ruta 40 and the dangerously high winds on my way down to 'The End of the World', on the continent's southern tip...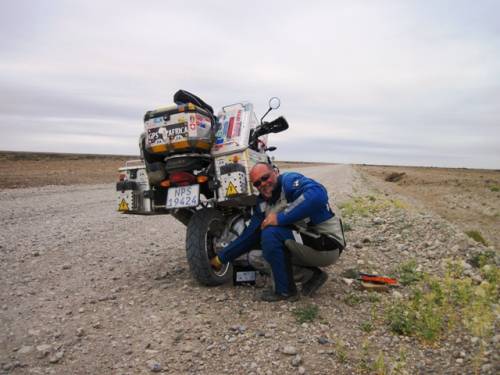 We witnessed the splendour of Iguazu Falls on the Brazilian/Argentine border; the dizzyingly high climbs to almost 5,000 m to get up over the mighty Andes, and the thin air and icy, near freezing conditions that waited for us up there...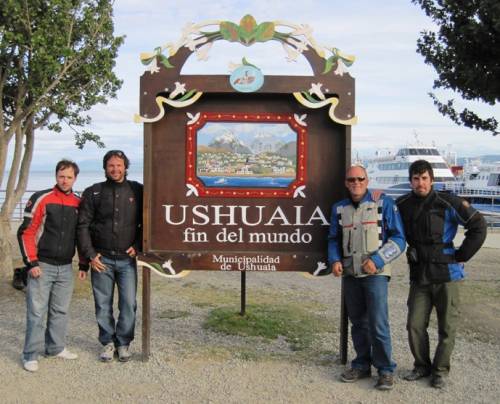 We rode through one of the driest places on earth, Chile and Peru's Atacama Desert; along the wild and desolate coastline of northern Chile; into mountainous Bolivia and around the world's highest lake, Titicaca; then stood looking down on the magnificence of Macchu Picchu, a place that re-ignited the passion for life and living within me...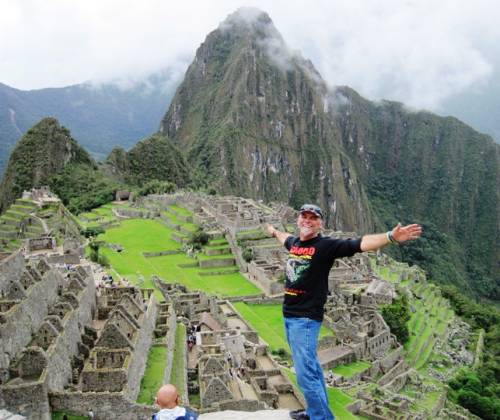 We battled the traffic in the capital cities of Santiago, Buenos Aires, Montevideo, Asunción, La Paz, Lima, Quito and Bogota...
Mishaps were far and few between... The Big Fella had only his second puncture of the entire journey so far, and then inexplicably lay down for a short rest on the torturous Canon del Pato pass in northern Peru.... Guess we all need to take a break some time!
Along with all the above, what made South America truly special, was once again the people I met and rode with along the way... People who touched my life and left indelible impressions that will be with me forever...
As always, to my family and friends all over the world, who continue to send me messages of support, and follow my journey around the globe... You are all part of what has made this trip so memorable, and what keeps me focused on completing this 'dream ride'...
And lastly, to my gorgeous wife-to-be, Patricia, whose love, support and understanding, keeps the fire burning brightly in my soul, and with whom I look forward to a long and happy life together... I can't wait Babe! I can't, I can't!
As I enter Central America, and begin the long rides that will take me to the northern most part of Alaska, I feel a quickening of my pulse and an even deeper desire to complete what once began as a self-imposed test of my determination and will-power; my stamina and endurance; and a burning need to redefine myself in my own eyes; and I now know, will end with a better understanding of what has gone before, and make me a better person than I could ever have hoped or wished for...
With the expending of my energies over the past few years, I have gained a new and inner strength...
The 'Final Chapter' has begun..."
Mike, USA, RTW, in Kenya, BMW R1150 GSA,

"I split my time up in western Kenya by taking a 10-hour ride up to the Lake Turkana region to visit the Turkana people that I had heard so much about. The road had once been paved, but that must have been when dinosaurs roamed. Seven of the ten hours were on corrugated roads that rattled me and made the already leaking rear shock sizzling hot. The road commanded constant attention, as I was always looking for a four-inch smooth path to ride on - and never finding it. The road had a steep crest to it and I was forever crossing over the top of it to find better road. On one pass, the rear wheel slid out from under me. Before I knew it, I was 'here' and the bike was a few feet over 'there'. The right pannier was stripped from the bike and mangled up pretty badly. I would not be able to remount it to the bike until it was fixed - Argh!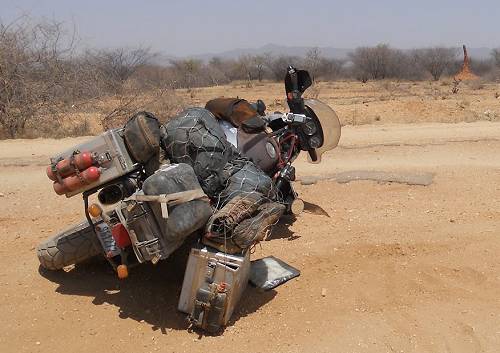 It was close to 120-degrees with no shade in sight. I was four hours away from Lodwar, the next town and my destination. Twenty minutes later a truck stopped. Luckily the truck needed to change a shredded tire. Out of the cab came three men and an armed askari carrying an AK-47. The men helped me get the bike to the side of the road. They too were going to Lodwar on their way to Sudan. They offered to haul the wounded pannier into town for me and drop it off at the local gas station. Meanwhile, a herd of camels passed through and the two herdsmen stopped to talk with the men from the truck. The younger herdsman also carried a Kalashnikov and compared ammo clips with the guard of the truck - I was beginning to feel a bit inadequate with just my Leatherman.
The truck's tire was repaired and ready to go. I started to second guess my decision as I said goodbye to computer, hard drives containing almost every photo of the trip, all my important papers including my carnet, and my toothbrush as truck moved on down the road. 'Oh God, what have I done?'
Lodwar was a dirt clod of a town and hot beyond belief. My hotel room had roaches, mosquitoes and a wobbly ceiling fan that squeaked. The slats of my bed collapsed more than once sending me to the floor during a deep sleep, but I sort of warmed-up to the place. The town had an aura of the Wild West and the absolute shit road required to get there kept it isolated from the tour buses (to the detriment of local businesses). I found a young Turkana man who could speak English and we toured some of the nearby villages together always taking peanut butter and bread to pass around sandwiches to the kids and parents. I loved it! This is the kind of traveling that I enjoy the most, so much more memorable than spending time in a popular tourist destination like Zanzibar, for example.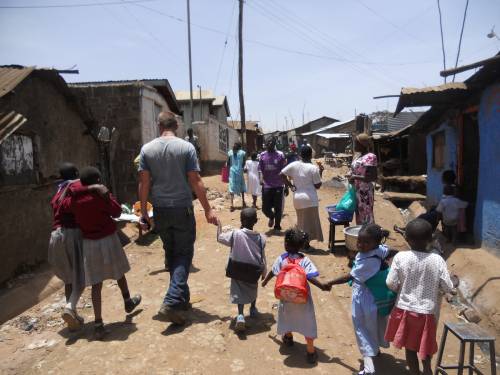 In Lodwar, one may think it was rather miserable, but I enjoyed it while I was there, and even more so when reflecting upon it. I got to know many of the locals - being the only gringo in town, I sort of stood out, and stayed a couple of days longer than I expected to, but the children from Alex's school never left my mind and I eventually made the return trip south to spend more time with them.
Oh yeah, the pannier eventually made it to town a little after midnight, four hours after I did. I have yet to be disappointed by the generosity and honesty of strangers here (or anywhere else on the trip), but I must admit to a few tense hours waiting to see if the truck was going to show up. Later, for $3 the aluminum box was pounded back into a rectangle and the bike was ready to go again."

Fletcher Haver, Cooking and Braaaaping around the world, in Guatemala,

"I think Guatemala translates to 'Fletcher you're going to get lost a lot!' Haha It took me a lot of wrong way on one way streets, illegal U turns, and a little sidewalk usage to finally get out of the city and get on my way. 'Let's make sure I am going the right way' Stopped at a gas station... yup that's a negative turn around try again. Finally after a few circles I am on the right road heading in the direction I want to be.
The road is a freeway 4 lanes we are moving along zigging and zagging through cars and taking nice smooth turns on a nice smooth road. It was a lot quicker than I had expected to my turn off toward a scenic detour that looked nice in my book. I headed down toward Lago de Atitlan a beautiful lake surrounded by Volcanos. I passed through the lake town of Panajachel, the road started to climb with very twisty switch backs everywhere. The road was like glass extra smooth and no traffic. I was ripping through the turns and all of a sudden the road started to get gnarlier, crazy U turn switch backs that had a steep incline ramp in the middle of the turns, road was rough and then turned into Motorcycle-eating Potholes you had to swerve. The road went from a nice 2 lane mountain road to gnarly single lane to a 1.5 lane road. I came up to a detour the road had fallen into the river below, so you had to jump onto the dirt, then all of a sudden around a turn the road dropped down and vanished into the river.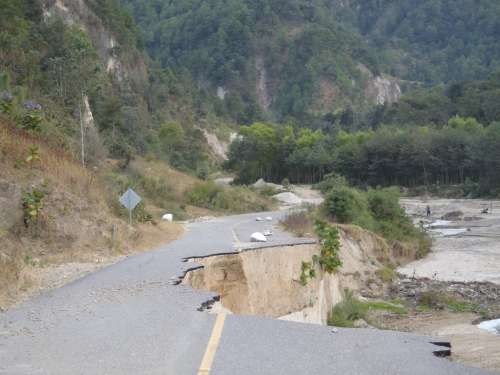 I stopped checked out how deep it was, watched a truck go through and then gave her a little throttle and made it through without a swim. The road just danced through the mountains / volcanos, hands down the raddest road I have ever ridden, so much fun I was just laughing the whole time from the twisties to just the incredible views. All along the road today kids would either just sit there waving or run with you laughing and waving at you.
I wasn't sure my sweet detour would actually work and get me to Antigua, but all of a sudden I was 60km from it and was home free. I blasted through the next big city took my turn and raced through the forest, I pooped out at a T and kept heading south, stopped for lunch and made sure I was going the right way. Nope past the turn off about 15km ago, ha ha well lunch was at least really good and a nice break. I finally made it to Antigua."
"It was a warm and sunny day and we anticipated a perfect day for riding. We'd heard that southern Chile and Tierra del Fuego in particular could be a bit windy, but we're from the Canadian prairies so we thought were familiar with wind. A -40 C Winnipeg winter wind at the corner of Portage and Main can teach you everything you need to know about wind, at least that is what we'd been lead to believe. We were so naive.
Everything seemed completely normal as we left town, however that all changed as we rounded the 1st bend and were slammed by an invisible force so strong that it nearly pulled us out of our saddles. We were both blown over the yellow line and clear across the road, luckily there was no oncoming traffic. And that is how things went for the rest of the day – we fought the wind constantly, leaning our bike as far over as we could to keep them going in a straight line. Half way to Punta Arenas there is a large 'Monument to the Wind' sculpture, but we did not stop to pay our respects.
At least we had some company along the way. There was hardly any traffic but the fields were filled with wild Guanacos (the llama's bigger, more graceful and undomesticated brother), sheep and rheas. Rheas are large flightless birds, they look just like emus and ostriches, (like a massive feather dusters). At least the guanacos had the decency to keep their distance, the rheas, on the other hand were running all over the place, including across the road in front us. Actually we couldn't tell if they were running across the road or being blown across – either way they can move pretty fast!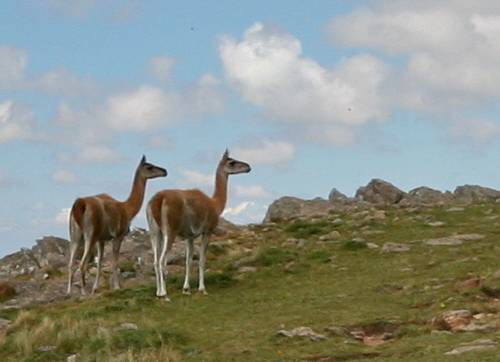 ...We didn't sleep much that night. Not because we shared a dorm room with 4 other travellers (& one who needed to investigate the contents of her crinkly plastic bags a surprising number of times during the night), but because the intense winds outside rattled the windows, the house and howled all night long. When we woke the winds were still going strong.
Despite the winds, we packed up and headed out. We drove to the end of the block, and still, the wind seemed to be under control. Then, we turned the corner and we felt its full wrath – as we pulled away from a street light the wind blasted us, knocking Sandra and her motorcycle to the ground. I barely made it across the intersection.
I pulled over and ran back to help her pick up the bike and as I made my way back to my bike, I could see tire tracks I had left in the mud-coated street. Because of the extreme wind, I had actually left diagonal tracks in the mud with both my front and rear wheels. I didn't even know that was possible. We rode directly back to hostel, unpacked and stayed another night. Total distance traveled: 1 km."

"I was heading towards Albuquerque, keen to get there before dark.
Someone stood by the side of the road and pointed at the ground as I went past. At first I assumed he was pointing out something on the road, so I checked, no snakes or holes, nothing there, not even a dead one of these.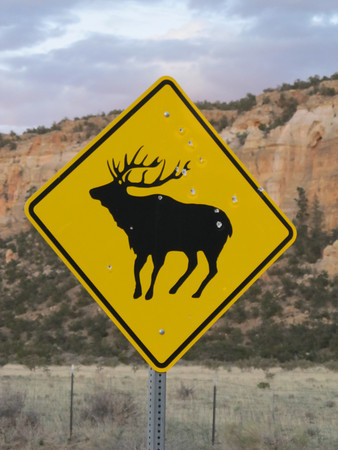 Then I thought he is probably just a biker himself and greeting me so I relaxed again. But my brain was still thinking about it, and finally, I suddenly thought, is my light working? I stopped the bike and checked, whoops, no headlight, the sun was setting rapidly and the light had quickly faded.
Damn, usually not too much of a problem, as I'm generally looking to stop riding and put up my tent at this point. But I had an invite and a destination tonight. Albuquerque was awaiting me.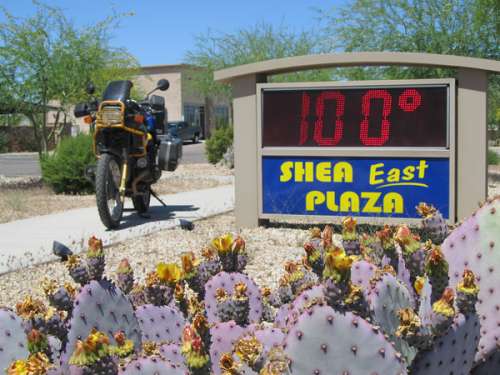 First day on the road and to be honest, my panniers are in a state of disarray (somewhat like my life) and I am really not sure where my spare bulbs are. I'm used to automatically carrying some because in some European countries it's compulsory to have them on or in every vehicle.
I started unloading with a sigh. I was lucky, in the first pannier, there they were and even more lucky as there was a headlight bulb in the set, I had no idea if I might have used it up previously. Not forgetting, Thelma and my gear have been in storage for quite a while.
The headlight is a bit tricky to replace, I put my hand in to get the old one out, fiddled around a bit, found a loose wire and 'hey presto' the lights came on, it was just the connector and not the bulb. Quickly reloaded my case and get back on. By the time I reached the main highway (interstate) it was dark and not a pleasant ride with the trucks roaring past and all sorts of debris on the road. I arrived in time for dinner at 9.00pm except... it wasn't 9.00pm it was 10.00pm! I felt bad, I had no idea their clocks were different from Arizona and they had waited on dinner for me.
Time for a chat and a catch up, I first met Alon when he was travelling on his Honda TransAlp and was in Ecuador, we also met up in Bolivia and crossed the Salar de Uyuni together, a lot of fun. The next morning we set off, Alon was 'escorting me off the premises' and setting me on the road out of town."

Ferris Wheels Motorcycle Safaris are one of the pioneers of the motorcycle tour industry. We have been taking clients professionally to the highest road in the world several times a year since 1994; over 50 times now! Other exotic destinations include Morocco, Turkey, Bhutan, South America, and the Dalmatian Coastline.

All fully-detailed itineraries can be found at www.ferriswheels.com.au where you may also find countless client accolades and many press articles endorsing our tours over the past 15 years or so, and request our free DVD!
"We are a happy little group of 3 going on a trip. Our members are: Jay (Jerome) who is a nice french guy with dreadlocks. Mercedes who is a mom with a talent for making bad cupcakes. And Erik who is a boy who talks too much.
...Mother Nature gets revenge for Big Snail by dispatching a Big Centipede to M's riding pants. The fields echo with Mercedes' screaming who thinks she sees a scorpion biting her knee. We fail to capture the pesky critter. We read The Bite and Sting Book in our Sawyer's Bite and Sting Kit. The book lists some snakes (among them the corral snake) and critters that can seriously harm a human. Reading the Sawyer's Book would discourage anybody from spending any time outdoors. We guess that spending less time outdoors would decrease the chance of being bitten and stung. Therefore the Sawyer's Bite and Sting Kit is highly effective in preventing Bites and Stings.
Big Cockroach sneaks into M's riding boot overnight. Fortunately Jay sees it (he thinks it is a scorpion). In the morning M and J force the stubborn cockroach out of the boot. M kills it and declares WAR on terrorist insects!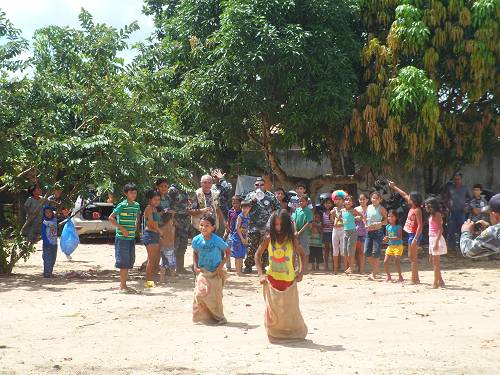 The ride is uneventful. We bypass Fortaleza and we cross into Piauí State. We camp at a gas station again (most have restaurants and showers). Jay spends the evening removing foot parasites from his feet. He picked these freeloaders up on the sandy beach.
We make our way northwest on BR316 with stops in Bacabal and in Boa Vista do Gurupi. The road takes us between farmlands dotted with big, shaggy palm trees. Floppy-eared cows graze on the fields. Many rude animals use the road carelessly. Among the goats and donkeys are exotic green lizards and snakes. The vultures act as the road clean-up crew. Ironically, some vultures also get hit by cars.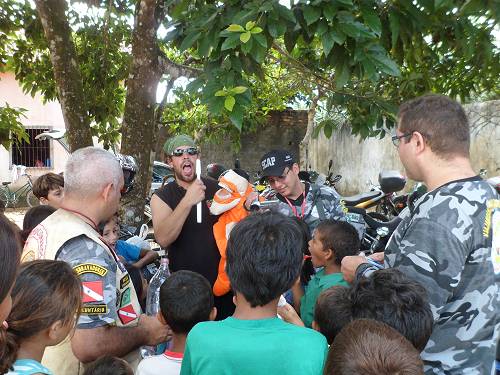 Brazil is an enormous country and we are very glad when we safely reach Belém, the capital of Pará state. From Belém we are going to take a ferry boat to Macapa."

"Just as we were entering the most remote part of Ruta 40, only 40 km south of Perito Moreno going 100 km/h on a perfect road, the Suzuki suddenly made a loud crack or snap and then loud metallic scrambling noises. I lost compression and the bike died! Damn! I tried to start the bike again, followed by ugly sounds and then I couldn't start it any more.
Hm! Judging from the sounds, this was not a harmless breakdown. We spend some time discussing what could be the problem but we really didn't have a clue. We decided to tow the bike back to Perito Moreno where, if we were lucky, someone a bit more mechanically inclined could help us with a diagnose.
We dragged the Suzuki behind the KLR a few miles when the bike made more bad sounds and I couldn't keep it in neutral anymore. We were afraid that if we kept dragging it, we would do more damage to the poor bike. Later several people wrote us that we should have just taken the chain off the sprocket! Well of course :-)
However we were also worried if 40 km would be too far to put the extra weight on the KLR. The weather was warm, the wind was strong and making it even worse and since we didn't go faster than 2nd gear, we were uncertain if the KLR would overheat.
We decided that I should park there on the side of the road and Lars would ride back to Perito Moreno to find a truck that could pick up the bike. I would also try and flag passing trucks down and see if someone would give me a ride. So Lars left and I prepared to spend the rest of the day on Ruta 40. The wind on the road was strong, but down in the ditch I had a bit of shelter and made a little camp.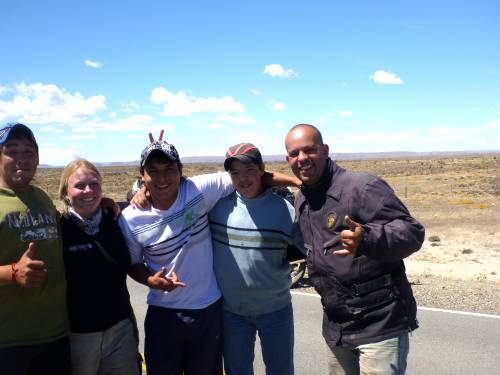 ...I was having a blast on Ruta 40. A Brazilian rider had stopped and refused to leave me before someone picked me up. He entertained me with crazy adventure stories and experiences with corrupt Brazilian police and jungle adventures. Later 3 young guys in an old Renault 12 stopped and chatted and offered us a drink of the popular mix Fernet Branca and Coca Cola. They also offered to come back with a truck and pick me up, but first they had to skin a horse! One of the guys was taking care of his brother's horse and apparently he hadn't done such a good job, because the horse was dead, and now the brother was accusing him of lying and wanted proof of the dead horse. So they had to get the piece of skin with the brand mark on it. But after the skinning job they would come back and pick me up. They left but promised to be back soon with a truck."
Ron Fellowes, The Old Bloke on a Bike, in Iran, on FN,
"From Yazd I had a reasonably good run until 80 kms before Nain on the way to Isfahan. Then, another blowout. The back tyre sidewall collapsed causing the bike to weave all over the road. Each time this has happened I've been lucky I didn't end up in the path of oncoming traffic. As a result seven spokes were broken and it took 3 hours to replace the tyre, true up the wheel and replace the spokes. On the front wheel is a 30 year old tyre still hanging in there. Because it is very light in the front there is no pressure on it like the back wheel.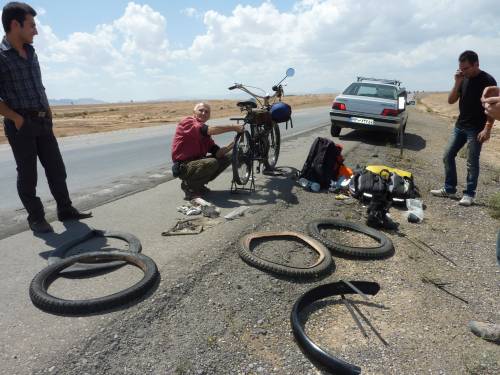 I managed to get 3500 kms out of the back tyre this time, more than I'd expected, so I can't complain. Too tired and too late to continue I spent the night sleeping in a concrete drain. Not the most comfortable of places but sheltered and when you're knackered I find you can sleep just about anywhere. At 2,200 metres it was pretty cold and I was grateful for a warm sleeping bag and mattress.
Next morning after seeing oil on the ground a closer inspection revealed a broken oil pipe to the engine. Only 11 kms into Toudeshk and Mohammed Jalali opened up his shop to make me a new pipe – all as good as new in no time, and he wouldn't accept payment. Mohammad runs the Tak –Taku Homestay, a legendary place when it comes to accommodation. Mohammad was a fantastic host and guide, giving me a great insight into the area and village life.

Sometimes the body is just so tired it doesn't seem to matter where I bed down for the night. In the past three months I've slept on charpoys, in a tent, a prison, abandoned buildings, police posts, a few lovely guest houses, the odd memorable hotel and a few establishments that are struggling to reach even a one star status.
I've shared my space with other travellers, lain in the desert under the stars alone and been ground to a paste in a sandstorm during the night. I've had a whole dormitory to myself and slept in a room so small it contained only the bed. When the urge to crash hits me, forget looking for a hotel…it's hard enough to find one at the best of times. Sometimes anything that even barely resembles a bed can be inviting enough to crawl into – a roadside culvert for instance."
"Thursday was Ant's birthday and his pressies were mostly food. Really chunky chocolate and a big squidgy cake. I also bought him some glue so he could stick the soles of his boots back on, as they had started to peel off in the cold and wet. Checked the weather forecast and although we had blue skies and sunshine it was still snowing almost everywhere else. It looked like Friday was going to be the best day to get through the mountains to Bari, so we decided to make a break for it tomorrow. We returned to the bungalow to start packing up our stuff and the realisation slowly dawned that the campsite wasn't busy, but that we were actually camped in a brothel!
While we were in the bungalow every couple of hours a different car would pull up and out would get a lady and a gentleman, invariably wearing dark sunglasses. After they had vacated the bungalow the cleaning ladies would come round and change the sheets and another car would pull up! But what really gave it away was what we could hear through the extremely thin bungalow walls. We have never been so glad not to speak Italian, although si...si...si doesn't leave much to the imagination.
Friday morning we were packed up early. Ant went to check out as one of the stream of cars was pulling in and it seems we were getting a cheaper daily rate than the hourly one, so that was good. Got lost getting out of Pompeii and took the road to Sorrento rather than Salerno, lovely scenery though. Got the right road in the end and immediately started climbing. The temperature dropped and eventually we came to a police road block. They were diverting heavy traffic off the motorway. We became a bit worried when they looked at the bike and started laughing. Then they asked about snow tyres. They let us carry on, but made us promise to go slowly.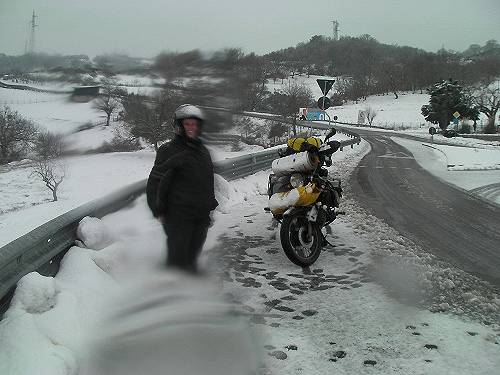 A few miles on we couldn't do anything but go slowly as it started to snow really heavily. A few minutes later the road was covered and we were skating along. Through will force and iron bum muscles Ant managed to keep us upright, we wobbled off the motorway at the next junction and took shelter under a bridge. A policeman came to see if we were alright and said there was a hotel in a couple of kilometres. Unfortunately it was a down a steep twisty hill, so I walked and Ant slid down the road as best he could."
"I've been on HUBB since April this year when I...
* met a Colombian guy in Argentina riding a Chilean 200cc Chinese bike
* ditched my backpack (that I'd been travelling 4 months with), rode 2 up across the Andes with him
* learnt how to ride the bike in Santiago de Chile, (turnaround moment on gravel in the Cajon del Maipo)
* then bought the bike, got it outfitted with panniers, then
* rode 2 up for 1000kms then went off... solo into the Chilean desert and Andes! Definitely passing 4700m on gravel/dirt/sand on less than 1 month's riding experience was a pretty damn cool achievement I think!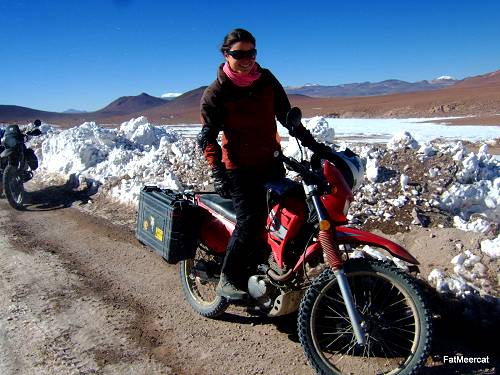 Now over 7 months later, I've crossed the endless horizons of sand and red lakes of south western Bolivia, rode through beautiful rock formations in northern Argentina, slipped and skidded my way through mud in northern Argentina and the jungle and Bolivia, been awed by the gorgeous Lago Titicaca, crossed enough high altitude planes to know that my lil 200cc bike does make it albeit at a leisurely speed:) and absolutely have fallen in love with life on 2 wheels on the road. And yes, I've learnt my fair share of mechanics!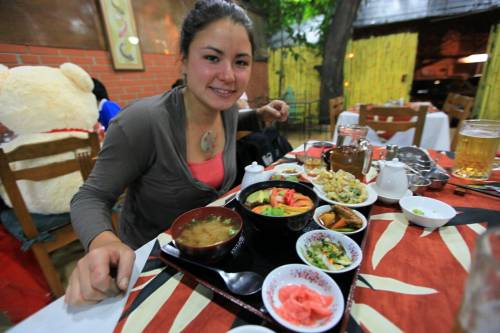 I've not been into biking for long, and I didn't travel to bike.. I started traveling just with my backpack, and then fell in love with the idea of taking any road that I could... and being in the elements and seeing a different side of the countries I was in. A serendipitous (my favourite word) meeting with Diego from Colombia and his red bike changed my course of travel... definitely for the better.
I'm 30y/o Australian girl, and I've actually not yet met in person any other female riders alone.. I've heard of some scattered around, but i do seem to meet my fair share of middle aged German men:) of course riding rather substantial BMWs. I actually rode with 3 of them around the Salar de Uyuni in Bolivia, and it felt awesome to be a 200cc Chinese bike leading out these 3 big boomers. Ciao Susan Jehne"
Colin and Re (Underboning), USA, RTW on 100cc underbones, in Laos, on SYM Symbas,
"While we waited in line to board the ferry (which only held three trucks and four motorcycles for our trip), we met Hubert, a German rider who has already done 18 months on his Tourateched 1100 GS, and Herbert, an Austrian tourist who was doing a couple of weeks of riding on a rented Honda AX-1. We chatted for a couple of minutes, and then it was time to board the ferry.
They loaded two of the trucks first, then Hubert, then the third truck, then Re and I followed Herbert down the wet, concrete ramp that turned to dirt before it reached the water's edge. The deck of the boat did not actually reach the shore and required us to ride through about a 3-foot stretch of water about 18-inches deep to the edge of the boat. A little unsure as to how riding off the mud, through the water, and onto the wet, steel deck was going to turn out, I did what all the best motorcycle riders do, and gassed it and hoped for the best. (When I was racing, we had a saying - When in doubt, gas it! You may not save it but it will end the suspense... ) I picked my feet up off the pegs as I hit the water and powered the mighty Symba onto the deck. I pulled in next to Herbert and turned in time to see Re do the same.
We both made it without issue and were glad to be safely on board. The Mekong might be a half mile wide here, and it does have a substantial current, so once the ferry pulled free from the shore, we soon found ourselves heading downriver. Then the boat captain floored it, and we took about a four mile long, half mile journey. Maybe ten minutes later, we reached the other shore, and the crew held me, Re, and Herbert, while the trucks drove off the ferry and up the steep riverbank. When it was my turn to ride off the ferry, I was surprised to see that the ramp was not actually on land, but there was a several inch gap between the steel of the boat and the dirt. The captain was fighting the current, but the boat was slowly inching its way downstream. I heard the captain throttle up and decided to do the same. As the edge of the boat pushed into the shore, I scampered across to terra firma. Re followed quickly, and we rode up the bank to the top of the hill to Customs.
The nice lady from AGL Insurance explained which buildings we needed to go in and in what sequence. The funny thing about Laos is that it is not a Carnet country, and you're supposed to need to do a temporary import permit (TIP), but I had read reports that a couple of other travelers had used their Carnets in lieu of a TIP. I wanted to try this, since the TIP in Laos apparently only gives you 14 days, while your visa is good for 30 days and a Carnet admission is good for the duration of your visa. While we waited in line, I mentioned this to Hubert, who was also traveling with Carnet, and since he was ahead of us in line, he tried it first. The officer stamped his Carnet, tore out the souche, and told Hubert he didn't need to get a TIP. Oh, and it didn't cost a dime. Awesome! I handed our Carnets through and got the same results. We stopped at the final office, where we needed to be entered into the computer. Here, they asked for our TM-2 and our TM-4, which we did not have. The officer here did not speak enough English to explain the situation, so he flagged down some guy, who explained it to us. Since we didn't have our paperwork, we had to pay a mysterious 100 Baht (3.33 USD) fee per bike. Apparently, Re and I must have looked skeptical, because the guy assured us that it would, 'go to the Lao Government.' Perhaps, it will, if the Laos Government owns the company that makes Beer Lao... Oh well. Having heard bad stories about riding in Laos without insurance, we did stop at the AGL office to become legal. While I dealt with the other paperwork, Re spoke with the insurance agent, and we were able to get 30 days of minimum coverage for 10 USD per bike."
More stories below...

Why Come to a Horizons Unlimited Motorcycle Travellers Meeting?
You can meet people who don't think you're crazy for wanting to ride your bike to South America or Africa or across Asia! People who will encourage you, share their experiences and advice on how to do it!
Also, the meetings help to make HU more than just a website - a community of motorcycle travellers - real people, not just e-mail addresses ;-) And last but not least, they make a significant contribution to HU revenue, thus helping us to keep the HUBB and website going! So thanks to everyone who comes!
Meetings and Events, 2012. Mark your calendars and sign up now!
Australia, (within 1 hour of Brisbane - Dayboro showgrounds), June 8-10, 2012. Registration open now!
Germany, Oberliebersbach, June 7-10, 2012, Registration open now!
Ireland, Enniskillen, June 29 - July 1, 2012. Registration open now!
UK Summer - Ripley - the big one! July 5-8, 2012, Registration open now!
Greece

Thursday 26th July - Sunday 29th July 2012 - it's ON! Location is the "Mountain Cabin Pramanton" on Tzoumerka Mountain, Greece. Details and registration open now!
Canada West, Nakusp, BC, August 23-26, 2012. Same great location! Registration open now!
UK Autumn - Mendip, Aug 31 - Sep 2 , 2012 - TBC if we can persuade Gabe and Char to do it again! Assistant volunteers needed!
North Carolina USA, Stecoah, September 7-9, 2012. Note: New dates, a month later and hopefully cooler weather ;-) Registration open now!
Ontario, Canada

- Details still being finalized, planned for September 13-16 2012 (NOT confirmed 100%).
California - 18-21 October - 1 day added = 3 very full days, Thursday noon to Sunday noon! Great location on the Central Coast near Big Sur. Camp Ocean Pines in Cambria, CA is set in 13 acres of Monterey Pine forest overlooking the Pacific Ocean. We'll have over 25 presenters, plus lots of useful 'how to' sessions! Numbers are strictly limited! Registration open now!
Argentina - 7-9 December, the 10th Anniversary meeting!
Brazil (mini-meting) is in progress for 2012! Contact Grant if you're interested in helping out.
Dates subject to change, more dates and locations to come as we get them. Check back here before you plan a trip!
Presenters
How about you? We're all here to learn, and there's LOTS to learn! We want to do more presentations and seminars - but we need volunteers to give them! Any topic you can contribute having to do with motorcycle travel, maintenance, planning, first aid, etc, lasting 20 minutes or more, would be great. Please contact us here to volunteer.
Volunteers and Hosts
Volunteers for all meetings are needed, just a couple of hours of your time makes it all a lot easier - and fun - for all. You can volunteer a few hours of your time for any meeting here. And volunteering is always a great way to meet a lot of people!
If you'd like to host an HU Meeting in your area, please see the How To Host a Meeting page for details.
Vendors/Traders sign up here to join us at a Meeting.
See the Meetings page for more details on all events.
See you there!

Grant and Susan