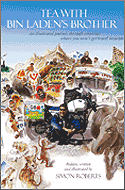 Tea with Bin Laden's Brother, by Simon Roberts
An Adventure motorbiking graphic novel telling the gripping story of a solo ride through Iran, Pakistan and India to Nepal. Take a look inside...
---
Motorcycle Therapy, by Jeremy Kroeker
From the Canadian Rockies to the Panamanian Jungle, Motorcycle Therapy rumbles with comic adventure as two men, fleeing failed relationships, test the limits of their motorcycles and their friendship. Get it here!
---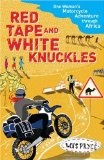 Lois' adventures in Africa!
"Alone. No support vehicles, no fancy GPS and no satellite phone. Leaving from London, finishing in Cape Town - and the small matter of tackling the Sahara, war-torn Angola and the Congo Basin along the way - this feisty independent woman's grand trek through the Dark Continent of Africa is the definitive motorcycling adventure." Get it here!
---
Distant Suns, by Sam Manicom

"Sam Manicom's dynamic third book transports you to Southern Africa, South and Central America in an action-packed three year voyage of discovery. a thought-provoking mix of scrapes and encounters with people which illuminate some moments of true darkness. acute observations on everything from human behaviour, to remote and stunning locations. Distant Suns grabs you, enthrals you and spits you out as a convert to the dream of overlanding these amazing continents." Buy direct from Sam here!
---

Adventure Motorcycling Handbook, by Chris Scott
---

Into the Den of the Bear and the Lair of the Dragon on a Motorcycle. Werner, 66, was born in Germany and worked in Canada until his retirement. He has authored a number of books since getting bit by the motorcycle travel bug, including
-8 Around the Americas by Motorcycle,
-Into the Den of the Bear and the Lair of the Dragon on a Motorcycle, and
-Africa Against the Clock on a Motorcycle.
All his books are available directly from Werner. Tell him we sent you and get US$5.00 off the regular US$20 price!
For details on his books see here.
---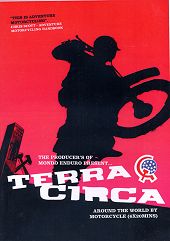 The Producers of Mondo Enduro present Terra Circa, Around the World by Motorcycle (6 x 20 minute episodes).
Regular readers of this newsletter will remember Terra Circa's adventures around the world, and especially the Zilov Gap. Now's your chance to see it in video. Austin Vince is a very funny guy and the video is hilarious, as he leads his intrepid crew through misadventure after misadventure.
"This is adventure motorcycling" says Chris Scott, who wrote the book, so he ought to know!
Contact Aimimage for the PAL video or all format DVD. Don't forget to tell them you heard about it on HU, we'll make a bit, and it won't cost you any more.
---
Looking for a travel book for someone special?
Go to our Books pages, where we have listed some of the best motorcycle travel books, as well as a number of BMW books, general motorcycle books, and travel guides.
There's links to Amazon USA, Amazon UK, Amazon Canada, and Amazon Deutschland, so no matter where you are - you can order books at great prices, and we'll make a dollar or a pound or a Euro, which goes a very little way to supporting this e-zine.
There's also links to search Amazon sites for all their products, books, CDs etc., and yes, we get a tiny piece of that too. We really appreciate it when you start your book search from our website. Thanks for the support!
NOTE: If you buy a book starting with one of our links below, we get a little bit to help support the website!
If you have a book or want a book that you think other travellers would be interested in please let me know and I'll put it on the site. Thanks, Grant
---
Help support your favourite website! Here's how!
Please be assured that we will NOT under any circumstances, rent, lease, sell, or give out our mailing list, and/or your name and e-mail address, to anyone for whatever purpose. Your privacy is assured, and personally guaranteed.
See our complete Privacy Policy here.
Grant & Susan Johnson, Editors
Please note that you are receiving this newsletter only because you requested it! We are 100% opt - in only.
To subscribe or UNsubscribe to this newsletter.
If you've had problems receiving the e-zine due to spam filters or insufficient bandwidth, remember you can subscribe to the 'Notice' edition instead of the full HTML version. The Notice edition is a short, straight text message that contains a URL to bring you to the full text on the website. Because the Notice email is so small, it downloads in a flash, and leaves your mailbox uncluttered. Change to the Notice version here.
We now have an RSS feed for the e-zine (you'll need an RSS Reader to use it) and all the travellers' blogs have their own feeds. The HUBB has a full RSS feed here. If you're not sure what that's all about, there's a detailed RSS Guide here.
All comments and suggestions are carefully read, and where possible will be acted on. Your help will make this a useful service for all travellers.
Please use the Bulletin Board for questions and suggestions.
If you would like to advertise your product or service in this newsletter or on the website, please contact me. Ad rates are very reasonable. Details at this link.
---
ISSN 1703-1397 Horizons Unlimited Motorcycle Travellers' E-zine - Copyright 1999-2010, Horizons Unlimited and Grant and Susan Johnson. All rights reserved.
Redistribution - sending it on to friends is allowed, indeed encouraged, but other than the following requirements, only with permission. You may forward copies of the Horizons Unlimited Motorcycle Travellers' e-zine by forwarding it yourself by hand. You must forward the issue in its entirety, no fee may be involved. Please suggest they Subscribe!
Legal gibberish: (particularly for those in countries that have more lawyers in one town, just for instance, New York, not to name any names, than some whole countries, as another example, Japan. Again, not naming anybody specifically you understand).
Recommendations are based on positive or negative experiences of somebody, somewhere. Your mileage (kilometrage if you insist) may vary. We are not responsible in any way for any product or service mentioned, and do not warrant any such mentioned product or service, and are not responsible for any bad things that may befall you. You are responsible for yourself! Act accordingly. We check all links and information given as close as possible to publication, and all info is correct as best we can determine at that time.
Motocare
Motorcycle Rental, hiring Honda's Transalp for touring Argentina and Chile. Ride across the Andes, from the Atlantic Ocean to the Pacific, lakes, deserts, salt pans, waterfalls, beaches, rain forests, glaciers.
Motorcycle Therapy, by Jeremy Kroeker
From the Canadian Rockies to the Panamanian Jungle, Motorcycle Therapy rumbles with comic adventure as two men, fleeing failed relationships, test the limits of their motorcycles and their friendship. Get it here!
---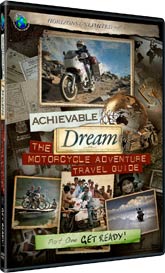 Part 1 - Get Ready!
Get the Achievable Dream DVD's NOW and learn how YOU can get on the road!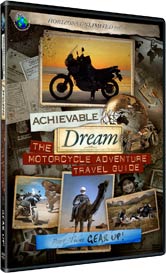 Part 2 - Gear Up!
Get the Achievable Dream DVD's NOW and learn how YOU can get on the road!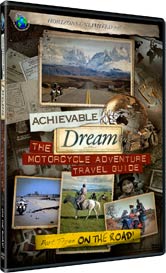 Part 3 - On the Road!
Get the Achievable Dream DVD's NOW and learn how YOU can get on the road!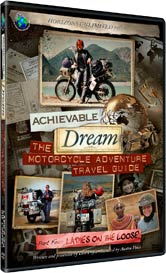 Part 4 - Ladies on the Loose !
Get the Achievable Dream DVD's NOW and learn how YOU can get on the road!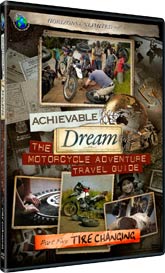 Part 5 - Tire Changing!
Why Come to a Horizons Unlimited Motorcycle Travellers Meeting?
You can meet people who don't think you're crazy for wanting to ride your bike to South America or Africa or across Asia, or even around the world! Admit it, all your 'normal' friends and most of your family fear for your sanity! So, this is your opportunity to meet the people who will encourage you in that craziness, share their experiences and advice on how to do it, and maybe you'll meet them again in Mongolia or Timbuktu!
Also importantly, the meetings help to make HU more than just a website - a community of motorcycle travellers - real people, not just e-mail addresses ;-) And last but not least, they make a significant contribution to HU revenue, thus helping us to keep the HUBB and website going! So thanks to everyone who comes!
Meetings and Events, 2010-2011. Mark your calendars and sign up now!
Germany (Autumn) - 29 Oct - 1 Nov. Same location as summer event. Registration open now!
Viedma, Argentina, Mini-meeting. 10-12 December 2010 Registration open now!
Chiang Mai, Thailand, Mini-meeting. Note: date changed to 8 Jan. 2011 Registration open now!
Ireland - 27-29 May 2011. Enniskillen, Northern Ireland. Registration open now!
UK - 23-26 June 2011. Ripley, Derbyshire. Registration open now!
USA East - 5-7 August 2011. Iron Horse Motorcycle Lodge is located near the Tail of the Dragon at Deals Gap and the scenic Cherohala Skyway, two of the best motorcycle destinations in the United States. Registration coming soon!
Canada West - 25-28 August 2011, Nakusp, B.C. Registration coming soon!
California - tentatively scheduled for mid-October on the Central Coast near Big Sur. More details and registration coming soon!
What's a Mini-Meeting?
Small "local" HU Community meetings, often held in someone's backyard/garden/field for a barbie, or in a restaurant or local watering hole. Often held to welcome a traveller passing through, or just as an excuse to get together and keep the travel fires burning. Join, and contact your local Community to get a discussion started on where and when, then let me know and I'll post it here! OR just post it on the HUBB in the HU Events Forum.
Dates subject to change, more dates and locations to come as we get them.
You missed ...
Portugal - 3-5 Sep, Gois. António Caldeira and the town of Gois welcomed motorcycle travellers back to this great venue in a very scenic part of Portugal. Austin Vince (Terra Circa/Mondo Enduro) and Lois (Red Tape and White Knuckles) were featured presenters!
Spain - 9-12 Sep, Malaga. Alison (Dakota) Makin is the local organizer for this mini-meeting - thanks Alison! "If people ask me, 'Why do you go so far for such a small meeting', I can always say: 'because I know that I am going to meet wonderful people over there, and then it makes no different how far I have to travel. If I go 150 km to my dealer for service and a coffee, I easily can go 2.500 km for a good week-end.' Thanks again, Chris" See the HUBB post for other comments.
North Carolina - 9-12 Sep, Iron Horse Motorcycle Lodge is located near the Tail of the Dragon at Deals Gap and the scenic Cherohala Skyway, two of the best motorcycle destinations in the United States. Many thanks to Mike and Janet Kilpatrick for organizing the event and providing a fantastic southern welcome. Typical comment: "Outstanding venue, superb riding, great presentations and just fantastic conversations with good laughs..." More comments and pics here on the HUBB.
Presenters
How about you? We're all here to learn, and there's LOTS to learn! We want to do more presentations and seminars - but we need volunteers to give them! Any topic you can contribute having to do with motorcycle travel, maintenance, planning, first aid, etc, lasting 20 minutes or more, would be great. Please contact us here to volunteer.
Volunteers and Hosts
Volunteers for all meetings are needed, just a couple of hours of your time makes it all a lot easier - and fun - for all. You can volunteer a few hours of your time for any meeting here. And volunteering is always a great way to meet a lot of people!
If you'd like to host an HU Meeting in your area, please see the How To Host a Meeting page for details.
Vendors/Traders sign up here to join us at a Meeting.
See the Meetings page for more details on all events.
See you there!

Grant and Susan
by Sam Manicom


The latest Adventure Motorcycle travel book by Sam Manicom

Motorcycling the magnificent landscapes of Mexico, the USA and Canada. 'Sidetracked by the Unexpected'

'One of the World's leading Motorcycle Authors' - Motorcycle Sport and Leisure
'Sam's descriptions are in Technicolor.' - The Riders Digest
'Inspirational reading.' - World of BMW
'Superbly entertaining travel writing.' - BM Riders Club
'Few travel writers can conjure up sights and smells so provocatively as Sam.' - Daily Record - Scotland

Signed copies available directly from the Author here.
Order your copy now!
Heike Pander and Matthias Kuhlmann, Germany, in Southern and Eastern Africa, Honda Dominator NX 650, BMW R80 GS,
"It was raining cats and dogs when we left wintry and cold-front beaten Stellenbosch to escape the cold and to start exploring South Africa. 6 hours later we found a nice little guesthouse near the N1 in Lainsburg in the Karoo region- ourselves being soaking wet and freezing cold as the rain had continued for 250 kilometers. Funny enough our little new home was located a few kilometers after the end of the dark cloud layer which had accompanied us throughout the journey. Finally the sun was smiling at us again and the small but cosy 'De Blockhuis' ('The Blockhouse') was our home for the next four days. The 76-year old owner and his wife had - besides their bed and breakfast business - still 650 olive trees in full production and supplied us with tasty olives, olive oil and olive tree firewood!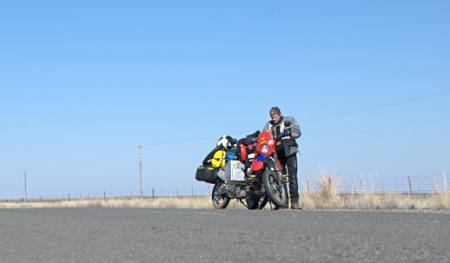 We could get first gravel road experience in the Karoo area on unloaded bikes and continued our trip visiting the Karoo National Park for a few days. The park is still one of the few where motorcycles are allowed to enter. This may understandably change in a few months as lions will be introduced to the park shortly."
Ken Thomas, UK to Cape Town, in southern Africa, Yamaha TTR,
"After a few days in Maun it was off to Ghanzi. A little more colour in the scenery with the trees, but really, another long boring straight stretch. We crossed the Ngwanalekau Hills (why should I be the only one trying to pronounce these names?) and Tsau Hills, but as far as I could see, all was as flat as a pancake. Which was not surprising as we were back in salt-pan country, one of them being called, according to my whimsical map, Peter Pan, just inside the Kalahari Game Reserve.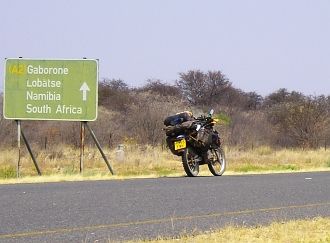 On average, one western film crew per month descends on the villages on the north-western edge of the Okavango Delta, to film advertising material, glossy magazine features or TV travelogue footage. The usual set-piece demand is for the villagers to dress up in their tribal costumes (which they do anyway), and walk across the salt pans for the cameras, armed with ceremonial spears - which they normally never do.
'Why would we do that, there's nothing out there on the pans. We don't live near them and they're empty except for tourists on quad bikes!'
Quite! But the enigmatic image is of a 'San Bushman' walking across a salt pan in his tribal garb. And like everyone else, they need to earn the money that makes this world go round so they accept the film companies' fees."
"Decided to get the ferry over the river, and have a day at Perth Zoo. The Australian Bushwalk was very enjoyable, enabling Bob to get up close and personal to a kangaroo. We'd only seen dead ones by the side of the road, so far. No Skippy impressions please - we've done them all. Bob was amazed at what a wombat looked like - he'd obviously never seen Flying Doctors!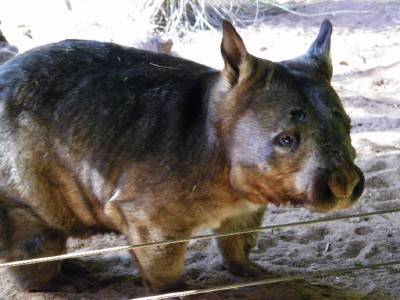 Got a call from the Shippers at Fremantle asking us to fill in some Personal Effects forms, as they aren't covered in the Carnet apparently. Wanted us to go and collect the forms - had to remind them we had no transport, since the bikes were still stuck at Customs. More delays, more frustration. Decided a 4-litre box of wine was the best thing we could do - at least we wouldn't care for a while. Well that combined with 'Grease' and 'The Living Daylights' on telly.
Tried kangaroo meat - very tasty (farmed and not road-kill). Bikes are now in Quarantine, awaiting inspection. We have an appointment for Monday 16th, but that doesn't mean they'll be released then. How boring is it to be stuck somewhere with no money to enjoy the finer things in life? We're doing a lot of hanging round parks and gardens, just to kill time and get out of the hostel."
Hubert Kriegel, France, Sidecar-ing the world, in Russia and Austria,
"Finding internet in Russia is not easy, here I was lucky to spot a Wifi signal at a corner of a street.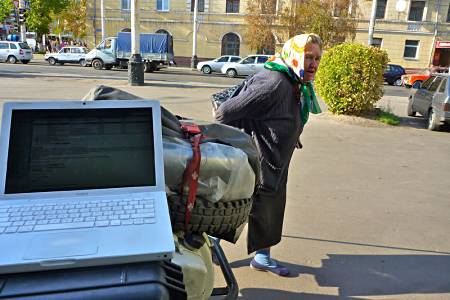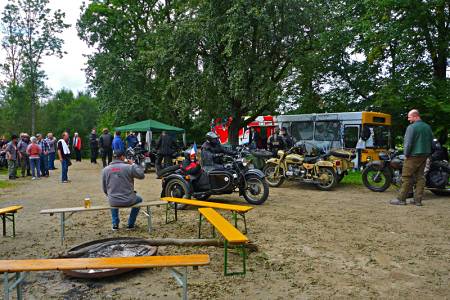 The rally is at the Castle Piberstein, 30 km north of Linz in Austria. For me, a sidecar is an emotion so being at the Ural Rally is a fantastic feeling. All together about 150 people were there from many European countries and even one came from Canada."
"...I entered the Sistine Chapel, and it was completely filled with people looking up. There was nowhere to stand without being in the way, so I just kept shuffling forward, taking glances here and there, but mostly watching all the people taking pictures, and the security saying loudly, 'No pictures', and the other security saying 'Shhhhh', and the intercom preaching softly, 'Please taking pictures is forbidden, and please be very quiet in this holy place'.
My aim was at this point not to see anything but to leave as quickly as possible. I didn't take a picture, because I didn't want to be like all the other people who were taking pictures against the wishes of the Vatican, but mostly because I didn't want to annoy the security, who must never want to do the Sistine Capella duty. Then finally I got out of there, found some space to meander out the door and had a quiet cold pasta with the owner in a two chair place, and only one seat taken.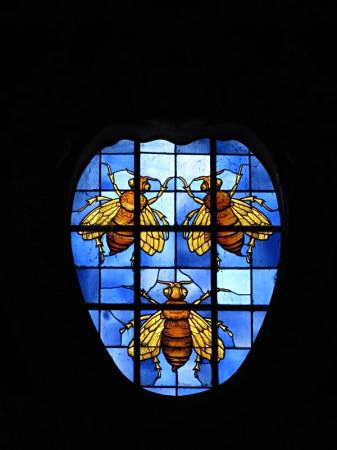 I went in all excited to see more of Rome and its rich history, but wrote this in my journal today: Too much is all I can say; too much to see, too many people, too little space, too little time, too many cameras, too much of everything all at once and no place to go but the long way out."
---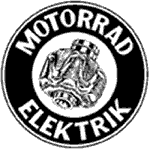 Motorrad Elektrik has been offering the best in electrical parts for classic and modern BMW's for over 11 years. From 12 volt conversion for /2 to better than stock replacement parts for your late model 'R' or 'K', we've got you covered. Specialty parts for 'hardening' the charging and ignition systems for world-travelling Airhead GS's. Riders like Bob Higdon, Dr. Gregory Frazier, Grant Johnson and hundreds of others depend on Motorrad Elektrik components as they wander the globe.
Our Omega system has solved the charging problems for 1970-95 Boxers with 400 Watts Output, and our Nippon Denso starter is the perfect cure for Valeo syndrome. NOTE: Omega has been upgraded - now even more power!
---
Frank Butler, PNG, RTW since 2002, in Australia, BMW F650 GS Dakar,
"Arriving back in Sydney was like coming home... but to a home I no longer knew. I recognised the 'bridge' and the Opera House, and a few of the streets but everything else was a stranger.
I felt like an absent uncle who had come to visit his nieces and nephews after a long interval and was amazed by how much they had grown up, how beautifully they had turned out, how well mannered and smart, with such a zest for life... I was, for want of a better word... proud. I first came to live in Sydney when I was twenty-one years old, and on our first meeting I fell in love... in love with Sydney and a girl from Sydney... I stayed until I was twenty six, when I left for PNG... I never stopped loving either of them.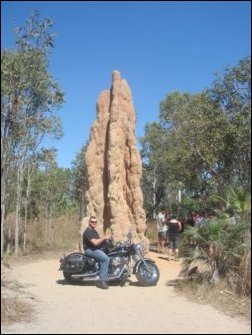 I went to Western Motors, where I bought Mr Beem in February 2002 - and they gave him a big service for free - They were very pleased the bike had had such an adventurous life.
Then for Beem and I it was up to Queensland and Northern Territory, seeing some good mates on the way, and then.... back to PNG."
Ian Moor, UK, Wrong Way Round The World, in Texas, BMW F650GS,
"Texas is my thirtieth and final state of the USA on this trip. I entered Texas from New Mexico on a series of back roads to arrive at Dell City, a small quiet place built around a road junction which qualified it as a two street town. I bought some fruit and a cold drink at one of the two stores for lunch then headed on to Guadalupe Mountains National Park.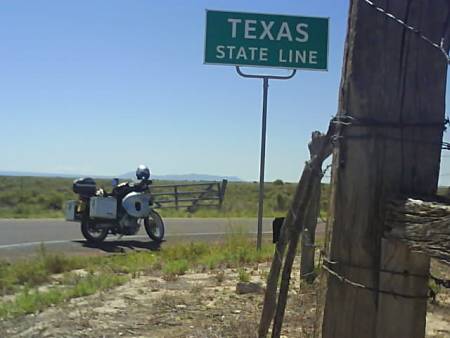 I have seen more 'Nodding Donkey' oil pumps in Texas than any of the other states. They churn away twenty four hours a day sucking from the depths of the earth the raw ingredient to lubricate and fuel my bike which I'm very grateful for despite the odd pang of guilt about my carbon footprint as I leisurely cruise (hopefully) around the world.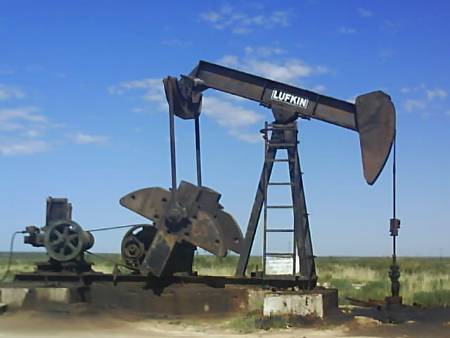 An overhauling of my security procedures was required before entering Mexico. I had been carrying my passport, driving licence and bike documents inside my 'Filofax' diary which was usually left on the bike. I wanted somewhere to carry the documents on me at all times without having to transfer them to different pockets depending on what I was wearing. I hit on the idea of a document pouch worn round my neck and fashioned one from a pair of trousers bought at a charity (Thrift) shop for $1. By cutting everything away except the waistband and a large rear pocket I had what I was looking for although I found it more comfortable to wear it bandolier style with my head and one arm through the waistband rather than round my neck."
"We want to share our experiences with you, on traveling by motorcycle in the Ukraine if an accident happens. The first week was great with visit to Kiev and Poltava (historically interesting with Swedish King Charles XII, 18th century). The second week, we wanted to travel south to the Crimea and the Black Sea for relaxation. In the city of Simferopol it happened that should not happen, a car drove right into the side of us despite that we had green light going into a crossing. For my fiancee and passenger Jeanette, it went reasonably well as she hit her knee when she flew over the car bonnet and landed 'softly' on the asphalt ...
For me as the driver, it went worse as my leg got caught between the car and motorcycle. It took about 10-15 minutes for the sparsely equipped ambulance to come but then the police wanted to have data and documents. I gave him my passport and driver's license which was a big mistake. Bring copies of everything instead!
It took about 45 minutes to get to the hospital #6 in Simferopol but once there, the reception was warm and so very friendly. The open wound on my knee had to be cleaned again and sewn up, the fibula was broken and the foot was 'crushed'. The day after we were offered a private clinic but it was in the same building one floor up. For about 40 Euro or 50 USD per day, we got wallpaper on the walls, a TV and fridge and toilet paper! To eat we got the same terrible porridge three times a day for seven days. Seven days was a combination of missing travel documents (handed over to the police) and SOS Copenhagen!
They had very poor equipment but did what they could, they missed that several bones in my foot was also broken, which doctors discovered in Sweden and now I cannot put any weight on the foot for 12 weeks.
Unfortunately, we could not visit Zmijevka or 'Gammalsvenskby' where emigrated Swedes still speaks Swedish, after 300 years!
So be extremely cautious on the roads in Ukraine, if you are planning to drive there. The traffic is mad, overtaking despite oncoming traffic is normal. Much worse than any other country I've travelled through in Asia, Africa, South America. Health care and equipment is about 50 years old and the 'bureaucrazy' is extreme. For example, our motorcycle is still at the police station in Simferopol."
---
MedjetAssist is an
air medical evacuation
and consultation membership program and is HIGHLY recommended by us and many others for all travellers. The regular MedjetAssist program is for citizens or residents of the US, Mexico and Canada, and gives hospital of choice protection virtually anywhere in the world and air evacuation as needed. (See below for more on the Foreign National Plan) Click the logo below for US, Mexico and Canada citizens to find out more. (NOTE: It's still in progress for the final HU version,
but you can get MedjetAssist now
!)

For OTHER nationalities it is currently a little more complicated. There IS a Foreign National Plan, but you can't enrol online. It's a faxable enrolment and subject to underwriting approval. The rates are the same, but transport is restricted to 'back to home country - hospital of choice' rather than 'anywhere in the world - hospital of choice'. We are working on improving that, but at least it IS available! Go here to contact MedjetAssist and inquire about the Foreign National Plan. Be sure to mention Horizons Unlimited.
Michael Paull adds his endorsement of MedJet (and he DID use their services - twice!):
". After an additional three days in Beijing, I was deemed stable enough for air evacuation back to the University of Washington Medical Center in Seattle, WA, in the company of my wife Aillene (who had flown in from Japan), and an air transport trauma nurse provided by the company that I had procured medical evacuation insurance from, MEDJET Assistance - without doubt, the best insurance coverage I have ever purchased in my life. A small plug here - these people were remarkable. If there was ever a better case for '. don't leave home without it.', MEDJET Assistance is at the top of my checklist, no matter where I travel (and I hope to do a LOT more)."
Note: Per the Medjet Assistance site: ". a medical transport between Europe and America can run more than $35,000. Middle East and South American flights range from $60,000 to $80,000. Transport from Asia often exceeds $100,000." Sounds like $205.00 for a single is pretty cheap insurance!
Adrienne Denham of Vancouver, Canada, writes to the HU Cartagena community:
"I have just arrived in Bogota from Vancouver and thinking of heading north. I've heard the weather isn't so good up there right now. Can anyone let me know what the forecast is looking like and I would love recommendations. Perhaps I should head in another direction? Please advise."
Chris Soland of Switzerland writes to the HU Vladivostok community:
"Hi there, I'm a 27 year old Swiss motorbiker who is heading to Vladivostok at the end of September 2010. Right now I am in Ulaanbaatar / Mongolia. My plan is to go via ferry to Japan an then somehow further to Australia.
Now I have some questions and hope somebody can answer:
1) Does somebody know a cheap ferry line between Vladivostok and Japan? So far I know 'dbs cruise ferry'.
2) Do you know a low price hotel (still where the bike can be locked away somewhere) or are there campsites?
3) Do I get spare enduro tyres for my motorbike (Yamaha TT Year 94) in Vlad:
For example:
- Rear: 130/80 - 18" Heidenau K 60
- Front: 90/90 - 21" Heidenau K 60 Many thanks for your answers.
Kind regards, Chris"
Ben Massicotte of Quebec writes to the HU Santiago community:
"Hi, my name is Ben. I'm travelling from Canada to South America, and am currently in Colombia. I'll be in Santiago the first week of November. I need to change my tires, oil and do some work on the bike to prepare for my trip to Tierra del Fuego (Ushuaia). Can you tell me: Where can I stay (hotel or other) that has secure parking for the bike and where can I work on the bike? I have a KTM and I'm sure I'll need a KTM shop. Thanks for the information, Ben!"
Markus Mueller of Reimlingen, Germany writes to the HU Moscow community:
"Hi I'm Markus. I'm here in Moskau to get new documents (Passport...) from the German embassy. I don't know how long it takes to get them. I stay now in the nice but for me too expensive Hotel Astrus in the Lelinsky Pr. near the German consulate. Does somebody know a cheap place where I can stay and maybe there are some friendly people and bikers I can meet. Look forward to hearing from you, thanks Markus"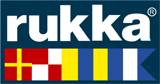 Tam & Xander Kabat from Australia write to the HU Savannakhet community:
"Hi there, we are two people travelling on a Honda Africa Twin. We've been through Europe and western Africa and are now touring SE Asia. We are heading to Laos in a few days, currently in Kratie, Cambodia. We'd love to met up with anyone living in Laos for a meal or drink. Let us know if you are around, we'll be in your area in about 1.5 to 2 weeks. Cheers, Tam and Xander"
Margarita & Fernando Pareja, from Ecuador and Colombia, write to the HU Santiago Community:
"We are a couple (I, Ecuadorian and Fernando, Colombian), who are planning a motorcycle trip to South America. We had in mind to leave in November and travel for 3-4 months. Unfortunately, for reasons of work, we need to cut the trip. For this reason, we think we can send the bike by boat. We prefer to send the bike from Chile to Ecuador, versus sending it from Ecuador to Chile. The purpose of this message is to receive your advice on how to send it by ship. Any information you can provide will be very valuable to us. Thank you very much! Margarita and Fernando"
"The worst stretch of road is between Altai and Bayankhonger. The desolate landscape and a Petrol Station in nowhere.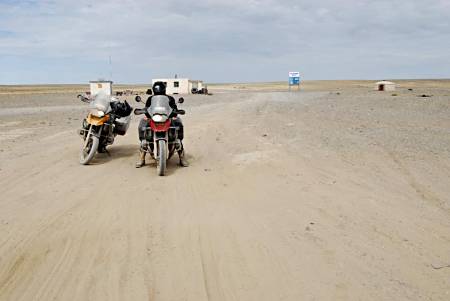 We come upon our biggest and deepest water crossing on this trip. Mike tests the depth of the water first to determine the best route to take. Then he confirms with the locals that we are heading in the right direction. The locals watch with great interest as Mike starts the crossing. We did not realize how far the motorcycles were submerged in the water until watching the video. Luckily the motorcycle does not suck in water or stall."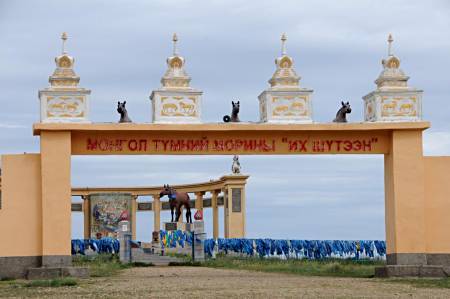 "Currently in Uruguay at Colonia del Sacramento where we stay in a little hostel. The bike sleeps in the middle of a patio between tables where we'll be eating our breakfast tomorrow. Cosy and safe. The town itself is very pretty and peaceful. Nobody is in a hurry - everybody's waiting for their siesta."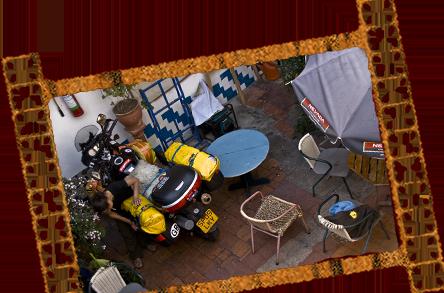 Ernesto Grunauer of Ecuador writes to the HU Santiago community:
"Hi Folks, I'm going from Chile to Argentina, I cross the pass of Jama from San Pedro de Atacama to Salta on October 23. I would like to know if I can get gas in this step and will have no problem to cross. My information is that from Calama to Salta is 700 km, am I right? I worry about the fuel for my motorcycle, traveling alone. I'm fine from Arica to Calama (614 km). I will be grateful for any information you have."
Overland to India

by Gordon May

Paperback, 21x14.8 cm 234 pages incl 8 pages of colour photographs. £9.95.

Synopsis:

In 2008, Gordon May set off on an 8,400 mile ride from Manchester, UK, to Chennai, India, on his 1953 Royal Enfield. Despite encountering intense heat, suffering a crash in the Baluchistan desert and battling against some of the worst roads and driving standards on the planet, Gordon and his old Bullet did make it to Chennai.

In Overland to India Gordon describes how he restored his beloved motorcycle, the build up to departure, the larger-than-life characters he met and how he tackled the many challenges that came his way. He also recounts the more personal highs and lows of life on the road. Above all, Overland To India is a heart-warming book that reveals that there is much human kindness and hospitality to be found, sometimes in the most unexpected places and situations.

Review:

What I really liked about Overland to India was the sheer determination of the rider. Gordon's love of his motorcycle shone through too; he often thanks it for getting him to his various destinations along the gruelling route and I liked reading about his running repairs. I felt his joy, his euphoria, at being out on the open road. I also felt his exhaustion. When Gordon suffered a crash I could almost feel those bruises and also his fear following an attempted highway robbery. What was also really striking was the generosity, friendliness and humility of many of the people he met along the way, who Gordon describes with real warmth. It's uplifting to discover that it's a welcoming world out there. Overland to India is a lesson to all of us who have a dream and want to pursue it. Inspiring. Judith Coyle
"Forget the highway today, we have time, Sevilla, our next destination is only 250km away. We decide to listen to Pedro and take the national road to exit Portugal. The sights were amazing, crossing fields of olive trees and vineyards, passing through small villages with colorful houses, watching little churches that looked as if we were in Mexico, horses in the fields, bulls that looked ready to fight in a 'corrida'. I slowed down to a cruising speed, enjoying a sense of freedom I had not yet felt for the entire journey. We were almost alone on that road, I began swinging the bike from left to right. Abby sitting in my back was feeling the same emotion. She yelled 'I love you!' all of a sudden and I yelled back a 'me too!' that was too short for what I was feeling: Pure bliss!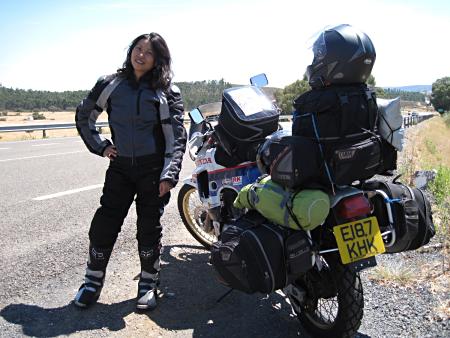 It took that long to reach that precious feeling we were seeking but there it was at last. We really were on the road, on our own, like Peter Fonda and Dennis Hopper when they reach that community in that dry land up the mountains. I finally had made my dream come true. I was 16 when I first saw 'Easy Rider' and I was so stunned by it that I watched it three times in a row that day, knowing that this stuff was something for me, something I needed to do one day, even if I had to die at the end. Today, my dream came true, I'm a happy man... and I didn't die."
Tormod Amlien & Klaus Ulvestad, Norway, King Croesus Contempt for Death Tour, RTW, in Bolivia, on 1937 Nimbuses with sidecars,
"In the mountains from Sucre there were a few houses every now and then, but except from that nothing. If they first had used any paint, it was on things like making a rock into a car sculpture. At least they are creative."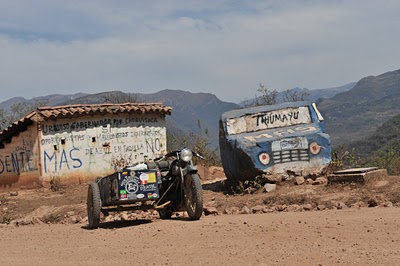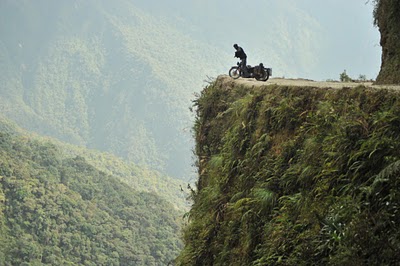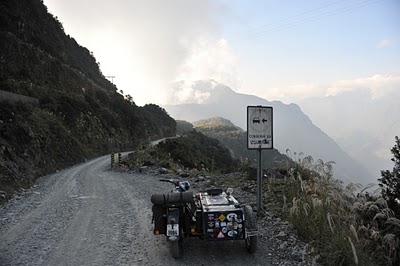 "The weather was good with partly cloudy skies. Not many miles today because speed limits were lower and we stopped a lot for pictures. We traveled through Jasper and Banff National Parks today. This seems to be a ritzy area for those from Calgary and other points east. The traffic heading east was very heavy. We set up camp at the Spruce Grove Resort RV Park and got a soak in the Fairmont Hot Springs.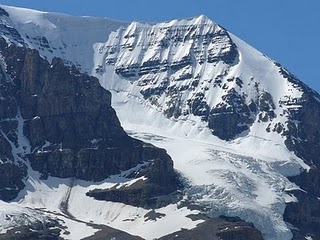 Back in the lower 48. It rained hard during the night so we put the tent away wet again. It turned out to be a nice day though. The valley down into the border crossing is very nice, lots of lakes and the Kootenay River, as well as Columbia Lake which is the head waters of the Columbia River that Grand Coulee Dam is on."
Miguel Silvestre, Spain, in Albania and Tunisia, BMW 1200GS,
"I am in Albania, the most secretive country in Europe. Full of bunkers, children, bad roads, ruins, and all the stolen Mercedes Benz, it seems to be an adventurer paradise.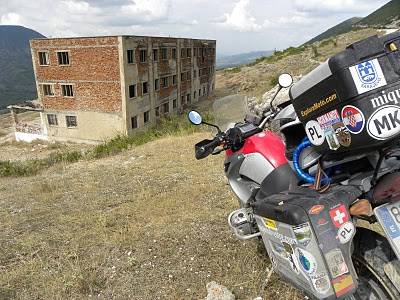 I think I am totally mad because it is here where I am having fun. My European loop was like wearing silk and drinking Moet Chândon. But this is real stuff again. Why is it so real? Because food is real, people are real and also the risk of riding a motorcycle.
No more well cooked ruins for tourists, no more 'No smoking, respect speed limits or do not drink and drive'. All of these western world rules for weak owls who like to scream at night. The command is just: 'You, small kid on a motorcycle, survive or die, but get off my way, I got no driver license but I have a stolen Mercedes Benz strong as tank!'
I love it or hate it. I do both. Come here to have fun, if you can be still alive.
Then on to Tunisia, where... I am gonna be a good tourist and post the typical images any good tourist wants to see in Tunisia, like a camel.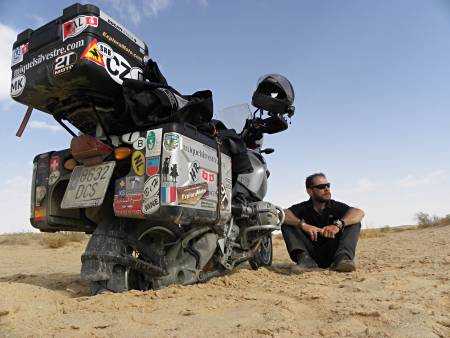 A guy sunk in Sahara sand.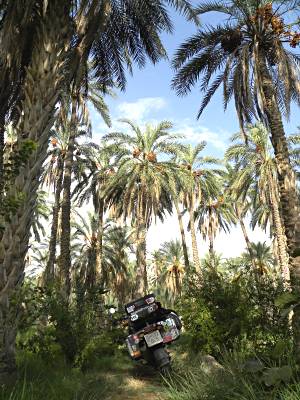 A palm trees oasis.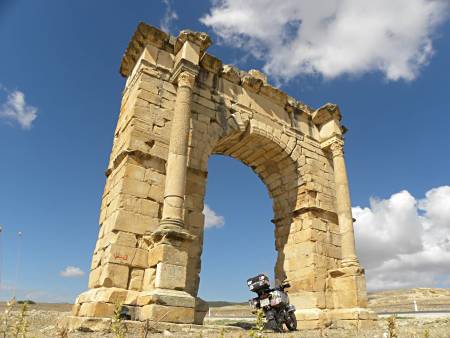 A Roman ruin.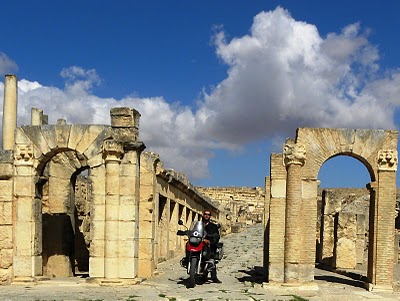 An archaeological site Unesco protected."
Book special just for Horizons Unlimited Readers!
"Into the den of the Bear and the Lair of the Dragon on a Motorcycle"
"8 Around the Americas on a Motorcycle"
"Africa Against the Clock on a Motorcycle"
"From Nordkapp to Cape York on a Motorcycle"
Werner Bausenhart has written several books on his travels around the world, and has offered them to HU readers at a great price. Tell him we sent you and get US$5.00 off the regular US$20 price!
For details on his books see here. Contact Werner now via this link to get the deal.
Leaving soon below...


Have you been inspired by the stories you've read in this e-zine? Or perhaps you watched the 'Long Way' series and it's got you thinking of a motorcycle trip to distant climes – the markets of Marrakech, the Karakoram Highway in Pakistan, the salt flats of Bolivia, the Bungle Bungles of Australia, the Pan American to Tierra del Fuego?
But you've got questions:
Will I be safe?
What do I need to know?
Which bike should I take, and what gear do I need?
And what the heck's a carnet anyway?
Helping to answer these questions - and many more-is the goal of the new definitive 'how-to' DVD series, 'Achievable Dream - The Motorcycle Adventure Travel Guide'. We aim to encourage people to follow their dreams and go on an overland trip by motorcycle. We took what we learned from our own travels, and since then from helping other travellers, to create this series. We also asked over 150 veteran travellers to tell us their stories, give us their opinions, and share their hard-earned knowledge from their amazing motorcycle trips to every country on earth. You'll hear from Ted Simon, Sam Manicom, Chris and Erin Ratay, Greg Frazier, Austin Vince,

, Peter and Kay Forwood, Tiffany Coates, Sheonagh Ravensdale and Pat Thomson and many others.
We've got a fantastic and entertaining bunch of contributors with many amazing stories to tell and hard-earned wisdom to impart, enhanced with demos, video clips and heaps of great photos. With the release of the 5th and final DVD in July 2010, this 2-year project has produced 18 hours of informative and entertaining content - everything you need to know about motorcycle adventure travel!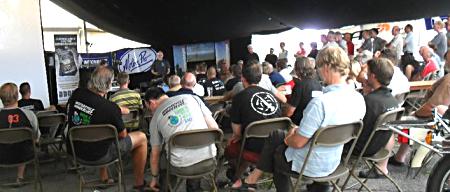 For this new series, we have invested in professional filming, editing and production. Filmed in broadcast quality wide screen, incorporating multiple cameras and with custom written music. The DVD's are not 'region-locked' and we have both PAL and NTSC (North America) formats stocked.
Watch the trailers and order now!
Recent comments on Gear Up:
"Only one word sums up this DVD... Invaluable!
And put together with the rest of the series... Awesome!
What I liked about all the DVD's was the information and the fact that everyone had their own preferences about how to travel, what to take, where to go, what bike. The variations of packing, type of equipment, choice of bike is endless. There are so many tips, hints, ideas how can anyone fail. Many thanks for creating this DVD set, it's something I know I will get many hours of pleasure watching again and again." Pieter, UK

"Really enjoyed it. It's really professional and full of useful information, a must for any traveler and a credit to both of you. Many thanks." Frank, UK

"Thanks a lot and congratulations, you've done it again! You have literally produced THE first motorcycle travel encyclopedia on DVD that, I believe, will remain a long lasting work of reference... Being a strong believer in the Chaos Theory, I can only imagine the amount of people your work is going to inspire and encourage, the amount of encounters they will have then, the incidents, discoveries and adventures they will experience, the films and stories they will produce as a result, all the positiveness your efforts are going to eventually help generate..." Pascal, Hong Kong (leaving on RTW)

"The DVD was great and generated several hours of discussion over the merits of large and small and hard or soft (bikes and luggage that is). Well done." Bob, Australia

"I love them. Want to set off every time I watch them!" Mark, UK

"We've watched the other three in the series, and we think this one was the best." Chris, USA
We do love to get your feedback, so keep it coming! If you have a problem, we want to know about it so we can try to fix it. And of course we're always very happy to get positive comments :-)
But we do have a favour to ask ;-) We're now selling all the DVDs on Amazon.com and Amazon.co.uk, and positive reviews are always helpful for sales. So if you have enjoyed the DVD's and you're an Amazon customer (it's not necessary to have bought the DVD from them), we would really appreciate it if you could put a comment on Amazon. Here's the links:
Thanks!
Special thanks to our generous sponsors of the Horizons Unlimited Achievable Dream Series, Touratech and Michelin!
Zoran & Tamara Gricar , Slovenia, in Turkey, Yamaha 750 XTZ Super Tenere,
"First there was a silent wish. Then we began to talk about it. It was always there, in every thought. We started to believe in it. Finally, things went in the right direction. We were left without a job or a flat; and so we moved on a bike. We will start in our home country, Slovenia, riding from in front of Zoran's workshop in Ljubljana towards India, via Croatia, Bosnia, Serbia, Bulgaria, Turkey, Iran, Pakistan and India (?). This is as far as we know it at the moment. We will do everything to visit also Nepal, but it depends mostly on weather. Our wish is also to go to Thailand, Laos and Cambodia, so we might leave the bike in India and fly to Thailand or ship the bike to Thailand or Malaysia (if it is not too expensive). We will probably return through the same countries but on a different route. We plan to travel slow, allowing to see the countryside and getting to know local people. It will take 8, maybe 10 months (depending on money, as we are travelling on our savings).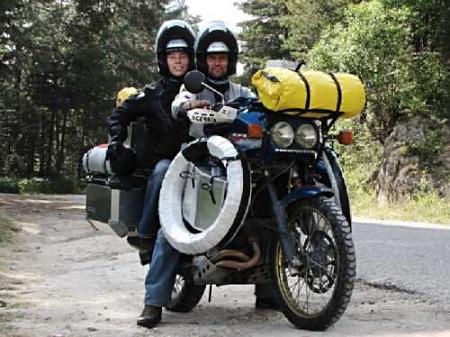 We entered Turkey at Kap. Andreeevo, between Svilengrad and Erdine. It all went without too much waiting and bureaucracy; all they wanted to know was a motorbike registration number. Already at arrival a big mosque awaits you, letting you know which country you have come to. We stopped in Erdine to have a kebab. People are friendly, curious, hospitable and helpful. We left the bike on a street while we went in the restaurant; men on the street assured us to look after it. We felt relaxed and comfortable.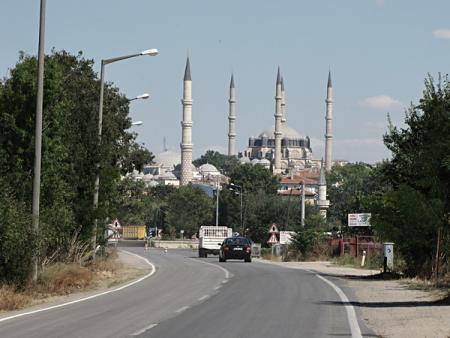 We managed to find a patch of freely accessible beach somewhere near Edremit, a sort of picnic area, where we parked our bike; we decided to stay overnight after asking some local people who were there, having picnic, if that is ok. Nobody seemed to have problem with that, so we cooked our dinner and washed the dishes. The locals slowly went home and for few minutes we were alone. Then the car came and 4 men got out with heaps of food and blankets, placing the things just about 30 metres from us. Hmm, yes, it is Ramadan, when it is forbidden to eat between 5 a.m. and 9 p.m., so this is probably going to be a picnic. A night picnic. Second car arrived with women and children. We were hoping it won't last the whole night. After praying they began with the dinner. We quietly sat on our panniers drinking tea. Soon a man reached us, holding a plate with a meal and two forks, giving it to us. Really nice. However, the picnic was quiet and it didn't last the whole night, so we had quite a peaceful night.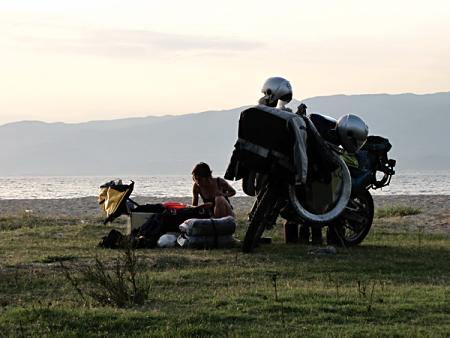 Escaping crowdedness, we turned inland the next day, towards Pamukkale. Following the shortest way found by GPS, at first wandering in a labyrinth of some village streets, finally we find the way out, which took us to the hills, away from touristy coast. All around are plantations of olive trees. Or the hill-sides are covered with pine trees. We cross some small old Turkish villages. It feels so good to be in the nature again. It is so peaceful and beautiful.
The next morning we find out that the oil from right fork is leaking. Quite bad, because we are in the middle of nowhere, so we have to think of something on our own. Good thing is that Zoran knows every piece of this bike, so he puts the fork apart, finds out that a small part of oil seal is rolled up. Luckily, it is possible to straighten it up again, so the problem is fixed in about 2 hours. We hope it works."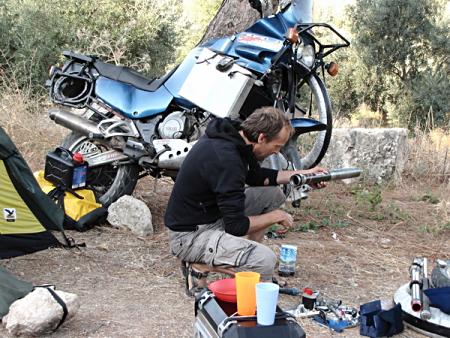 "Touched down in Toronto just before 17:00 local time (22:00 GMT), pretty uneventful flight, smooth, on time (heck we actually had a plane!) and food as well.
Customs form had an entry for 'cargo not traveling with you', so we had to tick that. Which obviously led to questions, a lot of form marking at the 1st custom post and then being asked to carry on.
Then we were diverted to another immigration area, where we were asked some more detailed questions about the trip. We must have done ok, as the nice man did not ask to see any proof of flights out of South America, in fact he said we were cool and his heroes for undertaking such a trip. Obviously not many people start from Toronto :-) And he stamped us a visa for 6 months in Canada.
Then at the 3rd custom checkpoint they were concerned we had forgotten to collect our bags...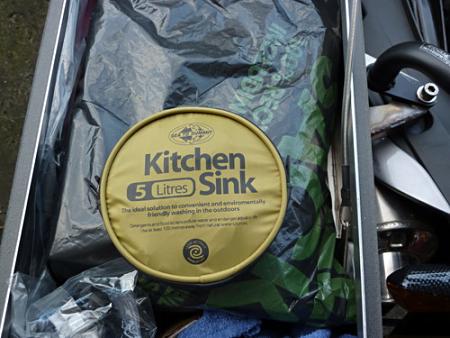 We wandered off to find the cargo terminal and see about collecting the bikes, but the company we were looking for was not at the address given. So we asked at Lufthansa and the nice clerk contacted the relevant company and confirmed the bikes were in, but that they were the other side of the airport. Stuff it, we will have to get a cab and collect them tomorrow.
Checked into hotel, and trashed room. After being hit with $25 taxi fare to go less than a mile (as the crow flies) because no one would let us walk across the runways, these were the words we were met with on Thursday morning when we did find them. That will be $1432 please sir. Yes, nearly £1000.
I'm still not sure what had gone wrong, but the bikes had been put into storage, at a cost of $596/day, they had been there since Monday. We got James Cargo on the case while we went to sort out customs clearance and it has been 95% resolved, I am still awaiting a refund from JC.
It took about 3 hours to do the clearance and unpacking, then we headed East, to a beautiful well sited campsite on a sandbank near the town of Picton.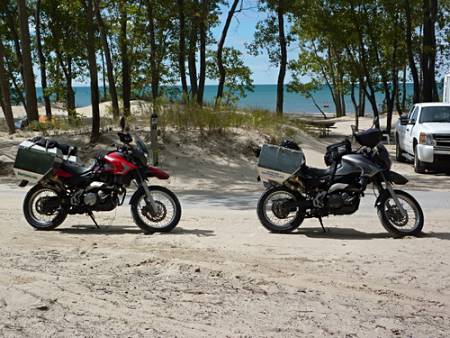 Where we have only just left as the people and area were so welcoming. We even visited the town fair before leaving today. Cleaned up in a Motel tonight, and will drop into the US tomorrow, we will head over towards Maine before turning back towards Woodstock and heading south.
Currently much further south, down near Gettysburg, 1st really wet day. It felt tropical.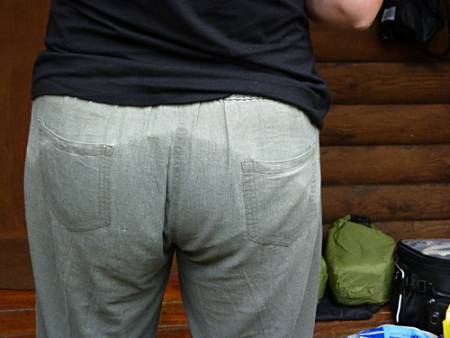 On the waterproof front the score is Hein Gericke 1 - Dainese 0."
Ed. See more great stories and pics in Bruce and Jean's blog on Horizons Unlimited!
---
Thanks! Grant and Susan
---
New Communities:
We've now reached an amazing 659 Communities in 106 Countries as of July 21, 2010!
A big thanks to all those who took the first step and established the Community in their area. New Communities are too many to list!
Sheonagh Ravensdale and Pat Thomson write: "We wear our HU teeshirts on every occasion - it has opened so many doors for us."
If you are on the road, do check out the Communities - don't feel like you're imposing on people! They signed up for a Community because they want to meet travellers - that's you! You'll have a great time, so go to the Communities page and let them know you're coming. Please remember that they are volunteers and offering to help because they're great people - common courtesy helps! When you write, tell them who you are, that you're passing through, and would like to meet them. Let them know if you need anything, and I'm sure they'll help as best they can.
For details on how you can join a Community in your area, or use the Communities to get information and help, or just meet people on the road or at home, go to the Community page. Send me some photos - with captions please - and a little text and you can have a web page about your Community! A few links to web pages about your area would be useful too.
Just a reminder to all, when you Join a Community in your area, send a note to the Community introducing yourself and suggesting a meeting, or go for a ride or something. It's a good way of meeting like-minded individuals in your own town.
---
Become a Horizons Unlimited Contributing Member or Gold Member!
To help with the cost of creating and distributing the newsletter and running a huge website, which has been a full time job for Grant for ten years, Susan as much as she can, plus a couple of part time assistants, we gratefully accept contributions via PayPal, credit card, and cheque. Members also get additional privileges on the HUBB, such as more PM's, custom avatars, and more photo space.

Support this Newsletter by becoming a Contributing Member today, by PayPal, credit card, or cheque.
Become an HU Contributing Member!
If you want a t-shirt or other logoed merchandise, go to the Store.
All contributions will be acknowledged and gratefully accepted. If you later decide you do want a t-shirt or other member logoed merchandise from the store, let us know and we will arrange access to the Members Private Store.
More ways to support your favourite website!
How to Link to Horizons Unlimited
Also, you can just click on any Amazon link on the site and we'll get a small commission on your purchase of any Amazon merchandise - and it won't cost you any more!
Thanks, Grant and Susan