Plan where to be when!
If you know of any events of interest to travellers, send me a note.
Horizons Unlimited Travellers' Meetings:
Lots of HU Travellers Meetings planned for 2005 - check them out to see if there's one near you - and if there isn't... well, you're a traveller, right?
Eastern USA / Canada, Second Annual Meeting, North Carolina, June 17-19, 2005
UK 2005, Fifth Annual Meeting, June 24-26, 2005. Well over 250 registered, we're expecting a sell-out at 300, so get your registration and payment in VERY soon!
Western USA, First Annual Meeting, Colorado, July 7-10, 2005
Western Canada, Fourth Annual Meeting, Nelson BC, Canada, September 9-11 2005
Portugal, Third Annual Meeting, September 22-25, 2005.
Copper Canyon, Creel, Mexico, MID-week - Oct 11 - 14, 2005
Viedma, Argentina, Third Annual Meeting, December ?, 2005
Note: Grant will be at all the North American Meetings plus the UK Meeting. Susan will only be at the UK Meeting this year.

Other Events of Interest:
Always a good event, well worth going.
Tynda's annual rally for Foreign Travellers will be 6-8th of May. Oregon (USA)
Free camping at the end of the famous motorcycle road in Oregon, the Aufderheide Forest road. Speakers will be Maarten Munnik from Holland (travelling around the world), Tom Hunter (just back from South America), and Lew Waterman (returning from Central America with Punky). Free. All members of BMWMOA and BMWRA are invited.
Last chance?
New York City's world famous Guggenheim Museum has hosted much of the world's fine art in the four plus decades of it's existence, but none has been more popular than the 1998 exhibit of "The Art of the Motorcycle"
It was literally a "Blockbuster", with lines four abreast going around several of New York City`s blocks. The exhibit was so successful that it traveled to Chicago, Las Vegas, Bilbao, Spain, and now we are fortunate to have it come to Memphis, TN. The exhibit opens April 22 at the Pyramid.
Horizons Unlimited New Links...

Get your website listed in the LINKS Section
by listing Horizons Unlimited on YOUR web site, let me know you've done it by mailing me a link to the page, and you may get listed here in the next newsletter and on the Horizons Unlimited web site Links page. To make it easy for you, we even have our logo and link code here!
All sites will be considered for listing, but must be a MOTORCYCLE or TRAVEL site, useful or of interest in some way to travellers. We reserve the right to refuse to link back.


Motorcycle Express
MC Air Shipping, (uncrated) USA / Canada / Europe and other areas. Be sure to say "Horizons Unlimited" to get your $25 discount on Shipping!
Insurance - see: For foreigners traveling in US and Canada and for Americans and Canadians traveling in other countries, then mail it to MC Express and get your HU $15 discount!
There are many 'Helpful People' listed on the Links page, a huge thanks to all of them. How about you? Or you can join a Community, or start your own!
Do you know of a good shop 'on the road,'
...in other words, somewhere there isn't a large number of shops? (Also of course any shop that specializes in travellers equipment and repairs is of interest.) But we're particularly looking for those rare items, good repair shops in South America, Africa and Asia etc. Please post your info in the Repair shops around the world Forum on the HUBB.
There are now 100 + shops listed in out - of - the - way places, from Abidjan to Ghana to Peru! Be sure to check out the HUBB "Repair shops around the world" forum if you need work done!
Niels from Belgium posts about getting to Nepal, on the HUBB:
"The best and safest route to Katmandu is from Sonauli to Butwal, Pokhara and then direction Katmandu valley. Don't take the road over Hetauda, unless you wanna meet Mauro's friends :-)
Road conditions can be good to very bad depending of landslides (this period can be dangerous). Take some food with you and enough water, you can get stuck for more then 24 hours...
In Butwal there is some basic accommodation for sleeping.The town is not interesting. On the way to Pokhara, a little bit off the road lies Lumbini, birthplace of the Buddha, somebody told me there are some sleeping places too and probably a better option. But you can make Sonauli-Pokhara in one day...
Pokhara is a nice place, check out Vienna Lake lodge, the best place to stay. a little bit out of the crowded area, but with a very nice view over the Pewa lake. The old Blues bar is a place where bikers meet. Good luck. Niels"
Bill Shockley writes on the HUBB about travelling by boat through the Amazon:
"Just crossed the Amazon basin south to north from Iguazu Falls in Argentina thru Paraguay to Porto Vehlo, Brazil, then a riverboat 4 days 3 nights, air conditioned cabin, $550usd includes all meals and the bike on the Rio Madeira to Manaus. Old style wood riverboat. Very cool trip on a jungle river. Rode from Manaus to Caracas, Venezuela. Rough roads but black roads (asphalt) all the way. Only one road on the map. Some big cities which surprised me. Plenty of gas. Gas is dirt cheap in Venezuela, .15usd a liter. Porto Vehlo to Manaus by road not possible. The road is gone. No worries on the boat. Bar with music on the top deck. Great views. Sunsets cant be described. Portuguese no problem. Pure fun. Bill"
bigJoe writes on the HUBB about Peru: Road Huaraz-Chiquian-La Union-Huanuco?
"Did Huaraz to Huanaco in Dec but via Llata b-c we heard la Union was kind've dangerous...or so the locals said. So then. Having said that I wish I could recall the whole trip but we are now in Buenos Aires. The road was not paved all the way but was far from bad. Just gravel. Llata is nice... small little mountain hamlet, although not much to do. The ride was spectacular. Rode thru a massive copper mine to get there. Lovely. Mountains are outrageous as well. Road cuts thru hand cut mountain in some places. We passed a 10-mile roadblock, which took some negotiating with the locals. Careful as there is no law out there and you will be totally on your own but the ride is very nice. Huanaco will be a nice respite of modernity. Good luck!"
Chris in Tokyo writes on the HUBB about paperwork when arriving in Vladivostok:
"Unless the situation has changed this year, go to the Bizintour office on the third (?) floor of the Vladivostok Sea Terminal. They will be able to do the work for you. In 2003 the price was up to 100 dollars. Some people have succeeded on their own (usually with the help of a Russian), but I would just pay the money rather than taking many days. Hotels are not cheap in Vladivostok, so you may actually save money by paying the $100. Contact the Vladivostok HU Community for more information. And let us know the situation after you arrive in Russia! "
Pierre Saslawsky has a great line for cops trying to extort bribes:
"[Cop] - So, what do you have for me?
[Pierre] - Do you believe in God?
[Cop] - Er... Yes.
[Pierre] - You see, every time you take money from a tourist, God is watching you. How much do you want?
[Cop] - It's ok, you can go. (laughing)"
On the same topic,
This post has lots of useful tips for avoiding extortion by corrupt cops, including a translation of applicable legislation on fire extinguishers (read the post!) from Javier and Sandra, and a great form by Bob Morley, which might be worth a try: "I tried it on the police when they tried to fine me on Ruta 14. I said I'd only pay if they filled out the form I was given by an official at the airport in BsAs.
The cop looked at the form, then showed it to his boss who didn'tlook very happy and quickly sent me on my way.
The form is completely bogus and was inspired by a German traveller I met in 2003. I just made it a bit scarier and a friend translated it into Spanish. Have fun!"
And finally, a quite entertaining thread on how to get a cockroach out of your helmet...
When you meet people on the road, and they haven't heard of this e-zine or the website, we'd appreciate it (and hope they would too!) if you'd get their names and email addresses and send it in to me.
Thanks, Grant
Request for info
Wouldn't YOU like to know all about the border you're approaching - what it should cost, paperwork required, 'tips' needed, and who to talk to, etc.?
When you cross ANY border, take some notes, and pass them on to us. Thanks!
Shipping
The Shipping page on the site is HUGE! It can be reached directly or from the Shipping link on the Trip Planning page.
If you have any information to contribute, please go here, and register (or just login IF you have used this system before) and you can then submit your information. Thanks!
Travel Advisories:
The Foreign Office in London's Travel Advice Unit advises against travel to all sorts of places. Check out the listing before you start!
The US State Department regularly issues updated travel advisories, information and/or warnings.
Maarten Munnik, Netherlands, around the world, in Utah, Honda Africa Twin,
"It was a sunny but rather cold morning when I entered the Canyonlands National Park in Utah, USA. Since the temperature had dropped noticeably since the day before I asked the ranger if there would be rain, on which he replied: 'Absolutely not'. I decided to follow the so called 'White rim road'. This 4X4 road leads around the 'Island in the sky' just about half way of the canyon-wall. It's a little over 150 Km of rough and unspoiled canyon-land. When I came around a large rock-face the sky turned black and big, and wet, drops came down. Being in a canyon when it rains like that is not a good idea. Flash-floods can wipe out anything on it's trail... and I was definitely on it's trail, so I turned around and raced away from the black sky and the red rock. The rain was pounding down on me and before long I was soaked to the bone...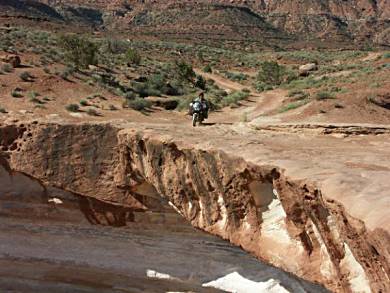 …The road (ahum...) was beautiful. Rock-slabs, washboards, steep tracks up and down and every now and then a real piece of gravel-road. My steering-head-bearing did not like it, but I loved it. The scenery was fabulous; it felt like being on Mars. In fact, at one point I became convinced that NASA never set foot on Mars... They, accidentally, landed in Utah and seeing all this red desert, figured they actually were on Mars. I even made my own Mars-photo. I might sell it to NASA later.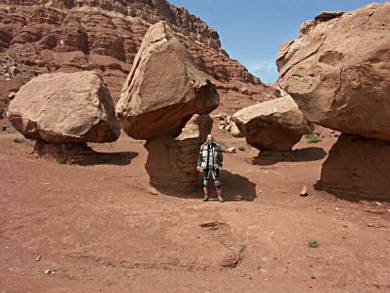 …I saw it coming, a shear rock-face with a track climbing up it... at a 45-degree angle. That in itself was a pretty adventure (remember it's all sand and dust) but while turning onto it and opening the throttle in first gear I saw what I was really up for.... The trail was exactly one (small) car wide. The surface was bull-dust and big rocks scattered around everywhere.... and the side was, well at first only a few meters deep... but the further I drove upwards, the deeper it became (kind of logical) and halfway I did not dare to look to the side again since it was now at least a hundred meters deep. Hanging backwards on the handlebar, standing on the pegs I just 'went for it'' Avoiding the rocks was no option. Any course-correction would take me close to the edge, and I did not want to be close to the edge (I was close enough on the other side). Big rocks and small slides forced me more and more to the middle of the track... but I concentrated on the top, which was coming closer now and I prayed there would not be any down-traffic. Stopping here was not an option since I would never be able to get moving again... In the right direction that is. Luck was with me and my super-Pam. We made it, actually pretty easy, to the top and no one had even tried to come down....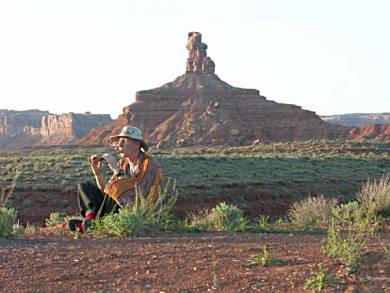 While riding along the track and enjoying a short lunch on the edge of the canyon, I encountered a group of dirt-bikers. They invited me to join them at their campsite in Moab where a large group of HSTA (Honda Sports and Touring Association) was having a gathering. A little bit later one of these guys had a small encounter with the (strange) law in this park. He fell down. Now, there is absolutely no shame in falling of your dirt bike on a trail like this... It just happens... Unfortunately it seems to be illegal to do so... and so, this guy got a traffic citation for falling off his bike. Officially it said: 'Unable to maintain control over his vehicle'... and the ticket was.... 100 US Dollars. I guess in the USA it is better not to fall off your bike.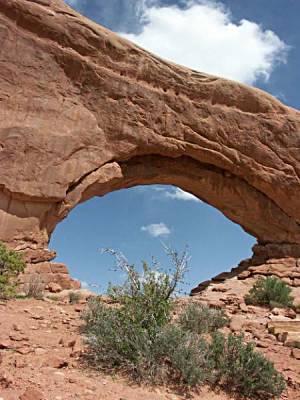 …After enjoying the hospitality of the HSTA and 'Radcliff Racing' in particular, it was time to head to Oregon to meet up with Eric and Gail. Via Salt Lake and the Bonneville speedway, which was sadly covered in 10 cm of very salty water so no speed record for Pam and me, I camped out in the desert near Bonneville. It was not the best spot since there was a railway close by, but I figured that one of two trains would not keep me awake... Now, either the same train was driving up and down the track all night, or it actually is the busiest railway in the entire USA, but the result was the same... I awoke every 20 minutes when a train would come by, blasting its horn and roaring it's two or three diesel locomotives.... Not the best place to catch some sleep. Ahh well I thought, it could be worse.... it could be raining.... So the next morning it started to rain.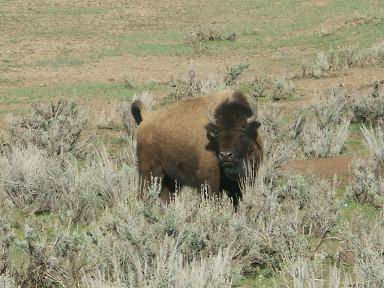 Quickly I jumped into my clothes, packed my tent and other stuff and..... did not shake out my pants... Actually I never shake out my pants, but obviously it is a good idea. A small spider had found it a comfy home and was highly irritated that it now had to share its new home with a badly smelling piece of white meat... So it tried to persuade the piece of white meat to leave... by biting it. ...I definitely needed a doctor. There is no taking risks with the family treasure and they looked as if they would fall off any minute now. The next morning, just before I was going to see the doctor, I noticed the small spider apparently was not very poisonous... and everything had returned to normal. Now, that was having a good day! But in the future I will always shake out my pants. Maarten"

Help support the Horizons Unlimited E-zine - visit our sponsors!
Please be sure to tell them how you heard about GlobeRiders! Thanks!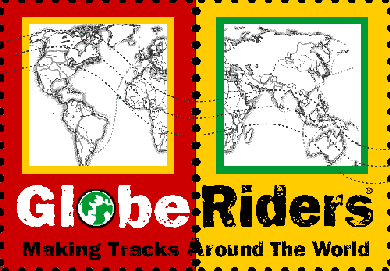 "Helge Pedersen's GlobeRiders is proud to announce the Silk Road Adventure 2005 Live!Journal. Harnessing the power of satellites, software and the World Wide Web, GlobeRiders invites you to join in as this year's inaugural group journeys the Silk Road from Istanbul to Xian.

Seventeen riders (on their own BMW motorcycles) and eight participants will depart Istanbul on May 3rd, 2005. Over the next fifty-three days, they will ride through Turkey, Georgia, Azerbaijan, ferry across the Caspian Sea, continue on through Turkmenistan, Uzbekistan, Kyrgyzstan and Kazakhstan, and finally arrive in Xian, China 12,800 kilometers (8,000 miles) later.

Every motorcycle is equipped with a Garmin GPS (Global Positioning System). In addition, Helge's BMW R1150GS motorcycle will be equipped with a special GPS transponder that will upload the group's position to a satellite once every 30 minutes. The position data will be plotted on cartographic and satellite image maps, with the current location and track-to-date displayed and updated in real-time on the new Live!Journal section of the GlobeRiders website at: http://www.globeriders.com
Also available from GlobeRiders is the all-new BMW F650GS Instructional Adventure DVD together with our two other DVD titles, the R1150GS and the Iceland DVD. We still have a few copies left of my book "10 Years on 2 Wheels". This too can be ordered through our web page." Helge Pedersen.

Glen Heggstad, USA, around the world, in Nepal, F650GS Dakar,
"After evaluating a ton of information and advice, I left Bodhga in Bihar last week for a crossing into Nepal via Raxault. Exit and entry was smooth and painless.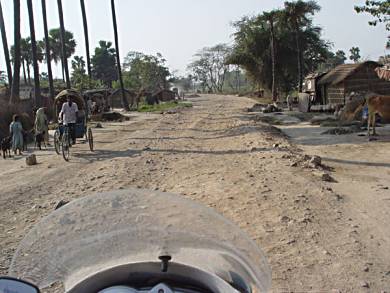 After the chaos of India, the ride north was heavenly. Turning west at Hautada led to Chitwan for a visit with rhinos on the back of an elephant.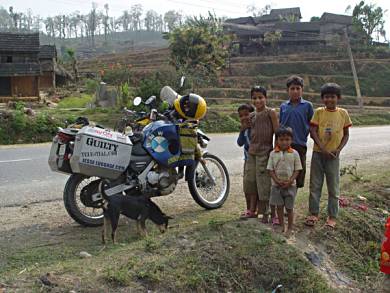 Much of the fear here is unwarranted. After speaking with many locals, everyone was aware of the bike burning attempt but also stated a public apology was broadcast over the radio and printed in the newspaper. As was stated, these were kids who did it and were not under orders. The policy of hands-off the tourists remains but when roads are closed due to strikes, it's anyone's guess what will happen. With no strike in effect, I would not hesitate to ride anywhere other than Western Nepal. I am certainly glad to have come here.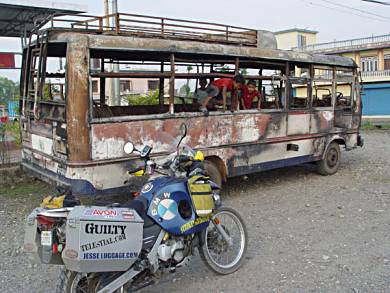 Wandering the dampened back streets of Katmandu is a spiral back in time. Ancient Buddhist temples and red brick stupas in the shadows with Hindu shrines exemplify ancient beliefs and constant celebrations of life. The roots of these religions reach back long before Jesus. The overwhelming spirituality of the mountains that attracts travelers is as potent as ever. Even given the effect of tourism, there's little impact on the hearts of the natives. Despite recent temptations of Western materialism, they are as humble and tolerant as I recall them twenty years ago.

Unique travelers invade Nepal. From thrill seeking mountain-climbers or simple trekkers, to those out taming wild rivers, few wander about lost. There's purpose in the steps of visitors like in those of athletes. Environmentally conscious explorers concerned over Nepal's future display a sincere respect for its natural beauty and conduct themselves as world citizens. The bargain-hunting, dope-smoking parasites prefer India.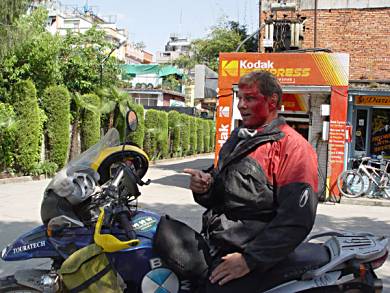 ... A ride through Tibet and down into China for access to Southeast Asia via Laos would be blazing a trail world-riders have merely fantasized about. But there're reasons why such objectives aren't reached. Governments. China is growing more lax regarding tourism but picky about whom visits Tibet. All tours involving land under their rule are processed through CTS. Journalists are forbidden for fear they'll expose of what's become of the inhabitants. Tried for permission from CTS in Lhasa for an overland exit through Tibet into China but was denied. Unless travelers are willing to pay exorbitant salaries of military escorts, it's illegal to enter with private vehicles. Even short stays, cost in the thousands. Yet in a land and bureaucracy as vast as China's, often the left hand is unaware of the right. Scattered reports from motorcycling websites discuss lone motorcyclists appearing at borders fast-talking their way in. Getting out can be another story...
... It was a glorious ride to the Tibetan border with no hassles from anyone. Just enough standing on the pegs riding to keep me smiling. Soldiers wave Westerns through checkpoints and the people are as incredible as ever. Most hotels and resorts are empty and you can name your price. I stayed in a deluxe tent at the Last Resort and went rafting down the Bhote Kosi for pennies. Did I mention how awesome Nepal is? It's going to be hard leaving."

Help support the Horizons Unlimited E-zine - visit our sponsors!
Please be sure to tell them how you heard about Moto Discovery!

Thanks!

James Klotz, USA, to South America, in Mexico, BMW R1150GS,
"After leaving the butterfly reserve (Santuario Mariposa Monarca in Michoacan), I was looking at a map of the area and decided that by taking a dirt road, I could knock off a good 20 miles or so on my trip to my next destination, Cuernavaca. The road began friendly enough, plenty of width for two normal sized cars and fairly smooth. But the farther I got back, the rougher it got… It was apparent I had made a mistake, the road was clearly too rough for my bike, especially being loaded down the way it was. And I was really in the middle of nowhere at this point…
I crested a hill... A washout had eroded the top half of this hill, but the bottom half had remained intact. This had left a pit of sand midway, and down went my front wheel into the pit. This might not have been so bad, because the rest of me and the bike followed faithfully, and gravity might have done its job and pulled us through, but being in the terrified state I was in, had grabbed a handful of front brake on the way down. This was the wrong thing to do. Now one thing you can say about a BMW motorcycle is when you really apply those brakes, they really work. Next thing I know I was skidding down this hill, looking like a rag doll feebly trying to hang on to the back of a charging rhino. Down I went.
Motorcycle safety gear has come a long way in the last few years, and it did its job. Luckily I had been wearing all of it at the time, and didn't even get a scratch. The bike on the other had, didn't fare as well as I had. It was laying almost upside down, in a rut, nose first. The back wheel stuck up in the air, whimsically spinning from the momentum. It was mocking me...
Ever hear the phrase 'It's a really big small world'? Here I am brushing off the dust, trying to figure out how in the hell I was going to lift a 600 pound motorcycle out of a hole on a hill, in the middle on nowhere, when out of the bush walks this little Indian farmer. He had an inquisitive look on his face that reminded me of the movie 'The Gods Must Be Crazy' when the coke bottle landed in the village. He must have been amused by the whole thing. Anyway, he helped me lift the bike back right side up, and I gave him a Swiss army knife for helping me. There was no way I could have gotten it without his help…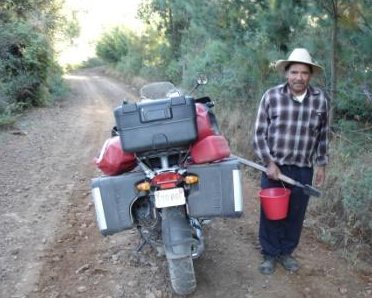 As for the bike, one of the side cases was torn off, the front hand guard was wedged into the front brake lever, the turn signal was broken off, faring scratched up and a small plastic piece was broken off the engine. Nothing that would keep me from continuing on, or so it seemed. Well, as fate would have it, that little plastic piece was some kind of engine idle sensor that allowed the motor to idle without the gas being applied. So the bike would start and run as long as I kept the gas applied. Now consider this for a moment; brake was not functioning properly and the only way I could make the bike run was to apply the gas. And I was still in some really treacherous terrain. Oh, and it was starting to get dark. Now we're talking adventure!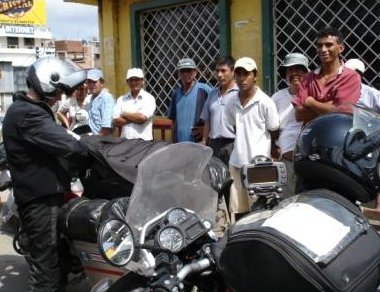 There were several other obstacles getting back to the roadway, but I made it. At this point, I looked like something out of Road Warrior, but none the less, I was back on a paved road and thanking my lucky stars.
So I'm driving along this curvy mountain road, catching my breath when up ahead I notice a dark cloud in the middle of the roadway. As I get closer, I realize it is not a cloud, but a swarm of something. Wasps. Was I an evil dictator of some poor 3rd world country in a previous life or something? This really was not my day. A swarm of wasps was in the middle of the roadway and I had no choice but to ride right through! Again, my trusty motorcycle gear saved me, because I was only stung a few times on my neck and once on my chest. (The little bastards tried to sting me all over my body, but the heavy jacket, pants, gloves, boots and helmet I wear saved me). When I got to a hotel that night, I found a hose and rinsed several hundred dead wasps out of my oil cooler and from inside my faring."
Cynthia Milton, UK, around the world 2004-2005, busted up in Chile, BMW R80G/S,
"I've ground to a halt in Patagonia with a busted shoulder and written-off bike. The track was reasonable gravel track, but with heaped gravel in between the tyre tracks. It was also very windy as we're now east of the Andes and on the Patagonian plain. I was running nicely at around 50mph; a gust of wind caught me and forced me on to one of the heaped gravel bits; the bike went into a bad weave which I couldn't control, and of course slowing down is absolutely not an option. There then loomed a sort of stone parapet at the side of the road, and the bike was heading for it; I really couldn't do anything about it so I hit it. I remember hearing my collarbone break, and then I was on my back on the ground facing back the way I'd come and the bike was behind me. I was pretty scared at first as I couldn't breathe - this was presumably because the punctured lung deflated suddenly and the other one was taken by surprise. But I tried to breathe slowly and it got a bit better.
They put me in the truck, and even found my specs which had flown off but not broken. Skip the truck driver took me back to the Argy border with Roberto the local guide on his 1150GS and did the exit stuff for me, then down the road back to the Chilean border where they got me out and sat me inside the office next to the stove. I was feeling pretty second-hand by then. Skip took my keys and carnet and said he'd go back for the bike, get it out of Argentina and back into Chile for me. Meanwhile the Carabineros put me in their pickup and took me to the local clinic where a male nurse checked me over, inserted a drip and put me on oxygen. He very carefully listened all over with his stethoscope - there were all sorts of strange noises and he was clearly pretty worried. I gather from Francisco that they were considering sending the helicopter for me, but eventually a Paramedic ambulance came out from Coihaique and they brought me to the hospital here. It´s the only one for over 600 miles. This whole thing took about 6 hours.
On Saturday Francisco looked at me again and said he thought they could no nothing much more and that I was clearly pretty healthy and that they would discharge me. That's when they discovered that I was in fact on my own. So Francisco said he wasn't happy about me being alone in a hotel, rang his wife Fabiola, and insisted I come and stay with him.
So here I am with four broken ribs and a broken collarbone. They are all lovely people. I was even taken to a BBQ party on Saturday night. Fabiola has been brilliant, taking me round to do the necessary paperwork and see the orthopod (who says 4 not 3 broken ribs).
My chums in the UK are organising a new frame, forks and front wheel to be shipped out (yes, it was that bad). Load of stuff is being shipped - chums are collecting frame, complete forks (they're destroyed), front wheel (also destroyed) etc together and shipping as one crate (with cooperation of dealer in UK), and Reg is flying out to help the rebuild. Also, the engineer son of another friend is flying out at his own expense at the end of next week to help the dismantling so we're ready for Reg and the new bits. Amazing. The bike is basically a write-off, but I have no choice but to rebuild. The Chileans here are being great. I'll add stuff as I can - I suppose it's a pretty big adventure, really, especially for a grey-haired middle-aged Englishwoman."

Help support the Horizons Unlimited E-zine - visit our sponsors! Please be sure you tell them how you heard about Morton's BMW!

Thanks!

Johan and Charmaine Claasens, South Africa, Cape Town to London, in Oman and Dubai, BMW R1150GS,
"The road from Sana'a to Muscat was extremely pleasant and full of wow's. From Sana'a we went through some stunning mountain scenery as you decline from 2350m, Sana'a altitude just as high as Addis Ababa. From the little town of Marib you start entering the real desert. Marib is a farm growing area, a type of an oasis. We slept the night in Say'un, a real big oasis town with dry scenery and the green farmlands and plenty of small motorbikes. The next day was from Say'un to the Yemen Oman border, Al Mazyona. There we found that there is a very big difference between Yemen and Oman.
On the road from Thamarit to Muscat I felt that one of the wheel's bearing is not so happy, so we slowed down from 120-130 to about 90-100 and slept the night in our tent next to a fuel station/hotel in the middle of nowhere. The next morning after we left, the bearing felt very ruff, but the next town was Hayma still 120km further on. I decided to nurse the GS to Hayma by riding 2nd gear, 25km/h for more than an hour until the sound became less when we could managed 60km/h. Hayma is 550km from Muscat, and the GS just made it to the town, then the seal broke and the back wheel was full of oil. God sent us once again a truck after waiting maybe 1 hour only. And that's how we got here. Oman is ok, but too much of a first world country and very expensive for us.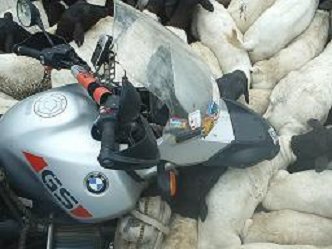 Sunday 20 March 2005 - We are still in Dubai, trying to find a job. We've realized that it is not as easy to find work here than what we thought it would be. The only jobs worth while is managing jobs, anything less than a manager gets paid very little. To rent a flat or a house here is very expensive, one bedroom flat will cost us around DHS 35 000 (R60 000) per year. We have given ourselves two more weeks to find a job or continue to Europe.

We are enjoying our stay here in Dubai and have seen some very nice places. Two weekends ago we went to the northern part of UAE and rode through some beautiful mountains. There we camped in the mountains with nobody in sight. Very different to Africa, where you can't camp anywhere outside a campsite, here there are no campsites and so safe to camp where you want and nobody will threaten you or steal anything."

Help support the Horizons Unlimited E-zine - visit our sponsors!
Please be sure you tell them how you heard about Motorrad Elektrik!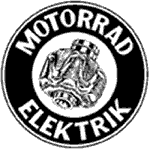 Motorrad Elektrik has been offering the best in electrical parts for classic and modern BMW's for over 11 years. From 12 volt conversion for /2 to better than stock replacement parts for your late model "R" or "K", we've got you covered. Specialty parts for 'hardening' the charging and ignition systems for world-travelling Airhead GS's. Riders like Bob Higdon, Dr. Gregory Frazier, Grant Johnson and hundreds of others depend on Motorrad Elektrik components as they wander the globe.
Our Omega system has solved the charging problems for 1970-95 Boxers with 400 Watts Output, and our

Nippon Denso starter is the perfect cure for Valeo syndrome.
Thanks!

"So what have been the highlights of Belize for us? Well, the first thing has to be the people we've met here. The Belizeans are wonderful, friendly people who have gone out of their way to make us feel a part of the country. We've been to everything from baby showers to fiestas with local friends. They are some of the best people in the world. Then there's the 'international' friends we've made. Other volunteers and the ex-pat communities here. There is a spiders web of people here who have made Belize their home and helped us get to grips with the red tape of the country, or just kept us supplied with alcohol and conversation. I think the most bizarre assistance we received though had to be someone offering to flying a packet of Oxo cubes out to us in the jungle by helicopter. We can't say too much about that though. The natural wonders of Belize are on a par with anything the rest of the world has to offer. Many travelers miss Belize and go straight to Guatemala as its perceived to be expensive. In comparison with the rest of C. America it is but it's worth it. Here on our doorstep at Pook's Hill we have the world famous ATM cave.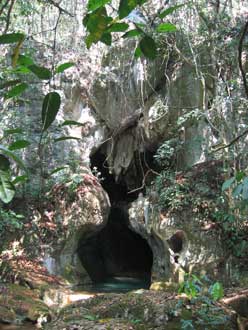 Rediscovered in 1986, it has revealed itself from amongst the trees and hillsides as an archeological treasure trove of the Maya world. A trip into the cave is a mixture of swimming, wading, walking and climbing as we make our way up the underground river that has been carving the cave out for millennia. As we pass stalactites and stalagmites, flow-stone and a hundred other formations we edge nearer to the jewel of the cave. Climbing a large bolder and struggling over a rock ledge we take our shoes off to protect the site. Then climbing a final ladder we enter a world of broken pots, offerings to the gods and the bones of human sacrifices. The chamber is littered with close to a 1000 artifacts and human remains that have lain hidden for 800 years or more. Its an incredible sight that demands respect. We haven't seen anything like it before in our lives and its got to be in the top 5 of out favorite places to date.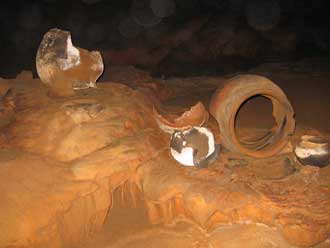 There have been so many highlights for us in Belize I don't think we could write them all here but trust us, they're here. If you ever get the chance come to Belize, you'll not be disappointed. Just a few pictures to whet the appetite.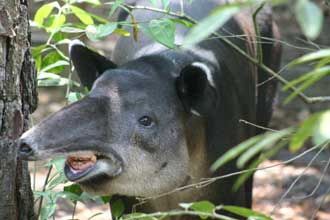 It would be so easy for us to settle here and we've had offers of help with the red tape but we must move on. We can't hang up our boots so early in the trip. Its only been 15 months now - we've only just started and there's still so much to see. All being well our next update will be coming from a country other than Belize. Which country remains to be seen but whichever it is it will have to be something special to live up to Belize. From a 'bikers' perspective its an easy country to travel through. The major roads are good and the more minor roads are not too much of a challenge at this time of year. Coming into Belize from Mexico is a relatively hassle free experience. If all your paperwork is in order you'll receive a temporary importation certificate for the bike for a month, the same as your tourist visa. Both can be extended with out too much trouble if your finding it hard to escape the country, as we have. Like the rest of C. America its who you know here. We got a letter of support from the ex-Deputy Prime Minister without any trouble. You can't help but bump into an ex-pat as you travel round Belize and many of them have contacts here, so just ask! "

Help support the Horizons Unlimited E-zine - visit our sponsors!
Please be sure to tell them how you heard about Knopf Tours.

Thanks!
Rene Cormier, Canada, around the world, in Argentina and Brasil, F650GS,
"I ran into Patrick (from the beach in Puerto Rio Tranquilo, Chile) at an internet cafe in Bahia Blanca, and we traveled north together to Azul. Patrick mentioned that in Azul, Marco was waiting and there was a place for motorcycle travelers to hang out. We arrived in the afternoon to a low building, closed because of a siesta, with BMW, Yamaha logos painted on the outer doors. We rang the bell, and waited. A lady appears, and tells us we must be looking for pollo. No, I thought, we don't want chicken, we were looking for a place to put a tent maybe, and also for our friend, Marco. Turns out the Pollo is the nickname of Jorge, the loving man that runs La Posta de Viajeros de la Moto, with the support of his family. Jorges real job is a little shop that sells scooter parts attached to the garage with the BMW logos.
The La Posta is a large room with a small kitchen area, small bathroom and a table and chairs. Along one wall is a bunk bed, and beneath the window to the street is another. Under both beds are mobile, low bed frames with wooden slats that can be moved to anywhere and used with a thermorest.
Jorge is a motorcycle aficionado, but more than that, receives great joy from having travelers come from around the world to stay with him. It has become tradition to paint your name some where on the walls, and leave a memento. Also, during your stay, you are expected to improve some part of the area. There is no charge for anybody staying there, or for any of Jorge's help. It is unlike any place I have ever been, and to think I almost drove by. I ended up staying a week, enjoying every day. In the attached garage, there is an indoor asado (bbq) pit that is usually going two or three times a week. Marco related that in 8 days, he had 5 asados there. The travelers intend to stay a day or two, but normally that is stretched.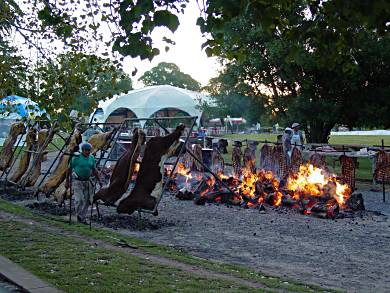 Our last asado (13 guests) had 13 kilos of meat and 2 kilos of chorizo, 6 kilos bread, and salad. My first night there was a birthday asado for Conejo (rabbit) a friend of Pollos. After a week of authentic Argentinean hospitality, I headed north with Bob (UK) to Buenos Aires. The major agenda in BA was the servicing of the motos. I wanted to preventively take care of any issues that may rear their ugly heads in Africa, and I am getting spoiled now by working on the moto in a nice dry garage rather than on the side of a road somewhere. My to-do list was consisted of many bearing and seal replacements, things hadn't thought to look at, and since we ride the same model of bike, it would be just as easy to find two sets of spare parts and install them.
There is another motorcycle community in Buenos Aires, (contact through the Horizons Unlimited Community in BA) which is spearheaded by Javier and his wife Sandra. Most overland travellers on motos stop by to get work done at Javier's shop, Dakar Motos, or just to have a maté and receive local information. This is also where most of the work on our motos is done.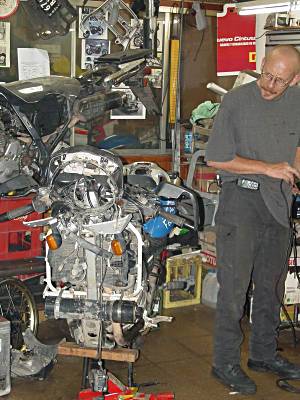 ...Ever since my birthday in February, I had been struggling with some bouts of homesickness and cravings to get back to Canada, and was flirting with the idea of heading back home. Finding out that my British Columbian drivers licence was not renewable from outside the province helped make my decision. A current licence is required for a International Drivers Licence, and they need to be renewed every year. In addition, my passport only has two more blank pages left, and that needs to be renewed, as well as the Carnet for the motorcycle. The more I drank coffee and made lists, the more sense it made to head home. One of the problems with this plan is that Bob and I were making tentative plans to travel to Africa together after South America but this throws everything askew. I told Bob the morning after I decided that I was not ready to go to Africa. My head isn't in it, and I was going home for a few months. This was a wrench for him, but he took it well. That evening we spoke about this again, and he was willing to drive around Brasil and the rest of the northern South America for a few months while I go back, so the plan to travel together in Africa is still current."

Help support the Horizons Unlimited E-zine - visit our sponsors!
Please be sure to tell them how you heard about Motocare.

Motocare Motorcycle Rental, hiring Honda's Transalp for touring Argentina and Chile.

Ride across the Andes, from the Atlantic Ocean to the Pacific, lakes, deserts, salt pans, waterfalls, beaches, rain forests, glaciers...

Thanks!
Gregory Frazier , USA, RTW, in South America and on to Africa, KLR650,
"Like the famed American Pony Express riders, the 'Ride The Dream' team of Polk and Frazier have switched mounts, now using a BMW R1150 GS. They also changed continents. After reaching the end of the earth on the South American continent while dodging errant cars, lustful ladies and aggressive Latino boys (Donna-Rae learned what a daylight mugging was in Argentina), Donna-Rae and Greg flew to Africa to continue Donna-Rae's dream ride around the world.
Greg says after nearly 20,000 miles with a pillion on the back of his motorcycle, 'So far Donna-Rae has managed her Parkinson's Disease better than I have riding with a female passenger.' This is Greg's fifth motorcycle ride around the globe, his first four being solo.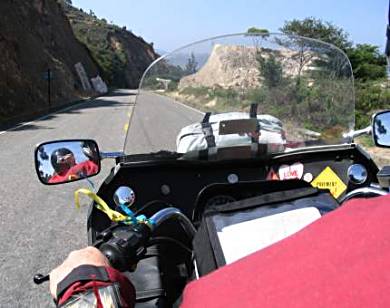 Donna-Rae said of her sometimes-grumpy lone wolf pilot, 'I have never seen this side of you before.' Needless to say their being together this long may have let them learn more than they wanted about each other. One of the pair calls their expedition the 'Growling Greg and Grandmother Goose Ride.' An old American Indian saying abounds: 'If you pull on a wolf's tail you should be prepared to deal with its teeth.'"
Peter and Kay Forwood, Australia, around the world since 1996, in Japan, Harley-Davidson,
"29/3/05 I had met Timon in Africa, Uganda. He was on a six month overland truck trip from the south through to Europe. We had met the truck a couple of times and by co-incidence five years later he stumbled across our web page and generously invited me to stay where he is now, in Tokyo. The easy flight on China Airlines (Taiwan), Narita Airport Express train, change of trains and a reasonable walk had me at his apartment in almost central Tokyo late evening. The stories of Japanese running on time true, the train to the minute leaving each station on schedule. The stories of clean and orderly also true. Not a piece of litter to be seen, almost no-one talking on the trains, no-one smoking or eating whilst walking about, an unhurried progress of people and vehicles.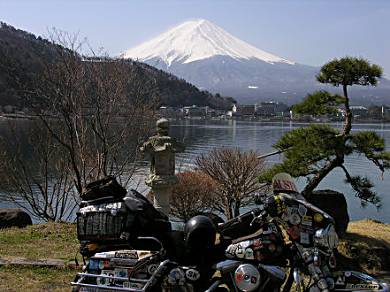 1/3/05 Sightseeing and absorbing the different culture. It is amazing how this culture has evolved so differently from other Asian societies in the region. Already I am finding the blank, almost expressionless faces, as people robotically move about the city on a work day, a little disquieting. The public chatter, laughter and bantering, that I am used to in Asia, not here. The gaiety of children, not visible in the city. Uniforms abound, bland mono colours, pressed and new, like a wardrobe for a 1950's movie scene, not a thread out of place. Occasionally a group of university students will rebel, eat and smoke in the street, even when walking, sometimes laughing, dresses as outlandishly as possible, bright colours, even the hair, but the society will have them in the black suits, if they want a job on graduation.
2/4/05 Kay and I have been discussing our situation recently and thought it a good idea to travel Japan together for a while. She will be flying into Kyoto on the 10th April for a month.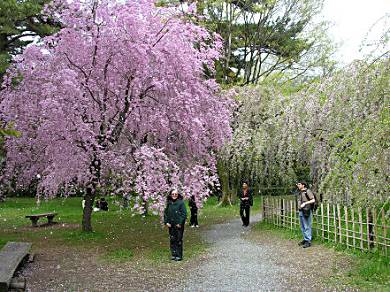 10/4/05 Early morning Sunday traffic was light, only a few trucks, into Kyoto by 11 am, easy to negotiate with most signs almost everywhere in Japan in both Japanese and English. Kay's plane arrived at 7.15pm and she was at Kyoto train station by 9.30, our dormitory bed accommodation, all we could find in Kyoto, not the best first night after not seeing each other in almost four months, a lot to discuss and talking to catch up on.
15/4/05 Despite high levels of service the rules are laid down to work within. Most accommodation has a check out at 10 am, and check in after 4 pm. Whilst those staying more than one night can usually remain in their room between these hours, few do. No staff are visible other than cleaners, no services available. Rainy days, or arriving in a city drenched off a motorcycle and having to wait till 4 pm would be no fun. We took a day off, our room overlooking a lovely Japanese garden courtyard in crisp sunshine. A time to relax in each other's company."

Help support the Horizons Unlimited E-zine - visit our sponsors!
Please be sure to tell them how you heard about Touratech!

Thanks!

"(Lima, Peru) - Pierre and I are going through a grim and badly agitated, rash-like spot in our relationship. I say to him, 'You're mean and spiteful to me.', to which he responds, 'You don't know how to apologize for anything', to which I respond, 'That's because you are a mean French-fry!'. Well, now we are grim with one another, and again we get to experience the pro-con, the push-pull, the love-hate of not being able to get away from one another.
Do I feel that being in the same 20 ft radius of ourselves for 2 years has helped our relationship? Probably. Because we are both hard-headed and prone to righteousness of opinion in the heat of arguing, in hindsight I see that it is great to be forced to deal with the sometimes reactionary frustration and blame in the moment, before it festered and is given a chance to become long-term resentment. This situation of having to deal with conflict in the moment tells one much about themselves and their inherent abilities (or lack of) to communicate. In normal life, it is too easy to run off and find solace with your best-friend, or clam up and stay silent for several days until you forget what it was you were mad at, or seek out distraction (my personal favorite), or exaggerate scenarios inside your head to your ego's content. But not here brother! You get one friend, one lover, one confidant, and it's all the same person. One room, one bed, one credit card, one map and it must all be shared with one person.
One chance to make it work, because if you don't reconcile, the trip is over, at least for the couple. So, we stand in our corners, and like any animal, make a choice and a dance to either reconnecting or eat each other. Sometimes it's clumsy and pride-swallowing; sometimes flawless. To truly 'change' an aspect of one's self is the most difficult thing to do in human nature. People rarely truly change no matter how much they like to think so. Yes, we are adaptable, but to change old patterns in ways of reacting and thinking, is a rare rare endeavor and experience indeed.
Today we have spent every hour and night together for 660 days or 15,500 hours (sans the one night I spent alone with creepy peepers). Aren't there people who do experiments of this sort? I do know of the American woman who as a performance art piece tied herself to a Japanese man for
1 year with a 8 foot rope
. If you have tried similar experience, please write us and tell us all about it. We are a captivated audience already!"
Tommy and Rosa, Germany, RTW, in Romania, BMW F650GS's,
"Tommy - As far as I can remember I loved motorcycling and I've spent all the money put aside for this hobby. I have to think hard to remember all the bikes I've owned: RD 350, CB 750 four, GPZ 600, XT 600 Ténéré, VFR 750 Intercepter, FZR 1000 Genesis, FZR 1000 Exup, GSXR 750, Yamaha OW 01, FZR 600, Bimota YB 9, Bandit 1200, XJR 1200, XJR 1300 SP, Z 1000, R 1150 GS and now: F 650 GS Dakar. I have always been a bit of an adventurer and my favourite travelling method has ever been riding a motor bike. So I've travelled half of Europe as well as parts of Africa and Asia with all kind of motorcycles. After having seen nearly all countries on my own continent, I tinkered with the idea of travelling a longer and more distant tour. My thoughts went round and round the issue, and at the beginning I rejected this phantasm. But in December 2003, Rosa and me made the decision: We'll go on a journey round the world!
Rosa - I've got the licence to ride a motorcycle since 1995. My first bike was a Honda CB 650 C, which unfortunately got a jammed spool shortly after buying. Altogether I've spent about 100.000 km on a bike, thereof around 300 km off-road. And at the first off-road opportunity I've overturned and wasn't able to get up again. Since then I've rather some respect for gravel roads!! Therefore I took an off-road course for not taking always a bath in the mud… ;-)
I've tinkered quite a long time with the idea of getting on a really big trip with the bike. Best time in year is for me, when taking our motorbikes, tent and sleeping bag and just ride straight on!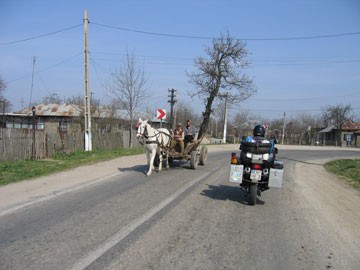 First report from Romania
... On a meadow below the street we pitch camp. Suddenly, a shepherd appears. He tells us - in Romanian probably - his life-story. Unfortunately, we don't understand him, because we speak no Romanian. He vanishes for an hour and comes back drunken! And he brings his dogs, a motorized saw and one plastic-bottle with 'labde' (cow's milk) for us! Unfortunately, he manages to start the motorized saw. We are afraid that he injures himself in his condition, but everything is well. He makes enough wood for us for at least 2 days by cutting down almost one tree! An interesting meeting! However we are glad that he leaves us alone soon again and we can sleep in silence."