Plan where to be when!
If you know of any events of interest to travellers, send me a note.
Horizons Unlimited Travellers' Meetings 2004
Lots of meetings planned for 2004 - visit the Meetings page and start your planning now! If you haven't been to one, this is your chance!
Eastern USA / Canada - North Carolina, June 18-20, 2004
UK, Ripley, Derbyshire, July 9-11, 2004
Western Canada / USA, Revelstoke BC, September 10-12, 2004
Portugal, September 24-26, 2004
Australia, Ulmarra NSW, October 1-3, 2004
Mexico, Copper Canyon, Creel, Oct 14 - 17, 2004
Argentina, Viedma, December 3-5, 2004
The 3rd European GS Easter meeting, 9-12 April 2004, Kasterlee, Belgium
"again being organised by BMW Club Vlaanderan and Rudi Denolf. Based at Kamping Houtum."
Tesch Travel Treffen, April 16-18, Malmedy, Belgium
Details on the 26th Meeting here.
E-Vitamiini, May 20 - 23, 2004, Tallinn harbour, Estonia
Gravel road touring in Estonia. More info.
Midsummer Sunrise Tour, June 19-20 2004, Netherlands
2 days mostly unpaved road ride from Groningen in the North to Maastricht in the south. Sign up here in Dutch and English details here.
Dempster Highway 25th Anniversary, June 20-21 2004
2004 is the 25th anniversary of the opening of the Dempster Highway between Dawson City, Yukon and Inuvik at the end of the road. It's a neat gravel road of about 900 km through amazing country. It's north of the Arctic Circle enough that the sun doesn't set for quite some time in summer. I travelled that road by cycle when it first opened and plan to travel it again June 20-21 2004. I have also cycled there several times since and every June 21 seems to be a gathering of travelers, being a beautifully place as far north as the road goes in the summer. I would be glad to host a no host gathering there or at least pass on information for anyone interested in an amazing place to journey to where the sun doesn't set.
Bill Ryder, Helena Montana, USA
Africa Friendship Safari 26 June - 18 July
Details on the BMW Motorrad South Africa site.
BMWMOA National Rally, Spokane Washington, USA, July 15-18
5000 BMW's, and we'll be there too, with a couple of seminars on how you can ride the world yourself. Details.
Big Dog Ride, August 12-15, 2004.
Details on the Big Dog site.
From BMW South Africa's site, for the potential pillion rider who's in doubt...
that everyone that uses a computer should read and pay attention to - especially if you're using internet cafes.
Events links:
The Culture Kiosk The European Guide to Arts, Culture and Entertainment Worldwide.
UK based whatsonwhen.com lists events taking place around the world. Huge range of events. Browse by just about anything you could want, from city or region to month.
Think wearing heavy duty serious riding gear is unnecessary?

Get your website listed in the LINKS Section
by listing Horizons Unlimited on YOUR web site, let me know you've done it by mailing me a link to the page, and you may get listed here in the next newsletter and on the Horizons Unlimited web site Links page. To make it easy for you, we even have our logo and link code here!
All sites will be considered for listing, but must be a MOTORCYCLE or TRAVEL site, useful or of interest in some way to travellers. We reserve the right to refuse to link back.


Motorcycle Express
MC Air Shipping, (uncrated) USA / Canada / Europe and other areas. Be sure to say "Horizons Unlimited" to get your $25 discount on Shipping!
Insurance - see: For foreigners traveling in US and Canada and for Americans and Canadians traveling in other countries, then mail it to MC Express and get your HU $15 discount!
There are many 'Helpful People' listed on the Links page, a huge thanks to all of them. How about you? Or you can join a Community, or start your own!
Mauricio and Clara Gallo and Camillo Delgado have offered travellers help in Colombia, contact them through their mc accessories website in Colombia, and the Medellin HU Community. "What we want to do with this is to create a small community in our local area first, and then, soon, we want to promote riding throughout the country. In order to do this we will have maps and routes with as much info as we can collect.
But at the same time, we want to return all help and hospitality we received in our trip, (Colombia - Alaska - Colombia) so we have helped some travelers that have come through Colombia and, we want to do as much as we can to help travel bikers in our country. That is our way to share our passion to ride and travel around the world, at least, from our desk for a small period of time before we hit the road again on our next trip. So we offer our assistance to give to your travelers as much info as they could need when they plan to cross our country."
Do you know of a good shop 'on the road,'
...in other words, somewhere there isn't a large number of shops? (Also of course any shop that specializes in travellers equipment and repairs is of interest.) But we're particularly looking for those rare items, good repair shops in South America, Africa and Asia etc. Please post your info in the Repair shops around the world Forum on the HUBB.
There are now 54 + shops listed in out - of - the - way places, from Abidjan to Ghana to Peru! Be sure to check out the HUBB "Repair shops around the world" forum if you need work done!
From Rick Jones, Motorrad Elektrik, Some clarification on questions people have had about his Omega electrical system for airheads;
"The only components of the Omega system that cannot be used with stock components are the rotor and stator; they are physically larger and must be used together. The diode board and voltage regulator are the same ones I sell for improving the stock system. The original diode board and reg can be used with an Omega system, but extra consumers (lights, heated vests etc.) should be limited so as to not overburden them.
The newest, greatest thing for this year is the Nippondenso starter-finally, a cure for Valeo syndrome."
From Francois Fouche, Pretoria, Gauteng, South Africa
"On www.kaoko.com you can find a 35l tank for the GS1100/1150 including the Adventure. They also have some soft luggage available."
"We had significant problems with the sprocket and the multi-tooth (splines) of the drive shaft of a BMW F 650 1996 model.
In the early models of the F650 the sprocket is held in place by a circlip only. On the www.f650.com site it is mentioned that the circlip is under-dimensioned. I just got an email from another F650 driver who asked about our problems and the solution which we published on our web page.
When play develops between the sprocket and the multi-tooth the sprocket will go off the shaft. There is a risk involved with all these models because the chain gets stuck.
Grant, this bike is not suitable for safe driving. We were lucky not to get hurt because Ulrike just started when the sprocket went. I took it for a test ride after a preliminary repair and put 30 m of rubber on the street because the chain got stuck."
I suggested (remember I am not especially familiar with F650's - if someone has a real fix please pass it on):
"an idea - many older bikes had a piece of metal curved around the sprocket to keep the chain from destroying the crankcase in case it broke. Might be something to think about. It could also have a piece bent over to keep the sprocket from actually coming off."
"Met two Russian guys on a Ural, southern Peru heading for Ushuaia. This was late Dec. and saw them again few days later, but never saw them again on my way to Ushuaia, and border officials had no record of Russian having passed. Anybody seen these guys? They're doing around-the-world.--Porter"
When you meet people on the road, and they haven't heard of this e-zine or the website, we'd appreciate it (and hope they would too!) if you'd get their names and email addresses and send it in to me.
Thanks, Grant
"Anyone planning to travel in, around or through Morocco during May or June would like to meet up?"
"I purchased a 2004 KLR and want to take it down the length of Baja after the first service in two weeks. The dealer told me that DMV is currently taking 2 months to send the plate/ title/ reg paperwork on new bikes. I will call DMV tomorrow to see if I can expedite that, but was wondering if I might have trouble south of the border with the two flimsy type sheets I have from the dealership? I would hate to postpone the trip...Thanks!"
A comment in the Guestbook:
"First: Good site, but I'm searching for somebody who would like to go with me for a motorbike tour in New Zealand or Australia. I'm already in NZ until the end of march. After this I want to travel to Australia. My e-mail: Evelyn Ritter, cheers Eve"
In response to a problem re shipping parts posted on the HUBB, I wrote:
"One lesson we've learned about shipping parts to wherever you are:
FIRST find the UPS / Fedex / DHL office where you are. If there is only one of them, then that's the company you ship by - and you've already made a connection, they know who you are, and you can sort things out directly.
If there isn't one at all, then you need to find out who is the local agent for which company, then once you've talked to them decide if you want to ship to another city instead!"
PanEuropean added:
"My own experience in over 15 years of working in the 3rd world goes like this:
1) UPS is great within the USA, in particular they offer quite inexpensive shipping of large boxes in the USA, they are hopeless for international shipments.
2) FedEx is pretty good if you are shipping to and from countries that meet the following developmental benchmarks:
a) Lots of ATM's everywhere,
b) Low levels of corruption at the airport
c) Reliable phone systems in the country.
3) DHL is by far the best when shipping to a corrupt, screwed-up or war-torn country. It seems that DHL has the best 'local employees' who always know the ropes (to get your package out of customs) and know the neighborhood (to get the package to where you are). It also helps greatly if you establish contact and a rapport with the DHL destination office beforehand." more...
Electric vests and jackets, gloves etc. on airplanes, from Chris Lockwood in Tokyo,
"If you have a heated motorcycle jacket, don't wear it on an airplane. You may be 'detained.' At least tell officials what it is before they get suspicious.
'The woman first came to the attention of security officials at Charles de Gaulle airport when her leather motorcycle jacket aroused suspicion.' Newspaper story here... and the HUBB responses here.
---
Plenty more questions and answers on the HU Bulletin Board! We've over 3,400 registered users on the Board, which I think is pretty amazing, and gives a huge resource of knowledge and experience to help you with anything you might need to know.
Steven Wallstrom, on the importance of
getting shipping quotes in writing:
"I shipped my bike from BA to Seattle in August of 2003 and it was a very complicated process. We ended up arriving on a Thursday, haggling with them all day Friday with the help of a local Argentine friend who spent hours on the phone arguing with them over the shipping cost. Our flight left on Monday night and we ended up leaving the bike in one of the local garages, arranged a local company to ship it to the airport where it would arrive on Tuesday (We couldn't ship the bike on Monday because it was a holiday). We received a quote from the Seattle office for about $900 US max, got to the BA office and got a quote for $1200 max. They denied any prior notice/contact by the Seattle office and all efforts to have them honor the 'Seattle phone quote' were fruitless. Apparently when you ask for a quote you should get an official quote sheet- at least that's what they told me.
When we were in the BA office I had a woman named Patricia write down all the potential fees/charges hoping that I was covering all my bases. She specifically told me that based on the dimensions that I was giving her and the weight that we projected (which was more than the actual weight) the cost would be 'about $1200.' This was substantially higher than the price quoted to us in Seattle but was still doable so I decided to go with it. I did have a red flag pop up when they told me that I couldn't pay the total bill in their office but would pay the balance in Seattle upon arrival, but I trusted that they as an international company, would not make any major adjustment to the price. Final price: $1800 upon arrival in Seattle.
I spent three days trying to resolve the issue including multiple phone calls to Hellmans BA office (arguing with Patricia in Spanish from the Seattle office was not a fun experience) and basically got nothing accomplished except for raising my level of frustration. I had no choice to pay- so I did.
From what I gather, we were misquoted a price in Seattle, misquoted a price in BA and given the right quote in Seattle upon arrival and at the most inopportune time. By then I was completely broke from 7 months of traveling/volunteering, could barely afford the first price quote for shipping and ended up getting an advance via my credit card to pay extremely unexpected inflated cost of shipping."
Border crossing from Cambodia to Thailand

, From Jim Heston, California 2 Hotel, Phnom Penh, Cambodia:

"En route to Thailand you will cross the Koh Kong Bridge (toll 1100 Riel). The customs office is now open from 7am until 8pm. Upon arrival at the border you get stamped out of Cambodia, drive to the Thai side and get stamped in. Walk across the street and the Customs and Importation Office will have you fill out a form. Take your bike registration with you. The form asks for information on your registration, such as engine number and chassis number. There is also an amount in Thai Baht for the Value of the bike. We simply entered 80,000 Baht (2000 US). There is another section on the form, which says you will be accountable in the event you don't bring the bike back out of the country. The customs officer assigned a value of 50, 000 Baht to be paid in the event this occurred. Important to make sure you specify how long you will stay in Thailand. Your visa is good for 30 days but the customs officer will not automatically give you 30 days. We said we would be there about 3 days and he just randomly gave us seven instead of the 30 consistent with our visa. We also signed a book, which we signed again upon our exit. This didn't make much sense, as there wasn't any protocol on taking the bike out of Koh Kong and back in at Poipet. Once we had the customs paperwork complete we had to return to the arrival window where they made some more entries. Keep the customs form with your passport, as you will be asked for it as you exit the country. The whole crossing process took approximately 30 minutes. There were no charges."
Bernd Hoffman and Joerg Kauschke, Germany, in Argentina,
about oncoming trucks and safe riding in South America
"I had a conversation with a local trucker. Everyone on a bike is maybe wondering why most of the trucks give you and other trucks high beam signals. It is Not to say 'hello, welcome and how are you'.
It is a sign to make sure that the oncoming trucker is paying attention to the traffic and has not fallen asleep. So, every time you see a truck coming towards you, give 1 or 2 short flashes with your high beams well in advance. If you get a flash back, you can be sure that he sees you.
If you get No response, it's red alert for you.
Be prepared to leave the road because the driver maybe fell into a short sleep and doesn't notice you. It is really common that truck drivers fall asleep on the long straight roads and this causes a lot of frontal crashes.
Ride every time with your headlight on. It's for your own safety.
I know that people get tired of all the flashings but it may save your life. High beam signals here are more important than honking horns. And in the Andes there is another problem, the trucks are often overloaded and have bad brakes.
We saw a deadly accident where a truck went downhill straight into a canyon travelling at 100 km per hour. The driver didn't survive. He passed us just 30 seconds before it happened, so we were lucky.
It is not a bad idea if you see a truck coming downhill towards you, to be prepared to stop or leave the road if you see he's travelling too fast. It's always better to avoid an accident like this by being careful. And always wear a full-face helmet. I know what I'm speaking about. I hit the ground on a sandy washboard track head first. If I hadn't worn my full face helmet, I actually would not have a face.
These are only tips. It's your own decision whether you follow them or not. I know that most of you are experienced riders and know all about this, but I saw a lot of newbies on the road, who aren't aware of this.
Maybe these words can help some of them to avoid bad experience."
From Alec Simpson, Australia, on the HUBB, in response to a question about carrying dogs on a bike,
"I strapped a sheepskin to the tank and the dog sat on that...just make sure you toilet train it, getting pissed on at 100kph was a new experience when it happened. If the dog is comfortable it will happily accept bugs in its teeth and get onto the bike itself. It jumped off once at about 80kph to chase a passing kangaroo, and it fell off with me at 60kph on diesel but was its usual psychotic self afterwards."
From Steve Wallstrom, on language schools in Guatemala
"Just a little note on language schools- When you pass through Guatemala I highly recommend PLQE (Proyecto Lingüistico Quetzalteco de Español) an non-profit one-on-one Spanish school.
I have studied there twice now (1998&2003), have referred many to their program and have been very impressed with the program. Plus, it's only 150 per week and includes meals, lodging, great people and lotsa Spanish! Hope that helps!"
Martin Schwingel, Germany, on riding in India
"Never ever try to ship a Bike or anything else from Chennai (Madras). Corruption, a mess, a horror, a wasted time (3 weeks you have to be up every day and wait and wait and wait...while nothings happens...or just pay, then it's easy. But then go for Air Cargo, which is cheaper).
Drive to India, ok, but stay in the north, which is horrific enough but for slow riders the Himalayan scenery is great. It has nothing to do with motorbike riding somewhere else. The roads are so narrow and the traffic is so big, that you, with a loaded bike, have to stop 200 to 300 times a day (or die once). Don't drive south. Definitely not.
Driving through the Ghats of south India is wonderful, super duper, and great. But to get to Pune and start your southern tour put the bike on a train and take care, the train stops at the last station you want to get off. Go with the same train. No discussion. Get your bike well packed. Pay 500RS for save packing with foam. Some fillings under the packing. Remember, there is no petrol in your tank and you can't drive in a railway station (or they hit you with their rhythmstrick) but there is space in your boxes. They don't care about the inside."
Patrick and Danette Harkness, Canada, on autotrains in Europe
"The autotrain is a neat deal. Drive your car/motorbike onto the train and after a nice sleep in your compartment on the train you wake up in Frankfurt rested and ready to go. Good in theory. We arrive at the station early to catch the train. Posted on the gate is a sign that says Striek. Narbonne train station is on strike. We have to ride to Avignon 200 kms away to catch the train. So sorry! It was no big deal but a quick 200 kms later we find the train and settle in to await departure. The guys that tie your bike down have clearly done this a ton of times and are pros. You get a complimentary beverage on the train and away you go. Getting off is just as easy. What a great set up. Look up Autozug on the Internet and you should find it. Lots of different destinations. Good way to get you and your bike to the good riding without lots of boring motorways."
Ed. See Patrick and Danette's blog, here on Horizons Unlimited.
Daniel Todd, on getting a bike into the Philippines
" I had a lot of trouble getting my bike into the Philippines and I had to alter my route drastically because of the deposit that I had to post. But what I didn't tell you was that I had to wait almost as long to export the bike as well!
I was not even allowed to start the process of exportation with the Philippine customs until I had the bill of Lading in my hand. Since a bill of lading is not a legal document until it has ALL the exact details on it and most shipping companies don't know the exact hour of sailing until the night before, one can not obtain this document until the last moment. Most shipping companies only have one sailing a week so in this case, on the night before the sailing, I finally received my Bill of Lading and could proceed with Customs the following Monday to solicit my deposit that I had left with an insurance company! Never again! Since no other RTW travelers had done this part of the world, (The Maddogs and others confirmed this), I really had no clues to act upon and had to find out for myself!
The irony of my two-wheeled adventure here was that the Philippines will always be one of my favorite travel destinations, but doing a cost/benefit analysis of a place to overland, the country is on the bottom of my list; in the four months that I was in the Philippines, I only had possession of my bike six weeks!
As with all experiences there is good that follows; the many containers that go back to Singapore brought the price down to only US$40. And I was given many contacts in Asia of other bikers and have been handed off from one Maddog station to the next ever since then! I decided to give SE Asia one more go. Here I come!"
---
Request for info
Wouldn't YOU like to know all about the border you're approaching - what it should cost, paperwork required, 'tips' needed, and who to talk to, etc.?
When you cross ANY border, take some notes, and pass them on to us. Thanks!
Shipping
The Shipping page on the site is HUGE! It can be reached directly or from the Shipping link on the Trip Planning page.
If you have any information to contribute, please go here, and register (or just login IF you have used this system before) and you can then submit your information. Thanks!
Travel Advisories:
The Foreign Office in London's Travel Advice Unit advises against travel to all sorts of places. Check out the listing before you start!
The US State Department regularly issues updated travel advisories, information and/or warnings.
Rayko Moritz and Markus Rohling, LoMo Expedition, Germany to Shanghai and back, in Mongolia and China, XT600's,
"Thanks to the Mongolian help, a three month China visa that shines in our passports, the Chinese immigration requirements, we now resolve to use trick 17. We want to look for a Mongolian truck, that will carry our motorcycles, declared as transit goods, through the border. By this we can, like normal tourists, cross the border...
The first turnpike opens and we stop in front of the Mongolian customs building. The truck driver crosses the border every day and probably knows every male and female officer by their names. While this young Mongolian guy is flirting with the uniformed girls, we get our papers examined in the building and are stamped quickly. Super! We've solved our first problem: We can't go back to Mongolia. Our truck driver is already waiting and on we go. Nobody wants to see our motorcycle documents so we don't ask silly questions. In the no man's land, the line of trucks is unusually long.
On the Chinese side there's a power failure and we still have 60 minutes before the border will close. We are waiting and nothing happens. Finally the first trucks get started. Still a half hour to go! Slowly we crawl closer to the Chinese checkpoint. Long before the turnpike an officer approaches us. So, the game seems to be over! He will probably ask us to turn around. But he smiles and sends us to the front of the line.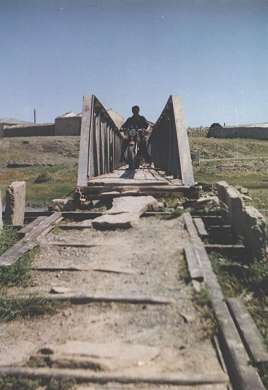 As on the Mongolian side, we have to go into the customs building, while the truck driver is waiting at the checkpoint. The completed forms are accepted without any complaints. While I'm waiting for Lo, somebody touches my shoulder. It's our Mongolian truck driver, who tells me that he's waiting for us - on the Chinese side - near the exit. How? Where? He points to his truck in the distance with our Yamies beside his truck. I think I'm going crazy! How did he pass Chinese customs with our bikes, since he had no documents for them? We can't believe it.
We are in China - we are really in China! Close to the border, we find a construction site, where we unload our bikes from the truck with the help of some Chinese site workers. We say goodbye to our Mongolian guy, and give him a tip.
Our tension dissipates and we can't control ourselves any more. We have tears of joy in our eyes, and like two little kids, we jump on our bikes in high spirits. I take a deep breath of the mild evening air; it is especially nice to feel it. Inner Mongolia shows still a strong desert character, so we try to find a site for our tent with a view. We're calmer now and the road tension disappears. Our new goal is Beijing. From there, it's not far to Shanghai. The city is now within reach and I write in my diary excitedly: Shanghai, we're coming!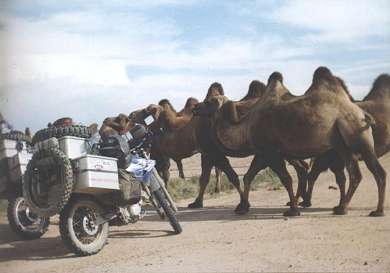 During the first days in China we had little rest. The unusually fast pulse of the country takes some time to get used to. Still a long way to Beijing, but the high population density seems to increase rapidly. One city changes into another. Place signs are non-existent. But some billboards eventually tell us we are in Beijing. Mrs. Rose Tian, a business partner of Lo's former company Dresearch, puts us up for more than a week in her country house near the city. Her magnificent hospitality shows us a different China. Many times she invites us to local restaurants and helps us whenever possible. We bid Rose a fond farewell and express our immense gratitude for real hospitality.
Then we are off to our final destination, Shanghai, now only 1600km away. The traffic on Chinese roads takes us brutally back to reality: high traffic volume moving at a leisurely pace, couple with the totally unpredictable behaviour of drivers forces a change of our attitude. With our new outlook, traffic flow seems to improve at once, but then we're faced with another problem: rain. But why does everything in this country have to be so extreme? High humidity beggars description. Our riding clothes labelled 'water proof' disappoint us. The pants get wet at the most sensitive spots. Not a chance to dry our clothes, and after the 4th day of rain, we put on our last dry set of clothes. We search unwillingly for a cheap hotel and when we hear the price for a twin bed room, it's easy to say 'yes'. Two Euros gives us a little luxury. The motorcycles are parked in the reception hall, and we warm up our clammy hands on our camping cooker. The word 'heating' doesn't seem to exist in Chinese.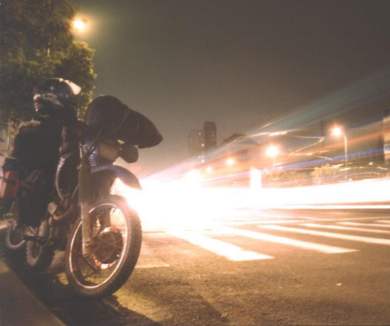 A truck behind Lo is honking and goes one cm too far. Boom! In the mirror I just see the motorcycle falling. Shit! I run towards them. We've fallen a few times, but today somebody wants to teach us a lesson. Lo's right leg is jammed under the side box. I wave the truck driver over and together we get the bike vertical. I'm seething with rage, but this doesn't help us. His foot hurts and must be x-rayed, but the diagnosis at the nearby hospital is encouraging. No fracture, just over-streched ligaments are the reason for the pain.
We discuss the situation and decide to attempt the last 150 km to Shanghai. Dusk makes us nervous, and dark figures on the street are hard to see, so we try to calm down. It's dark now and speed doesn't matter. Kilometre after kilometre we draw closer to Shanghai. Street signs show the famous 'People Square' but there's still 20 km to go. The roads of this huge city are a labyrinth.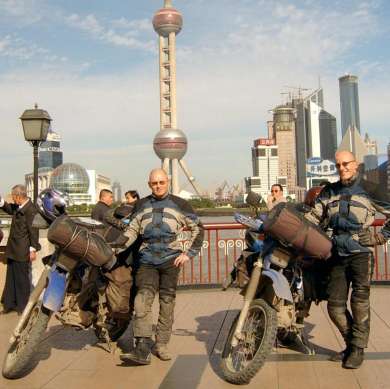 Shanghai, as a world metropolis is especially interesting. Western culture and Chinese traditional ways of living meet here with brutal sobriety as a matter of course. Still, as though we've taken root, we are standing beside our motorcycles in the middle of Shanghai."
"China by motorcycle - forget all the plates and guides and whatever the official requirements are. We've done it successfully, just by our own and spent almost 3 month and 9000 km in China. I guess the most difficult part is to get in, but once in, we had not even one single problem with the police riding in the streets. The people are incredible friendly and interested, but to get used to this unbelievable (no rule) traffic, it really takes a while. Even when the PSB or the police were checking our documents while camping, they never had any questions concerning the ride by ourselves on the bike through the country. To read the whole China story (and more will come soon) have a look on our website at: www.lomo-expedition.de"

Help support the Horizons Unlimited E-zine - visit our sponsors!
Please be sure to tell them how you heard about TinyStocks!

TinyStocks presents Highway Manager: the most complete and flexible gas mileage application for the Palm OS® platform, written by a biker for bikers. Keep track of your gas mileage, insurance payments, garage bills, hotels, highway tolls and whatever is necessary. Statistics, charting function, multi-currency, and more... So, got a Palm OS device? Why not take it on the road?
Thanks!

Arno Backes and Sian Mackenzie, Germany and UK, Australia via USA to South America, in Argentina, on BMW R100GS PD and Yamaha XT600E,
"We took our time leaving Cajón Grande, but we were still quickly back onto the Ruta 40, which according to our information, was paved but with lots of potholes. There were more potholes than tarmac in fact and riding in the gravel that lay at the sides of the road was preferable to the rim-wrecking road surface.
In contrast, the scenery was again spectacular, rocky desert suddenly gave way to a valley filled with lava, at one point the river, which had previously meandered, shallow and wide through the valley, was forced through a narrow gap in the lava which had all but blocked its path. In the distance, the source of the lava flows, we counted 6 or 7 volcanic cones, all now dormant, having spent their energy a long time ago.
We had hoped to reach Zapala, however the bad road had put us behind and a chance meeting delayed us again. Two bikes were coming towards us, loaded up with luggage - must be travellers! And so we met Bernd and Jörg from Germany on BMWs of course. Their luggage system was one of the largest I'd seen so far, aluminium panniers with extra compartments attached plus a huge extendable aluminum top box. Plenty of room for all those travel luxuries!
...We rode slowly back to San Junin, found the campsite and signed in for the 4th International Encuentro de Motos. No sooner had we pitched up our tent in a relatively quiet corner, than two other travellers rode in our direction. Jürgen and Sabine, from Germany but not travelling on BMWs, Yamahas in fact.
We all really enjoyed the meeting, everyone was friendly and wanted to chat. There were the obligatory bike games and then the ride around the town, much tooting of horns, especially past the police station, and then by the main plaza everyone parked their bikes for all to see. Sunday morning and it was time to leave, we were all sent off with stomachs full of pastries and hot chocolate (supplied by the army in a huge 500 litre tank)."
Jim Stanley and Xavier L. Rozas, USA, in Colombia, Bolivia and Chile, on Honda XR650L and BMW R1100GS
"...Making slow progress in a driving rain, we came upon a roadblock. This scared me more than a little bit, as the kidnappings happen at roadblocks. But this was an Army roadblock, not a Guerrilla roadblock. It seems there may have been guerrilla activity down the road, so the army was stopping all traffic. We waited for daylight at a small restaurant with a roof and no walls, with several other buses and trucks. The army men there were a bunch of pimply kids with very large guns. I wanted to take pictures, but decided against it.
...We made it to Medellin at 7:30 AM. It is famous for the Medellin Cartel and until, the death of the cartel's leader, Pablo Escobar, in 1993 it was the world center of cocaine traffic. Today it is much safer.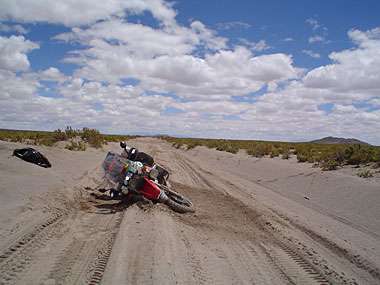 ...we headed east to Cusco, via Abancay. This is possibly the best road in the world. About 400 miles of twisty mountain road with incredible scenery and perfect pavement. Xavier is doing very well with his big Beemer and dragged his aluminum sidebags around most of the turns. We finally arrived in Cusco after dark. The next day was spent sightseeing in Cusco, the former capital of the Inca Empire and the following day we went to Machu Picchu and back via train.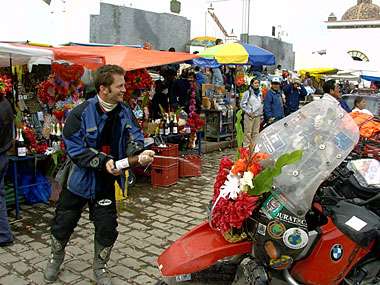 The Salar Uyuni Salt Flats are the biggest in the world. We wanted to ride directly across them, but we are told they are currently under 12 inches of water so that is not feasible. Instead, we will skirt to the south through a great desert. We needed to stock up on supplies. The Bolivian shopping list for crossing the desert is this: extra cans of gasoline, extra bottles of water, spaghetti noodles and sauce, whiskey, coca and dynamite. Xavier will carry the extra gas and I will carry the dynamite. Somewhere in the middle of the desert will be some new craters. Xavier is a bit apprehensive, as this next leg will take us about on 300 miles of dirt roads ending in Chile. He is not very confident on the behemoth BMW but I think he will do fine, and we can trade bikes if necessary.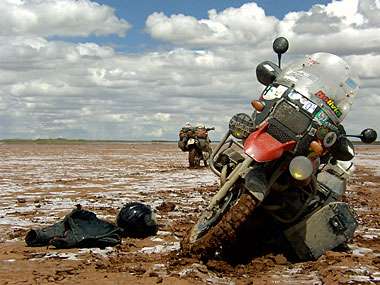 ...I am back in Buenos Aires. I am currently in the process of trying to get myself and the bike back home. I may leave the bike here to come back next year for Carnaval, in Brazil. Depends on how much it will cost to ship etc... I should be stateside in a few weeks.
Xavier has stories and lots more pictures on his site- please check it out."

Help support the Horizons Unlimited E-zine - visit our sponsors!
Please be sure you tell them how you heard about Casamia!

Canadian Wilderness Tours on an ATV (Quad Bike)
The Roughest, Toughest and Dirtiest Tour you will ever have! (No wimps or wooses please!)
Discounts for Group bookings.
Check out our website: www.ChaletCasamia.com or
Tel: (1) 705 729 5202.
Thanks!

Simon Milward, UK, around the world, in Argentina, home built Rotax,
"Ushuaia, Argentina 02 January 2004
Ten adventure motorcyclists celebrated the New Year with a motorcycle race on Tierra del Fuego in Argentina last week. The first 'Fin del Mundo Cross' took place at the Rio Pipo campsite west of the town of Ushuaia on 31 December 2003. The two part competition, consisting of a trial course in the forest and grass track circuit next to a river, was the first of its kind at the end of the world, probably the first worldwide.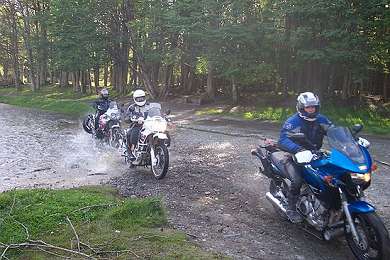 Six Germans, two British, one Dutch and a Swiss unloaded the luggage from their heavy bikes to accept the challenge, which separated the men from the boys. Karsten from Germany won the event on his cut down BMW. He was presented with a bottle of schnapps to make him feel at home. Local television showed up and caught some spectacular crashing on film. The course was laid out by Dutchman Maarten Munnik, (www.maartensworld.com), riding round the world on his Africa Twin, who honorably stepped out of the prizes after winning.
We hope it will mark the start of a new tradition among the riders who venture down to Ushuaia each summer. Needless to say, it was my idea, and needless to say who did most of the crashing.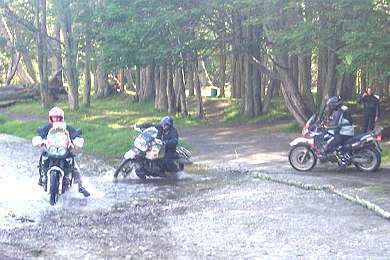 The campsite, where Ruben and Marie have been looking after us all and letting us use their warm kitchen, has been a lot of fun. In total, there have been 18 motorcycles this New Year. It has been really nice to meet and travel with like-minded people for a while. Bob Morley from the UK (www.worldtour.overpro.co.uk) has just started his RTW tour by 650 Funduro. He and Maarten Munnik have volunteered to train health workers in Latin America in basic maintenance on motorcycles they use for their job, as they pass through over the coming year.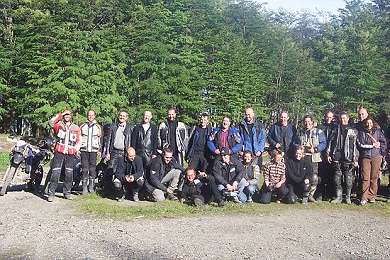 It took me fours years to get here so I am going to stay a few more days. Perhaps it is the thought of having just one more continent to go, which is slowing me down. So here's to another year on the road. I plan to get to South Africa in March and head north towards Morocco or Egypt."
Bernd Hoffman and Joerg Kauschke, Germany, in Argentina, R100GSPD,
"We are heading further north on the Ruta 40 to Las Flores and Chilesito to Cachi. Always on the Top of the Andes with spectacular landscapes and 50 percent terrifying corrugations and sand passages. The region around Cachi is really beautiful and there's a hot spot for staying overnight. The finca La Paya near Cachi, in the middle of a great mountainsite is a rebuilt finca from 1890, with lovely restaurant and a Primera Categoria. We paid 18 Euros for an excellent room for two people. Pool use included. It's worth every cent. Highly recommended if you are in this area.
Going further via Salta and Paso de Sico at an altitude of 4080 meters where I got the 'famous' Soroche. I got really sick from the high altitude, but some Coca leaves helps great. Always following the Ruta 40 half pavement, half washboard and sand. Coming to San Pedro de Atacama we found no reason to stay any longer than 2 days. The 'Valle de la Luna and the Geysers of Tatio' are really disappointing and this little town has become a typical Backpackers and Freak hangout. The only interesting thing to see is the Salar de Atacama, a salt lake with pink flamingos. Nearly every second house is a Tour Agency for Jeep Tours around the town...
We went south from Salta to Oscar's place in Viedma. There we joined the Horizons Unlimited Argentina rally. We had a lot of fun and Oscar is a really polite and helpful guy. Every bike traveller is really welcome in his house and he is very hospitable. I am taking this opportunity to say another thank you very much to Oscar for the rally.
From Viedma we rode down to Punta Tombo and watched the huge Penguin Colony over there. It's a great experience to see penguins 1 km away from the sea, crossing the road. At this time they had babies and were taking care of them.
Further on to Punto Pyramids where we took the opportunity to see some whales. Another great experience, but unfortunately we had bad weather, so the waves were really high and the water rough. It is a big tourism rip off, but anyway I can highly recommend taking a boat trip to see the whales, if you are there at the right time to watch these incredible animals."

Help support the Horizons Unlimited E-zine - visit our sponsors!
Please be sure to tell them how you heard about Touratech!

Thanks!

"First we rode to Canada to attend the Horizons Unlimited rally in BC, then to Vancouver where we stored our moto and flew to Argentina. Gabriel and his family met us at the home of Javier, owner of Dakar Motos where we had stored our BMW. A good contact for all visiting BA.
...It is easy to eat in Brazil even if one can't read the menu because most lunch places are truck stops and buffets, with no menus. You go in, go to the buffet line and help yourself. When you sit down a waiter comes up and asks for your drink order. Then in a Currusosa, they come around with various meats on a spit and cut off what you want. You will not lose weight in Brazil. Most hotels, all we stayed in, have large breakfast buffets , which will contain more fruit, and sweet cakes than most northerners are used to. Dinner may be a little more complicated.
We had left our tent in Greece and had a choice to buy another or cheap hotel rates. Several of our friends in Argentina said because hotel rates where so low in Brazil that one might as well stay in hotels rather than camp. So this is what we did. Consequently we did not pay much attention to camping sites and saw little evidence of such. Those that we did see were basically in tourist areas and were vacant, we assume due to the weather. So we spent our time in hotels or in the homes of other motorcyclists, Brazilians are very friendly and thanks to previous travellers and Horizons Unlimited we had contacts.
Everything in Brazil is about 1/3 the cost of One Euro or One USD. So money goes a long way. A good place to retire, vacation, or moto. Using the three criteria, food, people and scenery, we would rate Southern Brazil very high. This part of Brazil, has little crime, nice beaches, deserted in the winter, friendly people, and scenic places.
... We must say a short word about Uruguay. We believe that most travellers take the coastal route. But we took the inland route as it was somewhat shorter and we thought the weather might be better. Immigrations and customs are actually about 1 km south of town. Because our front tire was quite bad we took the ferry to BA. We were worried about the Argentina Aduana so asked the Uruguayans to take care of our paperwork. This was a mistake because Argentina did not care but the aduana at the port in Uruguay tried to scam us out of 5 Euros saying it was a fee."
Simon Kennedy, Ireland, RTW, in Peru, Transalp,
"Some good news. I have found the solution to the bike's altitude problems. Sometimes the solution is staring you right in the face. Just go downhill. Big improvement. It works a treat. After weeks in the sky I drop to under 1000 metres. The mosquitoes are man size, but it is great to be in the clouds. It is a joy to take on a cumulonimbus-see one on the horizon and then ride right through the middle. Spooky, mesmerising, unbelievable fun.
Ecuador is like Wales. The spectacular mountains, green hills, and lots and lots of rain. I swear that was a pint of Albright I had back there. I give the country two and a half days, which is unfair, but I am keen to get moving after all the delays. More the fool me.
Overlander conundrum time: you lose your keys. Thankfully you have thought to put a spare set in your left pannier. Trouble is, they are locked in the pannier. Get out of that sunshine.
I ask in town for some tools in order to break into the box. 'It is not necessary' says Juan. He takes a hammer and a small screwdriver to my padlock, and gives the latter a gently measured tap. It springs open obligingly. 'Te doy las gracias' says I, thinking that it is definitely time to rethink my security system.
We chat for a while. He wants to go back to the USA.
'Why did you leave?'
'I was reported. Illegal'.
'Why would anyone do that? Who did it?'
'My wives'
'Wives?'
'Yeah. They met.'
For a few days I cross paths again with Didier and Catherine. A familiar division of labour emerges. She takes the pictures, adding wry encouragement and quiet smiles. He throws a charming French version of Australian manhood into the mix, 'no inquietudes mate', and I have lots of obscure adjectives for sand. But they want to go east to the magnificent Inca ruins and onto Rio's fantastic carnival. I want to keep south into Chile looking for solitude and altitude. It makes sense. Just doesn't sound like it.
I find plenty. The open deserts pull together all those dissolute thoughts and creeping doubts around biking travel. Huge spaces; the feeling of covering miles without danger or difficulty; the sheer amount of nothingness. Just me and lots of absence. Motorcycle emptiness. I adore these vast landscapes: blissfully lost in my helmet, tracking kilometers on the map, enthralled by the thin black line winding forwards like a discarded leather belt. I am very happy."

Help support the Horizons Unlimited E-zine - visit our sponsors!
Please be sure you tell them how you heard about BMW Motorcycles USA!

Thanks!

"We were supposed to be leaving Portobelo (Panama) for South America with our bikes today, but our captain has decided to borrow another boat. (There are 12 of us going and the seas are quite rough.) John and I are going to work and sleep on the yacht for the next couple of days. The new hombre we are traveling with, Joseph, complements our team just nicely. His perfect Spanish will keep us out of trouble for the next leg of our journey. Oh ya...forgot to mention, John and I have been staying with a Colombian hit man for the past 2 days! He is a retired artist now.
...I have been in Medellin, Colombia for almost two weeks now. (Pablo Escobar's hometown.) When I first arrived, I tried to sell my bike. At first, it looked like I was going to be in the money. Unfortunately, because I only had a temporary importation certificate for my bike, it HAD to leave the country. Yesterday I sent my bike to Vancouver via DHL. I thought I was getting a deal at first, only 710 US dollars. The catch was that I had to pay in pesos at their exchange rate. (Another 200 dollars US.) At least my bike is on its way home.
Medellin has the same flavor as every other bustling city: pollution, the sickly rich and the chipper poor. My hotel is downtown and most of the people I have met will not even venture down here alone. (Not a good sign.) While I was packing my bike up yesterday, a schoolteacher stopped to chat for a minute. Two hours and a meal later, he was on his merry way. I grilled him for the dirt on what is actually happening here in Colombia.
Turned out, his father had been killed by guerrillas 10 years ago, along with 21 other Colombian VIPs. They were travelling in the south, by bus, when it happened. Next, we got on the subject of my motorbike. Apparently, he used to own one, but 4 years ago he was riding home from work and was bike-jacked. No insurance for that down here. When he finished lunch, I saw he was riding a pedal bike!
I have managed to stay out of trouble so far and plan to head home in the next few days. Key word is plan. You never know down here. Best wishes, Zach"
Lois Pryce, UK, Alaska to Tierra del Fuego, Yamaha XT225 Serow,
"Ruta 40 folklore abounds; mainly concerning the howling 60mph winds that sweep across the bottom of the continent at this time of year. Motorcycles and their riders blown clean off the road, flying rocks causing untold damage, hundreds of miles without fuel stops, unavoidable crashes. The horror stories go on. Naturally, I assumed it was all wild exaggeration as so many of the 'road ahead' tales turn out to be. On this occasion, I was wrong. A more unsuitable journey for a couple of fully loaded, travel weary 250cc motorcycles, one cannot imagine.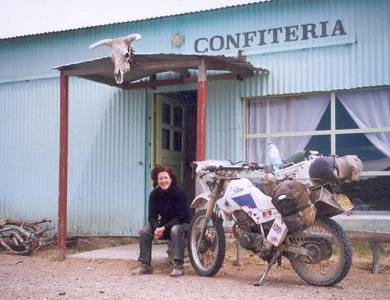 We emerged from around the corner of the last hill we would see for a while and sure enough, a furious side wind immediately slammed into us sending me flying across the road. Rachel fared a little better with her bike's lower centre of gravity but we both fought and struggled our way onwards using every ounce of physical strength in our upper bodies just to keep moving in a forward direction. The bikes leaning at a forty-five degree angle, the engines screaming at full revs in second gear; it was the only way to achieve a grip on the road whilst battling the ferocity of the wind.
Without warning a strong gust would regularly whisk my bike round by ninety degrees, sending me careering across the road, sliding and skidding in the gravel, banging through potholes and eventually off the road altogether, sometimes dropping the bike, sometimes not. I soon devised a method to deal with these incidents by simply steering the bike in the direction the wind forced me, which usually involved riding up or down the steep bank or for yards across the scrubby plain until I could safely come to a controlled stop.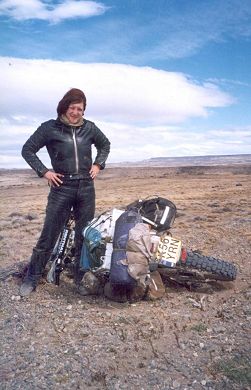 This worked well enough until such an occasion coincided with Rachel overtaking me on my left. As the wind spun my bike around, the front wheel drove slap bang into her back wheel. I crashed. She looked around to see what had happened. She crashed. It must have been a comical sight, the two of us sprawled on the floor next to our supine motorcycles. We crawled across the gravel, yelling enquiries as to each other's well being, the sound of the wind rendering our voices almost inaudible. With the bikes upright again, we attempted to decant the contents of my fuel can into our tanks, but to no avail. The wind sprayed the petrol into our faces, on to our clothes and all over the bikes. And then once again, straight off the Pacific Ocean, a howling beast of a gust slammed Rachel's bike to the dirt, the filler cap still open, precious gas issuing forth to be soaked up by the dry earth. Exhausted and aching, we lifted her bike from the ground for the second time and sure enough, another vicious blast howled across the plain, this time sending Rachel herself flying to the ground. 'We've got six hundred bleeding miles of this!' we shouted at each other above the roaring in our ears, laughing with adrenalin-fuelled hysteria.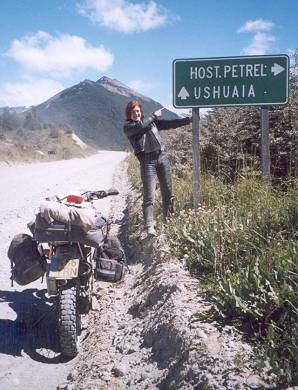 ...I made it! Today I was greeted by glorious sunshine as I arrived in Ushuaia, the most southerly town in the world; eight and a half months and sixteen thousand seven hundred and ninety eight miles since leaving Alaska. The bike and I are starting to fall to bits, but I think I'd feel a bit cheated if this wasn't the case!
Now it's a mere two thousand miles up to Buenos Aires, then back home to Blighty for a decent cup of tea. The only way is north..."

Help support the Horizons Unlimited E-zine - visit our sponsors!
Please be sure to tell them how you heard about Towanda Women!
Thanks!

Rob and Dafne de Jong, Netherlands, riding the ice in Siberia, on Yamahas with a sidecar,
"... and our eyes go to the horizon. In the wagon of the train our sidecar is impatiently waiting to be released in the Siberian landscape. We watch the swampy landscape passing by, enjoying the thought to go back here in winter to ride the roads that are impassable now. The horizon is calling. We have to go!"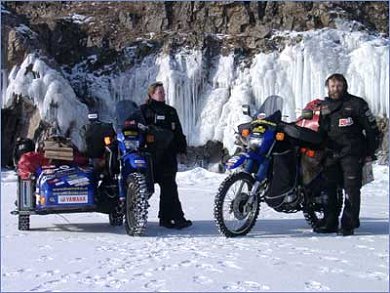 ...It's painstaking to start the engines, despite all preparation. The solo runs first; the sidecar always needs some more attention though. After a few tries the block runs for a short moment. Again I push the start button and the engine starts to run. Suddenly I see oil streaming on the snow. My heart skips a beat. "What's going on here?" We light our flashlight to see.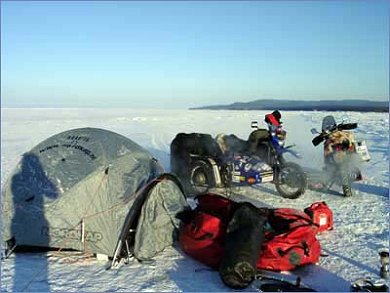 Because of heavy over pressure in the carter, a rubber closure plug has been pushed out of the block. With a tyre lever we carefully try to push the plug back where it belongs. We measure the oil and add some more. Again another cautious attempt. The plug comes out immediately! Rob and I are having an urgent deliberation. "What can be the cause of the over pressure in the carter?" I have a few thoughts but the idea to play mechanic and repair right here and now is not an option. Besides, it's even colder than we've thought. The thermometer points minus 32 degrees Celsius. Luckily the sun is shining, but for now the shadow is still with us.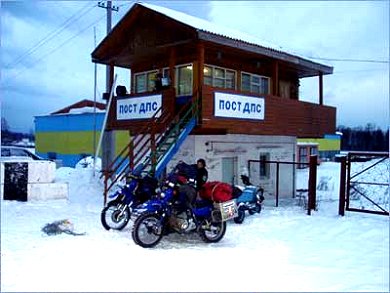 ...before we could even plug in the visor heaters into the plug box, our breath has been deposited and froze on our visors. This morning our visors are frozen much longer than usual and we ride large parts with our visors open. While we ride in the sunshine, some melting holes carefully appear in the ice. We stop several times to defrost the visors. Except for a little help from the sun, you can also achieve this when you place your helmet with open visor, in the smoke of the exhaust and clean it afterward with toilet paper. During a tea stop we see a little brown spot on both visors, and we get the spare ones out. Dafne sighs relieved. Her visor stays clean now. Again mine freezes immediately but I ride on. We've almost reached the river Shilka. I can smell the ice. Ooh, what a lovely day. We glide over the ice. Dafne's somewhat quicker with the sidecar than me on the solo. We fully enjoy this moment.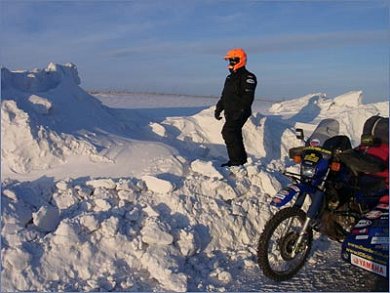 ...We had asked different fishermen again and again about the ice in the South and every single one of them had raised his voice: "Don't go! It's very dangerous." Also the so called ice watch, the MCHS, which also has a rescue helicopter service and who watch the ice very closely gave negative advice. Nikita, our host at the gastinitsa on Olhon island also asked around and almost made us promise not to go South over the ice. Only a few days ago a car had gone through the ice..."
Dean Bordigioni, USA, to South America, Harley-Davidson,
"I've been riding my 2001 Harley-Davidson Dyna Police Special from San Francisco, California to Tierra del Fuego and home, on and off again, for the past two years. The only way I could run my business and scamper about South America on a bike was to ride for three or four weeks, store the bike with a dealer-friend, then fly home for six months, then back and forth yada yada. It didn't work out, aduanas and all not liking an expired bike visa, so I sold my business, Golden Gate Harley-Davidson, eight months ago and have pretty much been on the road since.
Since it is an unusual choice for this crowd, I feel I should also address the why in selecting a Harley. Obviously being a dealer advanced this position, but way before throwing my life and wallet into my passion, I was an enthusiast. I like and prefer the mechanics, even the mechanical tintinnabulation of a pushrod engine. Archaic, noisy (mechanically, I prefer stock pipes), heavy and relatively underpowered, it does, however, maintain that untenable quality of sitting in a '57 Bel Aire and closing the door. You know you closed that door. I've also ridden Harley's for almost 20 years, and even though being a poor natural mechanic, can keep them running under most circumstances. After 250,000 miles on everything from my '47 Knucklehead to my 'Bocito', ...my South American steed, I'm just used to riding a big fat Harley. So there.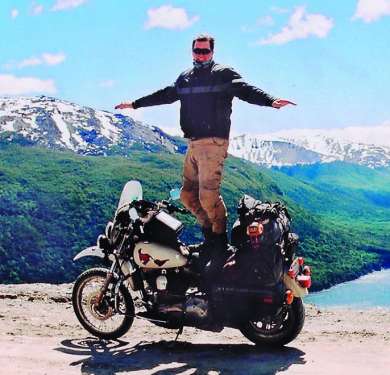 My 'enduro' Harley, slightly modified with full undercarriage skid plate, dual-sport wheels and spare gas tank, has weathered a lifetime's riding of desert sand and rain forest mud and creek and river crossings and hotel staircases and on and on and is now safely with me in San Pedro de Atacama, Chile. We've successfully endured 20,000 miles from San Francisco, California to Tierra del Fuego and the end of the road. We're now predominately pointed north towards the sunny Golden Gate and my sweet little fem Victorian high atop a hill in The City By the Bay.
Since this route has been well documented in literature and this web site by far more adventurous motorcyclists than myself, I'll keep to the somewhat anachronistic glory and tragedy associated with my particular steed and circumstances.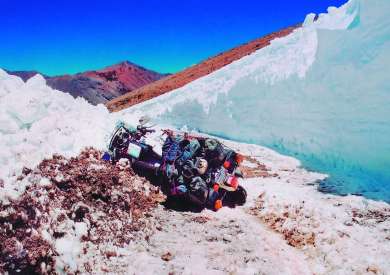 Lovely ride through the most remote of the Valley Elqui, then a long gravel road through surreal beautiful country. It was amazing. Somewhere in the very high altitude (the pass was about 15,000 feet) I acquired a bad case of altitude sickness and I guess the lack of oxygen to the brain makes you paranoid. Top that off with the most frightening road I've ever been on, sheer cliffs and gravel and falling rocks, all drugged with the sickness. It was the first time in too many years where I truly felt afraid, again the sickness?
Then I wrecked the bike, at slow speed at least. I went through what I thought was a muddy stretch of road between frozen ice fields and found out that under the mud was a sheet of ice. Hit that thing and flopped over like a dead fish, skidded off the road and hit an ice field, directly on the engine as I was falling down and flying over the handlebars. Amazing that I didn't get hurt, but the altitude had me exhausted and it took a good half hour to right the bike, all while freaked out and huffing and puffing. Another half hour down the road, still at high altitude and freaking, and the bike dies, completely. Apparently the impact broke the battery cells. I pushed it up the hill for a kilometre or more as I was on the downhill from the pass and I knew eventually I would descend. No cars on the road for 4 hours and no one to help. I was the only one at the border, earlier, who crossed that day.
An hour or so later, exhausted, and I rolled downhill without the engine for over ten miles to the military crossing for Argentina. We loaded the bike in a monster 4X4 transport van and the one hombre drove me to the first town, another 60 kilometres with me in the back of this rough riding troop transporter holding onto the friggin bike bouncing down the road. Nice huh? It was the longest, weirdest day I've had in years, but the bike is running again and I'm hitting it tomorrow for Mendoza, then direct to Santiago because I'm running on a dirt-bike battery and it barely starts my beast. Again, amazing, and grateful I wasn't hurt."

Help support the Horizons Unlimited E-zine - visit our sponsors!
Please be sure you tell Bernd how you heard about his boxes!
Thanks!

Leif Mortensen, Denmark and Heather McKay, UK, learn a very expensive lesson in Guatemala, Harley-Davidson,
"Arriving at the border, getting the immigrations stamps without problems, going to the SAT (customs) counter, initial confusion by the clerk since he couldn't find my temporary import license in the computer, papers being shuffled into the back office and then the nice woman Jefe calling me over and saying that we had a 'pequeño problema!' My temporary vehicle import permit had expired on Dec 4 and it was now Dec 11! Our tourist visa was 90 days and the vehicle permit a month and 10 days, very logical, so much for being the big world traveller! A long day went by, long talks in Spanish, the staff at the border just as confused as us, having to call headquarters (apparently first time they had ever bumped into a situation like this) and finally by 6 pm the situation got clear.
Because I had overstayed, I had to pay the full importation tax of $3,500 to get the bike back, the bike had to be impounded at the border and we had to go back to Guatemala City to sort out the paperwork. I tried to get it sorted out at the border with an 'on the spot fine', but computers are everywhere nowadays so that was not an option. The staff was actually very friendly during all this and suggested that we go back the el grande jefe in Guatemala City, plead our case as stupid, non Spanish understanding tourists that had gotten into this situation unintentionally and maybe get a fine instead. To make sure we totally understood the situation, we called our old landlord in Antigua and he acted as a translator.
By now the time was after 7 pm, the nearest town was 50 kilometers away, at the border there was only a couple of comidors etc. and the buses stopped running at 5pm! We finally found a room at the back of a restaurant, checked in and could finally have the long awaited consolation beers. Up next morning to store two big bags with leather gear, tools etc. at the customs station and the chicken buses back to Antigua, long times since I had such a depressing day.
Once back in Antigua I called the Danish consulate for help and was invited into a meeting with him. The consul Robert Gandara was helpful at the meeting, called the different official offices and put together a letter to explain the situation and ask for a fine instead of paying the full tax. I delivered the letter to the ministry of finance in Guatemala City and got a case number. Since then nothing has happened, my consul has called them every second day, but always mañana...
...Hurrah, finally made it, have the bike back after that horrid experience. I can't count the times I had to take the chicken bus between Antigua and Guatemala City, not a nice experience, they are all old school buses from America, but the seating arrangement have not been changed, so leg space for kids, always crammed in 3 persons in a seat for 2, bumpy ride etc. I won't bother you with the whole stressing story, but there are a couple of highlights.
The vice-consul kept in steady contact and apparently over the phone was promised a reasonable solution for me. After two weeks we were told we could come in to hear the verdict, turned out the conclusion was still, no escape clause, pay up the full amount, with reference to an enormous list of law paragraphs. So after 5 weeks I was in exactly in the same spot as I when we started talking to the ministry.
Decided to cut my losses, got in contact with my consul's import agent (he owned a big import company) They analysed the situation and the result was I had to pay 'only' $2500 due to a 40% write down for age, but this was almost eaten up by agent fees of $525! Paying the tax was only possible by importing the bike and all imports had to be done by a registered agent, so they had me by the balls (but why did they have to squeeze so hard?)
In order to pay the tax I had to get registered as a Guatemalan tax payer; the agent had to visit the border twice for paperwork; and finally I was required to register the bike in Guatemala, get Guatemalan plates and titles! This posed a bit of a problem, since to get the Guatemalan title I had to hand over the original title (which meant I would be unable to get the bike back into the US!) The agent arranged some kind of system where I signed an affidavit that the bike was not stolen in another country and I would hold all Guate authority free of any guilt if this was the case.
Took a lot of valuable time and valuable money, not only the import tax of $2500 + import agent fee of $525, but also our hotel/food/travel etc. for over 1.5 months, money we could have better spent on travels in Nicaragua, Costa Rica etc. Always read the small print (even if you don't understand the language)."
Maarten Munnik, Netherlands, around the world, in South America, Honda Africa Twin,
"I am going to learn the Tango. This dance has originated in Argentina, Buenos Aires to be precise, but El Calafate seems to be as good a place to learn as BA. I am stuck here. My tyre blew up, so why waste time? In the background some tango melody and my instructor tells me the first basic things: In the Tango the man is the boss. He laughs and says: This is the contrary of real life. This is where we men get even. Now we are in control... for 5 minutes.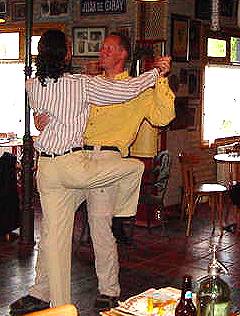 We had to make the passage to Tierra del Fuego, the famous island at the end of the world. We were just on time to see the last ferry before low tide leave. Without us. Ahhh well, a 4 hour wait in a heated restaurant is not a big punishment in Patagonia.
Once we got in the ferry we saw, with a tear in our eyes, the last bit of the American continent disappear on the horizon. Of course the tear in our eye was caused by the cold and biting wind in the Strait of Magellan. Since Tierra del Fuego is occupied by both Argentina and Chile, we crossed the border 4 times in one day. That's a lot of paperwork and a Lot of stamps in the passport. But, it is all in a good cause - our Christmas dinner in Ushuaia, and a new thermarest for me.
The last hundred kilometres we got to see something we had not seen for a long long time; trees! Real trees! Wow, I almost forgot what they looked like. And they are so big. At least 4 meters high! And what's that? There is something on the horizon. It's a mountain! Wow! Look at that, it's just growing there. A big, big snow capped mountain. And there is another one. And another. This is amazing! Yes, after spending some time in Patagonia, trees and mountains (even little hills) are miraculous.
After crossing the mountains, Ushuaia was in sight. It's kind of a big city... much bigger than I imagined, I guess tourism has done its thing. Huge cruise ships dock in the harbour and many rich tourists 'own' the streets. But it's fun to be here.
Of course we went straight to the 'end of the road', where Ruta 3 stops. You can not go further south (by road that is). It's a nice idea. Too bad you have to pay 12 pesos to see it. And to bad you have to pay 12 pesos a day to get to the free campsite. So we stay at the expensive 8 peso a day campsite. Now who is crazy?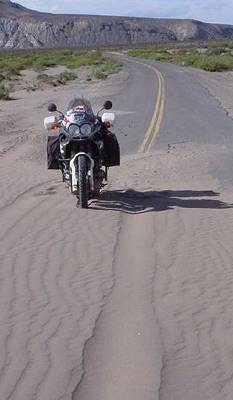 About 15 minutes after arriving, a sort of bike/contraption came driving into the place. That could only be Simon, and it was. We also met Peter (Calama, Chile) and Mirko. And all we have to do now is wait for Daniel and Mick. And then Party Time! Feliz Navidad!
... It is clearly not my month, or maybe I have such good fortune all the time (which I can't deny) that my share of bad luck just arrived late. Visiting El Calafate (Argentina) to see the Glacier Perito Moreno, the place where icebergs are born with thundering and roaring sounds. Big chunks of ice break off the glacier and crash 50 meters lower into the icy water. An awesome sight.
Leaving El Calafate to visit the famous mountain Fitz Roy, the first bad luck struck, my new rear tire blew up. OK, not too bad, but this is Patagonia. This is the land of the wind and today was a typical windy Patagonian day which means a 80 km/h blizzard sweeps across the flat land. No place to hide, nothing, nada. Trying to repair a tire in these conditions is to say the least, difficult. It felt more like hopeless, but I got as far as taking the tube out, only to discover it was almost ripped in half. The spare tube? Well, I threw that away a month ago after discovering it was deteriorating and had not replaced it yet.
Like I have mentioned several times before I am stupid and naive. Anyway, I returned to El Calafate in the back of a dump-truck. Very embarrassing. Got a new tire via mail from Rio Gallegos, but of course they had sent the wrong size; so I drove the 300 km to Rio Gallegos as if I were driving on eggs and was able to exchange the tire for a correct one.
Then I followed the Carretera Austral which is a road in south Chile which crawls alongside lakes, rivers, glaciers and snowy mountains. The scenery is absolutely beautiful. The road is absolute crap. No corrugation but ditches across the road.
So on day two I had a flat front tire. No problem, I'll get that fixed in no time! Ehhh, why is the tube with solution (tire glue) broken? Well, luckily I had a small spare tube somewhere and luckily I remembered approximately where. With some delay (unpacking all my luggage to find it) I was on the road again.
Day 4 it felt like a flat rear tire. But it could not be, it was full. Ahh, my rear shock had died. Luckily I made it to Bariloche, a big and touristy place nearby. (Big and touristy means they have a motorcycle shop). Unluckily, they could not repair or replace the shock. Well, one guy said he could but after two days admitted he was wrong. So, now the shock is on its way to Buenos Aires by airplane and should return here in three days. Will my bad luck continue or did I have enough? I guess we will know in three days."

Help support the Horizons Unlimited E-zine - visit our sponsors!
Please be sure to tell them how you heard about PanchoVilla!
Thanks!

Glen Heggstad, USA, suffering in Mexico, R1150GS
"We were at the halfway mark to the US border in Navajoa. While out searching for an Internet Café, an SUV packed with screaming young women pulls up alongside at an intersection. Some things look so good to be true you don't even bother considering them. Assuming the hooting and hollering must be meant for someone else, we smile and wave as we continue on our way.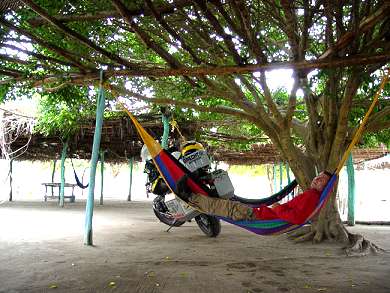 I don't know why Mexican college girls are so attracted to motorcycle riders but I'm glad they are. (Nothing like youthful adventurism.) They all seem to be trying to out-smile the other. The pick of the litter is hanging out of the sunroof shouting something about where are we heading and can she come along? Time to pull over and talk things over.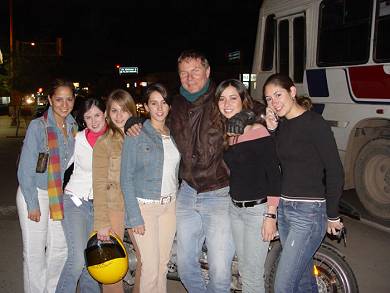 Unfortunately, my best friend, road dog is very married and although he enjoys the attention, can't participate in what was looking like a mighty sure thing. Too bad his wife is my sister. Each of the half dozen beauties is trying to upstage the other in hopes of climbing on the back of one of the bikes. They bombard me with questions like don't I have any other friends so we could all take off together? There I stand by the side of the road in frustration praying five other bikers pull up to help me shoot these fish in the barrel.
Where were my fellow adventure riders when I needed them most? I was so desperate for backup to help me contend with the overflow; I was looking for anyone on two wheels to flag over. Sunday night-the streets are empty. I end up spending two hours doubling them up for rides around the city with no way to divide and conquer..."
Ingo Cordes and Claudia Suleck, Germany, in New Zealand and Australia, BMW R100 GS PD and F650,
"...we are on a 4-5 month camping trip through New Zealand and a little bit Australia. Our homepage (sorry only German, but with maybe nice pictures)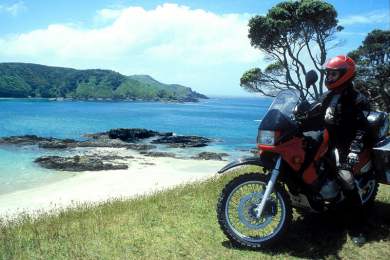 ... Ingo has a problem! Better said a bread problem. It has the nose fully from the labbrigen weissbrot, all the same whether with or without grains, it knows or brown, cut or as whole loaf. 'I want correct whole-meal bread!' Stubbornly it runs by the supermarket, grazes to course for course off on the search for the impossible one. The 750 gram package full grain flour in the shelf starts it formally. Hey, why do not bake!"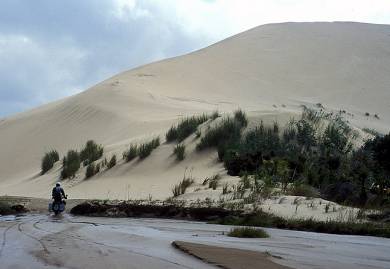 Help support the Horizons Unlimited E-zine - visit our sponsors!
Please be sure to tell them how you heard about New Zealand Bike Tours!

Thanks!

Geoffrey Siehr, USA, in South America, Kawasaki KLR 650
"I had pavement all the way to Rio Mayo and then the fun began. I had pictured compacted dirt in my head for some reason. The road was actually loose gravel with two tire tracks. As advised I went from 42 psi on the back tire to 20 psi and from 32 psi on the front to 25 psi. It helped, but not nearly enough. If I just had the road to deal with it might have been acceptable, but there happened to also be a 50-60 mph wind that 90% of the time hit me from the right side.
The cars make two tire tracks down the road. If there is not any loose gravel in one of these tracks you have some sort of traction. When the wind was at my side the bike was at an approximate 45 degree angle with the rode. If you happen to hit some loose gravel in one of the tracks you are at such an angle that the bike cannot stay upright. As a result you have to upright the bike and let the wind take you with it. Heading south the wind was hitting me on the right and would drive me over to the left side of the road. As soon I would start loosing the front I would go with the wind, get the bike perpendicular with it, lock the rear tire and hope to stop before going into the ditch on the other side of the road. When I came to a stop I would put the bike in first gear and head back over to right side of the road and continue. I must have done this move 20-25 times.
Late in day one it happened. I came over a small hill and the road slanted a little to the left. With the wind coming from the right I was done for. I tried to lean right, but the front drifted into the soft gravel in the middle of the road and that was it. The bike landed on my right foot and I was stuck for a few moments. That whole thing about adrenaline and super human strength is true. I was able to somehow lift the bike off my foot and with the next gasoline station 100 miles away I immediately reached under the bike and turned the fuel line off before the precious gas spilled all over Ruta 40 and stranded me in the middle of nowhere.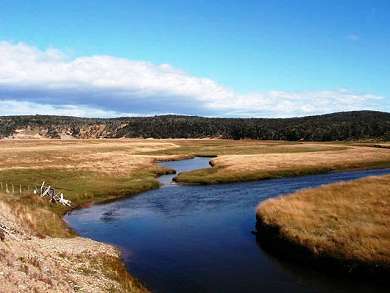 ... All I keep thinking about was how anyone could tell someone else this road was 'acceptable' and how I could be sitting on the deck of a ferry drinking a strawberry daiquiri. I was in total and utter despair.
As I am standing over the bike covered in dust and completely exhausted I look up and in the distance see a car approaching. The young driver jumps out and asks me what he can do. The wind is so strong that I have to tie all my bags together to keep them from blowing away. I have him put his car in a position to block the wind and then put all my bags in his car and then after we have the bike up, put all the bags back on the bike.
After we have the bike ready I still don't know if I can continue. My savior gets a bottle of water and two candy bars out of his car and then asks what he can do to assist me. I know he sensed my despair. We stood there in this incredible wind considering options. He was headed in the opposite direction, but offered to take my bags in his car. I would follow him back to the town about 100 kilometers away to regroup. After about 10 minutes of contemplation I knew I had to continue. The question was whether I could physically keep the bike up.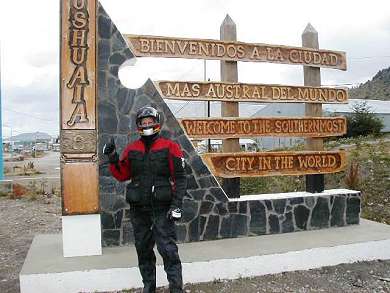 I thanked him profusely and he took my email address to find out my fate. I proceeded at 5 mph constantly performing the maneuver whereby once I lost the front I let the wind take me to the opposite ditch, lock the rear brake and hope I stop before actually going into the ditch. After another 10 times of doing this I am completely exhausted and wonder how long I can keep saving the bike.
I eventually make it to Tres Lagos after 9 hours of riding the 210 miles. I stopped outside of town and stared at a spectacular sunset knowing that this was probably the hardest portion of the trip to Tierra del Fuego. I pretty much broke down. The day had been so demanding both physically and emotionally. I had come so far and I think I knew at that moment that I would be able to complete the journey to Ushuaia. I keep those candy bars that were given to me by the car driver whose name I will probably never know. The incident truly typifies the entire journey. People going out of there way for me without any possibility of me being able to pay them back. Truly inspiring."
"We have travelled down the Queensland coast to Brisbane, stopping in and seeing all Pat's BOUGI Boys mates (motorcycle club- stands for Bad, Old, Ugly, Guilty, Insane) all along the east coast of Qld. Highlights included: Ninbin is a hip, little town from the 60's where even the kids greeted us with 'pease man, wanna buy some pot?!' We thought it was a hoot! Byron Bay was also fantastic and the surf was pumping.
In Brisbane the work started on the bike- getting the crate, putting the bike (a Harley full dresser) in it without having to dismantle it, change the tires, install the Autocom intercom that works brilliantly and heaps of other last minute jobs- thanks to Gary (Doctor Wilson - our motorcycle mechanic with a passion for Super Tenere's). We partied with Karen and Rodney, Jenny and Michael, Leive and Murray (again) and Ken and Carol Duval (Horizons Community contact).
We flew out to Kuala Lumpur, Malaysia. We went directly to a lovely little beachside village called Cherating (on the East coast of Malaysia) and stayed put for 5 days. It was fantastic- we had a beautiful bungalow right on the beachfront with private bathroom and verandah for AUS$16/night! We had a choice of about 10 superb seafood restaurants to choose from with fresh seafood and fresh fruit and fruit drinks. We really chilled, reading, sleeping, walking along the beach, canoeing along the river spotting monkeys, generally taking it easy.
We are now in Kuala Terengganu, heading north up the East coast towards Thailand. Tomorrow we are going to Perhentian Island group which is supposed to have fantastic snorkelling and diving and lovely bungalows and food again!"

Help support the Horizons Unlimited E-zine - visit our sponsors! Please be sure you tell them how you heard about Tours for Africa!

Thanks!

Juan Carlos Ibarra, Mexico, to South America, in Colombia, KLR
"The most dangerous thing for a traveller's trip is for the traveller to fall in love. This happened to me with the City of Bogota. It has positively been the highlight of my trip so far. The warmth of the people there has created a debt of affection that I will find very hard to pay... I'll definitely be back at some point.
... As I was getting my paperwork started a very friendly guy approached me, he told me he was a biker as well, the proud owner of a Virago 750. We immediately started talking bikes and trips. The bike was released smoothly and Germán agreed to guide me to my hotel. He then invited me to a 'Harlistas' ride on Sunday. I immediately agreed, of course.
We were about 80 bikes. Most of them Japanese cruisers, but there were a few Harleys there as well and only two dual sports: mine and a Suzuki Freewind 650.
The road to the city of Tunja was wonderful... people ride and drive like Juan Pablo Montoya (the F1 Colombian pilot) all the time; they have absolutely no respect for speed limits, lane lines, speed bumps, oncoming traffic. It was a teenager's dream ride. Lots of risk and total freedom.
As we made our triumphant entrance into Tunja, we were met by 10 police bikes. My heart stopped for a few moments, I could see myself in a Colombian jail for breaking every traffic law in the country. To my surprise... they were there to escort us into town!
The reason for our trip was to donate a bunch of toys to the town's poorest children. So we paraded through the main streets with sirens and horns and firecrackers.... it was incredible!
We all parked at the main square and hundreds of people cheered us in. As I was the only foreigner I sort of became a one day star. I gave away autographs and kissed a bunch of babies... well I did kiss some babes as well. Then we took children for rides on our bikes. The look on their faces was of sheer joy. At one point I had three children on the bike as I rode down main street roaring loudly at very low speed... "
Daniel Todd, USA/Puerto Rico, second around the world tour, KLR650,
"I shipped to Singapore this time because the shipping itself was dirt cheap but we knew this would be offset by the mandatory insurance (70$ for one week) and the port charges (100$) and a trip to the Singapore AA to organize everything before release of the Bike. Luckily, we were given a ERP machine by the local maddogs which is required while in Singapore. The radar-looking contraption is mounted on the handlebars and deducts money as you pass under the tolls. We decided to take our chances without it as the maddogs thought maybe you can use the tollways during certain hours without one. Ully and I crossed Singapore without incident.... probably the most civilized driving I've seen in years!
After four crossings of SE Asia, I finally found my favorite runs in Malaysia and Thailand! We were in the Cameron Highlands and we heard about a new highway that still had a couple of unfinished sections with dirt detours around them. It was the perfect two-wheeled adventure; a virtually deserted four-lane highway with perfect pavement, long mountainous sweepers going up and down under a canopy of rainforest trees of 200 feet plus height. The solitude and the views were so outstanding that I went back to make another run a week later.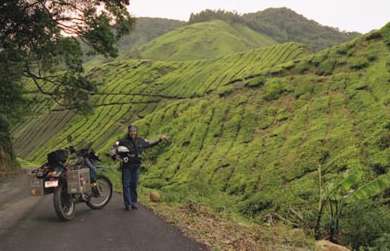 This same section that descends West into Ipoh was closed due to avalanches so I descended off the other side, traveling East and crossing Peninsular Malaysia at it's widest point. The East Side was just as dramatic and I stopped several times to swim in rain forest rivers.
The Southern Part of SE Asia receives two seasonal monsoons instead of the single Southwest Monsoon further North, so this run was no different than all the others: I got drenched all the way to the Coast and into Kota Bahru! The yearly Muslim traditional observation of Ramadan was in full swing so many places to eat/drink were closed until six o'clock. And on four occasions I had the bad fortune to bed down on mattresses riddled with bed bugs. I spent the next week walking around soaked to the bone, looking for food and scratching the many red marks all over my body! Most mornings I awoke to find blood splotches all over the sheets. More later about the great runs in Thailand that I found..."