One Year on the Road, Cinq Continents en Moto, by Manou Emringer and Ellen Spencer, in English and French.

"This travelogue illustrated with over 400 photos follows their journey through North and South America, West Africa, Europe and Asia."
Available only through Manou and Ellen directly. Don't forget to tell them where you heard about it. It's a very nice book, well done - I have one! Grant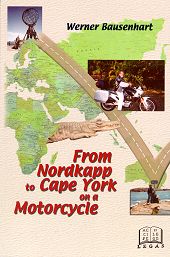 From Nordkapp to Cape York on a Motorcycle, by Werner Bausenhart. Werner, 66, was born in Germany and worked in Canada until his retirement. He has authored a number of books since getting bit by the motorcycle travel bug, including 8 Around the Americas by Motorcycle, Into the Den of the Bear and the Lair of the Dragon on a Motorcycle, and Africa Against the Clock on a Motorcycle.
Werner's latest book describes his travels from Nordkapp to Australia overland, and back to Canada to complete the RTW trip. Should be an inspiration to any of you who have been thinking you're too old to go around the world on a motorcycle!
All his books are available directly from Werner. Tell him we sent you and get US$5.00 off the regular US$20 price!
For details on his books see here. Contact Werner via this link to get the deal.


Ghost Rider: Travels on the Healing Road, by Neil Peart
A review by Steve Hornung:
"I just finished reading a book that anyone who loves riding or has had loss in their lives will relate to. It is called "Ghost Rider: Travels on the Healing Road"... by Neil Peart. If the name sounds familiar it is because he is the accomplished drummer for the band Rush. The book however deals very little with his rock life. Do not buy the book to get a backstage view of a rockers life. What the book deals with is how Peart got through a devastating series of tragic losses in his life. In the time frame of a year his daughter was killed in a car wreck. His wife essentially died of a broken heart over the daughters loss, and to top it off his dog died too. After time stewing in his own misery he chose to find if he could find a way back to life. He chose to try activities that he formerly loved to see if he could still find any happiness in this world. His first step as an avid motorcyclist was to get his BMW R1100GS and travel down what he calls the "Healing Road". Over... 14 months Peart rode 55,000 miles through his homeland Canada as well as the United States, Mexico and Belize. The book is written in a mix of a biography style as well as letters from the road to friends. His descriptions of loss are heartbreaking, and will have you asking how would I react to such a series of losses in my life. I learned a bit about life and death from Peart. This book is not all on a down note though. It has terrific descriptions of scenery and roads that he traveled. It is an interesting insight into a motorcyclists travels as well as a course in human spirits ability to rebound from misery. It will entertain and teach on a number of levels. I recommend this book highly. The tales this book tells will remain with you long after the last page is turned. Steve Hornung, Hixson, TN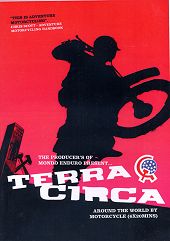 The Producers of Mondo Enduro present Terra Circa, Around the World by Motorcycle (6 x 20 minute episodes).
Regular readers of this newsletter will remember Terra Circa's adventures around the world, and especially the Zilov Gap. Now's your chance to see it in video. Austin Vince is a very funny guy and the video is hilarious, as he leads his intrepid crew through misadventure after misadventure.
"This is adventure motorcycling" says Chris Scott, who wrote the book, so he ought to know!
Contact Terra Circa video distributors for the PAL video or all format DVD. Don't forget to tell them where you heard about it.

Looking for a travel book for someone special?
Go to our Books pages, where we have listed some of the best motorcycle travel books, as well as a number of BMW books, general motorcycle books, and travel guides.
There's links to Amazon USA, Amazon UK, Amazon Canada, and Amazon Deutschland, so no matter where you are - you can order books at great prices, and we'll make a dollar or a pound or a Euro, which goes a very little way to supporting this e-zine.
There's also links to search Amazon sites for all their products, books, CDs etc., and yes, we get a tiny piece of that too. We really appreciate it when you start your book search from our website! Thanks for the support!
If you have a book or want a book that you think other travellers would be interested in please let me know and I'll put it on the site. Thanks, Grant
Quotes from British newspapers:
"Commenting on a complaint from a Mr Arthur Purdey about a large gas bill, a spokesman for North Westgas said, "We agree it was rather high for the time of year. It's possible Mr Purdey has been charged for the gas used up during the explosion that destroyed his house." (The Daily Telegraph)
"Irish police are being handicapped in a search for a stolen van, Because they cannot issue a description. It's a Special Branch vehicle and they don't want the public to know what it looks like." (The Guardian)
"A young girl who was blown out to sea on a set of inflatable teeth was rescued by a man on an inflatable lobster. A coastguard spokesman commented, 'This sort of thing is all too common.'" (The Times)
"At the height of the gale, the harbourmaster radioed a coastguard on the spot and asked him to estimate the windspeed. He replied he was sorry, but he didn't have a gauge. However, if it was any help, the wind had just blown his Land Rover off the cliff." (Aberdeen Evening Express)
"The real voyage of discovery consists not in seeking new landscapes, but in having new eyes."
Marcel Proust
"Planning? You mean I'm supposed to plan this trip? Well, I was planning to start off in McAllen Tx because that's where my parents stay for the winter. Then I head south. When I come to a fork in the road, I take it."
John (kcfire) Kennedy, USA
"No doubt about it: This is the best site! Grant, Susan and all others, Thanks!"
Maarten Munnik, Netherlands, currently RTW
"Hey, This'll get your mind out of 'reality' and back into travel where it belongs."
Porter Watson
"Merry Xmas & a big thank you from an almost daily visitor. You have created the arguably most useful resource for bike travellers. Keep it up!"
Peter & Jenny Hendricks
"It is a great site! Happy to have found (stumbled across) it."
John Pettinari, USA
"We miss your awesome e-zine! 2 months without it is a pain!"
Renate and Gino, Germany
"Merry Christmas, thanks for maintaining the great website."
Michael Moore, Canada (PanEuropean)
"I had a great time at the HU meeting (in Ulmarra). Great dirt roads to get there, met up with some good friends, made several new friends and enjoyed lots of interesting conversations. Ken and Carol (and others) did a great job. I think the same time and same place next year is an excellent suggestion. Cheers"
Tink, Brisbane, Australia
"Many thanks to all of you who helped and advised during my recent x-usa trip. Its great to know that there's always someone to help and advise. I can honestly say that its highly likely the trip would not have gone ahead without the support of this forum! Thanks!"
David Lomax, UK
"Dear Ricardo (Rocco), Compliments of the season. I would like to take this opportunity to thank you on behalf of myself and the many other Horizonistas from around the globe for the generous assistance you have provided us all when in Ecuador. You are a great ambassador for motorcycling. Feliz Navidad. P.S. Compliments also to Grant & Susan whose foresight and hard work created the organisation that brought us all together."
Ralph Green, HU Melbourne Community
"My friends and me have spent 2 years planning this trip around backpacking advice and are now realizing how stupid that was. The friends I'm travelling with have done some motorcycle travel, but very little, and me no motorcycle travel at all. I discovered this site about a month ago and since then I've been spending every free moment I can here."
Captain Tim, Canada
"Lots of thanks to Grant and Susan for all the information and inspiration I have gotten from your site (hey you should put that on your next batch of t-shirts 'information and inspiration'. But seriously, I don't know if I'd be here right now if I hadn't spent so much time at work reading your site instead of doing my job!"
Pete Corboy, USA, around the world
"In response to all your questions, can only give one answer: HorizonsUnlimited.com. Wish I had visited the site before I left..."
Chris Bright, UK, RTW 1999-2002
"Thank you very much for your website. It is wonderful. We are travelling in south east Asia on a Vespa We have been to Thailand, Laos, Malaysia in the past months. Thanks for your help."
Chevalier Emmanuel, France
"Susan: Thank you and I want to express my recognition for such good work you are doing, all this helps in creating the feeling of brotherhood that all motorcyclists share, all this made me feel that I am not a loner, I found that there are a lot of adventurous two wheel souls that make connection through your HUBB. By the way we as Mexicans have a lot of respect for women for their role as foundation for the family, you made me feel under your protecting hand, I will keep you posted on my endeavour."
Alfonso Jimenez, Mexico
"Horizonsunlimited.com is probably the best starting point for info on a lot of things regarding international motorcycle travel and shipping etc. They have a good section on the costs and experiences of shipping between just about anywhere and anywhere"
Shane Dwyer, Australia
"Just a note to say thanks for the hard work. It must be close to a year since I last sent you some money, so I just did it again. It's money well spent, and I wish you all the best with the site. Kind regards."
Nigel Marx, New Zealand
"I am an Englishman who has lived in Switzerland for 14 years. Was a biker in England during 1960's, 70's and 80's (lots of oily jeans etc, but good vibrations). Now taken it up again in Switzerland (Africa Twin). It's as wonderful as ever! Thanks Grant & Susan, the website is superb and VERY helpful. All best wishes."
Steve Gisler, UK

Help support your favourite website! Here's how!
Please be assured that we will NOT under any circumstances, rent, lease, sell, or give out our mailing list, and/or your name and e-mail address, to anyone for whatever purpose. Your privacy is assured, and personally guaranteed.
See our complete Privacy Policy here.
Grant Johnson, Editor
Please note that you are receiving this newsletter only because you requested it! We are 100% opt - in only.
To subscribe or UNsubscribe to this newsletter.
All comments and suggestions are carefully read, and where possible will be acted on. Your help will make this a useful service for all travellers.
Please use the Bulletin Board for questions and suggestions.
If you would like to advertise your product or service in this newsletter or on the website, please contact me. Ad rates are very reasonable. Details at this link.
---
ISSN 1703-1397 Horizons Unlimited Motorcycle Travellers' Ezine - Copyright 1999-2003, Horizons Unlimited and Grant and Susan Johnson. All rights reserved.
Redistribution - sending it on to friends is allowed, indeed encouraged, but other than the following requirements, only with permission. You may forward copies of the Horizons Unlimited Motorcycle Travellers' e-zine by forwarding it yourself by hand. You must forward the issue in its entirety, no fee may be involved. Please suggest they Subscribe!
Legal gibberish: (particularly for those in countries that have more lawyers in one town, just for instance, New York, not to name any names, than some whole countries, as another example, Japan. Again, not naming anybody specifically you understand) Recommendations are based on positive or negative experiences of somebody, somewhere. Your mileage (kilometrage if you insist) may vary. We are not responsible in any way for any product or service mentioned, and do not warrant any such mentioned product or service, and are not responsible for any bad things that may befall you. You are responsible for yourself! Act accordingly. We check all links and information given as close as possible to publication, and all info is correct as best we can determine at that time.
Earthquake in Bam...
Bastienne Wentzel and Erwin Voogt from the Netherlands posted this message on the HUBB on 28 Dec:
'We visited Bam the day after the earthquake. We have the following important messages:
- The city is really completely destroyed, there is hardly a single house left.
- The main road which passes by the city is unaffected and travel from Kerman to Zahedan is no problem by car/motorbike or by public transport.
- Please do not visit Bam unless you are completely self-sufficient. There is no accommodation or food available for visitors.
We spoke to Mr. Akhbar of Akhbar Tourist Guest House. The guesthouse is a big heap of rubble. Nine tourists were staying there when the earthquake happened. According to Mr. Akhbar one of them died; a British man of around 30 years named Gavin (or Kevin?) traveling on an Enfield, bought in Nepal, back to Europe.
Mr. Akhbar and his family are relatively alright and is happy to receive any supporting words from his guests. (if you can locate him between the mess that was once Bam).
Pictures we took are posted on our website. Thanks for your support and cooperation"
31 Dec - Kemal Altay, Turkey, writes: 'Unfortunately, its been confirmed. Today I read in the newspapers that Gwen Sexton (38 - British) lost his life in the earthquake. His body has been retrieved by the British rescue team who came as int. help.'
Crashes...
Vladimir Yarets Alexeevich, Belarus, around the world, Jawa 350,
"Yarets, a 62 y.o. deaf & mute biker from Minsk, Byelorussia, ...got into a bad road accident on October 13, 2003 after travelling through Europe, Caribbean, and riding through all 50 states of the USA. He was on his way to ride through South America as a part of his plan to enter the Book of Guinness as the only deaf & mute biker who has gone around the world. He had both legs, arm and pelvis broken, but is in stable condition on the way to recovery thanks to wonderful doctors and nurses at St. Francis Hospital in Peoria, IL. He needs your help to get through rehab, so pls send him a card or visit at the hospital, and, if you can, send a donation to the address below (Vladimir has no official sponsors or insurance, so every little bit will help)." Jim Winterer.
Fund for Vladimir
c/o Jim Winterer
1032 Bowdoin St.
St. Paul, MN 55116
Vlad has been released from hospital, after 50 days, and is in a care facility:
Vladimir Yarets
East 24
OSF St. Clare Home
5533 North Galena Road
Peoria Heights, IL 61616
USA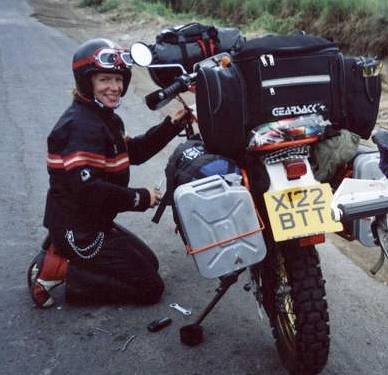 From Frank Schawrzbauer in HU Bolivia Community:
" ...in my house are now Lois Pryce and Robb McElroy. The friend of Lois - her name is Amalia - had an accident close to the Titicaca Lake. She was transported with an ambulance to a hospital in La Paz. I got a call from Robb getting the bikes to La Paz, so I lent a pickup and went over for "rescue".
"Hi Grant, thanks a lot for the support! Amalia will leave hospital today or tomorrow.
The healing process of a human body is astonishing! Of course she will need "cosmetic surgery", new teeth to be planted and some time to recover. But she talks and is in a good mood.
Their (Amalias and her boyfriends') idea is to stay a week longer in Bolivia and visit the Jungas - then go back to England.
...as an information for you - she had received lots of mails - which was also for me (as a "bystander") a wonderful experience. Thanks again and all the best, Frank"
From Germany's Motorrad Magazine, a photo of the new R1200GS with specifications.
The new bike is expected sometime next year. It's 1200cc, with more power and less weight than before. Should be VERY interesting! There's a lot of detail improvements too, such as the torque arm has been moved above the swingarm, and the whole swingarm assembly is much more compact. A full trellis frame is a big change, along with alloy wheels (spoke wheels apparently an option, and a possibility of 17" wheels), and a new exhaust system. Basic specs: (note two sets of info given - depends on whose story you want to believe!) 96HP/72kw or 102HP, either 100N-m/74foot/lbs or 117N-m torque, either 223kg or 240kg/530lb, depending on where you read it, 6 speed gearbox, and "new" looks, but it's still clearly a GS! The tank is plastic, but restyled - and it's shape may be a problem for tank bags.
The luggage is all new too. Let's hope it's better than the previous "Adventure" luggage.
More exciting news for the horsepower crazy is this 48 cylinder, 4000cc Kawasaki two-stroke.
Arno Backes and Sian Mackenzie, Germany and UK, Australia via USA to South America, in Bolivia, on BMW R100GS PD and Yamaha XT600E,
"Oururo behind us, we took the long way round to Sucre, as we had been told the more direct route was much tougher, 300kms of hard dirt. As we approached the small town of Challapata however, we began to think that maybe the direct route would have been faster. There were rocks littering the road as we approached one of the toll stations and a large crowd was gathered around a truck on the other side. A bloqueo or roadblock!
We parked up some distance away and watched for awhile. A lorry pulled up behind us and the driver came over for a chat. He didn't know what the cause of the bloqueo was either. He said that we could probably pass if we were quick, either going around the side of the toll station, or going off the road onto one of the sandy tracks that led around the town. We could see the local cars doing just that, ferrying locals from one side of the bloqueo to the other, the long way around.
We decided to chance it and went for the short option, anything to avoid battling with sand! What we didn't see was the trench that the campesinos had dug, obviously to prevent bus drivers and silly tourists from trying to get through. Luckily it must have been coca break–time before they had finished, as the trench was only 20cms or so deep. Still was a bit of a shock as we flew over it, accompanied by the whistles from the crowd..."
Peter Slarke, UK, Alaska to Patagonia, in Mexico, Honda Dominator,
" I was headed to Copper Canyon, Mexico's answer to the Grand Canyon. The tarmac road from Creel to where the dirt starts was super twisty and fun. When the dirt started I was glad to be on something that could take a hammering. The road, only 43 miles long took about 4 hours to ride. It was like nothing else I have experienced on the trip. How they built it is one thing, how many have snuffed it driving it can only be guessed at. There are plenty of little shrines at various places that give you some idea. The road was single lane, full of stones the size of softballs, had ditches where it had washed out and had drops off the side that were very big indeed. Add about 30 switchbacks into the bargain, a drop in height of about 2500 feet, animals on the road and psycho locals and you start to get the idea. Did it match the Grand Canyon for scenery? It sure did, it is one spectacular place I would like to revisit and spend more time in."
Marcel and Flavia Wolf, Switzerland, around the world, in New Zealand, Triumph Tiger,
"What a beautiful landscape: Huge green meadows, snowmountains in the far. Mount Cook we could watch by sunshine and still the weather's friendly to us. Again we were invited private. It's unbelievable, just great! Today we visited the DB-brewery and we left with six bottles of different beers. Tomorrow we're heading further south, to Dunedin."
Erik and Hanka Forkert , Germany, around the world, Honda Transalp,
"... Our next goal is Baja California, which is to lead us directly to America. We'll keep you up to date. Hasta luego!"
"Our third and final day in San Juan del Sur was spent on our own private beach next the the Pacific. We took a water taxi about 7 miles up the coast to a small backpackers hangout and then walked along the beach to find out own stretch of sand. The waves were 8 foot walls of clear blue water that ran about 500 yards wide. I had no idea the Pacific was so amazing. We had a wonderful day in the sun.
The entire time in San Juan was spent in Rebecca's Hospedaje, a home with rooms for rent. Marta, the owner, was a dream. I forgot how nice it is to wake up in a home with a mother asking you if you had a good night's sleep. We spent many hours in the hammocks around her courtyard just waiting for the heat of the day to let off. By the time we are in Panama I am afraid we will have lost Chris to the ways of Latin America. He has mastered lounging around so all he needs now is a muscle shirt and a gold chain..."

Help support the Horizons Unlimited E-zine - visit our sponsors! Please be sure you tell them how you heard about Morton's BMW!

Thanks!

"Some weeks ago, I bought a BMW R100GS. I organised a "Carnet de passage", and the necessary Visa. Sept.02.2003, I started to materialize one of my old dreams. Travel overland on a Motorbike to India. Route: Germany, Switzerland, Italy, Ferry, Greece, Turkey, Iran, Pakistan, India.
At the moment I'm stuck in Meteora, in Greece. Waiting for a necessary spare part (rubber of the Kardan. My case was to low and with the heavy load of the bike on bumpy southern roads the Case scratched the Kardan. And the Kardan scratched the case for that. Hope, both are alright with that for the rest of the trip). I'm looking for a Greek mechanic or any other Greek person who is going for "just right now" instead of 'tomorrow, tomorrow, tomorrow, no problem, I can do everything' (everything you want me to do, you just imagine and it will happen, somewhere in twilight zone). "
Didier Martin, France / Australia, around the world for World Vision, in Panama, F650GS,
"...So this morning, right after breakfast, we took a local bus to the airport which took just about an hour and we arrived just 30 minutes before take off. Going through the check out took more time and by the time we went through we only had 15 minutes left. The good and the bad got through all right but the Ugly, travelling with an Irish passport, was told that he needed a visa for Colombia and he did not have one (I did not dare tell him an Irish joke just then). He had to go back to Panama City, find the Colombian Embassy and hopefully fly to Colombia the next day. I will let you know what happen to him in my next update. It was time to say good-bye to Rachel and with only minutes to spare we ran quickly and just made it in the plane as they were closing the door. The plane took off and we said farewell to Central America.
Colombia is one of the most dangerous countries on earth. With Kidnappings, car bombings, hold-ups and murders happening every day the Good, the Bad and the Ugly should have plenty of adventures. I hope I can write about them soon and if you don't hear from me in the next three weeks or so, please come and save me!"
"We flew into Vancouver on Monday 2 June with a set of throw over panniers, some tools, clothes and Tourist Visa's for the USA. We had a wonderful start to our trip by staying with some friends while we bought bikes and insurance. We hadn't done a lot of research so were a bit surprised on Tuesday morning when we walked into the Honda Shop and asked for "Two Transalps please"; only to be informed that Honda doesn't sell Transalps in North America. Thus we embarked on 3 days of catching buses all over Vancouver to find the right bikes and so it was on the Friday that we picked up 2 brand new Kawasaki KLR650 on/off road bikes."
"Hi, we are 3 Germans traveling around South America for 4 months...
After a warm welcome from new friends in Buenos Aires and the unproblematic importation of our bikes, we navigated in direction of Entre Rios, Corrientes and Misiones, some of the states of Argentina. The countryside dropped behind us fast just like the old liner brought on land, ancient missionary stations or corrupt police men..."
Leif Mortensen and Heather McKay , Denmark and England, through Central America, Harley-Davidson,
"...the riding in Mexico is going well (knock on wood) You just have to follow a few simple rules; always ride in daylight (to avoid potholes, animals and bandits) keep your distance (especially to buses and to everything in the cities) and drive slow so that you can spot the potholes and topes. Topes are speed bumps that are in all Mexican towns and not always well signed. Topes are rather hard on Asana (my Harley) I can recommend others not to take a Harley, but go for a dual sport bike...
Generally the roads are good here in Mexico, but there are long stretches with a lot of potholes and loose gravel, so have to slow down and steer between them (no scenic views for me.) The potholes are amazing, some are so big they could swallow the bike; when hills have been washed away from under the road, I have seen 1 meter wide and at least 2 meter deep potholes. Some of them have just mutated to mudstretches.
When riding from Puerto Escondido to Oaxaca, it had been raining heavily the previous days and some of the potholes/mudholes filled the whole road and stretched for 10-20 meters. One memorable one was when we drove through a mudhole where a big modern long distance bus was stuck in the mud! We have also seen all kinds of animals, racing a herd of cattle up a hill, dogs, pigs, donkeys, even a pair of turkeys... It is challenging and tiring to ride down here, but it's fun."

Help support the Horizons Unlimited E-zine - visit our sponsors!
Please be sure you tell them how you heard about Motorrad Elektrik!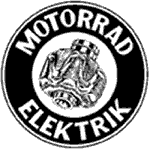 "You want the best for your BMW Motorcycle. Motorrad Elektrik has been offering the best in electrical parts for classic and modern BMW's for over 10 years. Be it a full 12 volt conversion for your /2 or better than stock replacement parts for your late model "R" or "K", we've got you covered. Specialty parts for 'hardening' the charging and ignition systems for world-travelling Airhead GS's. Riders like Bob Higdon, Dr. Gregory Frazier, the late Ed Culberson and hundreds of others depend on Motorrad Elektrik components as they wander the globe.

Omega. 400 Watts. Light and heat for 1970-95 Boxers. YeeeHa! The end of that greatest limitation of the air cooled Boxer, a small capacity charging system!"
Thanks!

Eric Blume, USA, in Namibia, R80G/S,
"Today is just one of those unique touring experiences. I am here in Africa and have been riding around the southern part of the continent for about a month. Today I was riding the narrow strip of Namibia between Angola and Botswana and a giant herd of elephants crossed the road in front of me. Strange to see so much mass crossing the road in front of me. There was a tour bus behind me and I thought I would give them a show. A gap appeared in the middle of the herd and I shot the gap with my G/S. The big bull elephant closest to me gave me a funny look but did nothing but flap his ears and shake his head.
Tomorrow I hear off towards the Skeleton Coast and lots of miles of gravel. The G/S is happy here on these roads and I'm glad I installed the TKC80s."
Martin Ellis, UK, around the world, XT600,
"After travelling over land for the last year and a half from England on an XT600 here I am in New Zealand. Next step is to ship over to Argentina and go up through the Americas."
Witek Majewski , Poland, through Africa, KTM,
"Hi, I've been travelling since a month in Africa on my KTM. Right now, (mid-October) I am in Mozambique where I am supposed to stay about two weeks. Then I am planning to come back to Europe via Malawi, Tanzania, Kenya, Ethiopia, Sudan and Egypt."
"Unfortunately I had an accident in Northern Mozambique (collar bone broken) and I had to come back to Poland. I've left my bike and all my luggage (including cameras) in Africa. I have my flight back 3 December."
"We are two Germans on the road with two Yamaha Ténéré's since the first of April. We spend two month in East-Europe, tried the Becherovska (Liquor) in Czech republic and crossed Russia. Made a stop in the Ural-Mountains, the Altai-Mountains, had a great time in Tomsk at a Biker-Festival, and also in Nachodka at the first international Biker-Festival. We enjoyed the Russian Vodka and of course the wonderful Siberian people.
Since 1st September we are in Japan. We can try all different kind of beer we can get and we are sure the best one is still the German beer. :) But now we get ready for our next destination: the Philippines. And looking forward for South-East-Asia. We are always happy to share our beers and stories with some other bikers. Maybe see you on the road... "
Pete Corboy, USA, around the world, R100GS,
"...after far too many delays I finally got out on the road. That was about six weeks ago and I've covered a lot of ground since then. I left from California and rode all the way down the Pacific coast of Mexico. Into Guatemala in time for the Presidential elections (oh great!) and across El Salvador. I just crossed into Honduras a couple of hours ago.
Lots of thanks to Grant and Susan for all the information and inspiration I have gotten from your site (hey you should put that on your next batch of t-shirts 'information and inspiration'. But seriously, I don't know if I'd be here right now if I hadn't spent so much time at work reading your site instead of doing my job!
So guess what happened last night? I'm riding along in south Nicaragua (as one does) and it's getting late. So I pulled into a beach town named San Juan del Sur. Well it turned out that everyone that's riding south is here. There was Steffan who I met in Antigua and another German named Bert. An Austrian (name escapes me, but he's on an Africa Twin), Simon Kennedy and Rachel (Rachel who rode through Mexico with Lois Pryce) are here. We have Didier Martin who knew friends of mine in San Francisco. Seven of us all together.
We declared an unofficial Horizons Unlimited meeting. We took a picture of us and all the bikes and Steffan is going to send it to you."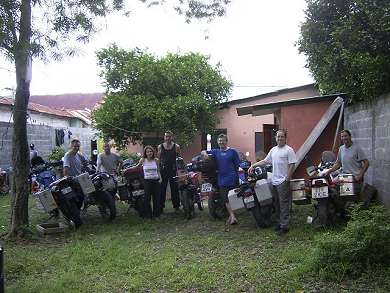 Doris Maron, Canada, RTW, in Europe and Canada, Honda Magna 750,
"In Austria I was delayed waiting for visa for Czech Republic and Poland. It seems like such a waste of money since I only spent one night in each country. I wanted to make it to Nordkapp, Norway before the end of August, but all the delays in waiting for visas put me behind schedule and by the time I reached Lithuania it was already getting cold.
I crossed from Lithuania to Sweden by ferry. Over the next week I rode in rain through Sweden, Norway, Denmark and Germany with only a couple of partial days of sun. I arrived in Amersfoort, Netherlands on Sept. 5th and flew to Calgary, AB, Canada on Sept. 9th. This was a very special gift from a very special friend. It was great reuniting with family and friends for 7 weeks. Oct. 26th I flew back to Amsterdam and met up with Martin and Jen, who just returned from riding in Australia. I spent some time with them before continuing south in Europe, then into Africa."
Nelson Oliveira, Canada, to South America, in Guatemala, F650GS,
"After Mexico, I went through Belize and then to Guatemala, using the International Travellers Map to Central America. This map is out of date. The most problems are where the map identifies a paved road and in fact it's dirt, and in some case, really bad dirt. Like, the backroads south of San Ignacio in Belize are all dirt. The first 20km in Guatemala on the main highway are dirt. The road from El Estor north of lake Izabal is a dirt road in some places horrible with deep ruts.
To get to El Estor from Rio Dulce, there is a new road, and the first 20km are wonderful asphalt and very twisty. Doesn't look like Guatemala at all. If you head to Belize, be prepared to pay $18 when exiting the country. To Guatemala, you also need to pay $5 for the bike when entering.
Broke the radiator at Lake Atitlan... Outside Guatemala City I met a group of people that get together with their bikes at this spot every Wednesday and Thursday morning before heading to work. When I told one guy that I had busted the radiator and was going to Guatemala city to fix it, he offered to guide me to BMW and I could later drop by his motorcycle shop to change the radiator. His name is Alfonso Pantoja and his shop is Moto Punto at 4. Avenida "A" 13-24, Zona 9, Guatemala city. If you ever get to Guatemala city drop by his shop and say hi from me."

Help support the Horizons Unlimited E-zine - visit our sponsors!
Please be sure to tell them how you heard about TinyStocks!

TinyStocks presents Highway Manager: the most complete and flexible gas mileage application for the Palm OS® platform, written by a biker for bikers. Keep track of your gas mileage, insurance payments, garage bills, hotels, highway tolls and whatever is necessary. Statistics, charting function, multi-currency, and more... So, got a Palm OS device? Why not take it on the road?
Thanks!

Steffen Utzmann, Germany, North and South America, in Nicaragua, KTM 640 Adventure,
"In Loretto (Baja California) I run into my first hurricane, Marty! Luckily for me it was just the outskirts, which hit the city. But that was already enough to topple a couple of buildings in town.
Especially the nice beachfront was hit hard. Luckily for me I got warned in time by the manager of the RV park. I could move my tent and stuff in a group house and park my bike in a storage building. I am really glad, I could move there. As the storm rocked for basically all day. Looking back, its nice that I can talk about it!
After that I had to wait another day before the road to La Paz opened up again. Even so I had to cross a couple of filled up dry washes and the streets covered often with mud, sand, branches, rocks, etc.
My Route was Belize, Guatemala, Honduras, Nicaragua. I did all border crossings alone and my Spanish is still not very good. But so far I was very very lucky, not more than 1.5 hours for any of the borders. In average I needed just a bit more than one hour for each. And apart from 9US$ too much at the Honduran border, no extra bribe costs."
Jim Stanley, USA, in South America
"At Thanksgiving was still in Quito, Ecuador, waiting for Xavier to arrive from USA.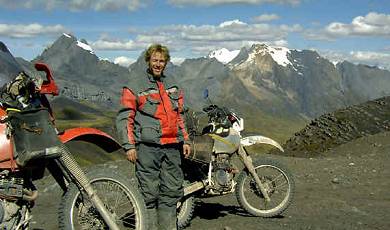 I had planned to get on a bus and head for the beach today, but there is going to be a big thanksgiving dinner with turkey, mashed potatoes, the works at my hostel tonight (owned by a guy from Michigan). I will go to the beach first thing tomorrow morning. I will then come back to Quito for the big city-wide fiesta with bullfights by day and dancing in the streets by night. After that I plan to climb nearby Cotopaxi (5800meter volcano). Then start heading south..."
Mika Kuhn, Germany, around the world, in Puerto Iguazu, Argentina, Tenere,
"Too many stories to tell getting from Magadan in the far eastern part of Russia to here...
... Sao Paulo... In Brazil the petrol is mixed with 20% alcohol, and as my Tenere would not start I opened the petrol tank. The petrol and alcohol mix and the epoxy, which I had inside the tank to seal some leaks, had become a greasy plastic something mix. I had to clean it all out of the carbs and the tank to get the bike going. But I was happy to see my old Tenere again after seven months, and also David's dogs had not eaten the seat. Thanks David for taking good care of my bike.
Together with Quinho, a biker friend from Santa Catharina, I went to the motorcycle meeting near the border with Paraguay. I made a few jokes about travelling seven hundred kilometers on his Harley, but it was my Tenere that I had to fix on one of the petrol stations along the way. I had to wash out the carbs again, because there is still too much epoxy in the tank. More than a thousand bikers had come to the meeting, the tv people paid for some of my fuel and many bikers bought me a beer."
Simon Kennedy, Ireland, RTW, in Panama, Transalp,
"My face must be a picture. I am standing at the Avianca check-in desk. The bike's already flown to Bogota. My flight there goes in 45 minutes. 'I need a what? No, no, Ireland's in Europe. European Union. No necesito visa por European Union. Ireland in Europa'. She shakes her head sternly with the finality of a nightclub doorman. You ain't getting in mate. And sure enough, twenty minutes of phone calls and computer punching later, I ain't getting in. My two friends are on their way to gate 15 and I am left asking around if anyone knows where the Colombian consulate is.
It seems the US doesn't want the wrong sort of Irish in Colombia. So I go along with all my documents to prove that I am made of the right stuff, begorrah. Not the political type at all. The underlings won't deal with me. I am directed to the consul. She's advising God. I wait until she's finished putting him straight. Usual set-up, big office, wide wooden desk with the window behind so I squint into the white light that emanates from around her beatific person.
She's not a happy woman. 'You want to ride your motorcycle through Colombia?' Well that's the idea. So I nod, smile and say yes. She asks again. Second time around it provokes a long pause that gives us both time to reflect. I recall that priests do this a lot. And academics. Maybe she has a point. 'I want to ride my motorcycle through Colombia.' Hmmm, now I think about it, there is something not quite right about this phrase. I have a week to ponder on it while I await my next audience."
by Simon and Georgie McCarthy, UK, in Shiraz, Iran,
"Francesca and Alessandro from Milano were on their honeymoon, riding a BMW F650 to India, intent on using money given to them as wedding presents to build a school for underprivileged kids!"
by Alec Simpson, Australia, in Iran,
"Some Belgians on BMW 650 were recently in Esfahan, I believe they crossed Tourgart then to Pakistan and KKH or maybe the other way...the permits for their China crossing amounted to 1000USD for one week. I am told they had an escort."
by Richard Beaumont, UK,
"I rode down to Seal Beach, south along the coast from LA, to meet up with Jon Holmes. Jon is your true modern day hobo, he's been traveling around the world for 25 plus years only stopping long enough to work when he has to. For most of that time he's been on a bicycle, but has recently added an engine to his two wheels. He's been staying here with his niece and her husband, Debbie and John Fox, since riding down from Alaska in the summer, having spent the winter working there. The are really good people, I stayed for dinner, helping to cook it, and am now spending the night on the floor of their offices round the corner from the house. It looks like Jon and I are going to hook up for a while going into Mexico. He's a great guy, clearly a very experienced traveler, and full of stories. I have two slight concerns, first he's much older – must be in his fifties – difficult to see how that would work over the long term. Secondly he's clearly used to travelling on a much tighter budget. He might prefer to camp where I would opt for a room. I am planning on some camping, and hope to pick up a tent tomorrow but perhaps not to the extent he would normally do. I guess we'll play it by ear and see how it goes. "
by Lisa Roberts, UK, living in Delhi,
"We are very fine - Harvey has joined me out here in Delhi and now the temperature has started to drop we expect to see more travellers passing through.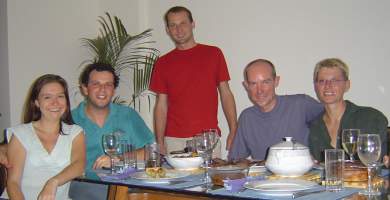 Kai Grimmel and Ulrike Teutriene, a German couple on their way East, stopped off with us for a few days. Daniel Schaller, from Switzerland, is also here, so we had quite a crowd for Diwali, the biggest festival here. As before, we're happy to lend a hand, (or bed), to any travellers who need a break from the challenges of India for a few days."
by Ken and Carol Duval, Australia, throughout 2003
"Visitors from around the world paid us visits and a special hello go to everyone including Paul and Pia from Denmark who are currently in South America travelling the dusty and muddy trails in their Pajero.
Peter (Cameron) and Carol (Palladino) from Revelstoke, Canada who enjoyed a quiet few days before they shipped back home. Carol... I have more Bundy! They were riding a BMW R80RT with a "serious" luggage system.
John and Gerry both on R80GS Basics were on the home run to Ireland. They came over to dinner a couple of nights while they were waiting on repairs to their bikes.
Cliff and Jenny (Batley) from Sudbury in the UK had travelled overland to New Zealand/Australia on two BMW F650's.Now back in the UK. Jenny was enthralled by our Brush-tailed possums. She encouraged them to be hand fed and now they expect it all the time. Great entertainment for the following visitors. We have the most photographed possums in the world.
Simon on a Honda Transalp from London and Rachel from France on a Kawasaki KLR250 spent a few days doing repairs before shipping to the USA.
Pascale from Antwerp in Belgium on a BMW F650. Her enthusiasm for travel by motorcycle has enthused a friend of ours so much he has now bought his own 650 Dakar and is planning a trip around Australia.
Murray & Joyce from Calgary, Canada, travelling on a BMW 650GS and a 650 Dakar. Plenty of fun and laughter. May catch you in 2007!
Seamus from Ireland and Lenssa from the USA two up on a 1990 Yamaha Tenere. Lucky you are small Lenssa. Spent a few days with us doing a little maintenance and some seat modifications! Now in the USA.
John and Annette from Surrey in the UK. Riding a BMW R80GS Basic and a BMW R80GS Kalahari. Still travelling around Aus. and hope to be with us for Christmas. See ya then o caloused ones.
Eveline from the Netherlands riding a BMW R100GS Classic. Stressed her back while lifting the Black Beauty and spent a little R & R on Moreton Island. Liked the outback and hopes to return one day. Now back home again.
Uta from Germany dropped in again before she headed back home but has returned to travel more roads in New Zealand.
And our most recent guests Christoph and Sylvia from Switzerland travelling Australia in luxury. An R60 plus sidecar. Showed us great hospitality when we were in Europe...and they didn't even know us. Sorry about sending you to sleep with our slides.
Christmas is upon us once again and so our home is open to more visitors for the festive season. Holger from Germany who rode a bicycle from Europe to Australia and New Zealand will also be joining us with his friend Sandy. It will be an exciting time.
We take this opportunity to wish everyone a very safe and happy Christmas and an even better 2004. Please remember all you travelling adventurous types our door is always open and we are waiting for YOU to visit us down under. Love Carol & Ken"
Rick Barnes, (rickx HUBB handle), UK, down the West coast of Africa, R1150GS Adventure,
"I'm setting off from the UK and down the west side on my BMW GS (2 engines in 354 miles - I kid you not!) before the end of October.
I started preparing for the trip in July and have not done any serious travelling since overlanding in East Africa 10 years ago, after the first time I quit my job. That got me bitten by the bug and I have been packing in the corporate IT job in London and going off on mini trips ever since. This time it's different though. I hate the job, love biking and travelling and am bored with life... it is not a fun place to work anymore compared to when I started out 20 years ago.
Yes, I'm riding a new (first big mistake) GS Adventure which I bought in May. One new engine (timing chain snapped after 354 miles) and a few other parts later it seems to have come through the 'running in' process and I hope will keep me in good stead for the rest of the trip. BMW's cost cutting accountants seem to have got involved in the manufacturing process. This is my first BMW and the quality doesn't seem to be as good as the slightly older models.
But I digress... I started planning for the trip in July and hoped to leave in September. Just as the book says, this takes a lot longer than you think, especially when you have decided that you are not coming back except for weddings and funerals so it was not until the end of November that I was able to do a trial pack. I still need to ditch one or two things and will now have to take some warm weather gear just to get to Morocco. The one thing holding me up now is that I was stopped by an unmarked police car in July for speeding (in my car) and I finally appeared in court - 6 pts and a $400 fine later, I am just waiting for my licence to be returned to me and I am off.
The Plan? Anti-clockwise round Africa to Dar es Salaam, boat to Bombay, anti clockwise around India, Nepal, Tibet, Bhutan, Bangladesh, Burma (somehow), Thailand, Vietnam, Cambodia, Laos, Malaysia, Indonesia, Oz, NZ.
Hope to find somewhere along the route to call home and if I need more mileage I'll ship over to Tierra del Fuego and aim for Alaska. Timescale? I've blocked out 2 years assuming nothing interesting happens along the way.
The postman delivered a bumper sack of Xmas mail today but still no driving licence. I sit and wait..."
Bob Morley, UK, around the world, F650GS,
"Planning to go round the world & visit the most northern & southern places on the way... interested? I'm hoping to leave late November & be back by September next year. Here's some detail:
Ship the bike from wherever (London for me) to Ushuaia. Visit Tierra Del Fuego.
Follow the Pacific coast through Chile, Peru & Ecuador
Ship the bike from Quito to Panama
Central America
Pacific coast of Mexico (with a, errm, slight detour to Cancun)
Keep the sea on the left & head north to Anchorage
Ship the bike to Magadan (or Vladivostok, not sure yet).
8000 miles across Russia, via Moscow & heading north to Murmansk
Go to the North Cape, then back through Norway/Sweden to mainland Europe & home.
Drop me a line if you'd like to come along or meet up on the way. Cheers, Bob"
Well, 17-November is 'the day' ...shipping the bike to Buenos Aires, Christmas in Ushuaia, then north to Alaska& back to the UK via Russia.
We're putting together a website to cover the trip & I'd like to credit (or is that blame) Horizons Unlimited for getting me into this... the trip will also raise funds for MAGPAS, more details of this worthwhile organisation can be found at MAGPAS"
Mark, South Africa, XR650; Tyler, USA, KTM Adventure; Gary Nunan, Australia, KTM Adventure; UK to Morocco and south,
"Myself (South African), Tyler (USA) and Gary (AUS) will be heading off at the end of this month (October)... we plan a fairly quick trip down to Morocco and then kinda go where the wind blows with the intention of doing the Atlantic Route, Senegal, Gambia and then also up to Timbuktu..."
Vincent Danna, France, around the world, BMW R100GS,
"I started the journey again from Pakistan end of September, direction India. After Shimla, Manali, now in Leh for a few days, high in the mountains. From Leh then west: to Kargil down south to Zanskar (not really only Rangdum), back to Kargil, more west to Srinagar, Jammu. Very nice, no road or weather problems. Sleep, food, almost everywhere, no worries, not much choice but it's ok. The roads stop being maintained in October around Leh, Manali."
"Wheels 4 Eyes is an initiative to help people in Nepal to better eye-care. Two young and ambitious people from Holland will ride their motorbikes from Holland to the capital of Nepal in order to raise money for eye-care in Nepal.
The trip will start on the 17th of November and will take about three months."
Richard Beaumont, UK, USA and south to Ushuaia, F650GS Dakar,
"A couple of months later than planned but I am finally hitting the road at the end of this month. Arriving Chicago from London on Oct 27 to pick up bike, then a quick trip to NY. From there south to New Orleans, west to California, taking in Vegas and Grand Canyon (can't miss the opportunity even though its north again). From California to Mexico - most likely down Baja Then it's the long run all the way down to Ushuaia. Too late for new year but you can't have it all.
Travelling solo, but always keen to meet up with folks along the way...
Wow. Wow. Wow. Today I sky dived. Not a fixed line, or a tandem jump. Real free fall. It's called Accelerated Free Fall, I spent most of the day in training and then when I jumped there were two instructors holding on to me, but not connected, until my canopy was deployed. It was the rush of my life..."
"Damandaz", South Africa, London to SA,
"Finally leaving on my trip home to South Africa from London, via east Africa. would be good to meet up with any fellow overlanders along the way. Drop us an email if anyone's keen to meet up along the way. Route: Tunisia, Libya, Egypt, Sudan and east all the way down."
Martin Rooiman and Jeannette Boom, a.k.a. De Twee Musketiers, Netherlands, around the world, settled temporarily in France,
"Hi everyone, we have arrived in France and our main aim was to be settled before Christmas and we have just managed to reach it as we yesterday made the last room livable. There are still a lot of boxes around in the house and we haven't found everything back yet but now have the feeling we can live in it!
Therefore we haven't had much time lately to write to everyone and certainly not to work on our last legs of the travel reports. We definitely are finishing them but this will be a project for next year.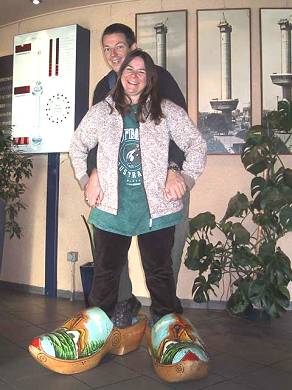 Finally we managed to get an email account so in addition to our new address we sent around the last time we have now also a new e-mail address.
Except for the room, the bikes are ready as well and we took them for a short test ride. We discovered that the bikes were running fine but the weather was too cold so we start exploring France on our motorbikes somewhere next spring.
Finally we like to wish everyone of you a happy holiday season and all the best wishes for 2004! Lots of love, Martin & Jeannette"
"Just a quick note. Just arrived home in Switzerland two days ago and have a bundle to do. Yes, we finished this trip. Here are some statistics:
24 countries
92,700km by motorcycle
5900km by car
1200km by truck
12 flat tires (9 we fixed on the roadside ourselves)
Favourite countries: Argentina and Colombia
Three rear wheel bearings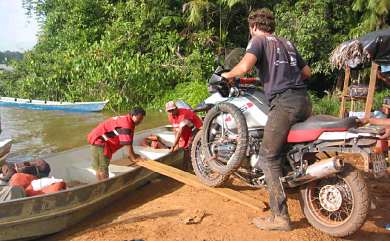 We had a wonderful trip. And a very eye opening one at that. It seems we had completely wrong views of most of the countries we visited. We really have made only positive experiences. Didn't find many of those bad people. One or two at most.
Yes, the website is still not updated. Hopefully I'll get around to it soon. All the best to you. Brigitte and Hannes"
"With the bikes wheezing and our lungs doing little better we struggled into the valley of La Paz at over 11,000ft. A fitting place to switch out the new frame sent from Kawasaki. Though after a day of crawling through the worst traffic of our trip the thrill of such heights quickly wore thin.
Fortunately the bike shop holding the frame was tucked away just south of town in the upper class neighbourhood. Feeling a bit guilty at enjoying rather unlatin surroundings, I quietly marvelled at the Mercedes and BMW's parked amid the chic, modern coffee shops. Feels just like Seattle. Sipping a latte in such scenery, it took a conscious effort to remember this is one of the poorest countries in South America.
Though when it comes to motorcycle shops in Latin America money equals expertise, no matter what people tell you. Yes, I read all the stories of Mexican ingenuity and shade tree mechanics. It's all fine and rosy until it's your bike under the torch of a drunk Bolivian. Though, rolling the KLR into the spacious shop of the local bike shop I knew something was different. For the first time in nearly a dozen countries I would actually trust my bike to these mechanics without keeping a watchful eye. When the owner of the shop rolled up in a Jaguar a sigh of relief escaped into the thin air.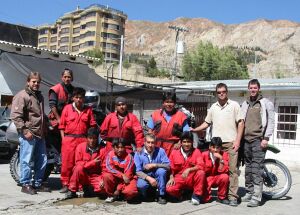 Within a few hours of beginning the project I made it thoroughly clear whose intelligence was lacking. And it certainly wasn't the natives. Propping the new frame beside the disassembled bike my joy turned to despair as I realized Kawasaki had inadvertently sent the wrong frame.
Once again too shocked for anger, laugher instead welled up from the sheer absurdity of the situation. Unbelievable. After 10 minutes or so of contemplations and imagining the phone call to Kawasaki, I hollered over to the shop owner to take a look. Three or four chin scratching minutes later Walter came to a startling and profound conclusion. With a quick spin of metal he flipped the new frame upside down, leaving nothing but utter embarrassment as the shiny steel chassis suddenly fit perfectly. Bizarre. The only consolation provided was the fact it took a national champion a couple minutes to dismiss my foolishness. I shudder at the thought of having called Kawasaki.
After three days of blood, sweat and toil the bike was somehow restored to its former glory. Besides fabricating a custom new bearing race for the suspension, the process went off without a hitch. Almost too easily, as we sparked the engine and warily drove off, praying that every bolt found it's place once again. Of course this city of altitude had unfinished business to settle and less than an hour out of the shop Steve's clutch blew a hole, dumping its blood red contents among the crevasses of the engine case...
...We are home, safe and sound. Forgive the delay on journal entries and photos, the excitement of returning to American soil left little room for diligent writing."
Ted Simon, UK/USA, "Jupiter's Travels," around the world, again,
"If I'm lucky, you have been waiting to hear from me that the CD is completed. It's taken a month to do it, but I'm quite pleased with it. The whole journey is now on this one CD, and it has been rearranged so that you can track through all the three years easily. Also, I have added in many more pictures, including fifty or more from my original Jupiter journey which should appeal to those of you who have a special fondness for that book.
Please look at my new web site... It's been pretty interesting going back over what I wrote. Especially the more controversial stuff. I'm happy to say I'm not ashamed of anything I said. I just wish I hadn't had to say it.
We live (as the Chinese say) in interesting times.
I have also had to reorganise all my email addresses. There are many hundreds of them, and yet I am surprised how many give me a sense of warm, personal connection. From those of you who wrote to me, I have kept snippets of your letters, and reading them now I am touched by the good will and encouragement they express. In many cases I feel that I should have replied, or done more to maintain contact, but in reality it is impossible for me to keep up a correspondence with so many people. I hope very much that you understand this, and do not take my silence as a sign of indifference. If and when we have reason to connect again, it will be no less sincere for the amount of time that may have passed. I have, as you know, friends all around the globe. Time and distance have made no difference to the warmth of our relationship. That's how it is.
May I add, for those of you who are feeling deprived now that it's over, SO AM I. But it had to end, didn't it?
My very best wishes. I hope we meet again. Perhaps when the book is written we will have that chance. Yours, Ted"
"A quick mail from a friends house in England.
We are home and safe, if more than a little cold. We arrived a week ago, but finding an internet cafe in the UK seems to be more difficult than in Outer Mongolia!
We plan to send out 3 more newsletters about the trip, and then settle down to getting jobs and a membership at a gymnasium. We will keep this mail address so you can contact us here if you want free bed and breakfast in Manchester, or if you know anyone with jobs to offer.
More to follow - from our nice comfortable home. Simon and Georgie, Dunroamin, Manchester"
Mark Moors, Canada, through Central and South America, Africa, Middle East and Europe, R1150GS,
"70,000 km in total (the bike now has 91,000 on the odometer)- both on road and off road. Ran like a top the entire trip.
Just a little background info: I did my trip without any sponsorship. I am 46 years old and had 20 years of street riding, but no dirt experience. I have little mechanical knowledge, but did spend 10 hours with a BMW mechanic before I left, learning about basic service for the bike. As such, I could change all the oils and do the valves. Nevertheless, I had BMW dealers do this work most of the time because the prices are quite reasonable in South America and Africa.

Book special just for Horizons Unlimited Readers!
"Into the den of the Bear and the Lair of the Dragon on a Motorcycle"
"8 Around the Americas on a Motorcycle"
"Africa Against the Clock on a Motorcycle"
"From Nordkapp to Cape York on a Motorcycle"
Werner Bausenhart has written several books on his travels around the world, and has offered them to HU readers at a great price. Tell him we sent you and get US$5.00 off the regular US$20 price!
For details on his books see here. Contact Werner via this link to get the deal.

New Communities:
We've got 255 communities in 66 countries as of December 31, 2003! Wow! And I have a couple more to set up too!
A big thanks to all those who took the first step and established the Community in their area. New Communities are in Mexico City, Monterrey, Mexico; Mendoza, Argentina; Zagreb, Croatia; Lommel, Belgium; Cannon Falls, Minnesota, USA; Delhi, India; Regensburg, Germany; and Chengdu, Sichuan China.
If you are on the road, do check out the Communities - don't feel like you're imposing on people! They signed up for a Community because they want to meet travellers - that's you! You'll have a great time, so go to the Communities page and let them know you're coming.
For details on how you can join a Community in your area, or use the Communities to get information and help, or just meet people on the road or at home, go to the Community page. Send me some photos - with captions please - and a little text and you can have a web page about your Community! A few links to web pages about your area would be useful too.
Just a reminder to all, when you Join a Community in your area, send a note to the Community introducing yourself and suggesting a meeting, or go for a ride or something. It's a good way of meeting like-minded individuals in your own town.

Support the Horizons Unlimited E-zine - check out the HU Souk for jumpers / pullovers, t-shirts, hats and other products with the new logo and a variety of slogans!
Thanks! Grant and Susan