December 25, 2002, and December 31, 2002 - Christmas and New Years Eve!
Where: Wherever you are! Travellers everywhere looking to meet up with others for some Christmas cheer can post on the HUBB - Horizons Unlimited Bulletin Board - in the Travellers Seeking Travellers Forum. In years past, the main meeting points have been Ushuaia, Goa, and Cape Town. Where will you be?
The Ratay's are planning on a major Christmas bash in Panama, so keep that one in mind! Lots of travellers already planning on coming.
TonyK, UK, plans on Morocco for Christmas,
Story Leavesley, USA, heading for Copper Canyon, Mexico, for Christmas. (also looking for a place to park a truck around El Paso area).
Maarten Munnik, Netherlands, writes: "Xmas and New Year 2002 I will be in Goa, India. When Grant Johnson heard this... he elected me as organizer for the rest of the two-wheeled-explorers. Let me know if you will be there... I'll try to organize a pretty beach and some nice food and drinks etc... campfire... the works. Of course I need to know who will join... otherwise I have to drink everything myself ;-) Take care and hope to see you, Maarten." Details
Plan where to be when!
If you know of any events of interest to travellers, send me a note.
Paris Dakar,
Paris to Dakar race starts Jan 1, from Marseilles.
Telstra Extreme Rally Raid 2003, January 11th, Phnom Penh, Cambodia,
"The toughest ride of the year - and not for the faint hearted... the first Extreme Rally Raid to circle the country, or complete the ring, taking in Cambodia's four biggest towns, the main Angkorian group and their namesake, Angkor Wat, as well as camping in temples way off the map. This tour will dip its toes in the ocean and climb the country's highest peak through its densest jungles. Experienced dirt bikers only need apply for the full 11 days... a charity event we lose money on every year. Last year we handed out over $15,000 USD of mosquito nets as well as de-worming tablets for children along the route, and handed out seeds and rice to remote villages accessible only by bike. This was all done with the backing of WHO (World Health Organization) in addition to UNICEF who supplied us with ionized salt and health literature" Details here.
Krystall-Rally No.32, January 29 - February 2 - 2003, Norway,
will be held at: Dalseter Höjfjellshotell (Mountain Top Hotel), Espedalen, Norway
NO camping ! NO cars / automobiles / wagons / etc - you come on a motorcycle; 1, 2 or 3 wheels - perhaps Leif allows for quads (?...). Please, equip your bike for winter use... you can expect it to be winter; i.e. snow, lots of it, chilly weather or rather freezing temperatures so to speak (you can expect -20'C or more; then again it can be "summer" too...).
Reply to:
Krystallrally
Leif Arnesen
Styri
NO-2080 EIDSVOLL
Norway
Deadline for booking is December 14!
Christchurch, NZ Horizons Unlimited Community meeting
Nigel Marx writes: "We are planning a Christchurch HU Community Didn't-Quite-Make-It-For-Christmas Party towards the end of January. Date to be finalized in consultation with any travellers that might be able to get there. Spit roasted Canterbury lamb and all the trimmings! So as you can see we will need a big turnout to eat everything. What do ya say, mate? You coming? Regards Nigel Marx & Kitty Rhodes in NZ" Let Nigel know you're coming!
3rd BMW Biker Meeting, 4-6 July 2003, in Garmisch-Partenkirchen, Germany
Details eventually. :)
22nd Faro Rally 18-20 July 2003, Portugal
From Chris Bright,
"if you're having problems with your electrics check out the following websites - reading them transformed my electrics"
BMW Airheads electrics
IBMWR charging info
UK off-road Events and green-laning:
Australia off-road
Get your website listed in the LINKS Section
by listing Horizons Unlimited on YOUR web site, let me know you've done it by mailing me a link to the page, and you may get listed here in the next newsletter and on the Horizons Unlimited web site Links page. To make it easy for you, we even have our logo and link code here!
All sites will be considered for listing, but must be a MOTORCYCLE or TRAVEL site, useful or of interest in some way to travellers. We reserve the right to refuse to link back.
There are many 'Helpful People' listed on the Links page, a huge thanks to all of them. How about you? Or you can join a Community, or start your own!
Do you know of a good shop 'on the road,'
...in other words, somewhere there isn't a large number of shops? (Also of course any shop that specialises in travellers equipment and repairs is of interest.) But we're particularly looking for those rare items, good repair shops in South America, Africa and Asia etc. Please post your info in the Repair shops around the world Forum on the HUBB.
"If you want to know more about the BMW coding plugs you probably will get the right answers from Matthias Krist from the Brisk-Germany Team. He knows really a lot about that stuff and has build a switchbox for recalling all programs at the bmw-motronic. Just ask him. He speaks english, too. Contact www.brisk.de Hope that helps, Marcus, Germany"
The Avon Gripster AM 24 is officially available again, in 17 and 18" sizes, tubeless only "back by popular demand" is the word.
Also, an Avon rep "recommended mounting the front model of the Distancia in the reverse direction than the rotational arrow indicates. The tire pattern on the front tire actually tracks better and runs truer and is more stable when run in the reverse direction than the arrows indicate. This was his recommendation on the front tire only and on the Distancia only." From Larry, SF Bay Area
Apparently a number of R11xxGS owners have broken the cast rear rack.
There is a good fix available here from Wunderlich.de.
When you meet people on the road, and they haven't heard of this e-zine or the website, we'd appreciate it - and hope they would too! - if you get their names and email addresses and send it in to me, or use the recommend form available on most all pages of the website.
Thanks, Grant
Who's heading south?
Want to meet others on the road? Check the HUBB posts here
It's that time of year - every man and his dog - well, bike anyway... is heading south from Canada and the USA to escape the winter. John "kcfire" Kennedy and "bud," "paulzen," "clark," "Biram," "pifa" and others are all heading south! Link up with them and others on the way south here.
Daniel Todd, USA/Puerto Rico, second around the world tour, KLR650,
"I am looking for any motorbike contacts, information, places to stay or other recommendations in Australia especially in NSW, Victoria and Queensland for my ride in the coming months. Please email me with any info. Lots of thanks to the guys at Horizons!"
---
Plenty more questions and answers on the HU Bulletin Board! We've over 2,192 registered users on the Board, which I think is pretty amazing, and gives a huge resource of knowledge and experience to help you with anything you might need to know.
PeteSC, USA,
has come up with an interesting tidbit - truck stops in the US often have internet facilities - sometimes expensive and unreliable, but good in a pinch.
Werner Bausenhart, Canada, replying to a question from Pietro Spera:
"On July 28, 2002 I tried to enter Georgia from Russia (near Sochi) with a Georgian visa in my possession, but was turned back at the Russian border post and told to take a plane, that this border has been closed since 1999. Other travellers told me that all land borders between Russia and Georgia are closed since the resumption of the war with Chechnia. This is not so between Georgia and Turkey, and Georgia and Azerbaijan. So make your plans accordingly."
From Chris and Erin Ratay, USA,
"...the road from Manaus to the Venezuelan border is 99.9% paved. There are about 10 stretches of less then 100 meters that are unpaved. However, there are more potholes than acne on a 14 year old with bad skin. When the road was good, it was good. When bad, you had to shift down to 1st gear to manoeuvre around the craters. The one I hit today was well camouflaged, which is typical... I hit a huge pothole 20km from the border, and lost all my dampening oil in my Ohlins shock!"
More on the HUBB here
In response to a question on the HUBB about safety in Turkmenistan and Uzbekistan, Vincent Danna replied:
"Hello I was in Turkmenistan after Uzbekistan, Kyrgyzstan, Kazakhstan, Mongolia, Russia. I spent 6 months totally in this region. It's quite hard to get visas, I know. But it's definitely worth going there. I did not have a single bad experience/ problem in those countries. Turkmenistan is my less favorite but still nice. Go to Russia, Central Asia. It's safe, nice, friendly, beautiful happy trails. I put information on my website."
Guatemala to Honduras border crossing woes, from Arne Bomblies
"The Honduran border (Puerto Cortes) was unimaginably more difficult than I had expected. It was decided by one of these guys that we were to pay US$20 to some guy for the 'service' of riding on the back of one of our bikes, our passports and bike papers in hand, to make sure we didn't do any funny business on the way to the customs office in Puerto Cortes. Then he changed his mind. $20 each, heh heh. At 2:30, the guy who had to give the official approval, the 'jefe', had left the office for the weekend already. We were ordered to surrender our licence plates in addition to all of our important documents. Only the passports were allowed to stay in our possession. We were told to come back the next day, a Saturday. The jefe would be there. Of course he wasn't. But since this was a weekend and the jefe MIGHT have had to work overtime, the customs fee was raised to $100 per bike rather than the usual $75. No matter that it didn't work out in the weekend, we still had to pay. It was not until late Monday that we finally got out of Puerto Cortes. I could have sworn I heard loud laughter coming out of the customs office right as we rode away from there."
---
Request for info
Wouldn't YOU like to know all about the border you're approaching - what it should cost, paperwork required, 'tips' needed, and who to talk to, etc.?
When you cross ANY border, take some notes, and pass them on to us. Thanks!
Shipping
The Shipping page on the site is HUGE! It can be reached directly or from the Shipping link on the Trip Planning page.
If you have any information to contribute, there is a form at the bottom of the page which you can submit and we will put it on the page. Thanks!
Travel Advisories:
The Foreign Office in London's Travel Advice Unit advises against all travel to all sorts of places. Check out the listing before you start!
The US State Department has issued travel advisories, information and/or warnings.
Arno Backes and Sian Mackenzie, Germany and UK, Australia via USA to South America, in Mexico, on BMW R100GS PD and Yamaha XT600E
"From Cuauhtémoc we rode to Durango via Creel, stopping off point for Barranca Del Cobre or Copper Canyon. The canyon, or actually a series of 6 canyons, gave me my first real taste of serious off road riding. Conditions were not exactly perfect, it had rained solidly for the past 2 days, but a break in the weather encouraged us to make the trip down into the canyon itself. From Creel, it was a 150km ride, the first half on winding tarmac, the second dirt! When the tarmac ended we met up with 3 Americans on KLR's with whom we rode for a while. We stopped to take photos quite often, too often for our companions, who drove on ahead.
Suddenly, the road narrowed, cut through the rock and plunged steeply down into the canyon. So this was it, the start of the serious riding! Hairpin bends over a mixture of rock and deep gravel, took all my concentration. Luckily there was almost no oncoming traffic as I bounced between the cliff face and the sheer drop! It was with sheer relief that we reached Batopilas at the bottom of the canyon. The next day we had to ride the same road back to Creel. At a photo stop, I misjudged the width of my panniers as I often do. Instead of the usual near miss, however, I made contact with Arno's bike and we both ended up all over the road. It was a silly mistake and the first dent in my confidence, even so we had a good laugh about it.
Onward and upward, at some points I wondered if I really had ridden down this road. Arno was having fun even though he has a much heavier bike. I was struggling at some points but chose a reasonably easy stretch to dump the bike for the second time in one day. Luckily I was ok, the bike was ok and there were no witnesses, apart from the goat which had momentarily distracted me. We made it back up to Creel without further incident and much learned.
... Today is Day of the Dead, here in Zacatecas. Yesterday the children celebrated by dressing up in Halloween type costumes and parading around the city asking for sweets. Today they accompany their parents to the cemetery where the graves are decorated with many flowers and examples of the dead persons favourite foods. Shop windows are decorated with skeletons and there are sweets in the shape of skulls on sale in the market.
We have been here a couple of days, it is a nice city in which to hang out and catch up with things. It also has turned out to be a good place to meet people. The first BMW we saw was being ridden by Hank and Sherrie from Texas, here for a quick trip and to follow a classic car race. Our second day in town and another BMW, this time it is Merv and Ruth from the UK, into the second year of their RTW trip."
Simon and Monika Newbound, UK and Eastern Czech Republic, around the world, in Russia, on R1150GS and F650GS,
"We entered Russia from Norway on two BMW motorbikes, a 650gs and r1150gs. It was something we almost didn't do because of all the warnings about mafia, gangsters, theft, police corruption etc. from the Finnish, Norwegians and Swedes. We crossed the border into northern Russia, an area that is completely militarized, in fact so big is the military presence it looks like they are waiting to invade Europe. We traveled the first 60 kilometers towards Murmansk surrounded by electrical fences, watchtowers and military roadblocks that did not ease our nerves or paranoia especially after I had just completed 24 years in the royal navy submarine service. We spent the first week completely paranoid and frightened, every Russian to us was a possible gangster, mafia member or thief and pitching the tent was a nightmare because there was never ever anywhere safe enough to camp.
After one week we departed St. Petersburg for the Baltic countries, Estonia, Latvia and Lithuania. Such was our relief on arriving in Estonia that we had a celebration drink because we had survived! But we had survived what! As nothing really had happened to us, it was just us that were paranoid. And so we decided to be more outward in our presence and make a real effort to integrate and be more trusting of people, after all this is why you go traveling to meet people and see how they live and experience the culture! It was the best decision we made because once we changed, and became more receptive all sorts of doors open up.
We extended our stay in the Ukraine from three days to three weeks because of a motorbike show called the 'goblin show' situated on the sea in late June. About three hundred bikers turned up from Ukraine, Russia Baltics and Siberia and this would be our chance to meet and make new friends. We had an incredible time and everybody was so friendly and kind to us. We discovered what we already knew, that the Russkies have an enormous appetite for vodka and I do mean they drink it for breakfast, dinner and tea. There are many traditions that revolve around vodka, such as once a bottle is open you must always finish it, never drink vodka with beer as it spoils the vodka effect, always put an empty bottle of vodka under the table as you don't want people to see how much you have all drunk. The first glass should always be downed in one irrespective of the size of the glass and many, many more.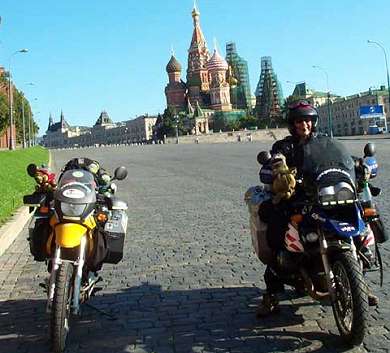 And so we left Ukraine for Moscow, Kazakhstan and Mongolia with renewed faith in mankind and the Russkies and the ability to drink large quantities of vodka without collapsing or throwing up. 99.9 percent of the people we met during on our travels in the soviet block were kind generous and friendly. We heard many times 'please tell the people in the west that we are a nice people, we don't have the money to visit Europe or America but the next best thing is you coming to visit us.' A lot of Russians have a hard life, their infrastructure is poor, bad roads and dilapidated housing but slowly improving. Salaries are bad, with a traffic policeman or fireman earning only 100 dollars per month and a nurse only 80 dollars. Unemployment is bad and the weather is extreme, but it does not stop them being one of the most generous and kind people we have met especially in Siberia."

Help support the Horizons Unlimited E-zine - visit our sponsors!
Please be sure you tell them how you heard about Ridetour!
Thanks!

Maarten Munnik, Netherlands, around the world, in India, Honda Africa Twin,
"After riding the Karakoram highway and my illegal entry into China (they did not like it ;-) we split up. (I was traveling in a group of 6 bikes since Quetta) Andreas wanted to spend some time in Hunze, Sean and Adrian had left a few days before because they are on a tight schedule. Cliff, Jenny and me went to Lahore, Pakistan. Enjoyed a relaxed day at the fort and went on to Amritsar, India. There we also split up. Cliff and Jenny went north, I went south.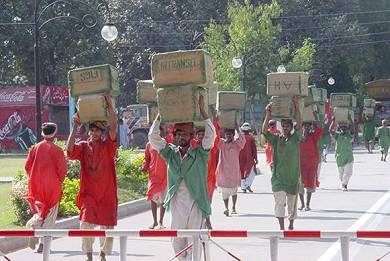 My first destination was Jaisalmer, a remote desert-outpost in west Rajasthan on the outskirts of the Thar Desert It turned out to be a very relaxed journey... all the stories about India, the traffic, the roads and the people seemed to be heavily exaggerated... of course this was to be expected.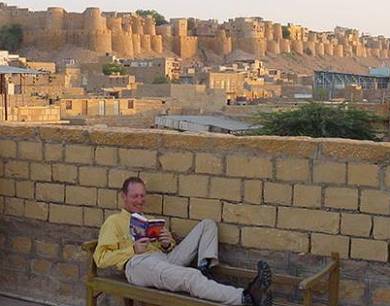 Naturally I went on a desert safari. Swapping the bike for a camel I rode off into the sunset... Well that was the general idea, but it was cloudy and there was no sunset. No worries said my guide... you will enjoy the stars tonight because there is no moon... wow... millions and millions of stars. Too bad there was a sandstorm... not too many stars. And the silence of the desert was far to be found... the wind howling and trying to grab my sleeping bag. Well, at least the sunrise was worthwhile. Slowly the sun climbed up and started to warm the sand.
The rest of the day we rode through the sand dunes. We even had a race, but unfortunately I lost... and this while the guide was sitting backwards on his camel. Maybe this is the secret trick because you're in a better position to hit him/her on the behind ;-)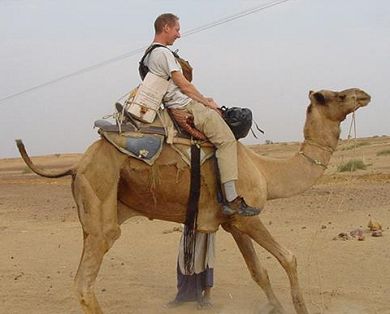 The next day I traveled into the same desert with my bike... unfortunately I got a flat tyre about 20 Km from the nearest town and with no tools (I left them in my hotel). Luckily there were two jeeps parked a bit further on the road... and I asked them if they had any tools like an air pump. No, but if you go over this little hill you'll find a guy in a white shirt, ask him if he can miss a jeep and I'll bring you to town. So I walked over the little hill and found... a complete film-crew, shooting a video-clip. Of course they had no time to drive me to the town right now... but... stick around, join us and when we are done we can bring you to your hotel, get the tools and bring you back to your bike... for now, sit back and enjoy! So, I went with them for the rest of the day. Even did a 'location-survey' for the next day. Of course the exotic dancers did help a lot to make the desert 'a nice place.' At the end of the day they brought me back... and. they made me promise to come to Bombay, where their base is. So, Bollywood, here I come ;-)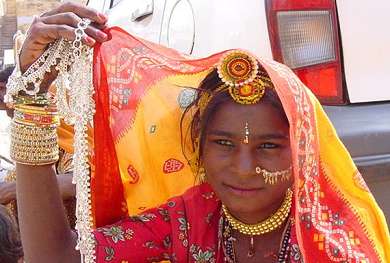 Right now I am in Jodhpur. I have met a lot of very nice people, some just 'plucked' me off the road and showed me their town, the fields and gave me anything I needed... I will never forget them. Some just invited me into their house and offered me dinner, some just wanted to talk a bit with me. I enjoyed all of it."

Help support the Horizons Unlimited E-zine - visit our sponsors!
Please be sure you tell them how you heard about Casamia!

Canadian Wilderness Tours on an ATV (Quad Bike)
The Roughest, Toughest and Dirtiest Tour you will ever have! (No wimps or wooses please!)
Discounts for Group bookings.
Check out our website: www.ChaletCasamia.com or
Tel: (1) 705 729 5202.
Thanks!

Chris and Erin Ratay, USA, around the world, in Brazil, two BMW F650s,
"Belem is 160 kilometers south of the equator and with 45C temps and 95% humidity, we were sweating our ------s off. We are on the edge of the great rainforest area known as the Amazon, and at the mouth of the mighty Amazon River. Monday, we board a 'bird cage', the locals term for the little wooden ferry boats, for a 5-day journey up the Amazon River to Manaus. The bikes will ride down in the cargo hold, while we bask in relative luxury in a 2x1 meter cabin. We could go hammock-class, but that would mean sleeping in extremely close proximity to 100 other people with all the associated noises and annoyances that implies. There is also a security issue, along with exposing ourselves to the swarms of mosquitoes. Cost for the journey is about US$200. Travelling in a hammock would have saved us US$30, but we think it is worth the added expense!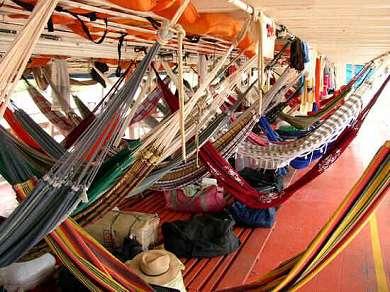 ... We packed up our gear and rode down to the docks around 11am - the river was high and we could easily load the bikes onto the lower deck. Although we were cleanly showered, we were sweating before the work was even started. We met the balance of the crew, and all were extremely friendly.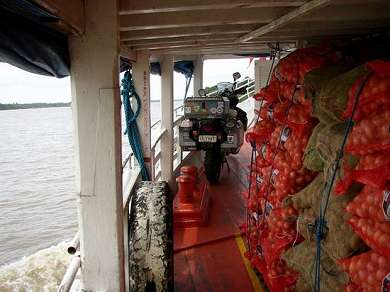 ... During the next 5 days, a routine settled in -- We managed to wake before the 6am breakfast whistle and watch the sun lift up over the stern like a giant orange balloon. We take care of the morning rituals and head down to the dining table, located behind the open cargo on the lower deck. Crackers and hot chocolate are not that bad a breakfast, especially when fortified with a few bananas we bring along. After breakfast we hike to the top deck and flop into our hammocks for some relaxing swaying and reading, while enjoying the cool morning breeze. It is not long before we are asleep. The morning hours pass as we wake with heavy eyelids, beginning to break a sweat with the increasing heat, take in the view, and try to finish that same paragraph/page of reading before slipping back into unconsciousness.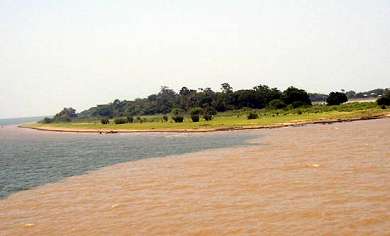 By 10-11am, we are more awake and watch life on the shores drift by. The views alternate between small cattle farms, dense trees (with monkeys and Toucans), mangroves, loads of fresh water dolphins, and small villages. The river is filled with various sizes and types of boats and barges, while dolphins can be spotted throughout the day.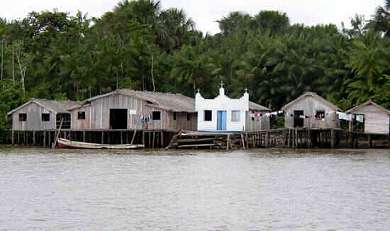 ...The beds are actually better then we expected, and leaving the a/c on its lowest setting at night provides a comfortable sleeping environment. Throughout our journey, the boat has been surprisingly clean, and the crew very attentive. Our trip along the Rio Amazonas was not the exotic adventure we imagined from several months before. It is, however, a very interesting journey meeting all sorts of people and experiencing life along the river. If you are looking for a very relaxing experience, don't mind very basic facilities, and enjoy meeting friendly locals (not those whose lives depend on tourism), we would highly recommend this trip."
Peter and Kay Forwood, Australia, around the world since 1996, in Bolivia, on a Harley Davidson,
"We took the almost one lane road north to Jujuy on one of those days where you think to yourself 'life doesn't get much better than this'. It twisted through rain forest before Jujuy then opened to a good two lane as we hit the flatlands. We headed up the switch back dirt to 4200m before descending to sleep at 3700m in Susques, our highest altitude sleep. The magnificent barren mountain views disappeared as we descended from the pass to cross a salt lake on good asphalt for the last 70 km to town. A less touristy town thrust into the 21st century by the upgrading of this road, now the main northern artery to Chile. Here we found two other overland motorcyclists, a Japanese and German heading south who had great information and recommendations about the Uyuni area where we were heading. I had a poor night's sleep at this new altitude with a racing heart and headache and feeling jittery.
... Riding on the salar yesterday was such fun that this morning we couldn't just leave. We had awoken before dawn to see the full moon setting from our window and walked to the top of the island to see the sun rising. With 360 degree views of the salar, in a pink morning light, in total solitude, a great experience. Fresh deep fried bread for breakfast and still not wanting to leave we headed west to see just another salar islet and to ride a little further on the salt flats. It's like riding in an ocean, being able to go in any direction, not needing to worry about traffic, seemingly floating across the salt. It was finally time to leave and we headed east following the well worn tracks 60 km to the salt hotel. Made entirely from salt blocks, the wall, floor, tables, beds and chairs hard as rock, salt. A great place for a coffee but at $US 20.00 a bed we moved on to the salt mining town of Colchani, 15 km's and a dirt road to Uyuni a further 20 km's. The bikes, covered in salt crystals, were pressure cleaned, the clothes filthy from dust and salt, washed, and we rested watching this end of the tourist migration organize their tours.
Ben had been travelling with us now for almost two weeks, learning from each other's experiences, laughing at jokes and swapping travelling stories, as we explored this remote yet tourist inundated region of the altiplano together. Ben needs to move faster than us so is heading directly to La Paz while we hopefully will beat the onset of the rainy season deciding to go to Potosi."

Help support the Horizons Unlimited E-zine - visit our sponsors!
Please be sure you tell Bernd how you heard about his boxes!
Thanks!

"From Amritsar we returned to the border to watch the flag lowering ceremony, for this we hired an auto rickshaw for the 30 km drive and shared it with Maarten and two Aussie ladies (Jan and Robin) that we met at Mrs. Bandahari's. The flag lowering ceremony involves a lot of marching as fast as possible followed by stamping the ground as hard as possible and then inflating their chests as much as possible and using a few arm movements to try to suggest to the opposing side that they are inferior, add to this the slamming shut of the gates, now add into the mix crowds of Indians and Pakistanis in their respective grandstands cheering and shouting as loud as possible, all taunting each other, and a couple of people on each side are allowed to run up to the gates and wave their respective flags at each other before then running back in front of the crowds to a tumultuous cheer.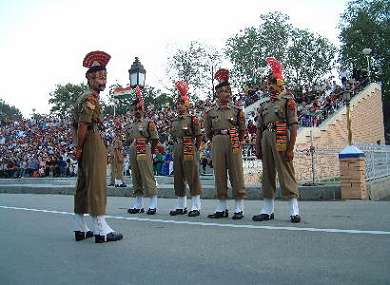 Because we were foreign tourists we were given special treatment and taken to the VIP section, then as the ceremony was about to begin the senior officer invited us to move to an even better position, from which Cliff was able to capture most of the ceremony on video. This was one of those evenings that will stay with us for many years to come."
Tiffany Coates, UK, Prudhoe Bay to Ushuaia, in Peru and Bolivia, R80G/S,
""Peruvian Police - a 'take no prisoners' attitude to fines/bribes was what I had heard from the other bikers - all of whom had been stung. So here I was having been pulled over on my first day in the country for speeding (who me??), I put on my best charm school act and managed to get away with it - along the lines of 'aah senorita...' In fact despite getting stopped twice more in Peru I never had to pay a penny. Having quickly bored of the coast in Peru I was zig-zagging in the mountains, and followed a great dirt track through Canyon del Pato (Duck Canyon in English - not quite as poetic), which goes through more than 40 roughly-hewn stone tunnels as it follows the canyon side - a beautiful ride, so if you're going through Peru look for the track, it is north of Huaraz and leads to the coast.
On leaving Cusco heading towards Lake Titicaca I was caught in a vicious storm - it seemed to be trapped in the valley I was in and I had lightning hitting the ground all around me - at one point only 300 yards away - I was hoping my rubber-topped foot pegs would help in saving me!
Bolivia and the diverse road surfaces it has to offer - I have managed to 'snap' Thelma - the fairing/headlight bit has sheared through and is now supported solely by the crash bars. To add insult to injury I had the hounds of Huari chasing me (a pastime practiced by dogs world-wide as all riders know), however this time with a difference when I felt a searing pain and looked down to find one with its fangs around my left calf - I yelled, kicked it off and sped onwards, so now I have rabies to worry about as well as everything else!
The Salar de Uyuni was beckoning - and in a mini posse I set off with Alon (from New Mexico) on his Transalp and Rob (from England) on his KLR. We had a great time - it really is an unbelievable experience to be riding fast over this huge expanse of white as far as the eye can see, overall the journey to the Chilean border turned out to be quite an epic one but we made it, with Thelma limping across the frontier with 1500rpm and only first gear possible!"

Help support the Horizons Unlimited E-zine - visit our sponsors!
Please be sure to tell them how you heard about Ayres Adventures!

Thanks!

Arne Bomblies, USA, to Ushuaia and back, in Mexico and Guatemala, KLR650
"So we climbed from the Oaxaca coast with all its palm trees into the Chiapas highlands. Fantastic ride as the sweltering humid head gave way to moist, cool air with rainforest-type vegetation. At one point I broke my clutch cable, and spent the next half hour leisurely installing it. Friendly people stopped to ask if they could help, the air was humid but not hot, scented with mild hints of flowers, birds were singing their brightly colored little heads off, there was a clear, gurgling brook right where we stopped and I realized that if it hadn't been for a broken clutch cable I would never have stopped at such an 'ordinary' place, which was in fact a huge treat. The place is remarkably beautiful. I enjoyed having a breakdown there immensely. Ah, the joys of motorcycle travel.
San Cristobal de Las Casas is an interesting highland town, with a strong local indian presence. And a strong presence of armed soldiers carrying M-16s guarding every single street corner. We did a long loop up to visit the Maya ruins at Palenque, then down along the Guatemala border to Bonampak, another Maya site. Super interesting, that one. And we had the site to ourselves cause we weren't in a tour group, and were the only independent travellers. It was the site of numerous ritual sacrifices, which are well preserved in a series of wall paintings in closed vaults which we could walk into and check out. I put on my Indiana Jones hat for that one. It really does make you feel godlike, standing on one of the huge pyramids, stones carvings of gnarly looking heads and symbols all around, imagining a bunch of followers below worshipping you.
... From Guatemala City, James (Courtier), Tom (Sewell) and I headed back north to the Peten region. Palenque and Bonampak hadn't satisfied me, I wanted to see some more ruins. Sure I wanted to see Tikal, but for me the main draw was the large concentration of remote Maya sites that still have the 'lost city' thing going, and I wanted to get an impression of what it must have been like for the early explorers to come across these ruins. The advice of our guidebooks was to leave exploration of the area until February at the earliest, but we decided that applied to ordinary people, not us. So we continued north through Tikal, after obtaining our permits, on a dirt road toward Uaxactun. This was supposed to be the 'good road' section of the drive to Rio Azul.
It was some of the most difficult and muddy road I have ever seen. It had rained the day before, and the whole stretch was a mud pit as it sliced through the steamy, dripping wet rainforest. When we made it to Uaxactun, 23 km out of Tikal, it was already very clear to me that this would be as far as we would make it. If the so-called 'good road' was this abysmal, the rest of the road would be like trying to ride through the Everglades swamp."
Lance Wiggs, New Zealand, highlights of South America, BMW F650GS,
"In the last few months I have:
- Made a wooden box, put the bike in it and shipped it from Panama to Ecuador - Toby and Chris/Sara did as well
- Chased horses in the hills above Quito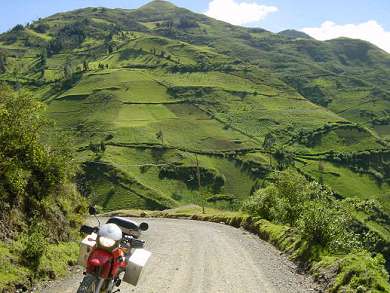 - Eaten more than a few almuerzos (multi course lunches costing about $1 to $2)
- Roughed-it in a Ecuadorian hostel with sauna, swimming pool, spa/Jacuzzi, basketball court... for about $6/night
- Been on the highest road in the world - as measured from the center of the earth
- lost my Sony DSC P-1 digital camera - a suspected theft in a hostel in Trujillo
- Met several other crazy motorcyclists and cyclists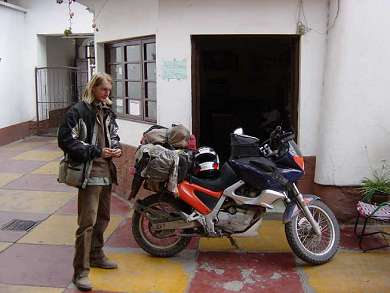 - Overstayed my bikes permisso in Peru
- Hit 4000+ meters high for the first time this trip (previous record of 5500 is intact...)
- Experienced *all* the symptoms of altitude sickness - while on - or near - a motorcycle (something about 4000m)
- Ridden - and confronted evidence of - the most dangerous road in the world - La Paz to Coroico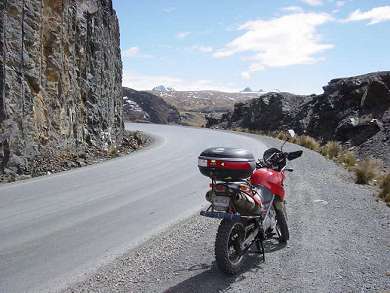 - Shopped in the largest market in the world - in El Alto, above La Paz
- Motorcycled through the Salar de Uyuni - the worlds highest salt lake
- Ridden through the 4000 meter + high "sandy beaches" (alleged roads) of Bolivia
- Overstayed my visa in Bolivia
- Been escorted around Iquique by a policeman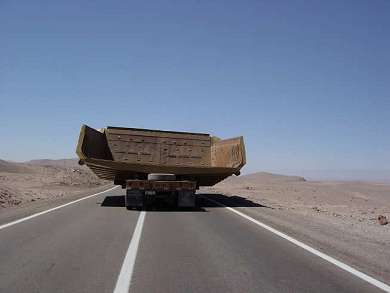 - Visited a nunnery that was closed to the public for hundreds of years
- Hiked the Inca trail (4 day version). Up the mountain, down to the temple and ran to Aguas Caliente
- Reached 31,000 (50,000 kms) miles on the odometer
- Learned Spanish for a couple of weeks in Sucre
- Realized that I need about another 2941 weeks to grasp Spanish satisfactorily - and that they speak another language in Brasil...
Life on the road is still fun - next I head to Brasil via Chile, Paraguay and Argentina... Sounds like a plan... cheers all, Lance"

Help support the Horizons Unlimited E-zine - visit our sponsors!
Please be sure to tell them how you heard about Towanda Women!
Thanks!

"We had arrived just in time for the Malaysian Moto-GP and headed to Sepang, on the outskirts of Kuala Lumpur to watch the rare spectacle of Max Biaggi beat Valentino Rossi to the podium. It was a fairly gripping race - even though Goose had to give me a quick introduction to some of the riders I was less familiar with. We left with ears ringing and arms full of motorsports merchandise.
Our Asian trip finished in Kuala Lumpur from where we were shipping the bike to Australia. Surprisingly it was cheaper to ship the bike to Perth than to Darwin - presumably because it is a busier port. The bike would take two weeks to get there.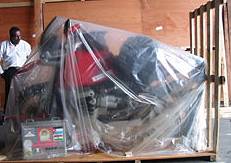 With the bike packed up and ready to go we had time to do a bit of sightseeing. We took a day trip to Gombak Park - rainforest and waterfalls - and the impressive Batu Caves and Temple just outside Kuala Lumpur. Our driver finished the day by taking us out to Kuala Selangor to see the Fire Flies. This is an after-dark event and starts from a small pier at Kampung Kuantan. We sat in a wooden boat and were rowed up the river in the moonlight - an enjoyable experience in itself. As the night closed in, the mangrove trees on either side of the river lit up like Christmas trees with the flashing glow of the Kelip Kelip (or Fire Fly). Even with a full moon this made an impressive display. Away from the noise and lights of the city it was a pleasant way to spend an evening - listening to the sounds of the river and watching Fire Flies having an evening chat."

Patrick and Belinda Peck, Australia, USA to Chile, in Uruguay, Yamaha Super Tenere XTZ 750,
"We spent one wonderful week in Uruguay and pretty much had the place to ourselves. The reasons for this is that we are here just before the summer season and Uruguay used to be cheaper than Argentina, but now is more expensive, so the 'rich Argentineans' are no longer coming to Uruguay. It's amazing how far reaching the economy on one country can impact those countries nearby.
Uruguay is the smallest country in South America and we found the people really friendly and happy. Montevideo, the capital, was a quaint, safe city with great Boulevard drives. There were antique cars everywhere used for everyday use- it was like stepping back in time to the '20s- '50s. The beaches were fantastic, the roads were first class and heaps of street and directional signs, which was really great to know where we were going for a change!
We basically followed the coast from one side of the country to the other. At Punta Del Este, Uruguay's premier beach resort we had images of crowded beaches like the Gold Coast in Australia. We drove into the heart of town with skyscrapers all around us and thought a bomb must have just gone off. We seemed to be the only people around! We found a cute, family run hotel on the beachfront and negotiated the room down from US$40 to US$15 per night and stayed in luxury for 2 nights. We were the only people staying there. There were whole high rise buildings empty with Se Vende (for sale) signs on the balconies everywhere."

Help support the Horizons Unlimited E-zine - visit our sponsors!
Please be sure to tell them how you heard about PanchoVilla!
Thanks!

"Sand and sandals, camels and rats... Against all our expectations, and unlike many other visitors, we rather enjoyed the hustle and hassle of Delhi, we really did. But, after only one week, a combination of pollution and virulent colds left us both craving some clean air. And what better way to indulge ourselves and repair our fly blown carcasses than to idle away a few days touring the Land of the Kings. The deserts of Rajasthan beckoned...
... On towards Bikaner and the Karni Mata Temple at Deshnok, not for the squeamish this one... It seems that a lot of dead story tellers were somewhere along the line reincarnated as rats, and this place is the equivalent of James Herbert questing on Jackanory. The thing is you've got to take your shoes off before you enter. And when you do, all you can see, hear and smell are rats. Honestly, there are thousands and thousands of them; young ones, old ones, baby ones, deformed ones, dead ones, ones with humongous testicles for reasons as yet unclear. Heve you ever had a rat run over your bare foot? Well we have and, big balls or not, I for one don't think the experience is going to catch on in the UK quite yet.
The ride to Pushkar the next day was actually really tough. With the Indian and Pakistani armies standing down from their respective borders, there was a large number of army convoys and huge volume of traffic clogging up the main roads. This made progress slow and tedious and to top it all, Adrian picked up a puncture from a small, but perfectly formed stone. His appalling good luck continued and we were within spitting distance of yet another tyre repair wallah complete with a fully functional compressor. By the way, don't trust the pressure gauges used by these guys, they are massively inaccurate and Adrian's bike had to be roped down to stop it floating off after we plugged the hole with Roach's 'safety seal'. This stuff is great, it's a sticky liquorice stick that you just stuff into a hole and presto! The puncture is sealed. Whoever imports this stuff into the UK will make a killing.
And Pushkar Camel festival itself? A veritable Isle of Man TT for camels but with sun, sand and absolutely no sea. Up to 200,000 people from all over India come to trade, deal and to bathe in the waters of the holy lake. There are saddhus galore (people who have given up all material possessions on a spiritual quest) and all the visitors are dressed in their sunday best."
Daniel Todd, USA/Puerto Rico, second around the world tour, in Indonesia, KLR650,
"In the last three years I have logged 70,000 Kilometers in various parts of Asia, 12,000 of which were just in Indonesia. I can't think of anywhere on the planet where I got more 'bang for my buck.' In Bali, my girlfriend Ully Setiawati and I went dolphin spotting as the sun was rising, found lodging beside mountain crater lakes and listened to traditional Balinese Music outside Hindu temples. On the Island of Lombok we went scuba diving in the Gili Islands and rode up into a fertile green bowl-shaped valley that was surrounded by three volcanoes. Sumbawa, the next island in this Archipelago offered stunning coastal views all the way across the island on many switchbacks with good road conditions. But the real adventure started in the next island Flores, which is much less developed and very primitive in parts. Here the road was washed out very often on its 700-km journey across this rugged Island because of the heavy wet-season and frequent earthquakes. We were able to travel all the way across this chain of islands on car ferries and the boat journey was a full day to arrive in Flores.
We left the bike behind and took a small boat out to visit the Komodo Dragons, the largest Monitor Lizards in the world reaching three meters and 100KG. This is the only place in the world where they can be found. They are considered dangerous, especially when cornered and are highly venomous with very powerful jaws! That night we roasted a four-foot Barracuda over a fire and washed it down with Bintang, the favored Indonesian beer. There were 14 of us but we still could not finish that fish!
Of all the sights in Nusa Tenggara, the colored lakes of Kelimutu are the most spectacular. The three lakes are set in deep craters at 1600 meters near the summit of the Keli Mutu volcano and often change colour from time to time. No one can come up with any reasonable explanation for the different colours but it is supposed that different minerals are dissolved in each lake. Our highest moment was standing on a ridge several thousand feet above two of the lakes, a deep turquoise and chocolate contrast.
In Nusa Tenggara, I was still undecided as to which direction of travel I was going to take. An email from a fellow Overlander helped sort me out. Gion Paulin (Swiss John) confirmed that the overland route between East Timor and Darwin, Australia was easy and economical as well. Even though the dry season was almost over I opted to go Down Under instead of the Philippines.
True to his email, Eric Mancini from SDV Logistics loaded my bike into a sealed container that leaves on a cargo ship every Wednesday to Darwin for an unbelievable 80 Dollars with the panniers left on the bike! Since I had some time to kill, I flew back to Bali and hung out on Legion Street in front of the Sari Club for the next five days with other RTW riders Swiss John, Jason Homewood and Ully. This was the sixth time I met up with Swiss John in his two-year odyssey around the world! The day after we all left, the bomb went off killing almost 200 foreigners just like us! Two German sisters who were on my flight to Darwin also escaped the bomb and booked a tour to Kakadu Park upon arrival. Two days later one of the sisters watched as the other was attacked and killed by a seven-meter crocodile! It was the first attack in Kakadu Park in eight years."
Didier Martin, France, living in Australia, around the world for World Vision, in Malawi, F650GS,
"Most of the people in Malawi live in rural areas. The staple diet is based on white maize, cooked into a stiff porridge, which is eaten with different kinds of relish such as vegetables and occasionally fish, chicken or meat. Children become malnourished because one or two meals of porridge a day fills their stomachs but does not provide adequate nutrition. Approximately half the people have access to a safe water source, but improper water storage and poor personal hygiene result in illness such as malaria, TB, bilharzia and gastrointestinal complaints.
Today, I am visiting the Kafulu area development programme, which is funded by World Vision Australia. We spent the day visiting different projects, the first was the goats crossbreeding program, the local goats are crossbred with improved Boer goats for better meat and more milk. Next was the adult literacy class, I was welcomed by dancing and singing ladies.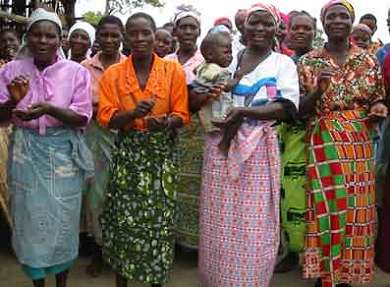 In 1995 a survey revealed that illiteracy level in Kafulu was at 51%, to mitigate that, the program has initiated 16 adult classes, now more than 1200 adults have graduated and are taking leading roles in decision making. The new water borehole followed, supplying clean and safe drinking water. World Vision has built 21 of them around Kafulu. They have also trained 16 birth attendants to address the maternal and neonatal deaths. The Longwe primary school was next, the program has built 5 more school blocks such as this one around the region, resulting in improving the primary and secondary school results. We finished the visit with the Cassava field. Cassava is a plant that grows in very dry area, the leaves are rich in vitamins A and the roots are eaten as well, those plants were introduced because they can grow when there is a drought.
I enjoyed the whole day immensely, the people made me so welcome and important, they were treating me like if I was the prime minister (of France not Australia) shaking hundreds of hands, in every village I was always the guest of honour. I learned so much from my visit. It was good to see how the money is spent and yes, it makes a big difference to the people and the children.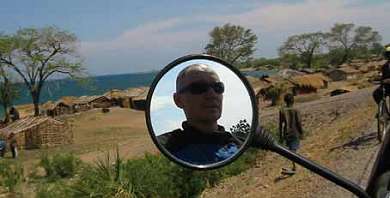 I left the camp quite late, 11am and rode the 400km to Nkhata Bay, which is one of the most scenic lakeshore towns in Malawi. The last 20km were a paradise for bike riding, hardly any traffic and plenty of fast bends going up and down toward the shore of the lake. There are always hundreds of people walking along the road and most of them wave at me when I go past. The difference between Africa and other third world countries is that everyone walks instead of cycling or taking local public transport as they do in Asia or South America.
I decided to spent a couple of days here, I found a small bungalow in a place called Mayoka Village, overlooking the lake for less than US$4 per day, perfect place to relax, enjoy the sunshine and the tranquillity of the surrounding."
Martin Rooiman and Jeannette Boom, a.k.a. De Twee Musketiers, Netherlands, around the world, in New Zealand,
"After our trip through Indonesia (Sumatra, Java and Bali) we are now in New Zealand. We are at Graham Jones' place, an overlander we met in May 2001 in Nepal, and have our bike serviced. Martin's bike had some problems and after arriving in Bali it broke down. Problems with the battery, rear wheel bearing, rear shock and 80.000 kms without a 'proper' BMW-dealer was enough for Rosie. So in Auckland we had to bring the bike from the airport to the BMW-dealer on a little truck Graham arranged. No big thing except that the spare part stock in New Zealand is not that big so we're now waiting for parts from Germany. Jeannette's bike is doing fine however so we're still mobile.
... Our bikes are serviced by the dealer as well as by us, so they are ready for the next leg. So are we, in fact we were ready to go when we saw the first glimpse of New Zealand here in Auckland. And they tell us it's better elsewhere. So tomorrow we start exploring the North of New Zealand and we be back here in Auckland at Christmas and New Year."

Help support the Horizons Unlimited E-zine - visit our sponsors!
Please be sure to tell them how you heard about New Zealand Bike Tours!

Thanks!

Tim Corrigan, (a.k.a. rndmtim), USA, Alaska to South America, in Mexico, BMW 650 GS
"The road dipped and then climbed high again, and each time we could feel the effect as we rose up to altitude. I felt like I had the flu, somewhat disoriented, with joint aches and a sore throat. Cathy was starting to feel faint. We had to stop to rest often, which made the ride even longer, through winding roads up and down slopes, with speed bumps surprising us around every curve. We had been surprised by the altitude because our road atlas did not show topography, so now we scoured our guidebook for some sign that things would improve if we continued. The only reason we had to hope was that one description had Palenque at the edge of the Yucatan plain. Armed with this we kept going through the hills, and then through roadwork where we had to ride on loose sand. Finally with one last military checkpoint where we had to open everything we were in Palenque.
We stopped for dinner and literally could not keep our heads off the table. We took a jungle cabana near the ruins of Palenque, away from the noise of the city, so we could sleep. The cabana was deep in the jungle, over a small footbridge, fairly distant from a few cafes and another cabana place with a meditation center. Our room was screened on all sides, including above the room, and the noises of the jungle were feet away. As soon as we had the gear off of the bike I fell onto one of the beds and went right into a feverish sleep until 11pm, when I woke up. I was sure I was hallucinating. 'That's not techno music, is it?' 'Oh yeah,' Cathy said. 'What jungle experience would be complete without the soothing sounds of techno?' It kept me up for about ten minutes. Then I fell asleep again and slept until dawn. We both had a hangover for the rest of the next day, but by the time we went to bed in Escarcega, we were recovering. I can't say how excited I am to get to Antigua Guatemala, which is in the same mountain range. Hopefully it will be different this time if we take it easy. Besides, it's good exposure for Peru..."
Gary Nisbet, Damian and Dominic Booth, Zimbabwe, London to Australia, in Malaysia and Australia, on Honda XRV 750 Africa Twins,
"After leaving the wet Cameron Highlands, we were fortunate to have good weather all the way down to Port Klang via Kuala Lumpur. We used the main freeway, which has tolls for all vehicles except motorcycles, which are allowed to go free. The narrow paths that bypass the tollbooths need a certain amount of concentration though!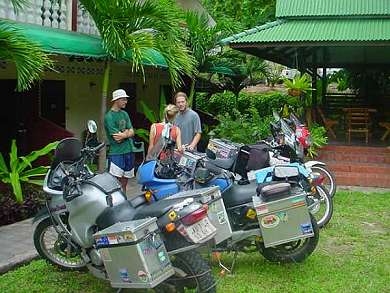 We used Lucas Yap, the shipping agent recommended on Horizons Unlimited. His work is very professional and he is an extremely helpful guy. Ed. See contact details on the shipping page.
We spent about an hour sorting out the paperwork with Lucas and then a few days cleaning the bikes. Australia is very strict as far as cleanliness of vehicles entering and even fumigates all crates before they depart. For the Saturday sailing, the bikes have to be ready for customs inspection on the previous Thursday. We spent a few hours crating them on the Wednesday as we were flying out early on the Thursday morning. We followed the carpenters from Lucas office down to the warehouse and within 3 hours the bikes were ready for shipment!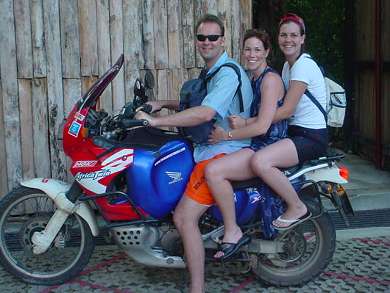 Immigration was no problem on arrival in Perth, something we had prepped ourselves for just in case (we only had 1 way tickets). We had acquired our 6-month tourist visas a few months earlier in London and had heard some stories that without a return ticket we would run into problems at the Perth immigration terminal.
We have been in Australia for 5 days now and the time has flown by! We have been treated to the wonderful relaxed lifestyle that Perth has to offer. The weekend was spent on the beach and in the rather chilly sea. The summer is just starting and, although it was 38 degrees centigrade on our arrival, it's been in the late 20's and early 30's over the past few days. Perth reminds us a bit of Cape Town; it is quite a windy city but the relaxed atmosphere also reminds us that it is just a big town really!
We have the rest of this week to chill out and be real tourists before our bikes arrive here next Monday, the 25th and we can once again become adventure motorcyclists! It feels a bit strange having to catch busses, taxi's and trains to get around when all we've become used to over the last few months is jumping on our bikes and heading off with ease..."

Help support the Horizons Unlimited E-zine - visit our sponsors! Please be sure you tell them how you heard about Morton's BMW!

Thanks!

Alon Carter, USA, in Bolivia, Honda Transalp,
"Potosi's a great little town. People on narrow streets, crowded markets, the whole deal. Got in about mid-afternoon and booked a mine tour. Next day met guide (Wilson) and Laura and Finbar, an Irish couple that made our tour group a threesome. When getting our coats, boots, and carbide lanterns for the dark and dirty tour, I asked Wilson 'where are the canaries' (old timers used the birds as early warning signs for toxic gasses)... Wilson replied 'we don't use them anymore, we use tourists now!'
We were issued coca leaves to chew, and explosive materials to give to miners to blast when in the mine. At one point Wilson dug out by hand an ore lode to make the shaft big enough for us to crawl through. Other places we walked on a single 4' round viga over 4' diameter vertical shafts that had no bottoms, and no safety nets either. Other times we are crawling-climbing near vertical twisted spaces where a slip meant a trip, if not life-ending, experience... I'm a good climber but my breathing was rapid and not because of the altitude.
Since Wilson was unable to find a miner actively blasting, we took our purchased material outside and Wilson and Victorio mixed up some plastik and ammonium nitrate (fertilizer of Oklahoma bombing fame), stuck in a blasting cap, crimped on a 18' fuse with teeth, lit it, and ask if anyone wants to hold the deadly package. I volunteer, giving my camera to Laura for evidence of how stupid I really am. Not to appear smarter, Finbar takes a photo opportunity too. Victorio then scampers across the slope and lays the charge down on the ground about 100 yards away. Now, this is a public place...dogs sniffing around, children about, and taxis from town driving by... there is no 'fire in the hole' yell. Nothing. Minutes later the blast sends debris 40 feet into the air and a shock wave to the marrow, Finbar feels some specks hit his arm. We all three agree it's the best tour we've ever taken.
... On 11/25 we make our approach to the legendary flats. Tiffany (Coates) leads, Rob following, and me last on a due west heading to the Isla de Pescadores, a rock outcrop in the center of the Salar. After a few miles I decide, why not pull out to the outside and ride by these folks. So I kick the bike down a gear and twist the throttle. Of course little happens at this altitude, but eventually I gain some speed and racing alongside them about 50 yards away I blast ahead feeling more exhilarated by the moment. They look poetic on the white surface, absolutely a biker's fantasy watching them riding on this open surreal plain.... I could not contain myself, yelling into my helmet all those words you say to yourself when really spaced into an exciting thing for the first time. If only I had on a colorful scarf I would have felt like I was in that scene in Lawrence of Arabia, when O'Toole is riding his camel across the desert... Okay, I actually did feel that way! Yes, bikers get a little weird at times, so forgive me."
Chuck Chiodini, USA, in Baja California, Mexico
"Rode from La Paz to the seaside port town of Santa Rosalia on the Sea of Cortez where my maps and guide books said another ferry to the mainland, Guaymas, was available. Ha! Outdated information again! The ferry office and ship was there but hasn't run for two months and probably never will again.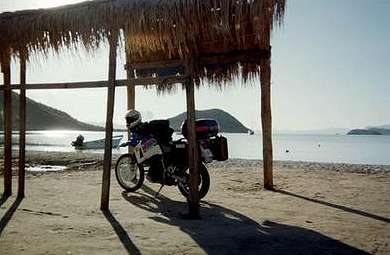 ... All of the military checkpoints that waved me through on the way down now stopped me on the way back. No big deal, in fact, I looked forward to them. Imagine being a young soldier stuck in the middle of the desert with the 'important duty' of searching cars for contraband. I speak Spanish and am retired from the Army so every stop turned into a social conversation (often with free coffee and food). Traded my camp flashlight for dinner with one ill-equipped squad who didn't have a working flashlight to use at night.
At no time did I ever feel threatened and everyone went out of their way to be friendly and helpful. I will say that I never felt the need for my usual 'personal protection' and felt much safer in Baja than I do in my hometown. No 'banditos', no cops looking for bribes, no attempted theft. In fact, the cops gave me the impression they were there to help. Never once saw one hiding on the side of the roadway to 'catch a speeder' as they do in the States. Ride down a one-way street? No problem, the cop simply waves you the other way. Going too fast in town? The cop gives you the 'slow down' signal, he knows the speed bumps will do they rest. Radar speed traps? We don't need no steeeeenking radar or speed traps, the curves take care of the careless/stupid people. Viva Mexico! My only traffic problem the entire trip was being cut off in La Paz by a SUV driven by, I swear, a cell phone using woman... guess they are a scourge everywhere!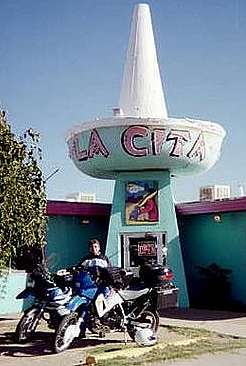 Did the 'Iron Butt' 725 mile ride from Santa Rosalia to Los Angeles in 11 hours. Within my first half hour 'back home' on the super slab to Los Angeles, I was cut off by cell phone yacking idiots too many times to count, paced by the California Highway Patrol and hassled at the immigration checkpoint near San Clemente. So good to be home in a 'civilized society'! Note to self: I DO now feel the need for my 'personal protection'.
Since my Mexican paperwork is still good for months, I'm planning on returning to Mexico right after Christmas. I need to see the Copper Canyon, the road to Durango and get a Mazatlan tan! Bike is all ready to rock, anyone interested?"