Plan where to be when!
If you know of any events of interest to travellers, send me a note.
Big Dog Ride 2002, Colorado, USA, August 14-15,
"Ride report here"
"6TH EAR" (European Airhead-riders Rendezvous) Sept. 2nd to 6th,
Gîte in Sospel in the south of France, same as last year. "Sospel is situated some 50km north of Menton and the bottom of Col de Turini and only a few clicks away from Col de Tende. To keep it personal places are limited, so if you want to join contact me as soon as possible. Helmut"
Motorrad Reise Treffen Gieboldehausen in Gieboldehausen, southeast of Hanover, Germany, 6 - 8 September 2002,
A great travellers meeting, well worth attending. Book early, attendance is limited. Details in English and German
The Clare Navigation Rally, 6-9 September, on the West coast of Ireland,
"For Trail and Adventure motorcycles. Find the Clues in some scenic scenery and relax at the matchmaking fair in the evening. Details from Philip Gunn
"Matchmaking was one of the oldest traditions of Ireland when the country had two classes - the rich landowners and the poor peasants. The rich organised matchmaking so that their sons and daughters would meet and marry other people who were also well to do.
The Spa town of Lisdoonvarna was picked and traditionally the people from Ireland went there in their thousands to drink the healthy Spa waters and bathe in the three different mineral cure waters that the Spa wells had, and still offer. The month of September was picked as it is the month when the hay and crops are saved and the livestock do not need extra feeding until later in the autumn.
The Matchmaking Festival takes place every year during September and October in Lisdoonvarna, County Clare, Ireland. The Matchmakers of old were the dealers who attended street fairs, as it was they who know the farmers who had eligible sons and daughters around the country. They invited the farmers from all over Ireland to attend the Festival the following September, and it was they who collected the generous dowries when the matches were made. Today there are just two matchmakers left in County Clare, Mr. Willie Daly (Horse Dealer) who runs the riding centre outside Ennistymon and Mr. James White, hotelier, and proprietor of the Imperial Hotel, Lisdoonvarna.
and match that to 2 days of Trail riding - navigation"
"Intermot 2002" is being held in Munich between 18 - 22 September 2002.
"The world's key trade fair for motorised two-wheelers. More than 1,000 international exhibitors, 120,000 sqm of exhibition space in twelve trade fair halls and the largest open-air trade fair grounds, the longest trade fair racetrack and almost 150,000 visitors. When it comes to motorcycles, accessories and accompanying events, the fair is absolutely unbeatable. This is where bikers and fans from all over the world meet for the motorcycle event of the year!" More info.
Beaverton Honda-Yamaha/Rat Dog Dualsport Ride, Oregon USA, Saturday, September 21 2002 ,
Held in my favourite offroad area, Trask Mountain. info
The 6th BMW Mexico International Convention will be held from 3-5 October 2002 in Oaxaca, Mexico.
"The event will include a traditional Oaxacan music concert, touring/sightseeing, lunch at various country restaurants, presentations on first aid and driving techniques, a Verbena (popular folk party) and various other local entertainment. For more information, contact the organisers.
Annual FISHEAGLE RALLY at Langstrand Resort, South Africa, 04 to 06 October 2002.
"The LIVE TO RIDE Mcc, WALVIS BAY is presenting the annual FISHEAGLE RALLY at Langstrand Resort, 04 to 06 October 2002. Please visit our website at for entry forms. "
Rhino Rally, South Africa, October, 2002
"The Rhino Rally is the biggest rally in the country. It is the largest gathering of rally goers in the country and an experience like no other. Kilometres and kilometres of tents and the happy throng of thousands of motorcycling enthusiasts must be seen to be believed. It is a social gathering with live bands, disco, flea market stalls and exhibitions, bars, food and refreshments. The Rhino has always had a reputation for good entertainment, with fun stage and field events and excellent prizes. For dates and more information, contact Bike SA.
SA Ranges Rally, Australia, 26/27th of October,
at a new site, at the Farina campground, 80 km's south of Maree.
Near as I can tell it's done by a group in the Karlsruhe area, and is an interesting collection of bits and pieces for bikes, (in German only) especially BMW - one interesting one is a complete? collection of BMW wiring diagrams, and a German / English translation table of tech terms plus more.
"Ralph Dixon (an MS sufferer) and Fionnuala Livingston, Sydney, Australia on their BMW F650, ...to London"
Ohlins and others general suspension setup, especially for race, but also good starter for all.
Get your website listed in the LINKS Section
by listing Horizons Unlimited on YOUR web site, let me know you've done it by mailing me a link to the page, and you may get listed here in the next newsletter and on the Horizons Unlimited web site Links page. To make it easy for you, we even have our logo and link code here!
All sites will be considered for listing, but must be a MOTORCYCLE or TRAVEL site, useful or of interest in some way to travellers.
Links will be rotated regularly as needed.
There are many 'Helpful People' listed on the Links page, a huge thanks to all of them. How about you? Or you can join a Community, or start your own!
"...repair and service any make / model of motorcycle and will give 20% discount to anyone routing through your site. I am always willing to help a stranded traveller with technical / practical advice on the phone or via e-mail etc. Keep up the good work. Lee Harrison"
Can't beat that offer, so when you drop by make sure you tell him how you heard about his offer! Thanks Lee!
Do you know of a good shop 'on the road,'
in other words somewhere there isn't a large number of shops? (Also of course any shop that specialises in travellers equipment and repairs is of interest.) But we're particularly looking for those rare items, good repair shops in South America, Africa and Asia etc. Please post your info in the Repair shops around the world Forum on the HUBB.
From Phil, on headlight bulbs,
www.autoexpress.co.uk Product tests H1/h4 bulbs, here's a résumé. "Philips again heads the league. Its new VisionPlus obviously works well, although its Premium bulb is probably better value for money. Osram's 50-plus Silver Stars are also worth bearing in mind. Sadly, there are plenty of names to avoid, but special mention must be made of PIAA. It has a good reputation in motorsport which is simply not borne out by what we managed to buy - at a hefty premium. Phil"
A very interesting thread on how to carry gas/petrol on the road,
Everything from high tech (and high dollar) custom fuel cells to ...MSR dromedary bags? Yup, worked too. Read all about it here and another good one here.
Submit your tips and questions here, anything goes! Got a great idea for travellers, found a new solution to a problem? Send it in! If you're having a problem, just ask, there's a lot of people with a ton of experience out there to help.
From a post on the HUBB by Dvarkholm, UK:
R80G/S tank slapper
"Interesting experience, the tank slapper. I take my hands off the bars (any speed it seems) and the bars start oscillating and build up to quite a violent shake. Why? Any ideas? Back tyre is pretty much worn out, but that shouldn't cause this surely?"
Yes it can! There are a huge range of reasons for a tankslapper, up to and including "They all do that sir!"
Most of the reasons are covered in the very complete thread. Read more.
When you meet people on the road, and they haven't heard of this e-zine or the website, we'd appreciate it - and hope they would too! - if you get their names and email addresses and send it in to me, or better use the recommend form available on most all pages of the website.
Thanks, Grant
KTM Dealer in Greece or area needed;
"My wife and I are touring, now in Southern Bulgaria. My KTM Adventure has decided to pump coolant into the oil. It still runs but we need to get to a KTM dealer soon. Can anyone recommend a good KTM dealer in Greece closest to Bulgaria. Or any KTM dealer in Greece? This bike may run for a while, but I don't know. This could be an emergency very soon. The KTM website, in German, gives some spotty info about dealers, so we are headed to Greece to see if we can find them. May be a good place to be down for a few weeks! But, any better info from your web-readers would be great. Thanks much, Charlie Rauseo, USA
"My girlfriend and I will be arriving in Buenos Aires in October. We still have not been able to find any insurance coverage for South America from a European insurer. We are told that we should buy insurance as soon as we arrive in Buenos Aires. Does anyone have any suggestions about which companies in Argentina would offer liability and theft insurance? Can you give us an idea how much insurance will cost in South America?
Our experience has been that it is impossible to get insurance as a foreigner in South America. Anyone know different? Grant
From Erik Saue to Greg Frazier,
"I'm planning a ride to Magadan, and notice that you decided to go with train across a swamp area. My question is where that area is (between which towns)? Will be grateful for any kind of reply. Erik"
Greg replied: "Between Cernysevsk and Blagovescenshk. Most ride the rails from Chita to Harbarosk. Several have ridden through the swamp, some Brit this summer on a Yamaha XT. But if you try, plan on a couple of weeks, and lots of truck rides. My friend Dave Bar did it in the winter, when it was frozen."
---
Plenty more questions and answers on the HU Bulletin Board! We've over 1600 registered users on the Board, which I think is pretty amazing, and gives a huge resource of knowledge and experience to help you with anything you might need to know.
Russia in brief
- There are all sorts of requirements if entering the country on a business visa but the reality is we have only ever been asked for our Passport and bike registration documents. We have never ever been asked for medical or aids certificates. You will be stopped at every entry and exit to EVERY TOWN and they will also ask for passport and bike documents. Contrary to what we have been told in Scandinavia, Russia is a very nice place to visit. We have not had to pay one bribe to police or officials or have been mugged or assaulted. It is in fact one of the safest places we have visited but we do make the effort to hide our bikes when camping or find cheap hotels with security, usual stuff.
On average you can buy 3 litres of fuel for one dollar. The roads in northern Russia are very very very bad and best avoided. From St Petersburg to Siberia the roads are mostly under repair or have been repaired so you can ride to northern Kazakhstan without any problem. As you can imagine in Siberia it's slightly different where for long stretches (100 kilometers) there is no road just gravel, mud and loose stone. Most Police will let you camp behind their little police boxes which are manned 24 hours.
Travel tip for Russia: If you don't know basic Russian, (like me!) Because of the high volume of Police stops I would highly recommend pieces of paper which state something like;
Hello my name is ??? I am travelling from ??? And my destination is ????? I will be visiting ???? After departing Russia and I am having a fantastic time in your country.
Border crossings:
Norway (Kirkness) - Russia
Bike insurance not asked for, nor was it available. Bike declaration for motorbike declaration for personal belongings and money, checked visa."
Chris, (El Penguino) on shipping a bike out of Venezuela,
"my bike is still there, abandoned at the airport and here's why;
...how bleedin' expensive shipping would have been...
customs clearance was quoted at $400 ...
$2600 to send a bike worth $1200 ...
I was a bit shocked at how red-tapish the whole thing was and I'm sure other people could do it better remembering the pitfalls and requirements. Nice place though, apart from that. Even Caracas was nicer than I thought and heard. And you have to love a place with petrol at 3p a litre!
Read more in the HUBB post.
Libya Entry Requirements
An update on Libya entry requirements from Renate on the HUBB, and several email inquiries, prompted us to initiate discussions with several tour operators in Libya. Current reports are that an invitation from a tour company is definitely required to obtain a visa, and an escort MAY be required for some of the trip through Libya, which will cost US$150 per day.
Azar Tours has offered a discount for Horizons Unlimited readers only. Peter and Kay Forwood used them in 1999, but no escort was required at that time. We have no other reports on them from travellers. IF you choose to use their services, we take NO responsibility, but please let us know what your experience was so we know whether to continue recommending them. Also, since the rules seem to be changing again, please let us know about that as well. Thanks, and good luck!
AZAR Travel & Tourism Services Company,
Jamal Abdulnaser Street,
Main Coastal Road, P.O.Box 101/ 510
Zuara, Libya
Fax No : +49-40-360-319-8115
Email address.
The customs procedure in Ecuador has now changed for the worse. They think in terms of a carnet. But we were able to get our moto out of Ecuador even though it had been in storage for almost a year. A warning to other travellers that if you ride your moto in Ecuador it is ok for only 30 days, or so we believe. The office that offered extensions no longer does it but in the same building it is done by the Legal Dept. Our friend in the old department said that we were very lucky to get it out of Ecuador without posting a bond or fine. But if you fly it from Panama they want a carnet. Warren Storey, who we met on the road in Peru, said that he flew it that route and they would not let him take the moto out of customs and ride in Ecuador. He had to have a customs agent on the back of his moto to ride with him to the border with Peru. Also, paid for the meals and transport back. At least he was not stopped by the Police. Probably nothing will change until the upcoming elections."
Bangkok, cheap, good quality hotel 2.5km from the airport, submitted by Gary Nisbet
501/1 Mu 3
Dechatungka Road, Sikan, Don Muang
Bangkok 10210
Telephone (662) 929-2222, 929-2301-10
FAX (662) 929-2300
Prices:
165 baht dorm bed, 550 baht fan double, 770 baht AC, double (US$ 1 = TB 42)
Also general info. on Thailand and Don Muang airport.
Hotmail users ALERT!
"Spam-ridden Hotmail is at it again, taking new steps to clean out the accounts of its free users. Already, Hotmail was bouncing e-mail that put you over its 2MB limit, which of course was reached because of all the unsolicited e-mail jamming accounts, in spite of Hotmail's much-promoted but Carteresque filtering tools. It also promised to cut off your service if you didn't check your account once a month -- and delete all your e-mail to boot. All of this is part of a not-so-subtle ploy to get users to fork over $20 a year for extra storage space, or get lost.
Its most recent move is particularly maddening, however: The service is deleting all "sent items" older than 30 days. This could almost be considered reasonable but for the fact that Hotmail, unlike any e-mail system actually worth paying for, makes you tell it to keep sent items. So the stuff it is now deleting is stuff it was specifically told to keep. For one woman interviewed by CNET's News.com, this meant losing notes she sent to friends while traveling in Laos and China -- notes she had hoped to turn into a travel book." More on the subject.
---
Request for info
Wouldn't YOU like to know all about the border you're approaching - what it should cost, paperwork required, 'tips' needed, and who to talk to, etc.?
When you cross ANY border, take some notes, and pass them on to us. Thanks!
Shipping
The Shipping page on the site is HUGE! It can be reached directly or from the Shipping link on the Trip Planning page.
If you have any information to contribute, there is a form at the bottom of the page which you can submit and we will put it on the page. Thanks!
Travel Advisories:
The Foreign Office in London's Travel Advice Unit advises against all travel to all sorts of places. Check out the listing before you start!
The US State Department has issued travel advisories, information and/or warnings.
"From Greece the Turkish border was really friendly and surprisingly easy to cross. It took around and hour and a half but that seemed reasonable. We went to all the wrong offices first but were pulled past queues and sent to the correct offices. We finally managed to get someone to understand that we needed to get insurance for the motorbikes and purchased this - 15 Euros for both of us for one year!!
Just after getting past the Greek border and before the Turkish one we met a couple of army guards on the bridge who asked that we stop - they waved me to stop along side Cliff on the wrong side of the road. On stopping they asked where we were from and immediately produced a camera - could they take photos??? We were in a near state of shock - guards that actually seemed nice. They held up all the traffic coming in either direction until they were happy that they had all the photo's they needed - I managed to get one of them also.
Istanbul is definitely the place where East meets West. The mixture of cultures is amazing. The city itself is busy and friendly. The highlight of Istanbul (although at the time a little scary) was being advised by the local traffic police that the easiest way to get to the Youth Hostel was down the tram line! Passing the commuters on the platforms (which were at head height) was strange but I suppose it probably brightened their day also - mad tourists again :-)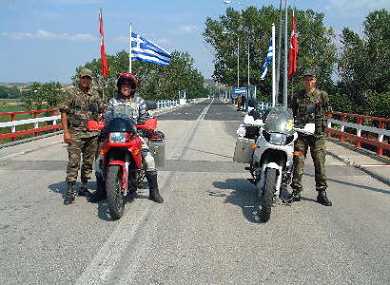 Friendly border guards!
We came across a strange (to us anyway) requirement of the Islamic religion - feeding people. Apparently is it part of their faith that if they are eating nearby to another person they must offer to share their food. Whilst on the ferry from Eceabat to Canakkale we parked our bikes next to a mother and son who immediately jumped out of their car to offer us watermelon and water. We said thanks, a little shocked, and ate. Then there was a shout from the fella - did we want bread, cheese, ham etc - we declined as we were not really hungry. Then the coach driver in front of us appeared with a bottle of Fanta and two cups.
From Troy to Selcuk - more ruins but they wanted 15 million Lira each (7 pounds) to get into Ephesus so we didn't bother - we just took a photo over the fence. We stayed at the Kiwi pension, which is owned by an English woman and her Turkish husband. Their own home was about 2 km away and had a swimming pool surrounded by mandarin groves. We had free use of this and they even had a man with a van that would take you there and pick you up again free of charge! Pool was brilliant - fed with spring water and cold.
... Having stopped overnight in Antakya we headed for the Turkish/Syrian border, all went smoothly until we came to the Carnet for the bikes, the Syrian border guards seem most put out that Syria was crossed out with red ink, this we assume is because the AA have no arrangement with their Syrian counterparts, Certainly other people (Saudis I think) were able to use their Carnet de Passage. After parting with $149 we went on our merry way into Syria.
... We stopped a traffic policeman to ask how to get out of the town ( as the roads were dug up everywhere ), he couldn't really help but another man stopped on his way to the airport and said that we could follow him out to the right road. We followed. After he made several stops (one included stopping at a shop and producing drinks of Pineapple Juice for us) we made it to the motorway and waved him goodbye.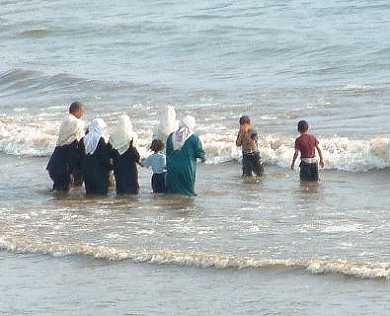 Swimming in Tartus
On we went to Tartus - another sea side town but which looked smaller on the map. We found sea front accommodation for $12 per night - not too bad considering we were expecting around $20. There was no swimming to be done here - we decided against it when we noticed that the locals all swam only in full clothing - including the women in the full outfits with scarf - very odd.
Yesterday 9th August we arrived in Damascus in Syria so we are still going!! Thanks for all your emails - will do individual replies soon - promise! Cliff & Jenny"
Simon McCarthy and Georgie Simmonds, UK to Asia, in Kyrgyzstan, BMW R100GS,
"The run up to Altyn Arashan is described as a jeep track, which is so inviting when you're on a GS - 'of course we can get up there'. The locals (who drive jeeps and various pieces of ex-military hardware up there) looked at our loaded bike and advised us that we'd not make it. Now that's usually a good enough incentive for me to try my hardest, but this time it also fired up Georgie.
We decided not to take the spare tyre up with us (saving a massive 4 kilos from our total 450 kilo load!!) and we set off for the hills. First problem, find your track; which we did at the 4th attempt. Obviously the beautifully rendered Kyrgyz maps were not wholly accurate. Later we discovered (using the GPS) that the grid lines on the maps were also inaccurate (about 3 km's one way and 800m the other way) - you wouldn't want to land a helicopter in the fog using those maps!
Then a series of puddles through to the first climb, which we'd been told 'if you have problems with that climb, you'll never manage the big ones later'. I slightly messed it up by rushing it so that I could get past a horseman, but otherwise it was 'one-nil to the Eng-a-land'. Up alongside a raging alpine torrent, very pretty and pretty easy. Then across a small boulder field, where the river sometimes floods. No real problem.
Then we (I) get careless and have a little 'get off' (our first one of the trip) after springing out of a stream and into the boulders at the side of the track. This bent the right hand pannier rack in a bit - easily 'adjusted' with a 16 inch tyre lever; but the result was a couple of cracks in the steel rack - easily welded later, along with the split in the exhaust that just reappeared after a 1 month absence.
At this point I decide that the tyres are going to get off-road pressures (22psi front and rear) rather than road pressures - that helped a lot, with the tyres squidging over rocks rather than pinging off them.
More bogs appear and the bike gets seriously cross-rutted (hey give me a break we're on road tyres!). No grip, loads of wheel spin and we push the heavy lump so that it occupies just one rut, which luckily had a firm bottom. But there's not enough grip to get out so we switch the bike into 2-wheel drive mode. This is a useful technique where the spare person (Georgie) pulls on the top of the front wheel, while the rider gives the throttle some grief and pushes the handlebars. That worked, the bike sailed out and Georgie got muddy hands, arms and sodden feet.
Next 'the big hill you won't get up - if you stop you'll never get going again'. And we could see the point the locals were making - it was a really gnarly little pull, with turns and boulders - nice on a light dirt bike, but a swine on a fully laden GS. And worse, we were now at about 2500 meters, and the carburetion started to go squirrelly again: the engine normally has huge amounts of low-down torque, but now I had to rev the nuts off it and slip the clutch to get the low speed torque I needed. Half way up and all is going pretty well, except there's smoke pouring out of the clutch housing - 'hell, I think it's on fire!!'. Quick action needed, so I pull out the rubber bung that blocks up the timing hole, and pour water onto the clutch. That did the trick. Up the final pull. I reckon I stopped about 4 or 5 times on the hill and still managed to get up - lucky eh?
Over the brow of the hill and we see base camp - a few tents and some glorious views. Chug-a-chug we feel proud as we make our approach to the campsite - through the final puddle and 'hell, that's deep' - right over the cylinders, which isn't normally a problem. The engine cuts and then won't restart - in fact it won't even turn over.
Too much mud in the bottom of the puddle to push out, so I get out a webbing strap, tie it around the forks and ask Georgie and a local guy to pull. No good - too much suction on the wheels. Then the local guy beckons his brother - on a horse - to come over - a bit of lashing together of ropes and the 1bhp horse makes all the difference. So what drowned the motor, which is usually happy to swim for a while? Well water got into the airbox through the little one-way water drain valve in the airbox which is supposed to let water out but stop it from getting in - the 12 year old rubber had perished. Then the rotten muddy water got into the carbs, cylinders and exhaust. Hydraulic lock in the cylinders - no go. I decided that save for pumping the water out of the cylinders, the solution to our problems would have to wait for the next day...
See Simon and Georgie's blog for more - and if they haven't got the rest of the story posted, get after them!

Help support the Horizons Unlimited E-zine - visit our sponsors!
Please be sure to tell them how you heard about PanchoVilla!
Thanks!

Maarten Munnik, Netherlands, around the world, swimming his way through eastern Germany... Honda Africa Twin,
"Aug. 18, 2002, After a visit to Berlin I drove southeast towards Prague. It was raining steady but I was getting used to it. When I crossed the town of Dresden I had no idea of the flood-warnings that were given throughout the day. OK, I did notice the increase of water running downhill on the side of the road. I even noticed the occasional stream of water crossing the road... and I did see a few fire brigades messing around with pumps but nothing to alarm me (yes, I am naive).
Well... luck was on my side... as soon as I left Dresden... the town was closed down. Sealed off. The river Elbe had left its banks and was flooding the town. But I made it through. Nothing can stop me. I'm a Horizons Unlimited traveler. N'est ce pas?
While I was enjoying the rain and the ignorance of a newborn puppy things started to change around me. It started with the road being closed down in front of me. Well, must be working on the road I thought, so I took the detour.... Funny that it was not better marked. But with my Garmin III I got back on the main road to the Czech border. That is... for about 5 meters.
When I came around the turn I saw something I did not believe... at first. The road was gone... Instead there was water running down from the mountain. Brown, foaming and roaring water. But... I had to go that way. There was a fireman who said I could try... so I did.
Imagine that on both sides of the road there was a kind of wall made out of water running through the drains... I think it must have been 1.5 meter deep, and the current was strong enough to take trees with it... and it did. Now in the middle of the road there are usually manholes... and with this water-pressure the lids would not stay on for long, so they are a no go. So... I tried to stay not in the middle, and not on the side of what once used to be a road. I could see some traffic-signs so I knew where the road should be.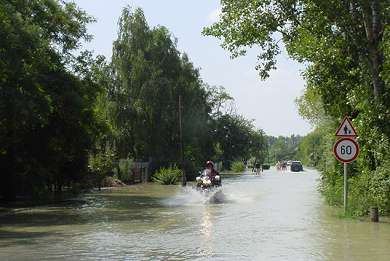 Apart from the fact that water was pouring into every opening in my rain-suite (and now I know there are many) I was doing OK. I even managed to avoid a collision with a garden-door that came to me like a surfboard and after a few scary moments (actually a bit more then a few) I was on dry road again.
My joy was not for long. After the next bend in the road it looked like they where shooting the movie about Moses crossing the Red Sea... and I felt like an Egyptian. No way I was gonna make this. The last crossing was almost 1 meter high (or should I say deep?) But this was like a wall of water. (Later I learned it was a dam-breach)... I saw a guy in a car trying... and remember thinking... now if I stay in his slipstream???? But the water came over his windshield and over his roof... He escaped barely by going backwards... fast.
I turned around and found a road going uphill and not flooded. I wanted to find a place to stay... But I wanted it to be high. High and dry. After a few more roadblocks I found a little hotel... which was closed, but since the owner was a biker... he agreed to let me in and even had a place for the bike. Hooray... now a hot bath... Oops, naive again... Just when I wanted to take this well deserved bath, the power failed... and with it... the water, the light, everything.
This lasted a night... three more refugees came in... and we had a good time... mostly because we could see on TV (yes, we found a generator and some petrol to go in it) what was happening around us... A state of emergency was declared in Saksen (where I was) and Beieren... It was not a pretty sight. I wanted to have some adventure... but never realised it would be so close to home.
I stayed there for 3 days before attempting to escape Germany... and I succeeded. But it took me hours to find a border-post that was open.... And a road that went to it. The rest of the journey was without problems... the ride to Budapest was great, it even stopped raining two days ago. That was a real milestone... My first day without rain... I'll remember and treasure it. Maarten"
David McSkimming, Australia, across Russia, Honda Dominator,
"Hi Grant, Trans Siberian crossing was awesome.
I met an English guy Martin in Vladivostok who had done it on a brand new Yamaha XT650. He thankfully encouraged me not to wimp out and use the train. Fortunately he was over prepared with spares as he had to replace a lot of bolts on his crossing. Sorry - he doesn't have email. (Does anybody know who he might be? Grant)
My Dominator held together alright, but I did the fork seals, clutch and bent the swing arm. Didn't drop it though. I had a modified rear shock, and wouldn't even contemplate using a standard one.
The Dominator finally died of accelerated natural causes in St Petersburg, which is why I was quick to UK. The airline lost my luggage and a Natwest cashpoint ate my visa card, so I was forced to return home to Aus.
About 1500km of the crossing is variable depths of mud or rubble on the construction surface of the new Trans Siberian highway. Fortunately the mud is fairly loamy so there is a lot more traction than say a Lao or Cambodian mud, but the steep sections will have the clutch smoking if you don't have low gearing. If you are fortunate to avoid rain, it would be quite compact.
Only 2 spots are problematic. Due to the rain a river crossing was too high and I had to use the railway bridge - rather stressful. There is also another uphill and swamp section (about 2km) that was impassable and I had to use the assistance of a tracked tank-like vehicle. Even these were getting bogged. This is the only section that is not on a formed or graded surface of some kind.
So about 99.99% is OK, albeit hard on the bike, provided you don't make navigation mistakes, which get you in even more trouble as you discover extremely deteriorated conditions. In some sections it is unrealistic to expect to do more than 200km in a day.
If my lost luggage containing computer finally arrives (apparently they have now located it), I may possibly be able to distribute the navigation tracklog for Garmin GPS (if I can convert it to route format), to interested riders, who want the perfect route plotted for them. With the benefit of info from Martin I was able to avoid a lot of the bad stuff he endured by trying other, and in most cases much better options. Cheers Dave"

Help support the Horizons Unlimited E-zine - visit our sponsors!
Please be sure to tell them how you heard about New Zealand Bike Tours!

Thanks!

"... The Manali-Leh road is only open from early July to mid-September, plus a few unstable weeks on either end. At the beginning of the season there's lots of melting water and mud; at the end snow is a bigger risk. And throughout: frequent landslides, collapsed bridges, sudden weather changes, etc. can possibly add to the adventure. The road goes over 4 passes, gradually higher: the Rohtang at 3,975m, the Baralacha at 4,940m, the Lachlung at 5,065m and the Taglang at 5,365m. Since the 485 km journey is totally impossible to ride in one day, and even two is a real achievement, one has to choose sleeping places carefully.
... We meet two Australians on one Enfield informing us about the road ahead: the next pass will be the roughest with lots of water (one knee deep) and very bad, stony tracks. The next day we covered barely 83 kms. We spent one hour unloading the bikes on one side of the torrential mountain river, pushing them across, and reloading.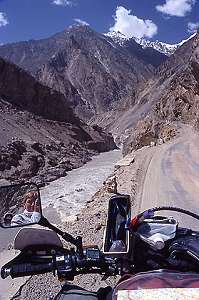 ... Just before a much-needed tea stop, with the tent stalls of Pang within tempting distance, there's another large river to cross. The water is low but the underground consists of large boulders for some 30 metres. Heart in my mouth and throttle fully open, I manage to ride across, sliding and slithering. All of a sudden a small Indian bike with an Indian rider appears behind the bend. And another, and another, and more. The thing which strikes us is that these guys wear helmets, vests and gloves, and... shin protectors (above tennis shoes). They also have numbers on their bikes and most ride two up. This is the Himalaya Riders Club!
We head for teas and dry socks, as more club riders turn up, some fifty in total. They're all here for holidays, come from all over India, riding four stroke, kickstart bikes of 100 to 150 cc - India-produced bikes like the Bajaj 100, the Hero Honda CBX 100, the Suzuki Fiero, and the new Pulsar 150 cc. A support vehicle carries spares and fuel. We are convinced these bikes are much more suitable for this road then the massive, low and unreliable Enfield's.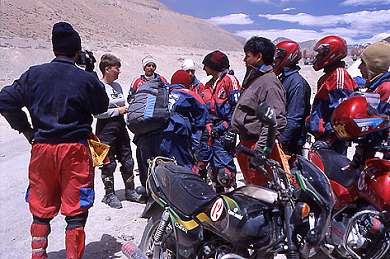 The Himalaya Riders
... Just as we decide to spend the night at the tent camp of Sarchu, Iris spots a group of heavily loaded bikes in the military base close by. Being her curious self, she immediately rides to meet them. I see Iris shaking hands with one (Indian) biker and yelling something. The guy walks up to me with a broad smile: 'Then you must be Trudy!' 'I'm Hanif Sama', he says.
At the beginning of 2001, an Indian, much-travelled biker contacted us via the Internet, intending to ride overland to Europe. After 11.9 obviously his plans died instantly, as Indians already have a very difficult time obtaining Pakistani visas (and vice versa). But a month ago, we found an e-mail telling he was coming up to Leh. Now they were six Enfield's, Indians from all over India who met over the Internet and made this journey to Ladakh and further afield. Heavily sponsored by the Enfield factory for spares, a new Bollywood movie-in-the-making, and with lots of contacts in the army, they looked the part in their black jackets-with-logos.
We also meet a Swiss, Fabian and his Indian girlfriend on a BMW R 1150 GS with a massive 42-liter tank. They're riding east and have been on the road for nine months.
And we cross two wonderfully flamboyant Italians, Emerson Gattafoni and his friend, on two stylish and sponsored Aprilia Pegasos. Followed by a (hired) support vehicle with his wife and two more friends, they are professional filmmakers on a three-week journey through Ladakh.
... Some 10,000 kms ahead. Pakistan in 7 to 10 days, in a straight line from Lahore to Quetta and Taftan. This part, together with the first 3 days in Iran, Zahedan to Mashad, will be even hotter then before. August is definitely a very bad idea for this. But after that we should be fine. Europe, we're coming! Iris and Trui"
Tiffany Coates, UK, Prudhoe Bay to Ushuaia, in Mexico, R80G/S,
"I've been on the road for 2 months now and have had to cover a lot of ground; the pace is about to slow down. I shipped into Vancouver and had the delights of three days of constant rain as I rode north. I also saw my first bear one and a half days out of Vancouver - practically an urban dwelling one. I stopped the rough camping after that.
In Anchorage I picked up Siobhan from the airport who was joining me for the Alaska leg of the journey. Siobhan has ridden an Africa Twin halfway around the world and now had the challenge of sharing the riding of Thelma - two up. We had a great time - the dirt track up to Dead Horse wasn't as bad as we had feared and once in Dead Horse, we were treated like celebrities. The town was calling us the motorcycle mommas!
However, why had no one told me that Dead Horse is a DRY town - not a pub in sight? Still, we had managed to smuggle in some beers ourselves.
We were invited to take part in the Arctic Circle Fun Run - always game for a laugh, we gave it a go - 5km in full bike gear (as we had no other clothing) on the edge of the Arctic Ocean- for us it was more a walk than a run! Still we completed it and got the t-shirts to prove it. The police were out in force and when I idly questioned why I was informed that they were there to keep the bears away. Very reassuring.
I spent a few days hiking around southern Alaska but after one too many bear encounters on my own in the woods on foot I decided to get out of the state. I took the luxury of the ferry to Bellingham - fantastic views of the coastline of Alaska and also the humpback and killer whales swimming alongside the boat.
In Seattle I ran into problems with Thelma and so was stuck for 3 weeks awaiting parts and repairs - luckily, Mick Vallantine the BMW guy not only had a spare room I could use, but also had decent tea in the house as he is a Brit. I suppose I should mention the great work that he did on Thelma as well!
Took off from Seattle, stopped in San Francisco and acquired a passenger - Janet Cohn, my friend's mother who at the age of 62 and having never been on a bike decided she wanted some adventure in her life - so she jumped on board and has crossed Yosemite, Death valley (as always I got these places at the wrong time, it was August), Las Vegas and down Baja California in Mexico.
I am writing this from steamy hot La Paz (Mexico). Off to catch the ferry to Mazatlan and the mainland of Mexico... due to meet Maggie (who crossed Africa with me) in Guatemala in early September."

Help support the Horizons Unlimited E-zine - visit our sponsors! Please be sure you tell them how you heard about Morton's BMW!

Thanks!

Andy Miller, UK, around the world, in Nova Scotia, Canada, KTM LC640
"Aug. 27, 2002 - Halifax (Nova Scotia, not the UK). I have made it after 13 days of non stop riding, averaging some 1,000 kms a day and 5 time zones from Alaska to Nova Scotia, yes I do have a sore arse [iron butt]. Today the 27th is my 31st birthday.
I am lost for words at the moment so I have sent some photos. The rear tyre that I had put on in Anchorage is now bald the front also, hence the bike handles like a tea trolley, combined with the 300kgs of weight, yes 300kg I got it weighed in Inuvik on a weighbridge, this is without me on the bike but with a full tank of gas and two litres of drinking water.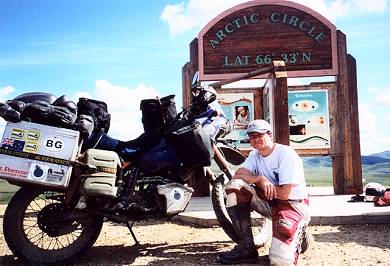 Andy and his trusty KTM doing the obligatory Arctic Circle photo.
Now in Halifax and getting ready to send the bike home and prepare myself for the shock of going home after a year of bumming around the world never knowing or caring what day or what time it is. I have done and seen a lot more than I had set out to do and enjoyed every minute of it, well most of it.
I will fly out on the 4th Sept as planned to UK, already have a job lined up in London, this will be for 10 weeks or more. Very mixed emotions, as I want to see my close family but a very big part of me wants to continue travelling. This was my fear when I first left the UK a year ago, and now it's happening. Along the way I have met all sorts of people some on bikes some on pedal cycles etc, some of these have become life long friends some have just been a good laugh for short time.
Now that I have the overland travel bug I am asked 'where next'? Well some of you know that and when, but for those that don't it's Vancouver to Ushuaia [TIERRA DEL FUEGO] that's South America. I will fly back out mid Nov to Vancouver, then head south. Can't wait to get to S.A.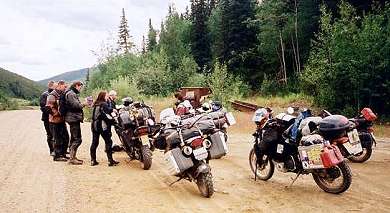 Top of the World Highway, trying to figure out which way is down...
A few bits of info: The amount of fuel used approx 1,600 gallons Rear tyres used 6 plus the one on there is bald. Front tyres used 4, this is also bald. Oil changes were approx 12 plus 12 oil filters. Air filters 6 [three in oz outback] one chain, one gearbox sprocket, plus 4 rear, but all 3 items replaced in Alaska. Total kms covered - 55,000, but still on the same arse.
I would like to say a very big thank you to all that have helped me along the way especially my family and Susan and Grant Johnson for all their professional advice and hospitality they have all been a great help in my travels, thank you all very much."
Ed. Andy, you're very welcome. We're always pleased to have helped lure another soul into 'permanent motorcycle traveller' status. Good luck with your next trip. And Happy Birthday!
Jurgen Homann, Germany, RTW as Official Ambassador for The Global Polio Awareness Campaign 2001+, UNICEF NZ (www.2-mad.com), in Thailand, India and Bhutan, on R80GS,
"Thailand - By the time I visited the north military action was taken along the border to Burma. The people in the refugee camps along the border were due to the rainy season not too happy. The government is undertaking special immunization sessions to avoid the spreading of any illness within Thailand. I was taking part in one of the mobile hospital visits in a remote village: It was a big team of about ten people in three 4-wheel drives driving towards the village - followed by a crazy motorcyclist from New Zealand :-). Arriving at the village, the team started to build up the mobile hospital - a general practitioner, a dentist as well as the pharmacy. The team was not only providing health services - also shoes, clothes and blankets were given to villagers. Ice cream helped to make the whole event sweet as well.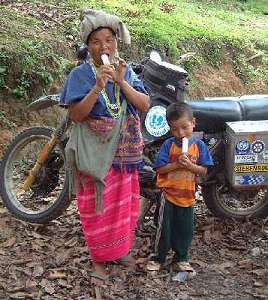 After the health session, ice cream is served!
The traffic situation (in Bangkok) is really bad and the oil temperature of my motorcycle was often climbing above 140C due to the high outside temperatures as well as low speed. This low speed and high temperature must also have been the reason why my starter collapsed on me - just in front of Yut's workshop. Can you imagine my luck and just to top it, back in the Bamboo guesthouse I was staying Gregor, another crazy German on a BMW had a reserve starter (he changed to a new one and kept his old one - for whatever reason). I was lucky and happy to be able to move again.
India - ...After escaping the landslides and the Maoists in Nepal I arrived in the polio troubled country India - especially Uttar Pradesh. On the way to Bhutan I experienced a bad breakdown. I was not able to change gear anymore. People knowing the boxer gearbox might already know what happened: the little small gear selector spring was broken. Fortunately I had one with me in one afternoon (including evening) I got the bike back on the road. Good that I had this little spring with me. On my way to New Delhi I had my 5th puncture in one tyre and I finally changes it creating quite a crowd around me: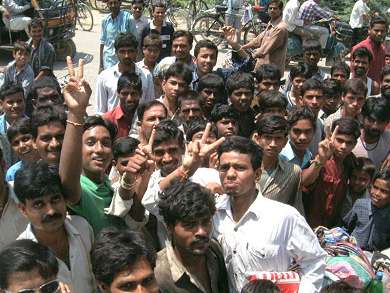 stop and change a tire - hundreds of people watch you doing it.
Bhutan - Has anybody else been in Bhutan with his own motorcycle yet? No escort - I was travelling free: Motorcycling is wonderful, little traffic on a very twisty road. There is only one main road though the whole country. Some side roads lead to some of the valleys, but most of the areas are only reachable by horse or by foot. As I was here in monsoon season I was lucky only to be in rain at the first day and one in between. The roads are paved, narrow, bumpy, but without potholes. Some areas are frequently damaged by landslides, others are under construction, that are the only 'tricky areas'. Still with only a few cars, buses and trucks on the road, exactly this makes it dangerous, they are so surprising, that you almost get shacked up when spotting into one. The spotting is the real issue, because you are constantly 'around the corner'. The curved road does not allow you to look far ahead; I only experienced about two straight stretches of about 500-800m.
| | |
| --- | --- |
| Dochu La Pass | Monsoon flooding |
My motorcycle has done 54,000km by now, I have been on the road since June 2001, visited 22 countries and hope to survive Pakistan and Iran on my way to Europe. Our campaign against polio is very successful and we achieved more than 430 publishings in 39 countries. Dirk is currently travelling and campaigning in the US while Mario is preparing his departure to Angola, Africa."

Help support the Horizons Unlimited E-zine - visit our sponsors!
Please be sure you tell them how you heard about Motorrad Elektrik!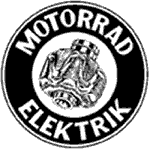 "You want the best for your BMW Motorcycle. Motorrad Elektrik has been offering the best in electrical parts for classic and modern BMW's for over 10 years. Be it a full 12 volt conversion for your /2 or better than stock replacement parts for your late model "R" or "K", we've got you covered. Specialty parts for 'hardening' the charging and ignition systems for world-travelling Airhead GS's. Riders like Bob Higdon, Dr. Gregory Frazier, the late Ed Culberson and hundreds of others depend on Motorrad Elektrik components as they wander the globe.

Omega. 400 Watts. Light and heat for 1970-95 Boxers. YeeeHa! The end of that greatest limitation of the air cooled Boxer, a small capacity charging system!"
Thanks!

"We are now in Lima, having travelled here from Quito. We first entered Ecuador in 2000, left the moto there, returned in 2001 and rode it around for 60 days going up to the Colombia border, among other things, and then in 2002 we have returned to go south again on our South America travels. As stated we would able to get another 30 days extension for Ecuador as long as we left. But as a test, we took our old 2001 form, cut off the top with the date and gave that to the border guard who was happy and let us out. We still have the 30-day permit. Of course, we saw Ricardo Rocco who has a new Transalp.
In Peru, we camped at the Bird reserve about 12k north of Olmos, which is on the old PanAm and where customs is quicker and easier. They welcome visitors and will let moto riders camp there for free with use of the baños. But no food there. They are trying to save a nearly extinct turkey and have just seen the results of the first released adults with the first chick seen in the wild.
At the hotel where we are staying we meet a Peruvian moto rider who lives in Mexico and makes frequent visits to Oregon so we will see him again in Sept. We have also met here in Lima that world famous moto traveller, PUNKY, and his owner Lew.
We will have more later about our trip on our website when we return in Sept as the problem with customs in Ecuador is not favorable. We have friends from Australia, Ralph Green and Mary Ann Jackson who have done a lot for travellers in their country and want to leave their moto in SA as it will cost them $4000 to ship it back. We hope to meet them again soon south of Lima.
I guess we will travel south to Arequipa, up to Puno, and then around the east side of Lake Titicaca to La Paz. There we hope to leave our moto with Walter Nosiglia. The Greens were told by the Bolivian Embassy that there was a form which allowed one to keep their moto in Bolivia up to 12 months but it was only available at the border. We will see."
"...we are currently in Tehran, just dropped the bike off for a service and new rear tyre. This lifestyle is highly addictive isn't it? I could keep riding forever!
Your site has helped us more than we could ever say, I hope to meet up with you someday and buy you a beer! Are you in England? if so we will be there late October.
15th Aug - We make fantastic time, and decide to spend the night in Nain. This turns out to be a highlight of the trip so far. When we ask about a hotel we are shown a Mosque which has rooms that pilgrims can rent very cheaply. The people here are not used to foreigners staying in their mosque and we cause quite a stir! We feel absolutely no animosity whatsoever, just curiosity! These people are so friendly.
We are woken up by the call to prayer just before sunrise. It really hits home how far we are from Australia when we think about the fact that we have just spent the night in a mosque and are in the middle of Iran watching the faithful slowly walk towards the mosque in the dawn's early light. This experience has been absolutely priceless to us. We have breakfast and head to Tehran which is 450kms away. The end of a fantastic days riding sees us pulling up at the Raantin Hotel.
We have been invited by the Iranian MS Society to talk to some MS people and also do some media interviews. They also give us a guide each day to show us around Tehran and the various tourist sights, plus host lunch and dinners. We would like to thank all the people at the Iranian MS Society. We couldn't single out any one person, they were all great.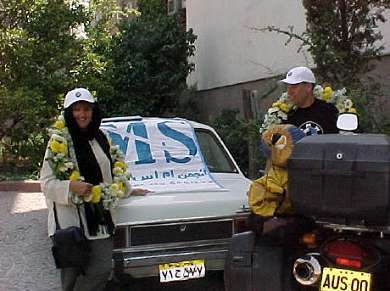 Campaigning for the MS Society Iran
We have also put the bike into the local BMW dealer for a service. The owner of the dealership is Mr. Ali Nouriani who is a typical Iranian; that is friendly, hospitable and extremely generous! The phone wakes us up at about 8.30am and we are told that Mr. Nouriani is going to escort us to the start of the tollway on his BMW 1200. This is great because Tehran is a big city and I know I would get lost trying to find my way alone!
We are picked up at 9.30am and told that the hotel bill has been paid for us! Unbelievable! We arrive at Mr. Nouriani's BMW dealership to find the bike has been serviced: a new rear tyre has been fitted; new rear brake pads installed; the fuel system including the carbs have been cleaned and they have given it a wash! This is SERVICE...but they have one more surprise for us. They won't charge us!!! To say we are overwhelmed by these people's generosity is an understatement.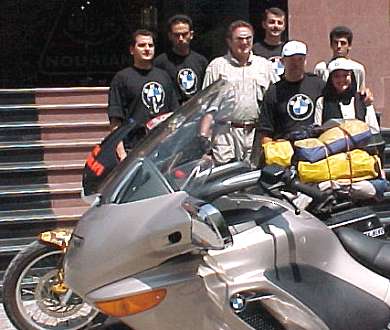 BMW Iran
We do an interview for Tehran's English language newspaper and at about 1 pm we prepare to leave Mr. Nouriani has one more surprise in store. He gets his staff to ride 3 GS 650 Dakka's out with us to the start of the expressway. We have also been provided with a police motorcycle escort. The people of Tehran look at us in amazement as we all ride through the city. The biggest bike you can legally own here is only 150cc! cheers mate, Ralph"

Help support the Horizons Unlimited E-zine - visit our sponsors!
Please be sure to tell them how you heard about TinyStocks!

TinyStocks presents Highway Manager: the most complete and flexible gas mileage application for the Palm OS® platform, written by a biker for bikers. Keep track of your gas mileage, insurance payments, garage bills, hotels, highway tolls and whatever is necessary. Statistics, charting function, multi-currency, and more... So, got a Palm OS device? Why not take it on the road?
Thanks!

Tiberio Jaramillo, Colombia, Colombia to Alaska, in Alaska, R100GS,
"After leaving Vancouver we headed north, then we feel the first time the cold from the north, this was in Prince George. After this it has been cold, rainy, windy and snow. Our final destination in the north continent was Prudhoe Bay. Yes we made it in the middle of a lot of wind and road conditions not too good.
While in P.B. we were camping at the Alaskan Airlines parking lot, this place is an open parking lot with no protection. After we set our tents the police arrive and told us that that Tobby was around, all we said we do not know who he is, then he told us that Tobby was the biggest Grizzly bear in town. You should have seen our eyes, brighter then an avenue lamp at night! He recommended us to put all food in a safe place like in the hotel or somewhere else. We packed fast and then other security person came in and the same message, but this time he said do you want to see him. My answer was a big YES, jump in with my camera, turn in the back of the Caribou hotel big show. Tobby was in a pick up bed throwing boxes and wood up like a little kid, in a few minutes police came and run him down to the tundra.
Returning south we went on Top of the World Hwy. Visited Chiken and arrived in Dawson City. I left Mauricio and Clara and went for Inuvik, 2 days going up and 3 days coming south. On the day I left Inuvik was raining, lots of mud, then lots of fog I couldn't even see me in the mirror of the bike, later on the first pass was 12cm. of snow and 500 m. ahead it was like opening a door: the sun, no clouds, beautiful scenery. After a while a heavy side wind made me drive slow in order to keep the bike in the dry part of the road. Slept in Eagle Planes and in the morning -6C, that was a thrill for me, I am not used to this weather, where I live it is 23C year round. Anyway I made it to Dawson with a lot of extra weight of mud.
People said that these roads are tortuous. I will say that if you do not have experience in driving in dirt and mud, do not visit these places. It will make your trip a bad experience, like the guy I saw in Arctic Circle returning from Inuvik had crashed 15 times, he had no experience at all in dirt and in mud."
Chris and Erin Ratay, USA, around the world, in Bolivia, two BMW F650s,
"Parque Machia - Cumunidad Inti Wara Yassi. CIWY is an animal refuge park, whose aim is to provide the best possible home and care for 'wild' animals (other than domestic cats and dogs) who were formerly abused, used to perform for the financial benefit of their owners, or whose owners have found them too much trouble to care for anymore.
Currently in the park there are several different species of monkeys, birds, turtles, deer, big cats (like pumas, jaguar, ocelots, and pampas cat), a tyra (like an otter), snakes, and sloth (like a monkey who's smoked too much marijuana). Besides a vet on staff, all of these animals are cared for by a group of 30 or so very dedicated volunteers from all over the world, including some Bolivian volunteers who have been there for years. Some people hear about the park from other travellers, see a flyer in a hostal or read about it in their guidebooks. A few travel to Bolivia specifically for the purpose of spending a few months volunteering and then return home, while others (like us) trip upon it while traveling and end up staying a few weeks. The park is entirely funded by the money the volunteers help to raise (usually amongst themselves) and by a few private donations.
We were assigned to the Monkey Park. Two long-time volunteers who work in the Monkey Park, Mili from Israel and Leshana from the States, introduced us to our new friends, cappuccino monkeys Bilbo and Cheyenne. Chris took charge of Bilbo, a sick but recovering older monkey who has a bad reputation for biting women. Cheyenne befriended me, a charming, very clever monkey who has a bad reputation for biting men, children and breaking into the birdcages in the Aviary House.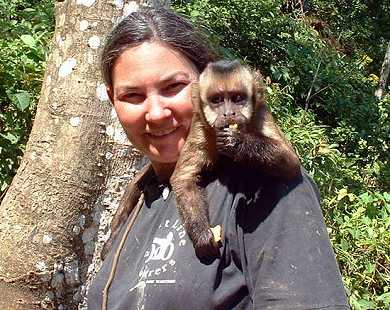 Far from a typical day in our motorcycle traveling lives, we found ourselves rising from bed every day at sunrise to be at the park by 7:30am to retrieve our monkeys from their sleeping quarters and have breakfast for them. For me, breakfast with Cheyenne consisted of him peeling the banana, feeding me bits, I would half chew it, and then he would open my mouth to retrieve it and eat it in its softer form. Talk about a bonding experience! Throughout the day, Cheyenne would try to feed me all sorts of things like various leaves, dirt, sticks, and caterpillars. He would keep the spiders for himself however. After breakfast he would groom my hair and make sure I was free from little critters. I would groom him in return. Then we would take a relaxing walk on the beach (the park is situated next to a big river) where Cheyenne would spend an hour or more turning over every rock to find insects or catch tiny fish swimming too close to shore. I said my monkey was very clever! By the way, he also knows how to untie knots, open combination locks, and can steal everything you have from your pockets (which he did frequently).
When Chris first got Bilbo, he was very sluggish, his eyes were sunken, and he didn't want to do anything but sit on Chris' lap. After awhile however, Chris was able to get him to eat the fruit, vegetables and milk at the feedings and soon Bilbo was up and foraging around the bushes and combing the beach like all the rest of the monkeys. A favorite pastime for them was singing to each other in a very high voice. Bilbo would put his hands on Chris face and sing back to him. It was all very crazy!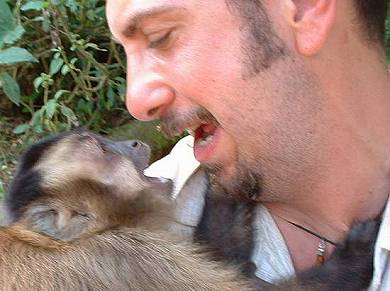 Now, you might think that our day was all fun and games with the monkeys, which is true to some extent. But there were lots of chores to do, like cleaning the monkey's sleeping quarters (with lots of wet blankets covered in pee and poop), cleaning up the food scraps after the feedings and washing down the feeding tables. Each day we were assigned to a different chore besides our normal duties. It was a long day (7:30am to 6pm) with an hour and a half lunch break, the entire day spent outdoors in the heat and humidity. Also by the end of the day we would all find ourselves sweaty and dirty with monkey pee and poop smudged on our clothing, dirt and sand in our hair. But that didn't matter much because we were all in the same condition.
Besides learning a lot about our monkeys, their behavior, etc., during our time there we also met a lot of great people from around the world. Countries represented there were: Holland, Germany, Belgium, France, England, Scotland, Ireland, Israel, Samoa, Australia, New Zealand, Spain, United States, Bolivia, South Africa, and Canada.
Sometimes the best experiences are the one's that are not planned for and just pop up - just like this! Thanks to Chris, our Belgian motorcycle friend (travelling 2-up to Alaska with Simi on his Africa Twin) who took us there and introduced us to everyone. Check out the website and feel free to make a donation: www.geocities.com/refugiobolivia/"

Help support the Horizons Unlimited E-zine - visit our sponsors!
Please be sure you tell them how you heard about Casamia!

Canadian Wilderness Tours on an ATV (Quad Bike)
The Roughest, Toughest and Dirtiest Tour you will ever have! (No wimps or wooses please!)
Discounts for Group bookings.
Check out our website: www.ChaletCasamia.com or
Tel: (1) 705 729 5202.
Thanks!

Beat "Sanchoz" Gisler, Switzerland, the America's, in Guatemala, R80GS,
"After two days in Lanquin, which was just too good to be true, I intended to leave for Flores and Tikal. After days on gravel road, I was coming back on tarmac. The bike was going smooth and I enjoyed riding around bends with high speed. I must have been so excited, that I did not give attention to two signs besides the road which said Fin del pavimiento (end of the pavement). Small signs with red hand-written letters in a distance of 40m each.
I looked along the road and I saw just tarmac, the road was going up and down, I knew, but I seemed to forget in my high and I thought: 'it cannot be too rough.' I was terribly wrong, the tarmac ended on top and there where two deep, big holes in a row and there was nothing I could do to stop the BMW. I almost flew over the first hole into the second at 100km/h, the back wheel was going high up and the front wheel was pushed to the ground. I was driving on the front wheel, before it slipped away to the right side. After that I kissed the ground and stopped after like 40 meters sliding on my side and finally on my ass. I was lucky to damage only my right elbow, there was a small hole in the flesh, which I could disinfect and bandage on my own.
I was looking at my BOO and saw a loong black stripe of leaking oil. Out of that there was one major damage: the left side cylinder cap is broken (what I can see right now). There are two nice big holes on the downside, since the bike was sliding on the cap about 40 meters over bloody steady stones.
That's it, I must say I was really lucky and I am happy right now that nothing more happened (imagine a truck or car coming my direction).
... Yesterday after I wrote email, I was checking the possibilities of welding the cylinder cap (100 points for Grant) and here in Coban there's a wonderful taller (workshop) which only works on aluminium. Lucky me and as in many places all over south and centralamerica, they are masters in repairing broken parts. They were very friendly... cylinder cap will be fixed today 11.00 a.m. Many thanks for your help and your friendship. Live your dreams. de BEE"
Ed. Lesson of the day - don't just assume a damaged part needs to be replaced. Third world mechanics are masters at repairing almost anything with next to nothing. Check the local shops out first. Often car parts can be substituted - Greg Frazier welded a car shock onto his blown BMW shock in southern Africa. Max and I, with the help of a local Ecuador shop made a better top box mount than the standard Givi. Bosch VW car electrics will often work on BMW's, etc.
Lew Waterman, USA, North and South America 2001-2, honeymooning in Peru, KLR650,
"Punky, Achi and I are very happy following our return from a 10 day honeymoon loop ride around southern Peru to Lake Titicaca, Bolivia and back to Lima. It was Achi's first adventure with Punky and I. She did well. All was not fun, but that is adventure touring in developing countries. Sometimes we had to do without water, hot water shower and decent bathroom facilities at hostals after a long days ride. Barking dogs, honking geese, crowing roosters and music from the next door brothel made it difficult to sleep in one hostal.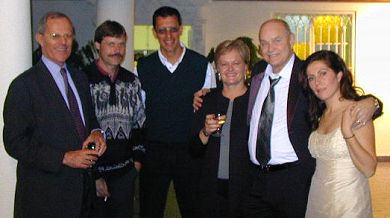 Harley rider and Peruvian Minister of Economics and Finance Pedro-Pablo Kuczynski, Erling Steen (m/c rider from Norway), Ricardo Rocco Paz (best man and rider from Quito, Ecuador), Nancy Kuczynski, Lew and Achi at their wedding.
Some interesting places were Nasca, Moquegua (many old buildings downed by last year's earthquake), Puno (boat ride to floating island on Lake Titicaca) and Arequipa (great weather and vistas of snow covered mountains and Misti Volcano).
Punky, Lew and Achi on tour
The KLR, although not designed for 2-up long distance touring, is modified to maximize comfort and handle the additional weight. Later, amigos."
Achim Vogt, Netherlands, in eastern Europe and Russia
"I crossed the border (into Poland) near Frankfurt/Oder. No visa is required for citizens of the EC and it took about 15 minutes to get across. This may vary though, due to traffic. Pretty soon it became clear to me that what had supposed to be a highway according to the map was no more than a 2-lane road packed with cars, trucks and whatever else can make use of a paved road. I was amazed. Taking into account that there were massive grooves, at times more than 10 cm deep, I couldn't make up for lost time. On the contrary. A huge traffic jam caused by a heavy accident cost another 2 hours of waiting, before somebody pointed out a detour to me. Judging from the crosses and flowers alongside the road many accidents happen on this east/west connection. The condition of the road combined with the chaotic way of driving may very well account for this.
Border crossings in Lithuania and Latvia took 20 min and 1 hour. Both countries require insurance, which can be bought at the border. 15 US per country will get you covered up to 5.000 US so you better not get into any accidents. I had insurance for Lithuania good for 1m US but this didn't impress the lady behind the counter, I had to buy insurance. (Some insurance companies include the Baltic states on their green card, mine didn't)
One thing that comes to mind is the civilized way people drive, especially in Latvia. Police-controls are very frequent and don't look surprised when there are 2 controls within a range of 5km. Giving signals with your high beam is common practice and saved me some money on 4 occasions, while the number of controls I counted was 9. Hotels, restaurants and gas stations are plenty available, while finding a hotel in Latvia may take some effort. Just outside Daugavpils is new motel. Since I was held up at the border I had to settle for downtown D., with no secure parking. I chained the bike to a flagpole, asked the security guard to keep an eye on my bike during the night, but didn't get much sleep that night. Youngster displaying their cars, racing around town, doing 360's accounted for that.
August 20th I head for the Russian border. I arrived at about 1.30 pm facing a long, long, long line of cars and trucks. I was advised not to stand in line and so I didn't. It still took me about 2 hours to get through the red tape. I received help from a Finnish car dealer and Polish family. Many thanks to them. The important thing they pointed out to me was a declaration on the customs form stating that I request permission to take my bike out of Russia using a date a few days after my visa expires. Just to be on the safe side. The Russian form contains such a statement, the English doesn't!!!!
... I am continuously receiving warnings of not travelling alone in this country. Even the bikers in Moscow think that I am not playing with a full deck of cards to come out here on my own. Oh well, so far so good :))). doswiedanja, as they say here. Achim GS4ewaah"
Daniel Todd, USA/Puerto Rico, second around the world tour, in Indonesia, KLR650,
"Aug 28, 2002 - Indonesia is loaded with friendly people, great food and has heaps of chill-out zones for the shoestring traveler. My first stop was Pelabuhanratu, a small resort town on the Southern Coast of Java. There, at the house of a biker friend, I met Ully Setiawati and we hit it off instantly. While she had no biker experience, I still saw her as the perfect travel companion and she only exacerbated my new overland philosophy to slow down and enjoy the ride. I must admit that after 12 years of riding alone, I was curious to know what it was like to share this experience and see the world through the eyes of someone else.
On our first date before she knew me as an overlander, she wanted to know why I had those 'funny looking boxes' on the back of my bike. After several days, she agreed to ride down the coast with me a few days before she returned by bus. Each time we were ready to part, the same dynamic appeared and we agreed to go on together and do another leg. Five months and 5000 Kilometers later, she is still on the back of my bike and has learned a few overlanding tricks of her own.
Our biggest highlight came when we reached MT. Bromo, a unique volcanic region that has a lunar landscape appearance. Two smaller live volcanoes are set inside a very large dormant volcano that is probably 10 miles in diameter. MT Merapi, a forth volcano, is in perfect view just outside of this huge caldera. You can actually ride into the floor of this massive caldera, which has a desert floor with tracks running across the middle. Of course, the views from the top are amazing.
I left the main tracks of the desert bottom and rode over to the side of the dormant volcano's wall. For just one moment it seemed like I could enjoy all of my passions at the same time: travel, the bike, my cameras and a beautiful friend to share it with. And all of this with an amazing backdrop. Looking through the lens of my Nikon was pure joy.
We are headed across Nusa Tenggara towards Timor to check and see if this overland trail has been reopened since the war's end and East Timor's new independence. If not I will be headed North to the Philippines. All the best."

Support the Horizons Unlimited E-zine - check out the HU Souk for t-shirts, hats and other products with the new logo and a variety of slogans!
Thanks! Grant and Susan