Plan where to be when!
If you know of any events of interest to travellers, send me a note.
2nd Caravana Eco Turística ECUADOR and PERU, October 5 to 11, 2003
From Ricardo Rocco: "6 days, 150 plus riders from Ecuador, Peru and many other countries. 2000 km of asphalt and off road exciting routes, events, prizes special events, excellent hotels and restaurants for very inexpensive prizes. Organized by the Ecuadorian Motorcycle Federation, Motorcycle Touring Commission (me)." For more details, write to Ricardo.
Horizons Unlimited Travellers Meeting Mexico - Oct. 31-Nov 2 2003, in the Copper Canyon.
See the meetings page for details.
Horizons Unlimited Travellers Meeting Bolivia - Nov. 8-9 2003
Frank and Ann Schwarzbauer are organizing this event in La Paz. Details on Frank's page. If you're in the area around then - as in somewhere in South America - make it a point to get there, it should be a fun event - Frank is doing a lot of work to make sure! There's even a great surprise gift for you!
Horizons Unlimited Travellers Meeting Argentina is on! Be in Viedma 5-7 December.
Oskar says: "We are organizing it with the municipal authorities, we don't have the details yet, you can be sure that there is going to be wine, asado and beer. The price it is going to be the minimum just to pay the costs. Also we are trying to get a place where all the travelers can sleep, free or very cheap."
If you'd like to help out, please let us know or contact Oscar Knecht. See the meetings page for details.
Christmas is coming, so plan on where you want to be if you're on the road!
Goa, Ushuaia and Cape Town are the traditional spots. See the Motorcycle Events Forum on the HUBB to try and connect with other travellers.
Motorcycle Outreach (MOR) is a charitable organization to fund initiatives for taking crucial health services, like children's vaccinations, by motorcycle to poor remote areas. The co-founders are Robert Rasor, President of the American Motorcyclist Association, and Simon Milward, former General Secretary of the Federation of European Motorcyclists Associations, now on the US leg of his fundraising motorcycle ride round the world. Ricardo Rocco is working with Motorcycle Outreach to extend the model to Latin America.
Horizons Unlimited is pleased to help further the aims of Motorcycle Outreach through raffles at the HU Motorcycle Travellers meetings. The recent Revelstoke meeting raised C$170. for the cause.
For more details about Motorcycle Outreach, and to contribute, see Simon Milward's site.
From Matt O'Neill, UK;
"It may be pretty basic stuff for HU site users, but I found a tidy little doc on the RAC's web site. It's a technical leaflet about checking your bike before going touring. Link (.pdf) here.
"5 years ago following a rough day at work (& a few drinks) Lisa & I had a conversation about getting a life. 5 years later, 2 people on 2 BMW bikes are on the road and have now ridden through 15 countries and are enjoying a truly global adventure..."

Get your website listed in the LINKS Section
by listing Horizons Unlimited on YOUR web site, let me know you've done it by mailing me a link to the page, and you may get listed here in the next newsletter and on the Horizons Unlimited web site Links page. To make it easy for you, we even have our logo and link code here!
All sites will be considered for listing, but must be a MOTORCYCLE or TRAVEL site, useful or of interest in some way to travellers. We reserve the right to refuse to link back.


Motorcycle Express
MC Air Shipping, (uncrated) USA / Canada / Europe and other areas. Be sure to say "Horizons Unlimited" to get your $25 discount on Shipping!
Insurance - see: For foreigners traveling in US and Canada and for Americans and Canadians traveling in other countries, then mail it to MC Express and get your HU $15 discount!
There are many 'Helpful People' listed on the Links page, a huge thanks to all of them. How about you? Or you can join a Community, or start your own!
Norma and Max, in Preetz (near Kiel) Germany
"Bikers welcome! On your way to Scandinavia? Just look in. You need information about northern Germany? Send a mail. Technical problems? We´ll try to find help. We hope to see you! Drive carefully! Drop us an email.
Irakli, in the Republic of Georgia,
"...riders can stay in my apartment some days, take a rest, fix the bike if necessary in friend's garage. GSM contact number (+995 93) 326198 or city number (+995 32) 962489 Regards, "Soika", ATiC #1606 1993 RD07"
From Simon McCarthy and Georgie Simmonds
"... a little real sanctuary for us in Delhi. We had heard that there was a motorcycle overlanding English woman, living in Delhi and more than happy to have other overlanders descend and stay. This angel called Lisa (Lisa with the broken leg, to those in the know) not only responded positively to our self-invite, but also let us use and abuse her luxury life-style. Big aircon apartment, cook/maid, driver, swimming pool, satellite TV and video collection. Just the job - we are eternally grateful."
Ed. Lisa Roberts can be contacted via e-mail.
Do you know of a good shop 'on the road,'
...in other words, somewhere there isn't a large number of shops? (Also of course any shop that specializes in travellers equipment and repairs is of interest.) But we're particularly looking for those rare items, good repair shops in South America, Africa and Asia etc. Please post your info in the Repair shops around the world Forum on the HUBB.
There are now 46 + shops listed in out - of - the - way places, from Abidjan to Ghana to Peru! Be sure to check out the HUBB "Repair shops around the world" forum if you need work done!
Just so you know what the differences are when you're buying a helmet: Snell Memorial Foundation comparison of the DOT and Snell Testing of Motorcycle Helmets. Note I am NOT saying either is better!
When you meet people on the road, and they haven't heard of this e-zine or the website, we'd appreciate it (and hope they would too!) if you'd get their names and email addresses and send it in to me, or use the recommend form available on most all pages of the website.
Thanks, Grant
"We have just received some distressing news about driving licence requirements in Brazil! Having applied for the IDP, the UK RAC attached a note to the licence which said that since printing the IDP application, Brazil informed them the the GB licence or IDP were no longer valid for Brazil and they advise people either to use taxis (der!) or if they are there for a longer period of time to get a Brazilian licence!
Now maybe this does not apply to motorbikes, we are trying to find out, but we were wondering whether you had heard anything along the grapevine at your end? If it just the GB licence the Brazilians have taken a dislike to or all foreign licences?"
"It would seem that it is true. All info from the RAC tells us this. We have changed our route on the Trans Americas Record to avoid Brasil, just in case it holds us up. "
Kevin and Julia have broken another world record - Prudhoe Bay to Ushuaia in 35 days!
If they ask "want to go for a ride?" you might think to say no...

Peter Slarke
, UK, needs a bike in Ecuador
"I am currently in the USA travelling from Alaska to Tierra del Fuego. My girlfriend will be joining me in Ecuador and will need to buy a bike, something small like an XR200/250. We will then be selling it in Chile when she returns home. She is with me for 5 months only. Could you tell me if this is a simple process to buy a bike in Ecuador, or will it involve a lot of complicated paperwork. Also are these types of bikes easily available. Any other advice would be appreciated. Thanks for your time, Peter"
Ben Zack has a bike for sale in Colombia:
"Aug 18, 2003 - I am a solo traveler from the US traveling on a black Yamaha 2001 XT600. I will arrive in Bogotá this weekend. My father has been ill for some time and I have interrupted my travels twice to return home. his health has become worse and I must return home, unable to return to South America (and I have been down here for almost 8 months!) so, I would like to sell my bike. It is in perfect mechanical shape, new oil (as of today), new chain (which I have to change), new brake pads (front and back), new back brake disc, new air filter and a new spark plug as of 3000km ago. The bike has a GIVI rack, three rear GIVI boxes, a Bagster tank cover and separate tank bag. The bike has Chilean papers. I would like $2950USD for the bike, a very good deal for someone! Please let me know if you know of anyone who might be interested in buying a great bike at an awesome price! Thanks Ben"
Bob Lyskowski writes to the HU San Jose, Costa Rica Community about long-term bike storage:
"I am trying to do as much of an around the world trip as I can in tiny bits. I have travelled through Mexico and would like to start on Central America. This November I am leaving to tour part of Central America. Due to limited time, I would like to find a place where I can legally store my bike for 6 months to a year. As I understand it I would need a Government Bonded Warehouse. Costa Rica and Belize would be ideal locations. Do you know of such a place?"
Dalbir
, from Singapore, writes to the HU Istanbul Community:
"I'm riding a 1989 Honda dominator from Singapore. Heading towards western Europe. Got into Turkey on the 21st and just arrived in Sanlurfa, and just got a traffic fine today (131 million lira!). 99km per hour. So not in the highest spirit. Anyway what I wanted to ask was does anyone know of a good mechanic around here or on my route. My bike makes the strangest noise while starting, sounds like the starter needs some oil? Very loud dry noise. I also plan to give the bike a cleanup, clean the carbs and basically looking for a nice place where I can do that. I'll be heading to Nemrut Dagi in a day or two, then to Cappadocia (probably Gerome) and haven't decided whether I ride along the north coast or south to get to Istanbul.
I'm also in the need of a mailing address, to receive my green card insurance (Compulsory Bike Insurance for Europe) from Knopf Tours. We don't have a Singapore Embassy here. I may ask the Malaysians if they will help. Anyway if anyone has the answers to any of my questions please email me. Thank you and see you on the road."
---
Plenty more questions and answers on the HU Bulletin Board! We've over 3,100 registered users on the Board, which I think is pretty amazing, and gives a huge resource of knowledge and experience to help you with anything you might need to know.
Security Alert for all travellers doing electronic banking in Internet cafes!
"For more than a year, unbeknownst to people who used Internet terminals at Kinko's stores in New York, Juju Jiang was recording what they typed, paying particular attention to their passwords. Jiang had secretly installed, in at least 14 Kinko's stores, software that logs individual keystrokes. He captured more than 450 user names and passwords, using them to access and even open bank accounts online.
The case highlights the risks and dangers of using public Internet terminals at cybercafes, libraries, airports and other establishments.
'Use common sense when using any public terminal,' warned Neel Mehta, research engineer at Internet Security Systems Inc. 'For most day-to-day stuff like surfing the Web, you're probably all right, but for anything sensitive you should think twice.'
Mehta said that while millions of individuals use public terminals without trouble, they should be cautious.
'When you sit down at an Internet cafe, ask the owner or operator about the security measures in place,' he said. 'If they don't know or don't have anything in place, you could consider going somewhere else.'
"Encrypting e-mail and Web sessions does nothing to combat keystroke loggers, which capture data before the scrambling occurs. But encryption can guard against network sniffers - software that can monitor e-mail messages, passwords and other traffic while it is in transit."
"Data cookies also contribute to the risk of identity theft. Cookies are files that help Web sites remember who you are so you won't have to keep logging on to a site. But unless you remember to log out, these files could let the next person using the public terminal to surf the Web as you.
Furthermore, browsers typically record recent Web sites visited so users won't have to retype addresses. But such addresses often have usernames and other sensitive information embedded. Secure public terminals should by default have provisions for automatically flushing cookies and Web addresses when a customer leaves, Internet security experts say."
"Richard M. Smith, a security consultant in Cambridge, Mass., said customers could also use certain techniques to foil keystroke loggers. When typing in sensitive information, for instance, he suggests cutting and pasting individual characters from elsewhere to form the password. No keys depressed, no characters logged."
For more details:The Register (UK) article.
From Martin Rooiman and Jeannette Boom, Netherlands, around the world, on Australian visas, carnet;
"Hi Grant, ... I just want to let you know something about the carnets in Oz as you wrote in your last newsletter as Jan Loesche had problems with it in Sydney.
1. I also had my carnet extended in New Zealand and had not a single problem entering with it on Brisbane Airport, but I might be lucky that they overlooked it or didn't know these new rules.
2. Indeed they tightened the rules regarding the extension of carnets quite a bit. In the past carnets were extended for years as long as you had a reasonable story. In an attempt to stop this practice Customs decided to accept no extensions anymore. This rule was without any vision as they find out now as well as lots of people have problems with extension as the RAA gets crazy with it as well. So hopefully Customs will change back these rules; at least to the point that your vehicle can stay inside the country as long as your visa is valid. According to me that's the original idea behind the whole carnet, so people can travel around with their own vehicle! Jeannette's carnet runs out on 11-10-2003 and our visa is valid until 03-11-2003 so the carnet is running just over three weeks short. After some phone calls with the RAA and Customs, Customs agreed not to make a problem of it as it's just a couple of weeks. Fortunately we're returning home afterwards so we don't need a new carnet. Extending the carnet would be difficult as they are afraid that you will stay longer then. Also transferring your vehicle from one carnet onto a new issued carnet is causing difficulties at least.
So, at least for the time being, the best thing by far is to arrive with a brand new carnet into Australia in which case your vehicle can stay (almost) one year in Australia without any problem, though this is not the cheapest option. Hope this thing change soon, Martin Rooiman.
There's more important information on entering Australia that you must read if you're going, here.
Turkey speed limit:
From Burak Cedetas, HU Community Istanbul, in response to a note from Dalbir about a ticket he received;
"There are some very old traffic laws here in Turkey. The speed limit for a motorbike is 70km/h on the intercity roads. In any case if you did not pay the fine on spot (which is an option) maybe you can leave the country at the end of your trip anyway. I am not suggesting you anything bad but you may choose to forget... :)"
Patrick and Danette Harkness, Canada, on Costs in Ireland:
"Gas is easy to find but only the 95 octane. High test is hard to find. Prices from .85 to .95 euro (per litre).
As a Canuck converting from the Cdn$ Ireland, particularly Dublin, can be expensive. Try staying outside of the bigger towns in B&B's. Although this is no guarantee. We are not camping but that would obviously be less expensive again. We do have a camp stove with us so we can cook simple meals and make coffee in anyplace we stay.
Eating in the gas stations is easy cheap and shockingly very good. Most have a deli/hot food service.
The pubs here are so different from home. You are almost expected once you get to the pub to sit there until closing time. It's like being in your friends' living room.
Now to the roads... 95% of them are narrow bumpy and have no sight lines around the corners. Bring all the suspension you can cause you will need it. Being on the wrong side of the road adds to the fun.
There is currently a huge amount of road construction going on and you often hit upon it when you least expect it on some small side road. The road signs are very good for both directions and upcoming things on the road whether it be a hotel or gas station coming up or something on the road itself. I have noticed though that when the sign is no longer needed or accurate that the sign stays up. So - gas station next exit open - and then you drive by and it has been closed for at least 5 years."
Tommaso Piccioli, Italy, writes about Bali to Darwin shipping:
"Just to inform you that the Bali to Darwin shipment is no longer possible since Qantas don't do 'dangerous goods' anymore. I had to take a Pelni ship (they carry the bikes from Benoa) to Kupang and drive to Dili. Good drive anyway Tom"
In response to a message from Jim Stanley to the HU Medellin Community about safety in Colombia, Camilo Delgado writes:
"Hi Jim, Colombia is a little bit safer that it was one year ago but still you should be prudent, especially when you have to ride for some areas where the army has not taken fully control yet like between Pasto and Popayan in the south.
In these areas - which are less and less every day because the army is winning the war against guerrillas - you should take some caution like: never ride after dark; ask the army or someone you trust beforehand how safe is the area; hopefully tell someone that you are going to through this area and report to this person that you left the area, as a way to keeping track of you. Try to ride those areas early in the morning, try to avoid riding late in the afternoon, always see how many cars are coming the opposite way because if there are no cars coming that might mean that something is wrong ahead. Try to stay always on the Panamericana - at least in the southern part of the country until you reach Cali.
Regarding your question about how dangerous is Colombia. It is quite a difficult question. It depends a lot on your point of view. I'm not the person to answer that question to you. I'll give you some names of bikers that came through Colombia so they can tell you their point of view: Liam McCabe, Mika Kuhn, Mariola Cichon, Simon Milward. I think they all will tell you that Colombia was safe to them, but I also think it is because they all took no risks.
In any case, if you feel like coming to Colombia please do not hesitate to contact me. By the way, I live in Medellin. Camilo Delgado R."
Ed. Also check with Glen Heggstad, who was kidnapped by the guerrillas and held captive for six weeks in Colombia. He may not have followed Camilo's excellent advice above.
---
Request for info
Wouldn't YOU like to know all about the border you're approaching - what it should cost, paperwork required, 'tips' needed, and who to talk to, etc.?
When you cross ANY border, take some notes, and pass them on to us. Thanks!
Shipping
The Shipping page on the site is HUGE! It can be reached directly or from the Shipping link on the Trip Planning page.
If you have any information to contribute, please go here, and register (or just login IF you have used this system before) and you can then submit your information. Thanks!
Travel Advisories:
The Foreign Office in London's Travel Advice Unit advises against travel to all sorts of places. Check out the listing before you start!
The US State Department regularly issues updated travel advisories, information and/or warnings.
Matt: "Between the cites of Tumen and Ekaterinburg lies a short stretch of road that left a real and lasting impression upon me. We had been riding hard for several days on our way to the Black Sea town of Scochi. For the last few months the name "Ekaterinburg" had been popping into my head like a siren call. It wasn't that far out of our way and I was able to convince Shaun and Ilja to make a slight detour so that I could spend a couple of hours in that city. I didn't know why I kept thinking of it, or where I had heard of it. It was either because it was a horrible place, or a place not to be missed, and I had to know.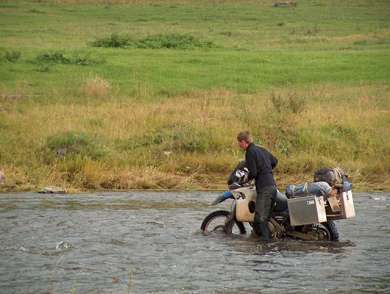 ...The road ahead was clear and straight and I had been very successful in keeping my visor clear with my gloves.
Suddenly I noticed the small dark older Lada with no lights on. So binders on and drop behind the truck. Nope he's braking hard as well, so try to squeeze next to the truck to make a third lane. Nope, there's a huge patch of oil on the road and someone just yanked the front wheel away from me. I fortunately 'low-sided' off the bike and started to luge down the road, feet first on my back. I had been told many years ago that one you fall off a bike, always be wary of the motorcycle tumbling after you. So with one eye on the motorcycle, one on the approaching Lada and a third (you grow several eyes at times like this) on the truck I steered myself down the center line of the road. Ilja, who was behind me described it as a smooth descent off the bike and that I looked to be in complete control of my slide, even propping myself up on an elbow to look around and steer.
I had wondered what would happen if one of us had a collision with a Russian. We have no insurance for this part of the world and can barely speak the language. As I was sliding it occurred to me that I was about to find out. Did I fear for life or limb? Really only for a fleeting instant right before I dropped off the bike. Since I hadn't 'high-sided' I knew that my only risk would come from being hit by a vehicle. I had control over my direction and, as in all facets of life, when you can control the direction you're going in, fear fades away.
I heard the Lada hit the bike and I finally came to a halt. I was certain that I had been sliding on ice, but we later learned that my 20 meter slide had been on oil...
Ilja and I pulled the bike to the side of the road and surveyed the damage. It was all cosmetic, but aren't brake discs supposed to be flat? They just don't make them like they used to. The weight of a passing Lada was enough to bend it a good half inch down. We decided to try and repair it and moved the bike completely off the road...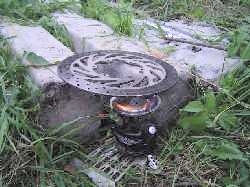 We eventually hit on a solution to straightening the disk, heating it with my Coleman stove and whacking it with the back of a hatchet and bending it between two concrete posts laying on the ground. It flattened considerably and we put it back on..."
More here, Sept 26 entry.
Maarten Munnik, Netherlands, around the world, in Australia, Honda Africa Twin,
"Gilberton is a medium size cattle station in Queensland, Australia. 330 square kilometers of land and around 2500 pieces of cattle. Pretty big for a Dutch bloke. In Holland we call 50 cows a lot! ;-) I'm working on my image as a cowboy.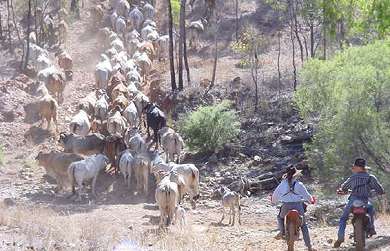 The best part here is mustering, or driving, the cattle. Not on a horse (although that is possible too) but on a 200 cc dirt bike... Great fun, driving through the hills, gullies and valleys. Plunging in steep descents, climbing even steeper hills... and having the occasional crash. Looking for cattle and if you find some, drive it to a meeting-place... When we gathered a 'mob' of around 200 or 300 we drive them home. It's amazing how these animals react to the bikes. If done well (and it's tricky) you can make them do whatever you want... Go left, go right... As long as you get the first cow in the right direction, the rest will follow. Then it's just a matter of keeping the herd together. One strays off into the trees, cut it off and send it back.
And don't forget the work in the yard; Branding, cutting horns, vaccinating, castrating (auch) and selecting... a dusty job but it's a real 'cowboy life'.
It does not always go as planned. One time we let a mob of 100 youngsters (1 or 2 years old) out of a corral... and to prevent them from stampeding away you drive in front of them in a straight line. If all goes well, they stay behind you. It's a bit awkward... so many cows (yes also bulls) behind you... trying to find a way to get by, and if one finds a way, the rest will follow. In this case a breakout occurred and Rob (the station owner) ended up with a cow on the back of his bike... Now, this is a nasty situation, for the bike, for the cow and for the bike-driver, so Rob gave the bike over to the cow, but that animal was not too good on a bike so all crashed into the ground. The next moment 100 cows saw their chance and stampeded, leaving us in a cloud of dust. No one got hurt, not even the bike. Maybe Rob's pride had a little dent, but even that was not serious... Life of a shit-kicker is rough.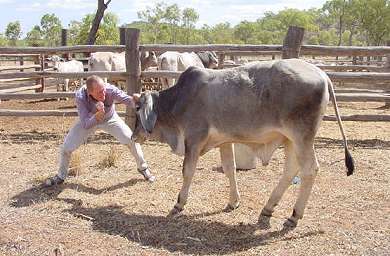 And when there is some time off? Go and look for gold... This area used to be filled with goldmines and there is still plenty around. So far I have found only a few little bits but the thrill of finding your first bit of gold... even if it's only a tenth of a gram. This shiny yellow material has a magic over it. When I leave here I'll have lots of it... and even if I don't, I don't care... I'm here to enjoy myself, and that I do - big time!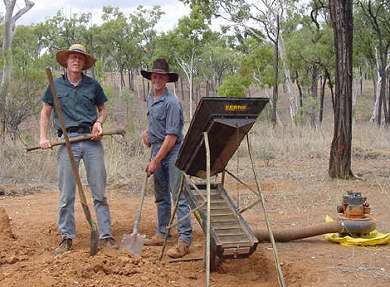 Family life out here is great... Has to be because there is no one else around... They call each other the worst names, smack each other in the ribs, twist arms and run after each other... but it's all for good fun. The nearest town with 1 shop is 250 Km away... The nearest town with a supermarket is 450 Km away... So you don't just 'go out to town' if you're fed up with the rest.
When I get my first kilo of gold I'll give a party and everyone is invited... but at the rate it's going... it might take a while. Maarten"

Help support the Horizons Unlimited E-zine - visit our sponsors!
Please be sure to tell them how you heard about Touratech!

Thanks!

JD Smith, USA, to Alaska, BMW F650GS,
"I recently attended a Horizons Unlimited (International World Motorcycle Travelers) Meeting in Revelstoke, British Columbia, Canada. After the meeting I drove the Alaska Highway through British Columbia, The Yukon and Alaska to Prudhoe Bay, Alaska - the most northern city in the world accessible by road.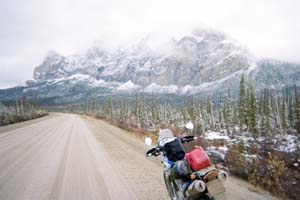 One day in Northern British Columbia I saw 7 bears, 1 coyote, 5 Stone sheep, 3 Caribou, 3 Elk and a few deer. The Alaskan Highway during the September leaf fall was extremely beautiful and the weather was quite moderate.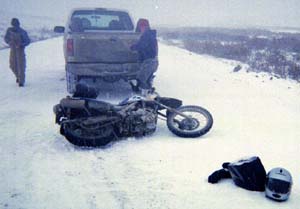 There are 400 miles of dirt road North of Fairbanks into Prudhoe Bay. I traveled 100 - 150 with no trouble but there was a 150-mile section over the last pass into the North Slope and Prudhoe Bay that had received the first permanent snow of the season the night before. The road had been ice-free for 2 - 3 months and I missed my window by 12 hours. I made it to Prudhoe Bay but a truck had to take me into Prudhoe Bay - over the ice."
"Epic Journey Planned - Mid-Life Crisis Blamed for Lapse in Judgment. Two and one-half years ago Bill Thompson and Bo Johnson were out one spring day fly fishing. Late in the day Bill put down his rod, looked at Bo and said, quite out of the blue, that when he turned fifty he wanted to take a month-long motorcycle trip and tour the west. Bo put down his rod, thought about it for maybe 10 seconds and replied that unless Bill wanted to go on the trip alone, he could count Bo in.
We registered for the beginners motorcycle class at Nashville Tech. After passing the course with flying colors we soon received our motorcycle licenses. We then began shopping for appropriate bikes. We talked to several friends who had extensive motorcycle experience and they all said basically the same thing, 'learn on a small bike and buy something bigger when you get some experience.' It was free advice so we felt free to ignore it. Soon our garages were graced by 1100cc BMW motorcycles, which were way too big and way too fast. Perfect for the mission!"
"Pueblo, Colorado - Our day started out with a quick trip to Mailboxes, Etc. to send home a few unneeded items. This is our first extended motorcycle trip and we packed like it was a car trip. Five days on the road gave us a good idea of what we could do without. About 20 pounds of assorted electrical gear and clothes left our bikes a bit lighter and our luggage easier to pack.
Moab, Utah - Arches is one of America's smaller and least publicized national parks. It is accommodating for motorcyclists, however, as it is bisected by a 20 mile road. The views are exquisite. The park was full of impressive rock formations that were the result of millions of years of wind and sand erosion.
Woodward, Oklahoma - There's always a price to pay for the good things in life. Do you remember the mountain passes, gorges, mesas, canyons, sweepers, twisties, high plains, switch-backs and vistas we've raved about for weeks? They came at a price. It's called the Oklahoma Panhandle. Neighbors here can keep an eye on each other. If you lived here, you could step out on your front porch and look over and wave at your neighbor. The thing is he would probably be 20 miles away. It is flat land with little on it. Kansas looks like downtown New York City in comparison.
Mena, Arkansas - It's great being in Arkansas, back with people who don't have an accent.
We took Highway 7 between Russellville and Harrison, Arkansas. Highway 7 is known in the motorcycle world as one of the nation's better roads. It lived up to its' reputation. It offered sweepers and twisties that rivalled anything we have ridden yet..."

Help support the Horizons Unlimited E-zine - visit our sponsors!
Please be sure you tell them how you heard about BMW Motorcycles USA!

Thanks!

Chris Lockwood USA/Japan; and Daisuke Yokoe, Japan, around the world, in Russia and Japan, BMW F650's
"Greetings from Chris at the European Medical Center in Moscow.
What, you may ask, am I doing mailing you from a hospital? Well, I was in an accident between the cities of Orenburg and Samara. A car ignored a stop sign at high speed and crossed the highway I was traveling on. I managed to avoid a direct hit on the side of the car, instead, clipping the rear end. That sent me flying to the pavement where I broke my left collar bone. I managed to get to the local hospital that x-rayed me, put on a plaster cast (directly on the skin, with no gauze underneath), and sent me on my way with a 'by the way, you'll never regain full control of your arm.' That was by no means satisfactory with me. The next day, I got a flight from Samara to Moscow and a taxi to the European Medical Center. They have a trauma specialist here who scheduled me for surgery the next afternoon. I am now recovering from the surgery and will be back in Japan in about a week to begin rehabilitation. The doctor assures me that I should regain full mobility in my arm. I will try to get a new bike (my F650 is dead) and reunite in South America with Daisuke who is currently riding alone. Advice to fellow travelers: Get insurance. The introduction to a 'real' hospital alone is worth the price I paid.
...I go back to Japan today if Russian customs will let me out without paying a fine for leaving the bike. I spent almost a full day with an un-set fracture trying to get a police report saying the bike will not run. Hopefully this and the cast on my arm will get me through... I am now accepting donations so I can purchase a new bike."
"The front fork was twisted and it had severe body damage. The engine runs but not well. I considered my options and took the offer of a cop to buy it for $1000. Will probably never see the money though. I had him make a bank transfer... I would not be able to go back for the bike for more than a month, and I was in a hurry to get ME repaired. The bike had more than 70,000 km on the meter, too. It would be cold in Russia and cost me $$ just to get back to the bike. The Russian visa alone is a pain in the posterior! It may not have been the best idea to abandon the bike, but it seemed the best option at the moment. I managed to get a police report, so maybe I can get my carnet money back. I slipped by customs in Moscow airport yesterday, so I don't anticipate any trouble from Russia. I'll be back on the road in a few months. I just have to think about the best way to go. Thanks for the words of encouragement. This traveler is down but not out. Heck, I was only on the road 2 months!"
"Hi Grant. My injured arm is much better now. I hope to continue my travels in November or December in South America (if I can scratch up a bike in Chile or someplace). I got the money back for my carnet with no problem because it had not been stamped at all (Russia, etc. don't use the Carnet as you know). The auto club told me that if the bike is totalled in a Carnet country, you need to get proof that it is scrapped from a scrap yard. Then show that to customs in that country and have them write that information on the final page of the carnet in the 'location information' area. (Sorry, I don't have my carnet any more, so I don't know what the actual name of that area is). With that, your auto club should release the carnet deposit..."
Lois Pryce, UK, Alaska to Tierra del Fuego, in Mexico, Yamaha XT225 Serow,
"Bienvenido a Mexico! Suddenly there was more of everything. More people, more cars, more trucks, more fumes, more noise, more potholes, more stray dogs, more cows on the road. More roads. The latter being the main problem when trying to find our way in and out of any decent sized town, especially when the signposts are just plain wrong! The other dramatic difference was the climate. The ferry had deposited us in the port of Mazatlan, just south of the Tropic of Cancer and the weather was indeed tropical: hot, humid and sticky, while the scenery was suddenly lush and green. The emptiness and barren aridity of Baja seemed to belong to a different country.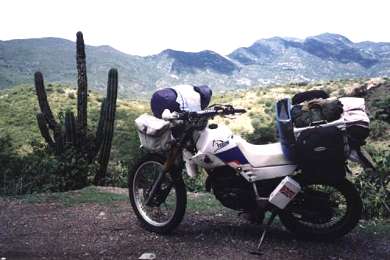 The following morning we awoke to a sound I haven't heard since Canada. A sound guaranteed to fill the heart of every motorcyclist with dread. Rain! But not your average, every day, wimpy Canadian type rain. Oh no, this was the proper tropical downpour stuff. So much rain that within an hour the streets had turned to rivers. Through streaky windows we watched as local women hitched up their skirts, wading knee high through torrents of grimy, grey water. Shopkeepers barricaded their doors with sandbags and rows of previously idle taxis, now crammed full of passengers, ploughed through the flooded streets, the drivers no doubt glad of this sudden, if sodden rise in business.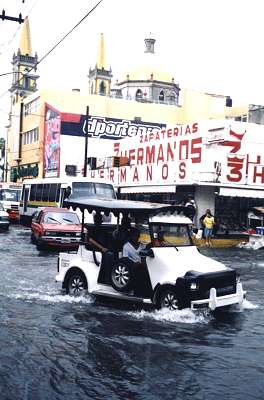 'Cold and wet? In Mexico? In August?' There was nothing else for it but to dig out our long forgotten rain gear and get going. Plus, we now had a deadline. Rachel had booked a flight back to Europe from Mexico City and we were heading to the conveniently located town of Valle de Bravo where she would temporarily store her bike at the home of fellow adventure rider and all round motorcycling hero, Juan Carlos Ibarra.
Every day, all day we rode solidly in the pouring rain, dodging the brimming potholes and cursing our waterproofs for not living up to their name. Each night we would book into a cheap hotel, taking full advantage of the fact that we were Out Of Season. Soon we developed a routine. Check in, go straight to the room, try not to scare the other guests, pour contents of boots down sink, wring out soaking clothes in shower, hang said clothes from every available hook, hanger and light fitting until room resembles a shanty town. Eat. Drink. Sleep. Ride. Repeat to fade.
...one morning, feeling slightly soggy and sorry for ourselves, I attempted to inject a shot of optimism into the conversation. 'Well, at least the bikes are running well', I said cheerfully. This was the cue for my bike to blow an oil seal, duly depositing half a litre of Mexolube on to the petrol station floor. But help was at hand, in the guise of local motorcyclist, George and his 600cc sports bike. 'Follow me!' he instructed as he wheelied the wrong way up a one way street. I dutifully followed to find him parked outside the workshop of the local moto mechanico who, to the delight of Rachel and I, resembled a young Che Guevara. Che knew just what to do. I was up and running again in less than half an hour. Muchas gracias all round.
So at last we arrived in Valle de Bravo, and to a hero's welcome from Juan. The ultimate host, he soon made it clear that he would assist us with our every motorcycling need and we spent a couple of days cleaning things, drying things and performing essential maintenance on the bikes."

Help support the Horizons Unlimited E-zine - visit our sponsors!
Please be sure to tell them how you heard about Towanda Women!
Thanks!

Doris Maron, Canada, RTW, in Greece and Italy, Honda Magna 750,
"My border crossing into Greece was so easy I could hardly believe it. The officer looked at my passport and handed it back. I asked, 'don't you want anything for my bike?' He waved his arm in dismissal and said 'goodbye'.
The highlight of my ride across Greece was a little place called Meteora. Meteora is an area of beautiful towering rocks reaching up to 600+ meters high. On top of the rocks are magnificent monasteries that sit like a crown on a prince's head. As I rode around the sharp curves I marvelled at the magic of this place.
After only five days in Greece, I took the overnight ferry from Igoumenitsa, Greece to Brindisi, Italy. As most passengers, I didn't book a berth. Once I had my bike parked I went up on deck, found a chair and enjoyed the sea breeze. Shortly after midnight I looked around for a place to sleep. On the top deck there were several large wooden boxes about 10 feet long - probably contained life saving apparatus. I claimed one and settled down for a very uncomfortable sleep. It didn't take long for the other large boxes to be claimed for beds as well as every available spot on the floor of the restaurant and lounge.
I spent 12 days riding through Italy - from Brindisi to Naples, Rome, Pisa, Florence and Venice. It's a great country for riding and I met many touring bikers on the road. It's good to see people riding with helmets and riding gear again - now I don't feel so out of place!"
Peter Slarke (aka Oz) and Jess, UK, Alaska to Patagonia, in Alaska and Canada, Honda Dominator,
Jess' story: "The Denali Highway gives endless views of snow peaked mountains, forest , lakes and grasslands and not a soul to be seen only the occasional RV or truck that passes you. Top of The World Highway took us over the Canadian border and offered more in the way of jaw dropping scenery and the first views of the Yukon river winding its way through the remote forested valleys.
The Yukon rocks! We like it and were going to stay... or maybe we'll just come back and live here. Dawson City is the coolest little place. If your looking for a city you'll be sorely disappointed but if you want to chill out in the true wild west style this is the place. Saloon bars, dancing girls, casinos. Totally quirky and even though geared to the tourists it comes without the cheese! But we were going to have to wait to enjoy the high life of Dawson, we had another arse numbing mission in mind.
Jealous of Oz's arctic experience, I convinced him that he needed to do it again. We travelled on 500 miles of dirt road up the Dempster Highway to Inuvik (the furthest north you can get to by road in the North West Territories). The road was in great condition and we got up to Inuvik without a hitch. I couldn't help thinking it would have been a very different story if we'd hit some bad weather. We were told the roads turn into mud within hours and the skill then is just staying on the road. The scenery again just blows you away. Unbroken views that stretch for 180km in every direction and not a single person in it. A truck or RV passes you maybe every half hour but other than that its just you the bike and the wilderness."

Help support the Horizons Unlimited E-zine - visit our sponsors!
Please be sure you tell Bernd how you heard about his boxes!
Thanks!

Gregory Frazier, USA, with the ultimate fish story, in Alaska, KLR,
"Crossing one stream I was hit by a fish. The clean glacial stream was about one foot deep and fifty yards wide. Near midstream my focus on the rocks and water ahead of me was shifted quickly to what looked in my peripheral vision like a log moving upstream towards me. Before I could analyze what I was seeing it ran right into my front wheel with a 'thunk'. Then it started to thrash around in the water. I was so surprised I forgot to put my foot down to steady the motorcycle and both the Kawasaki KLR 650 and I flopped on our sides in the water.
A 30-40 pound King salmon swimming rapidly upstream towards its spawning ground had run into my motorcycle. While I thrashed around in the water trying to keep my cameras from getting wet, the salmon got its bearings right, and swam around the downed motorcycle and on upstream. It was so close I could have grabbed it had I not had my dripping cameras in both hands.
Once I got the motorcycle righted I could not get it to start. When it fell on its left side it had been running, so sucked water into the engine through the air intake port, killing the motor. Water had also gotten into the electrical system. I spent the next hour on the stream bank trying to get it to run, and slowing killing the battery with each unsuccessful attempt. After an hour I was reaching a high stress point because I realized it was salmon spawning time and I was on the bank where bears liked to eat their catch. So there I was, with no gun, alone, and stranded on the bank of Bear-All-You-Can-Eat-Alaska-Salmon-Café..."
Arno Backes and Sian Mackenzie, Germany and UK, Australia via USA to South America, in Bolivia, on BMW R100GS PD and Yamaha XT600E,
"After 200kms or so, the road changed to packed earth, still easy to ride but now and again it was covered with sand. Not a problem but it slowed us down a little. There were lots of villages along the way, mostly by rivers. Most of the rivers were dry or pretty low and most had bridges - at least for light vehicles. A couple of times though we got wet feet as the bridge hadn't yet been rebuilt after the last flood.
The next day Arno's starter motor turned temperamental and wouldn't work, perhaps it knew what was ahead. It eventually sprang to life and we continued on towards San Jose, 100kms away. Now the road got really interesting, the hard earth sank deeper and deeper under the sand and we were ploughing our way through soft deep stuff in the ruts left by the trucks.
...For the fourth, or was it the fifth time, I ended up in the sand, my bike complaining loudly beside me.
'The truckies didn't tell us there was sand' I muttered for the hundredth time.
'We didn't ask' came the reply as Arno helped me get the bike upright."


Help support the Horizons Unlimited E-zine - visit our sponsors!
Please be sure to tell them how you heard about PanchoVilla!
Thanks!

Diego Gamboa, Costa Rica, Costa Rica to Canada, in Mexico, BMW F650,
"The coastal road towards Valle de Bravo was without a doubt the highway I have enjoyed most up till now. It is a mountain highway with many curves and very few cars. Since we are in the rainy season there has been one landslide after another but in the highest part I encountered an apparently impassable one. However in a short while with help from others who were stuck there, we built a roadway, got the motorcycle through, also a car and a truck.
Juan Carlos Ibarra hosted me in Valle de Bravo. This expert motorcyclist has already made a trip similar to mine and is planning a trip from Valle de Bravo to Ushuaia. He helped me a lot with the motorcycle, advice on equipment and handling, etc.
... After 29,000 kilometers, 8 countries, two and a half months, I have returned to Costa Rica."
"We had no problems crossing from Greece into Turkey but had to pay 9 Euros for a temporary import licence for the bike. We headed straight down to the Gallipoli peninsula and found a beautiful campsite on the beach front of a national park. We spent a day visiting various ANZAC and Turkish cemeteries and monuments from the of the ill-fated Gallipoli campaign of World War I.
It was great visiting at this time of year as there were so few people around and surprisingly we were the only non Turkish visitors we saw visiting the sites that day.
We imagined it would be a bit of a headache riding into Istanbul as its such a big city and although the Turks are crazy drivers and it was very busy we didn't have any problems finding our way in. We also found a hotel in the old town around Sultanamet that accommodated Bob in the lobby so we had no security worries.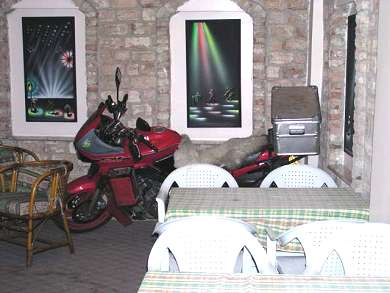 Everything is so close here that it's pleasure sightseeing and wandering around and we visited the Blue Mosque, Topkapi Palace, Aya Sofya, the Grand Bazaar and Egyptian Bazaar and an evening cruise on the Bosphorus.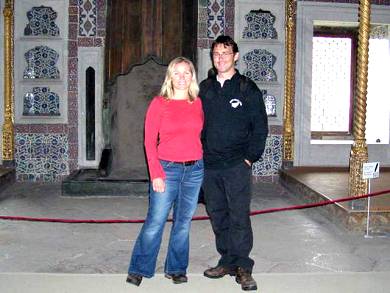 After 4 great nights in Istanbul we reluctantly gave up the hotel keys and headed south along Turkeys western coast to Behramkale where we camped on the shores of a gorgeous bay under the ruins of the city of Assos. It has a beautiful little harbour with tiny fishing boats and most campers had all but left for the summer season so we almost had the place to ourselves."

Help support the Horizons Unlimited E-zine - visit our sponsors!
Please be sure to tell them how you heard about New Zealand Bike Tours!

Thanks!

Peter and Kay Forwood, Australia, around the world since 1996, in the USA, on a Harley-Davidson,
"The HOG Parade of Flags had to muster at 4 am. So at 3 we woke just as the last revellers were heading off to bed. Harley had limited the number of participants in the parade to 10,000. The Muscular Dystrophy Association Heroes, those who raised large amounts of money, in front, HD executives and VIP's next, HOG Chapter representatives, including us, one member bike from each club from all over the world and lastly the lucky random winners of a place. Quite a line up. Having to be here first we watched the others roll into the parking lot for the next four hours. The HOG chapters, parade of flags was by far the most impressive, flags and poles supplied, bikes dressed up with home town memorabilia from all over the world including our riding partners, Ray, Vivian and Priscilla the inflatable kangaroo, from the Adelaide Chapter in Australia.
Two abreast we rode the 11 km through streets packed with cheering crowds, screaming, snapping photos and wanting hand slaps as we passed. Being the most noticeable Australians, the Kangaroo on one motorcycle and Australia emblazoned on our windscreen we received extra cheers of welcome from the crowd. Pumped, we entered the main H-D area to displays of famous and antique bikes, stunt and drill experts such as the incredible Craig on a Buell motorcycle and the Indianapolis Police on Harley-Davidsons. Ford put on a monster truck display while at another area a BMX stunt team did amazing aerial displays. The Ball of Steel, 4 metres diameter, had three motorcycles inside defying gravity and precision riding upside down and horizontally as they narrowly passed each other. This was all interspersed by great bands and of course the feeding frenzy. We were unable to hang around for the evening band, exhausted, choosing to ride home in daylight."
"We left Addis and traveled South through incredibly dense crops and rich countryside. Stopping in several villages and being met with one thousand handshakes, Ethiopia left us with beautiful and diverse experiences that we will never forget. We were then swept into and openly welcomed by Kenyan people. The road in the North of Kenya, however, was amongst the most difficult we have experienced. Sure, we missed an AK47 attack by the bandits on a police station one day after we got through, after which the piste was closed, but that's Africa right?
Now we are in Nairobi, at the Upper Hill Campsite and will stay and play for at least 2 weeks before exploring the country. The travelers we are meeting here are the most interesting and provoking yet! The day after we arrived in the city, our picture was on the front page of the Daily Nation, the largest newspaper in Kenya, Tanzania and Uganda, with 2.5 million readers.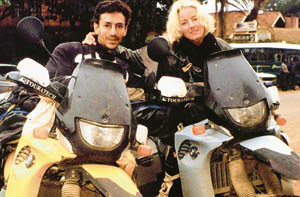 Everywhere we go, people cheer us up and encourage us; some even ask for autographs. Difficult to stay insensitive to so much energy around us. Our love for travel and towards one another continues to grow..."

Help support the Horizons Unlimited E-zine - visit our sponsors! Please be sure you tell them how you heard about Tours for Africa!

Thanks!

Daniel Todd, USA/Puerto Rico, second around the world tour, in the Philippines, KLR650,
"After full circle of Luzon I reached Manila on a Friday afternoon and had no desire to wait three days to renew my 21-day visa. Instead I decided to continue on into the State of Bicol in Southwestern Luzon and try and catch the Mad Dogs on one of their annual rallies. Another typhoon was moving in and my best option was to 'hole up' for some days with some more bikers! My political friends in Manila assured me that they could sort-out my expired visa anytime but I considered this a grave error as I later realized the consequences I would face if I were to get into an accident or who knows what else.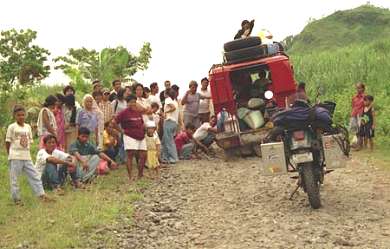 I finally stopped just short of Legaspi in the torrential downpour and watched all the Mad Dogs roar past on their Harleys on their way back to Manila to complete a 1200 Km ride in this weather! Bicol is known for perfectly symmetrical volcanoes and the views from some of the Spanish colonial cathedrals made of stone were awesome! The journey became even more interesting when I left Luzon and started hopping car ferries and other boats on an almost daily basis through the Visayas in the Central Philippines. This was an excellent opportunity to meet the locals as the journeys were up to eight hours. Most of these rides never cost more than five dollars for both the bike and I. At least once a day I would pull off the road and take a swim, sharing the beach with only the fisherman or the women doing their laundry. I had every kind of road from perfect asphalt to deep mud and rocky roads but in general the roads got worse as I went south. But this was one of my first journeys with out a single puncture and I was grateful for that!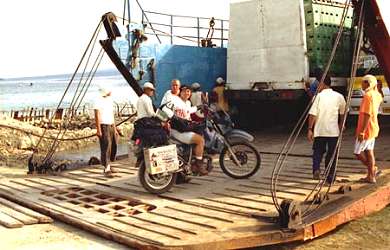 The scuba diving was spectacular in Boracay and Sabang, especially the deeper ones where I saw loads of manta rays and other marine life. I scared myself silly one morning descending into the abyss when my regulator malfunctioned and let seawater into my mouth. Nearly choking to death I bolted back to the surface, which luckily was very near and coughed my lungs out!
I was severely disappointed in the end since I could not exit from the other side of the country in Mindanao. This was due to the fact that I had to post a bond with customs in Manila and this could not be refunded at any other place! I would have to ride all the way back to Manila, apply for my refund and then find passage on another container ship! Knowing what I know now, I would have forfeited my $450 (I lied about the value of the bike) and have taken one of the many ferries that ply these seas to Borneo or Sulawesi. This one event radically changed the outcome of my journey through SE Asia. But Mindanao at present is one of the hottest places on the planet with regular kidnappings of foreigners and terrorist planting bombs in many of the larger cities. All along my journey people urged me not to ride Mindanao. While this never dissuaded me, maybe things really do happen for a reason..."
André Lomme, New Zealand, India to Germany, in Iran and Turkey, R100GS,
"In 4 days in Esfahan I met Greg with his Enfield again, he had made it somehow over the Pakistan / Iran border without a Carnet in only 3 days. Also Andy on his Africa Twin showed up at the hotel and we decided to make it into Turkey together. From Esfahan we took a shortcut over small roads and ended up on gravel in the middle of a beautiful part of the countryside. After some dusty photo shootings and trying to figure out who gets the most stylish around the corner, kids stuff, we ended in a small village where houses are build of mud and clay, as mostly in this area, we got invited by a family. After parking the bikes in the courtyard dinner was prepared and we tried conversations with hands and feet and the help of a textbook English / Farsi.
In Tabriz we easily found a hotel and ended the day with a walk around town. The next day was again a bit of a service day. Since the oil change in Pakistan the oil temperature was getting quite high 110° - 120° C which had never happened before even in the Australian outback.OK it was really hot in the Baluchistan Desert and now in Iran as well but I didn't have a good feeling. So an oil change and synchronizing the carbs was quickly done.
From Tabriz it was only 300 km to the border and getting the exit stamp from the Iranians was a bit confusing but then done in no time. The Turkey site was the most time consuming I had so far on this trip. After waiting 30 min. at a Gate to reach immigration and customs and a stamp from a health check person (?), they had a power cut so all the computers where not working. After 3 hours lying around and sleeping they got back the power and the chaos started, many people where waiting by now. After some palaver with customs and some extra money for them we finally where free to go. Dogubayazit was only 30km more and it had a great campsite with a great view and yes the first cold beer was excellent."

Help support the Horizons Unlimited E-zine - visit our sponsors! Please be sure you tell them how you heard about Morton's BMW!

Thanks!

Simon McCarthy and Georgie Simmonds, UK to Asia, in India, BMW R100GS and Enfield,
"I admit that we added a number of hardships to our trip (travelling on a bike, going to the most populous part and arriving in the pre-monsoon heat) that could have been avoided, but there is no denying that India was the most extreme place we have visited, ever.
First, Indian's are big on 'Karma' - that is the philosophy of 'if something happens to me it is because I did something before and one of the god's wants payback' and 'if my Karma is good, I can do what I like with impunity'. Second, Indian drivers' road sense is based on the 'walking through a crowded market' ethic - 'I'll drive wherever I like, bump into things and push things out of the way, and if my Karma is good, I'll make it home'.
So the whole road system is like a dodgem-car ride, and they play dodgems with trucks. On average we saw a freshly wrecked truck (with its load still onboard) every 25kms.
We knew in advance that this would be a problem, and had fitted the bikes with extra loud horns (Georgie's bike now has 6 horns and mine has 4), but that still did not get rid of the problem of cars just pulling into the space that we were occupying. Cars would try to overtake us and the 3 buses ahead of us, then realize that the trucks heading towards them on the other side of the road would seriously threaten their karma and then they'd pull into us; time after time, every time. In such circumstances the local bikers all head for the side of the road and allow the bigger vehicle to be an idiot. But being stroppy euro bikers we stood our ground with horns blaring, to the amazement of the offending drivers. They were even more amazed when I started to kick in their passenger doors as we rode (a dangerous thing to do by the way - you have to avoid kicking the wheels). In all but one of the 20 times I ruined car doors the drivers slowed down and started behaving properly. So much for being 'ambassadors for your country' - better to be a live hooligan than a dead ambassador.
Next to Agra to see the Taj Mahal and Red Fort (both sanctuaries). Along the way we started to collect photos of various types of man-made (actually woman-made) dung-hills. We'd first seen cow-poo being collected for fuel in Mongolia, but in India they have perfected the practice. The dry poo is collected (there are always cows around, even in the heart of a city), and then rehydrated and mushed up by hand. The refreshed poo is moulded into 'ideal sized' pies and either left to dry on the ground, or preferably stuck to a wall. No wall is safe, we even saw poo pies drying on the boundary walls of the Taj Mahal! Once dry the pies are stacked and then covered against the oncoming monsoon rains - the preferred covering is either another layer of poo, or a nicely thatched roof and walls.
...The one thing that kept us sane in India was the food. Wonderful veggie curries and freshly baked naan, whenever and wherever you want it. Thank heavens for our rigorous training in curry houses in England. When we get home we'll look out for some new tastes we've acquired - paneer (buffalo cheese like mozzarella) curries, dahl (lentil stew), maater (peas) and super sweet deserts. You can even order Maater Paneer curry - yes, cheesey peas!"
Mike Chapman, UK, in Idaho and Montana, USA, Yamaha R6,
"Instead of heading north (the shorter route), I decide to head south the scenic route and I am not disappointed. This route takes me up and over a very large mountain range and into Grand Teton National Park. The scenery is just beautiful, not long into the park I notice cars pulling over and people running to a fence, I also pull over and wonder what the excitement might be? In the field a herd of Buffalo graze, I stand and watch them in awe. Buffalo. Wow! My first buffalo I had ever seen, last time I saw one of these was on TV in a Wild West movie. Buffalo wow!
A crack of thunder took my attention away, I look up black clouds approaching, here we go again! Before I get back to the bike the heavens open with some very large hailstones. As I am pulling on my wet gear all you can hear me saying is 'ouch oww ouch oww' these are not small hailstones I look for cover...none! I crouch behind the bike for protection, but stray hailstones hit their mark...owww! The storm is over quickly and I move on. The road is flooded. I look back over my shoulder, lift my visor and mutter 'buffalo Wow!'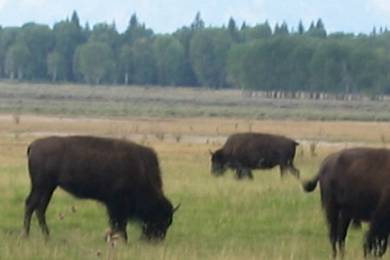 ... I had what looked on the map a fairly easy ride of about 130 miles. How wrong was I! I had no indication that between me and Billings was a huge mountain that I had to go up and over, they call this place the 'Top of the World' I prefer to call it 'Gods country' I started to realise that I was getting higher due to the snow all around me, and fingers that were getting colder and colder... When I thought I had reached the top I still had at least another 30 minutes of twists and turns that was turning my hair grayer by the minute. Sometimes I would just close my eyes and hope that I made the bend in the road! The views were spectacular the mountains that looked so big from afar now I was looking down on them!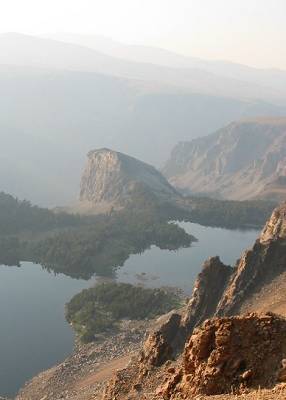 When I reach the top I park at the scenic over look, the sun was almost down, and the air so crisp and fresh it hurts your lungs. I had the feeling of being able to reach up and touch the clouds, this really was Gods country. Now it was time to go, I looked down and could see the road snake its way round the mountain, and if you must know I said a little prayer! I walk over to the bike and check the tyres make sure I have enough rubber, forget roller coaster rides for thrills. Just take the bike and ride up this mountain! I arrive in Billings the sun has set over an hour ago. When I get to my room I fall asleep straight away, I guess it must have been all the excitement!"
Chris Bright, UK, (RTW 1999-2002), in India on an Enfield,
"People and views are great. Glaciers, snow, windswept plains, steep 'roads', mud, dust, rock, wildlife, goats, cows, the lot. Manali is below the tree line. Lots of stuff grows here.
All the people smile. Some just stare. But then you smile at them and say 'joolay', which means 'hello', 'goodbye', 'thanks', 'I think your wife looks a fine woman', 'your cat must like chasing mice', 'aren't Enfield's great thoroughbred machines' etc and they all say 'joolay' back and smile. Even got a free spark plug socket from a mechanic. He refused to accept my money. Also got Paul's rear break line welded for free by the Indian army (plus 3 cups of chai). Luckily he was riding up hill when it snapped.
Also had 3 punctures in one day. Only had 2 spare tubes. Abandoned my bike on the plain and hitched to the nearest tent village. As I already have a PhD in BMW, I can say I have at least a M.Sc. in Enfield.
... Arrived back in Manali last night. In the rain. In the back of a truck.
At 5pm, just over the Rotang pass (4000m) in big cloud and lots of rain. Down hill in 2nd gear. Taking it real easy. The engine stalls, the back brake doesn't work (the front hasn't worked since Leh... Peter Fonda's bike in easy ride never had a front brake either.). Heading towards a right-hand hairpin bend. Luckily the back wheel had seized so badly, the bike skidded to a stop before the edge and before I had to consider driving into the hillside to my left or dropping the bike (nice friction: steel on wet tarmac).
Waited half an hour in the hail and rain until a pickup came by. What fun. Bouncing up and down with petrol seeping out of the tank. The fumes... Mmmmmmh... And it only cost 300 rupees for the lift!
Am chilling today. Getting the bike repaired before I return it. The whole inside of the back wheel is donald ducked. The front turns kind of funny too. Great exhaust sound though. Will prob take a bus somewhere. Bye, cb and Norman (yes, he's here too...)"
Paul Schencking and Yolanda, USA, Laguna Beach to Alaska and back, Honda Gold Wing,
"We begin our round-trip from Northpole to the Arctic Circle aware of the extensive wildfires that broke out along the Dalton Hwy just a day ago. The Dalton Hwy itself is a hand full on the Gold Wing two-up. But the dense smoke for 40 miles of our way makes it a challenge.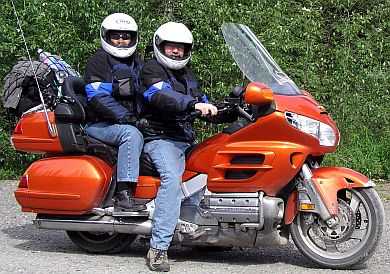 The picture shows the scenery before we enter into the smoke. Further on there are open fires just next to the road. There is no sun anymore. We dare not stop as we fight our way through this mess for two hours. We are rewarded when we finally reach our goal, the Arctic Circle at 10 p.m. with the sun shining. However, the smoke is catching up with us as the wind carries it North beyond the Arctic Circle. Masked by the thick smoke the sun now looks like an orange planet. We had back south and arrive in Northpole at 4 a.m. This was a 14 hour / 250 mile round-trip. We did not see a single motorcycle on the Dalton and only very few trucks.
Now I know the Dalton can be done on a Gold Wing. The rear tire took a beating and there are many cuts in the rubber. Luckily not deep enough to make a tire change necessary. The bike survived the trip with only minor nicks and scratches. I changed the oil once in Fairbanks. The Gold Wing didn't consume a drop (of oil that is). The rear tire needs to be checked regularly, as it carries a heavy load. It was completely gone after 7000 miles. The cord was showing when it was replaced in Bellingham.
The next larger trip is in the works. I want to see South America... Paul"