One Year on the Road, Cinq Continents en Moto, by Manou Emringer and Ellen Spencer, in English and French.

"This travelogue illustrated with over 400 photos follows their journey through North and South America, West Africa, Europe and Asia."
Available only through Manou and Ellen directly. Don't forget to tell them where you heard about it.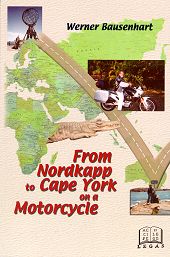 From Nordkapp to Cape York on a Motorcycle, by Werner Bausenhart. Werner, 66, was born in Germany and worked in Canada until his retirement. He has authored a number of books since getting bit by the motorcycle travel bug, including 8 Around the Americas by Motorcycle, Into the Den of the Bear and the Lair of the Dragon on a Motorcycle, and Africa Against the Clock on a Motorcycle.
Werner's latest book describes his travels from Nordkapp to Australia overland, and back to Canada to complete the RTW trip. Should be an inspiration to any of you who have been thinking you're too old to go around the world on a motorcycle!
All his books are available directly from Werner. Tell him we sent you and get US$5.00 off the regular US$20 price!
For details on his books see here. Contact Werner via this link to get the deal.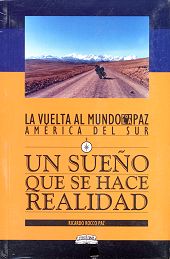 La Vuelta Al Mundo Por La Paz, America del Sur, Un Sueno que se hace Realidad, Ricardo Rocco Paz.
This book, in Spanish,

with pictures, describes Ricardo's circumnavigation of South America. He also has a couple of videos!
"Más que una crónica de viaje, es un libro que relata las experiencias humanas; relata la viviencia emocional del autor-motociclista en un proyecto por la Paz y contra las drogas, dándole una motivación inspiracional a sus viajes."
Contact Ricardo directly for purchase details. Don't forget to tell him where you heard about it.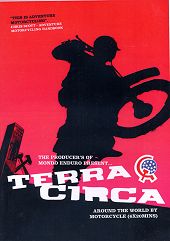 The Producers of Mondo Enduro present Terra Circa, Around the World by Motorcycle (6 x 20 minute episodes).
Regular readers of this newsletter will remember Terra Circa's adventures around the world, and especially the Zilov Gap. Now's your chance to see it in video. Austin Vince is a very funny guy and the video is hilarious, as he leads his intrepid crew through misadventure after misadventure.
"This is adventure motorcycling" says Chris Scott, who wrote the book, so he ought to know!
Contact Austin directly for the PAL video or CD. Don't forget to tell him where you heard about it.

Looking for a travel book for someone special?
Go to our Books pages, where we have listed some of the best motorcycle travel books, as well as a number of BMW books, general motorcycle books, and travel guides.
There's links to Amazon USA, Amazon UK, Amazon Canada, and Amazon Deutschland, so no matter where you are - you can order books at great prices, and we'll make a dollar or a pound or a Euro, which goes a very little way to supporting this e-zine.
There's also links to search Amazon sites for all their products, books, CDs etc., and yes, we get a tiny piece of that too. We really appreciate it when you start your book search from our website! Thanks for the support!
If you have a book or want a book that you think other travellers would be interested in please let me know and I'll put it on the site. Thanks, Grant
Top Ten Excuses For Not Exercising
1. It is well documented that for every mile that you jog, you add one minute to your life. This enables you at 85 years old to spend an additional 5 months in a nursing home at $5,000 a month.
2. My grandmother started walking five miles a day when she was 60. She's 97 now and we don't know where the heck she is.
3. I joined a health club last year, spent about 400 bucks. Haven't lost a pound. Apparently, you have to show up.
4. I have to exercise early in the morning before my brain figures out what I'm doing.
5. I don't exercise at all. If God meant us to touch our toes, he would have put them further up on our body.
6. I like long walks, especially when they are taken by people who annoy me.
7. I have flabby thighs, but fortunately my stomach covers them.
8. The advantage of exercising every day is that you die healthier.
9. If you are going to try crosscountry skiing, start with a small country. And last but not least:
10. I don't jog; it makes the ice jump right out of my glass.
"Humans don't judge risks very well - there is always a bias against risks that we are not familiar with, even though those risks may be far smaller than the familiar ones we willingly and regularly take. (I know people who smoke, but are scared of eating beef for fear of CJD!).
If you don't go to the 'dangerous' countries, then the landmine's won't get you, and the soldiers won't shoot you, and the bandits won't murder you, and the malaria won't kill you. But instead you WILL suffocate on a chicken bone, get hit by a bus, die of a stroke, or, dammit, die of old age. Adventurers we be."
Michael, UK, posted on the HUBB
"My girlfriend gets more nervous every time I log onto this site!"
Simon, aka zenbiker, England
"I just want you to know that even though my trips are only in USA I have had a number of emails from folks that found my stories interesting. Thanks for your marvellous newsletter. I find it encouraging me to bike in Germany."
Diane Bogenrieder, USA
"I want to congratulate HU. This is a superb site and quite a goldmine of info. Thank you for keeping it running!"
Paul Burger, Saudi Arabia
"Hello all. Just wanted to introduce myself a little and rave on this site. I've cruised a long time, even before we were 'allowed' to use the net and we called phone to phone to each other. And I must say the international mix of users here is the most varied and useful I've ever seen. Many Kudos to the Johnson's, very well done."
Todd Bellew, USA
Thanks for providing the Horizons Unlimited site. I enjoy the monthly travelers reports immensely. Looking forward to meeting you in person soon.
Phil and Debb Kopp, USA
"Had a great visit with my first traveler who stopped by. Daniel Toader stayed for 3 days, on his way now back out west, up to Alaska and then to the BC-Canada meeting. I am grateful for having the opportunity to meet him."
Jansky in Empire, Michigan USA HU Community
"Awesome site by the way, I love it."
Andy
"In an attempt to be the most sad I'd like to be the first to say 'The HUUK 2003 meet was fantastic.' Met some really good people who we'll stay in touch with, met Mr. (we're not worthy) Ted Simon and of course Sir Grant J. Thanks to all those who organised the event - it really is appreciated and also to the guys who organised the ride outs (easy my ass!). Good to see a few more people who don't have to shave every morning too (ladies). This time next year we'll be 6 months into our 5 year RTW trip, largely thanks to this site."
Chris & Liz Smith, UK
"Hopefully you are having a great time in Europe and catching up with some of those people who rely on the pair of you for this great website and the inspiration it provides. Have a good time."
Tiffany Coates, UK
Susan: Thanks for all the work you do on the website. It has no doubt allowed many travelers to enjoy more of the world as well as allowing those who dream of doing it the joy of dreaming."
Arlen Aas, USA
"I want to say you have a very nice site. What I like about your board is that people are friendly and I haven't found a bunch of bashing on the site."
John Carney
"Many thanks to you and Susan for a fantastic site."
Dave Bird, UK
"The best online resource for worldwide long distance adventure riding is Grant & Susan Johnson's website and e-zine."
BMWMOA
"I live in Dawson Creek B.C. I am an avid biker dude who rides a Harley. I retire next year from my career as a professional Fire Fighter/Paramedic. I plan on traveling to as many countries as I can on my hog. In the meantime, I thought I would start paying my dues, research travel information and start planning. I found your website and you guys are doing a great job.
As part of the traveling biker community and in order to meet, gather information from other bikers, I have started a new community on your website. I've offered to assist, inform would be travelers who are planning or who are presently heading up the Alaska Hiway. I will also start a web page on your site when I can gather up some cool photos of the area."
Murphy Windwalker, Canada
"Thanks for your great site."
Doris Maron, Canada, currently RTW
"My compliments on your organisation!"
Michiel Irish Stephenson, Spain
Ed. It's just the two of us, Michiel, but we're very talented and hardworking ;-)
"Thanks for the blog and the web site as a whole. invaluable to people with a wanderlust!"
Peter Slarke (aka oz), Alaska to Patagonia
"Grant & Susan I heard about your website at the recent BMW Rally in Charleston - its great!"
Larry Bannon, USA
"This is a wonderful site!"
Manuel Espenica, Portugal
"Your site is a blessing for me. I've long dreamt of riding just such a bike, and after years of pining away, I'm nearly ready to plunge in and buy a Kawasaki KLR 650, with plenty of fun-looking luggage. Thanks for a great site."
Brandon Tucker, USA

Help support your favourite website! Here's how!
Please be assured that we will NOT under any circumstances, rent, lease, sell, or give out our mailing list, and/or your name and e-mail address, to anyone for whatever purpose. Your privacy is assured, and personally guaranteed.
See our complete Privacy Policy here.
Grant Johnson, Editor
Please note that you are receiving this newsletter only because you requested it! We are 100% opt - in only.
To subscribe or UNsubscribe to this newsletter.
All comments and suggestions are carefully read, and where possible will be acted on. Your help will make this a useful service for all travellers.
Please use the Bulletin Board for questions and suggestions.
If you would like to advertise your product or service in this newsletter or on the website, please contact me. Ad rates are very reasonable. Details at this link.
---
ISSN 1703-1397 Horizons Unlimited Motorcycle Travellers' Ezine - Copyright 1999-2003, Horizons Unlimited and Grant and Susan Johnson. All rights reserved.
Redistribution - sending it on to friends is allowed, indeed encouraged, but other than the following requirements, only with permission. You may forward copies of the Horizons Unlimited Motorcycle Travellers' e-zine by forwarding it yourself by hand. You must forward the issue in its entirety, no fee may be involved. Please suggest they Subscribe!
Legal gibberish: (particularly for those in countries that have more lawyers in one town, just for instance, New York, not to name any names, than some whole countries, as another example, Japan. Again, not naming anybody specifically you understand) Recommendations are based on positive or negative experiences of somebody, somewhere. Your mileage (kilometrage if you insist) may vary. We are not responsible in any way for any product or service mentioned, and do not warrant any such mentioned product or service, and are not responsible for any bad things that may befall you. You are responsible for yourself! Act accordingly. We check all links and information given as close as possible to publication, and all info is correct as best we can determine at that time.
Sue Ebers and Mike Coan, USA, touring Europe, in France, Honda GTS1000,
"The heat wave has broken and we are back the typical showery weather pattern. From Paris, we headed east and spent a couple nights in Strasbourg, about 300 miles away and near the German border. It is a very picturesque area and has a very German feel; the names of the towns and the streets are German, the food is German but you are still in France. The older locals speak a patois mix of German and French which can still be heard.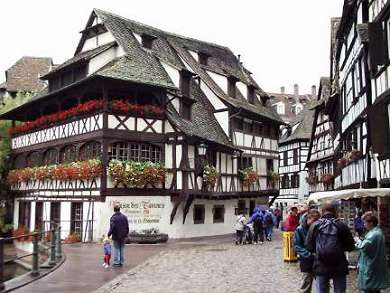 After getting a new intercom installed (oh yay! It's so nice to have something that works right! It really is nice to be able to talk to each other as we ride), we rode through a sudden downpour to a town called Annweiler to find a hotel for the night.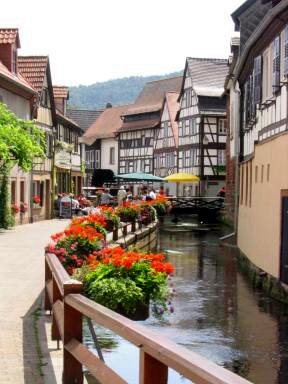 It turned out to be a cute little town of old Fachwerk houses with a canalized river running through town powering mill wheels that a few hundred years ago provided power to the bark mill and tanners. Now the wheels have been converted and now turn the water's energy to electricity for the town. Other, more recent homes from the 1800's were built from an unusually colored dark rose pink sandstone found in this area. A castle called Trifels sits on a high peak overlooking town; an unusually plain square building with a steeply pitched roof of terra cotta tiles."
Katharina Eberl, Germany, to Indonesia and back across Russia, Suzuki DR350,
"After bad roads in Cambodia and Dengue fever in Laos I relaxed in Thailand. The border crossing from Cambodia to Laos is now possible without any permits. Only the roads in Northern Cambodia to the border are quite rough and there is no customs. But they don't care, so it is no problem.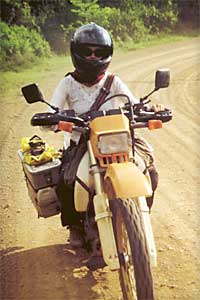 In Thailand I went climbing near Krabi. There I parked my bike at the tourist police for a week, quite safe. After this beach time I shipped my bike from Kuala Lumpur to Tokyo. Now, I am in Tokyo waiting for my Russian visa. Katharina"

Help support the Horizons Unlimited E-zine - visit our sponsors!
Please be sure to tell them how you heard about TinyStocks!

TinyStocks presents Highway Manager: the most complete and flexible gas mileage application for the Palm OS® platform, written by a biker for bikers. Keep track of your gas mileage, insurance payments, garage bills, hotels, highway tolls and whatever is necessary. Statistics, charting function, multi-currency, and more... So, got a Palm OS device? Why not take it on the road?
Thanks!

Nicolas "Chiacchio," Italy, through Africa on a GN250,
"Chiacchio" posted a question on the HUBB back in November 2001 -
"I'm planning to cross Africa by motorbike (Suzuki GN 250) from Tunisia to Cape Town, via Libya, Egypt, Sudan, Kenya, ... 8 months: 02/2002 to 09/2002. Is anybody interested? Nicolas ('72)"
Replies ranged from "A GN 250... Yikes!" to "You better be getting someone with a 4 wheel drive to follow you"
In May he posted: "to all who thinks that a 250 cc is not enough - I am in Tanzania! I have been in Greece, Turkey, Syria, Jordan, Egypt, SUDAN, Ethiopia, Kenya..."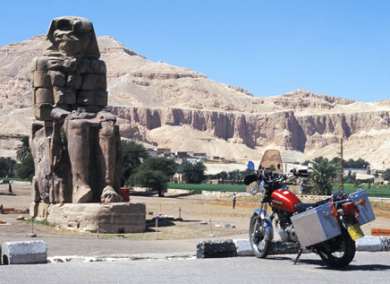 And finally in July 2003:
"I am in Cape Town now! I did not get a Libyan visa so I travelled via Greece, Turkey, Syria, Jordan, Egypt, Sudan, Ethiopia, Kenya, Tanzania, Malawi, Mozambique, Zimbabwe, South Africa... and I am going back... different way!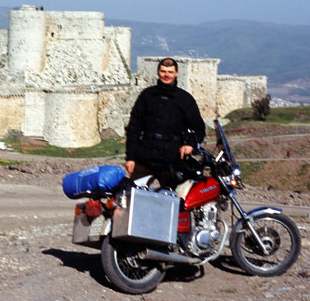 Some info and pictures about my African trip on Suzuki GN 250, - here, and here"
Chris Lockwood USA/Japan; and Daisuke Yokoe, Japan, around the world, BMW F650's
"Another minor (?) setback. Or, the truth about Russian mechanics. Chris's bike had been hard to start since Ulaanbaatar. We thought the culprit was the oil we changed to there, and figured that next time we had the opportunity to change oil things would get better. But that didn't turn out to be the case. At something like 1,200 km from Novosibirsk, the bike decided to quit starting all together. ...we were (again) bush camping a few kilometers from town in the mosquito-infested woods. That meant we had to tow Chris's bike with Daisuke's all the way to town where we could possibly find a mechanic. If the bike couldn't be fixed, we were prepared to put it on a train to Novosibirsk and the closest BMW Dealer.
We were in luck, as probably the only person in town who spoke English happened to come by and direct us to a garage that could maybe help us. Ramon, a young mechanic took on the daunting task of finding out how to fix the BMW. Chris had already figured out that one of the spark plugs was not firing. Our innovative mechanic took a part out of a car's distributor cap to act as a replacement for the malfunctioning piece in the spark plug cap. This was the first sign that Ramon knew what he was doing. I didn't even know there was anything in the cap in the first place! But the engine still wouldn't start even with both plugs firing OK. Why a single-cylinder bike needs more than one spark plug is beyond me! Further inspection got us to the heart of the problem. The carburetor intake pipe had a five-centimeter-long gash on one side! The bike was going nowhere fast with a wound like that. But Ramon wasn't about to call it quits there. He got an old inner tube and cut it to cover the hole. Three plies of tube over the hole and all the parts back in place and the bike was running better than it had in weeks. Of course, we will replace the part in Europe, but our Russian mechanic has us on the road until we get the opportunity to do a 'proper' fix.
After the work was done, Ramon even too the time to find us a place to stay, as it was too late to keep riding. Fellow traveler Mika Kuhn has always said that a Russian mechanic can fix just about anything. Now we are believers. It is a good thing we didn't put the bike on the train or truck to Novosibirsk. A later trip to Bavarian Motor Center (BMW car and supposedly motorcycle dealer) there proved that they know almost nothing about bikes and charge too much in the process. No telling if they could have fixed the carburetor. An oil change and car wash ended up costing at least what we would pay for the same job in high-priced Japan when we had an income and could afford it. And they took almost all day for a job we could do ourselves in an hour. But at least we got the standard complementary BMW dealer cup of coffee!"

Help support the Horizons Unlimited E-zine - visit our sponsors!
Please be sure you tell them how you heard about Casamia!

Canadian Wilderness Tours on an ATV (Quad Bike)
The Roughest, Toughest and Dirtiest Tour you will ever have! (No wimps or wooses please!)
Discounts for Group bookings.
Check out our website: www.ChaletCasamia.com or
Tel: (1) 705 729 5202.
Thanks!

Jo and Martin , Australia, Alaska to Tierra del Fuego, in Colombia
"All is going well so far in Colombia. We arrived in Cartagena by yacht with both bikes (a dodgy way to do it - will put info on shipping notice board...), and after a week's 'holiday' there we set off for Medellin. We didn't end up stopping there and instead headed to Bogota. Cartagena to Bogota (via Medellin) took us five days. Now we are in Bogota for 3-4 days. After that we'll head to Cali and on to the border with Ecuador. Will keep you posted on how we go."
William (Nick) Palmer, USA, Round the World via Europe and Russia, BMW R80G/S,
"I entered Russia crossing at the Finland / Russia borderland of Nuijamaa, 20 miles southeast of Lappeenranta, Finland. This is a country that I have been unable to find clear answers to my several travel questions, but hope to as I ride through this vast country.
... The confirmations that I was hoping for about an air cargo flight from Vladivostok and the loading and unloading of the motorcycle at rail stops (maximum time 20 minutes) on the Trans-Siberian Railway (T-S W) could not be confirmed. These (confirmations) are needed to make the trip across Russia with limited time. A 60 or 90 day visa would eliminate the bike (R80G/S) transportation problem except in one place where the T-S W is set up for such a change over (because of highway construction) . More time would also allow for arranging surface transportation if air was not available at Vladivostok.
Will now change the direction of my travels and return to Scandinavia.
...Sunday, 27 July, up early, packed, and off to ride through this bright and clean city of Saint Petersburg. I seemed to have had the city to myself - no automobiles and just a few on the sidewalks. 45 miles and several hours later, I turned the bike northwest and departed Russia at the Vaalimaa, Finland / Torfyanovka, Russia border crossing."
"...The border to Mexico is to be broken through, it is already 30 degrees and a somewhat higher air humidity. And hopefully little stress at the border. We will see... "
"... I'm riding my bike (1997 Harley Davidson FXD Dyna Super Glide) from my home to the USA. I started my trip on May 17th, and I am in Panamá in this moment. My plan is to arrive to the USA at the end of June, to spend some time riding there, and assist to the celebrations of the Centenary in Milwaukee at the end of August.
I met Ricardo Rocco in Quito, Ecuador, who gave me your name and e-mail with his regards.
So, is a pleasure for me to write you, and give you some notice from an Argentine biker."
Anthony Debreceny, Australia, North and South America,
"I've been in the US from OZ for two months, and now I'm in Montana and heading out tomorrow. Heading North and hope to be there in about 3 weeks. I'll be ready for a few beers when I get there so I hope to catch up. I'm planning to do the Canol Rd after Alaska then to Argentina." (posted June 13)
Daniel Todd, USA/Puerto Rico, second around the world tour, in the Philippines, KLR650,
"...finally got my bike released from customs after the last ezine and have been riding this beautiful archipelago since then. Since the journey was already delayed two months due to these shipping and bureaucratic setbacks, I headed North to circle the large island of Luzon in hopes of beating the Southwest Monsoon which was fast setting in. The first days were marked with a heavy typhoon and flooding, but I had blue skies for several weeks after that!
The Coastal cities of Vigan and Laoag have the best-preserved Spanish architecture in Asia and suggest the Philippines as Asia's version of the Spanish empire. Everywhere I rode was marked with Cathedrals and bell towers and I had to keep reminding myself that I was still in Asia and not Latin America!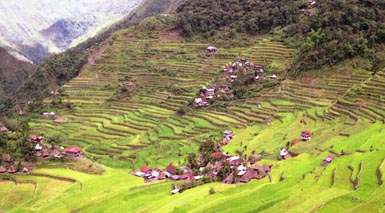 By far the biggest drawcard of Luzon are the Banaue Rice Terraces which are said to be one of the eight wonders of the world. It was an arduous hike into the mountains but it was well and truly worth it! These spectacular, man-made rice paddies terraced into the mountainsides more than 2,000 years ago were built by the Ifugao, a highland tribe. Looking like giant steps into the sky, the terraces would extend 22,500 KM if placed end to end, or halfway around the world!"
Simon and Lisa Thomas, UK, around the world, R1100GS and F650GS,
"Our trip around the World started just 2 months ago from the UK, after 2 years of prep and sacrifice. I'm (Simon) 33 and Lisa is 41. After talking about a RWT for years we decided to make it happen about 2 years ago, shortly after I recovered from a serious bike accident which kept me out of action for over a year. Like most travellers the trip is a dream now realized, and whilst we're at it we're trying to raise both awareness and money for our chosen charities, all of which have been chosen due to personal reason; for more info see our website"
"I got put in touch with Alex from the St Petersburg Off Road Club, they organise the Lagoda Lake Trophy rally raid. He graciously took me and the bike to a club mechanic. We welded a 19ml nut to the top of the bolt, problem solved. I have now learnt that you can shorten the spring inside the seal to extend its life. I now also have a spare seal found at a Bearing and seal shop courtesy of Alex. The gearbox is full of fresh oil and keeping it.
It is probably not the forum for it, but if all Russia has people like this it must be a pretty fine place!"
Ohad Cohen and Sharon Arem, Israel, in South America, KLR 650,
"Hola... I'm on my way now to Peru. I was wondering how available are the parts for KLR-650 in Peru? I need some repairs to be done! In Bolivia it's quit hard to find. How is the road from Puno to Cuzco? Thanks, Ohad.
"I am driving an Enfield Bullet (1960) from India to Norway, when I stranded in Malatya due to a loose connecting rod. I am sending the bike and myself to Istanbul tomorrow." (18 June)
Nicolas Vallee, France, across Asia, Transalp,
"Hello, I am a French motorcyclist, travelling for one year with my Honda Transalp. Soon, I will arrive in Ankara, and I would like to know a good mechanic for changing oil of my Transalp and other few things. Thanks for your help Nicolas" (17 June)
Rene Cormier, Canada, around the world, F650GS,
"... Highlights from the last two weeks: humpback whales, lighthouses, sunrise at the most eastern point in North America, icebergs, Bay of Fundy, great free camp sites, amazing hospitality. Everyone should come to Newfoundland..."
Sjaak Lucassen, Netherlands, second around the world trip, in Bolivia, Yamaha R1,
"... the Uyuni salt plain in Bolivia."
Martin Rooiman and Jeannette Boom, a.k.a. De Twee Musketiers, Netherlands, around the world, in Australia,
"On the way to Darwin we met Rob van Leeuwen, a Dutch overlander on a BMW R1100GS and Eric & WIllie again. After our rest here we're slowly heading down South... toward the colder areas of this country.
In Alice Springs we decided to take a short break before heading down further South. Darwin turned out to be full of cricket fans who had taken all the hotel rooms, so we had to leave after two days already. In Kakadu NP we had a good time except for witnessing a collision between two cars right in front of us. We experienced the 'laid back' mentality of the Australian Police which especially Jeannette as an former Police Officer condemned. The long trip South was far from boring but we were happy to enjoy the comforts of civilization again, so we are not in a hurry to leave here."
"...Being in holiday mode now we had stopped keeping track of the days and didn't realise that it was Saturday morning when we packed up and left from Venice and that all of Italy was on the road heading off on the start of their summer vacation.
I have never encountered such a traffic jam. The traffic was solid all the way from Venice, around past Trieste and up to the Slovenian border and the temperature was in the high 30's. We were very thankful to be on a bike and able to ride down the side off this mess, past cars and drivers that were getting hot under the bonnet.
Huge queue for the border, which, of course, we jumped, then... a Slovenian traffic jam all the way down the coast. We were heading for Piran which our guide book says is heaving at this time of year so we were worried that everyone was heading there.
Such a relief to finally park up and get off the bike and to find that it was all relatively quiet. Had our first dip in the sea and spent the afternoon enjoying this delightful little town.
Slovenia is great. We loved the pretty coastal towns, roads are great for bikes, countryside really pretty with half the country still covered in forest and the people are friendly. It is slightly cheaper but not a lot than Italy but we found Slovenian camping grounds more expensive than France and Italy.
I'm writing this lying on the shores of crystal clear Lake Bohinj, having had a relaxing swim after a days ride with the mountains as a backdrop; this sure beats working."
Erik and Hanka, Germany, around the world, Honda Transalp,
"Tomorrow we move on to Peru. We are already curious to what extent Peru is different than Bolivia. We leave the third country of our journey behind us..." (site in German only with Translate button)
Mika Kuhn, Germany, around the world, in Japan and Russia, Tenere (temporarily on a Honda),
"Two weeks ago I arrived here, the second time on my journey, and the welcome was fantastic. All the Tigers, I knew from summer 2000, were here Mikhail, Mad Max, Sergey, Andrei, Sharky, Alexei and some new faces. We had a lot to talk about and they organized a big welcome party. It was funny to hear the stories about other travelers, who had come thru in the last three years. Young British bikers arrived from Japan without number plates and no registration papers. Swiss bikers had crossed all Russia without Russian import papers for the bikes, using the Carnet, which is not valid in Russia, and of course they had a problem to export the bikes. The Tigers helped them all and much more.
Yesterday arrived a bikers group of eight from Poland and Germany on Harley's. With them an Austrian biker on a BMW. They crossed Russia and of course had some stories to tell. Today we went for a ride together and had Schaschlik (grilled meat on a stick) on the beach - all great people.
Together with my friend Seiji I rode from Utsonumiya to a travelers motorcycle meeting and we could witness the foundation of WTN-J, World Touring Network - Japan, and of course had a cup of sake (rice wine) or two. There I met the Brazilian traveler Sergio Mahoe, who lives in Japan. Last year Sergio went into Afghanistan with his Yamaha XT, on his trip from Japan to Brazil over Asia and Africa. Sergio invited me for a few days to his house. Thank you Sergio.
Wakkanai is in the North of Hokkaido, and now there is a ferry over to Sakhalin. But to save some money, I decided to go to Otaru and take a Russian cargo boat. The 'Forest King', an old Russian boat sailing under Cambodian flag, took me to Korsakov for a good price, only the time on sea was a bit longer. To clear customs for the bike was easy in Otaru and also in Korsakov. Only in Korsakov I had to say a clear 'Njet' to any small fees they wanted to charge."
Heiko Neumann, Germany, Europe/North America, in Poland and the Baltics, BMW R1150GS,
"The Baltic experience was great, especially the coast line: lots of beaches and some gravel road to add to the overall excitement... I get to the northernmost point of this Latvian peninsula, a small place called Kolka: two dozen houses and a gas station. I count myself lucky, because by then my gas is running low and I was beginning to get nervous. So, back on paved roads and tank filled up it starts to rain hard. Tough. I start looking for a place to stop and to let the rain clouds pass by.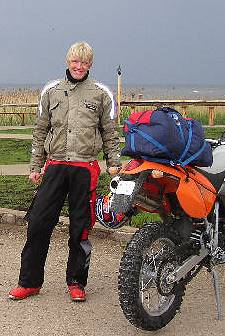 The next place I see has a KTM LC 640 Adventure parked in front of it. I take it as a sign (you do not see very many motorcycles in Latvia), stop and meet Dzintars Baltais in the restaurant. He is on a trip along the coast in the opposite direction - albeit with a difference: he prefers to ride along the beach whenever possible. Sounds interesting, but I do not find it too hard to resist steering the heavy BMW onto the beach."
by Phil and Debb Kopp, Seattle
"Joao (Batista de Lima, Brasil) arrived here in Seattle. Joao had originally planned to go to Russia, but he indicated some political problems between his country and Russia would prevent it. Instead, he planned to visit Canada, Alaska and then continue on to Miami where he has friends. He will ship his bike home from there.
He crossed into Texas at Brownsville, then came west through the painted desert in Arizona which he raved about. Continuing west he arrived in California and went up the coast to San Francisco and stayed with friends there for a week or so. Heading north, he stayed with Jeff Anspach in the Portland area before coming to Seattle. We fed him pizza and beer, showed him the shower, and gave him a bed. We downloaded his digital pictures, he emailed his wife and generally relaxed. He was a most excellent guest, with much better English skills than he realizes. He invited us to visit him in Brazil and I'm sure we'll take him up on that. (BTW- my wife and I each ride KLR's, been to Canada and Mexico dual-sporting several times.)
Early Monday morning, my wife took him downtown to the Canadian consulate for a visa. That took several hours and apparently the only glitch was that Joao is self-employed and didn't bring anything to 'verify' his employment. It eventually got sorted out and he headed north for the border at Blaine about noon."
By Todd Yaskiw, The Pas, Manitoba,
"I just returned from a trip out west on my KLR650 and while I was in Saskatoon Saskatchewan listening to the local Jazz festival on June 21, Vladimir Yarets Alexeevich showed up, showing off his bike and journey.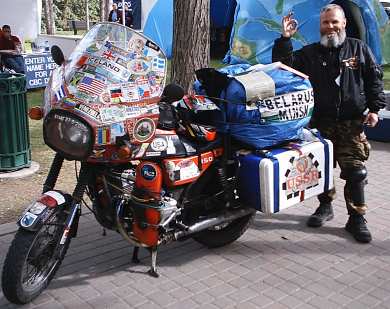 He also was looking for gas money donations. He has been on the road since 2000, and is hoping to be in the world book of records as the first deaf mute to travel the world. He was on his way to Alaska. Can't really talk to him nor he to you but he does have the appropriate flash cards to show you asking for some gas money! He looks well fed and healthy."
by Margaret Johnson, Victoria, BC,
"Today I was downtown and there was a fellow there with his motorbike all covered with many decals. On the store window nearby was a lot of photos of him and places he has been. He wants to be in the Guinness records as the first person to travel around the world as a deaf mute! According to his write up he lost his hearing during World War II which makes him over 60. (63 actually)His name is Vladimir Yarets Alexeevich from Belarus. He has been to 29 countries and 39 states (USA)."
by Chris and Erin Ratay, USA,
"Greetings from Fargo, ND -- all is well, but the mileage crunching continues... Had a fantastic night in the campsite near New Denver (Roseberry Provincial Pk?), then made it to Glacier NP the following day (Fri). On Saturday, ran into Anthony Griffin, a fellow traveller we met in Bolivia last June -- nice guy whose left arm is paralysed, and he's riding RTW with only one arm! He went up to Banff, then will work his way to Vancouver/V. Island before heading up to Alaska in August on his Tiger."
"In the end of August I will leave Iceland for 3 months trip down to Africa."
Pietro Spera, Italy, to the 'stans, R1100GS,
"My wife and I with our 1100 GS will be in UZ, TM, AZ, GE and AR from mid-August to mid-September. "
Alec Simpson, Australia, across Russia, R80G/S,
"...entering Russia end July, from West to East..."
Filip Allewijn, Belgium, to Russia, Yamaha Fazer,
"...I will visit Russia in August-September..."
"Hello, really a great website! A lot of interesting information! We are departing in July from Italy to arrive in January in Australia... Enrica e Paolo"
Juan Waissman, Argentina, to USA, Harley-Davidson,
"I'm starting a trip to Milwaukee from Buenos Aires, to meet friends Peter and Kay Forwood in the 100th. I'm starting June 14. I can submit travel info, as well as border lines, papers and shipping between Ecuador and Panama. see u there, Keep riding"
Daniel Schaller, Switzerland, to ??, Yamaha XT600E,
"Hi there, I just took off from Switzerland to a journey that brings me to a place that I don't know yet. My intention is to get to Asia somewhen this year, but who knows yet. I always read the HU newsletter with great enthusiasm, and now I myself am on the road living the dream. If you're interested in my story, you can read about it on the web page I have put up. Greets Daniel"
"It will be busy on the road, I am planning a similar trip, leaving my home country The Netherlands late August. Right now my passport is handled by the Iranian embassy, and as soon there green light I will start carnet business.
From Turkey to Iran, Pakistan, India and end up in Nepal. From that point I'm not sure if I will fly the bike back or continue to SE Asia. Nepal is already far away from home, and the road may be insecure by the time!
I travel alone, but some company will be welcome, especially for Iran and Pakistan since civilisation there has got different interpretations from what I am used to. My schedule is not very strict, I will drive average distances of approx 200 - 300 km a day, with plenty of resting /sightseeing /motorcycle repair /visa application days in between.
I've learned in previous travels that a tight schedule is more stressful than being on the road at all!"
Kevin & Julia Sanders, UK, Trans Americas Guinness World Record,
"... the Globebusters new look website is now fully launched. Packed with pictures, route maps, preparation info about the trans Americas Guinness World Motorcycle Record, you can follow the challenges we encounter through the news reports and photo gallery.
The official start date for the ride is 18 August 2003. The aim is to smash the existing record by more than ten days. Log on and see if we make it! Kevin & Julia Sanders "

Help support the Horizons Unlimited E-zine - visit our sponsors!
Please be sure to tell them how you heard about Touratech!

Thanks!

Darby the Cafe Racer, USA, going as far as he can go while the money holds out, KLR,
"I've been serving sentence here in the dark, all alone, behind this stupid computer, in a big empty building, pulling 12 hr shifts for 10 months and it's almost over. I gave my boss 2 weeks notice and I'm outta here. I'm going back up north. I'm taking my KLR as far as it will go. Yeehee! I'm also selling most everything I own, skipping out on half a months rent, trucking my stuff up to who knows where (someplace Northwest) and leaving it in storage. Then I'm going to ride ride ride, till my fillings fall out.
'Oh but what about your career? what will you do when your money is gone? what about the economy? finding another job? how will you explain this in your next interview? bla bla bla.' I sold a year of my life for $15/hour and now I'm going to buy some freedom. Anyone heading north to Alaska/Yukon is welcome to hang out. If my money holds out, I may try to reach Cape Horn too. YeeHaw!"
Jef Imans, Belgium, West Africa, BMW F650,
"Planning to leave begin september (but might leave already begin august with first some extra touring in Europe)."
Jef has helpfully compiled a list of other travellers (going mostly to Africa), who he has corresponded with via the HUBB Travellers Seeking Travellers Forum. As we get further details, we'll put them in future issues.
Mark aka MJC (London, UK), unknown bike, Up to South Africa via West-Africa, planning to leave begin October.
Ronnie Skarner aka Skonte (Sweden), Yamaha XJ900S Diversion, Mauritania - Timbuktu - Ivory - Senegal, planning to leave beginning of September. And from Skonte: "My planned trip will be; leaving Sweden 8 sept heading directly south to Morocco(Atlas)-Mauritania (Nema)-Mali (Timbuktu) -Burkina-Ghana (coast)-Ivory (coast)-Guinea (forest)- Senegal-Gambia?-Mauritania (Adrar)-Morocco (Atlas) and back home on an offroad-modified Yam XJ900S Diversion end of November. Visas for Mauritania, Mali and Burkina received, applying for Ghana this week."
Gazza aka Galloping Gazza, KTM 640, London - Cape Town, planning to leave beginning of october. Gazza writes: "It looks like we will depart at the end of October-ish at this stage."
Lewis Miller (?) aka POB/London, XT600 3AJ or an XR650L, Maroc - Mauretania - Timbuktu - Niger, planning to leave beginning of October.
Brian Greaney (Lagos, Nigeria), has done similar trip already - so very handy for practical information ;-)
Tyler (Dublin?), no bike yet (?), trip to Africa (flexible), planning begin September but flexible
Patchlewis (London, UK), unknown bike, Morocco and back, planning to leave begin September for 1 month.
Steve Harland, aka StevieG (Oxford, UK), unknown bike, Morocco coming from Turkey via Atlas, August in Turkey, Morocco in September (?). Unfortunately, Steve writes: "I was hoping to meet up with some of you either before or on the road round Europe/Eastern Europe/Turkey or Maroc this summer, but I'm sorry to say I had an accident in France last week and the bike is looking a bit written off! If by some miracle I find the money to get it fixed or get another bike, I'd truly love to get back on the road and hopefully see some of you on the way, as it looks like similar routes are being planned to my intended one... I'll keep you posted!"
Ben aka benbo (London, UK), KTM adventurer 2002, London - Cape Town, not sure about planning...?
Robbert (Gent, Belgium) - yes! finally another Belgian guy! Land Rover Discovery, West-Africa for 7 months (flexible?). Planning to leave September 21st (the only one with a pretty fixed date it seems ;-))
Join the HUBB discussions here on the Travellers Seeking Travellers Forum and here on the Sahara Travel Forum for more details.
Ted Simon, UK/USA, "Jupiter's Travels," around the world, again, R80GS Basic,
"Steve and I rode off towards Dorchester. He said thirty five bikers were waiting at Bere Regis to join the procession. I didn't know where Bere Regis was, but Steve said it didn't matter. There were some motorcycle police waiting too, and once they'd checked out my tax disc and MOT and issued the appropriate tickets, they'd take care of things. Fortunately, he was joking. The police were there, the same ones that saw me off two and a half years ago. They turned a blind eye to the tax disc, which was easy because it was invisible under a thick cake of mud, and waved me on.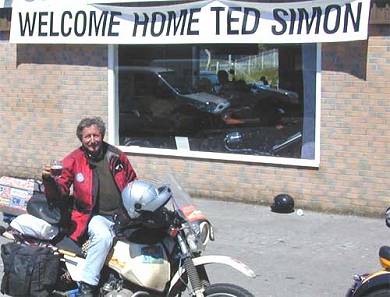 We arrived safely, and I got a pint of bitter which I must have drunk with stunning expertise because they all applauded. Everyone said I looked younger than when I'd left two and a half years ago, which was very nice of them. It could even be true, because when I left I was feeling pretty sick.
And that, believe it or not, was the end of a journey around the world. 59,000 miles of riding, 48 countries, all that time, and I had a hard job believing that I'd been anywhere. Standing there in Dorset I couldn't find anything to connect me with the Sudanese desert or the sands of Brasil, or the Andes, or the Outback.
It was all very peculiar. As though I hadn't really been anywhere at all. But it will come back to me. I know it will."
Gideon van Oudtshoorn , South Africa, South and North America, R1100GS,
"Have made it to Alaska at last and will be heading home soon. I hope that the stories and photos could give everyone a small idea of what I saw and experienced through the journey..."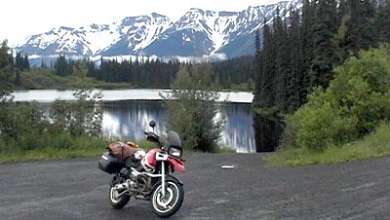 Russell Ferrier, Australia/Argentina, across USA on a Ninja 600,
"Epilogue: ...It's not until you have a chance to sit and talk with other motorcyclists and listen to their stories that you realize a number of things:
Firstly, the fine line a rider rides, between life and near death. I have seen all sorts of scars on faces and limbs of other riders during this trip, shown to me as some sort of macabre testament to the ability to cheat death on a second by second basis.
Secondly, that riding a motorbike is not like driving a car, for us every curve, bump, insect, wind gust, pot hole, puddle, car, truck, motorbike, and bouncing plastic bucket is a potential life threatening hazard. Thankfully I had only a few scares. Thankfully too there were enough people to remind me that riding a motorbike that's possibly capable of doing 160 miles (260 kilometres) per hour and that can go from 0-60 mph in less than 3 seconds, is an awesome thing and equally frightening as well.
Thirdly: that there is a great camaraderie amongst most bikers, something car drivers don't have. And most bikers too are not the hoons or gang members that the stereotypical image would suggest. More likely they're responsible travelers, keen to see a place from a much closer perspective, enjoy the journey and get there in one piece. Finishing every day of this trip gave me a huge sense of accomplishment and perhaps even a sense of cheating death, yet again.
...I have now to plan the next trip - maybe on a BMW around the northern USA (Shawn over to you) or maybe across Russia - Evgeny let me know."
Chris and Erin Ratay , USA, 4 years and 100,000 miles around the world, back home in New York, two BMW F650s,
"We're back! Fortunately, it doesn't feel real (yet), but I'm sure that's only days away.
...we received a very warm 'Welcome Home' this week, including some fun with the press. This afternoon, weather permitting (or not) we will have a BBQ with friends.
We made the paper today (Aug. 7 here in NY -- www.newsday.com, and the local TV put us on last night. Still waiting for confirmation for the Today Show, tomorrow between 9:30-10 -- if it works out, we'll be up to 17 minutes!"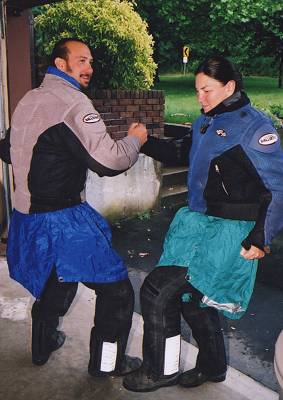 "One evening I phoned home and received the news that my father had become very ill. I flew home leaving Julie and the bike in Hungary. Having assessed his condition we decided that we would have to a very premature end to our trip and return home, permanently, to care for him. I flew back out to Hungary and over the following week we rode back through, Austria,Germany, Switzerland, France and back to the UK.
We're now sorting out our lives and are returning to some form of normality. My father's condition has improved significantly, but he will need long term care. We have rented a flat for the time being and will probably buy somewhere within the next six months or so big enough for us all to live in. We both return to work on Monday and by Tuesday it will probably feel as though we've never been away.
So that's about it. We both enjoyed the two and a half months of the trip we managed to complete. The bike went like a dream and proved the ideal mount for two and all our gear. We saw some great places and met some great people. We learned a lot and feel confident that come the time of preparation for our next trip we know how to go about it. We're not sure how far in the future it will be, but we're definitely going again.
Anyway for now, good luck to everyone and happy travels... "

Book special just for Horizons Unlimited Readers!
"Into the den of the Bear and the Lair of the Dragon on a Motorcycle"
"8 Around the Americas on a Motorcycle"
"Africa Against the Clock on a Motorcycle"
"From Nordkapp to Cape York on a Motorcycle"
Werner Bausenhart has written several books on his travels around the world, and has offered them to HU readers at a great price. Tell him we sent you and get US$5.00 off the regular US$20 price!
For details on his books see here. Contact Werner via this link to get the deal.

Bob West, Dubai, writes:
"In last December's Ezine there was a picture of me in Dubai before departing to Buenos Aires, well here is an update. I arrived in Argentina and almost immediately met up with John Wilson and Gerry Tiernan (www.GSRTW.com) on their world trip. We travelled together to Ushuaia then north to Los Angeles. Along the way the DR650 proved to be a great bike for the trip particularly when it came to the dirt.
In LA John and Gerry went West to Sydney, I went East back to Dubai to support the coalition in Iraq!! (really to be with the family during this time and give my bum a break -the seat is not as good as BMW's) and returned to LA at the end of April after a 7 week holiday (not that the ride isn't). During the break I get a new recruit to distance riding, Graham Wadsworth an old mate from the UK, who said he would like to join me on the remaining trip to Alaska. In the seven weeks I was tasked with buying, preparing and shipping a bike as least cost to LA ready for collection when we arrived. The reason why is that Dubai is much cheaper than UK to purchase bikes and there I could test it before departure. All went well with the help of new friends Jay & Beverly in LA. Jay collected us on arrival, had the tools, fuel, transport and local knowledge to make everything work easily, Beverly provided first class accommodation and hospitality.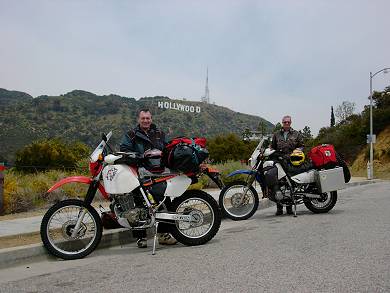 We departed LA and travelled North via the Rockies to Canada. Lots of problems with snow, as passes were blocked as we were early in the season, but arrived in Fairbanks in three weeks. We met one particular situation while Graham was making a phone call in a box when a Bear decided to sit next to the door so he could not get out, not that he wanted to while the bear was there, but all was well in the end.
On the return we visited and met up with a number of folks which made the trip: Dan & Cindy on Vancouver Island, Bob & Alison in Oregon and on the road we met up with, and spent a week riding with, Chris & Erin Ratay (www.ultimatejourney.com). We would like to say thanks to everyone we met, it was the sights and folks along the way that made the journey. Most of all we wish to thank the Horizons site as this gave us invaluable help and enabled us to meet some of the folks.
During the trip my Suzuki covered 46,000km with no problem (anyone who needs more information please email me) even using the same chain the whole trip, the XR400 of Graham's was fourth hand on purchase and after being thrashed around the deserts of Dubai for three years, again gave no problem in the 22,000km LA to Alaska and return.
The enclosed picture is us arriving back in LA under the Hollywood sign knackered but very happy and ready to do the whole trip again, after a rest for the bum!! We then took the flight back to the UK unfortunately arriving back a few days after the HU rally in Derbyshire UK. That will have to wait until I attend the one in Christchurch early next year. I am now waiting for the bike to arrive in the UK before the ride back to Dubai which should be a quick sprint, any volunteers to join me? Best Regards Bob West"
Eugene, Oregon Community
Gail and Eric Haws, of the HU Eugene Oregon Community and Tynda fame, took time out from their own hectic travel schedule (just back from Norway, next destination Argentina) to host a travellers meeting Aug. 2-3 on their lovely wooded 15 acre site southeast of Eugene. Attendees included just a few world travellers! Peter and Kay Forwood, Australia, Glen Heggstad, USA, Ricardo Rocco, Ecuador, Herbert and Veerle Roelandt, Belgium and Grant and Susan Johnson, Canada were there.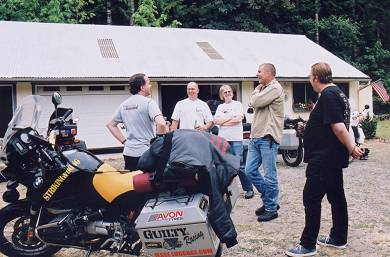 Some local riders, soon to be world travellers (Pete from Berkeley) and occasional travellers (Ken and Marolyn Davis from Auburn, WA) also attended to hear stories and ask questions. No matter how much you have travelled, you can always learn more. For example, Herbert has been to Russia 10 times and Glen had lots of questions for him! Highlights were the champagne by the river, slide shows and videos, and the discussions that went on late into the night, and a great time was had by all. Thanks to Gail and Eric for the excellent hospitality, even if we did have to camp because Ricardo had taken all the rest of the bedrooms! (Honest, that's what Eric told me).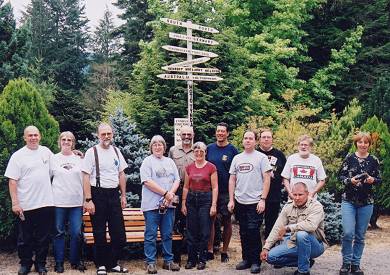 "G'Day, Find pictures at: http://photos.yahoo.com/rdmc_shanghai from our recent Chengdu (Sichuan) to Kunming (Yunnan) ride. Best regards & Seeya in the pub or on the road somewhere.... Butch Walter"
Morogoro, Tanzania Community,
Frank Schellenberg, Netherlands, writes from Tanzania: "Leaving Dar the next morning we were heading for Morogoro or Iringa. Driving into Morogoro and stopping there for an afternoon drink, I thought that Morogoro sounds familiar, but where from. Grabbed my little note book and remembered, there is a Horizons Unlimited Community there, dialled the number and told Steve I was in town. We were very welcome to stay at his wonderful house but as he had to finish work if we could meet him there around half past five, no probs of course.
We drank another couple of drinks and played some card games, when I became very tired, shivered and had a slight temp. That evening I found out that Malaria had hit me. And in the end found no better place to get it... After starting the treatment it went well quicker and apparently I noticed it in time, as I did not get this slap in the face as you normally get when you first get malaria. We spent three nights at Steve's place and left for Iringa. Steve I can't thank you enough for the great help we received!"

New Communities:
We've got over 230 communities in 64 countries as of August 6, 2003!
A big thanks to all those who took the first step and established the Community in their area. New Communities are in Dawson Creek, Canada; Nairobi, Kenya; Los Angeles, San Diego and Lafayette, USA; Durham, UK; Toulouse, France; Bandung, Indonesia; and Port Elizabeth, South Africa.
For details on how you can join a Community in your area, or use the Communities to get information and help, or just meet people on the road or at home, go to the Community page. Send me some photos - with captions please - and a little text and you can have a web page about your Community! A few links to web pages about your area would be useful too.
Just a reminder to all, when you Join a Community in your area, send a note to the Community introducing yourself and suggesting a meeting, or go for a ride or something. It's a good way of meeting like-minded individuals in your own town.

Support the Horizons Unlimited E-zine - check out the HU Souk for fleece vests and jumpers / pullovers, t-shirts, hats and other products with the new logo and a variety of slogans! Just in time for Christmas presents for your favourite motorcycle traveller!
Thanks! Grant and Susan