Plan where to be when!
If you know of any events of interest to travellers, send me a note.
Daytona Bike Week Daytona Beach, FL. March 1-10, 2002,
"The Number One Destination for Bikers of all kinds, and the 'Greatest Continuous Party Event'" details
Cold Flame Rally, Snowy Mountains, Australia March 9-10, 2002
At the Pinch River campsite on the Barry Way( which runs from Buchan in Victoria to Jindabyne in NSW) approx. 60km south of Jindabyne
Touratech Event 2002, March 15 - 16, Niedereschach, Germany,
Info in German page only. Slide show by Michael Schroeder on his South America trip, Dakar 2002 stuff, film by Thomas Junker on Tibet trip etc.
25th annual Buffalo Rally, South Africa, March 21-24,
Beachview Resort, near Sea View, south of Port Elizabeth. Info
International GS-meeting, Belgium, Easter weekend - March 29 to April 1, 2002,
"Beautiful location in the heart of the Flanders Region. Meet new GS-people coming from around the GLOBE. New accommodation with more camp space, big tent, local beers.
Hoeve Lorette Rudderveldstraat 7 9600 Ronse Belgium Tel. +32/ 55.21.19.26"
For more info: Website or email.
Tesch Travel Treffen, Malmedy, Belgium, April 12-14, 2002
24th annual meeting for motorcycle world travellers. Slide shows, 300 odd travellers, great meeting, well worth going. Booking required. Details
Latin Bikers of Chicago USA, April 13, 2002, to Mexico
16 to 20 days depending on your start point. On entering Mexico there will be several city parties hosted by local m/c clubs, and or the town mayor, with bands, great food, beauty pageants, etc. The rally starts in Chicago on April 13th and you can join in at any point thru the route. For detailed schedule contact the organizers.
BMW Rally, Victoria, Australia, April 27-28, 2002
"...to be held at a Nudist resort, yes that's right folks, you read correctly, located at Thoona, 20 kms west of Wangaratta, in north east Victoria. Entry fee is $15 for a badge and camping spot. If you don't want to camp, there are several levels of accommodation available up to ensuite cabins on site but you pay the extra. The north east of Victoria is at its best in autumn, many wineries abound
PS Clothes optional:):)"
Horizons Unlimited Motorcycle Travellers Meeting, B.C., Canada, May 25-26 2002,
Location not set yet but will be either Vancouver Island or the Lower Mainland / Vancouver area. Mark it on your calendars now, you don't want to miss it! More details here soon.
Canyonlands Motor Classic - Street legal motorcycle rally in Moab, Utah, May 30 -June 2, 2002
"We are now officially an Adventure Touring/Sport Touring rally. This year looks promising with lots of interest already thanks to a write up by Dr. Greg Frazier in Rider Magazine. We fully anticipate 150 riders this year. There will be just as much to do for an ST1100 rider as there would be for a KTM rider. Gino"
More info, including places to stay and maps. Note: it's 95% dual sport bikes here despite the sign.
Third China (Yinchuan) International Motorcycle Tourist Festival June 12 - June 15, 2002
Interested? Info is sketchy at best, but here is what we have so far - if you learn any more please pass it on.
International BMW Motorrad Biker Meeting, in south Bavarian Garmisch - Partenkirchen, July 5-7, 2002
This will be the BMW event of the year, with 10,000 visitors expected. More info.
Stella Alpina, near Bardonecchia, Northern Italy, 10-19 July,
"a large trail bike Rally with several thousand bikes turning up over the weekend to ride up the mountain road on Sunday morning. It is not a competitive event but more a large gathering of like minded people." More info. Street bikes go up too!
O'Keefe Ranch Rally, July 6-7 2002, Vernon, BC, Canada
This year featuring a show and shine, flat track racing and a longer scenic road rally. Jim Green 1-250-542-9191
BMWMOA International Rally, Trenton, Ontario Canada, July 11-14 2002
Biggest BMW rally on the planet.
30th Anniversary Top O' the Rockies Rally, Colorado, USA, July 18-21, 2002
"In honor of the 30th anniversary, Special door prize drawing BMW F650GS Dakar.
70 miles SW of Glenwood Springs Colorado. Door prizes, and loads of vendors, BMW Denver onsite, free camping in the shady city park, hot showers, food vendors, music, Saturday evening dinner, field events, and great roads to ride in beautiful Colorado. Check out website for info and a preregistration form."
Sturgis Motorcycle Rally, Sturgis South Dakota, USA. August 5-11, 2002
The biggest rally there is, primarily Harleys and choppers, but interesting.
"6TH EAR" (European Airhead-riders Rendezvous) Sept. 2nd to 6th,
Likely in the south of France. Details coming.
GET YOUR WEB SITE LISTED in the LINKS section by listing Horizons Unlimited on YOUR web site, let me know you've done it by mailing me a link to the page, and you may get listed here in the next newsletter and on the Horizons Unlimited web site Links page. To make it easy for you, we even have our logo and link code here!
All sites will be considered for listing, but must be a MOTORCYCLE or TRAVEL site, useful or of interest in some way to travellers.
Links will be rotated regularly as needed.
From Adam Atkins, UK, a bike parts translator
"Whilst browsing the web for information on Honda's Africa Twin, I came across a bike specific dictionary that enables you to translate almost any technical bike term from English into French, German or Italian. Well worth printing out and stashing with you documents for any trip. Link"
For the best up-to-date products. ;)
GPS waypoints databases
There are many 'Helpful People' listed on the Links page, a huge thanks to all of them. How about you? Or you can join a Community, or start your own!
Angela Brandl, Germany, in Australia, writes:
"I have met a few very helpful people on the road.
Malaysia (Kuala Lumpur):
Sunny Motorcycle, No 163 Jalan Genting Klang Setapak, 53300 Kuala Lumpur. Phone: 603 - 40211661 40220066. Fax: 603 - 40211088. e-mail He stock's a lot of tires and spare parts. A good mechanic is there (I found) and he lets you work on the bike yourself.
Indonesia (Bali):
NYOMAN GDE NALA car care specialist (a lot of old and new BMW (R 65 G/S ??) bikes sitting in his backyard) Jl. Imam Bonjol No 339A Phone: 0361 481652 Fax: 0361 483534 e-mail Denpasar 80119 Bali His shop is on the road from Denpasar to Kuta. It has a big Bridgestone Tyre sign on the entrance. He has a high pressure cleaner for cleaning the bike if you want to ship it to Australia from here.
Australia:
ALBANY MOTORCYCLES, 70 Chester Pass Rd Albany, Western Australia 6330. PH 08 9841 6013 9842 2853. He can organise parts overnight
Rob Turton's Tyres for Bikes, 7 Hudson Rd, Albion Brisbane Queensland PH 07 3262 43 77. Good stock of tyres and parts
AUSTRALIAN DIRT BIKE Ray Buchmann, 4 Miller Street Slacks Creek, Brisbane Queensland PH 07 3209 1977. New and used parts for all off road motorcycles
RAD MOTORCYCLE SHOCKY REPAIRS, 496 Sherwood RD Sherwood, Brisbane Queensland PH 07 3379 3302. he repairs and rebuilds motorcycle shocks.
I hope this will help somebody having problems on the road. Angela"
From Mike Coan, motorcycle repairs and rental shop in northern Thailand
"Joe Sauerborn, a German running a motorcycle repair and rental shop in Chiang Mai. I don't have an email address for him but his number is 053-251186. If you plan to travel in northern Thailand, you need to have this number with you in case you need work on the bike or to have a drink at his little bar at his shop. He has some good rental bikes also."
Ed. Thanks Angela and Mike. Anybody using these shops, please let them know where you heard about them!
Do you know of a good shop 'on the road,'
in other words somewhere there isn't a large number of shops? (Also of course any shop that specialises in travellers equipment and repairs is of interest.) But we're particularly looking for those rare items, good repair shops in South America, Africa and Asia etc. Please post your info in the Repair shops around the world Forum on the HUBB.
Submit your tips and questions here, anything goes! Got a great idea for travellers, found a new solution to a problem? Send it in! If you're having a problem, just ask, there's a lot of people with a ton of experience out there to help.
When you meet people on the road, and they haven't heard of this ezine or the website, we'd appreciate it - and hope they would too! - if you get their names and email addresses and send it in to me, or better use the recommend form available on most all pages of the website.
Thanks, Grant
Looking for information on:
British author Peggy Iris Thomas and her books "the Ride in the Sun" and "Gasoline Gypsy" in English.
It's "An account of an adventurous English girl from Liverpool, who started in spring 1950 and toured 14.000 miles across Canada, the USA, Mexico back to USA and from there by ship to Denmark on the motorcycle B.S.A. Bantam 125 ccm... accompanied by her Airdale puppy called 'Matelot' with $US60 in her pocket."
Found! Available here.
From Pierre Saslewski, on the HUBB, Feb 25:
"Planning a RTW trip, I'm looking for information about shipping a bike from Capetown to Rio de Janeiro. I saw several reports about shipping to Buenos Aires from Capetown or other places, but never to Rio. In fact, there isn't a single report on shipping to/from Brazil. Why is that? Is it much more expensive? On the map, Rio seems to be a much better starting point in South-America than Buenos Aires: from there, you can ride all the way down the Atlantic coast and then up the Pacific coast."
He got an answer by email:
"Here is a response I received by email. It doesn't seem like a good idea to ship to or from Brazil...
...I have been travelling in South America for 5 months, I asked the question about shipping from Brasil no one had done it so I have shipped my bike. It has taken one month of paper work and the bike is still held up in San Paulo, I have changed the point of delivery to Canada from Miami. I also have got my embassy involved in the process. The folks at DHL have been very nice and are trying very hard but the customs in Brasil are paperwork oriented, I wouldn't advise shipping into Brasil as your bike could be tied up in customs for a very long time. I met another biker who shipped his bike in and after 6 months he found the compound where it was being held and literally stole it from there. Go through Argentina and then ride into Brasil land border crossing was easy, but insist on them doing the paperwork to get your bike in, as they may just wave you through once your passport has been stamped."
I guess shipping into Brazil may not be a good idea...G
---
Plenty more questions and answers on the HU Bulletin Board! We've over 1200 registered users on the Board, which I think is pretty amazing, and gives a huge resource of knowledge and experience to help you with anything you might need to know.
Travellers Tips on entry to Ecuador, from Ricardo Rocco Paz
"Dear friends: Let me assure you, you DON´T need a carnet for Ecuador. I suggest using GIRAG cargo. They do Panama - Bogotá - Quito. The bikes will have to switch planes in Bogotá, so make sure you insist on fast delivery of the bikes in Quito. Talk to several employees at the cargo company, and explain to them that you need the bikes in Quito FAST. All this is to avoid delays in Bogotá. Once you get to Quito, you'll have the bikes out in a few hours.
It's mandatory to write on the bill of lading, the words:
TOURIST - IN TRANSIT and a note: URGENT DELIVERY - PASSENGERS WAITING IN QUITO.
I suggest using an agent. The agent I use and that has helped many bikers is BERTHA IBARRA. She's a very well know customs agent, you ask anybody in the customs building for her.
Please give a call when you are in Quito, I can go with you to customs if I'm in town.
Phones: home 2448437 off. 2449718 cell. 099722408 I'm looking forward to meet you and to be of help Ricardo Rocco Paz"
And another on this same topic, forwarded by Werner Zwick from Claudio Del Grande, Italy, Alaska to Ushuaia
"Hi, just got this e-mail from Claudio del Grande, who is traveling from Alaska to Fireland. He got into Ecuador at Quito airport without Carnet.
'24 Feb 2002 - Dear Werner, I had little problem but I got the bike without carnet. You must insist with boss. Now I am in Peru' and I go to Bolivia. See you again Claudio'"
From Herbert Roelandt re Border Crossing at Kjachta (Mongolia from Russia).
"I was on that border in July 2001, border is on the road from Irkutsk to Ulaan Bataar. The guards on the border told me that it is no problem now to enter Mongolia by motorcycle. As I had only a single entry visa to Russia, I did not try to cross the border. I plan to do it in June 2002"
From Simon and Monika Newbound, UK re Magadan Airlines summer 2002 schedule
Effective from 5 Apr 02 to 25 Oct 02, Magadan Airlines offers weekly return flights (Friday/ Saturday) from Magadan to Anchorage via Petropavlovsk.
From Liam McCabe, re shipping from Australia to New Zealand to Chile
"This is just some shipping details from Oz to NZ and from NZ to Chile I thought might be handy for anyone coming this way Leaving Oz from Melbourne I contacted a company called Oss (address, Noble park) and they can be found in the Yellow pages, contact there is Anthony Golding .Any of the Bike shops on Elizabeth St would supply a crate for free, I got mine from Honda Oz but they are a bit out of the way if you don't have transport.
For 2 cubic m it cost $450 Oz and I shipped to Christchurch. I was able to do all the crating etc myself (all the normal, drain petrol and disconnect the battery)but for a cost they will do it for you. The NZ side was also fine, contact MAF and Customs at the airport before the bike arrives and arrange inspection times, there is a set fee but I can't remember what it was. On the day of inspection you can be away on the bike. My carnet expired the day the boat left Melbourne so I entered the country without one. All that was required was a letter from a bike shop saying what the bike was worth, and as they don't import Africa twins to NZ,I could get a reduced value. Customs refund the deposit plus interest when they have proof the bike has been exported, copy of the bill of lading is sufficient.
Shipping from NZ was from Auckland to Valparaiso, Chile. I used a company called Seatrans, which is on Customs St. The crate this time was 2.5 cubic (BMW one size fits all) Honda didn't have a crate but would be happy to supply one, Harley charge $65. Again very straight forward and the bike had to be in the warehouse 4 days before the boat sails. There was no customs inspection as the bike entered the country without a carnet.
The only problem in Chile was getting to the warehouse as it was in the port security area, (there was 3 of us and they only wanted to allow in the owner of the bike, I think this was simply one man's rule at the gate).The only port charge was $6 US and the customs is within walking distance from the warehouse. A carnet is not needed for Chile.
Hope this will be some help to anyone else coming through. Liam"
---
Request for info
Wouldn't YOU like to know all about the border you're approaching - what it should cost, paperwork required, 'tips' needed, and who to talk to, etc.?
When you cross ANY border, take some notes, and pass them on to us. Thanks!
Shipping
There is now a Shipping page on the site. It can be reached directly or from the Shipping link on the Trip Planning page.
If you have any information to contribute, there is a form at the bottom of the page which you can submit and we will put it on the page. Thanks!
Travel Advisories:
The Foreign Office in London's Travel Advice Unit advises against all travel to all sorts of places. Check out the listing before you start!
The US State Department has issued travel advisories, information and/or warnings.
Mads Are Heie, Norway, reporting on the Primus Rally,
"The 30th Primus Rally has taken place, more than 100 bikes, from 5 different countries; Holland, Germany, Denmark, Sweden and Norway. 16 deg. C below freezing (3 F). I've attached a few photos from the event. A great weekend! Beautiful weather, lots of snow. Hopefully these good conditions last for a few months more :-) Regards, Mads"
Ed. Mad dogs and Englishmen go out in the noon day sun, and polar bears and Norwegians go out in the snow... ;) good one guys!
"We headed out on what we thought would continue to be a great paved highway. About 50 or 60 miles out, it went away - we struggled all day on this awful rock road at 10 & 15 mph, really beating up our MC's. Towards evening, it started raining - things were miserable. We plodded even slower through the mountains and through a couple of villages, but no hotel. No choice but to go on into the night.
Traffic was sparse with glaring lights. I had been leading; we stopped a moment in the rain and said 'Things could be worse'. Frank took the lead and said, 'Let's be safe, and not have you falling again'.
Two or three minutes later, I could hardly make out what I was seeing. Frank's bike was down on the road, his headlight facing left into the side of the mountain. I pulled up beside Frank's bike and parked on the right side of the one lane road. I tried to talk to Frank; nothing. He was laying in water & mud (it was pitch-black). He started moaning. I kept saying, 'Frank, are you okay?' No answer; ...He finally got to his feet, but couldn't stand, kept staggering. 'Frank, are you hurt or just dazed?' He said, (about 4 or 5 minutes by now), 'I'm just dazed, I think'.
A truck approached us. The driver jumped out and we quickly righted the bike and got it over to the side so the truck could squeeze by. Frank sat down in the rain and said 'Dale, move your bike over a little so the truck can get by'. I really didn't have any room to move, so thought I would take it off the kickstand and just lean it a little to the right to give a couple more inches. As my right foot touched the edge, it gave way; I was tumbling and sliding with my bike down the mountain. My bike and I stopped suddenly against a thorn bush. I was dazed now… couldn't see anything at first, but soon saw that my bike and I had a potentially greater fall if I wasn't careful. I couldn't stand up, too steep and slippery, and I didn't want to hang onto my bike, for fear it & I would go into the abyss.
Frank was now yelling frantically for me. I said, 'I'm okay.'
He said, 'Where's your bike?'
I said, 'It's right here with me, but I can't move'. (I had fallen about 30 feet).
Frank said, 'What are we going to do?'
'I don't know'. 'I think I broke my collarbone and I can't help', he said, 'The trucker went to get help'.
I said, 'Frank, it will take a winch to get us out,' (my bike and me).
As I waited, I remember trying to calm myself, but being terrified at seeing the occasional vehicle far below me with its sweeping headlight beams as it would maneuver up the mountain on those hairpin one-lane roads. When a beam would sweep under me, I could see plainly how vulnerable I was as I perched there.
Don't know how long I waited. Frank said later it was about two hours. My legs and arms kept cramping, as I was trying to stay on the mountain. Finally, I heard voices, and then a rope. I tied it to my handlebars and I could then relax a little, I now had something to hang onto, besides the pencil-thin sprout. But, even then, I slipped and grabbed for my bike to catch myself, and panicked when I couldn't instantly grab something. I clawed for my back wheel spokes and connected.
The people up there tugged to no avail. After a while, another rope came and I tied it to my handlebars also. No movement. Then another, ...I tied it to my front forks. Then a Peruvian villager came rappelling towards me and talking to me madly (no comprende). The ropes couldn't budge the bike. So, while hanging on to the ropes, we started unloading the baggage from the bike and tying each to a 4th rope (this was frustrating in the rain and mud). I finally realized I couldn't see very well because my glasses were muddy. Now, with the bike unloaded, it started moving. I was no help; as a matter of fact, I kept grabbing the bike to keep from going down. The great many villagers up there somewhere were chanting a rhythm of tug & rest, and the bike started moving inches at a time (WOW). I was no help; I gave up, had to rest. A new rope came down for me. I wrapped it around my right hand several times and said 'ok'. Out I came, but was still scary, walking up the mountain horizontally, all my weight back and relying on someone wonderful up there to pull me to safety.
When I reached topside, Frank said 'Dale, I'm so glad you're okay.' 'They need your help now to get the bike up.'
The masses of helpers were straining to pull the bike up the last bit, but the front wheel was caught on the edge of the road. So I kneeled down. I strained to lift the wheel, just an inch, the bike popped up over the edge. It took all my strength and air; I was passing out.
My God, I thought, I'm falling back in! At that moment, a pair of vice-grip hands grabbed me so hard from behind that it pinched. When I turned to see who this he-man was, I was looking into the eyes of a very old woman. Next, I was back against the mountain, safe, wet, gasping, and people giving me agua (water). We now had a traffic jam on the mountain.
Frank said, 'Dale, get your packs back on your bike and see if we can get off the road and let these wonderful people go home.
First, I tried to start my KLR, and my God, it started. I took my slippery, sloppy bags & stuff and tried to bungee them onto the bike - somehow, I did it.
Frank said, 'My bike won't start now because I've been using the headlight for the rescue and the battery is dead'. After 20 or so minutes, Frank got his bike jumped & started and with a broken collarbone, he unbelievably drove up the mountain again.
When we arrived at Chincheros, (took about a half hour), Frank didn't want to go to the hospital, but to a hotel and clean up and rest, and then see about the hospital mañana. We got our bikes secured and the hotel owners, Felix and Rosa, showed us to a primitive room. It had 2 beds and was dry. Felix brought us some black coffee and the ambulance guy came and looked Frank over. Frank could rest for the night and go to the hospital tomorrow.
Frank took 1000 cc's of ibuprofen and bedded himself painfully. After a while, laying in bed, thinking about this unbelievable night, Frank said, 'Dale, I'm glad they had a room with 2 beds in it. I don't think I want to be alone tonight'. This was in the village of Chincheros, Peru."
Martin Rooiman and Jeannette Boom, Netherlands, in Thailand and Vietnam,
"The North of Thailand is amazing. The roads are good, and the scenery is astonishing. It depends what you are looking for. We went to Mae Sot and drove a splendid road through the mountains and we were told that there were 1084 bends on this 140 km road. And we drove back the same day and still weren't dizzy when we arrived back in Mae Sot.
… Finally we reached Nong Khai where we tried to get a new 30 days entry visa for free but they refused to give this to us as we had to extend our current visa but this would cost us 500 Baht (USD 10). The only reason for us to get an extension was for driving back to Bangkok in order to get our Lao - and Vietnamese visa and service Martin's bike. But a Lao visa we could get at the border (although 15 instead of 30 days, but we were in Laos before) and our Vietnamese visa we could get in Vientiane. Also Nong Khai turned out to be a big city where Martin could service his bike so actually we had no reasons to stay in Thailand much longer. Within a couple of hours all our plans got changed completely and it showed again that as a traveller you have to be very flexible. That's what we like about travelling but it's also the reason why our trip to Australia takes longer every time...
… We're now in Hanoi for some well deserved R&R. In Laos we met lots of bikers all with the same plans: crossing into Vietnam at the 10th. So the 9th we met in Lakxao (35 km's before the border). 'We' are: Mark Summer (USA, Triumph Tiger), Phillipe Janowski (Belgium, Transalp), Simon Kennedy (Ireland, Transalp), Ennio Cavallucci (Italy, Transalp), Erik Bauwens, our friend (Holland, F650GS) and the both of us.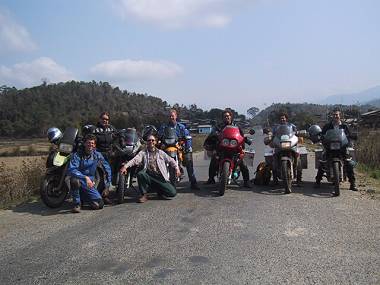 At the border we fought a couple of hours against the corruption over there and managed to reduce the requested bribe from 3 to 1 USD (each).
Later...
We're stuck in Vietnam (Hoi An) as our rear wheel bearing broke completely. I contacted SKF in Saigon and they have my bearing but it's not available in Vietnam. Locals helped my trying to find the bearing but they couldn't find it in Da Nang, Saigon nor Hanoi. So this made me decide to have them send in from Holland instead of Bangkok as then I don't have to pay for the shipping costs ;-) (but probably for the import tax anyhow ;-( ) We'll see.
We now have two more weeks before our visa expires and we don't know how long it takes before we're able to get on the road again but hopefully in about a week. Then we continue south for Saigon and Cambodia quickly. If we have to extend our visa because of the bike we can continue much slower seeing more places in Vietnam.
As soon as we return to Bangkok we fly in Jen's bike (F650GS) and continue on 2 bikes. Erik who joined us has left us already and is in Thailand by now. He joined us because he didn't really know what to do with his life in Holland but now he figured it all out he wants to go back there ASAP. He wants to ship his bike back to Holland from Kuala Lumpur.
After Cambodia we are finally heading down south towards Australia and we want to visit Indonesia as well in between. Our visa 'restricts' us to enter Australia before December 11th and that's the only time limit we have. And so far we're still gonna make this. Jeannette & Martin"
More stories from Martin's travels in the Horizons Unlimited Travellers' Stories pages.

Help support the Horizons Unlimited E-zine - visit our sponsors! Please be sure you tell them how you heard about Morton's BMW!

Thanks!

"… we couldn't find a hotel anywhere and finally rode into the town of Shahjahpur after dark determined to find something. Chris eventually spots a lodge and we take a small and grubby room on the 3rd floor (three trips with the luggage, sigh). I stand around in the high street waiting for Chris to sort out the room and realise why this town is not on the tourist map. There is nothing here, just old women walking through town with goats on the end of string, young girls carrying piles of dried cow dung home on their heads and the men, as usual, buying and selling on the street. We step out of the hotel an hour later looking for food. We are soon taken under the wing of the local deputy superintendent of police who apologises for the lack of comforts in his town and makes sure we eat in a nice place and insists that the manager (this is to his face) does not overcharge us. Our meal was, as you might imagine, very cheap and reasonable. After our meal the restaurant owner asks his son to escort us back to our hotel. The deputy superintendent's visit had obviously worried him and he was determined to make sure that no harm might befall us while he might still be considered responsible.
… Arriving in Pune was a surprise for us because it was the most cosmopolitan and organised looking city we had come across in months. With glee we stop outside an espresso house and order ourselves a double each (Nescafe is normally all that is available here), talk to some students then find ourselves a place to stay. We end up with a very luxurious hotel because most others we try are full. The room even has a bath and enough hot water to fill it. This is luxury indeed.
… Later, while we are working on the bikes, we meet Pretap, an ex film cameraman from Bombay, who while admiring the bikes invites us to visit his house nearby. We have a lovely time with his family and friends, and we leave carrying home made chocolates and a whole crate of local strawberries.
… The road is still good until we turn off to Bangalore. The scenery is pretty however and we are still making good progress through a forested region. 10 km later we see someone on a loaded big trail bike, Ahha, another one of us we think, so we stop and meet James Taylor on his KTM. We chat a while as he is going the other way but I notice a large spreading pool of oil under my bike! It was extremely lucky that we stopped when we did as I probably would have been off on the next bend due to the oil on the rear tyre, but it saved a painful encounter with the road or the engine running dry!
… It is not until we have removed the primary drive and the engine sprocket that we find the trouble, a split oil hose. It must have moved since it was installed, and had rubbed itself through on the engine sprocket! Chris takes a wander about town but is unable to find replacement hose and suggests that we repair it with a piece of copper pipe and two hose clips. I initially protest at this bodge until he points out that the entire oil system of my bike relies on such connections. 'Fair comment' I say and the repaired hose is replaced. …despite all the troubles, at the end of the day we are ready to start our tour of the Goan coast."
Daniel Todd, USA/Puerto Rico, second around the world tour, in Indonesia, KLR650,
"Its the magic of the road. Everything just seems to fall back into place, which is highly ironic. I mean were we not the ones that were supposed to get sick, have accidents and get kidnapped? Maybe get our bikes stolen? At least that's what they told me 12 years ago when I left. No, instead it is during the logistical and planning stages that there is always some catastrophe or crisis looming on the horizon that causes delays and setbacks. I try to visualize good karma by organizing all by documents, tools and parts on the floor. Do I really have to carry all of this stuff to the other side of the world again?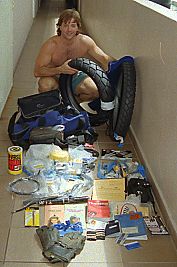 Since I could not get back on the road immediately I bought a new Honda CBR 929 to play with and explore Puerto Rico in the mean time. After overlanding on enduros all these years, it was really weird being on a 200-mph café racer while crossing an island 35 by 100 miles!
... Riding Java is like returning to India. It's the only other place I have ever found that has comparable traffic conditions. The only logical way to leave or enter Jakarta is to start very early in the morning before the heavy traffic starts but it is best to stay out of all the major cities and take the back roads. There I found locals with the conical hats harvesting their rice and being very photogenic about it.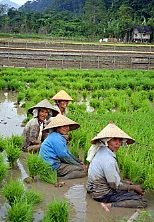 This is volcano country, 192 active ones in Indonesia. Some cool rides and photos on the horizon. The traffic is supposed to thin out further East. I hope to ride all the way to Timor before shipping. To the Philippines or to Australia? Maybe I should flip a coin! Often its best to make it up as you go. Now that's the magic of the road!
If anyone has info on shipping or is interested in hooking up, shoot me an e-mail"
Harvey Gordon-Sawyers & Lisa Roberts, UK, Round the World, in India (next stop Bollywood stars!), Harvey on a BMW R100GS and Lisa on a BMW R80ST,
"The last hundred kilometres seemed to last forever but finally we got to Solapur as Harvey's bike was running out of fuel. At the petrol station we attracted the usual crowd and two guys on a moped who offered to show us the way to the hotel. We were glad to be following them as 'straight straight' is never quite as simple as people make it sound. When we arrived we were even more thankful as there was no mention of the word 'hotel' on the outside. For the first time since we arrived in India the hotel was full - elections again. The two guys on the moped offered to take us somewhere else but we were tired and I didn't know whether or not to trust them so we went into the hotel restaurant to have tea. Five minutes later we were approached by a journalist from the local television news channel asking if he could interview us. Everyone was beaming and looking so happy and saying they were honoured that we couldn't refuse. So, dirty and bedraggled, we became media stars! One of the guys who had showed us the way is a cameraman and had gone to fetch his journalist colleague from his office around the corner. They presented us with flowers and persuaded us to go to their office to meet the boss. We set off in convoy with the cameraman balancing precariously on the back of a moped as they filmed us dodging through the traffic.
...It was the most bizarre experience seeing ourselves on the local news, we didn't understand what they were saying about us but we looked pretty cool riding through the streets of Solapur!
Rameshwar and Kumar joined us that evening and were so happy to see us. They kept asking if they were boring us, wouldn't let us buy them dinner and insisted that this was one of the highlights of their lives. We were the first white people they had ever spoken to and they seemed as genuinely interested in us as we were in them. It was possibly the first time we'd met people who really seemed to want to understand what we were doing and why. It was a most humbling experience - they really were lovely guys and so genuine - they brought us a copy of the video tape and a colleague from the station to take pictures of us together. They wanted to come back early in the morning to show us the way out of town but we explained that we never knew what time we would get up in the morning."
"Entering Mozambique the first thing to strike us was the Mediterranean architecture - one of the few positive leftovers of the Portuguese colonial era. Having suffered centuries of Arab/European abuse, capped by a South African fueled 'civil' war, the Mozambicans could be forgiven for a level of xenophobia. Much to our surprise (and pleasure) however, we encountered only the customary African politeness.
Another thing that was particularly evident was the number of limb-less people, on crutches and in wheelchairs, a stark indication of the violence Mozambicans have endured. Apparently it costs only $5 to lay a landmine, but a hefty $1000 to remove EACH ONE of these terrifying weapons. As a result, the warmongers have left their discovery to unwitting civilians.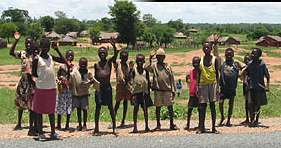 We reached Chimoio, the first big town on our route, with US$4 and less fuel than we like to 'venture' with. Unfortunately Mozambique's ATMs are not yet internationally linked and traveller's cheques, even in High Street banks and forex bureaus, only attracted inquisitive scrutinisation. We arrived at Campsite Biques, situated on the beach just north of Beira, with the Beemer running on vapours.
… We pushed the outside squall to the back of our minds and were soon tucking into a veritable stockpile of Mozambique's 'legendary' prawns (small lobsters by Brit standards). We spent the next three days lazing around, exploring the numerous shipwrecks along the coast and playing pool and backgammon as the rain tipped it down outside the open sided bar.
All good things come to an end though. We set off for Malawi and another journey of random emergency stops and pedestrian slalom as the locals continued to demonstrate a goat's regard for the green cross code.
Customs had the final surprise for us on our exit. After a prolonged perusal of the bike's Carnet de Passage the officer in charge peered over the document and pointed out that it didn't cover Mozambique. We nervously double-checked to find he was indeed correct. Now, the scope in a scenario such as this for 'baksheesh' demands on behalf of the official is quite considerable, you could even say expected. But, with a smile, we were simply told 'my colleagues let you in, so I'll have to let you out'. Africa, once again, takes us by surprise!"
Steve Raucher, South Africa, around the world, in Australia, R1150GS,
"In Marree we learn that although we are in both the driest and hottest parts of Australia, the northern sections of the track of closed due to torrential downpour and our only viable option is to head halfway up the track and then turn off for Coober Pedy. The halfway point to this new route is a town called William Creek (population 8). This is one of those places that typify any stereotype associated with the outback. At 6 pm the whole town was in the pub, babies and all.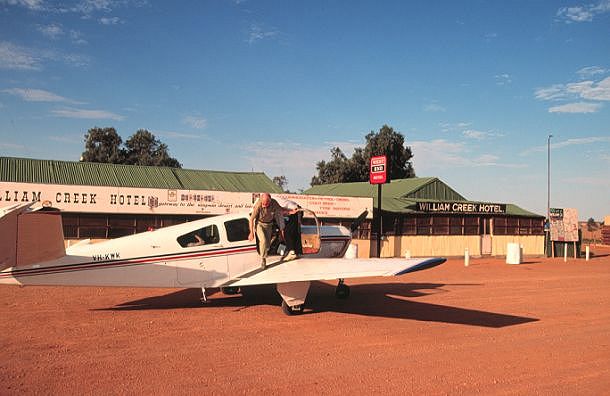 It had been a good day, except for the really bad stretch of road on the first half of this leg which is sprinkled with 'bulldust'. Bulldust is very fine gravel that looks like regular dirt but behaves like soft sand and is impossible to spot until you find yourself strangling your handlebars, dragging your feet and shouting choice expletives at any roadkill that will listen, in short it is very unpleasant.
The next morning I wake to the light patter of rain drops on my tent. Not a good start since I still have another 200 kms to do on a dirt road and flashbacks of the mud in Cambodia come rushing up to haunt me. It was only when I was on the last 80 kms of the road that I started having trouble with the slippery conditions, but through a combination of luck and foolhardiness I hit the throttle and managed to keep the bars straight…
Cruising at 140 kms an hour about 150 kms north of Coober Pedy and 600 kms south of Alice Springs my bike starts shaking violently and I pull over with the mother of all adrenaline rushes. The smell of burning clutch is unmistakable. (The very clutch which I just had replaced in Melbourne) I get off the bike, roll a cigarette, enjoy the rain for about 15 seconds and then begin to try waving cars down for help. After receiving many benevolent returned waves (they are a very friendly bunch out here) someone finally twigs that I am signaling for help and pulls over…
Successfully towed back to the roadhouse I quickly assess my situation. In the middle of nowhere and needing a ride north I begin to count myself lucky that the roadhouse is full of road train drivers ('truckies') and also has accommodation. My plan suddenly takes shape, I begin to harangue every driver I see and beg for ride for me and my bike, this goes on until 4 am when I give up for the night and decide to try my luck the next day - as if I had a choice!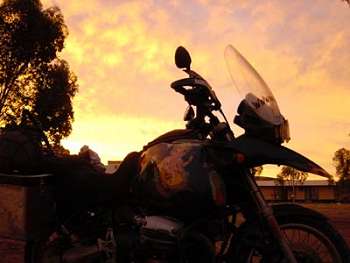 Sunday was my lucky day, the first vehicle to pull into the roadhouse that I see is a pickup truck ('yute') with a young guy named John who lives on a cattle station north of Alice. After some mild persuasion and the offer of the ever-ready Dollar he accepts and we spend the next 4 hours discussing the merits of castrating one's bulls early and the ins and outs of branding cattle. My enthusiasm for these subjects must have made a dent in his resolve and by the time we arrived in Alice, he both dropped my bike off at the local dealer and dropped me off at a hotel and refused to take my money - gee, I sure lurrrve the country!
I reciprocated the only way they know how out here. Straight to the 'Saloon' (complete with swinging doors and John Wayne posters) and bought the rounds."
Peter and Kay Forwood, Australia, around the world since 1996,relaxing in Mexico, on a Harley Davidson,
"31/1/02 Resting in a bungalow seaside at Manaque overlooking thousands of pelicans dive bombing fish for their dinner I realized we have now travelled a quarter of a million kilometres since leaving home six years ago. Recovering from yesterday's long ride, watching the birds, the mind was calculating, 1534 days living out of the motorcycle, 14 tons of petrol, 900 tank fills, 60 oil changes, 30 new tyres, 750 different sleeping places, not to mention different restaurants, coffee or drink shops or toilets. Averaging 163 km a day or 1140 km per week.
6/2/02 A dip in the surf, warm tropical waters now, lunch at a beach side restaurant and a margarita to watch the sun set. Another arduous day.
12/2/02 We had been riding less than an hour in strong gusty wind when confronted by a couple of hundred trucks blocking an intersection, jostling for position and moving slowly. At first we thought a road block or accident, but as the wind gusts increased incredibly, particularly at crawling speeds, blowing us across our entire lane, we realized the trucks were just moving slowly because of the wind. Over a 20 km stretch we counted 6 semi-trailers lying on their sides right next to the road, simply blown over. If we could reach 40 to 60 km/hr our weight and counterbalance kept us straight, but if we weren't overtaking and had to crawl behind trucks it was extremely difficult to remain upright. Jim was following and reported seeing the wheels of semi-trailers just lifting off the ground, even at these speeds, during some gusts. The catabatic wind was just dropping straight off the mountains and onto the plains, the sudden gusts overturning the trucks.
15/2/02 The Mayans flourished in this region about 700 AD but by the 10th century their empire had disappeared being reclaimed by the rainforest jungle and it wasn't till 1773 that the first westerner discovered Palenque's existence. Still surrounded by rainforests the partly restored ruins are an impressive site. Everything here was built without metal tools, pack animals or the wheel. Temples are still being found with valuable artefacts. You can still see unexcavated temples in the rainforest as they have sat for over 1000 years. It is Kay's 50th birthday today, Australian time, so a restful afternoon and dinner at a nice restaurant."
Ed. Happy birthday Kay, hope it was a good one! Peter and Kay have travelled to over 100 countries in Africa, Asia, the Middle East and Europe. Horizons Unlimited is proud to host all their stories on our site. Fantastic stories and pictures!

Harald and Udo Lamers, the Bike Brothers, Netherlands, around the world (?) on Suzuki DR 600s, in New Zealand
"More then 350 years after the Dutchman Abel Tasman discovered New Zealand, it is now our turn. The first thing we find out that there are three kinds of kiwis: the green hairy fruit, a bird the size of a big chicken, and the New Zealanders themselves. They are proud to have the nickname Kiwi (named after the bird). For months we lived in Asia at temperatures above 30 degrees centigrade and now it is only 16 degrees, dark grey clouds (instead of white clouds...), rainy and a cold wind is torturing us.
We keep riding, knowing that sometime the sun will be back. And when the sun comes from behind the clouds we can feel the warmth and everything looks better. The smell of the pine trees and the freshly mowed grass tickles our noses.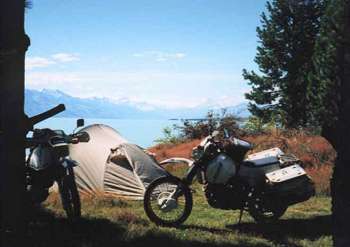 The Southern Island is a paradise for the outdoor freak. There are so many activities to do like mountain biking, bungy jumping, sky diving, scuba diving, river jet boating, rafting, ballooning, zorbing, tramping and much more. And maybe the best outdoor activity is travelling on your own bike.
We pick two activities to do which are special for New Zealand. At Kaikoura we do a whale watching. At a speed of 50 km/h a big catamaran flies over the ocean. With a hydrophone the skipper tracks down the sounds of the whales and when he picks up a sound they go in pursuit. The theme from 'Bonanza' blasts out the speakers and we go 'whale hunting'. When we arrive in the area we stare over the ocean. Then we see a mist from the whale's blowhole and head the catamaran closer. We see an 18 metre long sperm whale. Wow this is great. After some minutes the sperm whale dives and flip up his big tail. Slowly we see the 'peace shaped' tail sliding under water. Awesome.
At the west coast we see two beautiful glaciers and at the Franz Josef Glacier we make a glacier walk.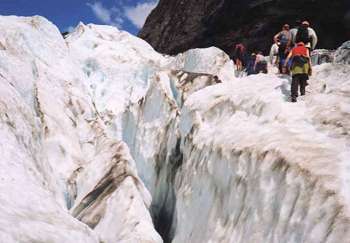 The guides supply us with some old glacier boots, probably from Franz himself and some woolen socks from his grandmother. After a 10 minutes bus ride to the glacier my feet are killing me already... We walk up the glacier and when we reach the ice the guide shows up how to put on the ice talons. These 'metal teeth' will give us grip on the slippery ice.
These glaciers are called 'warm' glaciers because they reach the rainforests at sea level. Most glaciers melt at altitudes at 2000-3000 m. Carefully we walk along deep cracks and then we have to go through a 30 cm wide split. We squeeze ourselves through the narrow slit. This is cool. Later we have to go through an ice cave. On hands and knees we crawl over deep blue colored ice, pushing ourselves forward with the ice talons. This is exciting and it is a great experience.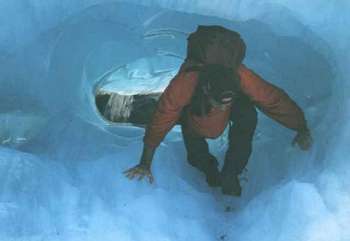 Touring around over the perfect and empty roads we reach the Bluff. The Kiwi's call this 'lands end'. It is the end of New Zealand and geographically it is the most far away point of our trip (18.824 km). From here we start our long way back...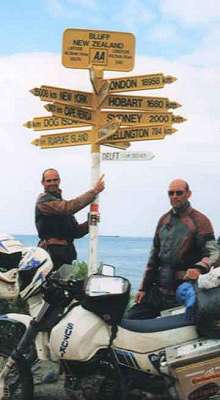 In Asia we had to take hotels for the night because it was too crowded to camp but in New Zealand we find the most beautiful spots to camp. Along a river, in deserted forests or at empty lakes with views of snow capped mountains. The only thing that bugs us are the sand flies. When these big-mouthed flies bite you have terrible itches for a week. They drive you crazy. Would this be the reason why Abel Tasman left New Zealand for the English...?"
Matt O'Neill, UK, in Rajastan, India, on Enfield
"Whilst biking in the afternoon through Rajastan, India, the Enfield became parched of fuel. Furnace-like sunshine was beating down. Water was down to a half-litre. Dehydration was imminent. With the knowledge of a 20 km (12 miles) journey separating me from the nearest town, I began to panic a little.
After weighing up the alternatives of resting or walking, the latter seemed a better option. At least this way, I might catch a ride. Apart from an antelope, nothing passed by. After roughly 3 km (2 miles), I drew near one of the military bases that are commonplace in the area. I felt convinced that it was a chance to refill my water bottle. As I approached the gate, a sentry eyed me suspiciously. An officer who spoke surprisingly good English quickly joined him. His abruptness was both startling and quite intimidating.
Officer: 'Do you know where you are?' (he bellows)
Me: 'My motorbike has broken down... I was hoping to get some-'
Officer: 'You have to leave immediately!' (interrupts loudly)
Me: 'But... But...' (meekly)
Officer: 'Where is the motorcycle?' (calming a bit now)
Me: 'About 3 km back down that road, by the sign post.' Officer: (Mutters something in Hindi to a subordinate. Two of them hastily fetch a jeep.)
Officer: 'Go with them' (angry again).
Me: 'Err... Err... ok then' (is this a good idea)?
To my relief, the bike was still there. Before I have a chance to get out, they have a heated discussion about how best to lift the bike into the jeep. My fortunes were fast reversing. After considerable heaving from all three of us, we balanced it precariously. Part in, part out, it sat on a knife edge over the lip of the back.
As we entered the barracks, I was commanded from the vehicle, and led into a dusty shed at the edge of the parade ground. I was offered some chai (sweet tea) and a Biri (cheap Indian cigarette). We chatted about my journey, but he seemed more intent on telling me how wonderful India was under Colonial rule. As if it were once a wonderful utopia. I didn't agree, but I took onboard his ideas about Indian society lacking firm law, and responding best to a bribe. In India, little in everyday society is sacred; everything can be bought for 'baksheesh' (kickback).
As I listened, I glimpsed through the dusty window, and to my astonishment saw two men cleaning the carburetor, topping up the tyres, filling the tank, and finally cleaning the entire bike. I couldn't believe my eyes!
Leaving the barracks felt more like leaving a party. Handshakes and smiling faces were abundant. The whole thing proved that human nature could be a wonderful, unexpected thing. You never know where you'll find the best of it!"


Help support the Horizons Unlimited E-zine - visit our sponsors! Please be sure you tell them how you heard about TinyStocks!

TinyStocks presents Highway Manager: the most complete and flexible gas mileage application for the Palm OS® platform, written by a biker for bikers. Keep track of your gas mileage, insurance payments, garage bills, hotels, highway tolls and whatever is necessary. Statistics, charting function, multi-currency, and more... So, got a Palm OS device? Why not take it on the road?
Thanks!

Connor Carson, UK, in Australia, Tenere,
"Connor's Tenere is badly in need of new 4th and 5th gears, to replace the disintegrating and crappily case hardened items installed by the evil Dark lord, MR YAMAHA only 40,000 miles ago when the bike was new. The XT also needs a new camchain, a rebore, a reconditioned shock absorber & spring, new swingarm bearings, a fork service, and has a shattered rear brake caliper with a bent disc. Connor is very sad, and sings of his woe until people tell him to shut up. Connor goes to the home of Ken and Carol Duval, where he gets good beer and good advice in roughly equal proportions…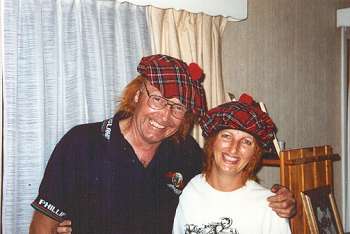 Much later…
… Geoff begins to rebuild the engine. Four gears need to be replaced from the transmission assembly: 4th (both gears) and 5th (both gears) are badly pitted and have been disintegrating for some time. The whirring noise, which indicated the beginning of the problem, started in Iran, about 12,000 miles ago, and was only evident in 5th gear at about 3500 revs… As Connor waits for his engine from Geoff, he drinks heavily, replaces his steering head bearings, and rebuilds his swingarm. Yamaha genuine needle roller bearings and bushes are hugely expensive, but Connor has foolishly not been greasing his swingarm like he should, so he is an idiot, and probably deserves it.
… The Dark lord makes one last attempt to sabotage the rebuild. He sends a tiny flying beetle to stuff Connor's exposed engine oil pipes full of leaves (look, I swear I'm not making this up...) When the engine is reconnected to its various pipework, Connor cannot understand why little bits of leaf are coming out of his oil return line, until he catches one of the tiny beetles in the act of flying up the open end of an exposed pipe, carrying a single leaf, with the clear intent of establishing some sort of beetle homestead. I mean look, OK, I'm all in favour of the pioneer spirit but not in my bloody engine, all right?
Connor ejects the beetle gently but firmly from his lubrication system, gets its email address (just in case), climbs on the bike, and rides off into the sunset...
After leaving Brisbane, I rode South in the company of fellow British overlanders Mark and Clare (Also on XT600's), who were heading for Sydney to catch a slow boat to NZ. … Oz is a country so wonderfully endowed with dirt roads, and equipped with excellent, cheap roadmaps, that spending the entire day blasting through the dust is a thoroughly pleasurable experience.
… Meeting up with Mike in Canberra, we headed westwards by an extremely circuitous route, via Deua National Park to the coast, then looping round through Wadbilliga NP, crossing the Snowy river and then north to the Alpine NP. Our objective was not so much the achievement of Westerly movement, more a sort of dirt-road training cruise. After five days of travel, we had made it as far as the town of Nimmitabel, approx 2 hours drive South of Canberra!
Mike, as an ex-KTM owner, now on a BMW R100 equipped with Michelin deserts, was by far the more capable offroader. Yours truly, as the Horizontal Irish Biker, was distinctly less talented, and almost became Horizontal on a number of occasions. Particularly when we picked a 4x4 track 3 kms North of Harrietville in the Alpine NP to take us in the direction of the town of Bright.
Ye gods. On the way upslope I was standing on the pegs, bent over the tank so I could inspect the front wheel from close range. Halfway up, I knew I wouldn't be able to get back down, so was obliged to keep going. The other side was, if anything, steeper and very loose - really lucky that I had removed the luggage, which used to sit on the seat behind me, as I felt like I was hanging my ass over the taillight.
Sorry Grant, this is precisely the sort of thing you never get photos of.... I mean you can hardly say 'Hang on Mike, just hold it there with that expression on your face while I find somewhere on this rubbly 45 degree nightmare to park, and once I've fumbled my camera out and stopped shaking sufficiently to operate the shutter, I'll take a great picture.'
Ed. No excuses, Connor. Just get the camera out and do it again!
So we plummeted down the other side to the 5 or so creek crossings which finished the whole job off, and I discovered that Mike's BMW has a cleverly designed bashplate extension which sluices the water to either side thus keeping your feet dry. Whereas the Yamaha has an equally ingenious system which fires it straight up your trouser legs, thus (presumably) keeping your feet nice and cool on hot days, (and scaring the Bejasus out of your pet ferrets).
And so to Melbourne:
Out of cash and out of options, I return with leaden feet to the profession of animal doctor, at least for a little while. At some unspecified point in the future, my bank balance may be sufficiently recovered to tolerate a trip to Western Australia. Till then, keep an eye out for 1/2 inch flying beetles, and avoid exposing any open-ended tubes...(doesn't bear thinking about really)... Connor"
More stories from Connor's travels in the Horizons Unlimited Travellers' Stories pages.
René Bakker, Netherlands, crossing North and South America, in Panama,
"At 4 o'clock in the morning the Yamaha gets a kick under its butt for the 1100 kilometer return ride to Panama City. Here are, finally, the parts that the ANWB has sent, and that have to solve the braking problems. After the kamikaze action on a steep track in Guatemala I don't feel really safe. Driving a little slower is also a solution but well…. It is pitch dark and together with some trucks and thousands of stars looking upon us, we drive in eastern direction towards the daybreak. The Carretera InterAmericana is interesting at some places, with huge 'potholes' that you don't see until you drive straight through them with 120 km per hour.
… Somebody always comes along for a chat, not that I have much to report in my infant Spanish, but there is always something to laugh about and shaking hands is a must.
… I go to DHL at the international airport. Within an hour all formalities are done and I leave with a really big box. When I am at the end of the airport territory suddenly a fellow with cap and stripes pulls down the barrier. He wants me to stop and pay import duties. The explanation that the goods are needed for repair work on the motorbike does not help until he sees that the moped has a flat back tire. A blessing in disguise this is because I can leave without turning a hair.
… My freight leads to lively conversations and everybody wants to know what is in it and if there still is a place for me on the bike. People seem genuinely cheerful and in for a joke and blabbering is appreciated.
Ed. Susan couldn't resist the above picture, which is in the middle of the story on René's website, with no caption. We made up the caption ;-)
A tin of cold spinach, 2 currant buns and a paprika are my culinary highlight of the day. Under a clear sky and the shining of the winking moon I drive the last 270 kilometres. I get out of the saddle after 11 hours and 1080 kilometres of steering, with a terrible wooden bum. As happy as a child I cut open the box and look in astonishment at the expert work of Frank Mos, Erik Ekelmans and Kees Besseling. An excellent job they did !! With this I turn my moped into the best braking XTZ 660 there is and satisfied I fall asleep, secretly dreaming about new journeys…"
Mariola Cichon, USA, aiming to be the first American woman to ride around the world solo, in Chile, KLR650,
"A short dirt road off the Panamericana leads to the famous Mano del Desierto (Hand of the Desert), a huge sculpture at least 7 meters high.
Soon, I noticed 2 other motorcycles parked by it. Kawasaki KLRs! Two guys waved in my direction. What a wonderful meeting in a strange place! We ended up driving together for the rest of the day. Both Frank (Tabor) and Dale (Thornton) are on the way south as well. They travel much faster than I do, though. They left Omaha on December 21st, and have managed to get this far in such a short time.
… A wonderful evening of exchanging travel stories and joking around followed. They described a hair-raising story of an accident involving both of them that took place near Cuzco, Peru. Ed. See Dale's story of the accident above.
… Dale and Frank and both of their bikes ended up resting for few days in the village. An X-ray confirmed a suspected fracture in Frank's bone. He was given an elastic band and lots of love and care. It must have helped, since when I met him, he had full control of his right arm. Inspecting Dale and his bike I found some reminiscence of the horror. The left tank pannier was held together with duct tape, and so was a front of Dale's jacket. The turning signal was all in pieces as well. But Dale was intact, or semi-intact, for he will forever remember the horror of that black Peruvian night. What a story! I was all ears listening to it, quietly thanking God for saving my new friends, and for sparing me similar chills.
Frank and Dale left this morning. I might see them again on the road, although by the time I make it to Ushuaia they will most likely be already on the way back to Santiago, from where they want to ship the bikes back home. Wish you the best of luck, free souls!"
"Dear friends, we finally made it to Tassie, even we are a little bit late, but it seems to became a bit typical for us and also for the summer which is still missing here in Australia...! After we got organized at our friends place (thank you very much, Ralph & Marie-Ann) we left Melbourne and had a look around Phillip Island (the race course was closed...) and went along the 'Grand Ridge Road' where we enjoyed the windy roads and the beautiful scenery with superb views!
The Wilson Promontory National Park was overcrowded, so we left after a short look around and visited our friends in Bairsdale. They showed us around and we went with them on a cruise on Lake Entrance, which was good fun (Thanks for this Joy & Alistair)!
After Bairnsdale we went into the Snowy Mt. and did hundreds of corners/ hairpins/ serpentines... what a bikers paradise! Jenny got sick of all this cornering, so we had to stop and buy her some travel-medicine...!
In Heathcote we visited an old friend of Frank and had a good time with them (Thanks for this Pat & Jim)! On the ferry we met up with some other motorcycle travelers from Germany/ Switzerland, whom we know from before and we arranged to do our Tassie-trip almost together. We had a good cruise to Tassie, plenty of good food on the ferry! :-) Because of the unusually good weather, we decided to have a look on the West coast first. We went along backcountry roads through lovely forests, saw beautiful coastal scenery!
On a gravel road, we heard a strange noise we couldn't recognize, when we stopped, we found out that we lost our headlamp reflector! :-( We went back to search for it, but didn't find it...! Lucky that we have our extra lamps on the bike..! Our Swiss friend did the 'Overland track', so Frank was happy to ride his bike to Lake St. Clair and enjoy the windy roads, while Jenny had a hard time on the sidecar!
We are traveling to Lake Gordon and Bruny Island, and some places south of Hobart. All the best, Frank and Jenny"
Lew Waterman (and Punky), USA, North and South America, in Peru, KLR 650,
"We got trucked 900 km into Lima, Peru. Critter, my KLR 650, suffered a burned piston and rings in the northern desert of Peru. This, caused by my own ignorance of how critical the carburetor air/fuel mix is. Critter has performed flawlessly for 30,000 miles, except for a slight surging and loss of power at high altitude. In the Andes Mountains of Ecuador, I had a mechanic change the carb jet and adjust the needle clip. Critter ran better than ever at high altitude and got the best gas mileage ever. The DynoJet 150 was removed. When we came down to lower elevation, the engine was running too lean, burned the piston and rings and blew out a lot of oil into the airbox and out the drain tube under the bike. I had labored under the mistaken idea that poorly calibrated air/fuel mix only caused the engine to run less than perfectly. That is apparently true if it is too rich, but disastrous if it is too lean. Another lesson hard learned. This entire tour is a learning experience. I have two new stickers on Critter. One says, 'CRASHING SUCKS', the other, 'NO PAIN, NO GAIN.' Firsthand knowledge.
We are waiting on parts to repair Critter and continue the ride from Florida to Prudhoe Bay, Alaska, via part of the Trans America Trail (2,500 miles of back dirt roads), and south to Ushuaia, Tierra Del Fuego, Argentina, and all 24 countries (except Belize) in between. With a lot of luck (good) and pain relief pills to keep my 64 years old injured body going, we will succeed and fly back from Caracas, Venezuela to Miami this fall. My favorite new Spanish drinking toast, 'Salud, amor, dinero, motocicletas y tiempo para gozarlas.' Translation: Health, love, money, motorcycles and the time to enjoy it all. Later, amigos. Punky & Lew Lima, Peru"
Ted Simon, UK/USA, "Jupiter's Travels," around the world, again, in Colombia, R80GS Basic,
"Risk management on a trip like mine still seems to me to be a largely futile endeavour. The anticipated dangers hardly ever materialise, and obviously there's no way to prepare for the others. In any case, I learned many years ago that the odds in our favour are vastly higher than we imagine.
... I have only ever heard of one motorcyclist who was kidnapped, and it was my misfortune, in a sense, to meet him just before entering Colombia, because I was already quite scared enough. I found him hanging out with Ricardo Rocco, a passionate rider who lives in Quito and lavishes hospitality on every biker who comes that way. Glen Heggstad did his best to dissuade me from going to Colombia at all.
Then, on my way to the border I began what became a long series of imaginary conversations with guerilla comandantes... After a bit of rehearsing I had almost convinced myself it could work. Anyway, it was better than nothing... as soon as I'd crossed into Colombia I stopped at the roadside... An old man saw me from his garden, and came out through the gate to talk. 'How's life?' I asked. He sighed, mournfully. 'It is very difficult, very dangerous.'
The road climbed to 10,000 feet, and swooped around the high passes before bringing me down again to the headwaters of the Cauca river, and by then the landscape had completely distracted me from my paranoid dialogues with imaginary terrorists…"
Ed. Visit Ted's site for more great stories and the latest updates on his trip.