Plan where to be when!
If you know of any events of interest to travellers, send me a note.
Karuah River Rally, Australia, February 9-10, 2002,
"A great rally in Barrington Tops just 300km nth of Sydney. It's a great ride up from Sydney via the Putty rd to Singleton then Gresford and over a mountain to Dungog for lunch and then into the forests to the rally. 15km of good dirt road to the site."
Daytona Bike Week Daytona Beach, FL. March 1-10, 2002,
"The Number One Destination for Bikers of all kinds, and the 'Greatest Continuous Party Event'" details
International GS-meeting, Belgium, Easter weekend - March 29 to April 1, 2002,
"Beautiful location in the heart of the Flanders Region. Meet new GS-people coming from around the GLOBE. New accommodation with more camp space, big tent, local beers.
Hoeve Lorette Rudderveldstraat 7 9600 Ronse Belgium Tel. +32/ 55.21.19.26"
For more info: Website or email.
Tesch Travel Treffen, Malmedy, Belgium, April 12-14, 2002
24th annual meeting for motorcycle world travellers. Slide shows, 300 odd travellers, great meeting, well worth going. Booking required. details
Latin Bikers of Chicago USA, April 13, 2002, to Mexico
16 to 20 days depending on your start point. On entering Mexico there will be several city parties hosted by local m/c clubs, and or the town mayor, with bands, great food, beauty pageants, etc. The rally starts in Chicago on April 13th and you can join in at any point thru the route. For detailed schedule contact the organizers.
BMW Rally, Victoria, Australia, April 27-28, 2002
"...to be held at a Nudist resort, yes that's right folks, you read correctly, located at Thoona, 20 kms west of Wangaratta, in north east Victoria. Entry fee is $15 for a badge and camping spot. If you don't want to camp, there are several levels of accommodation available up to ensuite cabins on site but you pay the extra. The north east of Victoria is at its best in autumn, many wineries abound
P.S. Clothes optional:):)"
Canyonlands Motor Classic - Street legal motorcycle rally in Moab, Utah, May 30 -June 2, 2002
"We are now officially an Adventure Touring/Sport Touring rally. This year looks promising with lots of interest already thanks to a write up by Dr. Greg Frazier in Rider Magazine. We fully anticipate 150 riders this year. There will be just as much to do for an ST1100 rider as there would be for a KTM rider. Gino"
More info, including places to stay and maps.
Third China (Yinchuan) International Motorcycle Tourist Festival June 12 - June 15, 2002
Interested? Info is sketchy at best, but here is what we have so far - if you learn any more please pass it on.
BMWMOA International Rally, Trenton, Ontario Canada, July 11-14 2002
Biggest BMW rally on the planet
International BMW Motorrad Biker Meeting, in south Bavarian Garmisch - Partenkirchen, July 5-7, 2002
This will be the BMW event of the year, with 10,000 visitors expected.
30th Anniversary Top O' the Rockies Rally, Colorado, USA, July 18-21, 2002
"In honor of the 30th anniversary, Special door prize drawing BMW F650GS Dakar.
70 miles SW of Glenwood Springs Colorado. Door prizes, and loads of vendors, BMW Denver onsite, free camping in the shady city park, hot showers, food vendors, music, Saturday evening dinner, field events, and great roads to ride in beautiful Colorado. Check out website for info and a pre-registration form."
Sturgis Motorcycle Rally, Sturgis South Dakota, USA. August 5-11, 2002
The biggest rally there is, primarily Harleys and choppers, but interesting.
GET YOUR WEB SITE LISTED in the LINKS section by listing Horizons Unlimited on YOUR web site, let me know you've done it by mailing me a link to the page, and you may get listed here in the next newsletter and on the Horizons Unlimited web site Links page. To make it easy for you, we even have our logo and link code here!
All sites will be considered for listing, but must be a MOTORCYCLE or TRAVEL site, useful or of interest in some way to travellers.
Links will be rotated regularly as needed.
My Mexican Adventure by David Butt
Kouba Link:
Shorter rear shock linkage, to lower the seat height, for F650, DR2/350 DRZ250/400
David Lawson and Mo Reive, Scotland, Bangladesh to Scotland,
"We thought you might be interested in the trip we completed in July 2001 from Bangladesh to Scotland by bike. We had been living in Australia and we flew ourselves and the bikes from Sydney to Dhaka at the start of March. I rode an XTZ660 and my girlfriend MO rode her DR350 20,000km in five months back to Scotland in time for my brother's wedding in July where I was best man. We set up and maintained a website while we were travelling which consisted of a daily diary and photos. I thought you or some of your readers might be interested, especially those of them we met during the trip. We only found your site as we were leaving Australia which was bad timing as we could have done with a little help. We're still enjoying reading it now as it keeps our feet itchy.
Keep up the good work! Cheers"
From Ted Simon
"By the greatest of good fortune (which seems to dog my footsteps however hard I try to shake it off) there is a man in Medellin called Tiberio Jaramillo. Every biker should break down in Medellin. Tiberio loves to help. He has a bike shop here, and also has created a fine group of motorcyclists who go off on rides.
Maybe this doesn't coincide with your mental picture of Colombia, so let me put it straight. Yes, the guerrillas are a menace, but when you live here and take an interest in these things it's not hard to figure out where and when you can ride. Tiberio knows.
And Colombia is a paradise for bikers. All the way from Ecuador I've been reminded of this. It is truly a most beautiful country, with breathtaking (no pun intended) roads. Anyway, Tiberio is looking after me, so I want to scratch his back too. In about two months, he's going to pack up his shop and fulfill a long-time dream by riding to Alaska with a couple of friends. He's on an R100 GS. I don't know what his friends ride.
You may surmise that it is a lot harder for a Colombian to contemplate such a journey. The visa hoop-lahs he has to go through to get into countries are like me going into Sudan. And since he isn't into drugs, he doesn't have a lot of money. So obviously any of you along the way who could offer him a bed for the night should let him know.
They are coming up through Baja California to Tijuana, and back down to the Gulf to catch a banana boat to Cartagena, but I don't know the exact route. If you've only got room for one, that's OK. They already agreed between them that any one of them should take whatever is available.
I can't begin to tell you what a pleasant fellow he is. And he speaks good English, with an engineering degree from Madison, WI."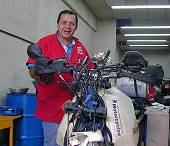 Ed. Tiberio founded the Horizons Unlimited Medellin Community last year and has been assisting numerous travellers recently, including Lew Waterman and Mariola Cichon, in addition to Ted. We are very proud to have Tiberio as part of our world-wide motorcycle travelling community, and we look forward to meeting him when he comes through Vancouver this summer.
There are many 'Helpful People' listed on the Links page, a huge thanks to all of them. How about you? Or you can join a Community, or start your own!
Do you know of a good shop 'on the road,'
in other words somewhere there isn't a large number of shops? (Also of course any shop that specialises in travellers equipment and repairs is of interest.) But we're particularly looking for those rare items, good repair shops in South America, Africa and Asia etc. Please post your info in the Repair shops around the world Forum on the HUBB.
Submit your tips and questions here, anything goes! Got a great idea for travellers, found a new solution to a problem? Send it in! If you're having a problem, just ask, there's a lot of people with a ton of experience out there to help.
Old R series BMW's are notorious for weak alternators, so here's a couple of solutions:
From Rick at Motorrad Elektrik
"400 Watts. Light and heat for 1970-95 Boxers...The end of that greatest limitation of the air cooled Boxer, a small capacity charging system. ... the Omega alternator kit for all 1970 through 1995 2-valve BMW twins. US$575.00"
From Australia, Les Farrand has produced an 800 watt alternator:
Requires mod's to front cover, timing chain cover, top eng. cover which I will do ( require's NO MOD's to main Eng. block). Retains standard Valeo starter. This is a properly engineered unit & is extremely reliable. I've had one on my own '92 PD for about the last six years and has done over 90,000Klm's. All I've replaced in 90,000 Klm's is a couple of belts & a set of rotor bearings, it's still on the original brush set. The rotor, stator, rectifier & regulator are common parts you can buy anywhere.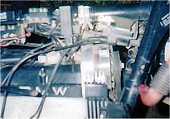 Will easily run some REAL lights (i.e.. 4x125 Watt spotlights & or driving lights plus 130 Watt high beam plus heated vest, grips etc.)... I'll machine the three covers, supply the conversion & detailed instructions on how to fit it. Anyone who is capable of fitting a timing chain & knows how to wire up relays should be able to fit this conversion. Should have a Web site set up soon. Have not set a price yet but will probably be similar to Motoelekt's price. Hope this is of some interest. Cheer's Les Farrand '92 PD (NSW. Aus)
On EPIRB's,
A website with some useful information about EPIRB's (Emergency Position Indicating Radio Beacon's)
When you meet people on the road, and they haven't heard of this ezine or the website, we'd appreciate it - and hope they would too! - if you get their names and email addresses and send it in to me, or better use the recommend form available on most all pages of the website.
Thanks, Grant
"I am on my way across South America on a KLR 250. Now I find myself stuck in Venezuela and looking for some parts which can't be found here. I need urgently:
- water pump
- Temperature valve
- balancer chain
for the following motorcycle:
KLR 250 D8, year 1997, motor nr: KL250DE-041950, chassis nr: JKAKLMD16SA-080311
Can anybody help?"
"I have heard of a guy who will cross west-east Africa with his motorbike through CAR and southern Sudan. Is this a new possible option, or is this just for the truly fearless? Thanks for any info!"
interesting possibility...
"Does anyone know any South African insurance company that will provide cover for a UK registered bike... Replies greatly appreciated as tickets are booked to start my tour in Cape Town on 28 Feb."
From Davidfl,
"It seems to me as if a few people are still getting caught out with the Thai / Lao / Vietnam border crossings. I have an accurate up to date list & map of border crossings up here. If anyone is planing a ride in the area. Hope this is a help."
---
Plenty more questions and answers on the HU Bulletin Board! We've over 1200 registered users on the Board, which I think is pretty amazing, and gives a huge resource of knowledge and experience to help you with anything you might need to know.
From Tiberio Jaramillo in Medellin, Colombia Community,
"...My best advice for riders is to drop me a note when they get to Costa Rica or even in Panama, this is because the changing times in Colombia, if things are cool my recommendation is to come to Medellin, if riders make it here I can help them, showing the lower risk roads, also some very nice places depending the type of riding that they like, (read Mariola report in her site).
...In the reports that you have everybody mentions the risky road from Popayan to Pasto. ...this is the only critical ride if a rider decides to come to Colombia, my advice for riders going south from Popayan or north from Pasto is to sleep in one of the two towns, get up early and leave at 5:45 to 6:15 am., with gas full, tires inspected, chain tensioned and lubricated, breakfasted and rested. Don't stop for anything between these two cities, this will lower the risk because the principles of the guerrilla is to stop people at the end of the day or at night in order for them to get lost in the dark. They are afraid to do things in the morning because if the army knows it is difficult for them to hide in the day time.
Best Regards. Tiberio
PS: Ted (Simon) says 'tell them to come, not to miss it.'"
From PanEuropean, on Poland, in the HUBB,
I toured through Poland in August of 2001 on my motorcycle, and had a great time.
I entered at the south end of the country, crossing in from Slovakia. I did not know that Canadians needed a visa to enter Poland, and the border guards were very apologetic about this - they felt bad that they had to send me back to Bratislava to get a visa. I didn't mind the ride back (3 hours) - the highways through Slovakia were in great shape, and nice and twisty. As good as or better than Canadian or American roads. Slovakia is a really delightful country for sport bike riding.
The only criticism I have of the roads in Poland is that they are heavily rutted in certain areas - mostly the routes leading into and out of the industrial areas of the larger cities. I chose to stick to the secondary roads, rather than the principal highways, and found good riding conditions, wonderful geography and excellent hospitality.
Theft of the bike is a constant concern in Poland, because of Poland's proximity to Ukraine and Russia. I was always able to find a place to stay overnight where the motorcycle could be locked up. If I stayed at a B&B, the family would put it in their own garage, and park a car or tractor behind it. Every 'better' hotel in the country offers locked and guarded parking - the Poles do cater to Western European visitors.
I traveled across southern Poland, spending over a week in the country, and then exited into Germany. I don't speak a word of Polish but was able to muddle my way through without difficulty using English and French. Altogether I thought Poland was a very nice country, good value, no problems with buying fuel, food, Big Mac's, using major credit cards at all the service stations, hotels, etc. I would not hesitate to return, and I recommend Poland to other riders.
PanEuropean has been prolific on the HUBB, here's another one,
Considerations when choosing a GPS
And another on travelling in Croatia, along with a great response from Tanker.
"Just went from Colon to Cartagena last week. Walked into the yacht club in Colon (I believe that is the name of it), offered some guy $300 to put the bike on his deck. (150 now, 150 later). 4 days, bike was covered in salt, really had to generously oil everything before and after. 5 days in Cartagena of complete insane rules. No carnet de passage. There is no ferry from Colon to Cartagena. I would FLY it for $200 next time. The info is somewhere on this site. Although the San Blas islands were very, very nice. If you do it this way, make sure it´s a nice boat, and the captain is straight. Hang out and chat with him to get a feel for what he´s about. Even 4 days can seem like a month on a crappy boat with a idiot captain. Colon sucks. That's my 2 cents, hope it helps."
Ed. Start with the Shipping page to get the benefit of other people's experiences.
---
Request for info
Wouldn't YOU like to know all about the border you're approaching - what it should cost, paperwork required, 'tips' needed, and who to talk to, etc.?
When you cross ANY border, take some notes, and pass them on to us. Thanks!
Shipping
There is now a Shipping page on the site. It can be reached directly or from the Shipping link on the Trip Planning page.
If you have any information to contribute, there is a form at the bottom of the page which you can submit and we will put it on the page. Thanks!
Travel Advisories:
The Foreign Office in London's Travel Advice Unit advises against all travel to all sorts of places. Check out the listing before you start!
The US State Department has issued travel advisories, information and/or warnings.
"The people in Thailand smile a lot, which comes from their desire to make sanuk, the Thai word for 'fun.' The Thai's believe 'anything worth doing, even work, must have sanuk.' I've ridden around the globe three times, and decided to return to Thailand, because it was here I'd had my most motorcycling sanuk.
The first bike sanuk this trip was Chiang Mai Bike Week. USA Florida Bike Week - after 7 days with 100,000 Harley's using open exhaust pipes makes me start to dislike motorcycles. The Thai's, on the other hand, have only about 400 Harleys in the whole country, so to make a good bike gathering the Harley-Davidson owners have to hook-up with owners of other makes and models. Less than 1,000 BMW's are in Thailand, so between the two groups, and a sprinkling of other models, the North Comets Motorcycle Club put together a Bike Week of about 800 motorcyclists. To keep their Bike Week from becoming boring, they made it a two-day Bike Week, starting of Friday night and ending Saturday night, filling both nights and day. On Sunday most riders were headed home.
US $20.00 registration got each participant a Tee shirt, stickers, patch, two 'Class A' All You can Eat Buffets, one evening of local cultural shows and a second night of rock bands, stage shows with, a tattoo contest, custom bike show and Miss Bike Week modelling. It was interesting to see some Hell's Angles and Bandidos gang members having a beer together at the evening outdoor banquet, laughing and trading stories. At Bike Week in Daytona a similar meeting of these two bike gangs would probably be filled with fights and gunfire. Instead, Bike Week Thai style, was filled with sanuk.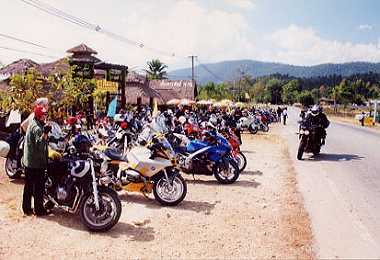 An interesting twist in Chiang Mai Bike Week was that nearly everyone rode his or her motorcycle to Chiang Mai, some from as far away as Malaysia. Then on Saturday, they rode 100 kilometres into the country side for an All You Can Eat Lunch. One Thai group of over 200 motorcycles rode together from Bangkok to Chiang Mai, about 600 kilometres in one day, with a police escort!
Two travelers who had probably ridden the furthest to Bike Week were Maarten (Netherlands, on a BMW 1150GS) and Kathryn Yore (England, on a BMW F650GS). They were doing a long ride, headed to Australia. Here I caught them sharing sanuk with three native ladies from one of the hill tribes.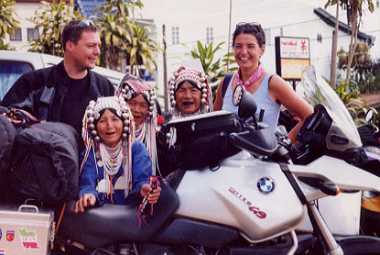 Two Thai's I met were 'adventure tourers,' Casper F. M. de Wolf and his wife Tulaya or 'Kung' (Shrimp). From their home in Lampang they had traveled all over Asia as well as Australia on their highly modified BMW R100GS.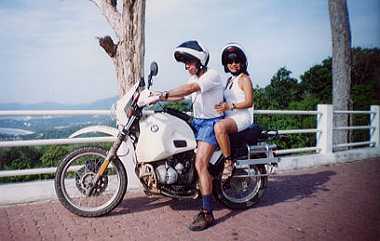 Everyone has heard of Thailand's Golden Triangle, where Burma, Thailand and Laos meet. Thailand is also famous for its cabbages, with millions grown in the North. A Thai entrepreneur, concerned with the spread of HIV, wants to make condoms as popular as cabbages in Thailand, so has opened three Cabbages and Condoms restaurants and souvenir shops. His business card from, the Chaing Rai shop, says 'Our Food Is Guaranteed Not To Cause Pregnancy.'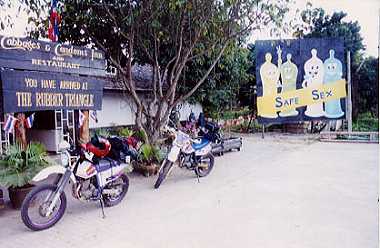 I will return to motorcycle in Thailand, Laos and Burma (where I got kicked out of this time). There are still 1,000's of kilometres of jungle trails and small roads I can ride, the price of travel is inexpensive (US$2.00 per gallon of gas, US$10.00 for a upscale hotel room, except in Bangkok, a full meal can cost US$1.00, and beer can run US$2.00) and I like the way the people smile and are friendly, and, of course, the sanuk of the culture."
Ted Simon, UK/USA, "Jupiter's Travels," around the world, again, in Colombia, R80GS Basic,
"January 16, 2002 - Medellin, Colombia
... The cauldron of my discontent boiled over on a busy road in northern Colombia last Saturday. As a result there has been a change of plan. The clavicle was a scary thing at first. Feeling bones moving about inside is weird. But now that I know what's going on, it's not so bad. What's really bad is the two cracked ribs. I coughed once, and that's it. I don't think I will ever dare cough again. And I'm learning to sleep sitting upright.
It's all my own fault. Nobody else was involved, unless you include the really silly driver I was overtaking at the time. I had no business doing it. He was one of those drivers who HAS to be in front. He went past me in his little silver Honda, and sat there, making it impossible for me to get past the slower trucks. We were on a busy, winding two-lane road with many big tarpaulin-covered lorries going both ways. Several times he took risks overtaking that chilled my blood, with his family in the car. Throughout my riding career I have made it an absolute rule NOT to get involved in games with such drivers. And yet, this time I took him where I know I shouldn't have. The curve tightened, and I had that split second of remorse when I knew I wasn't going to make it. Then I was off into a concrete gutter. The driver must have seen me do it. Of course he didn't stop, but two other families, each with pick-ups, did. They were wonderful.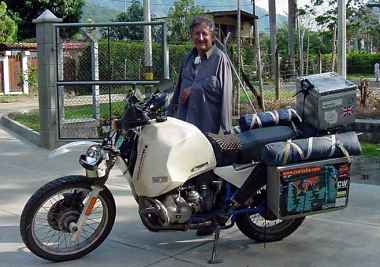 At first I was too shocked to move, and they were careful, until I could be sure I was still in one piece. I got the helmet off myself (it has ferocious scratches right across the visor) and gradually figured out I could get up. A lot of my stuff was all over the road - including all my tools, which are much prized in Colombia - and although there was heavy traffic, they got everything together, got the bike up into one of the pickups, got me a seat in the other one, and took me back to the small town of La Pintada where there was a clinic. Sergio Santisteban took me in his truck, and Lucelly and Nelson Montoya had the bike. They treated me as though I were one of the family, and when I finally got round to checking, days later, not a single thing was missing.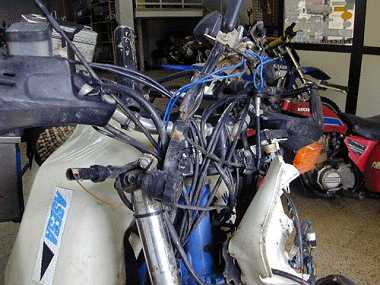 All the way up through Colombia I was worrying about guerrillas. I wish I hadn't had to have an accident to remind me just how good Colombian people are, as they are everywhere, of course. The rest is medicine. It'll take a few weeks, at least. The bike however needs surgery. The front will have to be rebuilt. The steering head was broken through, but the forks are OK. New disc, but callipers OK. New electrics and speedo. So there we are. One stupid move. It will last me a long time."
From Tiberio Jaramillo, Medellin Community,

"Today Jan 13 I received a phone call from Ricardo from Quito asking me if I know anything from Ted, my response was all I know was that he reported to me from Popayan (safe place) and he suppose to arrive yesterday (Saturday) to Medellin.

...he dropped his bike near Medellin in a town called Pintada, got picked up by persons and taken to hospital. Today he is in my house until tomorrow or a day after, he will be going tomorrow to a doctor that also is motorcycle rider and see what happens. I talk to the doctor in the small town and he told me that Ted has a dislocated clavicula and dent ribs, some minor cuts and lots of hurts, for me he seem well and nothing dangerous, the bike has problems in the front end, he has to sit for at least 2 - 3 weeks, we will see what we can do. Saludos Tiberio."

Help support the Horizons Unlimited E-zine - visit our sponsors! Please be sure you tell them how you heard about Morton's BMW!

Thanks!

Harald and Udo Lamers, the Bike Brothers, Netherlands, through Asia on Suzuki DR 600s, in Thailand
"Tigers and Transvestites - The border formalities at Poipet (Cambodia - Thailand) are easy and quick. The Thai custom officer is too busy with his lunch. So we have to fill in our carnets and then he will stamp and sign it. He is also not interested in seeing the bikes. Good. Could not all the border crossings be like this? Back in Thailand we drive to Ayutthaya, the old capital until 1767. Nowadays there are still a lot of ruins to see from that period, like Wats and Buddhas.
Heading south the landscape changes from rice paddies into palm oil and rubber plantations. The rubber trees are standing in line and have a little bowl attached at about 50 cm above the ground. They cut open the bark above the bowl and the white rubber juice is dripping in the bowl. We ask a man who is working at a plantation why our tyres are black if they are made from white rubber juice. Confused he looks at us but doesn't know the answer... In Khao Sok National Park we pitch our tent along a river and we try to remember when was the last time we camped. It seems weeks ago, too many hotels and guesthouses. We make ourselves a dinner and some coffee and go to sleep. With the sounds of the jungle as background music we fell asleep within minutes.
The next morning we get up early to make a hike. There are tigers living in this park and we hope to see one.
Khao Sok N.P. has one of the last remaining tropical rainforests in Thailand. It is warm and humid and within 30 minutes walking we are soaking wet. A narrow trail winds through the dense jungle. Some parts are very steep and we grab the roots of the trees to pull us up. We hear gibbons screaming and butterflies are circling above our heads. Harald finds a leech on his leg but he has already eaten. He torches the bloodsucker with a lighter. After a long day of hiking we saw only some lizards, a snake and a lot of ants. Then the next morning we see a tiger. It is on the tiger balm that we use on our legs to diminish the muscle pain...
The island Phuket is famous for its beautiful beaches and is therefore very touristy. We find a deserted beach to put up our tent. We make a nice campfire and dream away with the waves. The next morning two fishermen are passing and catch our breakfast.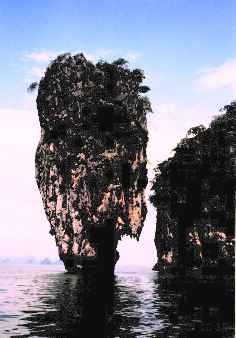 The beach cities are packed with hotels, souvenir shops, restaurants and bars. Macho beach boys with their sun BBQed bodies and fresh tattoos try to impress the Thai girls. Only dressed in shorts and slippers they make wheelies with the rented motorbikes and try to make burnouts. When we stop they make fun of us because we wear our helmets, motorbike jackets, gloves and jeans. But when we cruise along the boulevard of Kata beach with our mud covered DRs we have much more attention then the show offs. We stay here a few days to relax on the beach, do some sea canoeing to the limestone rocks and caves and make a boat tour to Koh Tapu, better known as James Bond island. This peculiar shaped limestone island became popular when they shoot the Bond movie 'The Man with the Golden Gun' here.
In Kata we meet our Danish friends again who are also travelling around the world. The first time we met them in Leh in India and later in Nepal. We go out to a bar and exchange our adventures. A beautiful waitress comes to us and asks with a heavy voice: 'What do you want to drink?' Astonished we look up and then we see that it is a transvestite. When we study the other waitresses we see that there are more of them. This is also Thailand...
On the road to Malaysia we pass through a dramatic landscape. From the dense green jungle, white limestone rocks rise into the air, like big zits. When we drive close to them we feel little.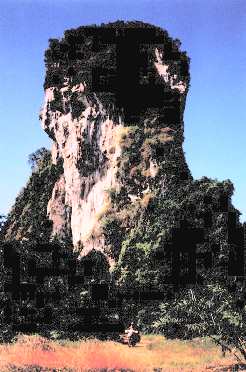 Over a 13.5 km long bridge (the longest in S.E. Asia) we arrive in Georgetown on the island Penang. A few days we are busy looking for a freight company that can ship our bikes to New Zealand. Then we need a whole day to clean the bikes to get rid off seven months dust and mud. The next day we go to the forwarder and crate our bikes. In four hours time we take off the aluminum boxes, front wheel, steer and manage to make a package that stays within 3 cubic metres. In three weeks it will arrive in Auckland, New Zealand. Until then we take a deserved holiday. But we will miss our mates..."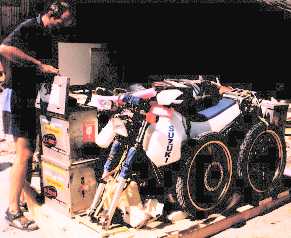 Glen Heggstad, USA, the Striking Viking, to Central and South America, in Peru, Kawasaki KLR650,
"The magical Andean scenery that unfolds before me on this route is foaming at the mouth spectacular. I'm grinning from ear to ear as I peer outward through my face shield at the sharp multicoloured canyons and towering peaks above me. For hundreds of miles in the distance in all directions no two viewpoints are alike. Each so astounding it leaves me breathless and in awe of beauty I never dreamed existed. This is what I came to experience in Peru and it is worth every second of hassle and discomfort.
... Up ahead I see a few small boulders in the road and some cut down trees being cleared which I easily skirt around with people yelling parro at me. At this point I'm thinking parro must mean obstacle of some kind, maybe a landslide up ahead. What the heck I'm on a motorcycle and should be able to get around anything.
Now I am encountering stones neatly arranged across the road about every quarter mile which I just run right over. People are not smiling at me anymore. There is a feeling of trepidation in the air but I can't quite figure it out.
Finally I reach a long line of vans and trucks with disembarked passengers milling about with worried looks on their faces. Once again I decide to slowly pass around them and now the crowd is passionately waving their arms yelling peligroso (dangerous) and parro. By now curiosity as well as a need to keep moving is driving me. They are very serious and I am very determined.
I made a decision after my ordeal in Colombia that I would never allow myself to be taken prisoner again and therefore would never stop at another road block. I know the consequences of this resolution and I don't care, I will never be taken alive again. When I saw the tree branches laying across the road and the boulders blocking the way with men standing ready on either side I said, here we go.
I kicked it down a gear and rode over the first set of tree branches in a hail of rocks and chunks of who knows what being pitched at me, all of it came close but nothing hit me. The first hurdle was a cinch but couldn't make it past the boulders as there was no space wide enough to get through. I am stuck and the mob is now storming toward me chanting parro and they are not happy. Once again my options are limited, there is nowhere to go, I must stand and well you know...negotiate. At least no one is shooting at me.
In moments I am surrounded by angry campesinos and by now figured out parro is something pretty serious. I also know the heart and soul of the campesino and they are good people and believe they will not harm me unnecessarily. They are going to give me a chance to explain. I ask them what parro means and they grumble in a rather gruff manner that parro is a road blockade, a protest against the government for high taxes and no voice.
A wry smile spreads across my face as I point to the camera dangling around my neck and bellow out, Soy un escritor! Y quiero escribir en su protesta. I am a writer and want to write about your protest. There is a murmur that drifts among the crowd that erupts into cheers and shouts of approval. They wait in line to shake my hand apologizing sincerely pointing to my tires.
An older man mumbles, Lo siento senor las espinas..., I am sorry sir the spines... as he hands me one of the thorny tree branches to examine. They did try to warn me he says. Meanwhile the kids are busy picking two inch long spikes out of my tires. I am hoping in vain that my tubes have been chemically treated to self seal around small punctures, there is no time to take my wheel off and screw with a patch kit.
Time is even more critical now as the tires could be leaking slowly. To keep the spirit of goodwill flowing I ask for a group photo to put on my web site to make them all famous to the entire world. They can't comply fast enough and moments later they are busy rolling boulders aside for me to pass. I incorrectly assumed this was the only blockade and calculate the time lost thinking I may still make it to my stopover before dark.
As it turns out, about every half mile another group of campesinos has rolled down boulders from the hillside above or cut down a huge tree that now lays across my path. The boulders were easy to get around by driving through or beside them but the trees across the road were a different story...
... The road ahead now leads straight into thick black clouds in the distance and the temperature is dropping fast. I barely have time to stop and suit up before the onslaught of marble sized hail starts firing down on me. I stop for a photo as the landscape around me is beginning to turn white with plummeting ice particles. It toggles back and forth between the painful hail stones peppering my hands inside my waterlogged gloves and blinding driving rain.
As the sloshy muddy trail begins to freeze up a light corn snow starts to fall completely concealing any ruts or potholes in the road. The sky is so dark I can't tell how late it is but I know there are still a few hours left until I hit shelter. My electric heated grips have malfunctioned so my gloves have iced up and my fingers are too cold and stiff to keep moving in order to avoid frost bite.
... My rear tire finally gives out and within seconds I'm riding on the rim wobbling all over the road. I could continue slowly but would eat the tire so opt for running next to the bike guiding it downhill toward the lights in the distance.
I can't explain how on this miserable stormy night the only other vehicle on this particular deserted mountain at this particular point in time had just happened to have finished unloading its cargo and was about to return to the city ten miles below but somehow it occurred. I guess I am just lucky?
The men inside were amazed at the sight of a lone biker traveling in these conditions and gave me a dry jacket to put on and helped warm me up. It took every bit of strength the four of us had to lift the bike up over our heads and onto the back of the huge flatbed truck but we finally managed to wrangle it into a position for the hour long ride to the isolated city of Andajuelas below. I love Peruvians."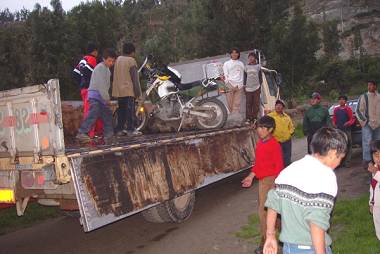 Grant March, Ireland, to Mexico, USA and Central America, in the USA, KLR650 in progress,
"I arrived in Dallas Fort Worth Airport after pleasant flight from Belize. The plane was a bit late and the usual worries when I ended up the last person at the luggage carousel waiting for one of my aluminium Bernd Tesch boxes to appear. A bit of a worry as tools, stove, sleeping bag, etc, etc were in there. Then I noticed a pile of stuff someone had taken off the carousel on the floor and sure enough there was the other box!
I went through customs. I came into the arrivals hall, and there in front of me was Les!
Les Hall is one of the guys who've made themselves available at Horizons Unlimited to assist fellow motorcycle travellers in Dallas, Tx. It was such a treat to be met at a strange airport in a new city by someone local. We went into town with Christie, his partner, and got gloriously huge burgers with blue cheese! Nice - after a month of third world Chinese and rice and beans in Belize!
All my stuff had arrived from the various dealers I mailordered in the US. More reports on that later. Looks good though.
I got quotes from a number of insurance companies and have opted to go with Progressive. See the HUBB for more details. I'm gonna see and buy a KLR 650 for US$4971 out the door with plates and everything. Other places were charging US$5600! There don't seem to be any 2001 models left in the showrooms.
So looks like tomorrow I'm gonna be mobile again. Having spent a month on foot in Belize you don't know how welcome this is.
My trip is only starting and already I feel it has been made by meeting Les and Christie! Thanks, Grant March"
Mika Kuhn and Damaris, Germany, around the world, in Australia, Tenere,
"11.Jan.2002 Back in Melbourne, Australia - Frankston, a bit south of Melbourne – I made it around this big island with the bike in one piece and the sun starts to shine again. New Years Eve we spend with friends near Bendigo, out in the country side with the typical Aussie BBQ. What about my shoulder ? The first diagnosis was wrong, the collarbone is broke as the x-ray showed after we arrived here in Frankston. But it started to grow together again, and I won't have any problems in maybe a month.
A few days before Christmas we were on the way to Adelaide thru a wonderful wine growing region, when something happened which is still hard for me to believe. While riding along I got two bee stings, from two bees in a distance of 20kms, into my right eyelid. Damaris twice had the nice job to get the sting out of the eyelid. I managed to ride to Gawler, 50 kms north of Adelaide, before the eyelid was completely swollen and I couldn't ride anymore. It took three days to swell down, and the tablets the doctor gave made me so tired that I slept nearly three days. Damaris took great care of me, but for her it was the most boring Christmas she ever had, on a campsite in Gawler.
But now it is time to leave, and we will go do a loop over the Great Ocean Road to Canberra and than back to Sydney. We travel from there on to South America, I did my 'homework' and we will probably fly to Buenos Aires in Argentina around mid February.
Since I have left my hometown Bochum on the 1.5.1999, I have done the first 100.000 km on the Yamaha Tenere, the odometer shows now 145.200km. I have come through 26 countries in Europe, Asia and Australia and I have met so many wonderful people, who made this first part of the journey possible. Thank you where ever you are, I won't forget you. And I know I will meet more fantastic people in the maybe 130.000km to come in South America, North America and Africa. I try to keep you up to date and I look forward to read about your life and your dreams. All the best Mika"

Help support the Horizons Unlimited E-zine - visit our sponsors! Please be sure you tell them how you heard about TinyStocks!

TinyStocks presents Highway Manager: the most complete and flexible gas mileage application for the Palm OS® platform, written by a biker for bikers. Keep track of your gas mileage, insurance payments, garage bills, hotels, highway tolls and whatever is necessary. Statistics, charting function, multi-currency, and more... So, got a Palm OS device? Why not take it on the road?
Thanks!

"We came across the border from the Botswana town of Kazungula. The Botswana customs were on one side of the Zambezi and the Zambian customs on the other, no-mans land being a ferry ride between the two.
With the rainy season well under way, Zambia was impressively rich with greenery which contrasted with the bright orange soil. The first noticeable difference between Zambia and Botswana was the roads! Pot holes would be better described as small craters which made for an interesting ride to the pick up point to Jungle Junction.
We were taken to a little village of no more than fifteen huts and Rondavels on the banks of the Zambezi and introduced to the guys who would be poling us, in Mokoros, (dug-outs) across to the island. The dugouts were original hand crafted vessels and the feeling of instability as we moved across the fast flowing water, for me still dressed in moto-x kit, was a little unnerving. Swimming I don't mind, all our kit was in waterproof bags but the Alpinestar boots would make for a hair-raising doggy paddle. Lucy sat in another Mokoro behind us looking a little more relaxed - having sensibly changed into her shorts and flip-flops!
The island on which Jungle Junction is found is sub-tropical and so covered in dense forest. Our hut was on a bank facing onto a shaded stretch of the Zambezi, with its own hammock swinging over the water's edge. As we sat on the end of our mosi-net draped bed looking out on our private view of the river, a small monkey plonked himself on a low branch in front of us. He tucked into a piece of freshly fallen fruit and then hurried off into the branches to find his next course.
We took a stroll round the island and discovered hidden huts and isolated hammocks at the end of each path - obviously Jungle Junction was built for pure relaxation! Fortunately the island is only a few hundred metres long, keep walking and you'll find a landmark eventually - otherwise it would have been very easy to get lost in the tangle of small, overgrown pathways. Before long we found ourselves, needless to say, in the bar - a thatched open-sided structure with a similar hut adjacent to it providing a dining room and a smouldering campfire between the two. This was to be the setting for Christmas and New Year and a finer location we couldn't have found.
... A final farewell dinner with friends turned out not to be the last - one island occupant after another went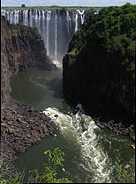 down with malaria, including Goose! Fortunately the Lariam we are taking reduces the symptoms and with the right medication, he was almost fully recovered after only a week. While Goose took it easy I went off for a whitewater-rafting trip down the Zambezi. This was one of those compulsory sport activities - 'you haven't seen the Falls properly if you haven't gone rafting!' - and also one of the more nerve-racking and exciting experiences of my life! Our day's rafting took us over 21 rapids, all bubbling viciously with waves up to 10ft high and dips and whirls pools that left your stomach behind. Each rapid had a name that was meant to give you some idea of what to expect - and with names like 'Stairway to Heaven', 'The Washing Machine' and 'Overland Truck Eater', not much is left to the imagination! At the end of the day, feeling bruised, battered and with aching limbs we parked the rafts up on a small beach with a sense of achievement and a sigh of relief - until I realised that we still had to climb the 700m out of the gorge!"
Andy Miller, UK, around the world? in Australia, KTM Adventure,
"... Before I left the UK I posted a request on the HorizonsUnlimited web site for travelling companions. I had a few replies, one of which was from a guy called Richard Watton. We never met in the UK, but just by coincidence we bumped into each other in southern Iran, only recognising one another by our email addresses. Small world! We kept in touch, now he is in Perth with me, just waiting for his bike to arrive from Kathmandu.
... Had no problems with the bike so far, I have just serviced it and put a new rear tyre on. Front to go on before heading off road, did have a small oil leak from the rocker cover this seems to leak every 10.000kms for some strange reason. Also sent a large parcel home but still seem to have too much gear.
Alice Springs... The journey from Perth was ok. Well sort of. It took 5 days, 2 days on tarmac, the other three on dirt. This started at Laverton. Up early to get to the next town, some 522kms, Warburton. This was the first over night stop. The last 150kms of road was not good deep corrugations and soft sand making progress very slow... the last few days have been 39-41 degrees... we had just 350 kms to do but it was the hardest yet deep sand, washouts and some creek crossings. These proved hard for Richard falling off twice. Lucky for him they were dry as 6 weeks ago the area had 121mms of rain in 12 hours. The guy at the weather station showed me some photos of people stuck in a 4x4. One having to be moored to a tree. Only days later could it recovered by tractor. This will explain why the desert is so green. As we reach a crest of a hill on gravel road only to see sand for as long as the eye could see.
As to the Olgas ahead was worth it but still not over yet as the road still had bad corrugations and soft sand. It's here I nearly fell off. The last 5kms were hell, then after three days off road we enter tarmac. Oh joy ...Now it's getting cold, 20 degrees and overcast, but no rain thankfully. I am in a town called ALICE.
Once settled at camp I called a guy I met at Susan and Grant Johnson's open house weekend in Slough last year. His name is Geoff Kingsmill. It's Geoff and his wife I have to thank for their hospitality and also responsible for scanning the photos you see. From here I will be heading south to Coober Pedy and onto the Oodnadatta Track heading towards Melbourne to catch up with friends and family. This is not the end but then off to Tasmania - Melbourne - Canberra - Sydney etc then NZ. I would love to continue to Canada. This would make sense as the flight home would be a lot shorter. Cheers Andy."
Ed. Sounds like us rationalising going from South Africa to Canada by way of South America - 'it's on the way, sort of'. He's definitely got the right idea...
Peter and Kay Forwood, Australia, around the world since 1996, in Mexico, on a Harley Davidson,
"'25/01/02 The last two nights have been spent in 6 hour rooms, although most people seem to stay less than one hour. These purpose built 'hotels' on the edge of towns have off the road parking, next to each unit with curtains to hide the vehicle, its number plate and identity of the occupants while they indulge on the king-size bed, with air-conditioning and Playboy channel on the TV. For a small extra charge the room can be rented for the night, by truckers or travellers, a cheap comfortable alternative to an inner city hotel. We headed south west to Torreon through desert mountains in crisp sunshine. The poor sandy soils filling up open valleys for minimal agriculture. The white Mexican hat popular around towns with its more tattered version worn while on horseback rounding up cattle or goats. At Cuatro Cienegas there are numerous warm to hot pools bubbling up out of the desert floor and harbour unique species of fish and turtles.
26/1/02 The government run and owned Pemex petrol stations have a fixed price throughout the country, at about twice that of the USA. This keeps poorer people travelling on busses but doesn't seem to slow the wealthier car owners down. Toll ways or simply toll town bypass roads can inadvertently add considerable costs to travel. Motorcycles, with two axles are the same price as cars, and dearest we have encountered. Adding up the cheaper food and accommodation costs and offsetting that against dearer petrol, visas, motorcycle entry, internet, and not having people here to stay with, Mexico looks like costing, for us, abut the same as the USA."
Peter and Kay have travelled to over 100 countries in Africa, Asia, the Middle East and Europe. Horizons Unlimited is proud to host all their stories on our site. Fantastic stories and pictures!
Harvey Gordon-Sawyers & Lisa Roberts, UK, Round the World, waiting for parts in in Goa, India, Harvey on a BMW R100GS and Lisa on a BMW R80ST,
"We spent a couple of evenings with Kirsten, Chris and Bob, swapping stories and experiences and discussing plans for the next weeks and months. It was great to finally meet up with them and to hear all about coming through Iran and Pakistan. They are on two old Triumphs with black leathers, soft luggage, open faced helmets and goggles - so they really look the part! They left a couple of days ago heading south so we may catch up with them again on the road somewhere - if we ever get going.
We've been doing some serious work on our tans and I've even bought some beach clothes - but I think Harvey looks better in them than me (his comment - 'I never realised just how comfortable skirts are...'). I'm sorry the picture is a little blurred but I really was laughing so hard I just couldn't keep the camera steady.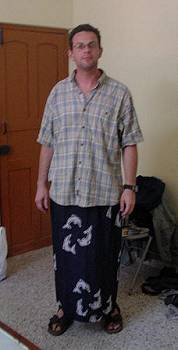 And so to the day the parcels came. We skipped breakfast as our landlady seemed to be out and we were determined not to miss the delivery if it came. I went to the internet café to send off some enquiries to shipping agents about flying to South East Asia... upon our return our landlady appeared waving not just one but two bits of paper - the parcels had arrived.
Grabbing a large wodge of cash just in case (import duty here is apparently one hundred and fifty per cent), we sped off to the post office. We unwrapped the parcels as if they were Christmas presents, but only really looked at the bearings - two such small insignificant looking things which had been the cause of so much upheaval.
Riding on the crest of our victory wave, we decided to have a first crack at putting it back together. We cleaned up all the nuts and bolts, the corrosive powers of Coca Cola coming into their own again, greased them all ready for action, and prepared ourselves for the long haul. After a couple of minutes of waggling and remembering just how heavy the rear bevel drive housing is when you're crouched under the bike something went 'click' and it all slotted into place. Not quite believing our good fortune we quickly did up the bolts which hold it in place and breathed a huge sigh of relief.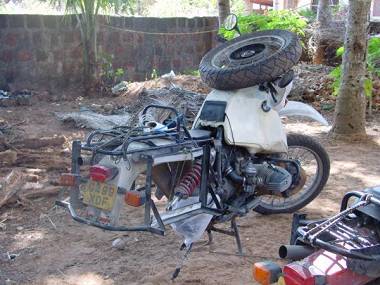 On our way back from dinner we stopped to watch a badminton tournament being staged at the side of the road - complete with crowds of onlookers and a mega loud PA system. After only a few moments we were plunged into complete darkness as the power for the whole street switched off. Merrily everyone went about their business, some fired up their mopeds and went for a quick spin, others sang and catcalled while the players continued hitting the shuttlecock back and forth in the moonlight. Happily we went on our way - this is truly a unique country and soon we will be out there in the thick of it - exploring! "
Mariola Cichon, USA, aiming to be the first American woman to ride around the world solo, in Bolivia, KLR650,
"The 50 miles long road to Coroico begins in La Paz, which sits at nearly 4,000 meters. This road is listed as the most dangerous road in the world by the Inter-American Development Bank. It happened in 1995, after 26 vehicles went over the edge of sheer 1000 m drops a year before. According to the local people, a bus with 150 people went down this year. Negotiating many deep washouts created by streams running of the vertical walls, waterfalls, mud holes, and sections wide enough to hardly accommodate a car would have made it as dangerous as climbing outside walls of Sears Tower, blindfolded.
To help prevent accidents, first, the down traffic has a right of way. This means vehicles traveling up having often to back down toward a wider section. Second, the traffic is left sided. I learned that quickly when almost crashed with a truck turning a blind corner. The driver was angry, and for a good reason. I was on the wrong side of the road. I had to abandon staying close to the walls and move toward the edge! This was very unnerving. At one particularly nasty turn a solitary figure signalled me with what looked like a large green ping-pong racket. At first I did not understand. What does this man want, I thought. Then it dawned on me: traffic light! It turned out later that in 1998 this man lost his entire family to one of the worst bus crashes on the most infamous stretch of the road. Ever since that day he sits in a small hut on that very corner and provides safe signalling for oncoming traffic...
P.S. A new, paved road to Coroico and behind is currently under construction."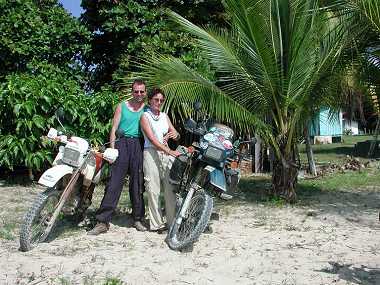 Werner Zwick, Germany, South and North America in stages, in Panama, Honda Transalp,
"Two weeks ago I flew to Quito, Ecuador where I stayed at Casa Helbling again and met Ricardo Rocco, who had hosted my Transalp since my last trip, and also Lew Waterman and his little dog Punky. For two days I searched with the help of Ricardo and some of his friends for a way to fly my Transalp to Panama City. Colombia is too dangerous to travel through right now. There is only one company that offered to fly a motorcycle. SAR Cargo. They charge 550 $, flat fee, the size does not matter at all. The bike has to be without gas, oil, the air has to be out of the tires and the battery has to be dry. I just disconnected the battery, and forgot to drain the oil. No problem.
When getting the papers I did not check that they did not specify the flight date. This became a problem later on.
On Monday I delivered my Transalp to the warehouse at the airport, put it on a metal palette, which was provided, and paid the 550$. It was agreed, that it would fly Tuesday morning to Bogotá, reloaded on a different plane and arrive in Panama the same day.
I bought a ticket to Panama and flew there on Tuesday. The heat of 35 degrees was shocking, but the Hotel Montreal has air-conditioning and a rooftop pool. Wednesday, I went to the airport to pick up the bike, but it was nowhere to find. They promised me that it would arrive in the evening. I should call mañana.
That gave me some time to visit the colonial part of the city, which has badly deteriorated and is also dangerous. But some buildings have been restored to their old glory, and more restoration is under way. Thursday, I called the cargo airport; my Transalp was not there but would arrive for sure in the evening.
More time to visit Panama City. There is a beautiful causeway, linking four islands in the bay to the canal area. The view to Manhattan like Panama City is nice and open-air restaurants serve good food.
Friday I took a taxi to the airport and guess, the bike was not there. I would not leave the office until they could tell me where it was. I was ready to go to the police because I thought it was stolen. When I told them that, they started to call their head office in Bogotá, but no Transalp there. The guys in Quito said they had sent it to Bogotá. Then somebody said, that it's on the way to Bogotá. Very sure. I verified that later and it was true. It would come with the next flight, which was scheduled for Tuesday evening.
This gave me some time to visit the Miraflores locks on the Panama Canal. They are impressive, 305m long, and 33,5m wide. Saturday, I went to Portobelo on the Caribbean coast. In this tiny village, the Spanish conquistadors collected all the treasures of their colonies and sent them to Spain once a year with the armada. Always attacked by pirates. There are some small fortifications, a restored customs building and nothing else but a small village and some fishing vessels now.
Today, I went to the airport again, and believe it or not, I got my Transalp. Everything was there, I could ride away after some pumping of the tires and connecting the battery. Tomorrow I will leave Panama City and start my journey north. Hasta luego, Werner"
More stories and great pics by Werner in the Travellers Stories.
Chris and Erin Ratay, USA, around the world, in Ushuaia, Tierra del Fuego, two BMW F650s,
"Sunday, Dec 30th: It's about another 20-kilometer ride from town to get to Tierra del Fuego National Park. The road is just as dusty as the one into Ushuaia. We find the campground at Lagoa Roca where all our m/c friends are supposed to be. Jason is there with some other riders he met: Marcel and Peter from Switzerland, Werner and Harriet from Germany and Holland respectively, and Johans from Austria (who we met in Rio Gallegos). That night another guy named Carl from Alaska also turns up, although he is staying in a hostel in town.
We pitch our tents and relax with the rest of the group. The scenery is spectacular here with lush forest, steep snow-capped mountains, and tons of wildlife around. Black rabbits run around the campsite while native geese and falcons grace the skies.
Monday, Dec 31st Around 2pm, 4 of the bikers head out to an estancia on the other side of the mountains (100km away) for a big all-night party. We intended to go out to join them, but at 7pm as we loaded up the bikes, it started to rain (and didn't let up until morning). Frank had purchased a couple of bottles of champagne, so we thought we'd have a nice quiet evening with just the 4 of us. Around 8:30p, the 2 Germans Alex and Annette pulled into camp, followed a few hours later by Alberto, who brought with him Chris from Canada and Aike from Finland. The owners of the campground were throwing a party for their family/friends (about 30 people), and we were all invited inside to join them for a terrific asado dinner (Frank is loving all this meat!). Dinner didn't get served until after 11pm (real Argentine style!) and we danced until about 3 in the morning..."