Plan where to be when!
If you know of any events of interest to travellers, send me a note.
December 25, 2001, and December 31, 2001 - Christmas and New Years Eve!
Send in some pics of the Christmas and New Years celebrations form wherever you are and we'll post them in the next issue of the ezine!
International GS-meeting, Easter weekend - 29/03 to 1/4 2002, Belgium
"Beautiful location in the heart of the Flanders Region. Meet new GS-people coming from around the GLOBE. New accommodation with more camp space, big tent, local beers.
Where? Hoeve Lorette Rudderveldstraat 7 9600 Ronse Belgium Tel. +32/ 55.21.19.26"
For more info: Website or email.
Canyonlands Motor Classic - Street legal motorcycle rally in Moab, Utah, May 30 -June 2, 2002
"We are now officially an Adventure Touring/Sport Touring rally. This year looks promising with lots of interest already thanks to a write up by Dr. Greg Frazier in Rider Magazine. We fully anticipate 150 riders this year. There will be just as much to do for an ST1100 rider as there would be for a KTM rider. Gino"
More info, including places to stay and maps.
Third China (Yinchuan) International Motorcycle Tourist Festival June 12 - June 15, 2002
Interested? Info is sketchy at best, but here is what we have so far - if you learn any more please pass it on.
GET YOUR WEB SITE LISTED in the LINKS section by listing Horizons Unlimited on YOUR web site, let me know you've done it by mailing me a link to the page, and you may get listed here in the next newsletter and on the Horizons Unlimited web site Links page. To make it easy for you, we even have our logo and link code here!
All sites will be considered for listing, but must be a MOTORCYCLE or TRAVEL site, useful or of interest in some way to travellers.
Links will be rotated regularly as needed.
Lever and Fulcrum Across Russia, great photos and story, new book just released.
Paul Pratt 1961-1974 North and Central America, 1966-1979 through 48 countries in Latin America, East and SE Asia, Middle East and North Africa, 75 countries in all. Lecture programs and a book are available.
Jose and Jaime Garcia America en moto - Alaska á Ushuaia, 2000-2001, en Espanol solamente.
Sounds of various 50's & 60's Honda street bikes as well as some of the wild GP bikes like the RC162 & RC174.
There are many 'Helpful People' listed on the Links page, a huge thanks to all of them. How about you? Or you can join a Community, or start your own!
Do you know of a good shop 'on the road,'
in other words somewhere there isn't a large number of shops? (Also of course any shop that specialises in travellers equipment and repairs is of interest.) But we're particularly looking for those rare items, good repair shops in South America, Africa and Asia etc. Please post your info in the Repair shops around the world Forum on the HUBB.
Submit your tips and questions here, anything goes! Got a great idea for travellers, found a new solution to a problem? Send it in! If you're having a problem, just ask, there's a lot of people with a ton of experience out there to help.
An interesting collection of links to tech articles at WebBikeWorld
In response to last months note on Leaded fuel and new bikes requiring Unleaded...
From Carlos Jorge Paixão Martins, Portugal,
"I've found an interesting article on the net about oxgen (lambda) sensors. It's a transcription from a Bosch 'Reporter, Oct. 98' publication and you can see it here.
It confirms that 'the sensor may fail prematurely if it becomes contaminated with lead from leaded gasoline...'
In another article here there's info on some specific Bosch LSU lambda sensors (page 10). Quoting 'The sensor is designed for a life-cycle of 160.000 Km. The life-cycle is less if it is used with leaded fuels.'"
I (Grant) read the articles, and my take is that it wouldn't be a catastrophic failure, but a gradual deterioration ending in poor running, with rich symptoms such as stumbling. The sensor can be easily replaced according to a local BMW dealer. The catch: it's CDN$392, or US$243.00. Not a cheap spare part, but you will definitely need it eventually, so perhaps the best is to just carry it. There is a possibility that you can get a generic Bosch part for much less.
Anyone have any more on this? I know there are lots of inquiries, but no one has been able to get a definitive answer from BMW yet that I know of.
When you meet people on the road, and they haven't heard of this ezine or the website, we'd appreciate it - and hope they would too! - if you get their names and email addresses and send it in to me, or better use the recommend form available on most all pages of the website.
Thanks, Grant
"gidday people, I will have to leave my bike in either the USA or Mexico for more than 12 months. Any idea if this could cause me some trouble with customs authority in any of these two countries? It will not be moved during this period of time and as I am currently travelling on a carnet I could extend it if necessary. Cheers, d"
"Hi there, I will be starting my trip in mid Feb next year. I plan to head south to Morocco, Mauritania, Senegal, Mali, B.Faso, Ghana, Nigeria then get across to Kenya (still need to figure that one out) down the east coast of Africa all the way to South Africa. I am looking to travel with others or to meet up with people along the way. Cheers, Bigmac"
"I will be going the first half of January 2002. I am a local and need company. Does anyone want to join me? Saludos, Felipe" email Felipe
"I am currently travelling from British Columbia, Canada to Ushuaia, Argentina and then back up to Rio de Janeiro, I hope to arrive there about the middle of February and was wondering if anyone had shipped a bike from there to the US the Florida area is best but any southern area will do."
"Hey People, I am planning a NYC to Brazil (Salvador) bike trip this Feb. 2002. I will most likely go one way and was wondering if shipping the bike back from Salvador, Brazil is possible. Any ideas/info/cost ? Thanks - Patrick"
---
Plenty more questions and answers on the HU Bulletin Board! We've just gone over 1100 registered users on the Board, which I think is pretty amazing, and gives a huge resource of knowledge and experience to help you with anything you might need to know.
A shirt that never needs washing? From Nick Horley, in a HUBB post:
"For Christmas I got a Pearl Izumi X-Sensor T shirt from wiggle.co.uk. It's intended as a base layer for activities which make you hot. In addition to all the usual moisture-wicking and quick-drying cleverness, it claims to be made of 'X-Static silver based antimicrobial fiber [which] naturally deters odor-causing bacteria'. Plus, the 'thermal conductivity of silver regulates the temperature throughout the garment.' Well I've been wearing it for 5 days, with and without deodorant, and it makes sweat patches disappear as if by magic, and still doesn't smell. Plus it weighs almost nothing and packs down to naff-all. I'm very impressed. But it does cost 40 quid. I have read that Salomon also make clothes from this X-Static fibre."
And on a more serious note - from a HUBB posting by Fireboomer:
"I work as a fireman on the ambulance in Belgium. I have had lots of discussions with people about protective clothing and the helmet. Those riding around in T-shirt always end up with the fact that it is their choice and their body and blablabla....
I can assure you, summer season here means daily having to go and help a biker that took a fall or was hit by a car.
If you choose to save money on your protection then do so, but realise that your changes when you hit the tarmac are being reduced to zero. If you survive we can literally scrape you off the tarmac. It frustrates me like hell and I feel little sorry for those that fall without appropriate protective clothing.
It is, as they say themselves, their choice. Get smart, protect yourselves and survive in one piece! Get a decent helmet and appropriate clothing."
Buying a bike in Chile - in the South and Central America and Mexico forum of The HUBB, by Arlen Aas.
"I'm from US. Bought a KLR650 in Santiago. Simple. Registered it there in my name. Chilean plates. Need to get a RUT (social security number there) it's free and easy to get. Once you have RUT, go buy a bike. You can't believe people who say you can't do it. They haven't tried. Anyone can Email me and I'll give you more details such as people who will help get the RUT. Also have dealer email who has good supply."
From Seamus Mullen,
"I don't know if this is anywhere on the HUBB, but Guatemala is by far the best place to get parts, particularly tires. Tire prices were half that of Mexico and Costa Rica and tires were virtually impossible to find in Honduras and Nicaragua. For people considering bikes to ride through Central America, though it wouldn't be my choice, the Suzuki DR650 is by far the most common dualsport."
---
Request for info
Wouldn't YOU like to know all about the border you're approaching - what it should cost, paperwork required, 'tips' needed, and who to talk to, etc.?
When you cross ANY border, take some notes, and pass them on to us. Thanks!
Shipping
There is now a Shipping page on the site. It can be reached directly or from the Shipping link on the Trip Planning page.
If you have any information to contribute, there is a form at the bottom of the page which you can submit and we will put it on the page. Thanks!
Travel Advisories:
The Foreign Office in London's Travel Advice Unit advises against all travel to all sorts of places. Check out the listing before you start!
The US State Department has issued travel advisories, information and/or warnings.
Daniel Todd, USA/Puerto Rico, second around the world tour, in Indonesia, KLR650,
"Sometimes I feel like I'm riding a new frontier on the SE Asia Overland Trail. Indonesia is now wide open and no special permission or political connections are required like only a few years ago. Viet Nam is now also possible if entered in the North on Highway #8. Even Cambodia is possible since the border with Thailand was opened in 1998. Prior to this, the border was home to some to some of the largest and most miserable refugee camps in the world, a legacy of the Khmer Rouge revolution. Since all of this was fairly unthinkable only a few years ago, it feels great to be here on two wheels!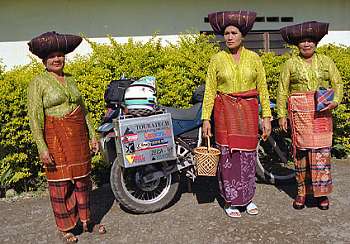 One of the best chill-out places in Sumatra is Bukit Lawang, the Orangutan Rehabilitation Center, on the edge Gunung Leuser National Park. It is a wild and enchanting place with a dense jungle and the fast- flowing Bohorok River. Most of the 'village' is built on the riverbanks and many of the guesthouses are built on stilts, out over the river. This provides a very rustic and romantic environment while sleeping or eating with the sound of the river gushing below the floorboards!
So what exactly is so remarkable about watching the Orangutan in its natural environment? It is certainly so amazing because they have the most human-like gestures of any mammal on our planet. To watch them play and muck around, well, it's an odd feeling to see a little of ourselves in their behavior!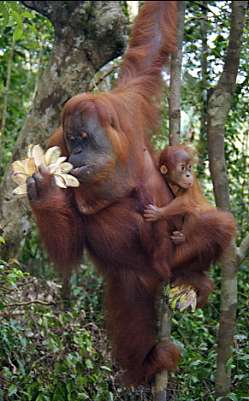 The raw beauty of the Lake Toba Area was drawing me back because I had only ridden the East Side of the lake the prior week. While descending into the caldera of the dormant volcano I found Angela Brandl admiring the spectacular views as well. After months of email contact, we had finally met by chance! An enthusiastic conversation and photo shoot followed.
... A two-hour journey on a car ferry landed me on Javanese soil and the driving conditions became even more horrific than I had anticipated. Local driving conditions are usually dictated by demographics, which was easy to confirm here in Java where 60% of Indonesia's 204 million people live. I slept just outside Jakarta and started my journey at 4:00 in the morning to get into the center of the city before the morning rush began. At 7:00 the gridlock was so bad that I was waiting at some of the traffic lights for twenty minutes. Sensing a nuclear meltdown coming from my engine, I shut it down and pushed my bike to the side of the road and watched in awe as the same traffic kept its position for a whole hour! At 3:00 I arrived at the backpackers haven of Jalan Jaksa Street. It had taken me eight hours to travel 25 kilometers! Would this qualify as the world's slowest motorbike journey on pavement?
The following weeks intensified as thousands of protesters hit the streets burning American and Israel flags. Between 1,500 and 2,000 people surrounded the US Embassy every day just two blocks down the street. The area around Jalan Jaksa was particularly bad, as fundamental Islamic groups knew that most of the foreigners were staying here. The Indonesian Police were doing nothing and foreigners of all nationalities were leaving Indonesia or heading for Hindu-occupied Bali.
I figured it was about time for me to pull chalks, not so much because of the situation, but because I had already done 25,000 km in SE Asia and needed a rest anyway. My bike received safe refuge on a Military Base and the family that received me whisked me off to the airport. Because so many flights were being cancelled, I waited in different airports around the world for seven days before getting home. Like many others, I felt angry, confused and frustrated.
But I made it just in time: the first week I got a call from my mother telling me that my father's cancer was back. After a two-year battle with the upmost of hope, I lost the man that had led me down the road as an overlander and taught me everything else in life for that matter. I spent my childhood years following him around the race circuits while he was winning titles in almost every kind of off-road competition, especially hill climbing. One year he took first place in 21 of 23 competitions. Later he became a pro photographer and constantly offered tips on how to document a two-wheeled journey around the world. The last letter that I ever received from him said, 'What a privilege all of you have to freely roam the planet with your motorbikes and cameras'. 'Ride hard while you have the strength, energy and desire to do it... When you roll to a stop and look back, you will be glad you took advantage of the opportunity when you could' -Thomas Todd.
Please be aware that my website www.worldmotobiker was down for a while and that it is now back on line with lots of updates coming soon, Daniel Todd. PS, looking forward to hooking up with others in Australia this month!"
Frank Campbell, USA, Europe to Hong Kong, over 12,000 km on a BMW F650,
"Along my motorcycle career I have crossed my share on international borders. If I could sum up my experience it would be: Expect the unexpected. But nothing in my know-how quite prepared me for crossing from the People's Republic of China (PRC) and the Hong Kong Special Administrative Region (SAR). I am primed to ride through pothole-ridden roads, mud fields, bull dust and other natural disasters. Riding through crowded train stations, mechanical escalators, security checkpoints, and store rooms was not quite in my bag of tricks.
Queuing up astride a full-size motorcycle at immigration and customs lines along with 100,000 weekend Chinese shoppers hauling baskets, carts, boxes, and bawling children was colorful to put it mildly. The phlegmatic Hong Kong officials (no doubt a remnant of their British predecessors), hardly gave my motorcycle a glance as I handed my documents and continued to straddle walk the bike to the next counter.
My 'ride' across the Lo Wu station came to a sudden dead end on the second floor of an extremely crowded waiting room on the HK side. Not only was there no way to get downstairs, but also once there, my bike could not have been legally ridden in Hong Kong roads anyway. You see, Lo Wu is a busy pedestrian only border crossing that leads into a railway station where you catch a train to Kowloon. Motor vehicles cross at Man Kan To, a few kilometers away. Whoever issued my permits in Beijing obviously had never been in this part of the country and had not a clue what to expect. But the law is the law, and at Lo Wu I crossed. Of course, the short ride entailed far more pushing, shoving, muscling and givi off-on drills to fit through narrow passageways than actual motoring. Had it not been for those extremely helpful and resourceful Honk Kongers at the train station, who got my bike to ground level on a elevator reserved for casualty (emergency) patients, I would still be waiting. And having very ill thoughts of those who issued my permit and of their progeny several generations removed.
My helpers summoned a truck for the final 50 km to Kowloon. The short ride to meet my transport nearly ended up in disaster as I faced a huge lorry (that's truck for you) entering the station against the traffic. But no, wait; I was the one against the traffic. Hong Kong may have been handed over to China, but at the core remains veddy British, including driving on the wrong side of the road. My 650 had just completed 12,068 kilometers from Munich and wanted to roll triumphantly into Hong Kong. Well, you can't win them all."

Help support the Horizons Unlimited E-zine - visit our sponsors! Please be sure you tell them how you heard about Morton's BMW!

Thanks!

Glen Heggstad, USA, the Striking Viking, to Central and South America, kidnapped in Colombia, Kawasaki KLR650, 9 December,
"November 6, 2001,
While enroute from Bogotá to Medellin, Colombia on a desolate stretch of the Autopista, I was stopped at a military style roadblock by a group of heavily armed young men in black uniforms bearing Chinese assault rifles. (AK-47) I was ordered off my bike with shouts and gestures with their weapons.
For a brief moment, I considered making a run for it but several gun barrels jabbed in my body and seeing others with radios changed my mind. There were more ahead and behind, the moment I had been dreading had arrived.
My electronic equipment was immediately ripped off my handlebars and saddlebag contents searched and tossed into the roadway. They were shouting, Ropa Ropa (clothes). I wasn't sure what they wanted. I still did not know who they were and thought maybe I was just being robbed and they were going to send me off on my way without my clothes because they were stuffing some clothing in a sack.
Suddenly the leader yells, Vamos and thinking he meant to get on my bike and leave, I started to do so. This really pissed him off and it was back to the gun barrels in the ribs. What he meant was, we are leaving together.
At this point, it's apparent this is not just a robbery as they motion for me to accompany them behind some deserted buildings. I am convinced it is execution time and my mind is racing for a way out. There is none. My only option is to stone wall and try to take it in the street.
Observing the rage in their eyes, it was my belief that they wanted me behind the buildings for fun and games before blowing my head off. If I were afraid to die, I would not have chosen to do what I was doing. I was well informed of the potential hazard in advance, but I did not want to die and be left in some distant jungle where no one would find my decomposed body for years. I owed my loved ones more than that; they would at least get a body back.
There was now a bus also stopped next to my bike and the terrified passengers would be the witnesses I needed to tell what happened. I was out of options. I had to force their hand. I would have a say so where I spent my last moments on earth.
No quiero ir! I don't want to go! The shouting increases and they are furious at my failure to comply. The force of the jabbing increases substantially but I have made up my mind. Me no voy! I'm not going! The situation is totally out of control and everyone is shouting more and louder in languages neither understands.
The leader levels his machine gun at my face from ten feet. I snarl back, do it here! The leader lowers his weapon and withdraws a 9mm pistol, chambers a round and points it between my eyes. I scream out, Get it on punk!
I close my eyes just before a deafening crack rips through the air. I've never been shot before and don't know what it should feel like. For a few moments, I'm not sure if I'm dead or alive. Nothing is registering in my brain and my body is frozen.
The bullet cleared my head intentionally and he now takes careful aim at my arm. I realize they want me alive and that I am going with them, with or without a gunshot wound in the arm.
I look over at the bus. The passengers are also frozen in horror. Some are crouching, some are crying and some look the other way.
I somehow manage a stiff legged walk toward the waiting jungle and unknown fate. The bus is being flagged on and ordered to get moving as I glance back over my shoulder at them, pleading with my eyes, tell some one.
As I depart from the roadway, I see the other guerrillas busy concealing my bike in the empty building in an effort to hide what is occurring.
More shouting to get moving, my legs barely respond to my commands as I slowly lower my head and silently disappear into a solid wall of green. I have vanished without a trace.
Thus began my five-week test of endurance, battle for survival and struggle for sanity. For more than a month, I would be marched deep into the remote jungles of the Colombian wilderness.
Nearly all the narrow trails are straight up and straight down, even when zig zagging we would have to side step down tiny footholds at a time. Most of the hiking was in the drenching rain and indeed, some of it on my hands and knees chanting into delirium, I will survive.
I had no contact with the outside world and the language of my captors was in a dialect I barely understood. I know I can make it through anything but my greatest burden was concern for my loved ones at home who had no clue if I was dead or alive.
For the first few days I knew everyone would be nervously grumbling at my lack of communication, by day five, there would be no question about it, something was drastically wrong. On day seven, I knew Joe would be one his way and he was. For three weeks he and a Colombian woman meticulously retraced my steps from Bogotá to the very spot where my bike had been stashed. They missed it by hours.
... During the course of my abduction, I did encounter other hostages, all Colombian and none of whom I was certain enough of to try and pass a message to. I was being bombarded with psychological head games and did not know whom to trust. A military man who was also held with me toward the end finally passed a message disguised as a mathematical equation after he was released. Up to that point, I was not sure if he was a plant or not.
I did encounter campesinos on the trail and I would greet them in front of my captors and joke around about how Americans vacation in Colombia. I hoped that those stories would trickle back down to some one, somewhere that I was still alive.
The details of my release cannot be revealed as others would unquestionably suffer and maybe executed. The actual events of what they did to me in the last five weeks, you don't need to know, it would only hurt you and make you cry.
Describing mock executions and what it felt like to mix insects with my rice to avoid starvation are things I don't want to remember at the moment. I started out weighing two hundred twenty pounds, I am now down to one seventy seven and with my beard, look about eighty years old. One thing is certain, I always come back stronger.
At the moment, I have only the clothes I am wearing and am waiting things out in a hotel in Bogotá. My bike and all my belongings are gone. No passport or documents. I can't go forward or backward.
For some reason, I have to remain in some ones custody until I leave Colombia. First, the Commandante of the ELN had to sign documents releasing me to the custody of the Red Cross, who then held me until a team of FBI agents flew into Medellin on an embassy plane and brought me to Bogotá.
... Throughout this whole ordeal, there was never a moment where I thought of coming home before finishing what I started, even if it took years to get released. It was a while convincing the embassy people of the same thing, but it looks like I may get a new passport reissued Monday if I behave myself.
Brad had already got Jimmy equipping a new bike to air freight to me before I was released. How else was I going to meet him in Panama in four months?
I get emails from people suggesting I have a death wish but I consider this an exercise in determination."
From Ricardo Rocco Paz, Ecuador, 'Around the World for Peace', 16 December:
"Dear Grant, I just got an e mail from Glen. He's flying to Quito Tuesday or Wednesday, so is his (new replacement) bike. I will try to pick him up at the airport and then help him get the bike out of customs. Everything should be OK. As for Lew Waterman and his dog Punky, he is recuperating all right from ankle surgery, and has two more weeks of recovery. I'll let you know when he'll be leaving Ecuador.
un abrazo, R"
From Glen, 22 December,
"Just wanted to say happy holidays and thanks again for your help. Am safely out of Colombia, although I did not want to leave. Now that I'm out, feel free to include my journal entry about the hostage ordeal if you wish. I hate to speak negatively about traveling anywhere, but it is something bikers thinking about Colombia should consider"
From Tiberio Jaramillo, in our Medellin Community, 22 December,
"That incident was not reported in Colombia, anyway the guy is alive and willing to keep on following the dream, those are good news.
You don't know how bad I feel about this incident, I work very hard to have motorcycle riders in Colombia, some times riders do not follow the basic rules and get in the wrong direction and that is what happens.
Hopefully the ELN is sitting on the table with the Colombian authorities for a peace talk, this is good news because this group may not be very strong as an army, these guys are real believers of their thing (left wing), this group does not kill for nothing, this ELN group is very smart and knows what to do in order to get something from authorities, I believe the humanitarian reason that they claimed for letting him go.
Anyway thanks in advance, hope this Christmas time will help me get over this news.
Too bad I do not have contact with guerrillas in order to try to locate Glens bike, the only thing I can do is to talk to bus and truck drivers, to ask around for the bike, maybe we can get information and find the bike, staying out trouble of course, the place where he was kidnapped is very close to home but no way I will get close. Best regards.
Tiberio."
Contact me if you hear anything about Glen's bike.
Newspaper Stories: Boston Globe, CNN, SF Gate, SF Gate, Outside Magazine
Lew Waterman, USA, North and South America 2001-2, 19 December
"I am in Quito, Ecuador, recovering from surgery, which installed a titanium plate and pins to repair a shattered right ankle. The doctor says he will remove the cast Dec. 27. Then, I will be able to put full weight on the foot. For now, I can only put partial weight on the foot with the aid of crutches. I am not suffering any more pain. Punky, who was not injured in the fall, and I are being well cared for in the home of an Ecuadorian attorney and his wife.
My injury occurred in a fall going through a curve on the southern section of the Pan American Highway between Popayan, Colombia and the Ecuadorian border. Tiberio Jaramillo, of Cali, Colombia, and a regular on horizonsunlimited.com, was also very friendly and helpful to us in Colombia and helped put me in contact with my new Ecuadorian friend, Ricardo Rocco Paz, in Quito.
Ricardo has visited me many times and brought things I needed. Ricardo has given me a copy of a message from Glen Heggstad, a fellow American KLR rider touring to Tierra Del Fuego, describing his ordeal just 2 weeks before we rode a similar section of the road in Colombia. See Glen's story in this issue.
Ricardo (who was himself kidnapped by the ELN last year), and I await Glen's arrival in Quito, where we hope to greet him at the airport and offer any possible assistance. There is another bed in my room. Ricardo is expecting delivery of a new Honda Africa Twin around Jan. 1. He intends to ride with Punky and I to the Peruvian border. Maybe Glen will be ready to ride with us?
Ricardo will then continue his Round The World For Peace Tour, heading for North America. I hope our American motorcycle community will extend the same courtesies and assistance that he does to any rider coming through Ecuador. I'm proud to have him as a new friend.
Punky still dances with anticipation, when asked if he wants to go for a ride on the motorcycle. It won't be long now. Thanks to the many who sent words of encouragement. I had a serious backlog of messages to answer. Stay tuned for more reports. Feliz Navidad y un Prospero Año Nuevo."
and finally, from Ricardo again, 27 December,
"This weekend I'm taking them to Santo Domingo de los Colorados, a town 2 hours from Quito, down the Andes towards the coast, where I own a small hotel, (a 'love hotel' ;) and famous for being home of famous witchcraft Indians. Glen Heggstad is coming along with us.
I'm gonna make sure Punky n Lew and Glen get 'cleaned out' of any bad energy, by a well know 'shaman', so they can continue and finish their adventure safely.
Ricardo Rocco Paz"
An interesting aside, from a post to the Cali Community by Jamie Clarke, Australia;
"I am an Australian riding with 2 friends from the US hopefully to Argentina. We are very keen to ride through Columbia but realise there is a high risk with changing political situations and kidnap risks. I would appreciate anyone's advice on the current situation given that we would fly our bikes from Panama at the start of February. I look forward to your response. Regards Jamie"
Response from Cristian Escobar,
Hi Jamie,
I am riding a motorcycle from US to Paraguay, currently in Peru. I was considering to ship my bike from Panama to Quito due to the same reasons you mentioned, but along the way I met two crazy Canadians, also riding KLR 650 as me, and they convinced me to fly to Bogota. Once I got there I heard that the segment Bogota - Cali was Ok but not Cali - Ipiales (specifically, Popayan - Pasto). So I rode Bogota to Cali and was planning to put the bike in a cargo (by truck) and me fly to Ipiales, the border. This option is easier and cheaper than flying to Ecuador because you get your bike before crossing the border. But at the end I ended up riding the whole way from Bogota to the border, and I just heard that the two Canadians did it too. There shouldn't be a problem if you ride during the day, but a small risk always exists. Colombia is beautiful, and full of nice people, but I have to admit, I was a bit nervous during the ride. Let me know if you have any problem, Cristian."
In our opinion, due to the current political situation and risk, Colombia should be avoided if at all possible. If you must go, contact our Colombia communities in Cali and Medellin to get the latest information and let them know you're coming - and take great care! NEVER ride at night, and only ride the roads recommended to you. And remember the situation and dangerous areas change frequently, and quickly.
"Lesotho: ...We rode around to Wepener on the South West border of Lesotho and having coughed up our 4 rand vehicle tax (that's about 30p!), drove over our first border crossing on the bike.
Lesotho is, on the whole, higher than most of surrounding South Africa, a fact made clear by a drop in temperature and the national dress of blankets round shoulders and waists. We rode towards the centre of the country, which falls just short of 300km wide. The road disappeared off into the Thaka Putsoa mountain range towards Semonkong. We'd heard good things about a Lodge nestling at the end of the road but unfortunately it turned to muddy gravel with 50km still to go. So we turned back.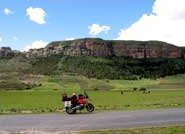 Despite the closing weather we enjoyed the twisty ride to the Capital, Maseru. The stepped hills were dotted with sheep, cattle and village huts. Here was a rural community that still used cattle to pull their ploughs and many of the farmers rode horses.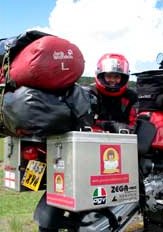 The city was busy with pedestrians and rush hour traffic. After so long on the country roads, it seemed odd to be stuck in a traffic jam and having to avoid other drivers rather than stray sheep and cattle. The wind had picked up and was heaving the bike around more than I cared to deal with and a haze of torrential rain was heading our way from the hills. So we stopped at the first accommodation we could find - which happened to be the five-star 'Lesotho Sun' - shame! We enjoyed a night of luxury, sampled the bars, checked out the casino and ate jellyfish in their Chinese restaurant. That and the view from our balcony, over the city, plains and mountains, justified obliterating several days' budget!
The next day was clear and warm. We rode north through Eyateyaneng (that's easy for you to say!), got road-blocked briefly by a friendly local cop and left Lesotho via Butha-Buthe.
Back in South Africa:
First stop was the 'Golden Gate' National Park. Many people had told us about how beautiful this area was and it didn't disappoint. The road ran next to a mountain stream winding through the hills and off into the Drakenburg mountains. Our Michelin Map 'green route' took us past lakes and over the high mountain ridge into the Royal Natal National Park.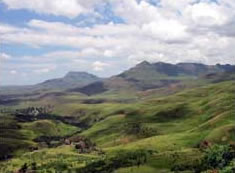 The scenery suddenly took on the appearance of something out of a fairy tale. Late afternoon mist streaked over the mountain ridge and the trees and grassland became a rich, dark green. We half expected to see wizards and goblins pop up from behind the bushes!
Our accommodation for the next two nights was a thatched hut; one of ten clinging to the hillside and looking out over Tugela Gorge with a circle of cliffs behind called the Ampitheatre. As we sat with our sundowners of Amarula and started up the BBQ, we watched the sun go down and felt pretty good about life..."
Latest from their post on the HUBB "We're currently in Botswana about to ride into Zambia for Xmas. Long term plan is to ride to Melbourne via Pakistan and India about the same time (ish) as you. We'd like to do Pakistan with others as well, let me know what your plans are."
Charlie Money, UK, from UK to Cape Town, in South Africa, on a Cagiva E900 Elefant,
"Well I have made it to South Africa, after three and a half months, 15,500 km and 22 countries. Not only that, I am 10 kilos lighter, which as you can imagine means I'm painfully thin by now... It is very strange to be staying with my good friends Alex and Gustav here in Waterval Boven - at the end of August I was sitting with them outside Paris after my first day on the road, with no real idea of what adventures the next few months would bring.
I love Eastern and Southern Africa! I have travelled through Tanzania, Malawi, Zambia and Botswana before reaching South Africa. Tanzania and Zambia have been particular favourites of mine, I found the people there particularly friendly and the scenery fantastic. Possibly it may also be something to do with the fact that there seems to be much less evidence of the legacy of colonialism.
... My last stop in Zambia was at the Victoria Falls at Livingstone, a truly awesome display of the power of nature. Most people tend to think of Zimbabwe as the best place from which to see the falls, but in fact from what I saw the most dramatic parts of the falls were completely obscured on the Zimbabwean side by the mists generated by millions of gallons of cascading water. On the Zambian side I was able to walk all the way across the top of the falls to Livingstone Island. Actually I say walk, but I was taken across by two locals who had spent their childhood playing in the river there. My feet are so pathetically soft that I spent half my time mincing and wincing along the rocks, and the rest of the time feeling like a weakling child as my two guides held my hands and led me through the river. Hardly the intrepid adventurer image I have been trying to convey!
Originally I had planned on going through Zimbabwe, but after speaking to a few people I was told that there are often severe petrol shortages there, and with an election looming people often get a little over excited. So I decided to go via Botswana instead. In fact after the rest of Africa, the Eastern side of Botswana is not desperately exciting (unfortunately I didn't have time to go to the Kalahari), pretty much flat with endless straight roads. However I did experience one of the highlights of my trip there, stopping to take a picture of my bike not even 10 metres from a huge bull elephant grazing at the road side. Mind you I hopped off the bike and left the engine running, ready for a quick get away, and certainly wasn't going to spend a lot of time setting up my camera to get exactly the right picture composition!
... As I left Mbeya, the last major town in Tanzania I could see the clouds building in the hills that form the border. Nothing wrong with a little rain I thought, should just be a little shower, so I decided not to change back into my waterproof biking trousers and boots that I had removed as a concession to the heat. It took only minutes for me to rue my decisions as rains of monsoon like proportions descended on me. The temperature dropped by about 20 degrees, the light faded to twilight and then the rain turned to monstrous hail. The hail was even stinging through my heavy duty jacket, to say nothing of where it was hitting my nose and lips through my open faced helmet. Oh and then my oil warning light came on. I stopped at the side of the road, and looked down to see a huge pool of oil washing away in the rain. Perfect conditions for some road side maintenance, lying on the road underneath the bike in a monsoon. Luckily the problem was no more than the oil filter having come loose and I was carrying enough oil to get me to the next petrol station so that I could buy some more.
Rain and huge potholes are a challenging combination - potholes are generally far easier to deal with when you can see them... At least the locals seem to appreciate my efforts in the rain - they are far more sensible and wait under trees for the rains to pass, but cheer and applaud as I crawl past on my bike trying to see through the sheets of rain.
Before this trip I was pretty much an off-road novice. I did think of going and doing a course, but that would have been far too organised; Now, well I still feel like a novice. However I have worked out some of the techniques, most of which involves speed. The track is rough, speed up. The track is sandy, speed up. The road is corrugated, speed up. I think you are beginning to get the picture. The problem is that my courage varies from day to day, one day I feel like a Paris-Dakar hero (even if I am sure I don't look like one), the next day I feel like a complete quaking wimp. But somehow I have always made it through, even if there have been times when I have hit a heavy patch of sand or mud and found myself flailing all over the track, arms and legs flying, only to somehow recover. A bit lucky I suppose, because I don't rate my chances of picking up my heavily laden bike alone very highly.
Well that's it for now folks - the next time you hear from me I should have reached Cape Town, and horror of horrors will have to start preparing myself mentally for the return to work... Keep well Charlie"
Mariola Cichon, USA, aiming to be the first American woman to ride around the world solo, in Ecuador and Peru,
"I arrived in Baños on Saturday afternoon. The next day was a national census day. Not a big deal, right? Wrong! After checking into a hotel I was immediately informed that tomorrow I, along with everyone else, would have to stay in my room till 5 PM. What?!?!
The following morning I woke up to the brightest sunshine I have seen in many, many days. After all, it is the rainy season here. I got dressed, ate leftovers from last nights supper (all restaurants and stores were closed), and got the bike out. The streets, last night bursting with life, were totally deserted. Not a single soul... correction... not a single civilian soul to be seen. Uniformed and fully armed men in pairs or threes were strolling along many of the streets, suspiciously looking around for possible suspects. Surreal! Imagine this in USA! Mandatory house arrest because of the census! The census officials were already at work... or, rather... the children in early teens acting as very important officials were already knocking on doors. To the horror of the hotel owner, I got on the bike and left. A minute later two of the policemen, or whoever they were, tried to stop me. I pretended not to notice, my blood already boiling.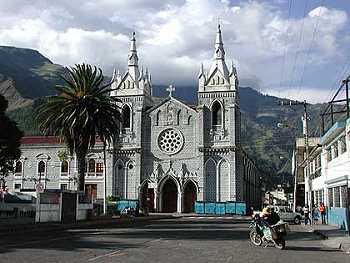 ... riding through Lima was easier than I had expected, despite the crazy traffic. All I had to do was stay on the main road and avoid being hit by one of the numerous kamikazes taxi and bus drivers. Unlike most other major Latin America cities, the Pan-American highway goes straight through and does not wonder around. Within an hour I was out of the city limits and once again surrounded by a desert heading for Huacachina a tiny oasis near Ica, and a bit south of Pisco. This is where I met up with my husband, Kris.
Huacachina is located on the edge of a lagoon and surrounded by palm trees and sand dunes. It became one of Peru's most elegant and exclusive resorts in 1940's. Huacachina is also famous for a very unusual activity, namely sand-boarding. Inspired by the muscular young guys effortlessly flying over the burning sand, I tried it myself. After endless number of trials I finally succeeded in staying on the board for an unbelievably long time - whole 10 seconds!
This took place almost a week ago... I still find sand in just about every orifice and crevice of my body :-).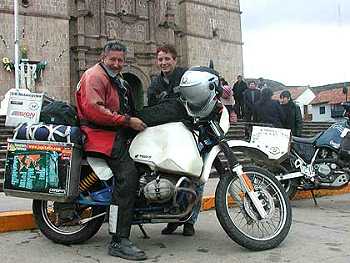 Dec. 24, 2001- Merry Christmas for ALL OF YOU. I am in Cusco Peru right now ... Have been all over Peru .. wonderful country , colorful intriguing culture. My ROMA still pulls strong. I am OK, however being subjected to a food poisoning in Machu Picchu."

Help support the Horizons Unlimited E-zine - visit our sponsors! Please be sure you tell them how you heard about TinyStocks!

TinyStocks presents Highway Manager: the most complete and flexible gas mileage application for the Palm OS® platform, written by a biker for bikers. Keep track of your gas mileage, insurance payments, garage bills, hotels, highway tolls and whatever is necessary. Statistics, charting function, multi-currency, and more... So, got a Palm OS device? Why not take it on the road?
Thanks!

Harald and Udo Lamers, the Bike Brothers, Netherlands, through Asia on Suzuki DR 600s, in Cambodia
"As soon as we enter Cambodia we notice that it is a poor country. At the Vietnamese side the custom buildings are quite new, here in Cambodia they are in poor condition. But the customs are friendly and helpful. Within a half hour the paper work is finished and the officer says 'welcome to Cambodia' and wishes us an enjoyable stay. After one kilometre driving the pavement ends. A dusty gravel road leads us along the rice paddies. A little boy sits on a big, black buffalo and takes it for a walk. He waves at us with a big smile.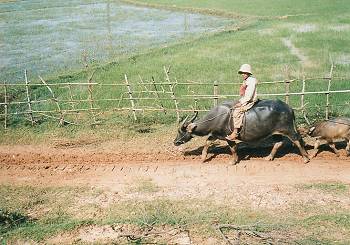 In a little village we stop and buy 2 coconuts. The woman cuts the top and put a straw in. Really refreshing. Many people sleep in their hammock in their shop between the merchandise.
The morning sun shines over the rice paddies and the palm trees wave in the wind. A dust cloud of twenty metres hangs behind the bike. Carefully we zig zag around the potholes. Wooden bridges are in poor shape or not existing. Several times we have to cross rivers. Deep tire tracks from trucks make it difficult to manoeuvre through the river. But it gives no real problems.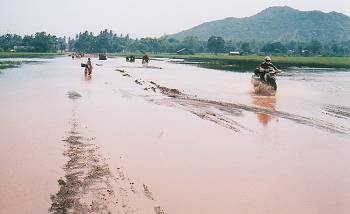 Cambodia is one of the poorest countries in SE Asia. About 80% of the people are working in the agriculture and all oil and consumer goods have to be imported.
Incomes come from rubber export or (illegal) tropical wood. And Cambodia is still recovering from 2 decades of war and violence. It was involved in the Vietnam War and because of that the country is scattered with land mines. They advise us not to stray off the marked roads and trails. Even to make a pee at the roadside can be dangerous...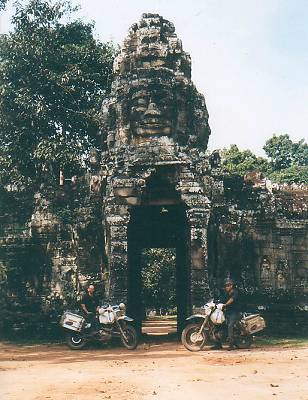 Before sunrise we kick on our DR's and drive to Angkor Wat. These world famous temples were build by the Khmer kings between the 7-13th century. Over 100 temples in an area of 200 square km are found here. It was the administrative and religious centre of the Khmer empire that stretches out over a large part of SE Asia. French archaeologists started in 1908 to cut away the jungle which covered the ruins.
The silhouette of the five towers becomes visible in the morning sun. When the sun rises the temple reflects in a little lake. Beautiful.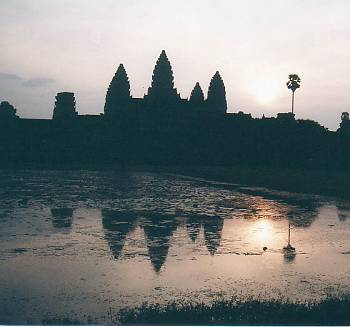 When we take a closer look at the ruins we discover that there are thousands of figures are carved in the walls. Scenes from 12th century Cambodian life, gods and kings and characteristic Khmer-heads are situated on the gates. It is the most impressive historical monument that we've ever seen."
Chris and Erin Ratay, USA, around the world, in Puerto Madryn, Argentina, two BMW F650s,
"December 24, 2001 -... we joined the racing circuit of the highway south-east out of Buenos Aires -- they really are all frustrated Formula 1 drivers! We rode (slowly) 650km to Bahia Blanca, which was under a cloud of flying sand, then a further 120km south to Pedro Luna where we discovered a beautiful campground/vacation spot (la Salada), protected from the heavy winds, along a man-made lake. At midday, we stopped for fuel, and after the normal barrage of questions from onlookers, a man asked us to wait one moment -- he walked to the trunk of his car, pulled out a bottle of red wine, and presented us with his gift -- we had talked to him for all of one minute before this, what generosity!!!
... The new windshield was a Godsend -- the wind-gusts of Patagonia are continuous, and our necks and shoulders are a bit sore from all the turbulence. We haven't been blown completely off the road (yet), but heard it was pretty bad only a few days ago.
After checking into the campground in Puerto Madryn, 3 bikers showed up: Alberto from Mexico, Carlos from Germany, and Miguel, a local rider who has a spare (free) apartment for motorbike travellers. Miguel loves riding off-road and meeting people, and decided to convert a spare space he had into a room for travellers. We went by in the evening and met there Alex and Anita, 2 more German bikers. Tonight there will be a Xmas party for friends/bikers/travellers, some 20+ people, so we will not be alone for Xmas after all!
We will leave here either tomorrow or Wednesday, and make it to Rio Gallegos on the 27th -- it's another 1,300km of straight, windy, emptiness. We'll meet Frank and Rosa who are picking up their rental bike there, then all ride to Ushuaia. Sounds like there'll be quite a crew down there for New Years!"
Steve Raucher, South Africa, around the world, in Australia, R1150GS,
2001-December-25... After 3 days of camping and enjoying the scenery in Johanna Beach, my friends left to go back to Melbourne for Christmas and I spent one last night in this peaceful place before making my move. The next day greeted me with rain and storms, but I persevered and packed up the camp and headed for the Twelve Apostles, a collection of 12 jagged pieces of rock that has survived the erosion of the coast line.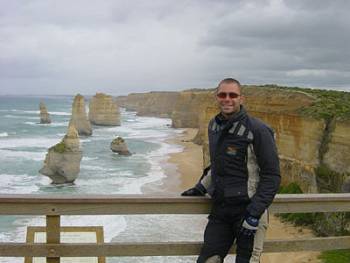 It was upon entering another site, Loch Ard Gorge, that I happened upon a pair of ozzie blokes sitting in their very overloaded jeep. Daniel and Steve had just begun their 2 year walkabout journey around Australia and this was their first stop after leaving Melbourne. After about 5 minutes we knew that we were kindred spirits as far as celebrating Christmas eve was concerned. I followed them to the nearest backpacker lodging in Warnabool and we setting about clearing out the bar. Really it was raining, what else could we do?"
Harvey Gordon-Sawyers & Lisa Roberts, UK, Round the World, in Mumbai, India, Harvey on a BMW R100GS and Lisa on a BMW R80ST,
"30th December 2001 -This week has gone by quicker than we might have expected. We are both feeling much better physically and find ourselves in much better spirits - quite a relief! We have started eating again which must be a good thing after three days of only nuts, crisps and biscuits! The Kamat restaurant serves excellent vegetarian dishes and is full of locals; Leopolds is also very good with a wide range of Indian, Chinese and some Western food. We discovered yesterday that there is a Baskin Robbins ice cream parlour just around the corner - why do you always find these things just when it's time to leave - it could have been such a source of comfort in our recent times of despair. Tonight is sundae night... We are hoping that this is our last day in Mumbai.
Jay called us on Friday and told us that due to a certain customs officer being on holiday we wouldn't get our bikes until Monday - too late to make Goa for New Year. It was just another slap around the face so we decided to try and make the best of it. We will have our bikes back and be on the road somewhere celebrating New Year and that's worth a great deal.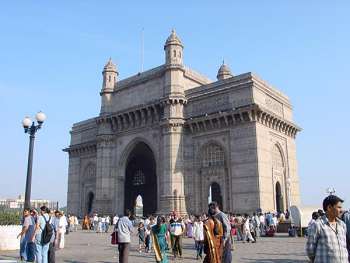 We are already trying to plan ahead and decide where we will go next as our visas run out at the beginning of March and, although that feels like a long way away, it isn't really. Diplomatic and military tension still seems to follow our progress in a very worrying fashion. We are watching on television the rising tension between India and Pakistan, apparently the worst it has been in thirty years, and wondering what it will mean for us. It just shows that there is no point in planning too far in advance as you never know what might happen..."
Chris Burt and Kirsten Latimer, UK, around the world, in Pakistan, Meriden Triumph's, from a post on the HUBB,
"Dec. 2, 2001, Quetta, Pakistan
Chris and I (Kirsten) and another Brit, Tony Chesneau have made it to Quetta. This is a brief story of our journey in case it's useful to other travellers. It took a few hours to do border crossing from Iran, too late to set off though so we stayed at the PDTC motel at Taftan (Pakistan side of Border). Clean but cost 250 rupees for a Dorm bed and there is no electricity. Got 59 rupees to the Dollar from the money changers. Should have been 61.
Next day set off into Baluchistan desert. Fairly rough road to Not Kundi, 122 kms. One checkpoint that was not a problem. Good highway from there to Dalbandin, 167kms, fairly boring road. Had to stop 20kms out of town at another checkpoint where they made us wait a couple of hours for an escort through Dalbandin, pretty useless as we left them behind, they caught us up the other side where we were buying petrol from the roadside vendors (smuggled petrol from Iran, 16 rupees a liter). No trouble, but we did see a few people making threatening gestures and stooping to pick up stones to throw. However the majority of people waving and friendly. On to next checkpoint where we were free again. (10kms)
Next village, where we stayed was Padaq. About 100 kms from Dalbandin, can't be sure as mile posts were vague and our speedos don't work. Road pretty rough. Potholed and sand blown, take it very steady. Speed bumps where the road crosses the railway tracks. Watch out for them and take at walking pace! We were told at first that there wasn't any suitable accommodation for us but eventually camped in a police compound, no problem, ate at a hostel for Pakistani travellers, not bad.
Next day, was about 230 kms to Quetta, passed through Nushki, probably could have stayed there. Plenty of Army checkpoints to sign in at and more speed bumps. Not too many hills, mostly flat plain. Quite hot. Took most of day.
Important note: Wave and smile at everyone by the side of the road - several times we saw people bend down to pick up stones which were then dropped after we grinned and waved. Vast majority of folk friendly so don't be put off.
Arrived Quetta covered in dust, very nice shower at Hotel Fabes, 200 rupees for single en-suite room with double bed and free and secure parking under the Hotel.
... to anyone interested in crossing Pakistan, really no problems at all, only delays imposed by Army. Don't know how people do the whole thing in one day, which we heard reports of, forget it unless you have iron backside and are a human camel! We rode from 8.30 till 5.30 with minimum of stops and still took us two days, although we did reach Quetta with time to find hotel in daylight. Quetta nice friendly place, but military checkpoints in town and everyone assumes we are journalists!
Dec 8, 2001
Have met up with Graeme (NZ bloke going home), Tony (English guy on old BMW) and two Swiss bikers so having fun in Lahore. Will try to take your advise on India - we are heading there soon and then to Nepal to try to renew our soon-to-be-expired India visas. I hear the RAC/AA are no longer issuing carnets to Pakistan which is a shame as it has proved to be a safe and enjoyable country to ride around. All the best Kirsten"
Dan and Tsipi Rabani, Israel, Travelling for 3 months in NZ and then 3 months in OZ, '96 Kawasaki KLR650,
"A few days ago, we saw in the map a short way to cross the rain forests in the mountains. Only 20 km of 4-wheel drive. Well, we are expert by now, aren't we? So we decided to take this way... After 4 hours we got to the top of the forest. The view was wonderful. Such a jungle, you can't even walk beside the road because the trees are so close to each other and the grass is very high. We had some rain all the time but we managed with it also. Than, we started to go down towards the other town - 10 km ahead.
The way wasn't too steep, but the mud!!! After the rain the road turned to a swamp in some of the places. We came to the first swamp and couldn't believe our eyes. I thought we were just going to stay there, but Dan had a power that you can't believe! I walked most of the way. It was terrible! Dan got stuck in one of them with all the saddlebags and everything! Everything got wet. And then the rain came again...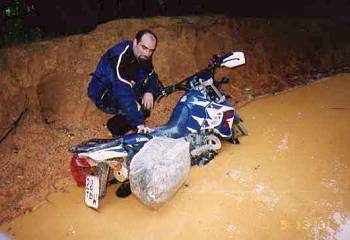 At 2 pm we were amazed to see a guy coming toward us. He lives in the city nearby and he took a day off in order to walk that way. People usually don't come in here and you can wait for days and no one will come. Dan was glad to see him and called him 'our angel'. And, it turned to be that he was. After a few places that were up to the knees with mud, Dan was so tired. At 6 pm we said to ourselves that maybe Dan will stay and I will walk to the town to get some help. But the guy was full of energy and started to help. Dan was exhausted, but the guy said we have only 5 kms left and we are going to have a good dry sleep today, if we just put a little more effort.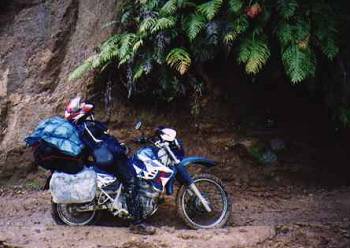 The road became even worse. We were stuck, and after taking the bike out of one creek and putting the things again on the bike, Dan was driving 20 seconds and again - we couldn't believe our eyes - a new swamp to cross. We worked 5 hours and couldn't see the end! By 8:30 pm it was dark! We had no choice but leave the bike. Paul, the guy, offered us to come to his house and see what we can do tomorrow, and maybe bring some more help from town. It was impossible for two guys to push it. So, we started to walk with some of our things. After a few minutes we didn't even have power to carry so we placed our saddlebags in the bush. We walked with the light of the moon. While walking we found that the way became even worse! By 10:30 we came to his house. His wife made us tea and we took a hot shower. They offered us their bed in their living room.
On the next day we hired his friend to come and help us to take the bike. That guy had power like 3 men. We brought a plank - 'Keresh' that was 2 meters long, and 20cm wide. That plank took us out! After 4 hours of work we were out!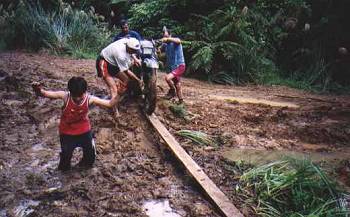 Now we are still with the rain, but in another town. We went to a great and beautiful spa and took a good massage. The spa is on the lake of Rotorua city. Hila, thanks for the tip for the free thermal pools, but we were so tired so we decided to spoil ourselves. It was amazing place: 4 private hot pools with 4 different temperatures. And the massage rooms were with open window to the garden and lake, what a spoil!"
Gregory Frazier, USA, around again, in Burma, KLR,
"This is no land for the poseur traveler with Camel Trophy knock-off clothing. It is one of the hard places on earth, a place where thousands die at the hand of the government, and use of plentiful deviates from Reality can land the traveler in a dark place with no key. No one is leading organized motorcycle tours of Burma. Most tourists fly over, or around Burma, claiming they wish not to spend their tourist dollars in a country controlled by Generals. In reality, they are scared, and rightfully so.
Buddhist monks eye you, the same with the cops and military guys. Children wave as you ride by. They see your freedom. Try Highway 999, a flip of Route 666, if you can read the Burmese on the faded sign. Stop at a crumbling stupa, meditate for ten minutes, then jump back on the road, hammer some more hills before the authorities catch you, confiscate your motorcycle, and hopefully throw you and your bike out of the country. Here is where Laos, Thailand and Burma meet. The biggest road from north to south is the Mekong River. Not good riding on a motorcycle, but the way people from the north slip to freedom in the south.
On the paved roadways, they drive on the left in Thailand. Across the border, in Burma, on the right. It can be easy to become confused, like trying to understand the Buddha: right can be left, right can be wrong. Make a mistake and your family can listen to words over your grave, but not in Burma. Here, your bones are smoked, a Burmese BBQ. What is left will be sent home in a small box, if a box is sent. There is no reason for the government to do anything; you should not have been here in the first place.
A month ago I was leaning on my posthole digger, holing up and down fence postholes. It was the job of Job, but when repairing fence, holes must be dug. Sweat was dripping in my eyes, my back was tired, and both gloves had holes. Blisters made me stop. It was cold, a dark fall day in the Big Horn Mountains of Montana.
Above me were geese. I could hear them as they flew south, goose yaking back and forth. Geese mate for life, until one dies. As I looked up, I saw a solo goose, flying apart from the rest of the V formation. Male or female, I could not tell, but I felt it was honking at me, saying 'Fly to a warm spot on the globe when flakes of snow start to float.' The solo goose and I were at one for a few moments.
The medical guys broke my bones some days ago. It was an old break from years ago that needed to be re-broken because I had not let it heal correctly. As I went under, I smiled, knowing they could bong my bones, dong my stones, but days later I would be wanging a gong. I had taken the advice of that single goose, booked a flight, and was headed for Burma to recover. There I would rest and regenerate, listening to gongs being bonged and donged. Gregory, on the road again..."