Help support the Horizons Unlimited E-zine - visit our sponsors! If Madagascar sounds like a great place to ride to you, (and it sure does to me!) drop by their website and make sure you tell Manfred how you heard about them!
Ever wanted to go biking in Madagascar?
You can ride this unique island continent east of Africa, meet friendly, humorous and unobtrusive people, and see the fascinating indigenous plant and animal life.
Take one of our Transalps and discover for yourself the highlands, the rain forest, the arid south, and it's tropical beaches.
Talk to Manfred at Madagascar-on-bike.
Plan where to be when!
If you know of any events of interest to travellers, send me a note.
December 25, 2001, and December 31, 2001 - Christmas and New Years Eve!
Where: Wherever you are! Travellers everywhere looking to meet up with others for some Christmas cheer can post on the HUBB - Horizons Unlimited Bulletin Board - in the Travellers Seeking Travellers Forum. I have started a thread for posting in for the Christmas holidays. In years past, the main meeting points have been Ushuaia, Goa, and Cape Town. Where will you be? There are a lot of people heading through to SE Asia this year, so let us all know your plans.
Latest word - look for everyone in Goa and Ushuaia!
International GS-meeting, Easter weekend - 29/03 to 1/4 2002, Belgium
"Beautiful location in the heart of the Flanders Region. Meet new GS-people coming from around the GLOBE. New accommodation with more camp space, big tent, local beers.
Where? Hoeve Lorette Rudderveldstraat 7 9600 Ronse Belgium Tel. +32/ 55.21.19.26"
For more info: Website or email.
GET YOUR WEB SITE LISTED in the LINKS section by listing Horizons Unlimited on YOUR web site, let me know you've done it by mailing me a link to the page, and you may get listed here in the next newsletter and on the Horizons Unlimited web site Links page. To make it easy for you, we even have our logo and link code here!
All sites will be considered for listing, but must be a MOTORCYCLE or TRAVEL site, useful or of interest in some way to travellers.
Links will be rotated regularly as needed.
Spiegler USA and Spiegler Germany
Motorcycle Brake Products - disks, pads, braided hoses etc.
MapData Sciences and Whereis.com
Excellent map and routing info for Australia
"...the best part is the step by step instructions given at the foot of the page, great for bikes as you don't need a bulky directory just a one page print off."
(Thanks to Ralph Green, Melbourne Community)
"...catering specifically to the dirt bike and off road motorcycle and enduro enthusiast."
There are many 'Helpful People' listed on the Links page, a huge thanks to all of them. How about you? Or you can join a Community, or start your own!
Do you know of a good shop 'on the road,'
in other words somewhere there isn't a large number of shops? (Also of course any shop that specialises in travellers equipment and repairs is of interest.) But we're particularly looking for those rare items, good repair shops in South America, Africa and Asia etc. I will create a web page for them soon... eventually... real soon now...
Submit your tips and questions here, anything goes! Got a great idea for travellers, found a new solution to a problem? Send it in! If you're having a problem, just ask, there's a lot of people with a ton of experience out there to help.
In response to last months note on Leaded fuel and new bikes requiring Unleaded...
"I own one of the techno-marvels of BMW: the R1150GS. As I rode in Morocco (and plan to ride again in January) I tried to inform myself about the leaded / unleaded fuel problem. As far as I found out there are two devices that are lead sensitive in the R1150GS: the catalytic converter and the oxygen sensor. The latest, also called a lambda sensor, is installed (plugged) in the cat and gives feedback to the Motronic (the electronic injection/ignition managing computer) about the combustion sub-products. The air/gas mixture is adjusted according to this information.
As far as I have heard, the lambda sensor is prone to be covered with lead, and therefore stop working, if a certain percentage of lead is surpassed in the gas being used. Also as far as I have heard, this is not a catastrophic failure waiting to happen on the first tank of leaded you'll be forced to use. It seems that it is a gradual process.
The result of the failure of the lambda sensor is that the Motronic will go into "limp-home" mode, which means that it will opt for a richer than necessary mixture. Gas consumption will increase, and I guess it is possible to get carbon deposits / fouled plugs in the long term. The catalytic converter can be replaced by a cat-eliminator Y tube piece, like the Sebring one being sold by Wunderlich. However the cat eliminator retains the place to install the lambda sensor.
It is possible to take out the lambda sensor and opt for a potentiometer that is installed close to the fuse box. The pot will be used to tune the bike using an external CO meter, like the ones used to check emissions on mandatory vehicle inspections. However, the tuning will be optimized for the current tuning conditions and there won't be instant feedback to the Motronic. If conditions change drastically retune would become necessary.
Please note that my mechanical knowledge is very limited and that all of the above is hearsay. As I couldn't get a definitive answer from my BMW dealer I bought the cat eliminator. I will be in Morocco (where there is unleaded in 90% of the gas stations) in the end of the year. If the use of leaded fuel becomes necessary I will use it and hope that the lambda sensor won't die suddenly. However, if I were engaging on a RTW trip I would try to check with BMW AG or Bosch (the makers of the lambda sensor and of the Motronic system) about the real possibility and implications of lambda sensor failure.
... better yet, if I were lucky enough to be engaging in a RTW trip, I would get myself an R80G/S with leaking Bing carburetors, defective diode boards and weak rear shock ;-)
Congratulations on the fantastic e-zine. It makes my day and keeps my wanderlust alive.
Carlos Martins, Alenquer, Portugal"
I asked Carlos:
"..So how much is a lambda sensor - perhaps it's no big deal to just replace it?"
"...Installation would be straightforward BUT (and with this BUT we are addressing the Achilles Heel of modern BMW's) you would need a MoDiTec computer to reinitialize the Motronic. The MoDiTec is a diagnosis tool sold by BMW to its dealers - unlikely to be found in places where unleaded fuel is not the norm!
Unfortunately BMW does not discloses an emergency procedure to read the fault codes of the Motronic or to reset this superior entity living on our bikes."
Jed Duncan, USA, reminded me;
"In regards to low-octane, or leaded fuel in the new BMW's, check out the new Adventure version of the R1150GS. The bike is tuned to run on low octane, and the cat can be removed, a crossover pipe put in its' place, and the fuel injection remapped to accommodate leaded fuel."
And from Ramey "Coach" Stroud, USA,
"...Regarding Nina Plumbe's question about the use of leaded and poor quality fuel in newer GS's. The fuel injection system for a late model GS can be 'remapped' to compensate for fuel type and quality. BMW has adapted this concept in the new BMW 1150GS Adventure. It takes regular petrol by use of what they call a 'coding plug' for the engine management system. It is available as an optional accessory. When this coding plug is inserted into what BMW calls the 'electro-box','an ignition grid is activated which means the engine can be safely operated with regular fuel (RON 91) without risk of damage. The engine can still run on premium plus fuel (when available) for normal operation. The cat-converter should probably be removed on Nina's bike and some aftermarket pipes (mufflers) installed. However, the stock pipes can still be used by replacing the cat with a blank connector pipe. Finally, in-line, injector quality, fuel filters are probably a good idea, as is carrying replacements. A pair of panty hose and a funnel works too! :) Good Luck Nina, I'll see you at the starting line. Coach."
Anyone have any more on this? I know there are lots of inquiries, but no one has been able to get a definitive answer from BMW yet that I know of. Let me know!
An interesting idea from the HUBB on centrestand-less bikes:
"Bit of a weird idea for you, but if the centre stand is only for changing tyres etc.; I currently have 2 side stands fitted to my bike,left and right. Ground clearance isn't compromised and with a stone under each it acts as a centre stand. Amazingly handy is being able to use left or right stand on uneven surfaces. Andy Gray, Netherlands"
Viruses
"I was greeted a couple of days ago with dozens of emails, all infected with a new Trojan / worm called "w 3 2 . b a d t r a n s . B @ m m" (spaced out letters so your antivirus email filters won't filter this as a worm)! And I'm getting more every day...
This is a particularly nasty worm , which is why I'm letting you know here - and I'm tired of deleting your emails... It installs a keystroke-recorder into your system directory, so it captures everything you type - like passwords. It also emails itself, disguised as an email attachment, to anyone in your email client or address book. I know, because I've been getting dozens of emails from you every day... unfortunately I'm not getting any useful passwords, so we're not off to anywhere sunny quite yet... ;)
As usual, this is easy to prevent - just keep your antivirus program up-to-date! For full info, just go to Symantec's site and look for the worm's name. We run Norton AV, and have it set to automatically notify us of updates whenever they are available - and lately they have been showing up every one to three days, so it's well worthwhile to go for the auto updating. I do like to hear from you, but only when you have something to say!" Grant
I've made contact with some of the people we were looking for last month, thanks! - but the following are still unaccounted for. If you know any of them, please send in full names and e-mail addresses would be much appreciated!
Lionel Marx, I have no e-mail for him...
Chris van de Goorberg, Netherlands, XT600, last seen in Mali...
a couple of riders from French Guyana, she's riding a Suzuki DR 350 and he's riding a new XR 650.
Rob Arnell, UK, in India
When you meet travellers...
on the road, please get contact info and let me know so I can add them to my who's who and where list! Grant
"Hi, I recently moved to Nairobi/Kenya and need a new bike. Does anybody know where I can find good overland / trail bikes in Kenya. I cant seem to find any."
Anyone like to do a one way, and sell your bike in Kenya?
Gerard Starck
, France, around the world, in China, Honda Transalp,
"I am travelling around the world with a Honda Transalp 600cc.
I wear emblems of :
-International Federation Of Red Cross and Red Crescent Societies
-Alliance Francaise
I began my trip in October 1997, and I visited 120 countries in 4 years (1030 days of real travel). I rode 160.000kms for the moment and I fell 56 times without injuries.
I meet actually a very big problem to get authorization to cross China. I arrived from Korea but Chinese Customs stopped my motorbike in Port of Dalian.
Please have you quick information about an Association of Motorbikers in China. Maybe, they can help me. Or, if you have a good idea, I would be very happy. Red Cross and French Embassy help me but without result. I wait in Beijing... without motorbike...!
Many thanks for your help.
I have a very bad website because I have no friend to organize it for the moment. Gerard"
I have sent Gerard what I have, which isn't much, a couple of contacts, and let him know about the Shanghai Community. If anyone has anything further please let me or Gerard know, although I don't hold much hope. Grant
Benka Pulko
, Slovenia, around the world, in Namibia, BMW F650,
"In search of information about the road conditions and possibilities from S Tanzania to Rwanda. What are the road connection between Tunduma via Sumbawanga (road no. B8) to Kigoma and further N toward Rwanda border? Paved, gravel, sand, advisable for single travelers passage? Another road I would like to know more about is from Dodoma via Singida, Nzega toward Rwanda border again (B3). Please reply to me here. Thanks and safe trails to all.
All the best from Windhoek today, Benka, Around the World Following the Sun"
---
Plenty more questions and answers on the Bulletin Board! We've just gone over 1000 registered users on the Board, which I think is pretty amazing, and gives a huge resource of knowledge and experience to help you with anything you might need to know.
From a post on the HUBB: Algeria
"Another friend has just come back from Algeria and reports no problems, indeed easier travelling than last year:
Very fast and helpful Customs at Taleb Larbi. Laissez-passez still issued just before Hassi Messaoud (but not really necessary further south, if you happen to avoid HM), and no convoys down the Gassi Touil to HbG.
Chris Scott, Author of Sahara Overland and the Adventure Motorcycling Handbook, among other things"
Travellers Tips, from Seamus (el Capitan) on the HUBB
"08 November 2001 - Just passed through Central America going south and then came back north and wanted to share some border crossing info. Going from Guatemala to Honduras there are three main borders, DO NOT cross through El Corinto in the north or take the Boat from Guatemala to Puerto Cortes in Honduras unless you are willing to give up several days of your trip and spend a lot of money. Both ways of entering the country require that you go through the maritime border at Puerto Cortes. If crossing by land you will be required to hire an 'official' escort as the border is not equipped to provide vehicle permits. Unlike the rest of the borders in Central America, the maritime border is designed to process the importation of large quantities of vehicles and is EXTREMELY confusing. I never would have gone through here had I known that it would require 8 hours, over forty stamps / signatures / VIN inspections and upwards of US$200 per motorcycle in bribes and miscellaneous 'fees.' Instead the border at El Florido and Agua Caliente are quite easy to navigate through and relatively inexpensive (the normal US$20 highway tax plus $10 vehicle permit.) Seamus"
---
Request for info
Wouldn't YOU like to know all about the border you're approaching - what it should cost, paperwork required, 'tips' needed, and who to talk to, etc.?
When you cross ANY border, take some notes, and pass them on to us. Thanks!
Shipping
There is now a Shipping page on the site. It can be reached directly or from the Shipping link on the Trip Planning page.
If you have any information to contribute, there is a form at the bottom of the page which you can submit and we will put it on the page. Thanks!
Travel Advisories:
The Foreign Office in London's Travel Advice Unit advises against all travel to all sorts of places. Check out the listing before you start!
The US State Department has issued travel advisories, information and/or warnings.
Harald and Udo Lamers, the Bike Brothers, Netherlands, through Asia on Suzuki DR 600s, in Laos,
"We cross the friendship bridge, leaving Thailand and entering Laos. The good road along the Mekong River takes us to the mountains in the east. It is a surprisingly scenic landscape. Black eroded mountains popping out of the green jungle. In a little village, where the wooden houses are build on stilts, a woman is grinding grains and an old man is smoking a bamboo pipe. Little kids are playing around. We on our modern, but 13 year old bikes, stop in this middle ages looking village. The inhabitants look at us but pay no attention to us. Like as if every day 2 Dutch motorbikers are passing.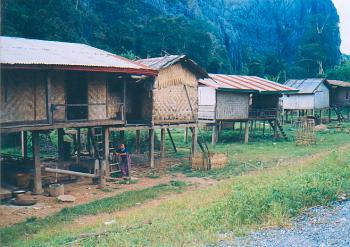 In the first hour that we are driving in Vietnam we heard more horning than in one month in Laos and Thailand. They drive like nuts here. School kids, in uniform, ride their bicycles in five lanes. Little motorbikes and bicycles zigzag over the road without looking or stop in the middle of the street. The side of the road is used as a market and grass is spread out to dry, making the roads narrower. This makes it more dangerous for us when we have to escape to the roadside for coming trucks and buses.
... It is one o'clock in the night when somebody is banging on our hotel door. It is the police that want to check our passports. A bit sleepy we walk down to the reception and the police officer is shouting at the clerk and to us. What did we do wrong? OK, without a shave and bath every day and with dusty clothes from travelling, we don't need to be treated like criminals. The clerk has to go with our passports to the police station and we can go to sleep again. The next morning we receive our passports back but nobody could tell us why they checked us. We guess it is from the controlling communism in the past.
We rent a boat and take a round tour in Halong Bay. More then 2000 limestone formations covered with trees pop out the sea as little islands. Some islands have caves with stalagmites and we visit them. For the Vietnamese these rocks have a sacred meaning. It symbolizes a mother dragon with kids that defend the country when it is in danger.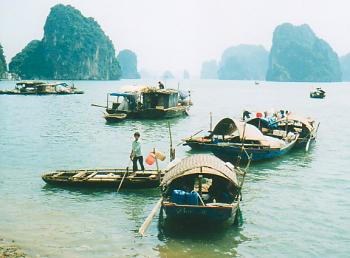 Following the highway 1, that goes from Hanoi in the north to Saigon in the south, we get a good impression of Vietnam. The whole country looks like one big rice paddy. Thousands of men and women, with the typical straw hats, stand up to their knees in the water, planting rice. Dozens of limestone rock formations are spread in the rice fields at Hoa Lu. The canals along the rice fields are used to get to their houses that are built near the rock formations. People live here peaceful and quiet.
Dark clouds gather together and some minutes later the rain is pouring down. For 3 days and nights it keeps raining. We take our shelter in Hoi An, a little city with a lot of French colonial houses. After 3 days we pack our bikes because we want to move on. But people from the hotel say that the roads are flooded and that it is impossible to go. After a few hundred metres the road is blocked and we have to make a detour of 40 kilometres to reach highway 1. The highway is built on a dyke, so there must be no problems. But after 10 kilometres we approach a traffic jam. We ride to the beginning of the jam and see that the road is flooded for 300 metres. A smart boy uses his boat as a ferry to bring bicycles and motorbikes to the other side. We will give it a chance. Slowly we drive in the water. The current is strong and we have to concentrate to stay on the road. In the deepest part water waves over the fuel tank and Udo swallows some of it. Luckily the engines keep running and we are glad that we made it.
Two days later we read in the newspaper that the water level rose more then a metre in Hoi An and that 7 people were drowned. We just left in time..."
Daniel Todd, USA/Puerto Rico, second around the world tour, in Malaysia, KLR650,
"The Chicken Boat to Sumatra (Part 1)
When I arrived in the colonial city of Melaka on the coast of Malaysia I had to make a quick decision: was my bike going to be transported on a timber, vegetable or chicken boat? There wasn't any vegetable boat leaving right away and the timber boats had the reputation of being grossly overloaded and dumping all the timber over board to save the ship in rough seas! Was my bike worth more than the contraband being exchanged in the Melaka Strait? I settled for the chicken boat to Sumatra and paid the handsome price of 200 Rigget (56$) instead of the standard 300 to 400 Rigget.
… As I walked by bike up a thin and fragile plank, I was greeted on board by hundreds of chickens squawking and crackling from the wooden crates stacked all across the deck and my first Indonesian locals that knew not a word of English. I covered the bike and willed it to get across the rough Melaka Strait under the supervision of this young crew. Just after the boat departure, Martin Ledat walked up inquiring about how he was going to get his BMW off as well. I had been in contact with him and Angela through biker connections on the Internet and we had all tried to organize this together to save money.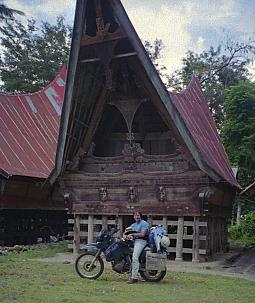 … We would always stop at any of the wooden lean-twos on the side of the road and get a rich glass of Sumatra coffee for ten cents. This would send lightning bolts up my spine as I engaged in overland adventure stories with Martin. Watching him, it was easy to renew my appreciation of travel. He never rode in top gear, instead put- putting along at a slower pace, glancing from side to side, taking in as much of the surrounding environment as a biker could. He told me that a 60 day visa would never allow enough time to ride Indonesia properly and that he thought it was insane to try and conquer three Continents in six months like other common bikers that we had both met. I could hardly agree more and I had already committed to throttling back for this segment of my journey. After riding 25,000 KM in Southeast Asia, this was the best I had seen yet.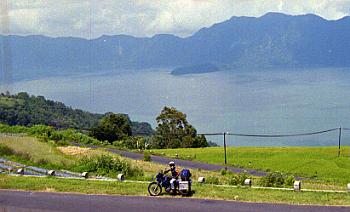 … Lake Toba is the largest lake in Southeast Asia, occupying the caldera of a giant volcano that collapsed on itself after a massive eruption. The road going around the crater offers spectacular sights winding through steep mountains, ridges and pine forest. The road that winds down the side of the crater and across a small isthmus onto Pulau Samosir, an island occupying the middle of this huge crater lake is even better, giving post card views of the entire area.
We shared a room right on the edge of the lake for two dollars and as we sat on the balcony looking out over one of the most impressive lakes on the planet, we both heartily agreed that Indonesia has to be the cheapest country to ride in the world. Our meals never set us back more than half a buck and it always cost about three dollars to fill my 22-liter fuel tank. Hardly ever having to say 'no' is a luxury few shoestring travelers can afford.
The road along the east side of the crater brought us to Berastagi where Martin proposed a climb up Gunung (volcano) Sinabung. In no way was I prepared for this climb; I didn't have any climbing boots, one of my toes was infected and the rainy season had begun in full force. It was extremely steep with slippery rocks and clay. I was constantly grasping for vines and other plants to prevent a very long plunge down the face of the mountain. Due to a back injury, I had not done any training or exercise in six months and watched hopelessly as Martin raced out in front of me. The guidebook says that it's a six-hour climb, the locals call it a four-hour trek, but in only two hours we made the summit completely knackered. We only had five minutes to enjoy the smoking caldera, the surrounding views and the lunar landscape surface before we were engulfed in a cloud that unleashed a torrent of rain on us.
Martin wisely decided to rest the following days but I was already off to Medan looking for Internet access. At a local cyber café, many students from one of the more fundamental Islamic Universities surrounded me and soon I was being led off to their complex, getting peppered with questions about my transit lifestyle and my future in Indonesia.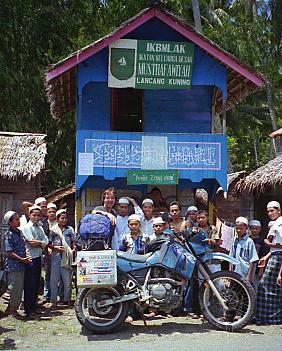 They only reminded me too much of the reason that I have always travelled in this fashion; it's the people that you meet along the way that that really make the journey. Given the choice between a five star hotel and an old mattress in someone's home, I would go basic, because this is the best way that I could ever expose myself in a raw, natural way to any culture."
Dosvadanya Russia and spasiba...
The sailing from Vladivostock across the Sea of Japan was drenched equally in a salty spray and reunificatory excitement as Terra Circa was back to four, now that Matt Hill had rejoined us.
...As is the practice on freight vessels, once we had berthed we all stayed aboard whilst immigration and customs officials hosted a paperwork knees-up in the bar. A trio of blue suited customs officials approached us and alarmed us with the news that bringing our machines into Japan was; '...a very complex procedure...' and '... completely impossible...'
... After many hours of telephoning to senior customs gurus down in Osaka we were presented with two predictably useless options. Either we formally import the bikes and then reregister them as Japanese machines complete with new plates and a police road safety inspection, OR, we import them as personal baggage and them have them freighted across the country to another port whither they would be shipped forward to the USA. The cornerstone of the latter choice was that the bikes remain in limbo, in a secure bonded area, and were NOT to be ridden at all whilst on Japanese territory! The negotiations surrounding our quandary became more and more urgent as time dragged by. By the next day a resolution had still not been found, and a few hours before the Olga set sail BACK to Russia a clutch of burly deck-hands were unfastening the bikes and lowering them down to the quay. We were on the point of just driving off but Matt being unable to ride precluded such cavalier spontaneity. A quick getaway was also scotched by the arrival of an official who was to escort us to a bonded area, which turned out to be an unlocked but refrigerated rice warehouse. This entailed a humiliating bike-pushing trail through the streets of Toyama. Local school children looked on as we silently wheeled past them in this mysterious round-eyed ritual of abstention from mechanical engagement.
A strange thing happened then. Our frustration was just reaching boiling point when it was suggested to us that we did not have to actually keep the bikes in a bonded warehouse. Instead, we were advised that we were free to go as long as we only pushed the bikes and never rode them. A pause for thought: and then a SOS phone-call was made to Constantin, the car man who within 30 minutes had arrived in his flashy motor followed shortly thereafter by a giant car transporter. We were spirited away by the mighty hand of Russian hospitality to Constantin's breakers yard on the outskirts of Toyama. With Natasha translating, there unfolded an evening of reminiscing about Siberia, fabulous chunklets of boneless chicken, and at Constantin's expense, a massive boozing session that of course the Russians coped with but which left Terra Circa utterly smashed.
On the road again:
... Such was the seriousness of the warning ladled out by the customs officials, that we set off, terrified that the first police car that saw us would frantically flag us down and carry out an emissions test on the spot. Charlie is, at times like this, the natural leader of Terra Circa, and he briefed us all on how to avoid unwanted police attention with what he termed Low Profile Riding. After our 3 months on Russian roads this was a bitter pill to swallow since it was underpinned by a philosophy of not overtaking illegally, pushing to the front of traffic light queues, and keeping under the speed limit.
With a one-armed Matt unable to ride, our plan was to first get Matt's bike across Japan to a port that served the USA, and then to continue with him as a passenger and tour around Japan.
... suddenly and quite unexpectedly N1, complete with Gerald and Matt on board, crashed into a car that pulled out of a side road into their path. The front rack of N1 was yet again buckled and twisted, Matt had been flung from his cramped seat behind Gerald, and was now lying on the bonnet of the car. This Iron-man of Terra Circa was not about to let a little thing like hitting a car re-break his collar bone. In fact after the crash, Matt decided that if he could shoulder-barge a car without re-breaking his collarbone, then he had recovered enough to ride his own motorcycle.
The relief that Matt was ok was soon replaced by concern that the driver of the errant car was now ringing the police. TC had to make a quick decision. If the police were to turn up and inevitably enquire as to the documentation regarding N1, they were highly likely to discover at things were not in order. They would then almost certainly also extend their enquiries to both Austin's and Charlie's bikes too.
We had four choices.
1. All wait at the scene and see what happened.
2. All leave and see what happened.
3. Austin and Charlie flee and leave only Matt and Gerald to face the flack.
4. Murder the driver of the car, his wife and their three small children, push their car into the nearest volcano crater and then make a run for it.
After due consideration we opted for Option 3, so Austin and Charlie sped off to just beyond the next town and waited. This wait was similar to that of an expectant father (We imagine, though none of us has actually ever done this, having all failed to find any women willing to spawn our young). Two hours later though, and our wait was rewarded by the sudden appearance of Matt and Gerald, not in the back of a prison van however, but actually riding the accident prone, battle weary N1.
It seemed that the Japanese efficiency, rules and systems that we had endured at the hands of Custom, did not extend into their police force. The police had not required to see any documentation, had not confiscated the bike, and had not listened to the car driver's pleas that the motorbike had been travelling rather faster than the ridiculously impossible to stick to speed limit of 40 kph. In fact the police ticked-off the car driver for pulling out in front of the bike, and warned them that they were liable for all the damages. Gerald very generously declined the opportunity to press charges, preferring to make a quick exit before his luck changed.
Once away from the brash neon commercialism of the built up areas, Japan proved truly beautiful. Coastlines looking like Bond film locations, with terrain formed from volcanic activity that had resulted in steep tree covered mountains that plunged uninterrupted, from their peaks straight into the sea.
Japan also proved as expensive as we had feared, and despite our self-catering efforts, money was leaking away faster than the petrol from N1's carburetor. Coming straight here from the UK might not have been quite such a shock to the system, but from Russia, where even we seemed rich, the contrast was all the more dramatic.
Time flew by as we drove around this amazing country, camping in places ranging from sandy beaches to old abandoned mountain top restaurants, and from unmanned lighthouses to the dry bits between paddy fields. We did relinquish this outdoor life for 2 or 3 nights however, when we sought refuge in a hotel to escape the torrential rain and high wind that accompanied a Typhoon passing to the south of Japan... A belated culinary discovery was made in Hiroshima by Terra Circa, namely that Japanese food did not all have to involve rice and raw slimy sea creatures. This is because Hiroshima is famous for Okonomiagi, a pancake, cabbage, noodle, egg and other things concoction, cooked in front of you Mongolian style, which is not only big, but utterly delicious.
We were befriended by a Japanese biker called Holi the night we arrived in Hiroshima, a Harley Davidson rider, and Harley club member who insisted that our last few days in the area should be spent at his bike clubs annual camp, bar-b-q, party event in the mountains above Hiroshima.
... We partially dismantled our bikes and crated them up in Kobe, left in the hands of a very friendly and helpful shipping company, KB Trans, so friendly in fact that one of their number, Shinya, invited us to stay at his house in Osaka for the 2 nights until we flew to Hawaii. Shinya and his wife Eiko hosted us, ensuring we were well and truly bathed, fed and watered, whilst also showing us around Osaka, the old capital city of Japan. This included taking a Honsan, an elaborate Japanese sauna thing using water from natural hot springs. We went to a typical municipal one, and it was both immaculate and extravagant. It contained various themed bathing rooms, both in and outdoor, including Spanish, Swedish, French and Roman styles, herb baths, massage, shaving and hair cutting facilities, and even incorporated a bar, a TV lounge, newspapers and several restaurants. One could easily stay all day here, but we only had three hours. It was also an entirely naked event though unfortunately the girl's one was upstairs.
... the bikes are due to arrive in Los Angeles from Japan by ship in a week or two. Terra Circa."

Help support the Horizons Unlimited E-zine - visit our sponsors! Please be sure you tell them how you heard about TinyStocks!

TinyStocks presents Highway Manager: the most complete and flexible gas mileage application for the Palm OS® platform, written by a biker for bikers. Keep track of your gas mileage, insurance payments, garage bills, hotels, highway tolls and whatever is necessary. All kinds of statistics, charting function, multi-currency, and more... So, got a Palm OS device? Why not take it on the road?
Thanks!

Mika Kuhn, Germany, around the world, in Australia, Tenere,
"25.11.2001 - Parkwood, south of Perth / Australia
The day I left Darwin the big wet started with showers in the afternoon and I was happy to leave. I spend a few days in Litchfield National Park before I had a long stretch of bitumen (paved) road to travel before I reached the beginning of the Gibb River Road.
Then the fun started again, sand, bull dust and a few river crossings. The only thing that could take the fun out of it, were all the big 4WD with their dust clouds. And sometimes I had the feeling the language in the Kimberleys is German, because all the drivers of these big rented 4WD were German, Swiss and Austrian tourists. And I am sure they believe it is the biggest adventure on earth to cross a river in a big air-conditioned Toyota.
In Broome I met my Danish friend Bjarke Ulrich Nilson, who I had met last year in Mongolia, on his new Yamaha XT600 again. The beaches in Broome are fantastic, but as Bjarke said he had enough of doing nothing we travelled together to Port Hedland along the Northwest coast of Australia.
West Australia is a big sandbox and only my bald rear tire could stop me from riding up every sand dune. Like a child in this big sandbox I rode along all the sandy tracks down the west coast and camped along deserted beaches on the way to Perth.
In Perth I met Gail again, she is riding a Yamaha XJ600 - 180.000kms in four years!! We had met near Kalbari where she invited me to her place in Byford, 30kms south of Perth. Gail is a member of the MRA WA (motorcycle riders association western Australia) and we went together to a run and a bikers meeting. And of course she found me a place for a few weeks with Kevin another MRA biker.
After I got a new rear tire and a service on my rear shock absorber, it was time for my girlfriend Damaris to arrive. We hadn't seen each other for seven months since Bangkok, and I was a bit nervous to pick her up from the airport.
We plan to travel together for maybe a year; lets see how things work out ;-). I wanted her to learn to ride a bike. The MRA had a learner's bike, a Honda CB 250, which we could borrow for two days, because my Tenere is too high for Damaris. So I taught her on a parking lot to ride the CB and she learned fast - but is not ready yet to ride the Gun barrel.
Tomorrow we are going to leave Perth, two up on my Tenere, and travel south and than east to Esperance. And than on the Great Central Road thru the desert to see the big rock near Alice Springs.
New Years Eve we plan to spend with friends - Jenny and Gary - in Melbourne and than ship the bike to South America maybe in February. This is the rough idea at the moment, but as you know plans can change. Greetings and all the best to you Mika"
Charlie Money, UK, from UK to Cape Town, on a Cagiva E900 Elefant,
"After several false starts, it looks as if I am Kenya bound. Where my bike is and whether I get it and most of my luggage back is another question... I made one last fruitless trip to the Sudanese embassy in Cairo, but have to accept that Sudan isn't going to happen. I had thought about shipping my bike to Mombassa, but in the end decided that 21 days is far too long to wait. That left flying as the only option. I made some enquiries, and it turned out that flying would actually be cheaper than shipping.
I headed off to Cairo airport early on Sunday morning to find the shipping company who would be arranging everything. They assured me that everything would be fine, and that my bike would be going with Ethiopian Airlines on Wednesday morning. We then began the laborious process of clearing the bike out of Egypt. This involved endless to-ing and fro-ing, getting stamps and signatures from innumerable people, as the agent liberally sprayed around baksheesh to smooth everything. I wish I could share his confidence!
In theory my bike will leave for Nairobi via London (I'm sure I could have saved myself some hassle there somehow) on Wednesday. I am not leaving Egypt until I know the bike has arrived. I don t know why, but I get the impression that trying to track down my bike in Egypt from Kenya might be a little difficult! Oh and to cap it all, the cost of freighting with BA is 50% higher than with Ethiopian Airlines. Until the next time, when hopefully I will be waxing lyrical about the joys of motorcycling in Kenya. Charlie"
Andy Miller, UK, KTM Adventure, Pete Thompson, UK, Sam Beasley and Dave Ward, UK, Ruth Mandeno and Paul Doone, NZ, heading across Asia,
"Nov. 4, 2001 - Had a short flight from Dubai to Delhi. The hard part was the different culture. Got a hotel for a pound a night in the main bazaar. What a dump. The smog was so bad I had problems breathing at night. Had 4 nights there as it took 2 days to get the bike out of customs. Only paid 50 rupees bribe, then had a lovely ride though Delhi in the evening rush hour. Got hit up the back by various vehicles on top of that my mate Dave who I met up with in Delhi got us lost. This 20 min trip took us 1 hour but we made it back to the hotel for one more night. Ready for an early start 0600 to head to Agra home of the Taj Mahal from which I can see from my hotel roof top.
I have spent only 9 days in India and can't wait to get out. I have no interest in it at all other than the Taj Mahal. I am looking forward to Nepal, a lot more than India and have vowed never to return to Delhi again.
... I made it from Delhi, but not without problems. It should have taken less than a day to get to the border, some 300 kms, but it took 2 days. The first problem was the lack of signs. This I managed to overcome but the other was consistently being run off the road. I went off the road at speed down into the verge off road big time. When I do get back on the road I go to open the throttle, the bike goes completely sideways just missing two cycles.
My nightmare begins as I have a compression puncture in the rear wheel. I decide to ride to the nearest petrol station to start repairs, this is some 6kms away. It takes an hour to repair with a new inner tube, but not without a fight as I now have a large crowd around me. This I can take, but they cramp my working space so much that I find it nearly impossible to work. This they find funny, but for me I am getting very upset. Back on the road again time approx. 2:30 p.m. Not much further to go, but I ask for directions from a policeman thinking he will give good info. This turns out to be duff as when I do get to the border its closed at 5:05 p.m. I can't believe it. The guards tell me to come back tomorrow 9:00am. (Ed. Some people just have to learn things the hard way - like never show up at a border crossing late in the afternoon. (-;
What else can I do, so off to find a hotel. Like most border towns they are not very nice places to hang around for long. With very little in the way of Indian currency left in my pocket I manage to get by. In the morning, refreshed I go off to the border where I meet the same guards. They tell me I cannot cross the border as it's only for people not vehicles. Can you believe it? Why couldn't they tell me this last night (how I love India). After a cup of tea and a chat, it's off to the other border some 14 kms south where it's a lot easier. I get tea and biscuits from immigration and chat with them until the customs officer starts work (1pm). He arrives, stamps my carnet in about 1 hour. Not bad for India, 2kms down the road I have to do it all again.
As I enter Nepal it starts to rain. The customs tell me it's a Nepalese greeting. The carnet stamping takes only 10 mins. Then immigration 30 mins as I do not have a visa. The people here are totally different to the Indians.
I have just two days in Darjeeling to sample some of the best tea in the world. It doesn't taste like this back home. I spend time to check over the bike and manage to squeeze in a visit to the zoo where I get to see the snow leopards and other fine animals.
I am trying to organize air freight from here. Kathmandu to Australia as Thailand has nothing more to offer me than beaches and besides I have spent loads on camera equipment as it's so cheap in Nepal. Cheaper than Dubai."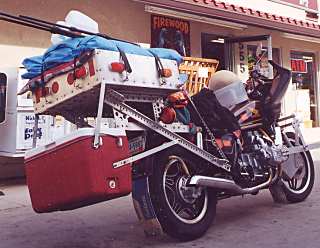 Liam McCabe, Northern Ireland, around the world, in New Zealand, Africa Twin,
"It rained all day, over the mountains it turned to hail. It stopped in the afternoon as I came down to the west coast and I was tired and cold. By mid day I decided to pull into a lane way and set up camp for the night. Beside a swollen river I found an old cattle shed. The floor was covered in hay and cow dung. I stripped and hung everything on bungee cords from the rafter to dry. I decided against pitching the tent inside in case I got overrun in the night by rats. I managed to get the bike half way into an overhang, out of the rain.
I lit a small fire, cooked dinner and got eaten by the flies who much preferred me to the cow dung. I waited till the fire was out before going to bed and even took my nighttime wee on it (maybe I should have drank more during the day).
During the night I woke to hear something crackle, first I thought it was someone at the bike, I sat up listening. I couldn't place where it was coming from. I unzipped the tent and the first thing I noticed was a thick fog had covered the place, funny thing was it smelt like smoke. I jumped out in my boxer shorts and got into my new walking boots. I could hardly even see the bike, or the cow shed for that matter. I ducked down and ran in, half the floor was alight. I could see what had already been burnt by the black area and the rest was glowing red. The only water I had was in a 2-liter bottle, which I used to stop the fire spreading any closer to the bike. I then grabbed my waterproof bottoms and tied knots in the bottom of each leg and ran to the river.
After 15min my ankles started to bleed with the new boots, but there was nothing I could do. There I was in boxers, a fleece and limping with two large udders of water back and forth for an hour. It was only then that I was sure I had it under control enough to stop for a moment and get the bike out. Stopping before this would mean sacrificing either my gear or the bike. When I came out of the smoke there was a clear sky and a near full moon. I have to add, there wasn't a threat to myself, unless the shed collapsed on top of the tent but that was highly unlikely.
I can only thank God I woke when I did or I would have been wakened by the burning bike. Stinking of smoke I got out quickly the next morning.
I've ridden 1000 miles since Christchurch without any dramas, let's hope it stays that way, for awhile anyway."
Chris and Erin Ratay, USA, around the world, in Brazil, two BMW F650s,
"I exchanged my R100GSPD for an F650, similar to Erin's -- bike prices in New Zealand are very cheap (paid US$2,300 for the bike, and sent the PD back to the states where I will keep it or sell it to another traveller). It's great to have 2 identical bikes -- we should have started the trip that way.
...November 14th, there's a costume party at Moto Café. Chris goes as a motorcycle mechanic (surprise!), Richard goes as a Canadian (surprise!), and Tania (the only creative one!) goes as a witch. I wasn't feeling well that night and stayed home. Chris met Gau, a now famous Brazilian who rode the Americas from Ushuaia to Alaska up the West Coast, across Canada, and back down to Ushuaia via the East Coast. He also had to ride 6,000km down to Ushuaia to begin, and is currently on his way home (another 6,000km) from the finish line in Ushuaia. He left Brazil at the end of April with 14,000km on his 2001 F650GS, took 6 months for the U-A-U leg, and today registers over 88,000kms on his odometer! He said he averaged 3-500km of actual riding per day -- WOW! With Gau was one of his Sponsors, Marcelo, who rode his R1100GS down to Ushuaia to meet him for his epic arrival. Marcelo has ridden 11,000kms in 10 days - that's 690 miles/day!!! These guys are crazy!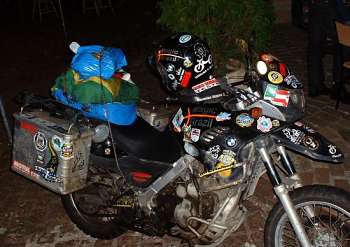 Since the moto-meet wouldn't get into full swing until Friday night, we decided to take a ride on Friday to visit Itaimbazinho, a beautiful canyon in the mountains. The road up the mountain was very technical with steep, sharp switchbacks and lots of big loose stones. Rocks that aren't loose and slippery on the surface are imbedded in the earth and stick out like pointy elbows, just waiting to kick your tire up and send you sideways.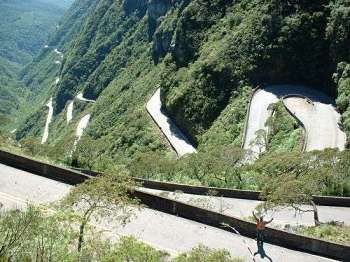 ...We returned back to Torres in the afternoon and drove down to the moto meeting site, where we met Richard and Tania. Reni came over with what looked like the MC of the event and interviewed Chris over the loud speaker system.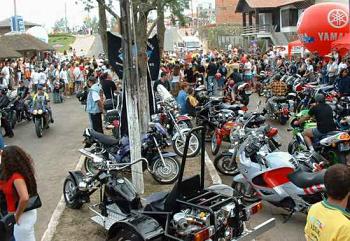 ... Exchanging stickers is a big thing here and we ended up with stickers all over our bikes from different Brazilian m/c clubs. Our bikes now look like mobile billboards, so people felt free to add theirs to our collection. One more sticker here and there doesn't get noticed anymore. Ride safe, ride far, ride often, Erin & Chris Ratay"
Mariola Cichon, USA, aiming to be the first American woman to ride around the world solo, in Honduras, Nicaragua and Colombia,
"...After leaving Copan we went to Tornabe, Garifuna settlement near Tela, on the Caribbean cost. Garifunas are descendants of slaves, who managed to retain much of the African culture, including dancing. Such an opportunity I could not pass I managed to persuade my companion to go to the local 'club', where the dancing was going to take place one night. I would have never gone to that place alone. The ratio of man to woman in that village was somewhere between 3 to 1.
Immediately upon our arrival I was asked to dance with several local men, but I was not ready then. Gee... the way they move! I am not a bad dancer, but in no way could I make my hips shake in a similar way! So I watched while inhaling a secondary smoke from illegal substances being smoked all over the place...they smoke it like cigarettes, like there was no tomorrow! It was very, very hot, and very, very humid. It did not take me long to be totally drenched with sweat...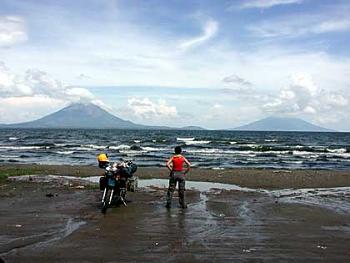 ... The mud serves as a playground for a seemingly unlimited number of kids, dogs, pigs and piglets, goats, chicken, and who knows what else. Suddenly, you brake hard, skidding to avoid running over a dog, squatted exactly in the middle of the road doing you know what... As you accelerate again you notice a small boy trying to force a huge black hog to co-operate and cross the road. Not a chance, the pig is much stronger and it pulls the boy into the muddy hole. Not to worry... a man on a tired looking horse comes to the rescue... the hog is tied to the horse's tail and off they go! Yes... pigs can fly!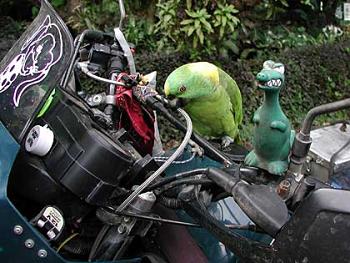 ...Lew and I left Salento the following day heading for Popayan, an old colonial town about 200 km north of the border with Ecuador. Leaving Popayan early in the morning we encountered a burned bus on the outskirts of the town. The event apparently took place during the night (remember, no traveling after dark in Colombia!). The danger had passed, the wreck of the bus was about to be towed, and the road was clear to pass.
... About 80 km north of Pasto we were forced to stop. A few kilometers long traffic jam had formed for some reason. With some hesitation we proceeded to the front, curious of the reason for such a huge jam on the major artery. It turned out to be another burned bus burned by guerrillas. This time, though, they have managed to force dozens of truck drivers to align their vehicles across the road. As if this alone was not enough to successfully create enough chaos, they also slashed tires on all trucks. You can imagine the result! This had happened around 3 AM; it was already close to noon when we arrived there; the truckers were still fixing flats. We were happy to learn that no one was hurt during the attack. I am not sure what had happened to all the people on the bus. I was told they were rubbed and let go.
The army, armed with all kinds of weapons, including bazookas, was in charge of clearing the whole mess. Being on motorcycles we managed to finally weave through after about an hour of negotiations. The soldiers and the police were simply saying that the chances of such a thing happening during the daylight hours are very, very slim, but they still exist".
Ed. See update on Lew Waterman in 'Seen on the Road' below.
Sharon Whitman and Bill Berwick, USA, around the world, in Chile, on Harley-Davidson Sportsters,
"November 23, 2001, Coyhaique, Chile
It's spring here in the southern hemisphere! Flowers resembling our forsythia back home (called retama here) bloom profusely along every road, along with lupine (called cho cho), iris, and roses galore. Another sure sign of spring abounds... baby animals. Calves, colts, piglets, lambs, donkeys, turkeys, and llamas everywhere we look. The tops of the mountains are still sprinkled with powdery snow and it can be cold (28 degrees one morning last week), but the sun is warm and comforting on our backs.
This part of the world is stunningly beautiful! We've never seen so many waterfalls as we did along the Carretera Austral from Puerto Puyuhuapi, 200 miles south to Coyhaique. Then there's the spring rain! Washing out the muddy, slippery mountain passes making it a delicious challenge for our bodies and our bikes.
The brake pads are wearing out faster than we expected. We stopped in Santiago to get new ones but the dealership closed last December. And the racks are taking a terrible beating, having broken in twelve (12) different places thus far. Also, the seal in one of our shocks sprang a leak but Larry Langley at Progressive Suspension had a new one out to us in just three days! Thank you Larry and Progressive for your excellent efficiency and expediency.
The trip continues to be a fascinating journey. We flew over the famed Nazca Lines in Peru, then visited the Machu Picchu ruins. Incredibly awesome. Truly mystical! Then we were interviewed for the 6:00 news in Argentina (in Spanish!)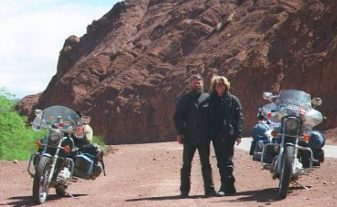 We climbed an active volcano in Villarrica, Chile. It sputtered, moaned, and spewed rocks and sulphurous gas as we ascended into its snow-covered crater, where we viewed molten lava that ebbed and flowed sounding amazingly like the ocean. Five hours to trek up but only one hour down! sliding on our posteriors most of the way. A real blast!
But it's not all fun and games folks.
We were pick-pocketed in Bolivia. Not much money lost but a hassle cancelling a credit card. Then when we tried to leave town the next morning, there was a strike in progress. All the roads were blocked. When we were stopped and told to turn back, we muttered in our broken Spanish something like "Our bikes can't stop on hills!" and ran the blockade (looking back every now and then for the next few miles)..."
Steve Raucher, South Africa, around the world, in Indonesia, R1150GS,
"2001-11-24 in Flores, Indonesia,
...My front tyre has taken me from Bangkok to Laos, Vietnam, Cambodia, South Thailand, Malaysia, and Singapore and across six islands in Indonesia. In a mild state of panic I managed to get hold of Andrew Chua, a friend of mine in Singapore and he in turn managed to get BMW Singapore to supply me the much needed new set of tyres. From that point on my new 'fairy godfather' Bruno, my Bali-based travelling companion and friend has miraculously arranged the collection in Singapore and the delivery to Bima, one of the bigger towns in Sumbawa, where I am currently stationed waiting for the plane to arrive tomorrow (ainshallah!). Without Bruno's help I would have been stuck and been forced to hire a truck to get my bike back to Bali from where I plan to fly to Sydney. Long live the kindness of strangers and friends, without people like Andrew and Bruno I would have had a terribly disappointing end to my travels in Indonesia.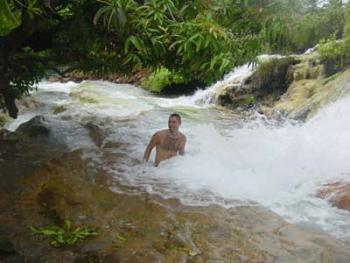 Taking into account all the advice we have received from travellers, the island to go and see the Komodo dragons is in fact Rinca. Komodo is too touristy and has less interesting landscape, plus the dragons on Rinca have never been fed by the park to attract animals for tourist photo opportunities. It was almost too easy, every turn there was a dragon, some even walking on the foot path causing a bit of a traffic jam. After walking for about 30 minutes, the guide hushes us in great dramatic style and starts stalking towards the stagnating pools of a dried up river. Bingo! 12 dragons climbing over one another taking turns immersing their upper bodies into the carcass of a freshly killed water buffalo. There was even a little 'Lady and the Tramp' parody with two Komodo Dragons eating different ends of the entrails of the buffalo.
...I think I have come to the realisation that finally I am ready to leave Asia. I need some time of recuperation in a country that doesn't wake up to the call of the rooster, or the prayer calls from the minarets, and one that certainly one that doesn't go to bed with the sun. Did someone say OZ?"
"...To The Centre Of The World...
We awoke with weary bones and decided not to repeat the madness of the previous day and so took the main roads down to Delphi. For those of the readers with a shortage in the classical education department, Delphi is the centre of the known world. For explanation, you'll have to do a little research!
The hotel was something of a bargain. We had intended to camp as I always have done in Delphi, but the charges were outrageous. Given the option of a tent at 4,500 drachma or an en suite room with balcony with views of Itea for 5,000.
...From Delphi, we were aiming for the Peloponese. There are two options, towards Athens and over at Corinth or west and by ferry. We chose the latter and squiggled our way along the coast to the ferry port - only to find that the ferry would be back in a couple of hours. So we went to the next ferry port where the ferries were queuing up and the lines of cars were fighting to get on. I felt quite vulnerable trying to get a hugely loaded motorbike up quite a big wet slippery step onto the boat. After wobbling on, we were joined by another bike similarly loaded who casually parked up with half of the fuss. I have quite a lot to learn on the riding front it seems.
...We arrived in Nafplion in reasonable time and found accom with a charming chap called Dimitrio. His pension is located high up in the old town and backs onto the lower castle walls. There can not really be a better location in town and he steadfastly refuses to upgrade and charge exorbitant prices. He laughingly told us about an apartment that was next door but two and charges seven times as much. He described it as a place that he would take his girlfriend to but not his wife. Read into that what you will.
We are now clean, we have got our digestive tracts back in order and our shirts are ironed. We have taken the opportunity to visit Tiryns, Mycenae and Epidaurus. We have had daily route marches up the steps to the castle on the hilltop. Apparently, there are 999 steps. We have counted them daily and got a different answer each time, but generally in the region of 869. We feel somewhat ripped off.
We are now plotting our move to the Islamic nations. The first challenge is going to be getting visas. Queuing practice called for."
Frank Amberger, Germany, as long as funding and fun lasts, in Pakistan, R80GS,
"At 14:30 I was stopped near Dalbandin at a military post. After awhile the soldier declared that there was a problem and that I couldn't continue. I asked him what I was supposed to do know, sleep here?? That was agreed, so I got off the bike and settled down. After lots of teas and having learned nearly all home cities of the soldiers on the map the sun settled and I started getting ready for a nice night under open sky in the desert.
I was interrupted as I was told that headquarters had decided that I couldn't sleep here, but at their HQ so we would have to go another 30km. I would get a military escort because Dalbandin isn't safe. It was already pretty dark, but what should I do... anyway just 30 km won't kill me. Dalbandin turned out to be a pretty scary town. I didn't see a single woman and the men looked quite unfriendly.
When we reached the HQ it turned out to be three tents in the middle of nowhere. That was even less than the two huts at the checkpoint. A guy with two stars and a stripe came to me and said that I had to go for 45 min. till I would see a police station and there would be a hotel. I was reluctant to go as it was nearly pitch black, desert night black (not even a moon), but I was reassured that the checkpoint would lock for me and as it was perfectly safe I wouldn't even need an escort.
So far so bad, but what will you do, discussing with officials didn't seem a good option and after all if they say it's safe...
The road soon narrowed down to lorry width and potholes appeared. In this section sand has partly covered the streets and there is even 500 meters of sand to negotiate. I was not happy at all. After some time riding all the stories off robbery and kidnapping appeared in my head and I became a bit paranoid, no wonder driving at night in Baluchistan.
After an hour and no police station I became really concerned. I passed people trying to wave me down and villages with no lights on at all. Finally to my great relief I reached a military post, stopped my bike and I swore to myself not to move another meter. It wasn't easy to explain the situation and to stay friendly, as I really had had enough. But the commander was very friendly. I had a good meal and a nice bed for the night. On the next day I continued to Quetta."