Help support the Horizons Unlimited E-zine - visit our sponsors! If Madagascar sounds like a great place to ride to you, (and it sure does to me!) drop by their website and make sure you tell Manfred how you heard about them!
Ever wanted to go biking in Madagascar?
You can ride this unique island continent east of Africa, meet friendly, humorous and unobtrusive people, and see the fascinating indigenous plant and animal life.
Take one of our Transalps and discover for yourself the highlands, the rain forest, the arid south, and it's tropical beaches.
Talk to Manfred at Madagascar-on-bike.
Plan where to be when!
If you know of any events of interest to travellers, send me a note.
Tri County BMW Riders annual "GATORALLY" in the Florida Keys, November 2-4 2001,
"...camp along the ocean at Knight's Key Campground @ Mile marker 47. 100 yards before the 7 mile bridge. Knight's Key is in Marathon, FL. Just pretend you're going to Key West and right after you go thru Marathon and right before the 7 mile bridge. Knight's Key will be on the East side. More info: Russell Levine
A quick edge of the outback blast for a beer at the family hotel Tibooburra. Organised by the Oz Adventure touring list all off-road bikes are welcome. It will be hot but the beer is cold and the company great.
Sydney to Melbourne through the Snowy Mountains, along the Murray River and the Great Ocean Road. Organized by BMW Australia, information and downloadable registration form available on their website. For those from North America and elsewhere not travelling with their own bikes, check out the rental agencies on the links page.
OMM 2001 Rally, Canakkale Peninsula, Turkey, November 17-18, 2001,
OMM is inviting all Riders and Friends to an Informal Rally on the Canakkale Peninsula. The place is full of historical, artistic and natural points of interest and we hope to have with us OMM Rider Sinan Sezer, an expert on the history of Gallipoli War, to show us around.
Accommodation will be available in Hotel, Pension and Camping around Abide.
We need to plan in details the logistic (accommodation and food) and for this reason we kindly ask to send your request of participation (passenger co-pilots are welcomed) well in advance to Taner Celik. The ride will not involve any OMM fee and you will pay only for your personal expenses.
December 25, 2001, and December 31, 2001 - Christmas and New Years Eve!
Where: Wherever you are! Travellers everywhere looking to meet up with others for some Christmas cheer can post on the HUBB - Horizons Unlimited Bulletin Board - in the Travellers Seeking Travellers Forum. I have started a thread for posting in for the Christmas holidays. In years past, the main meeting points have been Ushuaia, Goa, and Cape Town. Where will you be? There are a lot of people heading through to SE Asia this year, so let us all know your plans.
International GS-meeting, Easter weekend - 29/03 to 1/4 2002, Belgium
"Beautiful location in the heart of the Flanders Region. Meet new GS-people coming from around the GLOBE. New accommodation with more camp space, big tent, local beers.
Where? Hoeve Lorette Rudderveldstraat 7 9600 Ronse Belgium Tel. +32/ 55.21.19.26"
For more info: Website or email.
GET YOUR WEB SITE LISTED in the LINKS section by listing Horizons Unlimited on YOUR web site, let me know you've done it by mailing me a link to the page, and you may get listed here in the next newsletter and on the Horizons Unlimited web site Links page. To make it easy for you, we even have our logo and link code here!
All sites will be considered for listing, but must be a MOTORCYCLE or TRAVEL site, useful or of interest in some way to travellers.
Links will be rotated regularly as needed.
Some great places in Germany to get travel equipment:
Wunderlich
Verholen
GS Fun Factory
Wudo
Photos from the 2001 Paris motorcycle show, including R1150GS Adventure and others of interest
Moto-Sport Panniers in the USA has a special deal on Aluminum panniers for R100GS. Don't forget to tell them how you found out!
Bob Knutson and Michelle's Homepage
Travels in Mexico and Central America
Bangkok Riders Club
Info on Thailand and area.
There are many 'Helpful People' listed on the Links page, a huge thanks to all of them. How about you? Or you can join a Community, or start your own!
Do you know of a good shop 'on the road,'
in other words somewhere there isn't a large number of shops? (Also of course any shop that specialises in travellers equipment and repairs is of interest.) But we're particularly looking for those rare items, good repair shops in South America, Africa and Asia etc. I will create a web page for them soon... eventually... real soon now...
Submit your tips and questions here, anything goes! Got a great idea for travellers, found a new solution to a problem? Send it in! If you're having a problem, just ask, there's a lot of people with a ton of experience out there to help.
From a hotly debated thread on the BMW Tech list about jump-starting a bike from a car when your bike battery is dead,
"MCN and other magazines seem to have reached a consensus that it is okay to jump-start a bike from a car as long as the car is not running. This agrees with my experience.
When the car is running, the voltage and current delivered by the alternator can easily damage bike electronics. This agrees with my experience, and I've jump-started bikes from cars several times without problems by following this guideline." Tom Childers.
"One note of caution: I jumped start my K100RT after having been gone for a month and a half. As soon as the bike was running I noticed that the alarm no longer worked. I took the alarm module over to Ungo / Technê Electronics, the manufacturer of the BMW P/N 71601467485 Alarm System, who immediately asked if I had jump started the bike from a car. Evidently the surge of the jump start fried a few components of the alarm. I would suggest disconnecting the alarm module before jump starting if you have an alarm installed." Jim Larsen
One rider used 14 ga wire (that's one to two sizes heavier than the common wire used on bikes) to make a set of jumper cables, which he used to successfully charge a very dead bike battery from a car battery in 15 minutes - at least enough to kick start the bike.
Note when connecting the jumper wires that there is a correct sequence -
Step 1. Position the vehicles close enough for jumper cables to be connected, but not touching each other.
Step 2. Connect one end of the positive cable to the positive terminal of the good battery.
Step 3. Attach the other end of the positive cable to the positive terminal of the disabled battery.
Step 4. Connect one end of the negative cable to the negative terminal of the good battery.
Step 5. Attach the other end of the negative cable to the engine block or alternator mounting-bracket of the disabled vehicle, as far from the battery as possible. Do not connect the negative cable to the negative terminal of the dead battery.
Step 6. DO NOT Start the engine on the car providing the jump. When attempting to start the disabled bike, don't crank the starter for more than 20 seconds. If it doesn't start, wait two minutes before trying again.
Step 8. When the disabled bike is running, disconnect the jumper cables in the reverse order from which they were connected.
I've made contact with some of the people we were looking for last month, thanks! - but the following are still unaccounted for. If you know any of them, please send in full names and e-mail addresses would be much appreciated!
Lionel Marx, I have no e-mail for him...
Chris van de Goorberg, Netherlands, XT600, last seen in Mali...
a couple of riders from French Guyana, she's riding a Suzuki DR 350 and he's riding a new XR 650.
Rob Arnell, UK, in India
When you meet travellers...
on the road, please get contact info and let me know so I can add them to my who's who and where list! Grant
Transport from southern Europe to Australia - from a Bulletin Board Post by

David & Cheryl Laing
, Australia, in Europe,
"...October 26, 2001 - After being on the road for 14 months we have run out of money. We need to get our 2 Honda Shadows home to Newcastle, Australia.
Should we send them from Genoa, Marseille or Barcelona or try and make it to the UK and send them from there. Has anyone had any dealings with shipping agents that could help us. We are open to any suggestions.
We are leaving Rome tomorrow so perhaps Italy is out as we may be almost finished in Italy by the time you read this. Thanks..."
Leaded vs Unleaded fuel for new bikes:
"Dear Grant,Thanks for reply. I am going with Nick Sanders on his latest mad scheme to go round the world in 3 months! Begins next August. There is a problem with new and nearly new models of BMW"s and leaded petrol.
Not only do they have the cat which as you say can be ruined and the bike continues to run, but they have some gadget inside the engine which stops working if it gets coated in lead. The result is that the engine runs very rich until the plugs get totally saturated and you finally cease!
This gadget somehow controls the amount of petrol required by the engine... Since it is inside the engine it cannot be altered or removed. A small technical problem for BMW if they want their new bikes to go right round the world.
BMW"s tech. man at Bracknell suggested we go on older bikes! Other makes of bike do not so far have this problem. Currently I have a BMW F650 ST which is okay... the newer ones are not. India is going to be our problem I think. Nina Plumbe, UK"
Any comments on this potentially serious problem for travellers? Please let us know if you have any information.
Buying a bike in South Africa,
"I plan to fly from Spain to SA in six weeks time, and then travel from Cape Town up to Ethiopia (Mozambique, Kenya, Tanzania, Zimbabwe, Malawi and Uganda)and down again. I am interested in buying two bikes upon my arrival: i.e. BMW GS 800 or 1000 type of bike. Can anyone tell me if this bike or similar is available in SA? If so, what is the price I shall be asked to pay for a used one? Anyone currently selling one of those or knowing who to contact?
On the other hand, what is the cost of insurance for this bike in SA?
Will I be able to sell that bike in SA after my trip, as I am a non-SA citizen?
I will arrive in Johannesburg on November 30, 2001. I would really appreciate any help on this.
Cheers, Juan Pablo, Spain
---
Plenty more questions and answers on the Bulletin Board! We've just gone over 1000 registered users on the Board, which I think is pretty amazing, and gives a huge resource of knowledge and experience to help you with anything you might need to know.
Please use the Travel Advisories Forum to post any information or inquiries about travelling in the Middle East or Asia following the Sep. 11 terrorist attack on the USA.
We have had many travellers in Turkey writing us using Turkish keyboards,
and they come in pretty strange - with the i replaced by a ý. (That's a y with an accent over it.) We have finally got the answer, thanks to Kirsten Latimer, RTW on Triumph.
The keyboard layout is as follows:
From top left (i.e. the Q) in lower case:
qwertyuýopðü
asdfghjklþi
zxcvbnmöç
and again in upper case:
QWERTYUIOPÐÜ
ASDFGHJKLÞÝ
ZXCVBNMÖÇ
Most importantly, the lower case i is just left of the enter key, and the upper case I is where it should be - right of yu and left of op. Hope that helps!
Panama to Bogota - over the Darien Gap,
from Dirk Bachmann, Around the World (2-mad's Global Polio Campaign for UNICEF)
"a tip: airfreighting your motorcycle with Girag Air between Panama and Bogota (and vice versa) costs US$250 no matter what weight and size. Bike will just be tied onto some wood and that's it.
HOWEVER: sometimes they try to get more money out of you at arrival! Don't pay more than agreed, best to get that in writing! Flights leave daily; there MIGHT also be a weekly flight to Cartagena for the same price or a little less. A passenger's seat costs US$200."
From the Jupiter's Travels list, on driving in Italy and points east:
by Chris Allen, UK:
"... rather than this being an Italian cardriver v motorcyclists thing, it is a universal rule of Italian motoring - all two lane roads should be treated as a three lane, observing the following rules:
If you want to drive fast, travel near or on the centre line, people will get out of your way.
If you want to drive slowly, drive near the verge, move out of the way of other traffic.
If you want to overtake, drive quickly, right up the centre line, people will get out of your way.
If someone is driving up the centreline towards you, move over and let them past.
---everyone else on Italian roads follows these rules, so when in Rome....(sorry...).
Be very observant, but also be assertive. Drivers in the US, UK and France are like meek choirboys compared to drivers further east.
Seriously, the first day I drove my bike in Italy I got seriously rattled, I ended up pulling over soo many times, but then I sat with a cold beer in my tent by a ruined stablehouse beside a river and an apple orchard as the sun went down and I realized (and this was a realization without which I could not have driven in Africa at all when I got there) that it's just a system, and if I continued clinging to my British rules of the road, I'd be screwed. I just had to see how the locals drove and drive like them.
Just consider that speed limits stop applying at the Alps and that you truly are a king of the road, just don't do anything foolish.
Oh and be careful - Italian roadsigns are AT the junctions, not before them, so you WILL find yourself doubling back more times than you ever thought... but it's all fun. Chris."
And I'll add that North American drivers make the UK choirboys look like spawn from hell... Grant
Importing bikes into the USA is often difficult:
But it can be done. Cat Syrbe brought her 1975 Indian Royal Enfield in with ease. The secret: the bike was over 25 years old.
"An update on my impossible dream. My bike has arrived from India, in one piece and it was unbelievably easy.
It was a little over $550, $250 including packing/crating and shipping to the USA.
I ended up sending a 25 year old bike, no bonds, no customs papers, no taxes... it took less then 15 minutes to clear customs.
I registered the bike in Massachusetts, another 15 minute job. They never even asked to look at it. No inspections. I made a few upgrades and changes, but it wasn't necessary due to the age of the bike.
I drive it home today. If anyone ever needs help with buying or shipping out of India please give them my name. Cat Syrbe."
Money on the road, from a post on the HUBB,
"I am travelling in Tanzania right now and unfortunately I had all my valuables stolen this weekend (in Arusha). I had American Express traveller's checks, which were VERY hard to replace because the local offices did not have any replacement checks, so I was forced to borrow money from the Amex office until my new checks arrived.
If I had a Visa, there would have been plenty of places to get money, but I didn't know this beforehand and all I have is a Mastercard. Next time I would also bring an Amex card so that I could purchase traveller's checks from the Amex offices - they won't let you use Mastercard, at least not here in Dar Es Salaam.
So as everyone above said, Visa is you best bet, but I would bring Amex too just in case." Wright Bagwell, USA
Shipping from Dubai to India, from Andy Miller
"I have used a firm Emirates recommended called Liner Cargo Services - Mr Aziz Fakrudin was most helpful. Tel on 822075 or 7023959 in the air cargo terminal of Dubai. The bike cost me 381 pounds sterling and myself was 145 pounds, that included everything incl. crating."
---
Request for info
Wouldn't YOU like to know all about the border you're approaching - what it should cost, paperwork required, 'tips' needed, and who to talk to, etc.?
When you cross ANY border, take some notes, and pass them on to us. Thanks!
Shipping
There is now a Shipping page on the site. It can be reached directly or from the Shipping link on the Trip Planning page.
If you have any information to contribute, there is a form at the bottom of the page which you can submit and we will put it on the page. Thanks!
Travel Advisories:
The Foreign Office in London's Travel Advice Unit advises against all travel to all sorts of places. Check out the listing before you start!
The US State Department has issued travel advisories, information and/or warnings.
Connor Carson, UK, Round the World?, in Indonesia and Australia,
"Nias was indeed a beach paradise. All the ingredients were present in profusion - Palm trees swaying in the balmy breezes, wide deserted golden sands, bamboo beach huts, blah blah - you get the idea. The roads on Nias also provided some amusement - on the East of the island, the asphalt had degraded beyond recognition, and the journey from the port of Gunung Sitoli to Lagundri took around 4 hours.
I had particular difficulty with the decaying bridges, which had originally been constructed of flat planks running at 90 degrees to the direction of travel. However, as these had progressively disintegrated, shoddy repairs had been made by placing two gangways of inadequately secured boards along the length of the bridge where the car tyres would run. These things were rattly and uneven, and fairly tricky to balance on. A glance downwards afforded views of the river below, through the gaps in the mouldering old boards. I concentrated on staying on the gangways, picturing in my mind the possible effect of a quarter-ton of Yamaha if it were to pitch onto these old timbers at speed. The best approach seemed to be to line the bike up as I approached the bridge, and then gas it across in a dead straight line along one of the gangways as it rattled and shook discomfortingly.
A few days on Lagundri beach was a welcome respite after all of this, and when I left I elected to head back to Gunung Sitoli by the West road. The road was smooth and only occasionally reverted to dirt: I made good progress. Unfortunately, it then became necessary to gain altitude and cross over to the opposite side of the island, and it was on this stretch that I was brought up short by a steep muddy slope. A couple of minivans were stuck at the foot of this rutted ascent, whilst a third attacked it at maximum revs, wheels spinning as it was shoved by its dozen or so passengers. The attempt was unsuccessful, and it slithered back into the quagmire with smoke pouring interestingly from the engine compartment.
The audience turned expectantly towards me, and I didn't feel I could let them down. Up on the pegs, I launched myself at the thing gamely, with predictable results. Something solid in the glutinous muck grabbed pulled and twisted, and over I went. Fortunately, the mud was nice and soft, and I relaxed happily into it's gluey embrace as I thumbed the kill switch. He's back, I thought, the legendary horizontal Irish biker adds one more landmass to the growing list of 'Places I've stacked the bike'....
… Although Java is nominally part of the same country as Sumatra, the differences in population and traffic congestion are marked and immediately apparent.
The island of Java is approximately 1200 kilometres long, and every square centimetre of it is chock full of minivans. Crammed in nose to tail. It would be impossible to fit one single more minivan on the ground anywhere in Java. In fact, I hear that they are considering stacking them up vertically in some areas.
The solid wall of minivans which confronts you as you roll off the ferry oscillates sluggishly, and slowly slides aside as though by a natural process similar to continental drift, to reveal small gaps through which you can squeeze your bike.
As you emerge with streaming eyes from the obligatory diesel smoke screen produced by these vehicles, you confront the next wave of randomly blundering obstructions. And so on, and so on, as the countless, dearly bought kilometres crawl painfully beneath your wheels and the unevaporated sweat trickles down your legs.
Finally...Jakarta: Big. Hot. Smoggy. Standard issue loony traffic. All these things I've seen before, but how quickly you forget... After half a day of stop/start driving with heavy emphasis on the stop, my clutch hand was cramping painfully and I imagined that I could smell my legs broiling on the red hot engine. Another two hours of wrestling through the approach run to a major city was not going to be fun.
The Tenere clutch has always been a heavy sod, and I have noticed that on later model XT's the linkage has been moved to the other side of the engine, presumably to give a straighter pull and alleviate this problem. My own particular clutch seems to be a particularly obdurate piece of bastardry, despite my attempts at lubrication.
… Mr Koestanto had gone down a few points in my estimation, by admitting to me that the price he had quoted for air freight of the bike to Darwin was in error. This was a bit of a sod, as I had come bucketing all the way back to Jakarta solely on the basis of this information. In fact, his original 1.45$ per kg shot up to 2.55$ per kg, on account of there being a different rate for cargoes which are classified as 'Dangerous goods'. I had been aware that a dangerous goods certificate/fee was required, but I hadn't been told that a completely different pricing schedule would be enforced.
This new price was way outside what I could sustain, and I decided to opt for sea freight, very much the overlander's least preferred freight option. The reason for this is that, although generally much cheaper, sea freight is very slow, unreliable and seems to be much more prone to the imposition of sudden arbitrary costs at both ends of the journey. In addition, the possibility that various prized components of your vehicle (or items of baggage) will be nicked is vastly higher, due simply to increased exposure time to the bad guys in situations of lax security. Airports in general have tighter security and give much less opportunity for pilfering, although there are notable exceptions, as anyone who has seen the anarchic mess that is Kathmandu Airport Customs Section will testify.
So with trepidation in my heart I agreed to the sea freight option, Jakarta to Sydney via Singapore. It has to be said that this was a vastly cheaper proposition than flying the bike, so assuming the thing arrived intact I would be quids in by at least a couple of hundred dollars. In addition, the 2-3 weeks delay during transit actually fitted quite nicely with my plans - I had another 4 weeks left on my Indonesia visa, and it seemed a shame to waste it sitting on my ass in Sydney racking up a huge hotel bill, when I could be on the beach in Indonesia, living the good life for a modest outlay.
Decision made. Bike to port. Bike into crate. Bike into warehouse.
And so to the beach... I passed the time in Bali at Lovina beach learning to scuba dive.
It was during this idyllic period that the attack on the World Trade Centre took place, and shocked the world out of complacency. I left Indonesia a few days later, in a world suddenly more sombre and uncertain than it has ever been in my lifetime.
… The flight to Sydney dumped me into temperatures which felt subarctic in comparison with the balmy Indonesian climate. After a week of sitting on my ass in Sydney, and a couple of visits to the cargo agent in Port Botany, I had parted with many dollars in port charges, quarantine fees and other mysterious fees, acquired a stack of papers which could be used to wallpaper a moderately sized room, and was still not in possession of the bike. Fortunately I was staying with a biker friend (whom I'd met slumming it on a rented Enfield in Rajasthan, India), so I was not running up a huge hotel bill in the process. Cheers, Mike.
I finally was permitted to prise the bike out of it's crate after parting with even more cash - the total cost of handling, quarantine, warehouse rental, and other nebulous charges was around 600 Australian dollars (about 300 US dollars), and actually exceeded the cost of shipping the bike to Sydney in the first place. Unbelievable!
To add insult to injury, after three weeks in a dark container, the bike had a flat battery that resisted all attempts at jump-starting, and was in a MAJOR sulk. I beat an undignified retreat on the back of a breakdown truck, and dumped the machine in Mike's garage.
I had arrived in Australia at last, complete with a badly bruised wallet, a bike that wouldn't start, made funny noises in 5th gear, leaked intermittently from various orifices, wallowed like a sick pig due to shagged out rear suspension, and probably had things going on inside the engine that I didn't even want to think about.
Then I thought about all the miles and miles of empty dirt roads the wide open desert spaces and big blue skies, all just waiting for me. I cheered up, and got the tools out..." More stories from Connor's travels (and travails) in Asia in Horizons Unlimited Travellers' Stories on this site.
Andy Miller, UK, heading across Asia, in Dubai, KTM 640,
"I seem to be making progress re my detour around Pakistan. I shall enter Iran as planned and then head for Bandar-e abbas the main shipping port. I will hopefully get a ferry to Dubai, then head for Emirates Airlines who have been most helpful and put my bike and myself on the same plane landing at Delhi. This will be organised when I reach Dubai.
I could fly from Istanbul but I do not wish to ride back towards the west of the country when I am so close to Iran and having paid over 100 pounds for my visa I am going to use it... I am looking forward to it as I have met some Germans who have been there and said they could not spend more than 50 marks in two weeks. That's cheap. He also said when filling up with less than 15 litres of fuel the garage did not want any money as it was so little I think its about 3p a litre. The lonely planet guidebook I have says you can budget on one to three US$ a day. I have contacted a shipping agent in Iran re-Iran-Dubai or even straight to Delhi but this conversation was proving two hard and expensive, but the outcome was positive - just got to get there to organise it. I am a bit apprehensive about going in on my own but will no doubt meet people on the way.
… Hello from Iran I have met up with two Germans whose bikes I had seen in Bergama Turkey. We decided to ride to the border together after one of them with a huge hangover decided to get up at 10:00 am when we should have been on the road. Anyway we arrive at the border 11:30. It takes only three and a half hours between 7 different desks. They seem to love paperwork. Not a computer in sight on the Iran side. This is my second night in Iran and about 250kms in, just said goodbye to the two Germans as they are going to Tehran [good luck]. The driving is very bad - there seems to be no respect for life whoever it maybe. The Iranians are such nice people.
… Spent 2 weeks in Iran. It was great. The people make the country. I was on my way to a place called hanadan 660kms from where I last sent an email when I go to check into a hotel and bump into Mike the guy I first met at the Turkey-Iran border. Small world. We team up for the rest of Iran and head for Bandar-e abbas the shipping port in the gulf. Hotter than hell here.
Again I bump into two other Brits one of which replied to my email posted on the www.HorizonsUnlimited.com web site a long time ago. Smaller world. We decide to send the bikes and ourselves to Dubai on the overnight ferry across the Gulf. Smooth crossing took 12 hrs, that's OK but it took 10 hrs to get the bikes though customs and another 3 hrs in Dubai. This is a near culture shock. Dubai is great if you have lots of money but we still have a good time on our budget... my camera has broken after shooting 13 reels of film so I decide to replace it and send the other home with some prints and other stuff, this is a good excuse to upgrade as its tax free here.
So I fly out tonight to Delhi. Looking forward to a cheaper country than here but I shall return. On Tuesday is the start of the Dubai rally I am gutted that I cannot get to see it but have met some of the riders in the airport, they wish me luck on my adventure and we say our goodbyes. I would like to say thank you to Grant and Susan Johnson for their web site - it's given me so much info and people to meet. Cheers Andy"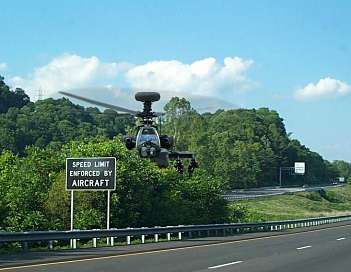 "Just finished 820 miles on graded i.e. dirt roads. Wow! We are now in Broome on the north west coast of Aus, catching up on some home comforts. We met up with another English couple on a bike (Pat and Ness) who have been travelling for 3 years - across the Sahara, through west Africa, south and north America, into Aus and then back the way we came (hopefully, depending on politics of course) ... The roads are quite well known 'off road' tracks up in the Kimberley area of WA, a really remote spot, but a bit rough going at times.
Poor ole Rich, the bikes only been dropped 3 times since we left home, but got dropped 6 times in the first 3 days of riding off road! Luckily the damage done: cracked pannier frames, split drive shaft gaiter, rattling front disk, bruised Rachie's foot (!!), are all repairable and he's off now getting things fixed up. The road was really corrugated and sandy in places and it therefore took it's toll. But, wow, it was worth it! Beautiful gorges, some amazing free camp spots, swimming holes and just the vastness of the cattle stations out here was great to see.
Really enjoyed being in company again as well (miss our Acky chums) and we've been celebrating our achievements with a few cases of beer and a bottle of Bundy Rum and coke, which Rachie nearly drank all of herself, bloody yummy stuff!!
Looks like we'll be sat in Broome for a week or so, white sand and turquoise water that you can actually swim in at last (no croc alerts!) and then meander south. Actually much cooler here as well and no biting nasties. Will get to NZ in the end!"
Email from Richard & Rachel
and then from Paul...
"Jill ... is by now at home in the UK for a month to see her family & friends.
As for me, I fly to NZ on the 16th and hope to get the bike out pronto (from Customs etc.) to give me time to get to the South Island to catch up will Harry and Gillian for 5 days heli-skitouring. Crash course?
I'm sad to not go by boat from Melbourne as that seemed groovy but I would not have been able to link with Harry so...
Tomorrow I'll go to Sydney for a couple of days then to the Blue Mountains and that'll be Bye Bye Oz hello family... Paul"

Help support the Horizons Unlimited E-zine - visit our sponsors! Nice people, so drop in on them if you're in the area, and make sure you tell them how you heard about them!

Motorcycle Friendly
B&B
in historic Corrales, New Mexico. 15 minutes from the intersection of Interstate 40 and I25 in beautiful New Mexico.
Thanks!

Sharon Whitman and Bill Berwick, USA, around the world, in Costa Rica, on Harley-Davidson Sportsters,
"Bill and I were finally and happily reunited with our bikes in Quito, Ecuador after a miserable week without them. We'd opted to fly them from Panama rather than portage them through the Darien Gap. Customs hassles and shipping delays added to our distress, but the bikes are in good shape, despite mine being dropped by the shipping company, chipping/cracking my windshield and bending my handlebar guard.
The headlights are heating up and melting the wiring because we can only travel 20 mph on these pothole strewn, gravel/rock covered dirt roads (yes, we have since turned the lights off). And Bill's saddlebag rack broke from the constant bumping and jarring.
But Ecuador is stunningly beautiful. The narrow mountain passes can be a challenge, but the views are breathtaking. We are high in the Andean Mountains 5km from the active Tungurahua volcano. The town was evacuated two years ago, but is slowly returning to normal. The switch to dollarization makes it easy to travel here. There are great restaurants, lots of hostiles, steep hiking trails, and beautiful waterfalls. Everyone smiles, waves, and greets you with Buenas Dias and a handshake here. They are genuinely concerned about what is happening back in the States and elsewhere in the world.
We spent a few days in sultry Amazonas, near a village called Ahuano, east of Tena, where we learned about tapirs (actually watched them swimming), jungle vegetation, river travel, and native rituals. The guides, locals, and student volunteers tell us there is no malaria here, only near the coast. But we are taking our Mefloquine anyway.
Papallacta, nestled in an inactive crater north of Volcan Antisana (5758 meters/ approximately 16,000 ft) is THE place to go for relaxing hot springs.
We also visited Mitad del Mundo (the middle of the world) at the Equator, 15km north of Quito and took photos with the bikes in front of the 90 ft high monument there. The altitude (2,483 meters/approximately 7,000 feet) keeps the temperature very comfortable."
Harald and Udo Lamers, the Bike Brothers, Netherlands, through Asia on Suzuki DR 600s, in Thailand
"We fly from Kathmandu to Bangkok (Thailand) and the motorbikes come with the same plane. The next morning we go to the cargo department. Some smart guys come to us and want for customs clearing, handling fee and 3 day storage fee US$140! No way dudes. We ignore these guys and go to the custom information office and they help us to find the right offices. After 6 hours, 7 different offices, 20 stamps and much more signatures the bikes are released. We only paid 1000 Baht (22 US$) for 2 bikes for customs clearing.
Compared to the previous countries the traffic in Bangkok is organised. Everybody follows the normal traffic rules and nobody is horning. They are riding a lot of 125 cc motorbikes. Brightly colored, big disc brakes and high exhaust pipes, they look like Grand Prix racers. They look at our big DR's when we stop beside them at the traffic light. When the light jumps to green everybody sprints away. We too. Harald is gaining and passes a few 'coureurs'. He arrives as third at the next traffic lights. Not bad for his first race... A lot of motorbikes are parked near the sidewalk and guys with orange or red jackets are waiting here. These are motorbike taxis and are the fastest way to move around in Bangkok. Udo thinks he found a new job...
We apply for visas for Laos, Vietnam and Cambodia, which takes eight working days. In the meantime we do some sightseeing in Bangkok and surroundings. Khao Sar area, where our guesthouse is located, is lively and touristic. There is a continuous street bazaar going on where real fake Nike, Oakley, Rolex, Cartier and many more brands are sold for a cheap price. At one of the food stalls we buy Phat Thai. These are spicy fried noodles with vegetables. Delicious.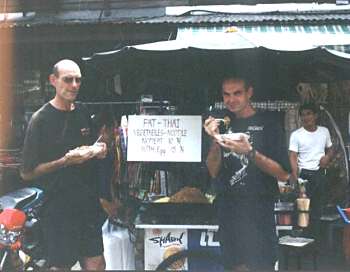 On a rainy Sunday morning we take a bus to Dammoen Saduak. This is a floating market where women with funny straw hats sell their groceries. One boat is a floating kitchen and we watch how the woman is preparing the food in a big wok. She puts it on a plastic plate and a customer takes it. A floating take away...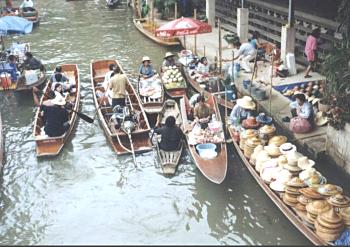 On empty highways we drive to the north. In the hilly north at the border with Myanmar (Burma) live a dozen hill tribes. These ethnic minorities have all their own languages, customs, clothes and spiritual believes.
They live in huts made of bamboo and leaves. The women of the Akha tribe wear hats with embroideries and silver ornaments and they smoke pipe. The most interesting hill tribe we visit are the Padong. They are better known as 'Long Necks'.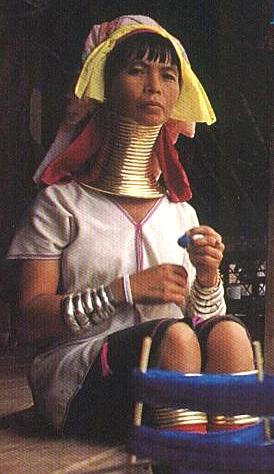 The women wear white shirts with blue decorations and have brass rings around their neck. These massive rings push their shoulders down, so it looks that they have a long neck. It was used to protect the women for tiger attacks, as tigers attack usually at your neck. This tradition is nowadays kept, despite the women are obstructed in their movements and sometimes they have problems with breathing."
"… Our 1,200 mile journey from Irkutsk to Chernyshevsk, the start of the 'Zilov Gap', though cold, was problem-free. The Zilov Gap is a 400-mile gap in the Trans-Russian road/track system, where there are no maintained tracks and no bridges across the numerous rivers. Overlanders take the train for this stretch.
Our plan was to unload most of our luggage from the bikes at Chernyshevsk, leaving it at the train station, and to return by train to collect it after completing the Zilov Gap on our almost unladen bikes. We gave away the road-tyres we had driven on from Britain and fitted the off-road tyres we had been carrying. Our luggage consisted of our sleeping stuff, some tools and some spares. We took no cooking equipment, and no real food, only chocolate.
We drove through many streams and rivers and made good progress, but on the second day the rivers started to become more difficult to cross, some bikes stalling as deeper water got into the engines. Soon we had to start walking next to our bikes as we slowly drove them through the rivers. Some were too deep even for this, so we had to all push one bike through in turn, without the engine running, then drain the water from the engine and get the bike going again on the far bank.
There were frequent river crossings, maybe 15 to 20 per day. Only one proved too deep and fast flowing, the river at Zpega. Here we had to hire a local 6-wheel-drive Camas truck to get the bikes across the river.
... It was on Zilov Gap day 4 that our progress finally halted, about 200 miles into the 400 mile Zilov Gap. Chichatka is a small collection of wooden houses, with no shop, no petrol station, no cafe, no roads, no cinema and certainly no hospital. It was here that Matt had a crash, riding the same ill-fated bike, H-21, that had previously been Dave's untrusty steed. His bike's front brake disc had snagged on a length of old wire, throwing him off and breaking his collarbone. He was clearly not able to ride any further, so with his arm in a sling made from his pair of ladies tights, we had to wait for the next local train.
…Two days after Matt's crash, a local train with one carriage and a flatbed goods-wagon, finally stopped at the tiny station. We struggled to lift on the bikes from track level as there were no platforms, and with the help of fellow passengers we got all four bikes loaded, and then started the 40 mile, 2.5 hour journey to Erephay Pavlovich and the nearest hospital.
Once in Erephay, Matt was soon x-rayed and then trussed up in a excessively large plaster-cast, that if painted gold, could have easily been used as Roman chest armour in any Charlton Heston biblical epic. After suddenly realising that he wished he had asked them to shave his chest first, before encasing him, he was told he would be off-games for at least one month. Some limited relief was forthcoming for him though, when with the use of one of the tyre levers, he was able to prise free his nipples, which had also been cast into the plaster along with his chest hairs.
As no trains go to Magadan, if Matt was to stay on Terra Circa, the final Russian destination would have to change from the icy cold northern Siberian prison town of Magadan, to the southern beach resort and main port of Vladivostok, the biggest city in the sunny and warm Russian Far East. This would allow him to continue by train while we completed the rest of the journey by bike, and hopefully he would be able to ride again by the time Terra Circa reached the USA.
This route would also probably force Terra Circa to travel via Japan at probably the best time of year to visit it, to go to see Mr Suzuki to beg for some free bike parts, and to also miss out on the 2000 mile, icy cold, bear infested, frost bitten race from Anchorage through Alaska and Canada, to try to reach the warmer states of the USA before the first winter snow. Reluctantly Austin, Gerald and Charlie immediately and unanimously agreed to abandon the Magadan route and head for Vladivostok.
... Gerald, Austin and Charlie had decided to drive back to the scene of Matt's crash, on their fully reloaded bikes, to try to complete the remaining 200 miles of Zilov Gap by bike, and then drive the final and relatively easy 1,200 miles to meet the now one-armed Matt in Vladivostok, an estimated 7 days later.
Everything went relatively smoothly until we reached the town of Blagoveschensk, 900 miles north of Vladivostok and 300 metres from China. The rear shock absorber of Austin's bike had broken 2 days earlier and with the rear wheel movement restrained only by the spring, it bounced violently over every bump. Two days of rough tracks since the shock absorber broke, and the four steel members that form the rear of his bike suddenly completely severed due to the continuous and excessive vibration.
Fortunately he was able to ride very slowly as the exhaust pipe was stopping the broken rear section of the bike from totally collapsing onto the back wheel. As he limped slowly forward to tell the others of the bad news, he soon discovered that his mechanical problem was yet again not the only hitch to occur on the same day. 500 meters further on he saw that Charlie's bike had also suffered some damage. His rear luggage rack, made from an old camping chair and some garden hose had completely disintegrated. The problem however, was surprisingly not due to Charlie's poorly engineered design and use of cheap materials, but because its design load had been significantly exceeded. Charlie's bike was on its side under the front of a lorry, surrounded by a crowd of people, 3 police cars, and an ambulance.
The 12 tonne lorry had driven into Charlie's bike as he waited on the verge for Austin to catch up... Charlie had been thrown clear by the impact and was amazingly completely uninjured with only a small graze on his leg. His bike was also lucky, as incredibly the rear wheel was not buckled despite the trucks front wheel actually finishing up on top of the bike's rear axle. It did however completely bend the rear brake disc as though it was just a tab-washer and cracked bits off the hub. TC were delayed for three days while both Austin's and Charlie's bikes were patched up and police formalities completed. The truck driver was found officially guilty at the police station the next day and ordered to pay the costs of the bike repairs. A figure of 10,400 roubles was agreed for the damaged bike parts that could not be repaired by his company's resident welder (275 pounds sterling, about four months pay for the driver). Thank goodness for the Russian system of justice. The total procedure took only three days from Crash to Cash, compared to a more likely 6-month period, had we been in the UK dealing with insurance companies.
... Meeting up with Matt in Vladivostok was an incredible stroke of luck, he just happened to be in the very bar that we had chosen to stop at to use as a base while we tried to make contact with him. It was over a week later than we had estimated, but Matt had wasted no time in making sure he had really enjoyed his time in the city. He had made many friends and had made full use of all the sympathy that a one armed English boy, alone in a strange town and 12,000 miles from home, can attract, obvious from the number of young and beautiful Russian women who were looking after him."
Ed. Hope all recover and that the rest of your trip goes more smoothly!
Steve Raucher, South Africa, around the world, in Sumatra, Indonesia, BMW R1150GS,
"Sumatra has these lakes because of all the volcanic activity that created the land in the first place. Maninjao is very special because one can actually see all the walls of the crater that it is in. Complemented by a small sandy beach and crystal clear water it makes a good overnight (or longer) rest stop.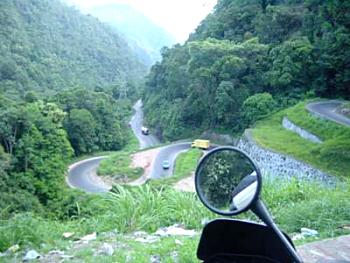 My friend, Doug, a fellow biker who rode local bikes all over South East Asia was waiting for us in a lovely little guest house on the Lake. The problem was that separating the guest house from the main road are 5 or 6 paddy fields. Ever tried steering a fully loaded 300 kg motorcycle down the wall of a rice paddy? Well, needless to say, I fell flat on my face. Pretty damn dirty!! After finally recruiting a local on the promise of a beer we managed to pull the bike out of the mud and I restored my nerves well enough to make it the rest of the way to the guest house.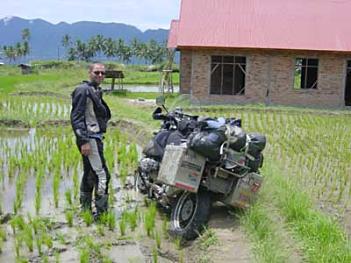 … The things I do for my family, I tell ya! I am of the opinion that riding across Java is no more dangerous than riding across London. But in order to satisfy the nerves of the women in both Louise's and my family I am presently in the confinement of Indonesia's answer to the QE2, and believe me - there is no comparison. Trapped on a moving prison serving less-than-prison-grade food and keeping most of the exits locked. I have new empathy for inmates of prison who get their one hour of sunshine before going back to the slammer.
… It all began with a phone call to the Padang (Sumatra) office of the government-run shipping line and enquiring whether it would be possible to ship my bike if I chose to travel on one of their 'luxury liners', I was told to come and see them in person when I got to Padang. Upon my arrival the head cook and bottle washer tells me that it is against all regulations to ship motorcycles or motorcars on his ship, but for me he'll make a special exception. So far so good.
I then enquire of the price and he assures me it is nothing to worry about, and I figure that since my 1st class ticket costs about USD 70 that shipping can't be costing me nearly as much! So off the lackeys go to buy wood and nails to build the crate that bossman is insisting on. About 2 hours go by, during this time work has commenced on the crate by the two most incompetent carpenters of all time... The bossman gently calls me aside and tells me that he has spoken to his superiors and the least they can charge me for is five metric tons of cargo. He also explains that they have bought all the supplies for the crate and of course I am liable for these costs.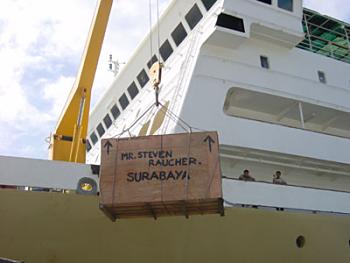 So in the end shipping my bike around Java has cost me more than it would to ship from Singapore to Australia. At the time I thought at least I would be in the comfort of a 1st class cabin and all this would fade into the back of my mind but since I am trapped in this roach-infested flea-bag of a tub, I am venting my anger. Just 24 hours, I keep telling myself, but I can almost feel more trouble to come before we pull into port. I can't wait!"
Mariola Cichon, USA, aiming to be the first American woman to ride around the world solo, in Mexico
"... Viva Mexico, here I am! In the midst of my ecstasy I realized that the temperature has reached 110 F! Before leaving on this journey I swore to always ride in full gear, that is protective jacket and pants. I am just about to break that promise... The extreme heat combined with the hot air blown on my lower legs from under the engine created a private hell for me. It feels like riding inside a giant oven...
... I left Bahia de los Angeles on 29th of September. While fueling at the local station I learned about the hurricane sweeping over central Mexico and southern Baja. Ooops! Change of plans!
La Paz and Cabo San Lucas, my next destinations, were flooded by heavy rainfalls. Not being particularly fond of riding in 100 mph winds, I decided to cut short my visit to Baja and take a ferry from Santa Rosalia to Guayamas, instead of La Paz - Mazatlan as originally planned... the ticket for the bike and me was about twice as much as I have expected. It cost me over $130 US to ship to the mainland, Mexico!
… The passage from Baja to Guajamas took 12 hours, instead of 8. As I waited to board I was astounded by lack of any kind of activity on the vessel throughout countless daytime hours. I assumed that everything must have already been taken care of, and the crew is simply relaxing before the departure. Wrong! Around 9 PM (the ferry was scheduled to depart at 10 PM), as by a touch of a magic wand, everyone arose and suddenly remembered that a whole bunch of stuff needed to be taken care off, such as for example food and fresh water provisions.
Around 9:45 several groups of officials had showed up, some with dogs, for inspection. The process of opening luggage and explaining why, when, how long, etc. repeated itself at least 5 times. The guys were totally stunned by the fact that I am traveling alone, as if they never encountered such a freak before.
Since I, along with most other travelers, bought the cheapest ticket, I was to spend the night in a so-called salon, a large room with rows of upholstered chairs. The chairs, along with everything else on the vessel, without a doubt remembered times 2-3 decades ago. This was illustrated by water dripping all over the place during the passage... Soon the ship started rocking and groaning. I could not help but worry about the bike. My worries turned out to be unnecessary; everything was fine, and the bike survived untouched. I, on the other hand, still am suffering the consequences. The salon I was to sleep in was air-conditioned to the point of freezing...
... on the road to Mazatlan, I passed through several small towns and villages. Huts woven from sticks and mud shelter skinny children. Dirty children take care of sick looking cows. Limping dogs bark at the cows, miserable mules, and donkeys. Everyone tries to sell something to everyone else... there are dozens of food and juice stands of different quality. Some of them relatively clean, some horribly dirty. Those who do not sell, pass the time sitting in the shade while observing the traffic. Roma and I usually create quite a stir, especially when stopping at such place for a drink or other need. I do not mind all this commotion at all; these warm-hearted people do not mean any harm - they simply are surprised by such a big bike, and by what is totally beyond their comprehension: a woman traveling on it... without a husband! Such is the true life in Mexico, away from the glitter of tourism and expensive places.
Since another storm is cooking on the coast south of me, instead of following Rt 15 I will turn inland toward Guadalajara, Morelia, Tuluca, and Oxaca. In a few days, if everything goes as planned, I should cross the border with Guatemala!"
Patrick Lüth and Lorenz Kerer, Austria, Indonesia to Austria, in Uzbekistan and Russia, on BMW R100GS Paris/Dakars,
"Uzbekistan - Tashkent doesn't have a very good reputation with tourists; has nothing to offer. For us though this large city was a welcome change to all the small provincial towns of the last months. We went to the Opera, met with students at the University, attended an international soccer game, and enjoyed all the pleasant aspects of a Capital city. Once again we were treated to living in the Children's Village and got to meet all the enthusiastic people who live and work there for the good of the children.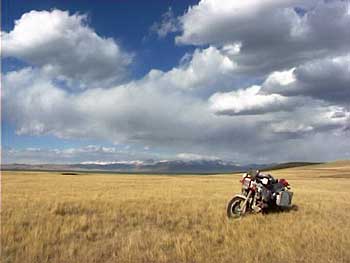 The city of Samarqand absolutely lives up to its legendary name. In particular the Registan is magnificent, a layout with three enormous Medressen from the 15th Century. The originality of this architecture is totally fascinating, almost completely covered with blazing blue tiles and a beautiful fundamental harmony. In order to climb to the highest Minaret, we did have to grease the palm of a local policeman, who then accompanied us over various blockades and between dilapidated domes to our goal. Yeah ok., so we paid a bribe.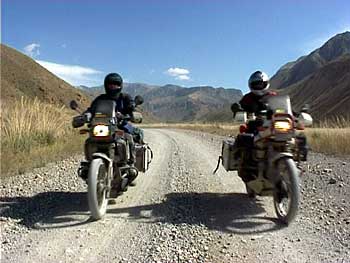 We appreciated Bukhara even more, the most sacred city on the Silk Road. This was actually the first time on our trip that we had the feeling we were visiting a genuinely old city. It wasn't just a few individual old buildings but rather a wonderful construction of old clay brick walls, a real labyrinth of lanes and alleyways, canals, squares, Mosques, bath houses and Minarets. Every now and then a small restaurant invited one to enter, to drink a cup of tea, or to simply be inspired.
… One evening in the 600 year old walls, in the oldest Hamam-Baths of the city, in true oriental ways, we sweat all the sins out of our bodies, we let ourselves be shaved, and we had a masseur knead, bend, and mould our bodies. In that atmosphere under antique brick with soft oriental music seemingly filtering through the cracks in the dome all thoughts of any Alpine - Sauna - Wellness - World seem comical.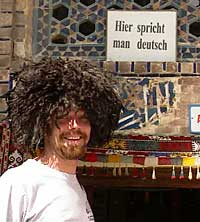 We have left the monotonous kilometres through the Uzbekistan desert behind us and are back in Tashkent. Here in the Children's Village we are attempting to get our equipment fighting fit and gearing ourselves up for the long last leg of our journey. I suspect that every one of you can imagine that after three quarters of a year on the road we are looking forward to home, friends, and family. The melancholy and the disturbing feelings that our adventure is actually coming to an end occupies our thoughts daily.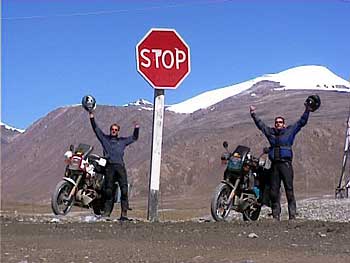 So what! The fact remains that in less than one month we'll have Tyrolean ground under our feet, our loved ones in our arms, and good beer in a mug, that sounds damn good to look forward to!"
Toby Privett, UK, New York to Chile, KLR650, recuperating in Guatemala,
"'Hay guerra (war) en Nueva York' the gas station attendant announces, pointing at my mudded and battered New York license plate. These are not comforting words. I am in a small town in Northern Mexico, navigating with compass and non-descriptive AAA motoring map.
I joke sometimes that my unofficial sponsor for this trip is a certain financial institution in Manhattan who did me the service of a couple of ridiculously well paying contracts at the tail end of the dotcom boom.
Later that day, I see on CNN, the skeleton of a building I used to work in. The next couple of hundred kms, looking for an Internet cafe are the strangest I have ever ridden. Wanting badly to get somewhere to find out news. Not wanting to hear the news. Taking hairpins kind of crazy, because, well, if New York City has just been blown to pieces, then what am I doing so far from friends and community.
Things simmered down as email technology did its thing, and getting down to southern Mexico, far from the 'badlands' of southern USA and northern Mexico.
… And then came Guatemala. Arriving here was the kind of pleasure you get travelling between India and Nepal. Crossing through the efficient border process, trundling along CA1 without pickup trucks and 4x4's screaming to overtake. People seemed more relaxed. The pace of life more peaceful.
… Sunday morning drive around the gorgeous Lake Atitlan. I'm doing about 35 mph when a pickup truck pulls out in front. Horn. Loud horn. Can't turn to my left as there's swarms of people waiting for a bus. So I hit the driver's door at about 25 mph, trying, but failing to get my left leg up and over the seat.
Well so much for big metal boxes. My foot's wedged, facing backwards beneath the left side and I'm screaming 'ayudame' at a prepubescent boy who is trying to lift 450 pounds of motorcycle off the ground. He succeeds in getting my foot free and the entire village comes to my rescue. The truck driver is screaming at me. The villagers are screaming at the truck driver, and an old woman offers small bags of frozen tamarind juice to ice my foot.
Neither of us have insurance. My front forks are bent out of shape. His once yellow door is now blue and curved the wrong way round. And he wants money from me. I reply in my finest, foulest Spanish that we had better go to the policia, at which point he offers me a handshake and says that I am very lucky he is not hurt.
The bike's rideable, and I don't feel much pain, so decide to go the 70 kms to familiarity and a comfortable room in Antigua. Once there I am too shocked and confused to drag myself off the bed, so spend one of those surreal not quite here, not quite there, nights.
Early the next morning a bunch of French people ooh and aah and feed me painkillers. The first doctor I see wants to whack a cast on, but there's a crazy swelling, so I go for a second opinion and call the British embassy… when I called the after hours number in Guatemala City, the first words I got were 'I'll be right over'.
So an hour later I'm bombing down the Pan American highway in a diplomatic Land Rover with thunder, lightning and heavy rain. I tell Glenn (the consul guy) that this is above and beyond the call of duty, but he explains that he used to be a fireman in some place called 'Sleesville' (?sic) in the North of England, and would much rather be doing something useful than sipping rum with a bunch of boring ex-pats.
If you've ever been to an emergency room in England, you'll know that being smothered in blood is the only way to skip the four-hour wait. But, bloodless, I'm taken straight out of the car, onto a wheel chair and into the x-ray room.
... So there's a KLR 650 in Antigua Guatemala looking sad and lonely. If any one has a good use for it for a month or so, and wouldn't mind getting the front forks straightened, I can be reached at: Toby Privett."
Charlie Money, UK, from UK to Cape Town, frustrated in Egypt, Cagiva E900 Elefant,
"I have spent three very frustrating weeks in Egypt forlornly trying to arrange my Sudanese visa. I have been to Cairo (not a favourite city of mine) three times, involving many hours on buses and trains, hoping that my visa would have come through. It has been particularly disheartening that all the other Westerners I have met have managed to get their visas in less time than I have been waiting. Of course I am happy for them, but there seems to be no tangible reason as to why mine has not come through. But having been at the Sudanese embassy, I can't even be confident that they have sent off my application.
So I am going to have to make alternative arrangements, banking on the likelihood that I will not get the visa. I will travel back to Aswan (a 12 hour train journey to the far south of Egypt), wish Andre my fellow biker well, and then start heading back North. I will swing by Cairo one more time to see if my visa has come (if it has it will be back down by the same route!).
If not, as I believe will be the case, I am going to head to Aqaba in Jordan, again where I should be able to arrange to ship the bike, probably to Mombasa in Kenya. However I may have to go the whole hog and ship to Cape Town and then ride up from there!
As for hairy moments, these occurred when travelling with the Military convoys they insist on laying on for Westerners from Port Safaga on the Red Sea coast to Luxor. They told me that the problem was nothing as dramatic as bandits, simply that the road was treacherous! We set off at dusk on the 200 km ride, to discover that the convoy moves at breakneck speed and, in fact, you are in more danger travelling with them and the lunatic bus and minibus drivers than travelling on your own!
Particularly hairy was to discover that suddenly along the road they had decided to put trenches in the middle of the road on corners! Unfortunately I discovered this in true biker style when, taking a right-hand corner having set myself up beautifully on the other side of the road for maximum visibility around the corner, I noticed the trench at the same time as I spotted the oncoming car! I had no choice but to brace myself, close my eyes and pile across the trench, and, somehow, despite the bike bottoming out completely, I emerged unscathed on the other side...!"
Dirk Bachmann (Germany), Juergen and Mario's RTW on BMW F650 and R80GS as Official Ambassadors for UNICEF NZ (www.2-mad.com), in Colombia
"In the ten days we spent in this marvellous country of great roads winding through green, impressive countryside - a biker's dream - we did not meet any other tourists, had a lot of fun, far too little sleep, a broken chain on mine and a torn clutch cable on Juergen's bike. Both happened at the same time at the same spot. There was nothing left to do but laugh at it - after a lot of swearing to begin with obviously - and hitchhike together with the motorcycles into the nearest town.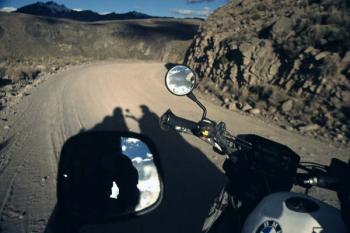 The garage we went to seemed rather 'bold' to us and turned out to be one of the local motorcyclists' favourite hangouts. Learning from experience we decided to repair our good horses ourselves while talking to the people. Not always that easy when you are sweating in your road gear trying to focus on the job.
Without us knowing the Club ROTARACT UPB of Bucaramanga with their president Luis Enrique Reyes G. had organised another press conference for us boosting our publishing of the first seven months of our anti-polio-campaign to over 180! They also hosted us in their houses - cool pool party, mates! - and invited us to a fund-raising party with the famous Colombian band 'RH Positivo'. There we learnt what it meant to be a hot-blooded, passionate Latino. How can we Westerners ever even dream of moving our bodies like they do. All our tries, and be it the best, most motivated and maybe even experienced ones - must just have caused a smile of mild pity on their lips. But on the contrary, they kept inviting us to dance, paid us compliments on our styles (Yeah, right!) and enjoyed our company. I guess we do have our advantages, too."
Although the people, the landscape and the roads are simply awesome, the situation is NOT. During our time there another 30 people were kidnapped on the Pan-Americana, an ex-minister afterwards executed.
The head of security of UNICEF Colombia said he would have forbidden us to travel through his country if we had been employed by them instead of being volunteers.
If you decide to do the trip regardless, start travelling at 6am or earlier and be off the road by 4pm. Keep a low profile and do not leave the main roads."
Glen Heggstad, USA, the Striking Viking, to Central and South America, in Costa Rica, Kawasaki KLR650,
"It's been raining almost non-stop since entering Costa Rica yesterday and not the heavy drizzle or brief squall stuff. Heavy, hard-core, driving rain, all last night and up through my delayed three pm departure. I kept thinking this has got to end sometime, somehow, but so far, no luck. I had no idea clouds could hold so much water.
When manufacturers call their rainsuits waterproof, they actually mean waterproof up to a point in time. As any geologist can attest to, water will ultimately always have its way and travel where it wants to. In my case, water wants to get inside my rainsuit and make things hard for me.
The initial phase starts with a trickle around the collar and down the neck to the front of my chest giving me the shivers. Next the wind pushes little streams around my wrists, past my cuffs and up my arms. Drop by drop it seeps through the water resistant zippers and two or three deep puddles in the road splashing upward, fill my boots to the brim… Since I started at three in the afternoon and it's now six in the evening, I'm not only fairly well soaked under my rainsuit, but also visually impaired and freezing cold to boot.
The traffic is heavier than normal and the rain is not letting up, only getting worse. It is so strong that the only time it switches from crashing down on me is when it blasts me diagonally head on. It is so intense, it feels like a massive crush of water pushing me backwards as though I'm swimming upstream against a powerful current.
My face shield has a dark tint to it with droplets of water diffusing the lights from oncoming traffic into streaking blinding blurs. I struggle to imagine where the road might be. I am traveling only thirty miles per hour and totally out of control.
Speeding oncoming trucks and buses have no regard for motorcycles and refuse to dim their bright lights... their beams cause a severe reflection on my watery faceshield which turns into a solid sheet of white and nothing more. I am deadass blind and all over the road.
To keep from driving off the highway, all I can do is aim for the lights and try to swerve away at the last moment. They pass, and now I'm facing the pitch black darkness completely disoriented and swerving all over both lanes. I flip open my face shield in an attempt to restore my equilibrium and a fist of water slugs me in the face leaving me gasping for air and unable to open my eyes.
Costa Ricans take care of their roads and faithfully fill all potholes or I would have crashed hours ago. The highway is good but the storm has ripped branches from trees and tossed them into my path intent on impeding my way. The only time I see one, is when my front tire stumbles over it, as it takes a second or two for it to register what just transpired. All I need is to run over one with a three inch diameter to it and that will put me in a ditch somewhere with the dogs and donkeys.
… With all my years of training, all my research and high tech equipment, nothing can prepare me for this. All I can do is play the cards that are being viciously flung at me tonight as a question echoes in the back of my mind, would I trade places with any other man on earth? The answer is still no."
Ed. We DO NOT recommend driving at night in foreign countries, in any weather!
Mika Kuhn, Germany, around the world, in Darwin, Australia, Tenere,
"What did I do all the time in Cairns, I spent nearly two months there? If I think about it, not much. I spent a lot of time in front of television with a brown bottle in my hand, after all this travelling I just felt like it. The second bike, remember I bought for friends a Yamaha XTZ660 in Sydney, I sold - but the money I got wasn't too good. So the two months went fast I have to say, but I enjoyed it and I needed a rest from travelling.
But I didn't lose all my wanderlust and Mark and I made a few trips to the tableland, west of Cairns, and to the Great Barrier Reef. As my landlord and friend Rob invited me for a five day fishing tour, there was no doubt that I would miss this, even though I am not a fisherman. On the 12 metre motor boat I was the kitchen-bitch, in charge to make out of coffee powder something which the others could identify as coffee. The four anglers took part in a game fishing tournament a bit south of Cairns, and made the third place out of 15 boats. The Great Barrier Reef is one of the best spots in the world for fishing, and believe me the fish were big.
From Cairns to Darwin I rode 3500kms, included about 2000kms on dirt tracks along the gulf. With my fantastic Tenere I went through a lot of Sand, Bulldust and Corrugation. Even did a few creek crossings and nearly got stuck in the mud once. Lawn Hill National Park is my highlight in six months Australia. Reaching this green oasis in the afternoon was like a dream, after all the dusty kilometers through the hot bushland.
I went on a truck inner tube down the river. Through all the palm trees floating on the small river was like dream, I could see exotic bird and even some wild pigs. More than an hour I went paddling downstream and enjoying myself, and I didn't meet any other human being. All of a sudden I was back to the real world, as I saw a crocodile going into the water. Ooops. Without panic I tried to reach land fast, believe me. If there's anything I don't like it is crocs when I am in the water. And I was already wondering if it is possible to ride the bike with only one leg. I made it with both legs. A wallaby staring at me in disbelief.
Later I read in the park brochure, that this part of the park is closed for tourists and that there are a few freshwater crocodiles. They normally mean no danger to humans, but to see a crocodile in the water while you are in it as well is not something I would tell you to do. Ok, for the next few days in Lawn Hill I follow the beaten tracks through the park.
Kakadu National Park. In Pine Creek I met the Japanese biker En, he is going around Australia on a 100cc Honda Postie - bike. En is a crazy and very friendly guy and so we decide to go together to Kakadu National Park, at 60 km/h. Even at this time of the year the park is crowded with tourists at the main sights. We spend three days there and than headed for Darwin.
I am in Darwin now. Yesterday I got a visa extension for another six months down here. The evenings I spend mostly in the backpacker bars, washing down the dust with some cold beers. But today in the afternoon it is time for me to leave this place, also Darwin is not a cheap place to drink, and go for a few days to Litchfield National Park. And then west to Perth.
Have fun, wherever you travel, work or just have a good time. MIKA"
Chris Bright, UK, Around the world, in Peru, R100GS
"The route led across the mountains via Ayacucho to Huancayo. A total of about 2 weeks with only mountains, Berge, montagnes and Sierra. Totally super-duperly marvellous. A couple of bits were paved, but most was dirt, gravel and mud. Great views, friendly people and the chance to wrestle a Llama, or rather help a shepherd boy (or should that be 'Llama boy') herd in his flock after they had legged it. All in a day's work for the seasoned biker dude like me...
The drive to Huaraz was long and on an incredibly bad road ('what road?'). At one point I smelt burning plastic. Do a check: Mud guard on exhaust: No, Something fallen onto the engine: Can't see anything; Stuffed if I know. Later on the bike was bouncing up and down like an old Cadillac. Ahhah, that old chestnut: The shock had pretty much blown all its dampener oil in one go and various plastic bits on it had melted: hence the smell. Oh joy!!
My parents know nearly as much about my bike as I do: For me it is 'in the field study' and for them it's more of a 'correspondence course', although my dad understands a great deal of practical BMW stuff too and already has a PhD. in BMW bike shocks: The system works very well indeed and now being old and wise myself, I source everything on the Internet, my parents do the leg work and we use normal snail mail (rather than those w***ers at DH Hell) and hey presto: in 7 days there is an Ohlins shock waiting at Lima Post Office. THANKS YET AGAIN MUM AND DAD!!! The wonderful Mr Motoguzzi Guzman (as well as showing great hospitality) offers splendid assistance and the new toy is mine... Since Lima it has already held nearly 1000km. Yippie!
… Am now in Cajamarca, behind schedule (what's new there?) and last time I checked, over budget (definitely nothing new there...). Being behind schedule might mean delaying my return back to Europe: If you had the choice of a British Winter and being insulted by a bunch of teenage s**ts (also known as 'Supply/Substitute Teaching') and heading into a Brazilian summer, which would you choose? Difficult choice, I know...
… A v quick sign of life. Arrived in Manaus, Brazil and am having a jolly (not) messing with the ****wits known as Brazilian customs. Many thanks again to Vince brown, the British consul in Manaus, who helped me through my trial and tribulation with Brazil customs. It is far too humid here. I suppose it has something to do with being in the jungle.
… Arrived in Belem, where the Amazon flows into the Atlantic. It's great to be off the boat(s). Nothing like bobbing up and down for 2 weeks to make you appreciate riding a bike on terra firma." More stories from Chris Bright's travels in the Horizons Unlimited Travellers' Stories on this site.