Help support the Horizons Unlimited E-zine - visit our sponsors! If Madagascar sounds like a great place to ride to you, (and it sure does to me!) drop by their website and make sure you tell Manfred how you heard about them!
Ever wanted to go biking in Madagascar?
You can ride this unique island continent east of Africa, meet friendly, humorous and unobtrusive people, and see the fascinating indigenous plant and animal life.
Take one of our Transalps and discover for yourself the highlands, the rain forest, the arid south, and it's tropical beaches.
Talk to Manfred at Madagascar-on-bike.
Plan where to be when!
If you know of any events of interest to travellers, send me a note.
Deadhorse, Alaska, July 12, 2001
"... Let's make Deadhorse (Northern end of the road) like the annual Ushuaia (Southern end of the road) Christmas gathering. If you are going to Deadhorse in 2001, co-ordinate it (on the Bulletin Board) with other like minded folks with common interests in the land of the Midnight Sun. I'll be there with my Yorkie 'Punky' on a Kawasaki KLR650."
Lew Waterman, USA, North and South America 2001-2
There are at least a half dozen riders already committed to being there - how about you?
Deschutes County Fairgrounds & Expo Center

2001 Possum Lodge Special August 10 - 12 2001 from the "International Order of Rolling Broccoli Riders", USA.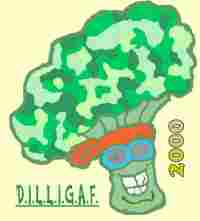 Pack your "Handy Mans Secret Weapon", enter the Rolling Broccoli Riders open competition for the most original misuse of Duck Tape and try for the prestigious "Red Green Award".
NO FEES, no fuss, no frills, just falling down fun, fellowship and frivolities. Info: Helmut Haus, 484044 Cape Rd., RR#2 Wiarton, Ontario, Canada, N0H-2T0 Tel. (519) 534-2598 or email
11th Annual BMW GS "BIG DOG RIDE", August 17-19, Colorado, USA
A serious on-and-off road ride for the true BMW GS aficionado. Entrants ride their GS motorcycles to the event, remove saddle bags, boxes and touring gear, then tackle the highest, toughest passes in North America. By "invitation only." Interested entrants should e-mail or call Great American Motorcycle Adventurers (303) 715-9292 or BMW of Denver (303) 936-2317. Event is open to all models of GS BMWs, including HPNs and prototypes.
A new class for 2001 has been added for the "robo-boxer" R1150 GS and R1100GS. In conjunction with the event will be the second annual International Wheelie Competition, open to all entrants in the BIG DOG RIDE.
Gieboldehausen 5th Annual Treff, Germany, 31 August to 2 Sept 2001
Great rally, well worth going! "This year we have better facilities, a bigger room for slide shows, international guest, news and products concerning motorbike travelling and a party with live-music." Details here.
Transdanubia Ride 2001 The Ride for Understanding, 25.08. - 01.09.2001
"Start in Munich at BMW's, prologue near the city and then off via Austria to the Czech and Slovak Republic to Hungary. With the freedom of selection of route, checkpoints have to be stopped at which in each country lead to the national special stage. It`s in the Puszta with the Magyar people where the ride will fully get going: in four one-day loops starting from the base camp. Here is the complete tempting cross-country terrain which will make the Enduro hearts beat faster. Sand, mud, gravel and one special stage after the other. Participation is permitted for anyone holding a driving licence corresponding with a 4-stroke Enduro. Also admitted are enduro-type side cars and quads (4-stroke only)."
Clare Navigation Rally, 7 - 11 September, Ireland
"...why not join us for the Clare Navigation Rally suitable for large capacity trail motorcycles, in the Burren Co Clare Ireland , also on at the same time is the Famous matchmaking Fair in Lisdoonvarna... rock on! Clare Navigation Rally C/O Philip Gunn, Watergrasshill, Co Cork, Ireland. Ph ++ 353 21 4889 462 Fax ++ 353 21 4889 516 Email, Website"
Starting from a US Military Base in Germany. IronButt type event. If you are interested, there will be a 100 rider limit, so it pays to get your name on the list.
GET YOUR WEB SITE LISTED in the LINKS section by listing Horizons Unlimited on YOUR web site, let me know you've done it by mailing me a link to the page, and you may get listed here in the next newsletter and on the Horizons Unlimited web site Links page. To make it easy for you, we even have our logo and link code here!
All sites will be considered for listing, but must be a MOTORCYCLE or TRAVEL site, useful or of interest in some way to travellers.
Links will be rotated regularly as needed.
Steve Eilertsen, South Africa - Tips and info devoted entirely to new motorcyclists, (different styles of motorcycles, protective clothing, riding skills, luggage options), with some info on touring in South Africa as well.
"The Short Bikers Mailing List was originally started by a small group of people who were about five foot high and were frustrated at trying to find suitable beginners' motorcycles... Although we are no longer just made up of beginners, ... we don't limit the mailing list to any particular shape, size or skill level of people and we have members all over the world!"
From Carla King: Obstacles on the Path of Enlightenment is a story from my trip about riding through India on a Royal Enfield Bullet, and is featured now on Motorcycle Journal.
Ron Paull, Cut Bank, Montana, USA
"June 14/2001 - Just hosted Mariola Cichon. Delightful experience! We are happy to host any long distance/dual sport or other cycle travellers. We have a few tools, a lift, tire changing equipment, and love to listen to travel stories! On top of that my wife is a great cook." E-mail Ron
There are many "Helpful People" listed on the Links page, a huge thanks to all of them. How about you? Or just join a Community, or start your own!
Do you know of a good shop "on the road,"
in other words somewhere there isn't a large number of shops? (Also of course any shop that specialises in travellers equipment and repairs is of interest.) But we're particularly looking for those rare items, good repair shops in South America, Africa and Asia etc. I will create a web page for them soon... eventually... real soon now...
"... a great BMW workshop:
Hughes of Wallington, Surrey, England a small workshop but great people. Email or phone +44 208 6691706
Chris Stone"
Submit your tips and questions here, anything goes! Got a great idea for travellers, found a new solution to a problem? Send it in! If you're having a problem, just ask, there's a lot of people with a ton of experience out there to help.
From Paul Atkin, UK
As anyone who rides an Africa Twin will know, the "seat" is as comfortable as corrugated iron. After seeing/sitting on Sharkie's modified seat outside the Coach Inn in Wales, I decided to make the 200 mile round trip to Leicestershire to see the upholsterers recommended by so many people.
They are two of the most genuinely nice blokes you could meet and can't hide their amusement that people travel such distances for their services.
Anyway, 1 hour later job done. The seat is now softer and slightly wider, far more comfy and they still only charge 15 quid! This has to be the best value for money Africa mod. For anyone who hasn't been...
Mark or Dale Wells at...
G.A Wells & Sons
9 Hall Croft
Shepshed
Leics UK
LE12 9AN

Tel: 01509 504700
From Chris Stone,
"I have been wearing Altberg boots now for best part of 8 years now my first pair have been across Europe many times a bit of North Africa not to mention 6 years dispatch work!They kept my feet warm and dry until the waterproof membrane split then In sent them back and they rebuilt then new soles membranes and Velcro for half the price of a new pair of boots they are still going strong but I treated my self to a custom made set last year. Website."
From Jim Robinson, USA, re KTM seat height,
"The main "worry" about the KTM for most riders would probably be the saddle height - you just have to try it to see if you can cope.
There's a good solution to the "tall" problem.
Gary Emig makes some pull rods for the rear suspension that lowers the bike without affecting the travel. The pull rods are available in two lengths that lowers the bike either 2.25 inches or 1.25 inches.
For the 2.25 inch version you raise the forks 15-17 mm in the triple clamps.
For the 1.25 inch version you raise the forks 8mm in the triple clamps.
Of course ground clearance is affected. The only real negative to the solution is that it makes it harder to get the bike up on the centerstand.
The solution costs $75.00. Cheaper than a toaster.
Email. Tel. 816-847-1100
(You could modify/shorten the centerstand fairly easily if the modification worked for you - Grant)
I've made contact with some of the people we were looking for last month, thanks! - but the following are still unaccounted for. If you know any of them, please send in full names and e-mail addresses would be much appreciated!
Claire and Mark from England riding two XT600's...
Lionel Marx, I have no e-mail for him...
Chris van de Goorberg, Netherlands, XT600, last seen in Mali...
Kiwi Brian and Japanese Junko, both seen in Chitral
Johan ? traveller from Netherlands, last seen in Rio de Janeiro.
a couple of riders from French Guyana, she's riding a Suzuki DR 350 and he's riding a new XR 650.
Rob Arnell, UK, in India
When you meet travellers...
on the road, please get contact info and let me know so I can add them to my who's who and where list! Grant
E-mail address Problems:
Sometimes there is a problem with an e-mail address - it's not that I'm deliberately ignoring you! I have been unable to reply to the following, as the address they gave me bounces. If anyone knows them please let them know the problem:
Jürgen Hoffmann, and anyone else @slpol.de, I am unable to get anything through to slpol.de addresses. Please supply another e-mail address by re-subscribing at the Subscribe Form.
Chris Smith
cjsmith@ gtonline.net.uk
in the Channel Islands - This address is no good, if anyone knows him or knows what the address might really be, please let me know.
Thanks!
From Steve Eilertsen
"An open letter to all you intrepid travellers out there. A word of thanks from this armchair traveller who has at yet, not kicked his 650 thumper into life and headed for the nearest border post. I read of your adventures with great enthusiasm each month and look forward to the time where I too can do a similar thing if only on a smaller scale.
I have noticed that the postings to Horizons Unlimited fall into two different types i.e. adventure-filled and statistics-filled.
The first type of posting is filled with incidents, people and anecdotes: e.g. elephants outside the tent door in Zambia; whacking holy men with a bamboo stick in India; being held captive by rebels in South America; punch-ups with border officials on the bulge of Africa; beautiful women in Latin America etc. I am sure that this is the very stuff that made these intrepid travellers leave their hometowns in the first place.
The second type of posting is filled with statistics, distances, weather, official documents, fuel consumption, mechanical details etc. This race against the clock, Ironbutt rally stuff forms a sharp contrast against the first type of posting. This does make me wonder. If the traveller knew that such a rich experience would, in hindsight, be condensed into a type of "living atlas" one wonders if they would have started their machines in the first place.
I guess what am driving at is a question addressed to myself. If I set out on a long distance trip what will my own response to the experience be? Will I be a "Fact-and-Figures" man or will I allow myself the freedom to suck the very marrow out of each and every experience? Regards, Steve Eilertsen, Johannesburg, South Africa " e-Mail Steve
Australia Weather advisory from Chris McArdle:
"G/day all Just been listening to the local copper at Oodnadatta being interviewed on radio. They have had over 31/2" inches of rain since Sunday. Tourists are trapped at least till Sunday/Monday. The rain has fallen from WA through the lower NT, upper SA, right through to Sth West Qld and western NSW.
Only road opened in Nth SA is the Stuart Hwy. The Canning is closed in parts and some of it is expected to remain closed for the entire season.
Good news, if no more rain arrives, the outback will be covered in vegetation in about a month.
BTW Here in Melbourne it is hailing at my home and snowing in the outer eastern suburbs.
Cheers Chris"
From Chris Stone, UK,
"I completed a medical course last year they take you from where a basic first aid course finishes then introduce you to basic wilderness first aid to their advanced medicine for remote foreign places course where you are setting up I.V drips and stitching people up a seriously full on course I really enjoyed both their courses although they are hard work but they are backed up good course manuals as well. Website."
Thailand to Burma border - from a bulletin board post by Stephan Solon
"We've been in Thailand for a month and are seeing regular reports of skirmishes along the Thai-Burmese border and for the time being I understand it's not possible to cross that border any way other than flying. Good luck, Stephan"
Indonesia - from a bulletin board post by Patrick Lüth
"We biked in Indonesia this year in Jan. and Feb. However much effort it is getting the bikes into the country, it will be worth it. Until now (going to Malaysia, Thailand, Laos and Japan) none of the countries have been so wild, the people so friendly.
We started our trip in Jakarta, shipping the bikes there from Rotterdam. It took us almost two weeks to get the bikes out of customs, lot of bribing, lots of negotiating. If we would go to Indonesia again, we would ship to Surabaya, Java, we had very good experiences there when we left the country, shipping the bikes to Singapore. Customs was (almost) straightforward, NO bribe(!!!), also the port is smaller and more organised. At least it seemed to us. If you still have to wait and negotiate, Surabaya is a terrible city, but so is Jakarta.
If you want to know the whole story please read our journal on www.transasia.at. Please write if you have any detailed questions we can help you with. Greetings, Patrick"
Ethiopia / Sudan- from a bulletin board post by Andyk
" I currently live in Addis Ababa, Ethiopia.
I have met a few overlanders over the last couple of months who have come to Ethiopia via Sudan. The routes they have used to Sudan include from Egypt, Chad and Libya. They all reported no problems with their routes, although the vehicles from Libya had to be cautious, as it is illegal to leave Libya that way. However the Sudanese side of the border proved unproblematic.
Relations between Ethiopia and Sudan are currently good.
Cheers, Andy
Request for info
Wouldn't YOU like to know all about the border you're approaching - what it should cost, paperwork required, "tips" needed, and who to talk to, etc.?
When you cross ANY border, take some notes, and pass them on to us. Thanks!
Shipping - There is now a Shipping page on the site. It can be reached directly or from the Shipping link on the Trip Planning page.
If you have any information to contribute, there is a form at the bottom of the page which you can submit and we will put it on the page. Thanks!
Travel Advisories:
The Foreign Office in London's Travel Advice Unit advises against all travel to all sorts of places. Check out the listing before you start!
The US State Department has issued travel advisories, information and/or warnings.
Patrick Lüth and Lorenz Kerer, Austria, through Japan, Russia and Central Asia, on BMW R100GS Paris/Dakars,
"... As we stood in Fushiki before our ship that would take us to Vladivostok, the anticipation of Russia relieved all farewell pains for Japan. The "Antonia Neschtanova" - our ship - was bigger than expected and in much better condition than expected. On the same ship were Rob and Dafne de Jong from Holland, a couple we had met in Tokyo. After a five year trip and twice around the globe with their Yamaha and sidecar, they are now on their way home to Europe. The motorcycles were lifted into the ship by crane and despite a couple of minutes of nervousness, everything went well.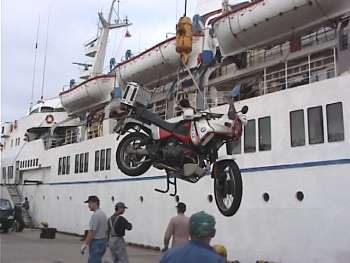 We arrived in the harbour of Vladivostok after three quiet days at sea. Vladivostok, the Russian San Francisco, lies bedded in hills on a peninsula. Sergej and Dimitri, two members of the motorcycle club 'Iron Tigers of Vladivostok'picked us up and took us to the Box, a club-house with a repair shop attached to it. The longer we lived there, the more the word spread, and many friends and members of the 'Iron Tigers' came around to meet us.
On our last day in Vladivostok we threw a farewell party as a 'thank you', the result being that the next morning our heads were throbbing as if we had massive migraines. As we biked away we left friends behind in Vladivostok.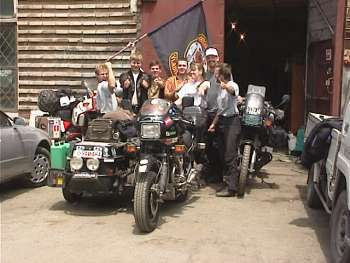 ... On our long trail through Siberia we were faced with the problem that a section of road, 1200 km, simply did not exist. It took us quite a while in Simanovsk to find a method of transport. Because the railroad cars were full to bursting with Japanese used-cars we were forced to lift and heave Patrick's bike through a side door. That almost impossible task practically cost us our last nerves. Relief spread through us finally when all was on rail and the train started to move. In a mini cabin the four of us spent the 27 hour non-stop ride to Sylka.
From Sylka our route continued on to Ulan Ude, the Provincial Capital City of Buryats. On the outskirts of Ulan Ude we spent our parting day together with Rob and Dafne and for a last time enjoyed simply being with them.
Our Mongolian Visas are waiting to be used therefore in a couple of days we are headed into Mongolia. Although we have only covered 4000 km. of Russia, we can already say: There are only two big things in this world - the oceans and Russia. From Siberia, yours Lorenz."
Harald and Udo Lamers, the BikeBrothers, Netherlands, through Asia on Suzuki DR 600s, in Turkey
"Hi everybody. We are the brothers Harald and Udo, known as the BikeBrothers, and we travelled already to 4 continents on our Suzuki DR 600's. And on May 11th we started our trip to Asia, our last continent. Going east, going to where the sun rises (for the planned route see our homepage).
Sleeping with the Gods... Cappadocia is a beautiful area and has some dramatic scenes. From the volcanic ground, the softer layers are washed away by rain and air and what is left are chimney shaped rock formations. They are spread around the little city of Goreme. In many of these rock formations Christians from the 10th century dug holes in and used it as houses and churches. In some of the churches are beautiful frescoes from the lifecircle of Christ: the birth, the crucifixion and the resurrection.
In the city Adiyaman the tourist information gives the advice not to drive up to Nemrut Dagi (Mount Dagi). The last 13 km to the top of this mountain are too steep and the road is very bad. They tell us that a German guy had wrecked his bike. Well we will try it..
The road winds up the mountain. We don't see much other traffic and we ask ourselves if we took the right way. We pass little villages where goats shit on the road. Then we see a sign that says 17 km. After 4 km the road is still good to drive but goes steeper after every hairpin. The slope is at least 30 % and the stones get more space between them. Slowly in the first gear we drive up and a lot of times the rear wheel is loosing grip. We cannot stop here and have to go up to the 2000 m high summit. For the last 10 km we need half an hour and soaked in our sweat we reach the top.
At the summit king Antiochos of Commagne had made some statues of the Gods Zeus, Apollo, Hercules and himself. The statues were build in the first century BC and were 50 m high. But an earthquake took them down and now the 2 m high heads of the statues are put up only. From the top we have a beautiful view and see a nice sunset.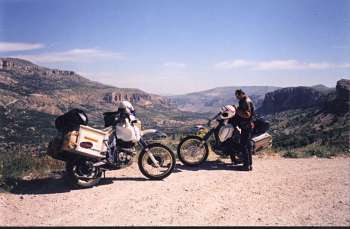 In the dark it is too dangerous to drive back the steep road and we want to camp at the top. But here is a military post and we are not allowed to stay on military ground. We explain our situation and for one time they make an exception and we pitch our tent behind the military huts. Tonight we are sleeping with the Gods..." Ed. Harald and Udo have published a book about their travels in Africa (Dutch only), available through their website.
Manou Emringer and Ellen Spencer, Luxembourg and USA, around the world, in Georgia, Azerbaijan, Turkmenistan, Uzbekistan, Kyrghyzstan and Kazakhstan
"... We spent a couple of days in Kutaisi in western Georgia, where we were introduced to the notion of Georgian hospitality by Lali and Zouri, our hosts: While Lali tried to force us to eat every dish she knew how to prepare, Zouri made an attempt at killing us with kisses and homemade wine.
Next stop was the capital, Tbilisi, where we indulged in the things you can only do in capital cities in those parts, movies, shopping, Internet and pints of Guinness. As the days progressed, we learned more and more about Georgian wine: There are several hundred varieties of grapes in the region, and the Georgian word 'ghvino'might very well be at the origin of the word 'wine' as we know it, since Georgia is perhaps the oldest known wine growing region in the world. Maybe that explains why they can drink it like water, while unsuspecting tourists fall like flies after a meager three litres or so.
Although Azerbaijan is said to be poorer than Georgia, the country seemed somehow more progressive, more looking to the future rather than the past. Villages and cities were less in a state of disrepair than in Georgia, smiles were offered more readily and the mood appeared more optimistic. After a pleasantly easy (and free!!) border crossing, we stopped in Sheki, site of a palace and an old Karavanserai converted into a hotel. Water and electricity supply tended to be erratic, but the views were great, and at the Khan's palace, we had to pose for scores of pictures with a group of Azeri students that seemed to like our biker outfits.
The following day, as we headed towards Baku, we met Knut Kaspersen, a Norwegian working in Baku, who promptly offered his assistance, organized free accommodation and generally was to make the following days a very pleasant experience. We joined him and his jolly group for a visit of a remote mountain village, before taking up our new quarters in Baku, a very lively town with some great architecture, good restaurants and helpful people. Since we had a five-day transit visa, we only stayed for three days, although we were sorely tempted to extend our stay, if only to sample more of the excellent and cheap Azeri caviar. Next time, once again.
Getting on the ferry to Turkmenistan proved to be quite an adventure, but could be solved with Knut's help, and by haggling furiously (Initial asking price for us and the bikes: $400, reduced to $240 after an hour's discussion). The stories we had heard about the ferry and Azeri customs were not encouraging: From multiple bribes to "the worst ferry in the world" to stories about the captain refusing to let passengers off the ship without further payments, we had heard enough to approach the experience with caution. Lucky again: Azeri customs were the best so far, not only did nobody ask for bribes, but the customs officials actually presented us with a CD and an Azeri flag as a gift. The ferry was similarly uneventful: We were the only passengers aboard and other than a small payment to upgrade our cabins, it was all quite pleasant.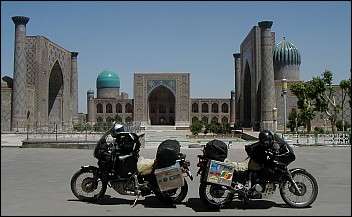 ...Communication is becoming increasingly difficult, since our Russian is rather tentative, and English has not yet penetrated these parts. Add to that an unreadable Alphabet, lots of people asking lots of questions in lots of different unknown local languages, and you have a wonderful linguistic shashlyk (or goulash). The fact that we do speak some Czech helps a bit as far as communication in Russian goes, but Turkmen, Uzbek and Kyrghyz, all of them Turkic languages, tend to result in politely vacant stares on our side. The people here have been very friendly and very curious about the bikes (sometimes almost aggressively so), smiles illuminated with gold teeth are flashed readily, local wine and food is apt for consumption but not much more, the roads are manageable, signposts either non-existent or unreadable, checkpoints are legion and the weather has been on the toasty side.
Our arrival in Central Asia was not entirely pleasant: We did consider ourselves somewhat hardened in terms of difficult customs procedures, but we have to admit that Turkmenistan was a bit of a surprise. Not only are they inhumanly slow in filling out elaborate customs documentation (four hours), while letting you bake in the sun, they also have an admirable system to extract money from the unsuspecting motorist: Per person $15 passport fee, $20 compulsory insurance, $10 handling and best of all $48 gas price compensation (Gas is very cheap in Turkmenistan, $0.02 per liter, and they don't see why tourists should benefit from that).
... After a short stop in Bishkek, capital of Kyrghyzstan, we rode to Koshgor, on the road to the famous Torugart border crossing into China. Friendly locals organized bed and breakfast for us, as well as a stay with a family of shepherds in the mountains for the next couple of days. Getting there wasn't easy, the road being no more than a barely recognizable stony jeep track. The shepherds along the way, that had just moved into the mountains and set up their summer residence yurts, greeted us enthusiastically, inviting us to share their national drink, fermented mare's milk. One sip was enough. Never again. We finally found our assigned family, set up our tent and spent a rather lazy couple of days enjoying the scenery and eating and chatting with our hosts in broken Russian.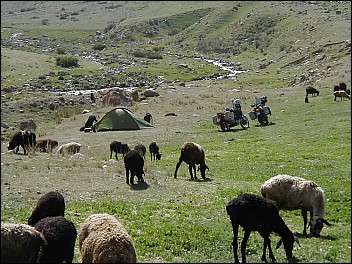 ... The 1200 km from the Caspian Sea to the Uzbek border took us over bumpy roads through mostly unchanging flat desert and nondescript towns. The border crossing into Uzbekistan was uneventful and quick, followed by a short ride to Bukhara, one of the Central Asian jewels in terms of architecture and history. Central Asia has an amazingly complex history filled with mythical names such as Genghis Khan and Tamerlane. It appears that more or less every city in the region can boast about being razed to the ground by at least one of the friendly characters above. We spent a couple of days in Bukhara sightseeing, shopping and taking in the very relaxed atmosphere. Although there are pretty good tourist facilities in town, tourists were pleasantly few. We rode on to Samarkand, city of Tamerlane the Earth-Shaker, filled with splendid monuments and a bustling bazaar, where we continued to imbibe ourselves with culture and tried to rationalize buying souvenirs without having any remaining luggage space.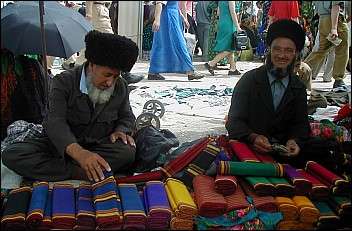 ... We're now in Almaty, Kazakhstan, enjoying some luxuries (such as Internet, reliable warm showers and pizza), difficult to find in most parts of Central Asia other than capital cities. The last stretch from Kyrghyzstan to Almaty was once more pretty rough, leading us through great scenery within 90 km of the Chinese border into Kazakhstan, where we were very well received by Matt Towse, fellow biker, whom we had met over the Internet while planning the trip. The bikes are going to take a well-deserved rest here, while we will fly into China for a week. The fun continues... We'll be back. Ellen & Manou"
"Hampi is a city of ruins from the 14th century and lies in the middle of a weird countryside. It looks like giants have played with marbles and left them where they were. We found the scenery fantastic, mystic, sometimes spooky. It was hot and humid, lots of mosquitoes and tourists here. We met a nice couple from Switzerland and walked together 3 km to the monkey temple. Before we crossed the river in a round reed boat. Felt like chicken in a basket. 35 degrees, humid and only 630 steps uphill to the temple. That was the only sportive action then.
On Sunday was a big festival. Like in Udipi pilgrims pulled two huge (more than 10 m high) wooden towers, colourful decorated and packed with priests and holy stuff along the streets. Lots of people there this time and we nearly had a tennis arm from shaking hands all the time: hello, what's your name, thank you, give me rupee. Altogether we found the inhabitants of Hampi a bit strange. When I paid something I got the feeling that everybody stared at me and sometimes nearly felt into my wallet. But it is a very poor region; maybe that's a reason." More stories from India...
Rob and Dafne de Jong, Netherlands, around the world, in Japan and Russia,
"In many (of the rich) countries people say that everything in Holland is small. Tokyo reminds us of Holland in several ways, with many narrow streets and people walking and bicycling everywhere. It's a lively city and because the crowd is so thick, everything has to be small. We see tiny cars and tiny trucks (are specially designed for the Japanese market). To be able to own a car here you must own a parking spot first, which is often more expensive than the car.
This explains the amount of mopeds, scooters and motorcycles we see in Tokyo. Many of them are small too, not only in cc, but also in size, like made for children, only here adults are wrapping themselves around them to split the lanes of ever jammed Tokyo. So, to drive around inhabited areas our patience was put to a severe test; to go 25 km in morning traffic takes you 2.5 hours." More stories from Japan...
Simon Kennedy, Ireland, in India, UK to Australia, Transalp,
"Found a nasty rash on the inside of both my thighs the day before yesterday. After examination and some thought, I realised this was burns. The heat of the petrol tank had gone through my jeans and fried the skin. I heard later that it was 51 degrees that day. Ouch.
Been riding hard (we all like to use phrases that have a Clint Eastwood ring about them don't we?). Ten days ago I was in Goa, India, now I am in Gilgit, Pakistan where it is generally cooler (partly because they have just had the first rain in two years). Fantastic riding. This mad folly of a road blasted out of the rock's sheer faces makes no economic sense but, swooping up to China between 1000 and 4500 metres makes brilliant riding. The Karakoram Highway is the riding highlight of the trip so far.
Lower down the valley Sharia law is in place and the local children greet visitors with showers of rocks from slingshots. Bless them. Fortunately they do not know about the acceleration capacity of a 50bhp motorbike. Off the road the state takes no responsibility. There is 100 percent female illiteracy. This place is so like, uh, nowheresville man.
Spent the last weeks in India learning the meditative benefits of carb dismantling, and very careful cornering: the western Ghats are cool and pleasant, mainly due to their altitude, but accessed by some frightening hairpins. Gorgeous up there over the plains, but white-knuckles and wide-open eyes are de rigueur. Even several head-ons witnessed en route don't seem to discourage the locals from the blind bend overtakes. Terror was riding pillion.
Coonoor, a hill station, was lovely, fresh amid tea plantations. Postcard views everywhere. The women sing and carry huge loads on their heads. Very restful (for us that is, not them). Mysore was one of the best towns in the country, with squares and space and big buildings. The place still stinks of diesel and petrol fumes though; like everywhere in India, days of jasmin and cardamon fragrance are long gone.
Bangalore, the 'India of the future' felt like a western theme park. Here were arcades, coffee shops and hamburgers. The second-rate consumerist tinsel was fun in short burst, but hopefully as an aberration not the model of development some politicians favour."

Help support the Horizons Unlimited E-zine - visit our sponsors! Nice people, so drop in on them if you're in the area, and make sure you tell them how you heard about them!

Motorcycle Friendly
B&B
in historic Corrales, New Mexico. 15 minutes from the intersection of Interstate 40 and I25 in beautiful New Mexico.
Thanks!

Aviv Rabinovich, Israel, cruising Europe and ?? , in a philosophical mood in Spain, KLR650
"I don't know if you know this feeling when you get to a place and maybe because its so, so beautiful (really is), or maybe because you get there by pure chance / luck, maybe because it's pure nature, free of charge (even have a free cabin to sleep in), almost not touched by man. You travel for quite a while, you get to this kind of place and you have this feeling saying this is it, that's the place. Taken right out of your imagination. That's what I felt up there.
I was riding from Spain to France through the Pyrenees Mountains. So nice, too nice just to cross through. Only I didn't have a guide telling me where to go so I just picked a road going to this little village. Nice one but. Then I see a sign saying 6 Km to some place. I ask people and they say its a lake, I ask if there's anything up there? They say: just a lake and some trees and lots of space. I could feel something already. I rode up there, so beautiful, I rode real slow to be able to get it all on one hand but wish to get somewhere to be able to get rid of the bike already. Then I see a cabin. Almost at the same moment I see a man. I stop and we talk. He is a vask man, picking mushrooms up there. He explains me that I can use this cabin. It's for the use of travelers.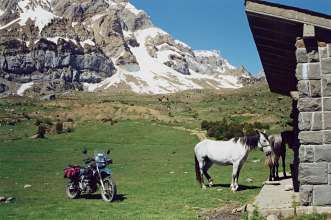 Can't remember if I was ever in my life so calm and relaxed as I was during this afternoon. No wish for company, no wind in my sails. Just sit and look... for hours. Small lake, little cabin, green fields, snow here and there and high white picks around. Oh, and 2 horses. And no one else till the morning after (Sunday) which had some people going there and me continue on my way to France. A place to remember. Aviv"
"Hardship of travelling.... ... and Bolivia truly was an adventure! First, in Puerto Suarez, I had to bribe the Head of Police when after some hard bargaining he became a bit aggressive while I suddenly realized I was an easy target for a corrupt policeman being the only tourist in this area with only one road going west. Anyway, at least I managed to fight off the customs official trying to get their share. However, all in all I have to praise the policemen in general - always friendly and helpful.
The road on the first 120km through the Pantanal jungle on my way to Santa Cruz were so good that the only worry I had was that one of the many straying cows would run out of the bush into my bike. Less than one hour later I came to half a dozen trucks parked in the middle of the road. Due to the frequent absence of any road signs at all in this part of the world I asked one of the men whether this really was the road to Santa Cruz. His answer startled me a bit: 'Lo era, amigo!' (It was, mate!). I guess this and the first signs of some mud on the way should have made me think about my next move a bit longer. But of course, I did not. I just carried only to see a few hundred metres further on a river of mud that once was called a road ahead of me. Two nice Bolivians assured me several times that this was going on for only about 5ks. 'I can do five', I thought not knowing how very wrong I was.
After a few hundred meters my bike looked like a big grey birthday cake on which you could not even recognize the knobbly tires any more. The mud went partly up to my kneecaps, during any of my very frequent stops mosquitoes were circling around my head like Native Americans when attacking the white man's wagons. And let's not forget about the heat, humidity, absence of any life forms but the ones mentioned and of course some crocs. Five k's, two falls (the first ones in my biker's life!), a twisted ankle, a lot of swear words in different languages and about an hour later saw me resting my case for about an hour until my heart rate finally decided to fall beyond a hundred beats a minute. Live life to the fullest! Ha! Finally, a pickup truck came through and I did not need to think twice when being offered to get carried out of this disaster area.
There was a train station in the next village but I resisted the temptation and kept going through this beautiful landscape. A rather deep and longish puddle saw my BMW and me emerge coated in red reflecting the color of the road. The last challenge came about 200km further on. It had started to rain and when about an hour later I arrived at a small lake of about 50 meters length replacing the road I knew it was time to get through, catch a train for the last 250km and return to civilization with pizza, beer and cable TV. The train ride took only(!) 16 hours.
All in all, this indeed was an adventure and I am most grateful for all the warmly help and smiles from the locals who did not even want to take any money from me for it."
Istvan Szlany, Canada, to Central and South America, in Argentina,
"Riding the RN-40 in Argentina - that was in my mind initially, but the winds blew it out from there, … and me with the bike off the road. I got into a sandstorm, something I have never experienced something like this before. (Absolutely direct experience of the so often mentioned Global Climate Change and Desertification!) I could not open my eyes, because the wind blew sand even under the sun glasses, the bike was pushed off the 5 m wide road, then as I forced it back, stalled, almost fell over, and as I tried to ride straight forward, ... hehe, ... I just zigzagged from side to side.
Finally, exhausted, with sand in my mouth, ears, nose, eyes, … I gave up, and took the first road east. Riding WITH the wind was ... a breeze.
As I got closer to Tierra del Fuego, the number of motorcycle encounters have dramatically increased. I guess all travelers converge here, and makes me think: all roads (in S. America.) lead to Ushuaia.
At the end of the road on Tierra del Fuego, there is this little town, very attractive, Ushuaia. Fin del Mundo, End of the World. ... ??? ... it's a destination, true, but not the final. Like diamond on a gold ring, can be the source of a new beginning as well." More stories...
From their press release: "In June 2001, six ordinary Brits will circumnavigate the globe on 350cc motorcycles, crossing central Asia, the former Soviet Union and the United States.
The route will encompass a multitude of terrains, from the dust blown deserts of Turkmenistan, hostile mosquito-ridden swamps of Siberia to the snow capped peaks of the Rockies to vast cityscapes of Detroit and New York.
The team will use off road bikes to complete the mammoth 30,000 mile journey with their meagre possessions stored in army ammo boxes bolted to the sub frame. They will be sleeping in barns or under the stars because of a strict 'no tents' policy. The Siberian leg of the trip from Chita to Skovrodino where the road literally runs out, waterlogged dirt tracks are the only way through the tundra and swamp. It is in this inhospitable environment with no available medical cover that the bikes will be literally man handled across Siberia's extensive network of rivers.
Preparation and build up training in numerous locations around the UK over the last 18 Months has built the team into a slick and well rehearsed off road expeditionary force."
From the road:
"Greetings from minaret en-spiked Istanbul. We're 2400 ish miles from Mill Hill School (London) where we started and our daily diary reports that today is day 15 of what we hope will be a 180 day 30,000 mile itinerary.
We are basically in really good shape and the six-man team has pulled together rather quickly. The pressures of labouring under an ethos of extraordinary stinginess have by no means troubled us.
Since Zurich it was down through Italy and a ferry over to Igoumenitsa in Greece. Across the fabulous mountain ranges of northern Greece and a 500-mile push across the plains that brings us here to Istanbul.
... Dave's field catering in northern France was a masterclass in provisioning as night after night he made enough for the six to gorge themselves yet there was never anything uneaten by the end of the meal. Gerald Vince has proved that he is not human but indeed a remorseless long distance motorcycling machine. Gerald grows fresher with every mile whilst others wither in the heat.
... Central Asia beckons and then the vastness of the Kazakh steppe, Russia, Alaska and North America. The Terra Circa team" More stories...
Babe and Yahoo, (Jane Norris and David Banbury) UK, in South America on Honda Transalps,
"Three weeks ago we were in Iquique and we had just finished fixing Dave's bike. Sergio's magic with the TIG welder and a Dremmel are still holding out remarkably well despite 2000kms of sand, bumps, speed and mud. Since our 2-up trip to Peru, we realized that we did not need half the stuff we were carrying so we left a couple of boxes in Iquique and are now traveling much lighter.
It was good to be on two bikes again, Dave stopped speaking in such a high pitched voice and I (Jane) got to ride my bike again! Not believing in breaking Dave's bike in gently, we left Iquique and headed for the hills. Armed with loads of advice from Sergio, we spent four days riding around some fantastic dirt roads above 4000m in altitude. The route took us along the Chile/Bolivian boarder and across two national parks and a minefield(!). The parks have some stunning scenery including volcanoes, geysers, salt lakes, thermal springs and great wildlife. We actually managed to see wild flamingos at last, and guinea pigs (which are a bit less glamorous).
... Our last night in Chile was spent in Putre where, as luck would have, it we bumped into Gerhard, (the German biker we met in the Paso San Francisco and shared some whisky then altitude sickness with). We were all headed the same way, so the following day we crossed the Chilean/Bolivian boarder. Our plan was to take the 350km of sealed (and boring) road to Oruro but just as we passed the border, we noticed a sign to Oruro heading off along a small dirt road. It turned out to be a great road, freshly graded since the floods earlier in the year. There were a few fords by washed-out bridges but it shaved 100km of the total distance and took us through some great altiplano & salar scenery. We had an interesting lunch in a small village where a meeting of the local farmers was postponed for the spectacle of our arrival and they fed us a huge but unidentifiable lunch.
Our first impressions of Bolivia are that it feels similar to Peru. It costs about the same (we manage to live quite easily on US$30-40 per day for the two of us), the people are friendly and the women tend to be amazingly broad around the hip region. This look is not helped by the national dress, which includes a shapeless smock over layers of knee length gathered skirts. The countryside mostly comprises of small manually worked farms with adobe dwellings producing coca, maize, some vegetables and small herds of assorted farm animals. The cities are more modern, with a mixture of Spanish colonial and new concrete buildings, the latter usually being incomplete. Most of the roads in this country are unsealed and even those that are marked on the map as sealed vary rarely are. There is noticeably less traffic on the roads too making an idyllic combination for us. The lack of traffic is often due to the blockades that seem to be a regular feature here. Any cause wishing to attract attention does so by blocking all the roads it can with trucks and/or stones. Fortunately motorbikes don't seem to be regarded as real traffic and are allowed to get through!
... We have now spent about 4 days (in Santa Cruz) doing an awful lot of work on the bikes which are showing signs of wear and tear. We needed a new chain, new wheel bearings, tyres, oil, filters and you should have seen the state of the air filters! We had actually been carrying a lot of the spares we needed but, having carried them for months without needing them, they were among the stuff we left in Iquique! Oh well. Jane's rear suspension linkage bearings were shot too but we fixed them Bolivian style by having an oversized inner race machined up (US$8) to take up the slack! The bikes now have nice new knobbies on them, perfect for muddy slimy jungle roads, and we even went so far as to wash them, nearly blocking up the towns drainage system with all the gunk that came from them." More stories...
Ted Simon, UK/USA, "Jupiter's Travels," around the world, again, left Nairobi, Kenya, R80GS Basic
"Apologies to all, I'm a bit late on this, but Ted left Nairobi Monday morning after...over two months of being stuck here. Yikes, poor guy. Included in his new belongings were a pair of motocross boots from Stephen Burgess (plus a couple of bottles of wine) to help make his recovering leg more secure. I've also just been in touch with one of the film crew who said that they'll be seeing Ted in Harare, Zimbabwe in about a week. Doubtful whether we'll hear anything from Ted until S. Africa. This isn't exactly 'Internet Country.' I'll be coming to Northern California in August, and hope to meet up with some of you there. Any events scheduled near Sacramento??? Lorraine"
For Ted's story about retrieving his bike from Sololo, see his site...
Border Crossings
From Ted Simon, on Border Crossings in Africa:
"From Libya to Egypt. Very time-consuming. (5 or 6 hours) so get there early. Lots of small payments, adding up to almost $100, which remain mysterious unless you have Arabic. You will get an Arabic Plate, and with it a plasticated license to drive. Make sure they give it to you. I didn't get one, and it proved a nuisance when I was leaving. It would have been a much greater nuisance if anyone had stopped me and asked to see it.
Egypt to Sudan by ferry. At Aswan, getting out of Egypt is not too bad as long as you have papers and the plate. Ferry sails on Mondays (for now) in the afternoon. You have to be there by 1pm, but 10 am is much better. There are two boats, apparently. One carries cars, and I image getting on it is quite easy. The other is smaller, and getting the bike in and out is rather harrowing - makeshift gangplanks, and a deep hatch to drop it through.
Under the heading of Myths to Dispel: I did NOT have to empty my tank before getting on the ferry from Aswan to Wadi Haifa. So if you plan to ride from W.H. fill up in Aswan. But if you plan to put the bike on a train in Wadi Haifa, then they will empty your tank. Crossing takes about 24 hours (they say 16). A train used to meet the ferry but doesn't now. It may leave next day, or not. It is very slow, and times are erratic. Wadi Haifa to Atbara was 26 hours. 3000 dinar for me, 3500 for the bike (150 kilos - it's OK to cheat on the weight). About $26 total. Both overland routes are very hard.
In Wadi Haifa: Police come on the ferry, and can be very officious. Don't take pictures while they're around. Customs isn't too bad. There are two people to look for in the Customs Hall. One is an older man called Kamal, who took very good care of me. The other I've heard about is a younger man called Mita.
The real problems begin with the police, passport control, permits, pictures, all kinds of security crap. Let one of those two people advise you. There are fees to pay, although the visa has already cost you $60.
From Sudan to Ethiopia, via Galabat/Metema. Both sides fairly informal. The customs chief of Galabat is not always there, and you may have to wait to get the carnet stamped.
Immigration in Metema is gracious. They'll even ask you to rate their performance. When I came through I couldn't find any customs anywhere, and just went through regardless. There was supposed to be a customs post further along the road towards Gondar, but I never saw it. Hence, no carnet. When I came out in Moyale, this was not a problem. Accommodation on either side of the border is less than basic. On the Metema side, if you ride another 20 K or so, you can find a quiet place to camp.
Moyale, going south from Ethiopia to Kenya. Again, fairly easy. On weekends you may have to get the Ethiopian officials from their homes, but they seem used to this. On the Kenya side, they work through the weekend.
Hotels on the Kenya side are more expensive (I'm told), but the Tourist Hotel on the Ethiopian side was terrible. Try one of the others further back. Petrol is about the same price on both sides. Kenya now takes $50 from Brits too (we were exempt until recently).
Ted Simon 'The interruptions ARE the journey' "
Grant: Thanks, Ted! Ride safe and keep the rubber side down!