nothing exciting happened last month! or at least that you're telling me about...
Plan where to be when!
If you know of any events of interest to travellers, send me a note.
This rally is in a stunningly scenic area of the Snowy Mountains. At the junction of the Snowy and Pinch rivers on the Barry Way (the Barry Way runs from Buchan in Vic to Jindabyne in NSW) 65 km south of Jindabyne and 15 km North of the Victorian border. BYO everything (water available from the river, firewood can be collected around the site)
Greg Aldis (Australian events website page) Sydney Australia Tel. +61 (0)2 9311-1119(H)
Tesch 23rd Meeting for World Travellers, April 6 to 8, 2001, Malmedy, Belgium
Approx. 300 travellers meet for slide shows, conversation, bonfire etc. Contact Bernd if you want to go.
BMW Bike Festival, 20 to 22 April, 2001, Izmir, Turkey
BMW is organizing a Bike and Bikers Weekend in Izmir, Turkey. Contact Paolo Volpara or BMW in Kurucesme.
Deadhorse, Alaska, July 12, 2001
"... Let's make Deadhorse (Northern end of the road) like the annual Ushuaia (Southern end of the road) Christmas gathering. If you are going to Deadhorse in 2001, co-ordinate it (on the Bulletin Board) with other like minded folks with common interests in the land of the Midnight Sun. I'll be there with my Yorkie 'Punky' on a Kawasaki KLR650."
Lew Waterman, USA, North and South America 2001-2
There are at least a half dozen riders already committed to being there - how about you?!
IronButt event - A chance to achieve (your choice) 1000 Kilometers, 1000 miles or 1500 Kilometers certificates.
Roadrunner 1000 European Rally, 27th - 29th September, Starting from a US Military Base in Germany.
IronButt type event. If you are interested, there will be a 100 rider limit, so it pays to get your name on the list.
47th annual Routledge Dual Sport Tour, July 7 & 8, 2001, Surrey BC, Canada
"Starting in Surrey (suburb of Vancouver), going up to Coalmont (near Princeton), camping there & back to Surrey....80% good gravel & 20% paved... Fast Truck for carrying camp gear... BBQ at end. All for Cdn $25.00 driver & $15.00 passenger... about US$18.00 & US$10.00. Info: website or e-mail"
GET YOUR WEB SITE LISTED in the LINKS section by listing Horizons Unlimited on YOUR web site, let me know you've done it by mailing me a link to the page, and you may get listed here in the next newsletter and on the Horizons Unlimited web site Links page.
All sites will be considered for listing, but must be a MOTORCYCLE or TRAVEL site, useful or of interest in some way to travellers.
Links will be rotated regularly as needed.
Tours and rally in the interior of Beautiful British Columbia, Canada
The home for motorcycle toys, trinkets, gadgets, and gizmos!
Bike rentals in New Zealand. Recommended by Bruce Clarke, Canada
European tours with Triumph... in German only
Chris Scott's Adventure Motorbiking website
There are many "Helpful People" listed on the Links page, a huge thanks to all of them. How about you? Or just join a Community, or start your own!
Do you know of a good shop "on the road,"
in other words somewhere there isn't a number of shops? USA, Canada, Europe etc. don't count. That's too easy. And too many! We're looking for those rare items, good repair shops in South America, Africa and Asia etc. I will create a web page for them eventually.
MOTOS BREYMANN S.A. San José, Costa Rica.
Specialists in KTM and Triumph, but also with long experience in BMW, these guys were very helpful and thorough in their work on Rocinante. They supported our trip with special rates on all parts we bought, and should definitely be plotted on the map of anyone going south. The best workshop I saw after leaving the States. The owner, Oswaldo von Breymann, and his brother speak excellent English. Address: P.O. Box 2733-1000, Avenida 7 Calle 1 Y 3, San José, Costa Rica Telephone: 506 221 2274 Facsimile: 506 233 6952 E-mail
Submit your tips and questions here, anything goes! Got a great idea for travellers, found a new solution to a problem? Send it in! If you're having a problem, just ask, there's a lot of people with a ton of experience out there to help.
Glue tip from Gino:
"I was at my daughter's science fair last night.
An industrious young lad did his project on testing the strength of various adhesives. The test that caught my eye was the metal to metal tensile test. He had two small plates with hooks welded to the tops of the plates. He put the amount of glue specified on the package between the plates, let it cure and pulled the plates apart and measured the force needed to break the bond.
Super Glue gave up after 60 pounds, 5 Minute Epoxy took 75 pounds before it gave up. JB weld got up to 124 pounds... then the hooks broke. Good stuff that JB Weld. Gino"
Chitech Electrical Manual for BMW R models.
available from:
CRBMOA (Chicago Region BMW Club).
John Gaard
3347 N. Ridge Ave.
Arlington Heights,
IL 60004 USA
1-847-394-3335
Excellent manual on the ins and outs of the BMW R series electrics. Recently reprinted.
Internet Tip:
Does your Internet connection fly like an eagle or crawl like a tortoise? Is it just your imagination, or is your Internet connection slow today?
If you're in an Internet cafe and the connection speed is terrible, find out just how bad by clicking here. If you're at home, add the link to your favourites! Contains info on what the problem could be as well as telling you the speed of your connection.
I've made contact with some of the people we were looking for last month, thanks! - but the following are unaccounted for. If you know any of them, please send in full names and e-mail addresses would be much appreciated!
Keown (sp?). Keown is on a Honda Africa twin (from South Africa).
Daniel, USA on a KLR650 travelling the world.
Claire and Mark from England riding two XT600's...
Lionel Marx, I have no e-mail for him...
Chris van de Goorberg, Netherlands, XT600, last seen in Mali...
Kiwi Brian and Japanese Junko, both seen in Chitral
Johan ? traveller from Netherlands, last seen in Rio de Janeiro.
Ed Tarleton, Matt Stockpole, Boulder CO
Richard and Christine Mather, UK, RTW R75/5
Gary Hofegger, Austria (Alaska - Tierra del Fuego, BMW R1100GS
Swiss riders, on Yamaha's in Chile
a couple of riders from French Guyana, she's riding a Suzuki DR 350 and he's riding a new Honda XR 650.
Tourist on an Africa twin, Gernot, in Australia
Carola and Reto from Switzerland, in South America on an Africa Twin.
Dai from Japan, Americas to Russia to Japan
Ralf 'Rallerastlos' Enders and two other Germans named Stefan and Vivien, in Africa
Rob Arnell, UK, in India
When you meet travellers
out there, please get contact info and let me know so I can add them to my who's who and where list! Grant
E-mail address Problems:
Sometimes there is a problem with an e-mail address - it's not that I'm deliberately ignoring you! I have been unable to reply to the following, as the address they gave me bounce. If anyone knows them please let them know the problem:
Jürgen Hoffmann, and anyone else @slpol.de, I am unable to get anything through to slpol.de addresses. Please supply another e-mail address by resubscribing at the Subscribe Form.
Thanks!
"Grant, I am thinking of doing a doco on my trip from Vancouver to Australia via Europe / Asia. It would focus on adventure touring in general, not just my trip, but I'm wondering if the camera would cause me hassles at the border. I read the latest Horizons newsletter, a couple of stories about vid cameras getting stolen. I'm also concerned how the electronics would hold up on washboard roads etc. For dirt riding I would wear a backpack, and keep it in a watertight box like a Pelican... what are your thoughts? I'd hate to be accused of spying or anything in Iran. More of a hassle than its worth? Have I got enough to worry about already? Re space - I'm on a KLR, but I'm going to take next to no cooking gear as I expect to be eating the local fair everywhere anyway (just water filter). Is this wise? This would free up a bit of room for the camera, tapes etc. P.S. - I know Peter (India doco) and have worked with him. He's a great guy. Richard Kickbush, Canada"
I've given Rich my thoughts, now it's your turn!
From Sean Kelly, on the Bulletin Board, planning UK to Oz,
"I believe that there is a ferry from Venice to Istanbul which might be of interest and cut out some of eastern Europe. Anybody got any info? Sean"
RE Mika Kuhn, in Thailand with a toasted alternator, from Brian in Oz,
"Mika is travelling around the world on his 1VJ model Ténéré (this is the second model sold in Australia between 86-87.
Mika needs a replacement alternator as his keeps burning out. He has had it rewound at least twice (once in Thailand and once in Vietnam I think) with little success. Workmanship apparently was dubious.
I have been told by the XT600 club in Germany that the alternator off the later 3AJ model Ténéré (88-90 with rear disc brake - I don't think too many of these were sold in Australia) will also fit but not the alternators off the standard XT600E trail bikes. I am not sure about this.
Mika would like to replace his with a good second-hand alternator (complete - rotor and stator assembly). If anybody can help Mika in tracking down an alternator I can be contacted here. Or contact Mika directly here. Foster, Australia
From Istvan Szlany
...if there is a chance of selling my bike instead of shipping it home for 2200USD (thanks a lot, Carl, for the information!) I will do it. For those of you who can help me with information on prices and dealers interested in buying an excellent Kawasaki KLR650 A13 (1999) with right now 49250 km ran with no major problems, please, let me know.
The bike is equipped with 3 good 27 litre Pelican 1520 boxes, MSR bash plate, Master Cylinder protector, NATO 7.62mm ammo Tool box, map-holder above the gauges, EMGO aluminum hand guards under the original hand guards and the original hard saddle is well softened :o).
Shipping
- Everything You Need to Know to Get the Bike from Here to There
By popular demand, there is now a Shipping page on the site. It can be reached directly or from the Shipping link on the Trip Planning page.
This is a compilation of information from e-mails to us, scattered throughout the newsletter issues, and the bulletin board on shipping (air or sea) between continents. It includes stories about 'bad' experiences as well as good ones.
We have information on: San Francisco to Frankfurt, Los Angeles to Madrid, London to Buenos Aires, Lima to Netherlands, Bogota to Miami, Cartagena to Panama, Panama to Guayaquil and Quito, Houston to Quito, Panama to Bogota, Cape Town to Buenos Aires and New York, Harare to Buenos Aires, Cairo to Nairobi, UK to Mombasa, LA to Sydney and return, Kuala Lumpur to Sydney, Santiago to Sydney, Singapore to Darwin and return, London to Australia and return, Brussels to Melbourne and return, Australia to Yokohama, Sydney to Auckland, Sydney to Christchurch, Melbourne to Auckland and Auckland to Buenos Aires, Kathmandu to Bangkok, Japan to Bangkok, and Magadan to Anchorage. I've left out the country names to save space, if you don't know where most of them are you're on the wrong site anyway!
A big thanks to all those who have submitted this information, and a request. Can you please look at your item(s) and check it, and send us any missing information. Also, if anyone has more recent information on any location than what is on the page, please let us know.
If you have any information to contribute, there is a form at the bottom of the page which you can submit and we will put it on the page. As you all know only too well, this information is critical for those of you who are on the road searching for a shipper, so please provide local contact details and price, as well as whether you were happy with the service and would recommend them to your fellow travellers.
Thanks in advance
Susan
David & Cheryl Laing, Australia, in Southeast Asia
"Who ever is considering going to Australia for a month really needs to re think or trade his/her bike in on a helicopter. Just not practical to attempt to do Australia that quick. We have been gone 6 months and did the center road of Aus. We live north of Sydney, so rode south to Adelaide then up the centre to Darwin, shipped to Singapore,then on to Malaysia, Thailand, Cambodia, back to Thailand and now ( if its meant to be) on to Nepal, India, Pakistan, Iran, Turkey etc.
Forget Burma. Even from Thailand we could not get our bikes in, even for a day trip. And China is not ready for us motorcyclists yet either. Spend a good amount of time in Thailand. The road that follows the border between Burma and Thailand from Mae Hong Son to Pai and Chiang Mai is wonderful bike country. As is the Ranong area in the south.
We are taking longer than we intended ( and spending more money than intended) because it is better to go a bit slower. I don't mean miles per hour, I mean take the time to look around. And even buying fuel takes longer than at home. People want to look and talk about you, your bike, and what you are doing. As we have 2 Honda cruisers and we are in our 50"s we tend to draw crowds for 2 extra reasons. Not only are we old, but one is an old female. . . . . We call ourselves a mobile tourist attraction. Take the time to talk to the people. We have good memories of the people we have met along the way.
But however you do it, make sure you do it. Life is way too short to just dream about it and read reports from others who have done it. You are a long time dead, and there are no lolly shops in heaven, so we are told."
A tip useful in many countries...
"A friend of mine had only 2 weeks vacation and wanted to ride to Alaska. He encountered problems when he said he was shipping a motorcycle. So he crated his bike in his garage. Stencilled"this side up" and "screw machine" on the crate. The carrier picked it up and shipped it to Anchorage. The warehouse crew watched in amazement when he began to take apart the crate, assemble the bike and ride off.
Something to consider... Alex Jomarron, Illinois USA"
I like it! Grant
Dealing with dogs - from Istvan Szlany
On the way to Cusco I had some encounters with the local dogs. One of them bit me on the leg, too, but other than the pain, - wearing jeans and riding pants - no harm was done. I learned my lesson and I started to think about all kinds of strategies on how to get out unharmed from these encounters
1. Outrunning them - not always works,
2. Running them over - some of them are quite large, or there are more of them, so I might end up dropping the bike and get more bites.
3. As the dog gets close enough, honk LOUD!!! if you have a loud horn, that is.
4. in villages ride as slow and silent as possible, so these lethargic animals will not wake up.
5. Talk to them - but some of them doesn't understand Spanish, nor English nor Hungarian
Insurance in India
"...you can get Indian insurance for a few quid from any insurance agent, it is useless but at least having the appropriate documentation saves you from having to baksheesh the cops. Tim Pearce, India to London (currently in South India)"
Australia Maps
The NRMA web site has a good map of all of Australia in PDF format. Download it and save it. Thanks to Frank Warner, Australia, for the info.
Carnet de Passage - from Herbert Roelandt, Belgium
"Getting a Carnet de Passage in Belgium is now possible at:
Royal Automobile Club De Belgique
Aarlenstraat 53 bus 3
1040 Brussels
Belgium
Tel +32 (0) 2-.2870911
www.racb.com, autoclub@racb.com
Cost is 5000 BEF. They told me that they only deliver carnets to Belgian people with a vehicle registered in Belgium"
Dirk Bernhart, Germany, from a BB post...
"I was in Sudan in April 2000. Northern Sudan I would consider quite safe, much safer than Kenya. The people there had an outstanding hospitality."
Travel Advisories:
The Foreign Office in London's Travel Advice Unit advises against all travel to all sorts of places. Check out the listing before you start!
The US State Department has issued travel advisories, information and/or warnings.
Gonzalo Figueroa and I are working on full border information for all of Latin America, and beyond.
Gonzalo has done a remarkable amount of work in researching and collating all that is known about the requirements, and the realities, that travellers need to know about Latin America.
Central America is partly done, with information for Guatemala, Nicaragua and Costa Rica posted.
South America is in progress but will be longer. If anyone has any information please let us know. When you cross ANY border, take some notes, and pass them on to us. Eventually we would like to have information for all the borders of the world posted on the website to help you, and other travellers.
Wouldn't YOU like to know all about the border you're approaching - what it should cost, paperwork required, "tips" needed, and who to talk to etc.?
Just send in whatever you can as you go.
Thanks to all who have sent info in the past, please keep it up!
Thanks, Grant
Istvan Szlany, Canada, to Alaska to Ushuaia, in Ecuador, Peru, Bolivia, and Chile, Kawasaki KLR650,
Ecuador:
"...The road from Riobamba to Cuenca is ... not good. Several years ago the rains washed away about a dozen bridges, and they are still not replaced, instead there are some rough go-arounds, some of them not very charming. (Read Grant's story on travelling through Ecuador during El Nino, when this all happened!)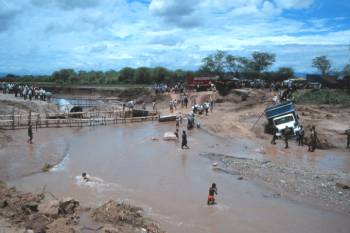 ... all Ecuador was protesting against the government because of the price increases (the 89 octane gasoline costs have increased from 0.80 USD/gallon to 1.00 USD/gallon)... there were many roadblocks, cacti or moss, trees or just branches, a deep cut in the pavement, small rocks or huge boulders.
At one point I had to go through between the villagers (on the hill) and the Ecuadorian Armed Forces, young soldiers with plastic shields hiding behind their trucks, expecting a rock-shower any moment... For a moment I wasn't sure whether I can pass through safely, or not, ... but since there were no rocks flying at that moment, I accelerated and got out of the danger zone unharmed.
Peru
Oh, God, here we go without papers for Csardas. (bike) Migracion exit stamps in my passport and Adios!
Aduana: I give them my passport.
"... and the papers for the moto?"
"... what papers? I have this stamp here. All I need is an exit stamp next to it."
"... ???"
"Here is my stamp for my moto."
They just looked at each other totally puzzled, and one of the officials said "Carramba, they have changed it again in Quito, and didn't tell us!"
So the whole thing took me about 5 minutes and no fee to pay. I was very much relieved when I crossed the bridge into Peru.
Over there, I could not find anybody at the Migracion office. A guard told me that I might find the officer at home. I went there. The wife said that he is playing soccer right now, but soon will be over. Cool. 10 min. later I found my man, but ... he is off today. Even so, he was very kind, and returned with me to the border crossing and gave me an entry stamp, and 90 days tourist card. No fee here either.
...The road from Chiquian towards Huanaco is a private road, built and maintained by a mining company at Antaminas. The guard told me, that I can not enter. I started to talk to him, asking about the road, and other roads that go to Huanaco. Then we talked about the motorcycle, about the economy, politics and girls - of course. After about a half-hour of friendly conversation I was free to go, and the guy gave me even his magazine of local female celebrities. I guess this trip for me is a great lesson of psychology, too.
...This is a beautiful country, but is very hard to find a time when you don't soak yourself for hours. High passes, humidity, and bad roads make travelling here a nightmare. Worth it? Yes and no. I curse myself at the end of the day, because I'm dead tired, wet and cold. But next day morning, looking around from the tiny tent, my heart is full of joy, and looking forward to the ride. Then there is more rain, and the roads have no bridges, so I have to ford the creeks that are turned into flooding raging rivers by the constant rains. Sometimes I'm really scared, and Csardas started to cough many times, because water got into the air filter.
I got to the point with this damp/cold weather, that I wanted to get out of there as soon as possible. I turned towards Lima, the coastal warm weather. I spent a few days exploring this giant city, and I started to ride south on the Pan-American Highway.
The coastal zone of Peru is all desert country. Nothing but sand. I got bored, and I decided that after visiting Nazca I head back into the mountains. I have to tell you, that sometimes I have a very hard head, and tend to bang it against brick walls. I needed a second lesson to learn: in the mountains is rain and cold!
Bolivia
The Altiplano in Bolivia is beautiful, peaceful, and wet this time of the year. I didn't spend much time at the Tiwanacu Ruins either (didn't really impress me - perhaps because after Machu Picchu will be hard to impress me) and I was running away from the rains ... to La Paz. It was a great city to visit. I liked it very much, its charming up-and-down side streets, and the street vendors food was pretty good, too. Here, too, I noticed the huge difference between the majority who can barely survive from one day to another, and the very rich driving the biggest sport utility cars they can get. It was part of the learning experience.
Chile
At the border, on the Chilean side: for quarantine reasons they took away my honey, and all the fruit I could not eat. I hate throwing away food, so I processed my paperwork while I stuffed my face with bananas and tomatoes. Funny to see, but I had to learn this trick, too.
It rained all the way to Arica, and - you won't believe this - in the Atacama Desert, too. The driest place on this planet! I find it amusing that I can bring rain even in the desert... but luckily the desert was stronger than my curse, and I had about 1500 km of dry high speed ride south - just what we needed!
Now I'm in Vina del Mar, ...I have about 6-7 weeks to go, and this trip is over. June and I decided to get married (please, don't flood my mailbox with your kind messages, I know you all wish me good luck and such, and I thank you all, before you send them!) I still want to do my ride to the End of the World, and I will ride north from there, perhaps to Sao Paolo in Brasil. I had much time to think about things, life in general and my life, where to go from here, how to live and such, and I think this is the way it should be.
That's all for now. Next report will be sent out either from Ushuaia or from a major city in Argentina. Wish me dry weather and soft winds!

Help support the Horizons Unlimited E-zine - visit our sponsors! Nice people, so drop in on them if you're in the area, and make sure you tell them how you heard about them!

Motorcycle Friendly B&B in historic Corrales, New Mexico. 15 minutes from the intersection of Interstate 40 and I25 in beautiful New Mexico.
Thanks!

Gregory Frazier, USA, around the world for the third time, now in Khajuraho, India, (home of the Love Temples), on an Enfield this week,
"...After escaping/crossing the Bangladesh and India border I rode some more ugly India highways until stopping in Bodhgoya for some touristing. It was in Bodhgoya that the 35 year old Buddha (The Awakened One) had his awakening. Buddha (563-483 BC) started his wandering at the age of 29, about the time many globetrotting motorcyclists began their wanderings. After some years Buddha ended up in Bodhgoya and here he achieved Nirvana or a "state of full awareness." I also found a state of full awareness in Bodhgoya, aware of how many Buddhists monks can be gathered in one place at one time. Bodhgoya is Monk Central for Buddhist monks, their most important pilgrimage site in the world. It was filled with ten thousand Buddhist monks who were bending, kneeling, smiling, chanting, riding in rickshaws, walking the streets and some even touristing. I smiled for several who excitedly hoisted their cameras to take pictures of me taking pictures of them. In my motorcycle helmet, Aerostich motorcycle riding suit and Combat Touring Boots I looked far different from the other tourist white-faces seeking knowledge and truth.
...Riding a motorcycle across India has become a larger adventure than seeking answers to truth and enlightenment. It has been exciting, definitely not a meditation ride. Lose concentration for a few seconds and there is a good chance a motorcyclist will be chatting with Buddha in the first person. One of the major road hazards in India has been the amount of movement on the roads. Movement from people, cows, goats, dogs, camels, monkeys, elephants and chickens. People compound the movement by using bicycles, small motorcycles, tuk-tuks, cars and wagons to vary their movement. All of the above observe no rules, making a roadway a channel filled with varying sized objects moving in unrestrained directions at different speeds. A motorcycle traveller like myself is one out of one million objects in motion in a fifty mile stretch of pavement. I have been run into by animals, hit from behind by vehicles and bicycles, and sideswiped numerous times by oncoming objects, some soft, some hard. On a motorcycle, a rather small one like my 500 cc Bullet, a rider is really at a disadvantage. If hit or run off the road to avoid being hit, there is little a motorcyclist can do, just curse and ride on.
I have had to take up arms to maintain some sanity in the Indian road insanity. My "arm" is a bamboo cane. When I purchased it the seller assured me it would not break, and it hasn't. I have affixed it to the left fork tube and it slides through three plastic cable ties with the handle hooking over my mirror left. When I see something ahead of me deserving a good flogging I pull out my cane and apply a solid whack as I ride by. To do so took considerable practice as the punishment is usually applied in town amid thick traffic. Riding one handed in Indian traffic and applying a good thump to a car hood or dog should be made part of the Olympic Games. My score so far has included cows, monkeys, dogs, pigs, goats, taxis and a couple of two legged animals.
Before some of the readers start to write me to complain about my poor ambassadorship for motorcyclists around the world and whacking sacred cows, let me relate a short episode. As I rode into a small town, a holy man dressed in white clothes and wearing a turban with dark sunglasses walked towards me on my side of the road. As I approached he lifted his bamboo cane (thicker than mine) and made an effort to anoint me with his blessing as I passed by, missing by the thickness of a frog hair because I swerved and ducked. I made a U turn, rode calmly back past him on the opposite side of the road and 100 meters down the road, made another U turn and began my run at him. He was standing by the side of the road, rocking on his heels, holding his cane in both hands behind his back, smiling, pretending as if nothing had happened. I could almost see his lips pursed as if whistling to some God in the clouds. As I neared him he prepared to make another swipe at me. Imagine his surprise when I quick-drawed my cane and applied a love tap to his belly at 40 kilometers per hour, leaning off my bike like an Indian would do making a grab from a horse. SCORE! My love tap nearly knocked his turban off. It did send his sunglasses flying. A crowd of children watching the entire event cheered. My guess was his holiness had been blessing them with whackings too.
We Crow Indians place more weight on touching an enemy with a stick than shooting them with a gun or arrow. The stick used is called a "coup stick" and the event is called "counting coup." My bamboo coup stick is doing well and I suspect I will continue to count coup as I roam India. I have cut back on whacking the cows, however, now I just rap their horns. The monkeys are the hardest to hit, much harder than people. The most satisfying? The car/truck/bus/taxi that has run into me or run me off the road. I doubt any coup counting teaches lessons to the recipients of my adoration, but it makes me feel better and balances my internal scale of fairness given my motorcycle and me against the odds of survival on the roads of India.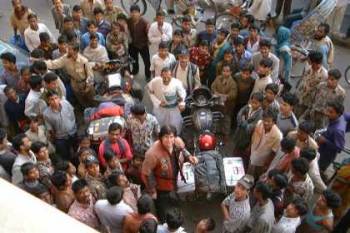 ...My Enfield Bullet motorcycle was close to home when I saw on the map the city of Jaipur. Near Jaipur is a new Royal Enfield factory, so I rode "my Baby" right up to their front doors. Inside was a modern manufacturing plant cranking out 20-25 new motorcycles each day. Given what I had read in the motorcycling press over the years about the Enfield Bullets, I had expected to find piles of rusting pistons sitting in a field with workers using hammers to make frames and bend handlebars. What I found was a modern factory with an assembly line looking like some BMW technicians had designed them. There was a sense of pride I could feel as the workers assembled the only "all India" motorcycle. It was a good feeling and gave me an enlightening knowing that the motorcycle I was riding had been assembled by workers who seemed to love what they were doing, making a quality motorcycle. One of the things I liked seeing was the way pin striping was being done to the gas tanks, by hand. BMW used to have workers that did the pin stripes on the BMW motorcycles, but the high price of German workers caused the BMW Bavarian bean counters to replace talent and craft with machines and plastic tape. To stand and watch the paint guy lay a perfect stripe on a hand sprayed gas tank was like watching an artist at work, and an artist he was. The gold stripes he put on the gas tank were perfect, as perfect as any plastic tape. He actually smiled when he finished, just before he saw me about to take his picture. It was the smile of a man proud of what he had just done.
Coming away from the factory I felt lifted of my sin of ignorance, now knowing how the owner of India Royal Enfield feels when they take possession of a new motorcycle. For them it would be a major life investment. Previously I had not felt that pride, knowing that my Bullet had cost me so little compared to the smallest BMW (about 1/5th the cost). As I was about to ride away from the Royal Enfield factory, my chest pumped with "full awareness" and pride, I asked a company official, "When would my Baby here have been manufactured?" The company official kindly smiled one of those all-knowing meditation smiles and said, "Oh, I could not tell you. Your Baby was not made here, but at our other factory 2,000 kilometers south." Maybe I will ride down there next and take my Baby back home. Or maybe I will enlighten more and realize it is just a machine.
...I have bumped into BMW GS traveller Matthew Newland for the fifth time in less than two years! The first time I met him was at Victoria Falls, Africa. Then he was hooked up with Richard Smith, fellow BMW R100GS traveller from Britain. They were on the first leg of their long ride and I was about one-half of the way through my second. They drank all my beer in the campground while picking my brain about the routes and ladies of South America. I couldn't help them with tips about the ladies, but passed on a few tips about the roads.
The second time I ran into them was in Namibia, then again in Cape Town. Like bad pennies they kept showing up and dogging me around Africa, swilling my beer. I missed them in the USA because they got stuck in Cali, Colombia for six weeks waiting for a rear shock absorber to be sent from BMW and missed their window of opportunity for a run to Deadhorse, Alaska.
Imagine my surprise when I rode into a parking lot at a cheap hotel in Varanasi, India and there was Matthew standing on the steps, looking thirsty for a beer. This time he was hooked up with DR 650 rider Rob Arnell, also from Britain. Wiser now from having met these Brits on the road around the globe, I carefully guarded my supply of beer.
Several days later, in Khajuraho, as I was touristing at the Love Temples, I hear my name being yelled from across the grounds. There was Matthew, again looking hot and thirsty. For a world which is 24,000 miles around, it surely is a small place when it comes to the hardened two wheel travelers - or Brits just know where they can find free swill. I may post on my website ('What's New') a photo of Newland to warn other travelers. We have again parted, with warm promises to meet somewhere down the road.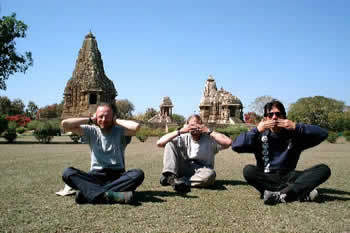 In the meantime here is a photo of the three of us, seeing no evil, hearing no evil and speaking no evil, having fun at the Temples of Love."
Ricardo Rocco Paz, Ecuador, "Around the World for Peace," in Chile, Honda NX 650 Dominator,
"I depart from Quito riding my Honda NX 650 Dominator. In the town of Baños, my friends Ed Tarleton (Honda XR 600) and Matt Stockpole (XR 400), from Boulder, Colorado, are waiting for me. Upon seeing the huge load both riders are carrying on their bikes, I ask them if they are serious about riding mostly dirt roads.
At the Peruvian border, after a long discussion with the Peruvian custom officials about my friends lack of 'Carnet du Passage', they are allowed to ride off with their papers in order.
The real adventure begins, through dirt roads, we enter the region of the Chachapoyas, in the northern Peruvian Andes. Our goal is to find the ancient pre-Inca ruins of Kuelap. The road ascends from 1670 meters above sea level to more than 4000, with amazing views of the cordillera. When we finally get to the Kuelap fortress, we are completely impressed. A whole city with the remains of round stone houses, stands on the top of a hill, surrounded by high stoned walls, made out of immense granite rocks, that meet one another perfectly. The place is practically deserted, very few tourists venture in these remote regions. Late in the afternoon we descends towards the village of Leimebamba, where we get to visit the site where they preserve the many mummies found in the ruins. We go to the Baños del Inca, the thermal waters used by the Incas, with Marlit and Susana, two really nice local girls that work as tourist guides. This was great for our sore muscles, the baths I mean.
The bikes arrived into Cajamarca pretty beat up, cracks in chassis, wheel bearings gone, oil blackened. Complete tune ups are required.
Tuesday, we depart for Trujillo, on the Peruvian coast. Of course, after about 50 km. of a twisty pavement road, we manage to find the longest dirt roads, that traversing two huge cordilleras and valleys, descend the Andes and arrive into Trujillo. On arrival, we go directly towards the ruins of Chan Chan, the biggest adobe archaeological complex in the world. Impressive.

These roads claim constant repairs on the bikes. All morning we work on them in the patio of the hostal, after which I go shopping for a sleeping bag. Due to the hurry to leave, I didn't bring any camping gear.
We start the ascent through dirt roads to the southern highlands of the Cordillera Blanca... the Pastoruri National Park, at 4500 meters above sea level. The view of the snowy mountain tops invades the whole horizon around us. We continue towards La Union, after every turn, another amazing view, one after another, the frozen rocky walls emerge from the flat highlands displaying a succession of natural beauty. The cold and cloudy weather collaborates somehow, to let us see the snowy mountain peaks in the distance. Unforgettable. We descend towards the east, and after several hours, well into the night, we arrive into the town of Huanuco. While we ride through the Indian villages they yell at us: 'gringos!'. Some children throw rocks at us. Later we learned this is Coca plants growing territory.

We pass through Huancayo. The 'carretera central' becomes a muddy path full of huge puddles and landslides, that follows the course of a brownish raging river. We don't have a better idea than to start one of our 'races'. At least, I have an excuse, my bike won't run at low RPM, so I have to go WFO. Very, very risky. While shopping for some alpaca poncho in Ayacucho, we meet some local motorcyclists who takes us to their home and invites us for dinner and let us sleep in their storage room. Motorcyclists are good people!
When we arrive into Cuzco, we find the Casa Grande hostal where we meet our friends Chris Bright, England (around the world, BMW R100GS), Lars and Christine Spittal, Germany (Alaska - Tierra del Fuego, Honda Africa Twin), Richard and Christine Mather, England (around the world, BMW r75/5) and Gary Hofegger, Austria (Alaska - Tierra de Fuego, BMW R1100GS), plus four Argentinean riders, all on Africa Twins.
Temperatures up in the Altiplano are very low during the 'Bolivian winter'. We leave Cuzco, the 3 of us, Ed, Matt and myself, plus Lars and Tini, from Germany on their Africa Twin and Richard and Christine, from England on their BMW. As soon as we leave the hotel, Richard starts today's ordeal with some electrical problems with his starter, then I get a rear flat tire, luckily, close to a "vulcanizadora", then, Lars has a little trouble with his brand new transmission chain. But the real fun starts, when it begins raining heavily, then my Honda just refuses to run again. I've check this problem several times during this trip, but seem not to find a definitive solution for it. Something in the bike gets wet and she just quits. This time, it gets combined with another flat tire. That's it, I take a very expensive truck ride into the next town, a very small village somewhere in the Andes, where we all stay fixing our troubled bikes.
We ride into the border at Desaguadero and get into Bolivia with no problems at all. After a side trip to visit the famous ruins of Tiahunaco we make it to La Paz where we find the Honda dealer. The owner Walter Nosiglia, not only is a very fine person and a great motorcyclist, he's been Bolivian Motocross champion 16 times!; but he's also a good friend for the moto travelers and offers us his shop for one of our, repair, replace and modify marathonic sessions.
I could've sworn that my weird rain related problem was cured, the bike was running perfectly, it felt as though she could run forever. We leave La Paz with mixed emotion, on one side we would like to ride more Bolivia, on the other the weather is so miserable in this Bolivian winter that it makes travelling no fun. We are going towards the Chungara pass, on the new road from La Paz to Arica, Chile on the Pacific coast. As soon as we leave La Paz, a light drizzle, and there she goes again, she won't run!!!
I'm puzzled. I have taken the bike apart five times to look into this situation, have replaced every possible part causing it, and have waterproofed everything, except maybe the air entrance to the carb. I feel totally disappointed and plainly pissed off. I feel like forgetting about Tierra del Fuego and riding back home. I think about returning to La Paz and trade in this $%&! bike. Whatever, but I continue.
We make it to the border, it is sunny up here, at about 4,000 meters high. As we get into Chile, the scenery is magnificent, with snow capped mountains all over, shiny blue crystal clear lakes and a great road. The fun does not last very long, raining heavily as we descend the western Andes. It's freezing. My bike seems to make a lot of effort to keep the pace. I have no choice but to go wide open all the time, very dangerous road conditions make my heart pump adrenaline all the time. As we keep descending, tired, cold and hungry, the wet mountains slowly give way to the big open spaces of the Atacama Desert. It stops raining and gradually temperatures begin to rise. At sunset, we make it to Arica, and down to the beach, where we finally get to camp, enjoying the mild weather of the Pacific, and even take a nice deep into the warm ocean water. RELIEF!!!
One of the most dry places on earth, the Atacama desert extends vastly over a huge and long plain between the Pacific ocean and the Chilean Andes mountain range. On one of our stops along the very scenic route, we meet with a couple of Swiss riders, on Yamahas. They been traveling through the Andes for several months. We ride in their company for a while, until me meet a couple of riders from French Guyana, she's riding a Suzuki DR 350 and he's riding a new Honda XR 650.
...Antofagasta next day, again with our last hope of gas, very long stretches with very little service stations. We camp over some hills overlooking the bay and the city. Laying on my sleeping bag, I have a full view of the sea, the sky full of stars and the city in the background. Romantic? Nope, magnificent.
It may have been the lack of sleep, or simply I got careless, but my wallet got stolen while I was at an Internet place in the town of Villarica. Of course all my documents were in that wallet. You see, this was supposed to be a short ride from Ecuador to Cajamarca in northern Peru, from where I was supposed to go back home, and it ended being a ride to 'the end of the earth'. So, I didn't even prepare my 'dummy wallet', like my good friend Dr. Gregory Frazier suggests in his book Riding South.
My credit card company can send me a replacement card right away, so that's no problem but what am I going to do without my motorcycle paper and my drivers license? Easy, I go to a good computer center and 'fabricate' myself a very official looking document for my bike. I make it look even more official, using a couple of old Ecuadorian sucres coins, which with a little dye, make great stamps on my new motorcycle registration card. (Another lesson learnt in Riding South, thanks Dr. Greg) Then I go to the Police station, and file a complaint: how is it possible that in such a nice touristic town this could happen? They give another very official looking document stating the robbery of my documents. This hopefully will help me get away with my lack of drivers license. I try never to show it anyway, I always start asking a lot of questions to the police officers with the map in my hand and usually they 'forget' to check the license anyhow...
In a couple of days we make it to Puerto Montt, where the only motorcycle mechanic in town, Richard, will help us get the bikes ready for the Carreterra Austral and the last stretch before arriving into Ushuaia, Tierra del Fuego"
Mika Kuhn, Germany, around the world, in Vietnam, Yamaha Tenere
"...Before I left Chiang Mai (North Thailand) I met another around the world biker, Simon Milward (www.millennium-ride.com) again. We had met in New Delhi India in May 2000 and had irregular e-mail contact. As we were both on the same route - Laos, Vietnam, Cambodia - why not travel together for some time?
First we were going southeast to the Thai border town - Nong Khai, to cross the Friendship bridge over the Mekong river into Laos. My second time in the quietest capital of the world, Vientiane. We spend two days there, arranged visas, Simon send reports to his sponsors and I could read on the riverbank and drink some 'Beer Lao'...
...We camped at the village school and again everybody told us we would have to use the boats to go to Pakxan, but nobody was willing to load the big bikes into his small wooden boat. Next morning one of the boat owners was still around and after we agreed to his price (20 USD each) - he would give it a try. In two hours we had the bikes in the boats and than had the most peaceful and exciting part of this journey - two hours down a jungle river.
...easy to follow the dusty trail to Pakxan. Simon had some trouble with the police after he hit a girl on a bicycle and we both needed a day of rest before going further east to Vietnam. And we had to do some work on the bikes. The shaft I got made in Chiang Mai for my swingarm was broken again, good steel quality in Thailand!
To enter Vietnam was easy, much easier than we had expected. A biker from Belgium (Thank you Philippe!!) had told me the right border crossing - Cau Treo near Vinh. We got our carnets stamped and only had to wait for someone to return from his lunchbreak.
Simon went south and I wanted to go north to Hanoi, so we separated at an intersection near Vinh - after two weeks and all the jungle madness we became good friends and it was a pleasure to travel with him. But the north of Vietnam is cold at this time of the year and I even had to buy a jumper and a pair of long johns in Hanoi.
It didn't stop raining in Hanoi and so I decided to go south and followed the coast along the Gulf of Tonkin and the South China sea to Hue, Danang, Nha Trang down to Ho Chi Minh City near the Mekong delta over 2000km...
Vietnam is so different to Laos - the traffic is quite crazy here and I have to use my horn every two minutes. I will spend one more week here in the south of Vietnam and then go to Cambodia..."
Bente Bråthen and Dag Jenssen, (Rocinantes' Travels) Norway, North and South America, in Peru and Bolivia, Triumph Tiger,
"Peru was in the rainy season, and we knew that the mountain roads would be impassable at times for a freight train like ours. Reports from other travelers confirmed our theories, so the decision to take the coastal road south was easy. The coastal region in this country is mainly desert, a dry and windy landscape that changes character around every bend in the road, although the distance between each bend was sometimes vast.
...From Piura the road went straight for 180 kilometers through an unpopulated desert. Halfway through we drove into... a sand storm. Sand was drifting across the road and clogged up our visors. When we came through the desert lay wide and open around us, and for the next days we marvelled at the changes. Some stretches were barren and hard, then suddenly it changed to drifting sand dunes, some of which the size was enormous.
We wanted to make a detour to the mountain town of Huaráz. We opted for the northernmost route, and turned inland from the coast at Chimbote, following the Santa Valley. After no more than 25 kilometers the pavement ended. By the time we arrived at the next village, the road had degraded to a stony track. We stopped for lunch and asked the locals. First they said the rest of the route would be easy, then, when asked a little further, they admitted that the road from Casma was in a lot better condition, which was the reason all the knobby tyre equipped buses went there and not along this track. We knew we had been had, and realized that this late in the day we would not make it over the pass, if at all. As much as it hurts to turn around, that was what we did. On the way back, we couldn't stop marveling at how wrong the information had been. From many different sources we had been told that this particular road was; in excellent condition, paved throughout, a highway, pura autopista. Road conditions and distances is a matter of feeling in Peru.

...We entered Lima late in the day on Friday, and the traffic was a nightmare. Buses, minibuses, taxis and trucks were racing each other. It was a wild drive which almost led to an accident. A truck driver who must have taken a Kamikaze course came up on our left at high speed. The clearing between us was nothing, and he probably forgot about the ladder he had mounted on the side of the truck. It hit the left aluminum pannier and threw us slightly over to the right. Bente got scared and I got mad. For the next minute I rode with my thumb on the horn, but cooled down enough not to race him. The rest of the ride was absolutely terrible, and it took us two hours to traverse this eight million people metropolis and get into Miraflores, the calmer modern center.
...From what we had been told, we had anything from 120 to 150 kilometers of mud and gravel ahead of us, with three river crossings thrown in as a bonus. It would be a first time for us. To be prepared I moved much of the heavy tools and laptop accessories from the tank bag to the aluminum panniers, to take some weight off the front wheel, and I reduced the air pressure in the tyres. After a nervous start, it got easier. The road wasn't too difficult, and when we came to the first river crossing we laughed at the warnings we had been given. But we never crossed a river before, and didn't know that when we had been told there would be three crossings, this little creek wasn't counted.
During the next stretch we came upon numerous holes covering the whole road. They were filled with muddy water and it was difficult to predict the depth or any subsurface obstacles. We dived into the first one, a six - seven meter long pool of water, and to our surprise it was more than a meter deep. Water splashed in every direction and I smiled happily when I heard Bente laugh out of joy.

...After almost five hours we left the river and climbed up towards Abancay through a series of switch-backs.
Around a bend several buses, truck and cars were waiting for something. Hundreds of people were standing looking up the hill. We were at the first real river crossing. A tiny creek had turned into a full blown river because of the rains. It crossed the road two hundred meters further up, but had spread out and turned the whole stretch into a wet and stony river.
One car was stuck and a bus was trying to pass it. Another bus came from above and for a little while chaos ruled. A bulldozer did its best to make a passage, which wasn't easy considering the Kamikaze bus drivers. About a hundred people took the by now mud covered Tiger in view and waited for us to do the crossing, like sharks waiting for easy prey.
So I got on the bike, wished Bente a nice but wet trip on her own, then gassed the three hundred kilo monster. The bike jumped over rocks, dived into high current waters and flew over rocks again, sometimes lifting the front wheel of the ground. I kept the speed up and made it across the stretch in no time, water flowing and steaming off the warm engine. I parked the bike next to another bus at the top of the stretch just before the real river, and got off. Every eye in the bus was on me and the bike, and I couldn't help feeling a little proud and adventurous, although I tried to appear as calm as possible, as if what I just did was nothing.
But, these moments never last. As I walked off to look for Bente I bumped into the bike which was standing almost vertically, and it fell over. The hero was gone, and all that was left was a slightly panicking kid trying in vain to lift a too heavy toy...
...Far into the mountains from Cuzco along a river that in the rainy season runs like a freewheeling freight train through the narrow gorges, lies this mysterious city - Macchu Picchu. The buildings folds over a rim 6-700 meters above the river, which runs around the rim in a half circle. The place was one of the most magic places we had ever seen, and it was a shame, quite simply, that we only had about two hours before we had to descend to the village and catch the returning train. A better option would have been to stay the night in the village and go up to the city before sunrise. But that has to be another time...
Kitty and Erik ...brought a huge bag for us from Norway. It was like Christmas time. In it was a new BMW helmet, a replacement for mine, which cracked in the accident in Ecuador. There was Norwegian pâté and mackerel in tomato to be used as sandwich spread, and a bottle of Gilde Non Plus Ultra Aquavit, a bottle we tried our best to empty the first night. Further down in the bag was a tent and light weight sleeping bags from Turutstyr, and self inflatable mattresses, dug out from the pile of things we stored with Bente's parents. In Cuzco we bought a gas stove and gas, a cooking set and salt, sugar, pepper and rice.
We would start camping but when I looked at the pile of new luggage, I was a bit worried about where it would all fit in. But this is my job, this is what I like to do, even, to Bente's amused curiosity, love to do. Just fiddling with the luggage to make new room is as rewarding to me as building ships in bottles are for others. And sometimes just as challenging as well, like when I spent three hours trying to fit the stove into the coffee pot. When I had bent things slightly out of shape and managed to squeeze it in there, I looked happily at Bente for approval, forgetting about the cups and lids that now needed a new spot in the luggage, since the stove had taken up their old. But all in all everything fit in there, and we were ready to camp at the price of about 10-15 kilos extra luggage...
Bolivia was waiting for us just down the road, and after another day's fantastic ride along the shores of Lake Titicaca, we stood at the border post in Copacabana, a small town on a peninsula that divides the lake in two. Another biker was at the border, Dai from Japan, travelling very light on a single cylinder 650cc off-roader He had used three months from Vancouver, a distance it took us more than half a year to cover, and was continuing south with the same speed. His plans of flying over to Europe, go to North Cape before he crossed Russia and got himself over to Japan one way or another, all before the end of August the same year, sounded nothing less than ludicrous to us. But whatever makes people happy, and people are different...
We continued to the ferry crossing. The distance over the straight isn't far, but when we saw the barge called "Titanic 2", ready to take a bus and a car over using a 75 horsepower outboard engine, we couldn't help grinning. The barge had an open deck, only covered along the wheel tracks with planks over the cross beams. We got on behind a bus, and I chose to sit on the bike most of the trip to avoid it falling on the unstable deck. It was snowing lightly, but in the distance clear skies bid us welcome to Bolivia.

So far on the trip, Peru stands out as one of our favorite places. Although most places are interesting in one way or another, Peru's diversity in nature and culture makes it special.
The beauty never ended. We were on the altiplano in Bolivia, doing a hundred or so kilometers per hour through a pampa flanked to the east by snow capped mountains. Shepherds were herding their stock, children swimming in the clear blue, but ice cold river waters, buses passing us displaying curious faces, and slowly we got closer to the worlds highest capital, La Paz.
We drove straight through the center and parked the bike in front of the gigantic reception that belonged to Radisson Plaza Hotel. Kitty and Erik, good friends that they are, had decided we deserved a luxury stay after all those months of travelling, so all we had to do was go to the reception and collect the room key. Outside the piccolo didn't know what to do. He was joined by the concierge, and together they stared at the bike and us. Bente went inside while I arrogantly put the top box on the sidewalk. After a little while, the piccolo went inside and got a trolley for our stuff. When he realized we would actually stay there, we were friends and I had to tell him everything about the trip and the bike.
Inside the room luxury was waiting for us, with the best massage shower and the best towels we had had in nine months, Internet connection for free, a zillion channels on a huge television, room service twenty-four hours, a king size bed, mini bar and hair dryer (This was Bente's favorite toy). It suffices to say that during the two days we stayed we didn't see much of La Paz. We're not really backpackers or budget travelers, we just force ourselves to pretend we are.
...heading for the coast of Chile. The day was just as fantastic as the previous rides we'd done. An Altiplano bathed in sunshine defeats description, and as we got closer to the border, we climbed up to an incredible 4700 meters. The snow capped peaks covered the length of the horizon ahead of us.

Bolivia was just a quick breath of thin air this time, but is definitely on our list of possible destinations in the future. Now we had thousands of kilometer of desert ahead of us, a capital we always wanted to visit, and friends on the road we tried to catch up with. Even further south Carretera Austral, a thousand kilometer gravel adventure, waited our visit. I can almost see Ushuaia and Cape Horn in the distance.
Peter & Kay Forwood, Australia, in Code d'Ivoire and Liberia, Harley-Davidson,
"February 2001 was a big month for us. It marked a few milestones including being five years since we started the trip from Australia in 1996. We are now in Monrovia, Liberia the 100th United Nations recognised country we have visited (plus Switzerland and the Vatican City). The motorcycle passed 200,000 km of travel on the trip.
...Out of town passed the many scars on the road where tyres have been burnt as roadblocks in past demonstrations. This seems to be a common occurrence in West Africa leaving round gouges in the asphalt. Perhaps as many as twenty such places along our departure route. Abidjan a friendly city, more so because of migrants from Ghana and Liberia seeking work and they being able to speak English we could converse more readily. The other very noticeable ethnic group from Lebanon. Almost all the businesses we dealt with were run by them, and again friendly and generous. The afternoon we spent at Yamoussoukro, supposedly birthplace of the first president of 33 years and as Lonely Planet describes 'Its a testament to Africa's greatest curse, the big boss who can get away with anything'. A presidential palace on the lake and a polytechnic institution turned this place from a village of 500 to over 100,000 people with six lane highways and the highest church in the world, a copy of St Peter's Basilica in Rome, but higher, and on a bigger block of ground, now since his death slowly deteriorating like so many other grandiose schemes of the region.
...Past and slowly through about 20 police road blocks where fat policemen were extracting money from lines of trucks heading to and from the Burkina Faso border. It's not the corruption itself as much as the corruption in the face of such poverty, pushing up the price of all goods, both those imported and local farm produce, while children walk the streets with their food bowls looking for leftovers. The truck drivers are forced at every road block to stop the truck, walk across to the fat police sitting in the shade, argue over the amount to be paid and continue to the next road block, sometimes less than a few km away.
...Our short stay in Burkina Faso ended with an efficient easy border crossing. Cote d'Ivoire again and having been away from road blocks in Mali and Burkina Faso were not pleased with the 21 nailboard and barricades we encountered in the 420 km to Yamoussoukro. At an average of one every 20km, this seems a little excessive control. But with this the lifeline of supplies to Burkina Faso there is little resistance to the police insisting on money from every truck driver at every stop. We were held up at one post for over two hours at Ferkessedougou because we had not stopped at the previous blockade and refused to return. Surely there was no need to return as they only look at our passports and the motorcycle which they can do here.
After considerable time of stand off I proceeded to start taking photos of the surrounding area, including the road block which brought on an immediate reaction from one sergeant to snatch the camera, and a scuffle broke out resulting in Kay's helmet hitting him on the head and him punching Kay in the face. Both relatively gently, although Kay has a minor bruise as a temporary souvenir. Even here women don't openly get punched in the face by Army sergeants regularly, and the situation immediately went quiet.
A series of increasingly ranked officials started to visit until the senior civil servant, governor of the region, arrived to hear all sides of the event leading up to and after the scuffle. A statement was taken which we refused to sign as it was in French, we were handed back our passports and informed them of our intention to report the matter in Abidjan (where we are not going). Obviously we enormously contributed to the circumstances that led up to the events. Almost all the officers behaved civilly although overly supportive and not accepting of any responsibility for any wrong doing of their own men. All at great lengths to cloud what happened. The lesson for us is the rapid deterioration of the situation where one man used to wielding his authority snaps and a more tragic outcome can ensue and would be covered up by his compatriots...
After leaving Daloa we have been stopped eight times for passport controls and finally arrive at the last post to be told we need a "Laissez Passeur" for the motorcycle to cross. This can only be obtained in Danane, 25km back, over dirt roads , from the Prefecture with a stamp from the Brigadier of the Army. Being Saturday we had to hunt over town to find the right person and get him to type the letter, then wait till 4pm to get the army to stamp it. Back at the border with a document they had hoped we couldn't obtain so a cash settlement could be received, and a thorough search of the motorcycle and goodbye and good riddance to Cote d'Ivoire.
Unfortunately a similar start to Liberia. Immigration wanting $US5.00 each before they would stamp passports, threatening that even though we had a visa they didn't have to let us in. The rest of the border straight forward with health certificates, customs, police and statistics, who judging by the questions seems more like the CIA. Stayed in a small friendly hotel right at the border.
You're pretty certain there is a major problem with the motorcycle when you start buying oil in 20 litre drums. Two days ago, concerned about the quality and availability of oils in Liberia, Sierra Leone and other countries ahead and burning oil now at 4 litres per 1000 kms we bought a 20 litre drum. Enough for 4000 km and an oil change.
110km of dirt and 240km of good sealed roads through logged rainforest with hilly to mountainous scenery brought us to Monrovia, the capital. Eleven check posts, particularly where the road runs near the Guinea border, as the two countries are in a cold war. Six of these checks were serious. Recording of documents and a ten minute interrogation on the reason or purpose for our trip. The difficulty was getting the message across about what tourism was in a country that has been in civil war since 1990 until recently. They could not grasp the idea that people travel for pleasure and were thus suspicious of an ulterior motive.
The whole country seems like a mini America. This probably stems from the resettlement of freed American slaves here in the 19th century and close ties since. The English spoken is very 'black American' along with the snap handshake and a flag that is just a few stars short of the American one. As is often the case the people who have suffered the most are the most friendly and most welcoming.
We head from here to Sierra Leone, Guinea and Senegal, then to the Americas to complete the around the world tour, two more years."
"...Nicaraguan border. Once again, no hassles, no corruption, no problems, just polite officials and we were out in 30 minutes. We came to Granada. What a great little city! The Nicaraguans there were the nicest bunch we've met, they were curious, informed, proud of their city and country and were the only bunch who did not mind to have their pictures taken.
In fact, they would come and ask us to please take their photo. Normally we have to be very careful when we go around trying to get some shots for our articles. Especially after being attacked in the market in San Cristobal de las Casas in Mexico by an angry donkey of a Tzotzil Indian. We weren't even taking a picture of him. I had to take Nina's knife and cut the camera strap in order to free it from this guy's iron grip.
We made quite a scene at that market wrestling with our friend the Indian as chickens and bananas flew around the place. The scene would have made for some fantastic photo journalism.
...Granada. Go now before it is spoiled. In fact, go now to Nicaragua. It's still not very trodden on, but believe me, if the political situation remains stable, it won't be long before the gringo hordes invade. I read somewhere of a guy that wrote he felt very little welcome in Nicaragua. He must have been having a bad day. It was where people clearly treated us best. The country is not yet invaded by the rampant forces of globalization so it's a pleasure to drive on roads with very little traffic, no Coca Cola signs or billboards advertising some pathetic beach resort in English. But I guess they will come. They couldn't bring the country to its knees with Somoza, they couldn't bring it to it's knees by financing the Contras, but I figure the Nicaraguans will have a hard time standing their ground against the big all engulfing companies which 'they' own. You know who 'they' are...
...we are now in San Jose, Costa Rica after spending a few days camped on a solitary beach with our good friend Ralf 'Rallerastlos' Enders and two other Germans named Stefan and Vivien. Ralf is another motorcyclist whom we know from our travels in Bolivia. While we were heading South he was moving North and our paths crossed at the beach in Lagartos on the Nicoya peninsula. We had the perfect campsite, the perfect beach and the perfect company to hang out a few days telling stories. After that, we are all now on our way and who knows where we will meet again. Good luck to all of you and to all we have met on the road, what a beautiful bunch of characters you all are!"
Jason Koch, USA, to South America, Mexico and Guatemala, R100GS,
I am in Quetzaltenango, Guatemala. I passed the navidad in San Cristobal de Las Casas, still in Mexico. In San Cristobal, I stayed in a little house that was quite nice for 45 pesos (about $4.50 US). However, they had a little puppy that kept coming into my room and peeing on my things. The unfortunate thing is that I can't tell exactly what has been urinated upon and what is still untouched, due to everything having a bit of a funky smell. But that is neither here nor there...

My hidden Mexico begins in the small town of Anguangeo, in the state of Michoacan: Imagine a butterfly. Now imagine millions of them together at the same time. The most impressionable thing is the noise that all their little butterfly wings make when fluttering in virtual unison. The Monarchs migrate to Michoacan to winter every year from Canada and the United States, and it is truly a sight to behold.

From Angangueo we head to Xilitla (Hee-lee-tla), a small town in the rainforest in the state of San Luis Potosi. Sir Edward James, a millionaire Englishman with connections to royalty came to Xilitla in the 1930's to construct a surreal concrete sculpture garden. He spent over five million dollars and 50 years building the edifices, some of which are over 80 feet tall. The likes of Aldous Huxley and Salvador Dali were his friends, and their influence can definitely be seen: Concrete on acid.
We end hidden Mexico on the beach in Zipolite, in the southern state of Oaxaca. It is dangerous--the name itself means "killing beach" in the indigenous language (Zapotecan, I think). Up until a few years ago, two people per week would drown due to the strong rip tides. Now, however, things are under control, and it has become a favorite of budget travelers. It is also a clothing optional beach: The Mexican lifeguards are all men, and I wonder if the death rate of males has remained steady while drownings of naked females has been considerably reduced?"