Our Ride-on World Tour started on November 21st 1996, and so far we have completed our first full circle. Currently heading for Mexico and will travel on to Japan and from Vladivostok back to Europe in 2001.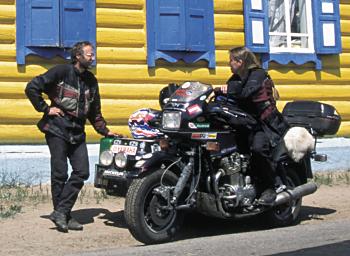 Rob and Dafne de Jong, on the road in East Siberia, 2001
more to come on this page, like who are we and why are we doing this!?
In the meantime, read about good times and bad times in some of our Road Reports here...
Travel Stories, English:
March 1998, West Africa 1
April 1998, West Africa 2
June 1998, South Africa 1
September 1998, South Africa 2, Swaziland and Lesotho
December 1998, South Africa and Namibia
May 1999, from Zimbabwe through Zambia, Malawi, Tanzania and Kenya to Uganda
September 1999, Uganda, Kenya, Ethiopia, Sudan, Egypt, Jordan, Syria and Turkey
November 1999, The shoeshine boy of Gondar
December 1999, Istanbul-Turkey to Kathmandu -Nepal
April 2000 India and Australia, part 1
July 2000, Australia part 2
September 2000, through New Zealand
October 2000, L.A to Fresno via Inuvik
December 2000, California
January 2001, Arizona
April 2001, Japan PICS ADDED!
July 2001, Russia and Siberia
more to come!
Travel Stories, In het Nederlands: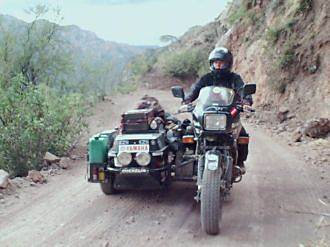 Check out the Books pages for Travel books and videos.
Travel Stories, English:

January 2002,


Ride on 2002...


October 2001,


Ride on Home


July 2001,


Russia and


Siberia


April 2001,


Japan


Jan 2001,


Arizona


Dec 2000,


California


Oct 2000, L.A


to Fresno via


Inuvik


Sep 2000,


New Zealand


July 2000,


Australia part 2


April 2000 India


and Australia,


part 1


Dec 1999,


Istanbul


to Kathmandu


Nov 1999,


Shoeshine boy


of Gondar


Sept 1999,


Uganda to


Turkey


May 1999,


Zimbabwe to


Uganda


Dec 1998,


South Africa


and Namibia


Sept 1998,


Swaziland &


Lesotho


June 1998,


S. Africa 1


April 1998,


W.Africa 2


March 1998,


W. Africa 1

Travel Stories, In het Nederlands:

July 2001,


Rusland en


Siberie
April 2001,


Japan


Jan 2001,


Arizona