Travel Through Yugoslavia on a Harley-Davidson
By Peter & Kay Forwood
Yugoslavia on a Harley (4/12/97 - 11/12/97)
Distance 1050 km (77300 km to 78350 km)
This is part of the third section of our around the world trip.
Complete Trip Overview & Map
Coming from Albania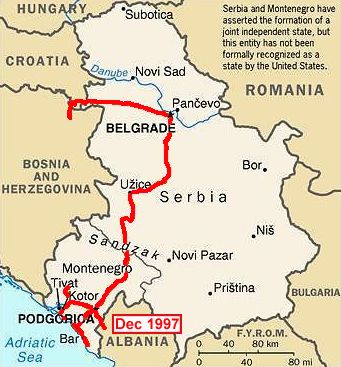 4/12/97 Our third border crossing so far this trip, again easy, paying $US 4.00 for the three day stay in Albania for the motorcycle and $US 58.00 for green card insurance to get into Yugoslavia (seems Macedonian insurance isn't any good here). Headed out through Podgorica and over the mountains to the Adriatic Sea and overnighting just south at Sutemore. The mountains had a heavy coating of snow from the previous night's storms, with some snow still on the road. The scenery is totally different from anything I have encountered since leaving home, travelling around beautiful Lake Skadar, climbing the snow capped range to reveal a tortuous coastline.
5/12/97 About once a week, particularly after riding for a few days straight, all the chores of travel accumulate and you need a day to relax and remove those chores from the mind to be able to start again. Today was just that. Wash bike, wash clothes, repack, dry wet boots and gloves etc., interspersed with eating deep fried fish and potatoes, (cooked by the pensione owner) enjoying a bottle of wine, sipping turkish coffee and strolling along the beach.
6/12/97 I am often asked why l travel. It's only today that a clear answer has emerged. Today we can see almost everything on television or in the movies, the internet can answer almost every question and books can beautifully describe almost every situation or feeling but unless you experience it yourself, for you it hasn't happened. You can not appreciate the hot desert winds, the soft snow, or the different food tastes unless it is your own personal experience. A short ride today down to Ulcinj near the Albanian border where people are so friendly that even a coffee house did not charge us for coffee. Another cold day with strong snow frozen winds hurtling down the mountains and clearing skies.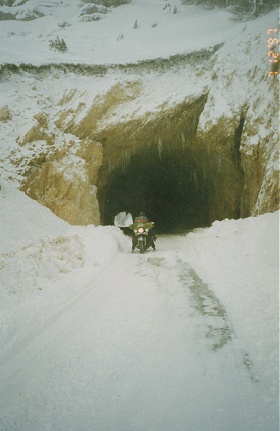 7/12/97 Heading north along the coast on the first totally sunny day, weaving around the coastal road to Budva, before heading up the mountain to the old Montenegrin capital of Cetinje. Petrol is so far excellent and only $US 0.60 per litre if you changed money on the street. One DM at the official rate 3.3 Dinar but unofficially 4.5 Dinar or over 40% more. Easy to change at any shop or restaurant. We attempted to ride to Zabljak, a ski resort and national park but as the road increased in height over a 1400m pass the snow on the road increased. After persevering for a few kilometres we decided to turn back and approach from a different road tomorrow. Accommodation here seems an enigma. Private accommodation is incredibly cheap but scarce except for holiday places. We paid $US 9.00 a night on the coast. However to stay at a government owned (about 3 star) we foreigners are charged 3-4 times local rates and tonight I was quoted $US 110 for a double. We were lucky, stopping at a restaurant miles away from any tourist spots where we managed to find a private room for $US 20.00 else it would have been an overpriced government job.
8/12/97 Discovered after spending four days in the country that our watches were one hour ahead of local time. Ain't it great to be that relaxed time wise that it took four days to notice. Heading due north to be confronted by the strongest winds I have experienced. The icy air falls from snow capped mountains to replace the rising warmer air of the Mediterranean. Climbing up a magnificent limestone gorge, rounding each corner in the calm to be almost blown from the road half way around the bend. The road climbed past the 800m snowline to over 1000m and remained on the snowy plateau for the next 150 km of magnificent scenery. We soon abandoned any idea of heading to Zabljak and decided instead to ride on towards Belgrade. With temperatures as low as -4 degrees and never above 3 degrees my wet boots froze to the footboards and the rear tire broke free and we almost lost the bike on an icy bridge. The road was generally free from ice and snow but on some bridges, with the flow of air all around, water had refrozen. Again with the WIDDER electric vest and gloves our hands and body core remained warm but my knees and feet ached.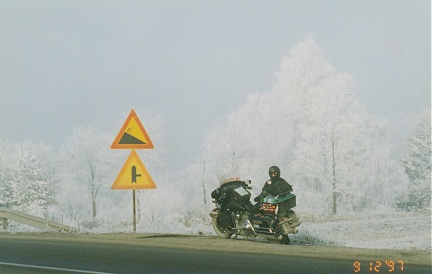 Many stops for warming coffee and tea. I am quickly realizing why people don't ride motorcycles too much in Europe in winter.
9/12/97 200 km to Belgrade and not one above freezing. We started at -4 degrees and hovered between -6 and 0 all day. The Harley being air cooled and not having a radiator and thermostat, ran cold. It was necessary to keep the choke on just to have the bike run smoothly. We stopped every 50 km to warm our toes and legs, the rest being warmed by the thermal underwear and heated gear. The heavily timbered hilly country side, white with day after day of building frosts, the trees sparkling in the occasional glimpses of sunshine. To keep warm and because alcohol is so cheap, we saw a lot of drivers start drinking early morning and continue through the day. Judging by their driving manner and the number of roadside memorial shrines, at every corner, many accidents occur. Despite high prevalence of police they don't seem to be slowing the motorists, drink driving, or deaths.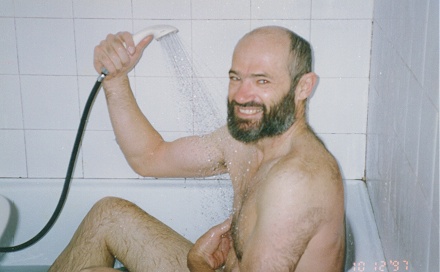 10/12/97 What a joy to soak in a hot bath at the Belgrade Hotel after two cold days of travel. A real cultural day with visits to the Citadel, war museum, palace and ethnographic museum, not to mention my first glimpse of the Danube River. Belgrade is a suprisingly (for me) cultural, magnificent buildings and treed parks, bustling but not traffic snarled city. The people fashionably dressed and personally proud. A great place to spend a day or two strolling around.
11/12/97 The weather fine so we hit the road at 9.00 am. After $US 9.00 toll way charges in Yugoslavia we crossed into Croatia, then 40 km later were at the Bosnian border at Zupanja.
Move with us to Bosnia-Herzegovina or go to our next visit to Yugoslavia, now renamed to Serbia