Travel Into Vanuatu on a Harley-Davidson
By Peter & Kay Forwood
Vanuatu on a Harley (25/7/08 - 12/8/08)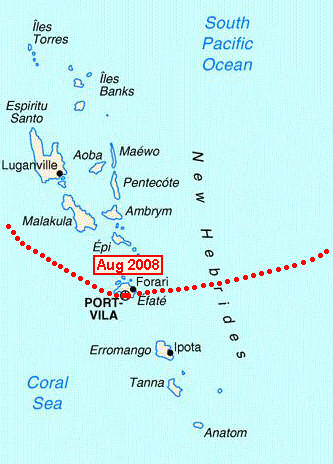 Distance 108 km (508577 km to 508685 km)
This is part of the fourteenth section of our around the world trip.
Complete Trip Overview & Map
Coming from Solomon Islands

25/7/08 An easy two hour flight to Port Vila and we thought we had moved to the big city after Honiara. We were welcomed here by Emil and Liliana, on their world record tour, and Guinness World Record, by Toyota 4x4, 24 years on the road, we have been in email contact for almost four years but had never met. Their motorcar is currently being shipped from New Zealand to New Caledonia, and in this world of strange airfares it was more economical for them to fly via Vanuatu than direct, giving us a chance to meet up. We sat at a waterfront table, overlooking Pt Vila harbour, with its array of sailing boats, rusting coastal freighters and island waterfront bungalows, sipping gin and tonic, relating stories of the road.

26/7/08 Vanuatu was administered by the British jointly with the French and has some unusual results, most obvious of which is vehicles driving on the right hand side of the road. The French also left behind baguettes and pastries but we haven't heard much French spoken, despite the local TV only broadcasting three stations, the main one in French, an English religious station and the Chinese English channel, again an unusual choice. We spent the day with Emil and Liliana, looking at boats from and to New Caledonia, of interest to both of us. We wandered about the small town getting a feel for the place and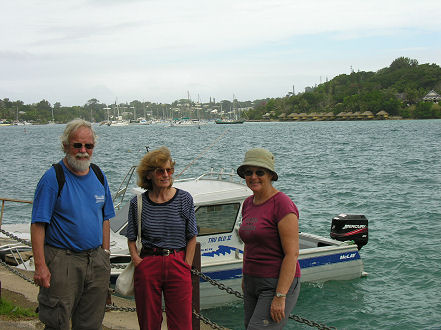 again enjoyed an evening drink on the waterfront assessing how travelling had changed over the years. It seemed a consensus that there were less backpackers travelling, that rules had increased, and costs had increased, didn't we feel old.

27/7/08 More stories, it seems a combined 36 years of travel has produced many, some unique, some shared. We are about to end our aim, our challenge, of visiting all the internationally recognised countries of the world with the same vehicle, while Emil and Liliana will continue extending their Guinness World Record of the Longest Driven Journey. We are looking forward to getting our trip back again, having had it hijacked by a goal, so hopefully in just 10 weeks time the motorcycle will have been ridden in the last four countries and we can enjoy New Zealand unencumbered. The future plan, early next year, is to ship, hopefully our last for a long while, to Hong Kong, and if we can arrange it, ride across China, through Russia to Europe. We will have finished our look around the world and will be visiting places we missed or wanted to return to without the obligation of any aim, something that has dominated our thinking for the last few years. Emil and Liliana flew out this afternoon to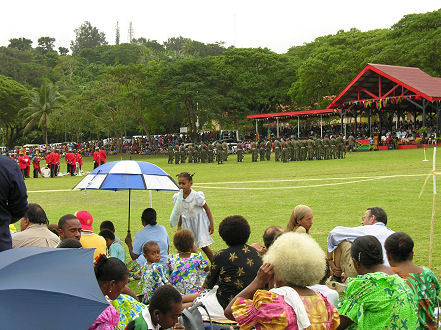 rejoin their vehicle, now in Noumea.

28/7/08 The streets here throng with Australian tourists, getting away from a winter. Vanuatu is seen as a safe Pacific destination, made more popular by the troubles in Bali and Fiji, families looking for a family holiday are finding it here. Not as cheap as the other two destinations with prices similar to Australia, but with a different culture and a few adventure activities. There are perhaps about 50 yachts in the harbour, a couple arriving and departing each day, but the facilities haven't kept pace with the demand and the waterfront in town doesn't quite have a western clean appeal. A quieter day, keeping to ourselves, a little talked out from the last few days.

29/7/08 We had learnt that, like other small countries in the region, that Vanuatu has only one berth at its port and for some reason ships seem to arrive together. It seems the motorcycle's planned departing vessel has luckily been delayed by two days, as its arriving ship won't be able to get a berth, needing to wait anchored out for two days, we have neither gained nor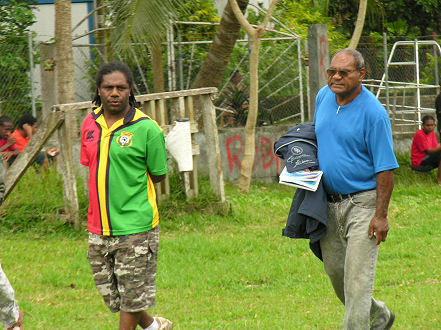 lost time, at least at this stage. Having the port closed all day Sunday doesn't help the line up. We started the process of getting documents ready with the shipping agent, with the idea of clearing customs for both arrival and departure at the same time, and paying for onward shipping to Samoa, come back in two days time, Independence Day holiday tomorrow.

30/7/08 Vanuatu's 28th year of independence celebrations were a low key formal affair, vastly different from Solomons 30th we recently visited. Based around a parade ground, the army, about thirty soldiers, a small band and the scouts were looked over by as many officials amidst speeches. Most of the gathered crowd relaxed on the grass or enjoyed the food stalls local fare. It was all over by mid morning, with some people joining small private parties.

31/7/08 The holiday over we wanted to pre-clear paperwork to import and export the motorcycle. With onward shipping paid for we arrived at customs, initially difficult, but accepted the temporary import without duty. A modernised society though we needed to engage an agent to enter the details,
all imports and exports are computerised. The port land, like most here is owned by traditional people, so in a joint arrangement the government and indigenous people operate the port. Handling fees for the motorcycle were initially $US 70.00 just to unload, the same again to reload, but after discussions these fees were halved. Quarantine inspection, a new extra service we only recently came across it in the Solomons, was $US 60.00, but again after discussions, this time on the officer's transport charges, even though an officer is required at each unloading ship, each consignee is asked for the full travel allowance, again dropped after a mild complaint. All three offices we dealt with, mostly government, somehow managed to halve the initial cost with some discussion, something we associate with Africa, something we haven't had before in the Pacific, but Vanuatu has an interesting background in illicit transactions, money laundering, flag of convenience, and with a recently booming tourist economy it seems there has developed an opportunistic charging policy. After a difficult day we had all the paperwork finished by mid afternoon and returning to South Seas Shipping, the local shipping agent, found out that "Sofrana Surville", the vessel the motorcycle is on, has decided not to call at Vanuatu this trip, due to congestion at the Vanuatu wharf. It will go directly to New Caledonia,
New Zealand, and will call in here on its next voyage north, the 14th August, or two days after we are scheduled to have left, on our non refundable paid for airline tickets. Incredibly helpful to the problem, Barry, the manager of the shipping agency, started looking at possibilities but nothing could be achieved till tomorrow. It appeared though that most of the days paperwork and fees was now useless as it related to the "Sofrana Surville's" arrival.

1/8/08 Barry had been working on a suggestion discussed yesterday, to tranship the motorcycle onto the vessel, "Coral Islander 2", a Greater Bali Hai boat, and their shipping company had generously offered to ship it to Port Vila for free, as it will be continuing with them to Samoa. This ship is likely to be in port for just a few hours, so we would need to unload, and uncrate the motorcycle, ride it in Port Vila for a short time, perhaps less than a couple of hours, then re-crate to go back onto the same ship out for Samoa. Barry agreed to sort out the changed arrangements with customs and quarantine, the only sticking point was who will pay for the port fees loading in Noumea, an expensive port. Of course, shipping companies don't guarantee an arrival date so there is no obligation for any assistance,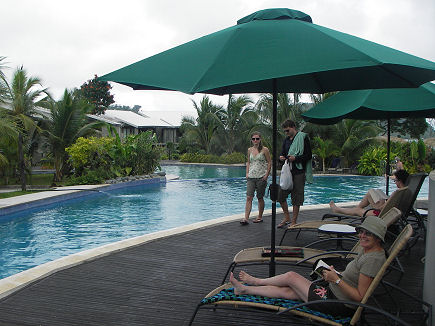 just good will gestures. So at best, assuming the motorcycle makes the transhipment connection in Noumea, and paperwork is OK, and we can get to unload, uncrate, recrate, and reload on the 8th, we might get an hour or two's riding in Vanuatu for our troubles and expense.

2/8/08 Things in Vanuatu are expensive, particularly imported goods, as we have been told there are no income taxes. Import taxes, and VAT, even on food, make living here for westerners expensive, but for locals living a native lifestyle, not buying western goods, and being able to sell their produce in the markets at competitive prices to imports, the system seems to work pretty well. Of course, like all the other islands in the Pacific they receive enormous amounts of direct aid money from other governments, plus specific project money, plus volunteers working here, and at times I look at our children, saving to buy their own home, working long hours, paying taxes, and wonder why their tax money is coming to these countries where government offices are overstaffed, where working hours are short, and travel time to and from work non existent. Perhaps the locals prefer their lifestyle, particularly as the west is helping pay for it.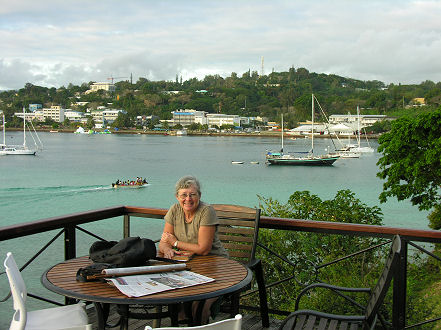 Kava, a local brew from the pepper plant, sells, standard drink for standard drink, at about a quarter the price of processed alcohol. We tried the brew at a local kava bar, uptown, away from the tourist strip, and the slightly peppery brown liquid was quite tasty, had a mellowing effect, and filled an evening. More a drug than an alcohol, but similar effect.

3/8/08 Visited the Iririki Resort, magnificently situated on a large island in the Port Vila bay. Upmarket, clean, swimming pools, beach, all for the cost of a reasonably priced buffet lunch, and we could stay all day, which always seems odd as their holidayers pay a fortune for their accommodation and all they get extra to us is the room. So it was relaxing beachside, poolside, stuffing ourselves at the buffet, a glass of wine during the evenings happy hour, and the shuttle boat back to our economical hotel for sleeping.

4-7/8/08 The last four days have been pretty quiet. Tried to correct customs documents, necessary as the motorcycle is coming in off a different vessel but when we had received approval to do so, we discovered customs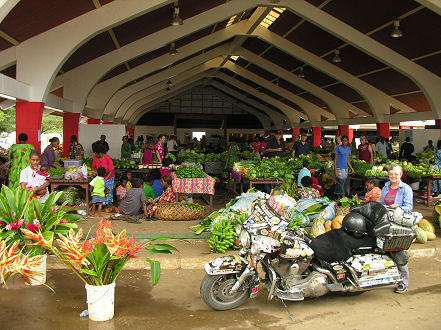 couldn't do it, so they decided to ignore the problem and will use the old paperwork. We have been having a relaxing wine on the waterfront each evening, a meal at the markets or the chinese place, spending time writing the book and letting the time pass slowly. Another visit to the shipping agent today, nothing definite until our ship leaves Noumea when the loading list will be available. Just to make the deadline more interesting, another ship is due into port tomorrow and will be racing the motorcycle's ship for the only wharf berth. Our airline tickets are on the 12th, and the 10th is Sunday, a no work day here. Our ship could be bumped till next week.

8/8/08 Sitting on the waterfront, talking to a few yachties over lunch, in came the vessel "Pacific Horizon", the wrong ship got to the berth first. Latest information at the close of business was ours should be able to come alongside tomorrow morning, we should come to the wharf early and wait. Vanuatu's new-found tourist industry has had a few negatives creeping into the society. A few "them and us prices", a few change of prices from what we have been quoted, and a few charging what we can get away with situations. This is something we haven't noticed other places in the Pacific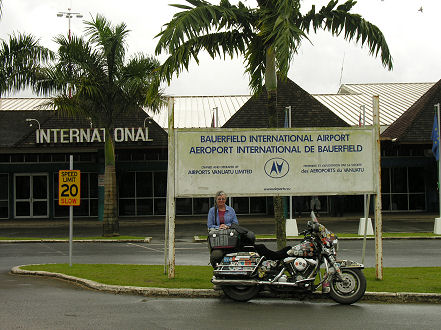 and gives a bit of bad feeling to an otherwise great place.

9/8/08 We wandered down to our now regular coffee shop early morning, to see what ship is berthed and if any are waiting. The Bali Hai Ship, with the motorcycle, is now anchored offshore, with "Pacific Horizon" still at the wharf, and worryingly a gas supply ship, which has priority, cruised into the harbour while we were watching. Later in the day we were informed it won't be till at least Monday morning, the 11th, before Bali Hai gets berthing space, a bit tight for a 12th flight.

10/8/08 We repeated last Sunday and spent the day at Iririki Resort enjoying the peaceful surroundings at the pool over the buffet lunch but on our return, looking back towards the container wharf, there was yet another ship, a car carrier, anchoring in prime, number one position, and looking like it was going in before our Bali Hai Ship, quite a worry.

11/8/08 We were down at our port viewing spot after breakfast, the car carrier had presumably unloaded in the middle of the night, and Bali Hai was finally alongside. Both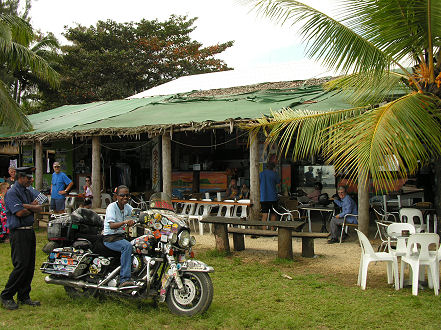 the port workers and the shipping line were excellent in getting the motorcycle in its crate off the vessel and we uncrated it in the goods warehouse, with customs formalities completed we rode out of the port just after 10am into the 190th country. It was agreed the motorcycle needed to be loaded back onto the ship by 6pm so we had almost six hours of riding time, long enough to ride around the island, but not wanting to destroy our good luck with a breakdown and missing the shipping we restricted ourselves to the sealed roads, cruising past some of the upmarket resorts, nice bays and inlets, and a couple of view spots. Out of Port Vila there is development along much of the coast, new bungalows crammed between the road and coast, and we wondered it the anticipated world economic slowdown would affect Vanuatu housing prices which seem pretty high. Before 4pm we were back at the wharf, recrated the motorcycle, the first time to unpack and repack in one day, again everyone was accommodating, the stevedores even keeping the warehouse open and loading the motorcycle during their evening break. We spent a pleasant, but tired, evening, with a couple of other travellers. Bird watchers, they had visited most of the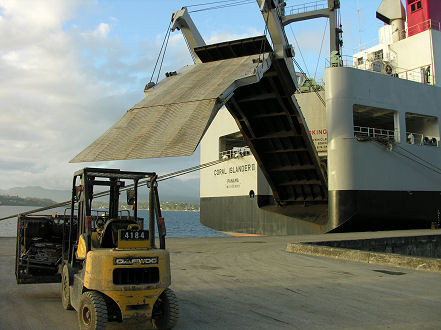 world's countries and at 70 years of age, Rudi, wanted to see them all, and was quickly moving through the Pacific visiting the last in this area.

12/8/08 We can see why tourists come to this country, particularly New Zealanders, a safe island holiday avoiding a harsh winter. There is no betelnut chewing, no red footpaths, and the country is generally clean and tidy. We checked out of our hotel and waited at the same old coffee shop where we had almost become part of the furniture, certainly today as we were there for four hours waiting for the flight. With the motorcycle now firmly heading for Samoa it was time to book onward flights, Samoa to Tonga, and in the strange airline world, we have to go via New Zealand, internet booking on Virgin, the cheapest option we could find, then with regular two weekly ships we felt pretty confident booking airfares back to New Zealand, the last country. We flew out at 4pm.

Move with us to Samoa