Travel Through Tajikistan on a Harley-Davidson
By Peter Forwood
Tajikistan on a Harley (1/8/05 - 9/8/05)
Distance 1362 km (433918 km to 435280 km)
This is part of the eleventh section of my around the world trip.
Complete Trip Overview & Map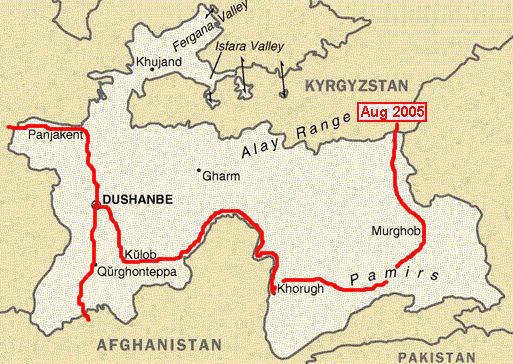 Coming from Kyrgyzstan

1/8/05 The Tajikistan border, two km down, more formal but still smooth, passport stamp and customs just 20 minutes, no request so far to see my GBAO permit, supposedly necessary for the region. I was feeling the effects of increased altitude, mild headache and a constant need to urinate, but trying to remain hydrated. The enormous turquoise Kara Kul (lake), formed by a meteorite millions of years ago, now sterile and salty, bordered by the small village of Karakul. Five km before are the remains of ancient burial sites and a small restaurant where I had a meal and an afternoon siesta along with the family. There is a new, friendly homestay in Karakul, almost lakeside at 3900 metres where I decided to stay the night to acclimatize before the next and highest pass tomorrow. This is an ancient trade route, part of the silk road, where Marco Polo passed on his travels east. It is one of the poorest regions I have visited.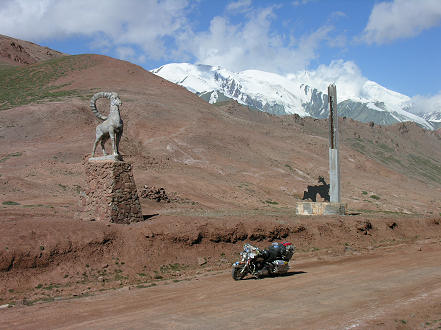 Once a thriving village when 200 Russian military were stationed here along the Chinese border, now just 20 Tajik military are at the barracks and there is still conflict, left over from the recent civil war and conflict between locals and Kyrgyz peoples living in the area. The towns petrol station closed ten years ago and the electricity stopped soon after. The town empties in summer as the herders move stock to yurt camps in the mountains, now mostly old people and relatives from neighbouring cities are here. The Russian built Chinese border fence is slowly deteriorating, less important and less money to repair it. The road is in surprisingly good condition, more due to a lack of traffic than any repairs. Only a few trucks passed by today.
2/8/05 Still feeling the mild effects of altitude I crossed the 4655 metre Al Baital Pass, the 80 octane fuel, only available from drums in all the villages at varying prices, having little detrimental effect on the motorcycle at this altitude. The majority of the Pamir is high desert mountains, not a tree to be seen and little grass except where the marmots eke out a living along creek beds.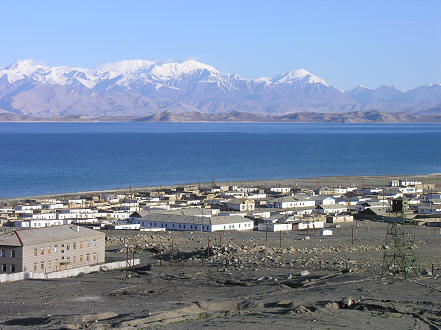 Seen in their dozens as they scurry to their burrows at the sound of the motorcycle. Like most mountain deserts the painters palette of colours in the clear air attracted my attention all day. With little to see in the way of villages and not wanting to stop in Myrgab for the night I pressed on to Alichur where after photographing the mosque one of a group of four young men threw a stone that hit the motorcycle. This village is divided along Tajik and Kyrgyz, and their individual Muslim sect lines. There had been problems in the past but things were comfortably tense, I reported the stone throwing to the Tajik english speaking teacher Mrs Rahima who takes in travellers at her house. The village head was called, the boys identified, and eventually the stone thrower, a 20 yr old Kyrgyz at home on holidays from studies in Osh identified himself. An apology was accepted and I pointed out that tourists would stop coming to their town if this was the welcome. Mrs Rahima insisted I stay at her home, basically four rooms, her and her husbands, children's, lounge and my bedroom, and a cooking storage area. She runs Yak and I watched them milked in the evening, she churned cream and made butter which I enjoyed with tea and bread.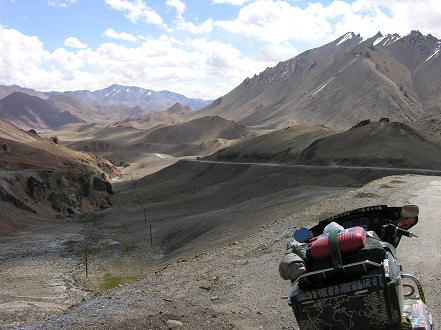 A lively woman in an authentic home with plenty of normal activities to watch.
3/8/05 A 5 am start for Yak milking, breakfast of milk tea with dollops of butter and bread, a community farewell, and I was away over the last 4000 metre pass to the town of Jelandy. A new large white building just out of town houses a western style sanatorium with hot baths fed by thermal waters, welcomed after four days without a bath. Although new and not finished it was already looking worn with broken tiles and rusty handrails, the taps clogged with sediment and the pool not cleaned today. I am always cautious of entering public baths of this kind as people come here to cure all kinds of ailments and I wonder how many or what has been in the pool before me. The road heads downhill and trees start appearing, permanent houses dot the small areas of fertile land between river and barren mountains. I found a spot for lunch which ended up being for the night, amongst trees alongside a small stream. Unfortunately, near the road, it attracted a steady stream of lookers and talkers into the evening and my solitude rest was disrupted.
4/8/05 More visitors for breakfast before heading into Khorog.
I feel bad about not welcoming the locals as they welcome me but I am one tourist to a thousand locals and they are one thousand locals to one tourist. Khorog, a biggish government town of little interest to me, I looked around for a while and passed through. Petrol has been readily available in villages from small containers, the price highly negotiable, the quality dubious, 80 octane the only available since Osh. For me, the scenery after Khorog the best for the trip. Still the barren desert mountains but with small settlements dotted in valleys being supported by snow melt streams for fruit trees and limited crops. People carry bundles of grasses from the higher slopes for winters animal feeds. The road followed the ever increasing flow of the river slowly downhill with Afghanistan on its other bank. This is probably as close as I will get to seeing the remote Afghanistan mountain villages. Their agriculture more advanced and their fields tidier than those of Tajikistan on my side of the river. The Afghanis are more conservatively dressed, men wearing the loose flowing balloon pants and long light cotton shirt while the women all have a long head scarf and loose dress. Mostly they live in flat roofed mud brick houses and use donkeys for transport or haulage.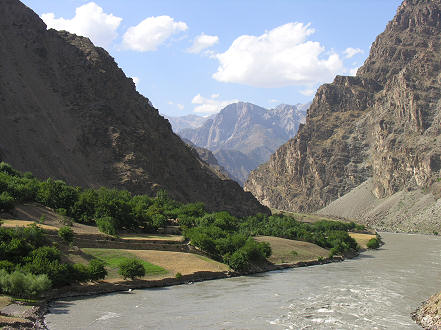 I have now followed the road border for 200 km's on my side of the river but on the Afghanistan side there has been but a donkey track sometimes carved into sheer cliffs or across landslides, occasionally a wooden structure to get around a particularly difficult vertical cliff face. This track is their only access to the outside world bringing in what few supplies that make it here. I camped on the river bank watching the comings and goings of a small Afghanistan settlement opposite.
5/8/05 As I sit and watch, having breakfast, a small caravan of laden donkeys passes on the other side of the river and I wonder for how many thousands of years has this successful process been occurring, and ponder the right of our 200 yr old mechanized society to judge its values. Just 30 km to Kalaikhum and a decision, take the 300 km mountain road to the north or the 400 km southern route to Dushanbe. Bicyclists I have met all took the northern route and reported a deep river crossing and 150 km of steep rocky road. I have met no-one who used the southern route. Locals go by the north in summer and the south in winter when the other route is closed from snow or landslides.
When I ask locals about the southern route the answer is a thumbs up, but that often means the road is open, no landslides, not that it is good. I chose the southern route which for the first 65 km's there is a new western quality road over 50% completed, funded by the Aga Khan, the 49th Imam of the Ismali Muslims, a group that took the rebel side in the recent civil war, consequently they have received little government support since. From there the road becomes a single lane track, hugging the mountains alongside the river, across creeks and under a small waterfall where riding through I was cooled from the increasing heat of the lowlands. Trucks use this route and one was blocking the road unable to climb over a rocky hill. Few if any tourists pass this way and I and my papers were scrutinized at a couple of check posts. Military posts dot this region and personnel are seen patrolling. I was flagged down by one, I presumed he wanted a lift, so indicated no and kept moving. A couple of km's later a Russian made jeep skidded to a stop blocking the road in front of me and four armed military leapt out in combat style, the officer loading a round into the breach of his rifle for extra effect.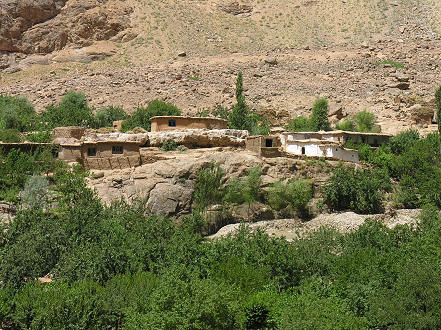 I thought it all a bit dramatic and informed him so as he inspected my passport indicating why hadn't I stopped at the request of his soldier down the road. He could see the humour in my thinking that his soldier simply wanted a lift and how else could the bike have possibly arrived in this remote region without passing through one of his checkpoints, it being the only road in the area. The road finally left the river and the border region, climbing up into the mountains with patchy asphalt increasing to ever better and better roads to the large town of Kulyab, in wheat fields and with hotels and petrol stations, 200 km for a long day.
6/8/05 Sometimes I think man is too intelligent for his own good. Ever since he realized life was finite he has accepted beliefs that allow him immortality. Sometimes I think man is not yet intelligent enough when I look at how destructive he is to the world that provides him with everything. I rested up in Kulyab having found a comfortable hotel and interesting people. Being so close to Afghanistan and separated only by a river and a short period of modern time compared to the ancientness of this region I feel as if I have moved to another country.
7/8/05 A man once told me he would happily observe a religious holy day if he could see any indication of any other of Gods great creations indicate Gods will that a holy day should be observed.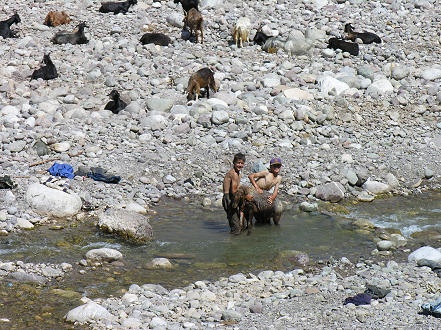 If on that day the birds should stop singing, or rivers stop flowing, or people stop being born or dying, the wind stops blowing or the waves are calm, any indication, he would be more than happy to observe Gods will. I rode to Dushanbe, 200 km, along a good asphalt road, over a couple of mountains. This time they are fertile, Tajik's bread basket, at the end of the harvest season, leaving golden hills of wheat stalks. Dushanbe is another spread out Russian constructed city with no obvious centre or history. Its tree lined streets and parks have that same sterile appeal. The police here, as along the highway, are everywhere waving motorists over to check papers. I was hit on a couple of times, probably no more than the average, a quick passport check and moved along.
8/8/05 Another embassy day. Just ten minutes at the Turkmenistan Embassy, a five day transit visa should be ready on my return from Afghanistan. Friendly, helpful, and a leather lounge to sit in the office of modern electronic equipment. A stark contrast from my Uzbekistan experience where I, along with forty others waited outside for a seemingly lottery to get forms, that couldn't be submitted till 11 am, then wait till noon to have them checked, to return at 4 pm to wait to collect the visa.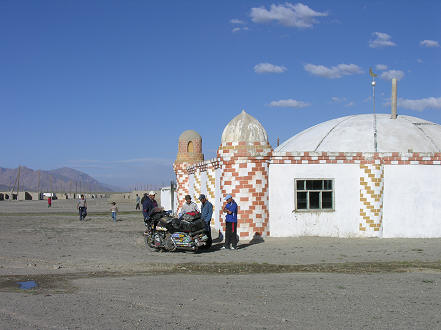 My $US 30.00 invitation giving me same day priority plus $US 52.00 for the fourteen day visa. I was lucky in being in the first few at each appointment, perhaps as a foreigner. The women seemed to be last at each stage to be served. It effectively broke up the entire day but I did meet up with three bikers, two Germans travelling the same route in reverse I had just completed, only on dirt bikes.
9/8/05 I headed south with the plan to get near the border with Afghanistan to catch the once a day, 10 am ferry tomorrow. About 200 km, rolling wheat fields, then irrigated cotton, and finally just before the border, as the asphalt road started to deteriorate, the oppressive heat of desert as I entered the small border town, in the middle of nowhere. I was quickly ushered into immigration and customs, stamps and my details and the bikes entered into a book and next thing I knew I was on the ferry. Whether it was late, 1.30 pm, or they now run more frequently I couldn't tell. I was advised not to take photos as the Afghani's might start shooting, and wasn't I concerned with all the guns in Afghanistan. Both statements doing nothing for my concerns of entering the country.

Move with me to Afghanistan , or go to my next visit to Tajikistan .