Travel Through Slovakia on a Harley-Davidson
By Peter & Kay Forwood
Slovakia on a Harley (16/7/99 - 20/7/99)
Distance 694 km (152180 km to 152874 km)
This is part of the fifth section of our around the world trip.
Complete Trip Overview & Map
Coming from Czech Republic

16/7/99 Early across the ten minute processing, easy border, and past the furthest point east that the Romans managed. After a short stop in Zilna to raid the piggy bank hole in the wall (ATM, Bankomat), as our US cash supplies will be needed for the Ukraine, we meandered along the southern edge of the Carpathian mountains. Slovakia seems an excellent country to just jaunt the smaller roads, winding through forests and hills to Stary Smokovec, a winter ski and summer hiking town. We passed and visited the magnificently sited Oravia castle, perched on top of a limestone pinnacle. It's great to visit with a guide and get change out of $US 2.50. We are finding the whole of Eastern Europe an easy destination, good basic food, more than adequate facilities, plenty to see and do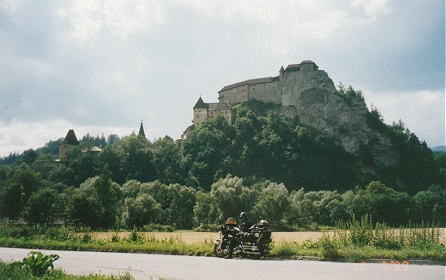 and affordable, a very relaxed section of the trip.
17/7/99 At 1000m in the Tatra mountains with tall spruce trees running up the slopes to short knee pines and granite outcrops at the top. We caught the small train to Lomnica, visited the national park museum, cable carred to 1750, walked the mountain path past pristine waterfalls, and rode the 1937 funicular railway back to our pension for light music and dinner over a couple of glasses of lovely red wine. What more could a day offer.
18/7/99 Two and a half weeks and we are back within spitting distance of where we were but in Slovakia not Poland, on the other side of the Dunajec gorge. Through mountain spruce where the trees are allowed to grow tall and fall to litter the forest floor and provide cover for animals rather than being logged in their prime. Through small villages where loud speakers are on every light pole blaring out propaganda in the past as well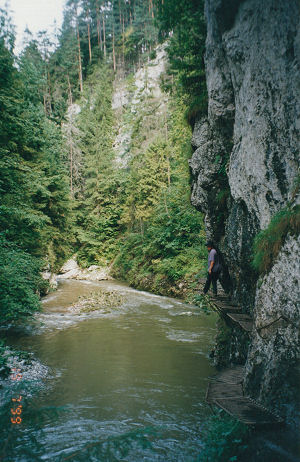 as community news, someone's cow was lost, someone else has had a baby, etc. Sunday and with the local "pivo" beer at $US 0.20 a glass, cheaper than tea, coffee or soft drink and available at hundreds of small stalls, the locals start the day, breakfast, with a glass and seemingly consume it all day without too much effect. Generally, a four/five percent brew. This cheap alcohol, whether it be wine in Spain, vodka in Russia or pivo in Slovakia ends up being the nationally preferred drink on price alone, and consumed avidly. We strolled with the hundreds of locals, along the walk and cycle way beside the river watching the river rafters.
19/7/99 Three days with a TV in our room, first time in months, and nothing has changed, the dribble coming out over Kennedy's death is unbelievable, the media seems to be "Dianaising" the event, stretching it out for maximum coverage. When your life is moving quickly and constantly changing to switch on the TV over 36 hours and get the same news items as if nothing else is happening in the world, this one item dissected to its minutist particles. We left the TV behind and headed for Slovensky Raj National Park, again meandering the back roads, stopping occasionally to pick the wild raspberries in the woods. Then walked the vertical wall of the river gorge where at times the trail nothing more than metal grating attached by spikes to the vertical walls over the flowing river.
20/7/99 Following the back roads through deciduous beech forests where the canopy almost covered the road to the Hungarian border at Domica. There have been no thunderstorms for a few days and the pollution haze is building up in the summer heat, reportedly one of Europe's most polluted areas from burning low grade coal, the acid rain killing patches of the conifer forests.

Move with us to Hungary or go to our next visit to Slovakia