Travel Through The Seychelles on a Harley-Davidson
By Peter & Kay Forwood
Seychelles on a Harley (2/4/06 - 17/4/06)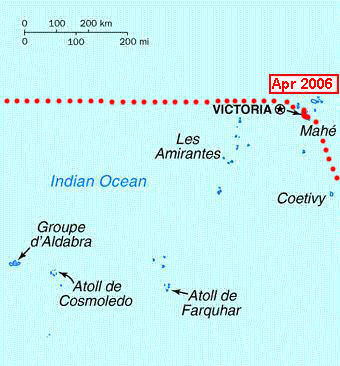 Distance 260 km (455436 km to 455696 km)
This is part of the twelfth section of our around the world trip.
Complete Trip Overview & Map
Coming from Kenya

2/4/06 By coincidence we were seated next to the ex-customs officer for the Seychelles on the aeroplane. With a population of only 85,000 in the whole country it was not that big a coincidence really. His thoughts were that the carnet would be accepted but we might need temporary registration and insurance for the bike's stay. The patchy cloud allowed us to see the beautiful three main islands, granite, tree covered hills and magnificently coloured coastal beaches and tropical waters. Lying 1600 km off the coast of Africa and uninhabited by anyone when first discovered by Arab sailors, then French and British, bringing with them African slaves for the sugar plantations, the country has a rich cultural mix. A visa was issued for free for the duration till our outbound flight. Our yellow fever certificates, accidentally packed with the motorcycle, were not essential, accepting our word that we had been vaccinated. Hotel accommodation booking, supposedly essential for a visa was not asked for and we passed through customs readily. The currency is fixed here by the government at an unrealistically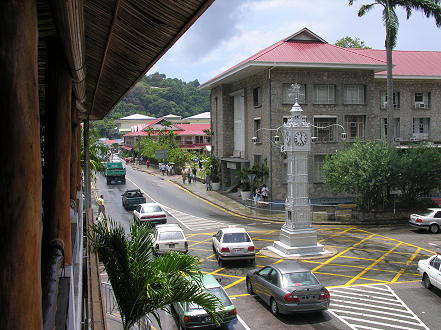 high rate, thus creating a black market, and the potential for a currency melt down as happened in Argentina a few years ago. Most tourists arrive with a package or at least accommodation etc. pre booked, use ATM's for local cash all changed at the official rate. The unofficial rate is almost double the official, making local currency purchases almost half price, therefore reasonable within this region. After changing a small amount at the official airport bank no receipt was given, so I presume it was later changed on the black market, we phoned for accommodation, took a taxi, and got a reduced rate at a guesthouse for US$ cash, but still 60 dollars a night. The taxi driver said he would be happy to change US into local currency at a black-market rate. A Sunday afternoon the locals were out partying as we went for an afternoon stroll along the seashore, relaxed in our new country.
3/4/06 It is a small airport and one office cargo terminal and it didn't have our motorcycle. The incredibly helpful staff of Air Seychelles first thought it was still in Mauritius but after a little investigation it was discovered that it hadn't yet left Nairobi. While we waited for reasons we checked with customs,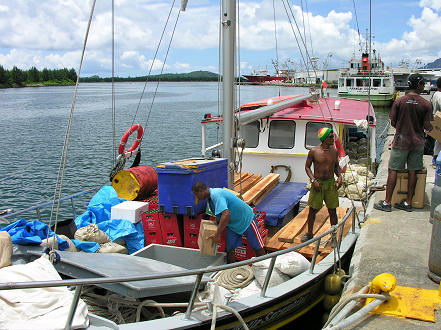 there should be no problems to import it temporarily and we just need an export permit from Victoria, the capital, for re-export which we received later in the day in 15 minutes. We had received no email correspondence from Tradewinds Nairobi as to the bike not leaving, why it had not left, nor what was the future status of it, by 4 pm despite email requests. The Air Seychelles office here said it had been taken off the flight at the last minute due to size constraints and should arrive Thursday on the next flight, 4 days away. A complaint to Air Mauritius office in Mauritius gave no satisfactory reply. We did manage a good look around the capital, Victoria, a pleasant small city with many colonial buildings, markets and small shops. It thronged with wealthy tourists of an age where at least one face lift had been required and more often done. Small busloads of camera snappers arrived mid morning to buy souvenirs, returning to their hotels and resorts for lunch. It's a comfortably tidy place, reminding us of the Caribbean Islands where there is just enough local culture to be of interest but not enough inconvenience of rubbish and uneven footpaths for the comfortable westerner to feel uneasy.
4/4/06 The island is green. Green because lying almost on the Equator, the only high point in the ocean, it gets all the rain. The humidity is at saturation point,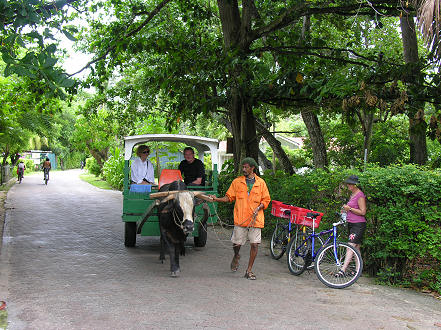 the temperature about 30 degrees, it rains, it stops, it rains, you get wet, you never really dry, clothes stick to you. The mountains rise up from the ocean covered in rainforests, enormous trees, rocky cliffs a magnificent backdrop to the beaches. We spent most of the day at Beau Vallon on the north eastern side of the island. The efficient bus service follows the twisty mountain road through rainforest trees sandwiched between granite boulders. Despite being the main tourist beach area on the island of Mahe it has little of the atmosphere we have experienced elsewhere. Locals can't afford the tourist prices, nor do backpackers come here. The well heeled that do come eat in their resort so there is little demand for outsider activities. The beach itself was quite deserted, we rested under a couple of large trees in the shade and ate local lunch from styrene packets. On checking our emails later in the day we found out that again they attempted to load the motorcycle on the plane and again it didn't fit so would not be arriving Thursday. How companies like Tradewinds Logistics or Air Mauritius can accept a cargo item that won't fit on their aeroplane is beyond me. We moved into top complaint mode as this latest delay, or possible non arrival, would mean changing onward tickets, visas and more expense staying in the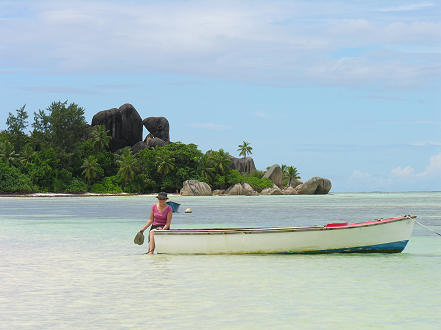 Seychelles. Emails to the general manager of Air Mauritius, cc'd to everyone we had been in contact with and similar to the manager of Tradewinds Logistics went out just before close of business.
5/4/06 We have been learning you can live "reasonably cheaply" here. Our hotel room was re-negotiated, another six nights stay at $US 45.00 a night, paid in hard currency. By taking the freight boat to La Digue, the third largest island, we can pay in local currency and left for the three hour trip about lunch time. A small boat, we sat amongst the freight of timber and bricks and crates of soft drink. La Digue is a low key tourist island, just 2000 people live here, the postcard port and beaches, guesthouses dotted amongst dense sea almond trees with tropical flowering gardens. Bicycles are the main means of transport and the pace is slow, just what we need, away from being concerned about what is happening with the motorcycle. But there is internet on the island and with 12 emails being forwarded to us as correspondence between companies increased it seems they will be re-consigning the motorcycle on Emirates Airlines via Dubai, but not likely to arrive before this weekend meaning customs clearance can't happen till Monday, a week late, and re-packing Tuesday if we can't change our previous flight and visa arrangements.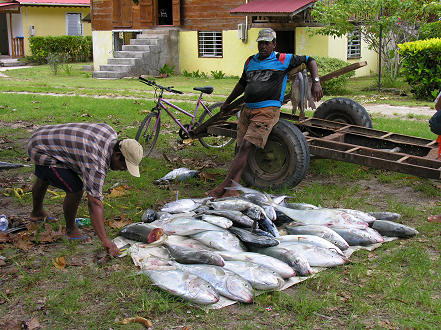 6/4/06 The early morning heavy rain cleared and taking bicycles we headed to the Anse Source d'Argent, a series of small sandy beaches wedged between headlands of granite boulders. A popular day trip from the tourist island of Praslin there were a few other relaxers about, but it is the low season and we had no trouble wasting a few hours reading books in the shade, occasionally looking across the bay to neighbouring islands. The bike is still planned to be here over the weekend, Emirates Airlines. We changed our departure to Mauritius by four days but because of the Easter break and customs being closed we will still only have the bike for three days in the Seychelles, about $US 400.00 a day for our own bike. Bicycled to the north, around the point and down the eastern side in the evening. Offshore islands dot the seascape all the way and sandy beaches lie between granite headlands with fringing reefs and tropical rainforests in the hills. Saddle sore with the less comfortable seat than we are used to, a bottle of South African wine in the evening helped overcome the discomfort.
7/4/06 We walked to the top of the island,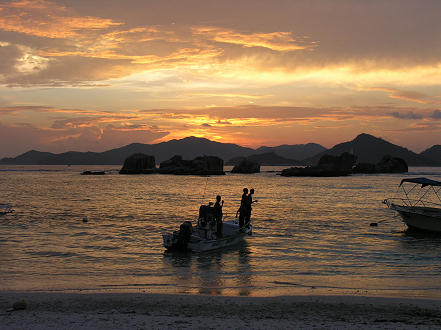 the highest point, where a small restaurant has set up business taking advantage of the magnificent views over to Praslin Island. A thunder storm rolled through creating a water spout ahead of it. The twister sucked up water from the ocean up into the storm.
8/4/06 A hotter day, we hung around our accommodation mostly, short walks to the wharf where most of the locals congregate to meet socially. A few were sitting around a guitar singing and drinking. The small harbour was full of yachts. Mostly charter boats, people choosing a holiday accommodation on the water, able to move easily to more remote islands.
9/4/06 Back on the bicycles and over to the south eastern corner of the island. Another beach, this time with some small waves rolling in attracting local board riders. Having stayed in the balmy waters too long catching waves I was pretty sunburnt on our last day on La Digue island.
10/4/06 The cargo boat back to Mahe leaves at 5 am, we, and about ten locals were on it. Straight to the cargo terminal, the bike had arrived yesterday, a week late.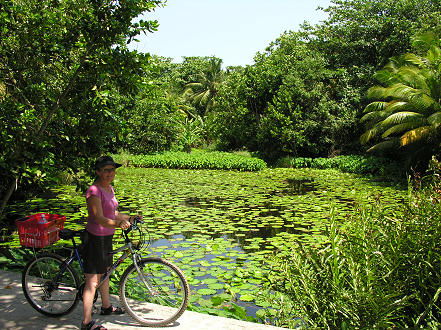 Again the personnel at Air Seychelles Cargo office were incredible friendly and helpful, which is what we have found all over the country. Cleared customs and they allowed us to unpack the bike at the terminal, leaving the crate there for the re-packing in a few days time. With a petrol station just opposite, the whole process took only two hours to have us riding in the Seychelles. No-one had officially mentioned if we needed to get approval or paperwork to ride here, so using the theory that ignorance is the best policy we were a bit concerned when a policeman stopped next to our motorcycle. He was just being friendly, talked about the bike, and escorted us to the Air Mauritius office to confirm our flight. Visas here are given only for the period till your onward flight. As such any change in flight details requires a visa change. As most people come on a package tour it doesn't happen often. Initially they wanted to take two days to process, but with a little prompting, they extended our visas on the spot.
11/4/06 Back to the cargo office this morning to book the outward flight for the bike and we discovered that Easter Monday is not a holiday here. The bike can clear customs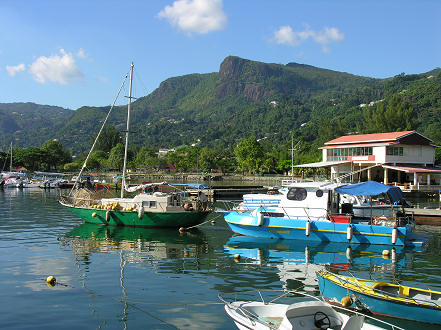 that morning and fly on the same plane as us, allowing us to keep riding till Sunday morning, almost twice as long as we anticipated, before re-crating it. All the paperwork was done this morning and payment of 4485 Seychelles Rupees, which could be paid in local currency, currently 5.25 to the $US officially, or about 10 to the dollar unofficially. Unlike other countries where there is a black-market, where businessmen need foreign currency to buy foreign imported goods, here it is the locals that want the money to go overseas for holidays or medical operations. We were told they can only take $US 400 with them on leaving the country. Still that might change as elections are due soon and with the dissatisfaction we are hearing of this government perhaps change is imminent. This might also account for some demand for foreign currency if the locals expect the currency to be floated after an election. We used the bike to take a leisurely ride around the northern tip of the island, resting under the trees on a small beach, our own, reading a book before getting caught in the rush 15 minutes just after 4 pm as all the offices close.
12/4/06 While there are hundreds of islands that make up the Seychelles the largest, Mahe, is only 27 km's long and about 6 km's wide. Even though its interior is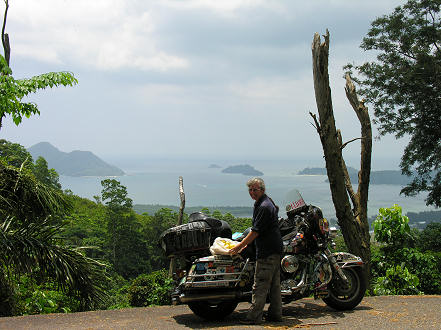 mountainous and roads criss-cross it, it is possible to ride on every major road on the one day. Having a few days we took just to the mountains, tea plantations, colonial ruins and magnificent views. These island countries require an onward ticket to be allowed entry, unlike land border countries. We have been trying to book a boat from Mauritius to Madagascar that only runs fortnightly, 30 April the sailing we want, however no confirmed ticketing has been achieved. So today it was necessary to book a business class ticket (only business class is fully refundable) from Mauritius to Australia. Having an onward ticket just to Madagascar we found out was not sufficient because if Madagascar refuses to accept us, no onward ticket from there, then Mauritius will be stuck with us, so they require an onward ticket, plus a ticket to our native country. This situation also occurs in the Caribbean, but there we avoided the problem by being crew on a yacht thus having onward transport. Countries usually have a similar view of us with the motorcycle at land borders but the motorcycle isn't considered onward transport from an island.
13/4/06 With so little flat land area and most of that occupied by houses, most of the vegetables, tinned foods and meat, in fact 90% of food,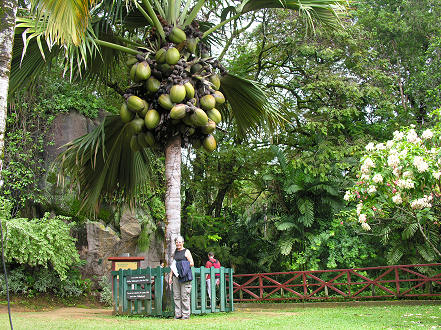 other than fish is imported, often by air and is expensive. We have been getting by, self catering, on tinned foods from South Africa, breads and enjoying the occasional coffee shop. The whole island of Mahe though has few, considering the number of tourists, restaurants or coffee shops not attached to resorts. Even where a magnificent beach exists there are no outdoor coffee shops or cafe's overlooking the ocean where people could stop and rest. The locals buy drinks, a lot of alcohol, from small shops and sit amongst the trees fringing the coast looking out to sea.
14/4/06 Easter Friday, and being a strong Christian community, large groups of worshippers walked, often behind a cross carrier, to their local church. On our morning ride to the south of the island we slowly passed a couple of groups of worshippers occupying most of the narrow roads. The city was virtually closed, petrol stations were open and we did an oil change on the motorcycle.
15/4/06 Apart from sunshine and beaches the Seychelles is famous for having twice as many large tortoises as people. Whilst they no longer roam wild on the major islands, the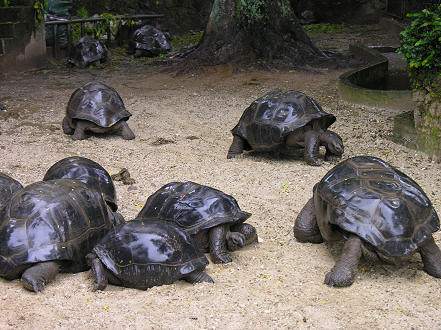 island of Aldabra has virtually all of their 150,000 population. The botanical gardens in the capital has a pen of about 20 of the giants. Being vegetarians and eating leaves, fruits and flowers they can munch through all the gardens sweepings and clippings. The garden also has the Coco de Mer palm which grows about the largest seed in the plant kingdom. The seed looks like a a siamese coconut, two joined together. This is another relic not seen in the wild often, despite or because of its seed's value to collectors. Not having rained for a couple of days it caught up today, clearing the air in torrential downpours as we spent most of the afternoon hotel bound.
16/4/06 Air Seychelles had kept the old motorcycle crate and despite it being Easter Sunday were open to allow us to re-crate the bike and final paperwork. It took just 90 minutes, again taking off the front wheel, guard, windscreen, rack and seat backrest. The crate had been damaged in all of its attempts to fit into the aeroplane to get here so we arrived this morning with a saw, nails and hammer. There staff assisted both in lifting the motorcycle and tying down the bike. Having been caught so many times in Africa where offers of assistance result in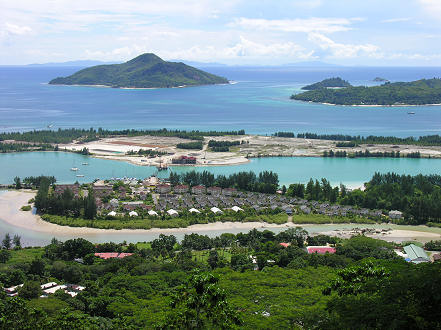 great discussion afterwards regarding payment of money way out of proportion to the job value we tend to be off hand to offers, indicating we prefer to do the job ourselves. However offers here are genuine, constructive and no payment expected, just generous people. Somehow the Seychelles has managed to keep tourist life largely away from local life thus avoiding the pitfalls of many other countries where begging or overpricing from opportunistic touts has spoilt visitor's holidays. The all inclusive resorts separate the tourists from locals. We were the only tourists we saw riding local buses or walking roadside outside the capital. The closest other tourists seem to get to locals is workers at their hotels. Consequently when we were interacting with locals they often seemed a little reticent at first.
17/4/06 We have enjoyed our extended stay in the Seychelles. Relaxed this morning we left on the 11.30 plane, with the motorcycle in the luggage compartment.
Move with us to Mauritius