Travel in Palau on a Harley-Davidson
By Peter & Kay Forwood
Palau on a Harley (20/2/08 - 22/3/08)
Distance 488 km (501522 km to 502010 km)
This is part of the fourteenth section of our around the world trip.
Complete Trip Overview & Map
Coming from Guam

20/2/08 An easy friendly arrival in Palau, no one needed to see our onward ticket and we were given a 30 day visit. A call to the shipping agent and the motorcycle should be here Saturday, in three day's time, but won't be available till Monday. With the population of this small country just 20,000 of which a quarter is foreign workers, it has a small personal feel. In fact the Harley shop in Guam organised a ride on the island the last two years, shipping their motorcycles across for the event. The president of Palau, Mr Tommy, joined the ride, and since reportedly purchased four Harleys. Emails from the Harley shop owner in Guam to the President of Palau, advised him of our arrival.

21/2/08 Settled by Indonesians three thousand years ago the string of islands that make up Palau trail out westward almost connecting the two countries. The capital, Koror, linked to the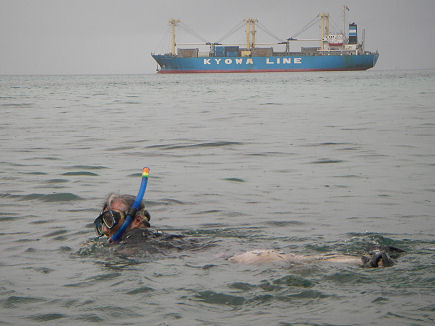 largest island by a bridge, is about seven degrees above the equator and usually misses hurricanes but gets dumped on by massive amounts of rain making it a green haven. The President's Office phoned to welcome us to the island, advising the President will be off island for a few days but would like to meet us on his return. We have never met the president of a country before, Bush didn't invite us to the white house. A business day, starting at customs to clear the motorcycle. Friendly officers, relaxed by chewing beetle nut, ground coral limestone wrapped in a pepper leaf, they completed the paperwork and the motorcycle was cleared, no duty payable. Western Pacific Shipping Company advised the ship was arriving early and we could collect the motorcycle in two day's time. Onto organising flights out of Palau, and the price of going via Taiwan to Korea, with a Taiwan stop over was the same as a direct flight, so there seemed to be no reason not to visit Taiwan. We have found it is difficult to get cheap flights from outside a country but then encounter the problem of not having an onward ticket when we arrive, a difficult balance. Two ships visit Palau that circle this region. The one the motorcycle is arriving on rotates every three weeks, and takes deck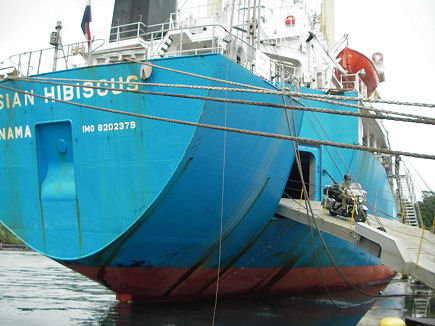 cargo, but doesn't visit Taiwan, so the motorcycle would take three weeks to get there, transhipping through Korea. The other vessel only takes full containers, goes via Hong Kong and takes just ten days, so shipping to Taiwan is more difficult and by the end of the day we hadn't resolved our options.

22/2/08 Tree-D hotel also operates apartments and we moved into a two bedroomed one for the next week, more comfortable and cheaper than the hotel. Teaming up with another retired Australian couple, in intermittent rain, we snorkelled off the southern tip of Malakal Island where there is a clam breeding facility. Enormous clams, some over a quarter of a ton in weight, and while there the ship carrying our motorcycle steamed into the harbour.

23/2/08 They didn't unload deck cargo yesterday in the heavy rain, the high tide preventing the fork lift from accessing the slippery ship's ramp. The only way we could get the motorcycle when we arrived at 7.30 am this morning was to uncrate it on the vessel, then ride it off, the crate would be offloaded at a lower tide just before the port closed. By 10.00 am customs, after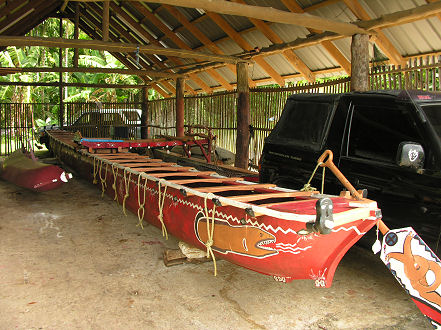 a few photos, allowed us to leave the port area and we were riding in the 185th sovereign country with just 8 more to visit, (depending on how Kosovo's recent declaration of independence is considered). A ride over to the island of Arakabesang and a walk around the newish Palau Pacific Resort to see how the short term holidayers spend their time and money before calling into Sam's Tours, a relaxing bar packed with divers returning at the end of their day's diving. Most of the coral islands are mushroom shaped limestone, growing green jungle on top contrasting turquoise waters. Islands and canals dot every view, and just riding about gives magnificent views.

24/2/08 Palau is rapidly becoming our favourite island country. Pleasant people, stunning scenery and relaxed lifestyle. The largest island in the chain is Babeldaob and is earmarked for future development. Almost all the population currently lives on the small island of Koror, already linked by causeways to neighbouring islands, which are rapidly outgrowing themselves. We looped Babeldaob, a volcanic island to the north, its high quality new road built with international assistance, along with Palau's new capital, situated half way up this almost empty land mass. At the northern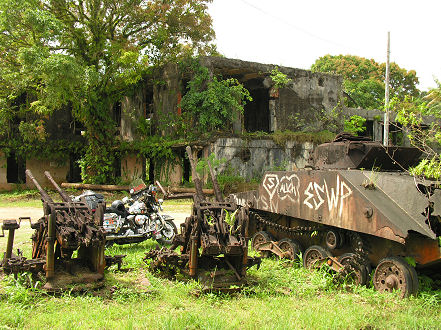 tip are the remains of a past civilisation, stone foundations of a large building and stone carved faces is all that is now visible. Disused terraced gardens from a later era can be seen in other places but today's Palauans neither carve rocks nor terraces. Small subsistence gardens of taro and cassava, combined with seafood is more the staple food, or a growing reliance on western supermarket products. With low population pressures the island has remained covered in vegetation, much rainforest, getting four metres of rain a year.

25/2/08 Yachties always seem to be good company for us as other travellers, particularly when there are few motorcycles around. The small nautical band congregate together on the water near Sam's Tours and in the evening we met three couples. The newbey's to the game, a couple of Aussies, out for three months on their around the world trip, arrived here from PNG and head out to the Philippines tomorrow. Longer sailing couples, from the US, one out for eleven years and the others a mammoth twenty plus years, the last twelve in Palau, and are still living on their original yacht. The week long holiday SCUBA divers at the bar probably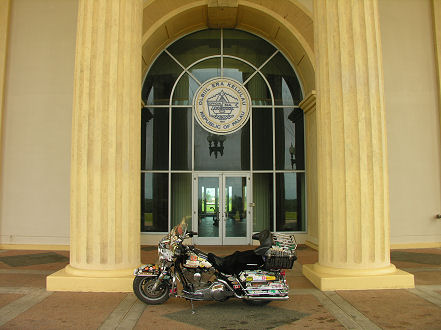 couldn't understand this older bunch of tanned wrinklies.

26/2/08 Despite proposing many options to the shipping company that ships to Taiwan we were unable to convince them to let the motorcycle on as deck cargo and it would need to take a whole container, $US 1,000.00 plus handling charges at both ends. It seems our only option is to use the same vessel the motorcycle arrived here on, shipping through Korea, and still $US 800.00. It returns to Palau in three weeks time and takes over two weeks to tranship through to Taiwan. Not the best option but the most economical.

27-28/2/08 Settling in to our month in Palau, the two bedroom apartment's rental was extended to mid next month. We also visited the port to talk to the captain of another vessel, hoping he would allow us to put the motorcycle on as deck cargo, not too optimistic, but he will email us prior to the ship's return in three weeks time, otherwise pretty slow days as rain showers passed through on the lush island.

29/2/08 Carp Island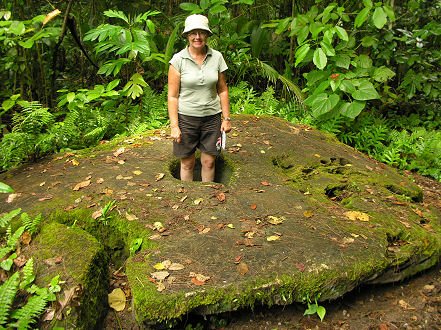 to the south of the main chain has a small resort that allows camping and we took the fast commuter boat there, past a number of the limestone mushroom shaped islands. Mostly aimed at the Japanese market we were the only westerners, but a group of Filipino workers livened up the place. Carp Island is surrounded mostly by sandy beaches and mangroves with a tropical rainforest interior. A midday walk through its interior, through mangroves and out to the other side where there was the remains of some stone money, made for transport to the island of Yap, but it never made the voyage. Alone on our side of the island we broke open a newly sprouted coconut, revealing its "apple" like interior, something we had first experienced in the Comoros a couple of years ago. Refreshing and textured like an apple, just another form of the very edible coconut plant. Later in the afternoon we rented a two person sea kayak, headed out to "Turtle Cove", and snorkelled the afternoon away.

1/3/08 Back in the kayak this morning, a four hour rental we could spend more time exploring around the fringing islands before heading back to snorkel. The fish life was excellent, white and black tipped reef sharks, a few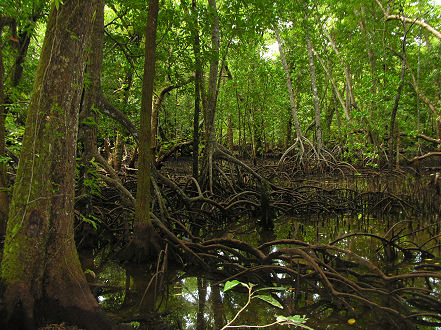 turtles, not worried about our presence, kept grazing on the coral reef front. Part way through the snorkelling a large eagle ray slowly moved along the wall, swimming just below us. The usual coral reef fish plus large barracuda, hump back wrass, and mackerel. As it was $US 30.00 each for camping, but with a free boat transfer, we decided to stay just one night, planning to return, leaving mid afternoon totally exhausted the powerful boat wound its way back to Koror weaving through the rock islands, a spectacular ride.

2-4/3/08 Did very little, getting over the past couple of days exhaustions, resting in our air-conditioned apartment. The captain of the vessel we asked to deck carry our motorcycle to Taiwan emailed, unfortunately the answer was a no, but he contacted his boss who said they would look into doing a special whole container arrangement, we wait and hope. A couple of social outings, back at Sam's tours, mingling again with the boat crowd, and looked into taking the motorcycle to another island, by government boat to the south for a few days.

5/3/08 There are sixteen states that make up the country of Palau, that is less than 1000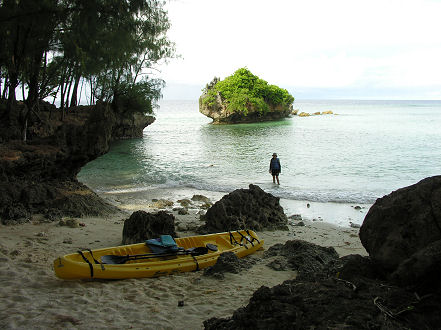 people per state, but some of the ten states that make up the island of Babeldaob have less than 250 people. Each state strives for its own recognition. Ngardmau's claim to fame is its waterfall, reportedly the biggest in Micronesia, and a big revenue raiser at $US 5.00 a visit. Luckily such waterfall fees are not volume related or it would be over a million dollars to visit Iguasu Falls in Argentina. It is a pleasant, a little muddy, walk, mostly through forest, along an old Japanese railway line, a creek and small river to arrive at the pretty but certainly not spectacular falls. The warm walk tempts most, Japanese and Koreans, to stand beneath the falls to cool off, massaged by the large drops. We visited the falls on another ride of the magnificent loop road around Babeldaob, missing most rain showers, feeling island bound and wanting to ride more, and more.

6/3/08 Hopefully the last of our list of jobs on the motorcycle, well at least for the time being. Working under the front fairing to find and fix a couple of electrical problems. One wire had worn through, rubbing on the radio, it had been shorting out for a while, tripping the relay. The high beam light on the headlight wasn't working and turned out to be a broken solder
on the handlebar switch. Also connected a new alarm, and power to an inverter to run the lap top and power to heated jackets and gloves, in anticipation of cold weather, somewhere ahead in the world, perhaps, not sure where at this stage.

7/3/08 Finished working on the motorcycle again outside our apartment, dodging storms and the heat of the day, talked to the other residents, a mix of locals and westerners. We managed to borrow a few tools we don't carry and even received an invite from the driver of a passing car, the manager of a local restaurant, for a Mexican dinner and a margarita. David and Margaret run the Bandidos Mexican Restaurant in Koror, are thinking of riding a Harley across the USA in about a year's time, we had a pleasant evening exchanging local and travel stories.

8/3/08 The full container option for the motorcycle died this morning when we received a negative on a substantial discount so the motorcycle will go as break bulk via Korea then in a shared container to Taiwan, leaving Palau on the 15th. We will follow by air on the 22nd. Never good at doing loops or out and backs on the motorcycle, preferring to move on to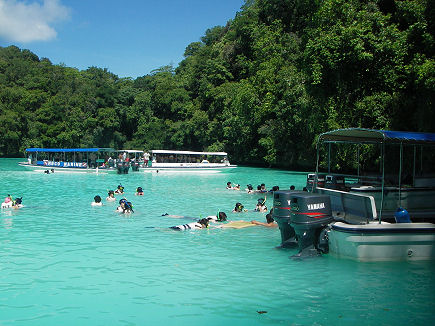 new destinations, as we travel around the world, we are finding the timing restrictions of being effectively held captive in a country, by shipping logistics, a little wearying. The countries we are now visiting all have interests, often unique, but we travel to ride more than ride to travel.

9/3/08 Sam's Tours collected us at our hotel in the morning. We had arranged to do their snorkel tour and took the option of camping overnight on one of the rock islands, an unusual event we were told as most people come to Palau on a package tour, staying only a few nights. The country is aiming towards upmarket tourism and the $US 35.00 ten day validity permit to use the Rock Islands park and Jelly Fish Lake, same for a one day visit, is quite steep. Our boatload was a mix of nationalities, Sam's Tours attracting most of the non package tourists, headed first to "Milky Way", where slimy white coloured mud can be lathered onto the body, with all its reputed great healing and regenerative properties, wrinkle reduction, even a product used by Michael Jackson? was alluded to. The extent of the Asian package tourists unravelled here as eight fast boats, carrying 20-30 tourists each, moved into the area. We washed off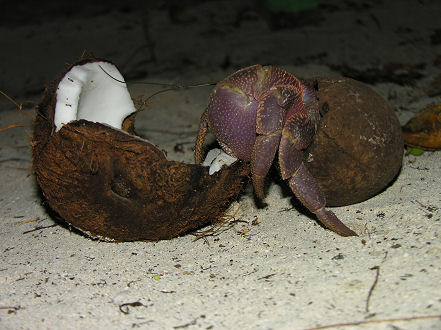 the mud and moved onto a snorkel area, roped off, a slow drift from one buoy to another, and were instantly overrun by small fish, nibbling at our out held hands, a sure indication that they are fed to ensure the tourists see their density of bright colours. Our tour operator resisted the temptation to feeding but others take a different view. The fish and corals were quite magnificent. The highlight of the tour is Jelly Fish Lake. Separated from the ocean a long time ago, surrounded by limestone hills, this large lake contains millions of hand sized, half moon jelly fish, which have lost their ability to sting. Seeking out the sun and warm waters to the middle of the lake we snorkelled amongst them, our fins gently swishing them away in the disturbed water, brushing past their golden bodies. Just floating, watching their pulsating bodies, oblivious to our interest or the broader world, they had unknowingly found jelly fish heaven, no predators, and the sun for food. Lunch and a snorkel with a dozen sharks. Black tip reef sharks are the predominant ones we have been seeing. Again fed to ensure their presence at call, mostly at two metres long, they were impressive to see circling, remoras attached and small fish looking for the spills of food. A short snorkel with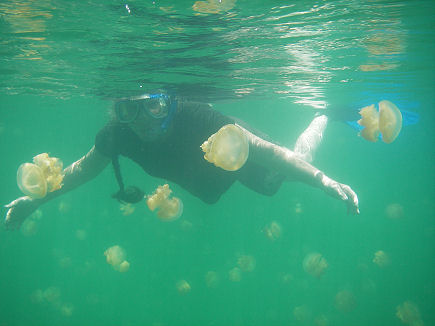 giant clams at an old clam breeding facility and we were taken to Long Island for camping. Used as a day area, the last of the Taiwanese were just leaving as we arrived and within a few minutes we had the beach to ourselves. With a red cloud-filtered sunset coming in and the tide rising across the sand spit small reef sharks came into the shallows, a couple rolling together, either fighting or mating we weren't sure. We had opened a couple of coconuts, discarding some of the meat, which attracted a small, fist sized, coconut crab. Unperterbed at our presence he started munching the coconut as we photographed. Salty we stood naked, well at least I did, as an after dark storm passed through, washing the day's salt from our bodies, dried we slept soundly in the tent.

10/3/08 It rained off and on during the night. The wind warning us of its approach but the tent stayed dry and we were awake near dawn to again see sharks feeding in the shallows. The tour boats stayed away till after our morning snorkel along the island's undercut rocky face where corals and fish live in a narrow band between land and sand. Near 200 people rolled through for lunch, spread out on what was our private beach the night before.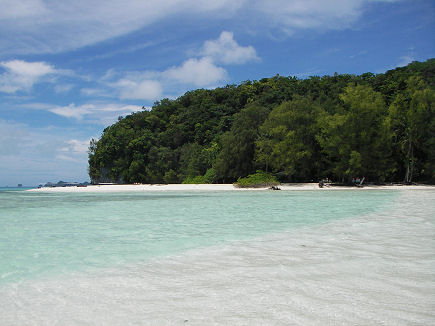 Another snorkel, early afternoon and just as the lunchtime crowd was dispersing our boat arrived and with a cruise through more rock islands, a late afternoon snorkel with large humped back wrass, and we were back at Sam's in early evening, after a great two days.

11-13/3/08 Back in Koror. Another quick ride around Babeldaob, our last good ride for at least a few weeks, only a couple of hours, but the best riding in the Pacific so far for us. Dinners out with the yachtie crowd on a couple of evening. Repacked to travel without the motorcycle for the next few weeks both here and in Taiwan. Washed the motorcycle and pretty much did not do much for a few days.

14/3/08 We had two options for the motorcycle's arrival point in Taiwan after its transhipping through Korea, either Keelung or Kaohsiung. We opted for Keelung, a semi-guaranteed arrival date of 31st March, or four days earlier than Kaohsiung and much closer to Taipei, where we fly into and out of. The only negative seems to be the difficulty of clearing it with customs. Emil and Liliana, who visited Taiwan recently on their mammoth trip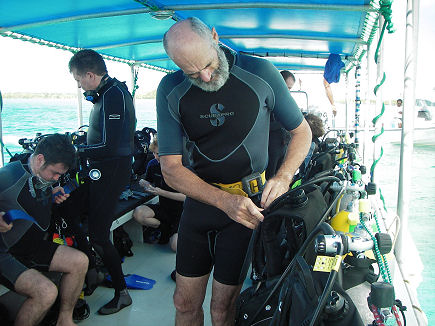 with their car, arrived through Kaohsiung, had manageable difficulties, but now have contacts there, something we won't have in Keelung. Again packed the motorcycle into our metal crate at the wharf, and hope to see it next in Keelung, the ship leaves in two days time.

15/3/08 Most western tourists come to Palau to dive, dive and more diving. Kay opted just to snorkel, but wanting to see what all the hype was about we joined a dive boat out from Sam's tours. A fast twin 150 hp twin outboard flat boat carrying ten divers plus Kay headed south for an hour to German Channel. It is over three years since I have dived, in the Philippines, but being an ex-instructor of many dives the boat and gear routine flooded back quickly. An escorted dive, a divemaster leading and one following, no buddies, we were shepherded across good corals, sighting a vast array of fish, a couple of turtles, and at a manta cleaning station, one arriving as we did, doing two passes within a couple of metres of some divers, whilst being cleaned of parasites, our group sat on the sandy seabed in awe at the three metres wingspan of the underwater bird. A good dive, but concerned that two divers ran out of air. One, used to using
pounds and not bar, entered with only a half full tank, it was sucked dry before a divemaster escorted him to the surface on his octopus spare regulator. The other diver just breathed heavily and ended the dive on the other divemaster's spare regulator. Both situations a little casual for my liking. The second dive at Big Drop Off, was less eventful. A sheer wall dive we drifted in the current as the wall passed before us. A couple of sharks, hump head wrass the bigger wildlife, sea fans, hard and soft corals making up the wall hangings. Before we entered the water, locals assisting a nearby Japanese film crew, swam over with a nautilus shell fish. These animals are rarely seen alive, living at great depths, this one had been trapped for the filming. We had the pleasure of releasing it. At the end of each dive our boat collected us where we surfaced, avoiding that disliked surface swim back. We had again chosen to camp and this time were deposited on Two Dogs Beach just as the weekend local crowd were leaving, giving us what we thought was going to be solitude for the night, however a boat dropped a couple of local fishermen, after midnight, leaving them to cook a meal whilst the others continued fishing. They apologised at disturbing our rest, we slept, only to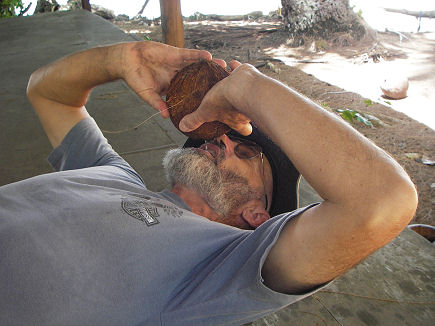 see them departing at dawn.

16/3/08 The camping at Two Dogs was excellent. A large covered area with a raised platform where we pitched the tent out of possible rain, we could leave off the outer cover and had a good breeze blowing through. After the departure of the fishermen the beach was ours till the influx of lunch time tourists. A snorkel in the shallow waters and we were collected mid afternoon, with another snorkel at Jelly Fish Lake. Apparently this lake is just one of five, all packed with jellyfish. The remaining lakes are kept pristine and without tourists. A couple of years ago all the jelly fish, in all the lakes died. The lakes, open to the sea through small holes in the limestone, became too warm, the jelly fish couldn't photosynthesize, and like coral bleaching, they died. Luckily larvae at the bottom of the lakes regenerated the population to its current millions. We found a patch of jelly's even denser than on the previous visit, and more difficult to swim through without damaging them.

17/3/08 Back in Koror, and needing to rest and get some mundane jobs done. The motorcycle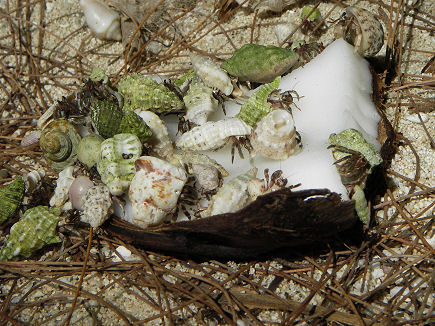 left as scheduled. Kyowa Line seems to be the most efficient we have dealt with so far. They measured the crate at 10% smaller than previously, a bonus, and we paid our account, no extra charges, finalised customs, nice and relaxed, received our Bill Of Lading, and hope to see the motorcycle in Keelung, Taiwan, early next month.

18/3/08 Another year older for me, 55, is that the end of middle or the beginning of old aged now? A quiet day preparing for another trip into the islands, our last.

19/3/08 Carp Island Resort again ferried us to their resort an hour's fast boat ride away in the southern islands. The rock islands are starting to lose that first time wow, but still retain their beauty, changing with the tides and weather. We again camped, again the only ones, everyone else was staying in cabins, holidaying in Palau for just a few days. We were remembered and welcomed back, took to a two person kayak all afternoon, venturing around Carp Island and other neighbouring islands, sometimes drift snorkelling just holding onto the kayak and other times beaching the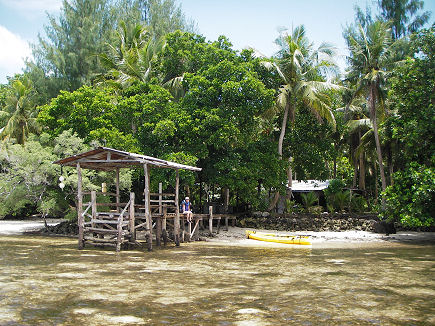 kayak to snorkel offshore, a great afternoon. More turtles, sharks in very shallow waters, their fins breaking the surface, seen both from the kayak and whilst snorkelling, the islands to ourselves. A late birthday bottle of wine back at the resort.

20/3/08 A walk across the island through rainforest and mangroves, same track as last time, but with a full moon low tide sand bars extending almost to neighbouring islands it allowed us to return to the resort walking in the shallows along the coast. Finally coming across a barrier of muddy ocean reedbeds we clambered between island vegetation clinging to rocky overhangs and mangroves unable to move further inland to eventually return to the sandy beached resort. Packed up, relaxed swinging in a hammock, waited for the return boat to Koror and a hot shower.

21/3/08 Like the Maldives we are surprised here, how much foreign aid is being spent in the country, mainly roads, US, Japanese and Taiwanese aid money. A country which has a quarter of its population as imported temporary labour. A country that gets plenty of foreign tourists, all spending plenty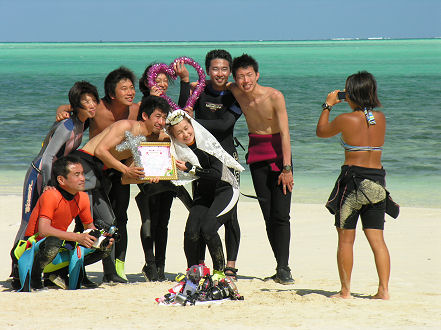 of money. If efficiently run it shouldn't need this aid money? We had a farewell lunch with the yachtie crowd we had become friendly with and started preparing for tomorrow's departure to a more hectic country of millions, not thousands of people.

22/3/08 Palau easily became our favourite place in the Pacific, so far. The friendly people, easy lifestyle, along with plenty to see and do, within a beautiful location. The charter flight of Far Eastern Transport had us jetting to Taiwan.

Move with us to Taiwan