Travel Through Niger on a Harley-Davidson
By Peter & Kay Forwood
Niger on a Harley (20/1/01 - 25/1/01)
Distance 1025 km (218274 km to 219299 km)
This is part of the Seventh section of our around the world trip.
Complete Trip Overview & Map
Coming from Nigeria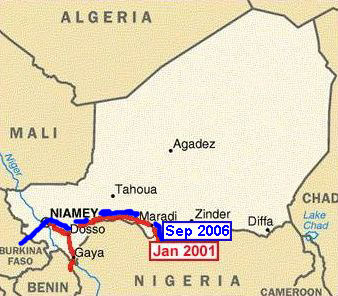 20/1/01 A straight forward border crossing without problems. Dust in the air has been increasing and for today's 500 km to Birni N'Konni. Visibility has been less than one km all the way. The harmattan wind blows from the Sahara at this time each year bringing with it, and kicking up, dust that hangs in the air like a fog. The incredibly fine white dust gets into everything, including the air filter and engines of vehicles rapidly wearing them. It gets up your nose and sinuses and is generally unpleasant to be out in. The wind at its worst in the morning drops off in the afternoon but the dust still hangs in the air. The only benefit is it blocks out the sun keeping the temperature reasonably cool.
21/1/01 Onto Niamey and as with yesterday we rode past small villages with very large brick and mud grain pots. Also flat, with grass dome covered platforms for storing onions. Storage of sheep and cattle fodder in trees or raised hay racks where the animals can rest in the shade beneath. Here wastage seems to a minimum unlike the radio report we heard where about 30% of all food from third world countries, that is grown, is lost before it can be consumed. This is compared to about 2% in western countries. The methods of threshing, drying, cartage, packaging and selling all contribute to loss. Torn bags, squashed produce, trucks broken, no refrigeration, poor distribution and products sold from stalls in the sun all add to the poorer quality of the foods.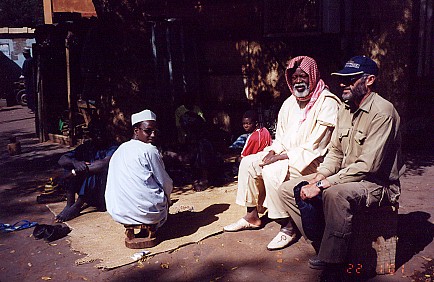 22/1/01 Niger is one of the poorest countries in the world. The poor of the poorest tend to concentrate in cities where they hope to find opportunities. Despite Niamey having a regular supply of water and electricity, bustling markets and stable government the encroaching Sahara is pressuring the 3% of arable land left in the country and combined with a population growth of over 3% annually the situation looks bleak. More wells are drilled by aid agencies for human and stock water allowing their survival short term but rapidly speeding up vegetation depletion by overgrazing and over cropping. Ultimately the people will have nowhere to go in this country. Thousands of children walk the streets with a food bowl looking for hand outs along with the crippled, blind and aged. A city with a country feel set in the desert alongside the beautiful Niger River where camels still wander the streets carrying goods to stalls amidst cars and trucks.
23/1/01 Trevor and Noah are here towards the end of their two year KTM saga through the Americas, Africa, Central Asia and Europe. We had met them first a year ago in Addis Ababa (Ethiopia) on their way north through to Sudan and had kept in touch via emails. This time's chance encounter unfortunately the result of Trevor's bike's engine having a major problem and Noah still suffering, having recently injured his arm and shoulder in a fall soon after crossing the Sahara.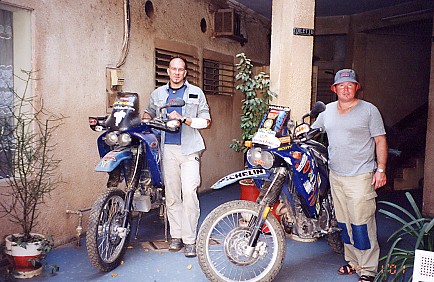 With our engine now burning one litre of oil every 400 km and demanding repair in Africa before we will be able to continue travelling to the USA, we were a disheartened bunch needing to feed off past experiences for motivation. There were of course plenty of these.
24/1/01 Trevor and Noah decided to finish their trip here and fly back to South Africa with Air Afrique. We decided to press on and try to reach Ghana to repair our motorcycle, assuming we make it that far, 1600 km. Both difficult decisions.

Move with us to Benin or go to our next visit to Niger