Travel Through Monaco on a Harley-Davidson
By Peter & Kay Forwood
Monaco on a Harley (3/1/98 - 5/1/98)
Distance 20 km (81350 km to 81370 km)
This is part of the third section of our around the world trip.
Complete Trip Overview & Map
Coming from Italy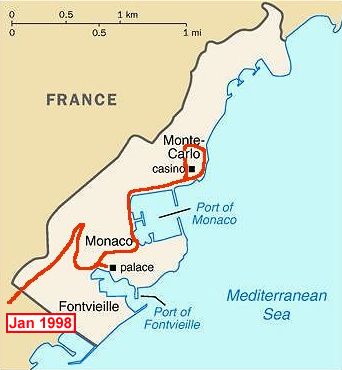 3/1/98 After having declared to trying to avoid motorways, today we succumbed. Heading for Nice in France the tortuous coastal road with the Saturday morning's traffic forced the decision. The French motorway was a series of tunnels and bridges cutting through the coastal hills and over river valleys. Not having experienced such motorways on our trip before, I was impressed with the construction and smooth flow of holiday traffic. With the close communities along the coast I think it will be off and on motorways just to save time and of course frustration in traffic.
4/1/98 While relaxing on the French Riviera (Cote d' Azur) having nothing better to do we decided to visit Prince Rainier 111 at his palace in Monaco. So after our 30 km ride down the winding coastal road overlooking villa's and yacht's we arrived to find the palace closed and had to settle for a stroll of the gardens, a walk through the old town and watch the changing of the guards. This tiny (two square km) country perched on the cliff and cram packed with buildings is so short of land for trees that new buildings terrace the hill side and their roofs are donned with full scale gardens. A must in visiting Monaco is to break the bank at Monte Carlo. And that is what happened, we broke out budget (bank) for the day. If you didn't have a Rolls or Mercedes it was off to the pay parking, but lined up outside, valet parked, were the latest in four wheels. The people in cafe's were watching people watch people watch the "to do" arrive and leave. Inside this 100 year old building were exquisite rooms with Axminster carpets, frescos, gilded figurines, mosaics and crystal chandeliers surrounding the french style gaming tables.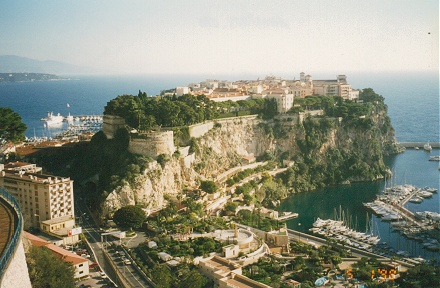 The entire place exudes wealth. We sat, stood and watched and even contributed to the maintenance of the building by losing to the slot machines. Riding the coast road home all the villas and castles lining the coast were lit up giving a fairytale effect.
5/1/98 Everything here seems to be moving or has already moved to self service. A reflection of the cost of labour in the west. From ATM's at banks, unmanned petrol stations, coin in the slot public toilets, phone card dispensers to unmanned blackjack, roulette and horse racing machines in the American casino at Monte Carlo. This makes finding out information for travellers more difficult as there is no one to ask and less written in English. Still even if the businesses are becoming more impersonal the local people are very friendly. We trekked again to Monaco to see the Jardine Exotique, a predominantly cactus garden and to ride the Monte Carlo formula one circuit, a bit slower than the race cars.
Move with us to France