Travel Through Lithuania on a Harley-Davidson
By Peter & Kay Forwood
Lithuania on a Harley (19/6/99 - 22/6/99)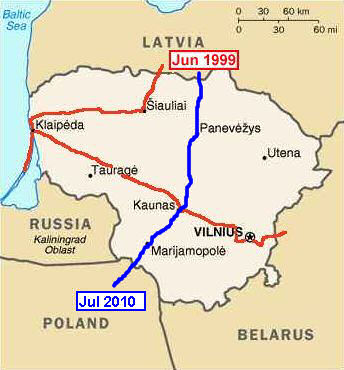 Distance 765 km (147589 km to 148354 km)
This is part of the fifth section of our around the world trip.
Complete Trip Overview & Map
Coming from Latvia

19/6/99 Latvia to Lithuania and another easy border crossing. Siauliai, just over the border, has two hillocks, out of town, where since the 14th century people have come to plant crosses. The hillock planting became very popular during Soviet times when people disappeared without trace, the crosses being the only way to remember the loved one. Not liking either the concept or religion the hillocks were bulldozed three times by the Soviets only to reappear. Today there is almost no room to plant another cross and visitors buy, by the thousands, small crosses to hang on larger ones already planted. This concept seems a great way to bury "missing" dead relatives or friends, a non denominational, non sectarian, non government place for people to remember.
20/6/99 We had stayed last night at Neringa, on a 90 km long sandy spit, rising out of Kaliningrad. The five minute ferry ride then drive down the pine and scrub covered sand dune spit to Preila. Some dunes are over 60 meters high and the scenery and local fish draw German tourists in summer giving the locals economy and prices a boost. With Lithuania's coast only 100 km long there is great demand on the sandy beaches.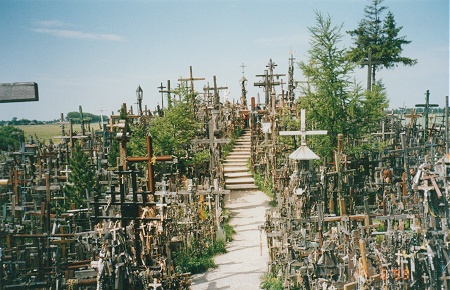 21/6/99 Early summer weather is unusually hot this year and bringing with it late afternoon electric/thunder storms similar to the wet season in Northern Australia. After riding to Trakai this morning and visiting the Gothic restored red brick castle situated on an island in the beautiful lake we were dumped on by a violent afternoon storm.
22/6/99 Vilnius, the third of the Baltic capitals, equally as busy rebuilding, renovating and restoring as the other two, trying to find their past and future. All the churches are being repainted including the St Kazimieras church which for over 20 years was used as a museum of atheism during the Soviet era. Despite the modernization and new wealth the horrors of the past can be viewed at the genocide museum. We were guided by a former inmate of the KGB building where underground are numerous processing cells. Used before the war by the USSR, during the war by the Germans and again by the USSR until the last prisoner was processed for release in 1991.
The 15 minutes a day exercise, once a day toilet visit and once a month shower all documented in the archives not destroyed during the Soviet withdrawal.

Move with us to Belarus or go to our next visit to Lithuania