Travel Through Italy on a Harley-Davidson
By Peter & Kay Forwood
Italy on a Harley (30/12/97 - 2/1/98)
Distance 965 km (80385 km to 81350 km)
This is part of the third section of our around the world trip.
Complete Trip Overview & Map
Coming from Slovenia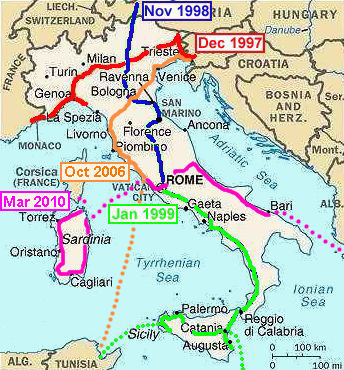 30/12/97 Another border crossing and into Italy. That's eight countries in just six weeks, a far cry from one country a month of the first two trips. After a while the smaller countries start running together in your mind and it is difficult to remember in which country the smaller incidents occurred. I much prefer spending a long time in each country to get a feel for the people and customs. But in areas like the Balkans customs transcend boundaries and boundaries are constantly changing. Then borders no longer become the cultural and religious boundaries but just the management lines. We travelled 400 km today, after crossing the border we headed north almost to the Austrian border to see the mountains in sunshine before returning and finishing in Verona. A total of three hundred westward km, heading with the sun giving us 12 minutes extra day length. As we continue to head west we get the illusion of lengthening days as sunset is later. The day length being a major limiting factor in our travels.
31/12/97 Staying at the Villa Francescatti, an HI Hostel, about the only cheap place in town, we are separated into male and female dormitory beds, with curfew and rules, the strangest one being that the dorms are locked between 9 am and 5 pm. Bad luck if you are sick, it is raining or you want a rest. While this is considered normal in some parts of the world it is the first time we have encountered it. Still it was friendly and full of Uni students travelling in the two week Christmas break. Nice to talk English after six weeks without speaking to an English native.
We strolled Verona all day (between 9-5) a city of great Italian beauty in its architecture and history but a little quiet for New Years eve. PS We visited Juliet's house of Romeo and Juliet fame. More interesting were the young lovers dedicating themselves to each other in the same courtyard.
1/1/98 Off to Genoa the birthplace of Christopher Columbus, via Mantua and almost Alessandra. Beautiful irrigation country with tidy fields, before heading down to the coast. Virtually everything is closed. When we arrived in Italy two days ago we needed fuel during siesta, around lunch time everything was shut, including petrol stations. And today not one fuel station was open. Lucky for the automatic dispensers or we would have been stranded. Italian cities seem best viewed at night, with the buildings well lit and people out strolling the streets. Genoa is no exception and the buildings here are better maintained than in other Italian cities. Again with almost everything closed McDonalds was doing a roaring business.
2/1/98 It's warm again, after leaving the Mediterranean on the Croatian coast and travelling inland for two weeks it is finally warm again at 10 degrees centigrade. An easy ride down to the Rivera di Levante coast and back. I forgot to mention that for the first time we have had to pay $US 1.00 per litre for fuel. We had the Italian version of a Chinese meal tonight. As most foreign restaurants are adapted to local tastes and customs, it was interesting to taste Italianized Chinese after having Chinese meals in many other countries.
Move with us to Monaco, or go to our next visit to Italy