Travel Through India on a Harley-Davidson
By Peter Forwood
India on a Harley (2/1/97 - 1/3/97)
Distance 4081 km (53600 km to 57681 km)
This is part of the second section of our around the world trip.
Complete Trip Overview & Map
Coming from Bangladesh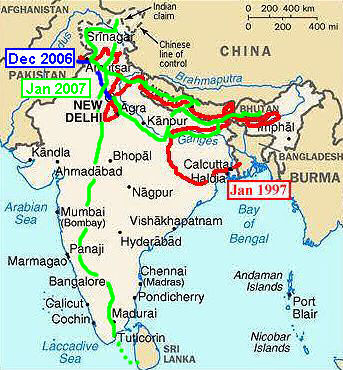 27/1/97 Crossing from Benopol, Bangladesh to Haridaspur, India only took one hour on the Indian side to complete the formalities. This is the first time my luggage has been checked at any border crossing, but the details checking the motorcycle with the Carnet were ignored. At least they knew what a Carnet was and how to process it. Two instantly noticeable differences between Bangladesh and India, firstly was the prevalence of women in the streets now that we change from a Muslim to Hindu religion and secondly the number of Hero's, the bicycles made in India (aptly named for the riders). Unlike the three wheel rickshaws, two wheels are less stable and dart in and out of traffic. The 83 km from Haridaspur to Calcutta took three and a half hours due to road surface and traffic.
28/1/97 I have settled in at the Salvation Army Hostel at $A 2.00 for a dormitory bed and motorbike security for 20c. A 6 am stroll of the city revealed the true extent of the city's problems. Many hundreds of people, old to young, including a group of 40 lepers, were sleeping on the footpath with little more than a thin cotton blanket. Later, onto the Howrah Bridge, the busiest in the world, to watch the slow procession of people and vehicles.
29/1/97 It had to get me sooner or later. A 2 am rise followed by several visits to the bathroom for a total clean out of the digestive system from both ends. Luckily all over by 12 noon with just a weak feeling remaining. An afternoon trip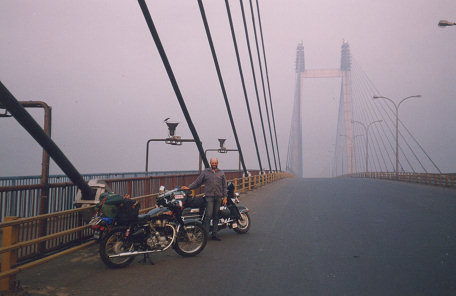 to the centre of government offices revealed an enormous rabbit warren with systems not changed since the British left in 1956, with silverfish eaten papers, books etc. piled high in the offices and the walls unpainted and covered in cobwebs. The clock on the wall had long since ceased to function and was adjusted periodically, manually.
30/1/97 Off to the Sunderbans, the largest single area of mangrove forest in the world and the biggest concentration of the Bengal tigers. A remote location, a friend and myself travelled by man pulled rickshaw, train, boat (three times), auto rickshaw and bicycle flat top to get there. Australian aid projects have built many schools and some hospitals in the area. Leaving at 7 am, we did not arrive at our accommodation until 6 pm after travelling just 120 km for the day.
31/1/97 Here I sit in an incredibly tranquil scene having slept on a bamboo bed in a grass and mud hut in south west Bengal. This place is financially very poor but culturally and life quality very rich. Having been invited to stay the night in a government guest house only to find it full, the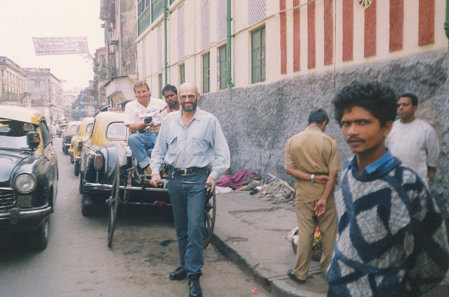 opportunity to stay in a traditional house was a bonus. Helping with the morning chores and washing at the local pond wearing only a dhoti was also an experience.
1/2/97 Sick again with a fever last night and a course of antibiotics for bacterial dysentery. The six hour journey back to Calcutta under these conditions not very enjoyable.
2/2/97 Feeling better but a day of recovery needed, eating non spicy western food, reading newspapers and writing postcards all I feel like accomplishing.
3/2/97 Ron, an Australian friend, arrived today to travel with me for eight weeks through India and Nepal. Within three hours we had bought a new Indian Enfield (bullet) 350 cc for $A 1970 fully accessorised. That means mirrors and crash bars.
4-5/2/97 Waited two days for the delivery of the Bullet, which, despite promises, was 24 hours late and without battery cover and bike cover. Killed time at two museums and a visit to Mother Theresa's orphanage.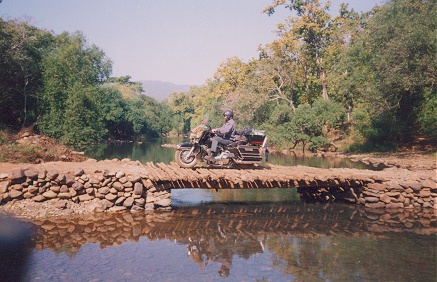 6/2/97 6 am and we are off. One kilometre and the Enfield is running roughly, stopping and starting. Thirty minutes later and we discover an over tightened bolt was blocking fuel to the carburettor. Hope this isn't a sign of the reliability. 250 km to Similipal National Park. Travelling at only 50 km/hr (running in the Enfield and it's rider) it takes 12 hours to get there. At two state border crossings there are 300 trucks lined up blocking the road waiting to have their papers checked. We have to go bush to get around the trucks and are waved through the check points. This system occurs at most of India's 20 odd state borders costing the country a fortune in freight time lost. This, the main Calcutta to Bombay road, is also the worst major road I have travelled. Through the state of Bihar, 40 km, we were reduced to 20 km/hr due to a disintegrated road.
7/2/97 After a stroll through the park (2 jackals sighted) and a leisurely ride through some back country villages, it is off to Chaibasa. Ron took a wrong turn and we parted company for 3 hours, luckily finding each other again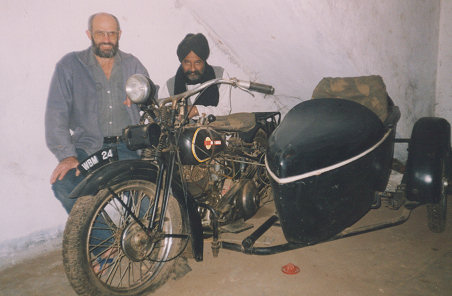 before heading into town after dark. The roads again dreadful. 50 km/hr maximum due to potholes across the full width and the uneven surface, using cricket ball sized gravel as a surface with some bitumen. The first time since starting that I ever felt the need for an off road bike, the Harley feeling as if it is being shaken to pieces.
8/2/97 Pushing on again today through Ranchi and onto Palamau Game Reserve, 300 km. Ron stopped in Ranchi for the Enfield's 500 km service, the bike running fine with just minor gear selection problems. I think the road is getting better (or am I getting used to it?), averaging 40 km/hr with the main annoyance being speed bumps. Situated at every bridge and village or for no apparent reason, the speed bumps are unmarked and usually placed in the shade of a tree so as to be unseen. I get plenty of emergency braking practise. I counted 32 such bumps in a 30 km stretch. You just get up to speed when you have to come to a complete stop.
9/2/97 Two days to relax at Palamau Game Reserve. Great excitement on the first day when a baby elephant, 3-4 months old, drowned in a dam,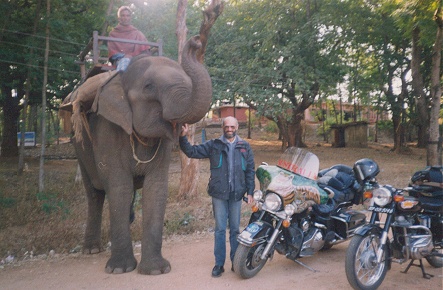 caught in the mud. A rare occurrence, I was fortunate to be allowed to go with the ranger party to view the situation. Despite the calf having been dead a couple of hours, 18 elephants were still at the water hole and were quite agitated. A large cow charged our truck and chased us for 50 metres. It is believed that the calf got into trouble in the mud and drowned.
10/2/97 This morning we hired a jeep to tour the Park. On arriving at the water hole, we saw the elephants had departed leaving the small body behind. Quite a depressing sight, a seemingly waste of nature. The rest of the Park was alive with animals, sambar and chital deer, Indian bison, peacocks, monkeys, langur and marmoset.
11/2/97 It often surprises me the amount of natural area still left in so densely populated a country as India. We decided to take an elephant ride this morning before leaving and again saw similar animals as in yesterdays jeep tour. Bodhgaya our destination, 200 km and slightly better roads. It was here that Buddha gained enlightenment around 500 BC. Our first section on the Grand Trunk Road, which traverses India from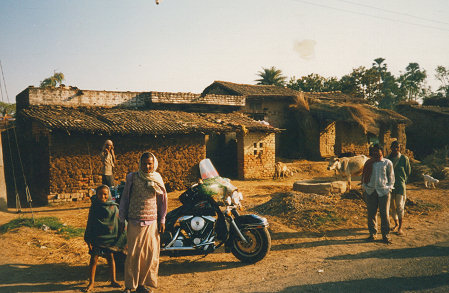 Pakistan to Calcutta. The road is hundreds of years old following the same route and is by far the busiest in India. The roadside is a continuous repair station for the 50% of trucks which are being repaired at any one time, probably due to overloading and the rough roads.
12/2/97 I discovered today that after repairing Ron's Enfield in Calcutta a week ago that in my haste to catch up, I left all my tools on the sidewalk. This is quite a setback as some are special tools not available in India apart from the approximately $300 value. So today I spent time hunting around for what basic tools I could find. Kay, my wife, will have to bring the rest with her when she flies into Delhi in 7 weeks. I hope I don't need them before then.
13/2/97 I am writing this by torch light for as usual the electricity goes off for about a third of the time every night between 6 pm and 8 pm. The people here are so used to it that any business dependent on a continuous supply has their own generator. 250 km from Bodhgaya to Sarnath just outside Varanasi and we moved from where Buddha gained enlightenment to where he delivered his first sermon. The Grand Trunk Road (GT) is very mixed with some areas up to 80 km/hr and others down to 40 km/hr.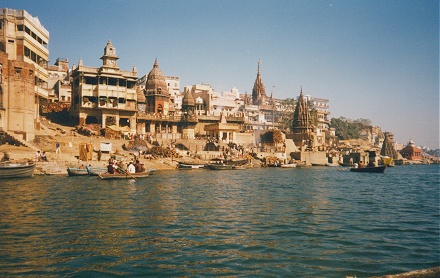 14/2/97 Touring Varanasi today. The City of the Ghats, areas along the Ganges River where steps lead down to the water's edge where the devoted wash in the sacred water. Dozens of pilgrims from all over India come to wash. Two Ghats are set aside as burning Ghats where bodies are burned and the ashes scattered over the Ganges. If you are under 5 years, a leper, have small pox, died of snake bite or are a priest, your whole body is tied to a stone and dropped in the river. We took a boat tour, the best way to see the Ghats without intruding on the bathing or burning. Bodies are burned 24 hours a day and 6 were burning while we passed. Religiously it is the best place to die in India. For no reason we both decided to have our heads shaved.
15/2/97 On leaving early in the morning, I now realize where all the smoke from the funeral fires goes. Reportedly 30% of all hospital visits are due to respiratory disorders and with a temperature inversion this morning, it is not surprising. Our stay at the Burmese Monastery in Sarnath was quiet although the mattress, 1 inch, a little hard on the wooden beds.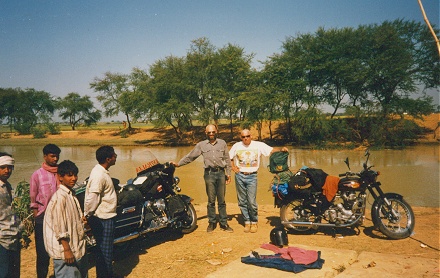 350 km to Bakhtiyarpur on our way to the North Eastern States of India. A very eventful day, I hit a baby goat early, skittling it but no harm done, then a few kilometres further managed with some confusion to get a tank full of diesel rather than petrol. Luckily I realized before driving away and with the tank drained and refuelled was on my way. Then within an hour of each other and travelling separately, Ron and I both managed to drop our motorcycles in similar situations. Ron hit a bicycle which swerved in front of him damaging its rear wheel but not the rider, Ron was also unhurt, and I glanced blows with another bicycle which turned in front of me, going down in the gravel scratching the crash bars but otherwise no damage. My first dropping of the motorcycle in an incident or accident. Quite a coincidence to occur in the same area.
16/2/97 250 km to Purnia, Ron having more serious problems with his Enfield, horn not working, headlight blown, front fork seals leaking profusely and the engine won't rev out in any gear. This gives him a maximum speed of 50 km/hr, all after only 2000 km of travel. The road carnage is everywhere. This morning a dead body lay under two crashed trucks while villagers were trying to save the life of the other driver. The main problem seems to be the double or triple overtake where if there is room for one truck to overtake, there must be room for more who follow blindly.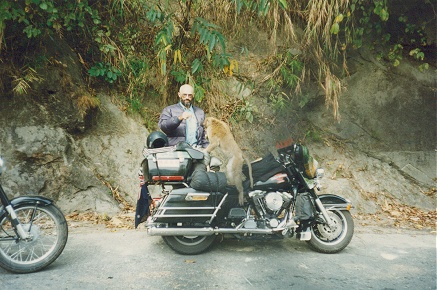 17/2/97 Changed our minds today and instead of heading East we continued into the state of Sikkim to Gangtok, the last 100 km of which took 3.5 hours over magnificent mountain country following the Tista River. On arrival you would think that you had moved into another country. The people are 75% Nepalese and everything is tidy and organized. Western dress is the norm and even the occasional mini skirt is worn by the women. A far cry from the rest of India where I am yet to see a woman riding even a bicycle or a bicycle built specifically for women.
18/2/97 After three days of continuous riding it's nice to have a rest, get all the chores out of the way, washing minor maintenance etc. Because diesel here is 30c Aust per litre and petrol 80c Aust per litre, diesel vehicles are preferred and more expensive to purchase. It surprises the Indian people that such an expensive motorcycle as mine would not be diesel. Enfield now make a diesel motorcycle for about $A 2400. Also the fact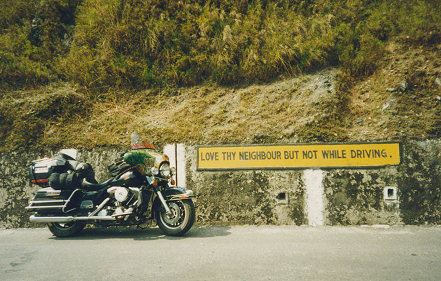 that I get only 20 km to the litre is an enormous disadvantage for the locals. People who drive Rolls Royces don't worry about the fuel consumption. However when you are only spending $A 15 a day and petrol is $A 8 a day for 200 kilometres, it does seem expensive.
19/2/97 Gangtok to Legship, just 120 km via the most magnificent mountain country road, averaging just 20 km/hr. We decided to head for Darjeeling via this back road visiting villages of Tibetan and Nepalese origin. On arrival the hotel was full and Ron had just walked his motorcycle 5 kilometres with a flat rear tyre. After having the tyre repaired, it was now late and the thought of continuing depressing when the local police check post officer offered his bed as he was on night duty. A very friendly town.
20/2/97 Only 20 km to Pelling today. The country is a mica shale, and the dust is causing my brakes and drive belt to squeal. That is nowhere near as bad as the landslides visible everywhere which not only carry away the terraced fields but the huts and villages. This is a totally different world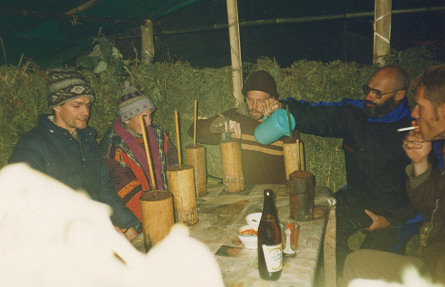 from the rest of India, the people more friendly, hard working and openly happy and they wave as we pass. Ron's bike again playing up, still won't rev out and limiting him to 30 km/hr.
21/2/97 Pelling to Tashiding via Yuksom, only 50 km but with sightseeing took 6 hours. Yuksom, only 6 km away as the crow flies across a deep valley, was 30 km by mountain road crossing suspension bridges over glacial melt rivers with the telltale pale blue water and waterfalls cascading down into the valley. It had rained in Pelling the night before and snowed higher up but waking to a clear day, we could see Mt Kanchenjunga, the third highest peak in the world and only 250m short of Mt Everest, clearly in the distance with the sun reflecting on it's snowy surface.
22/2/97 Tashiding has a Bhumchu festival each year, the full moon at the end of the Tibetan year. The monastery, a steep 45 minutes walk uphill out of town, was alive with villagers coming to receive some holy water sealed a year earlier and supposed to tell of the future of Sikkim. This water is distributed at 3 am and after walking up in daylight the day before, braving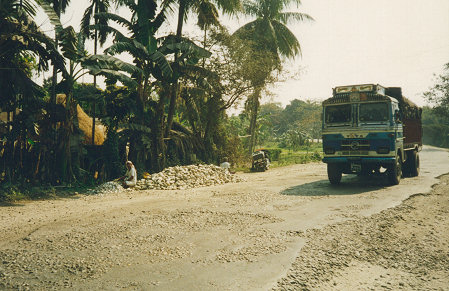 the cold, drinking a few chang's (alcoholic beverage made on millet) the actual distribution was a bit tame. The trip now to Darjeeling 70 km down one valley and up a very steep 24 km through picturesque tea plantations to arrive in Darjeeling as it started to rain which rapidly turned into sleet. The trip uphill so steep, I was required to stop and let the motorcycle cool, (first gear all the way) while I looked across the mountains.
23/2/97 Here I sit, looking out my hotel window ($A 3.50 / 2) at possibly 12 snow capped peaks of the Himalayan mountains, the previous night's rain having cleared. Darjeeling has great western food, a change from dal baht, and none better than at Glenary's with their western bakery. A trip to the zoo to see red panda and snow leopards, both bred here, the museum on Sir Edmund Hillary's conquest of Everest which is underplayed by Sherpa Tensing Norgay who accompanied him and lived in Darjeeling for many years, a few post cards and the restful day is complete.
24/2/97 Still in Darjeeling and sick again, second time already in India. It's no wonder when every vacant piece of land is used as a toilet. It dries,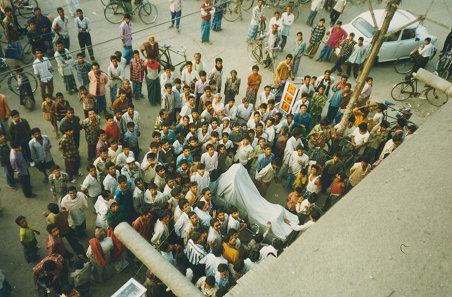 breaks up and is blown about by the wind, settling on everything you touch, on food, water and eating utensils. The only high density populated country where this still happens.
25/2/97 Got a bad batch of fuel today. Both bikes pinging on the lower octane. Probably a mix of either dieseline or kerosene, both substantially cheaper than petrol and thus profitable to mix even at a low percentage. Down from Darjeeling to Siliguri and east to Alipur Duar via Jaldipara Wildlife Sanctuary, which was a disappointment. Foreigners are charged different rates for accommodation, elephant rides and park entry compared with Indians. This is another first for India. It is a disappointment when foreign governments contribute so much to India in aid, particularly for conservation and national parks, to then be charged at a rate up to 7 times the local price is an insult. We voiced our protest by not visiting and I hope other travellers will do the same.
26/2/97 Another long day crossing the border into Assam and overnighting at Dhekiajuli, some 320 km. Despite Ron having his wiring repaired two days earlier, he had another melt down, literally. At least everyone in India knows how to repair a Bullet and he was delayed just one hour. Assam has only recently been opened to foreigners and tonight we drew a crowd of 500 around the bikes and our tiny hotel room was occupied by the 9 highest military and police dignitaries in the area.
27/2/97 A stop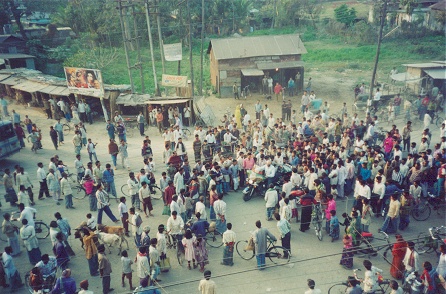 at Rajhiv Ghandi National Park (orang-utan sanctuary) was great. As a jeep was not available, they allowed us to ride through the Park on our motorcycles, with an armed guard as pillion. Sighting first a lone elephant then a lone one horned Indian rhinoceros, we left the bikes and escorted by the guard, walked to within about 40 metres of the rhino. After a few minutes he detected our presence, sniffed the air a few times and moved off into the thick undergrowth. A great morning marred only by the park fees being requested after our trip amounting to 850 rupees. This is the first national park I have ever encountered where fees are charged on departure and are not signposted. We refused payment and after lengthy discussions the gate was unlocked and we were allowed to depart. I can only surmise that the amount foreigners pay, at 17 times Indian prices, has deterred their entry in the past and that the park decided not to signpost and request payment on exit to gain greater success and revenue.
28/2/97 Met two German couples today, one in a Mercedes motorhome and one in a Unimog, my first encounter with self propelled westerners.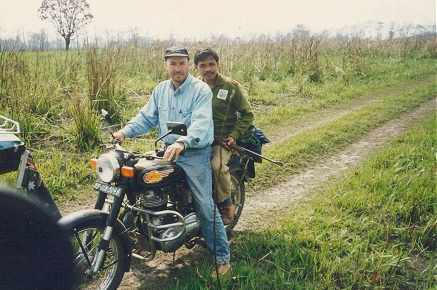 They invited me to dinner, grilled pork chop, first real western meat in two months. Heavy rain overnight seemed to keep the animals at Kaziranga National Park hidden, seeing only many smaller animals, but only one rhino at 40 metres. Ron and I parted company for a few days yesterday for me to visit Kaziranga. Leaving at 11 am and arriving in Goalpara at 6.15, I had covered 370 km of the best roads so far in India. Still incredibly tiring concentrating on other traffic.
1/3/97 Starting at 6 am hoping to catch up with Ron, I am now sitting waiting for a ferry to cross the Brahmaputra to the north, a 1.5 hour wait. Leaving the state of Assam, it's good to rid myself of constant police and army questioning regarding my presence. Each evening I had a police or army officer in my room analysing at length my passport and me, trying to glean information. Incredibly suspicious it was assumed constantly that I could not just be a tourist but must be someone more sinister. 320 km to Jalpaguri. This is the end of the first section in India.
Move with me to Nepal, or go to our next visit to India