Travel Through The United Kingdom on a Harley-Davidson
By Peter & Kay Forwood
The United Kingdom on a Harley (14/9/98 - 2/10/98)
Distance 3402 km (114011 km to 117413 km)
This is part of the fourth section of our around the world trip.
Complete Trip Overview & Map
Coming from the Netherlands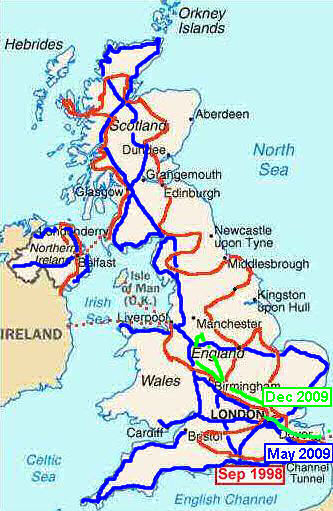 14/9/98 Arriving at Dover in a new Island country, not leaving the motorcycle and not seeing the ocean seems strange. Driving again on the right side (not wrong), actually left side of the road we headed around London and North to Cambridge for the night.
15/9/98 Nipped into Cambridge, the famous university town to sample the magnificent old buildings and churches and education history. I can now say that I went to Cambridge University, perhaps a little older than the real students. Keeping off the freeways and trying to enjoy the English countryside it's great for a mono linguist to be in a native country and we were lapping up reading all the sineage and information available. Onto Lincoln cathedral and our first taste of simple European architecture after the predominantly highly decorated catholic cathedrals of the rest of Europe. Stayed the night with Geoff Sykes and his wife Wendy. Geoff also a motorcycle traveller has taken his motorcycle from Hong Kong across China and through Russia to the U.K., ridden to Iran and back and also brought an Indian Enfield home from India. More travel tales over a few drinks and late to bed.
16/9/98 A short ride across to near Nottingham (Robin Hood country) where we are staying with Glynn Roberts. Glynn rode his BMW R80 G/S around the world over three years from 1987-90, travelling through Europe, Egypt, India, Australia and the USA plus other places. Had our first British Ale (beer) and lunch at a pub (steak and kidney pudding). Pubs are everywhere and the food reasonably priced despite our horrendous exchange rate of nearly $3 Aust to the pound. Having a couple of English friends back home I love the different accents for the different regions of England. I used to think that the Brits in Australia bung on the accent a bit, a bit like some Ausies do overseas, but after hearing people talk in the streets I think maybe it is actually toned down a bit. Most Australians still look at England as the mother country or at least a long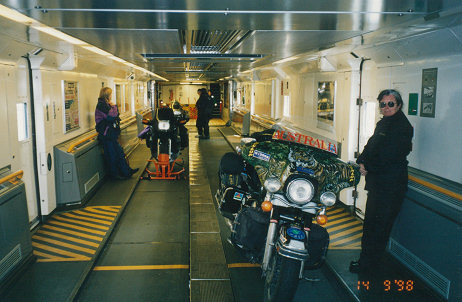 lost relative and coming "back" to our roots (about 200 years past) is great to see where we originated. To see the houses of older Sydney and Melbourne line the streets everywhere, our culture later diverging with Ausies spreading out to greater suburbia and the UK remaining tightly clustered around smaller pubs.
17/9/98 Just about finished the hall of fame motorcycle travellers that we are meeting this trip, but none would be complete without Ted Simon of Jupiters Travels fame. Well he now lives in America but his motorcycle (the famous one) permanently resides in the Coventry museum near where it was originally built. The Triumph sits, as it returned from the four year journey in the 70's with green fibreglass panniers and map of the route, with leather tank bag and pouches. Like soldiers returning from the war, long distance motorcycle travellers have difficulty fitting back into normal life on their return to the less exciting mundane drudgery, always looking to recapture the exciting memories and relive with mates the challenges and difficulties
they encountered alone but can only be shared with like travellers.
18/9/98 The U.K. has been here long enough to have some smart road rules, like blinkering to turn only if there is someone there for advantage and flashing pedestrian crossing lights where you can proceed once everyone has cleared the crossing. They allow the driver some form of intelligent thinking not blind following. We also visited Notingham and England's oldest inn started somewhere in the 10th century with most of its small rooms backing onto caves, Robin Hood statue and the Sheriff of Nottingham's Castle, well the rebuilt version after the riots and fire destroyed the original. Had a couple of half pints also and a cob (bread roll) or two at another pub.
19/9/98 Off on our own again after a lovely stay with Joanne and Glynn and headed up through Peak District National Park to camp just outside York. The A6 is a lovely road winding in and out of villages, all with century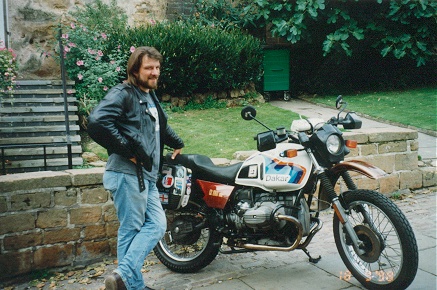 old houses, shops and farms and packed on sunny Saturdays and raced by sport bikes. From Nottingham's back to back houses, terraces and duplexes left over from a more industrial age earlier this century into the more open countryside of the Northern Midlands. We are having a difficult time deciding what the United Kingdom is these days with devolution of Scotland and Wales and the new arrangement of Northern Ireland and England being a bit left on its own, does the U.K. still exist as a country or are the pieces countries. The pieces have competed individually in the Commonwealth Games and World Cup Soccer but have acted together elsewhere. This identity problem is not just for foreigners difficult, but also for the locals involved.
20/9/98 A day in York, the capital of Northern England since the Romans ruled here. The highlight is the largest gothic cathedral in England built around 1300 but the first religious building was built on the sight around 600. We decided that we have visited many christian churches-cathedrals to view their architecture, stained windows and carvings but had not participated in a celebration of their purpose. So we selected evensong, a service sung, large choir, and unique to the church of England. Sung in the "choir" section near the alta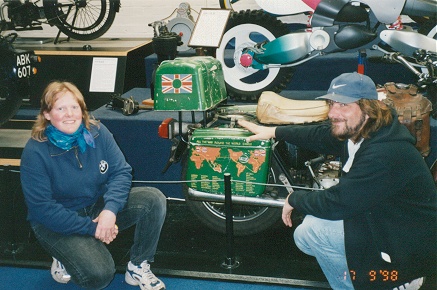 r this is the most decorated section of the cathedral. My first evensong, not being a church goer, was quite enjoyable with the large organ beaming out the tune for the choir to follow. Phoned home to the children from the local "TARDUS" and updated the internet, finally receiving email after our server changed the mail settings (sorry for the delay in answering emails).
21/9/98 Getting used to a late start, Kay and I have developed colds and lying in bed (even in a tent) seems relaxing in the mornings. I used to think getting up late was lazy but here in Europe the day gets up late, by the time the fog clears, or the sun is high enough to start warming the day it is almost 10 am, but it stays warm right up to sunset. A ride through Scarborough (fare), made famous by the song, and into Whitby and the North York Moors. With its ruined abbey on the hill, century plus, old houses down near the harbour and a dramatic setting of cliffs and beaches Whitby is a beautiful place. Captain Cook was apprenticed here and the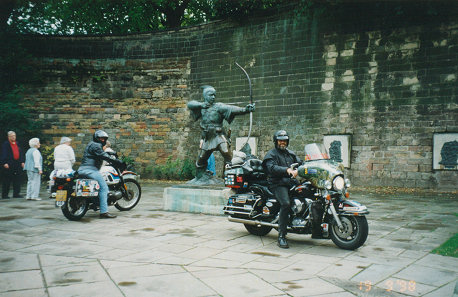 Endeavour (the ship he used to (re)discover Australia was built in their shipyards). Genuine British fish and chips for lunch. Off in the afternoon to the Yorkshire Dales and James Herriot country (All Creatures Great and Small). The Dales (wide valleys) dotted with stone houses, stone sheds, stone yards and cut by stone drywall fences, trees at the turn of autumn and the grass still green grazed by white, black faced sheep. Nothing much seems to have changed here for almost 200 years (except the tourists). Camped by a brook in the dales and a couple of ales at the local pub before retiring for the evening.
22/9/98 Leaving the Yorkshire Dales National Park for the Lakes District National Park, England's most popular, and we made up two of the 10 million visitors that come here each year. Still busy out of season mid week. These national parks aren't like the U.S. and Australian versions but here whole communities, farms etc. live within the boundaries. They are more like a heritage listed building, don't change the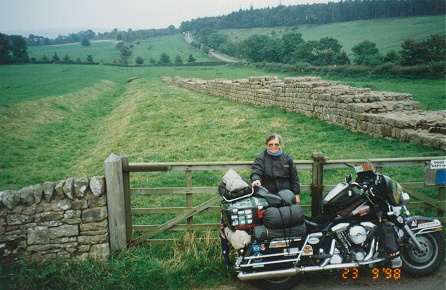 appearance or look of the place but you can use it for your business and living. The whole area looks like it would have centuries ago (same as Yorkshire Dales), but with slate buildings (not limestone) and more forests and lakes making it a playground for the citified. Heading towards Scotland and camped next to Hadrian's Wall.
23/9/98 Hadrian's Wall was built by the Romans around 100 AD. At the time it was built to divide the barbarian Scottish tribes from the Romans, Rome being unable to conquer the Scots. It effectively divided England and Scotland, 120 km long, 4.5 metres high and 2-3 metres wide, it was a mammoth undertaking. Much however has disappeared and used for building materials over the centuries but some remains along with the ditch (dry moat) and the rugged countryside where it was built. The sunny days have gone and despite walking sections of the wall, it's still cold. We pressed on further north to Scotland, that country of strange accents and men in skirts (kilts).
24/9/98 The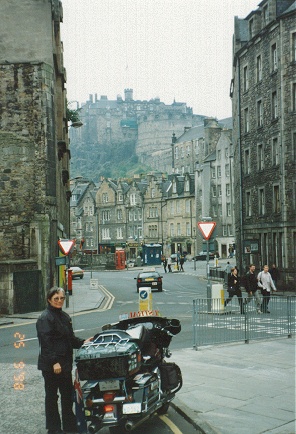 van park in Edinburgh, designed for hundreds, was down to about ten tents as the season is over. Edinburgh itself is probably best shown as it usually is on a misty, dim, cold day, the streets empty but for a few hardy tourists and locals. Still beautiful with it's Castle and the Royal Mile stretching down the hill. Such great writers as Robert Louis Stevenson and of course Robbie Burns hail from the area. Still with lingering colds we didn't do the city justice running out of energy before we ran out of city. Scotland as well as England has those great automotive icons, the double decker bus and the "London taxi", the roof of the former removed for city tour operators.
25/9/98 Whether you sit at home or travel the world you cannot find out everything that happens nor see everything. We decided long ago that an overall picture of a place or country is all we can achieve on our short journey to each place, no-one lives long enough to see the whole world. So it is a ride through the Scottish highlands, the heather, still in flower, and the moors wet and boggy. We spotted a band of hunters out with their dogs, beating in the heather hunting and catching grouse, farmers bringing in the last cut hay and yarding sheep, and hikers just out walking. We drove the scenic route north through Perth, Dunkeld, Pitlochry, Braemar, Balmoral Castle (no Royals about) camping near Inverness.
26/9/98 Just riding, with nothing specific to see or do, heading north, with rain increasing, switched to head west to Lairg and then Ullapool and clearer weather. The day ended and you wonder was it worth it. Wet, cold, everything expensive and nothing in particular to account for the day. Was it the potato and leek soup in the warm mountain pub, perhaps watching the fly fishermen out on the loch, or just lying on the grass in the only patch of sunlight seen in three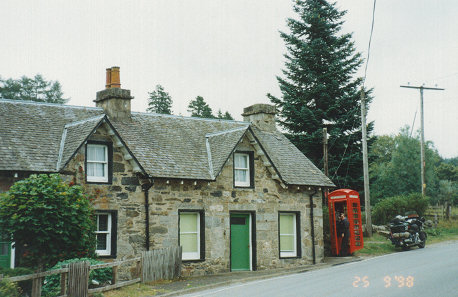 days, maybe the mountain scenery, the long haired, long horned highland cattle or just riding? Camped at Kyle of Lochalsh.
27/9/98 Off to the Isle of Skye, a barren island bridged to the mainland, popular with tourists for walking and particularly climbing (Munro bagging) a 900 metre mountain. Since arriving in the U.K. we purchased some classical novels for background reading to get a feel for the place and with evenings closing in and the mornings drawing out and the midday pubs a haven from the bad weather and both of us with lingering colds and lower energy levels, they have been well read. We walked on the moors and strolled amongst the heather on what everyone we met said "What a lovely day", which it was relatively speaking, the mist shrouded mountains preventing us from viewing the full effect of this lovely island.
28/9/98 I hate the expressions "been there, done that" or "you've seen one castle, you've seen them all", but like the guy dying of thirst in the desert who would give his right arm for the first glass of water, the tenth glass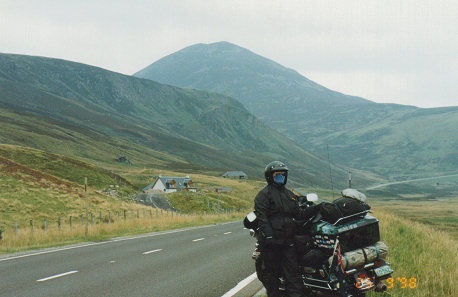 he probably wouldn't pay anything for. So it is with us in the U.K., with prices so relatively high in Australian dollars ($A3.00 - £1) and entry fees so high that we are being very careful what we will pay to see, particularly with so much natural beauty all around and free. If you travel for long enough the same type of things recur and if you miss them today you most likely will see a better or cheaper one later in your travels. One off specialities like the Taj Mahal or Borubudur excluded. Rode along Loch Ness for a while, not tempted to look for the yeti or snow man or monster fictitiously lurking in the waters there but was happy enough to watch the tourist dollars pour into Fort Augustus as a result of the myth. Even bought a few "Nessy" postcards myself. Camped the night at Oban overlooking the ocean and offshore islands.
29/9/98 Headed down through Glasgow, south, tomorrow Ireland, after passing Loch Lomond along the way and the last of the touristy Scotland. Will the real Scotland please stand up, the northern and highlands was beautiful but with every second house a Bed & Breakfast and every old manor house a hotel and every small village dressed up to the tourist's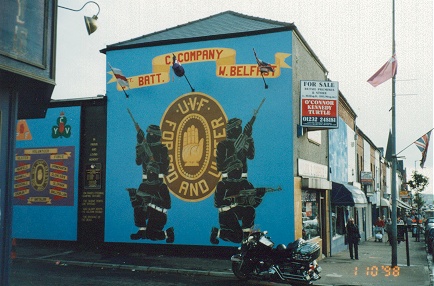 perception of Scotland, we found it almost impossible to find what (if anything) the real Scots (not involved in tourism) do. Friendly, approachable and easy to talk to, but from the outside looking in there aren't many "real" Scots left.
30/9/98 Hearing that the "Seacat" ferries had a deal on for four journeys at £134.00, allowing us to get to Ireland, the Isle of Man and to Liverpool, we decided it was the best price. After telling them of our trip around the world, we put the hard word on them for sponsorship and a free passage. Not quite getting everything we wanted they agreed to us just paying £50.00 for the package, £84.00 saving for a few minutes work. The incredibly fast "Seacat" , travelling at up to 37 knots (74 km/h), had us in Belfast in an hour and a half. I don't think Belfast has been too touristy of late judging by it's only caravan park, 10 km north of the city, designed to hold just 7 caravans and 7 small tents, set behind a spiked wire 2 metre high fence and with a large locked metal gate where we stayed in it's compound. Handed a bunch of keys, the two tents and one caravan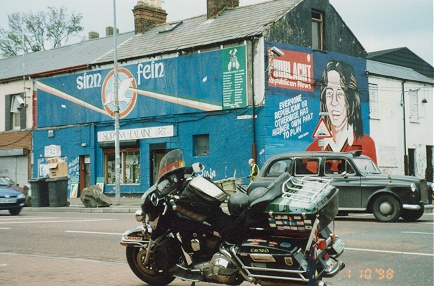 were locked in for the night. With the current talks and relative peace for the area it seems a bit excessive but probably necessary in the past.
1/10/98 You can't come to Belfast and not be struck by the horror of it's past. I say past because there seems to be a general feeling here that this time maybe there will be a lasting peace. Touring the Protestant Shankill Rd and the Catholic Falls Rd, not to be ghoulish but to try to better understand what was and has happened to this community, you can still see the burnt out shells of buildings, particularly where Catholic meets Protestant, a no man's land of dead buildings and high barricaded fences. A local minister, seeing us a bit lost and, happy to talk, was hopeful of peace with the last slaying eighteen months ago, just near his house. His parish runs a small coffee shop near where nine people were bombed to death a few years ago. There are still wall murals depicting the para military groups, their companies, mottos or slogans. The main Belfast is quite a pretty city to stroll around, a contrast to Falls and Shankill roads.
2/10/98 Locked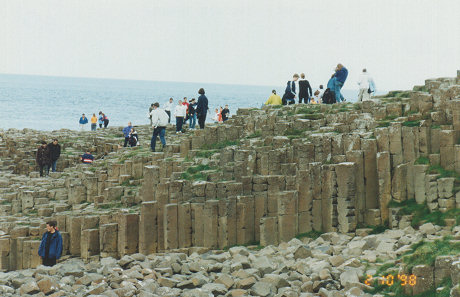 into our caravan park (we were the only ones there now) with all the facilities to ourselves, we decided to stay another night and do a loop north for the day. Followed the magnificent coast road past hedged fields, sheer chalk cliffs and rolling hills to the Giant's Causeway, an unusual geological formation. These half metre diameter rock pillars of rough split, 5 or 6 sided, honeycomb-like construction, were formed when a large pool of pure lava cooled slowly and evenly causing the cooling rock to crack under shrinkage in roughly even geometrical patterns. Back to Belfast for the night.

Move with us to the Republic of Ireland or go to our next visit to The United Kingdom