Travel Into Eritrea on a Harley-Davidson
By Peter & Kay Forwood
Eritrea on a Harley (13/3/06 - 16/3/06)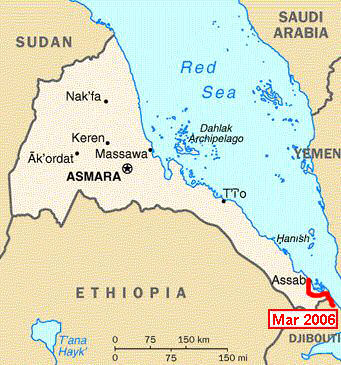 Distance 160 km (452336 km to 452496 km)
This is part of the twelfth section of our around the world trip.
Complete Trip Overview & Map
Coming from Djibouti
13/3/06 Our Eritrean visa had expired on the 16th February. We had been told by the consul in Bahrain we could enter Eritrea from Sudan but on attempting we were refused by the Sudanese. An expensive visa at $US 70.00 we opted to change the dates from February to March, by using a similar pen, hoping there would be no problem at the border. The small outpost welcomed us without comment on the alteration, and being near to sunset we chose to sleep in the tent at the border. The friendly immigration officer offered us water and we used his chairs, cooked dinner, as we conversed in reasonable English. A small group of locals passed by, interested in the bike and our transportable home, but we were in bed soon after dark with a strong wind knocking the tent about.
14/3/06 Most of the last 80 km to Asseb was a formed dirt road across black volcanic sand. This is one of the hottest areas of the world as the sun radiates off this sand. Asseb was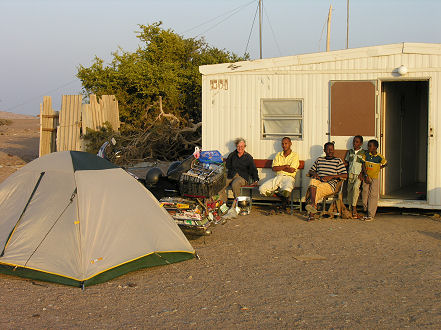 once a thriving port town for Ethiopia. Modern container loading facilities and fuel bunkers. Following the war with Ethiopia however it has reverted to a frontier town with most buildings lying empty, people milling around seemingly hopeful of a return to the past. We met up with the stragglers of the sailing boats we had first seen in Sudan and heading for India. Most have departed leaving an unfortunate few. One had run aground, it's rudder broken, now immobilised. Another couple's boat had burnt and sunk leaving them to be rescued from their life raft. With no internet and an intermittent phone line they were having difficulty contacting the outside world for money and new passports and were taking the 24 hour bus ride to Asmara, the capital, tomorrow. As our modified rear shocks had performed well we managed, on the third attempt, to again contact our son to have the new shock absorbers sent to Addis Ababa rather than waiting in Djibouti. There is an official exchange rate here but the black market is about 40% higher and with petrol at over $US 2.00 a litre, in proportion to our comfortable ensuite hotel room at $US 4.00, again much of it is brought from Yemen to avoid the government's duty. We have decided not to travel further into Eritrea. It is about 650 km's of dirt road north to Massawa,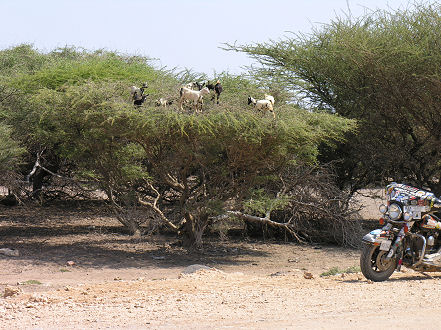 and as Eritrea is isolated by it's closed borders with Sudan and Ethiopia it would be necessary for us to return to Asseb via the same road. Although there is a perfectly good asphalt road into Ethiopia from Asseb, the border is closed, we will have to return via the same route through Djibouti, 600 km's, half of which is dirt, just to get to the same intersection in Ethiopia, just 200 km's away on good asphalt, such is the border dispute between the two countries.
15/3/06 On inspecting the rear shocks the rubbers had moved and worn a little and we needed to place a few extra pieces to lift the bike a bit higher. Other than that the day and the town was quiet. The electricity goes off in the morning only to return after dark and the most popular places in town are the many bars where men sit for hours over a couple of drinks. Eritrea is Africa's newest country, formed in 1993 after a referendum to separate from Ethiopia. We have not seen a beggar here, neither children nor adult, a sharp contrast to its neighbours.
16/3/06 We debated staying another day but even the cheap prices could not convince us and we were on the dirt road at sunrise. There had been a long patch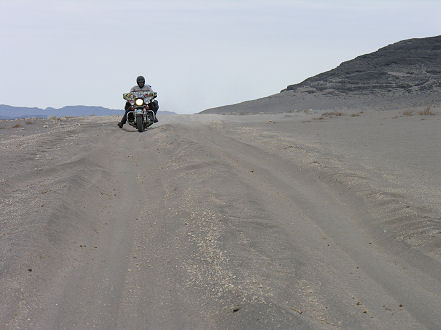 of blown sand across the road. Downhill coming here but now heading uphill we decided to unload the bike and with Kay walking passed over it without problems. The immigration officer was still in bed on our arrival but happily did our paperwork and tried, unsuccessfully to help find petrol. We found the people of Eritrea very friendly on our short stop, helpful, without crowding us or being pushy. It was a shame we could not have travelled further into the country.


Move with us to Ethiopia via Djibouti