Travel Through The Democratic Republic Of Congo on a Harley-Davidson
By Peter & Kay Forwood
Democratic Republic Of Congo on a Harley (19/11/00 - 5/12/00)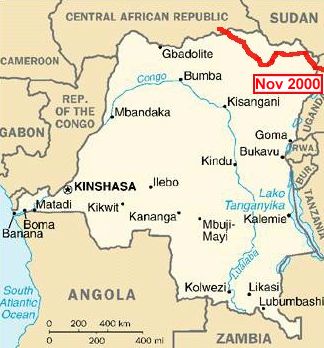 Distance 1179 km (208275 km to 209454 km)
This is part of the Seventh section of our around the world trip.
Complete Trip Overview & Map
Coming from Uganda

19/11/00 An easy out of Uganda and a pleasant but firm into the Democratic Republic of Congo. The country is currently at war with itself. The southern half controlled by Kabila, the government, and the northern part by rebel groups believed to be backed by Uganda and Rwanda. We are travelling through the rebel held territory and are therefore unable to obtain visas before the border (they have no embassies). The war is currently being fought well to our south and we should not go any closer to the front than about 300 km. The rebel held area is held by more than one group so we asked for an eight day transit visa having been informed we would require a new visa on entering the next rebel area. Eight day transit visas $US 30.00, 30 day visa $US 60.00. There were three attempts at obtaining extra payments. The visas were quoted as $US 40.00 but the correct amount was written on the wall of the office. There was a $US 10.00 fee for photography and the same again to open the gate, it being Sunday.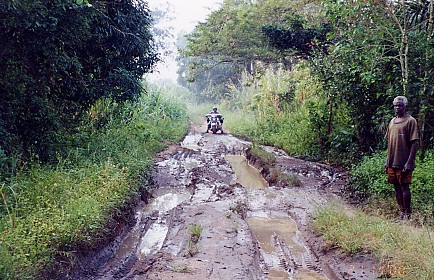 When they were unable to produce any receipt book for previous similar payments we refused politely, calming the situation by changing money with the customs official at very slightly below the street rate, allowing him some profit. The whole process took two hours and was friendly and encouraging and welcoming. Ugandan shillings and US dollars are the only acceptable currencies. We stayed the night in Aru at the border and have to adapt to having lost English Africa, entering French speaking territory and driving on the other side of the road. As we haven't seen a car since our arrival it shouldn't be too difficult. We are reportedly the ninth and tenth tourists to enter at this border so far this year.
20/11/00 Petrol from a roadside drum and the beginning of today's 113 km over six hours with rest stops. 45 km to Ariwara, and we changed Ugandan shillings to D.R.C. Francs at the markets.
Another three km's and a decision of roads, East on the Sudan route or the western road to Aba via Kitambala. All the bicyclists take the Kitambala route, shorter and more suited for smaller vehicles. There is a steady stream of hundreds of bicycles carrying petrol from Ariwara to Isiro some hundreds of kms into Congo. They then return with palm tree cooking oils. The trip takes seven days each way and the bicycles carry up to 80 kg's of liquids in three or four 20 litre containers. The roads are so bad that it is cheaper to use human power than vehicles. The rain here stopped four days ago and it is now easier travelling although the truck carved potholes are difficult to avoid and many are still full of mud.
We averaged less than 25 km/hr and never got out of second gear, mostly first. We stopped at Kitambala and were accosted by the immigration official. A village of probably three hundred people. A $US 5.00 fee was requested. We responded that all the immigration fees for our eight day visa were paid when it was issued. Again a compromise where we agreed to pay small money to camp in the village. Water for a bucket bath, food and clothes washing was also provided while we enjoyed celebrity status.
21/11/00 Headed into the worst road we have seen and the worst I can imagine and still allow vehicles to move. 2 metre deep gutters cut by large trucks moving in the wet, grass lining the roadside three metres high and almost covering it in parts. We had to choose between muddy truck ruts and bumpy bicycle ridges.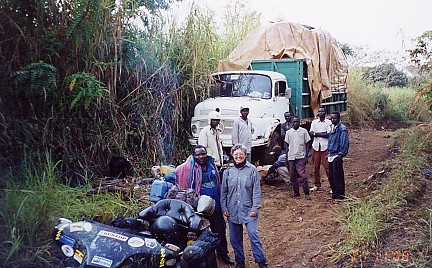 We rode the ridges at first until the bike bottomed, my legs weren't long enough and we dropped the motorcycle into the ditch smashing its mirror. Then we rode the muddy gutters but the thick clay filled the sprockets stretching the belt drive and on leaving one mud hole the belt snapped, leaving the bike stranded. With little encouragement the locals, using their hoes, chipped a path for the motorcycle and pushed us up to dry ground. They then cut down a tree into short lengths and we lifted the rear end off the ground to replace the belt. A bowl of water to wash away most of the mud before working was also provided. This is an area where we have not seen a western product other than cooking pots and plastic water containers used by the locals. An area where there have been few westerners to spoil the generosity of the people. We worked for six hours to fit our spare belt, paid the locals less than $US 2.00 for their assistance and completed another 12 km before night making a total of 25 km for the day. We pay money always in local currency as it appears more relevant to them and it is difficult for them to calculate the exchange rate or to change dollars.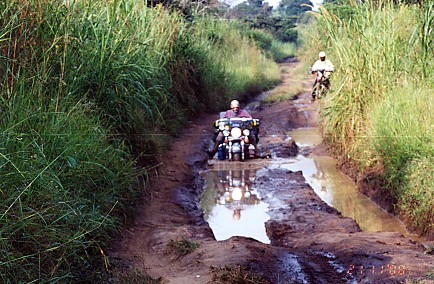 Tonight's village very basic, our bath, a secluded spot on the creek, surrounded by tall grass where we both fully stripped to wash the mud off in the mountain cold waters. Their toilet, a pit covered in sticks and dirt with a small hole, again using only the tall grasses as walls. Absolutely stuffed we were in bed by dark.
22/11/00 A better day, after the first 6 km the road levelled off and the previous undulating countryside disappeared. The 35 km to Aba in about two hours only passing two trucks totally bogged in a mud hole. This old Belgian town with mango tree lined streets and dilapidated old mansions their windows and doors gone and roofs rusting is now little more than a village.
We were now crossing log bridges, about ten today, the top two layers of wood worn off years ago leaving only the supporting logs. Some of the logs are worn flat while others more round making crossing hazardous. The next 66 km to Faradje along a long ago built road of volcanic rock, properly formed and edged but now the top layer of soil gone. There were gangs of people resurfacing with soil some sections around their villages and asking, often forcefully, for contributions to their work. About ten cents seems quite adequate. It's difficult to get a feel of how much to pay that is generous, but not that generous as to spoil the locals for other travellers.
We still managed to have the tools out twice, once to straighten the stand spring and again after we knocked off the right hand muffler on a rock. The road still good we pressed on for another 40 km towards Dungu to camp roadside at a bicycle stop. We had lost the bicycle path at Kitambala, them taking the longer but easier route to Faradje avoiding the hilly mud we encountered yesterday. It's great to be back with them again as their tracks make a defined path between potholes and identify the easiest routes over rocky sections. They also encourage roadside commerce with oranges, bananas and maize available. Our main meals have consisted of cassava bread and chicken or fish.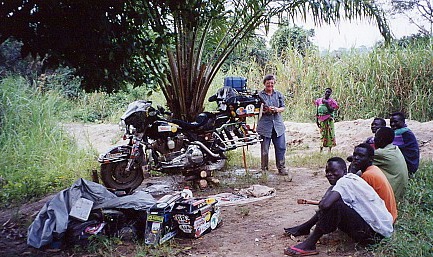 The root vegetable is dried then crushed to a fine powder in a mortar and pestle then boiled to a clear sticky mass. Not a pleasant taste but mixed with a sauce quite edible. We did not see another vehicle moving all day other than two small motorcycles, and without them there would be no need for petrol in this area, available only from 20 litre plastic containers.
23/11/00 We awoke to not a mechanical noise, despite being camped next to quite a large village, just the sounds of roosters, goats and happy people laughing and joking. The road today not so good. It had rained in the area overnight, violent thunderstorms but not a lot of rain.
The road wet and the pot holes fuller meant constant weaving and dodging making my already tired arms feel like I had been working out at Arnold Schwarzenegger's gym. Passing through dense rain forest where the sun often never reaches the ground to dry it didn't help. At one stage it was necessary to take a bicycle wide track through forest and crops around an extended bog hole. The track often running close to trees, some cut to stumps in the grass, one we hit hard bending the crash bars back to almost the foot boards. We had nothing to straighten them so turned the motorcycle around and crashed into the same stump with the other side bending the bars straight.
We arrived at Dungu, 105 km today, at 3 pm having seen only a bogged truck and were allowed to stay at the mission. Run down from lack of supplies or money there are no spare beds or furniture but we were offered an almost empty room with toilet and plumbing not having worked for years. While in the markets we were again accosted by an immigration official. This time more firmly, and were escorted to the boss's house where an elaborate hoax of "no visa in the passport, where is the photography permit and do you have a permit to buy things". A firm hour spent denying any need for these things allowed our reprieve from the situation. If people keep paying officials bribes for nothing they will keep accosting more tourists and create hassles like today.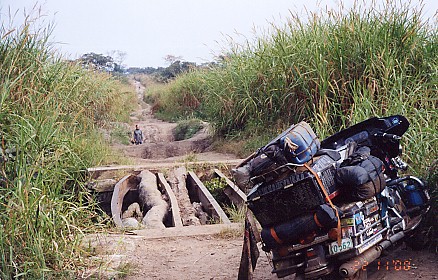 We advised them that the border officials (they didn't) warned us against scams, not to pay bribes and report any requests to border immigration as they are trying to stamp out corruption. When asked for money at the end, just to help, we pointed out we support charities that the money goes to needy children living in grass huts in villages. These officials were living in the best houses in town. We have the same problem with cigarettes. Everyone asks for cigarettes, who started giving them away to create this deluge of requests along the way.
24/11/00 The costs here are minimal. Papaya, 10c, orange 1c, lunch of meat and rice, 33c, etc. We pay by means of contribution about one dollar for camping, water and use of toilet. Even petrol at $US 1.30 a litre
isn't an enormous expense as we can only travel about 100 km per day, even though the motorcycle only gets about 12 km per litre in first gear through this terrain. We awoke at the mission to morning drums calling the faithful to prayer/mass. Appreciating the relative comfort here we decided to rest a day and wash muddy clothes and let wet boots dry. The congregation is sparked along by a lively choir and musical instruments and we wonder which society has the greater lifestyle wealth. We are also surprised how many people speak english. Some only a little, many wanting to practice and others too shy to speak it but obviously listening to our conversations. It is difficult to come to grips with the currency here. There are "Franc" notes which are 100,000 new Zaires. Goodness knows what old Zaires are worth as 100,000 new Zaires is 1.5 cents.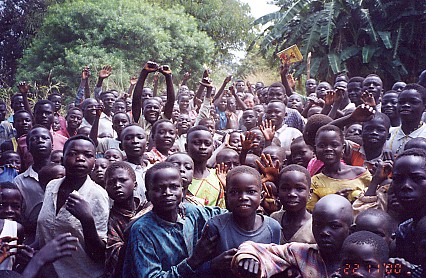 We enjoyed tea, lunch and buying supplies in the markets while having a pleasant conversation with a Ugandan man who had tried to reach Egypt through Sudan when war broke out there, he moved to Congo where he has now seen two waves of rebels come and loot this town. We were invited to and enjoyed dinner with our mission hosts in the evening.
25/11/00 Photos and farewells and advice to travel the Gao road and not the main road to Rungu as the main road has been destroyed by trucks. 58 km towards Gao on a reasonably good road before a bush track again through dense forest and with many palm oil palms shading the road. Five log bridges and four streams to cross and with heavy violent thunderstorms last night the road was still muddy and slippery. We have stopped counting how many times Kay has to walk, and how many times we drop the motorcycle.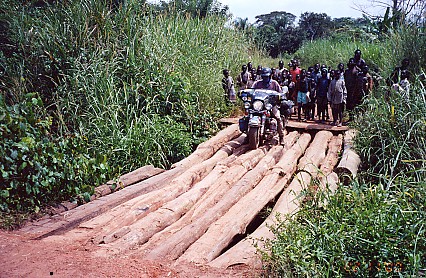 Once we ran off the road with the road tyres just sliding sideways on mud, wet leaves and sticks and a worse incident when the motorcycle flicked sideways into a large hole catapulting Kay and I as it leapt out again. There appears to be no damage to the motorcycle other than bent crash bars again and dents in the front fork sliders where the bars hit them and a dent across the front mudguard. We reached the main road again about 20 km north of Rungu and with the afternoon sun drying the road we managed to complete 150 km before camping in a village for the night with another storm wetting the ground for tomorrow's ride.
26/11/00 Misty rain in the morning keeping the road slippery. With afternoon storms on the last three evenings the road is only dry in sunny areas for a couple of hours each day and remains wet permanently in the bamboo and rain forest areas.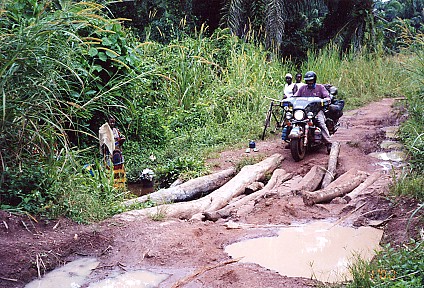 The 50 km to Isiro OK but again the immigration officials had us before we could buy enough petrol and leave. We were firmer here, showing documents in the street and resisting any move to be taken to their offices. They were annoyed, we were concerned, but left town without problems. We actually reached third gear a couple of times in the first 30 km towards Poko then slippery red soil and up and down gullies slowed the pace for the next 35 km's. Finally camped roadside about 100 km from Isiro. Petrol the same price but the quality deteriorating. Probably kerosene mix. Bike pinging and pre igniting. We have developed a travel routine of one hour riding and 15 minutes rest to keep us from carrying on when tired and making mistakes like yesterday. The last two days there have been no vehicles on the road other than a bogged truck and two motorcycles.
One on his way to Isiro to trade diamonds, before returning to Amadi. We are starting to see dead monkeys carried by hunters. The people untouched by western goods that they are surprised by our cigarette lighter. The magic of the tent poles being straightened and folded and intrigue over tea bags. They know what a camera is and love to pose for photos whenever we try to take some. There seems to be no concern for our safety from any of the villagers, they seem honest, with cigarettes sold singly, money and cigarettes left for people to help themselves. The same applies to some small edible items.

Move with us to the second section of The Democratic Republic of Congo