Travel Through Canada on a Harley-Davidson
By Peter & Kay Forwood
Canada on a Harley (16/6/01 - 4/7/01)
Distance 3201 km (239959 km to 243160 km)
This is part of the Seventh section of our around the world trip.
Complete Trip Overview & Map
Coming from the United States of America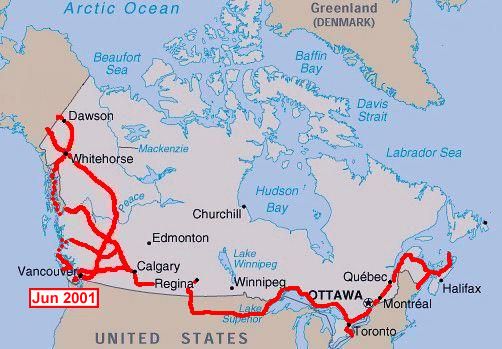 16/6/01 One and a half hours and we were on Vancouver Island, a six month visa and a thorough search of the motorcycle, weapons, drugs or I don't know what, but we were singled out. No paperwork for the motorcycle and on our way. To the H-D dealer for some oils. They seemed impressed enough with the bike to give us a new front fender lower. An aluminium piece that had been mangled by numerous rocks and high potholes or lifting in and out of canoes.
17/6/01 We headed off to a show and shine motorcycle meeting two hours north of Victoria but never made it. A grinding sound in the primary drive area stopped us. Sitting roadside we discovered the plastic chain tensioner had snapped in two with bits being pulverized in the chain cogs. Its not a spare we carry. But it was father's day here and everyone was in a helpful good mood with offers of a lift or to go get parts. It seems the best way to meet locals is to break down. However shops were shut and we had to drill a hole in the remaining largest piece and reinstall it to limp to a shop that had the part and would open for us later in the afternoon.
18/6/01 We had been leaking oil from the the primary to gearbox seal and equipped now with the new (second hand) chain tensioner and new seal it was the morning spent at our campground dismembering the motorcycle. Not getting to see too much of Vancouver Island. Victoria in the afternoon on a sunny day. The waterfront and old buildings superb. Just strolling around amongst other tourists, buskers and sidewalk performers and sellers, horse drawn carriages and bicycle rickshaws. A mixture of old England, Asia and modern commercialism. A young city, people wise, profiting from the older tourists.
19/6/01 To Vancouver by ferry, 90 minutes, through island dotted waters and snow capped mountain peaks in the background. A narrow passage with seals playing in our wake. Stanley Park in downtown Vancouver one of the great city parks, with people out enjoying themselves. On a peninsula, overlooking water, to mountains. Vancouver seems a city of extremes. The young and wealthy roller blade through the park, uniformed of course, while the down and out sit on the pavement down town or look through rubbish bins for cans and bottles. This area also harbours the body piercers and tattooed, the dread locks and rebels.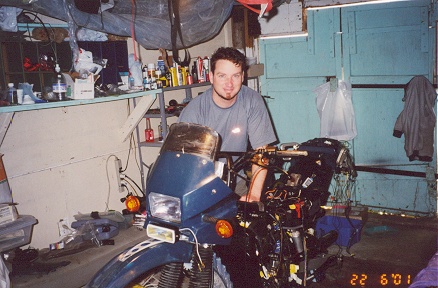 20/6/01 Rich, our host in Vancouver, an Aussie, moving around the world slowly, working, is preparing his Kawasaki 650 for a Russian and European ride. He showed us a snippet of the bar and sushi nightlife crowd. It wasn't long before we realized how out of touch we were with the "Starbucks" community, them moving along in our absence.
21/6/01 The long awaited children (there should be a name for your adult offspring) had arrived. They will be travelling with us, by car, for the next three weeks. Or will we be travelling with them? They with the more anticipated agenda. This will likely be our last great family trip together as the young adults slowly gain partners and move in different directions.
22/6/01 No rest and straight into a day of rock climbing. Squamish is supposed to be one of the best places in Canada.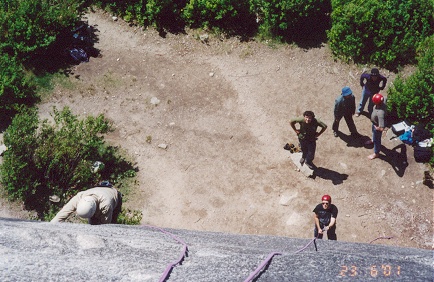 Hard granite with a rough surface. Many sloped and vertical faces and of course the pine forests and snow capped views as a back drop. We attacked five varied climbs with our hard hat, harness and climbing boots. Not having climbed before we thought ourselves magnificent. The instructors urging us to greater heights and more difficult rock till the limbs could no longer hold the strain.
23/6/01 Camped last night in a free camp on the outskirts of Lillooet beneath towering peaks. The native (first peoples) in the area like so many other " first peoples" around the world are struggling to regain what they originally had. Here they are trying to stop logging and commercial development of the hills they used to live in. Frustrated at times they become militant and disrupt traffic. The issues difficult and the time so long ago in a different world their problems are unlikely to be resolved. Drove through to Revelstoke.
24/6/01 Peter and Carol, two Canadian Harley riders, invited the five of us to stay at their house.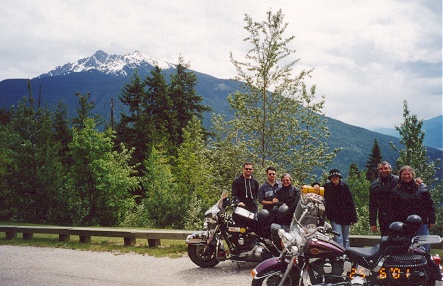 Set in a valley surrounded by snow capped peaks we toured and walked, played in the snow and used our jackets to toboggan a short run at the top of Revelstoke National Park. They are currently planning a 12 month round the world trip and again we both had great opportunities to exchange ideas. With drizzle settling in for the night we camped in the mountains out of Golding.
25/6/01 More rain overnight but the joy of fresh snow on the surrounding treetops and rocks with a sunny awakening. A horse ride into the mountains the mornings agenda, just strolling winding, hilly, muddy tracks to view points. The sure-footed horses carrying the tentative riders. To Radium Hot Springs tonight.
26/6/01 Banff with all its glorious well healed hotels set amongst mountains, lakes and forests. The elk are calving and the bear are about so this area is closed to humans, just outside town. The tourist season is picking up and the Asians are coming by the busload. We managed to see some male elk, a bald eagle and mountain bighorn sheep near town.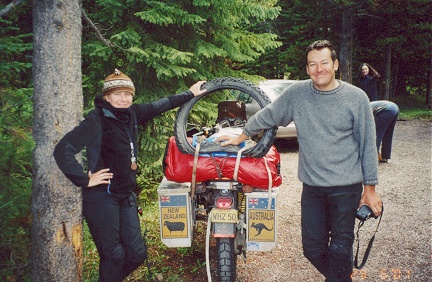 27/6/01 After a wet walk at Lake Moraine we met Jo and Cameron, two Australians travelling from South America to Alaska on their BMW R80. They are moving faster than us but we camped together over a beer to exchange stories. We are still marvelling at the great campgrounds in Canada with firewood provided. Nestled in trees or with magnificent views. The Rocky mountains becoming more rocky the further north we travel. The tree line dropping in altitude and the landscape more stark. The lakes from crystal clear reflective deep blue to milky blue. All stunning.
28/6/01 A beautiful sunny day. The peaks clear and the vistas long. Two large black bear slowly moved through a lightly treed meadow as a growing number of slowing vehicles stopped to watch and photograph them. At the Columbian Ice fields we took a snow coach ride onto and up the long glacier tongue. This is one of only two places in the world where the continental divide splits three ways. Where water from here flows to the Pacific, Atlantic and Arctic Oceans, the other place being in Russia.
29/6/01 Freezing cold winds were blowing down the Athabasca glacier as we left the parking lot to walk the ice. Alone on the vast ice sheet before the days melt had started.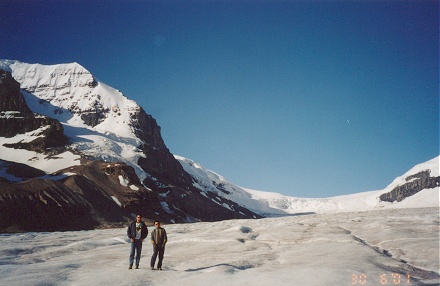 Yesterdays flowing channels again frozen overnight ready to melt in today's sun. The glacial river at its base bubbling up out of the surrounding rock covered ice field. The Icefield Parkway from Lake Louise to Jasper has some of the best scenery in the world. Stark and barren mountains to delicate snowy lakes. Animals like bighorn sheep and the unusual white mountain goat we saw along the road.
30/6/01 Maligne lake for a total relax day. The crowds are out on this Canada Day long weekend and the campgrounds full by mid afternoon. Jasper was hopping, particularly around the hotel pool tables where we met many locals in a holiday mood. As "gullible tourists" we were subject to all the local exaggerated, alcohol effected, myths and legends of the region.
1/7/01 An early start with wildlife abounding. Elk, moose and three sightings of black bear. The national parks gone but surrounded by national and privately owned forests. Timber is everywhere as are the pulp mills. The logging trucks gone with springs arrival, to return next winter. The ground being too slushy to pull logs in summer. Even with cattle farms and hay making the countryside has that wild, remote feel. 750 km to Smithers.
2/7/01 Into Prince Rupert after a couple of native, "First Peoples" museum villages and totem pole sights. Like elsewhere displaced people are finding the transition to western ways difficult. Torn between it's advantages and disadvantages. Many are left between, taking on the worst of both. The road following the steadily enlarging river to its mouth winding between mountains, amazingly beautiful.
3/7/01 The rain started overnight, this being one of the wettest places in the world. Our campground littered with one nighters, on or off the ferry heading to or from Alaska. Last chance for supplies of reasonable priced goods by all accounts.

Move with us to the United States of America , or go to our next visit to Canada .