Travel Through Bhutan on a Harley-Davidson
By Peter & Kay Forwood
Bhutan on a Harley (17/2/07 - 28/2/07)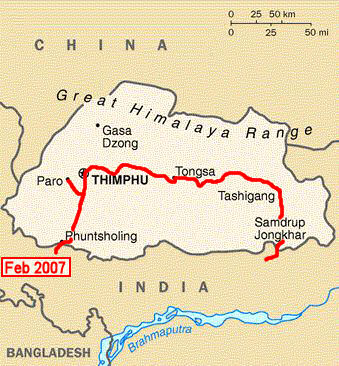 Distance 978 km (487667 km to 488645 km)
This is part of the thirteenth section of our around the world trip.
Complete Trip Overview & Map
Coming from India

17/2/07 (For background information on visiting Bhutan go back to India)
We moved through the entrance gateway, where we had been refused entry yesterday, but this time on the motorcycle, papers were not asked for, and we rode into the Bhutan duty free zone. Remaining in a comfortable, actually exceptionally comfortable hotel, compared to our usual standard, within the duty free zone, we hope our motorcycle's paperwork will be cleared tomorrow morning without problems. A pleasant evening dinner meeting the other tour(ists) who are mostly Australians, a New Zealander or two and a Dutch woman.

18/2/07 An indication of people's satisfaction with a trip is the rate of return of past customers. This trip has almost half of its members having been on one of Mike's (Ferris Wheels Motorcycle Tours) previous trips.
Enfields are not easy motorcycles to ride. The gear lever is on the left and rear brake on the right, opposite from all modern motorcycles. Gears are one up and three down, again opposite. Any regular motorcyclist, apart from learning to ride in this hectic part of the world, has to also adjust to this reversal of their usual riding style. Their first day out was is dense fog on a road that still had patches of snow, quite an introduction. The other punters are now used to their motorcycles and this morning the staff has them lined up, warmed up and minor adjustments made by the time we had to leave. The duty free zone finishes five km's out of town and as promised, our motorcycle paperwork problem had been overcome. We are taking a back seat to paperwork for the next ten days so we didn't even ask how. With our passports stamped into Bhutan we entered the country, proper. Initially there is little difference to other mountain regions in the area, some Bhuddist shrines, monks and some basic dwellings. The road climbed with filtered cloudy views back down the valley over Phuntsholing. The traffic was light and incredibly polite. They have a great rule here, if a following vehicle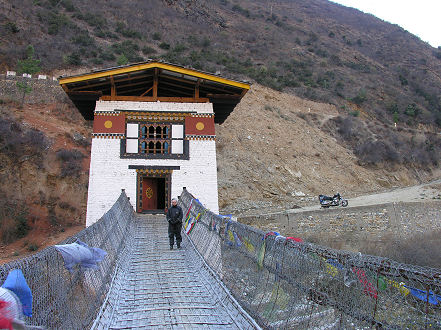 toots their horn, the lead vehicle "must" pull over to let them pass, and they actually do it, making the winding, hilly mountain roads easy to ride. Morning tea at a small roadside village and a fantastic lunch overlooking a hydroelectric dam. Before lunch the road meandered through dense cloud forests. Some landslides, unrepaired gravel sections, still wet, kept the group moving cautiously as did patches of thick fog. By afternoon the skies had cleared, the road dried and the snow capped mountains and steep sided gorges became visible along with many waterfalls. Mike and Denise allow their groups a large degree of freedom in riding. Encouraged to stop for photos, to look at sights along the way and to avoid riding as a group they let us free ride after lunch, with the backup bus a sweep in case of breakdown or incident. We stopped at a water driven prayer wheel, a small Hindu temple, an ancient Dzong, with a suspension bridge access across a river. We also stopped to help a local motorcyclist who had run off the road. After assisting him back on the road we realised he was drunk. He rode away only to have another accident in the next town, lying on the road, seemingly unhurt, surrounded by locals. Today is Bhutan's new year and people
were out in the fields playing traditional sports, like dart throwing, over 20 metres, heavy darts thrown at a small target and archery.

19/2/07 Until a few years ago Bhutan used to limit it's tourist numbers to 10,000 a year, or just 27 tourists crossing the border each day. As the infrastructure has improved there is currently no upper limit to numbers but the increase in tourism, whilst steady is still slow, 17,000 this year and 20,000 expected next year. This low tourist numbers has helped to keep the population interested and excited at seeing foreigners. As we pass through the country people wave, smile and are genuinely interested in the motorcycle tour. Today we left the motorcycles behind and took to the support bus, which has been carrying everyone else's luggage. A viewpoint of the surrounding mountains covered in snow followed with a casual visit to some local archers. Bhutan's New Year lasts for a few days, another holiday today, people are still out playing but today's main event for us was to climb a mountain to Tiger's Nest. Originally a cave, believed to have been inhabited by a reincarnation of Buddha for three months in the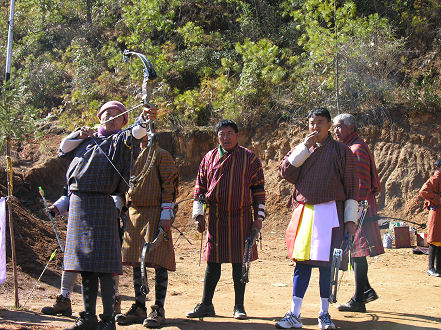 seventh century, it is now Bhutan's most important religious site. The only access is via a steep walk, two hours, 500m of vertical climb through pine and sphagnum moss forests. The reward is stunning. Perched on a cliff, fortress like, an access that is easily defended. The building has been recently restored after a fire and four large incarnations of Buddha await the energetic inside a locked room. The original cave where Buddha is said to have flown in on the back of a tiger can also be visited. About half of our group made it to the nest, some stopped half way at a restaurant and a few decided to have a total rest day back in town. I had been walking slowly uphill with Kay and we were a bit behind the group intending to walk to the top when we stopped at the rest house. Here a lady with five pack horses was descending. Quick negotiations had me on the back of one of the horses, the lady leading, we quickly ascended the remaining distance to the dzong. We were later rewarded by our guide singing love and romantic songs as we descended back down the mountainside to the awaiting bus.

20/2/07 It is a difficult balancing act that Bhutan has undertaken to trying to keep its culture yet allowing itself modern trimmings. Basically a Bhuddist country, monks can sometimes be seen removing a mobile phone from their cloak for a chat. About a third of the men we have seen wear the traditional Gho, a cloak to the knees and long stockings. School uniform is also traditional. Most of the buildings, new and old, are of a similar basic design, wooden windows, large timber beams, painted intricately. The traditional wooden slab roofs held down with rocks has almost entirely been replaced with metal rooves. Internet cafe's are prevalent in Thimpu, the capital, and many large SUV motor vehicles drive the streets. We visited the National Museum in Paro before a short ride to Thimpu. The planned ride through the mountains to Ha had to be cancelled due to snow and ice, from last week's falls, blocking the road. Major roadworks are currently being undertaken and temporary road closures slowed our progress. Whilst waiting at one of these roadblocks two riders from India, on local motorcycles, overloaded with
gear for their long journey through to West India, hopefully Myanmar (Burma) and Bangladesh rode up. Srinidhi and Kishore, from Bangalore, had already been on the road for over two months and were moving more quickly through the scenery than us.

21/2/07 Bhutan has a close relationship with India. India builds all of Bhutan's border roads and Bhutan supplying hydroelectricity to India. Almost all of Bhutan's goods come across the land border at Phuntsholing. Some other goods arrive from China, the country's other neighbour, on mules and horses. We had an optional free day but most people took the half day tour of local attractions. A stupa to the memorial of the third king, Changangkha Monastery, viewpoint hill top with its prayer flags wavering in the wind, and the Takin reserve. The Takin, Bhutan's national animal, is believed in folklore to be a cross between a cow and a goat, and that is what it looks like. It normally lives in the high mountains. Our local guide, Sonam, his wife and one month old daughter live in Thimpu. The seventeen members of our tour were invited to their home for lunch. There were four, locally made, alcoholic drinks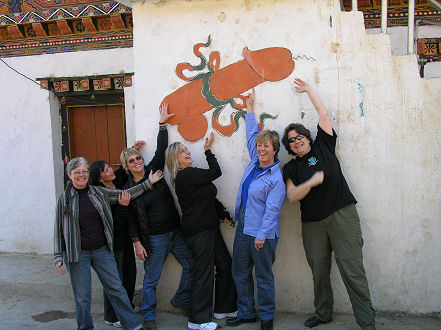 to get lunch underway. The first was a fermented rice wine. Soft, crushed grains of rice were still in the mix making it more a soup rather than a drink, served warm. The second, also warm, was a mix of eggs, butter and rice. Neither of those two were westernly highly palatable but our third drink, made from wheat and yeast, soaked for over a month to ferment, was well received and had some people requesting refills. The fourth, made from corn, was a little like moonshine. Lunch was equal in variety to the drinks, with chinese mushrooms, dried meats and glass noodles, local spinach and rice. It was a great opportunity to see inside one of the local homes we have been passing since arriving in the country. By early afternoon most of us chose to relax the rest of the day away at our hotel.

22/2/07 There is a building boom occurring in Bhutan's cities. Using nothing more than bamboo for scaffolding, five storied buildings are popping up. In some areas the place looks like a construction zone where many new buildings are being built. We left behind Thimpu as we climbed up to a 3200m pass with snow still deep alongside the road. The air remained
clear and with sunshine we had great views across to heavily snow covered peaks in the distance. The 500cc Enfields move along quickly, their rider's luggage carried in the backup bus. Some riders chose the next destination to quickly head for, whilst others stopped to admire the scenery and for photos along the way. Punakha Dzong was built in the 17th Century and is still a centre for government in the region. The Dzongs were originally built for the defence of the surrounding lands, now some are used for government or religious purposes. Photographs are not permitted inside the buildings which have been magnificently painted and recently restored. In the afternoon we chose to let the group go ahead and have a bit of riding time to ourselves. Despite the many check posts each day, we are rarely stopped, our guide, usually following, handles the paperwork often after the group has long gone. We let the backup vehicle go ahead with the other motorcycle's luggage and stopped in Wangdi for a beer in a local bar. Wangdi is a small roadside town of old wood and mud shops where life probably hasn't changed for centuries and yet our hotel, just 10km away, situated by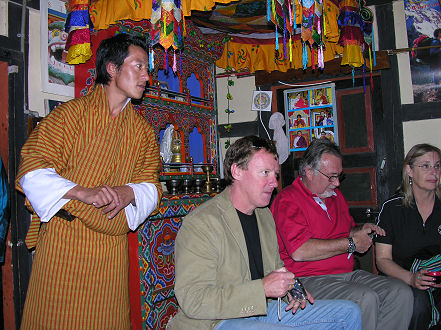 a roaring stream in a lovely garden, is as modern and well appointed as any western destination.

23/2/07 Cigarette smoking is banned in public places within the Kingdom and heavily discouraged however the chewing of beetle nut occurs openly. The streets are often dotted with the red spittle, discharged after it has been chewed. A mild narcotic, it is also popular in India, leaving behind red decaying teeth in prolonged users. An earlier start for the 190km day with two mountain passes over 3400m. Other traffic has all but disappeared. The bumpy asphalt road just wide enough for a car and motorcycle to pass comfortably as it continuously twists, switch backing on itself up and down through a valley or winding around the side of a mountain. Cut mostly by hand, and using the debris from landslides, women, with young children at their sides, break up stones, whilst men concrete the roadside gutters, mixing the cement by hand. Snow had only recently cleared from the road surface and was still alongside making it a picture to travel through. At the higher passes yak were grazing on the bamboo grasses. The Dzong at Tongsa is half way across the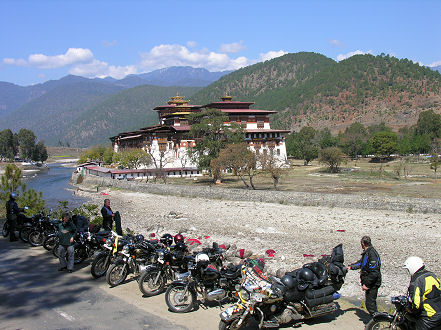 country and used to be the main seat of government for the first king. Even today future kings have to spend time here as governor before they can become the king of Bhutan. Like most other Dzong we have visited it is situated in a great defensive position on a ridge or with a river protecting it on one side. The further east we travel the fewer tourists are in the area. After lunch we didn't see any and whilst travelling at this time of year it is colder the relative lack of any other tourists means we are getting the best hotels available. Our accommodation tonight is more basic, a worker's cottage style, connected units facing onto a verandah with a home-made metal firebox wood heater for warmth, adding to the atmosphere. We had used the whole day, arriving just as the sun was setting. A little cold, the large wood heater and hot tea was welcoming.

24/2/07 The tour has settled into a routine. Breakfast at about 8am, departure for the first event, riding or sightseeing at 9am, evening drinks at the bar 6.30, and a slow walk to dinner near 8pm. The last of the "rest days"
for the tour we visited a local dairy and followed the process through to butter and cheese making, all done by hand. Our group bought a selection of locally made apple and pear alcohol, cider, jams and apple juice for the planned yak (high altitude cow) barbecue cooked by group members. We visited two monasteries, Jampa, built in the 7th century and Kurjey from the 8th century, still functioning today. The rest of the day was actually a rest, with us doing some regular maintenance on the motorcycle and most of the others catching up on diary and postcard writings, the higher altitude keeping everyone a little tired. The planned evening yak BBQ couldn't eventuate as meat for the next month can not be slaughtered. Bhutan has three such periods in the year where no animals can be killed. They also have alcohol free days in some hotels.

25/2/07 The only problem we can see with the tour so far is that we are liking it too much and won't be looking forward to returning to our more usual level of accommodation and meals. Whilst we miss a bit of "traveller"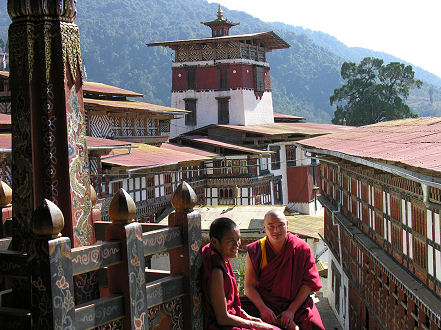 conversation and eating in roadside or small city restaurants, we certainly are enjoying the daytime freedom of movement that Mike and Denise's tours offer, (Ferris Wheels Motorcycle Tours), with the certainty of a hotel at the end of the day and great conversation with the tour group reliving the day's events in the evenings over a drink. Today's ride was the most adventurous so far and best scenery. A flexible departure time had riders leaving between 8-9am. The earlier ones hitting snow and some ice on the road about an hour into the ride. Not yet chopped up by the few passing trucks or cars, it was slow riding. Leading up to the 3800m pass, the trip's highest, the road disintegrated into spongy mud with 30cm of snow lining each side. Traction was good but the softness of the underlying ground made riding difficult. The downhill side had been machine cleared and was good asphalt. Years ago the road had been hand cut into the almost vertical cliffs, 300 plus people died in it's construction, winding down through spruce and conifer forests, to rhododendrons, some flowering but most just budding, past waterfalls and into temperate rainforest vegetation before arriving at a dryland mountain valley. It was another
climb for the motorcycles to Mongar, a small town for the night, 20km up from the valley floor yet we could still see the river crossing bridge directly below us.

26/2/07 Thunderstorms passed through in early morning and as we left our hotel we were pleased to have crossed the high pass yesterday as fresh snow was in the tree tops on nearby hills and local reports that the road behind had been closed due to snow. Just 90km to the town of Trashigang, Bhutan's second largest, but with only a couple of small hotels had a remote country town feel. Our hotel overlooks the local Dzong, currently being renovated. The road, pretty much the same in this part of Bhutan, winding up and down over mountains and crossing rivers, almost traffic free, with magnificent views. One 2500m pass with red rhododendrons just starting to flower dotted the hills. Kay and I rode down to the local dzong on our own to a warm welcoming and were guided around by a young monk. A monastery that receives few tourists, and just on our own, we were taken into the monk's private quarters. He shares a room, one bed, for his teacher, he and three other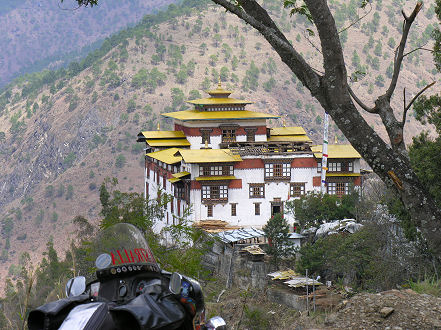 novices sleep on the floor. A prayer service was underway and again we were invited to watch and take photos, something we have been unable to do in other monasteries. Monks were playing the long and short trumpets, a drum, cymbals, and were chanting whilst other monks individually came, prayed, lit candles and left. The monastery is getting a new roof and repainting of the faded canvasses that drape many of the walls. It is the first unrenovated monastery we have visited and had an older, warmer feel to the place. 2008 is the year of Bhutan and there is much activity renovating and building in preparation.

27/2/07 All of our paperwork has been completed by our Bhutan guide. We have not had to arrange any of the many permits necessary to visit the different dzong or monasteries, extra permits to visit their inner sanctions, or paperwork to be travelling in this part of the country to pass the many roadblocks. Hotel registrations are also done by the guide. This service has been excellent, as has the patience of the police at road blocks,
who almost always let us pass if we are ahead of the guide's vehicle, which is often leapfrogging between the motorcycles, often spread out over a couple of hours. Our last day's riding in Bhutan we all left at 8.00 am for the 180km to the border town of Samdrup Jongkhar but were soon strung out along the road with the destination riders moving quickly and the remainder, not wanting to leave the solitude of the mountains, dragging their heels. Possibly the coldest day as it had again rained overnight and left fog blanketing the sun. Dampness entered the riders and the road remained wet for most of the day. This didn't affect the group's mood as stunning scenery and dense rainforest vegetation rolled through as we travelled. The road surface deteriorated, now maintained by the Indian border authorities as opposed to the local authority's roads we have been riding on for the last week.

28/2/07 Samdrup Jongkhar is a typical border town and not really indicative of Bhutan. It is a transition, a half way house, getting us prepared once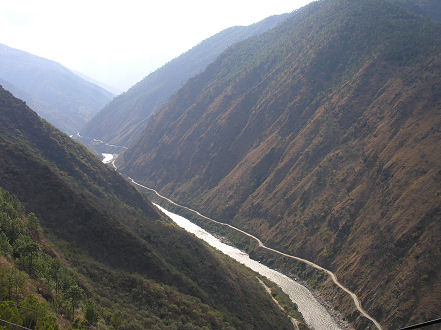 again to enter India's barrage of the senses. Our paperwork had been checked out of Bhutan yesterday evening, avoiding another day's high tourist charge, and this morning, with a change of escort vehicles we crossed into India.


Move with us to India