Help support the Horizons Unlimited E-zine - visit our sponsors! If Madagascar sounds like a great place to ride to you, (and it sure does to me!) drop by their website and make sure you tell Manfred how you heard about them!
Ever wanted to go biking in Madagascar?
You can ride this unique island continent east of Africa, meet friendly, humorous and unobtrusive people, and see the fascinating indigenous plant and animal life.
Take one of our Transalps and discover for yourself the highlands, the rain forest, the arid south, and it's tropical beaches.
Talk to Manfred at Madagascar-on-bike.
Plan where to be when!
If you know of any events of interest to travellers, send me a note.
Fifth Fall Transalp Rally, October 5-7,
In the Blue Ridge, in Suches GA, at Two Wheels Only. contact Pete Tamblyn for more info.
A quick edge of the outback blast for a beer at the family hotel Tibooburra. Organised by the Oz Adventure touring list all off-road bikes are welcome. It will be hot but the beer is cold and the company great.
Sydney to Melbourne through the Snowy Mountains, along the Murray River and the Great Ocean Road. Organized by BMW Australia, information and downloadable registration form available on their website. For those from North America and elsewhere not travelling with their own bikes, check out the rental agencies on the links page.
OMM 2001 Rally, Canakkale Peninsula, Turkey, November 17-18, 2001,
OMM is inviting all Riders and Friends to an Informal Rally on the Canakkale Peninsula. The place is full of historical, artistic and natural points of interest and we hope to have with us OMM Rider Sinan Sezer, an expert on the history of Gallipoli War, to show us around.
Accommodation will be available in Hotel, Pension and Camping around Abide.
We need to plan in details the logistic (accommodation and food) and for this reason we kindly ask to send your request of participation (passenger co-pilots are welcomed) well in advance to Taner Celik. The ride will not involve any OMM fee and you will pay only for your personal expenses.
GET YOUR WEB SITE LISTED in the LINKS section by listing Horizons Unlimited on YOUR web site, let me know you've done it by mailing me a link to the page, and you may get listed here in the next newsletter and on the Horizons Unlimited web site Links page. To make it easy for you, we even have our logo and link code here!
All sites will be considered for listing, but must be a MOTORCYCLE or TRAVEL site, useful or of interest in some way to travellers.
Links will be rotated regularly as needed.
Goodies for 4 valve Boxers. Nice stuff! English and German.
Rallye Bikes (esp Cagiva Elefants) and
Elefantman's Cagiva Elefant / Ducati Elefant Site both have plenty of information on these interesting bikes.
Submitted by Allen Naille.
There are many 'Helpful People' listed on the Links page, a huge thanks to all of them. How about you? Or you can join a Community, or start your own!
Do you know of a good shop 'on the road,'
in other words somewhere there isn't a large number of shops? (Also of course any shop that specialises in travellers equipment and repairs is of interest.) But we're particularly looking for those rare items, good repair shops in South America, Africa and Asia etc. I will create a web page for them soon... eventually... real soon now...
Submit your tips and questions here, anything goes! Got a great idea for travellers, found a new solution to a problem? Send it in! If you're having a problem, just ask, there's a lot of people with a ton of experience out there to help.
I've made contact with some of the people we were looking for last month, thanks! - but the following are still unaccounted for. If you know any of them, please send in full names and e-mail addresses would be much appreciated!
Lionel Marx, I have no e-mail for him...
Chris van de Goorberg, Netherlands, XT600, last seen in Mali...
a couple of riders from French Guyana, she's riding a Suzuki DR 350 and he's riding a new XR 650.
Rob Arnell, UK, in India
When you meet travellers...
on the road, please get contact info and let me know so I can add them to my who's who and where list! Grant
"We're campaigning for UNICEF as Volunteer Ambassadors going by bike from Chile to the States or Canada (though we're a bit too late and will be there in winter... too cold).
I'll be needing a bike or car in Centroamérica by the end of October.
I'd love to buy one or just bring someone's vehicle up to the States. If I buy it I need it to be American so that I can sell it once in the States... the maximum budget would be about US$3000. We'd be very interested in getting a BMW motorbike as BMW is sponsoring us and we get the services for free wherever we go as we're volunteering for UNICEF and having lots of publishing."
From the Bulletin Board:
Toby Privett, USA, to South America, in Guatemala on a KLR650,
"It looks like I'll be needing new tyres somewhere around Ecuador. Hopefully knobbies for a KLR 650. Any tips on the best country/place to buy some?"
Toby's moving quickly - he was in Tennessee Sept 2, and the above question is dated September 20! Grant
---
Plenty more questions and answers on the Bulletin Board! We've just gone over 900 registered users on the Board, which I think is pretty amazing, and gives a huge resource of knowledge and experience to help you with anything you might need to know.
Please use the Travel Advisories Forum to post any information or inquiries about travelling in the Middle East or Asia following the Sep. 11 terrorist attack on the USA.
From Javier, UK, re Malawi to Namibia and The Caprivi Strip, from the BB,
"There is not much point on using the Caprivi strip as part of your trip, as you'll be forced to join a very fast military convoy that goes through it only stopping once for only five minutes. There is plenty of off-road to be done; in Malawi check with local for secondary road and minor trucks as sometimes bridges over river are no longer there; in Zimbabwe finding petrol maybe a problem, so stock as much as you can carry at any opportunity; Namibia is just great for off-road and well signed secondary roads. Have fun! Javier"
UK to Thailand shipping, from the BB:
"Aircare Freight Services (near Heathrow) look in yellow pages for Tel no. Speak to Harry - £300 by sea, 28 days or £600 by air."
Buying a bike in Australia, from Frank Warner:
"1) The 'Trading Post'- you can 'browse' a particular section - motorcycles over $2000 in Sydney OR search for a particular bike around the country... DR650 etc. - this should give you an idea of availability. These are real bikes really for sale. New issue every Thursday.
2) Industry reference to second hand prices...
3) One persons collection of second hand prices
Best to buy and sell in the same state for money reasons."
Andreas Gasser and Silvia, Switzerland, to New Zealand,
"Around June 16th, 2001 we asked you about shipping companies in Auckland. We contacted as proposed P&O Nedlloyd, but we were not really successful because they ship only container loads.
So we were searching for other alternatives and indeed found some really nice, interesting and inexpensive people. We finally airfreighted our bikes from Auckland to London without crating. It was the least complicated, quickest and cheapest way! We paid only NZ$ 2,900.00 (approx. US$1,200) for the whole package, which included DGM, Customs, Paperwork, Storage for 2 weeks and Transport to the Airport. It would have been more expensive by Sea, do you believe that?
At the arrival in London Heathrow it took us 3 hours to do customs and get them out of the warehouse - everything went smooth, no problems at all and the bikes looked the way we left them back in Auckland."
Stefan Uch, Germany, in Malaysia en route to Australia, R100GS
"For shipping from Port Klang / Kuala Lumpur to Melbourne by sea, I recommend Lucas. Contact phone 603-31655730, or email. Cost US$220. Crating and fumigation and handling plus all fees in Malaysia included, you get a free ride to the train station, if you behave nicely. The guy has shipped a dozen bikes this year already."
Request for info
Wouldn't YOU like to know all about the border you're approaching - what it should cost, paperwork required, 'tips' needed, and who to talk to, etc.?
When you cross ANY border, take some notes, and pass them on to us. Thanks!
Shipping
There is now a Shipping page on the site. It can be reached directly or from the Shipping link on the Trip Planning page.
If you have any information to contribute, there is a form at the bottom of the page which you can submit and we will put it on the page. Thanks!
Travel Advisories:
The Foreign Office in London's Travel Advice Unit advises against all travel to all sorts of places. Check out the listing before you start!
The US State Department has issued travel advisories, information and/or warnings.
Shipping from Turkey to elsewhere
- from Burak Cedetas, in the Horizons Unlimited Istanbul Community:
"I am checking the flights from Turkey to India. At this point I am assuming 250 kg bike to be shipped from Istanbul to India. Just a warning I remember reading somewhere the entry is not easy. In terms of customs and bureaucracy you may need help in India. Anyway when I have I will post it to you and to the site
Please inform if you need repair for your bike in Istanbul? Previous travellers have used Istanbul as pit stop. (Simon going to India with a Transalp last year.)
...I have checked the methods to ship the bikes from Turkey to India. Here is what I have for you.
1- The following companies ship to India:
Pakistan Airways PIA, Lufthansa and Emirates.
2- They want bikes to be crated (in a box). And the price depends on the size and weight of the box as well as the cargo capacity of the plane. I understand that the companies take into consideration both size and weight of the crate (box).
For a crate which is 250 x 120 x 150 the cost estimate is US$1,300.
If we can figure out the exact dimensions of the cargo box, final destination and travel date we can get a closer price.
In any case you can contact me at the following phone number:
WORK: 90 216 3113069

Regards, Burak Cedetas"
Also from the One More Mile Riders in Turkey, many of whom are also in the Horizons Unlimited community:
"We are already working for one rider who contacted us and we invite all riders in difficulties while crossing the east borders to contact OMM Rider Yakup Icgoren. Yakup is placing his experience in shipping and Custom procedure at disposal of the community of bikers."
Thanks to all the OMM Riders and the Horizons Unlimited Community members for their assistance!
Chris and Erin Ratay, USA, around the world, in New Zealand, now on two BMW F650s,
"It's another beautiful day as we make our way up through Lake Taupo to Rotorua. Our friend Sally Turner from Queenstown now works in IT. for the Dynasty property group which owns the luxury Heritage group of hotels. She happened to be working in Rotorua while we were there and invited us to stay with her in the hotel.
That night after a wonderful dinner in the hotel with John the GM, we jumped into our bathing suits and headed off to enjoy what Rotorua is really known for, it's thermal pools! Smelling like sulphur but feeling like being wrapped in a warm blanket we bathed for almost 2 hours at the famous Polynesian Spa. What a nice way to end a long day of riding!
Wednesday 8am, September 12th = Tuesday 4pm, September 11th in New York: Tragedy strikes! We turned on the news, waking to the horrific news of the terrorist attacks in the United States. At first we thought it was a promotion for a new movie, some Bruce Willis action/adventure flick. Very slowly, we realized it was very real. It's hard to find the words to describe what we felt, sickness, sadness, disbelief, fear, anger, all of it. We were glued to the hotel TV and watched CNN all that day. Thank goodness for cell phones and email as we scrambled to contact our families and friends in New York.
My brother Mike works across the street from the Pentagon in Washington, DC but had taken a sick day to celebrate his birthday. We were very fortunate, having many friends that work in the World Trade Center complex, all of which were lucky enough to get out alive. Many no longer have offices or even jobs to go back to now. Their buildings are just a pile of rubble now. Many have lost friends and colleagues.
Now I fear hearing about the deaths of former coworkers at Morgan Stanley (one of the biggest tenants in the World Trade Center towers) or former students from Columbia University who I taught and worked with. This will certainly haunt us for the rest of our lives.
What does hearten us is the support we've received from our friends around the world and our Kiwi friends in particular. That first day of the attack we received many phone calls on our cell phone from friends offering their condolences for what had happened in our home town, our home country. If we had to be away from home for this, then I am glad we were here and not somewhere else. Now, nearly 5 days after the attack, we see many homes and businesses here flying the American flag at half-mast to show their support and solidarity with us. The flowers and cards left at the US Embassy is overwhelming. The US may get a lot of criticism but at a time like this, all peace-loving countries are coming to stand beside us (and to aide us) against this most evil act of terrorism. On a global scale we have many more friends than enemies.
...Ohope is wealthy, by the looks of the big fancy homes here, and has a wonderfully long, sandy beach. There are good views of White Island (still active volcano) and it's white plume of smoke and Whale Island. I could just make out the outline of an oil-rig way off in the distance. Still needing to reflect on all that had happened in the last 48 hours, I took a walk at sunset from our caravan park and was amazed at the colors of the sky, deep orange and yellow to violet and soft blues. Magic place. I made a mental note to keep this place in mind for a summer holiday home some day.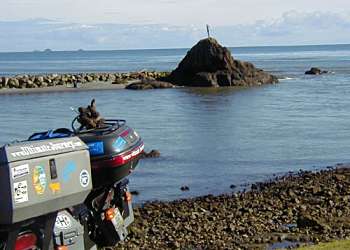 September 14th. We set off early and stopped for breakfast and a look around the town of Whakatane. It has a pretty little waterfront area and a busy harbor with little fishing boats coming and going. It is white bait season so many were out in the shallow water with their big nets, hoping to grab the white bait as they swim out to sea. At the head of the harbor on top of a rock is a beautiful slender statue of a woman.
Around lunch time we met Arne Rohde in the Karangahake Gorge. He knew of a winery near by so we went there for lunch. On the drive back to Arne's we passed through a small town where I spotted an American flag hung at half-mast in someone's front yard. Warmed my heart immensely..."
Harald and Udo Lamers, the Bike Brothers, Netherlands, through Asia on Suzuki DR 600s, in India
"... It is cloudy in Varanasi when we enter the city. We are stuck in the traffic. The constant blowing of the horns is hurting our ears. A police officer tries to order the traffic with his whistle but everybody goes his one way.
Varanasi is famous for its silk, rickshaws, holy cows and is situated at the Ganges river. We find our way through the chaotic traffic avoiding the cow shit. We find a relative quiet hotel where we can park the bikes inside.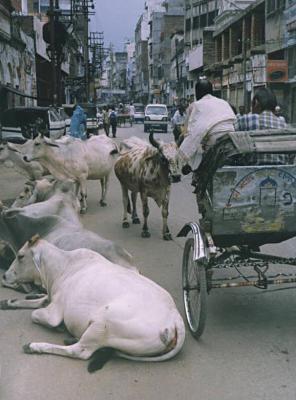 ... At Sonauli we cross the border to Nepal. The formalities are quite easy and with half an hour we are in Nepal. And what a difference compared to India. Much less horning and traffic. Also the people seem friendlier. A lot of people say hello to us with the word 'namaste' and folding their hands in front of their chest and bowing their head a little forward. Namaste means welcome, hello but also goodbye and have a safe journey.
... Pokhara is famous for its trekking in the Annapurna mountain range. We want to do a 5-day trek but the weather is getting worse. From some showers to real monsoon thunderstorms. Thus we wait a few days. According to the postcards you must have a beautiful view from the city on the snow-capped Annapurnas. But we only see dark clouds.
Every day on our way from the hotel to the city center we pass a hairdresser and the man asks every time if we want a haircut. Maybe tomorrow. On a Sunday morning we finally go to the hairdresser for a haircut. The little wooden hut with a tin roof has two chairs and a broken mirror. Udo takes place on the wiggling chair. The man looks for his scissors and starts to cut. He moves fast the scissors over his head. When he is finished he starts with a massage. Most of the hairdressers are also masseurs and we can choose from head, neck, shoulder, back or complete body massage. A head massage will do. He hit with his hands Udo's skull a few times and tries to pull his headskin off. It is a strange feeling... After a half-hour Udo steps reborn outside and this only for 25 rupees (35 dollar cent).
After four days of continuous rain the sky clears up and we catch a spot of the 6997 m high Machhapuchhare. But after some minutes the view is vanishing behind the clouds. After one week of rain we decide to go to Kathmandu. This year the monsoon is worse then other years, the people in Pokhara tell us. Yes, we notice... When we want to go to Kathmandu the rain pours down.
We put on our rain gear and leave Pokhara. Parts of the road are flooded and rivers are forming aside the road. Because of the water we cannot see the potholes and that makes driving a motorbike more dangerous. A coach driver misjudged the width of the road and the bus tumbled over. At midday the sky clears and we can take off our rain gear. At a lot of places there is a lot of mud on the road, slid from the hill sloops, but fortunately the road is not blocked.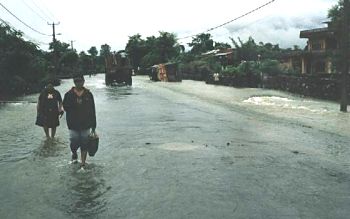 Later that day we arrive in Kathmandu. Slowly driving through the crowded traffic we reach the centre and find a nice hotel where we can park our Suzuki's safely. The name Kathmandu comes from Kasta Mandap and means 'wooden temple' in Newari. Dozen of wooden temples are located at Durbar Square and they have beautiful carvings. We climb on one of the temples and have a nice view. We watch the street life go by. Three old women are cleaning the street, a grocer on a bicycle sells his vegetables and the rickshaws are racing over the square. A Sadhus is posing for some tourists. These eccentric 'holy men' are barely dressed or wear colourful clothes and necklaces. Some shave their head and others never cut and wash their hair. They live ascetic, but want a lot of money if tourist take a picture. No way dude!
Pashupatinath, in the Kathmandu valley, is one of the most sacred places in the country. Here are the burning ghats along the river. After burning the dead bodies the ash is thrown in the Bagmati River. This river flows into the Ganges and has therefore the same meaning as Varanasi in India. When we arrive there is a burning going on. A lot of people, also not relatives, are watching. Respectful we watch from a distance, but it is a strange happening.
... After two weeks in Kathmandu it's time for us to fly also. With the on going monsoon and therefore a big chance of flooding in Bangladesh we skip our plans to go to Bangladesh and we will fly from Kathmandu to Bangkok, Thailand. Namaste. "
Ed. Harald and Udo have published a book about their travels in Africa (Dutch only), available through their website.
"...We are only able to spend 48 hrs here in Irkutsk before we must move on. A staggering six weeks has been wasted up until now with the team stationary and waiting for visas and spare parts. This has eaten heavily into what constitutes the summer up here in Siberia.
Our final destination is the port of Magadan on the far eastern seaboard of Russia. It is 1000 miles north of here and about 2000 miles due east. There are some sections of this journey that are across country and as the weather is deteriorating the dirt tracks etc. may well become impassable. Hence, we have got to get cracking because it will take us another three weeks to get up there. Some scare-mongering meteorologists suggest that this part of the world doesn't really enjoy an Autumn and the transition from Summer to winter can catch out Europeans in general and ill-thought through motorcycle expeditions in particular.
A few bits of news though. Our founding father, Dave Greenhough, was seen off onto a British Airways flight from Almaty back to London. After 8 weeks getting here he was back home in 8 hours. Corrupt customs officials ensured that Dave's very last act in Kazakhstan was the paying of a bribe... He has contacted us since his return and sure enough his knee will have to have reconstructive surgery.
Incredibly, hearing of the jinxed Terra Circa, our friend Matt Hill sublet his flat in Hackney resigned from his job and flew out a few days later to join us. He has ridden the last 2440 miles with us.
Once we left Almaty we were heading northeast for the Russian border. It was still boiling hot and the poor little engines were straining hard, overloaded and overheating. I had fitted a new cylinder head to my bike in Almaty... Almost as an afterthought we had asked our friend Patrick Chapman to store the old cylinder head in case we needed it in the future... the new head was in mint condition and had been set up (valves etc.) by our friends at Orange County Suzuki.
Within 180 miles there were noises emanating from the 'top end' that were clearly the ghastly metal against metal grinding that seems so frequently to succeed my rebuilds!
Gerald towed me to a beautiful grassy meadow adjacent an ice-cool Kazakh River. Meltwater from the Tien Shan Mountains rushing by as in the most idyllic surroundings I stripped down the engine to learn more. Predictably, my cocksure confidence impressed my co-riders and I had conducted the rebuild from memory.
I chirpily eschewed the plodding conservatism that consulting the technical manual would encourage. Needless to say, the oil ways within the rocker spindles were NOT identical as I presumed but quite the opposite, they were different, and for a reason. Thanks to my incorrect rebuild the rocker assembly and camshaft were ruined - and then Charlie noticed that we had to leave Kazakhstan by the day after tomorrow or face border fines etc. for overstaying the visa. The border was 539 miles away. That evening I gorged on humble pie.
This self-inflicted injury was made good by selflessness from our Almaty co-host, Marat Slessarev. Marat lives in Almaty but had been a pupil at Mill Hill School (1995-2000) and had been looking after us there. A phone call, and Marat was literally speeding across the desert steppe having collected the old (but still functional) head from Patrick's apartment. A desert rendezvous was agreed over the phone and Gerald and Matt Hill were riding 177 miles BACK towards Almaty to hook up with Marat. This example of the 'Old Boy network' was truly crucial to Terra Circa. The pickup was made, the old head refitted by torchlight, up at dawn and the 539 miles ridden to the Russian border by 2200hrs.
...Every 30 miles there is a police checkpoint, which routinely stops us. We answer the first question which is always "where are you from and where are you going?" and when they find out we are heading for Magadan they shake their heads in disbelief and send us on our way.
The strange thing is that Gerald and I have BEEN to Magadan and neither it nor the journey there is THAT foreboding. It seems that the unnatural density of prisons in the area has given the town a highly unpleasant reputation amongst the Russians.
As we slowly edged north the weather has gradually deteriorated, and after the baking furnaces of the Kazakh steppe we are now all wearing every single garment that we have. The locals assure us that summer has dragged on late this year and that we should relish this mini-heatwave!
We arrived in Irkutsk after 8 days ride and were soon apprehended by a bearded figure astride a tiny 50cc go-ped. He, almost without speaking, acknowledged our situation and motioned that we follow him to a cheap hotel. His scooter had a max speed of 15mph which was all the better since it had no brakes at all and our guide had to stop it by digging his heels into the tarmac until his soles had ground him to a halt.
Upon arriving at the hostelry he revealed that he was a member of the local 'Storm' motorcycle club and was known as 'Black Angel'.
We settled in and at 8pm that evening we were the guests as the Storm riders took us on a 12-bike tour of Irkutsk. It was an extraordinary show of Soviet machines that had all been chopped and customised into some truly individual shapes. The Storm Riders do not wear helmets and found our fear of police attention quaint indeed. The leader of the pack is known as 'Stalker' but would be more menacing if he didn't bear such a striking resemblance to William Hague.
We are leaving tomorrow morning and it should be in about 3 weeks that we reach the outpost that is Yakutsk. We hope to be in Magadan a week after that and then in Calgary 2 weeks after that. Apparently there is e-mail in Yakutsk but we'll see.
The Zilov Gap awaits.
All the best, Austin, Gerald, Charlie and Matt (Terra Circa)
Oliver Kams, Germany, to Australia, in India , Honda Transalp,
"...I had a great time in northern India. The road to Leh is just a dream. Over 5000 m I thought my Transalp changed into an 80cc bike, but I was still doing 80 km/h on a flat bit. I had just to be careful on the throttle. If I gave too much the bike started coughing. But really good fun and absolutely fantastic views.
On the way back I discovered a hole in my jerrican. Just in the bottom of it and all my spare fuel was gone. Tried to get some petrol from the tankers that drive up there but they carry only diesel or kerosene. So I calculated that my engine will stop about 40 km before the petrol pump. But then I found out that you can also roll a bike down the hills. Works really good. Was rolling down sometimes with 60 km/h and overrolled some trucks and jeeps and reached the petrol pump with still fuel in. The loop around Spiti is worth it. A lot of gravel and I had to wait for some landslides to be cleared but great ride and a good fun.
Then I took some short cuts I found on an Indian map. And that was a day I made only 30 km. Had to clear the road a lot from branches, rocks, trees, and a lot of landslides I had to unload the Bike and carry it with the help of some Indians over. Hard work. I was happy Connor was not with me there. He would have killed me for bringing him and his loved bike into this. But as I was through I thought it was good fun.
In Rishikesh I relaxed for a few days and went then to Delhi and organised the flight for me and the bike to Bangkok. And there I am now and wait for a new carnet and visas."
Andrea Mueller and Bernie Zoebeli, Switzerland, South / North America, in Alberta, Canada, R80G/S's,
"...a long time ago we were invited in Fairbanks by a biker to stay in his home because it was raining all the time. So we enjoyed a hot tub and a sauna in the woods; just the right thing for us! (Thanks a lot Mark!!)
After three nice days we left to the south. Over Tok we drove to Chicken (Alaska) and further on to the Top of the World Hwy. We had great weather and the road was in a very good condition. So we enjoyed the ride with a great view over the mountains around us. In Dawson City we informed ourselves in the Dempster Hwy Visitor Center about the road conditions up to Inuvik. It didn't sound too bad and the weather forecast was good so we started the great trip up north. A beautiful landscape, already changing colours, and a really good dirt road led us to Inuvik. Not a nice city, but from here we could fly to Tuktoyaktuk (too complicated???, well they say here just Tuk) at the Arctic Sea.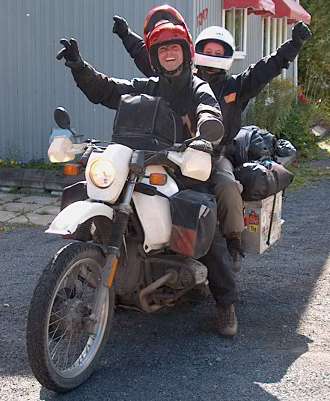 The flight over the McKenzie River delta was impressive. A huge area with rivers, lakes and creeks. And we had all the time good weather! Also on our way back, although it got cooler and the tent was even frozen one morning. In Dawson City we took a hot shower in the bathhouse of the hostel camping. There you have to heat an oven, which heats the water, and then you mix it with cold water and pour it over you. In the bathhouse it is then like in a wet sauna: great!
After this we had rain again on our way down south. But then in Stewart the day was just perfect to go and see the wildlife at the fish creek. We saw black bears, grizzlies and wolves. It's amazing that these animals are feeding in this creek although a lot of people are watching them. The next year, we heard, they want to charge a fee to get there. That's tourism...
Over Smithers we rode to Jasper and enjoyed a few days in this beautiful national park. We could see elks (one was a 12-ender!) And further south, in Banff NP, a lot of bighorn sheep that weren't afraid of humans. We could sit there and they passed by grazing. The scenery was beautiful too, with the Columbia Icefield and other peaks on the other side of the valley. It was quite cool up there but the next day we went to Calgary and got warm again. What a change in landscape and temperatures!
Here in Calgary our motorbike is with the mechanic because one carburetor doesn't work well and we don't know why. We'll know it hopefully this evening."
Sharon Whitman and Bill Berwick, USA, around the world, in Costa Rica, on Harley-Davidson Sportsters,
"...we are having a great time. Mexico was serendipitous. The Federales were not as intimidating as we anticipated and the country itself was much more beautiful (greener, hillier, apple trees, cloudless skies) than we expected.
The people we have met everywhere have been extremely helpful and friendly and we look forward to more of the same as we head South.
Three months on the road! We are in San Jose, Costa Rica. This is a beautiful country encompassing mountains, beaches, rainforests, and volcanoes. It is endowed with over 5% of all the life forms on Earth! And no other country in the world has so much actively protected area per capita. It is non-militaristic, having abolished troops of any kind in 1949, opting for educational, social, and economic development instead.
This country is a welcome respite from the previous five border crossings which were horrendous. A sea of people, trucks, cars, animals, and bicycles all waiting to go across. Hundreds of 'helpers' greet you in Spanish and English, begging for the chance to assist in the process of your crossing (for a fee!) And what a process it is! Usually 3-4 hours of confusing paperwork, shuffling between 4-5 buildings, paying exorbitant fees for (sometimes) bogus receipts. But yes, we understand this is keeping many people employed. It's important to be patient and keep your sense of humor (good in any stressful situation, I suppose.)
The bikes are doing well, even though we are really testing their 'metal'. Mexico and Central America have potholes you could sink Volkswagens into (we've actually seen a couple!) We changed oil again here in San Jose. The manager of the H-D dealership, Mario Herzog, was so helpful, he even found us a wonderful hotel to stay in. Bill fixed another spoke and hammered back our bent rims." (note - when you get to their website, click on the "world tour" link)
Stephan and 'Chenda Solon, UK, eating their way through Singapore, Malaysia and Thailand, on a Honda NTV650,
"Arriving in Singapore after Darwin was a revelation. Suddenly things were buzzing. We'd gone from the sparsely populated sleepy Northern Territory to one of the world's fastest moving cities. I wasn't too sure what to expect but was really impressed. It is incredibly modern with a huge amount of fastish moving traffic, which is easily avoided by using the best metro system I've ever used. The city is also clean and has good footpaths on the side of the road so you can actually walk around.
We loved Singapore and, apart from things like it being modern, clean and easy to get around, the main reason for liking it is its huge number of good hawker food centres. These food centres range from appendages to old markets to food courts in modern shopping malls and they all offer a good variety of Chinese, Malaysian, Indian and Indonesian food for reasonable money.
... The modern part of Kuala Lumpur (KL) has the strange appearance of an abandoned building site. There are lots of very tall unfinished buildings and an unfinished part of a monorail system. Work stopped when the Asian financial crisis struck back in '96 and things haven't picked up enough for things to start up again. By our second day in KL we had discovered very good cheap lunches at the main train station and a huge choice of yummy goodies at the food court in the shopping centre at the back of the Petronas Towers. I was very glad that complex wasn't a victim of the recession. The two glass and stainless steel towers, all 86 floors of them, are amongst the most striking buildings anywhere. They're not just one of the tallest buildings in the world, they are also very attractive buildings to my eye. At night when they are lit up they look like something out of a science fiction film.
... At one service area we met a Dutch biker on holiday with his wife, kid and sister. He dreams of doing a similar journey to us but can't imagine when he might be able to do it. Nevertheless he frequently looks at Horizons Unlimited for inspiration.
... (In Bangkok) we set to finding out what was required to make an application for an Iranian visa which turned out to be the completion of a form and submitting it together with photocopies of our passport and two suitable passport photos. For Chenda this meant a photo with a headscarf on. First we got ourselves a visa for Turkey even though we don't need one for stays of 30 days or less. This was to demonstrate to the Iranians that we were serious about leaving their country. Then we photocopied every used page in our passport. We even wrote a nice letter explaining that we were travelling overland to Europe and would very much like to travel through Iran so please please let us in to your country. We really needed that visa as the only practical route to Europe from Asia is through Iran.
... Chiang Mai has excellent cheap accommodation, lots of Internet cafes one of which only charged 15 baht an hour and most importantly, a variety of good cheap restaurants which puts Bangkok to shame. After 6 weeks of Chinese/Malaysian/Thai food we adopted a Middle Eastern restaurant and gorged ourselves on falafel, pita bread, homous and salad. If you are ever in Chiang Mai check out the Jerusalem Falafel. It's closed on Fridays but there's an Aussie pub a few doors away which does a great bangers and mash.
We spent 4 days in the city wandering around temples, exploring the market at night and, best of all, going on a trip to a couple of hill tribe villages which included an our long ride on an elephant, a swim by a waterfall and a spot of river rafting. The elephant ride was uphill and it seemed our elephant was turbo charged or something as it kept overtaking the others whenever it could. It seemed to reflect the manic character of the young mahout in charge of it. After the ride we bought a few bunches of bananas to feed the elephant.
On the way to Lopburi we met another overlander travelling by bike, the first we'd met since leaving Australia. Steven Raucher and his sister Ariella were a couple of South Africans travelling around the world from the UK on a seriously overloaded BMW 1150GS with extra large fuel tank. Steven was a really lively character and Ariella, who had joined him in India, was much quieter. Steven was able to reassure us that the road from Quetta to Taftan in Pakistan would be no trouble for our bike.
... We got back to Bangkok in time to go down to the Iranian embassy first thing on Monday where to our great surprise, not only had our visa applications been approved, we had been granted 30 day tourist visas valid for 3 months. Fantastic!!
We left Thailand excited that we could, in theory, complete our journey. Thailand was fun but we were there at the wrong time of the year to see it at its best. December we hear is the best time. One thing that has really impressed us though is the depth of culture found all the way from Singapore to Thailand. This part of the world has also got to be the best value for travellers anywhere and, have I mentioned the food?" More stories from the Solon's travels in Singapore, Malaysia and Thailand in the Travellers Stories section on the Horizons Unlimited site.
Steve Raucher, South Africa, around the world, in Thailand and Malaysia, BMW R1150GS,
"I kept driving further south (Ko Lanta Island is about 25 kms from top to tip) and eventually found a beautiful sheltered bay with lovely bungalows on the sand with no pollution. I had arrived. I spent ten days here relaxing and working on this website, and of course eating Thai curries and swimming.
Unfortunately all dive sites here were closed due to the rough Andaman Sea. The island is beautiful, the interior, is virtually untouched jungle and there is a national park on the southern tip, not to mention waterfalls and the promise of big monitor lizards, which I never got to see.
Leaving was going to be hard. I just didn't realise how hard... Instead of seeing the usual queue of cars and trucks there was a marquee pitched on the jetty. Suddenly the whole situation turned into farce; there was a row of four policemen I approached and began to ask what was going on. The first one, Dopey, replied that both the ferry captains were sick in hospital, in turning to Grumpy he replied that both ferries were broken, Moron insisted that it was a national holiday, it was only when Psycho (see picture of his car!!) told me that there was a communist strike did things begin to make sense.
I was redirected back to the old jetty and told to take my bike across the water in the traditional way - by longboat. Upon my arrival at this jetty my first reaction was to gag. My bike fully loaded weighs 300 kg, I began insisting that this was not possible and when the police then told me to wait until tomorrow and see if the strike is over this only fuelled my resolve. Monsoon downpour over, I removed all luggage including boxes from the bike and drove it onto the longboat via a rickety plank resting on beach sand. Once aboard we (the crew of one and myself managed to turn the bike around, contorting ourselves into positions that would have made the authors of the Kama Sutra proud!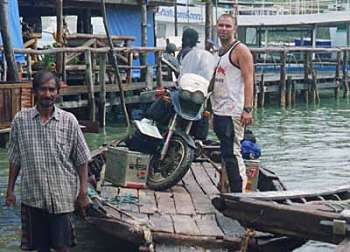 As we set off across the water I couldn't stop myself from trying to gauge the depth in the event of a salvage operation. Who says I am paranoid? We made it across without incident and suddenly the Karma Tourer was back on terra firma. Relief.
I am now in Cherating on the East Coast (of Malaysia) and will be making my way tomorrow to the Perenthian Islands for more scuba diving."

Help support the Horizons Unlimited E-zine - visit our sponsors! Nice people, so drop in on them if you're in the area, and make sure you tell them how you heard about them!

Motorcycle Friendly
B&B
in historic Corrales, New Mexico. 15 minutes from the intersection of Interstate 40 and I25 in beautiful New Mexico.
Thanks!

Mariola Cichon, USA, aiming to be the first American woman to ride around the world solo, in California, heading for Mexico
September 11, 2001
"... I crossed into Oregon from Hood River, located in the midst of the Columbia River Gorge National Scenic Area. The spectacular scenery kept me there for an additional day, which I spent exploring the nearby ice caves and natural bridges, all result of the volcanic activity. At this time of year not much of the ice was left in the caves, nevertheless, it was quite an experience wandering in the underground passages with a help of a single flashlight.
The mountains of northern Oregon are dotted with many volcanoes, Mount Hood being one of the most splendid ones. Its 11,239 feet peak is visible far across the state line from Washington. Traveling south it was visible on my right side for a couple of hours. Soon after the road went through high, dry desert lands, and the temperature rose to high 90s. Not having a lot of time I took only one side trip in Oregon - to the Crater Lake National Park.
Rolling mountains, volcanic peaks, and evergreen forest surrounding this high Cascade Range Lake create a scenic wonder. The remarkable blueness of the lake cannot be described in words, nor can it be captured on the photographs. The 25-plus mile ride around the lake was a welcomed change after crossing the parched desert lands.
That night I headed for Eagle Point (vicinity of Medford, OR), where my friend Roger Roburne has a wonderful ranch on a top of the hill. Roger is one of the Harley riders, who accompanied me on the ride from Coldfoot to Fairbanks in Alaska. Thanks Roger for being a great host, I hope to see you again some day.
The next day I headed for the border with California, where I made a stop at the Redwood National and State Parks. One of the world's tallest living trees, reminiscent of the Age of Dinosaurs, stands taller than the Statue of Liberty and may weigh 500 tons. Some of the giants are 2000 years old, having bases over 20 feet in diameter and height reaching almost 400 feet. The cathedral pillars seem to float on the carpet of green lace. Countless ferns growing all over the mystical forest create this illusion. It does not take much to imagine the dinosaurs roaming around this place millions of years ago.
...Heading south along the coast of California I soon got on the famous CA 1 Highway. Again, it took me much longer than initially anticipated to reach San Francisco, since the route offers an unlimited number of gorgeous vistas on the way. The winding road with many hairpin turns follows the coastline often reaching tops of bluffs hundreds of feet above the sea level. The shattered rocks protruding from the waves all along the coast are home to thousands of sea birds as well as sea lions. Sometimes an unpleasant sharp odor would hit my nostrils - fish and seaweeds decomposing in unreachable tiny bays. Endless chain of secluded coves and deserted sandy beaches invites to stop and relax for awhile.
After finally reaching San Francisco I got a bed in a hotel ($15) in the Golden Gate Recreation Area. I was very happy about it, since the city is known to be very expensive. Then I took off to explore. San Francisco is famous for its steep streets. And steep they are - oh yes! I wandered around the North Beach section for a while, where I 'discovered' a very beautiful place known as a Telegraph Hill, from which another S.F. bridge -the Bay Bridge- is well visible. Telegraph Hill has many terrace gardens with tons of exotic plants climbing up the walls of the pastel colored houses. In the steepest sections there is no parking on the streets. However, most of the houses have garages with leveled entries. Still, I imagine it would be quite a challenge maneuvering the bike to park inside one.
San Francisco is very motorcycle friendly. There are many parking areas designated for bikes only. It is also common to see motorcycles parked on the sidewalks, which doesn't seem bother anyone. On the second day of my visit I dared to follow the local custom and did the same - parked on the sidewalk in front of the restaurant, fully expecting to be kicked out of there. No such thing happened! Later in the evening I parked the bike on the bicycle trail on the north side of the Golden Gate Bridge. A police car stopped, and I was sure the officer was going to ask me to leave. Not at all! Seeing my Illinois plates he wanted to find out about my trip!
The night before I left the city I went to the San Francisco Motorcycle Club to see a slide show by Simon Milward, a British around the world traveler, who has been on the road for 18 months already. The show was great, and it was a privilege to meet Milward. Perhaps our paths will cross again, since, after going across the States, he will travel south as well.
The Pacific coast from Monterey to Morro Bay is considered to be the most beautiful in the entire California. And it was. I reached Ojai on September 10th. I am planning on crossing the border to Mexico on Monday. I want to ride through Baja, and then take a ferry from La Paz to the mainland. I am really looking forward to it.
Till next time... it will not be long..."
Dorothea and Rene Landsee, Germany, round the world, in Pakistan, on two BMW R80 G/S's,
"...We are now in Quetta Pakistan after crossing wonderful and friendly Iran and the 1000 km of Baluchistan desert. Situation is calm here... we are forming convoys with other overlanders. We may go direct to Islamabad because Peshawar is too dodgy."
Dorothea and Rene also pass on this message from Richard (England) about the trip from Bam, Iran to Quetta, Pakistan:
"Baluchistan was a fantastic trip - did the Bam to Quetta run. No hassles at all. Border crossing was 2 hours - no one else there. But very hot. 45 degrees I reckon. Road to Dalbandin is really good. Gets a bit sandy in places after that but nothing to worry about - although listening to some people you would have thought it was impossible. Missing the cheap fuel though. The stuff here is full of dirt - not too good.
If you're interested there is a nice hotel in Dalbandin just on the right as you go into town (called Al Alem or something like that) - the only one I could find - and the restaurant is good. Natives are very friendly but the electricity is a bit hit and miss. If you're going to Bam you might want to stay in the Agbar guesthouse - really nice, lots of overlanders and run by a former English teacher. He'll give you the low down on getting to the border - leave Bam at sunrise and what to say at the first army checkpoint (you tell them that you are just going to the next hotel - Eram Hotel I think. If you say you're going to Zahedan they might make you wait for an escort taking up loads of time - as it was there was no-one at the checkpoint when I got there - still no problem). Enjoy the ride and take plenty of water."
Ted Simon, UK/USA, 'Jupiter's Travels,' around the world, again, in Brazil, on an R80GS Basic,
September 18, 2001
"...all of Brazil seems to have leaped ahead. Nowhere else on this journey have I seen such changes for the better. People in Rio look better dressed (or undressed: less is more). Public transport is not the horror it can be in Africa. Brazil has gone frantically plastic. Credit cards work everywhere. Getting money used to be a torture, but today there are more cash machines than shoeshine boys. The other day some thieves carried one of the machines away in a minibus. Cars and trucks are modern. Small motorcycles are everywhere, where there used to be none, and there are Mototaxi services in every town.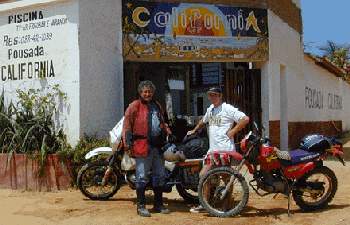 Iguatú, where I once went to see only floods, disaster, and poverty, is now a thriving town. On the main highways, the petrol stations are as big as small villages, and the roads on the whole are not bad.
But there is still a lot of the old Brazil. Even the most important routes are still two-lane and commercial traffic is very heavy.
On the principal highway linking Rio to Fortaleza, north of Salvador, there are many miles so broken up that they are more pothole than road surface.
Truck drivers will do anything to save their suspensions, and swing wildly from one side of the road to the other. When two strings of traffic meet the effect is awesome. Huge 26-wheel vehicles cavort around each other as in a drunk-driving nightmare.
This tipsy terpsichory of titanic trucks and tankers is a wonder to behold, but a dangerous distraction for a motorcyclist.
I won't join in. It may be Brazilian to dance, but it's British to stay alive."
Ricardo Rocco Paz, Ecuador, 'Around the World for Peace,' in Bolivia,
"Never ride at night. But is only a short 160-km to Sucre, Dr. Greg! I'm about 20 clicks out of town, taking a nice wide left curve, I'm a bit too fast, when, cabooom!! Front tire hit, slow down, don't touch the front brake. Stop. Front tire flat, must've hit a big rock. Ride slowly to some houses, everything's dark. Ok, let's get those spares tubes out. What?? Two spare rears and no front? What kind of a....... Ok, lets try to fit a rear 17" -inch tube into a 21" front wheel. Forcing it a bit, it goes in. Pump it up: nothing. Must've pinched it. Let's try the other one. Ok, pump it up: nothing. Did I pinch it again? Let's patch it up. Sand it nicely, clean it: what? Glue's dry.
What am I gonna do now? Look for a place to place your tent, dummy. Camp here, are you nuts, do you want to freeze to dead? Its 4.000 meters up high here, you know.
While I'm trying to decide what to do next, I hear another, bigger: Caboooom! It's a big truck, going the other way, whose tire just exploded. He stops with a huge shhhhuinking noise right on the other side of the road. I approach and ask him to give my bike and me a ride back into town. Sorry, no room for the bike.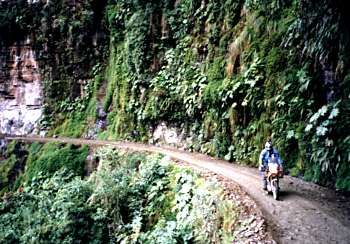 He suggests leaving the bike in care of one of the peasants that live here. I don't think is a good idea, but running out of alternatives, I go and investigate what's around. In a humble house, the only one with a shy light, I talk to the guy surrounded by his whole family, a woman and a few dirty looking kids. He agrees to look after my bike, so I park it right next to the pigs, chickens and other unidentifiable animals and leave with the truck driver, praying that my bike will be there when I come back."
"...Coming down the road there were occasional vendors on the verge. Initially, they were sellers of mushrooms then other produce such as onions and potatoes. Finally, just before we turned onto the major road to Warsaw, some 20 miles north of the city, they were selling themselves. This has been confirmed by our host Adam, who tells us that they are Russians. All I thought was how cold they must be stood in the forest in next to nothing and after working in such extreme conditions they deserve all the reimbursement they can get.
Warsaw is very much as we remember it. The old city was rebuilt after the war as a brick by brick reconstruction from the pile of rubble that was left after the Germans systematically shelled it under the watching gaze of the Russians who were camped out on the other side of the river. The focus of the new city is the Palace of Culture, generously donated by the states of the USSR. This is described by many as monstrous, but in my opinion, I think it is rather grand. Structurally very sound! Then again, I am not noted for my subtlety when it comes to construction.
Our efforts at speaking Polish have been met with great amusement. Szchim, szchim, szchim is how it goes!
We don't much like the outlook on the weather front and so are likely to head south now in search of the sun by way of the Tatra Mountains which are reputed to be rather nice. I think we shall travel the world mostly using a point and pay strategy. See y'all."
Andy Miller, UK, Pete Thompson, UK, Sam Beasley and Dave Ward, UK, Ruth Mandeno and Paul Doone, NZ, heading across Asia,
"...well I was having a good time until the 11th Sept when the USA was attacked. As bad as it is, it's made our plans go pear shape.
We are no longer going to Pakistan which I am gutted about. It's the one place I was looking forward to.
I am still in Turkey on the med coast. Met up with a fellow Brit who has his own 39ft yacht who we have been sailing with for the last few days.
I am currently looking to ship the bike sea or air from Iran, which is becoming a problem due to trade sanctions imposed on it. I have been advised to go to Dubai, so I intend to tour Iran then back to Turkey and ship from here. If you have any info please let me know.
I must say a big thanks to my sponsors www.gerbing.com and Mike Coan of www.warmnsafe.com for all his help for getting the heated jacket - it was great for going though Europe which was very wet, Croatia, Slovenia, Bulgaria were great but Yugoslavia was not. It cost US$60 in insurance just to get though the country in a day.
...Sorry this is the first you have heard from me but I have had problems with computers. So I am not sure if I'm going to India and Nepal or straight to Bangkok, today I will find out watch this space. Cheers Andy...
Hi Grant-Susan, thanks very much for the contact in Turkey re shipping, it has led to me contacting a freight company in Turkey, and now waiting a reply, Turkish Airlines quoted me US$1,810. from Istanbul to Bangkok. Cheers Andy"
Harvey Gordon-Sawyers & Lisa Roberts, UK, Round the World, in France, Harvey on a BMW R100GS and Lisa on a BMW R80ST,
"Paris, Tuesday 25th September 2001
Finally on the road! We left a rainy Dover yesterday on the 1:30 ferry and gazed longingly at the white cliffs disappearing into the mist, wondering how long it would be until we saw them again. Actually it was nothing like that (except for the rain) - it really hasn't sunk in that we're really finally doing this - it still feels like a weekend jaunt to Paris...
We negotiated the foot and mouth mats and slippery metal ferry bits with some trepidation (maybe that was just me) and arrived in Calais ready to face the world. So it was rather fitting that within a couple of miles of the port on our way to Boulogne, Harvey's bike decided to get us in the mood for the long journey ahead by tunefully firing on only one cylinder. After acrobatically trying to sort it out whilst riding along, Harvey bowed to the inevitable and stopped for a tinker. Luckily it was soon sorted and we were on our way again.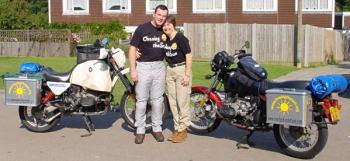 We travelled across country on the Routes Nationales through Abbeville, Poix and Beauvais. It was a beautiful day and the roads were perfectly smooth and near-empty as always seems the case in France. You are immediately aware of how much space there is here compared to back home and how relaxed it is. We rode through wide open countryside that has a bare but beautiful feel to it.
It was a long ride and once the sun went down I knew it was time to try out my funky electric vest. (Susan's 14 year old and much-travelled vest!) Harvey was quite clear that he didn't want to know but I just had to mention that it was almost too warm after a while (but not quite). The rain joined us just in time as we entered Paris on the periferique with the traffic, the noise, the bright lights and everyone suddenly in a hurry... we are very busy now chilling out, drinking tea and looking at maps. I think it will take us a long time to get used to this... "
Patrick Lüth and Lorenz Kerer, Austria, through Japan, Russia and Central Asia, in Kyrgyzstan and Uzbekistan, on BMW R100GS Paris/Dakars,
18.09.2001
"After a seven day tour through southern Kyrgyzstan we felt the orient for the first time when we arrived in Osh. Bazaars, mosques and scents. Due to concern about Afghani rebels the boarder from Osh to Uzbekistan has been closed to foreigners. On our return route through the mountains of Kyrgyzstan time and again we rose up and over 3000 meter passes with continuously changing rock formations. The landscape of Kyrgyzstan captivated us. At Song-Kul a mountain lake, we met a group of German youth that are travelling with two Robur busses and on their way to Mongolia. At least we were not alone that night in our tents, freezing at minus 10° C. ...
24.09.2001
After a lot of thought and consideration as well as information from various embassies we made up our minds to travel into Uzbekistan. All of our misgivings were washed away as we biked into Tashkent. For the past five days we have been enjoying the friendly hospitality in the Tashkent SOS Children's Village. A world-wide crisis or an uncertain atmosphere is not felt here. To prepare ourselves culturally for re-entry to Europe we went to the Opera. Verdi's 'Masked Ball' in Russian satisfied us with the pentatonic arias, the modern, interesting production, and the stage set, which was a knockout, but promptly got knocked over. It's time to move on - the lure of Samarkand and Bukhara..."
Richard Peachman, UK, to Australia, Ural/Dnepr M16,
"...I left home on 15 June and arrived in Vladivostok on 30 August after covering 18000 km. I had a few breakdowns along the way...
I am now in Australia and waiting for the Ural/Dnepr to arrive by sea from Korea. So far the trip has been fascinating, but hard work...
Latest Update 10th September 2001
I made it to Vladivostok last week and have been dashing about to get my bike cleared by customs and loaded in a container for Fremantle. I had a hassle with the train as they were not happy with me on an open wagon. I hitched a ride with some Germans in a motor home which was nice after 3 days sleeping on a bench at the police post on the station platform at Chernechevsk. I travelled with them to Kabarovsk on 200 km of bad gravel road made worse by heavy rain and bogged down trucks.
So far the bike is still running with an alternator rebuilt in Turkey, a used head repaired by me and two fellows repairing a tractor in the middle of nowhere. I had one puncture on the way here and didn't break a spoke. My brakes are barely functional due to wear and tear and a leaking oil seal in the differential. The turn indicators failed near Krasnoyarsk and I have another unsolved wiring fault that I must take the sidecar off to trace. Aside from that I made it with all my moving parts intact contrary to the best efforts of Russian drivers-most especially Toyota Land Cruiser drivers. That's the news for now, off to Korea tomorrow."